Rovinj, Croatia

Lake Bled, Slovenia

Slovenia's Julian Alps

Wine Tasting in Motovun, Croatia

Roman Amphitheater in Pula, Croatia

Plitvice Lakes National Park, Croatia

Split, Croatia

Korčula, Croatia

Mostar, Bosnia-Herzegovina

Dubrovnik, Croatia
Tour Questions? Call 425-608-4217
Best of the Adriatic in 14 Days Tour
Our Adriatic adventure explores Europe's "new frontier" — and it offers rich rewards. You'll meander from pristine hill towns to sun-soaked islands, lacing together the best destinations in this diverse corner of Europe: Slovenia's Ljubljana and fairy-tale Lake Bled; Croatia's seaside Rovinj, waterfall-laced Plitvice, historic Split, Hvar Island, Korčula and picture-perfect Dubrovnik; and an enlightening visit to Bosnia-Herzegovina's once-war-torn town of Mostar. Along the way, your Rick Steves guide will bring you intimate encounters with European cultures that mainstream travelers often miss. Join us for the Best of the Adriatic in 14 Days!
What's Included
A small, friendly group of 24-28 people — half the size of most tour groups
Full-time services of a professional Rick Steves guide and local experts who will make the fascinating history, art and culture of the Adriatic come alive for you
All tours and admissions — at no extra cost — covering at least 16 group sightseeing events • Ljubljana walking tour • Bled Castle • Kobarid Museum tour • Wine tasting • Pula Amphitheater tour • Rovinj visit • Opatija visit • Plitvice Lakes National Park walking tour • Split walking tour • Diocletian's Palace tour • Hvar visit • Korčula orientation • Mostar mosque and walking tour • Stolac visit • Republika Srpska visit • Dubrovnik walking tour...and more
All group transportation from Ljubljana, Slovenia to Dubrovnik, Croatia
13 nights accommodations in memorable, centrally-located hotels
All breakfasts and half your dinners
All tips for guides and driver
Free stuff including Rick Steves' Croatia & Slovenia guidebook, map, moneybelt and earplugs
Guaranteed tour price, locked in the moment you make your deposit
Optional single supplements — this tour has a limited number of private rooms for solo travelers for an additional fee
Tour alum discount of $50 for each tour you've taken prior to 2014
50% discount on a consulting appointment with our in-house experts to assist with your pre- or post-tour travel plans
Flexibility should you need to transfer, or cancel/interrupt your tour
Fine print: You are responsible for the cost of your drinks and free-time sightseeing. See our Tour Conditions Agreement for important details regarding everything listed above
Itinerary
Daily Activity Key
Light = 2-4 miles of mostly level walking throughout the day.
Moderate = 2-6 miles walking throughout the day with some hills and stairs.
Strenuous = 2-8 miles walking throughout the day with lots of hills, stairs and uneven terrain.
Day 1: Welcome to Ljubljana
We'll meet at our hotel in the pretty Slovenian capital city of Ljubljana around 5 p.m. After an orientation walk through our university-area neighborhood, we'll enjoy getting acquainted over dinner together. Sleep in Ljubljana (2 nights). No bus. Walking: light.
Day 2: Architectural Riches of Ljubljana
Today we'll take a walking tour through the heart of Ljubljana, including the colorful riverside market, the playfully Art Nouveau Dragon Bridge, and the town's lively main square dedicated to Slovenia's greatest poet, France Prešeren. We'll also enjoy seeing and hearing about the architectural adventures of native born architect Jože Plečnik along the way. The afternoon and evening are yours to wander around this lovely city, try one of the outdoor cafés along the river, and maybe hike up to the castle to enjoy the city view. No bus. Walking: light.
Day 3: Slovenia's Lakes and Alps
A short drive into Slovenia's Julian Alps brings us to the azure jewel of Lake Bled. We'll take in the panoramic view from Bled's hilltop castle, then leave you with free time to stroll around the lakeside town, or maybe hop aboard a boat to the chapel-topped island. After lunch we'll have a scenically-winding, mountain-pass drive to the breathtaking Soča River Valley, where we'll enjoy dinner of local delicacies together. Sleep in or near Kobarid (1 night). Bus: 6 hrs. Walking: moderate.
Day 4: Crossing Paths with Hemingway
This morning we'll tour the local museum, learning about the WWI years when soldiers (including an ambulance driver named Hemingway) faced incredible hardship in the mountains around Kobarid, described in "A Farewell to Arms." We'll enjoy a local-style lunch together, sampling the tasty prsut (prosciutto), and the best wines around. We'll then follow Slovenia's small slice of Adriatic Coast on our way to the rolling hills of Croatia's Istrian Peninsula and the hill town of Motovun. Sleep in a former castle in Motovun (2 nights). Bus: 4 hrs. Walking: strenuous.
Day 5: Istrian Peninsula
We'll spend our day exploring the Istrian Peninsula, studded with Roman ruins, Venetian architecture, and a landscape evocative of pre-tourist Tuscany. We'll time-travel through Pula's 1st-century Roman amphitheater with a local expert, then set you free to enjoy the seaside town of Rovinj. Hang out by the harbor, or walk the art-lined streets to the church of St. Euphemia and learn the surprising legend of how the saint's sarcophagus got there. Tonight's dinner will be an open-roasted feast in the tucked-away town of Brtonigla. We'll return to our Motovun hotel tonight, stuffed and happy. Bus: 4 hrs. Walking: strenuous.
Day 6: Opatija and Plitvice
Today we'll stop in seaside Opatija, where you'll have time to wander amidst its beautifully manicured parks and belle époque villas along the Kvarner Gulf, before heading inland to the deep greens and blues of Croatia's water wonderland and one of Europe's premier nature preserves: Plitvice Lakes National Park. We'll have dinner together and sleep in the National Park, surrounded by the quiet of nature (1 night). Bus: 5 hrs. Walking: light.
Day 7: Lakes to the Coast
You'll have all morning to hike along rustic boardwalk trails connecting the idyllic forests, travertine stone cliffs, clear blue lakes and gushing waterfalls of Plitvice Lakes National Park. We'll learn how the park is creatively managing to protect its delicate environment, including the use of electric trams and boats. After a lunch break, we'll drive along the Dinaric Alps to the Dalmatian Coast and the not-so-sleepy seaside town of Split. This evening we'll walk to the walls of the Roman Emperor Diocletian's palace, and enjoy dinner together in a cozy, family-run konoba. Sleep in Split (2 nights). Boat: ½ hr. Bus: 5 hrs. Walking: strenuous.
Day 8: The Roman Heart of Split
We'll get introduced to Split with a walking tour through its Old Town — including remains of the Roman Peristyle, the unusual Cathedral of St. Dominus, and Jupiter's Temple — all of which lies within the walls of the despotic Roman Emperor Diocletian's immense palace. The afternoon and evening are yours to enjoy Split's museums including the sculptures of the world-class Meštrović Gallery, or relax with an espresso along the waterfront promenade. No bus. Walking: moderate.
Day 9: Dalmatian Island-Hopping
After breakfast we'll board a boat bound for the Dalmatian island of Hvar, where you'll have free time to climb atop the fortress and explore the quaint old harbor town, fast becoming a ritzy haunt of Europe's jet-setting class. We'll end our island-hopping day in the more relaxed island town of Korčula, where we'll sleep (2 nights). Boat: 3 hrs. Bus: 1 hr. Walking: moderate.
Day 10: Island Relaxation
Today you are free to wander the narrow cobbled streets of Korčula's medieval quarter, poke around its Cathedral of St. Mark, and imagine the tales its Venetian villas could tell. This could also be a fun day to go for a swim, snorkel, or rent a boat. We'll dry off and regroup for a little happy hour together late this afternoon. No bus. Walking: light to strenuous (your choice).
Day 11: Eye-Opening Bosnia-Herzegovina
We'll begin our day with a short ferry ride back to the mainland and then cross the border into formerly war-torn Bosnia-Herzegovina. We'll enjoy lunch set in the backdrop of a 14th-century Ottoman village before making our way to Mostar, a town that serves up a fascinating blend of south Slavic, Ottoman Turkish and Mediterranean cultural traditions. Before dinner together, our local guide will take us on a thought-provoking walk and teach us about war and the siege of Mostar in the 1990s. We'll visit Mostar's rebuilt Old Bridge, the Kujundžiluk bazaar and a traditional mosque. Sleep in Mostar (1 night). Boat: ½ hr. Bus: 4 hrs. Walking: strenuous.
Day 12: Rural Herzegovina
Today we'll take a long and scenic country drive through untouristed Herzegovina on our way to Dubrovnik. En route we'll stop in the town of Stolac to see the medieval Stećci tombstones that dot the fields. After lunch together we'll drive through the predominantly Serbian Republika Srpska region, stopping at the Tvrdos Monastery to learn about the Orthodox religion. After we arrive at our hotel in Dubrovnik, your guide will orient you to this Pearl of the Adriatic and set you free to sample the local cuisine and do a little exploring on your own. We'll sleep outside Dubrovnik's old city wall in the Lapad district, right by the sea (2 nights). Bus: 6 hrs. Walking: moderate.
Day 13: Dazzling Dubrovnik
We'll begin our day with a walking tour of the architectural treasures within the 800-year-old city walls of Dubrovnik, long ago its own republic and a rival of the powerful Venetians. We'll learn about the city's dramatic history — including the siege of 1991 — as we tour its traffic-free promenade and old harbor. Then you'll be free to roam this stone city and its walkable walls that seem to have sprouted up out of the sea. Tonight we'll have a feast of local specialties together as we share travel memories and toast new friends. Živjeli! No bus. Walking: strenuous.
Day 14: Tour Over After Breakfast
Your guide will help arrange affordable taxi/shuttle rides to Dubrovnik's airport, 40 minutes away. From there, you can fly to Zagreb and other European cities. Do viđenija!
Itinerary specifics subject to change.
Activity Level
Our tours are physically active! It's an essential part of the Rick Steves tour experience. On our Best of the Adriatic in 14 Days tour — among other things — you'll need to happily...
Carry/roll your luggage over uneven pavement (several blocks possible) and up stairways to reach your hotel; then up several flights of stairs to reach your room.
Be on your feet, walking and standing for up to four hours, indoors and outdoors, in all weather conditions.
Sleep with street noise and no (or weak) air conditioning.
After orientation and transportation lessons, be able to navigate towns and cities on your own.
Travel on a bus without a toilet (rest stops every two hours).
Reviews
Christy
Bellevue, WA
Tour: 09/29/13
Overall rating:
Everything was well organized and well paced. When there were glitches - a storm cancelled the boat! - alternatives were swiftly and efficiently lined up with a minimum of drama. The group was compatible, if a little too large, and able to keep up with the pace.
Favorite "WOW" moment
"You know, there really wasn't one. And that's not a criticism. We were engaged practically every minute. We were fascinated, informed, pleased... there isn't just one event we can pick out."
Peter
Olympia, WA
Tour: 09/29/13
Overall rating:
Marijan was amazingly knowledgeable, both about history and important characteristics of the many towns we visited. The countries are beautiful, and it was a pleasure to hear about them as we travelled. We certainly saw the noteworthy fortifications, walled cities and other significant places. Learning the details of the recent wars, ethnic cleansing and other horrible events affected me profoundly. The complexities were difficult, but Marijan was an excellent teacher (and pleasant person)
Favorite "WOW" moment
"We visited a remote monastery, and were guided by a resident monk-in-training, 17 years old, from our home town Seattle. A storm prevented us from using a ferry to leave an island. Marijan demonstrated his resourcefulness in finding an alternate route."
Andrea
Phoenix, AZ
Tour: 09/29/13
Overall rating:
The Adriatic tour was great - Marijan was so informative about each area we visited, and as always the local guides provided by Rick Steves were wonderful! Going through Bosnia was especially interesting to me because both of our local guides had lived through the war in the 90s and told us their personal experiences. The Adriatic area is beautiful in and of itself! I would definitely recommend this tour to my friends.
Favorite "WOW" moment
"I believe hiking through Plitvice National Park was my "wow" moment on this tour. The many waterfalls were absolutely breath-taking!"
Patricia
Olympia, WA
Tour: 09/29/13
Overall rating:
Excellent knowledgeable and considerate guide, an intellectually curious, kind and compatible tour group, a variety of land and cityscapes, exposure to a range of ideas and positive and negative ways to solve problems -- all memorable.
Favorite "WOW" moment
"Our guide's resourcefulness re getting us to Korcula after a ferry boat cancellation. Our local Bosnian guides' life lessons re creating productive, peaceful lives for themselves and for their communities."
Mavis
Morgantown, WV
Tour: 09/29/13
Overall rating:
The Adriatic Tour was one of the best tours that I have taken. The tour guide was exceptional, the sights we saw were VERY interesting and educational, the food was good and the group members were great to be with. Even with more rain than we would have liked, the members were upbeat and go-with-the -flow types of people. All in all, it was a wonderful trip.
Favorite "WOW" moment
"The 'wow' moments for me were the interactions with the local guides, Alma and Sanel. It was so moving to hear their personal stories related to the war. It is so different hearing someone speak of their experiences, as opposed to reading about the same in the paper. I was impressed with their positive attitudes and hopefulness for the future. I'm sure they are having a major impact, especially on the young people, with regards to tolerance, acceptance and peace."
George
Morgantown, WV
Tour: 09/29/13
Overall rating:
Because eof the high quality of our leader, Marijan and the local guides, this tour was excellent.
Favorite "WOW" moment
"Meeting local guide, Alma, in Mostar."
Brian
Calgary, AB
Tour: 09/29/13
Overall rating:
We have done many tours in many parts of the world with some wonderful tour guides. But, without reservation, the tour we did with Marijan was beyond the best; he was an amazing guide – insightful, articulate, knowledgeable and just a fine human being to spend two weeks with. Besides dealing with mini crises (a cancelled boat and emergency dash to catch an inter island ferry), the small touches (a bag of lavender to counter act the dirty laundry in our bags) were most impressive!
Favorite "WOW" moment
"Hearing the first hand story of the atrocities in Bosnia and the inspirational human spirit and resiliency that is bringing the people back to their senses and onto their feet going forward."
Linda
Morgantown, WV
Tour: 09/29/13
Overall rating:
I was pleased with the overall itinerary- it introduced us to the area with a wide variety of cultural and historic experiences. The trip was very well organized by our guide (Marijam). He prepared us for each stop by using the bus time to advantage. His intimate knowledge of the countries, their past history and more recent conflicts gave us such a great feel for the people. The quality of the local guides was excellent, too. Through the last day, we were immersed in moving experiences.
Favorite "WOW" moment
"The story shared by Alma, our Mostar guide, about her survival of the siege of Mostar. This was shared beside the cemetery where every one in it died in 1993. It was formerly a park, now remaining a cemetery. It was a sad, horrible story, but she also convinced me that she was interested in moving forward without hate and still had faith in the future."
Richard
Wyoming, MN
Tour: 09/29/13
Overall rating:
The tour was very interesting.
Favorite "WOW" moment
"Lake Bled"
Roxanne
Friday Harbor, WA
Tour: 09/29/13
Overall rating:
Great group of travellers, outstanding guide and bus driver, much appreciated instruction in history and culture of Croatia, Slovenia, and Bosnia.
Favorite "WOW" moment
"Seeing the old city of Dubrovnik at night with few people on the streets and lights bathing the walls."
Rod
Cody, WY
Tour: 09/24/13
Overall rating:
One of the most enlightening yet sobering tour experiences involving 3 Countries intertwined with Centuries of troubled history. Definitely, a Championship Tour, that required an extraordinary Guide, exceptional local tour guides, a totally professional bus driver to maneuver every imaginable City and Countryside terrain, and an unmatched organization providing the Tour book and all the logistics involved to ensure everyone's success.
Favorite "WOW" moment
"So many Wow moments but Plitvice Lakes National Park and the dinner in Mostar really stand out."
Richard
Peoria, IL
Tour: 09/24/13
Overall rating:
Excellent tour, excellent experience.
Favorite "WOW" moment
"Looking out our hotel room window in Korchula when we woke up and experiencing the beautiful view."
Henry
Darien, IL
Tour: 09/24/13
Overall rating:
Many interesting sites interpreted by excellent and knowledgeble guides. Our tour group was friendly and interacted well. Our guide was a fountain of information about the countries and the 1990's war in the region.
Favorite "WOW" moment
"It's hard to say there was a single "wow" moment, but I would have to choose the visit to Plitvice National Park. Even in the rain I really enjoyed our hike there."
Sylvia
Enumclaw, WA
Tour: 09/24/13
Overall rating:
I felt the entire tour was very well organized and thought out. Every day was different and I liked having free time also. The information and education was an added benefit.
Favorite "WOW" moment
"Plitvice Park except for the rain, would be a perfect day."
Barbara
Bowdoinham, ME
Tour: 09/24/13
Overall rating:
Interesting and scenic sights, lots of history, and great guides made the whole experience above average. I liked the mix of group dinners and time for ourselves to explore. The itinerary was very extensive, visiting sites in three countries. There were days when bus travel was a bit much. Perhaps the 35 bus hours over 13 days is something to reconsider.
Favorite "WOW" moment
"The trip through the Julian Alps where the scenery was breathtaking. Mountain vistas were incredible and the bus ride with 50+ hair pen turns was an unforgettable trip."
William
Alameda, CA
Tour: 09/24/13
Overall rating:
I have a much better understanding of the Balkans now. This region has had a lot of recent tragedy that most of us had forgotten about, yet the people are very resilient. We had a great group of people on the tour and an outstanding Rick Steves guide. It is a beautiful area rich in history. It's a shame that this area that had religious and ethnic tolerance for centuries was torn up due to the a couple of really poor, megalomaniac leaders. Highly recommended tour.
Favorite "WOW" moment
"Plitvice National Park in Croatia is an unknown gem. Hearing first hand stories of the many months long bombing in Sarajevo, Mostar and Dubrovnik was highly educational."
Kathleen
Cody, WY
Tour: 09/24/13
Overall rating:
We are so impressed with this tour. Amir, our tour guide, was amazing. Not only was he well organized so that our travels seemed seamless, he is so personable and knowledgeable. In a very fair and nonjudgmental approach, he educated us on the history and hopes of the Balkans. He also has a wonderful sense of humor and organized our after tour trip to Montenegro. The local tour guides were also excellent. They led us throughout each area with great expertise, humor, and sensitivity.
Favorite "WOW" moment
"Plitvice Lakes National Park"
Karen
Denver, CO
Tour: 09/24/13
Overall rating:
This is our third RS Tour, and we continue to really enjoy and appreciate the mixture of fun and adventurous elements with learning and expanding-your-awareness elements. The wars of the 1990's in this region make this an especially history-rich experience - sometimes a little tough to wrap my mind around. But Oh So Worth It! Great destinations, great guide, great group, great driver. Glad we went "off peak" season.
Favorite "WOW" moment
"I'm afraid my "wow" might be perceived as negative by others, but it isn't to me. Despite being a sentient adult at the time of the Balkan wars in the 90's, I really didn't tune in, get what was going on, or understand the outcomes. Thanks to this tour, I feel I have some understanding of it now. I don't think I could have enjoyed learning so much if it hadn't been mixed in with all the other elements of a great vacation. So my "wow" was learning something so big, in small bites."
Suzanne
Seattle, WA
Tour: 09/24/13
Overall rating:
I wanted to come away with more historical knowledge of how the former Yugoslavia fit into WWI, WWII and their own civil war of '93. I feel I did get a lot more local information about the latter as each of our guides had personal experiences to share. I felt that, in addition, I got a much clearer view of their amazing and diverse geography. I've traveled A LOT in my life as I worked in the travel industry for 38 years and have to say this was in my top 3 trips ever taken!
Favorite "WOW" moment
"The Island of Korchula. I had vowed that, no matter the weather, I'd swim in the Adriatic. On our "free day", 3 of us rented bicycles, found a nice piece of beach and dove in!"
Neal
Denver, CO
Tour: 09/24/13
Overall rating:
A very thought provoking, moving experience. I would not even call it a tour, it was more correctly a journey of discovery. Both for the sights of the area and its rich and turbulent history.
Favorite "WOW" moment
"Without question it was the guides. Our guide Amir was a perfect combination of host, logistical expert and humorous companion. The local guides were just tremendous. To have the opportunity to hear experts on the area describe it in such detail that you can see the past is a rare treat."
Sarah
Spokane, WA
Tour: 09/24/13
Overall rating:
My husband and I have put off doing this evaluation because we weren't quite sure where to start! Our trip to Slovenia, Croatia and Bosnia was AWESOME in all ways; the gorgeous scenery and interesting cities, the knowledgeable and passionate local guides, and the caring and organized style of our tour guide, Amir. Not to mention the skillful and funny bus driver, Milan, for approaching his job of driving windy, steep mountain roads with calm competence. All was good.
Favorite "WOW" moment
"For my husband, his first view of Dubrovnik coming over the hills from the east was his favorite moment on this trip of SO MANY "wow" moments. For me, I keep coming back to the Old Bridge in Mostar, recently restored, and the film of its bombing during the war. This "wow" moment is tinged with sadness and regret because of the war just a few years ago, but also of honor and respect for understanding its history. The bridge represents the determination of the people of Mostar."
Stephen
Richmond, VA
Tour: 09/24/13
Overall rating:
Wow....I don't know where to start. This adventure is one that I had wanted to take for sometime and the experience lived up to my every expectation.....and beyond. My first Rick Steve's tour was to Rome 5 years ago and that experience just wet my appetitate for another..... I was not disappointed!
Favorite "WOW" moment
"There were so many, most just being in the right spot at the right time. One that comes to mind was strolling around the old part of Korcula in the early evening and hearing a church choir practicing. So we sat down at an outdoor cafe ordered a beverage and listened to the choir fir the next forty minutes. Another was in Mostar. We were walking over the bridge and there was a bride and groom having photographs take. Same happen in Dubrovnik......you just never know what was around the corner."
Judith
Peoria, IL
Tour: 09/24/13
Overall rating:
It was a multifaceted eye opening experience...beauty, variety, outstanding tour guides, sadness, hope and history experienced!!!!!
Favorite "WOW" moment
"There were so many, each day a gem. I couldn't pick just one."
Diane
North Vancouver, BC
Tour: 09/22/13
Overall rating:
I very much enjoyed this tour. It was a well balanced mix of organized events and time on our own to explore or relax. There were many spectacular sights ( Lake Bled, Julian Alps, Plitvice National Park) One of my special interests in going on this tour was the complex history of this area, both past and more recent. I appreciated that our guide Saso and the local guides that we had did an excellent job of presenting that history in a thoughtful and neutral way.
Favorite "WOW" moment
"The drive through the Julian Alps with our very capable driver (Alees?) taking all the switch back turns with expertise was a definite "wow" moment for me. Spectacular scenery on a beautiful sunny day! One of many memorable moments on the trip."
Jody
Seattle, WA
Tour: 09/22/13
Overall rating:
I continued to be impressed with the great tour guides that you employ! They set the tone for the tour and I haven't been disappointed, this being my 4th Rick Steves' tour. I appreciate that you involve your guides in the development of the tours and that commitment to them is one more reason why they all speak so highly of your company. Your expectations about our responsibilities as tour members are clear and contribute toward creating tour groups of people that are very compatible.
Favorite "WOW" moment
"My favorite photo "wow" moment was Lake Bled. My favorite experience "wow" moment was the stair climbing to the bell tower and views at the Saint Euphemia Cathedral in Rovinj, Croatia. Odd, but the gentleman at the Cathedral who would not take my 50 kuna bill for admission to the bell tower because the bill was too old. I didn't know that you could have old money! (I later exchanged it for a "new" bill at the hotel restaurant in Motovun, where I was given the bill the prior evening.)"
Marion
North Vancouver, BC
Tour: 09/22/13
Overall rating:
I found all our local guides to be very good however I would like to give a special vote of thanks to Zeljko Cimpric for his presentation on the WW1 history in his area, Alma Elezovic and Sanel Maric for sharing their life histories both during the war in Bosnia & Herzogovina and today. All three showed that change can occur and that is the hope I have for the people in central Europe. Our personal leader Saso is a terrific person and our driver Ales Cop kept us all feeling safe at all times
Favorite "WOW" moment
"Going through a small unmarked doorway in the old wall of Dubrovnik and coming out onto rocks that dropped of to the Adriatic Sea. What an amazing place to enjoy a glass of wine! I thought the Lisjak Winery was a very special place to stop with a tour. Truly a lovely spot and Boris was a most welcoming host."
Diane
Pueblo, CO
Tour: 09/22/13
Overall rating:
Packed with impressive number and variety of experiences[INVALID]I loved the mix of historical sites, delightful towns/cities (especially Ljubljana and Korcula), and natural beauty ( Lake Bled and Plitvice Park). Bus was very comfortable. Driver was excellent. Other tour members were a pleasure to travel with. Right amount of time allowed for almost everything (although I felt a little rushed a couple of time (Pula and Opatija) .
Favorite "WOW" moment
"Many "wow" moments: Ljubljana, walking around Lake Bled, museum presentation about WW1 in Kobarid, Plitvice Lakes, Roman amphitheater in Pula,"
Walter
Calgary, AB
Tour: 09/22/13
Overall rating:
We started off in Swiss Alps and Salzberg Austria using Rick Steves' advice for much of our planning. Everything went perfectly, well...except for the weather. The Adriatic was a fantasitic experience. We had a great group of folks.
Favorite "WOW" moment
"That's tough. Slovenia - Lake Bled was an unexpected surprise - stunningly beautiful. Croatia - while crowded, Plitvice LAkes will fowever be blazed in my mind. Bosnia - unbelievable that something of this nature could take place in our lifetime. A moving and memorable experience. Kobarid - who knew. Split - the women are beautiful. Did you know they actually look like the float when they walk. All that said, Hvar and Korcula were my favorite two days."
Sue
Calgary, AB
Tour: 09/22/13
Overall rating:
As is typical of Rick Steves tours, we were thrilled with the experience. Our guide, Saso, was amazing and had a great sense of humour - pretty amazing considering he is so much younger than the cohort on the group. We had a fun bunch of folks with us, bus driver, Ales, was superb. Food was so-so - too much meat and potatoes and not enough veggies. Hotels good. Local guides good, but they tended to talk away from the group so hard to hear. Sites were amazing.
Favorite "WOW" moment
"From a stunning stop 'point-of-view' I think Plitvicka Lakes was amazing - overland flooding without the disaster. Island "life" was great. The experience of being in Bosnia and getting the talks from the local guides was profound - I believe this is one trip where I came away most deeply impacted by what we heard"
Marta
Friday Harbor, WA
Tour: 09/22/13
Overall rating:
The countries were beautiful; We had an absolutely fabulous guide; the experiences were varied and interesting. Challenges included learning to cope with the various kinds of locks the hotels use on their doors; and interesting bedding in most places that didn't allow for someone who needs only a sheet for sleeping rather than the sheet/thick blanket/sheet sandwich that was common, and too warm for me. These were relatively minor problems and certainly nothing deal breaking.
Favorite "WOW" moment
"Without question the beautiful Lake Plitvices National Park was the highlight. I was pleased to see that within a week of the trip, we noticed that Yahoo had named the park the most beautiful place in the world!"
Ilja
Puyallup, WA
Tour: 09/22/13
Overall rating:
My expectations were high. Nevertheless they were exceeded thanks to stunning beauty of Slovenia, Croatia and Bosnia and of course thanks to our outstanding guide.
Favorite "WOW" moment
"They were many. For example walking from our hotel to the seashore boulevard in Split at night. Totally unexpected beauty."
Carole
Long Beach, CA
Tour: 09/22/13
Overall rating:
I truly came back a different person....going to three countries I know nothing about and learning so much! It was a once in a life time experience. I'm looking forward to my next tour with your company.
Favorite "WOW" moment
"The hiking adventure Swimming in the Adriatic The three wonderful Guides including our tour guide Visiting Monstar......on and on"
Donna
Puyallup, WA
Tour: 09/22/13
Overall rating:
I had a wonderful time on the Adriatic tour. Our guide, Saso and driver Ales were the best. I always felt safe with Ales at the wheel, even in the Julian Alps where there were more hairpin turns than I have ever experienced. Saso kept things moving well; he had good humor and an exceptional knowledge base for such a young man. The food and accommodations were very good, guides in the cities we stopped in were interesting, never dull.
Favorite "WOW" moment
"There were many wow moments. One that sticks out for me is Dubrovnik for the size, age and beauty of the old city, especially as experienced from walking the ramparts."
Moira
Rancho Mirage, CA
Tour: 09/22/13
Overall rating:
This was my first Rick Steves tour and I loved it!. I have travelled on my own in Europe and have been on three other tours as well (not Rick Steves). This was by far the best experience. I was well prepared to do lots of walking and felt the activity level was just right for me.
Favorite "WOW" moment
"It is hard to pick just one but I have to say I was impressed by the spirit of the people in Bosnia. It was incredible. The tour guides were so compassionate and tolerant in their thinking - hoping for peace and stability in their country. There was no sign of bitterness or hatred that I might have expected. I was very touched."
Bill
Seattle, WA
Tour: 09/22/13
Overall rating:
Best tour I have ever been on. Just about the right amount of time spent in each location. Local guides were excellent. Tour guide was outstanding. Tour group size was an initial concern but turned out to be OK mostly because of the people themselves and the level of planning that made the whole experience very smooth. I was very pleased with the locations chosen as I think they represented the best experiences in the countries visited.
Favorite "WOW" moment
"The walk through the national park in Croatia. I had never seen so many beautiful and lush waterfalls anywhere. I had also never seen so many people on one trail moving so slowly. But that didn't deter from the overall "wow" from the park."
Ellen
Glen Ellen, CA
Tour: 09/17/13
Overall rating:
This is a great tour. We experienced so much, from the beauty of Plitvice Lakes National Park to the intensity of post-war Bosnia-Herzogovina. Ben was an amazing tour guide...a PhD in Political Science who speaks 15 languages (it was impressive to hear him speak different Slavic languages), he has such a depth of knowledge about Eastern Europe, and Croatia specifically (he has a book on Croatia published in 2010). The tour was a good mix of history, culture and beauty.
Favorite "WOW" moment
"There were so many, but two really stand out: 1) Walking into the Peristyle of Diocletian's Palace in Split at night (on our orientation tour), where two musicians were playing in this acoutically perfect setting. 2) Talking with our tour guides in Mostar and Stolac, young people who had experienced a horrific war in their country, been forced into concentration camps, lived through grenades being thrown into their homes...and yet they have hope for the future..."
Deborah
Redmond, WA
Tour: 09/17/13
Overall rating:
Excellent! Our guide was so informative & fun in presenting history & facts of all locations. Local guides were terrific. Had enriching experiences & adventures plus great examples of local food & music. Pleasantly surprised w/nice accommodations. Guide book current & very helpful. Exposed to how many live, what they have survived even in recent times & complexity of current tensions. Really nice bus & terrific driver.
Favorite "WOW" moment
"My 'wow' was more of the shocking realization of how many lives were needlessly lost during the centuries of wars there & especially the losses there during WWI. The visit to the Kobarid Museum covering the tragedy of the Soca Front in WWI where 300,000 died, 700,000 were wounded, 100,000 were MIAs, & thousands of civilians were killed in 12 battles over 29 months will stay w/me forever. So SAD. Then our visit to Bosnia - both Mostar & Stolac were as upsetting. All the guides were fantastic."
Lynda
North Vancouver, BC
Tour: 09/17/13
Overall rating:
Good, people all easy to get along with. Bus drivers skilled & personable!
Favorite "WOW" moment
"Going up & down 29 switchbacks in Soca Valley (I sat at front of bus & was scared) then seeing & hearing museum's display about soldiers here during World War 1"
Kristin
Arroyo Grande, CA
Tour: 09/15/13
Overall rating:
This tour was our first tour of any kind. We are not sure at this point if we prefer a tour over our own planning. We were pleased with the choice of sites but there were a couple of instances where we were biding time until the next stop. For example, we spent several hours in Opatija before going to Lake Plitvice. We would have preferred to spend that time at the park. The same thing happened in Hvar. We could have spent more time on Korcula.
Favorite "WOW" moment
"We have two. One was Diocletian's Palace at night. We enjoyed the music and were impressed by the evolution of the Palace into modern living. In Stolac, we were impressed by our guide, Sanel Maric, who explained the history in a compelling way by adding his personal experience and expressing hope for the future."
Lee
Bellingham, WA
Tour: 09/15/13
Overall rating:
Overall met but did not exceed expectations. It was largely as advertised. Guide was professional and well prepared. Group members were convivial and pleasant. An informed and communicative group.
Favorite "WOW" moment
"The village in Stolac was a "wow" and in particular the guide was special. Keep him around. The whole Soca Valley was filled with nice insights. But the highlight was getting stopped by a truck accident and having the time to visit a over left over from WWI. This was clearly not aplanned part of the tour but welcome nonetheless. A number of the places were as expected and pleasing. We also particularly enjoyed Lublijana, but we stayed there for four days before the tour actually began."
Martta
Austin, TX
Tour: 09/15/13
Overall rating:
Overall this was a sensational tour with wonderful people, a well organized schedule, and an outstanding combination of history, relaxation and amazing cultural experiences. This tour gave me insight into the layers of history that have shaped and continue to influence this region. Absolutely recommended!
Favorite "WOW" moment
"My wow moment was not a site we visited or an amazing display of nature, it was the happy hour boat ride in Korcula. What fun to have snacks and a glass of local wine with new found friends while we watch the sunset over these amazing islands."
Valerie
Ripon, WI
Tour: 09/15/13
Overall rating:
I had a wonderful experience on this tour. It was well organized and very enlightening. The range of experiences was impressive and I gained so many insights about the region that I continue to process what I learned. Thanks for an exceptional tour.
Favorite "WOW" moment
"There were many. Going through the national forest was exceptional, hearing the personal accounts of the war was enlightening and touring such a beautiful region was inspiring."
Susan
Portland, OR
Tour: 09/10/13
Overall rating:
This was our first Rick Steves tour and our experiences exceeded our high expectations. The details of the tour were handled like a well oiled clock - buses were on time, lunches/dinners were served with style, hot, tasty and on schedule, accommodations had character and "better" rooms evenly assigned, local tour guides were knowledgeable, dynamic and personable, Amir, our tour guide was smart, knowledgeable, kind, personable, thoughtful, funny and fun -- in fact, he was just terrific.
Favorite "WOW" moment
"Our favorite "wow" moment was the visit to Stolac and meeting the dynamic entrepreneur, Sanel Maric, who is fighting entrenched bureaucracy and marking a difference. Our "A-ha" moments center on a new understanding of the causes, impact and outcome of the Bosnian war [INVALID] local guide Alma's narrative of her lived experiences shared in a cemetery in Mostar, our guide's thoughtful, cogent and impartial overview of the history couple with his personal story, standing on the Old Bridge .."
William
Plymouth, MN
Tour: 09/10/13
Overall rating:
I thought the whole tour was exceptional. It was very well organized, and things just ran smoothly every day. The scenery, history, and culture of the three countries we visited really made the tour a positive one.
Favorite "WOW" moment
"Viewing the "Pearl of the Adriatic" on the top of Mount Srd, and walking the ancient wall were my "wow" moments."
Michael
Portland, OR
Tour: 09/10/13
Overall rating:
Enjoyed the tour and the small size, however the structure of a tour sometimes gets to be a little tiring.
Favorite "WOW" moment
"Enjoyed the swimming in the Adriatic. The walk through the National Park."
Elizabeth
Richardson, TX
Tour: 09/10/13
Overall rating:
What a lovely 14 days it was (plus a couple of days before in Munich). Once one accepts the concept of stairs, climate variations, and adventure, it's a blast. All the folks on the tour were great and a true pleasure to get to know.
Favorite "WOW" moment
"When Roberto, the guide in Dubrovnik, took us to his family garden - what a kind and back-door thing to do for the gaggle of us. Second was the quiet time after a walk at Lake Bled - having the cream cake on the terrace at Villa Preseren with a glass of wine - watching the people and the peace of the lake - lovely."
Maureen
Spokane, WA
Tour: 09/10/13
Overall rating:
This is the sixth ETBD tour I have taken and each one has been so unique. I always think that the next one couldn't possibly be better than the last....but the experience keeps getting better and better! Fabulous tour guides, incredible destinations, immersion in the culture, unforgettable history lessons..and wonderful memories!
Favorite "WOW" moment
"So hard to pick just one. Standing in the cemetary at Mostar, listening to the local guide describe the living conditions during the war---making her son play in the bathtub as it was the safest place in the house----listening to Amir describe his life in Sarajavo...the real life experiences were the most touching."
Michelle
Marietta, OH
Tour: 09/10/13
Overall rating:
It was a beautiful tour. All members were cordial and interesting.
Favorite "WOW" moment
"I enjoyed all of the food. The seafood was wonderfl. The people were warm and welcoming."
Sue
Seattle, WA
Tour: 09/10/13
Overall rating:
I discovered a fascinating part of the world with such a long history, so culturally diverse, with incredible antiquity, and war reconstruction. So much to learn from wonderful guides in every location. I went away with a much better understanding of the Bosnian war in the 90's, the need for employment and investment, and how the tourist trade is an integral part. This experience will always remind me how people can survive and move forward in a positive way.
Daniel
Center Lovell, ME
Tour: 09/10/13
Overall rating:
This was our first "tour" of any type although we have traveled extensively on our own. The Adriatic tour exceeded our expectations. First, it was just as advertised. Well organized with a great group of experienced travelers and no "whiners". The beauty of the Adriatic Coast, the majestic Alpine regions to the north and well selected city sites combined to make this tour both recreational and highly educational. Tour leadership was terrific and the local guides were outstanding.
Favorite "WOW" moment
"I really enjoyed the coastal towns of Split, Hvar and Korcula (among others -- but they stood out in terms of stunning beauty and energy). We are accomplished "walkers" on all trips and we truly enjoyed the streets, shops and access to the water for swimming."
Jeanne
Center Lovell, ME
Tour: 09/10/13
Overall rating:
Having traveled extensively, Dan and I decided to take our first tour because we had limited knowledge of eastern Europe and felt we were out of our element creating an itinerary and finding accommodations. The trip exceeded our expectations. The beauty and diversity of the former Yugoslavia was spectacular. The careful selection of destinations--balancing cities and villages, historic treasures and natural wonders, tourist meccas and off road destinations--made the experience dynamic.
Favorite "WOW" moment
"Swimming in the Adriatic at Korcula, seeing the Old Town in the background."
Allan
Spokane, WA
Tour: 09/10/13
Overall rating:
The tour was a great experience. Our guide did an outstanding job as a guide with his extensive knowledge of history of that area. Our assistant was a great guy to be around and talk too.
Favorite "WOW" moment
"The entire trip was great..."
Anne
Portland, OR
Tour: 09/10/13
Overall rating:
Wow! It was more than we expected. Our tour guides were the key to this wonderful "adventure!"
Favorite "WOW" moment
"Seeing the Julian Alps was pretty amazing and knowing that they were the front lines in WWI makes you say "wow!""
Connie
Portland, OR
Tour: 09/10/13
Overall rating:
we had a wonderful very rewarding time. we learned a lot and enjoyed our tour guide so much. Our guide is a very knowledgable man who knew the area inside and out. We had never been to that part of the world . We enjoyed the varied parts of the trip , the adriatic sea , the julian alps the farm land , the walled cities the ancient history . We feel they covered every bit to it to the fullest. Our guides complemented one another , it was very nice to have an assistant with us .
Favorite "WOW" moment
"The wow was meeting all the wonderful people in our group. Each and everyone were very nice special people . Each day was very enjoyable being with them."
Robert
Palm Desert, CA
Tour: 09/08/13
Overall rating:
This was my ninth Rick Steves tour. I would have to place this in the top three. I give it a high rating based on two factors. First, the diverse physical and cultural geography that comprises the Adriatic countries we traveled. Second, our tour guide Saso, created so many special moments for the group. The accommodations were very good. The arrangements made for the meals were simply awesome. Each location had it's own distinct character and special menu.
Favorite "WOW" moment
"I was really looking forward to spending time on the Dalmatian Islands but reflecting back, our experience hiking in the Plitvice National Park was my favorite "wow" moment."
Margarita
Santa Ana, CA
Tour: 09/08/13
Overall rating:
10/2/13 The tour went exceptionally well due to our guide, who was phenomenal! We could not have done it without him. We stuck to him like velcro; we were his flock, and he loved it. He made everything lots of FUN & informational. He's tops, the cream of the crop, at what he does because he loves people & is well organized. I will recommend this trip to others.
Favorite "WOW" moment
"Every moment was a WOW! Even free time was enjoyable since our guide gave us alternatives, options, instrucations, directions, and at times joined us. We loved it when he did."
John
Pacific Palisades, CA
Tour: 09/08/13
Overall rating:
This trip had an ideal balance of cultural, historical and just-for-fun events and activities. Our guide was great and we had the most congenial group of tour participants. I particularly liked the multiple perspectives presented regarding the 1991-1995 war.
Favorite "WOW" moment
"I most enjoyed the tour of the Roman subterranean ruins in Split and that the City is still partially using the Roman aquaducts to bring water from the mountains. The story surrounding the old bridge in Mostar was a close second among my favorite activities."
Howard
Palm Desert, CA
Tour: 09/08/13
Overall rating:
Slovenia and Croatia both have very attractive scenery and it was also interesting seeing the Istrian peninsula where a friend's grandparents had lived. Our group members seemed quite compatible and generally prompt as we were all seasoned travelers. Most people that we dealt with, including shopkeepers, understood and spoke American English, since many learn it from the TV programs, as our guide explained to us.
Favorite "WOW" moment
"It was hard to believe that the bullet hole pocked buildings and minefields which we saw in Croatia in our Sept 2001Best of Eastern Europe tour are still there. The history and relationships between these mostly Slavic groups was interesting."
Ruth
Palm Desert, CA
Tour: 09/08/13
Overall rating:
Overall very good. The group was very compatible and well traveled - by far the best group we have ever toured with. Having Carl and his guide dog on the trip was enjoyable and educational.
Favorite "WOW" moment
"The Croatian coast! This is the first trip I have not read a book on the bus as the Croatian coastline was spectacular and I did not want to miss any of it."
Cydny
Woodinville, WA
Tour: 09/08/13
Overall rating:
Our vacation went by so fast that it must have been Great!!! Not once did I think that I wanted it to be over. Everyone was fun to travel with, the group times were fun and it was nice to get to know everyone. I would like to recommend this tour to everyone.
Favorite "WOW" moment
"It is very hard to say what my 'Wow' moment was. It seemed like every new town was a 'WoW' moment!! Seeing all the old towns, the Castles and Ruins, hearing all the History from so many years ago made everything all very special and unique. I loved going to Bosnia, I could have stayed there for 2 days. Our Hotel by the Old Bridge was great."
Claudia
Santa Monica, CA
Tour: 09/08/13
Overall rating:
The group was exceptionally good and travel veterans. The places we visited and the tour guides were wonderful as usual
Favorite "WOW" moment
"Mostar. The guide was a 'native' and told with heart and soul her experiences and what she sees for the future of Bosnia. The other city we visited gave us yet another perspective of the struggle to get a country up and going again through the eyes of a young person. Truly educated me in the complexities of the country and the impact of the EU."
Philip
Santa Monica, CA
Tour: 09/08/13
Overall rating:
It was truly enlightening.
Favorite "WOW" moment
"The whole trip."
Jeanette
El Dorado Hills, CA
Tour: 09/08/13
Overall rating:
The best! Our group was active and friendly. We jelled after an hour. Saso was very informative, friendly, and professional. Ales was a very good driver. The places we saw were beautiful, interesting and varied. After the tour, I wanted more. I plan to go back sometime.
Favorite "WOW" moment
"It is hard to pick. Plitvice National Park was so unique with the number of lakes and abundant waterfalls. Dubrovnik, Rovinj, the amphitheater in Pula, Hvar, Korcula, Split, Motovun, how does one choose only one "wow" moment?"
John
Keller, TX
Tour: 09/08/13
Overall rating:
Jodie and I enjoyed the entire tour. This was our second Rick Steves' Tour and it will not be our last. We have traveled extensively ourselves in Europe, but this tour experience has enriched us more than if we had traveled by ourselves. Saso and the local guides exhuberantly brought Slovenia, Bosnia and Croatia to life and made it an especially rewarding and enriching experience.
Favorite "WOW" moment
"There were many WOW moments. The wonderful wine tasting experience in the Slovenian countryside was certainly a special treat. We were also particularly touched by how local guide Sanel is working hard to rebuild Stolac and to appreciate what it must have been like for Alma raising her son during the Bosnian conflict. These moments help us appreciate what we have in America but they also lift the spirits to see how others can overcome obstacles in their own lives."
Diane
Redmond, WA
Tour: 09/08/13
Overall rating:
This was our 9th ETBD tour, celebrating our 50th wedding anniversary. Our first trip was 25 years ago on our 25th anniversary. We thought it was the best group of fellow travelers ever. Everyone was well-traveled and had experienced a ETBD tour before. Our guide was fun. The hotels have improved considerably, as years ago we stayed in many hostels. In fact, our most memorable experience was the night we slept with Rick in a cabin in Dnmark! Remember us, Rick?? The itinerary was excellent.
Favorite "WOW" moment
"We really enjoyed staying in a hilltop castle in Motovun and walking the perimeter with awesome views. Another special moment was walking the wall in Dubrovnik with outstanding views of the Adriatic Sea."
William
Salem, OR
Tour: 09/03/13
Overall rating:
Everything about the trip was great. The locations, tour buddies, guides, food, lodging, sites. In particular, Ben Curtis was an outstanding guide. Knowledgeable, funny, approachable, we couldn't have asked for anyone better.
Favorite "WOW" moment
"On a somber note, looking out our hotel window in Mostar. A bombed out building directly underneath our window. Looking to the right, a huge cross on top of the hill and a christian church. Looking to the left, seven minarets."
Jack
Urbandale, IA
Tour: 09/03/13
Overall rating:
My 2nd trip in two yrs,thought we covered the country, saw sights we would not have seen on our own.Certaintly an easy way to go compared to do it yourself. I like getting off the beaten path, seeing a winery, or staying out in the country. Would recommend the trip to others,the group fit together there was not a bad apple in the group.
Favorite "WOW" moment
"My favorite stop was the island of Korcula no big cruise ships nice setting, there were no bad stops"
Joan
Levittown, NY
Tour: 09/03/13
Overall rating:
Our tour guide was very fun, organized, and provided us with a great understanding of the cultures we were visiting. Our group was a good mix of couples and singles that all got along really well. The countries of Slovenia, Bosnia, and Croatia had a lot of natural beauty. The tour also had a good mix of group activities and time on your own to explore what interested you, or to just use the time off to relax.
Favorite "WOW" moment
"My favorite "wow" moment was breaking the ice using a few croatian words learned on the bus to engage a native croatian that did speak a english. He was wearing a New York baseball cap and I am from New York. I said hi in croatian and said I was from New York. From there, we had a long chat including an explanation that his hat is from his nephew that lives in New Jersey and brings him a hat every year. He went into his house to show me all his New York hats. It was a special moment."
Gail
Salem, OR
Tour: 09/03/13
Overall rating:
The tour was the best trip we've ever taken together. Great people. Great tour guide and local guides. We learned a great deal, saw some gorgeous and fascinating places and had a great deal of fun doing it. It was flexible enough to accommodate everyone's needs regardless of age or infirmity. It was also varied enough to keep our interest the entire time. I had worried it might be too historical in nature, but it was very well balanced with history, culture, human interest and humor. Thanks.
Favorite "WOW" moment
"Plitvice National Park was not to be believed. It puts our US national parks to shame."
Richard
Newton, MA
Tour: 09/03/13
Overall rating:
I feel that our tour experience was really excellent. It had the right balance of time spent with group activities and group meals versus free time on our own or eating where we chose. The tour stops were very well chosen and all of the sites were were very interesting and at times spectacular. Our tour group got along very well together in part because of Rick's stated tour philosophy and warm-up and icebreaking exercises by our tour guide plus his offbeat sense of humor.
Favorite "WOW" moment
"Dubrovnik and Lake bled in Slovenia."
Mary Ann
Newton, MA
Tour: 09/03/13
Overall rating:
We had a wonderful time! Our tour leader was extremely knowledgeable about the history and culture of Slovenia and Croatia and even spoke Croatian. He also had very good group skills and helped us to quickly get to know one another. (The group members were very nice and compatible). Also, the local guides were excellent and made the experience meaningful by sharing their personal experiences. We saw beautiful sites and learned a lot.
Favorite "WOW" moment
"I loved Dubrovnik. Walking the walls of this beautiful medieval town was a highlight for me."
Noela
Brisbane,
Tour: 09/03/13
Overall rating:
Tour was marvellous from beginning to end and exceeded my expectations. Other tour members were welcoming, interesting and cooperative travelling companions. Accommodation was consistently excellent and food was of a very good to excellent standard. Our tour guide was exceptional: very knowledgeable, sensitive to our needs, highly entertaining and with a great sense of humour.
Favorite "WOW" moment
"Hard to choose : sitting in cafe on edge of wall at hilltop town of Motovun, hiking through world heritage lakes and waterfalls, swimming in ocean, walking the wall in Dubovnik.....this trip had so many."
Albert
Brisbane,
Tour: 09/03/13
Overall rating:
Very interesting, varied and enjoyable tour. A great range of different things to do and see. Excellent guides and very pleasant tour companions.
Favorite "WOW" moment
"Constant wows including the Alps, War Museum, Motovun, vineyard, waterfalls, islands and ancient places."
Nina
Westport, NY
Tour: 09/03/13
Overall rating:
I booked this tour because I wanted to do two tours back-to-back and this one fit with the Southern Italy Tour that I really wanted to do. I was very pleasantly surprised. I knew very little about the region before this trip. Our guide gave me an education on this region and its inhabitants that I will never forget. Slovenia, Croatia and Bosnia-Herzegovina are all unique and extremely interesting destinations.
Favorite "WOW" moment
"Tough question. There were so many natural beauty and historical "wow" moments. I guess the one that struck me was the visit to Mostar. We did a walking tour with a local guide who obviously had some deep, lingering, emotional scars from the war there in the 1990's. Seeing the bombed out buildings, the cemeteries in local parks all with similar death dates and the war museum where a film on the actually shelling destruction of the beautiful bridge really moved me."
Sandi
Monroe, WA
Tour: 09/01/13
Overall rating:
It was more than I had expected, our guide was so well informed & interesting. Everything I saw was wonderful our other members of our tour were delightful & fun. We saw so much & learned so much history in such a short time. I enjoyed the variation of places we visited and the wonderful scenery . It would be hard to pick just one favorite place because each one had their own individuality that made it stand out. Thank you for a great time that will last forever in my memory.
Favorite "WOW" moment
"Ljubljana,Lake Bled, Julian Alps,Montovan, Plitvice Natl Park, Dubrovnik . It is truly hard they were all wonderful and very scenic"
Kathleen
Huntsville, AL
Tour: 09/01/13
Overall rating:
Everything exceeded my expectations, and this is my 3rd RS tour. A little like Italy, a little like Germany/Austria, a little something else. Ljubljana was lovely, small and lively, with the friendliest people, but not too crowded. The Croatian coast has some of the most beautiful scenery. And Bosnia was so interesting, with some of the best local guides. As always, I appreciate the history and context provided by the guides.
Favorite "WOW" moment
"Don't have just one. The first was the "light lunch" at Boris L's winery. Loved Boris, loved the setting, loved the food, LOVED THE WINE! Second, Korcula. AHHHHHHHH.....and the happy hour boat tour. Third, singing John Denver's "Country Roads" with our Mostar guide, Alma. (Heard it sung in Split, and thought it odd, and somehow mentioned it to her, and she starting singing! In Bosnia! Hysterical.)"
John
Huntsville, AL
Tour: 09/01/13
Overall rating:
From start to finish, a well-planned and well-[INVALID]d tour with special memories created every single day. The tour and splendid Adriatic region greatly exceeded my expectations. The many images from the trip are permanently etched on my memory. The overall experience encourages me to sign up for additional Rick Steves tours and, more importantly, continue my explorations across still-to-be-discovered European sites.
Favorite "WOW" moment
"There are quite a few: enjoying lively Ljunljana's vibrant but manageable street scenes; hiking around enchanting Lake Bled, learning about WWI history in Kobarid, lunch at a rural Slovenian winery, dinner on the wall of the hilltop town of Motovun, the many beautiful coastal and island towns of Croatia, hiking Plitvice National Park, coming to understand the ethnic strife that led to conflicts in the region during the 90s, seeing the healing underway in Mostar, seeing Dubrovnik from on high."
Kim
Brentwood, CA
Tour: 09/01/13
Overall rating:
It was way more than I'd expected. Beautiful countries. Lovely people. Less tourists. I really loved the Croatian coast.
Favorite "WOW" moment
"Korcula Island. We rented bikes. Biking around that beautiful island was like a dream. I could live there. Ill always remember it."
Mary Jo
Burns, OR
Tour: 09/01/13
Overall rating:
This was my 4th Rick Steves tour, and it was fabulous! What a wonderful combination of natural beauty, history, art, architecture and culture.
Favorite "WOW" moment
"I think every day had at least one "wow" moment, so it's hard to pick a favorite. Here are a few, though: seeing the aqua-colored lakes and beautiful waterfalls at Plitvice National Park; sitting on the stone steps at Diocletian's Palace at night, listening to a young man singing; having lunch outdoors near the sea in super-charming Korcula; the views from the wall in picturesque Dubrovnik; listening to Alma share her personal story of the war in Mostar; walking up to the castle in Motovun."
Shelley
Vicksburg, MI
Tour: 09/01/13
Overall rating:
The trip exceeded our expectations in every area! This was our first tour and won't be our last! It was an amazing adventure. We loved the variety of places we visited including mountains, country side, national parks, bigger cities, and lots of smaller "off the beaten path" towns. The meals that were included were authentic and the restaurants had oh so much character. Our guide went over and above for us all. We loved the pace of the tour. We loved it all!
Favorite "WOW" moment
"It is too hard to pick one wow moment. The waterfalls at the upper lakes in the National Park were a favorite. The little towns along the coast were so gorgeous. My favorite was Korcula."
Richard
Monroe, WA
Tour: 09/01/13
Overall rating:
There were so many things I liked 2 of my favorites were all the narrow streets with businesses in them. And the tours of all the historic buildings, and the architecture of the castles & amphitheater.
Favorite "WOW" moment
"Ljubljana was my favorite it was a neat town with so many things going on their"
Larry
Dallas, TX
Tour: 09/01/13
Overall rating:
Enjoyed the adriatic immensely. Our tour guide was a fount of knowledge-her husband was our tour guide when we did the Russia trip-small world.
Favorite "WOW" moment
"Korcula was possibly our favorite. We think we could come back here to experience a longer stay. Bosnia was a lesson in a confusing history of this region. Hope among the turmoil. The local guides were fabulous in conveying the humanity of the situation in that we are all truly alike-searching for peace, harmony and the opportunity for living abundantly with each other."
Cornelia
Somerset, MA
Tour: 09/01/13
Overall rating:
This was a wonderful tour with charming cities and towns, spectacular scenery, Roman ruins, opportunities to swim in the crystal clear Adriatic Sea, and a chance to learn about some sobering events in history. Our tour started in Ljubljana, a city I am ashamed to say I had never heard of, but which I fell in love with. Our fellow tour members were a great, friendly, no grumps group.
Favorite "WOW" moment
"This tour had many Wow moments. Lake Bled and Plitvice National Park were absolutely beautiful. The hill town of Motovun, the Roman amphitheater in Pula, and entering the Great Land Gate into the medieval town of Korcula were amazing. Dubrovnik was magical whether viewed lit up at night as we strolled its streets or from its wall in daylight. Walking by the shelled buildings and cemetery to the rebuilt Stari Most and listening to Alma's stories was sobering and inspirational."
Joan
Dallas, TX
Tour: 09/01/13
Overall rating:
This trip was so alive, as well as beautiful and couldn't be conveyed by the words or even pictures in a book. Felt more connected with people in other places and other times. It was a great group to share both sights and discussions.
Favorite "WOW" moment
"Any number of times seeing the Adriatic, rocks and towns from cliffs above. Finding a place to eat our first night in Dubrovnik, right on the water."
Suzanne
Aptos, CA
Tour: 09/01/13
Overall rating:
For me the tour had special meanig because I had been to the former Yugoslavia on a similar route in 1978 when Tito was still living, and so it was a journey of comparisons and also reliving old memories. Things were different to be sure but also timeless in places. Our guides were all outstanding and I cannot thank Barbara enough for taking care of me personally when I was ill in Split and also sharing her valuable personal knowledge of the area. In short, a magnificent adventure.
Favorite "WOW" moment
"Sitting on the sea wall in Korcula, my very favorite Dalmatian island, with a few tour members and gazing out at the Peljesac Channel with a warm wind blowing off that intensely blue water and thinking it did not get any better than that very moment."
David
Pueblo, CO
Tour: 08/25/13
Overall rating:
More than I expected. The trip, our guide, our accommodations, transportation, meals, tours and every aspect of the tour were beyond my expectations. Your advice from the book allowed us to contact, Minka Kahric and her associate, Tina Hudnik, to provide family research in Slovenia and Croatia prior to the tour. This tour is well worth its billing and cost.
Favorite "WOW" moment
"It was all WOW! No particular moment stands out more than the others. Our guide, Tina Hiti, was the Wow!, who provided and gave tour members every possible means to experience the culture, history, cuisine, social life and character of every country and city and village visited. She needs a raise! :-)"
Charles
Bellingham, WA
Tour: 08/25/13
Overall rating:
This was my first Rick Steves' tour. I was not sure what to expect. The tour far exceeded my expectations. We went places and met people that we could never have done on our own. The people on the tour with us were all friendly and compatible. NO GRUMPS! Slovinia and Croatia are beautiful countries with a very complicated history. This tour really helped put it all in perspective, especially the war in Bosnia. I will be recommending Rick Steves and this tour to all my friends.
Favorite "WOW" moment
"My biggest "wow" moment was learning about the first world war battles that took place on the mountain tops in Kobrid. What a crazy way to have a war."
Ann
Newnan, GA
Tour: 08/25/13
Overall rating:
Our tour was exceptionally well run with the best support staff possible.
Favorite "WOW" moment
"My husband and I were not aware of how terrible the fighting was during the Balkans War. Meeting and talking with Bosnians trying to make a difference in the current unstable situation was most admirable."
Elizabeth
Brockville, ON
Tour: 08/25/13
Overall rating:
Favorite "WOW" moment
"Late evening in Motovun hearing the sound of Klapa singers practicing floating from an upper window while a few of us sat outside entranced by the sound."
Christopher
Brockville, ON
Tour: 08/25/13
Overall rating:
This was one of the best tours I have experienced. The tour was held together by the guide, who was knowledgable, professional and spoke very clear English. The countries we visited were not well known to us and we now feel we have an educated impression of them. Art and Architecture were not a big part of this tour but this was compensated by an in depth exposure to the history and people of the region.
Favorite "WOW" moment
"My knowledge of world geography is quite good being educated in England but I had never heard of Ljubljana before we signed up for this tour. What a wonderful gem of a city. Definitely my biggest surprize of the trip. We also stayed two days before the tour in the Allegro Hotel recommended in the book. Location and staff attention was fabulous. We also loved Dubrovnick, Korcula and Plitvice NP. I would have liked more time in the park."
Donald
Seattle, WA
Tour: 08/25/13
Overall rating:
The tour met all my expectations with lots of history and many walking tours that were always interactive. The bus was new, modern, and air conditioned with instructive commentary and taped music from the areas visited provided by the tour guide. The bus driver was an excellent driver and very good natured. In addition to bus transportation, there was boat transportation provided to the two Adriatic islands that we visited.
Favorite "WOW" moment
"The island of Korcula stood out with the beauty of the island and the excellent restaurants that featured Adriatic seafood. The beaches were beautiful with clear water that was very comfortable to swim in early in September. Another "wow moment" was the overnight visit to Bosnia Herzegovina, especially because of the extensive war damage still prevalent and the hardship still endured by the people several years after the war ended. This was quite an eye opener."
Randy
Beavercreek, OH
Tour: 08/25/13
Overall rating:
The tour exceeded our expectations in many ways. The choice of locations on the itinerary allowed a range of experiences from enlightening to just plain fun. Comfortable bus transportation took away the stress of making connections between places. Most of all, Tina's expert guidance, compassion and professionalism made the journey a unique life experience. We have traveled to Europe independently many times before, but this trip will rank as the most worthwhile and memorable.
Favorite "WOW" moment
"My favorite "wow" moment was Tina's presentation on the bus about her life in Slovenia from the Tito years, through the Balkan war, to the Present EU era. She was like a character in a novel about the landscape we were passing through and truly allowed us to understand the heart of the country. Tina clarified and humanized her region's complex history brilliantly."
Wendy
Brodhead, WI
Tour: 08/25/13
Overall rating:
What a great tour! We chose this tour because we like to go "off the beaten path", and also because of all the variety it offered. We enjoyed the beautiful scenery, and also learned a lot of history and current events about an area that had been ignored in our school days.
Favorite "WOW" moment
"Although there were many "wow" moments in the tour, our favorite was the evening that my husband and I sat in the dark courtyard in Motovun, listening to the klappa music drifting out of the second story windows of the group's practice room. A few other tourists gradually wandered into the area, and enjoyed the concert with us, but we felt like we were getting a special treat!"
Pamela
Seattle, WA
Tour: 08/25/13
Overall rating:
Tina is an outstanding guide!! She kept the group well informed, made sure all needs were meet, and she managed the dynamics of the group with kid gloves. The area guides were okay. The most informative were the guides in Kobarid, Stolac, and Dubrovnik. My favorite places were Split and Korcula. The place not too miss was Mostar. The accommodations were comfortable and the dinners were good choices.
Favorite "WOW" moment
"Split was such an energetic, interesting, fun city. It was so Roman, Venetian, and Croatian and yet so welcoming to the visitors. A very inclusive place! It worked!!"
Valerie
Oakland, CA
Tour: 06/23/13
Overall rating:
I was introduced to a lot of places which I would never have decided to visit on my own. Always having lived in major cities, I never imagined that small towns and rural areas could be so awesome!
Favorite "WOW" moment
"Motovun was like a lot of the tiny towns we visited -- slow-paced, hilly, and built alongside centuries-old walls and castles. Here, the steep walkways, winding stairways, and isolated location are no challenge for these locals, who have no need for large companies or busy highways."
Dean
Calgary, AB
Tour: 06/16/13
Overall rating:
Like the combination of guided tours and free time to explore on our own.
Favorite "WOW" moment
"Not one moment, but really enjoyed southern croatia, would definitely consider going back."
Weather

Slovenia / Ljubljana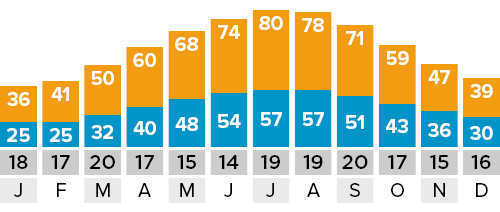 ---
Croatia / Split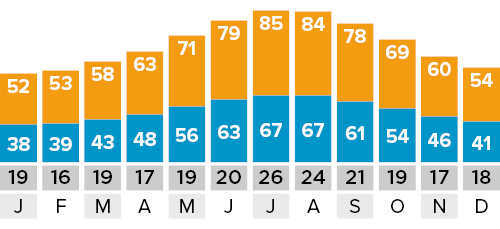 ---
Croatia / Dubrovnik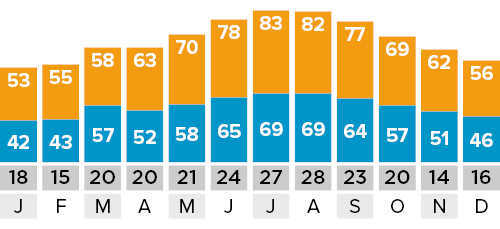 ---
Bosnia-Herzegovina / Mostar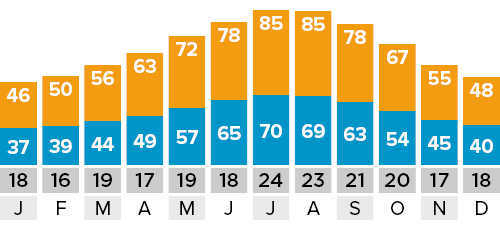 Pre-Tour
We've put together some specific information on what you should know about this tour before you go. You'll also find more general information about "Getting Ready for Your Tour" on our Tour FAQ.
Sightseeing On Your Own
If you arrive in Slovenia before your tour begins, use Rick Steves' Croatia & Slovenia guidebook to get oriented. Ride the public transportation, try out a few words of Slovenian (although many locals speak English well), and get over your jet lag with fresh air and exercise.
Here are suggestions for sightseeing in Ljubljana that we will not be doing as a group (see your guidebook for details): Plečnik House Museum, Slovenian Ethnographic Museum; Contemporary History Museum; funicular to the Ljubljana Castle for the great view of town; antique-browsing at the riverside flea market.
If you are staying after the tour, a day trip to Montenegro can be arranged through the hotel. Your guide can help you with this during the tour.
Transportation
Most tour members arrive a day or two before the tour begins — and those who don't, wish they had. This allows you ample time to get over jet lag and make the most of the first few days of the tour.
There is more than one way to get to and from your tour. We recommend talking to your travel agent about "open jaw" airline tickets (flying into and out of different cities). Ljubljana's airport, Aerodrom Ljubljana (LJU), is about 14 miles from the city center. See www.lju-airport.si for details. Most major airlines serve Ljubljana, but you can also look into Adria Airways, EasyJet and Wizz for alternate one-way jaunts. Ask your travel agent or check Rick's list of European budget airlines.
There are also several trains arriving each day from major European cities, such as Munich, Vienna, Venice, Budapest and Zagreb; details can be found at www.slo-zeleznice.si. Read Rick's Guide to Eurail Passes and decide if your travel plans merit a rail pass.
Since the tour ends in Croatia, you may find that flying in and out of Zagreb may be a better value, as many flights out of Dubrovnik airport require a connection through Zagreb. This option requires connecting to Ljubljana by train, and then flying from Dubrovnik back to Zagreb.
Read Rick's train travel and rail pass tips and decide if your travel plans merit a rail pass.
Prior to your tour departure, you will receive detailed directions on how to get from the airport to your first tour hotel, as well as contact information for your first and last hotels in case you wish to book pre- or post-tour hotel accommodations.
If you need more information about additional European travel or for specific questions about your tour, contact the Tour Department at 425/608-4217 or email tour@ricksteves.com.
Trip Resources
Learn more about Croatia and Slovenia: Check out a collection of Rick's TV shows, radio interviews and articles, plus find a list of recommended books and movies.
Packing
While it is important to pack light, there are some items we'd like you to consider including when packing for this tour. If you are planning on taking a dip in the Adriatic Sea, you may wish to pack a swimsuit and perhaps a lightweight microfiber towel. Also consider some good water shoes, as the Adriatic seabed is lined with urchins that can be prickly pests.
For ideas on what to pack, check Rick's Packing List and our Women's Packing List.