Villefranche-sur-Mer

Place Masséna in Nice

Antibes

Marc Chagall Museum in Nice

Grasse

Monaco Harbor

Port of Nice
Tour Questions? Call 425-608-4217
Best of the French Riviera in 7 Days Tour
Our Riviera getaway begins in Nice, with its famous beachfront promenade, seductive old town, and thriving night life. Nearby, you'll stroll through a seaside village and a belle époque mansion, rub elbows with the rich and royal in the principality of Monaco, and get up-close with Picasso's paintings — in the artist's home. We'll also take you up into the hills for spectacular views and a lesson in perfume-making at its very source. Join us for the Best of the French Riviera in 7 Days!
Dates & Prices
Sorry, we're unable to access departure availability at this time. Please try again later or contact us at 425-608-4217, Monday-Saturday between 9 am and 5 pm.
What's Included
A small, friendly group of 24-28 people — half the size of most tour groups
Full-time services of a professional Rick Steves guide and local experts who will make the fascinating history, art and culture of France come alive for you
All tours and admissions — at no extra cost — covering at least 13 group sightseeing events • Nice orientation • Walking tour of Nice • Monaco day trip • Orientation tour of Monaco • Antibes day trip • Walking tour of Antibes • Picasso Museum tour • St-Paul-de-Vence and Grasse day trip • Fondation Maeght tour • Grasse Perfume tour • Villefranche-sur-Mer day trip • Walking tour of Villefranche-sur-Mer • Villa Ephrussi de Rothschild tour...and more
All group transportation during the week in and around Nice
6 nights accommodations in a memorable, centrally-located hotel
All breakfasts and half your dinners
All tips for guides and driver
Free stuff including Rick Steves' Provence & the French Riviera guidebook, French phrase book, map, moneybelt and earplugs
Guaranteed tour price, locked in the moment you make your deposit
Optional single supplements — this tour has a limited number of private rooms for solo travelers for an additional fee
Tour alum discount of $50 for each tour you've taken prior to 2014
50% discount on a consulting appointment with our in-house experts to assist with your pre- or post-tour travel plans
Flexibility should you need to transfer, or cancel/interrupt your tour
Fine print: You are responsible for the cost of your drinks and free-time sightseeing. See our Tour Conditions Agreement for important details regarding everything listed above
Itinerary
Daily Activity Key
Light = 2-4 miles of mostly level walking throughout the day.
Moderate = 2-6 miles walking throughout the day with some hills and stairs.
Strenuous = 2-8 miles walking throughout the day with lots of hills, stairs and uneven terrain.
Day 1: Welcome to Nice
We'll meet at around 5 p.m. at our hotel for a short "bienvenue á Nice" meeting. Then we'll take an orientation walk through our seaside neighborhood, followed by time to get acquainted over dinner together. Sleep in Nice (6 nights). No bus. Walking: light.
Day 2: Old Nice
This morning we'll take a walking tour across Nice, starting with the busy Cours Saleya, the city's main market square since the Middle Ages. We'll then follow the narrow streets of the Italianate Old City to the spacious boulevards and shopping promenades of the city's newer side. Here, in the late 19th century, visitors from the north seeking the elixir of warm, fresh sea air, created Europe's first tourism boom. Your afternoon will be free to visit Nice's beautiful Chagall and Matisse Museums, prowl the promenades, or relax on the famous beach. No bus. Walking: moderate.
Day 3: Monaco
Today we'll visit the jewel-box principality of Monaco. As we travel by train, we'll be treated to some of the best and most dramatic Riviera coastline views. Once in Monaco, your guide will lead you on an orientation tour of Monaco-Ville, home to most of Monaco's key sights. Your afternoon is free to visit the Cousteau Aquarium, Cathedral of Monaco (where Grace Kelly and Prince Rainier now rest) and the Prince's Palace, where you can see the changing of the guard. Tonight we'll have dinner in Nice. Train 1 hr. Walking: strenuous.
Day 4: Antibes and the Picasso Museum
Our destination is the town of Antibes, a short 30-minute train ride from Nice. Upon arrival your guide will take you on a walking tour of this easygoing beach town. We'll start our tour at the Harbor of Antibes where some of Europe's largest yachts are moored. We'll continue on, meandering through Antibes' medieval streets past covered markets to the town's cultural claim to fame — The Picasso Museum. Serenely set where the old town meets the sea, Picasso's former home is filled with his paintings, sketches and ceramics. After the visit you'll be free to explore more of Antibes or make your way back to Nice. Train: 1 hr. Walking: strenuous.
Day 5: Hill Towns and Perfume
We'll head for the hills that start at Nice's back door and drive through brilliant scenery just miles from the Mediterranean as we make our way up to one of the most photogenic hill towns in France — St-Paul-de-Vence — where we'll visit its museum of contemporary art — the one-of-a-kind Fondation Maeght. After joyriding through deep canyons, past waterfalls and teetering hilltop villages, we'll spend our late afternoon in Grasse, perfume capital of the world. We'll follow our noses and tour a local perfume factory, then have time to wander the old city before returning to Nice. Bus: 2 hrs. Walking: strenuous.
Day 6: Villefranche-sur-Mer and Cap Ferrat
This morning we'll set out for the nearby peninsula of Cap Ferrat where we'll tour the classy Villa Ephrussi de Rothschild. This pastel-pink mansion with sweeping views and perfectly-tended gardens also features a well-furnished belle époque interior — giving us a hint of what it might be like to wake up rich and famous. Afterward we'll make our way to seaside Villefranche-sur-Mer where your guide will lead you on a walking tour of the village. This afternoon you're free to soak in more of the peninsula's sights, walk its cliff-side trails or return to Nice. Tonight we'll regroup for a farewell dinner together in Nice, where we'll share travel memories and toast to our next voyage. Bus: 1 hr. Walking: strenuous.
Day 7: Tour Over After Breakfast
For those staying longer, your guide will be happy to send you off in the right direction and help with any trip planning needs. Au revoir et merci!
Itinerary specifics subject to change.
Activity Level
Our tours are physically active! It's an essential part of the Rick Steves tour experience. On our Best of the French Riviera in 7 Days tour — among other things — you'll need to happily...
Carry/roll your luggage over uneven pavement (several blocks possible) and up stairways to reach your hotel; then up several flights of stairs to reach your room.
Be on your feet, walking and standing for up to three hours, indoors and outdoors, in all weather conditions.
Sleep with street noise and no (or weak) air conditioning.
After orientation and transportation lessons, be able to navigate towns and cities on your own.
Reviews
Bruce
Laporte, IN
Tour: 10/19/14
Overall rating:
Our tour was everything we had hoped for and more. The mixture of tours and personal downtime seemed to be just right. Our guide was terrific, accommodations great and the experience memorable. Southern France and the Mediterranean coast is beautiful and rich in history.
Favorite "WOW" moment
"The scenery in and around St. Paul de Vence and its storybook beauty was a real special treat. We enjoyed the interesting streets and views."
Stewart
Montreal, QC
Tour: 10/19/14
Overall rating:
It was brilliant. The French Riviera is, of course, gorgeous, and Daniela ordered up some unseasonably warm and sunny weather for us. That would have been enough in itself, but she also took us to some amazing museums (Picasso, Chagall, Matisse, and the Fondation Maeght). As someone who loves Modernist art, I was in heaven. Great tour!
Favorite "WOW" moment
"Lunch in the garden terrace of the legendary restaurant La Colombe d'Or in St-Paul-de-Vence. The day was warm and sunny, the service was impeccable, and the food was magnificent. On top of that, there were works by Picasso, Matisse, Chagall, and others hanging on the walls in the hotel. Magic!"
Lynda
Sebastopol, CA
Tour: 10/19/14
Overall rating:
This was my 6th tour (last one was 10 yrs ago!) and this was the same high quality as in my past tours. I prefer a tour that is less than a week and this covered a lot of territory: art, wonderful meals and wine, French life with a taste of Italy, good balance of independent time with group time, all within the backdrop of the gorgeous Cote de Azur. Pleasure to all the senses! Also very relaxing---constant influence of the beautiful sea!
Favorite "WOW" moment
"Swimming in the Mediterranean Chagall museum and museum nr Vence"
Clark
Tampa, FL
Tour: 10/19/14
Overall rating:
There wasn't much to see.
Favorite "WOW" moment
"The view of Monaco from the top of the hill."
Patricia
Montreal, QC
Tour: 10/19/14
Overall rating:
The tour was wonderful. The weather was sunny, warm, and perfect. The group was especially charming and intelligent. And since the world of art, painting, sculpture, and literature are my passion, I loved every minute of the tour. Sorry to hear that it was the last one offered. Maybe a new tour will include some of the great cities and museums we saw.
Favorite "WOW" moment
"I loved all the museums, but especially the Fondation Maeght. We had lunch at the Coloumbe d'Or just to be able to go inside to see the works of art that some artists gave to the restaurant in lieu of paying for their dinners, and it was a fantastic lunch in a wonderful garden on a warm, sunny day. My favourite memory!"
Ashley
Racine, WI
Tour: 10/19/14
Overall rating:
It was a fabulous balance of structured tours with a fantastic guide and free time where we felt comfortable and knowledgeable about the area. It's a must for everyone!
Michael
Racine, WI
Tour: 10/19/14
Overall rating:
Overall tour was definitely amazing and we will certainly be on a Rick Steve's tour in the future. Daniela went out of our way to accommodate all travelers (some easier to deal with than others ;) .
Jack
Dallas, TX
Tour: 10/19/14
Overall rating:
The tour provided a week at one hotel but day trips to nearby towns which I found appealing. Additionally, most day tours ended by 1:00 or 2:00 and you had the rest of the day on your own so plenty of independent time to walk the beach, stroll neighborhoods or find that special café for a glass of wine and a good book. I especially appreciated having local guides in the art museums to explain and "interpret" the art work on display. I came away with so much more understanding.
Favorite "WOW" moment
"My favorite "wow" moment was something that I had never heard of: Fondation Maeght in St Paul de Vence. The setting in a forested hilltop with views out to the surrounding hills and the sea was just breathtaking and totally unexpected. Then, the magnificent outdoor sculpture garden filled with objects from Miro, Giacometti & Chagall was magic and serenity combined. I could easily have spent the entire day in the garden."
Rebecca
Evanston, IL
Tour: 10/19/14
Overall rating:
Truly one of the best vacations EVER! I wish I could turn back the clocks and do the whole trip again! I don't think I'd change a thing!! The restaurants were superb! Hotel was perfect! And Daniela could not have been more wonderful!!
Favorite "WOW" moment
"Day trip to Eze Restaurants we ate at as a group Location of the hotel Daniela"
Terri
Post Falls, ID
Tour: 10/12/14
Overall rating:
Very good first time experience. Balance of structure and free time good. Great group of fellow travelers. Well worth my time and money.
Favorite "WOW" moment
"The beautiful countryside. Loved all the old buildings and cobblestone streets. The charm of the French Riveera."
Theresa
Upland, CA
Tour: 10/12/14
Overall rating:
Acknowledging the dampening effects of a case of food poisoning (not from the tour's first dinner Sunday evening, which was wonderful)that hit me on Monday, still I felt something lacking in this tour. While I appreciate learning about the public transportation available, the train & buses were crowded and used up time that might have been used for additional sightseeing. More interesting places might be scheduled for earlier in the week. Camaraderie and guide were up to standard excellent.
Favorite "WOW" moment
"The Chagall Museum. I appreciated the bright, spacious galleries with many places to sit and contemplate the paintings. Photographs do not do justice to the original canvasses, there is so much to notice everywhere you look on them. The audio-guide was a perfect blend of artist background and technical information (and brevity). My second favorite day was Villa E. de Rothschild gardens, setting and lunch and a lovely walk to the Villa Kerylos, a wonderful side trip suggested by Patrick."
Nancy
New Albany, OH
Tour: 10/12/14
Overall rating:
So happy we had experienced tour guide to get us around Nice. Made seeing Nice so easy. Great food,flexibility,informative and enjoyable.Great people.The Best.
Favorite "WOW" moment
"Rothschild Mansion. The view of sea on 3 sides of the house. Just wanted to stay there. Just perfectly beautiful."
Karen
Alameda, CA
Tour: 10/12/14
Overall rating:
We truly enjoyed the tour of the southern coastal and hill towns in the French Riviera [INVALID] sweeping views, harbors studded with yachts, seaside promenades, the Belle Epoche villas, Modern Art museums, casinos, farmers' markets, perfume factory and delicious French cuisine.
Favorite "WOW" moment
"Most impressive were the group dinners at the three French restaurants which provided a sampling of the Cote d'Azur region. The three-course dinners were delicious, fresh and refined featuring the best of regional ingredients. It is no wonder France has such a deep influence and is the heart of Western cuisine."
Michele
San Diego, CA
Tour: 10/12/14
Overall rating:
Beautiful places, top-notch guides, relaxing vacation! Thank you again!
Favorite "WOW" moment
"Swimming in the sea in Villefranche sur Mer!"
Christopher
Olympia, WA
Tour: 10/12/14
Overall rating:
This was my sixth RS tour and by far the most disappointing. Really disappointing. All we did was jump on busses and trains to go see near-by villages and towns with no special events, dinners or the like. I did not need a tour to do this! And the places we went were mostly these make believe Disneyland places that have little to do with the real life of France except for the tourist industry. All my other RS tours have been just great with special lunches (see below...)
Favorite "WOW" moment
"Absolutely none."
Justin
Albuquerque, NM
Tour: 10/12/14
Overall rating:
My wife and I will not take a Rick Steves tour again. The value proposition was clear from the outset: minimal planning, critical arrangements covered, guided tours of major sites; but after seeing the tour in action it simply isn't for us. This is for a variety of reasons: 1) the tour followed the book; 2) not enough time in the places we wanted to stay; 3) too much time in places we would never have visited; 4) we were by 15+ years the youngest on the tour; 5) easy plans and contingencies.
Favorite "WOW" moment
"Being off on our own in Antibes and Villefranche-sur-Mer: beautiful spots on the Mediterranean sea that begged for a timeless afternoon with a bottle of wine and a comfortable chair (sadly, we didn't have time to find the comfortable chair but happily, in France, a bottle of wine is never far away)."
Eric
Edina, MN
Tour: 04/13/14
Overall rating:
This tour needs refining. An entire week in one location with 1/2 day trips using public transportation lacked excitement and had too much unstructured down time.There were only 2 days that utilized private tour bus. More use of private tour coach and less use of crowded public buses would be more efficient use of time and greatly improved comfort. More of the region could have been experienced with utilizing tour coach .
Favorite "WOW" moment
"There were no big "wow" moments.Monaco/Monte Carlo was small wow. I Really enjoyed camaraderie of the group and our guide Julie. Nice is not worth an entire week in one location. Tour days were often done by 1 pm. Great scenery and food but tour needs more to see and do if one is looking for wow."
Timothy
Eden Prairie, MN
Tour: 04/13/14
Overall rating:
The tour was fantastic. This was our third Rick Steves Tour and it met our expectations. Thanks to the enthusiasm and knowledge of our guide, we were able to see and experience architecture, art, and the culture of this area of France. It was all breathtaking.
Favorite "WOW" moment
"Exploring the hill town of St. Paul de Vence. It was a perfect spring day, and the town was like it was from a fairytale. It was like finding Venice on top of a mountain!"
Linda
Tempe, AZ
Tour: 04/13/14
Overall rating:
the whole experience was fabulous. this was my first time in europe and what a way to start. i hope this to be one of many future trips to europe and ?????? who knows. the country is beautiful, our guide was GREAT and the people were warm and friendly. what a great place to visit
Favorite "WOW" moment
"It started when we were landing at the airport. Nice is beautiful to see from the air and it only got better. it is impossible to take enough pictures to convey the magnitude of beauty everywhere."
Jo
Bremerton, WA
Tour: 04/13/14
Overall rating:
We started 18 strangers with a lively guide. She had us pick a buddy to be sure all were where they were suppose to be. (good idea) We went from strangers, to friendly travelers, to friends to a bonded FAMILY. Crazy huh? We made sure we looked after one another, had conversations, and wine. I had not been on a tour before but had seen large groups of tours when I lived in Europe. It was something I said I would never do. I will go on another Rick Steves in a heart beat. Informative & fun.
Favorite "WOW" moment
"Everone has a different one but mine was when an older gentleman was sitting at one of those outdoor round tables drinking espressoand I said Bon Jour to him. Then he was all Madam sit. He spoke his language, pointed out different sites in the square, bought my cousin and me an espresso and we all laughed. We knew not what all he said nor did he know all that we said but it was good times had by all. Local people so friendly, helpful and wanting to share. Those are the things I look for."
Larry
Deatsville, AL
Tour: 04/13/14
Overall rating:
The French Riviera was the perfect blend of guided tours for museums coupled with free time to wander the city streets or just relax at a fine restaurant and people watch. We actually returned home feeling rested but inspired by the many locals that we encountered.
Favorite "WOW" moment
"The breath taking views of the Promenade des Angles from the Castle Hill in Nice and took look back and see the Alps with their snow capped peaks with the Mediterranean at our feet now that was a "WOW" moment."
Berit
Concord, CA
Tour: 04/06/14
Overall rating:
I did not like the tour of Gras and the purfumerie (I'm not quite sure that is a word). I would rather walk around outside.
Favorite "WOW" moment
"All the tour guides were wonderful, it made me want to stay longer at the different museums. I could not emagine a better guide then Julie, I would deffinetly go on another tour with here as the guide."
Eric
Bothell, WA
Tour: 04/06/14
Overall rating:
This was my first time traveling in Europe and it was a blast. The weather was fantastic and Nice and surrounding areas are very relaxing and pleasant. I loved being shown what places to go but then having free time in the afternoons to explore more of what I wanted to see. Our guides were very friendly and knowledgeable too. Our group was a good size group of 16 people who were all individuals which made for a wonderful time on group outings.
Favorite "WOW" moment
"My favorite "wow" moment from the tour was when we went up Castle Hill and took in the view of Nice. We had some wine and a toast to the exciting adventure to follow. This was when I knew that my trip was going to be everything I had hoped."
Laurie
Bloomington, MN
Tour: 04/06/14
Overall rating:
I had a great time. I liked having one hotel base and not having to pack up. I didn't think I would like the buddy system, but it was good thing. I enjoyed getting to know various people, especially on our walks. I thought there was a perfect balance between planned activities and free time. Having a guide gave me a sense of security and the courage to explore independently. I experienced several things I would not have done on my own. I learned a lot and had a very memorable trip.
Favorite "WOW" moment
"The drive to the Rothschild Villa and the villa tour including the opportunity to take the garden tour at our own pace. Beautiful."
Kay
Alameda, CA
Tour: 04/06/14
Overall rating:
It was my first R. Steves tour and I will be taking more now that I know how they are managed. Our tour guide, Julie, was the best. I enjoyed meeting new people and getting to know the French Riviera. I think I would definitely skip the Fragonard perfume factory tour as it was quick and then straight to the sales counter where all the perfume fragrances joined to create an overwhelming environment that made me want to leave and get fresh air immediately. (And I love perfume).
Favorite "WOW" moment
"Taking the bus into Ville France with the beautiful view. Visiting the Chagall museum which was really fascinating."
Mark
Ormond Beach, FL
Tour: 04/06/14
Overall rating:
Enjoyed the French Riviera. We had excellent leadership, good itinerary with plenty of structured and free time, good meals and decent hotel. The hotel room was basic and small but clean. Felt like we really did get to see the highlights of the area efficiently. Enjoyed the emphasis on using public transport when possible with the convenience of the bus when it was called for.
Favorite "WOW" moment
"The Ephrussi de Rothschild visit was a highlight. Also enjoyed day in Antibes."
Susan
Portland, OR
Tour: 04/06/14
Overall rating:
What a wonderful experience! Small tour group of super people! We had a great time, saw a lot, ate fabulously, drank wonderful French wine, what could be better!
Favorite "WOW" moment
"My favorite was the Ephrussi de Rothschild Villa and gardens. Such a charming lady, fabulous villa, and inspired gardens! Absolutely beautiful!"
Clarice
Richfield, MN
Tour: 04/06/14
Overall rating:
I enjoyed the casual initial intro and the variety of the people in the group. The hotel was quaint and comfortable and the service good tho I know a few had problems with electrical connections, etc. We had a nice sampling of the area and the surrounding towns. We had some fun times and unique experiences during our time together.
Favorite "WOW" moment
"I loved the quaint streets and feeling of the time in Antibes."
Chelsea
Bothell, WA
Tour: 04/06/14
Overall rating:
This was our first time to Europe and as we were doing out research it became too overwhelming. We've known a few people to take Rick Steve's tours in the past and decided it would make our trip much less stressful if we went on a guided tour. We were able to see so many more things due to the structure and semi early mornings and the hotel was fabulous considering it was our first time abroad. Our guide Julie was also so friendly and helpful. It was great!
Favorite "WOW" moment
"Since this was my first time abroad the whole trip was a "wow" moment for me. The culture, diversity, customs, people, food, language. It was all quite amazing and eye opening. I really appreciated the comfort of a group tour. It really made me confident I could travel alone now."
Craig
Hinsdale, IL
Tour: 04/06/14
Overall rating:
It was great
Favorite "WOW" moment
"Olivera restaurant"
Terrance
Lewis Center, OH
Tour: 03/23/14
Overall rating:
Delightful, educational and relaxing. Excellent tour guides.
Favorite "WOW" moment
"Scenery - just seeing the scenery and relaxing. Enjoyed the different cultural experience."
Bridget
Northfield, MN
Tour: 03/23/14
Overall rating:
It was wonderful. Daniela was fabulous and a lot of fun. It was great to get her perspective on things and I felt like she was very open and honest with us. The additional guides we had were fantastic too, I especially enjoyed our guide for the Chagall and Picasso Museums (was her name Ines?). She was another great resource for insight into the artists and for French culture in general, and she was also very approachable. The other tour members were great and my friend and I had a fabulous time!
Favorite "WOW" moment
"Walking into the Chagall Museum. His pieces are overwhelming, and coupled with the light pouring in and all the new sights and sounds, it just instantly struck me that I was really there. I was standing mere inches from works I'd always dreamed of seeing in a country I always wished to visit; it brought me to tears."
Susan
Broomfield, CO
Tour: 03/23/14
Overall rating:
The biggest assets of the trip were the physical beauty of the area and the personality of the guide, which was very likable. Also she was knowledgeable, always promptly where she said she she would be. I'm not sure why we needed local guides (who were fine) as Danella seemed to know all the information that was needed. i liked the use of public transportation. Hotel was fine, breakfast was excellent.
Favorite "WOW" moment
"I'm not easily wowed (the Great Barrier Reef or the tops of the Himalayas is my idea of wow) but the setting of the Rothschild chateau was wonderful. What I liked best was walking around Nice, going into the local restaurants and shops, finding the French much friendlier than they were the last time I was there (1963). Also the Chagall museum was wonderful."
Jeanne
Orlando, FL
Tour: 02/16/14
Overall rating:
From the time we got off the shuttle bus to walk to the hotel, to the last night together, our tour provided us with great memories of the Riviera. Our group as well as our guide was exceptional and held true to the no grumps philosopy of RS.
Favorite "WOW" moment
"There was an itinerary change the first day and I am so glad there was. A tour of the Chagall Museum was added and it was exceptional. Also, for those who wanted to go to the Matisse Museum, our RS tour guide saw that the bus dropped us off and made sure we had a bus ticket home. Kudos to her for that. This area of Nice is beautiful and we got to see how the locals live and spend their time."
Andi
Franktown, CO
Tour: 02/16/14
Overall rating:
Wonderful visit to the French Riviera and an unplanned treat-we were there during Carnavale! Although I had visited Nice before (at the end of a previous Southern France tour), during this visit we spent time at some of the other small villages I hadn't seen before, as well as revisiting some places I remember fondly. Loved the museums; the inclusion of the Chagall was a wonderful, unexpected surprise.The food was terrific; Feb. Nice is, um.. much nice-r than Feb.Colorado. Overall, a great time!
Favorite "WOW" moment
"Several-hard to choose just one so here goes: Matisse, Chagall, Picasso, the Fondation Maeght...all the Art Museums. Didn't know I love Contemporary/Modern Art! Another WOW is the Villa Ephrussi de Rothschild-also a work of art. Then, too, I always feel the presentation of practically any meal in France (and/or Italy) are works of art!"
Kathleen
Fort Collins, CO
Tour: 02/16/14
Overall rating:
I liked the location of the hotel. We were close to everything--within walking distance to old town as well as the train and bus stations. Also felt very safe.
Favorite "WOW" moment
"I loved the The Rothchild Villa[INVALID]particularly the views from the garden. Absolutely astounding. Can I have more than one. I also enjoyed the bus ride up into the mountains. The views were outstanding. A little more time in that area might have been nice."
Gail
Issaquah, WA
Tour: 02/16/14
Overall rating:
Great Great Great. Daniella was the perfect tour guide. She did many extras for us and she is very sweet. I hope to have her as a guide again.
Favorite "WOW" moment
"The group dinner's were the best!!! And wine education from Daniella"
James
Mt Vernon, IL
Tour: 02/16/14
Overall rating:
The whole trip was another great experience. It was well organized, and hit as many hot ticket spots as could be fit in the time. We also enjoyed the free time it allowed for our own explorations. The guide was well versed in just about every aspect of the trip. She could not have been better.
Favorite "WOW" moment
"There were many, but we seemed to enjoy the visit to St. Paul de Vence, the hilltop town. What a wonderful spot."
Susan
Mt Vernon, IL
Tour: 02/16/14
Overall rating:
The tour was everything that we hoped for [INVALID] well organized with tours to all manor or intresting places, a very good guide, a great central hotel location in Nice from which to be based, a fine variety of food experiences, and an interesting, entusiastic and fun group of other Rick Steves' travelers to share it all with.
Favorite "WOW" moment
"The weather on the day that we traveled to Fondation Maeght and then St-Paul-de-Vence was simply glorious for February. Combined with the lovely museum grounds and then the picture pefect hill town, it made for a "wow" day!"
Patricia
Beaverton, OR
Tour: 02/16/14
Overall rating:
The guide was wonderful, the tour members were friendly and congenial and the itinerary was planned to give us a rich and varied experience each day. The meals together were excellent, each a little bit different so as to give us a variety of cuisines and atmosphere. The local guides added personality and insight; all were very good.
Favorite "WOW" moment
"While each day had its highlights, I think the morning at the Villa Rothschild was very special. The local guide truly gave the background that put the stunning property in context and the biography of its creator was both tragic and fascinating. The views from both the house and garden were breathtaking and it was easy to imagine what it must have been like to visit when the owner was hosting guests and holding grand dinner parties."
Caryn
Dallas, TX
Tour: 02/16/14
Overall rating:
This trip was great. I needed a winter break very badly and this tour allowed me to dip in and out of several places on the French Riviera. I liked the free time without the pressure to do things as a group.
Favorite "WOW" moment
"I loved Sainte Paul de Vence and the Fondation Maeghet. It may have had something to do with the fact that the weather was wonderful, but I loved being outside in the natural setting, and Sophia was an excellent guide for the Fondation. Sainte Paul was picture-perfect and in February I could really enjoy it without being over-run with tourists."
Nancy
Denver, CO
Tour: 02/16/14
Overall rating:
Great
Favorite "WOW" moment
"Relaxing at a patio table with a wonderful glass of Rose"
Shuk
Gilroy, CA
Tour: 02/16/14
Overall rating:
Tour members very respectful
Favorite "WOW" moment
"No wow moment for me."
Weather

France / Nice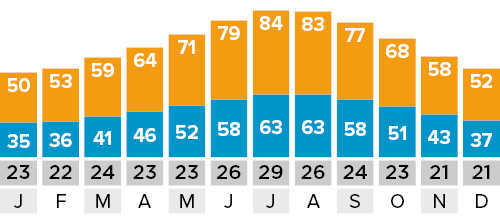 Pre-Tour
We've put together some specific information on what you should know about this tour before you go. You'll also find more general information about "Getting Ready for Your Tour" on our Tour FAQ.
Sightseeing On Your Own
If you arrive in Nice before your tour begins, use Rick Steves' Provence & the French Riviera guidebook to get oriented. Ride the public transportation, try out a few words of French, and get over your jet lag with lots of fresh air and exercise. Walking tours make a great introduction to any town. Check with the local TI or your guidebook.
Here are a few suggestions for sightseeing in Nice and the surrounding area that we do not do as a group: Chagall, Matisse, and Modern & Contemporary Art Museums; Castle Hill; visit the hilltop town of Eze-le-Village, the city of Cannes, or the city of St-Tropez.
Transportation
Most tour members arrive a day or two before the tour begins — and those who don't, wish they had. This allows you ample time to get over jet lag and make the most of the first few days of the tour.
There is more than one way to get to and from your tour. Nice is a transportation hub, making travel before or after your tour quite easy. If you're interested in seeing Paris, consider an "open-jaw" ticket flying into Nice and out of Paris (or vice-versa). Or take the train (6 hours) from Nice to Paris, spending at least one night in Paris before flying back to the states. Flying from Nice to Paris (90 minutes) can also be reasonable.
For information about flying within Europe, ask your travel agent or check Rick's list of European budget airlines.
Read Rick's train travel and rail pass tips and decide if your travel plans merit a rail pass.
If you need more information about additional European travel or for specific questions about your tour, contact the Tour Department at 425/608-4217 or email tour@ricksteves.com.
Trip Resources
Learn more about France: Check out a collection of Rick's TV shows, radio interviews and articles, plus find a list of recommended books and movies.
Packing
For ideas on what to pack, check Rick's Packing List and our Women's Packing List.