La Pedrera in Barcelona

Plaza Mayor in Madrid

Toledo

La Mancha

Granada

Bullring in Ronda

Flamenco Dancer in Sevilla
Tour Questions? Call 425-608-4217
My Way® Spain in 11 Days Tour
Beginning in beautiful Barcelona and ending in sensual Sevilla — with the cultural delights of Madrid, Toledo, Ronda and Granada laced together in between — Rick Steves' money-saving "My Way" tour gives you the freedom to decide your own daily sightseeing priorities and pace. We cut the stress by providing comfortable rooms in centrally-located hotels, private bus transportation from city to city, and a travel-savvy escort to help advise you along the way. Join us for My Way: Spain in 11 Days!
What's Included
This is an "un-guided" tour — giving you the freedom (and responsibility) to manage your daily sightseeing schedule and meals
A small, friendly group of 24-28 people will share our big, comfy bus during the trip, but not do organized sightseeing together
A Rick Steves escort will manage the group's transportation and hotel arrangements, and provide advice for sightseeing, meals, etc.
All group transportation from Barcelona to Sevilla
10 nights accommodations in memorable, centrally-located hotels
All breakfasts are included
All tips for escort and driver
Free Audio Europe™ app for Apple and Android (or get free podcast/mp3 files) featuring Rick's radio interviews with experts on destinations covered in this itinerary
Free stuff including Rick Steves' Spain guidebook; Europe Through the Back Door travel skills handbook (one per household); Spanish phrase book; moneybelt; and earplugs
Guaranteed tour price, locked in the moment you make your deposit
Optional single supplements — this tour has a limited number of private rooms for solo travelers for an additional fee
Tour alum discount of $50 for each tour you've taken prior to 2014
50% discount on a consulting appointment with our in-house experts to assist with your pre- or post-tour travel plans
Flexibility should you need to transfer, or cancel/interrupt your tour
Fine print: You are responsible for the cost of your drinks and free-time sightseeing. See our Tour Conditions Agreement for important details regarding everything listed above
Itinerary
Sightseeing notes
(r) = reserve a time before you leave the USA
Day 1: Welcome to Spain
Welcome to Barcelona, one of Europe's most dynamic and diverse cities. Depending on when you arrive, today is a great day to wander through the maze-like Gothic Quarter, medieval cathedral, and refurbished harbor area. We'll rendezvous at our Barcelona hotel at 5 p.m. for a group get-together. Your escort will give an overview of the days ahead, answer your questions, and offer a quick orientation to our neighborhood and Barcelona's public transportation system. Then you're free for dinner on your own, and maybe an evening stroll up and down the Ramblas. Sleep in Barcelona (2 nights). No bus today.
Day 2: Lively, Artistic Barcelona
You have the entire day and evening free to explore this remarkable city. Armed with your guidebook, you could hop the subway to see Gaudí's towering, dizzying Sagrada Família church and his colorful, playful Parc Güell. Closer to the center, you can check out the Modernisme-themed Avenue of Discord, and a museum dedicated to another artistic visionary: Pablo Picasso (r). No bus today.
Day 3: A Speedy Train to Madrid
All aboard! After breakfast we'll take one of Europe's speediest trains (the AVE) to Madrid. By mid-afternoon you'll be settled in your Madrid hotel, and free for the rest of the afternoon and evening, maybe to explore the lively streets around the Puerta del Sol and Plaza Mayor, or the majestic Retiro Gardens. Sleep in Madrid (2 nights). Train: 3 hrs. Bus: 2 hrs.
Day 4: Masterpieces of Madrid
Today and this evening are entirely free to cover the best of Madrid. For many, that means the masterpiece-packed Prado — featuring paintings by Velázquez, Goya, El Greco and others. The Royal Palace is another great place to wander and soak up the opulence of Spain's capital city. Tonight, use your guidebook to put together a tapas crawl, and use your phrase book to connect with the locals (and to figure out what you're eating)! No bus today.
Day 5: Historic Toledo
It's a short bus ride to Spain's old capital city of Toledo (and back in time about 500 years), then the rest of your day and evening are free. Be sure to see Toledo's magnificent cathedral, the Synagogue Santa Maria la Blanca and El Greco's The Burial of the Count of Orgaz at the Santo Tomé Chapel. Outside, enjoy Toledo's winding streets, varied sights, and some of Spain's best shopping. Sleep in Toledo (1 night). Bus: 1 hr.
Day 6: La Mancha and Granada
Today we'll drive through windswept "Don Quixote country," stopping to sniff the saffron and admire a whitewashed windmill or two. At about 5 p.m. we'll reach our destination of Granada. Once you've checked into the hotel, you might head up the Albayzín hill, find an interesting place for dinner, and enjoy a sunset view of tomorrow's treat — the Alhambra. Sleep in Granada (2 nights). Bus: 5 hrs.
Day 7: Moorish Treasures of Granada
Your entire day and evening are on your own, and there's no better way to start than with a visit to the sprawling palace and garden complex of the Alhambra (r) — the last and greatest of Europe's Moorish palaces. Afterward, you might explore the colorful streets and alleyways of Granada's Old Town, and ponder the course of history at the ornate tombs of world-changing Ferdinand and Isabella, who reigned over a new age of religious zeal at home and exploration of the "new" Americas. No bus today.
Day 8: Ronda
This morning we'll drive to the hill town of Ronda, home to Spain's oldest bullring and its most breathtaking gorge. The afternoon and evening are yours to explore Ronda's Moorish and Mercadillo Quarters, linked together by the famous gravity-defying stone bridge (towering over the rubble of an earlier one that wasn't). Sleep in or near Ronda (1 night). Bus: 3 hrs.
Day 9: Sevilla's Barrio Santa Cruz
Today we'll wind our way between olive groves and pueblos blancos on our way to the flamboyant and atmospheric city of Sevilla. Our hotel's central location makes it easy to spend this afternoon and evening marveling at the world's largest Gothic cathedral — and window-shopping along the narrow whitewashed lanes of Sevilla's Barrio Santa Cruz. Tonight, you might look for a performance of sultry, swirling flamenco. Sleep in Sevilla (2 nights). Bus: 3 hrs.
Day 10: Sevilla's Royal Alcazar
Your entire day and evening are free to do as you please. You could start with a visit to the beautifully Moorish-style Alcazar palace, the Sevilla home of the Spanish Royal Family for the past 500 years. Afterward, you can walk in the footsteps of Carmen and Don Juan, linger in Sevilla's charming squares, or stroll along the romantic Guadalquivir River. This evening, consider capping off your My Way: Spain adventure with a carriage ride through the streets of Sevilla. Salud! No bus today.
Day 11: Tour Over After Breakfast
Sevilla's airport is a bus or taxi ride away with easy connections throughout Europe. Alternately there is an AVE train to Madrid to continue your Iberian adventures on your own. Hasta luego!
Itinerary specifics subject to change.
Activity Level
Our tours are physically active! It's an essential part of the Rick Steves tour experience. On our My Way: Spain in 11 Days tour — among other things — you'll need to happily...
Carry/roll your luggage over uneven pavement (several blocks possible) and up stairways to reach your hotel; then up several flights of stairs to reach your room.
Sleep with street noise and no (or weak) air conditioning.
Be able to navigate towns and cities on your own.
Be responsible for your own daily sightseeing, admissions, meals (except breakfasts) and non-group transportation.
Travel on a bus without a toilet (rest stops every two hours).
Reviews
Susan
Poinciana, FL
Tour: 06/26/14
Overall rating:
We were so pleased with our first visit to Spain! Our escort, Robert, was so knowledgeable, friendly, engaging and fun to be with. The hotels were fine, the weather was perfect (how did you folks manage that?!) and we enjoyed seeing some spectacular museums and cathedrals, and eating our first tapas.
Favorite "WOW" moment
"I think that the Sagrada Familia most touched me, particularly the Passion Façade. Although it was stark and simple, it was also deeply moving, beautiful and engaging."
Sally
Portland, OR
Tour: 06/26/14
Overall rating:
Loved every single thing. The trip was made great by Robert. He was so knowledgeable, gave info at the right amount and time. Very pleasant fellow. His suggestions in each town were spot on. Bus was clean, on time and confortable/ I am glad Robert has us rotate front seats to see. We should try to bunch up on the train... The 3 hour bachelor party in the middle of us was SO obnoxious on the long ride... The hotels were fine ( LOVED the one in Ronda), Loved that there was a market close
Favorite "WOW" moment
"walking in the Sagrada Familia!! and tourin the Gaudi homes. Each town had at least 2 WOW places.. well picked my friends! WE are glad we spent a week in Barcelona -so much to see and enjoy."
Michael
Torrance, CA
Tour: 06/26/14
Overall rating:
Our guide Robert gave just the right amount of guidance. He also knew when to interject his personal experience as well as knowledge that wasn't written in any guide book. The relief of knowing that all the Hotel and Travel arrangements were taken care of allowed our family to concentrate on enjoying our vacation.
Favorite "WOW" moment
"The realization that the World has to be experienced personally to receive it's full effect! People, places, things have to be seen, touched, heard or smelled to make a lasting impact on our souls. Go forward and save you Soul."
Sandra
Albany, CA
Tour: 06/26/14
Overall rating:
I was so pleased I chose the my way tour. Robert was an excellent guide. Everything proceeded as planned. He gave us comprehensive overviews to help us become orientated to each location. This was especially helpful for me as I was traveling solo. Robert set a good tone which helped us coalesce as a group. The potluck at Toledo was an excellent addition. I also enjoyed our gourmet meal in Sevilla. I definitely will do this again and recommend Rick Steves' tours to my friends.
Favorite "WOW" moment
"San Gabriel B and B at Ronda. They were gracious hosts and the setting was beautiful. What a setting! I was so impressed with all locations and lodging."
Susan
Berkeley, CA
Tour: 06/26/14
Overall rating:
We liked the hotels very much. All quite central and perfectly nice. And breakfast at the hotels was good and convenient. The transportation made it easy for us. And we really enjoyed the overall of the city that Robert gave us when we were entering a new place. We loved Spain. A great visit, in general.
Favorite "WOW" moment
"The Alhambra! And the Gaudi buildings and park in Barcelona. And Guernica in the Reina Sofia in Madrid."
Veronica
Kewadin, MI
Tour: 06/26/14
Overall rating:
The overall tour experience was fantastic. We were on a My Way Tour which allowed us to explore Spain our own way. We had the independence that we wanted to do without being involved in a bigger tour group. Our transportation and housing was also outstanding in that the hotels were located in the center of each city. Being in the center allowed all sites to be in walking distance or close to metros. Our tour guide was knowledgeable but understood that this particular tour was not fully guided.
Favorite "WOW" moment
"Being with my husband and seeing the Alhambra in Granada at sunset while drinking wine and eating local Tapist (in Rick Steves recommended restaurant) across the gorge. Another moment was wondering the streets of Madrid at 12:00pm and having a night cap on the top of the Madrid post office. Each city we visited was just as WOW as the next. I can highly recommend visiting Spain and it's people, what a wonderful way to be immersed in a different culture."
Dan
Granite Bay, CA
Tour: 06/05/14
Overall rating:
We truly enjoyed our first "My Way" experience. Having traveled about Europe previously (but not Spain)by using our own self-guided itinerary, we felt very comfortable with the My Way travel arrangements. The transportation and hotel accommodations were spot on, and we liked the idea of not conforming to a daily group schedule. Our escort, Robert, did a super job of shepherding us, and to top it off, we had great weather-sunny days and pleasant evenings.
Favorite "WOW" moment
"Our "wow" moment was simply the "paseo" in the evening. Watching, walking with people, joining them for tapas and wine was an experience we won't forget."
Diane
New City, NY
Tour: 06/05/14
Overall rating:
Our first My Way Tour, and I loved it! Very nice hotels, especially in Ronda. Our guide was great, and more involved than I thought one would be on this kind of trip ... so knowledgeable and interested in us. As always, never enough time in any place, especially Barcelona and Madrid. In Madrid had only enough time to see the three major museums. We arrived early to Barcelona because there was so much to do, and extended our trip to Cordoba, which I think should have been included on this trip.
Favorite "WOW" moment
"Too many wow moments for us .... The Sagrada Familia in Barcelona, the spectacular Ronda and our hotel, to name just two."
Thomas
Sarasota, FL
Tour: 06/05/14
Overall rating:
Overall, we were very pleased with our first Rick Steves and first "My Way" tour. Having the hotels prearranged and the transportation between cities also handled by someone else was a huge positive for this "My Way" tour.
Favorite "WOW" moment
"Sagrada Familia in Barcelona. Pictures and videos don't begin to show how imaginative Gaudi's masterpiece is in person. (Or the view from San Nicolas of the Ahlambra in Granada.) (or the respite that came in the visit to charming Ronda.)"
Linda
Lake Forest, CA
Tour: 06/05/14
Overall rating:
Our overall tour experience was really good. It was fun traveling with a group yet still do our own thing. We really appreciated our guide. His orientation in each city and his suggestions enhanced our own extensive planning.
Favorite "WOW" moment
"The Alhambra in Granada! We spent most of a day touring there and the Albaicin quarter - and the evening having dinner at a beautiful restaurant where we could see the Alhambra during the sunset hours and into darkness with it illuminated with such beautiful lighting - very memorable day and evening."
Joyce
Bellevue, WA
Tour: 06/05/14
Overall rating:
Robert was such a huge assistance in helping us find locations, details on timing, and best places to eat, etc. We felt so connected to Spain because of his attachment to it. Because we needed to leave the tour early, we were even more grateful to Robert for the professional assistance he provided in calmly helping us find the best options for getting home as needed.
Favorite "WOW" moment
"It would have been our planned tour of the Alhambra with Gabriela from TourByLocals. Our travel companions thought she was outstanding in every way. Our companions also told us their dinner at Las Tomasas in Granada's Albiacin was perfection with a terrace view of the sunseting colors on Alhambra. Nice! We lived vicariously! Personally I was extremely appreciative for the unexpected bus tour of Madrid. The ride gave us an opportunity to see all that I would have wanted to see on foot."
Joe
Lake Forest, CA
Tour: 06/05/14
Overall rating:
This was my first tour with RS. It was outstanding. I liked the fact that RS booked the hotels and arranged for the transportation, but we were free to do our on thing during the day. Our guide, Robert, arranged for a several social functions with the other tour members so we could learn to know them better. Robert also made several good recommendations as to things to see during our stops in a new location.
Favorite "WOW" moment
"The Alhambra would certainly rate a "wow" moment. However, Ronda provided another "wow" moment. The location and quality of Hotel Montelirio in Ronda was very, very nice. It was a good stop, as it allowed the group to rest and rejuvenate before moving on. Also enjoyed seeing the Treaty of Tordesillas (division of South America by the Pope) at the Archivo de Indias in Sevilla."
Marilyn
San Jose, CA
Tour: 06/05/14
Overall rating:
Loved the tour! Well paced. Each stop offered unique and interesting sights and experiences. As always, a good group of traveling companions.
Favorite "WOW" moment
"Strolling the gardens of the Alcazar in Sevilla in the early evening. I'm a tile freak, and loved the old Spanish tiles and Moorish architecture. Enjoying a late night snack at an outdoor cafe in a lovely Spanish plaza. St Nicholas viewpoint in Granada, and walking back down through the narrow streets. Exploring the back streets, and catching the views, in Ronda and Toledo, especially in the evening."
Raymond
Rahway, NJ
Tour: 06/05/14
Overall rating:
The tour was great. Accomodations and transportation were excellent. Robert was a great guide and outlined points of interest for us the night before and was available at breakfast if we had any questions. His commentaries on the bus were to the point and not unnecessarily too long. The availability to do what you wanted, when you wanted at your own pace was fantastic. I would highly recommend a My Way tour to friends and family. Thanks for putting a tour like this together.
Favorite "WOW" moment
"Walking into our room of the hotel in Ronda, and looking out the window seeing the gorge and bridge....Awesome!"
Beth
Annandale, NJ
Tour: 06/05/14
Overall rating:
I enjoyed the "My Way" concept which gave lots of time to see what was important to me personally, while also not having to worry about reservations for hotels and transportation. Rick Steeves book was always with us every step of the way to assist in points of interest and directions! The high speed train was great as well as most of the shorter bus trips. I do believe however that a 5 hour bus ride was a bit much and time could have been spent more wisely if we could have taken a train.
Favorite "WOW" moment
"Wow moments were everywhere, especially the Familia Sagrata and the El Hombre."
Douglas
Annandale, NJ
Tour: 06/05/14
Overall rating:
The "my Way" tour is very good - especially if you have a leader who promotes group interaction. Our leader did with a pot luck supper, last night meal and general encouragement. Also,the leader was not afraid to point out the interesting sights near our hotel as we arrived in the city. The was of great benefit for it made it easier to get around in new environments. The 5 hr. bus ride to Grenada from Toledo is too long. Take a high speed train instead. The tour itinerary was very good.
Favorite "WOW" moment
"Barcelona sights Alhambra the hotel in Ronda"
Raymond
Aurora, CO
Tour: 06/05/14
Overall rating:
Spain My Way was perfect for us. The logistics of finding hotels & inter-city transportation were taken care of by the tour, yet we were able to totally customize what we did in each location.
Favorite "WOW" moment
"Impossible to single out any one moment because there were so many. The walking tour of Jewish Barcelona. Relaxing at outdoor restaurants in Madrid. El Escorial. The magnificent Alhambra...& dinner with our new tour friends with a view of the Alhambra. All of it was good."
Nancy
San Francisco, CA
Tour: 05/22/14
Overall rating:
I think your part of the tour[INVALID]-the organization, itinerary, guide, hotels were all excellent. We have now done both two fully guided tours and this one, and I have mixed feelings about this type of tour. I liked having the freedom to do what we wanted to do and not be herded around in a group all the time, but I missed the guide narratives about the history and culture of the people and the areas we visited. This tour didn't leave me with the same depth of understanding.
Favorite "WOW" moment
"THe Alhambra. How could anyone not be wowed by such a spectacular place?"
John
San Francisco, CA
Tour: 05/22/14
Overall rating:
I enjoyed the cities we went, great scheduling, very good hotels. The guide, Robert, handled things well. Good balance of other people on the tour. The combination of the book, Robert, and couple guides we hired separately (ALhambra and in Sevilla) gave a very good over view of the country. A good first time in Spain experience.
Favorite "WOW" moment
"Enjoyed the bullet train and watching the landscape pass by at bullet train speed."
Emilou
Denver, CO
Tour: 05/22/14
Overall rating:
As a solo traveler, I really enjoyed having the transportation and hotels arranged for. I was able to plan my days as I wanted, but always knew that Robert was there if I needed him. Robert is so knowledgable and charming. What a great host. The hotels were wonderful, centrally located. The other tour members were seasoned travelers, friendly and supportive. The only thing I would change is to end the tour in Madrid. I wanted more time there and did go back after the tour ended.
Favorite "WOW" moment
"The Sagrada Familia cathedral in Barcelona. The architecture, the stained glass windows."
Diana
Spokane, WA
Tour: 05/22/14
Overall rating:
My Way tours are the perfect experience for those that are willing to engage in each varied location- meet new people and explore culture, art, history. This was a lovely trip, with a safety net of an experienced guide and Rick Steve's plan for each city.
Favorite "WOW" moment
"We not only saw new places, we traveled with like-minded people. We met each day at breakfast and spent our days meeting and touring with a very small number of people in our group. Often we were on our own and then meeting later to compare experiences."
Mardi
Encinitas, CA
Tour: 05/22/14
Overall rating:
Great itinerary, great escort, great hotels, great group. Easy (I dislike booking hotels and transportation), relaxed, just enough information and orientation for each city we visited.
Favorite "WOW" moment
"Watching the initiation ceremony of a new musician into a "tuna universitaria" in a small plaza in the Barrio Santa Cruz in Sevilla"
Susan
Vacaville, CA
Tour: 05/22/14
Overall rating:
Favorite "WOW" moment
"I went ona My Way tour to Spain. My favorite parts were the Alhambra in Granada, the cathedral in Toledo and Park Guell in Barcelona."
Debra
San Diego, CA
Tour: 05/22/14
Overall rating:
This was my first Rick Steve's tour and was mostly what I expected. I enjoyed having extra space on the bus and thought my fellow travelers were all very nice. I'm sure I will stay in touch with some of them. I liked the "my way" concept a lot. The tour took me places that would have been difficult to reach on my own.
Favorite "WOW" moment
"Street performers in every city were fantastic. Especially loved the flamenco performers in the public squares of Granada."
Richard
Glendale, CA
Tour: 05/22/14
Overall rating:
the My Way tour was perfect for us. We enjoyed having the freedom to do what we wanted when we wanted to do it. Also, the tour guide provided excellent suggestions and of course the people on the tour were great company.
Favorite "WOW" moment
"The Alhambra is truly unique and fantastic, but I had lots of wow moments eating the wonderful tapas of Spain. Wow."
Janet
Blanchard, OK
Tour: 10/03/13
Overall rating:
I found the schedule well thought out....busy energetic cities then in between tranquil little towns or villages. I was pleased with the My Way approach of simplifying the trek from one city to another then allowing for individual interests to be the determiner of what we each visited.
Favorite "WOW" moment
"Hard to [INVALID] from among 3 highlight experiences, but if I must I will say the wonderful surprise of tranquil Ronda. The village built on two cliffs with a wonderfully ancient looking bridge then being treated to a stay in the San Gabriel hotel. The ambiance transported me back in time to when Zorro lived (I know he lived in California), but thought this description would communicate what was needed. I could almost hear the clopping of his horse on the cobblestones approaching my window."
Lori
Brooklyn, NY
Tour: 10/03/13
Overall rating:
I was skeptical that the Spain My Way tour could top the Austria, Germany, & Switzerland My Way tour I took last year (2012). But I think it did! All of my fellow tour mates were kind, interesting, and low-maintenance; we couldn't have asked for a better guide; and Spain was historic, diverse, beautiful, proud. If you like cities and lots of excitement, this is the tour for you. I worried that 6 different hotel stays in 11 days would be too much, but it wasn't. The pace was just about right.
Favorite "WOW" moment
"I had three: The Alhambra in Granada, the male flamenco dancer in Sevilla, and the final bullfight of the season in Sevilla. To me, Spain got better the further south we traveled."
Joseph
Houston, TX
Tour: 10/03/13
Overall rating:
Great, have been to Europe several times, this is first tour, which made traveling much easier and less worrisome, having details taken care of. Will do it again. Tour members were enjoyable to be with, guide was most helpful.
Favorite "WOW" moment
"Alhambra at sunset."
Beth
Thornhill, ON
Tour: 10/03/13
Overall rating:
My Way was perfect for us. We hate making the "travel" arrangements and hotel accommodations and often find that planned tours are too slow paced for us. This was a perfect blend and wish that Rick Steves would do more of them, including in North America! Let us know when you do!!!
Favorite "WOW" moment
"Alhambra! It was breathtaking and intense and hard to appreciate from the pictures alone."
Frances
Wenham, MA
Tour: 10/03/13
Overall rating:
We had a wonderful trip, seeing much more of Spain than we could have done "on our own". The "my way" approach was perfect, allowing us to visit so many places[INVALID]including some we'd never known existed[INVALID]especially Grazelema and Ronda, but also Sevilla which was so much more than expected. As "older travellers" we liked not having to keep up with prearranged tours, allowing us to explore what and when we wished.
Favorite "WOW" moment
"Grazelema and Ronda were both "wow" moments, but I also have to mention Madrid which on our only previous visit in 1967 was "horrible." The pedestrianized streets have made such a difference[INVALID]the museums and the Royal Palace were there in 1967, along with traffic, heat and dirt, but now it's enjoyable to reach them. I'd also include the amazing scenery of Spain, especially the trips from Toledo to Granada, from Granada to Ronda, Grazalema and Sevilla[INVALID]the mountains, the olive groves[INVALID]loved"
Suzanne
Tucson, AZ
Tour: 10/03/13
Overall rating:
I liked the MyWay tour as one is free to do what most appeals. The hotels, transportation and guide were all good. A good way to travel if you are more independent and not afraid to explore. One has to do homework beforehand, in order to book tours, etc., but it nice to have lodging and transportation arranged.
Favorite "WOW" moment
"Loved the Alhambra, and the lovely village and hotel in Rondo."
Stephen
Cleveland, AL
Tour: 10/03/13
Overall rating:
Our escort, Agust, was very knowledgeable. He was fun to be with, great with directions, and quick to assist with keeping the success of the trip right on target. It was a success, and I helped, as did we all. Skip the bullfights.
Favorite "WOW" moment
"Motoring through the Spanish countryside, and come upon the centuries old town of Toledo sitting as if on a throne of power."
Paul
Newton, KS
Tour: 10/03/13
Overall rating:
It was the trip of a lifetime! I relished the way the trip was designed, larger cities with multiple choices followed by smaller quaint,quieter towns. We have taken a Rick Steve's tour before,but it was not a My Way. My preference is the latter, being able to chose when where, and how. The highlights for me were, The Alhambra, Rondo and Seville. My heart was captured with the beauty and stories of the palace. I came home and ordered, Tales of the Alhambra, by Washington Irving!
Favorite "WOW" moment
"The view from the Albayzin of the Alhambra. We enjoyed our liquid beverages and the view at a restaurant all afternoon! We stayed until sunset."
William B
Wenham, MA
Tour: 10/03/13
Overall rating:
This was our first tour experience but not our first trip to Europe. We've seen plenty of tour groups trooping behind somebody's raised umbrella through the great squares of Paris, Rome, London, and other cities, and we certainly wanted to avoid that. The bare-bones "my way" approach suited us to a T. When you look at a map of Spain you see a whole lot of open space. What's it like, I wondered. The train and bus rides from Barcelona to Madrid to Granada to Seville covered a lot of ground.
Favorite "WOW" moment
"Ronda, I think, and our hotel. Hemingway and Orson Welles both stayed there. The town was full of wow moments and now in my memory seems like one big wow."
Marilyn
Cleveland, AL
Tour: 10/03/13
Overall rating:
I thoroughly enjoyed our first Rick Steves' tour. Agus was a wonderful guide; thoughtful, helpful and always available. When my backpack was stolen in the Barcelona train station, Agus was so calm and understanding. Our train was about to leave so we did not have time to go to the Barcelona police and file a report. The next day in Madrid, he went with us to the police station and was very helpful in sorting through the maze of foreign police procedure. Transportation & hotels were great!
Favorite "WOW" moment
"I would have to say in Toledo - what a wonderful old town with a great vibe."
Susan
Plymouth, MN
Tour: 09/26/13
Overall rating:
Wonderful tour with a variety of cities and fantastic countryside. Loved the architecture in particular with fabulous cathedrals, palaces, mosques and quirky hillside towns. Good mix of large communities with small town feel.
Favorite "WOW" moment
"The Alhambra in Granada. It was amazing. The gardens were spectacular."
Mary
Muskegon, MI
Tour: 09/26/13
Overall rating:
I think the tour was very well organized and spaced nicely. All the cities were excellent choices and with Robert's help we were able to enjoy many sights on our own. One stop I would eliminate is the hill town village of Grazelema. Driving to it took too much time that could have been spent elsewhere, perhaps a half a day more in Toledo.
Favorite "WOW" moment
"The Moorish sights like Alhambra and learning more about the history and art of the Moors was one of my favorite experiences."
Karen
Greensburg, PA
Tour: 09/26/13
Overall rating:
The tour was a wonderful experience. It was great having all of the details taken care of with no worries. Yet, we enjoyed being on our own once we were settled in to each location.
Favorite "WOW" moment
"The whole trip was "wow"!"
Debra
Lakeville, MN
Tour: 09/26/13
Overall rating:
I loved the My Way tour. It required much more research before we left but this insured us that we would not miss the sights we most wanted to see. The Rick Steves' books were extremely helpful reference books. Robert, our escort, was a wealth of information and knowledge which made the last minute decisions such as where to eat much easier. His optional orientation walks were very helpful to get a quick lay of the land. We are already looking into another My Way tour for 2014.
Favorite "WOW" moment
"The Alhambra, Gaudi sights in Barcelona, Ronda and The Mezquita in Cordoba were all wow moments."
Beth
Edmonds, WA
Tour: 09/26/13
Overall rating:
The sights to see in Spain are pretty amazing! The my way tour group was wonderful, smaller and made up of very nice and fun people. I enjoyed getting to do things at my own pace. With that being said, I did miss the group feeling of the guided tours. I also missed the dinners and lunches together too. Robert, our guide, was AMAZING and funny and just a pleasure to be around. You've got a gem of an employee in Robert!! My favorite cities on the tour were Ronda, Granada and most of all Seville.
Favorite "WOW" moment
"The Sagrada Familia - if one is in Barcelona and does not see this sight, you deserve to miss out. UNBELIEVABLE! :-) A true highlight on the tour!!"
Veronica
Freeland, WA
Tour: 09/26/13
Overall rating:
My daughter and I had a wonderful time! We were out as soon as we finished breakfast, walking as fast as we could between sites until dinner and then often kept going. Spain is sooo Spain - unlike England, France or other countries we've been to. We thoroughly enjoyed rummaging down the little alleyways, exploring Tapas bars and marveling at the unique architecture and historical sites.
Favorite "WOW" moment
"There were so many "Wow!" moments. Any cathedral is a "Wow!" moment for me. Seeing the imagination of Gaudi brought to life, dining of the edge of the cliff in Ronda, pondering the art in the Prado, and marveling at the amazing feats accomplished by the ancient mariners in Madrid's Naval Museum - among so many others were "Wow!" moments."
Mark
Waco, TX
Tour: 09/12/13
Overall rating:
Great group, great schedule, great accomodations, great transportation between cities and great RS Guide. Robert was very helpful and added a lot to our trip.
Favorite "WOW" moment
"Sagrada Familia!"
Carol
Winter Park, FL
Tour: 09/12/13
Overall rating:
Both my husband and I enjoyed the Spain "My Way" tour. We like traveling independently. This was a great way to get best of both worlds. We thought our escort, Robert, was very knowledgeable and we enjoyed traveling with him. I missed all the great in-depth commentary a regular tour member receives. We took a couple of excellent walking tours in Sevilla, and if we ever book a My Way tour again we will make sure to set up more walking tours. Wished we had had more that 2 nights in Madrid.
Favorite "WOW" moment
"1. Classical guitar concert (duo) in BCN at Church of Santa given in the evening in one of the outdoor chapels. Fantastic! 2. Bullfight in Madrid. Couldn't come to Spain without seeing a bullfight. Stayed for 2 rounds and left. I'd say one and done. The bull doesn't have a chance. 3. Flamenco in Seville. Absolutely wonderful. 4. The Prado in Madrid. Actually all the Museums in Spain were excellent. 5. The Alhambra in Granada and the Alcazar in Seville. 6. JAMON!"
Matt
Richland, WA
Tour: 09/12/13
Overall rating:
Great locations- enough orientation to make immediate exploration possible
Favorite "WOW" moment
"The sagrada familia and getting lost in Toledo ( and the albyzin and Ronda and grazlemma and Sevilla )"
Janice
Seattle, WA
Tour: 09/12/13
Overall rating:
My first "My Way" tour was just what I wanted for visiting a variety of sites in Spain. The tour's itinerary was exceptionally nice with larger cities and smaller villages included. The hotels with breakfasts were beyond my expectations and the transporation worked great. Robert guided us thru the Barcelona to Madrid train and our bus driver, mainly Pablo, was an expert on the twisty White Hills' roads.
Favorite "WOW" moment
"Granada's Alhambra is amazing, but the chef at de locos Ronda Tapas most memorable. With four outdoor tables and a cat named John Wayne, Chef Tino serves beautiful dishes of complex flavors. When told he should be on Top Chef, he laughed that he has it all, didn't have to sell his soul."
Weather

Spain / Barcelona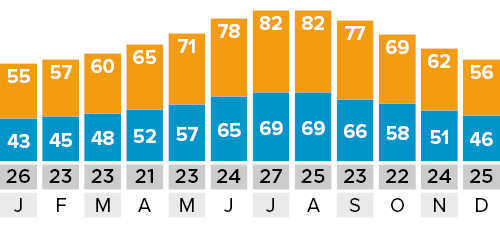 ---
Spain / Madrid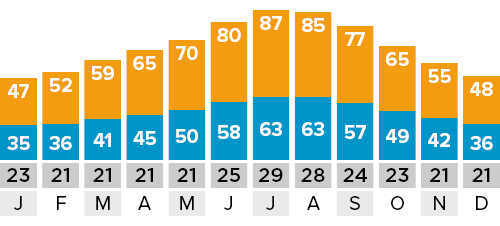 ---
Spain / Sevilla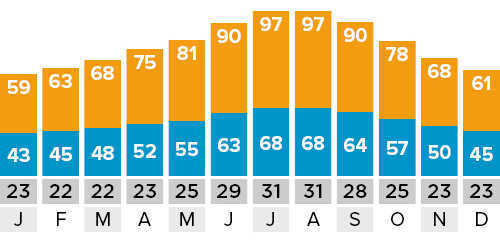 Pre-Tour
We've put together some specific information on what you should know about this tour before you go. You'll also find more general information about "Getting Ready for Your Tour" on our Tour FAQ.
Sightseeing On Your Own
If you arrive in Barcelona before your tour begins, use Rick Steves' Spain guidebook to get oriented. Ride the public transportation, try out a few words of Spanish and get over your jet lag with lots of fresh air and exercise. Check your guidebook for museum hours (some are closed one day per week; some stay open late one day per week).
Remember, you will be in charge of your own sightseeing for ALL destinations on this trip. We strongly suggest you begin planning well before you fly to Spain! To guarantee entrance, make reservations at the Alhambra in Granada in advance from home. You might also consider reserving the Prado in advance as well. See your Rick Steves' Spain guidebook for details on how to reserve.
If you are interested in attending zarzuela, the Spanish light opera in Madrid, you may want to check the schedule and buy tickets before leaving home. More information can be found in Rick Steves' Spain guidebook; schedules and booking information are at http://teatrodelazarzuela.mcu.es.
Transportation
Most tour members arrive a day or two before the tour begins — and those who don't, wish they had. This allows you ample time to get over jet lag and make the most of the first few days of the tour.
There is more than one way to get to and from your tour. We recommend talking to your travel agent about "open jaw" airline tickets (flying into and out of different cities). Barcelona and Sevilla both offer good transportation options, making additional travel before or after your tour quite easy.
The most direct option is to fly into Barcelona and home from Sevilla (which may require an overnight in Madrid or elsewhere within Europe). If you have extra time and flexibility, you might want to consider a round trip flight into and out of Madrid or Barcelona. This option will require either a train journey or low-cost flight from Sevilla and an additional overnight in the original city.
For information about flying within Europe, ask your travel agent or check Rick's list of European budget airlines.
Read Rick's train travel and rail pass tips and decide if your travel plans merit a rail pass.
Prior to your tour departure, you will receive detailed directions on how to get from the airport to your first tour hotel, as well as contact information for your first and last hotels in case you wish to book pre- or post-tour hotel accommodations.
If you are continuing on after your tour (especially to Portugal), we strongly suggest you research and consider booking your transportation before leaving home as last minute bus and air fares can vary greatly in price. If you do not book your post-tour hotels or transportation in advance, be sure to make time at the start of the tour to determine all your post-tour travel needs.
If you need more information about additional European travel or for specific questions about your tour, contact the Tour Department at 425/608-4217 or email tour@ricksteves.com. Thinking you could use some expert, in-depth help to plan your sightseeing days? Tour members enjoy a 50 percent discount on Rick's Trip Consulting services!
Trip Resources
Learn more about Spain: Check out a collection of Rick's TV shows, radio interviews and articles, plus find a list of recommended books and movies.
Packing
We recommend that you consider bringing a smart phone, tablet or other device to assist in planning your activities, and to access Rick's Audio Europe app.
For ideas on what to pack, check Rick's Packing List and our Women's Packing List.