Lisbon

Lisbon's Belém District

Roman Temple in Évora

Nazaré

Cork Farm Visit

Cistercian Monastery in Alcobaça

Fado Performance

Douro Valley

Port Tasting

Porto
Tour Questions? Call 425-608-4217
Heart of Portugal in 12 Days Tour
Starting in lively Lisbon and ending in proud Porto, the Heart of Portugal combines a dazzling mix of Roman, Moorish and Baroque architecture with the small towns, seacoast, food, wine and music of this tradition-rich country. Venturing far from the tourist crowd, this tour has a real "Europe in the old days" feel to it. Your Rick Steves guide will take you on an intimate adventure that connects you with the Portuguese people, from salty harbors to sun-baked farms to lovingly-tended vineyards. Join us for the Heart of Portugal in 12 Days!
What's Included
A small, friendly group of 24-28 people — half the size of most tour groups
Full-time services of a professional Rick Steves guide and local experts who will make the fascinating history, art and culture of Portugal come alive for you
All tours and admissions — at no extra cost — covering at least 21 group sightseeing events • Lisbon walking tour • São Jorge Castle • Monastery of Jerónimos tour • Monument to the Discoveries • Gulbenkian Museum tour • Fado performance • Évora walking tour • Olive oil tasting • Cork farm visit • Batalha's Monastery of Santa María • Fátima visit • Alcobaça Monastery • Conímbriga's Roman ruins and museum • Coimbra walking tour • Coimbra musical performance • Port wine tasting and lunch • Porto panoramic bus tour • Porto walking tour • Porto's Stock Exchange Palace • Serralves Foundation Contemporary Art Museum and park • Douro River cruise...and more
All group transportation from Lisbon to Porto
11 nights accommodations in memorable, centrally-located hotels
All breakfasts and half your dinners
All tips for guides and driver
Free stuff including Rick Steves Portugal guidebook, Portuguese phrase book, map, moneybelt and earplugs
Guaranteed tour price, locked in the moment you make your deposit
Optional single supplements — this tour has a limited number of private rooms for solo travelers for an additional fee
Tour alum discount of $50 for each tour you've taken prior to 2015
50% discount on a consulting appointment with our in-house experts to assist with your pre- or post-tour travel plans
Flexibility should you need to transfer, or cancel/interrupt your tour
Fine print: You are responsible for the cost of your drinks and free-time sightseeing. See our Tour Conditions Agreement for important details regarding everything listed above
Itinerary
Daily Activity Key
Light = 2-4 miles of mostly level walking throughout the day.
Moderate = 2-6 miles walking throughout the day with some hills and stairs.
Strenuous = 2-8 miles walking throughout the day with lots of hills, stairs and uneven terrain.
Day 1: Welcome to Portugal
We'll gather at our Lisbon hotel around 5 p.m. for a "Welcome to Portugal" get-together, followed by a short orientation walk through our neighborhood, a stroll down the fancy Avenida da Liberdade, and dinner together. Sleep in Lisbon (3 nights). No bus. Walking: light.
Day 2: Neighborhoods of Lisbon
This morning we'll take a walking tour through Lisbon's colorful downtown neighborhoods — the Bairro Alto, the Alfama and the Baixa — including a panoramic view of this vibrant city from São Jorge Castle. Along the way we'll learn about "village" Lisbon's neighborhood life, the poetry of the revered Fernando Pessoa, and Portugal's "Carnation Revolution" which peacefully ended nearly five decades of fascist rule in 1974. You'll have the rest of your afternoon and evening free to visit any of Lisbon's "niche" museums (tile, fado, Port wine, and other Portuguese specialties). Or, your guide will help point you in the right direction for a half-hour train ride to Sintra — famous for its gardens, palace and castles. No bus. Walking: strenuous.
Day 3: Seafaring Belém and the Gulbenkian
We'll begin our day with a bus tour through Lisbon, taking in the view from Edward VII Park and ending at the world-class Gulbenkian Museum, where we'll see how an international oil tycoon assembled a priceless art collection spanning 5,000 years. Then we'll drive to Lisbon's seafaring Belém District, home to many of the city's most historic buildings. Sticking close to the waterfront, we'll learn about Portugal's golden age of exploration at the heroic Monument to the Discoveries, and how faith, money, and a knack for sailing combined to build the dazzling Monastery of Jerónimos. Tonight we'll regroup and enjoy a soulful fado performance with dinner. Bus: 1 hr. Walking: moderate.
Day 4: Historic Évora
Today we'll head east to the laid-back Alentejo countryside and the history-rich university town of Évora. We'll take a walking tour of Évora's preserved-in-whitewash old section, marveling at its Corinthian-columned Roman Temple and its macabre Chapel of Bones. As you'll discover in your free afternoon and evening, Évora has a world-apart feel to it that really connects you with traditional Portugal. Sleep in Évora (1 night). Bus: 2 hrs. Walking: moderate.
Day 5: Olives, Oaks and Nazaré
This morning begins with a memorable visit to a working farm and estate. We'll have a chance to meet farming locals, and taste-test their olive oil. Then we'll wander through their forest of cork oaks, learning how the bark is harvested and how it's being regulated today. We'll cap off our visit with lunch together, including some of the estate's wines. This afternoon we'll follow the sun as we make our way to the old fishing town of Nazaré. Upon arrival we'll take an orientation walk, and learn why old women still wear seven layers of petticoats. Sleep in Nazaré (2 nights). Bus: 5 hrs. Walking: light.
Day 6: Royal Intrigue, Alcobaça and Óbidos
We'll begin today with a visit in Alcobaça to tour the ornate Baroque-Gothic Cistercian Monastery of Santa Maria, and hear the star-crossed story of King Pedro and his doomed mistress, Inês. Later we'll enjoy a chance to explore the delightfully-preserved town of Óbidos — given to the queen as a wedding gift 800 years ago — before returning to Nazaré for a free afternoon, where you can stroll the long crescent of ocean beach. We'll end our day with a vertical trip up the funicular to the Sitio neighborhood, where we'll enjoy its sweeping views, and dinner together with some of Europe's best and freshest seafood. Bus: 2 hrs. Walking: moderate.
Day 7: Batalha and Fátima
We'll continue our journey north, stopping in Batalha to visit its grand Monastery of Santa María, a symbol of Portuguese pride and its victory (with help from English archers) over Spanish domination 600 years ago. Then we'll visit the nearby pilgrimage site of Fátima — a favorite of Pope John Paul II — where three children shared controversial visions of the Virgin Mary in 1917. Later we'll connect with Portugal's ancient Roman past, wandering the evocative remains of Conímbriga. Our destination this afternoon is Portugal's historic capital of Coimbra, where we'll enjoy an orientation walk and a relaxing dinner together. Sleep in Coimbra (2 nights). Bus: 3 hrs. Walking: moderate.
Day 8: Classic Coimbra
Today we'll happily stay-put in Portugal's easiest-to-enjoy city. We'll start with a walking tour through Coimbra's maze of narrow lanes and its steeped-in-tradition 700-year-old university. The palatial university library — with 30,000 books from the 18th century — is like nothing you've seen before. The rest of your day will be free for making more discoveries on your own. Tonight we'll rendezvous for a performance of Coimbra's unique style of fado...more likely devoted to revolutionary student ideals than lost love. No bus. Walking: moderate.
Day 9: Douro Wine Country
We'll drive to Portugal's most famous wine-making region today: the lush, green Douro Valley, where we'll visit an old family estate and winery (quinta) with spectacular views of the surrounding valley. It's a perfect chance to learn all about the proud art of making fine Port — and taste it too! Later in the afternoon we'll make our way to our hotel and wrap up the day with dinner together. Sleep in the Douro Valley (1 night). Bus: 4 hrs. Walking: moderate.
Day 10: Vineyard Views and Porto
Today we'll travel through terraced wine country on our way to the port city of Porto. On arrival in this rustic Portuguese San Francisco, we'll take a panoramic bus tour of Porto's classy neighborhoods, dynamic downtown and bustling port. Then it's all aboard for a relaxing cruise on the Douro River. We'll finish our day of sightseeing with a tour of the Serralves Foundation, a contemporary art museum and park that includes an irresistible, pastel-painted Art Deco mansion. Sleep in Porto (2 nights). Boat: ¾ hr. Bus: 3 hrs. Walking: moderate.
Day 11: Savoring Proud Porto
This morning we'll take a walking tour of Porto's riverfront Ribeira district, including the lavish rooms of its Stock Exchange Palace, the exquisitely-gilded Church of Santa Clara, and São Bento Train Station. Then you'll have time to wander on your own through Porto's lively city center — or seek out some more sipping at an old Port lodge. This evening we'll enjoy a final dinner together, sharing travel memories and toasting new friends. Saúde! No bus. Walking: moderate.
Day 12: Tour Over After Breakfast
Breakfast is provided, but there are no group activities today. Your guide will help steer you to Porto's airport, which is an easy metro or taxi ride away. Or you may want to stay for further Portuguese adventures on your own. Adeus!
Itinerary specifics subject to change.
Activity Level
Our tours are physically active! It's an essential part of the Rick Steves tour experience. On our Heart of Portugal in 12 Days tour — among other things — you'll need to happily...
Carry/roll your luggage over uneven pavement (several blocks possible) and up stairways to reach your hotel; then up several flights of stairs to reach your room.
Be on your feet, walking and standing for up to four hours, indoors and outdoors, in all weather conditions.
Sleep with street noise and no (or weak) air conditioning.
After orientation and transportation lessons, be able to navigate towns and cities on your own.
Reviews
Janice
Fort Wayne, IN
Tour: 10/06/14
Overall rating:
Very good. Rain dampened some of trip.
Favorite "WOW" moment
"Cork farm and winery. Families very interesting and welcoming. Food lovely in a lovely setting."
Steven
Sammamish, WA
Tour: 10/06/14
Overall rating:
A really special trip for us. My wife and I were celebrating our 35th wedding anniversary and decided to make this our first trip to Europe. The overall tour more than met our expectations. Exceptionally well planned and organized, with an almost perfect balance between the scheduled times with the tour group and time alone for us to explore on our own. Likely would have rated this outstanding had it not rained 8 of the 12 days we were there.
Favorite "WOW" moment
"A nice side trip to Sintra."
Terry
Chicago, IL
Tour: 09/29/14
Overall rating:
Everything was extremely well organized, well timed, with a good balance between free time and group time. We had an extremely congenial group which bonded well and I am sure many friendships will continue.
Favorite "WOW" moment
"The visit to the cork farm and the visit to the port vineyard! Both experiences were special because we were able to meet the people who owned and ran them. Their love of tradition and family land was obvious. We also had outstanding meals at those places and it was great to taste the wines and olive oils they produced."
Steven
Sparta, MI
Tour: 09/29/14
Overall rating:
We enjoyed a mixture of city and agricultural experiences. The combination of seaside/vineyard/urban views allowed a more complete appreciation of Portugal. Our guide allowed us to see a large variety of sites and experiences much more efficiently than I could have engineered myself.
Favorite "WOW" moment
"I might list a few memorable incidents: 1)confirming that the waves at Nazare are indeed awe-inspiring 2)Fado at Coimbra is excellent 3)crushing grapes in the Douro Valley was a rare gift 4)friendly and helpful portuguese citizens"
Kristin
Wilmington, DE
Tour: 09/29/14
Overall rating:
This was our sixth RS tour taken over the last ten years. Christina was a wonderful guide, so knowledgable about the history of Portugal as well as the present economic problems. We very much liked the pace of the trip with restful interludes built into the itinerary. This was particularly important because there was a virus going through the group almost from Day One. I will continue to recommend these tours to my friends!
Favorite "WOW" moment
"I would have to say our two visits to Portuguese landowners. The first to the cork farm followed by lunch with the family and the second to the Douro Valley vineyard where we got to stomp the grapes and then were served a delicious lunch while we learned more about the family business. These types of experiences have really made these tours unique."
Henry
Folsom, CA
Tour: 09/29/14
Overall rating:
We got a real feel of what Portugal was all about because of our tour guide Christina.Some companies talk about "experiential Travel', but this tour delivered! This was our first trip with Rick Steves and it will not be the last.
Favorite "WOW" moment
"I loved the Cork farm and the Port experience, but the big wow was being able to interact with each of these families and understand them on a deeper level because of these one on one discussions."
Sandra
Venice, FL
Tour: 09/29/14
Overall rating:
Having the opportunity to attend mass at Fatima was an unexpected bonus. The experience was very special. The visit to the cork farm and the opportunity to learn from the family about their enterprise was eye opening Being allowed the privilege and fun filled experience of stomping the grapes at the winery in the Douro valley was a special day.
Favorite "WOW" moment
"Receiving Communion at Fatima"
Jeanne
Merion Station, PA
Tour: 09/29/14
Overall rating:
It was a fine tour, but exhausting. Given that almost all of us (including our guide) were sick by the end of the 12 days, I suspect that each day included too many events. We moved suitcases, packed and unpacked many many times. And we were traveling in an enclosed bus. Most of us caught the respiratory entrovirus that one of our members picked up on a plane on the way over to Portugal. A slower pace might have allowed us to sleep, to absorb what we were learning, and to stay well.
Favorite "WOW" moment
"The stone carving in some of the churches was astounding. The sunsets over the red tile roofs were stunning. And I loved the mountain roads as we traveled through the northern region. The bus driver, who became a real personality on our tour, was a fantastic guy."
Deborah
Mason, MI
Tour: 09/22/14
Overall rating:
Favorite "WOW" moment
"Stomping grapes at the Quinta Santa Eufemia! I've always wanted to do that, and I was amazed that I actually had the opportunity. What grape fun!"
Elizabeth
Nashville, TN
Tour: 09/22/14
Overall rating:
I appreciated the visits to the vineyard and cork farm the best. The countryside really drew me. The local people were very friendly. And our tour folks pleasant and interesting. Appreciated our informative guide, Maria, who was ver;y knowledgeable in Portuguese history. Our bus driver Raphael was excellent on the hillside curves. And, the accommodations and food were excellent. Thank you again for the trip. Looking forward to the Ireland Rick Steves Tour May, 2015.
Favorite "WOW" moment
"Cork Farm."
Carolyn
Doylestown, PA
Tour: 09/22/14
Overall rating:
Overall the tour was very good, but I was disappointed in Lisbon. It's too bad that the economy is in the cellar---Portugal's best days seem to have been in the distant past. I don't understand why Sintra is not included. I think another day in Porto would be good too. I know we had guide books to read and refer to but a cheat sheet of past history would be a good reference as we toured.
Favorite "WOW" moment
"The day we spent at the winery in the Duoro Valley!! And then the gorgeous hotel on the river in Pinhao where we spent the night. What beautiful terrain and what charming people at the winery. Fun to stomp the grapes:)"
David
Weaverville, NC
Tour: 09/22/14
Overall rating:
There were no bad surprises but there were several good surprises. Everything was as described in the literature except Maria our tour guide, she was the glue that held everyone and everything together.
Favorite "WOW" moment
"This is a tough one to answer as there were several. I'm going with the two working farm stops, one featuring cork and the other vineyards and wine. Coimbra is also a favorite as there was so much to explore in the city and Nazaré was equally charming. Actually, The whole itinerary was great."
Patrick
Doylestown, PA
Tour: 09/22/14
Overall rating:
Maria was an outstanding tour guide. The group on the tour was compatible and enjoyable to be with. We did a nice variety of things and learned the important role Portugal played in world history as well as seeing it today.
Favorite "WOW" moment
"The FADO performance in Coimbra!! I had expected it to be mildly entertaining but instead was simply blown away by the quality of the singer's voice and the music of the Portuguese guitar."
Linda
Weaverville, NC
Tour: 09/22/14
Overall rating:
This tour offered the complete top quality package - transportation in a full sized bus with a competent driver, a knowledgeable, personable guide, small group, charming hotels, memorable restaurants, quality group activities, adequate free time and a fun and enjoyable 12 day immersion into Portugal's culture. The 12 days had a nice blend of city, countryside and coastal experiences. The tour truly exceeded my expectations.
Favorite "WOW" moment
"The walking tours with Maria and the local guides. There were so many bits and pieces of quality information offered as we explored new territory. Confident, knowledgeable replies were always given to our many questions. With the small group and the communication devices it felt as if you were always with a personal guide. The scenic moments were terrific but without Maria's comments they would have been just a tour photo."
Shirley
Vancouver, BC
Tour: 09/22/14
Overall rating:
I have never been to Portugal and this trip included a variety of different areas and activities to give a good sense of the country. I enjoyed the casual style of travel and the opportunities for exploring cities on our own.
Favorite "WOW" moment
"Walking back to our hotel in Evora on the narrow streets following the aqueduct from the reservoir near the center of town to the city wall."
Sally
Portland, OR
Tour: 09/22/14
Overall rating:
Terrific. I loved the locations, guided oreintation, and time allowed to explore independently!
Favorite "WOW" moment
"Porto--- overall impression will stay with me. walking tour and images at night were very dramatic. RSteves called it gritty--- i didn't find that!!"
George
Vancouver, BC
Tour: 09/22/14
Overall rating:
Great organization, the guide [ Marie ] was excellent and it was a fun group.
Favorite "WOW" moment
"The farm visit."
Marianne
Vancouver, WA
Tour: 09/15/14
Overall rating:
We loved the Portugal tour, our second RS tour. It was a wonderful experience immersing ourselves in the Portuguese culture of music, language, architecture, food, wine, and life itself. The experiences the tour provided were wonderful, from spending the days at the quintas (farms), meeting and eating with the families who own them, to the Fado performances and the wonderful local dishes we ate. Heartily recommend this tour to anyone!
Favorite "WOW" moment
"The cathedral at Alcobaca was my wow moment, the plain, simple and gorgeous architecture was thrilling."
Karen
West Kelowna, BC
Tour: 09/15/14
Overall rating:
We have travelled twice to Europe with Trafalgar. Rick Steeves tours are by far better. Love the smaller groups and the care taken to make it an enjoyable experience. Our travel guide was amazing (Chistina). She treated us like adults , no name tags and ability to choose our seats on the bus (no rotation schedule). Loved her little extras, like showing up with pastries for no reason. Will definitely do another Rick Steeves tour.
Favorite "WOW" moment
"Stomping grapes with the group and so much fun!"
Dwight
West Kelowna, BC
Tour: 09/15/14
Overall rating:
Our goal was to get closer to and get to know the people of Portugal, the tour fully met these expectations. We did not want to spend our time looking out a bus window.
Favorite "WOW" moment
"There were many including the close knit small group. The time spent touring the Cork farm,great location in Nazare and Douro valley(grape stomping)."
Nina
Portland, OR
Tour: 09/15/14
Overall rating:
Portugal had been on my mind for years. I was completely satisfied w the tour and ate my way from Lisbon to Porto.
Favorite "WOW" moment
"Tromping on grapes at a real vineyard was very fun and the feast that followed. Painting a tile was also very fun. It was so refreshing to sit down and create your own souvenir. Out of 9 RS Tours this was the first time I had been offered the opportunity to be creative, besides photography."
Nancy
San Diego, CA
Tour: 09/15/14
Overall rating:
I thought everything was wonderful. Our guide brought a lot of local knowledge to the experience since she is Portuguese. She made everything flow beautifully. We had a very compatible group--everyone got along.
Favorite "WOW" moment
"This is hard to decide. I loved stomping grapes in the Douro Valley and visiting the cork farm. Both were really great unexpected experiences."
Rich
Vancouver, WA
Tour: 09/15/14
Overall rating:
Excellent presentation of Portugal's history, culture, sites, people, food and drink.
Favorite "WOW" moment
"Lisbon...enjoyed the energy of this San Francisco-like city. Visits to the Castle, Monumument to the Discoveries, the Monastery of Jeronimos, Belem Tower and the tour of the city's neighborhoods were all very enjoyable."
Connie
Trial, BC
Tour: 09/15/14
Overall rating:
In a word excellent. I knew virtually nothing about Portugal and had only a vague recall of their history as a world power in the early exploration of our planet. The tour has helped me fill in a 500-600 year gap of my knowledge. Physically the country has an interesting variety of land and water features.
Favorite "WOW" moment
"My WOW moment was seeing the inside of the Chapel at the University in Coimbra. But as has happened on every other Rick Steves' Tour, the people are the best feature of the trip."
Melvin
Middleton, WI
Tour: 09/15/14
Overall rating:
My wife and I usually visit countries on our own avoiding tours. This time we decided to try Rick Steves". The tour selection was outstanding visiting cork farms and wineries not open to the individual traveler. Our guide saved us time with her animated expertise and humor. The bus driver handled the mountain roads much better than I would have. We met locals and struggled with the language but were never hindered by crowds as our tour number was low.
Favorite "WOW" moment
"Difficult choice. Seeing the sunset on the Atlantic Ocean tied with the cork farm. The family has created a touring experience with cork, olive, wine, and trophy hunting experiences"
Ann
Athens, OH
Tour: 09/08/14
Overall rating:
This tour was wonderful--every single bit of it. It was remarkable not so much for the HUGE things, but for innumerable small delights throughout the day. The cities are charming and the museums interesting. The food fresh and abundant. The tiles! the music! the cream cakes! And Maria was the most excellent guide: smart, informative, funny, kind. Thank you all for a fantastic experience.
Favorite "WOW" moment
"One of our tour members was a fantastic pianist and he played some music for us in one of the monasteries--it was magical."
Susan
Alexandria, VA
Tour: 09/08/14
Overall rating:
This was my third tour with RS and I'll continue to travel with this group. Our guide Maria kept up the tradition of excellence exhibited by RS guides. The itinerary was great, providing a good overall experience.
Favorite "WOW" moment
"I loved Coimbra."
Marie
Chesterfield, MO
Tour: 09/08/14
Overall rating:
It was a very good enjoyable tour.
Favorite "WOW" moment
"Nazare , is a very beautiful place . And we happened to be at Sarralves museum when there was a performance by the Black Monastics and the Black Monks of Mississippi , i know it was not a planned activity but for me it was a great experience."
Susan
Kerrville, TX
Tour: 09/08/14
Overall rating:
Another wonderful Rick Steves Tour. Portugal, it's diverse geographic areas, it's welcoming people, it's fascinating history and an excellent guide, Maria, who was so knowledgeable and able to handle any situation...even pouring rains and coming up with alternative plans while taking it all in stride. We had a gregarious group of 24 travelers with whom to enjoy a wealth of diverse experiences from Fado performances to student life in Coimbra. It was all a joy.
Favorite "WOW" moment
"Visit to the Cork Farm, meeting the family that owns and runs the farm, and the wonderful homemade lunch we were served. The farm elders, a lovely couple close to 90 years old, came out to greet us and lunch with us. A family member sat at each table and could tell us their experiences in running their farm based on bio diversity. It was a wonderful way to experience a different slice of life and get a further appreciation of all Portugal has to offer."
Linda
Marietta, GA
Tour: 09/08/14
Overall rating:
This is my 2nd RS tour (Sicily last year)....I'm hooked on RS tours. Have traveled w/other tour companies, but they don't have the outstanding "formula" RS has developed for the BEST experience in traveling abroad.
Favorite "WOW" moment
"Oh my, tall order....so many new experiences. I appreciated the visit w/the family at their Cork Plantation which included the BEST meal I had in Portugal. The Improptu concert by the Mississippi Mission at the museum in, oops ?"
Gail
Reno, NV
Tour: 09/08/14
Overall rating:
A great tour! Maria was a wonderful guide.THE BEST! She is a professional, organized, informed guide. A very accommodating and caring person. She made our trip a most memorable journey. Our travel companions were a great people. Everyone was considerate, congenial & just fun to travel with for 12 days. The places visited were well chosen & gave us a good sense of Portugal's history, culture & everyday life. Food was good. The accommodations were mostly good. Except for Coimbra, too dated.
Favorite "WOW" moment
"Favorite WOW moment? Hummm...not the best question to ask. You need to rephrase this question. There were many fun and memorable moments. The family farm tour and yummmmm lunch at the Alentejo biodiverse farm. The tour and lunch at the Douro Valley family run vineyard/wine farm. Fatima for Sunday Mass. Our wonderful Maria, walking down the road and waving to stop oncoming cars & clear the way for our wide bus to get across the narrow bridge. Wish I had a picture!"
James
Reno, NV
Tour: 09/08/14
Overall rating:
This was a very nicely paced and comprehensive tour of the people and places in Portugal. I learned a lot about the country and its people. Maria was outstanding. She was informative, comfortable and really ensured all of us were taken care of, whether it was logistics in a town or in regards to travel plans. Manuel was a great driver and a very helpful and interesting person. The stops and overnights were a wonderful blend of urban, rural and coastal experiences.
Favorite "WOW" moment
"Honestly, I had several wow moments. Not to slight Lisboa by any means, but the beaches and cliffs at Nazare were remarkable, the incoming student experience at Coimbra was unique and special. Truly wow was the drive in to and out of the Douro valley. The tours and lunches at the vineyards with the families was extra special. While not part of the tour.....Bob playing at Jeronimos was priceless and something I won't forget."
Martha
Rocky Hill, CT
Tour: 09/01/14
Overall rating:
Portugal is a pleasure to visit, our guides are great, Portuguese are friendly and food are great!
Favorite "WOW" moment
"There are many, I like the most about Obidos' postcard perfect beauty and Douro Valley' rustic and nature beauty, with terraced vineyard on both hills, Douro River flows below against blue sky and white clouds! I also very much impressed about visiting two farms, one cork farm and the other vine. The families are so friendly and tried so hard to make us feel welcome! Cooked family meals for us and told us cork farming, vineyard work and conservation about land use. Such an experience!"
Nancy
Lutherville, MD
Tour: 09/01/14
Overall rating:
We absolutely loved this tour! This was our first tour as we usually plan our trips ourselves, so we were hesitant. Our group was fabulous and our guide, Cristina, was phenomenal! She was knowledgeable and had a caring sensibility and a great sense of humor! Robert was our coguide and was also outstanding!
Favorite "WOW" moment
"The visit to the cork farm and lunch with four generations of the owners' family was the highlight of our tour!"
Carol
Marlboro, NJ
Tour: 09/01/14
Overall rating:
The Heart of Portugal tour 9/1/14 - 9/12/14 was my first guided tour with Rick Steves and I am already planning my next trip. The memories, new friends, and the experience I had will be in my heart forever.
Favorite "WOW" moment
"There were so many "wow" moments everyday on the trip, but the best one for me, was driving through the scenic Douro Valley. The landscape took my breath away. The tour part of the of the Douro Valley is an experience you cannot get on your own or on a cruise. It is an experience of a lifetime."
David
Bellevue, WA
Tour: 09/01/14
Overall rating:
We had a terrific time exploring Portugal. Knowing little beforehand of the country and its people, we acted like sponges for two weeks. The topography is much more beautiful than I expected, the language much more difficult to understand, and the people more beautiful and friendly than I imagined. And then there's that amazing egg custard that they use in all of their pastries! I did not want to leave, ever.
Favorite "WOW" moment
"The most impactful experience of our trip for me was walking through the chapel of bones in Evora. It was at once eerie, depressing yet fascinating, especially when one realized that such a place was created and maintained by Christian monks."
Darrell
Lacey, WA
Tour: 09/01/14
Overall rating:
We very much enjoyed our tour of Portugal. We learned so much about the history, culture, politics and food and came away with a much better understanding of the Portugal.
Favorite "WOW" moment
"The introduction to Fado in Lisbon."
Paul
Lutherville, MD
Tour: 09/01/14
Overall rating:
This was our first Rick Steves tour and we had a fantastic time. Cristina and Robert were terrific hosts and guides...fun, friendly, warm, & Cristina was a perfect ambassador for her country. The group meshed well and provided great company. The tour balanced group activities and free time well. We added on a few days and went to Sintra on our own. My only critique of the tour is that this is a must-do in Portugal and would be good added in as part of the tour.
Favorite "WOW" moment
"At the Fado show in Coimbra, my wife and I were surprised by a special shout out for our anniversary. A fun moment and memory for a lifetime."
Rodney
Cleveland, OH
Tour: 06/16/14
Overall rating:
My wife and I had an enjoyable time.
Favorite "WOW" moment
"There were no wow moments for me because I am use to the Rick Steves' mystic, that formulaic equation that results in a marvelous experience for all. ,"
Charlotte
Beaverton, OR
Tour: 06/16/14
Overall rating:
I loved this trip and I have traveled a lot -- this was my first Rick Steves trip and I had always wanted to do one. I have been watching his programs on PBS for years! Finally last fall, 4 of us went up for the seminars in Edmonds and I was determined to do one of his trips. Since my return I have been talking about it to all my my friends and telling them these are the tours to take. Good value for the money also.
Favorite "WOW" moment
"Going to the Duro Valley - seeing the beautiful wine country. Our visit to the winery, our tour there, our great home cooked lunch, and of course the wine tasting! I also really enjoyed the cork/wine farm visit and spending time with that family. We had an outstanding lunch there and also got to taste the wines that they produce. Both are "wow" moments."
Linda
Hollywood, SC
Tour: 06/16/14
Overall rating:
I really loved the tour! Having done Grand Circle and OATS tours, I did not think it could compete, but it did! Cristina was a wonderful guide. The variety was great, from big cities to small towns. I liked having an introduction to each place we stayed on arrival. Our planned meals were great. The group size was perfect and we appreciated the large bus. The rides were comfortable and never too far. It was a great trip!
Favorite "WOW" moment
"The visit to the "Cork Farm" was probably the best. The tour of the grounds was great, but the caring family, setting, great food and wine, and kindness of the people made it even more special! What a wonderful family in an absolutely perfect setting. The chicken pot pie, fish and dessert were amazingly good. The winery visit and lunch was also wonderful. Getting to know the people at both was the best."
Ridgely
Hollywood, SC
Tour: 06/16/14
Overall rating:
This tour exceeded my expectations. Christina deserves a great deal of credit for this. What I had heard about Rick Steves Tours was a slightly lower level of hotels and service. Except for one property, this was not true. Group meals were of a quality standard, and except for one restaurant, the wine was very acceptable. The bus and the restricted # of travelers was critical for success. This was our first Rick Steve's Tour, but we found your tour compatible AATking, Oats, Grand Circle.
Favorite "WOW" moment
"Our day in the Duoro Valley. The geography and manicured vineyards was awesome. Our 2 home hosted meals were truly wonderful. Both families conveyed their passion and pride. And our night's lodging in Pinhau was the best of all the hotels. It should be a 5 star if it is not."
Ronald
North Delta, BC
Tour: 06/16/14
Overall rating:
A great tour, glad we went, I can see us trying another Rick Steve tour at some later date.
Favorite "WOW" moment
"The map of the world with the dates of when territories and countries were first visited by the Portugese navigators."
Cindy
Pompano Beach, FL
Tour: 06/16/14
Overall rating:
Christina is a great guide and she is passionate about Portugal! I think the farm visits were my 2 highlights. the group got along well, no one was habitually late...all is all a great tour!
Favorite "WOW" moment
"Has to be the farm visits...the families were so open and honest about the challenges of keeping the farms going...also loved the wines on the whole trip!"
Robert
Pompano Beach, FL
Tour: 06/16/14
Overall rating:
We completely enjoyed our first trip to portugal. The people were friendly and the food and wine very good and plentiful. The hotel selections were very good for each area we were visiting. I particularly enjoyed Cristina's commentary about the age of discovery out at the Lisbon monument.
Favorite "WOW" moment
"The day trip with lunch to each of the two family estates were a real bonus. One family focused on cork oak trees and olives, and the other on vineyards and wine making in the Duoro River valley."
Jennifer
Fair Oaks, CA
Tour: 06/16/14
Overall rating:
We had a fantastic time touring Portugal and learned a lot about their beautiful country, friendly people, delicious food and interesting history and culture. Before traveling to Portugal we knew nothing about the country but this tour has enriched our lives and educated us, thanks to Cristina and your book.
Favorite "WOW" moment
"Our favorite experience was visiting the Cork Farm, traveling through the cork tree fields and learning all about the harvesting of the cork from a delightful member of the family owned business. Also we were told about their production of wines and olive oil, plus their controlled hunting trips.The visit ended up with a delicious home made meal, served in their hunting room with the Family joining us and being so gracious. The Family philosophy, regarding respecting the land, was refreshing."
Carol
North Delta, BC
Tour: 06/16/14
Overall rating:
Although we have travelled quite often, this was our first 'tour' experience. We were pleasantly surprised. We have used Rick Steves' tour guides for years and have found them to be invaluable in our own travel planning. Our guide and travel companions were wonderful people to be with while exploring Portugal.
Favorite "WOW" moment
"I very much enjoyed our visit to the olive and cork farm. The family were very gracious hosts and the meal and wines served were fantastic. It was great to learn about one family's love of their land and their sincere efforts to maintain a sustainable estate. Also enjoyed being out in the countryside."
Marva
Cleveland, OH
Tour: 06/16/14
Overall rating:
Trip was thoroughly enjoyable. Our guide was very knowledgeable and passionate about the culture and people of Portugal. She always made sure we understood all about how to navigate through each city whether she was with us or not. It was a very relaxing experience.
Favorite "WOW" moment
"The tour and lunch at the cork farm was amazing."
Sherri
Edmond, OK
Tour: 06/16/14
Overall rating:
Portugal was a very beautiful and interesting country. The tour allowed us to experience both the interior of the country and the coastline, cities and small villages, and as always some backdoor experiences you would not enjoy if traveling on your own. Cristina was a wonderful guide. Seeing her country through her eyes and experiences added to the richness of the tour.
Favorite "WOW" moment
"This is always a hard question as there is never just one "wow" moment. The cork farm and lunch was definitely a "wow" moment. Meeting four generations of the family and hearing the love of the land and the care that is invested for future generations was inspiring. The visit to the wine estate in the Duoro Valley with the luncheon served by the family was also a "wow" moment. These kind of backdoor experiences really let you see the lifestyle and culture of the people of a country."
Marcel
Dollard Des Ormeaux, QC
Tour: 05/26/14
Overall rating:
the points of interest highlighted were representative of Portugal. The small group made it easy to get around the sites. The amount of free time available was great allowing for a bit of personal freedom to pursue specific interests. The lodging were very acceptable except perhaps in Cambria where the location was good but the dirty carpets really damage the image of the place. Clearly not acceptable.
Favorite "WOW" moment
"The farm visits where the highlight of the trip for us."
Frank
Saint Petersburg, FL
Tour: 05/26/14
Overall rating:
Met our expectations after two other R/S tours in the past few years. Loved Portugal and its people. Our guide Maria's charm, wit and knowledge made the experience delightful. Of course, our companions on the tour were the best. The friendships made in such a short time are extraordinary!
Favorite "WOW" moment
"The two afternoon spent with families on their vineyards had to be the highlight. We were treated as part of the family and made to feel most welcome. The food & wine, plus the spectacular surroundings did bring forth the word "WOW". The Fado show in Lisbon was way above what we expected. Professional and a joy to listen to."
Elaine
Bethel Park, PA
Tour: 05/26/14
Overall rating:
When I tell my friends about this tour I emphasize that it is comprehensive. We covered the entire country (almost). The cities were diverse, the hotels were superb to satisfactory. Out guide, Maria, was just THE BEST. She has poise, great delivery, very competent. She was very friendly, but private. I really appreciate that. I would give her a DOUBLE OUTSTANDING. Change the restaurant in Coimbra. Use the Italian one near by. I have never had a steak that was tougher than the one ...
Favorite "WOW" moment
"I hate this question. I don't know. I want to enjoy my entire trip. I don't need a wow moment. Oh yeah when we stayed at a really great hotel. I like going through "The Front Door" on my trips at this stage of the game. I began to think I was on another tour!"
Jonathan
Bethel Park, PA
Tour: 05/26/14
Overall rating:
Great group of fellow travelers. Everyone got on well throughout the trip. There was enough free time to let us go our own way. On top of it all, Maria was just great.
Favorite "WOW" moment
"I think the moment hat will remain with me for a very long time was the Fatima visit. Seeing the pilgrims, attending the outdoor Mass, the candle burning and more. I only wish we could have stayed there longer."
Angie
San Francisco, CA
Tour: 05/26/14
Overall rating:
The tour was excellent, I think Rick Steves really chose some very notable places to visit in Portugal and I thoroughly enjoyed every site. The hotels were beyond my expectations, and Maria was a pleasure to have as a tour guide.
Favorite "WOW" moment
"I really enjoyed going to the two family run farms - cork farm and vineyard. The hosts were very friendly and it was interesting learning about some of Portugal's signature items."
Jane
Redmond, WA
Tour: 05/26/14
Overall rating:
i hate to say this....we've been on quite a few tours with ETBD....this one wasn't great....sadly, our group turned out to be made up mainly of people who wanted to chatter - ALL THE TIME - on the bus, during walking tours - very disrespectful - to the guides and to the few of us who were trying to pay attention....i don't know if there's a good way to do this - but - perhaps - the back of the bus could be 'designated' for those who are more interested in chatting, rather than listening....
Favorite "WOW" moment
"Seeing the vineyards in the Duoro Valley"
Michael
Lake Waynoka, OH
Tour: 05/26/14
Overall rating:
My wife and I chose Portugal from your brochure because it looked appealing and then we started researching and then got excited about going. From the small villages to the big cities we were exceptionally pleased. The two best experiences were the cork farm tour and lunch (just wonderful people) and the winery and lunch. What I would rate lowest was the afternoon in Fatima (I was disappointed at the commercialism and the huge crowds. No fault of the tour it is just how it is there.
Favorite "WOW" moment
"Our guide, Maria, and her wealth of information. She made the trip for me. She was accommodating, cordial, professional, clear, dignified and very funny. The local guides were also wonderful and I wouldn't change any of them. Perhaps another wow moment was seeing the Douro Valley - just exquisite. Our accommodations were excellent but for one hotel. It was probably the oldest one we stayed in and it needed some repair."
Marlene
Lake Waynoka, OH
Tour: 05/26/14
Overall rating:
My husband and I thoroughly enjoyed our trip to Portugal guided by Maria, our wonderful Portugal guide. Maria shared so much Portuguese history and culture with us---we now feel we can share that knowledge with others. The trip included so much variety--- large cities, small villages, rural areas,coastal areas; great walking tours, museum variety, visits to cork farm and mountain winery, lunches and time spent with the owners of these rural endeavors.
Favorite "WOW" moment
"Probably the Cork farm - I had no idea where cork came from and was fascinated and surprized at the length of time needed to harvest it (you would have to be a very patient person), the way it was done, and its versatality - AMAZING! I might add the winery and the roman ruins were also a favorite!"
Jeanne
Mukilteo, WA
Tour: 05/26/14
Overall rating:
It was a wonderful trip. The Places we went gave me a good picture of Portugal. Our tour guide was excellent. She gave us so much of the history of the country, she was there to help with whatever we needed, she always suggested things to see and do on our free time, she did extra things for us along the way like buying pastry and giving us the opportunity to paint tiles. I have travelled a lot, had many tour guides, Maria was up there with the best. I liked having free time & tours. ,
Favorite "WOW" moment
"Going to the cork farm and having lunch with the family"
Joanne
Walnut Creek, CA
Tour: 05/26/14
Overall rating:
This was my first Rick Steves tour, although I have traveled with Rick's books on my own for many years prior to this trip. Once I got over the shock of traveling as an single w/so many other people, I found the experience to be very good, as the other travelers were interesting, friendly, and knowledgeable. I liked the fact that the group was small (although, I would have liked it to be even smaller) and that we were able to spread out when we were transported on the larger buses.
Favorite "WOW" moment
"The excursions to the cork farm (after leaving Evora) and to the winery (Douro Valley area) were really so well done, and lunching with the families (owners) was very special. I feel so lucky to have had these experiences. The Gulbenkian Museum tour was very, very good also. Douro Valley setting/lodging was just lovely. Good hotel location in Porto and excellent hotel in Lisbon. Experiencing Fatima on a Sunday was wholly unexpected and mystical. Obidos was also a great place."
Elizabeth
Roseville, CA
Tour: 05/26/14
Overall rating:
This tour lived up to the Rick Steves' rclaim. I learned a lot of history and impressive churches, castles, and local culture. Our guide was sweet natured & knowledgable. There were several tour members who had special requests or problems, and she dealt with it all professionally. The "whisper" system was a nice change from previous tours,very helpful to facilitate communication. There were extra activities and treats included. Good value for price.
Favorite "WOW" moment
"Favorites were the library in Univ of Coimbra, lunch with family at cork oak farm (able to talk with them), gorgeous treasures at the Gulbakian museum, Tile Museum and train trip out to Sintra. Latter 2 not on tour but recommended in book and well worth it."
Patricia
Libertyville, IL
Tour: 05/26/14
Overall rating:
This was our fifth Rick Steves tour, and we are already planning the next one! Our Heart of Portugal tour was outstanding in all ways, from the tour guide, Maria, to the wonderful travelers we shared our adventures with, to the sights and sounds and tastes of the country, to the warm-hearted and gracious people of Portugal. The towns and regions we visited gave us a real flavor of the country.
Favorite "WOW" moment
"There were a few "wow" moments for me, among them: the visit to the Cork farm and the gracious hospitality extended to us by the family that owns it; the visit to the vineyard in the Duoro Valley, and the warmth and excellent food & drink that met us there. I like to see churches, so there were many of those that added to my enjoyment. The food and especially the sweets and wine including the port were delightful!"
Elizabeth
Tallahassee, FL
Tour: 05/19/14
Overall rating:
Wonderful itinerary, wonderful group, perfect balance of scheduled and free time, and group and private meals. The time spent on the two farms was a delight. Guide was so well informed and very personable. Trip was just the right length.
Favorite "WOW" moment
"Fatima was a real surprise. Arriving there during Mass on a Sunday morning surrounded by worshipers was truly inspiring. I can still get emotional when I think of it."
Vincent
Pensacola, FL
Tour: 05/19/14
Overall rating:
Portugal was a pleasant surprise in many ways. Portugal was less arid and dry than I anticipated, in fact we saw a lot of lush green country side and vineyards. The Portuguese people were warm and friendly and almost speak English as a second language. The cities were clean and modern. It's hard to believe they have such a high unemployment rate. Our guide Cristina was an excellent Portuguese Ambassador - and could have a second career as a stand up comedian. She was a real asset to RS.
Favorite "WOW" moment
"The first of two wow moments were the tour of the cork farm/vineyards. The tour of the farm on the tractor pulled trailer was outstanding. The family were such gracious hosts, and the dinning experience was exquisite. A family member sat at each of our tables and entertained us with genuine Portuguese hostility. The second was the port wine vineyard and dinner. The tour was great and dinner excellent. The family were also great Portuguese hosts and likewise sat at our tables."
Loch
Lummi Island, WA
Tour: 05/19/14
Overall rating:
Excellent tour guide (Cristina)who really "took care of us". Kept us interested, lots of useful information, mad sure ther were no glitches
Favorite "WOW" moment
"Cork farm and winery/vineyards"
Judith
Grand Marais, MN
Tour: 05/19/14
Overall rating:
I had been to Lisbon 50 years ago, and loved it, but wanted to see the rest of the country. It was even more than I expected the trip to be, thanks to the careful planning and wonderful experiences provided by your company. I would never have been able to spend time and company with the families at the cork farm and the quinta. I loved all the cities and towns we visited and the great knowledge of Cristina and the guest guides. This was a super trip with a great bunch of fellow travelers.
Favorite "WOW" moment
"Though I would not have thought it to be true, I was overwhelmed by the spectacle of mass at Fatima on a Sunday morning. I was expecting this place to be a bit much in the tourism department, but I felt the real faith of the people and even the spirituality of the shopkeepers. Cristina prefaced our visit with a heartfelt request for respect for this display of faith. I was touched by her sincerity."
Sandra
Three Rivers, MI
Tour: 05/19/14
Overall rating:
I enjoyed the whole trip. Christina was an excellent guide and friend. She is fun, knowledgeable, and helpful. The group was very friendly and got along well. We were in a triple room and for the first time on a tour, I was very satisfied with the accomodations for the 3 of us in one room. it made the trip even more comfortable. The food was good most of the time but there were a couple times I thought a different location might have been better. Too much history at times...will never rememb
Favorite "WOW" moment
"None in particular. Did really enjoy the Douro Valley with the beautiful scenery and the good wine!! The home tour there was fun and enjoyed meeting the family. Enjoyed the cruise in Porto also."
Anita
Ellensburg, WA
Tour: 05/19/14
Overall rating:
The Portugal tour provided a very comprehensive look at a diverse country. We started in Lisbon which alone has many sites from historical to modern. We experienced cities, farms, the valley of vineyards, the beauty of beach( including an Atlantic sunset in Nazaare) and the religious holy site of Fatima. It was another outstanding Rick Steve's tour with many unique aspects . There are always pleasant surprises but no hidden cost surprises. This was our fourth trip.
Favorite "WOW" moment
"My personal "wow" was Fatima. As a Catholic being able to attend Mass at this holy site was an unexpected meaningful and inspiring experience. I appreciate the respectful way the guide explained the site and allowed sufficient time for those who wanted to participate . My educational wow was the cork farm. I had not known how cork is harvested or it's many uses.The financial diversity of the farm was growing pine nuts, vineyards, olive orchards, cattle, and guided hunting"
Robert
Novato, CA
Tour: 05/19/14
Overall rating:
I had a good time. I was a little disappointed because there wasn't as much hiking outdoors available as in other Rick Steve's trips. Also, I didn't like having to wear the ear plugs when touring the city neighborhoods - it seemed like kind of a distraction from the "back door experience". That was OK in the museums however. The tour guide was very knowledgeable,very concerned about our well being, and very helpful.
Favorite "WOW" moment
"I can't say there was a big "wow" moment. However, I especially enjoyed the free time we had in Nazare and the short hike in the Duoro Valley vineyard."
Mary Lou
Cincinnati, OH
Tour: 05/19/14
Overall rating:
Favorite "WOW" moment
"Loved visiting the University at Coimbra with the ancient books, gorgeous rooms and the beautiful setting. Seeing the students in their gowns on the plaza was interesting."
Kay
New Smyrna Beach, FL
Tour: 05/19/14
Overall rating:
Enjoyed the tour. Good group.
Favorite "WOW" moment
"Cork farm, museum in Lisbon, library in Coimbra, Duoro Valley views"
Anne
Denver, CO
Tour: 05/19/14
Overall rating:
I loved the mix of visiting the usual tourist sites and the chance to hang out on a farm and a vineyard and meet the family members who run the businesses,as well as the mix of city and small towns. Our guide Christina was very knowledgeable and gave us a lot of information about history, economics,and educational systems. I felt I got a real feel for the country and its people, much more than just a tour of monuments.
Favorite "WOW" moment
"The visits to the cork farm and vineyard and chance to visit with the people who ran them."
Barry
Denver, CO
Tour: 05/19/14
Overall rating:
The tour experience was excellent. The itinerary was well planned, the hotels were very good (with the exception of the hotel in Coimbra), the group meals and other group activities were fun, and our guide (Christina) was superb. The mix of planned activities and occasional free time worked well. Christina did a great job of developing the tour participants into a cohesive group that enjoyed being together in a wonderful country.
Favorite "WOW" moment
"No single "wow" moment, but several very vivid memories: the cork farm, the library at the university in Coimbra, the vineyards in the Douro Valley, the river cruise in Porto."
Gerald
Madisonville, LA
Tour: 05/19/14
Overall rating:
I thought the tour was well paced and presented a very good view of the different life styles in Portugal. The history, architecture, food and the people exceeded my expectations.
Favorite "WOW" moment
"The Gulbenkian Museum was my "wow" moment. It is so well laid out and the presentation of the art is perfect. The art works Mr Gulbenkian collected were superb and the foundation that built and presented the art work did a masterful job."
Connie
Arroyo Grande, CA
Tour: 05/12/14
Overall rating:
It was really a fun trip. We saw a lot and had time to explore on our own. Good mix of city, country, beach, and rivers.
Favorite "WOW" moment
"Aside from running into Rick in Paris after the tour (having lunch at a recommended cafe)? I can never name just one thing. Everything adds up to make a great experience. Gulbenkian museum, the art deco house at Serralves in Porto, the stock exchange palace in Porto, being on the farms, the beautiful architecture in the churches and monasteries. Fun to stay in five star hotels."
Carol
Victoria, BC
Tour: 05/12/14
Overall rating:
Loved the coverage of the people, country and culture.
Favorite "WOW" moment
"Loved Nazare and it's relationship to cork. Great walkin through the cork trees and ending in the estates feast with the owner joining us."
Roger
Westlake Village, CA
Tour: 05/12/14
Overall rating:
We got an excellent overview of Portugal - a nation that is not at the center of world activity these days and previously one about which we knew very little. The places chosen to visit, museums, cathedrals and the two active agricultural enterprises gave us a nice overview of the country. The history we encountered is complex and difficult to sort out as a first brush but certainly left us ahead of where we were before. It is unfortunate that economics impacts preservation here.
Favorite "WOW" moment
"I was most impressed by the Gulbenkian museum. The pieces on exhibit are outstanding and beautiful. The tour of the winery in the Douro valley is a close second for me. A most impressive view and operation as well as an excellent lunch."
Robert
Freeland, WA
Tour: 05/12/14
Overall rating:
Favorite "WOW" moment
"unesco towns"
Michael
Bothell, WA
Tour: 05/12/14
Overall rating:
I was completely pleased with all aspects of the tour and could not have covered all the experiences and important attractions on my own.
Favorite "WOW" moment
"There were many but the cliffs overlooking Nazarre with the long ocean beach below was tops!"
Ron
Hood River, OR
Tour: 05/12/14
Overall rating:
We love Portugal, it is a great country, nice people, varied topography....with such a historic past as a world leading country for 200 years in the age of discovery to present time with a struggling economy but a resilient population. MARIA our guide was fabulous and made the tour special.
Favorite "WOW" moment
"no wow moments, but this was a great tour as always, but, you know, I think our guide Maria was a "wow", she was fantastic in addition, my wife and I after the tour, took a bus from Porto to Tui Spain and walked the Camino from Tui to Santiago Spain, that was a wow"
Christie
Hood River, OR
Tour: 05/12/14
Overall rating:
This was our 10th tour with RS and as usual we were not disappointed. I really appreciate the pace of the tour, where we visit places as a group but also have plenty of free time to explore on our own. I love learning the about the culture and history of each area and making great friends in the tour groups. Maria was so knowledgeable and so friendly and warm, that I wanted to bring her home with me. Portugal has many surprises to reveal and I would encourage everyone to take time to visit.
Favorite "WOW" moment
"As usual, I have a hard time picking out just one wow moment. Spending time on the family farms was fantastic and learning about the cork, olive oil and port production along with eating delicious meals prepared by the families was so special and personal. However, I also enjoy just getting to know all my fellow traveler's on each trip and sharing experiences together that enhances each journey that we make."
Robert
Victoria, BC
Tour: 05/12/14
Overall rating:
Loved Portugal but do think the tour is too short.
Favorite "WOW" moment
"Coimbra was all "wow" right down to the giant meringues in all the bakeries. Would love to have had an extra guided day there."
Harrie
Wilmington, DE
Tour: 05/12/14
Overall rating:
Portugal turned out to be more than I had anticipated. Beautiful cities, fascinating history, a unique artistic and musical culture, friendly people and low prices. Our guide Maria was a Porto native and her enthusiasm for her country was infectious. We visited interesting sites, stayed at lovely hotels, ate great meals (the barnacles, notwithstanding), drank delicious port wine and enjoyed a harmonious group experience.
Favorite "WOW" moment
"There were two for me. The first (and probably the one that will be cited most) was the visit to the cork farm and the amazing home cooked meal that was served to us by the owners. The tour that was given to us of the estate was very informative and the family members were gracious and warm hosts. The second 'wow' for me was when Maria ushered us into what appeared to be a tourist shop in Coimbra and then took us upstairs to a work room where we all got to create our own Portuguese tiles."
Sharon
Freeland, WA
Tour: 05/12/14
Overall rating:
Favorite "WOW" moment
"Fatima...humbled by the pilgrims on their knees silently moving toward their sacred space and hopeful healings. The overall street sounds... diverse languages, modes of transportation, colors,textures while walking, the multiple layers or old and new culture, flip flops and widows in black. Great city fun, and country beauty.."
Philip
Brooklyn, NY
Tour: 05/12/14
Overall rating:
I'd never been on a Rick Steves tour before. In fact I'd never been on any tour as I have always shunned them. I was greatly surprised at this tour. It was a revelation to me. I thought I'd be my usual introverted, grumpy self full of sarcasm and cynicism. But the opposite was true. I enjoyed being with the group and passing time with them, eating with them and hanging out. Portugal is a country I'd never visited before but would like to do so again. And thanks to Maria for her guidance.
Favorite "WOW" moment
"I loved both farms and I could say they could be, but instead I would have to say it was the Fado both in Lisbon and in Coimbra. I've always been attracted to folk music. And Fado I'd classify as a folk genre. But Fado seems like a living thing to me not something trotted out to rally the troops or raise money or be shown off like a museum piece. Though I don't understand Portuguese, the emotions were projected in such a way that I didn't have to understand."
Gloria
Harris, MN
Tour: 05/05/14
Overall rating:
Coming from a very long, cold and dreary winter, we loved all the sunshine in Portugal! The people were very friendly, food and wine outstanding, and we learned so much about Portugese history from our wonderful guide Cristina. Wonderful visits to the cork farm and the port vineyard. We adored the Douro valley, could have hung out there for a week.
Favorite "WOW" moment
"I think the dinner in Pensao rates a 10. Also the little church of Santa Clara in Porto, the most gorgeous I've ever seen."
Tammy
Edmonds, WA
Tour: 05/05/14
Overall rating:
The tour was well planned and allowed for a variety of energy levels throughout the iteration. The tour guides were outstanding, well prepared and full of wonderful, positive energy. I learned alot during my tour, which is primarily why I wanted to go. Portugal was the perfect choice as well. A proud country with wonderful people and alot of history to learn. Loved this tour!
Favorite "WOW" moment
"When we explored Lisbon. My mouth barely closed from the awe I was in... beautiful city, beautiful people and rich culture."
Ross
Kelowna, BC
Tour: 05/05/14
Overall rating:
We had a great time and loved Portugal. We very much enjoyed the 2 farm type visits, especially the vineyard one near Porto.
Favorite "WOW" moment
"The Douro Valley - fantastic."
Susan
Kent, WA
Tour: 05/05/14
Overall rating:
I enjoyed the tour very much. The weather couldn't have been better for the whole tour. In order to take in everything I ended with a sleep deficit, as expected. The tour is jam-packed with must-see and must-experience items that it is just plain difficult to get 8 hours of sleep every night. (This is NOT meant to be criticism.)
Favorite "WOW" moment
"Watching Cristina and our bus driver find alternate transportation after dinner in the high city of Nazare when we discovered the funicular didn't run as late as we thought. Our Dynamic Duo sprang into action and found a fellow tour bus driver who took us all back to our hotel. This is NOT a criticism of Cristina or anyone else except the funicular company who posted such an insignificant sign. It just added to the sense of adventure!"
Linda
Shoreline, WA
Tour: 05/05/14
Overall rating:
overall enjoyable. Cristina is a fun, energetic woman and kept us all moving and handled the "bumps in the road" with ease. My only suggestion for her is to try to condense her comments. She tends to over-explain to the extent that sometimes I sort of lost track of what her point was. I thoroughly enjoyed the time we spent in the smaller towns and country visits. That is when I learned the most about the country and what the residents' lives were like.
Favorite "WOW" moment
"visit to the olive grove/cork farm. The family members were all so warm and inviting and the tour and discussion of how cork is harvested was very interesting. Also just the conversations at lunch about how they ended back on their farm after WW 2 and what they are doing to keep it viable."
Richard
Wyoming, MN
Tour: 05/05/14
Overall rating:
Very nice tour. Excellent group & tour guide.
Favorite "WOW" moment
"Gulbenkian Museum"
Theresa
Gwynn Oak, MD
Tour: 05/05/14
Overall rating:
It was exactly what was advertised. Thedays were filled with the history an for me...the people. I was facinated by the culture, how they lived, loved and socialized. They are a proud and wise people. I loved the streets, everything stone and done wonderfully. Cristina was a grand hostess to her city Lisbon and a great ambassador to her native Portugal. She knows her history and loves to share.
Favorite "WOW" moment
"The Gilbenkian Museum did it for me...His story alone. Again I took in the culture, I rode the Metro alone I visited the Tile and Fado Museums alone. I rode the bus and shopped at Ponco something grocery store...alone. I experienced Portugal. My favorite place to eat in Porto was Majestic Cafe. I love the lay of the land in Portugal."
Donald
Le Sueur, MN
Tour: 05/05/14
Overall rating:
Christina did a fantastic job as our guide. We both loved the way she took charge and took great care of us. Hotel accommodations were great expect for Nazare. There was water all the time on the floor next to the shower. Food was was great in all hotels and restaurants. Hotels were in great locations. I especially enjoyed the farm tours. People there were very friendly and accommodating. Food was better than at the restaurants we were in.
Favorite "WOW" moment
"The experiences in Fatama and Colmbra were fantastic with the timing of events; location of hotel in Colmbra was great. There were wow moments when visiting the working olive, cork, and boar hunting farm during the travel to Nazare. The owners and workers at the farm did a superb job. One of the highlights on my trip since I farm in Minnesota."
Janet
Le Sueur, MN
Tour: 05/05/14
Overall rating:
I was uncertain about what could be done in Portugal for 10 days. But, the tour was well planned and kept my interest. The planned activities and our own time were well planned. Transit and things to do were near the hotels. A schedule was always posted so you knew what the day will be.
Favorite "WOW" moment
"The farm visits. And the ability of the bus driver to handle the narrow roads."
Susan
Las Cruces, NM
Tour: 05/05/14
Overall rating:
An excellent introduction to Portugal, with visits to all the major spots in each city visited, and a wealth of information given by our excellent guide, Cristina. The group was small (24?) with pleasant members; this size allowed us to move easily and efficiently around the cities we visited. Most of the hotels were very comfortable and pleasant; each was an individual experience. All thankfully had elevators. I hope to return to Portugal and learn even more. The people are wonderful!
Favorite "WOW" moment
"Our visits to the cork farm and wineries, and our two Fado concerts."
Lea
Mesilla, NM
Tour: 05/05/14
Overall rating:
I thought the tour was great and Cristina made it special. She is very knowledgeable and congenial. She made me feel very welcome in her country, and her personality and assistance with all we did made the tour a special and memorable event for me.
Favorite "WOW" moment
"Probably the vineyard tour at Quinta Santa Eufemia. It was a beautiful place and Teresa and her family made us feel so welcome and comfortable. I really enjoyed that, as well as the tour of the RoviscoGarcia cork and olive tree farm in the Alentejo. Having grown up on a ranch and understanding the importance of family in such an enterprise, I really appreciated all they have done to sustain these farms and make them so successful. And the meals were great!"
Paula
Severna Park, MD
Tour: 10/07/13
Overall rating:
I found, first of all, that the number of participants on the tour was just right. I dreaded the thought of being "herded" to see things, but this never happened. The tour members were of like dispositions to mine, so the compatibility factor was terrific. Perhaps only like minded people are attracted to the type of tour offered by Rick Steves' organization, and that is a plus in my mind. I would rate my "overall" experience as top notch.
Favorite "WOW" moment
"There were several, but I must say that seeing the academic library in Coimbra had an especially visual impact on me."
Ian
Sutter Creek, CA
Tour: 10/07/13
Overall rating:
First, Maria was outstanding! Second, we had a wonderfully cohesive group of participants. The group was fun to be with and all were great travelers. The tour was all completely as promised plus more. This was our second Rick Steves tour and our experience further confirms the quality of your organization. Great food, wonderful sights, fun and interesting guides and travel companions, and a personal touch that is priceless.
Favorite "WOW" moment
"Maria was our "wow" experience. Maria is a very intelligent and caring person who took great care of us during our visit. Maria adapted to each individual's needs and handled a couple of unexpected situations with humor and expertise. Our visits to the cork farm and to the port winery in the Douro Valley were highlights, as were the visits to the University of Coimbra and my wife's and my "accidental" visit to the University of Evora."
Howard
Vernon, BC
Tour: 09/30/13
Overall rating:
Cristina really brought Portugal to life with her enthusiasm. She probably worked harder than necessary. She could shorten up some talks as our attention spans are shorter after 50. I don't think it necessary to babysit people who have chosen meals. She was sure a great guide. Howard
Favorite "WOW" moment
"The Cork producing family was the best although I loved the Porto guide and the city and also the Duoro Wine producing family was great as well."
Jill
Jefferson Hills, PA
Tour: 09/23/13
Overall rating:
This was an excellent tour for us because we were a group of three couples with pretty extensive but varied travel experience. None of us had been to Portugal. Portugal was really engaging and friendly and relaxed. Even the bigger cities felt safe, friendly and welcoming. The countryside portions (the cork farm and the port wine farm) were wonderful. The families were great to chat with during lunch. The experience made me want to do another "non-big-city" tour (like the France one).
Favorite "WOW" moment
"I would not say there were big "wow" moments - but everything was new and interesting! I knew very little about Portugal. The stories, with the royal intrigue of Petro and Inez, the dynasty of Joao and Phillipe, the founding of Fatima, the gorgeous beach at Nazare', it was such a variety! I guess the most picturesque "wow" was the Douro Valley vineyards - very impressive (though it was sort of drizzly and foggy for us...)."
Sharon
Bellingham, WA
Tour: 09/23/13
Overall rating:
I am late doing this evaluation because, the first time around, after having spent considerable time writing quite a lot, I clicked out with plans to finish later. But clicking out disappeared everything. So this will be briefer. The tour was terrific--good choices of hotels, places to visit, and wonderful guide(s). Both my daughters and their husbands were in the tour, and that contributed to making the trip especially memorable.
Favorite "WOW" moment
"There were many, but the visit to the Roman ruins near Coimbra knocked my socks off! The extent of the ruins and the wonderful condition of the mosaic floors, for example, far exceeded my expectations. And the fact that our group was virtually alone, to wander at will! The museum there, too, was super."
Sara
Baltimore, MD
Tour: 09/23/13
Overall rating:
The tour was very good although 5 days with rain made some of the excursions less enjoyable than they might have been. The addition of the hearing devices used in Lisbon was a great idea-- I would encourage their use during the whole trip. They are especially helpful on tours with a preponderance of middle aged folks who have hearing aids or slightly impaired hearing. We saw more churches and monasteries than I would have liked.
Favorite "WOW" moment
"I loved the visit to the winery and tromping on the grapes--not an experience one has everyday. The visit to the cork estate was also great--the hosts were very gracious & learning about cork farming was interesting. And painting the tiles in Coimbra was a fun activity. I also particularly liked Obidos."
Susannah
Mechanicsburg, PA
Tour: 09/16/13
Overall rating:
We had a wonderful group of 22 people who were all real troupers, with an enthusiatic and knowledgeable guide Cristina. I enjoyed learning about the history, seeing the art, walking the towns, and engaging in the special events--painting a tile, fado evenings, grape stomping, cork farm experience. The people of Portugal were welcoming and their countryside charming. Would definitely return again.
Favorite "WOW" moment
"I think it had to be "stomping" the grapes during the fall harvest in the Douro valley. When else could a 76 year old grandmother behave like a youngster, or get an opportunity to do this sort of thing? The countryside was spectacularly beautiful around the farm where this event was held also, more mountainous than I expected with lovely grapevine rows curving around the green slopes."
John
Mechanicsburg, PA
Tour: 09/16/13
Overall rating:
Portugal had been a dream trip for me for many years since I read a book by Datus Proper, "The Last Old Place" (A Search Through Portugal). It must have stirred that part of me that had been a Portuguese fisherman in a previous life. Proper's historical perspectives, discus-sion of cultural practices, descriptions of the countryside, its villages and village life, wines, foods and people are unique. This would be a good book to add to the Rick Steves reading list for Portugal.
Favorite "WOW" moment
"There is one distinct moment that I stopped dead in my tracks to observe what was before me. Our visit to Batalha and the church of Santa Victoria marked an entry for me into Portu-guese history[INVALID]observing the larger than life monument to Nuno Alvarez was striking, but entry to the church is what gave me pause. The ornate gothic exterior I had seen before[INVALID]nothing new there, but the opening into the main hall is what stopped me. The ultimate aus- terity was like nothing I'd ever seen before!"
Romona
Pasco, WA
Tour: 09/02/13
Overall rating:
Knowledgeable, Portuguese guide Christina made the tour exceptional! She anticipated group needs before you were aware of a needed snack or break. All hotels surpassed desires with views, pools and breakfasts! The multi-generational working cork farm and Douro Valley Port vineyard tour and luncheon experiences exceeded our cultural immersion wishes. A Sunday visit to Fatima created special personal memories. Gulbenkian Museum, and Coimbra Library are magnificent. Food/wines fantastic!
Favorite "WOW" moment
"Hard to chose favorite between Gulbenkian Museum tour and Fado dinner performance in Lisbon, touring Roman Temple at Evora, beach and Bullfight in Nazare, touring Alcobaca's Monastery of Santa Maria, walking and shopping the quaint streets of Obidos, Sunday service at Fatima, visiting and "breaking bread" with families at working cork/olive and Duoro Valley port vineyard, or touring Coimbra University Library. Perhaps favorite was sharing all with a wonderful guide and group of fellow travelers"
Weather

Portugal / Lisbon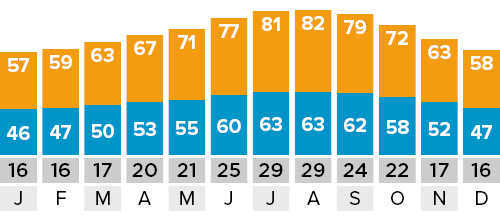 Pre-Tour
We've put together some specific information on what you should know about this tour before you go. You'll also find more general information about "Getting Ready for Your Tour" on our Tour FAQ.
Trip Resources
Learn more about Portugal: Check out a collection of Rick's TV shows, radio interviews and articles, plus find a list of recommended books and movies.
Transportation
Prior to your tour departure, you will receive detailed directions on how to get from the airport to your first tour hotel, as well as contact information for your first and last hotels in case you wish to book pre- or post-tour hotel accommodations.
Many tour members arrive a day or two before the tour begins — and those who don't, wish they had. This allows you ample time to get over jet lag and make the most of the first few days of the tour.
There is more than one way to get to and from your tour. Most tour members will arrange to fly into Lisbon and out of Porto ("multi-city" on flight booking websites). Booking round-trip to one city will require a connecting flight, train trip, or additional overnight stay in Portugal. Lisbon and Porto both offer good transportation options, making additional travel before or after your tour quite easy.
For information about flying within Europe, ask your travel agent or check Rick's list of European budget airlines.
Read Rick's train travel and rail pass tips to decide if your travel plans merit a rail pass.
If you have additional European travel or tour questions, contact the Tour Department at 425-608-4217 or email tour@ricksteves.com.
Sightseeing On Your Own
If you arrive in Portugal before your tour begins, use Rick Steves Portugal guidebook to get oriented. Ride the public transportation, try out a few words of Portuguese and get over your jet lag with lots of fresh air and exercise.
Many of Lisbon's sights are closed Mondays. See your guidebook for more details. Confirm all sightseeing plans with any tourist information office.
Here are suggestions for sightseeing in Lisbon that we do not do as a group: Port Wine Institute, Museum and School of Portuguese Decorative Arts, National Tile Museum (closed Mondays), National Coach Museum (closed Mondays), Maritime Museum (closed Mondays).
If you would like to visit Sintra as a day trip from Lisbon, we recommend that you include time before your tour starts. While you will have time in the afternoon on Day 2, Sintra can be a full day outing depending on your interests. See your Rick Steves Portugal guidebook for more details.
Packing
For advice on what (and what not!) to pack, see Rick's packing tips.