Amsterdam

Amsterdam Canal Cruise

Rhine Valley, Germany

Rothenburg, Germany

Luge Ride in the Tirol

Neuschwanstein Castle in Bavaria

Venice, Italy

Pasta-Making in Tuscany

San Gimignano

Pantheon in Rome
Tour Questions? See our FAQ | Call 425-608-4217
Family Europe: Amsterdam to Rome in 14 Days Tour
from $3,995 per person + air
Optional Single Supplement $725
See Tour Dates
Rick Steves Family Europe: Amsterdam to Rome in 14 Days makes the wonders of Europe come alive for kids — and cuts the stress for parents, too. Starting in the Netherlands and ending in Italy, your enthusiastic Rick Steves guide will introduce your family to Amsterdam's Golden Age, Germany's Rhine Valley and Romantic Road, the castles and forests of Austria's Tirol, the canals of Venice, the countryside charms of Tuscany, and the Eternal City of Rome. And on this tour, kids ages 8 through 17 get a $200 discount! Join us for Family Europe: Amsterdam to Rome in 14 Days!
You may also want to consider our Family Europe: London to Florence in 13 Days tour.
Dates & Prices
What's Included
A small, friendly group of 24–28 people — half the size of most tour groups
Kids ages 8 through 17 are welcome — and save $200
A full-time Rick Steves guide, tour assistant, and local experts — who will make the history, art, culture — and fun! — of Europe come alive for you and your kids
All tours and admissions — at no extra cost — covering at least 23 group sightseeing events • Amsterdam walking tour • Rijksmuseum • Amsterdam canal cruise • Arnhem Open-Air Museum • Rheinfels Castle • Rhine River cruise • Rothenburg orientation • Rothenburg Night Watchman walking tour • Munich orientation • Wieskirche • Neuschwanstein Castle • Mountain luge (weather permitting) • Venice walking tour • Venice mask demonstration • St. Mark's Square and Basilica • San Gimignano • San Gimignano ceramics workshop • Hands-on pasta-making demonstration • Gardens of Bomarzo • Evening walk through Rome including Trevi Fountain • Pantheon • Colosseum • Roman Forum…and more
All group transportation from Amsterdam to Rome
13 nights' accommodations (all stops but one are for 2 nights) in memorable, family-friendly hotels
All breakfasts and half your dinners
All tips for guides and driver
A tour kit including a guidebook (or books) and a moneybelt
Guaranteed tour price, locked in the moment you make your deposit
Optional single supplements — this tour has a limited number of private rooms for solo travelers for an additional fee
Tour alum discount of $50 for each tour you've taken prior to 2019
50% discount on a consulting appointment with our in-house experts to assist with your pre- or post-tour travel plans
Flexibility should you need to transfer or cancel your tour
Fine print: You are responsible for the cost of your drinks and free-time sightseeing. See our Tour Conditions for important details regarding everything listed above.
Itinerary
Daily Activity Key
Light = 2–4 miles of mostly level walking throughout the day.
Moderate = 2–6 miles walking throughout the day with some hills and stairs.
Strenuous = 2–8 miles of walking throughout the day with lots of hills, stairs, and uneven terrain.
Day 1: Welcome to Amsterdam
Our adventure begins in the canal-laced city of Amsterdam. We'll get together for a quick introduction meeting at our hotel at 3 p.m. Soon after, we'll head outdoors for a "Golden Age" walking tour of Amsterdam's historic streets, lined with teetering, gable-topped houses overlooking centuries-old canals. Tonight we'll get to know each other during dinner together, and learn how to take a sleek, efficient tram ride back to our hotel. Sleep in Amsterdam (2 nights). No bus. Walking: moderate.
Day 2: Eye-Opening Amsterdam
This morning we'll enjoy an eye-opening tour through one of the world's greatest collections of paintings, including masterpieces by Rembrandt and Vermeer. After time for reflection and lunch on your own, we'll rendezvous and hop aboard a canal boat for a floating sightseeing tour of the city. Afterward, you'll be free for the rest of the afternoon to visit the Anne Frank House*, Van Gogh Museum*, stroll or bike through Vondelpark, or make more discoveries on your own. No bus. Boat: 1 hour. Walking: moderate.
Day 3: To Arnhem and Germany
We'll meet our coach and driver this morning and make the short drive to Arnhem's amazing open-air museum. As we wander around the perfectly restored farm houses, gardens, shops, and working windmills, we'll get a hands-on experience of what life was like for people here in centuries past. We'll gather for a traditional lunch of Dutch pancakes before heading south into Germany and into the Rhine River Valley. There we'll get nestled into our quaint old hotel, and have dinner together. Sleep in Bacharach (2 nights). Bus: 6 hours. Walking: moderate.
Day 4: Rhine Castles and Cruising
This morning we'll sleep in a bit before heading to the nearby village of St. Goar and Rheinfels Castle — a mighty fortress that towers over the banks of the Rhine. A guided tour will show us that castle life was not all fairy tales and knights in shining armor. You'll have time to explore the village and perhaps enjoy a tasty picnic lunch in a park by the river. Then it's all aboard! We'll hop on a boat and cruise past miles of vineyards, villages, and more castles (including one that pokes out of the river). Back at our "home village" your evening will be free for more wandering and dinner on your own. Boat: 1 hour. Bus: ½ hour. Walking: strenuous.
Day 5: Medieval Rothenburg
After an early breakfast we'll pack up and head for the jewel of medieval Germany, the perfectly preserved walled town of Rothenburg ob der Tauber. This is an ideal place to explore, on your own, whatever interests you — from the pointy towers of the town's walkable wall to the creepy Medieval Crime and Punishment Museum to acres of cute shops and half-timbered photo ops. After a break for dinner on your own, we'll tag along on this evening's very entertaining Night Watchman's tour. Sleep in Rothenburg (1 night). Bus: 4 hours. Walking: light.
Day 6: Munich and Austrian Tirol
This morning's destination is the easy-going city of Munich. We'll get oriented at the Viktualienmarkt — an outdoor farmers' market, beer garden, and park, all rolled into one. You'll have time to assemble a lunch and share a picnic table, then wander through the city's pedestrian-friendly center. This afternoon we'll drive into the Bavarian countryside, stopping to learn why Germany's fanciest Rococo-style church, the Wieskirche, sits in the middle of a cow pasture. Winding our way into the foothills of the Alps, we'll cross the border into Austria and arrive at our Tirolean guest house in time for a hearty dinner together. Sleep in or near Reutte (2 nights). Bus: 6 hours. Walking: light.
Day 7: Neuschwanstein and the Luge
We'll begin our day with a short drive and a hilly forest hike up to Germany's most famous castle (the one that inspired Disney) — Neuschwanstein. We'll have a guided tour of the castle's furnished rooms, followed by free time to hike a bit farther up to Mary's Bridge over the Pöllat Gorge, for that photo of a lifetime. Back at the bus after lunch, we'll drive to a nearby summer luge course where (weather permitting) you'll have a chance to go barreling down a mountain on a tiny sled with wheels. We'll arrive back at the hotel afterward with more time to stroll in the woods, or just relax, before dinner together. Bus: 1 hour. Walking: strenuous.
Day 8: To Venice
We'll take a scenic, all-day drive to Venice today, stopping en route for lunch at the Italian-Tirolean town of Bolzano. You'll have time to explore this vibrant town and put together the perfect picnic browsing Bolzano's colorful street market. Then we'll make a beeline for the Adriatic Sea, where we'll trade our bus for a boat, and get a ship's-eye-view of Venice before we go ashore on the family-friendly beach island of the Lido. This evening we'll have an orientation to our island-away-from-home, and dinner together. Sleep on the Lido (2 nights). Boat: ½ hour. Bus: 7 hours. Walking: light.
Day 9: Magical Maze of Venice
Venice is a quick, 15-minute vaporetto ride from the Lido. This morning we'll cruise there for a walking tour through the heart of Venice. You'll learn about the amazing history of this unique, maze-like city of canals, walkways, and slowly sinking palaces. We'll also visit a local mask-making workshop to learn about the tradition of Venetian masks. After an impressive look at the gold-lined interior of St. Mark's Basilica, the afternoon is all yours. You might tour the Doge's Palace — or simply get lost (remember it's an island) exploring Venice's alleyways. Stay in Venice for dinner and a gondola ride on your own — or head back to the Lido early, to bake on a sunny beach and take a dip in the Adriatic. Boat: ½ hour. No bus. Walking: moderate.
Day 10: To the Tuscan Countryside
Today we say "ciao Venezia" as we hop back aboard our bus and drive deep into the heart of Italy. On the way, we'll make a stop for some exploring and lunch on your own. Then we'll continue on our way through the Tuscan hills to our cozy countryside hotel, nestled among the trees and vineyards. The grownups will have time to sit back and relax over a glass of the local wine. The kids will have a ball swimming and goofing around in the pool. When our stomachs begin to rumble we'll gather together for tonight's feast. Sleep at a Tuscan country hotel (2 nights). Boat: ½ hour. Bus: 4 hours. Walking: light.
Day 11: Hill Towns and Towers in Tuscany
After breakfast we'll take our bus and time-travel to the hill town of San Gimignano, famous for its many medieval towers. We'll visit a fascinating museum and ceramics workshop where the artists have painstakingly created a scale model of the town — complete with all 72 towers — as it was 600 years ago. You'll have free time for lunch and to climb a tower on your own and marvel at how unchanged this town has remained. A few hours later, back at our country hotel, the afternoon is yours for taking it easy, Tuscany-style. Before dinner tonight, our chef will give us a hands-on demonstration of how Italians turn dough into pasta. Bus: 2 hours. Walking: moderate.
Day 12: All Roads Lead to Rome
This morning we'll visit the 16th-century Gardens of Bomarzo, filled with larger-than-life sculptures and monstrous statues, where fantasy and reality meet. Then we'll press on to our final destination, the Eternal City of Rome. We'll check into our hotel in the city's center, and take a little time to catch our breath. Then we'll use Rome's public transportation system to reach the most impressive building from ancient Roman times: the perfectly domed, 2,000-year-old Pantheon. After a post-Pantheon break for dinner on your own, we'll rendezvous for a stroll together through the floodlit heart of the city, lacing together lively pedestrian lanes, classy piazzas, and splashy fountains. Sleep in Rome (2 nights). Bus: 4 hours. Walking: moderate.
Day 13: Ancient Rome
Today we'll be transported back to the days of emperors, slaves, and gladiators. We'll tour Rome's famous Colosseum and the nearby Roman Forum, where you'll trip over the same stones as the Caesars did 20 centuries before you (history class will never be the same)! We'll set you free for lunch and the entire afternoon. This is an ideal time to take a taxi to St. Peter's Basilica or the Sistine Chapel (the chapel is part of the Vatican Museums; make reservations in advance). This evening we'll gather together for our final dinner on the tour, and toast our great adventure together. No bus. Walking: strenuous.
Day 14: Tour Over After Breakfast
Breakfast is provided, but there are no group activities today. It's a breeze to reach Rome's airport by taxi or public transportation. Your guide will help you with any post-tour planning, leaving you well prepared for the road ahead. Grazie e ciao!
*Reserve a time before you leave the US
Itinerary specifics subject to change.
Physical Demands
Our tours are physically active! It's an essential part of the Rick Steves tour experience. On our Family Europe: Amsterdam to Rome in 14 Days tour — among other things — you'll need to happily…
Carry/roll your luggage over uneven pavement (possibly several blocks) and up stairways to reach your hotel, then up several flights of stairs to reach your room.
Be on your feet, walking and standing for up to three hours, indoors and outdoors, in all weather conditions.
Sleep with street noise and no (or weak) air conditioning.
After orientation and transportation lessons, be able to navigate towns and cities on your own.
Be able to get up and "at 'em" in the morning, often departing around 8 a.m.
Be content with the possibility of your family sharing bathroom facilities on this tour.
Reviews
Ava
Evansville, WI
Tour: 06/10/19
Overall rating:
It was absolutely amazing! Bra and Mina were always helpful and informative, the tour was cool and I enjoyed all of the places we went and the things we did.
Favorite "WOW" moment
"My favorite wow moment was when we were in the ruins of the castle and we got to inside the tunnels."
Robert
Hays, KS
Tour: 06/10/19
Overall rating:
A great exposure to parts of Europe, culture and geography. My goal was to tease my children about the wonder and education of traveling outside the USA. Well done!
Favorite "WOW" moment
"Seeing my family with many new relationships bond and create memories they should enjoy after I am gone."
Susan
West Sacramento, CA
Tour: 06/10/19
Overall rating:
Good pacing, activities for the kids, adequate free time.
Favorite "WOW" moment
"Gondola ride in Venice."
Matt
Evansville, WI
Tour: 06/10/19
Overall rating:
This was our second RS family tour, having taken the London-to-Florence tour in 2017. That was, quite literally, the experience of our lifetimes, and I was a bit nervous before this trip because the bar had been set so impossibly high. But this was at least as good, and possibly even better, as an overall experience, because I think it is a better balanced tour. This is not a complaint at all about the other tour, but a credit to this one.
Favorite "WOW" moment
"Having taken a tour before, I knew now that there are "surprises." But arranging the gondola rides for us, and then bringing in musical accompaniment with a singer and accordionist, was something I will never forget."
Kelly
Bothell, WA
Tour: 06/10/19
Overall rating:
The tour overall was a great mix of group and individual time. The activities were well planned and spot on for the adults and kids. Our tour guide "Bea" and our assistant "Mina" were fantastic, and to not leave out our fabulous driver "Paul" would be a mistake. What made the tour great was not only the guides and driver, but the other families!!
Favorite "WOW" moment
"My favorite "wow" moment were the little extra planned things our guide did to fit the group. An example was a pivot to drive straight to Rome and then make time for the kids to go to gladiator training. Wow, super fun!"
Colleen
Laytonsville, MD
Tour: 06/10/19
Overall rating:
I brought my 12-year-old granddaughter with me on this trip. It was her first trip to Europe. Even though I had been to all of these places before, the kid-themed activities made it different, and even more fun. Bea and Mine were wonderful with the kids. There was a nice variety of activities and plenty of free time. We had a great time and my granddaughter learned a lot.
Favorite "WOW" moment
"There were several. Although I had visited Rheinfels castle several times in the past, the castle guide made this visit special. His tour was geared toward kids and it was much more fun and interesting than my previous visits. Also, the Night Watchman's tour in Rothenburg was very special and fun. The kids learned a lot of history but they just thought they were having fun! The walk across the suspension bridge near Reutte was another thrilling experience."
Joe
West Fork, AR
Tour: 06/10/19
Overall rating:
The tour was a great experience. Bea and Mine were so knowledgable about the history of the towns we visited and were so passionate about the area. Thier excitement and passion was contagious and made the trip even more fun. Bea even prepared a spreadsheet for us to explain some of the highlevel ecenomics of the different countries we visited. That was neat to see and seemed going above and beyond.
Favorite "WOW" moment
"I really enjoyed Austria and Tuscany. My wife and I aren't big city types, so it was very nice to be in these more layed back areas."
Michael
Libertyville, IL
Tour: 06/03/19
Overall rating:
The tour with our grandchildren was a wonderful experience.
Favorite "WOW" moment
"Our grandson has food allergies and we had concerns about our ability to communicate with restaurant staff. Stephanie and Gabe were both extremely attentive to our concerns and they were also proactive in their communication. Stephanie is an outstanding guide. She did an outstanding job of fostering a sense of family and harmony within our tour group."
Linda
Griffin, GA
Tour: 06/03/19
Overall rating:
I wouldn't have had the time or intimate knowledge to plan an independent trip that included as much as our tour did in two weeks. I appreciate all the experiences, the able leadership, and the pleasant travel companions.
Favorite "WOW" moment
"Being the first group of the morning to enter the Roman Forum and to have it to ourselves for a few minutes. Our local guide was excellent."
John
Manitou Springs, CO
Tour: 06/03/19
Overall rating:
Overall we had a wonderful time. Stephanie was exceptional.I cannot say enough about how great Stephanie was to have as our guide!!!!! Gabe was a wonderful help as well to help make things smoother throughout the trip. With a taste of Europe tour in order to see everything the schedule has to be packed but it was way too scheduled and too rushed. Most everything we got to see was amazing but a few items could have been left out. Quality over quantity.
Favorite "WOW" moment
"Nights Watchman, Otsi the frozen caveman, walking over the boarder from germany into austria, VENICE, the Colleseum. Rothenburg I could have stayed at for several days."
Wayne
Papillion, NE
Tour: 06/03/19
Overall rating:
Great family experience with our son and his family including grandkids ages 10 and 12. Lots to keep adults and youth interested. This was our fourth Rick Steves tour and we are already planning for our next one in 2020. A little more bus time than we would have preferred but there is a lot of territory to cover and a lot to see between Amsterdam and Rome. Definitely recommend this to parents and grandparents looking for a family vacation in Europe.
Favorite "WOW" moment
"Too many great WOW moments to just pick one. Standing in front of Rembrandt's Night Watch was amazing; Castles and cruising on the Rhine; Neuschwanstein castle and of course the Luge; the beach at Venice, visiting the Florence American Military Cemetery, the Gladiator School was great fun, and who cannot be overwhelmed by standing in the Colosseum and the Forum in Rome. The WOWS just kept coming and coming."
Nancy
Brookfield, WI
Tour: 08/06/18
Overall rating:
Wonderful to see Europe through my grandchildrens' eyes. Even though I had been to most of the places other than Tuscany, all seemed new to me because of the approach taken and extra tours planned such as the Wieskirsch and the cemetery outside of Florence. I was by far the oldest [80 in December} but was able to keep up beautifully because of the pace of the tour. A couple of afternoons on my own, relaxing bus trips. dinner alone with family. Loved being a part of it all.
Favorite "WOW" moment
"Too many. Maybe San Gimignano because I had never been there."
Carol
Bellevue, WA
Tour: 08/06/18
Overall rating:
Our Tour started in Amsterdam where we met our Tour Guides. They were fantastic. They made our trip easy and fun. The only difficulties were the hotels with no elevator. At 68 years old climbing to the fourth floor with suit case and backpack proved challenging. The trip was well planned out. Bea and Lola were excellent. I enjoyed the places we visited. One real joy of the trip was riding the coach through the countryside. Our bus driver, Matt Was an exceptional driver.
Favorite "WOW" moment
"There were several moments. If I have to pick one experience it would be visiting Venice. What an exceptional city."
Ann
Ludington, MI
Tour: 08/06/18
Overall rating:
Our whole family had a fantastic time. This tour far exceeded our expectations! There is no way we could have planned and packed so much sightseeing and cultural experiences into the same timeframe ourselves. Meeting and getting to know the other great families on our tour just added to the overall experience.
Favorite "WOW" moment
"Too many to mention, every day brought unexpected surprises!"
Mike
Oakville, ON
Tour: 07/30/18
Overall rating:
Overall, very good experience with a few suggested changes... Cary and Marianna were tremendous and made the trip a ton of fun
Gary
Brookings, SD
Tour: 07/30/18
Overall rating:
I enjoyed the variety of experiences this tour offered. This tour immersed the travel group into the culture which we were traveling through. I also enjoyed the family atmosphere the Rick Steve tours promoted.
Favorite "WOW" moment
"Having toured many parts of Europe before, I liked best the smaller towns which we stayed. They were so peaceful compared to the large cities in which we stayed."
Joyce
Brookings, SD
Tour: 07/30/18
Overall rating:
Our guides were so caring and helpful! They made the trip so enjoyable. We also really appreciated that we did not have to buy extra excursions to see interesting sites. The people we travelled with were also great and made the trip enjoyable. There was such a variety of activities that the trip was always interesting. I also appreciated the mix of group activities and time to do our own thing.
Favorite "WOW" moment
"I loved the tour of the Colisseum, Rottenburg, the Italian medieval town, and Austria."
Kendall
La Grange, IL
Tour: 07/30/18
Overall rating:
It was an absolutely amazing experience. Without this tour we would have missed out on some amazing sights and places we never would have thought of going otherwise. Our tour guides Carrie and Mariana were beyond amazing. Extremely friendly, helpful, and engaging and their passion for travel and dedication to making us love these places as much as they did made this the trip of a lifetime. I would recommend this trip to absolutely any family looking for an amazing Europe experience.
Favorite "WOW" moment
"When we went to Austria and toured the Ehrenberg and crossed the huge suspension bridge. The Ehrenberg castle absolutely took my breath away. It was remarkable. Standing in this thousand year old castle ruin overlooking the beautiful Austrian countryside and mountains. The Roman ruins also really just took my breath away. The tour given my Francesca was phenomenal and almost had our group in tears at the end of her tour with the beautiful way she spoke about the ruins."
Jim
La Grange, IL
Tour: 07/30/18
Overall rating:
We had a great time. We never would have been able to pull off a trip like this if we had to take care of all the details. Cary and Marianna were excellent guides - extremely helpful and knowledgeable. Our fellow travelers were all wonderful.
Favorite "WOW" moment
"The castle near Reutte and the highline 180 bridge."
Steve
Nine Mile Falls, WA
Tour: 07/30/18
Overall rating:
This was our first trip to Europe. We chose the Family tour as we felt it would give us the best variety of sights, downtime, and hopefully a chance for the kids to interact with other kids on the trip. All of these reasons proved this was the best trip for us.
Favorite "WOW" moment
"For me, the biggest WOW moment was seeing the Pantheon in Rome, and walking around inside a building with so much history. Our son says, his moment was walking into the Colosseum, just a few months after studying ancient Rome in school."
Shelbie
Nine Mile Falls, WA
Tour: 07/30/18
Overall rating:
Cary was fantastic as our tour guide. She gave us a good amount of information in each spot, but not too much. She was a wealth of knowledge for activities on our own and guided us well for free time. We chose this tour to get the broad strokes of much of Europe. Then we could see where we'd want to spend more time in future trips. It served our purpose well and was a fabulous experience overall. We saw so many highlights!
Favorite "WOW" moment
"I was emotional walking into the Colosseum and St. Peter's Basilica! Our son loved it too. Another wow moment was the view from the tower in Bacharach. We also loved the storybook feel of small town Germany and especially Austria into northern Italy (Dolomites)."
Lucy
Ashland, OR
Tour: 07/23/18
Overall rating:
i had a very amazing experience on the family tour. i loved both of my guides and i learned a lot. the tour was perfect. they are very accommodating for any needs that you have, dietary or otherwise.
Favorite "WOW" moment
"i was really amazed when the tour went to the colosseum in Rome. that was by far my favorite experience."
Belinda
Pleasanton, CA
Tour: 07/09/18
Overall rating:
Stephanie and Maya did an OUTSTANDING job!!! Stephanie went out of her way to keep us informed and entertained, she definitely went out of her way to meet everyones individual needs and requests.
Favorite "WOW" moment
"The kids, they were ALL the best. I think they all had a great time, they all participated, talked, got along well, bonded and they definitely laughed a lot! Our grandson Esai had an amazing time. We did the other family tour three years ago and loved it, Esai just wishes there more family tours."
Daniel
Corrales, NM
Tour: 07/09/18
Overall rating:
The tour guide Stephanie and her assistant Maya were outstanding. Stephanie has lived extensively in Italy and provided us with a wealth of information everywhere we went. The tour schedule was great and she was able to include a couple of extra things during the tour. The tour guide in Venice was the best tour we have ever had anywhere. This was my wife and I third Rick Steves tour and this was the best tour we have experienced on any Rick Steves tour or any other tour for that matter.
Favorite "WOW" moment
"The tour guide in Venice. Having lunch in the Hofbrau house in Munich. All of the evening dinners with the group. We had 7 in our family and there were four other families on our tour. It was a terrific group and most of the other families had taken numerous Rick Steves tours as well."
Timothy
Pleasanton, CA
Tour: 07/09/18
Overall rating:
This was our ninth Rick Steves Tour. We have been to most of the towns and cities on the tour before, but we wanted to take our grandson and two of our children with us for a little trip down memory lane. We had a great time, with a few surprises thrown in. Our tour guides were wonderful and even our bus driver, Silvin, made our trip exceptional.
Favorite "WOW" moment
"My wow moment was an unscheduled stop at the Florence American Cemetery and Memorial. It was a very moving experience for me personally and a real highlight of the trip."
Daryll
Atlanta, GA
Tour: 07/09/18
Overall rating:
More than one hotel could use an upgrade. You might consider a full day and night in Munich as opposed to two nights in Reutte.
Favorite "WOW" moment
"Possibly,the unscheduled stop at the Florence American Cemetery and Memorial. The visit to San Gimignano."
Brett
Federal Way, WA
Tour: 07/02/18
Overall rating:
Our tour experience was beyond our expectations. From the preparedness of our guide Bea...give her a raise!!...to the accommodations and ease of travel by coach to each location took the worry of travel out of the equation. We are able to enjoy every moment as a family and experience the culture and uniqueness of each location we visited. We are converted disciples of the Rick Steve's experience and thank you for giving our family 2 of the greatest weeks of our lives.
Favorite "WOW" moment
"Our WOW came during the day at Neuschwanstein castle and luge experience. That was backed with a non tour hike up to the terrifying Highline179 bridge in Reutte which made for further memories we will all laugh about for years to come. Tremendous experience and thank you again."
JoAnn
Kent, WA
Tour: 07/02/18
Overall rating:
This tour was even better than I expected. We saw the touristy things but we also saw the real country and non-touristy parts of the countries. That is what I appreciated most. We also had just the right amount of time to explore on our own.
Favorite "WOW" moment
"There were to many wow moments to pick just one. As a first time traveler everything was spectacular. Just what I had always hope for!"
Amy
Englewood, CO
Tour: 07/02/18
Overall rating:
What a great tour! Tour group was very fun and got along well. Most of the kids were between 13-19 so our kids fit right in. [INVALID]ion of towns that we visited were all unique and beautiful. So much history and interesting stories to go with each stop. Our tour guides, Bea and Casey, were very knowledgeable and personable. They made sure we all knew what to expect everywhere we were going. They surprised us with special treats throughout the trip.
Favorite "WOW" moment
"Really enjoyed the town of Rothenburg and especially the Night Watchman's tour. Such a picture perfect town with a very interesting history."
Stephen
Riverview, NSW
Tour: 07/02/18
Overall rating:
Our tour was very well managed and was well designed for a family experience. The number of persons on the tour was right, there was a good mix of familes, the tour events and visits were well planned/timed and there was plenty to interest the teenagers. I paritcularly liked how there was two seats for each person on the bus, making the bus rides very enjoyable with a chnace for rest, as well as the stops. The hotels were great with a good mix of quality and quirky.
Favorite "WOW" moment
"Arriving by bus in Venice and then climbing on board the ferry for our ride to our hotel with the big views of Venice was a big wow moment! But there were many wow moments throughout the tour, including our canal rides in Amsterdam and Venice/"
Susan
Berkeley, CA
Tour: 06/30/18
Overall rating:
We all really enjoyed the tour. It was well organized, and Ragen and Skyla did a nice job making it comfortable and fun. I appreciated the general approach on travel and emphasis on striving to be a temporary European - with basic language lessons and tips on the local customs.
Favorite "WOW" moment
"The mask making demonstration in Venice."
Michael
Seattle, WA
Tour: 06/30/18
Overall rating:
Our first RS tour & family trip to Europe! The magical combination of amazing tour guides Ragen and Skyla, + expert driver Joe and his comfortable bus, the music to The Good, Bad & the Ugly, the city-center small hotels, the wonderful guides in Rome, Venice and the Rijksmuseum, the surprise visits to places like the Ötzi Museum in Bolzano, the competitive pool sports in Tuscany, the "HISTORY" and finally the RS approach made this a truly memorable trip. Our 17 and 12 year old boys will remember.
Favorite "WOW" moment
"It's a toss up between the Ötzi Museum in Bolzano, the initial boat taxi to the Lido or the Florence American Cemetery. We'd known about Ötzi from NG, but had no idea we'd get to meet him! The views and sense of place while boating past Venice for the first time was terrific. And the sense of solace, faith, history, and deep gratitude for our veterans from WWII at the Florence Cemetery was vivid."
Maureen
Farmington, MI
Tour: 06/25/18
Overall rating:
Tour was very well run - arrangements were made for all event admissions, hotels and bus were good, directions provided were clear. Saso was an amazing guide and Kevin provided great support. The events included were a nice mix of activities - not too many museums and churches - which the kids enjoyed.
Favorite "WOW" moment
"The view from our hotel in the Tuscan countryside was a dream - looked like a picture from a brochure. When the dinner table was set for us to eat out on the terrace it literally took my breath away."
Bill
Lake Oswego, OR
Tour: 06/25/18
Overall rating:
Very well [INVALID]d with the right mix of activities, group time and family time to keep everybody engaged and happy. The guides were fantastic and were in synch with the tour participants to make sure everybody was taken care of and that we all had a wonderful experience.
Favorite "WOW" moment
"The kids in the group bonded with some expert encouragement from Saso and Kevin. It really made the experience bloom for everybody."
Vivian
Chicago, IL
Tour: 06/25/18
Overall rating:
It was awesome and fun, because our tour guide made the tour fun for the kids, too! Kids might get bored of a museum or walk, so our tour guide made sure to make jokes, and play around with the kids AND adults along some parts of the tour, to make it entertaining for us!
Favorite "WOW" moment
"I LOVED everything about every place that we went to on the tour! Every place that we went to made me say WOW!"
Nicole
Chicago, IL
Tour: 06/25/18
Overall rating:
The tour was absolutely fantastic. A perfect blend of group activities and "alone" time. The guides - both our full-time guides and the city specific guides - did an excellent job of appealing to both kids and adults. My kids grew so much on this trip by really experiencing Europe, from the Rijks museum to the Forum. It was one hit after another. And they can't stop talking about the luge and the pasta making demonstration. Saso was absolutely wonderful!
Favorite "WOW" moment
"There were so many. Loved all the activities geared towards the kids. Every day I said "wow" - that included the sights, the guide and my fellow travelers. What a perfect two weeks!"
Anna
Lake Oswego, OR
Tour: 06/25/18
Overall rating:
I liked that when we stopped in interesting places, we did not feel rushed. We had several hours to sightsee and could take our time. I also liked that there was a lot of description and context and detail about the places we visited.
Favorite "WOW" moment
"Riding the luge in Austria!"
Lauren
Lake Oswego, OR
Tour: 06/25/18
Overall rating:
I loved it! It was a great balance of structured, group sightseeing and then free time to explore with just my family. Also appreciated the balance of urban experiences with quieter, more rural destinations with beautiful scenery! Every day was a new adventure. The logistics ran so smoothly and our guide was adept at facilitating the process in a calm, pleasant manner.
Favorite "WOW" moment
"So many great memories that it's hard to identify just one! Eating a delicious lunch with a glass of local prosecco in a quiet restaurant in San Gimignano; standing with my feet in the Adriatic Ocean watching my daughter build a sand castle with other tour friends in Venice; walking through the Vatican Museums and seeing amazing art everywhere. Having 2 weeks with my husband and daughter sharing all these new experiences together-- that was such a wonderful gift."
Sandy
The Woodlands, TX
Tour: 06/25/18
Overall rating:
The tour exceeded my expectations. This was my 8th Rick Steves tour and maybe the best one yet. We had 4 families of three generations on the tour, 9 children, 2 18 year old boys, 4 moms, 4 couples and 5 grandparents. It was a wonderful group. Everyone was fun, always on time and we all got along great. Saso and Kevin were wonderful. They were always informative and the kids loved them.
Favorite "WOW" moment
"Probably seeing Neuschwanstein Castle from the bridge. It was breathtaking."
Cary
Chicago, IL
Tour: 06/25/18
Overall rating:
Great potpourri of Europe
Favorite "WOW" moment
"St. Goars castle"
Frances
Kirkland, WA
Tour: 06/25/18
Overall rating:
The memories of this trip will always be with me.It was exciting to see various sites, cities, and ways of life. Saso came up with fun things for us to do. Fantastic group of children, parents, grandparents. I would change going to St. Goar. A tourist trap with junky tourist stuff to buy. Many of us sat under the big tree and talked while waiting for the boat.Would prefer the time to be elsewhere like a boat trip in Venice would have been preferred. Trip had a good balance for every age.
Favorite "WOW" moment
"I am a professional fine art painter and our visit to the Rijks Museum was breathtaking but I really wanted more time there. My husband is a bronze sculptor and he also loved being in the Rijks. My second wow moment was seeing Bernini's sculptures in Rome's churches."
Miriya
Lynnwood, WA
Tour: 06/25/18
Overall rating:
I always had fun and Saso was the BEST tour guide ever!
Favorite "WOW" moment
"The luge! And everyone was so nice"
Kelli
Lynnwood, WA
Tour: 06/25/18
Overall rating:
It was easy and a lot of fun!
Favorite "WOW" moment
"The luge ride in Austria ? the entire day that day was a wow day"
Tobie
San Jose, CA
Tour: 06/25/18
Overall rating:
The family tour fit our needs perfectly. With an 18 year old, a 13 year old, and me (their mother), we all found people and experiences to entertain us. There was a good balance of group activities and individual family time. The tour stops were a fair combination of typical tourist stops and more off the beaten path stops.
Favorite "WOW" moment
"On the 4th of July, Sašo, our guide, surprised us by taking us to an American war cemetery in Italy. It was emotional being able to honor our WWII heros in the land were they sacrificed their lives for American ideals."
Sabrina
Farmington, MI
Tour: 06/25/18
Overall rating:
I absolutely loved being surrounded by a group of teens that enjoyed the trip as much as I did. We got along so well that we willingly decided to hang out together every day. All of our activities and stops were well worth it and each showed us a different perspective on life. I never felt bored on the trip; our time was filled. With that though, I was never overexerting myself. Our guides were fantastic, and I loved everything they had to offer.
Favorite "WOW" moment
"Throughout the whole trip, I loved the scenery. Nature showed its beauty, and I saw that especially driving from Reutte to Venice. The mountains lined the road; the trees framed our view. Learning about the people that lived and traded here, traveling along the road, was incredible. It took my breath away."
Jeannine
Covington, WA
Tour: 06/18/18
Overall rating:
Trip of a lifetime! Didn't expect to get to know and then miss my fellow travellers. Great people, one and all. City and museum guides were interesting and fun.
Favorite "WOW" moment
"Loved the luge ride. I could've ridden down 10 more times! Also enjoyed the castle at St. Goar and the stories of castle life the tour guide told. Cobblestones, narrow streets and washing on the lines....quaint and charming."
Keith
Tulsa, OK
Tour: 06/18/18
Overall rating:
The tour was extremely organized. their was no wasted time. I enjoyed the variety of hotels, plus the food was always excellent.
Favorite "WOW" moment
"while in Bacharach we rode our bus to Sanke Goar for a castle tour. when we were ready to leave the boat was there ready to take us on our Rhine cruise and back to our hotel. My Wow moment was how extremely organized the tour was."
Curtis
Walnut Creek, CA
Tour: 06/18/18
Overall rating:
The tour was outstanding. It was the right mix of planned events and free time on your own. The locations were great, and the tour director and her assistant were excellent.
Favorite "WOW" moment
"Their were a lot of great events, but I thought the outdoor dinner in Tuscany was memorable. The homemade pasta with the meat cooked on the outdoor bbq (with the wine flowing) will provide pleasant thoughts for a long time. I had always wanted to have a giant pretzel and large German beer. I got to experience that in Munich. I really enjoyed Munich."
Lisa
Cincinnati, OH
Tour: 06/04/18
Overall rating:
Our tour guides were amazing, the bus was very spacious, the local tour guides were fantastic, and great food. We saw a ton of things but also had time to relax an take it all in. It was the perfect balance. I almost don't want to take another tour because this one was so perfect it may have ruined all other tours!
Favorite "WOW" moment
"My favorite moment was when my 13 year old said, " This was the best day of his life" while gazing at the castle in Germany from the foot bridge."
Allen
Springfield, IL
Tour: 06/04/18
Overall rating:
Pleasant but demanding in terms of energy.
Favorite "WOW" moment
"Neuschwanstein castle was inspiring. Side-trip to the Vatican was likewise a superlative, cultural icon moment."
Kimberly
North Bend, WA
Tour: 06/04/18
Overall rating:
I've traveled a lot-I've been an exchange student. I've backpacked through Europe staying at youth hostels as a student-on-a-budget. I've lived abroad as an adult and have exposed my son (13) to lots of travel. I'd planned for this tour for years. My expectations had been high. This tour exceeded all expectations. Every aspect has been well-researched, planned, and carried out. From daily activities to the sites+meals+hotels to the superb guides...I can't imagine a better tour experience.
Favorite "WOW" moment
"For my son, the entire day in Bavaria:Neuschwanstein Castle; the luge; conquering his fear of heights on the suspension bridge and clamboring among the Ehrenberg castle ruins. Me: 2nd night in Venice. Our group gondola ride was canceled due to a storm. Our guide directed us to the lovely Caffè Lavena. We shared a drink, watched St Mark's square empty of people and flood with water. We then enjoyed a late-night romp through the winding back streets and canals to our vaporetto. Truly special."
Brooke
Village Of Lakewood, IL
Tour: 06/04/18
Overall rating:
This tour was honestly the best trip of my life! The family tour was such an incredible way to experience Europe through my eyes as well as my son's. The children all became so close immediately and shed tears when leaving after just 2 weeks. This was an amazing way to hit so many incredible highlights of 4 unbelievably beautiful countries. I love that this particular tour included quiet mountain towns, beaches of the Adriatic Sea and historic sites of Rome. I highly recommend this tour!!
Favorite "WOW" moment
"My WOW moments included the Neuschwanstein Castle, the unbelievable town of Rothenburg and swimming in the Adriatic Sea."
Pamela
Sevierville, TN
Tour: 08/07/17
Overall rating:
Since this was our first overseas tour we really didn't know what to expect and were just going with the flow. We found the tour well organized and every detail no matter how small was already taken care of. Our tour guide and his assistant were extremely knowledgeable and helpful in every part of the tour. Can not praise enough, in fact I would really want to go with them again. All other tour members were pleasant and the kids that were along were a delight to be around. A
Favorite "WOW" moment
"The Colosseum"
Jack
Acworth, GA
Tour: 08/07/17
Overall rating:
This was my first Rick Steves tour. I was very pleased with the professionalism displayed throughout all components of the tour package.
Favorite "WOW" moment
"The drive/scenery from Amsterdam to Northern Italy."
Michelle
Perry, MI
Tour: 08/07/17
Overall rating:
Sao & Cary were great guides. They really complemented each other well. The group dynamics were great - the teens on this tour made it extra special.
Favorite "WOW" moment
"When we arrived in Bacharach and we saw the Rhine. I loved the quaintness of the village."
Betsy
Redmond, WA
Tour: 08/07/17
Overall rating:
Great group, albeit started a little odd to have four older couples on a family tour. But they were real troopers and for the most part joined in fully. We had done the other family tour and I think there's just more to see and do on that one. Several days, Rothenburg, for example, seemed like filler. Plus the agritourismo was disappointing. Great place, but just a hotel in the country. I thought there'd be more actual agri - like olive trees, etc. All in all, really good but not great.
Favorite "WOW" moment
"Really enjoyed Venice, much more than expected. All the boating was awesome."
Tom
Shoreline, WA
Tour: 08/07/17
Overall rating:
Super amazing tour; we loved everything about it. Tour guides, sites, flow of travel and the whole experience created a treasure of memories.
Favorite "WOW" moment
"Many wow moments- Sistine Chapel Everything in Italy Austrian rock accordion players in Reutte Everyday was a wow"
Nancy
Acworth, GA
Tour: 08/07/17
Overall rating:
Fantastic tour. Sašo, Cary and Big John are the best. I am still reliving my trip. So much information to take in. Wish I could go on more Rick Steves tours with these guides. Also couldn't ask for a better group of people to travel with.
Favorite "WOW" moment
"It's difficult to point out one thing. It was all Wow!"
Tanya
Chaska, MN
Tour: 08/07/17
Overall rating:
We had the best time on our tour. Learned so much and thoroughly enjoyed our travel companions and tour guides. It was the right balance of relaxation and adventure. Couldn't have asked for a better time!
Favorite "WOW" moment
"The surprise visit to the Florence American Cemetery and Memorial - so moving and powerful. I liked that it was a completely unexpected."
Robert
Seattle, WA
Tour: 07/24/17
Overall rating:
Overall we were very pleased!! Great experience and very professional. Personally I enjoyed all the hotels each was unique in its own way and the food was great. Our tour guides were very helpful and had a great perspective shared equally. Excited for our next trip.
Favorite "WOW" moment
"Great question! My wow moment was everything went off without a mishap. I think the name " RICK Steves" went a long way with out hotel operators."
Suzie
Seattle, WA
Tour: 07/24/17
Overall rating:
We had a great group, a knowledgeable tour guide(s) and saw so many special things. Our family had time before and after the trip to do our own things, which also added to the trip. Having teens on this trip made my own teens have more fun, allowing them to socialize while learning. We enjoyed the itinery and bus rides, the people and the hotels were for the most part good. We will definately do another tour at some point, since this experience was great for our whole family.
Favorite "WOW" moment
"Our family really liked the sites and experiences in Rome, and also Amsterdam. Learning about the history, like the Anne Frank House, Colliseum and the Vatican Museum ( on our own) made lasting impressions for our family. When my oldest son said that he was interested in studying abroad in college now, I knew we had done the right family trip. He also learned to appreciate art after the museums in Amsterdam (we added a few on our own too.)"
Kimberly
Clyde Hill, WA
Tour: 07/24/17
Overall rating:
What a fantastic first trip to Europe for me and my kids! Overall I would say that we all give the tour a grade of A. We knew a RS tour would be a great way to see, learn and do more than we would on our own and we were not disappointed. If anything, we needed more downtime!
Favorite "WOW" moment
"Well there were several wow moments- he guides always being prepared for the day and getting us where we were going without a hitch, the Roman tour guide during the Colosseum and Forum was great and of course entering Venice on a boat was cool"
Nathaniel
Clyde Hill, WA
Tour: 07/24/17
Overall rating:
Had a great time
Barbara
Lake Oswego, OR
Tour: 07/17/17
Overall rating:
We were a family of 6 - grandparents, son and daughter-in-law, granddaughters ages 11 and 14. My daughter-in-law had never traveled to Europe and she had the best time! I was overjoyed for her. Our granddaughters enjoyed the pasta making, the "Disney" castle and the Luge. Our guide was exceptional in her knowledge of history, and in relating a number of her personal experiences. The restaurants she recommended to us were exceptional in quality of food and service.
Favorite "WOW" moment
"My "wow" moment was the Italian American Memorial. I had no idea it existed. Even though this was not included is the tour my granddaughters especially enjoyed the Anne Frank house. They had read the book and watched the DVD before the trip."
Emily
Overland Park, KS
Tour: 07/17/17
Overall rating:
The tour was good, but honestly I was disappointed. We were rushed around places that needed more time and we spent too much time other places. It felt as though we were dropped off by ourselves in the cities where we needed help and babied in areas we would have no trouble getting around. I think you should book more places and activities for us to go to, such as museums and the Wedding Cake in Rome. I was disappointed we missed the Anne Frank house and did not think you made up for it.
Favorite "WOW" moment
"I loved Neushwanstein castle; it was beautiful and the area was gorgeous. I also loved walking around Amsterdam and going to the Nines Streets. It was so pretty and lively."
Jennifer
San Marcos, CA
Tour: 07/10/17
Overall rating:
This was our first trip with Rick Steves tours, and I would recommend it to ALL my family and friends. It was very well organized from start to finish, from the materials we received in the mail before all the way through the tour. This was our first trip to Europe, and I am so glad we used your tour company! It made it so much more enjoyable. We didn't have to worry about transportation and hotels.
Favorite "WOW" moment
"There are so many, I don't know if I can pick one. I loved the Bavarian countryside, the day we went to the castle and luge trip. It was great! I also loved the morning walking tour of Venice and the mask making demo."
Luke
San Marcos, CA
Tour: 07/10/17
Overall rating:
I had a great time, the food was good but different. we had lots of fun, and all of the kids started to bond after the first week. I loved the tour and would definitely recommend it to others.
Favorite "WOW" moment
"I'm not exactly sure because I had so much fun with everything. I liked the beach on Lido because we rented a paddle boat with a slide on top. There were two jellyfish washed up and I thought that was pretty cool."
Carson
San Marcos, CA
Tour: 07/10/17
Overall rating:
I really enjoyed getting to see so much during the tour. I thought everywhere we went was entertaining and interesting.
Favorite "WOW" moment
"My favorite part of the tour was visiting Neuschwanstein castle and staying in Austria. I really enjoyed the accordion players that came out at dinner and performed for us!"
Doug
San Marcos, CA
Tour: 07/10/17
Overall rating:
Overall, a wonderful family vacation... highly recommend. I was a little concerned about being on a "tour" timeline, but the structured and unstructured time was very well balanced. Most of the "planned" items were sights I'd want to visit anyway and having them pre-arranged and group passes made it a lot easier as well. Bea and Steph, plus all the local contracted tour guides, were wonderful and their knowledge certainly enhanced the trip. Joe, our motor coach driver was the best ever !!
Favorite "WOW" moment
"Best moment of the trip was our stop in Ruette. The second night, with dinner on the patio and the local musicians Bea arranged was a very special treat !! (and that's not just the schnapps talking)"
Connie
San Antonio, TX
Tour: 07/10/17
Overall rating:
Absolutely amazing. Beata and Stefanie were outstanding and took care of all of us in the group but some how managed to have individual time with us as well. They added immensely to the whole experience. This trip included many of my favorite places from prior travel in Europe that I was able to share with my grandchildren for their first trip. The trip was very well arranged to allow 2 nights per hotel and had interesting stops included on the travel days. Having other families was a bonus
Favorite "WOW" moment
"The day in the Alps with visit to Neuschwanstein, ride on the luge, and hike to the castle ruins and suspension bridge was magical. The weather was perfect, blue skies, sounds of the mountain waterfall, birds, cow bells, verdant green of the landscape was better than any picture postcard."
Andy
Bellbrook, OH
Tour: 07/10/17
Overall rating:
The Amsterdam to Rome Family Tour far exceeded our expectations. We were worried about the logistics of traveling and touring but the pre-, during, and post- tour guidance that we received made it all go very smoothly.
Favorite "WOW" moment
"The view of Bacharach, the Rhine, Werner Chapel, and Stahleck Castle from the nearby hillside."
Tammy
San Antonio, TX
Tour: 07/10/17
Overall rating:
This was truly one of the best family trips that we have been on. We were able to experience a wide variety of history, architecture, culture, and scenery in a short two week time frame. There was a good balance of sightseeing, physical activity, and free time. It kept our entire group, age 12 - 60+, completely engaged. We found that we really enjoyed the company of our tour guides and travel companions. The comradery added to the overall travel experience.
Favorite "WOW" moment
"My favorite day was in Ruetta, Austria -- We visited Neuschwanstein castle, hiked in the breathtaking Austrian Alps, crossed a very long, and very high pedestrian suspension bridge, and enjoyed a wonderful dinner with live musical entertainment."
William
San Marcos, CA
Tour: 07/10/17
Overall rating:
This vacation exceeded all of my expectations. Beata and Stefanie were brilliant with the history and language lessons. Being the elder of the group, I never felt uneasy. My travel companions from all over the country made this vacation extra special.
Favorite "WOW" moment
"My favorite moments came by watching the expressions of joy on the faces of my grandsons. These memories will last forever."
Lascelles
Acworth, GA
Tour: 07/03/17
Overall rating:
It was educational, entertaining and interesting. The character of the structures and the strong survive mentality that dictated societal norms in the places visited was for me an eye opener. The tour guide was exceptional. She was well prepared on the history of sites visited, providing useful information on navigating exhibits and general good management practises. The tour assistant was excellent in ensuring accomodations and group arrangements were always in order.
Favorite "WOW" moment
"The castles and the labor and other resources to put them together given the locations and tools that were available in those times."
David
Irvine, CA
Tour: 07/03/17
Overall rating:
Overall a very informative and educational tour experience. I had a great time bonding with my family and others members on the tour. Our Rick Steves guides (Jody and Andrew) were very helpful,and the best part of tour are the local guides (very knowledgeable). Our bus driver Matt was great also. Hotels overall was Adequate-Good (besides Kranenturm which is Poor) Food overall was Good by ETBD standards. Overall would be Very Good but downgraded by a hotel which ruined two nights/days for me.
Favorite "WOW" moment
"The hike to Neuchwanstein was beautiful and very peaceful. I loved the tour of Forum and Colosseum in Rome as the local guide Annette really made us go back in time. I have visited these places before but not like how Annette showed us. Loved the Gelatos, we averaged 4 scoops a day in Italy :)"
Maureen
Shrewsbury, MA
Tour: 07/03/17
Overall rating:
This tour gave us 1st-timers a fantastic overview of Europe. We never could have crafted so varied an itinerary ourselves. Highly rec. arriving one day early (two is better) for a solid start to this very active tour. Liked the tutorials for tram in Amster., vaporetto in Venice, and metro in Rome. Tour bus very comfy. Amsterdam was an easy city to manage ourselves b4 the tour began, & we felt confident (but lonely) staying in Rome a couple of days extra at the end. We had THE BEST tour guides!!!
Favorite "WOW" moment
"The vibrancy of Amsterdam: bikes, trams, pedestrians, buses, cars. The serenity of Bacharach: narrow cobblestone streets, the gorgeous Rhine, a majestic castle as sentry. Hearing cow bells while ascending the luge course among wildflowers in the Alps on a sunny, blue-skied afternoon. The solemnity of Stumbling Stones. Splashing like a local at a steamy, salt-water pool in Reutte. Getting lost but not feeling lost in Venice, dreamy hillside Tuscan vistas, the awesome antiquity of Rome."
Patricia
Westford, MA
Tour: 07/03/17
Overall rating:
I couldn't have been happier. Everything was handled with such expertise that I truly felt like I didn't have to worry about details. All I had to do was enjoy and immerse myself!
Favorite "WOW" moment
"There were lots of amazing small moments - I can't say there was one favorite. I loved hiking to Neuschwanstein, I loved sleeping in a tower in Bacharach, I loved seeing the thinnest house in Amsterdam, I loved walking on the wall in many towns. I loved eating gelato, pretzels and all the many treats that Jody and Andrew spoiled us with. I loved the Open Air Village in the Netherlands! I loved that there was so much hands rather than just spending time in museums. I loved villa!"
Riley
Westford, MA
Tour: 07/03/17
Overall rating:
I liked our guides. They made things fun! Loved gelato bingo! Liked that there were other kids there and there were lots of things like mask making and pasta making. Liked having dinner at kids only table.
Favorite "WOW" moment
"Climbing to neuschwanstein. I liked the hike and what we got to see along the way."
Alexander
Shrewsbury, MA
Tour: 07/03/17
Overall rating:
It was good.
Favorite "WOW" moment
"I like Bacharach and the catsle on top of the hill. The view of the rhine was pretty cool."
Francesco
Shrewsbury, MA
Tour: 07/03/17
Overall rating:
The tour passed by so quickly! We met really nice people and made many new friends. We walked about 155 miles (good for the waistline). The tour provided my family with just a small taste of what Europe has to offer - and we are hungry for more. We loved the gelato in Italy. Gelato bingo what a great idea! Minor: A few of the stops at misc. castles (like Ferarra) and the Ice-Man (in Bolzano) might be dropped in lieu of family friendly activities (parks, pools, mountain trails, etc.).
Favorite "WOW" moment
"Wow! - it is hard to choose one from all of the great things we saw and did. Biking in Amsterdam was fun, but nerve racking. The American WW II Cemetery near Florence was very moving. The Tuscan countryside, a patchwork of hills and fields and cypress trees, as seen from San Gimignano was amazing. The art, plazas, buildings, monuments, and people of Venice and Rome are etched in my mind. My sons first beer in Munich.....priceless! What an awesome vacation!"
Grace
Acworth, GA
Tour: 07/03/17
Overall rating:
This was a very well prepared tour. Jody and Andrew worked tirelessly but they made it seem effortless while taking care of every little detail. We had a wonderful time and will cherish forever the memories created from it.
Favorite "WOW" moment
"The drive through the Alps was wonderful. I loved the breathtaking scenery and views."
Zoe
Irvine, CA
Tour: 07/03/17
Overall rating:
Exciting. Fun. Different. These are the 3 words to describe this tour. On this trip, I acquired many historical, cultural and evolutional knowledge that I had never known before. For example, while in the Anne Frank hiding space, I learned about the sliding bookshelf that was never written in the books. I even got to see a picture to real life happen. From a page of my book to the actual toilet of Anne Frank, this was a-m-a-z-i-n-g! I also tasted the layers of history behind each wall.
Favorite "WOW" moment
"My favorite WOW moment was when we saw Anne Franks house. There was a massive line, however, because of the Rick Steves tour, we skipped it!"
Reia
Irvine, CA
Tour: 07/03/17
Overall rating:
I had a good time exploring castles and hiking even though I don't really like nature. Our tour guides made it really interesting. Jody was great at telling us stories throughout the bus rides and during some walks. I had a great time!
Favorite "WOW" moment
"It was eating gelato in Italy!"
Wendy
Irvine, CA
Tour: 07/03/17
Overall rating:
I've been a fan of RS for the past 20 years and really wanted my kids, ages 10 and 12, to experience their first trip to Europe through Rick Steves' backdoor style. Though there are minor areas for improvement, this tour has met my expectation and more. All guides including local ones were very knowledgeable. The itinerary is well-planned and executed. It made it much more fun that we get to learn and experience something new everyday with other nice family tour members.
Favorite "WOW" moment
"The cross-border hike from Austria to Neuschwanstein. Horses roaming freely along the trail and the Alpsee Lake with a family of swans - wow wow wow!"
Frank
Seattle, WA
Tour: 06/26/17
Overall rating:
It's really to go over the entire tour...suffice it so say my family and I had an excellent experience, with a lifetime of memories. No room below: we had a great driver...Philip/Philippe/Carlo. Really a nice guy,interesting to talk to and an excellent driver. Also, having a full-sized coach with a limited number was genius...not crowded at all. The tour guide discussing public transportation in each city, with tickets provided, was a very good idea...Thanks!
Favorite "WOW" moment
"There were so many! If I had to pick one, it was when we as a group were surprised in Reutte after dinner by two incredible accordionists. They were teriific musicians and a lot of fun. Really memorable. Another "wow" was in general...the trip was so well-planned. Our tour guide Ragen and his assistant Skyla were masters of organization and detail. Maybe there were minor slips along the way but we sure weren't aware of any."
Steven
Irmo, SC
Tour: 06/26/17
Overall rating:
Our tour was fantastic . Everything was well organized and our tour guides were spectacular. We were on the family tour and it was amazing how quickly the families and the kids bonded. The kids quickly started hanging out and all the parents were looking out for all the kids. Free time mixed in with activities worked well. Food was good and plentiful.
Favorite "WOW" moment
"Wow moments occurred throughout the trip. Riding bikes around the canals of Amsterdam and getting "lost" was so much fun. Germany was spectacular, loved the castles and the Rhine river cruise awesome. Probably the best was our gondola ride in Venice. We communicated our desire to ride in a gondola and Ragan made it happen for the group. He rearranged dinner so that we could fit this in at dusk. BEAUTIFUL"
Linda
Los Altos Hills, CA
Tour: 06/26/17
Overall rating:
I think the whole cultural immersion of knowledge, food, local transportation, and sight seeing are totally incredible. Knowledgeable tour guides who interacted well with both kids and adults alike was a plus, having an assistant who blended well with the younger crowd was certainly a highlight. My kids look up to Skyla as someone who is a leader and a friend they can relate to.
Favorite "WOW" moment
"It is really hard to choose. From the moment we arrived in Amsterdam, almost got ran over by a cyclist, navigating the street by the canal names, the silly and funny accordionists in Reutte, Austria, the nice family style dinner in Tuscany, (American style bbq cooked by a vegetarian chef!) and climbing 11 hills of Rome, they were all "wow" moment. The total highlight was the soundtrack of "The Good, The Bad, and The Ugly" to wake us all in the bus. My kids still have nightmare about it."
Ellen
Renton, WA
Tour: 06/26/17
Overall rating:
This was our third Rick Steves tour (& second family tour). It was absolutely fabulous! Ragen & Skyla were truly wonderful with the adults and kids alike. You wake up knowing every single day is going to be GREAT! The combination of local tour guides with Rick Steves guides is wonderful. Our grandson has been in contact with the other kids from the tour since we got home.....that's how great they all connected! Age range was 11-16 and at no time was any child excluded by another. TERRIFIC!!
Favorite "WOW" moment
"While we have been to Rome several times before, that first view of the Colosseum is always a jaw dropper!! The ceramic recreation of San Gimignano was amazing!"
Lee Ellen
Middleton, WI
Tour: 06/19/17
Overall rating:
We loved the Rick Steves family tour! We enjoyed all the sites and really liked our fellow travelers. It was wonderful to see most of the kids bond and enjoy hanging out together.
Favorite "WOW" moment
"Too many to list!"
Tony
Middleton, WI
Tour: 06/19/17
Overall rating:
This was my first real trip to Europe not related to work. Traveling with my wife and 12 year old daughter, we all had a great time. I was surprised at the bonding among the kids - that was a major factor in our decision to take a family tour. We got to see a lot in a relatively short time. It was very educational and our guides and driver were top notch! Matt was the perfect guide for the style of travel and info we wanted! Beata's view of Europe was very helpful and appreciated!
Favorite "WOW" moment
"There were too many to recall. The castles in Germany and Austria. Everything about Venice! Watching the kids bond. We were all surprised at how relaxing the coach ride was. In Austria,there was an annual religious ceremony with torches on a mountain top with an electrical storm in the background that was pretty amazing to view!"
Weather

Netherlands / Amsterdam
---
Germany / Munich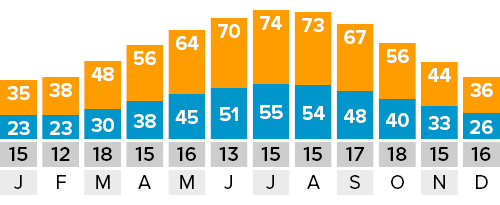 ---
Austria / Vienna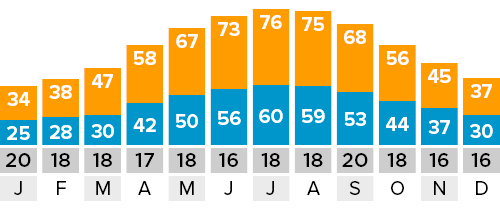 ---
Italy / Venice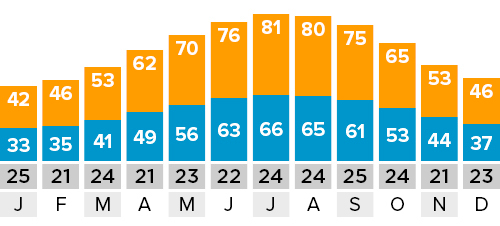 ---
Italy / Florence
---
Italy / Rome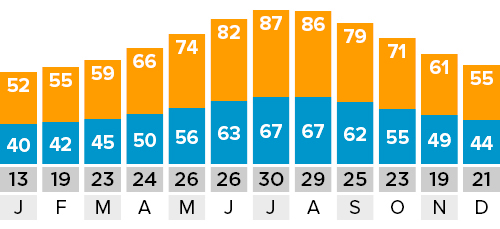 Hotels & Flights
Tour Hotels
In case you wish to book pre- or post-tour hotel accommodations, the contact information for the tour's first and last hotels is included in your tour confirmation email, as well as in your online customer account. About one month prior to the tour departure, in your customer account you'll find the directions to your first tour hotel and a complete list of hotels where we'll be staying while on tour.
Flights
Our tours don't include airfare, so your flight arrangements are completely up to you.
Most tour members arrange to fly into Amsterdam and out of Rome ("multicity" on flight-booking websites). Booking round-trip to one city will require a connecting flight, train trip, or additional overnight stay in Europe
We suggest arriving a day or two before your tour begins to allow ample time to get over jet lag and be well-rested for the first few days of your tour. For more information about transportation options for getting to and from your tour, see your Rick Steves Best of Europe guidebook.