Peloponnesian Highlights: Overlooked Greece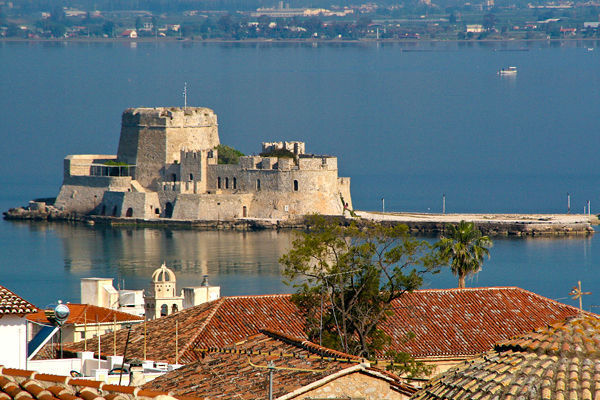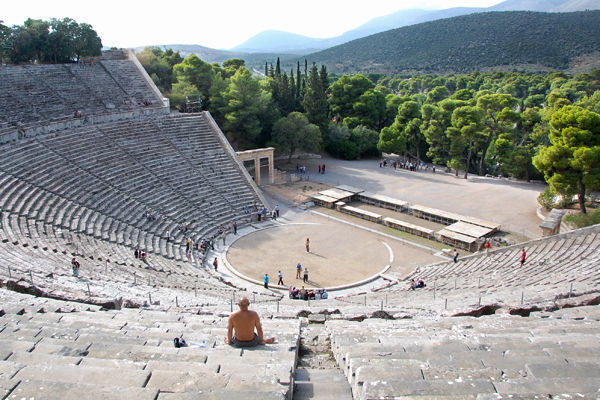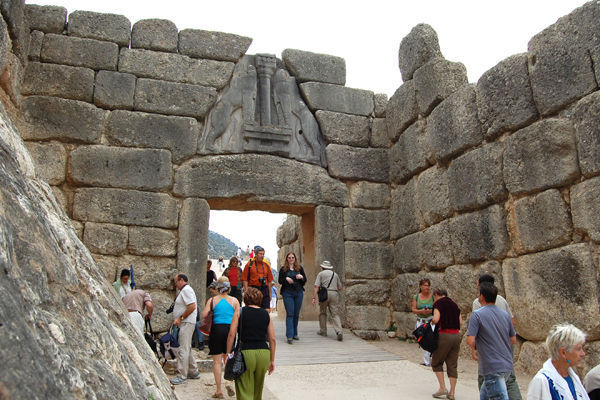 By Rick Steves
The Peloponnesian Peninsula stretches south from Athens. Studded with antiquities, this land of ancient Olympia, Corinth, and Sparta offers plenty of fun in the eternal Greek sun, with pleasant fishing villages, sandy beaches, bathtub-warm water, and none of the tourist crowds that plague the much-scrambled-after Greek Isles.
The Peloponnesian port town of Nafplio, two hours southwest of Athens by car or bus, is small, cozy, and strollable. It's a welcome relief after the black-hanky intensity of smoggy Athens. Not only is Nafplio itself fun, but it's a handy home base for exploring two of Greece's greatest ancient sights: Epidavros and Mycenae.
Nafplio's harbor is guarded by two castles, one on a small island and the other capping the hill above the town. Both are wonderfully floodlit at night. Just looking from the town up to its castle makes you need a tall iced tea.
But this old Venetian outpost, built in the days when Venice was the economic ruler of Europe, is the best-preserved castle of its kind in Greece and well worth the 999-step climb. From the highest ramparts you'll see several Aegean islands and look deep into the mountainous interior of the Peloponnesian Peninsula. Below you lies an enticing beach.
Nafplio has plenty of hotels, and its harbor is lined with restaurants specializing in fresh seafood. An octopus dinner cost me $8 — succulent!
The infamous resin-flavored retsina wine is a drink you'll want to experience — once. Maybe with octopus. The first glass is like drinking wood. The third glass is dangerous: It starts to taste good. If you drink any more, you'll smell like it the entire next day.
On another night I left Nafplio's popular waterfront district and had a memorable meal in a hole-in-the-wall joint. There was no menu, just an entertaining local crowd and a nearsighted man who, in a relaxed frenzy, ran the whole show. He scurried about, greeting eaters, slicing, dicing, laughing, singing to himself, cooking, serving, and billing. Potato stew, meatballs, a plate of about 30 tiny fried fish with lime, and unlimited wine cost $20 for two — and could have fed four.
Epidavros, 18 miles northeast of Nafplio, is the best-preserved ancient Greek theater. It was built 2,500 years ago to seat 14,000. Today it's kept busy reviving the greatest plays of antiquity. You can catch performances of ancient Greek comedies and tragedies on weekends from mid-June through September. Try to see Epidavros either early or late in the day. The theater's marvelous acoustics are best enjoyed in near-solitude. Sitting in the most distant seat as your partner stands on the stage, you can practically hear the retsina rumbling in their stomach.
Thirty minutes in the other direction from Nafplio are the ruins of Mycenae. This was the capital of the Mycenaeans, who won the Trojan War and dominated Greece 1,000 years before Socrates.
As you tour this fascinating fortified citadel, remember that these people were as awesome to the ancient Greeks of Socrates' day as those Greeks are to us. The classical Greeks marveled at the huge stones and workmanship of the Mycenaean ruins. They figured that only a race of giants (cyclopes) could build with such colossal rocks and called it "cyclopean" architecture.
Visitors today can gape at the Lion's Gate, climb deep into a cool, ancient cistern, and explore the giant tholos tombs. The tombs, built in 1500 B.C., stand like huge stone igloos, with smooth subterranean domes 40 feet wide and 40 feet tall. The most important Mycenaean artifacts, like the golden "Mask of Agamemnon," are in the National Archaeological Museum in Athens.
One prize-winning Peloponnesian hideaway is the remote village of Finikoundas. Located on the southwest tip of the peninsula between the twin Venetian fortress towns of Koroni and Methoni (two hours by public bus from Kalamata), Finikoundas is big enough to have a good selection of restaurants, pensions, and a few shops, but it's small enough to escape the typical resort traffic, crowds, and noise. It's just right for a sleepy Greek sabbatical. Finikoundas has plenty of private rooms, or dhomatia, for rent.The little bay just east of the rock breakwater was the best beach I found, and the swimming was fine — even in October.
After a little Apollo worshipping, I wandered through town in search of Dionysus at just the right waterfront restaurant. The place I found couldn't have been more "waterfront." Since the fishing village had no dock, its Lilliputian fishing boats were actually anchored to the restaurant. I settled my chair comfortably into the sand and the salty atmosphere, as weak wavelets licked my table's legs. I dined amid rusty four-hooker anchors, honorably retired old ropes, and peeling dinghies. A naked 20-watt bulb dangled from the straw roof, which rotted unnoticed by Greeks and a few perpetually off-season Germans who seemed to be regulars.
Cuisine in a village like this is predictable. I enjoyed fresh seafood, Greek salad, and local wine. After a few days in Greece you become a connoisseur of the salad, appreciating the wonderful tomatoes, rich feta cheese, and even the olive-oil drenching.
Almost within splashing distance of my table, young Greek men in swimsuits not much bigger than a rat's hammock gathered around a bucketful of just-caught octopuses. They were tenderizing the poor things to death by whipping them like wet rags over and over on a big flat rock. They'd be featured momentarily on someone's dinner plate-someone else's.
Evening is a pleasant routine of strolling and socializing. Dice clatter on dozens of backgammon boards, entrepreneurial dogs and soccer goal-oriented children busy themselves, and a tethered goat chews on something inedible in its low-profile corner. From the other end of town comes the happy music of a christening party. Dancing women fill the building, while their children mimic them in the street. Farther down, two elderly, black-clad women sit like tired dogs on the curb.
Succumbing to the lure of the pastry shop, I sat down for my day-end ritual, honey-soaked baklava. I told the cook I was American. "Oh," he said, shaking his head with sadness and pity, "you work too hard."
I answered, "Right. But not today."