London's Westminster

Pulteney Bridge in Bath

Cottages in the Cotswolds

Wales' Caernarfon Castle

The Lake District near Keswick

Hadrian's Wall

York Minster

Black Friar Pub in London

London's Tower Bridge
Tour Questions? Call 425-608-4217
Best of England in 14 Days Tour
England offers a delightful mix of big-city thrills and thatch-happy village charm. Your Rick Steves guide will welcome you in the elegant Georgian town of Bath. From there you'll tally-ho to King Arthur's Glastonbury, flower-boxed Cotswold villages, opulent Blenheim Palace, inventive Ironbridge Gorge, Welsh Conwy and Caernarfon Castle. You'll also be treated to the spectacular scenery of the Lake District, historic Hadrian's Wall, and medieval York — ending with the must-see sights of energetic London. Join us for the Best of England in 14 Days!
What's Included
A small, friendly group of 24-28 people — half the size of most tour groups
Full-time services of a professional Rick Steves guide and local experts who will make the fascinating history, art and culture of England come alive for you
All tours and admissions — at no extra cost — covering at least 24 group sightseeing events • Bath walking tour • Roman Baths tour • Glastonbury Abbey visit • Wells Cathedral tour • Avebury stone circle tour • Blenheim Palace tour • Cotswold village walking tour • Cotswolds loop drive • Stanway House and grounds tour • Cotswolds country walk • Local folk music • Ironbridge Gorge visit • Bodnant Garden visit • Caernarfon Castle tour • Welsh Slate Museum visit • Lake District walk and boat cruise • Hadrian's Wall visit • York Minster tour • York walking tour • Bus sightseeing tour of London • Westminster Abbey tour • Thames boat cruise • Tower of London "Beefeater" tour • British Museum tour...and more
All group transportation from Bath to London
13 nights accommodations in memorable, centrally-located hotels
All breakfasts and half your dinners
All tips for guides and driver
Free stuff including Rick Steves' Great Britain guidebook, moneybelt and earplugs
Guaranteed tour price, locked in the moment you make your deposit
Optional single supplements — this tour has a limited number of private rooms for solo travelers for an additional fee
Tour alum discount of $50 for each tour you've taken prior to 2014
50% discount on a consulting appointment with our in-house experts to assist with your pre- or post-tour travel plans
Flexibility should you need to transfer, or cancel/interrupt your tour
Fine print: You are responsible for the cost of your drinks and free-time sightseeing. See our Tour Conditions Agreement for important details regarding everything listed above
Itinerary
Daily Activity Key
Light = 2-4 miles of mostly level walking throughout the day.
Moderate = 2-6 miles walking throughout the day with some hills and stairs.
Strenuous = 2-8 miles walking throughout the day with lots of hills, stairs and uneven terrain.
Day 1: Welcome to England
The beautiful Georgian city of Bath is a 90-minute train ride from central London. We'll meet around 5 p.m. at our hotel for a "Welcome to England" get-together. Then we'll take a short neighborhood walk and get acquainted over dinner. Sleep in Bath (3 nights). No bus. Walking: light.
Day 2: Roman and Georgian Bath
Our day begins with a walking tour of Bath's charming streets, including its medieval abbey square and the imposing sweep of its Royal Crescent. Next we're off to tour the town's remarkably well-preserved 2,000-year-old Roman Baths where you'll have a chance to drink from these natural mineral springs in the Pump Room. The rest of the day is free to make your own discoveries in this historic town. You might visit the colorful Fashion Museum or — as Roman travelers did — bathe in a mineral spa. No bus. Walking: moderate.
Day 3: Glastonbury and Wells
Today we'll explore and learn about mystical Glastonbury, the legendary resting place of King Arthur, where we'll also enjoy a picnic in the shadow of the abbey ruins. Later we'll tour England's oldest completely Gothic structure — the graceful Wells Cathedral — before returning to Bath in the late afternoon. Bus: 3 hrs. Walking: moderate.
Day 4: Blenheim Palace and the Cotswolds
Our first stop this morning is to tour and wander through Avebury's mysterious, prehistoric stone circle. Farther up the road we'll stop to explore one of the Cotswolds wonderfully-preserved medieval villages. Then it's north to Blenheim Palace, touring this gilded mini-Versailles that was the birthplace of Winston Churchill. We end our day in the cobbled-lane, flower-boxed Cotswolds market town of Stow-on-the-Wold, where we'll sleep (2 nights). Bus: 5 hrs. Walking: moderate.
Day 5: Cotswold Villages
Today we'll take a scenic Cotswolds drive, stopping at the ever-so-English Cotswold village of Stanton. We'll explore the village as well as visit Stanway House, home to the local aristocracy. This afternoon you'll have free time to explore more picturesque villages on your own — or join your guide for a leisurely country walk past cottages and sheep, through fields and kissing gates. Tonight we'll enjoy dinner together at a country pub with the sounds of local folk musicians, where you can try a sip of Scrumpy, the local farmhouse "hard cider." Bus: 2 hrs. Walking: light to strenuous (your choice).
Day 6: Ironbridge Gorge and Into Wales
We'll begin our day visiting the historic bridge and tollhouse at Ironbridge Gorge, where breakthroughs in the smelting and casting of iron gave birth to the Industrial Revolution. After lunch we'll bid cheerio to England and drive into neighboring wonderful North Wales. We'll end our day overlooking the Irish Sea in the castle-topped, harbor town of Conwy, where we'll share dinner together and sleep (2 nights). Bus: 5 hrs. Walking: moderate.
Day 7: Caernarfon Castle and Welsh Slate
Today we'll see and feel the rugged character of North Wales, touring impressive Caernarfon Castle, where we'll learn about the system of English garrison castles Edward I built to enforce English rule over North Wales 700 years ago. After lunch, we'll visit the Welsh National Slate Museum to learn how this local industry shingled the roofs throughout Europe. The rest of your day is free to roam along Conwy's multi-towered city wall, historic houses and laid-back harbor. Bus: 3 hrs. Walking: moderate.
Day 8: Gardens and Lakes
This morning we'll explore the manicured lawns, terraced beds, and extensive botanical collection of Bodnant Garden. Then we'll cross back into England and make our way to the spectacularly serene Lake District, favorite haunt of poets and painters. Sleep at a family-run hotel in Keswick (2 nights). Bus: 5 hrs. Walking: light.
Day 9: The Lake District
Today we'll explore the natural beauty of the Lake District. You can join your guide for a refreshing hike 'twixt lakes and mountains and a leisurely boat cruise on the island-studded Derwentwater — or strike out on a little expedition of your own, thanks to a wealth of hiking opportunities along well-marked trails. No bus. Walking: light to strenuous (your choice).
Day 10: Hadrian's Wall
We'll travel back in time today with a tour of Hadrian's ancient Roman wall, once considered the boundary dividing civilization and barbarity (though the Scots might disagree). We'll then stop for lunch before winding our way through the moors and dales of North Yorkshire — James Herriot country — to the bustling cathedral city of York. Tonight we'll indulge in England's favorite ethnic food with a tasty Indian dinner together. Sleep in York (2 nights). Bus: 5 hrs. Walking: moderate.
Day 11: York Minster and the Medieval City
We'll begin our day marveling at York Minster's stained glass windows on our tour of the largest Gothic church north of the Alps. Then we'll take a walking tour beneath the leaning, half-timbered houses of The Shambles in the city's marvelous medieval center. You'll have the rest of the day free to enjoy more of this enchanting city. It's a great night to enjoy an ethereal evensong choir performance in the Minster. No bus. Walking: moderate.
Day 12: Regal and Lively London
Today we'll board a train and make a beeline past the Midlands for London. Our first stop is Westminster Abbey with a local guide, where England's kings and queens have been crowned and buried since 1066. A thousand years of English history lie within its stained-glass splendor and under its stone slabs. After absorbing so much history, you'll be ready for an entertaining guided bus tour, hearing tales about Big Ben, the River Thames, St. Paul's Cathedral, and more. Later this afternoon, we'll check into our hotel and get oriented to our neighborhood and London's Tube. Tonight is a perfect evening for the theater (book something in advance from the Colonies or pick up a ticket in London). Sleep in central London (2 nights). Train: 2 hrs. Bus: 2 hrs. Walking: moderate.
Day 13: Historic and Lively London
This morning we'll head out for an energetic day of sightseeing, beginning with a scenic cruise on the River Thames, the center of London life since Roman times. We'll disembark at the Tower of London, join a tour with a witty Beefeater, see the majestic crown jewels which include the world's largest cut diamond — the 530-carat First Star of Africa — and ponder the first "skyscraper" of its time. After lunch, we're off to tour the British Museum and the chronicle of Western Civilization — the Elgin marbles, Rosetta Stone, mummies and more. You'll have the rest of the afternoon free before our final group dinner together, where we'll share travel memories and toast new friends. Cheers! No bus. Walking: strenuous.
Day 14: Tour Over After Breakfast
Heathrow and Gatwick airports can be easily reached by Tube, train or bus from our London neighborhood. For those not ready to return home yet, London is a great jumping off point to Paris, Dublin, Amsterdam and many other exciting destinations. Cheerio!
Itinerary specifics subject to change.
Activity Level
Our tours are physically active! It's an essential part of the Rick Steves tour experience. On our Best of England in 14 Days tour — among other things — you'll need to happily...
Carry/roll your luggage over uneven pavement (several blocks possible) and up stairways to reach your hotel; then up several flights of stairs to reach your room.
Be on your feet, walking and standing for up to three hours, indoors and outdoors, in all weather conditions.
Sleep with street noise and no (or weak) air conditioning.
After orientation and transportation lessons, be able to navigate towns and cities on your own.
Be able to climb many flights of stairs in and out of the London Underground system.
Reviews
Kathleen
Madison, WI
Tour: 09/22/13
Overall rating:
We saw a bit of everything that makes England special [INVALID] cathedrals, castles, Roman ruins, gardens, stone circles, estates, sheep, stone walls, rivers, canals, and museums. The sites that were chosen were beautiful, fun, and informative. Our guide Robert was kind, prompt, and very well informed. Our hotels were unique and comfortable. Our meals were excellent for both flavor and atmosphere. We got our monies worth and more!
Favorite "WOW" moment
"Hiking the canal from Bath to Bathampton. We were entranced by the hand operated locks. We have watched the huge barges go through the Mississippi River locks numerous times. Seeing the locks hand operated was fascinating. Each boat was colorful and unusual. We marveled at the tomatoes growing on rooftop gardens. We ate hardily at the pub in Bathampton. We needed to stretch our legs and get away from the crowds at the bath museum so this hike worked perfectly."
Daryl
Lynnwood, WA
Tour: 09/22/13
Overall rating:
Favorite "WOW" moment
"When I was head butted by a steer as we left our walk of a section of Hadrian's Wall and went across the cow pasture to rejoin the bus. Also loved evensong at York Minster and the fully engaged performance by a couple of the youngest choir members."
Barbara
Bremerton, WA
Tour: 09/22/13
Overall rating:
We (my husband & I) had a wonderful tour of England and northern Wales. We used our free time extensively. Robert showed us many historical sites explaining them to us. The Slate Museum in Wales was very interesting! We hiked up Catbells in the Lake District which was exhilarating. The weather was great and the 360 degree view was amazing! York Minster as a beautiful church and York Castle Museum was very interesting.
Favorite "WOW" moment
"My favorite moment on our tour, was the ability to climb Catbells in the Lake District. It was strenuous at times, but well worth it. Weather and the view were fabulous."
Nanette
La Mesa, CA
Tour: 09/22/13
Overall rating:
I truly enjoyed the trip through England. I felt fortunate to see a variety of geographical areas in a semi-structured tour. The pace of the trip seemed perfect. The amount of facts and information was just right. Everyone in the hotels selected were pleasant and helpful as well.
Favorite "WOW" moment
"I would have to say our visit to the Lakes District of England was the biggest Wow moment. The hiking up the mountain, the boat ride, and the fish and chips dinner were all wonderful."
Howard
San Francisco, CA
Tour: 09/22/13
Overall rating:
Couldn't be more pleased with the experience. Tour itinerary provided an enjoyable selection of the sites and experiences in England. The pace was well balanced, and Robert (our Tour Guide) suggested opportunities during the unscheduled periods, and frequently made himself available to join them..
Favorite "WOW" moment
"At York's Churchill Hotel, we were standing on the balcony atop the lobby staircase enroute to joining our tour group in the atrium. The magnificent view of the lobby atrium was an everyday experience of the 19th century British aristocracy."
Claudia
Lynnwood, WA
Tour: 09/22/13
Overall rating:
A fun, stress free trip with a great group of people & a patient, knowledgable guide. We enjoyed the mini tours enroute to our next destination.
Martha
San Francisco, CA
Tour: 09/22/13
Overall rating:
Excellent tour guide (and coach driver!!) Great fellow tour members. Fabulous weather probably lent something to the positive overall experience.
Kevin
Saint Louis Park, MN
Tour: 09/22/13
Overall rating:
This was our first Rick Steves tour. We have traveled internationally many times, but never as part of a tour group. Naturally we were concerned about traveling as part of a group - activity level, freedom to explore, accommodations, fellow travelers, etc. I must say, we were very pleased. Having all of the arrangements made for us was a very stress-free way to travel. There was a good balance of independent time, and the pace was very comfortable. The group size worked very well.
Favorite "WOW" moment
"Attending Evensong at the York Minster."
Richard
Edmonds, WA
Tour: 09/17/13
Overall rating:
We did things and saw things that we would never have known to do or see if we had been doing the trip on our own. Tom Hooper has a vast store of historical knowledge and a very effective delivery style. He is also quite skillful with people. He drew our group together and held it together throughout.
Favorite "WOW" moment
"Being shown "Platform 9 3/4" in the London train station must surely top the list. Seriously I cannot decide between the major cathedrals and abbeys--Bath, Wells, York, London, the British Library and the British Museum."
Starr
Tacoma, WA
Tour: 09/17/13
Overall rating:
From our first group meeting in Bath to our farewell dinner in London, this tour was really delightful! Tom Hooper was the best guide, knowledgeable in every way about England, his home country, and the passion he has for being the best guide possible of his homeland was evident at all times. He MADE the trip go well for everyone!
Favorite "WOW" moment
"There were so many! Know you only want one "wow" but here are just a few. St. Paul's in London - the history of the place, the fact that folks from the USA meet there on Thanksgiving, the huge number of sheep everywhere in rural areas, the boat trip on the Thames, the enjoyment of York with Betty's tea room and the Quilt Museum, Blenheim Palace, Bodnant Gardens on a spectacularly sunny day, Hadrian's Wall and history,and so many other great experiences!"
Karl
Tacoma, WA
Tour: 09/17/13
Overall rating:
I had not been in Britain before this trip. I thoroughly enjoyed the experience. The group was an easy group of people to enjoy. Tom Hooper, our guide, was fantastic. His knowledge of his country and his informative and sometimes funny way of describing the history and special aspects of the places visited was wonderful. He made the trip so enjoyable. The food and hotels were generally very good. British food was very good.
Favorite "WOW" moment
"I really enjoyed York. At the Tower of London and the crown jewels I was in line with a British woman who was convinced they were not real, but I'm sure they were! Hadrian's Wall was very facinating. Learning how Henry VIII so dramatically changed the course of British history was particularly interesting."
Martha
San Diego, CA
Tour: 09/17/13
Overall rating:
This tour was the perfect introduction to Great Britain. It gave us the taste, feel, and scope of British countryside, city, and town while dipping into history, culture, and geography. It gave us an excellent overview. I'm hungry to go back and learn more!
Favorite "WOW" moment
"I am a great fan of ancient "piles of rocks" and was going to add Stonehenge to our tour, on our own, to check it off my bucket list. However, Avebury was such a delightful surprise that I didn't feel the need to rush off to Stonehenge. The fact that I could snuggle right up to the stones and walk the ancient paths was a delight. Also, Tom took us to Roman Vindolanda, another delightful surprise, that fulfilled my need for getting up close and personal with evocative ruins from ancient times."
Lynn
Kenmore, WA
Tour: 09/17/13
Overall rating:
This was our third Rick tour and it was everything I hoped it would be. Our tour guide "Tom" was awesome. He kept us completely entertained. He constantly referred to us as you "colonists!" His knowledge of all related to the UK was amazing. By the end of the trip, my husband and I knew we had to go back home to the states and look in to possible classes in history, religion, art, geology, geography, and law.
Favorite "WOW" moment
"All the wonderful architectural bldgs. in Bath, Chipping Campden, Keswick, Conwy, York and London. The beauty of the clean, green rolling hills of the UK. Mastering the London "Tube"."
Henry
Boyne City, MI
Tour: 09/17/13
Overall rating:
This was our third tour (first Rick Steve's tour) and by far the best. The locations and the sights were extremely interesting, the hotels were excellent as well as the meals that were included. The tour had a very nice pace, kept us going but not exhausting; and left you with enough energy to look forward to the next day.
Favorite "WOW" moment
"Don't really have "one"! I really just enjoy walking and, of course, that started in Bath (which had great sights). Perhaps, the preservation village outside Chipping Campden provided an extra bust to my enthusiasm and that was a nice walk also."
Kim
San Diego, CA
Tour: 09/17/13
Overall rating:
This was my first tour, and as I expected, I don't like tours. We were busy from about 8:00 in the morning to about 8:30 at night with activities. That said, we did see a lot of England and the tour guide was wonderful. He was funny, knowledgeable, and controlled the group well. I could not imagine a better guide. Also, the tour was very well organized with many stops and smaller tours along the way. I would certainty highly recommend a Rick Steve's tour to those who like tours
Favorite "WOW" moment
"York was an unexpected treat. I will remember our guide's impromptu cricket lesson a long time and his commentary he presented about the soldiers lost in the first world war in a small village church was memorable. Without Tom I would have stayed in that church for about three minutes, but Tom made the visit to that modest site, for me, the highlight of the trip."
George
Greenbrae, CA
Tour: 09/17/13
Overall rating:
Several of the sites visited were outstanding and the tour leader was always outstanding. However, because my hearing is compromised and the noise level was quite high at the group dinners, I would consider the meal times only "adequate" or "poor". One enjoyable aspect of the tour was visiting sites that I wouldn't have known to visit on my own, sites which were beautiful or interesting or thought-provoking. A second aspect was the wealth of information supplied by our guide.
Favorite "WOW" moment
"I felt such a moment on our visit to the National Slate Museum at Gilfach Ddu, Wales. It gave a rich picture of the life at that time and place, illustrated by the museum guide who demonstrated how slate was worked by hand and prepared for use throughout the world. We also visited villages whose houses had roofs of slate prepared in that way, and we walked on colorful slate pavements."
Carol
Boyne City, MI
Tour: 09/17/13
Overall rating:
Well designed trip. Good variety of things to see and do. The hiking was good to get us moving after long periods in the bus. The restaurants were wonderful. We had done an OAT trip of Eastern Europe. We have banquet food in large banquet rooms that never gave us a feel for the countries we had visited. Your trip had great restaurants with variety to order. The settings of the restaurants were great as well.
Favorite "WOW" moment
"Loved the play in Keswick - She Stoops to Conquer. Blenheim was over the top. What a structure, as well as the gardens. Bodnant Gardens were terrific."
Roderick
Edmonton, AB
Tour: 09/15/13
Overall rating:
The people on the tour really made this an excellent experience. We enjoyed the companionship of everyone on the tour and there was a real mix of personalities. Lots of laughs. We have been on the Europe in 21 Days tour as well and the highlights and "wow" moments from the Europe tour seemed to be missing on this one.
Favorite "WOW" moment
"The boat ride on Derwent Water in the Lake District and the walk back through the fields and forest to Keswick. The town of Conwy, Wales was beautiful."
Wanda
Gig Harbor, WA
Tour: 09/15/13
Overall rating:
Most enjoyable!
Favorite "WOW" moment
"Seeing and walking on Hadrian's wall"
Nancy
Brighton, MI
Tour: 09/15/13
Overall rating:
"England in 14 Days" was a wonderful trip!! I loved every place that we visited, the hotels were lovely and charming, the food was great, and I'm ready to go back!
Favorite "WOW" moment
"I experienced several "wow" moments. One was the Roman Baths (and Bath in general), another was Glastonbury Abbey ruins (the ruins are so beautiful, I can't begin to imagine how glorious the original abbey was). Loved walking around the town of Conwy. . . and who knew how interesting slate could be!! I loved the whole city of York and was transported by the evensong service at York Minster."
Ruth Ann
Boynton Beach, FL
Tour: 09/15/13
Overall rating:
This was our first tour and I must say I was a little apprehensive about it. Well, from the very first introductory meeting to our last "Goodbye's" it was one of the best experiences of my lifetime. Martin, our tour guide, our Buddies, Ian our bus driver and everyone on the tour, was FANTASTIC! It's really very difficult to choose one but I think what wowed me most was that EVERYTHING, every single thing was thought of. From a train ticket, to a room assignment, to our bus driver having drinki
Favorite "WOW" moment
"My most favorite moment I believe was the unscheduled stop at the Town Square Market. Some chose to accompany our guide on a short tour thru the castle, others chose to walk thru the market stalls, visit with the locals, buy some cheese and crusty bread for lunch. It was GRAND!"
Dorothy
Chapel Hill, NC
Tour: 09/15/13
Overall rating:
This trip far exceeded my expectations. I must admit, I had wanted to do-it-ourselves but felt driving would have gotten frustrating. We are both so glad we didn't. We learned so much, saw so much that only a guide could have given us. Martin De Lewandowicz made everything so interesting and fun. The other travelers were delightful and compatible. Thank you.
Favorite "WOW" moment
"Vindolanda was our favorite stop followed by the British Library and Yorkminster. (Hard to choose.)"
Pete
Austin, TX
Tour: 09/10/13
Overall rating:
Mary and I took a Rick Steves tour 10 years ago (Village Europe), so we knew what to expect, and our expectations were very high. This tour met or exceeded those expectations in all respects. We contemplated a 2-week visit to England on our own. I'm glad we didn't[INVALID]we would have missed so much. And the trip was made even better by an incredibly knowledgeable guide, a great driver, and a superb group of traveling companions.
Favorite "WOW" moment
"Views from Glastonbury Tor, and the tops of the Catbells. Other compelling moments included: visits to Glastonbury Abbey and the archaeological site at Vindolanda, encountering a monument commemorating the mass suicide of the Jewish population of York in 1190, and contemplating the incredible tragedy WWI at memorials throughout the country. But maybe my favorite was the evening of traditional music by a group of talented and enthusiastic amateurs at the Bakers Arms!"
Michael
Fairport, NY
Tour: 09/10/13
Overall rating:
Our first Rick Steves Tour and it was excellent. All the places visited were well chosen. It was hard to pick a favorite as we enjoyed them all! We especially enjoyed our visit to Wales and the Lake District, but York was fun also. I think one thing made the tour especially enjoyable. Our guide was just fantastic. I couldn't believe how knowledgeable he was about the history, culture, & art of Britain, and was also very informative on current politics & issues in England.
Favorite "WOW" moment
"I would say my favorite moment was the tour of the Tower of London. The history just over-whelmed me and "our" Beefeater was just so entertaining the whole tour of the Tower!"
Sherry
Kelowna, BC
Tour: 09/10/13
Overall rating:
Much I joyed the tour overall. Breakfast in Bath could have been better, as it was not a full english. A little heavy on ancient history. Would have enjoyed more interaction with the local people.
Favorite "WOW" moment
"The Coltswold touring."
Gary
Seattle, WA
Tour: 09/10/13
Overall rating:
This was our first Rick Steves' tour. We had originally considered taking a two week driving tour in England, but friends, who have taken seven Rick Steves' tours, suggested we look at the Britain in 14 Days tour. The itinerary seemed perfect for us. Although we were part of an organized tour it felt as if we were simply traveling with friends who wanted a more involved experience. Our tour leader, went out of his way to create an active and informative journey.
Favorite "WOW" moment
"Wells Cathedral was definitely a 'wow' moment. It's setting is breathtaking. We also found our first glimpse of Conway surprisingly beautiful."
Randy
Seattle, WA
Tour: 09/10/13
Overall rating:
The tour was very enjoyable, with great guide & coach driver, friendly fellow tour members and wonderful introduction to the history & culture of the areas we visited.
Favorite "WOW" moment
"The great people we met and encountered throughout the tour."
Thomas
Highlands Ranch, CO
Tour: 09/10/13
Overall rating:
Being a history buff, the Best of England in 14 Days tour was very close to the perfect way for me to see England. The sites we visited were right in line with what I wanted to see and our guide was very knowledgeable and fun. Having been to London for a week in an earlier trip, I didn't need to put in extended time there, but for most people I would recommend adding days on the front or rear end of this tour to adequately explore London.
Favorite "WOW" moment
"I constantly marveled at the beautiful countryside of England/Wales. As our guide pointed out, there is very little land that has not been worked by human hands in the thousands of years the island has been occupied, but the sense of timelessness and fabulous use of stone walls and hedgerows was amazing. Standing on Hadrian's Wall and Glastonberry Tor and viewing the fabulous York Minster and architecture of Bath were real highlights for me. It was also fun to tour the Earl's house and meet him"
Lynn
Carmel, IN
Tour: 09/10/13
Overall rating:
This was our first time to Europe and the experience has certainly kindled a desire to return soon on another Rick Steves' tour. I found the tour to be relaxing, enjoyable, and educational. Having the details of the trip in place prior to leaving and checked daily by our guide took the stress from us and allowed us to focus upon learning about the past and interacting with the other tour members. England's countryside is beautiful and rich with history!
Favorite "WOW" moment
"Standing on the city wall in Conwy looking back at the Conwy Castle and water beyond was breathtaking. On a separate note, I would like to say that Hadrian's wall and Vindolanda were also "wow" moments worthy of being kept on this particular tour."
Jimmy
Everett, WA
Tour: 09/10/13
Overall rating:
All aspects of the trip get a 5 out of 5! Our guide was very knowledgeable,pleasant, and responsive. Our coach and driver, James made for much more enjoyable drives than we anticipated. Our lodging was comfortable and staff were attentive everywhere we stayed. Food was excellent, both our group meals and the restaurants suggested by our guide and Rick's book. As a history buff, I can't imagine a better fit for our guide. We are enthusiastic about doing another Rick Steves trip!
Favorite "WOW" moment
"We found Bath spectacular! Quite different from anywhere we have visited before. The Roman Fort being excavated near Hadrian's Wall was also superb! I would rate most of the tour a WOW!"
Steven
New Berlin, WI
Tour: 09/10/13
Overall rating:
Being that this was our first experience traveling to Europe, we wanted to take a structured tour. In reading reviews on Rick's tours and watching him on TV, we expected a good experience. What we received was a great experience and the opportunity to travel with great people. Our guide, was not only a wealth of information, but also did his best to take good care of us. The question he'd always ask first after getting everyone on the coach; "Is everybody happy?" The answer was always YES!
Favorite "WOW" moment
"There were so many it's hard to just pick one. I would say the Vindolanda Roman ruins were the biggest wow moment for me. The thought that we can walk amongst these is awesome. Also, the scale of these was incredible with still more in the process of being uncovered."
Russ
Westbank, BC
Tour: 09/08/13
Overall rating:
Tour was great...our guide was excellent...very knowledgeable so we learned a lot...and personable...our assistant guide always smiling and helpful.....a great combination.
Favorite "WOW" moment
"Probably Wells Cathedral....great guide, very knowledgeable....very impressive.....and loved York...and York Minster...and Shambles as well And of course Westminster Abbey....."
Linda
Grand Junction, CO
Tour: 09/08/13
Overall rating:
England in 14 Days was even better than I'd expected....loved the English countryside, loved London. Great tour!
Favorite "WOW" moment
"So many...hearing Big Ben chime and Evensong at York Minster come to mind."
Carol
Westbank, BC
Tour: 09/08/13
Overall rating:
Excellent trip. The charming rural sites and slower paced culture was a delight. Saw places we would never have gotten to travelling on our own. Weather cooperated and only spoiled 1 day. Nice balance of guided tours and free time. London time was short, but gave a good overview. We spent extra time in London before the tour but saw more/different sites on the bus tour thru London. Overall a great trip.
Favorite "WOW" moment
"There were many sites that are memorable, but I actually said 'wow' when we walked around the wall and saw Wells Cathedral. It was totally unexpected and quite stunning. The view from Westminster Bridge of Parliament and Big Ben really struck home that I was in London. Stanway House, after Blenheim, was a hoot. It is actually 'lived in' and not just a museum piece. Cotswald area was gorgeous. Entire tour was a 'wow'."
Patricia
Novato, CA
Tour: 09/08/13
Overall rating:
This is for Steve Parrott and I since we feel the same way about this tour and our guide. This tour was all that we hoped it would be and much, much more! Great sights, great tour members and great guide!
Favorite "WOW" moment
"For me Patty my favorite "WOW" moment was walking on Hadrian's Wall! It was for me literally a spiritual moment of walking back in time where I could feel the energy of the past! For Stevehis "WOW" moment was being in the city of Bath with all of its history and beauty."
Janice
Clements, CA
Tour: 09/08/13
Overall rating:
This is my 5th RS tour and one of the best. Our guide made this a most memorable experience. He made this a fantastic tour and I "hung on everyword". This was a perfect balance of English history and todays England
Favorite "WOW" moment
"Visiting the English countryside."
Donald
Grand Junction, CO
Tour: 09/08/13
Overall rating:
Our tour was fantastic! Our tour guide was excellent and the sites selected were extraordinarily interesting. The Tower of London was especially captivating and I never would have gone there on my own. While it rained a good part of the trip, we had a great time. One of my favorite sites was the Pencil Museum in Keswick. I finally discovered how they get the lead in the pencils. How interesting. London was a blast and Robert's introduction to the Tube helped us navigate London and also Paris.
Favorite "WOW" moment
"The Pencil Museum in Keswick."
James
Tumwater, WA
Tour: 09/08/13
Overall rating:
Our first Rick Steves tour was the 21 day Best of Europe and we could not escape making comparisons. Two big differences: the pace of travel was more relaxed (due to the smaller differences to be covered) and we were traveling through the English-speaking country from which America came. This made the trip like a visit to the ancestral home. The references to literature and history seemed more relevant to the American experience.
Favorite "WOW" moment
""Wow" connotes the earth moving. There were many smaller moments. The view from the top of a bluff in the Lake District that was stunning despite the rain. The beauty and imprecision of the majestic Yorkminster Cathedral which stands despite the plainly visible, but understandable flaws in medieval construction. The taste of a warm scone drenched with clotted cream and raspberry jam. The helpfulness of the English people. The tasty permutations of locally crafted long-pull ales...."
Darrell
Clements, CA
Tour: 09/08/13
Overall rating:
This was our 5th RS trip and the first of a back to back including Best of Turkey. We have traveled in England before but had a completely different experience under the ledership of Robert. Robert's is a fantastic speaker/teacher and made our bus rides as interesting and informative as the sights we visited. in my opinion, he delivered the perfect balance of English history and todays England.
Favorite "WOW" moment
"Wow moments came one after another. Glastonbury Abby, Cotswold Village,Blehaim Palace, York and all the Royal sights of London"
Ceci
South Burlington, VT
Tour: 09/01/13
Overall rating:
It was fantastic! England is the only place outside the US I have ever wanted to visit in my whole life.....this tour provided me with what really was the "trip of a lifetime!"
Favorite "WOW" moment
"It is impossible to pick just one[INVALID]-I was entranced from the time I got to Bath until I reached London at the end. Probably the Bodnant Gardens were the biggest surprise and, if it had been summer and in full bloom, that would have been the favorite "wow" moment."
Mary
Issaquah, WA
Tour: 09/01/13
Overall rating:
This is our 4th Rick Steves Tour. Every tour was outstanding. THIS tour didn't have one single moment that was less than outstanding! #10 every day. Our guide is a stand-out! He's totally knowledgeable but gets information & points across in ways that make people remember what he told us without feeling overwhelmed, overloaded or lectured. He's a stand-up comic, so energetic that we could listen & never be tired.The tour is well planned, well paced; enough free time to explore & info to do so.
Favorite "WOW" moment
"Mine were the immense size & complexity of both Glastonbury Abbey, and Hadrian's Wall & it's Roman barracks & towns. Ron's was when a huge Tower of London raven flew down to sit right with him for 30 minutes, on a bench."
Ronald
Apex, NC
Tour: 09/01/13
Overall rating:
We had an excellent time on this tour. There was a very good balance between traveling on the bus and the stops at the different towns and sites. The food and accomodations were very good and we were able to learn, and appreciate, something about of the history and events that make up the character of England today, as well as see a bit of the countryside. Nice balance.
Favorite "WOW" moment
"Our visit to the Roman fort Vindolanda. For me it was almost a mystical experience, talking to the archeoligists working on the digs, walking among the ruins, and seeing the artifacts recovered, realizing that the site was almost 2000 years old and how far the Roman empire did extend. Very impressive people, the Romans."
Robert
Frederick, MD
Tour: 09/01/13
Overall rating:
Our guide brought England to life. He has a very extensive knowlege of English History and he filled in many gaps as well as reinforced my knowledge base.
Favorite "WOW" moment
"The most enjoyable time on the trip was spent in the Lake District. It came at the right time in the trip, when we needed a break from "History" and could relax. I wish we could have spent one more night there (actually a week would be perfect!)"
Ellen
Los Angeles, CA
Tour: 09/01/13
Overall rating:
I've been on several Rick Steves tours. I thought the previous tours could not be topped, but this one surpassed my expectations in every way. The itinerary was perfect, exactly what one can expect from a Rick Steves tour, and it was perfectly [INVALID]d by the guide. From the first evening, the group atmosphere was like old friends getting reacquainted. While many travel experiences turn sour after a while, the Rick Steves tours only get better and better over time.
Favorite "WOW" moment
"I was WOW'd by many things on this tour, but my biggest WOW was the guide: his brilliant in-the-moment wit and humour was a great delight every day. My big external WOW was the astonishing sunrise and day in Keswick climbing Catbells on my own. The incredible drama of the clouds, mist, and constantly changing pastels during sunrise, then the myriad shades of green with the Derwent Water a jewel below - electrifying. It's the most beautiful place I've ever seen."
Marilyn
Everett, WA
Tour: 09/01/13
Overall rating:
Our tour guide was an expert! He was positive; fun, gifted in framework and details - the right amount of info and sharing of his ample understanding of England/Wales. Great variety in experiences. Among my favorites: Glastonbury and the sunny picnic; Keswick boat ride; York, bells, Evensong. Bodnant Garden peace; Cotswolds fresh air; Stokesay & Caernarfon Castles, slate country - impressive, all. Especially liked the Indian dinner. Singing God Bless America on 9/11 was memorable. Thank you!
Favorite "WOW" moment
"I kept thinking "these little villages" really DO exist. Beautiful stone, gates, the lanes, thatched roofs really DO exist. York bells are heavenly. I forgot how far the Roman Empire stretched. Amazing Hadrian's Wall. My wow realizations were often about how people lived in Roman times and during the medieval ages. Castle, church, and museum guides love and know their buildings. Biggest surprise, Tower of London, in a good way. "Tea" in England is better. Bus driver Ian, wow, great driver."
Michael
Snohomish, WA
Tour: 09/01/13
Overall rating:
This tour was our second with Rick Steves' and we again were totally satisfied with the experience. My wife had some physical limitations and our guide went out of his way to accomodate her as much as possible. He was an exceptional guide, very knowledgeable and funny. He was very empathetic to our entitre group's needs and did an outstanding job in making everyone's experience fun and enjoyable. The tour accomodations were all great and the overall experience was wonderful. Thanks!
Favorite "WOW" moment
"The group outdoor activities were very fun and enjoyable. The picnic at Glastonbury was a stand out for the good food and location on the grounds."
Nancy
Bainbridge Island, WA
Tour: 08/25/13
Overall rating:
There is so much history in this area and even when you have read about it for years, nothing prepares you for actually being there. It was a combination of being quietly awed by what I was seeing and hearing from our guide or the local guides and then joining in the laughter as their sense of humor about their country and their history came out. I came away with more appreciation and understanding of the English people and of their place in ancient history and in current events.
Favorite "WOW" moment
"Favorite wow's...Vindolanda: amazing and almost hard to imagine even when you are right there and watching the dig. Westminster: all of those people who contributed so much to our history over the years. And then there is the building itself....wow. Conwy: beautiful country and wonderful people. I'm always drawn to the water so that helped too!"
Judith
Raleigh, NC
Tour: 08/25/13
Overall rating:
My first Rick Steve's Tour. Best tour I've ever taken. Most pleasant. Most informative. Most fun. Best tour guide ever. She is a star. I would follow her anywhere.
Favorite "WOW" moment
"This is difficult to answer. Everything was beautiful and/or interesting. Loved Wales. Caernarfon Castle is awesome and who knew one of my "WOW" moments would be the Slate Museum near Conwy, Wales. I would go back in a heartbeat. Mostly, my "WOW" moments were the locals we met and spent time with."
Richard
Oakton, VA
Tour: 08/25/13
Overall rating:
Terrific tour. I had a fantastic time.
Favorite "WOW" moment
"The Roman shoe collection at Vindolanda."
Pamela
Oakton, VA
Tour: 08/25/13
Overall rating:
Brilliant! Lovely! It was thoroughly enjoyable. We did a lot in two weeks, and it was great to see places you've only read about. The English people seem to like Americans and enjoy talking with visitors. We saw one beautiful village after another and lots of farmland.
Favorite "WOW" moment
"Traffic stopped up near Hadrian's wall while a sheep dog herded a flock up the road. Beautiful stone cottages with thatched roofs. Sheep and sheep and more sheep on the hillsides. The vicar's close in Wells. Getting off the bus in Lacock and finding myself in Hogsmeade! Louise turning that bus around in Chipping Campden and Conwy. Meeting the Earl of Weems. The array of Roman shoes and other artifacts at Vindolanda. Climbing all the worn stone steps that have been used for centuries."
Betty
Victoria, BC
Tour: 08/25/13
Overall rating:
WONDERFUL tour guide - Easy to talk to; fun; informative; knowledgeable; and a good singer ...
Favorite "WOW" moment
"WOW!! -- the "crown jewels" -- -- Harrods -- a fantastic store ... was lucky enough to hear an opera singer singing ...wow!! -- The Welsh Slate Mine ... wonderful -- !! Enjoyed the countryside and small villages -- beautiful flowers ... and sheep ..."
Alan
San Marcos, CA
Tour: 08/25/13
Overall rating:
Every aspect of the trip was great. Directions getting from Heathrow to Bath were perfect. The 5:00 meeting was very relaxing, funny and informative. Our guide was the best. The people on our tour were very courteous and professional. Did you hand-pick them? The bus was new and the bus driver excellent. Timing of everything (tour length, # of hours in the bus, meal times, activities) was right-on. There was enough free time and we were never rushed yet never bored.
Favorite "WOW" moment
"This was only our 2nd tour ever, first Rick Steves tour. We still are amazed how well everyone got along with each other and how many people exchanged phone numbers when the trip ended. 6 of us took a 9 mile hike above Keswick That was a great day. Glad it didn't rain. We met a British WWII vet and he was still so appreciative of Americans."
Mary
Grand Rapids, MI
Tour: 08/25/13
Overall rating:
Gillian made the trip a huge success! I loved it!
Favorite "WOW" moment
"Yorkminster"
Geoff
Bainbridge Island, WA
Tour: 08/25/13
Overall rating:
The tour was well planned and ran smoothly. But the best part of the tour was our guide and travel mate. I know she has done this tour many, many times, but she kept it fresh and seemed to really enjoy showing us the country.
Favorite "WOW" moment
"No real "wow" moment , but very enjoyable tour."
Thomas
Wake Forest, NC
Tour: 08/04/13
Overall rating:
I enjoyed all parts of this tour. Every part of the tour from the minute we got off the bus in Bath until the tour was over was just great. Mark led us well preparing us for each new stop and amazing us with his overall knowledge. The tour portion of Bath was very good and there was an abundance of things to do with free time there. The Cotswolds may be my favorite part just for the lovely towns and beauty. Just about everywhere we went I would have liked to spend more time.
Favorite "WOW" moment
"There were so many great moments on the tour this is difficult. First seeing York Minster as I turned the corner or driving through the hills of N. Wales. To pick one I would have to say Glastonbury or the combination of Glastonbury and Wells. It was a perfect day, and these places just touched me. The ruins of Glastonbury and the magnificent cathedral and buildings at Wells were incredible."
Wayne
Carmel, IN
Tour: 08/04/13
Overall rating:
I have taken many group tours over the years but this was my first Rick Steves experience. It was also the first time that I did not feel like part of a "herd." The group size was perfect, allowing us to move together easily and never feel crowded. The accommodations and itinerary gave a true feel for both the country and its people. I can't wait to book my next Rick Steves' vacation.
Jenice
San Antonio, TX
Tour: 08/04/13
Overall rating:
Really enjoyed the entire tour which was enjoyable and educational and handled very professionally. Extremely pleased with tour guide.
Favorite "WOW" moment
"Favorite experience was the folk singing group following dinner at the Cotswold Villages. Also very much enjoyed and appreciated the talk and tour at the Welsh Slate Museum. Visits to various Castles and Churches all educational and enjoyable with each having their own unique points of interest."
Gary
Porter Ranch, CA
Tour: 08/04/13
Overall rating:
This was our third Rick Steves tour and I think that our guide was the best tour leader we have been able to enjoy. His enthusiasm and knowledge were highlights for us. Also we felt this group of tour members bonded particularly well, lots of interesting and outgoing people.
Favorite "WOW" moment
"I wouldn't pick one but some might be: Glastonbury, Wells Cathedral, Keswick area, our room in York (long story), etc."
Michelle
Oil Springs, ON
Tour: 08/04/13
Overall rating:
This tour was incredible! I went on this tour by myself, and I wasn't sure if I'd make any friends or if the tour members would like me, and it turned out I worried for no worries. My fellow tour members were wonderful, great people who I am very glad to of met. My tour guide was fantastic as was my bus driver. The memories of the places we visited and the things we did during our travels will stay with me for the rest of my life. I am so glad I went with Rick Steves.
Favorite "WOW" moment
"The whole tour for me was really one big "wow" moment. I think for me, personally, hiking up Deganwy and seeing the view from the top had to of been one of my favourite "wow" moments, though. The walk was a little bit tedious at times, but it was fun, and when we got to the top I could not get over the view. The pictures I took just do not do it justice."
Robert
San Antonio, TX
Tour: 08/04/13
Overall rating:
The tour was an intense and rigorous exercise, physically and intellectually. By the time we returned, my wife and I were worn out but in a good way - like finishing a marathon. We definitely were able to escape from the mundane and immerse ourselves in the culture of England and Wales!
Favorite "WOW" moment
"Fish and chips and local pub music near Keswick."
Carol
Hinckley, IL
Tour: 08/04/13
Overall rating:
we loved being more in the rural areas of England. We felt we saw a lot of that life and England.
Favorite "WOW" moment
"I loved the walk through the Cotswolds we saw a cricket team playing, talked to a man that was working in his community garden that he started in 1950, saw sheep, geese, horses playing in the water with there riders, it was like being in a movie set. My husband loved the sunset visit to Castlerigg stone circle. Our guide had a toast to the tour, and a special toast to several in the group."
David
Richland, WA
Tour: 08/04/13
Overall rating:
The tour throughout England was led by an outstanding Brit. He enlightened the tour members about the history, the intrigue, the passions, the wars, the current situations of each site or ruins that we visited. Having our guide there to inform and encourage us was the best thing about this tour. His humor, his compassion, his interest in the tour members quickly brought cohesion to this group of participants from all over the USA. Our goodbye dinner topped it off with mixed emotions.
Favorite "WOW" moment
"The excavations at Hadrian's wall was amazing."
Sally
Richland, WA
Tour: 08/04/13
Overall rating:
Our overall tour was exceptional. We saw and heard more about England than I expected. Our guide was very knowledgeable regarding all the sites we visited and more. He told us about the countryside, the towns' histories, and the people who live there. All of this information helped get a clear picture of the English people, which is what I like to know. Our tour included towns all across England and Wales, so we were seeing a whole picture of England--not just London.
Favorite "WOW" moment
"Seeing Hadrian's Wall, getting the history of why it was built and when, plus seeing an on-going archeological site, Vindolanda, was a highlight of this trip for me. The Romans were great builders and we learned a lot about how they lived in the early A.D. All this history put things into prospective regarding when England was invaded and how it came about. I was very interested in the artifacts found near or around Hadrian's Wall (especially the different types of shoes!)."
Andrea
Porter Ranch, CA
Tour: 08/04/13
Overall rating:
everything about the tour was terrific. First, our guide was enthusiastic, well informed, warm and friendly, and organized! He did a fantastic job. The destinations were well balanced between big city and country, which is important to us. There was a great balance between tour time and free time. The accommodations were good except the bed in our room at Stow on the Wold. I think it was as old as the building. All the breakfast were lovely, with lots of choices.
Favorite "WOW" moment
"There were so many I am unable to choose"
Michael
Ponca City, OK
Tour: 08/04/13
Overall rating:
This is our first Rick Steves' tour. We have taken one previous tour of Eastern Europe with another operator. The experience was everything as promised and then some. We appreciated the turn-key approach to the tour price rather than being pressured to pay for extra events and tips for all concerned. We had a wonderful guide. He was very knowledgeable and made the charm and history of each place we visited come alive. We would go with him again without question.
Favorite "WOW" moment
"Too many 'wow' moments! However one experience my wife and I had was in Wales. We stopped to get a pint at a small pub on the Irish sea and rest a moment. We were sitting outside talking when an elderly woman asked to join us saying she had never met an American and wanted to get to know us. Before long another local couple, overhearing our conversation, asked to join us as well. It was a special moment."
Bettie
Ponca City, OK
Tour: 08/04/13
Overall rating:
Our 14-day Tour of England was excellent! The entire trip was exceedingly well-planned. We felt we truly experienced England and Wales with the choice of sights we visited. The food was consistently good. Our hotels were as promised: centrally located for easy sightseeing and always pleasant with a head duck here and a creak there but we enjoyed each and every hotel. The members of our group were good traveling companions and contributed to the success of our trip greatly.
Favorite "WOW" moment
"This is tough because every place we visited was a component of a totally wow experience. If I picked the "wow" of all wows, it would be York Minster - but then Vindolanda at Hadrian's Wall - or maybe Blenheim Palace but I can't forget Stokesay and Caernarfon Castles. Last but not least: the warmth and friendliness of English and Welsh people who just wanted to sit and talk with us everywhere we went. The people were amazing!"
Shelley
Salt Lake City, UT
Tour: 07/14/13
Overall rating:
The tour was wonderful - so many places we visited that we would never have found on our own. I wanted to go on a tour so we wouldn't have to worry about accommodations and driving. It was nice getting to know the other tour members who were from across the country and our group got along really well. There were some places, like Caernerfon Castle, that would have been nice to stay a little longer, but I do understand that in order to visit as many places as we did, we needed a tight schedule
Favorite "WOW" moment
"I think Conwy Wales was absolutely gorgeous. We stayed in a wonderful hotel and had the best room, with a bay window, overlooking the city. I also liked Lalock, which was a surprise visit. The cathedrals, abbeys and minsters were amazing, even though I'm not a religious person, I appreciated the human ingenuity in the buildings and art."
Earla
Wilmington, NC
Tour: 07/14/13
Overall rating:
The tour was exactly as it was represented in the advance materials that we read. We visited the places on the dates as described, the predicted levels of difficulty for walking were accurate, etc. The expertise of the guide exceeded expectation. I looked forward to this trip with great anticipation and nothing about it was disappointing except our resources to linger longer at the sites visited.
Favorite "WOW" moment
"Our guide had apparently planned that during our walk through York we would round the corner suddenly so we would have a first, close-up, surprise full view of the Yorkminster in all its glory and immensity. I had hoped for many years to visit this cathedral, and that moment of sudden encounter of the whole thing right in the face was the high moment of the tour for me. The evening we hiked to the Castlerigg stone circle outside Keswick was also an exciting, emotional experience."
Michael
Wilmington, NC
Tour: 07/14/13
Overall rating:
The tour was exactly as advertised, and better. Our tour guide was competent and friendly. Hotels and restaurants on our schedule were excellent. Tour stops were carefully selected and always enjoyable. I left each area wishing for more time there, but the 14 day limitation kept us moving to the next visit.
Favorite "WOW" moment
"Of all the "wow" moments on the tour, I would [INVALID] the evening visit to Castlerigg Stone Circle just outside of Keswick. I had already followed our guides up the Catbell Peak during the day. In the evening my wife and I joined our guides and other members of our tour group for the two-mile walk up to the ancient stone circle, where we shared a glass of white wine among the stones just as the sun was setting. It was a trip highpoint."
Lee
Richland, WA
Tour: 07/14/13
Overall rating:
We meant it to be the trip of a lifetime, and it was; it was consistently interesting and often surprising. We were never bored; we never felt that we'd spent too much time in one place, and frequently wanted to spend more. Our destinations and activities seemed carefully chosen and well-organized, and ideal not just for us but for the group as a whole.
Favorite "WOW" moment
"Probably our initial glimpse of York Minster, but there were many other memorable sights: the rolling hills, green fields, and hedgerows of the Cotswolds; the ruins of the abbey at Avebury; the view from the stone circle at Castlerigg (outside Keswick); and the life and vibrancy of London at King's Cross Station and Leicester Square and just about everywhere else."
Karen
Deerfield, IL
Tour: 07/14/13
Overall rating:
The best part of our tour of England were the excellent guides. From our main guide, Mark, to each of the abbey guides to the man at the flour mill, all were friendly & extremely interesting. The tour of England was very well organized and planned so that there was a good balance of touring and free time. Our driver, Ian, is a charming Englishman and superb driver. Dinners were quite varied and delicious. Breakfasts were huge "Full English." The other tour members had the same interests we do
Favorite "WOW" moment
"My favorite spot in England is the Cotswolds, particularly Stanway House. It was fascinating to see an occupied 16th Century country house with all of its gardens and lands intact. The Earl of Weymss was charming and appreciated us being in the house and on the grounds (even the cricket pitch and the viewing stand with the thatched roof)."
Cheryl
Providence, RI
Tour: 07/14/13
Overall rating:
The tour was well-organized, extremely informative and a lot of fun.
Favorite "WOW" moment
"When the Earl of Wymees (sp?) ran into the room barefoot and threw open the window because he thought we might not have enough air or perhaps the British Library all those original manuscripts. WOW!"
Patrick
Deerfield, IL
Tour: 07/14/13
Overall rating:
Fabulous experience; even better than we had hoped for as far as historical information; convenience of entering sites; and encouragement from the guides!
Favorite "WOW" moment
"Walking under the archway and suddenly seeing Wells Cathedral appear!"
Neil
Providence, RI
Tour: 07/14/13
Overall rating:
Great sampling of a variety of the wonders of England's history and countryside. Great group of people with whom to experience those wonders, and superb enthusiastic leadership from both our guides. Our guide's passion for history added lots of depth to the experience. Having read a lot in preparation for the tour, seeing the many layers of English history first-hand was fascinating.
Favorite "WOW" moment
"One? Here are a few: Looking down over Derwent Water from the summit of Catbells in the Lake District, along with the sheep who hang out there; Having the Earl of Wemyss dash through the room opening windows while we were touring his residence at Stanway House; seeing lyrics scribbled by John Lennon on the back of his son's birthday card alongside a heavily (almost violently) hand-corrected manuscript of Beethoven at the British Library."
Bruce
Janesville, CA
Tour: 07/07/13
Overall rating:
The guide was excellent, bus and driver(Louise)were as well. Choice of sites wonderful although they began to run together after a while. It might be good to see fewer sites, and spend 3 nights at each one. Thoroughly enjoyed the entire trip. Thankyou.
Favorite "WOW" moment
"Pretty much the Lake District. And the food! I had heard horror storys about English food and found the exact opposite! Every meal I had was excellent and well served. I also found the English and Welsh people engaging, friendly and very hospitable. Architecture also wonderful to see."
Patricia
Clayton, OH
Tour: 07/07/13
Overall rating:
The tour was well organized and excellently led by our guide. He is an amazing fount of knowledge in so many areas. We always had the information we needed and plenty of background to make sense of what we were seeing. I was happy that we got to visit a number of small villages or towns and not just the tourist sites. Our bus driver Louise is a definite keeper. She can work miracles with that huge bus, and always stays calm and confident.
Favorite "WOW" moment
"The English countryside. I loved the fields separated by hedgerows, the Cotswolds and the Lake District. In Conwy we went to sleep and awoke to seagulls, and in Keswick we went to bed and awoke to the sounds of sheep. Fun!"
Vik
Cedar City, UT
Tour: 07/07/13
Overall rating:
It was everything and more than I expected. The itinerary was well organized and planned. Every stop contributed to my understanding of the history and culture of England. It was like putting the pieces of puzzle together--Romans, Vikings, castle and cathedral builders, Georgian era, etc. It was an great educational experience--and a lot of fun!
Favorite "WOW" moment
"Visiting the castle towns, Conwy and Caernarfon, was like stepping into another era. Touring the castles, staying within the walled city by the bay, walking the streets and castle walls, watching the boys fishing--all contributed to a pleasant experience. Vindolandia was an unexpected delight. The size and extent of the Roman civilization in the hinterlands was amazing."
Kathleen
Tucson, AZ
Tour: 07/07/13
Overall rating:
Great guide. Armed lots of historical details plus a good sense of humor!
Favorite "WOW" moment
"Adrian's Wall. With the guide's information I was able to visualize the scene. Then we stopped at the visitors center. The guide introduced us to the site. It was fantastic!"
Albert
Durham, NC
Tour: 06/02/13
Overall rating:
I am Carolyn Gard. I am using my husband , Albert's, evaluation form as I inadvertantly erased mine. Our England tour was wonderful. Our guide's knowledge and sense of humor made our trip really special. One thing that would have mede the tour even better would have been audio boxes. I have had them on tours before and found them quite helpful.
Favorite "WOW" moment
"Roy took us to a small village in the Cotswolds that was near Stow-On-Wold. I can't remember the name of it but it was so" perfect." There were no businesses or children. The thatched roof houses were lovely. It really felt like we had stepped into another world. While this was certainly not realistic of all the Cotswolds it was such a special experience and made quite an impression on me."
Karen
Centennial, CO
Tour: 05/26/13
Overall rating:
We took our 2 teenagers on the trip. They were the only teenagers on the tour but they had a great time meeting all the other tour members. After a few days, they were comfortable talking to and hanging out with all the tour members. Both our guides were just great with them. It was a great experience for the whole family.
Favorite "WOW" moment
"For us, our "wow" moment was drinking beer at the LiverPool Arms Pub in Conwy Wales. My husband and I were sitting outside as the sun set over the Irish Sea. The best "pint" we have ever had."
Weather

England / London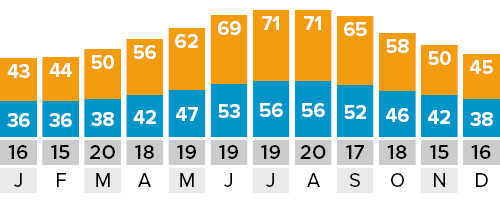 ---
England / York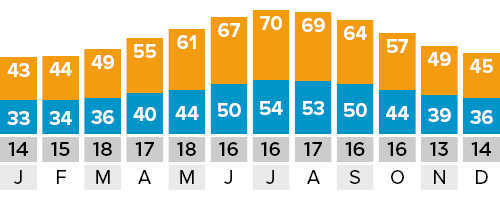 Pre-Tour
We've put together some specific information on what you should know about this tour before you go. You'll also find more general information about "Getting Ready for Your Tour" on our Tour FAQ.
Sightseeing On Your Own
If you arrive in Bath before your tour begins, use Rick Steves' Great Britain guidebook to get oriented. Ride the public transportation and get over your jet lag with lots of fresh air and exercise.
Here are a few suggestions for sightseeing in Bath that we will not do as a group: Bath Abbey, Georgian House at No. 1 Royal Crescent, Fashion Museum, Assembly Rooms, Museum of Bath at Work, City Bus Tours, day trip to Stonehenge or Salisbury.
Many tour members like to attend a play or a concert while in London (see Rick Steves' Great Britain guidebook for details on how to buy tickets). Your guidebook also has plenty of ideas for any extra time you may have before or after your tour and your guide will be happy to help you with post-tour plans.
Transportation
Most tour members arrive a day or two before the tour begins — and those who don't, wish they had. This allows you ample time to get over jet lag and make the most of the first few days of the tour.
London is a major transportation hub, making additional travel before or after your tour quite easy. This tour begins in Bath. It is easiest to fly in and out of London and train or bus to Bath. Direct trains to Bath are available from London; trains from Gatwick airport require a change in Reading; and train service is not available from Heathrow airport. Alternatively you can travel from both Heathrow and Gatwick airports on a direct National Express coach (bus); schedules can be found at the National Express website, www.nationalexpress.com.
For information about flying within Europe, ask your travel agent or check Rick's list of European budget airlines.
Read Rick's train travel and rail pass tips and decide if your travel plans merit a rail pass.
Prior to your tour departure, you will receive detailed directions on how to get from the airport to your first tour hotel, as well as contact information for your first and last hotels in case you wish to book pre- or post-tour hotel accommodations.
If you need more information about additional European travel or for specific questions about your tour, contact the Tour Department at 425/608-4217 or email tour@ricksteves.com.
Trip Resources
Learn more about England: Check out a collection of Rick's TV shows, radio interviews and articles, plus find a list of recommended books and movies.
Packing