Pantheon in Rome

Colosseum in Rome

Cooking Class in Tuscany

Michelangelo's David in Florence

Venice

Tegelberg Luge in Austria

Swiss Alps

Eiffel Tower in Paris

J'adore Paris
Tour Questions? Call 425-608-4217
Family Best of Europe in 14 Days Tour
Rick Steves has designed a two-week family adventure that makes the wonders of Europe come alive for kids — and cuts the stress for parents, too. Starting in Rome — the Eternal City — your enthusiastic Rick Steves guide will introduce your family to the countryside charms of Tuscany, Renaissance Florence, the canals of Venice, castles and forests of the German-Austrian Tirol, the majestic Swiss Alps, France's Burgundy region, and the must-see sights of the City of Light — Paris. Join us for the Family Best of Europe in 14 Days!
Dates & Prices
Sorry, we're unable to access departure availability at this time. Please try again later or contact us at 425-608-4217, Monday-Saturday between 9 am and 5 pm.
What's Included
A small, friendly group of 24-28 people — half the size of most tour groups
Kids ages 8 through 17 are welcome — and save $200
A full-time Rick Steves guide, tour assistant and local experts — who will make the history, art, culture — and fun! — of Europe come alive for you and your kids
All tours and admissions — at no extra cost — covering at least 20 group sightseeing events • Evening walk through Rome including Trevi Fountain • Pantheon • Colosseum tour • Forum tour • St. Peter's Basilica • Vatican Museum tour • Sistine Chapel • Florence walking tour • Uffizi Gallery tour • Florence's Accademia Gallery including Michelangelo's David • Venice orientation • South Tyrol Museum of Archaeology (Iceman) • Mountain luge ride (weather permitting) • Neuschwanstein Castle tour • Hiking orientation in the Swiss Alps • Guédelon Castle tour • Louvre Museum tour • Paris walking tour • Notre-Dame • Seine River cruise...and more
All group transportation from Rome to Paris
13 nights accommodations (all stops but one are for 2 nights) in memorable, family-friendly hotels
All breakfasts and half your dinners
All tips for guides and driver
Free stuff: Each household will receive Rick Steves' Europe: Italy's Cities Blu-ray + DVD Set and Europe Planning map. Each adult will receive Rick Steves' Best of Europe guidebook and Europe Sightseeing Supplement. Each tour member will receive a French-Italian-German phrase book, moneybelt and earplugs
Guaranteed tour price, locked in the moment you make your deposit
Optional single supplements — this tour has a limited number of private rooms for solo travelers for an additional fee
Tour alum discount of $50 for each tour you've taken prior to 2014
50% discount on a consulting appointment with our in-house experts to assist with your pre- or post-tour travel plans
Flexibility should you need to transfer, or cancel/interrupt your tour
Fine print: You are responsible for the cost of your drinks and free-time sightseeing. See our Tour Conditions Agreement for important details regarding everything listed above
Itinerary
Daily Activity Key
Light = 2-4 miles of mostly level walking throughout the day.
Moderate = 2-6 miles walking throughout the day with some hills and stairs.
Strenuous = 2-8 miles walking throughout the day with lots of hills, stairs and uneven terrain.
Day 1: Welcome to Europe
We'll have a brief "Welcome to Europe" meeting around 3 p.m. at our hotel in Rome, followed by a neighborhood stroll and transportation orientation. Then we'll visit what may be the oldest standing structure you'll ever see: the 2,000-year-old Roman Pantheon. Nearby, we'll have a get-acquainted dinner together, followed by a fountain-splashed stroll through the heart of Rome — stopping to toss coins in the Trevi Fountain — and back to our hotel. Sleep in Rome (2 nights). No bus. Walking: strenuous.
Day 2: Majestic, Ancient Rome
Today we'll jump straight into the heart of Ancient Rome. Our local guide will tell tales of gladiators as we stand inside the Colosseum, and of Julius Caesar's rise and fall as we explore the Roman Forum. You'll then have free time to marvel at the view of Rome from atop the Victor Emmanuel Monument, sample gelato at the Piazza Navona, climb the Spanish Steps, or explore the city's colorful back streets. Later this afternoon, we'll gather for an orientation to the awe-inspiring St. Peter's Basilica — home to Michelangelo's Pietà — in time for the 5 p.m. mass (which you may watch or attend). Your evening is free. No bus. Walking: strenuous.
Day 3: Catholic Rome and Tuscany
This morning will set the stage for many masterpieces you'll see on this tour. We'll meet our local guide and tour the remarkable collection of art in the Vatican Museum including what may be the world's single greatest work of art: Michelangelo's Sistine Chapel. Afterward, you may want to explore more of the Vatican Museum on your own or find lunch at the nearby street market. Then we'll leave the noise and stone of the city for our first, green glimpse of rural Europe: peaceful Tuscany, where we'll find our cozy countryside hotel. You can sit back and relax over a glass of Tuscan wine while the kids swim in the pool before we all sit down to a hearty Tuscan feast together. Sleep in Tuscany (2 nights). Bus: 4 hrs. Walking: strenuous.
Day 4: Renaissance Florence
Today we'll have a jam-packed tour of Florence's sights beginning with a "Renaissance Walk" where we'll learn what daily life was like in Florence, and how ideas and events here changed the world. At the masterpiece-packed Uffizi Gallery, we'll see how art evolved from medieval times to the Renaissance, with Botticelli, Da Vinci, Raphael and others mastering perspective and realism. After lunch and some free time to explore the local food and crafts markets, we'll meet face-to-face with a work of art that was, in its time, like nothing anyone had ever seen before: Michelangelo's David. We'll return to our rural hotel late this afternoon where you'll have time to relax, take a walk or maybe swim before dinner together. Bus: 2 hrs. Walking: strenuous.
Day 5: Discover Venice
Today we'll take our bus straight to Venice where we'll board a vaporetto boat for a canal ride to our hotel in Venice's historic heart. This evening we'll take an alleys-and-canals orientation stroll through the backstreets of Venice to the deservedly famous Piazza San Marco. Later tonight, your guide will help organize an optional gondola ride. If the moon is out, it will hit your eye like a big pizza pie. Sleep in Venice (2 nights). Boat: ½ hr. Bus: 4 hrs. Walking: light.
Day 6: Free Day in Venice
The entire day is yours. You can visit churches and museums, cruise between the different islands, or simply get lost (remember, it's an island) exploring Venice's hidden alleyways and canals. Or how about swimming and relaxing on the beach? Your guide will organize an afternoon trip to the sandy beach island of the Lido. No bus (too much water). Walking: light to strenuous (your choice).
Day 7: Over the Dolomites to Austrian Tirol
Leaving Venice, we'll say "Ciao" to Italy and take the dramatic drive toward the Brenner Pass and Austria, stopping for lunch in the Italian-Tirolean town of Bolzano. We'll also visit Bolzano's most famous resident: the 5,300-year-old, naturally-preserved remains of Ötzi the Iceman, along with a museum exhibit explaining how prehistoric Europeans lived and died. Then we'll take a scenic drive to reach our beautiful Tirolean country hotel, just outside the flower-boxed town of Reutte. We'll eat a hearty dinner together and sleep near Reutte (2 nights). Boat: ½ hr. Bus: 7 hrs. Walking: light.
Day 8: Neuschwanstein Castle
It's a short drive and a half-hour walk to "Mad" King Ludwig's famous Neuschwanstein Castle. We'll tour this fairy-tale palace and enjoy its panoramic views of the Tirolean countryside. After lunch, you'll barrel down the Tegelberg luge (kids and adults love this, weather permitting), and still have free time to stroll along trails, bike down country roads, or kick back and relax at our peaceful hotel before another Tirolean supper together. Bus: 1 hr. Walking: strenuous.
Day 9: Scenic Drive to the Swiss Alps
Today we'll take a scenic drive, winding our way through forests, enjoying views of craggy peaks and pristine lakes, and stopping for lunch in the cutest town we can find. Then we'll climb into the heart of the Swiss Alps and our creaky old chalet overlooking the magnificent Lauterbrunnen Valley, where we'll have dinner and sleep (2 nights) Train: ½ hr. Bus: 6 hrs. Walking: light.
Day 10: Free Day in the Alps
The day is all yours (kids can sleep in)! You can take a narrow-gauge railway to trailheads at the feet of the towering Eiger and Jungfrau peaks, or just wander through the meadows and play Heidi. For more Alpine thrills, you can ride a gondola lift up to the revolving-restaurant-topped Schilthorn at 10,000 feet. No bus. Walking: light to strenuous (your choice).
Day 11: Beautiful Burgundy
We'll drive all day to our next home in the French countryside, passing pastures and châteaux en route to the quintessentially French region of Burgundy. Our country hotel has plenty of space for kids to play outdoor games this evening. For dinner we'll share a buffet of French specialties. Sleep in Burgundy (1 night). Train: ½ hr. Bus: 8 hrs. Walking: light.
Day 12: Medieval Marvels and the Historic Heart of Paris
This morning we'll visit the construction sight of Guédelon, a 13th-century castle being built (by people in traditional costumes using historically-accurate tools and machines) exactly as it would have been 800 years ago. Then we're off to Paris where we'll introduce you to its birthplace with a walking tour of the Ile de la Cité. Our walk will continue through the Latin Quarter before ending with a visit the gargoyle-topped Notre-Dame Cathedral. We'll cap off our first day in Paris with an evening boat cruise on the Seine. Sleep in Paris (2 nights). Boat: 1 hr. Bus: 3 hrs. Walking: strenuous.
Day 13: Parisian Masterpieces
Our day begins with a guided tour of the magnificent Louvre Museum where our local guides will bring the Mona Lisa and other great works of art to life. This afternoon you're free to round out your Paris sightseeing with a climb to the top of the Arc de Triomphe or Eiffel Tower, a stroll down the Champs-Elysées, or do some last minute shopping. We'll gather for our final dinner together to share travel memories and toast new friends. Salut! No bus. Walking: moderate.
Day 14: Tour Over After Breakfast
It's a breeze to reach Paris' airports by taxi, shuttle or public transportation. Your guide will help you with any post-tour planning, leaving you well prepared for the road ahead. Merci et au revoir!
Itinerary specifics subject to change.
Activity Level
Our tours are physically active! It's an essential part of the Rick Steves tour experience. On our Family Best of Europe in 14 Days tour — among other things — you'll need to happily...
Carry/roll your luggage over uneven pavement (several blocks possible) and up stairways to reach your hotel; then up several flights of stairs to reach your room.
Be on your feet, walking and standing for up to three hours, indoors and outdoors, in all weather conditions.
Sleep with street noise and no (or weak) air conditioning.
After orientation and transportation lessons, be able to navigate towns and cities on your own.
Be able to get up and "at 'em" in the morning, often departing around 8 a.m.
Be content with the possibility of your family sharing bathroom facilities on this tour.
Reviews
Carrie
Seattle, WA
Tour: 08/02/14
Overall rating:
The Family Tour option turned out to be the perfect way to travel with my 14-year-old son. He quickly bonded with the other kids in our group, and I had a great time getting to know the other parents as we experienced Europe together. The tour also maximized the time we spent seeing key sights, instead of worrying about logistics and schedules. It was so nice to have everything so carefully planned for us!
Favorite "WOW" moment
"My favorite time on the tour was our dinner in Burgundy. The food was fresh and delicious, the setting was spectacular, the wine was flowing, there was singing, dancing, and lots of laughter."
Margaret
Mamaroneck, NY
Tour: 08/02/14
Overall rating:
I really liked the tour. The tour guides Dimi and Travis were awesome and we all loved Phillipe our driver. I did feel that some of the sites felt rushed but that could be because of the weather (it rained at the coliseum) and the fact that there were a million tourists. On the family tours I think they should have more kid friendly places to visit. I don't think my children will want to see the inside of another church or museum for quite a while.
Favorite "WOW" moment
"Walking in the Alps was definitely the family favorite. We all really enjoyed the experience. Another favorite was the luge ride. Luckily the weather cooperated and we got to go. This was a lot of fun. My other favorite was Tuscany and the villa that we stayed at. That was hands down the best hotel we stayed in."
Terry
Manhattan, KS
Tour: 07/28/14
Overall rating:
We could not have asked for a better experience. We made great connections with other tour members - our kids made instant friends and we enjoyed the company of all members of the group. There were absolutely no worries about logistics - Trish and Andrew were masters of the schedule and keeping us moving, learning, and experiencing each and every site, stop, museum and culture along the way.
Favorite "WOW" moment
"A small group of our tour took an optional afternoon hike to Ehrenberg Castle. The castle dates back as far as the 12th century with additions over the years. What a treasure! Astounding views, amazing history and a glimpse of the challenges and way of life. There is no way for American's to understand or grasp that kind of history without getting outside of the USA."
Theo
Warren, OH
Tour: 07/28/14
Overall rating:
It was amazing!
Favorite "WOW" moment
"Everything Cheese fondue cows"
Nikki
Olympia, WA
Tour: 07/28/14
Overall rating:
Beyond all expectations.
Favorite "WOW" moment
"River cruise in Paris."
Joan
Spokane, WA
Tour: 07/28/14
Overall rating:
Fabulous trip that we all agreed was a "once-in-a-lifetime" experience! We had Trish, our amazingly smart and charming tour guide, amazing local tour guides, a lovely bus and driver, and Andrew who kept track of all of the stragglers (like me). We had three generations who traveled together in harmony with activities that appealed to each and every one. This tour was a lovely blend of city/museum experiences and countryside appreciation.
Favorite "WOW" moment
"The Eiffel Tower was a perfect "10" on the last night of our tour when we had just finished a lovely French dinner, enjoyed an evening cruise on the Seine and returned to find the tower lighted and sparkling with fountains spraying. What a gorgeous delight!"
Matthew
Seattle, WA
Tour: 07/28/14
Overall rating:
it was by far, the coolest thing I've done, ever!!!!!!!!!!!! we had some lovely family's, and the kids got together so well.
Favorite "WOW" moment
"going to the Jungfrau."
Larry
Warren, OH
Tour: 07/28/14
Overall rating:
The family tour was fun and educational for both the adults and the kids. It was a great chance to bond with our grand children and for them to interact with adults other than their parents. The leaders were very good with the children, especially Andrew, who would interact(play) with them both on and off the bus.
Favorite "WOW" moment
"There were so many "wow" moments that it is hard to pick a favorite. The gondola ride and hike to the top of the mountain in Switzerland was possibly the best. We decided to walk back down to the town of Wenger. The cows with their bells sounding in the distance was very peaceful. We would stop and look at the flowers and waterfalls along the way. Very beautiful."
Lee
McMinnville, TN
Tour: 07/28/14
Overall rating:
The trip was amazing, it was even better than we anticipated. We will never forget all the new friends we made and the beautiful places we visited.
Favorite "WOW" moment
"How can you choose one WOW, from the Art & History of Rome to the canals of Venice, hiking in the Swiss Alps and the Eiffel Tower in Paris. We loved it all."
Natalie
Manhattan, KS
Tour: 07/28/14
Overall rating:
Rick's favorite word seems to be "quintessential" and everything we experienced was indeed that. We had an amazing time seeing historic sites, beautiful countryside, "regular-life" opportunities, and fun experiences. We met wonderful people who live real lives; this is an "ah-ha" to meet regular folk who live lives like we do, even in the middle of tourist places.
Favorite "WOW" moment
"GOSH! So many. I was moved by the beauty on our hike to Neuschwanstein; it was outstanding. Being one who has hiked in Colorado for years, it's amazing to see the beauty of the countryside and know that there are breathtaking places to see all over this world! I also had a "wow" moment when chatting (sort of) with a young woman in Murano (Venice, Italy) about her island, and hearing about her home. I enjoyed talking with those who live there."
Carol
Warren, OH
Tour: 07/28/14
Overall rating:
The tour was interesting and really hit the highlights of Europe for our grandchildren.
Favorite "WOW" moment
"I really loved visiting Venice. In Paris, I loved seeing the Eiffel tower lit up and sparkling."
Richard
Lynnwood, WA
Tour: 07/28/14
Overall rating:
Our Europe tour was spectacular! It was our first time in Europe and we had high expectations. Our guides Trish and Andrew made the trip enjoyable and did a very nice job guiding and leading the group.
Favorite "WOW" moment
"It is hard to pin down a favorite "wow" moment for me. But the statue of David and other works of Michael Angelo blew me away."
Marcie
Seattle, WA
Tour: 07/28/14
Overall rating:
We met our group in Rome, on a Monday evening. There were 8 families, parents, grandparents, and kids. It didn't take long for our group to bond. Things kept getting better from there. We laughed through shared meals, learned a lot about art and architecture, managed to ride the subways, watched out for pickpockets, learned a bit of Italian, German, and French, kept track of our tour buddies and enjoyed the people and places we were visiting. AN OUTSTANDING TRIP!
Favorite "WOW" moment
"There were so many great experiences during our trip that it is hard to pick out just one. However, for overall "WOW", I would say that the way that our group of 27 tour members, 2 guides, and 1 bus driver came together was exceptional. We all enjoyed each other. It didn't matter with whom you were having breakfast, walking next to, or sharing adventures, it was all good. We all got to learn about each other and learn a bit about the cultures that we visited. Would travel with them again!"
Marsh
Seattle, WA
Tour: 07/28/14
Overall rating:
A great value! I would recommend this tour to anyone. The kids were all great and included each other in activities. The parents all had similar parenting philosophies. Since the group got along together very well we enjoyed all the activities Trish brought our way. I loved the diversity of activities as well as the county and city experiences. This was far more that a tour of European museums. The activities planned were of great variety and the free time was just right.
Favorite "WOW" moment
"On our free time we visited the Villa Borghese and was incredibly impressed with he works of Bernini. We took the Tram up to the Jungfraujoch and loved the self guided tour as well as the fact that we hit it on a beautiful day. Both of these side tours happened because of the recommendations made in the guide book. The Roman Forum and the ancient history related to it. The David, what more can be said. Loved the natural surroundings of Switzerland and birthed Tolkien's Rivendale."
Andrew
Holden, MA
Tour: 07/26/14
Overall rating:
This was the best family vacation trip we have ever had. We loved it. But more importantly, so did our daughters, ages 14 and 10. They made fast friends with other kids (and parents) on the tour. We had the best tour guides. They were perfect! We were surprised by special diversions added to our itinerary on several occasions. The tour just kept exceeding our expectations. Any one of the destinations would have been a memorable vacation in itself. But put together, this was amazing.
Favorite "WOW" moment
"Hiking through alpine meadows above Wengen, Switzerland, listening to the sound of brass cow bells tinkling and echoing across the mountains from the grazing cows scattered about the rugged, beautiful terrain. Another moment was walking the narrow alleys of Venice, to be surprised by tiny open squares with performers and people, seemingly out of nowhere."
Fred
Dunedin, FL
Tour: 07/26/14
Overall rating:
The tour surpassed my expectations. Our guides and other people on the tour were a pleasure to travel with. The itinerary was well planned and entertaining. The bus rides were managed well. The only thing, where was that Rick Steves guy everyone was talking about?
Favorite "WOW" moment
"I think the scenery in the Alps. All the water falls..."
Linda
Bella Vista, AR
Tour: 07/26/14
Overall rating:
From the minute we met the tour guides and the other families we knew we were in for a special experience We were the grandparents on the trip. The tour was very organized, well run and was very interesting. We covered a lot of territory on this trip some with long bus rides, but we broke approximately every two hours and our tour guides made the time fly by. It never felt like we were on the buses that long.
Favorite "WOW" moment
"I believe for me my "wow" moment was when the clouds lifted in Switzerland and there were the Alps in all their glory. It had been raining all the way into Lauterbrunnen so you couldn't see any of the mountainns. They were beautiful."
John
Sandy, UT
Tour: 07/21/14
Overall rating:
The tour was excellent. Even though it was a bit more expensive, I chose it as a way to introduce my family to Europe and eliminate the hassles of traveling on our own and to tour with a smaller group. And it was great.
Favorite "WOW" moment
"There are too many to describe. Honestly, seeing the Colosseum or the Vatican or the Alps, dinner in Tuscany, how do you choose?"
Ron
Santa Rosa, CA
Tour: 07/21/14
Overall rating:
We really couldn't be happier with the way the tour was run. There wasn't a single glitch and the guides were fantastic! Prior to this trip, we'd never spent anywhere close to this kind of money on a vacation. Rick's tours seemed very expensive on the surface. However, the more I read reviews about his tours and competitor's tours, the more I recognized the value. It became clear that Rick's philosophy and style of travel was the best fit for our family.
Favorite "WOW" moment
"I'd say my favorite "wow" moment was seeing the Vatican Museum and St. Peter's Basilica. It's hard to express how impressive they are without seeing them in person. Our local guide, Marta, made the whole experience much more enriching by passionately describing the works of art and extra details that we could have never gleaned on our own."
Joanne
Bellevue, WA
Tour: 07/21/14
Overall rating:
Great mix of adults and children. Ben and his big black bus were outstanding. So nice to travel and leave the itinerary, transportation, tickets, hotel reservations, problem solving, and historical knowledge in the hands of our most capable guides. Truly a treat.
Favorite "WOW" moment
"Guedelon castle. Seeing how much work had been accomplished in 5 years."
Bessie
Caledonia, MI
Tour: 07/21/14
Overall rating:
both of our tour guide were very good and myles got along with all the kids on the trip. It was a real nice trip one of the best that I have taken with you . All the kids were real nice and well behaved. Everyone got along just great.Oh our bus driver was real nice and got along with all of us he was a real nice driver. thanks so much for a nice trip
Favorite "WOW" moment
"the best time was when we was at the hotel Les Grand Chenes. Racheal was the best, she had things for the kids to do and a real nice dinner out side for us and entertainment for us with it than they had dance lesson for us also."
Rita
Diablo, CA
Tour: 07/21/14
Overall rating:
Our trip was Fabulous! Tour literature prepared us for this fast paced trip. It gave us the opportunity to share the best of Europe with our daughter. On so many levels this trip surpassed our expectations despite the bad weather we experienced for a good part of the trip. First and foremost, our Rick Steves' guides/asst guid were out of this world excellent. They were extremely knowledgeable, organized, helpful and caring. They performed their job with the highest level of professionalism.
Favorite "WOW" moment
"It was all "wow". Every single venue visited was extremely worth the visit. The group's extra Gondola ride the evening of our arrival in Venice was very special. The final night farewell dinner and Seine river cruise were also very memorable. The museums, castles, luge, scenery etc. were not to be missed. We had the best tour participants possible!!! WOW - Great group of people!"
Cecilia
Woodinville, WA
Tour: 07/21/14
Overall rating:
The whole package offered an amazing experience for our family. My kids made new friends, acquired new experiences and loved the whole thing! My husband and I don't think that we'd have seen as many places had we not joined the tour. And when you mention that you don't push shopping, you weren't kidding! We figured it out the first couple of days after - shopping needs to be done on your own family 'free time'.
Favorite "WOW" moment
"Riding the local 'boat bus' into Venice and seeing the city in person."
Michael
New Braunfels, TX
Tour: 07/21/14
Overall rating:
It was pretty much what I expected - fast-paced, but well organized & efficient. Not cheap, but good bang for the buck.
Favorite "WOW" moment
"Having a real, live human answer the phone when I had to call the emergency 800-number on Saturday night before the trip. I was really expecting to have to leave a message and wait for a return call Monday morning. I don't know who I spoke to, but I really appreciated having the contact with the tour. She was able to relay my situation to the tour leader & confirmed that I was doing what I needed to do to resolve the situation."
Kristiana Anh-thi
Woodway, WA
Tour: 07/19/14
Overall rating:
This trip was so educational as well as exciting and enjoyable all at the same time. There was never a time were it was bad and everything was just so well put together and carried out.
Favorite "WOW" moment
"My wow moment was getting to interact with all the tour members and the guides as well as the bus driver. the activities were always fun. i also liked the amazing hike in the Swiss Alps and playing football with the Burgundy Hotel Owner's kids!! All the museums were just wow too"
Margie
Newbury Park, CA
Tour: 07/19/14
Overall rating:
This was a great family vacation within a tour. The kids and adults all got along so well. I especially liked that on some tours the kids had their own guide. These guides were so good with the kids and the tours were very interactive. One that stands out was the tour of Florence. The bus was comfortable and the bus days alternated with active days. We liked that. The hotels were all memorable in their own way. My favorite was the Falcon in Switzerland.
Favorite "WOW" moment
"My favorite was the optional hike we did on a beautiful ridge above the Lauerbratten Valley. It was magical!"
Trisha
Chula Vista, CA
Tour: 07/19/14
Overall rating:
Spectacular! It exceeded our expectations in every way. Tina, Brenna and John (our driver) were the most pleasant people and so well informed. Their approach to informing us not just geographically, but about the people and culture was not only helpful but very educational. It really personalized the tour for us. The itinerary was well balanced between site seeing and other activities and free time. The extra surprises throughout were a nice touch as well.
Favorite "WOW" moment
"My kids say "everything". I tend to agree. However, the gondola ride in Venice at night took my breath away. The hike through the Swiss Alps was incredible and mass at St. Peter's Bascilica was a spiritually powerful experience."
Pauliana Mai-thi
Woodway, WA
Tour: 07/19/14
Overall rating:
Good.
Favorite "WOW" moment
"Florence and Venice"
Russell
Newbury Park, CA
Tour: 07/19/14
Overall rating:
Great guides. Interated with the kids very well.
Favorite "WOW" moment
"Watching the kids enjoy being together and learning about different cultures."
Susan
Katy, TX
Tour: 07/14/14
Overall rating:
Martin was an excellent tour guide and very knowledgeable! We loved the family tour and our boys met knew friends. In Austria it would have been better if we had a hotel with AC it was very hot the night we stayed there. I loved the place we stayed in Burgundy, it was beautiful! I thought it was a great combination of busy and relaxation.
Favorite "WOW" moment
"I think it was Rome and all the history! I loved the entire tour and would definitely recommend it to everyone I talk to. Our bus driver Hilde was wonderful and a safe driver, Martin like I said he was wonderful and answered several questions I asked."
Ann
Seattle, WA
Tour: 07/14/14
Overall rating:
We saw more, did more, and experienced more than we ever could have on our own. Martin made everything easy, and since I'm the one who handles the logistics for our family travel that was HUGE. Without feeling rushed, we experienced seven countries in two weeks (including about 45 minutes in Lichtenstein!). There was a good balance of group time and time on our own. Martin gave us the tools to negotiate public transportation, and prepared us with basic guidelines for the different cultures.
Favorite "WOW" moment
"In Wengen, for our free day, we went with Martin on the gondola into the clouds. The weather had been bad, but it wasn't raining so we decided to go anyway. After walking through the lovely green mountains, we had an amazing moment when the Eiger peeked out of the clouds. It was far higher than I had expected, and I realized what was hiding behind those clouds!"
Henry
Mount Vernon, WA
Tour: 07/14/14
Overall rating:
an excellent tour, but more activities for children should be included (the luge was canceled due to rain)because they tire quickly of museums
Favorite "WOW" moment
"the iceman tour and seeing a wild ibex in switzerland"
Fabiola
Wylie, TX
Tour: 07/14/14
Overall rating:
I was looking forward to this adventure,so I enjoyed every single moment of it. Most of our experience was the way we thaught was going to be since we have watched Rick Steves TV shows.
Favorite "WOW" moment
"Our very short moment in Bolzano Italy and our stay in Switzerland were picture perfect."
Carolyn
Mount Vernon, WA
Tour: 07/14/14
Overall rating:
We took our two daughters, one son-in-law(the other is deceased) and 2 grandchildren aged 11 and 13 with us to celebrate our 50th wedding anniversary. The experience was challenging, sometimes exhausting but definitely worth the expense and effort. We found the pace tiring and recommend that the schedule for Paris have some careful scrutiny. We came out of the Louvre having not eaten for 8 hours at 8:30 and the food concessions there were closed. Martin had told us to get snacks but no time
Favorite "WOW" moment
"Perhaps when Martin taught everyone to sing "Nellie the Elephant" on the bus. Much hilarity! Or seeing a wild ibex, close up, at Trammelbach Falls. Maybe visiting the Borghese Gallery, before the tour, thanks to Rick's book! Or a day at Ostia also guided by the book"
Gary
Seattle, WA
Tour: 07/14/14
Overall rating:
I had no idea what to expect with a tour. My main surprise was the tour guide. We had Martin, the Welshman. I was astounded by the depth of his knowledge about the history, culture, arts, customs, etc. of all of the different countries we visited. We had an outstanding time...and our intention was to have our kids experience Europe. The tour structure with other families, guided activities along with time on your own, was just about as good as I can imagine it being.
Rebecca
Conway, AR
Tour: 07/14/14
Overall rating:
The tour was wonderful! Martin was an excellent guide, and very funny! Hilde Lochtenberg, our bus driver, was also awesome! She did a great job, and was a lot of fun to hang out with. We had so many awesome experiences on this trip, and had a great group of people to travel with.
Favorite "WOW" moment
"I finally made it to Neuschwanstein Castle - a goal of mine since high school. It was definitely a wow moment walking up to the castle."
Wendy
Kelowna, BC
Tour: 07/14/14
Overall rating:
It was terrific, we are very happy that we booked with Rick Steves. It would be great if you offered a board on your website that we could post messages to our tour guide. My kids really enjoyed Martin, we travelled to London after our 14 day tour ended and my kids all "slapped the wall" after each subway ride, it was something that Martin had organized with our group. They wanted him to know that they kept the tradition going!
Favorite "WOW" moment
"There were too many to list, each country had aspects that I will remember forever."
Tom
Fort Worth, TX
Tour: 07/12/14
Overall rating:
Fantastic 1st Rick Steves Family Tour. We were well informed and prepared for the itinerary. It was packed with sights, history, art, scuptures, good food, and an exceptionally enjoyable tour group. There was superb balance between schedule events and some free/down time. Excellent balance to keep both adults and children entertained. Tour leaders Trish and Travis were organized, well-informed, entertaining, and thoughtful. Five star experience.
Favorite "WOW" moment
"Cannot limit to one "WOW": 1st view of the Roman Coliseum; St Peters Basilica; "David" in Florence, hiking in the Alps; gelato in Rome and Venice; Louvre and Orsay in Paris. Oh, cannot leave out gondola in Venice, and sunset on the Seine with the Eiffel Tower lit up and sparkling. My goodness, cannot believe how much fun we had."
Santa
Carnation, WA
Tour: 07/12/14
Overall rating:
Enjoyed the tour, all aspects - guides, other families, sites, local guides - very much. Would not hesitate to recommend to others.
Favorite "WOW" moment
"This is difficult as there were so many. Europe is just 'Wow'! I loved being in Austria and Switzerland the most."
James
Carnation, WA
Tour: 07/12/14
Overall rating:
Every arrangement including meals, tour guides, busses, subway tickets, etc. were managed expertly and efficiently by Trish and Travis. The stress and worry of navigating through some of the trickiest cities in Europe were immediately forgotten and we were able to simply relax, enjoy, learn, and as Trisch would say "...be in the moment." My thirst for more knowledge about other cities and cultures has been increased because of the experience I had on this trip.
Favorite "WOW" moment
"Tough call on this one...I would have to say it's a close race between the Roman Colosseum, the Eiffel Tower lighting up at the top of the hour and the spectacular vistas one gets when overlooking Rome, Venice, Florence, and Paris. Not to be ignored were the views upon entering the Tyrol Mountains in Austria. My students would say this question is unfair :-)"
Andy
Fort Wayne, IN
Tour: 07/12/14
Overall rating:
I can not say enough about the Best of Europe family tour with Trish and Travis. This trip far exceeded my expectations (and I had great great expectations to begin with). It was more then a tour of Europe- It was a life changing experience. One of my goals was to discover where I came from. Well I have a much better understanding of my origins. No only did I accomplish that goal I had a ball doing it.
Favorite "WOW" moment
"I have so many to to pick one would be like "pick you favorite child". They are so unique and wonderful that it is rather arbitrary to pick a favorite "wow". But that being said I am going to take editorial liseacne is pick several: Here it goes 1. 10:30 at night on gondola on the Grand Canal/Venice with the man singing. 2. The hike to Neuschwanstein Castle 3. Dancing after dinner in Burgundy France 4. Sunset cruise on the Seine River"
Eric
Chico, CA
Tour: 07/12/14
Overall rating:
If you want to see the highlights of what Europe has to offer with your children, this is the right tour.
Favorite "WOW" moment
"Favorite so moment was walking into St. Peter's and seeing light beams penetrating through the dome and shining down on the nave below."
Kathy
Ft Wayne, IN
Tour: 07/12/14
Overall rating:
Our family so enjoyed our trip! The fellow tourist, the guides, the cities...all perfect! We can't wait to book again with Rick Steves!
Favorite "WOW" moment
"Walking on the roadways laid by the Romans so long ago, coming around the corner and the OMG moment you realize that the Coliseum is before you! or On a surprise gondola ride, not originally on the itinerary, but 'squeezed in' by our tour guides! They made it happen! It was a magical trip thru the canals at night with our group. 6 gondolas and one with a singer and musician....truly magical!"
Judith
Bellevue, WA
Tour: 07/07/14
Overall rating:
Having what was essentially a private tour for our family was great. It made responding to our specific requests much easier than would have been possible if we'd had to stick to a set itinerary. We wanted to infect our kids and grandkids with the travel bug. I think we succeeded.
Favorite "WOW" moment
"The hotel in the Alps and the food in Tuscany."
Kathleen
Seattle, WA
Tour: 07/07/14
Overall rating:
Our Family Tour was not typical, as the entire tour was comprised of one family with close friends, complete with the good, the bad, and the ugly that makes up families. Also a fair number of people had mobility and health issues, probably atypical as well. I appreciate that all members were free to take on as much or as little as they were capable and willing to do. I was not prepared to be so depressed upon returning home.
Favorite "WOW" moment
"I had several wow moments - different places but common to all were little discoveries I made while alone. Escaping tourists and just sitting in San Giorgio dei Greci, the first Greek Orthodox church allowed in Venice, and discovering the galleries in the Architecture Biennale. Maybe the best of all was the loveliness of Saint-Severin in Paris."
William
Bellevue, WA
Tour: 07/07/14
Overall rating:
Sarah, Virginia and Pat made a dynamite combination that helped plant the seeds of future travel in our kids minds and hearts. The experienced travelers were almost all of the "mature" grandparent type and Sarah made sure we could cope or otherwise keep up with the group and really went out of her way to make the trip a sucess. I can't say enough good about the way she planned and handled a decidedly non-standard group. Paris was least successful because of the weather and choices we made.
Favorite "WOW" moment
"My personal favorite was Wengen. The weather, the views, the food, the hotel!"
Paul
Gig Harbor, WA
Tour: 06/30/14
Overall rating:
Our tour guide Stephen was top notch!!! The whole trip would have been lessened without him. Andrew did a great job as well and the bus driver Phil, was part of the family.
Favorite "WOW" moment
"Venice and all of Paris."
Cynthia
Hampshire, IL
Tour: 06/30/14
Overall rating:
Another fantastic Rick Steves tour! The sights were great, a good balance between seeing and doing, guided and free time, group dinners and meals on our own. If only Rick could do something about the clouds in the Alps!
Favorite "WOW" moment
"It has to be the last night of our tour. After a fantastic dinner we hopped on the metro to go see the Eiffel Tower. At the next stop a group of singers gets on and procedes to get the whole carload of people dancing along. Then we race to the Tower to catch the sparkling lights only to have it start raining. So there we were - drinking champagne in the rain with all of our new friends, gazing at the Eiffel Tower! What memories!"
Sharon
King George, VA
Tour: 06/30/14
Overall rating:
This was my third Rick Steves tour so I expected it to be great and it was. The age range on the tour went from ages 6 to 73. Traveling through 5 countries for 15 days on a bus with a bunch of pre teen and teens and their parents would, on the surface seem to be a disaster. The kids brought so much fun, excitement, and energy to the tour. They asked questions adults would not have and through their curiosity and naïveté we adults learned so much about our world. Our guides were outstanding!
Favorite "WOW" moment
"I loved the gondola ride through the watery " streets" of Venice. We were serenaded by an Italian singer and an accordionist who added to the experience. Other wow moments were seeing the colosseum through the eyes of the children on the tour. Seeing Venice for the first time. Cruising the Seine and taking in the sights of Paris from the river view."
Don
Kannapolis, NC
Tour: 06/28/14
Overall rating:
Our experience taking our oldest grandchild for an "overview" of Europe was excellent. My wife and I are veteran travelers and had been to each of the cities visited,in some instances, several times; consequently, we knew a lot about getting around to the various important sites and were able to expand beyond those the tour provided to enhance our visit. Because of the distances involved it took a day of travel to get to the next site. Would suggest some amendments to the tour to cut travel.
Favorite "WOW" moment
"Our visit to Wengen in Switzerland came at a time when the area was blanketed with clouds, some rain, and dense fog. We left Wengen by train and crossed over by cable car and train to Murren; then chanced going up by cable car to the Schilthorn. As we approached the top we broke through the clouds and as if by command there was a group "Ah" in several languages as the dramatic scene ahead unfolded. We spent 3.5 hours taking it all in before descending. Just breathtaking!"
Peyton
Greensboro, NC
Tour: 06/28/14
Overall rating:
I enjoyed spending time with the other kids on my tour and I loved seeing all of the famous and iconic places throughout Europe.
Favorite "WOW" moment
"I didn't have a favorite moment. This is because everything was all equally amazing."
Alice
Kannapolis, NC
Tour: 06/28/14
Overall rating:
My husband and I had talked for years about taking our grandson to our favorite places and this was a good way for him to have fun with his peers and be with us too. When the kids were off the bus, dragged from their iPads and earphones, they were engaged in learning, which was why we brought them.
Favorite "WOW" moment
"We very much wanted to take our grandson to Murren and Wengen and even though it was cloudy we decided to take the gondola to the Schilthorn. As we rose to the top we got above the clouds and everyone in many languages said, "OOOHHH". We spend 3 hours up there with some wonderful new friends. I was also impressed with the interest all the teens had in Otzi the Ice Man."
Tanner
Knoxville, TN
Tour: 06/23/14
Overall rating:
This tour was one of the best times of my life. Upon returning to the States, I can't stop thinking out Europe. The tour group was incredible and full of fun and friendly people. If I had the option to do it again, I would say yes in a heartbeat.
Favorite "WOW" moment
"Frankly, I cannot choose. The whole tour was my wow moment!"
Shelly
Roseburg, OR
Tour: 06/23/14
Overall rating:
This was out first time to Europe. We had a wonderful trip. We felt that our time & money was well spent. I really appreciated having someone else deal with all the transportation & lodging. This allowed us to focus more on enjoying our trip and not spinning our wheels.
Favorite "WOW" moment
"The incredible art. Every time we left a city the next city was even better. More to see. More to do. Every city we toured I felt I really got a good look and saw all the things I wanted to see and do except for Paris. We definitely need more time in Paris."
Kelly
Knoxville, TN
Tour: 06/23/14
Overall rating:
We had a fantastic trip!! I loved every second of it - sore feet and all! It was a trip of a lifetime & being on the family trip was perfect. I know that having other teenagers on the trip that my kids could hang out with was great! We saw so many incredible things and went to so many places. It was surreal! We had a great group, great guides and a great time!
Favorite "WOW" moment
"Favorites moments - impossible to pick just one! I would say hiking the Swiss Alps, our group dinners in Rome, Venice and seeing the Eiffel Tower for the first time! Also our boat cruise in Paris!!"
Joyceann
Portland, OR
Tour: 06/23/14
Overall rating:
I love the family atmosphere. The kids are amazing. Everyone looks after each other. This was my second Family Tour of Europe, I took one 8 years ago with my oldest grand daughter and never thought twice about taking it again when you youngest grand daughter was 13 and ready to see Europe.
Favorite "WOW" moment
"Hiking in the Alps and flooded St Mark's Sq in Venice."
Diane
Eugene, OR
Tour: 06/23/14
Overall rating:
This was a very well-organized tour. The days were full, varied but not too exhausting. There was a good mix of scheduled time and independent time.
Favorite "WOW" moment
"We all had different "wow" moments: Hiking in the Alps above Wengen. The Guedelon Castle. The gondola ride in Venice."
Jim
Bellevue, WA
Tour: 06/21/14
Overall rating:
My eight-year-old son and I joined the family Best of Europe tour from Rome to Paris and had a wonderful time. Neither of us had visited these major sites before and the organization, preparation and execution of the venue visits was superb. Our guide Sarah was experienced and a no-nonsense leader which helped keep many teen emotions and overall group interaction on a positive level. Sawyer was an engaging and playful addition who acted as an additional parent to oversee children.
Favorite "WOW" moment
"Among the wow moments in the Coliseum, St. Peters basilica, David, canals and alleys of Venice, lakeview of Neuschwanstein castle, hotel view of Eiger, Monk and Jungfrau, countryside views of France, construction of 13th century castle at Guedelon, Notre Dam and Eiffel tower, instrumental music played from the steps of Florence and the engaging friendships of our fellow-travelers, my greatest wow moment was dinner in Venice during which a group of locals began singing and everyone joined in."
Barbara
Eugene, OR
Tour: 06/21/14
Overall rating:
I would not consider myself ideally suited to tours but I have got to say that I think that this tour with my daughter was absolutely the best option I could have taken. The caliber of guests on this tour was outstanding and combined with the experience of our guide and enthusiasm of the assistant, it will be a summer we will not forget. With a few extra countries added on our days before and after the tour, we ended up seeing 9 countries together! Not bad for a little over 3 weeks' travel.
Favorite "WOW" moment
"My favourite "wow" moment was driving through a magnificent narrow pass when traveling from Austria to Switzerland. Our driver, Paul, went the extra mile and then some to show us a part of the world that is so absolutely stunning that the images will not soon leave my brain. This part of the tour reminded me of growing up in the Canadian Rockies and reminded me that mountains all over the world are amazing and beautiful and worth making the effort to see."
Elizabeth
Cupertino, CA
Tour: 06/21/14
Overall rating:
This was my first time to Europe. Actually, this was my first time on a different continent other than North America. This tour was well thought out. It was a great introduction to a very nice part of Europe. I enjoyed all the places we visited. I enjoyed see the Colosseum, Venice, Tuscany, Florence, Austria, Swiss Alps and the countryside in the Burgundy region. It was scary getting lost esp. on the Metro in Rome but it helped us to problem solve and think about orienting ourselves.
Favorite "WOW" moment
"It's hard to pinpoint one favorite moment. I have to say I enjoyed going to the museum and seeing Otzi, the Iceman in Bolzano. Of course, I enjoyed going to see the Neuschwanstein Castle in Bavaria and seeing the Eiffel tower up close and personal."
Ian
Sale,
Tour: 06/21/14
Overall rating:
Initially I had low expectations for tour, to my surprise I found I had a great time. This was due to our tour guide Sarah. Sarah has a very good knowledge of each attraction and gave a good mix of information, culture and architecture to make our visits very interesting. Time management was also well planned, even though we were busy there was still time for us to look around and do activities ourselves. Our bus driver, Paul, also went out of his way to help the tour.
Favorite "WOW" moment
"Tuscanny, Florence & Venice."
Pamela
Marlboro, MA
Tour: 06/21/14
Overall rating:
Really enjoyed tour, did so many adventures and made great friend. Also really learned so much feel I could go back on my own and fell comfortable.
Favorite "WOW" moment
"I think walking to the very peak in Switzerland -can't remember the name of the peak."
Laura
Sale,
Tour: 06/21/14
Overall rating:
I had very high expectations of this tour, as I had read every available piece of information relating to this tour and the Rick Steves style of tours. The tour far exceeded my expectations. The amount we managed to see and do in the two weeks was amazing. Everything from the tour guide, assistant, bus driver to the hotels we stayed at, enabled us to have the family trip of a lifetime.
Favorite "WOW" moment
"The entire trip was my "wow moment". There were so many memorable movements, seeing the Effiel Tower for the first time, the Swiss Alps, Venice, the luge ride. Seeing all of it for the first time myself, and then watching my children see it all for the first time...WOW!!!!"
Lynne
Tualatin, OR
Tour: 06/16/14
Overall rating:
I have traveled with other tour companies in the past and while I've always had a great time and enjoyed the tours, I was much more impressed with Rick Steve's tours. I think the balance between cities and countryside was perfect and Ben, our guide, was great. His knowledge about the history and culture of all the areas we visited was impressive plus he gave us the tools to explore on our own with confidence.
Favorite "WOW" moment
"Very hard to pick but I think hiking in Austria and in the Swiss Alps would have to be the moments I loved best. The scenery was so spectacularly beautiful and just being outside and enjoying nature while in the company of new friends was very special."
Mark
Park City, UT
Tour: 06/16/14
Overall rating:
Europe in 14 Days Family Tour was the PERFECT way for my husband and I to experience some highlights of this rich land with our tween and teen. Our guide was phenomenal!!! With Ben we were able to dive deep and experience Europe as few tourists do. In retrospect, it's difficult to believe we packed so much into 2 weeks, but we never felt stressed. Our kids had a peer group, and we met a number of fun and like-minded couples. Overall, our experience could not have been better.
Favorite "WOW" moment
"There are too many WOW moments to list here!! Mine was pulling into the Grand Canal in Venice by vaporetto. My daughter's was the Sistine Chapel. My husband's moment occurred during our hike above the picturesque Swiss town of Wengen, After a foggy morning we stopped for a beer-and-brat picnic. On cue the clouds parted and we caught a glimpse of the jaw-dropping trio of Alpine peeks, the Eigor, the Monk and the Jaungfrau."
Peggy
Issaquah, WA
Tour: 06/16/14
Overall rating:
Our Rick Steve's family tour experience was fantastic! We would definitely do it all over again! Everyday was a "Pinch me, am I really here!" reality. The entire tour was unforgetable! We can't tell you how thankful and pleased we were with our experience. Castles, food, friendships, and art - we loved it all!
Favorite "WOW" moment
"There were so many "wow" moments. While in Rome, it was the immense size of the ancient Roman Colosseum, and the gorgeous marble of the Trevi Fountain. Both took your breath away. My family loved both gondola rides. The Venetian boat gondola was mesmerizing. The speedy ski lift gondola that took us up to walk along the snowy banks of the Swiss Alps was surreal. I loved the famous artists, amazing architecture and phenomenal churches. Seven countries in 14 days. "WOW!" What a ride!"
Phu
Kuala Lumpur,
Tour: 06/16/14
Overall rating:
The tour was everything we expected it to be and more. It was well paced for us (family with 2 kids - 9 and 11 yo). We had a great time and would recommend it to other families. The tour guide, tour assitant and drivers were very knowledgeable and helpful. This tour would not have been a success without their input and guidance.
Favorite "WOW" moment
"There were many wow moments, but if I have to choose one, then it would be hiking through the Swiss alps."
Mackenzie
Issaquah, WA
Tour: 06/16/14
Overall rating:
Every day was a new adventure! I loved everything this tour had to offer. There was such much variety in scenery, activities, food, and culture! Our tour guide, Ben, was incredibly funny, knowledgeable and was always in a good mood. He made us feel safe and relaxed traveling in the city. I definitely want to go on another Rick Steve's tour!
Favorite "WOW" moment
"I have two "wow" moments. First of all, I loved the beauty of Austria and Germany. When we hiked back to our hotel from the Neuschwanstein Castle and turned a corner, we were amazed by this beautiful lake. The sky was a vivid blue, and the air was sweet. Another wow moment for me was waking up in Switzerland, looking out of the hotel window, and being blinded by the shining, snowy peaks of the Swiss Alps. That is not something you see everyday."
Janet
Wake Forest, NC
Tour: 06/16/14
Overall rating:
The tour was amazing, and Ben and Jody were the leaders of that amazing experience. Henri also, was an excellent tour lead, getting us where we needed to go in safety. Of course the countries we visited helped set the atmosphere, but the mix of kids and parents on the trip (kids mostly being the same age and able to get along so well)almost made it like an extended family experience.
Favorite "WOW" moment
"There were a few: St Peter's Basicilica, the Pantheon, and the French castle currently under construction. My favorite funny moment was trying to use the public street toilets (porta potties) in Paris...How DO you flush them anyways?"
Matthew
Leawood, KS
Tour: 06/14/14
Overall rating:
I had not been on a tour in 40 years and had no real idea what to expect. I and the rest of the family really enjoyed the Rick Steves experience. Great guides, interesting sights, good hotels and meals. Having other families was great for the kids. We were all really impressed. Getting closer to the people is a great concept and I liked using public transport and walking. Staying in local hotels was a lot of fun.
Favorite "WOW" moment
"Going to Eiffel Tower in Paris for the mid-night lighting ceremony. The only down-side, getting back to the hotel turned into an odyssey when the subway closed early."
Wonkoo
La Palma, CA
Tour: 06/14/14
Overall rating:
Best trip I had yet. Fed my body, heart, brain, and soul. The guides were excellent and really went out of the way to make the experience enriching. We also had a great group and loved each others company.
Favorite "WOW" moment
"When I first reached Rome. I love history and the city just oozed history. It was breathtaking to see the ruins and massive cathedrals."
Scot
Kalaheo, HI
Tour: 06/14/14
Overall rating:
The tour exceeded our expectations. It was efficient and organized with minimal waiting. The tour guides were excellent. The museum guides were also excellent, especially the one from the Vatican City.
Favorite "WOW" moment
"No one wow moment. Every destination has its wow moment despite increment weather and unexpected events[INVALID]the Forum was magnificent in spite of the torrential rain, the Alps' raw natural beauty even with hail storm, the long but enjoyable walk from the Eiffel Tower back to the hotel when the Metro inexplicably shut down. Stephen Blackwood's discourse on Stoicism revealed the silver lining of our inclement adventures. Stephen's long, colorful, entertaining personal stories were captivating."
Nicole
Kalaheo, HI
Tour: 06/14/14
Overall rating:
The tour surpassed our expectations--great tour guide, local guides, and tour assistant, hotels centrally located, captivating history presentations, majestic natural sceneries, ruins, castles, churches, buildings, and arena. Museum tours organized and efficient with minimal waiting. The fellowship forged among tour members exceptional.
Favorite "WOW" moment
"All wows--timeless natural beauty of the snow-capped and misty majestic Alps, voluminous cascading shimmering waterfalls, steep slidering stones lining the wild fragrant pine footpath, cows with cowbells chiming in the wind, magnificient sculptures, paintings, tapestries, buildings, and columns of the Ancient, Medieval, and Renaissance periods, captivating history, fellowship forged among members of tour."
Mike
Apollo, PA
Tour: 06/14/14
Overall rating:
I had a great time on this tour. There were so many extras that we wouldn't have experienced if we had done this ourselves. The Rick Steves experience is wonderful.
Favorite "WOW" moment
"There were so many wonderful memories its hard to just single out a single item."
Curt
Rochester, MN
Tour: 06/09/14
Overall rating:
Dimitri and Brenna did a great job keeping everything together on the tour. The sites I expected to see were all there. There wasn't anything that was promised left out.
Favorite "WOW" moment
"There were too many WOW moments to mention them all. In Rome, we stumbled upon a Plaza a little bit out of the general tourist area and had a wonderful meal with locals putting on little performances. There were some young jugglers, an Opera singer practicing, and numerous musicians. Basically, one of those "Back Door" moments that Rick talks about on his shows."
Irene
Blackstone, MA
Tour: 06/09/14
Overall rating:
Robert chose this tour because it fitted with our time constraints and had a little more "down time". Even though it was a family tour and we had no children with us (wonderful to have children around that we weren't responsible for!) we had a great time.
Favorite "WOW" moment
"So difficult to choose - I liked walking through the narrow streets of Florence towards the cathedral and suddenly realizing how huge it was. Also seeing the inside of the "church in the field" was a definite WOW."
Robert
Blackstone, MA
Tour: 06/09/14
Overall rating:
The tour was spectacular, Obviously the venues played some part in that but the real difference was the Guides (Dimi and Brenna)....they were brilliant. They had so much local knowledge and imparted the information skillfully and understandably. Had amazing patience with the group and always stayed on top of any situations
Favorite "WOW" moment
"Dimi decided to take us off route for a tour of an american grave site in Italy..it was very moving and emotional. Also getting the group to follow the world cup soccer tournament thru the European cities was exciting too"
Michelle
Normandy Park, WA
Tour: 06/09/14
Overall rating:
The tour far exceeded our expectations. The group was wonderful and the guides were fantastic. I wasn't expecting to have a guide that focused on the kids. Brenna did a great job of creating a "kids" table at all of the group dinners. She went the extra mile by having activities for just the kids that kept them engaged and having a great time. We were also surprised by the special entertainment that was arranged at a few of the hotels. We are already planning our next Rick Steves tour!
Favorite "WOW" moment
"Our Wow! moment was the Swiss Alps. It was absolutely beautiful, we were surprised and delighted by the sound of the cow bells and amazed by the beauty of the Alps. Second was the Eifel Tower lit up at night - this is a must see!"
Weather

Italy / Rome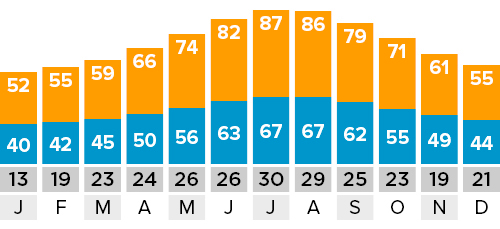 ---
Italy / Florence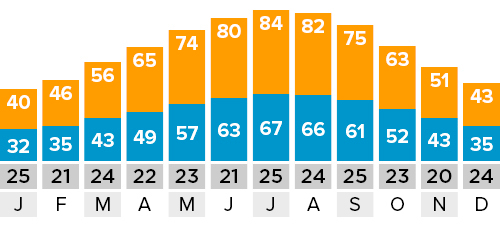 ---
Italy / Venice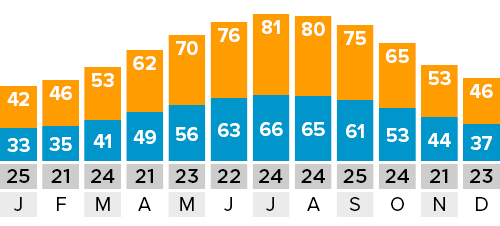 ---
Austria / Vienna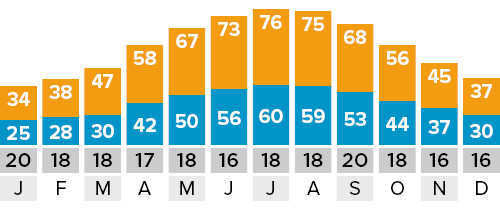 ---
Switzerland / Bern
---
France / Paris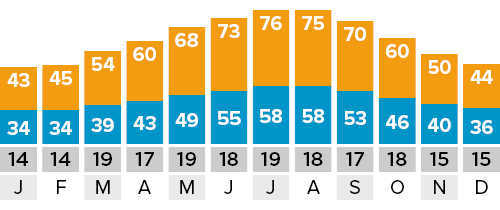 Pre-Tour
We've put together some specific information on what you should know about this tour before you go at our Family Europe FAQ. You'll also find more general information about "Getting Ready for Your Tour" on our Tour FAQ.
Sightseeing On Your Own
If you arrive in Rome before your tour begins, use Rick Steves' Best of Europe guidebook to get oriented. Ride the public transportation, try out a few words of Italian, and get over your jet lag with lots of fresh air and exercise.
Here are a few suggestions for sightseeing in Rome that we do not do as a group: Explora (hands-on children's museum); Villa Borghese — park, zoo (Bioparco), bike rental, mini-train, puppet theater, fountains and a small lake with boats, Borghese Gallery (reservations mandatory); Spanish Steps; Largo Argentina Cat Shelter (for the cat lovers in your family); Cappuccin Crypt (spooky!); National Museum of Rome; Ancient Appian Way (great for biking) and catacombs; Time Elevator — history of Rome through an interactive movie attraction with special effects.
With extra time in Paris, your family may enjoy a visit to the Eiffel Tower (avoid the lines by booking tickets several weeks in advance at: http://ticket.toureiffel.fr); the kid-friendly Luxembourg or Tuileries gardens; the sprawling grounds of Versailles; or as an end-of-trip reward you could take the easy train ride to Disneyland Paris.
Transportation
Most tour members arrive a day or two before the tour begins — and those who don't, wish they had. This allows you ample time to get over jet lag and make the most of the first few days of the tour.
There is more than one way to get to and from your tour. We recommend talking to your travel agent about "open jaw" airline tickets (flying into and out of different cities). Paris and Rome are transportation hubs, making travel before or after your tour quite easy.
For information about flying within Europe, ask your travel agent or check Rick's list of European budget airlines.
Read Rick's train travel and rail pass tips and decide if your travel plans merit a rail pass.
Prior to your tour departure, you will receive detailed directions on how to get from the airport to your first tour hotel, as well as contact information for your first and last hotels in case you wish to book pre- or post-tour hotel accommodations.
If you need more information about additional European travel or for specific questions about your tour, contact the Tour Department at 425/608-4217 or email tour@ricksteves.com.
Trip Resources
Learn more about Italy, Austria, Germany, Switzerland, and France: Check out a collection of Rick's TV shows, radio interviews and articles, plus find a list of recommended books and movies.
Packing
While it is important to pack light, there are some items we'd like you to consider including when packing for this tour. There are a few long bus rides on this tour, so card games and small travel games are great to keep the kids from plugging-in and tuning-out. You will have the opportunity to swim and hike (weather permitting) on this tour, and you may wish to pack a swimsuit and a lightweight microfiber towel. While hiking boots are not necessary, we recommend you bring a pair of comfortable walking shoes with soles offering good traction.
For ideas on what to pack, check Rick's Packing List and our Women's Packing List.