Amsterdam

Amsterdam Canal Cruise

Rhine Valley, Germany

Rothenburg, Germany

Luge Ride in the Tirol

Neuschwanstein Castle in Bavaria

Venice, Italy

Pasta-Making in Tuscany

Pantheon in Rome
Tour Questions? Call 425-608-4217
Family Europe: Amsterdam to Rome in 14 Days Tour
Rick Steves Family Europe: Amsterdam to Rome in 14 Days makes the wonders of Europe come alive for kids — and cuts the stress for parents, too. Starting in the Netherlands and ending in Italy, your enthusiastic Rick Steves guide will introduce your family to Amsterdam's Golden Age, Germany's Rhine Valley and Romantic Road, castles and forests of the German-Austrian Tirol, the canals of Venice, the countryside charms of Tuscany, and the Eternal City of Rome. Join us for Family Europe: Amsterdam to Rome in 14 Days!
You may also be interested in our Family Europe: London to Florence in 13 Days tour.
Dates & Prices
$200 off seats for kids ages 8-17!
Jul 13–Jul 26 (Mo-Su)
$4,395 + Air

Sale $3,995! Save $400 on new bookings (use SPEC15)

Filling Fast

Jul 27–Aug 9 (Mo-Su)
$4,395 + Air

Sale $3,995! Save $400 on new bookings (use SPEC15)

Filling Fast
What's Included
A small, friendly group of 24-28 people — half the size of most tour groups
Kids ages 8 through 17 are welcome — and save $200
A full-time Rick Steves guide, tour assistant and local experts — who will make the history, art, culture — and fun! — of Europe come alive for you and your kids
All tours and admissions — at no extra cost — covering at least 24 group sightseeing events • Amsterdam walking tour • Amsterdam canal cruise • Anne Frank House • Rijksmuseum tour • Arnhem Open-Air Museum • Rheinfels castle tour • Rhine river cruise • Rothenburg orientation • Rothenburg Night Watchman tour • Munich orientation • Wieskirche visit • Neuschwanstein castle tour • Mountain luge (weather permitting) • South Tyrol Museum of Archaeology • Venice walking tour • Venice mask demonstration • Estense castle visit • San Gimignano visit • Hands-on pasta-making demonstration • Gardens of Bomarzo • Evening walk through Rome • Pantheon • Colosseum tour • Forum tour ...and more
All group transportation from Amsterdam to Rome
13 nights accommodations (all stops but one are for 2 nights) in memorable, family-friendly hotels
All breakfasts and half your dinners
All tips for guides and driver
Free stuff: Each household will receive a Europe Planning map. Each adult will receive a Rick Steves Best of Europe guidebook. Each tour member will receive a French-Italian-German phrase book, moneybelt and earplugs
Guaranteed tour price, locked in the moment you make your deposit
Optional single supplements — this tour has a limited number of private rooms for solo travelers for an additional fee
Tour alum discount of $50 for each tour you've taken prior to 2015
50% discount on a consulting appointment with our in-house experts to assist with your pre- or post-tour travel plans
Flexibility should you need to transfer, or cancel/interrupt your tour
Fine print: You are responsible for the cost of your drinks and free-time sightseeing. See our Tour Conditions Agreement for important details regarding everything listed above
Itinerary
Daily Activity Key
Light = 2-4 miles of mostly level walking throughout the day.
Moderate = 2-6 miles walking throughout the day with some hills and stairs.
Strenuous = 2-8 miles walking throughout the day with lots of hills, stairs and uneven terrain.
Day 1: Welcome to Amsterdam
Our adventure begins in the canal-laced city of Amsterdam. We'll get together for a quick introduction meeting at our hotel at 2 p.m. Soon after, we'll head outdoors for a "Golden Age" walking tour of Amsterdam's historic center. We'll see the colorful flower market, the idyllic Begijnhof, and the bustling Dam Square (overlooked by the Royal Palace). We'll stop to grab a traditional Dutch snack before hopping on a canal boat for a floating sightseeing tour of the city. Back on shore, we'll get to know each other during dinner together, and learn how to take a sleek, efficient tram ride back to our hotel. Sleep in Amsterdam (2 nights). Boat: 1 hr. No bus. Walking: strenuous.
Day 2: Eye-Opening Amsterdam
This morning starts with a self-guided tour of the Anne Frank House, where the teenage writer and her family hid from the Nazis for two years during WWII. After time for reflection and lunch on your own, we'll rendezvous as a group and hop a tram to the Rijksmuseum. There we'll enjoy an eye-opening tour through one of the world's greatest collections of paintings, including masterpieces by Rembrandt and Vermeer. Afterwards, you'll be free for the rest of the day to visit the nearby Van Gogh Museum, stroll or bike through Vondelpark, or make more discoveries on your own. No bus. Walking: strenuous.
Day 3: To Arnhem and Germany
We'll meet our coach and driver this morning and make the short drive to Arnhem's amazing open-air museum. As we wander around the perfectly-restored windmills, farm houses, gardens, shops and peasant huts, we'll get a hands-on experience of what life was like for people here in centuries past. We'll gather for a traditional lunch of Dutch pancakes before heading south into Germany and into the Rhine river valley. There we'll get nestled into our very quaint, very old hotel, and have dinner together. Sleep in Bacharach (2 nights). Bus: 6 hrs. Walking: moderate.
Day 4: Rhine Castles and Cruising
This morning we'll sleep in a bit before heading to the nearby Rheinfels Castle — a mighty fortress that towers over the banks of the Rhine. A guided tour will show us what fortress life was like back in the day. We'll regroup for a tasty picnic lunch in a park by the river, then it's all aboard! A boat will take us on a smooth river cruise, past miles of vineyards, villages and more castles (including one that pokes out of the river). Back at our "home village" your evening will be free for more wandering and dinner on your own. Boat: 1 hr. Bus: 1/2 hr. Walking: strenuous.
Day 5: Medieval Rothenburg
After an early breakfast we'll pack up and head for the jewel of medieval Germany, the perfectly-preserved walled town of Rothenburg ob der Tauber. This is an ideal place to explore, on your own, whatever interests you — from the pointy towers of the town's walkable wall to the creepy Crime and Punishment Museum to acres of cute shops and photo ops. After a break for dinner on your own, tag along on this evening's very entertaining Night Watchman's tour. Sleep in Rothenburg (1 night). Bus: 4 hrs. Walking: light.
Day 6: Munich and Austrian Tirol
This morning's destination is the easy-going city of Munich. We'll get oriented at the Viktualienmarkt — an outdoor farmers market, beer garden and park, all rolled into one. You'll have time to assemble a lunch and share a picnic table, then wander through the city's pedestrian-friendly center. This afternoon we'll drive into the Bavarian countryside, stopping to learn why Germany's fanciest Rococo-style church, the Wieskirche, sits in the middle of a cow pasture. Winding our way into the foothills of the Alps, we'll cross the border into Austria and arrive at our Tirolean guest house in time for a hearty dinner together. Sleep in or near Reutte. Bus: 6 hrs. Walking: moderate.
Day 7: Neuschwanstein and the Luge
We'll begin our day with a short drive and a hilly forest hike up to Germany's most famous castle (the one that inspired Disney) — Neuschwanstein. We'll have a guided tour of the castle's furnished rooms, followed by free time to hike a bit further up to Mary's Bridge over the Pollat Gorge, for that photo of a lifetime. Back at the bus after lunch, we'll drive to a nearby luge course where (weather permitting) you'll have a chance to go barreling down a mountain on a tiny sled with wheels. We'll arrive back at the hotel afterward with more time to stroll in the woods, or just relax, before dinner together. Bus: 1 hr. Walking: strenuous.
Day 8: To Ötzi and Italy
We'll take a scenic, all-day drive to Venice today, stopping en route for lunch at the Italian-Tirolean town of Bolzano. We'll also visit this region's most famous resident: the 5,300-year-old, naturally preserved remains of Ötzi the Iceman, along with a museum exhibit showing how Europeans lived and died during prehistoric times. Then we'll make a beeline for the Adriatic Sea. Where the road ends, our bus will drive aboard a ferry, where we'll get a ship's-eye-view of Venice before we go ashore on the family-friendly beach island of the Lido. This evening we'll have an orientation to our island-away-from-home, and dinner together. Sleep on the Lido (2 nights). Boat: ½ hr. Bus: 8 hrs. Walking: light.
Day 9: Magical Maze of Venice
Venice is a quick, 15-minute vaporetto ride from the Lido. This morning we'll cruise there for a walking tour through the heart of Venice. You'll learn about the amazing history of this unique, maze-like city of canals, walkways and slowly-sinking palaces. We'll also visit a local mask-making workshop to learn about the tradition of Venetian masks. After an impressive look at the gold-lined interior of St. Mark's Basilica, the afternoon is all yours. You might tour the Doges Palace — or simply get lost (remember it's an island) exploring Venice's alleyways. Stay in Venice for dinner and a gondola ride on your own — or head back to the Lido early, to bake on a sunny beach and take a dip in the Adriatic. Boat: ½ hr. No bus. Walking: moderate.
Day 10: Storm the Castle
Today we say "Ciao Venezia" as we hop back aboard our bus and drive deep into the heart of Italy. On the way, we'll stop in the town of Ferrara to explore its towering, moat-surrounded Estense Castle. Cross the drawbridge and find your way to the dungeon, if you dare. After time for dragon-slaying and lunch on your own, we'll continue on our way through the Tuscan hills to our cozy countryside hotel, nestled among the trees and vineyards. The grownups will have time to sit back and relax over a glass of the local wine. The kids will have a ball swimming and goofing around in the pool. When our stomachs begin to rumble we'll gather together for tonight's feast. Sleep at a Tuscan agriturismo (2 nights). Boat: ½ hr. Bus: 4 hrs. Walking: light.
Day 11: Hill Towns and Towers in Tuscany
After breakfast we'll take our bus and time-travel to the hill town of San Gimignano, famous for its many medieval towers. We'll visit a fascinating museum and ceramics workshop where the artists have painstakingly created a scale model of the town — complete with all 72 towers — as it was 600 years ago. You'll have free time for lunch and to climb a tower on your own and marvel at how unchanged this town has remained. A few hours later, back at our country hotel, the afternoon is yours for taking it easy, Tuscany-style. Before dinner tonight, our chef will give us a hands-on demonstration of how Italians turn dough into pasta. Bus: 2 hrs. Walking: moderate.
Day 12: All Roads Lead to Rome
This morning we'll visit the 16th century Gardens of Bomarzo, filled with larger-than-life sculptures and monstrous statues, where fantasy and reality meet. Then we'll press on to our final destination, the Eternal City of Rome. We'll check into our hotel in the city's center, and take a little time to catch our breath. Then we'll use Rome's public transportation system to reach the most impressive building from Ancient Roman times: the perfectly-domed, 2,000-year-old Pantheon. After a post-Pantheon break for dinner on your own, we'll rendezvous for a stroll together through the floodlit heart of the city, lacing together lively pedestrian lanes, classy piazzas and splashy fountains. Sleep in Rome (2 nights). Bus: 4 hrs. Walking: strenuous.
Day 13: Ancient Rome
Today we'll be transported back to the days of emperors, slaves and gladiators. We'll tour Rome's famous Colosseum and the nearby Roman Forum, where you'll trip over the same stones as the Caesars did 20 centuries before you (history class will never be the same)! We'll set you free for lunch and the entire afternoon. This is an ideal time to take a taxi to St. Peter's Basilica or the Sistine Chapel (Sistine is part of the Vatican Museum, make reservations in advance). This evening we'll gather together for our final dinner on the tour, and toast our great adventure together. No bus. Walking: strenuous.
Day 14: Tour Over After Breakfast
Breakfast is provided, but there are no group activities today. It's a breeze to reach Rome's airport by taxi, or public transportation. Your guide will help you with any post-tour planning, leaving you well prepared for the road ahead. Grazie e Ciao!
Itinerary specifics subject to change.
Activity Level
Our tours are physically active! It's an essential part of the Rick Steves tour experience. On our Family Europe: Amsterdam to Rome in 14 Days tour — among other things — you'll need to happily...
Carry/roll your luggage over uneven pavement (several blocks possible) and up stairways to reach your hotel; then up several flights of stairs to reach your room.
Be on your feet, walking and standing for up to three hours, indoors and outdoors, in all weather conditions.
Sleep with street noise and no (or weak) air conditioning.
After orientation and transportation lessons, be able to navigate towns and cities on your own.
Be able to get up and "at 'em" in the morning, often departing around 8 a.m.
Be content with the possibility of your family sharing bathroom facilities on this tour.
Weather

Netherlands / Amsterdam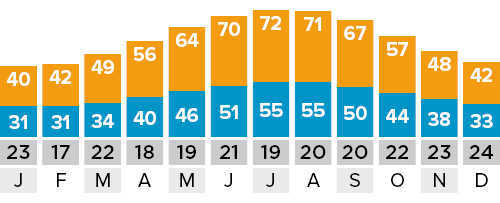 ---
Germany / Munich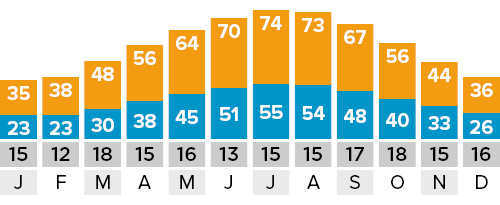 ---
Austria / Vienna
---
Italy / Venice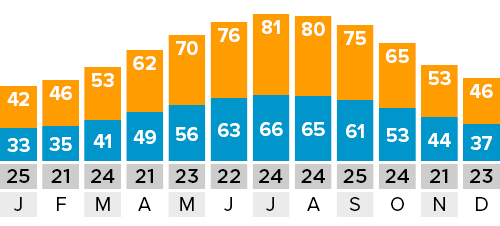 ---
Italy / Florence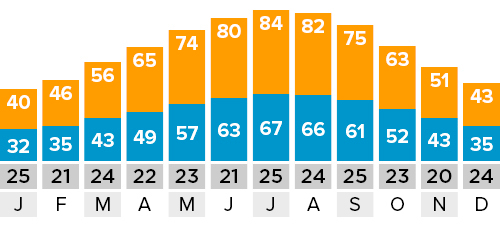 ---
Italy / Rome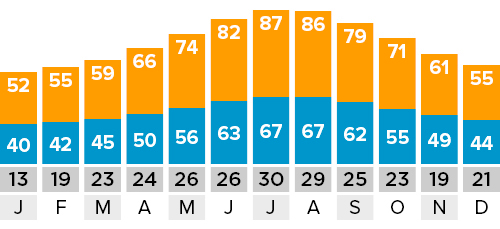 Pre-Tour
We've put together some specific information on what you should know about this tour before you go at our Family Europe FAQ. You'll also find more general information about "Getting Ready for Your Tour" on our Tour FAQ.
Trip Resources
Learn more about Netherlands, Germany, Austria and Italy: Check out a collection of Rick's TV shows, radio interviews and articles, plus find a list of recommended books and movies.
Transportation
Prior to your tour departure, you will receive detailed directions on how to get from the airport to your first tour hotel, as well as contact information for your first and last hotels in case you wish to book pre- or post-tour hotel accommodations.
Many tour members arrive a day or two before the tour begins — and those who don't, wish they had. This allows you ample time to get over jet lag and make the most of the first few days of the tour.
Important arrival note: To make the most of our time in Amsterdam, this tour begins at 2 p.m. (the hotel will store your luggage if your room is not ready).
There is more than one way to get to and from your tour. Most tour members will arrange to fly into Amsterdam and out of Rome ("multi-city" on flight booking websites). Booking round-trip to one city will require a connecting flight, train trip, or additional overnight stay in Europe.
For information about flying within Europe, ask your travel agent or check Rick's list of European budget airlines.
Read Rick's train travel and rail pass tips to decide if your travel plans merit a rail pass.
If you have additional European travel or tour questions, contact the Tour Department at 425-608-4217 or email tour@ricksteves.com.
Sightseeing On Your Own
If you arrive in Amsterdam before your tour begins, use Rick Steves Best of Europe guidebook to get oriented. Ride the public transportation, and get over your jet lag with lots of fresh air and exercise.
Here are a few suggestions for sightseeing in Amsterdam that we do not do as a group: Amsterdam Museum (city history); Nemo Science Center (hands-on science); Vondelpark (paths, ponds, playgrounds); Artis Royal Zoo (critters); National Maritime Museum (climb aboard a sailing ship!).
With extra time in Rome after the tour, your family may enjoy the Villa Borghese (park, zoo, bike rentals and more); Spanish Steps; Largo Argentina Cat Shelter (meow); Capuchin Crypt (creepy); Ancient Appian Way (walking, biking); Vatican Museum's Sistine Chapel (awesome but extremely crowded, an ordeal for younger kids, reserve in advance).
Packing
This tour has a few long bus rides, so card games and small travel games can keep kids from just plugging-in and tuning-out. There are some great opportunities for hiking and swimming on this tour. While hiking boots are not necessary, we recommend you and your kids bring along shoes that offer good traction. Also, pack swimsuits and a couple of light-weight microfiber towels.
For more advice on what (and what not!) to pack, see Rick's packing tips.