London

Tower of London

Latin Quarter in Paris

Paris' Eiffel Tower

Guédelon Castle in France

Mannlichen in the Swiss Alps

Cinque Terre, Italy

Michelangelo's David in Florence

Gelato Break in Italy
Tour Questions? Call 425-608-4217
Family Europe: London to Florence in 13 Days Tour
Rick Steves Family Europe: London to Florence in 13 Days tour makes the wonders of Europe come alive for kids — and cuts the stress for parents, too. Starting in England and ending in Italy, your enthusiastic Rick Steves guide will introduce your family to the rich history of London and Paris, the countryside charms of France's Burgundy region, the majestic Swiss Alps, the seaside villages of Italy's Cinque Terre, and the Renaissance city of Florence. Join us for Family Europe: London to Florence in 13 Days!
You may also be interested in our Family Europe: Amsterdam to Rome in 14 Days tour.
Dates & Prices
$200 off seats for kids ages 8-17!
What's Included
A small, friendly group of 24-28 people — half the size of most tour groups
Kids ages 8 through 17 are welcome — and save $200
A full-time Rick Steves guide, tour assistant and local experts — who will make the history, art, culture — and fun! — of Europe come alive for you and your kids
All tours and admissions — at no extra cost — covering at least 19 group sightseeing events • London South Bank walking tour • Thames river cruise • Tower of London tour • London-Paris Chunnel train • Eiffel Tower visit • Paris walking tour • Notre-Dame Cathedral • Louvre Museum • Guédelon Castle tour • Medieval evening • Chocolate tasting • Orientation and Männlichen hike in the Swiss Alps (weather permitting) • Swiss fondue tasting • Swiss folk music • Orientation for "vacation" day in Cinque Terre • Florence gelato tasting • Renaissance walking tour • Accademia Gallery including Michelangelo's David • Uffizi Gallery tour...and more
All group transportation from London to Florence
12 nights accommodations in memorable, family-friendly hotels
All breakfasts and half your dinners
All tips for guides and driver
Free stuff: Each household will receive a Europe Planning map. Each adult will receive a Europe tour guidebook. Each tour member will receive a French-Italian-German phrase book, moneybelt and earplugs
Guaranteed tour price, locked in the moment you make your deposit
Optional single supplements — this tour has a limited number of private rooms for solo travelers for an additional fee
Tour alum discount of $50 for each tour you've taken prior to 2015
50% discount on a consulting appointment with our in-house experts to assist with your pre- or post-tour travel plans
Flexibility should you need to transfer, or cancel/interrupt your tour
Fine print: You are responsible for the cost of your drinks and free-time sightseeing. See our Tour Conditions Agreement for important details regarding everything listed above
Itinerary
Daily Activity Key
Light = 2-4 miles of mostly level walking throughout the day.
Moderate = 2-6 miles walking throughout the day with some hills and stairs.
Strenuous = 2-8 miles walking throughout the day with lots of hills, stairs and uneven terrain.
Day 1: Welcome to London
Our adventure together begins in the great city of London. We'll meet at 2 p.m. for a brief "Welcome to Europe" meeting at our hotel. Then we're off to explore London's South Bank with a walking tour over the Millennium Bridge and along the River Thames. We'll have fun getting to know one another over dinner together, and then get a practical London Tube lesson as we head back to our hotel. Sleep in London (2 nights). No bus. Walking: moderate.
Day 2: The Thames and the Tower
This morning we'll take a tour boat cruise to the Tower of London, where we'll learn all about England's oldest and most notorious castle. After some free time to sneak a peek at the Crown Jewels and grab some lunch, we'll hop on a city bus bound for the heart of London: Trafalgar Square. It's the perfect spot for your guide to orient you for your free afternoon and evening. You can walk north to the theatre district, west to Buckingham Palace, east to the London Eye, or south to the Horse Guards, Churchill War Rooms, and Westminster Abbey. Cheerio! Boat: ½ hr. No bus. Walking: moderate.
Day 3: The Chunnel to Paris
Let's go to France! After breakfast it's all-aboard the sleek Eurostar train to Paris, zooming along at nearly 200 miles per hour beneath the English Channel (with sandwich lunch en route). In Paris we'll be met by a comfy sightseeing bus for a rolling introduction to this beautiful city. The tour ends at our Paris hotel, where you'll have time to unpack and relax a bit before our big evening: learning to use the Métro (subway), dinner together on the Left Bank, and a trip up the dazzling Eiffel Tower — the perfect finish for your first day in the City of Light. Sleep in Paris (2 nights). Train: 2½ hrs. Bus: 1 hr. Walking: light.
Day 4: The Historic Heart of Paris
Today we'll begin where Paris began, on the Ile de la Cité. We'll take a walking tour tracing the evolution of Paris, from its Roman roots to its medieval splendor, culminating with a visit to the awe-inspiring Notre-Dame Cathedral. Just across the river, in the famous Latin Quarter, you'll get oriented and set free for the rest of the day to explore Paris on your own. You could visit a gallery or two filled with amazing art (the Orsay, Orangerie, Rodin or Pompidou), visit a kid-friendly park (the Tuileries or Luxembourg Gardens), take in the city views (from the Arc du Triomphe, Montmartre hill or a department store rooftop) — and maybe top-off tonight with a boat cruise on the Seine River. Let the kids decide. No bus. Walking: moderate.
Day 5: Masterpieces and Rural France
Our morning begins with a visit to the magnificent Louvre Museum, where we'll come face-to-face with timeless treasures that include Mona Lisa, Winged Victory, Venus de Milo, and other great works of art. After lunch on your own in the Louvre's family-friendly food court, we'll meet our driver and bus for the rest of the tour. Then we'll leave city life behind as we head into the French countryside, passing pastures and châteaux en route to our country hotel in the heart of Burgundy. This stately manor home has a huge lawn, perfect for kids to play outdoor games this evening. For dinner we'll share a buffet of French specialties. Sleep in St. Fargeaux, Burgundy (2 nights). Bus: 4 hrs. Walking: moderate.
Day 6: Building a Medieval Castle
We'll begin today with something you'll see nowhere else: the construction site of Guédelon, where a full-size 13th-century castle is being built today — by people in traditional costumes using historically-accurate tools — exactly as it would have been 800 years ago. We'll have a guided tour through the site and free time to visit the blacksmith, masons, rope-makers — and grab lunch on your own. We'll return to our "country estate" in the afternoon with time to relax (and maybe go for a swim in the nearby lake) before we regroup for a medieval-themed dinner together. Bus: 1 hr. Walking: moderate.
Day 7: Scenic Drive to the Swiss Alps
This morning we'll board our bus and set a course for Switzerland. For lunch, we'll stop and fan out at a typical town's shopping mall (with several places to eat on your own) to get a taste of un-touristy French life. Today's scenic drive is the perfect time to catch up on your journal, play a game with your bus buddies — and learn a few things from your guide about Swiss chocolate. By late afternoon we'll find ourselves in the Swiss Berner Oberland's magnificent Lauterbrunnen Valley, flanked by towering, waterfall-laced cliffs. Tonight we'll share a fondue-tasting and a hearty dinner together — followed by a performance of traditional Swiss music — all at our creaky old chalet nestled in the Lauterbrunnen Valley, where we'll sleep (2 nights). Bus: 8 hrs. Walking: light.
Day 8: All Day in the Alps
Don't sleep-in — the Alps await! After a hearty breakfast our guide will take us up a gondola lift for an easy, scenic, 2½-mile hike along the 7,000-foot-high Männlichen ridge (weather permitting, of course). When we reach nearby village of Kleine Scheidegg, you'll be set free for lunch, with spectacular views of Switzerland's most formidable peaks: the Eiger, Monch and Jungfrau. From there you can take a cowbell-serenaded hike back down to our hotel — or rest your feet aboard one of the cute local cog-trains that run between the villages. For tonight's dinner, shop at the local grocery store for an evening picnic in the great outdoors. No bus. Walking: moderate to strenuous (your choice).
Day 9: Winding Our Way to Italy
This morning we'll have an encore performance of the Alps as we make our way across the mountains and dive into Italy. We'll wind our way down through the hills, past pristine lakes and the farms of northern Italy, en route to our Mediterranean getaway. This afternoon's destination is the seaside Cinque Terre town of Monterosso al Mare. During today's trip, you'll get a thorough orientation to tomorrow's fun, free day possibilities. Tonight we'll share a tasty dinner together in this corner of Italy where pesto was invented and the seafood was swimming this morning. Sleep in Monterosso al Mare (2 nights). Bus: 7 hrs. Walking: light.
Day 10: Free Day in the Cinque Terre
Today is entirely up to you, and each village along the Cinque Terre is just a few minutes away by train. Pick a village to explore, have a meal or two, and become temporary locals...or burn off some energy and enjoy breathtaking views by hiking along the cliff-side paths...or get your views from the sea on a scenic boat ride along the coast, past the fishing-boat harbors and hill-hugging villages...or stay closer to home, hanging out on the beach for swimming and sun. No bus. Walking: light to strenuous (your choice).
Day 11: Florence and Michelangelo's David
Rested and refreshed, today we're ready to take on the impressive art and history of Florence. We'll say ciao to our bus and driver, drop our bags at our hotel…and take time to learn about and taste (of course!) some icy cold gelato. Then we'll hit the ground walking with a historical introduction to the highlights of the Renaissance. We'll learn about life in those amazing times, and gaze at Brunelleschi's magnificent cathedral dome and Ghiberti's eerily 3-D Baptistery doors. Our walk ends with a bang at the Accademia Gallery, home to Michelangelo's most famous sculptures: the rough-hewn Prisoners and his greatest masterpiece, David. Your evening is free for dinner on your own. Sleep in Florence (2 nights). Bus: 3 hrs. Walking: moderate.
Day 12: Treasures of the Renaissance
Your morning is perfectly free. Sleep in if you like — or get an early start to scramble to the top of that big dome or browse through the colorful food and craft markets. After lunch on your own, we'll rendezvous at the Uffizi Gallery to see — and learn the stories behind — the Botticellis, Leonardos and Raphaels in the greatest collection of Italian paintings anywhere. Filled with so many fresh travel memories, this evening we'll gather for our final dinner together, where we can share our favorite moments and celebrate our friendship. No bus. Walking: moderate.
Day 13: Tour Over After Breakfast
Breakfast is provided, but there are no group activities today. It's a breeze to reach Florence's airport by taxi or public transportation. Your guide will help you with any post-tour planning, leaving you well prepared for the road ahead. Grazie e Ciao!
Itinerary specifics subject to change.
Activity Level
Our tours are physically active! It's an essential part of the Rick Steves tour experience. On our Family Europe: London to Florence in 13 Days tour — among other things — you'll need to happily...
Carry/roll your luggage over uneven pavement (several blocks possible) and up stairways to reach your hotel; then up several flights of stairs to reach your room.
Be on your feet, walking and standing for up to three hours, indoors and outdoors, in all weather conditions.
Sleep with street noise and no (or weak) air conditioning.
After orientation and transportation lessons, be able to navigate towns and cities on your own.
Be able to get up and "at 'em" in the morning, often departing around 8 a.m.
Be content with the possibility of your family sharing bathroom facilities on this tour.
Weather

England / London
---
France / Paris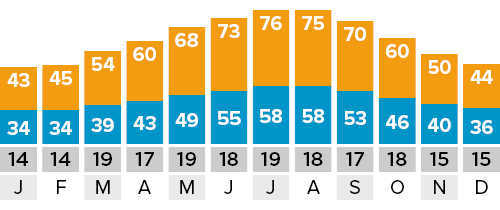 ---
Switzerland / Bern
---
Italy / Florence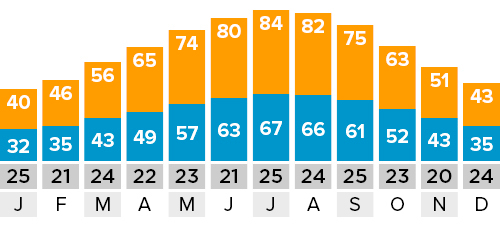 Pre-Tour
We've put together some specific information on what you should know about this tour before you go. You'll also find more general information about our Family Europe Tours on our Tour FAQ.
Trip Resources
Learn more about England, France, Switzerland and Italy: Check out a collection of Rick's TV shows, radio interviews and articles, plus find a list of recommended books and movies.
Transportation
Prior to your tour departure, you will receive detailed directions on how to get from the airport to your first tour hotel, as well as contact information for your first and last hotels in case you wish to book pre- or post-tour hotel accommodations.
Many tour members arrive a day or two before the tour begins — and those who don't, wish they had. This allows you ample time to get over jet lag and make the most of the first few days of the tour.
Important arrival note: To make the most of our time in London, this tour begins at 2 p.m. (the hotel will store your luggage if your room is not ready).
There is more than one way to get to and from your tour. Most tour members will arrange to fly into London and out of Florence ("multi-city" on flight booking websites). Booking round-trip to one city will require a connecting flight, train trip, or additional overnight stay in Europe. London is a major transportation hub, and frequent departures from Florence make travel before or after your tour quite easy.
For information about flying within Europe, ask your travel agent or check Rick's list of European budget airlines.
Read Rick's train travel and rail pass tips to decide if your travel plans merit a rail pass.
If you have additional European travel or tour questions, contact the Tour Department at 425-608-4217 or email tour@ricksteves.com.
Sightseeing On Your Own
If you arrive in London before your tour begins, use Rick Steves Best of Europe guidebook to get oriented. Ride the public transportation, and get over your jet lag with lots of fresh air and exercise.
Here are a few suggestions for sightseeing in London that we do not do as a group: open-top sightseeing bus tour; London Eye (great views); Museum of London (fun history); Natural History Museum (dinosaurs!); Hyde Park's Diana Playground. London's musical theatre scene is also a hit with kids (The Lion King, Billy Elliot the Musical, Wicked, Mamma Mia!).
With extra time in Florence after the tour, your family may enjoy the kid-friendly Boboli and Bardini gardens; Galileo Science Museum; Leonardo Museum; or views from the top of Giotto's Tower and the Duomo.
Packing
This tour has a few long bus rides, so card games and small travel games can keep kids from just plugging-in and tuning-out. There are some great opportunities for hiking and swimming on this tour. While hiking boots are not necessary, we recommend you and your kids bring along shoes that offer good traction. Also, pack swimsuits and a couple of light-weight microfiber towels.
For more advice on what (and what not!) to pack, see Rick's packing tips.