Colmar

Stained glass in Reims Cathedral

Kaysersberg

Wine tasting in Burgundy

French Alps near Chamonix

Annecy

Côtes du Rhône Vineyard

Port of Marseille
Tour Questions? Call 425-608-4217
Best of Eastern France in 14 Days
The bountiful vineyards, classic villages, and hearty cuisine of Eastern France are legendary. Starting in the effervescent Champagne capital of Reims, you'll spend 14 fascinating days with your Rick Steves guide, exploring Colmar's cobbled lanes, Alsace's meandering Route du Vin, Verdun's historic battlefields, Burgundy's fabled Côte d'Or, Chamonix's majestic mountains, Provence's scenic Côtes du Rhône, and ending with a harborside toast in Mediterranean Marseille. Join us for the Best of Eastern France in 14 Days!
Dates & Prices
What's Included
A small, friendly group of 24–28 people — half the size of most tour groups
Full-time services of a professional Rick Steves guide and local experts who will make the fascinating history, art, and culture of France come alive for you
All tours and admissions — at no extra cost — covering at least 18 group sightseeing events • Reims walking tour • Reims Cathedral • Champagne Cave visit and tasting • Verdun WWI battlefields tour • Colmar walking tour • Unterlinden Museum tour • Colmar wine region excursion • Alsatian wine tasting • Beaune walking tour • Hospices de Beaune tour • Market day in Beaune • Beaune wine tasting • Boat cruise on Lake Annecy • Hiking orientation in French Alps • Vaison-la-Romaine Roman ruins tour • Orange Roman Theater tour • Rhone Valley wine tasting • Tour of Marseille…and more
All group transportation from Reims to Marseille
13 nights accommodations in memorable, centrally located hotels
All breakfasts and half your dinners
All tips for guides and driver
$100 Shopping Spree (per household) at the Rick Steves Travel Store to get guidebooks and gear for your trip
Guaranteed tour price, locked in the moment you make your deposit
Optional single supplements — this tour has a limited number of private rooms for solo travelers for an additional fee
Tour alum discount of $50 for each tour you've taken prior to 2016
50% discount on a consulting appointment with our in-house experts to assist with your pre- or post-tour travel plans
Flexibility should you need to transfer, or cancel/interrupt your tour
Fine print: You are responsible for the cost of your drinks and free-time sightseeing. See our Tour Conditions Agreement for important details regarding everything listed above.
Itinerary
Daily Activity Key
Light = 2–4 miles of mostly level walking throughout the day.
Moderate = 2–6 miles walking throughout the day with some hills and stairs.
Strenuous = 2–8 miles walking throughout the day with lots of hills, stairs, and uneven terrain.
Day 1: Welcome to France's Champagne Region
Just 45 minutes from central Paris by frequent TGV (bullet) train, the effervescent city of Reims is famous for its royal history, its towering cathedral...and Champagne. We'll meet at 5 p.m. at our hotel for a short "bienvenue à Reims" meeting. Then we'll take an orientation walk through the heart of Reims, followed by time to get acquainted over dinner together. Sleep in Reims (2 nights). No bus. Walking: light.
Day 2: All Day in Reims
We'll spend our morning on a walking tour through Reims' historic city center, where we'll learn about the design and history of its glorious Gothic cathedral. Rivaling Paris' Notre-Dame Cathedral in beauty and prestige, more than two dozen kings and queens of France were crowned here over the course of six centuries. The cathedral and its surrounding neighborhood were virtually destroyed during WWI, then rebuilt during the Art Deco age, which is delightfully reflected in the design and décor of Reims' downtown buildings. Today we'll also learn about this region's most famous product — Champagne — with a tour and tasting, courtesy of a local producer. Dinner will be on your own this evening. No bus. Walking: moderate.
Day 3: Battlefields and Lessons of Verdun
We'll meet our bus and driver today and take a short drive to the historic WWI battlefields at Verdun. We'll visit the ruins and monuments of one of Europe's costliest battles of attrition, where hundreds of thousands of French and German soldiers perished. Our day will end in France's Germanic region, the Alsace, the ultimate Franco-Germanic blend. Tonight we'll share a dinner of Alsatian specialties in the town of Colmar, where we'll sleep (3 nights). Bus: 6 hrs. Walking: moderate.
Day 4: All day in Colmar
Today is devoted to exploring the enchanting town of Colmar. We'll take a walking tour this morning, wandering over its cobbled lanes lined with leaning, half-timbered buildings, and learn about the historic importance of the community's canals. We'll wrap things up at one of Rick's favorite museums in Europe — the Unterlinden — home to the Isenheim Altarpiece by Matthias Grünewald. You'll have this afternoon and evening free to explore more of the city's sights and pedestrian-friendly lanes, and to enjoy more Alsatian specialties on your own. No bus. Walking: moderate.
Day 5: The Route du Vin
Let's take off and explore the region's scenic Route du Vin, where colorful villages and vineyards carpet the foothills of the Vosges Mountains — birthplace of the region's very dry Rieslings and aromatic Gewürztraminers. We'll visit Albert Schweitzer's hometown village of Kaysersberg and find the perfect winery to sample some local varieties. Then we'll return to Colmar, where you'll have the late afternoon and evening free. Bus: 2 hrs. Walking: light.
Day 6: A Hearty Taste of Burgundy
This morning we'll drive from the Teutonic tidiness of Alsace to the red-tiled villages of Burgundy and its bustling wine capital of Beaune. After some free time for lunch, we'll hit the ground walking with a tour of the town and its eye-opening medieval charity hospital, Hospices de Beaune. Tonight we'll have a Burgundian dinner together. Sleep in Beaune (2 nights). Bus: 3 hrs. Walking: light.
Day 7: Market Day and Vineyards
It's outdoor market day in Beaune! Your morning will be free for rubbing elbows with locals sampling smelly cheeses, creamy patés and fresh produce while doing their weekly shopping. This afternoon we set off for Burgundy's legendary and beautiful Côte d'Or wine country, where we'll have lunch together at a local domaine, along with a tasting of its celebrated harvest. We'll return to Beaune later this afternoon, where you'll be free for discoveries and dinner on your own. Escargots, anyone? Bus: 2 hrs. Walking: light.
Day 8: To the Alpine Peaks of Chamonix
This morning we'll make a bee-line for Europe's highest point, the Mont Blanc, arriving in the picturesque resort town of Chamonix in time to get acquainted with all the Alpine thrills this charming city offers. This evening we'll enjoy a traditional dinner of raclette or fondue together. Sleep in Chamonix (2 nights). Bus: 4 hrs. Walking: light.
Day 9: Free Day in the French Alps
Today is your day to enjoy the wonders of the French Alps. Weather and lifts permitting, your guide will help you make your way up the Aiguille du Midi gondola and find the right trail to hike, rewarded with stunning views of nearly 16,000-foot Mont Blanc and a supporting cast of Alps that seem to stretch forever. Or if you prefer, simply find a view table in Chamonix and take the day off in après-ski style. No bus. Walking: light to strenuous (your choice).
Day 10: From Peaks to Provence
Sit back and rest those hiking muscles as we spend our day driving south to sunny Provence, enjoying the countryside along the way. We'll stop for lunch and a boat ride (weather permitting) in exquisite Annecy — hands-down France's most beautiful lakefront town. We'll arrive at our history-rich, Provençal destination of Vaison-la-Romaine in time to get oriented and enjoy dinner together. Sleep in Vaison-la-Romaine (3 nights). Bus: 5 hrs. Walking: light.
Day 11: Roman Provence
We'll spend our morning sifting through the 2,000-year-old site of ancient Vaison-la-Romaine. There we'll tour the ruins of a sprawling Roman mansion and the 6,000-seat Roman theater that is still used for performances today. Consider this a warm-up act for the most impressive of all Roman theaters — the Theater of Orange — which we'll drive to and experience this afternoon. Bus: 1 hr. Walking: moderate.
Day 12: The Vineyards of Côtes du Rhône
This morning, we'll drive through some of Europe's most picturesque villages and vineyards, stopping here and there along the way. One of our stops, at a favorite winery, will bring us a refreshing lunch and the chance to sample some formidable Côtes du Rhône wines at their source. We'll return to Vaison for free time this afternoon. Bus: 2 hrs. Walking: light.
Day 13: Hill Towns to Harbors
Today we'll continue south through Provence's intoxicating countryside, making our way to the seaside city of Marseille, where we'll tour its historic center and port with our local guide. This afternoon you'll have time to explore more of Marseille including the city-capping Notre-Dame de la Garde basilica. Tonight we'll share travel memories and toast new friends at our farewell dinner together. Sleep in Marseille (1 night). Bus: 3 hrs. Walking: moderate.
Day 14: Tour Over After Breakfast
Breakfast is provided, but there are no group activities today. Marseille's airport is an easy 30-minute bus, shuttle, or taxi ride away. For those staying longer, your guide will be happy to send you off in the right direction and help with any trip planning needs. Au revoir et merci!
Itinerary specifics subject to change.
Activity Level
Our tours are physically active! It's an essential part of the Rick Steves tour experience. On our Best of Eastern France in 14 Days tour — among other things — you'll need to happily…
Carry/roll your luggage over uneven pavement (several blocks possible) and up stairways to reach your hotel; then up several flights of stairs to reach your room.
Be on your feet, walking and standing, for up to three hours, indoors and outdoors, in all weather conditions.
Sleep with street noise and no (or weak) air conditioning.
After orientation and transportation lessons, be able to navigate towns and cities on your own.
Reviews
Linda
Raleigh, NC
Tour: 08/30/15
Overall rating:
Fantastic time with 23 of our new best friends. The small group allowed us to spread out in comfort on the bus & get up close & personal with the local guides in the villages, cathedrals, vineyards we visited. Virginie & Rebecca were terrific with interesting commentary about the history, economics, & politics that shaped the regions we visited. Local champagne, wine, & food with picturesque landscapes of Eastern France without the logistics hassles. Free time to explore on our own, too.
Favorite "WOW" moment
"Chamonix was the WOW. We were fortunate to have clear weather so the views of Mont Blanc & the valley below were amazing. Another WOW was the lovely day we spent in Seguret at the Mourchon winery culminating with a picnic at the vintner's home. Verdun was a very moving experience. Visits to champagne caves, vineyards, cobble-stoned villages, historical sites, Roman ruins - the list goes on."
Elaine
Mercer Island, WA
Tour: 08/30/15
Overall rating:
The tour was well planned and both tour guides were outstanding. They shared their in depth knowledge of the French language and culture. They were truly attentive to tour members' needs throughout the journey. Also kudos to our driver Andre who actually rode his bike to locate a tour member who couldn't find the bus! That's above and beyond.
Favorite "WOW" moment
"Too many wow moments but if I had to choose one, it would be the well organized picnic (by Virginie and Rebecca) at Chateau de Rully after our tour and wine tasting. The local food and wine they got at the market were excellent. They pulled off the picnic so seamlessly even though it must have been a lot of work doing that on top of making sure we were well looked after."
Barbara
Seattle, WA
Tour: 08/30/15
Overall rating:
We had a great time on the Eastern France tour. The tour was well organized, places we stayed were great and centrally located, structured and free time were well balanced, group meals were really good, and winery tours fun and educational.
Favorite "WOW" moment
"This is hard. It is probably our free day in Chamonix. It was a marvelously clear day. We rode the gondola up to the Aiguille du Midi, then went back down to the Plan de l'Aiguille du Midi and did the #1 hike in the guidebook to Mer de Glace. While this 7+ mile hike was a challenge [probably a little more than the group of us seven anticipated], it was a gorgeous hike. The other really great, fun day was the visit to the Mourchon winery - incredibly welcoming family."
Judy
Boulder, CO
Tour: 08/30/15
Overall rating:
Very fun tour packed with all the things I truly enjoy: Charming, historic cities and towns, ancient cathedrals and churches, Roman ruins, alpine landscape, vineyards and great French wines, WW II monument, harbors and lakes, fabulous food, etc., etc. The French people we met were most gracious and helpful. the people in our tour group were all really fun people, and Virginie and Rebecca were wonderful guides throughout our adventures.
Favorite "WOW" moment
"Lots of WOW moments: Mont Blanc, Roman amphitheater in Orange, group dinners in Beaune and Vaison la Romaine. But my favorite day was when we went to the Mourchon vineyard and winery for their tour and wine tasting. The lunch they prepared for us was fabulous in every way and the view over the vineyard was beautiful."
Terry
Mount Vernon, WA
Tour: 08/23/15
Overall rating:
Well organized and well executed! This is our third Rick Steves tour and was as wonderful as the other two - maybe our favorite.
Favorite "WOW" moment
"Definitely the alpine peaks of Chamonix! The gondola rides were a highlight as well as watching both the people jumping off the cliffs and flying down the mountain in their "bat" suits. We happened upon them and the para-gliders during our free time as we went back up the mountain."
Colleen
Portland, OR
Tour: 08/23/15
Overall rating:
What a fantastic vacation! We travel a lot and weren't sure if we would really like being in a group or traveling on a schedule. But this was great. The group activities were very well chosen and the other members on the tour were great. Was saw so many things we wouldn't have been able to do on our own. We felt like the price was fair and we really got our money's worth.
Madonna
Lenexa, KS
Tour: 08/23/15
Overall rating:
I thought this tour showed the many sides of France, from the champagne capital of Reims, the French Alps of Chamonix, the Alsace region and Provence. I loved all the cobblestone villages each with its own character. Overall a great tour.
Favorite "WOW" moment
"Mont Blanc and the French Alps, how could one not be overwhelmed with the views from the top. And also Domaine De Mourchon vineyards, the lunch there was like having a wonderful picnic with family and friends."
Gene
Lenexa, KS
Tour: 08/23/15
Overall rating:
This was certainly a great tour, all went very well, well organized, hotels great, food great, guide was excellent, bus driver very professional and fun, the whole travel group were very nice, a fun time!!!
Favorite "WOW" moment
"The ride up the L'Aiguille du midi, outstanding!! Everything related to Chamonix was great. Plus the visit to the Domaine du Mourchon was very nice, the host provided a very nice lunch, what a venue for a lunch to be had. Walt was charming!!"
Gail
Mount Vernon, WA
Tour: 08/23/15
Overall rating:
Was everything and more that we hoped it would be. I especially valued our guide, Daniella's expertise in history, art history and architecture and how she was able to weave it altogether in a beautiful tapestry and allowed us to understand the peoples and times of the towns and cities we were touring. She encouraged us to keep our eyes and minds open as we experienced the past and the present in a holistic context. Was wonderful!
Favorite "WOW" moment
"That although we may believe we are more "evolved" in our 21st century, in reality the wars upon wars and conflict after conflict that has occurred from the beginning of history continues today."
Laurie
Sisters, OR
Tour: 08/23/15
Overall rating:
From the streets of Colmar, to the Church at Reims, to the top of the French Alps, and to the sea, my experience was an A+. The only "drawbacks", if I can call them that, were so minuscule that they would only be considered suggestions. Everything was so well planned. Made the entire trip a "trip of a lifetime".
Favorite "WOW" moment
"Too many of them, and all so different. The Alps are just a WOW, on their own! No man made item could ever compete with the majesty of the Alps. The other "Wows" were the Roman ruins,Kayserburg, Annecy, Colmar, The churches and museums, and Verdun. All such different treats to the eyes, ears and mouths!"
Dolores
Affton, MO
Tour: 08/23/15
Overall rating:
This was a wonderful tour with a great group of people. There are so many layers to this experience it is difficult to sum up. From Reims to Colmar, Verdun to Beaune, then off to Chamonix and Vaison la Romaine. My expectations were met and then some. All I can say is just go on this tour and enjoy the many experiences you will have. From cities to small villages this tour will delight all who partake of its many charms.
Favorite "WOW" moment
"Chamonix and Mont Blanc delivered my Wow, Wow, Wow moments. I felt stunned by its beauty and blessed to be there. There are no words to describe the feeling you get just looking out your window at all the magnificent peaks, and then to ride to the top and have views that just take your breath away. I will never forget this experience."
William
Fresno, CA
Tour: 06/28/15
Overall rating:
Wonderful trip with great food and wine. Weather was unusually hot throughout but still had a great time although the experiences were different than I expected. Never took out sweater or fleece from suitcase for entire trip even at the top of the gondola in Chamonix at 12,000 feet. But definitely comfortable at that altitude.
Favorite "WOW" moment
"No real wow moments but all enjoyable."
Grace
Kingwood, TX
Tour: 06/28/15
Overall rating:
Enjoyed seeing another part of France. The villages on the tour were each interesting in their own way and the miles of vineyards was spectacular. Chateau Ruilly was a lovely experience that was almost a step back in time. Sharing all this with a fun tour group made for another great Rick Steves adventure.
Favorite "WOW" moment
"Chamonix and Mourchon Vineyards were stand out moments on this trip."
Cynthia
Georgetown, TX
Tour: 06/28/15
Overall rating:
It was what I expected and very enjoyable. As always full of info.
Favorite "WOW" moment
"The French Alps in Chamonix were particularly beautiful. The vineyards peaceful and beautiful."
Deborah
Fairbanks, AK
Tour: 06/28/15
Overall rating:
The tour was exactly as expected... Learning about wines , food, and differences in the regions of Eastern France. It really was an education learning which grapes are used in each region and which foods pair better with the wine. Culturally, I appreciated learning about Clovis and the significance of the Cathedral In Reims and seeing the beautiful paintings in Colmar and Beaune. This was my 13th tour and just as wonderful as all the others. I really liked the smaller villages .
Favorite "WOW" moment
"Visiting the French Alps and Chamonix again.I visited there on the My Way Alpine tour in 2013. also Vaison la Romaine. Stunning hill town in Provence with Roman architecture."
Douglas
Kingwood, TX
Tour: 06/28/15
Overall rating:
This felt like the most leisurely tour of the seven tours I've taken. Daniela was an excellent guide and the group was great. I enjoyed the wine tasting/vineyard tours and the many sites we visited. It was nice to see Andre our bus driver again - he was our bus driver for the Scandinavia tour.
Favorite "WOW" moment
"The Domaine de Mourchon vineyard tour/wine tasting/exquisite lunch and Chamonix."
Rick
Bellevue, WA
Tour: 06/28/15
Overall rating:
Good group, very excellent guide, overall very good. Would recommend without reservation (except for ending in Marseille).
Favorite "WOW" moment
"Many, many, buy probably simply all that is Chamonix, from the mountain top to the ice caves."
William
Laguna Niguel, CA
Tour: 06/21/15
Overall rating:
Great trip with many things to see and do! Great variety, and great leadership from Julie!
Favorite "WOW" moment
"Crossing the Alps and arriving in Italy, and then returning to France taking the tram half way down and doing the RS hike #1, where I met Claude and had a fresh berry tarte before continuing the walk!"
Gary
Cold Spring, MN
Tour: 06/21/15
Overall rating:
it felt like the right amount of time overall; all of the places we went to were interesting and informative.
Favorite "WOW" moment
"I was so glad we went to the castle on the hill outside of Colmar."
William
New Berlin, WI
Tour: 06/21/15
Overall rating:
This was our first Rick Steves tour and the experience was delightful. The pacing and planning of the itinerary was perfect, with a great mix of group activities and time on your own. The cities we visited were charming and gave us a good flavor of French culture. A major reason we went on the Eastern France tour was the emphasis on wine and that did not disappoint. A highlight was the time spent in Colmar, which we probably never would have visited on our own.
Favorite "WOW" moment
"The tour, wine tasting and picnic at the Mourchon winery in the Rhone valley. The setting was lovely, our hosts were very hospitable, the wine outstanding and the food perfectly complemented the great afternoon."
Andrew
Cold Spring, MN
Tour: 06/21/15
Overall rating:
This tour is a superb introduction to eastern France. I want to go back and explore most of the areas we visited, especially Burgundy and Provence.
Favorite "WOW" moment
"Lunch under the trees at the Mourchon Vineyard was a moment when I wished the tour would go on forever. The excellent food and wine, the beauty of the hilltop, the good company of fellow tour members--these will stay with me forever."
Linda
Woodinville, WA
Tour: 06/21/15
Overall rating:
We have come away from this experience with many memories. The tour guide was knowledgeable, interesting and personable. The tour itself was full of many different experiences: visiting a castle, hiking in Chamonix, bike riding in Colmar, walking around village markets, eating delicious meals, staying in lovely hotels and practicing our French with the locals, to name a few! The length of the tour was just right as we were able to tack on a few days both in Paris and Marsailles.
Favorite "WOW" moment
"Chamonix!!! Hiking both days of our stay. Even though one of our hikes coincided with a trail marathon (we unfortunately were going against the traffic) we were amazed by the scenery. We had a great time! The group meal of cheese fondue rounded off the experience."
Leslie
Aubrey, TX
Tour: 06/21/15
Overall rating:
The 2 weeks flew by and we had a great time.
Favorite "WOW" moment
"Traveling through the forest and hills of north eastern France where the small farms began. It was very beautiful."
April
Vancouver, WA
Tour: 06/21/15
Overall rating:
I took this same tour in 2009. Although some of the changes to this tour were an improvement, others were not. The change from Villefranche to Marseille was a mistake for this tour. It is an abrupt ending and disjointed with the rest of the tour. Overall, I was really disappointed with the hotel changes. The food on this tour was simply unacceptable. After taking this tour in 2009, I had recommended it to several other people. After taking it this time I would not recommend it to anyone.
Favorite "WOW" moment
"Hiking in Chamonix was lovely and a highlight. Also, the lunch and tour at Mourchon was outstanding."
Randy
Hillsboro, OR
Tour: 06/14/15
Overall rating:
My wife and I enjoyed the entire trip. We had a great group of people travelling with us on that tour.
Favorite "WOW" moment
"Chamonix was the best part of the trip. Could have spent one more day there are one less day in Beaune. The last winery tour was also great, especially the lunch provided afterwards. Also, enjoyed the group happy hours."
Glenys
Oviedo, FL
Tour: 06/14/15
Overall rating:
We enjoyed every bit of this tour. Daniela was an excellent tour guide; and her sharing her knowledge of France, art, architecture, the French people, and the language added so much to our experience. There was plenty of variety[INVALID]each place we visited was different from all the others. There was a good balance of group activities and time on our own. Our bus driver, Andrej, who was very capable and personable, did a great job. We so enjoyed the camaraderie with our fellow travelers.
Favorite "WOW" moment
"This presents a difficult decision because there were so many. We especially loved our time in Chamonix[INVALID]everything from the first sight of Chamonix in its beautiful setting to the trip up to Aiguille du Midi and the view of Mont Blanc and surrounding peaks from the top. We also really enjoyed the wine tasting and fabulous outdoor lunch at Domaine de Mourchon[INVALID]a very memorable day."
Edward
Plano, TX
Tour: 06/14/15
Overall rating:
Trip met my expectations. No surprises. Very comfortable and organized. Relaxing, entertaining, and not boring. Good pace and variety of events. Daniella our tour guide was very good, and wanted us to have a good time. I believe she was very sincere and took personal responsibility for each of us to enjoy the trip. And she is sensitive and addressed the individual needs and interests of each of us. She understands what a tour guide should do.
Favorite "WOW" moment
"Had 2 actually... 1. Walking downhill on vineyard road with Jean Claude explaining how he made wine with his dad. And telling us he grew up in this town. And teaching us about the grapes. 2. Having the picnic on the grounds of the Cotes de Rhone vineyard Mourchon, being served by the winemaker's wife and 2 young daughters. Very nice like having a picnic at a family reunion."
Mary
Reno, NV
Tour: 06/14/15
Overall rating:
My husband and I enjoyed every minute of the tour. We had a fabulous guide (there aren't enough superlatives to cover how great she was) and loved our bus driver who was very personable and fit right in with our group. There was plenty of unscripted time to explore on our own. The hotels were fine and conveniently located and the meals were very good. We sampled a lot of wine on this tour, learned some history, enjoyed a variety of scenery.
Favorite "WOW" moment
"Hiking in the mountains in Chamonix with fabulous views all around. And the lunch at the Mourchon winery. I could have stayed forever at the winery. The setting was idyllic."
Betty
Madison, WI
Tour: 06/14/15
Overall rating:
The tour was outstanding. A wonderful mix of history, culture and amazing scenery
Favorite "WOW" moment
"Provence"
Lois
Belfast, ME
Tour: 06/14/15
Overall rating:
This tour was made exceptional not only by the open and caring tour members but through the passion and experiences our guide, Daniela, brought to the table. Her knowledge of the history of the area and of the wines we were introduced to heightened the experiences.
Favorite "WOW" moment
"The peace and beauty of the Mourchon winery matched the awe filled area of Mont Blanc."
Judy
Plano, TX
Tour: 06/14/15
Overall rating:
This was a small tour that allowed the small village France to shine. This was such fun and included so many special moments that I will never forget. Daniela was helpful, caring, genuine, but she was not smothering. Just the right amount of assistance and freedom.
Favorite "WOW" moment
"Touring the Chateau Rully outside of Beaune. The opportunity to see this beautiful chateau, which is still a private home, was one of the high points of my life, actually. Driving up to the chateau, I thought back on the 5 years I took French, imagining of a place like this. Amazing is such an overused word, but this was amazing. The count's obvious love of his family, home, wine was so evident. His wine was wonderful. His Pinot Noir was my husband's favorite of the trip. Thank you for this!!"
John
Madison, WI
Tour: 06/14/15
Overall rating:
A fantstic tour, great guide, wonderful food and experiences.
Favorite "WOW" moment
"The French Alps"
Lori
Brenham, TX
Tour: 06/14/15
Overall rating:
As always, this tour was phenomenal.
Favorite "WOW" moment
"There was not a single "wow" moment. The entire trip was one big "WOW!" Here are a few "wow" individual items: the illumination of the cathedral in Reims on the first night, viewing the Isenheim Altarpiece in Colmar, spending 20 minutes quietly viewing the Polyptych of the Last Judgment by van der Weyden at the Hotel Dieu in Beaune, wine tasting and picnic at a chateau which has been in the same family for over 800 years, the first glimpse of Mont Blanc, and the fields of lavender in Provence."
Paul
Woodland, CA
Tour: 05/24/15
Overall rating:
Fantastic! I can't imagine any other tour of France in which I could have learned so much about the French people, culture, history, art, geography, etc. in just two short weeks!
Favorite "WOW" moment
"Staying in the town of Colmar was like being in Disneyland. I really enjoyed the beautiful, harmonious blend of the French and German ways-of-life, especially in the areas of architecture and food."
Joann
Port Angeles, WA
Tour: 05/24/15
Overall rating:
My first guided tour ever! I've been to Europe before via our own planning. We've always used Rick's guide books.In comparison, Rick Steve's tour, gave us more time and freedom to enjoy the sites. Virtually no stress at following maps,checking in to hotels, planning meals and wondering how to communicate in a language other than ours. I loved having a local guide too! Bravo Patrick!
Favorite "WOW" moment
"I have more than one.My go to answer; the wine makers pic-nic at 'Mourchon Vineyard'. This was an unexpected surprise at their personal residence. I felt very privileged even after riding 'Mexican' style in the back of a pick-up truck! The view, food and welcoming atmosphere was delightful. How did you pull this off? Insider information I'm sure! We couldn't have done this on our own without the Rick Steve's connection!"
Jean
Charles Town, WV
Tour: 05/24/15
Overall rating:
The tour was a lot of fun and met my expectations. Exactly as described. Maybe a little more active thGrn I thought.
Favorite "WOW" moment
"Being up in the tip tops of the french alps. I had no idea it would be so awesome. Close second would be the outdoor lunch at the winery owner's home in Provence. Great food, great company-- a perfect day!"
Bonnie
Pleasanton, CA
Tour: 05/24/15
Overall rating:
This was our second Rick Steve's tour and will likely not be our last. As with any group situation, there were times we were grateful for our own space but overall we enjoyed several experiences that we would never have had traveling on our own. We were among the youngest tour members (the same was true for our last RS tour) and have decided that maybe we'll wait awhile before we do another one. We're confident w/ RS books we can do this on our own for a few more years.
Favorite "WOW" moment
"I would say that my "wow" moment was the early morning view of Mont Blanc from my hotel window. That said, my favorite experience was the tour of Mourchon Winery and our delightful lunch afterwards. Hugo, Walter and the family were amazing at making us feel like welcomed guests in their home. What a fairy tale day! The hill town of Seguret was just a further highlight of that very special day. Overall, the entire trip was filled with memorable people and amazing sights everywhere we went."
Shirley
Citrus Heights, CA
Tour: 05/24/15
Overall rating:
Favorite "WOW" moment
"May I have 2? The first one was the tour of the castle with the owner.I'm so in awe of these folks that take on the responsibility of keeping up an 800 year old castle because it's been in the family.He was dressed like a farmer and, bless him he really has to work so hard to keep everything going. The other big "wow" moment was the city of Marseilles.I was expecting something more like Naples (a working man's town),but that is a lovely city with some incredibly positive energy going on!"
Kathy
Pleasanton, CA
Tour: 05/24/15
Overall rating:
Good itinerary, it really is a wine and food tour! I think Beaune could be skipped- it was very similar to Colmar without the charm. Loved our guide Patrick and all the local guides. Really didn't like the hotels - way too tattered and worn - you have been warned :) Sad, because the hotels just don't match the rest of the experience. I bet for $25 pp more a night, they could be decent.
Favorite "WOW" moment
"The laser show on the face of the cathedral in Reims - totally unexpected and amazing! The view from the top of the tram in Chamonix, a leisurely lunch at the vineyard owners house, a decent, updated hotel in Marseille."
Douglas
Citrus Heights, CA
Tour: 05/24/15
Overall rating:
We loved France when we arrived and loved it even more at the end of the tour.
Favorite "WOW" moment
"We liked Marseilles much better than we thought we would. Lovely city."
Mark
Pleasanton, CA
Tour: 05/24/15
Overall rating:
Favorite "WOW" moment
"Lunch with in the winery owner's yard is an experience you just can't get anywhere but on a Rick Steve's Tour. The up-close and personal time with locals is great."
Donna
Strongsville, OH
Tour: 05/24/15
Overall rating:
I really enjoyed this tour and the focus on villages and vineyards. I learned a lot about wine! Good guide, good group.
Favorite "WOW" moment
"I loved Chamonix and the wonderful group dinner of fondue and raclette. Our "free day" there was a bonus and the best day of the tour. Our guide suggested that we purchase a day pass and it turned out to be a great deal. We rode the cable car to the Aiguille du Midi and were "wowed" by the amazing views. We also took the cog wheel train to see an ice cave carved out of a glacier. The day ended with a group happy hour at the hotel, and sipping champagne by the Arve River. Perfect!"
John
Medina, OH
Tour: 05/24/15
Overall rating:
Overall I enjoyed the trip very much. Many very interesting places and things. My pre-trip highlights were for Verdun (military history buff) and Chaminox. I was disappointed in Verdun too much emphasis on the fort and the Ossuaries. Loved Chaminox and would like to have spent at least one more day there with a day less in Colmar or Vaison La Romaine. Our day off in Chaminox was my best day of the entire tour.
Favorite "WOW" moment
"My favorite "wow" moment was Chamonix and going to the top of the Auquille Du Midi and then the glacier/ice cave. I have always wanted to see the Alps so Verdun (disappointed) and Chamonix were the two sites I was aiming for on the tour. The mountains were beautiful and the views from the top of the mountain were exceptionally breathtaking and beautiful. I would love to go back there. Thank God for digital cameras. I can't imagine what it must look like in the winter."
Karen
Novato, CA
Tour: 05/17/15
Overall rating:
This was my fifth Rick Steves tour and one of the best, in my opinion. Our tour guide, William, was calm and professional at all times, and he made the experience fun and enlightening. Although this was my fifth trip to France, this tour took me to places that I hadn't been to before and probably would not have known about on my own. However, I would have liked to cut out some of the wine tours (there were three), and think the time may have been better spent exploring new areas.
Favorite "WOW" moment
"There were a number of "wow" moments on this tour. I was impressed with our visit to Verdum and its role in World War I, which was made particularly interesting by our tour guide. I also was impressed by the city of Beune and its 15th century hospital, Hotel Dieu, dedicated to the poor and indigent. I loved the wonderful lunch we had at the Mouchon winery prepared by the vineyard owner's family."
Terry
Austin, TX
Tour: 05/17/15
Overall rating:
I loved this trip!! William was excellent, as were the others on the tour, and how can you go wrong in France. The people, the food and the wine were the best!
Favorite "WOW" moment
"We did a vineyard tour and then ate in the owners yard under the trees on a beautiful day in Provence. The food, prepared by Ronnie, was excellent. We dined on tarts, duck, cheese, fresh bread and wonderful wine. It was a great time to share with my mom and new friends."
Molly
Gresham, OR
Tour: 05/17/15
Overall rating:
This was a wonderful tour. The variety of experiences surprised and delighted us. Spending at least two nights in each hotel made the tour a nice pace.
Favorite "WOW" moment
"We loved the picnic at the vineyard in Provence. What a memorable experience!"
John
Choctaw, OK
Tour: 05/17/15
Overall rating:
The tour was a nice mix of old and new site seeing with vineyards, wine, wonderful food, and champagne. Very relaxing enjoyable trip. The visit to the Verdun Battlefield Monument was also quite moving.
Favorite "WOW" moment
"Spending the afternoon at the Domaine de Mourchon Vineyard and Winery, and the wonderful lunch served by the McKinlay family at their beautiful hill top home. The whole afternoon was simply wonderful. The site of the bones under the Verdun Battlefield Monument brought tears to my eyes. So very many lives; ended so needlessly."
Christine
Nampa, ID
Tour: 05/17/15
Overall rating:
This was a wonderful tour because each region we visited was so different from the other regions. The history, culture, geography, food and wines were a new experience every few days. Our guide, William, our bus driver, Andre, and our group members were fun to travel with through Eastern France. Perfect mixture of group activities and time on our own. All the towns where we stayed had plenty to see in the time we were there. This is one of my favorite Rick Steves tours!
Favorite "WOW" moment
"So difficult to choose! I had wow moments at every stop. The Alsace area was wonderful. One thing that stands out was the wine tasting down in the candle lit cellar after the walk through the vineyards with local guide, Jean-Claude. Also, the chateau tour, wine tasting with the Count, and picnic ( with foods our group chose from the market) on the grounds at the Chateau De Rully near Beaune."
Judy
Boise, ID
Tour: 05/17/15
Overall rating:
This was one of my favorite tours as it went above and beyond of what I even imagined it would be. We visited so many sites,castles,towns and varied landscapes as well as learning a wealth of information about each. All the people were so helpful and friendly and it was fun to mingle with the locals.
Favorite "WOW" moment
"This is a difficult choice to make but I loved traveling the Cotes de Rhone wine road and wondering through the small village of Seguret. The village was built on a hillside with tiny narrow streets, a community washbasin and bread ovens from the olden times. It totally put you back in time. Also visiting the Mourchen winery and vineyards and then the picnic at the owners home. This was a perfect day-no Mistral winds"
Susan
Glenview, IL
Tour: 05/17/15
Overall rating:
Favorite "WOW" moment
"The visit to Domaine Mourshand near Vaison-la-Romajne and the lunch at the owner's home afterwards! That was an experience that can not adequately be described but was by far the highlight of the trip!"
Susan
Glenview, IL
Tour: 05/17/15
Overall rating:
This tour was wonderful. I loved all the cities we visited. All meals were fantastic. I truly enjoyed how much about wine we learned. This was unexpected. The tour had a nice pace with plenty of free time. Hotels were great also. I really enjoyed the Verdun tour. Anytime you can walk were history happened is always a highlight for me.
Favorite "WOW" moment
"For me, it was our lunch at the winery, Domaine de Mourchon in the Cote de Rhone region. The visit to the winery was lovely. Then to be invited to their home and have them prepare lunch for us, was truly special. The view from their backyard while eating and drinking their wines was something I will never forget. These ivites to peoples homes has truly become the highlights of Rick Steves tours."
Robert
Chicago, IL
Tour: 05/10/15
Overall rating:
Toni Seymour was very experienced and approachable. The group was friendly. The sights were special.
Favorite "WOW" moment
"I can't pinpoint one. They were all pleasurable and educational."
Charlene
Sacramento, CA
Tour: 05/10/15
Overall rating:
O my, where do I begin. This was my 1st Rick Steve's tour and it was wonderful, truly a dream vacation. The Eastern France tour is superior, a well paced travel experience. Toni our tour guide was FABULOUS, so personal and helpful. She and the 24 of us on the tour were a happy family.... Hilde our bus driver was a dear too...her happiness was contagious. One more day in Marseilles would be super...that was the only day that I felt rushed to get the most in as possible.
Favorite "WOW" moment
"Too many WOW days to pick a favorite.... the sites and history were breath taking. The local guides at Verdun, Vineyards, Ruins, Marseilles were an added bonus to the WOW factor. The good mix of planned and free time& meals was a big nice WOW."
Susan
Salem, OR
Tour: 05/10/15
Overall rating:
Toni is perfect guide for those into food, drink with little French background. She's organized, always does her best. Europe is over loved now and it'll be a tough year for those who struggle with crowds.
Favorite "WOW" moment
"Don't look for wows- want a smooth trip and to learn new things. The weather was perfect for me but it's just luck."
Cheryl
Chapel Hill, NC
Tour: 05/10/15
Overall rating:
The tour guides and bus driver were excellent. Toni and Hilde had such positive attitudes and meshed so well together. They enhanced my tour experience daily. The local guides brought an insider's perspective to what we were visiting. Each shared personal experiences which helped us to better understand the sites. The Eastern France itinerary offered a good variety of topography; from city to valley to mountain to coast.
Favorite "WOW" moment
"The view of the Alps from the top stop of the Auguille du Midi gondola in Chamonix. The view from our picnic spot at Chateau Rully. Both were "Holy cow, isn't this just the best?""
Margaret
Forest Hill, MD
Tour: 05/10/15
Overall rating:
This trip exceeded my expectations. I was hesitant to go on a tour with20 other people using a bus and traveling together. It wasn't what I thought and I was so pleasantly surprised. Pace of the traveling was good; getting to spend a 2 to 3 days in a place was excellent and allowed for me to really enjoy a location and the people who lived there. Our tour guide Toni was wonderful. Fun,knowledgeable and she could handle anything. I felt totally confident in her and we were well taken care of.
Favorite "WOW" moment
"Well everyday seemed to be a wow but I think my favorite was a hike in Chamonix along the river. Instead of heading up to the mountain with all the other travelers our guide told us about the trails we could walk along the river. It was just beautiful. We went through a few delightful villages and then forest areas, all the while looking at Mt. Blanc. Incredible"
Caroline
Brooksville, FL
Tour: 05/10/15
Overall rating:
Magnifique! I loved the small towns and villages that made this the most relaxing RS tour. The local food and wine was amazing. The 3 night stays at some stops allowed for more time to experience the vineyards as well as the towns. There were many opportunities for outdoor activities..the choice was ours to make them long, short, or not at all. Our great tour group was fun, friendly, and diverse. It was nice to be on a tour with an emphasis on the culture and people of these regions of France.
Favorite "WOW" moment
"Standing at the top of the Aiguille du Midi above 12,000 feet with our new tour friends on a cold, clear, blue sky morning watching skiers and hang gliders descend. Even if bad weather had stopped our trip to the top, there were so many other "wow" moments on this trip that I would not have been disappointed Runner up "wow"...Feeling the power of the mistral wind walking through the village of Seguret and on the slopes of Domaine de Mourchon followed by wine tasting and lunch at winery"
Elizabeth
Florence, OR
Tour: 05/10/15
Overall rating:
Each day was a new adventure. There was a great mixture of being guided around the towns and sites, and having free time to explore. We had the opportunity to try regional specialties in our group dinners, and learned about others to try in the meals we ate alone. The hotel rooms were not your run of the mill look alike rooms, and some were better than others, but the proprietors of each hotel were friendly and helpful.
Favorite "WOW" moment
"How do I choose? There were so many "wow" moments. I guess I would say being guided around a 12th century chateau by the count who owned it, and whose family had lived ther for 26 generations rated up there, as well as the incredible picnic we had in his garden."
Mark
Forest Hill, MD
Tour: 05/10/15
Overall rating:
This was my first Rick Stevens tour. Everything ran perfectly. It was the right amount of free time as well as guided time. The group size was not overwhelming and was able to learn everyone's name.
Favorite "WOW" moment
"My wow moment was a Group event in Beanue. We casually assembled in the court yard of our hotel for a little dinner and wine. My wife and I earlier picked up foods at the market for ourselves, but many had the same idea. It was wonderful."
Montee
Florence, OR
Tour: 05/10/15
Overall rating:
This was an amazing trip! I can think of only one criticism. The walking tour in Marseilles was too long, and while it was interesting, there was no opportunity to follow up and explore some of the things that the guide mentioned. I liked very much that we stayed in quaint hotels. The group meals were excellent, and Toni offered good suggestions for eating on our own, as did the tour books. The local guides were knowledgeable, friendly, and fun to be with.
Favorite "WOW" moment
"There were several. Verdun was touching. The hospice in Beaune was particularly meaningful for me because I volunteer for our local hospice program. I think the best experience was the visit to the winery at Seguret. The folks were over the top hospitable, the lunch was fantastic, and the wine was excellent."
Joanne
Florence, OR
Tour: 05/10/15
Overall rating:
Loved the schedule full of fun, interesting tours yet plenty of free time to explore. Toni pointed out many of the highlights that shouldn't be missed. Loved all of it!
Favorite "WOW" moment
"Too many to choose just one. Must say that the view from Mont Blanc was amazing. All the dinners were wonderful!"
Dennis
Florence, OR
Tour: 05/10/15
Overall rating:
I have never experienced a RICK STEVES' TOUR before; but I will certainly do so again! I may even tour with RICK STEVES yearly! From the very start I loved the feeling this tour manifested from tour guide to my fellow travelers. Many of our group had been on several RICK STEVES' tours. From day one until our final day we had one positive expereince after another. France was new to me but I felt in a few short weeks that I had come to love this beautiful country and wanted to return again .
Favorite "WOW" moment
"After having a wonderful Chateau tour, wine-tasting, and outdoor picnic we returned that evening to our hotel and gathered together as a group for a shared evening meal of convesration and connection. At that point a group of unrelated people became a RICK STEVES' family!"
Masatoshi
Salem, OR
Tour: 05/10/15
Overall rating:
It was wonderful . The Heart of France tour last year prepared us to take the East France which formed sharp contrast in geography and culture . We appreciate the guided tour. The bus driver Heide was excellent. She has one if the most memorable laughter.
Favorite "WOW" moment
"It wast not Chamonix. It was not vineyard or wine. It was Alsace and Colmar. The city survived years of ethnic conflicts, wars, and managed to preserve what we call charms of Colmar full of quaint buildings looking like ginger bread houses."
Donna
Olympia, WA
Tour: 10/05/14
Overall rating:
Excellent, all the great French wine and food you could drink, great views of different countryside. Great guide, terrific small group. The events were a good tradeoff for the couple of shabby chic hotels. We could have passed up the lake boat ride, ok if you are from Kansas, not so much from Washington. We stayed an extra day in Marseille, and really enjoyed the History Museum and the Arab Market. Marseille was a really happening town.
Favorite "WOW" moment
"No doubt the dukes wine tasting and the picnic after was a high point. The really WOW moment was the wine tasting and lunch at the vineyard, everyone agreed it was amazing."
Michael
Noblesville, IN
Tour: 10/05/14
Overall rating:
Very good tour. Our guide Julie was great as was our bus driver, Hilda.
Favorite "WOW" moment
"I really enjoyed the visit to Domaine de Mourchon. Walter and his family were so friendly and gracious. Also, the meal prepared by Walter's daughter was one of the best meals I had on the trip."
Vic
Park Ridge, IL
Tour: 10/05/14
Overall rating:
Trip was excellent with our very knowledgeable and personable guide. Julie kept everything moving and coordinated very well.
Favorite "WOW" moment
"Lunch at the Vineyard of Cotes du Rhone was absolutely fantastic. Great winery tour and lunch with awesome view."
Barb
Park Ridge, IL
Tour: 10/05/14
Overall rating:
I had a great time from start to finish. It was an amazing group of fifteen friendly, interesting travelers from all over the country and an amazing tour guide Julie. I thought it was a good mix of structured events and free time and enjoyed spending time in some of the smaller towns in eastern France. Trips to various vineyards are always fun.
Favorite "WOW" moment
"I think our visit to Domaine de Mourchon winery was the highlight. It was a beautiful day and the setting could not have been better. I felt like I was on a Hollywood set and the family prepared such a delicious luncheon meal for our tour including their delicious wine. All family members at this winery were most friendly to our group and made us feel like part of the family. Even the dogs were welcoming. My second most memorable moment was seeing Mount Blanc in Chamonix."
Ramona
Breaux Bridge, LA
Tour: 10/05/14
Overall rating:
Our tour experience was absolutetly wonderful. From day 1 to the end, it was a wonderland of beauty, fun, delicious food, and of course excellent champagne, and wine, wine, wine !! Wish we had a little more time in Marseille.Did not realize all the Roman Ruins that existed in Vaison La Roamins and at L'Orange nearby!
Favorite "WOW" moment
"Many "wow" moments, but what comes to mind is the picnic at midevil castle with the Count de Ternay! A second "wow" moment has to be the lunch we had at the Mourchon Winery... We were greeted with open arms to a beautiful home and learned all about their industry with a wine tasting to boot!! You would have had to be their to appreciate it. The visit to the Fort De Doumumont was an eye opener.. So much history! Colmar is just as pretty as a postcard..it is "little venice". Fabulous!GREAT TRIP"
Virginia
Seattle, WA
Tour: 09/28/14
Overall rating:
I thoroughly enjoyed the mix of educational activities, greet food and wine, and free time. It was a great balance. Chris was a terrific tour guide - both knowledgeable and gracious. Being an introvert, I found the group experience a bit challenging at times, but the richness of the experience overall more than made up for it. The ample un-programmed time gave me sufficient time to recharge my batteries.
Favorite "WOW" moment
"Hard to pick just one. I particularly enjoyed the walk through the vineyards of Burgundy with Jean-Claude, and loved the market in Beaune."
Susan
Arvada, CO
Tour: 09/28/14
Overall rating:
Our tour guide was wonderful and some of the local guides were as well. Florence who led the group at Verdun was great. Some of the others spoke too quickly or not quite loudly enough. could there be microphones and ear buds available for those who are hard of hearing (my husband)? How about seg-ways for the city of Marselleis? Loved the group and the group size.
Favorite "WOW" moment
"The Wow moments were the picnic at the chateau after the wine tasting, and the lunch on the grounds of the home on the hill in the Cote de Rhone. Those were both such beautiful and fun times and both were things an individual could not have accessed themselves."
William
Arvada, CO
Tour: 09/28/14
Overall rating:
Eastern France was a great experience in wine, wineries, beautiful country side and with a taste of the French Alps thrown in. Trip was comfortable, hotel rooms nice (but a couple quite small w/r/t baths), and well guided. Bus driver (Adre) was amazing, safe, and aimable.
Favorite "WOW" moment
"1. Chamonix: Hiking for a day and scenery incredible. We don't have mountains like that. 2. Wine lunch out on the grounds of a chateau owned by the same family for nearly 1000 years - WOW!"
Marvin
Alamo, CA
Tour: 09/28/14
Overall rating:
We chose this tour because we were interested in sampling the wines and foods of France. It was enjoyable with a good itinerary. Our guide Chris was excellent in keeping the group engaged and interested. The meals and hospitality ranged from adequate (Burgundian), very enjoyable fondue in Chamonix, outstanding (Domaine de Mourchan) in Vaison. The main downside to the trip was some hotels were substandard for RS, especially in Reims.
Favorite "WOW" moment
"There were many, but Verdun was a touching reminder of the cost and waste of war. France is to be commended for beautifully preserving the many memorials paying tribute to the soldiers. Chamonix was breathtaking."
Mary
Bellingham, WA
Tour: 09/28/14
Overall rating:
Had the usual great time with memorable tour members and staff. The small villages were even better than I expected. When we pulled into Marseille for our final night, it was sad as there were no more villages and the end of the tour had come.
Favorite "WOW" moment
"Even though going to the lookout for Mount Blanc at 12,000 feet was quite the wowish time, the real WOW moment came in Vaisson la Romaine when three of our tour members did an impromptu jazz session, piano and vocals. It was a kick!"
Christopher
Olympia, WA
Tour: 09/28/14
Overall rating:
We all had great fun. The pace was good and the activities wonderful. And I really enjoyed the special activities, dinners and lunches in the vineyard the like of which I just cannot do traveling on my own. This is why the RS formula works for me.
Favorite "WOW" moment
"Actually it had nothing to do with the tour but several of our tour members got on the piano at one of the hotels playing and singing to the utter delight of everyone. It was great spontaneous fun."
Don
West Linn, OR
Tour: 09/28/14
Overall rating:
excellent
Favorite "WOW" moment
"vineyard tour Provence"
Elaine
West Linn, OR
Tour: 09/28/14
Overall rating:
It was even better than I had anticipated! I enjoyed the group, warts 'n all, but especially liked the pace taken each day. We did not waste any time yet had time to waste, if you will, when there was time on the bus or a free afternoon or evening. Three cheers also for having breakfast each morning at the hotel...great time saver and one could eat at one's leisure...and the food was delicious.
Favorite "WOW" moment
"I loved seeing the French countryside, the wineries, the vineyards and the old, old stone buildings. Our visit to Cotes du Rhone winery with our spectacular lunch and afternoon at their home."
Julie
Alamo, CA
Tour: 09/28/14
Overall rating:
The tour fulfilled my expectations to see the contrasting and beautiful areas of Eastern France. The history of the border areas greatly affected the culture and cuisine of the areas. We are avid foodies and this trip allowed us to sample the hallmark foods of the areas and sample the wonderful wines.
Favorite "WOW" moment
"There were several but I think going up to the very top of the Aiguille du Midi and the stunning views above Chamonix was unforgettable. I was giddy from the beauty of the alps, perhaps the buzz was augmented by the altitude!"
Donald
Columbus, GA
Tour: 09/28/14
Overall rating:
Great people, great food, great wine, great guides, great driver, and visits to great places. What else could one want?
Favorite "WOW" moment
"It's a toss up between the views while at the top of Aiguille du Midi in Chamonix and the hospitality of the owners and the wonderful meal and wine at Domain de Mourchon."
Ken
Mt Horeb, WI
Tour: 09/28/14
Overall rating:
We had a nicely organized group of cities,excellent guides,and learned an enormous amount building on our pre-trip "homework". The markets locally were charming. The tour sponsored meals with the striking exception of Walter's vineyard were at best mediorce. I personally found the average Fr wine to pale before our CA wines but most were tolerable and 3 of our choices were quite decent. Adding a week in Paris focusing on art and cuisine and our guide saved the trip.
Favorite "WOW" moment
"Unquestionably the best afternoon was spent at Walter's vineyard. To interact with this family,taste their wines and experience Hugo's intensity of showing us their terroir was superb. The food was absolutely divine. This afternoon rescued the trip."
Anita
Columbus, GA
Tour: 09/28/14
Overall rating:
This was my sixth Rick Steves tour so I had high expectations for this one. I was not disappointed. Although this tour did not have as many blockbuster sights as some of my previous tours, the focus on the great food and wine combined with staying in small towns made it just as memorable. The itinerary, with the exception of Marseille, was well designed and the balance of group and free time was excellent.
Favorite "WOW" moment
"There were several wow moments: seeing Mount Blanc from above the clouds, the visit to Domaine de Mourchon winery and the amazing lunch there, and staying in the old town of Vaison la Romaine."
Blair
Portland, OR
Tour: 09/28/14
Overall rating:
We had a great group on the tour and Christine was a terrific guide. Eastern France was a fascinating mix of German and French. We had a good mix of planned activities and time on our own. The whole experience makes me want to go back to see more of France. The whole group was really impressed with the expertise of our bus driver, Andrej. He was also very charming and gracious with all of us.
Favorite "WOW" moment
"The Verdun tour and experience was stunning and a real eye opener to this tragic battle. On a happier note, the Mourchon Vineyard tour, tasting, and lunch was outstanding."
Barbara
Mt Horeb, WI
Tour: 09/28/14
Overall rating:
When I think of our tour, so many different scenes flash in my mind. I loved being outdoors so much, whether we were taking an introductory tour of the town, picnicking, scrambling up the steps of an ancient Roman theater or walking through a vineyard eating grapes. I enjoyed the rich combination of history, foods and wines and the company of a happy, energetic and friendly group of fellow travelers. Christine was a great guide! She made the trip execution flawless. We enjoyed her talks.
Favorite "WOW" moment
"It has to be the large double rainbow that formed over the valley as we were driving out of Chamonix."
Lonnie
Seattle, WA
Tour: 09/28/14
Overall rating:
My first RS guided tour, I didn't know what to expect as a single traveler; but I couldn't have been more pleased. Christine our guide was superior in all respects with excellent people skills. Each city we stayed in was unique and beautiful in its' own distinctive way. Colmar was my favorite city; but sipping the Rhone wines in Provence while staying in Vaison la Romaine was a dream for me. Our group was diverse, accommodating with one another, and most of all fun!
Favorite "WOW" moment
"Like many Mount Blanc in Chamonix is incredible; but I was struck with how much I enjoyed the smaller cites compared to Paris, Marseilles, and Lyon. Each city we got to truly experience with walking tour, food, and wine were unique and fabulous. Even though saurkraut isn't my favorite dish, it represented Alsace where we were at the time making each place indelible. The picnic at the Mourchon winery was a dream.,,,wasn't it??"
Shawn
Blacksburg, VA
Tour: 09/28/14
Overall rating:
This was our second Rick Steves tour. 6 years ago, we did Village Italy, and knew then we wanted to one day do the village France tour (now renamed). We really enjoyed the tour and the itinerary. We did not enjoy our group as much as we did on the Italy trip. We connected with a few people in our group, but we had some difficult personalities on this tour. Chris did a good job of managing the difficult folks.
Favorite "WOW" moment
"Fantastic lunch at the stunningly beautiful setting at Mouchon winery."
Sanders
Shreveport, LA
Tour: 09/21/14
Overall rating:
This was a very thoughtful and comprehensive tour of the eastern part of France. It could well have been defined as a "wine, culture and food tour". The traveling group of people that we met was absolutely delightful and our tour guide (Julie) made the trip quite special. This was my seventh trip to France and once again I failed to find even one rude or grumpy person! My inept attempts at French probably helped that!
Favorite "WOW" moment
"Standing near the top of the Alps overlooking the town of Chamonix was quite impressive! There were so many other "cultural" wow moments, however. They are too numerous to name."
Janet
Palm Harbor, FL
Tour: 09/21/14
Overall rating:
This was a great group with a fabulous leader in Julie. She was fun, warm and a font of information about French history, culture and lifestyles. Couldn't have been better!
Favorite "WOW" moment
"The picnic at the family vineyard in Provence was the highlight; wonderful wine, delicious food, great company and lots of interesting information, all in an idyllic setting."
Patricia
Pleasant Hill, CA
Tour: 09/21/14
Overall rating:
The theme of the of local foods and wines as a reflection of the local people was well carried out and showed the diversity offered. The group dinners were well chosen. Our group seemed to bond well and enjoy being French if only for 2 weeks
Favorite "WOW" moment
"The vineyard tour and lunch from Vaison de Romaine. It was the end of harvest. Watching the pickers (and hearing them sing and laugh at times) and the crush made it extra special. The lunch made us feel we truly were guests of the family. Our final dinner in Marseilles was great also. After so many great meals, it seemed like it couldn't be topped, but that dinner experience was a true dessert for the trip!"
Gerald
Fair Oaks, CA
Tour: 09/21/14
Overall rating:
Julie was a terrific tour guide, extremely knowledgable and always trying to make the experience a great one for the tour members. The visits to the countryside sites and wineries were wonderful and the hotel stays were generally fine, although a few were rather small and cramped. Hilde was fantastic as our bus driver and always in such great humor; we had much fun with her. She always got us safely and expediently to our locales and parked the bus so it was readily accessible.
Favorite "WOW" moment
"The lunch at the small winery near Vaison la Romaine was outstanding, both the food and the ambiance. The personal touch from the owners showing us the vineyard was great too."
Suzanne
Shreveport, LA
Tour: 09/21/14
Overall rating:
Really enjoyed staying in the smaller cities. Very good food and of course EXCELENT wines!!!! What a treat 4 top wine regions of the world!!! Lunch and wine tasting with Count Rully and vineyard tour tasting and lunch at the home of Walter Mckinlay were highlights of the trip!!!!
Favorite "WOW" moment
"Vineyard and wine tour and lunch at Domaine De Mourchon"
Lynne
Palm Harbor, FL
Tour: 09/21/14
Overall rating:
This was my first tour ever, always having travelled on my own, so I didn't know what to expect. Our guide, Julie, was outstanding! Her knowledge and love of France really came through and added to the experience. She was upbeat and friendly, seemed comfortable in her leadership role, yet seemed to be enjoying herself right along with us. I enjoyed my fellow travelers, the bus was comfortable and left plenty of spread-out space to chill out and relax. Itinerary a bit fast-paced
Favorite "WOW" moment
"An amazing picnic at the winery in Vaison! Truly a perfect day all around!"
Donald
Darnestown, MD
Tour: 09/21/14
Overall rating:
My overall a evaluation of the tour is very positive. In fact, let me say "thank you" for having the trip of a lifetime.
Favorite "WOW" moment
"The vineyard, winery & picnic in Provence. The picnic near Beaune was great too. We were blessed with 13 sunny days out of 14. (BTW, the good weather was my doing. I'll consider hiring on as a good luck charm for future tours for a small fee.)"
Regina
Redmond, WA
Tour: 09/14/14
Overall rating:
The events of the tour were great - we enjoyed the wine tastings, the trip to Verdun, the castle at Colmar, the pretty towns, the chateau and the count, the boat ride at Annency. In Marseille, skip the walking tour and go to Notre Dame. In Chamonix, maybe let people know in advance the cost of going up the mountain. That was the primary purpose of this stop but cost of going up was not included in the trip, and it was 100+ euros.
Favorite "WOW" moment
"The perfect day in Provence at the Mourchon Winery, from the tour of the vineyard by the charming Hugo, the tasting of the excellent wines with Douglas and the fastastic lunch in the courtyard prepared for us by the owners. The scenery, the weather, the company and the meal were what everyone imagines Provence to be."
Philip
Redmond, WA
Tour: 09/14/14
Overall rating:
I think the trip could be summed up in one word - terrior. Contrasting the Champagne hillsides of Lorraine with Verdun, the Burgundy region with the Roman influences, Mount Blanc and the tortured geology of the French Alps, the ruggedness of Provence with the azur waters of Marseille. It was an interesting trip about people and the land that shaped them.
Favorite "WOW" moment
"Mount Blanc. I'm a mountain person."
Nanette
Marysville, WA
Tour: 09/14/14
Overall rating:
Another incredible experience with a Rick Steves' tour. I enjoyed the diversity of the tour; light shows in the evening on the cathedrals, champagne cave, Verdun and its sobering history, and enchanting Colmar; and this was just the the first 4 days! This tour exceeded my expectations - I just loved being in France. The food, wine, and French people were delightful. I followed Rick's advice about the niceties of using the language with the French- it opened doors and brought many smiles.
Favorite "WOW" moment
"Absolutely was the experience in Chamonix. The scenery was magnificent and the experience of visiting the ice caves, riding the Aiguille du Midi gondola to view Mont Blanc, and sharing the fondue/raclette dinner with new travel friends. Wow!"
Rosemarie
Langhorne, PA
Tour: 09/14/14
Overall rating:
We got what we expected. A thoughtfully arranged tour that covered a lot of territory and got us to feel comfortable going back on our own. Also, there's nothing like seeing the real thing to appreciate it more-than-intellectually, such as Mont Blanc, Hotel Dieu in Beaune, and some of the emotionally-charged stained-glass windows in the Verdun chapel. The tour included impressive surprises, such as the Isenheim altarpiece in Colmar and the Reims light shows.
Favorite "WOW" moment
"Really, really hard to chose. We were particularly impressed by the proprietors of the Mourchon winery. While all the wineries we saw on this tour (and on your Southern France tour, which we took right before this one) were hospitable and passionate about their craft, the Mourchon folks took this to a new level in their food offerings, explanations of their wine-making techniques and philosophy, and general atmosphere."
Cathy
Montrose, CO
Tour: 09/07/14
Overall rating:
Outstanding variety! We were able to see vineyards in Alsace, the French Alps, Marseille beaches. The walking level was good and there was quite a bit of time to explore on your own. French food is great! I especially enjoyed Colmar and Annecy.
Favorite "WOW" moment
"Verdun was amazing. The war and the damage it caused really came to life. The beautiful countryside is still scarred and it was very moving to see. Annecy was charming and it would have been nice to spend more time there. Colmar is everything everyone imagines in a German village. Great places to eat. Colorful little houses."
Patricia
Richland, WA
Tour: 09/07/14
Overall rating:
Somehow, this tour lacked the "charm" of the other Rick Steves tour I went on. There was not enough unscheduled time for us to visit with each other and meet local people unsupervised. We were tired out. We were cheated out of adequate time/coverage in Verdun. The best part of the tour was being with some very nice people. Folks on RS tours are generally amiable, generous, open to new experiences.
Favorite "WOW" moment
"I especially enjoyed our time at Chateau De Rully. The Comte Raoul de Ternay was a young, down-to-earth father of young boys with a patient wife and a cat. He gave us a friendly tour of his home. Our picnic here, generously supplied by our guide and some tour members, was one of our few times to really visit with each other without hurry or lectures."
David
Montrose, CO
Tour: 09/07/14
Overall rating:
Heartily recommend the tour to those who want to learn about wine country, taste terrific local wines and cheeses, relax in cafes, see charming and historical places, talk politics. I give the tour 4 stars, so very good experience. Held back 1 star because the bus rides were mostly just 20+ hours of conveyance, little info about what we were seeing out the windows. The destinations were fantastic. More time in picturesque Annecy or bustling Marseille would be nice.
Favorite "WOW" moment
"Easily Notre Dame de la Garde and its 360 degree panoramic view of Marseille, its harbor, the Mediterranean. The Alps at Chamonix. I have considerable helicopter experience in Colorado's Rocky Mountains and was dazzled anyway. Gorgeous flowers in lovely Colmar. Verdun was very special because I had family that served nearby during WWI. Brought home a touching sense of place and time that I did not have before my visit."
Mary Jane
Yardley, PA
Tour: 08/24/14
Overall rating:
I believe this is our seventh Rick Steves tour and we never cease to be amazed at the consistently high level of organization, guiding and just plain fun per dollar! You just get it right every time! In the words of Daniela, we were SUUUPER 'APPY!
Favorite "WOW" moment
"I had never been to the Alps. We are not mountain people and live by the sea. The gondola up to Mont Blanc on a beautiful clear day was something I will never forget. When we stepped off the gondola it felt as if we were in another world--especially since it was about 20 degrees (in August!), windy and snowy at the top. We both looked around and breathlessly uttered "WOW!""
Weather

France / Paris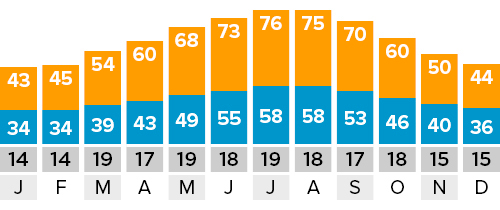 ---
France / Nice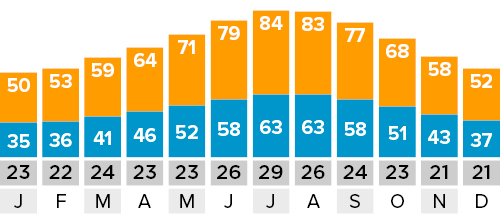 Pre-Tour
We've put together some specific information on what you should know about this tour before you go. You'll also find more general information about "Getting Ready for Your Tour" on our Tour FAQ.
Trip Resources
Learn more about France: Check out a collection of Rick's TV shows, radio interviews, and articles, plus recommended books and movies.
Transportation
Prior to your tour departure, you will receive detailed directions on how to get from the airport to your first tour hotel, as well as contact information for your first and last hotels in case you wish to book pre- or post-tour hotel accommodations.
Many tour members arrive a day or two before the tour begins — and those who don't, wish they had. This allows you ample time to get over jet lag and make the most of the first few days of the tour.
There is more than one way to get to and from your tour. Most tour members will arrange to fly into Paris and out of Marseille ("multi-city" on flight booking websites). Booking round-trip to one city will require a connecting flight, train trip, or additional overnight stay in France. Both Paris and Marseille are major transportation hubs, making additional travel before or after your tour quite easy.
For information about flying within Europe, ask your travel agent or check Rick's list of European budget airlines.
Read Rick's train travel and rail pass tips to decide if your travel plans merit a rail pass.
If you have additional European travel or tour questions, contact the Tour Department at 425-608-4217 or email tour@ricksteves.com.
Sightseeing on Your Own
If you arrive in France before your tour begins, spending time in Paris or Strasbourg are logical choices. Reims is only 45 minutes and Strasbourg only two hours from central Paris via TGV (bullet) trains. Use the Rick Steves France guidebook to get oriented. Ride the public transportation, try out a few words of French, and get over your jet lag with lots of fresh air and exercise.
Here are a few suggestions for sightseeing in Paris: visit the Eiffel Tower; walk the Champs-Elysées and climb the Arc de Triomphe; tour the Louvre and Orsay Museums; or take a day trip to Versailles.
If you'd rather spend your pre-tour time in Strasbourg, visit the cathedral, wander the waterways and stroll through the city. From Strasbourg it is a two-hour train ride to Reims. In Reims visit the Museum of the Surrender (Musée de la Reddition) or add a Champagne tour at Mumm (we will not taste here as a group).
Packing
Weather and lifts permitting, you will have the opportunity to go to top of the Aiguille du Midi and/or hike in the Alps while in Chamonix. Bring a pair of comfortable walking shoes with soles offering good traction and some warmer clothes. Regardless of season, the weather in the Alps can be cooler than expected especially at the higher altitudes.
For more advice on what (and what not!) to pack, see Rick's packing tips.