Chenonceau Château in the Loire Valley

Market day in Sarlat

Canoeing on the Dordogne River

Medieval Carcassonne

Wine tasting in Languedoc

The Pont du Gard near Arles

Nice on the French Riviera
Tour Questions? Call 425-608-4217
Loire to the South of France in 13 Days Tour
This tasty collection of French treats begins in the cozy, historic town of Chartres — an easy train ride from Paris. Then, with your expert Rick Steves guide, you'll wind your way south, savoring the perfectly preserved châteaux of the Loire, prehistoric caves and traditional markets of the Dordogne, the medieval city of Carcassonne, the Roman Pont du Gard, and a French Riviera finale in Nice. Great as these sights are, they're just the lyrics — the culture of France provides the melody you'll never forget. Join us for Loire to the South of France in 13 Days.
What's Included
A small, friendly group of 24-28 people — half the size of most tour groups
Full-time services of a professional Rick Steves guide and local experts who will make the fascinating history, art and culture of France come alive for you
All tours and admissions — at no extra cost — covering at least 18 group sightseeing events • Chartres orientation tour • Chartres Cathedral tour • Amboise visit • Chenonceau Château • Villandry Château and Gardens orientation • Loire wine tasting • Oradour-sur-Glane • Rouffignac prehistoric cave tour • Dordogne canoe trip (weather permitting) • Sarlat walking tour • Canal du Midi barge trip (when available) • Carcassonne walking tour • Languedoc wine tasting • Pont du Gard and museum visit • Arles walking tour • Arles museum pass allowing entry to most sights • Les Baux visit • Nice walking tour...and more
All group transportation from Chartres to Nice
12 nights accommodations in memorable, centrally-located hotels
All breakfasts and half your dinners
All tips for guides and driver
Free stuff including Rick Steves' France guidebook, French phrase book, moneybelt and earplugs
Guaranteed tour price, locked in the moment you make your deposit
Optional single supplements — this tour has a limited number of private rooms for solo travelers for an additional fee
Tour alum discount of $50 for each tour you've taken prior to 2014
50% discount on a consulting appointment with our in-house experts to assist with your pre- or post-tour travel plans
Flexibility should you need to transfer, or cancel/interrupt your tour
Fine print: You are responsible for the cost of your drinks and free-time sightseeing. See our Tour Conditions Agreement for important details regarding everything listed above
Itinerary
Daily Activity Key
Light = 2-4 miles of mostly level walking throughout the day.
Moderate = 2-6 miles walking throughout the day with some hills and stairs.
Strenuous = 2-8 miles walking throughout the day with lots of hills, stairs and uneven terrain.
Day 1: Welcome to Chartres
We'll meet at around 5 p.m. at our hotel for a short bienvenue à Chartres meeting. Then we'll take an orientation walk through our neighborhood, followed by time to get acquainted over dinner together. Sleep in Chartres (2 nights). No bus. Walking: light.
Day 2: Cathedral and Art of Chartres
We'll begin our day with a walking tour of Chartres' pedestrian-friendly, stream-straddling old town. Then we'll be treated to a scholar's tour of the famed Cathedral of Chartres. One of the most impressive structures in all of Europe, it is also home to some of the world's finest medieval stained glass, and the veil of Mary. The rest of your day is free to explore the town, or to learn more about the art of creating stained glass. No bus. Walking: moderate.
Day 3: Amboise, Chenonceau and Chinon
This morning we'll say au revoir to Chartres and drive south to the Loire Valley, the land of a thousand châteaux. You'll have some free time in the charming town of Amboise, where you could visit the home of Leonardo da Vinci (even grab a little lunch there) and study working models of the Renaissance Man's cleverest inventions. This afternoon we'll visit the elegant, river-straddling Château de Chenonceau, where we'll learn about royal life in France, with free time to roam through the château's opulent interior and gardens. We'll continue on to castle-topped Chinon where we'll have dinner together and sleep (2 nights). Bus: 5 hrs. Walking: moderate.
Day 4: Villandry and the Loire
We'll spend our morning visiting the Château de Villandry, famous for its remarkable "themed" gardens, inspired by water, music, love and more. It's a gardener and photographer's dream. Afterward, your guide and driver will take you on a little excursion around the Loire Valley, returning to Chinon in the afternoon. You'll be free for the rest of the day and evening to explore the town's ancient streets, tour the medieval castle or sample the local wines. Bus: 2 hrs. Walking: moderate.
Day 5: Oradour-sur-Glane and Sarlat
Our destination is the Dordogne, a sublime region of fortified hill towns, caves and meandering streams. We'll have a countryside picnic en route, then stop for a thought-provoking walk through the WWII martyr village of Oradour-sur-Glane — frozen in time as a memorial since June 10, 1944, when its unarmed residents were senselessly gunned down by German troops. Our day will end with dinner together in the quintessential market town of Sarlat, where we'll sleep (3 nights). Bus: 6 hrs. Walking: light.
Day 6: Cave Art and Canoeing
Today begins with a chance to appreciate some of Europe's oldest art: the 13,000-year-old drawings of Rouffignac Cave. We'll hop aboard a subterranean train to marvel at engravings and drawings depicting bison, horses, woolly rhinoceros and...mammoths. There are so many mammoths depicted locals have nicknamed it "the cave of 100 mammoths." This afternoon (weather permitting), we'll canoe down the Dordogne River from Cénac to Beynac, gliding past medieval castles and villages. If the weather is hot, we may even stop for a swim along the way. Bus: 3 hrs. Walking: strenuous.
Day 7: Market Day in Sarlat
Take a vacation from your vacation! You'll have the entire day to savor the colorful weekly market in one of France's most pedestrian-friendly towns. Rub shoulders with local shoppers, sample foie gras and salivate over the famous black truffle as you shop for your fantasy picnic lunch. Today you can make it a tasty reality! Then stretch your legs with a countryside walk. No bus. Walking: light to strenuous (your choice).
Day 8: Medieval Carcassonne
This morning we'll drive south, crossing the scenic valleys of the Lot and Tarn Rivers. At the Canal du Midi we'll transfer to a canal barge (when available) for a relaxing ride along a segment of the more than 5,000 miles of canals that meander throughout France. Our bus will then whisk us off to Europe's largest fortified city: delightfully medieval Carcassonne. After a walking tour of Carcassonne's fortified old town — La Cité — you'll be free to savor views from the stony ramparts, wander through the cobbled lanes, and maybe sample a steamy bowl of cassoulet with a glass of vin rouge. Sleep in Carcassonne (1 night). Bus: 4 hrs. Walking: moderate.
Day 9: The Pont du Gard
This morning we'll drive east, stopping at an eco-friendly, family-run vineyard. We'll learn exactly what that entails as we linger for lunch and an educational tasting of wines from the Languedoc-Roussillon region. Our next stop is the majestic, astonishingly well-preserved Roman aqueduct, the Pont du Gard. This engineering marvel helped supply millions of gallons of fresh water daily to one of the largest cities in Roman Gaul — 20 centuries ago! We'll visit the aqueduct and its much younger museum. Our day will end in nearby Arles, where we'll have dinner together and sleep (2 nights). Bus: 4 hrs. Walking: moderate.
Day 10: All day in Arles
We'll start our morning off with a walking tour of Arles. Your local guide will lace together stories of its impressive Roman Arena, Classical Theater and Forum Square — and tales of Vincent van Gogh, who lived and painted in this neighborhood just over a century ago. Your afternoon and evening will be free for making your own discoveries here. Bus 1 hr. Walking: moderate.
Day 11: Les Baux to the French Riviera
This morning we'll drive to the hill town of Les Baux, and enjoy sweeping views of the Provencal countryside from atop the ruins of its medieval citadel. After lunch we'll head for the Riviera. Upon arrival in Nice, we'll check into our hotel before setting out on an orientation walk through the Italian-feeling Old City and seaside promenade. Afterward you'll be set free to explore and enjoy dinner on your own. Sleep in Nice (2 nights). Bus: 4 hrs. Walking: moderate.
Day 12: Nice
This morning we'll take a walking tour across Nice, starting with the busy Cours Saleya, the city's main market square since the Middle Ages. We'll then follow the narrow streets of the Italianate Old City to the spacious boulevards and shopping promenades of the city's newer side. Here, in the late 19th century, visitors from the north seeking the elixir of warm, fresh sea air, created Europe's first tourism boom. Your afternoon will be free to wander through Nice's beautiful Chagall and Matisse Museums, prowl the promenades, or relax on the famous beach. This evening we'll enjoy a final dinner together, sharing travel memories and toasting new friends. Salut! No bus. Walking: strenuous.
Day 13: Tour Over After Breakfast
For those staying longer, your guide will be happy to send you off in the right direction and help with any trip planning needs. Au revoir et merci!
Itinerary specifics subject to change.
Activity Level
Our tours are physically active! It's an essential part of the Rick Steves tour experience. On our Loire to the South of France in 13 Days tour — among other things — you'll need to happily...
Carry/roll your luggage over uneven pavement (several blocks possible) and up stairways to reach your hotel; then up several flights of stairs to reach your room.
Be on your feet, walking and standing for up to three hours, indoors and outdoors, in all weather conditions.
Sleep with street noise and no (or weak) air conditioning.
After orientation and transportation lessons, be able to navigate towns and cities on your own.
Reviews
Polly
Maplewood, MN
Tour: 06/15/14
Overall rating:
The tour was very well run by our guide, Virginie. She is knowledgeable, clear, patient and kind. She and Philippe, the bus driver, were a great team and offered us some extra side trips to complement the tour itinerary.
Favorite "WOW" moment
"We happened to be in Arles for the celebration of St. John the Baptist Day (St. Jean) and got to be in the middle of the townspeople's dancing and music using the traditional costumes and musical instruments. They also lit the bonfire and we got to tie our wishes to the branches to be added to the fire. What was so great was that it wasn't being on for tourists, but as an expression of the ongoing renewal of their Provencal heritage."
William
Cary, NC
Tour: 06/15/14
Overall rating:
Had a great time on our trip. Virginie was outstanding. She explained everything and gave us a clear understanding of the France people and their culture.
Favorite "WOW" moment
"Our visit to the winery and the wonderful lunch they produced."
Steve
San Juan Capistrano, CA
Tour: 06/15/14
Overall rating:
It was all wonderful..Virginie was knowledgeable, charming, personable and witty. She was an outstanding tour guide in every way. Could not have been better. We look forward to seeing her in January. Our driver Phillip also added to the enjoyment, excellent driver, and very friendly and personable. We also enjoyed the other tour participants. They were enjoyable travel companions, and we hope to see them again. Good group size. The places we visited were all chosen well.
Favorite "WOW" moment
"I can't pick just one. Maybe lunch at the environmentally sensitive winery, maybe Carcasonne, maybe Les Baux, but picking any would be unfair to all the others. It was a total "wow" experience on all levels."
Ann
Sebastopol, CA
Tour: 06/15/14
Overall rating:
Our tour guide made it fabulous. Virginie has an amazing grasp of history, culture, food, and shares it in a delightful manner. She is a real gem!
Favorite "WOW" moment
"i think wandering around Chartres at night and seeing the light show on the cathedral was breathtaking."
William
Lake Oswego, OR
Tour: 06/15/14
Overall rating:
The France tour was a great experience for my family. We saw so many things, it is hard to imagine visiting all the tour stops in only 2 weeks. This was our 3rd Rick Steves tour and we continue to enjoy and recommend the RS tours.
Favorite "WOW" moment
"Seeing the Chartres cathedral lit up at night was spectacular. Anyone going to Chartres should see the cathedral during the daytime as well as the night when the light show(with music) makes the Gothic cathedral come to life. The other great experience was floating down the Dordogne river, and seeing all the medieval fortresses above really making the 100 years war come back to life"
William
Farmington Hills, MI
Tour: 06/15/14
Overall rating:
Our Guide(Virginie) made this tour a wonderful, educational, enlightening, emotional experience. The places we visited in France brought us to this Rick Steves tour. Virginie made it a lifetime experience.
Favorite "WOW" moment
"The Cathedral at Chartre, the barge picnic, the canoeing in Dordogne, the walks through the old central villages all stick out in my mind as I think about the places and moments of the tour. The Oradour sur Glane visit was an emotional point in the tour. I'm so glad it is included in the itinerary."
Stan
Greenville, SC
Tour: 06/15/14
Overall rating:
Our tour leader was knowledgeable of both U.S. and, of course, French culture, but also the nuances of the many provinces of France. This added a depth to the tour which might not have been available if led by a native of the U.S.
Favorite "WOW" moment
"I think the prehistoric cave art would have to rank alongside the Roman ruins."
MaryAnn
Farmington Hills, MI
Tour: 06/15/14
Overall rating:
We hit every thing that was planned on the itinerary. The fellow travelers were well versed in the RS Way to Travel, The Virginie and Phillip the bus driver made a good team. We appreciated that the itinerary and sites didn't overlap too much with the previous tour we took...Paris and the Heart of France.
Favorite "WOW" moment
"Virginie was very knowledgeable about French history. I enjoyed using my imagination to put us in the time period she was describing. The crowds became peasants, merchants and royalty bustling around us. I heard the audiences in the amphitheater & coliseum of Arles. The chateaux came alive with the sounds of daily life and the castle walls bristled with guards and archers as we walked the list in Carcassonne. It gave me tingles to feel the history come alive around me."
Michele
Cary, NC
Tour: 06/15/14
Overall rating:
We loved our tour guide, Virginie More. She was excellent, well versed on history and everything we needed to know to make our trip more enjoyable. We enjoyed the cities we visited and the amount of time we were in each city.
Favorite "WOW" moment
"We really liked the winery tour and homemade luncheon. The lady was lovely and very kind to us. We really appreciated all she did for us and the luncheon was truly delicious."
William
Chevy Chase, MD
Tour: 06/15/14
Overall rating:
This is a tour that would be difficult for individuals to put together. We saw a lot of things - repeated castles, cathesdrals, caves and chateau. Outatanding tour guide. Lots of varied highlight sights as well as off-the-beaten-track experiences, i.e., "Europe Through the Backdoor." Good accomodations and food, lots to see and do, sorry it ended but I'm not sure I could have done a third week.
Favorite "WOW" moment
"The French do a number of things well (for example, food), but they truly are magical with light shows. The lighting of Chartres Cathedral was an absolute Wow! moment, and then there were 20 places lighted around town. Another Wow! moment was the sound and light show in the abandoned quarry in Les Baux. Really creative. A shame most/all of the other tour members didn't choose to see it."
Christine
Chevy Chase, MD
Tour: 06/15/14
Overall rating:
A congenial group, well organized with just enough free time. We could not have seen so much in 13 days on our own. And we would not have had such a great course in French language and culture by ourselves,either.
Favorite "WOW" moment
"The lights on Chartres cathedral and the canoe trip on the Dordogne."
Ronald
Sebastopol, CA
Tour: 06/15/14
Overall rating:
Great tour guide. Sarlat hotel not so good but people were nice.
Favorite "WOW" moment
"Chartres cathedral light show."
William
Happy Valley, OR
Tour: 06/01/14
Overall rating:
It was an extraordinary experience. A delightful range from beautiful chateaus to awesome prehistoric cave paintings to ancient Roman architecture to a canoe trip!
Favorite "WOW" moment
"Lunch at Eco friendly vineyard"
Maria
Lido Beach, NY
Tour: 06/01/14
Overall rating:
Loire of France, loved it! The tour was well organized, great hotels, tour agenda was a great surprise. The bus was comfortable, driver Phillip was excellent. The members of the tour were friendly, The guide Julie was informed and up beat. This was my first trip to France, the tour exceeded my expectations. The small chalets and villages, Medieval experiences, with time on our own to explore, made the vacation perfect. France is beautiful,culture, landscape, food, history, art, captivating.
Favorite "WOW" moment
"Charters, was our first stop, the illuminations at night was a wonderful unexpected surprise. The village itself had much to offer, great start to a tour."
Becky
Portland, OR
Tour: 06/01/14
Overall rating:
From start to finish, this was such a memorable tour! The rooms, the meals, all great, but our bus driver Phillipe, and guide Julie, we're amazing! The itinerary was so good. I keep telling people that when you thought it couldn't get any better, it always did.
Favorite "WOW" moment
"I have to pick the prehistoric caves. The caves also generated the most discussion long after the guided tour."
Karolyn
Denver, CO
Tour: 06/01/14
Overall rating:
This was my first tour experience and I would definitely do it again. The pace was lively and I liked the mix of group activities and free time. The itinerary included so many wonderful sights that I looked forward to hopping on the bus each day. We had a nice bunch of traveling companions and Julie set a nice tone for our group.
Favorite "WOW" moment
"The food and the French people. I was very impressed at the care the French have for their food and presentation. The French are gracious, funny and complimented us on our "French" even though we only tried five words. My two highlights were wine related, the organic winery and lunch at Hospitaliers and Laurents wine tasting. I also really enjoyed shopping for food at the markets and having picnics with the group. The visit to Oradour.sur.Glane was sobering."
Arthur
Seattle, WA
Tour: 06/01/14
Overall rating:
Top notch guide. Ready to handle anything - including a rail strike that threatened the end of our journey and connections to the next RS tour. Julie went way above and beyond to ensure everyone got taken care of. Also a jubilant participant in our group as well as a guide. Extremely knowledgeable. Introduced us to the 13 knot rope "computer" that the architects used to design and build castles and cathedrals. I would happily join another tour that she guides, and would certainly recommend her.
Favorite "WOW" moment
"Too many to enumerate, but a consistent one was the warm and friendly French people all of whom were helpful, kind and understanding - and had a wonderful sense of humor. Especially in the smaller towns and villages."
Diane
Pueblo, CO
Tour: 06/01/14
Overall rating:
Excellent assortment of experiences. Very good bus and driver. Enjoyed centrally located hotels allowing walking to all things we wanted to visit. Pace was good except for some lunch breaks (see below). Loved feeling immersed in French history due to all the places we visited and all the input from Julie and local guides.
Favorite "WOW" moment
"Can't choose just one! Chartes cathedral light show and Malcolm Miller Villandry gardens Picnic stop at Morte-Mart Cave art Market day in Sarlat local guide in Arles Les Baux"
Joan
Harbor City, CA
Tour: 06/01/14
Overall rating:
The Loire to the South of France tour was fantastic...I truly enjoyed every moment. The staff at each of the hotels we stayed were very helpful and friendly. Each of the sites we toured were truly memorable and informative....The food was fantastic - the cheeses were so creamy, the meals were so delicious and representative of great French cuisine. The group events - picnics and boating were great fun. There was ample time to do our own thing..Most importantly, the tour staff was wonderful.
Favorite "WOW" moment
"I truly loved every moment...Villandry castle was wonderful. Nice was truly spectacular...Visiting Carcassone was like going back in time to the Middle Ages."
Kate
Portland, OR
Tour: 06/01/14
Overall rating:
Wonderful! I thought the tour was very well organized and visited interesting places.
Favorite "WOW" moment
"The Dordogne Valley was the highlight of the trip for me; the medieval towns and villages, the castles, the lush, green countryside."
Laurie
Seattle, WA
Tour: 06/01/14
Overall rating:
Great time, great group of fellow travelers. One comment I heard from several folks in the group was how friendly the French were. We had some great interactions with locals, including one shop clerk drawing pictures to explain where we could find an item she did not carry in her shop.
Favorite "WOW" moment
"The visit to the Chenonceau in the Loire Valley and the visit to Oradour-sur-Glane on the way to Sarlat. I think everyone in the group was teary-eyed after visiting this WWII martyr village - as the French say 'forgive, but never forget'."
Antonio
Fort Myers, FL
Tour: 05/25/14
Overall rating:
Enjoy very much experiencing the countryside of France. It is a much different experience as that of Paris. Found french people extremely engaging and friendly.
Favorite "WOW" moment
"The light show at Chartres Cathedral was an eye opener and very instructive. The colored laser lights was like time travel throughout the cathedral's history. Moreover, let you "see" the original coloring that the outside church's imagery had in medieval times."
Paul
Tucson, AZ
Tour: 05/25/14
Overall rating:
It was a great experience! A very congenial group of tour members. Jay & Judy had a group(4 couples)from the Seattle area from which they came together. Jay invited all the tour members to join them for "Happy Hour" following the day's activities. This was very considerate of them to do this! Previously on other tours groups like this "stayed together" and by themselves. Hats off to Jay and Judy!
Favorite "WOW" moment
"Many favorite moments!"
Kathleen
Tucson, AZ
Tour: 05/25/14
Overall rating:
I enjoyed all of the tour activities and it was a very good group.
Linda
Charlevoix, MI
Tour: 05/25/14
Overall rating:
Over all the tour was outstanding. It was extremely well organized and a perfect balance of group activity and free time. Chris was a great guide. She was knowledgable and very interesting, with a great sense of humor. Our driver Gilles was also wonderful. In addition to driving so well (How do they get the buses through those narrow streets?) he participated in group events, boules, and was able to answer questions and generally be a real asset to the
Favorite "WOW" moment
"There were too many "Wow" moments to count. Wine tasting certainly, both occasions were terrific. Canoeing the Dordogne was really special. The meals!!"
Sharon
Gig Harbor, WA
Tour: 05/25/14
Overall rating:
It was a wonderful tour with a variety of different experiences. We were fortunate to hear a lecture by Malcom Miller at the Chartres cathedral. A real treat as he is now in his 80's and the most knowledgable person alive on the subject. I also loved the canoe trip in the Dordorgne and the visit to the caves (now I know what an anal flap is on a wooly mammoth!)
Favorite "WOW" moment
"The visit to the Clos Luce and the reproductions of Leonardo da Vinci's inventions."
Kirsten
Seattle, WA
Tour: 05/25/14
Overall rating:
My aim in taking this tour was to see as much of the country-as in country side-as possible and that wish was certainly fulfilled. The variety of landscape within the country was amazing and wonderful: from flat farmland to mountainous terrain to scrubland, endless waterways, and old, old towns. To all this one adds the history that has taken place in many of the areas we passed through and/or explored, some of it known to me and much not, making it a very worthwhile trip.
Favorite "WOW" moment
"There was no one particular "wow" moment but many very memorable ones including Chartres and our hour with Malcolm, the exhibition of modern stained glass, and the son et lumiere at the cathedral at night. The Rouffinac caves were awe inspiring, the canoe trip was great fun as were our days in Sarlat and the impromptu Boule tournament, and the surprise to see so much roman history there, especially the aqueduct and in Arles."
Patricia
Otis, OR
Tour: 05/25/14
Overall rating:
The tour leader, itinerary, participants, and food were all excellent.
Favorite "WOW" moment
"Visiting Rouffignac Cave was my "WOW" moment. It was simply awesome to be in the actual presence of the work left by artists of thousands of years ago. The trek with our luggage up to our hotel in Arles was great, too, walking past the Roman amphitheater and then the stadium to our hotel. Visiting the actual sites of some of Van Gogh's paintings was impressive, too. And then there was the delicious food!"
Carlene
Beaverton, OR
Tour: 05/18/14
Overall rating:
Lived up to the high expectations of the Rick Steves experience. There was a nice mixture of quiet time in beautiful French villages interspersed with dramatic vistas of prehistoric cave engravings, Carcassonne,and the French Riviera. The tour was well organized and ran flawlessly; Rolinka was excellent in arranging our daily itineraries and providing help when needed. Great group of fellow travelers!
Favorite "WOW" moment
"Being someone who loves Medieval history, I would say seeing Carcassonne for the first time was my "wow" moment on the tour. It was a breathtaking experience to actually see Medieval France right before my eyes rather than through the pages of a history book."
Paul
Dover, MA
Tour: 05/18/14
Overall rating:
Favorite "WOW" moment
"I lived in Nice for 9 months, but I had never been to the other places on this tour (except Paris-not on the tour). Thus, aspect of France such as castles, markets, ruins, etc. were not novel for me but they were still most interesting. The wow for me was the visit to the Languedoc winemaker, Chateau des Hospitaliers. The facility tour was great, a very interesting building, then a wonderful home cooked meal with the excellent wine made at the Chateau. Moreover, they have a gite for guests."
Michael
Irvine, CA
Tour: 05/18/14
Overall rating:
Favorite "WOW" moment
"Barging the Canal du Midi together Under plane trees sunlit after rain Sunday picnic, bread and wine Water pouring in and out of locks Our boat rising and falling Between Ocean and Sea"
John
Medina, OH
Tour: 05/18/14
Overall rating:
This was my first Rick Steves tour. I have always planned and traveled my own vacations. I was worried about traveling with a group of strangers on a structured trip. I was pleasantly surprised and would be happy to go again. I think a lot of it had to do with the tour guide Rolinka but many of the things we did and the places we saw and visited and the food I ate I probably would not have thought of doing if not for the tour. I had a thoroughly wonderful time.
Favorite "WOW" moment
"It is difficult to come up with a single "wow" moment. There were several of them. If I have to name just one I would have to say it was Oradour sur Glane. Not a "wow moment in a happy or joyful way but in a sobering way. I have always been interested in military history and have read about Oradour. To see it was was awe inspiring."
Irving
Littleton, CO
Tour: 05/18/14
Overall rating:
Great tour in virtually every respect.
Favorite "WOW" moment
"Number 1: Carcassonne at night Number 2: Villefranche-sur-Mer (Which we did on our own) Number 3&4 (tie): Barge du Midi and Der Linkas dancing in assisting with wine tasting in Chinon."
Karen
Honolulu, HI
Tour: 05/18/14
Overall rating:
A wonderful tour! I was a little afraid that our trip would be a "re-hash" of our Fall 2013 tour from Paris to the Loire. But not so! Things were fresh and new and though there was a tiny bit of overlap,I saw and heard new things at Chenonceau that made it really worthwhile. Very much enjoyed the Canal du Midi river ride. Lovely scenery and the lady who ran the trip was very happy about her neck of the French woods! She was also kind (and forgiving!) about my poor French!
Favorite "WOW" moment
"Probably Les Baux! Very awesome scenery and a great visit, with a wonderful lunch too."
David
Novato, CA
Tour: 05/18/14
Overall rating:
Didn't know what to expect as it was our first tour with a group and was very very pleased with the outcome, especially with the other folks participating in the tour. The group really gelled, everybody got along and had a great time. Rolinka was suberb, flexible and knowledgeable especially when she arranged alternate tours due to the weather. She was very well informed and personable. We had a suberb cassoulet dinner and afterward we rolled the tables back and danced to ABBA...great fun!
Favorite "WOW" moment
"My favorite wow experience was reaizing that I was walking on floors, touching walls that had been built and handled by someone over 800 years before; what were their lives like? who were they? The massive manpower effort to build these churches, fortresses (Carcassone to name one) and mansions...taking several hundred years to do so. As an engineer, I was humbled by the roman aqueduct at Pont du Gard that was built 2000 yrs ago with gradual slopes using primitive survey instruments."
Donna
Strongsville, OH
Tour: 05/18/14
Overall rating:
I had a very good time on this tour. We had a great guide and a nice group of people. I especially enjoyed visiting Chartres Cathedral and the chateaux at Chenonceau and Villandry. It was also fun shopping with the locals on market day in Sarlat!
Favorite "WOW" moment
"My favorite "wow" moment was walking around Carcassone taking photos. It was an amazing sight during the day but absolutely magical at night. I also enjoyed the wine tasting with Laurent at the Hotel Diderot in Chinon (he's hilarious)."
Rita
Novato, CA
Tour: 05/18/14
Overall rating:
Our tour was totally fun and a tremendous learning experience. The villages that we stayed in were so charming and interesting. The group size was perfect for getting to know our fellow travelers. On our last day I wished I could rewind the clock and start the tour all over again.
Favorite "WOW" moment
"There were so many wow moments that it is hard to choose, but for me it was seeing those cave drawings made by early peoples. It was thrilling to ride in the dark in that tram and then have illuminated the art that I have wanted to see since first seeing it in an elementary school textbook."
Carter
Algonquin, IL
Tour: 05/11/14
Overall rating:
Sometimes the mix of the group detracts from the experience, but this is not under your control. The weather didn't help but again it's not under your control. Touring in the summer is better.
Favorite "WOW" moment
"Our tour guide took us on evening walk to see Carcassonne at night."
Barbara
Poughkeepsie, NY
Tour: 05/11/14
Overall rating:
This was my first tour of any kind, and I did not go willingly! My friends talked me into it after our original plan to visit France fell through. I could not have been happier about our decision and am a Rick Steves tour convert! The slow pace and immersion into the smaller villages was perfect for our travel style, and I very much liked the fact that we were mostly left on our own.....after having an orientation in each area. Bravo!
Favorite "WOW" moment
"canoeing the Dourdougne and visiting the Rouffignac caves"
George
Santa Rosa, CA
Tour: 05/11/14
Overall rating:
Wonderful experience with a pre trip to Paris[5 days] and Normandy. Food, wine, and history. Fellow travelers were great. Patrick was outstanding in all categories. History was good.
Favorite "WOW" moment
"I liked the whole trip. Patrick and Malcolm Miller were good. Each area had good points. Food was good with the Dordogne being the most interesting. Group meals were fun and excellent. The hotel and restaurant people were kind and helpful. Arles was my favorite town for walking."
Kathy
Deming, WA
Tour: 05/11/14
Overall rating:
Loved the trip...a good variety of experiences...Patrick was a wonderful tour leader as were the local guides. Good food, good wine, made many friends on the tour. Thank you for (again) a wonderful Rick Steves trip!
Favorite "WOW" moment
"Hard to pick just one. I appreciated visiting the winery and learning of their efforts to be ecologically efficient. The food and wine were good as well."
Josette
Boca Raton, FL
Tour: 05/11/14
Overall rating:
Excellent.
Vicki
Syracuse, NY
Tour: 05/11/14
Overall rating:
I don't have any complaints. Patrick was very good. The trip overall was excellent.
Favorite "WOW" moment
"Canoeing in Dordogne area."
Susan
Santa Rosa, CA
Tour: 05/11/14
Overall rating:
The tour was well planned, our guide was knowledgeable and personable, the group got along well and we kept very busy.
Favorite "WOW" moment
"There were many...two that stand out are having an authority like Malcolm Miller share his knowledge at Chartes, and being able to visit Chateau des Hospitalier and receive a private tour followed by a fabulous lunch of local Med cuisine."
Larry
Tehachapi, CA
Tour: 05/04/14
Overall rating:
Most enjoyable. Outstanding guide. Great group of people. Interesting and admirable buddy. Fascinating sites and locations.
Favorite "WOW" moment
"There were at least two. The Roman aqueduct "Pont du Gard", the razed village of the martyrs Oradour-sur-Glane. Finally, the wine tasting event at the Hotel Diderot in Chinon: the owner of the hotel should be on the stage!"
Stephanie
Springfield, IL
Tour: 05/04/14
Overall rating:
This tour far exceeded my expectations. It was a great mix of a variety of interesting sites plus enough free time to explore what I wanted on my own. The group got along well and Rolinka is a fantastic guide who made every day special.
Favorite "WOW" moment
"It is difficult to choose just one since every day seemed to be better than the last. Canoeing on the Dordogne was definitely a highlight as well as our amazing dinner in Chinon."
Mary Jo
Burns, OR
Tour: 05/04/14
Overall rating:
This was my 5th RS tour, so I knew what to expect, and I wasn't disappointed! A great combination of culture, history, art, great meals, wonderful tour members and a super guide! I love traveling with like-minded people who know how to pack light, "no grumps" and all interesting people!
Favorite "WOW" moment
"There were several: the sound and light show in Chartres on the cathedral and city buildings after dark; the pre-historic etchings at Rouffignac Cave; Carcassonne at night; the sheer size and beauty of Chateau de Chenonceau. A very touching and sober experience walking through Oradour-sur- Glane. The wine-tasting in Chinon with Laurent -- hilarious! He should be an entertainer! All the small villages we wandered through were "wows"!"
Theresa
Tehachapi, CA
Tour: 05/04/14
Overall rating:
We have taken many Rick Steves tours and enjoyed this one, too. The more times we go to France, the more I like it. This tour was typical in that we had a very congenial group and a fine guide! Having pleasant traveling companions makes a trip much more fun, and we've found that with very rare exceptions, the RS tours seem to attract nice, interesting people. We had never been to the west of France, so from Chartres to Nice, it was all new to us. What a gorgeous country France is!
Favorite "WOW" moment
"Hard to pick just one moment. Listening to the 4-man choir singing in the church at Carcassonne was beautiful and so unexpected; marvelling at the Pont du Gard; market day in Sarlat.... Too many other great memories to mention."
Caroline
Dove Canyon, CA
Tour: 05/04/14
Overall rating:
Every single day was wonderful! The start time was great, the amount of freedom to explore on our own was perfect. The wonderful history lesson we received at each place or on the bus prior to arriving was so much more than I ever would have known if going on my own. The tour group was friendly, Rolinka was phenomenal!! We got to see so many places yet still had time to absorb each of those places. I can't say enough positive things about this tour.
Favorite "WOW" moment
"Chateau Chenonceau was gorgeous! Seriously out of a movie. Le Baux was absolutely beautiful. Sitting high up on the rock overlooking the gorgeous view was quite the experience."
Diane
Westford, MA
Tour: 05/04/14
Overall rating:
Outstanding guide, leadership. Cohesive, wonderful group to have as travel companions. Highly enjoyed the varied itinerary a country tour offers: Museums, outdoor sightseeing activities, options for recreational experiences (canoeing, swimming, river walks, being at the beach), Historic sites, UNESCO sites (I think there were 5). Intimate Group Dinners are a highlight culturally and socially. Picnics are relaxing. Tasting local wines and foods are an enjoyable push outside your comfort zone.
Favorite "WOW" moment
"Surpisingly the Rouffignac Cave brought me to the "wow" place. Until this travel I didn't have this place or anything of this theme or era in my mind of travel. It moved me enough that I purchused a small art print of the 'Mammoth' for my home."
Rita
Hancock, MI
Tour: 05/04/14
Overall rating:
It was a wonderful experience. The group all seemed to enjoy each other as well as all the sites we visited.
Favorite "WOW" moment
"It is difficult to limit myself to one "wow" moment . Chartres Cathedral with its' impressive light show stands out."
John
Peoria, AZ
Tour: 05/04/14
Overall rating:
Tour and guide exceeded my expectations. We saw some amazing villages and places and the time spent at each one was just about right. Rolinka was fantastic. She is a very knowledgeable and experienced guide but does not just go thru the motions. She really enjoys her job and the people she is with. I highly recommend this tour to anyone.
Favorite "WOW" moment
"The winery stop just east of Arles. I was expecting a boring stop at some typical little winery but got a wonderful surprise instead. The owners were great and gave us a most interesting tour of their winery and fields. They practice environmental sustainability and multiple use to an amazing degree and it has the added advantage of saving them money in the long run. The lunch the owners prepared was the best of the tour and did I mention that the wine was superb. I ended up buying a case."
JoAnne
Harbor Springs, MI
Tour: 05/04/14
Overall rating:
Great trip! Great guide, fine accommodations, nice companions, and well-chosen places to visit.
Favorite "WOW" moment
"Hard to say...I liked all of it."
Oliver
La Selva Beach, CA
Tour: 10/06/13
Overall rating:
The tour guide and driver were excellent. The selection of hotels seemed to be of good quality and close to walking areas of the cities we visited. The restaurants that were included in the tour were very good except for the last one which was very mediocre. Our bus was new and very comfortable and the driver very capable. The tours chosen were very interesting.
Mary
La Selva Beach, CA
Tour: 10/06/13
Overall rating:
This was our first Rick Steves' tour, and it was very enjoyable. The tour members were all friendly and compatible, and our guide, Arnaud, and our driver were both exceptionally good. The locations chosen to visit were all very interesting and my only wish was that we could have stayed a little longer at some of the cities.
Favorite "WOW" moment
"The visit to the village of Oradour-sur-Glane will never be forgotten."
Krista
Seattle, WA
Tour: 10/06/13
Overall rating:
Great tour, I experienced so much more than I thought possible. The other tour folks were great companions. I felt we looked out for each other. I would rate my overall as Outstanding except for my food experience. Although much of the food was tasty, my body could not adjust to the 'unhealthy' aspect of French food, especially as a pescetarian (vegetarian that also eats fish).
Favorite "WOW" moment
"The amazing views at Les Baux are at the top of my list. Everywhere we stayed was amazing. I can hardly wait to return to some of them with my spouse next time and with me as his tour guide."
Diane
Glastonbury, CT
Tour: 10/06/13
Overall rating:
This was our first Rick Steves' tour and it was everything I hoped for and more. Friends of ours have been on about 5 different RS tours and they recommended it highly to us. I have always done all the European trip planning and traveling on my own and wasn't sure I'd like a tour. Boy was I wrong. It was just wonderful to leave the driving and detailed logistics to someone else. It was well organized, well executed, and allowed us to just relax and enjoy.
Favorite "WOW" moment
"Too many to count!"
Kari
Olympia, WA
Tour: 10/06/13
Overall rating:
Varied itinerary, fun activities, great mix of main sites and things off the beaten path. Comfortable and well placed hotels, good food, good mix of organized events and time to ourselves.
Favorite "WOW" moment
"Every day had at least one WOW moment, but some of the favs: witnessing the 15,000 year old cave paintings; canoeing the river below castles and chateaus; climbing through the medieval ruins and towns; seeing the imposing Carcassonne and the Pont du Gard; homemade jam in Chinon; ; Malcom Miller cathedral tour at Chartres; world heritage gardens at Chateau De Villandry; walking through the WWII martyr village; picnic on the barge going through the canals; Roman ruins; stained glass class."
Carol
Orangevale, CA
Tour: 10/06/13
Overall rating:
This was my first Rick Steves tour and it was very well organized and enjoyable. The tour guide and bus driver were wonderful.
Favorite "WOW" moment
"When I realized that though this was my 4th trip to France, it was the first time I fell in love with the country. I attribute that to the tour and the tour guide. What a difference it made."
Thomas
San Francisco, CA
Tour: 09/22/13
Overall rating:
A good slice of France with a convivial group of fellow travelers.
Favorite "WOW" moment
"There really was no wow moment for me as I have traveled all over France before. If I hadn't been there before, the wow moment would definitely have been Carcassonne."
Raleigh
Mercer Island, WA
Tour: 09/22/13
Overall rating:
This tour was my fifth RS tour and as always it was terrific. The length of time and sites were just the right amount and our guide Michaelanne fabulous. Our fellow travelers were fun, interesting, intelligent and liked their wine, cheese and baguettes. We even danced to Frank Sinatra at one of our picnics thanks to a traveling 'Bose Box'. A wonderful adventure in traveling.
Favorite "WOW" moment
"Pont du Gard. We were walking on the opposite side of the river looking up at the aqueduct when a jet from the nearby Air Force base flew over the site. Here we were looking and marveling at a 2000 yr old structure and a 21 Century flying machine flew over it. Talk about time travel! We are just a "blip" on the fabric of time."
Joan
Chicago, IL
Tour: 09/22/13
Overall rating:
What do you get when you have a fantastic itinerary, a group that starts off strangers and quickly becomes friends, a tour leader as witty, smart and caring as Michaelanne?? Just about the best thirteen days with a group that we've ever experienced. The weather in France was wonderful and each day filled with an incredible facet of what makes France so special.
Favorite "WOW" moment
"It is so hard to pick just one. Probably when I was starting up at the ceiling of the Rouffignac Cave at spectacular 13,000 year old cave paintings....but then, Carcassonne is so magnificent (especially at night) and canoeing the Dordogne River was such a pleasure...driving through the starkly beautiful Carmargue....I think each day held a "wow" moment !"
Ellen
Alamo, CA
Tour: 09/22/13
Overall rating:
This was our very first tour, Rick Steves or other, and we were not sure what to expect. Friends raved about what fun the tours were, so we decided to give it a try. We were not disappointed. We had such a great time, learned so many new things, had such memorable experiences and met some new and interesting friends that we are talking about signing up for another RS tour in the future.
Favorite "WOW" moment
"I cannot isolate any one "wow" moment because they were all "wow" moments from the cathedral at Chartres to the Pont du Gard. Even the little, impromptu moments will live in my memory. Sitting under an awning at a restaurant in Sarlat in pouring down rain while eating yummy pizza, sipping local wine and listening to a trio play soft jazz. Or a picnic lunch in small town that included dancing to Sinatra being played on an iPod. Gilles, the driver, taking us out of the way to his "secret" look"
Bunny
North Vancouver, BC
Tour: 09/22/13
Overall rating:
Didn't think it was possible to have a second experience as wonderful as the Rick Steves Italy tour in 2011, but this was yet another amazing tour. From start to finish, everything was so well-organized. Michaelanne kept us from getting lost, entertained and informed us from the perspective of someone who's lived in France, and went out of her way to be helpful to everyone. It must be a characteristic of the Rick Steves guides! Great weather, great group - can't wait for the next tour.
Favorite "WOW" moment
"So many favorites, but Chateau de Villandry and Carcassone are "wow" visits. Loved Les Baux, Hotel Diderot, market day in Sarlat, Chateau des Hospitaliers wine-tasting/lunch."
Connie
Trail, BC
Tour: 09/22/13
Overall rating:
This particular group of people were excellent travel companions[INVALID]friendly, fun. Michaelanne was exceedingly knowledgeable and willingly shared with us all she knew. She mentioned that we asked more questions than most groups, but she takes the credit for setting a stage that made it comfortable to ask questions. As I knew to expect having been on a previous Rick Steves tour,the pace was perfect, the places we visited were special, and the additional tour guides top notch.
Favorite "WOW" moment
"My favorite "wow" moment was visiting the Pont du Gard. That being said, the final goodbye dinner will be rich in my memory. I loved Michaelanne and this group of people!"
Frank
Commerce, IL
Tour: 09/22/13
Overall rating:
First time to France...beautiful country, sites, food, wine, and people. Michaelanne's knowledge of French history & culture was the critical element for a wonderful trip. She did an exceptional job of "herding squirrels" without being over-bearing. She's a first class pro who made all of us feel comfortable as we explored the castles, caves, and churches throughout France's countryside. Our bus driver, Gilles, was also fabulous...still don't know how he took some of those tight turns!
Favorite "WOW" moment
"Village of Martyrs...powerful and will be burned into my memory for a lifetime."
Kathleen
Commerce, MI
Tour: 09/22/13
Overall rating:
Michaelanne was the best!!! She was peppy(except before 10:00am) always smiling and willing to do anything we asked and then some. She had great historical insights always added personal and opened up anything for discussion. The guides she selected the places we stayed the meals that were provided were all exceptional! Our bus driver Gil was wonderful, too. The people on our tour were amazing. Everyone was interesting and friendly and more than willing to share an occasional bottle of wine.
Favorite "WOW" moment
"The pony du gard was pretty amazing. How the Romans had the engineering knowledge to accomplish that I don ' t know."
Margot
Oak Creek, CO
Tour: 09/22/13
Overall rating:
Our guide, Michaelann, was simply outstanding. She set the perfect tone at our first meeting, and I think that our whole group had a marvelous time. We went to places that I probably would not have been to on our own, and we learned so much from Michaelann not only about the history of where we were, but also about the culture. We had fabulous conversations on the bus that everyone was able to take part in, and we also had a lot of laughs, and very fun times.
Favorite "WOW" moment
"Its hard to come up with just one wow moment, because it seemed that almost every day there was another one. Malcom Miller at Chartes was outstanding, as were our other local guides. The cave at Ruffinac was amazing, as was Carcasson. I really can't think of anything we did that wasn't either WOW or close to it."
Susan
Salt Lake City, UT
Tour: 09/22/13
Overall rating:
We've been on several RS Tours so of course our expectations were high. And once again we were totally pleased!
Favorite "WOW" moment
"My most salient moments are when I'm seeing things, structures, countryside, etc. reflecting and overlaying my knowledge (which probably doesn't amount to much) of history, lives lived and how this history evolved."
Maxine
Point Roberts, WA
Tour: 09/22/13
Overall rating:
Overall we enjoyed our tour a lot. I needed more then 500 characters to describe everything.
Favorite "WOW" moment
"Ron - Oradour-sur-Glane and the Rouffignac Caves Maxine - Sorry I did not have a WOW moment....the tour was really great and steady but nothing was WOW."
Su
Albuquerque, NM
Tour: 09/15/13
Overall rating:
I enjoyed the variety this tour offered. Everyday was a new adventure. We had a great group of fellow travelers. Our guides were both very personable and a lot of fun to be with and seemed genuinely concerned with our individual well being.
Favorite "WOW" moment
"The light show at night at the Chartres Cathedral was amazing - it should somehow be incorporated into the tour so no one misses it. The gardens at Villandry were beautiful. The floating picnic lunch on the Canal du Midi was fun - very interesting to see how the locks work. Enjoyed Arles and walking in the footstep of Van Gogh. It was great to see the French Riviera when we arrived in Nice."
Debra
Hainesville, IL
Tour: 09/15/13
Overall rating:
I was not sure that being with 28 other people for two weeks would be comfortable. But most of the tour participants were of "like mind". They were curious learners, well-educated professionals, friendly companions, and they enriched my experience. I also thought that a tour would keep us encapsulated within an "American Comfort Zone". However, we had enough extra time to explore, get lost, and experience some genuine encounters and individual surprises. I would go again in a heartbeat!
Favorite "WOW" moment
"Well - I got goosebumps. As a former art teacher, seeing "REAL" cave art was a thrill. I had taught my students about these cave art images for years, so to finally see real drawings in person was an emotional moment. The Catherdal at Chartres and Malcom Miller's presentation will also be a treasured memory, and well, what can you say about the Pont du Gard? Plus, market day in Sarlat was a wonderful, unimaginable delight! Oh, I can't forget the barge & winery lunches - they were AMAZING!"
Diane
Seattle, WA
Tour: 09/15/13
Overall rating:
Due health issues among the guides, we had two guides on this trip. I was proud of the way they carried it off, but very disappointed in the trip as compared to my trip to Paris with Rick Steves in 2008. At that time we had a French guide in Paris, and since I had been studying French language and culture she could share quite a bit with me. This time it was just an American and a Dutch women, neither French and neither able to show more than they knew from books or living abroad.
Favorite "WOW" moment
"None from the Rick Steve's part. I stayed in Nice afterwards, speaking French, living in an apartment. That was my wow moment. Within the Rick Steve's group it was a forced feeling of being bussed quickly through unfortunately poor northern weather and trying to make alternate plans for the rain days. Weather cannot be helped. Within the tour the hotel owner in Chenin was "wow" for me. I spent a lot of time in flea markets for reasons I hope to write about below. I found my France there."
Susan
Beverly, MA
Tour: 09/15/13
Overall rating:
Wonderful...tour guides, dining, scenery, experiences, information, traveling.
Favorite "WOW" moment
"Several...touring the cave, visiting cathedrals, scenery."
Nancy
Vermillion, SD
Tour: 09/15/13
Overall rating:
It was wonderful being with such congenial, energetic and interesting tour members, guides and bus driver for 13 days of discovering and enjoying western/southern France. We became an instant family.
Favorite "WOW" moment
"A dream of over 50 years became reality: When I first saw photos of Pont du Gard in my high school French book, I was curious about how the aquaduct worked and dreamed of seeing it someday. Someday came on Sept. 23, 2013. Bus parked in a place that seemed our group were almost the only travelers there. Seeing Pont du Gard from a distance, then walking across its lowest level, noticing graffiti from ages past, then discovering details at the museum--I was thrilled."
Grace
Camarillo, CA
Tour: 09/15/13
Overall rating:
The tour exceeded my expectations because I had never been interested in going on a tour where I was one of 30 or more travelers following a guide with an umbrella and not having time to explore or see on my own. I liked the smaller size of the group and that I could get my own room, since I was traveling alone.
Favorite "WOW" moment
"The "wow" moment was the difference between what I thought of organized trips and how different this was. I had a much better experience than I expected and thought, I will do this again. It was a great mixture of organized sightseeing and free time, with wonderful guides. (I was with a great group of nice, friendly people, as well.)"
Kenneth
Beverly, MA
Tour: 09/15/13
Overall rating:
Great pace, interesting sights I otherwise would not have known to visit on my own. A unique experience to have the tour split between two very knowledgeable and experienced tour guides. Christine was excellent and fun and having Rolinka was like being with an old friend - our third tour with her!
Suzanne
Downers Grove, IL
Tour: 09/15/13
Overall rating:
This was my husband's and my fourth Rick Steves' tour.We had two guides: Chris Coleman and Rolinka and they were both amazing: Chris first, followed by Rolinka. There wasn't a blip in the changing leadership process. Both showed sincere interest in each of us, demonstrating a passion for tour details and our personal concerns. I loved their sense of humor as they shared great information on history, architecture and how much they knew the territory where we traveled. Give them a raise, Rick!
Favorite "WOW" moment
"My WOW moment was Villandry: the French gardens. I could move in and live there. Another WOW moment: touring the winery in Chinon ( I think that's where we were) and lunch that followed on the patio."
Paul
Hainesville, IL
Tour: 09/15/13
Overall rating:
This was our first Rick Steves tour and everything about it exceeded our expectations. Both guides (Christine and Rolinka) were wonderful, the sites were great, the hotels and food were great and everything about the tour was fabulous.
Favorite "WOW" moment
"I can't name just one, the catherdal tour in Chartes with Malcom Miller, the visit to Chennaceax, the cave painting, Arles and the visit to the hospital where Van Gogh stayed (a last minute request by a tour member) that was accommodated by Rolinka. The group meals, picnics, boat ride on the canal, the festival in Sarlat, all were wonderful experiences."
Gilbert
Toms River, NJ
Tour: 09/15/13
Overall rating:
this was one of the best vacations I have taken, everything just clicked and I felt like I was filled with pleasant memories from each and every day. the guide, group, and even the bus driver were all one big happy family out together on this 13 day adventure full of joyful experiences dinning, sight seeing, learning,sharing and traveling as only friends can do.
Favorite "WOW" moment
"visiting Oradour sur glane ( in my own way ) will last me a life time as I am sure it will to everyone that has been there."
Carol
Palm Desert, CA
Tour: 09/15/13
Overall rating:
It was a terrific experience!
Favorite "WOW" moment
"My best "wow" moment was when I learned that the French produce over 360 types of cheese! It's all so good!"
Eric
Annandale, VA
Tour: 09/08/13
Overall rating:
Great itinerary, memorable guide, wonderful tour members. The formula continues to work beautifully. I've drunk the cool-aid and it still tastes sweet (this being my fourth Rick Steves tour). The travel was manageable, and the free time adequate enough for us to make the tour our own. You continue to attract interesting people and guides that add value beyond the norm. Both greatly enhanced the overall experience. WE SHALL RETURN!
Favorite "WOW" moment
"My WOW moment was very simple. On the drive to Les Baux, our guide Arnaud read us the Alphonse Daudet story "The Goat of Monsieur Seguin." Arnaud was the perfect narrator, and the story provided insight into the French perspective and mindset. You could have heard a pin drop. All that was missing was warm milk and a blankie. A perfect moment that added to my understanding and further ignited my curiosity. Isn't that what the best tours are supposed to do?"
Betsy
Holt, MI
Tour: 09/08/13
Overall rating:
This trip was everything I'd hoped for and more. I was unsure how I'd like a "group" experience but it turned out to be a lovely experience - such fun and interesting travelling companions, and the logistics of the tour were impeccable. The true defining piece, however, was our guide Arnaud and our driver/ambassador Gilles. Both gentlemen were delightful and informative companions for 13 days, and it was a privilege to get to know them and to benefit from all their wisdom and love for France!
Favorite "WOW" moment
"Visit to Ruffignac for cave paintings. I'm still breathless. No more characters needed."
Maureen
Oakland, CA
Tour: 09/08/13
Overall rating:
I appreciated the mix of sights. i felt like I really came away with a good sense of Grance and its unique areas.
Favorite "WOW" moment
"Wine tasting at the winery where they use sustainable agricultural methods and eating the lunch prepared for us. It was the best food of the whole trip. The cave paintings The tour of Chartres cathedral and the talk on stained glass."
Bruce
Roanoke, VA
Tour: 09/08/13
Overall rating:
The places we visited, the people we met, the places we stayed, the food, and of course the wine we drank, the things that we learned were all great. Of course, our tour guide as well as the local guides were all excellent. Of course, it was a Rick Steves tour.
Favorite "WOW" moment
"All of that part of France is a "wow" moment. The lunch served at the winery we visited may have been the best."
Janet
Ottawa, ON
Tour: 09/08/13
Overall rating:
The tour was a great mix of architecture, history, culture, cuisine and lovely scenery. Though the weather was less than stellar for much of the trip, it never really mattered. Tour guide Arnaud was incredibly knowledgeable, highly entertaining and supremely organized. As on our previous Steves tours, we had a fun mix of travelling companions.
Favorite "WOW" moment
"It's hard to pick just one, but descending a kilometre into the cave at Rouffignac and seeing the Paleolithic drawings for the first time was spectacular and humbling. For sheer beauty, the gardens at the Château de Villandry seen from the castle keep are hard to beat."
Bonnie
Salemburg, NC
Tour: 09/08/13
Overall rating:
I thoroughly enjoyed the small villages of France, along with their historical past. Nice was also a surprise. I loved the old town and market.
Favorite "WOW" moment
"The "wow" moment came on the first night. The light show at Chartres was unbelievable. I am so glad I weathered the cold to stay. I even came back the next night to see it again."
Cary
Portland, OR
Tour: 09/08/13
Overall rating:
We have come to expect a fantastic experience on Rick Steves tours and this one did not let us down. When I think of all that was packed into those 13 days, I'm amazed that I never felt rushed and never thought that I didn't get to spend enough time someplace. The pacing was perfect.
Favorite "WOW" moment
"The prehistoric cave art in Rouffignac, representing some of our earliest artistic expression, was unforgettable. I also feel fortunate to have had a second opportunity to listen to Malcolm Miller explain some of the meaning and back story at the Chartres Cathedral. He is a treasure. Oh, and canoeing on the Dordogne."
Jeff
Holt, MI
Tour: 09/08/13
Overall rating:
This was the first Rick Steves tour for my wife and I (as well as our neighbors, who went too). We were nervous about whether being with a group would work well for us. We need not have worried. It was awesome.
Favorite "WOW" moment
"The tour was full of wow moments, but my favorite ones involved the care and enthusiasm of our local hosts. Two stand out; our wine tasting, hosted by Laurent at the Hotel Diderot in Chinon was charming, and our home made meal served at the winery tour at Chateau Des Hospitaliers was exquisite."
Kendyll
Redwood City, CA
Tour: 09/08/13
Overall rating:
I felt that I got a feel for the varied regions of France. I probably would not have chosen to go to some of the sights, but am glad that I did. I fell in love with aioli from the lunch we had and with the jams at the hotel in Chinon.
Favorite "WOW" moment
"It's hard to [INVALID] one, so I'm going to confine myself to four: the sound and light show, particularly around the cathedral, in Chartres; Seeing La Cite of Carcasonne come into sight from the highway, perched on the citadel; canoeing on the Dordogne past the castles; listening to Malcolm Miller explain the religious symbolism in the Chartres cathedral. I could have listened for hours."
John
Victoria, BC
Tour: 09/01/13
Overall rating:
Top-shelf price, top-shelf value: no one ever regreted buying quality. Mme Seymour must convince Mr Steves that Carcassonne (day 8) has degenerated to a tourist obscenity. Solution: a short visit, then eat and sleep elsewhere. Reduce visit to Les Baux (day 11) by 90 minutes minimum (chateaux/fortresses/ruins are passé at this point) to arrive Nice prior to rush hour. We didn't and had traffic gridlock, a rushed dinner, a late orientation and an overdue bedtime.
Favorite "WOW" moment
""Wow" is meaningless through overuse. The daily accumulation of satisfying tour experiences resulted in my wife's and my ever-increasing appreciation of the tour itinerary and its execution by Mme Seymour. The end result was the realisation that this was our best tour ever,, and we have taken a number of excellent tours. That the entire tour group was sympatico was unpredictable but priceless."
Theresa
Tucson, AZ
Tour: 09/01/13
Overall rating:
This was my 7th Rick Steves Tour and it ranks right up there at the top. All of the places we visited were everything we hoped for and having perfect weather every day, but one, certainly added to the overall enjoyable experience.
Favorite "WOW" moment
"On our first morning in Chartres, I looked out of the window at dawn and had a perfect view of the Cathedral lit up with a crescent moon hanging just above the spires!"
Pamela
Topeka, KS
Tour: 09/01/13
Overall rating:
We enjoyed the tour and the people traveling with us. The scenery was beautiful, the small hotels where we stayed were very nice and we enjoyed staying in the center of the towns we visited. It is so much fun traveling with a group and having a guide do the work so you get the most mileage of the time you have.
Favorite "WOW" moment
"The Chartres Cathedral was breathtaking. We were there when they were having the light show and it was mesmerizing. Malcolm was our guide and he is fabulous. The gardens at Villandry were beautiful - outstanding!!! The winery we visited was so interesting and the hostess was superb. The food she prepared was the best meal of the trip! This place is a jewel."
Fran
Victoria, BC
Tour: 09/01/13
Overall rating:
Please refer to my husband's evaluation (John Derry) for our combined comments on this tour. I have, however, included my personal "best experience", ancillary comments and ratings where appropriate.
Favorite "WOW" moment
"The tour overall was spectacular, however, the wine-tasting and lunch at a Province family-operated vineyard (day 9) was a once-in-a-lifetime experience, and my husband agrees."
Dave
Kirkland, WA
Tour: 07/07/13
Overall rating:
While I have been abroad a number of times, this was my first organized tour, and I thoroughly enjoyed it! I learned history, culture and politics, was served outstanding dinners, stayed in pleasant centrally-located hotels, and enjoyed interesting walks and outings. The balance of scheduled and free time was excellent.
Favorite "WOW" moment
"Bastille Day fireworks over Carcassone castle."
Kim
Ann Arbor, MI
Tour: 07/07/13
Overall rating:
It was a wonderful tour and we got so lucky with the weather. The guides were friendly and alot of fun. It was nice to visit so many villages, although I would describe some of them as a bit touristy. In particular, Sarlat was a place where 2 nights would have been more than enough. The bus was very comfortable and the driver entertaining.
Favorite "WOW" moment
"I really enjoyed the Ruffinac cave excursion. I think it was a great idea to go to this cave instead of the cave that had been recreated for tourists. This cave was authentic and just amazing. And what fun to go canoeing right after-a great day!"
Brenda
Tallahassee, FL
Tour: 07/07/13
Overall rating:
I went to France with tension pain in my neck and shoulders and came home two weeks later pain free, totally relaxed and filled with awe at the sights and experiences we had. I ate everything in sight and lost weight. It was wonderful not sitting at a computer all day and instead exploring, walking and enjoying both present and historical France. Our two guides and bus driver, who could have been another guide, were wonderful and went out of their way to make our trip memorable. Thank you.
Favorite "WOW" moment
"Each day brought a "wow" moment. The light show at Chartre! The gardens at Villandry! The last room's ceiling art at Rouffignac! The fireworks at Carcassonne! Photographing pink flamingos, wild white horses, and sunflowers! Some of these events were planned and many were unplanned and facilitated by our fabulous guides and bus driver. The unplanned events were magical."
Steve
Kansas City, MO
Tour: 07/07/13
Overall rating:
Our guides were outstanding and did everything possible to help make this trip a great vacation and lots of fun. We were fortunate to see a wide variety of areas each with a very interesting history challenging the imagination of what midevil life was like. Experiencing the culture of those areas today was fun and relaxing.
Favorite "WOW" moment
"The market at Sarlot was unbelievable. We were told it was something special and it's one you really have to experience to understand and appreciate. We were given a project by our tour leader to buy a few things for our lunch the next day. That gave us an experience we will always treasure. Dealing with many vendors, figuring out how to communicate and ending up with magnificant ingredients for a great lunch the next day on a barge with our group. Thank you Julie."
Elizabeth
Philadelphia, PA
Tour: 06/30/13
Overall rating:
My family hasn't taken a major trip since I was twelve, and now I'm in my late twenties and in medical school with nearly zero time. So I wanted a family vacation that would be like eating at a great restaurant: wonderful company, delicious food that leaves you neither hungry nor stuffed, perfectly paced, and warm, welcoming people facilitating it all. Check, check, check and check. So easy, so fun, and only the best of memories. Exactly what I was hoping for.
Favorite "WOW" moment
"My wow came on the flight home as I counted all the small moments: strolling along the river in Chartres and finding the humble and musty Saint Pierre church; practicing my French with the owner of the yarn store in Chinon; figuring out how to use a laundromat in Sarlat with only pictures and French instructions; playing boules and sipping pastis with Gilles, our driver; lingering over great food at La Table d'L in Arles; eating lavender ice cream in Les Baux; feeling the sea breeze in Nice."
Victor
Cleveland Heights, OH
Tour: 06/16/13
Overall rating:
What a delightful trip. Both were outstanding guides who went the extra mile to give us an extraordinary personal experience in France. They gave us a charming introduction to the charming people and charming countryside of France. This was the first Rick Steves tour for both my wife and myself and we plan to do more in the future. Other organized tours that we have taken didn't have the pleasures or delights that our guides introduced us to us all on the tour.
Favorite "WOW" moment
"Our entire time in Sarlat was a cascade of continual surprises The initial group dinner was an outstanding culinary delight. The musical festival on Friday incredible. The Edith Piaf singer, hidden down a little alley-way, was worth the trip Sarlat alone. The Chicago Blues band electrified the crowd. The best was the French Rock group in the main square doing French rock and then finishing with the Stones' Let it Bleed Album and Satisfaction. Then a wow market the next day. Sarlat I love ya."
Weather

France / Paris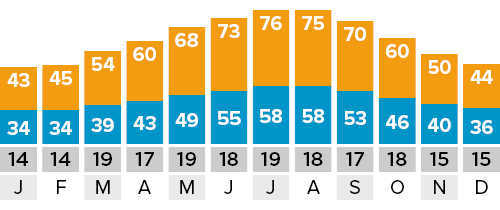 ---
France / Nice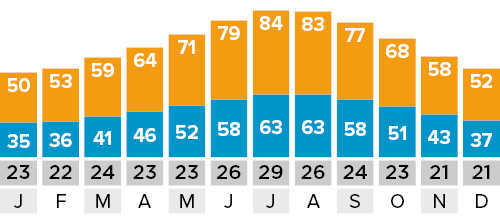 Pre-Tour
We've put together some specific information on what you should know about this tour before you go. You'll also find more general information about "Getting Ready for Your Tour" on our Tour FAQ.
Sightseeing On Your Own
If you plan to arrive early into Chartres, please be advised that we will be visiting all of the city's major sights as a group. Therefore, you may want to consider spending your pre-tour time in Paris or another European destination. Please see Rick Steves' France guidebook for Paris sightseeing suggestions. If you arrive into Chartres with a few hours to spare before your tour starts, you can get over your jet lag by taking a walk through the medieval city center or try out a few words of French at a local café.
Transportation
Most tour members arrive a day or two before the tour begins — and those who don't, wish they had. This allows you ample time to get over jet lag and make the most of the first few days of the tour.
There is more than one way to get to and from your tour. We recommend talking to your travel agent about "open jaw" airline tickets (flying into and out of different cities). It's easiest to fly into Paris, a 50-minute train ride to Chartres, and home from Nice. Paris and Nice are transportation hubs, making travel before or after your tour quite easy. Another popular option is to book a roundtrip ticket in and out of Paris and take the train (6 hours) back to Paris on the day the tour ends, spending at least one night in Paris before flying back to the states.
For information about flying within Europe, ask your travel agent or check Rick's list of European budget airlines.
Read Rick's train travel and rail pass tips and decide if your travel plans merit a rail pass.
Prior to your tour departure, you will receive detailed directions on how to get from the airport to your first tour hotel, as well as contact information for your first and last hotels in case you wish to book pre- or post-tour hotel accommodations.
If you need more information about additional European travel or for specific questions about your tour, contact the Tour Department at 425/608-4217 or email tour@ricksteves.com.
Trip Resources
Learn more about France: Check out a collection of Rick's TV shows, radio interviews and articles, plus find a list of recommended books and movies.
Packing
While it is important to pack light, there are some items we'd like you to consider including when packing for this tour. While in the region of Dordogne, we will be visiting a pre-historic cave. Regardless of the outside temperature, the average temperature inside the cave is 55°; long pants and long sleeves (or a jacket) are suggested.
For ideas on what to pack, check Rick's Packing List and our Women's Packing List.