Pantheon in Rome

Hadrian's Villa in Tivoli

Veste

Alberobello's Trulli Houses

Temples of Paestum

Amalfi Coast

Pompeii

Sorrento

Island of Capri
Tour Questions? Call 425-608-4217
Best of South Italy in 13 Days Tour
This tour treats you to the slice of Italy that's richest in contrasts, from cities to beaches, and from rugged to glamorous. After touring the wonders of Rome, your Rick Steves guide will take you across Italy's boot to the wild beauty of the Gargano Peninsula and Adriatic Coast. You'll meander through the untouristed Puglia and Basilicata regions, followed by the must-see historic sites at Paestum and Pompeii, the jaw-dropping vistas of the Amalfi Coast, and the untamed energy of Naples. Join us for the Best of South Italy in 13 Days!
What's Included
A small, friendly group of 24-28 people — half the size of most tour groups
Full-time services of a professional Rick Steves guide and local experts who will make the fascinating history, art and culture of South Italy come alive for you
All tours and admissions — at no extra cost — covering at least 18 group sightseeing events • Trastevere walking tour • Jewish Ghetto walking tour • Capitoline Museum tour • Hadrian's Villa at Tivoli • Gargano boat cruise (weather permitting) • Pasta-making demonstration • Alberobello visit • Puglia wine tasting • Matera Sassi walking tour • Mozzarella farm visit • Paestum visit • Pompeii tour • Gelato-making demonstration • Orientation for Capri excursion • Capodimonte Museum tour • Naples neighborhood walk • Sansevero Chapel • Naples Archaeology Museum tour...and more
All group transportation from Rome to Naples
12 nights accommodations in memorable, centrally-located hotels
All breakfasts and half your dinners
All tips for guides and driver
Free stuff including Rick Steves' Italy guidebook, Best of South Italy Sightseeing Guide, Italian phrase book, moneybelt and earplugs
Guaranteed tour price, locked in the moment you make your deposit
Optional single supplements — this tour has a limited number of private rooms for solo travelers for an additional fee
Tour alum discount of $50 for each tour you've taken prior to 2014
50% discount on a consulting appointment with our in-house experts to assist with your pre- or post-tour travel plans
Flexibility should you need to transfer, or cancel/interrupt your tour
Fine print: You are responsible for the cost of your drinks and free-time sightseeing. See our Tour Conditions Agreement for important details regarding everything listed above
Itinerary
Daily Activity Key
Light = 2-4 miles of mostly level walking throughout the day.
Moderate = 2-6 miles walking throughout the day with some hills and stairs.
Strenuous = 2-8 miles walking throughout the day with lots of hills, stairs and uneven terrain.
Day 1: Welcome to Italy
We'll gather at our Rome hotel at 4 p.m. for a "Welcome to Italy" group meeting. Afterward, we'll take an evening stroll through the meandering streets of "village" Rome on our way to tonight's trattoria, where we'll get acquainted over dinner together. Sleep in Rome (2 nights). No bus. Walking: light.
Day 2: Layers of Rome
This morning we'll take an eye-opening walk across the Tiber, where we'll learn about the rich, yet often-overlooked, history of Rome's Jewish Ghetto. Then we'll tour the world's oldest museum, the Capitoline. Here we'll learn about Rome's golden age through its most treasured sculptures, including the sublime Dying Gaul, the imposing Marcus Aurelius on horseback, and the emblematic She-Wolf suckling Rome's tiny founding brothers: Romulus and Remus. The rest of the day is yours to wander through the Roman Colosseum and Forum next door, enjoy the panoramic city view from atop the nearby Victor Emmanuel Monument, or make a modern-day pilgrimage to St. Peter's Basilica and Vatican City. No bus. Walking: strenuous.
Day 3: Tivoli and the Gargano Peninsula
We'll leave Rome early, stopping in the nearby hills to learn about the Roman Emperor Hadrian, at the ruins of his monumental villa at Tivoli. An enthusiastic traveler and builder, his lasting legacy includes his great wall across Britain, the domed Pantheon, and his stylish beard. Then we'll drive up and over the Apennine spine of Italy, and on to the shores of the Adriatic Sea. Our destination this evening is the tip of the rugged Gargano Peninsula, one of the most beautiful areas of Southern Italy — and still unknown to American travelers. At our cliff-side hotel we'll share dinner tonight, and sleep in Vieste (2 nights). Bus: 6 hrs. Walking: moderate.
Day 4: Vieste and the Adriatic Coast
Vieste's beaches are packed with Italians in mid-summer. But when we arrive we'll find a peaceful contrast to the hustle and bustle of Rome. Today we'll take a boat cruise (weather permitting) along the craggy Gargano Coast, marveling at the pretty coves, hidden grottos and unusual rock formations that make this coastline unforgettable. We'll return to Vieste for a pasta-making demonstration and lunch, followed by plenty of time to wander through the town or simply luxuriate on the beach. Boat: 1½ hrs. No bus. Walking: light to strenuous (your choice).
Day 5: Alberobello and Matera
Today we'll head off the tourist path and into the Puglia and Basilicata regions, with a stop to learn about and sample some local wines, meats and cheeses. In Alberobello, we'll explore cone-shaped, stone trulli houses that are still lived in today. Then we'll drive on to the town of Matera, which includes one of the world's most unique neighborhoods — the Sassi — completely made up of ancient stone and cave dwellings. Sleep in Matera (2 nights). Bus: 5 hrs. Walking: moderate.
Day 6: The Wonders of Matera
With the help of a locally-grown expert, we'll learn the stories of old and new Matera. We'll begin our day discovering the wonders of the 9,000-year-old Sassi. We'll go inside a Sassi home to gain an appreciation for the cave-dwelling conditions endured by the residents until they were relocated 60 years ago. We'll continue our education with a visit to a rock hewn church, and a look at the new town. You'll have the rest of your day free to wander through the different layers of Matera. This evening, watch — or better yet join — the ritual passeggiata of strolling locals in this authentic, untouristed part of Italy. No bus. Walking: strenuous.
Day 7: Greek Paestum and Positano
Early this morning we'll drive into the Campania region and tour an organic water buffalo farm which produces the prized local specialty, mozzarella di bufala. We'll go into the barns and learn how this tasty delicacy is made and enjoy a gourmet lunch together including (you guessed it) fresh buffalo mozzarella. After lunch, we'll continue on to Paestum, to marvel at this site's awe-inspiring lineup of three Ancient Greek temples — the best-preserved collection in Europe. Then we are off to the dramatic Amalfi Coast. We'll follow the cliff-clinging road that winds above the sea to Positano, where we'll sleep (2 nights). Bus: 6 hrs. Walking: moderate.
Day 8: Free Day on the Amalfi Coast
The day is all yours to enjoy the breathtaking Amalfi Coast. Take a local bus along the twisting roads and wild beauty of the Amalfi highway, hopping off to explore cliff-side villages along the way. Check out the sweeping views from Ravello, the candy-striped church in Amalfi town, the narrow streets and posh shops of Positano, or let gravity pull you down to a beach to relax upon. Tonight will be a great night to find a trattoria with a glorious sunset view. No bus. Walking: light to strenuous (your choice).
Day 9: Pompeii and Sorrento
This morning we'll make a short drive to serene Sorrento. After dropping our bags at the hotel, we'll have an orientation walk through the town on our way to watch the creation of an Italian culinary masterpiece—gelato; then you'll be free for lunch. We'll re-group for a thoughtful visit of unlucky Pompeii, where, with an ace local guide, we'll get a look at everyday life, frozen in time two millennia ago. After free time to explore more of Pompeii on your own, we'll hop aboard the Circumvesuviana commuter train back to our cliff-hugging home set amongst the lemon groves. Sleep in Sorrento (2 nights). Train: ½ hr. Bus: 1 hr. Walking: strenuous.
Day 10: Serene Sorrento and Capri
Today is all yours. Your guide will arrange for an optional boat ride to Capri, where you can then take a much smaller boat to the deservedly-famous Blue Grotto. Or, spend all or part of the day enjoying Capri's remarkable views, winding lanes, fancy summer homes and lovely gardens. Or, stay in Sorrento and wander through the shop-lined back streets, stopping to savor il dolce far niente — the sweetness of doing nothing. No bus. Walking: light to strenuous (your choice).
Day 11: Classy, Gritty Naples
After a short morning drive, we'll have an easy introduction to Naples at the beautiful hilltop Museo Capodimonte, home to southern Italy's best collection of Renaissance paintings, including masterpieces by Raphael, Titian, Caravaggio and El Greco. After lunch in the city that invented pizza, we'll be introduced to Naples' grittier side on a Vespa-dodging, laundry-flapping, slice-of-Neapolitan-life walking tour through the heart of this chaotic, memorable city. Sleep in Naples (2 nights). Bus: 1 hr. Walking: moderate.
Day 12: Exploring More of Naples
This morning we're in world-class-art mode again, touring the greatest treasures of Pompeii, brought to Naples' National Archeological Museum for safe-keeping. We'll also be dazzled by the Farnese collection including the largest single sculpture ever recovered from antiquity: The Farnese Bull. This larger-than-life riot of animal, human and divine struggle was adored and painstakingly restored by Michelangelo. From here we'll head for the serene Cappella Sansevero, home to amazingly lifelike sculptures that have to be seen to be believed. Then, armed with the confidence and the Neapolitan street-smarts you've gotten from your guide, your afternoon is free for making your own discoveries. Tonight we'll get together for a special dinner to share travel memories and toast new friends. Salute! No bus. Walking: moderate.
Day 13: Tour Over After Breakfast
It's a breeze to reach Naples' airport by taxi, easily arranged through our hotel. Your guide will help you with any post-tour planning, leaving you well prepared for the road ahead. Grazie e ciao!
Itinerary specifics subject to change.
Activity Level
Our tours are physically active! It's an essential part of the Rick Steves tour experience. On our Best of South Italy in 13 Days tour — among other things — you'll need to happily...
Carry/roll your luggage over uneven pavement (several blocks possible) and up stairways to reach your hotel; then up several flights of stairs to reach your room.
Be on your feet, walking and standing for up to three hours, indoors and outdoors, in all weather conditions.
Sleep with street noise and no (or weak) air conditioning.
Sleep in a cave-like hotel room in historic Matera.
After orientation and transportation lessons, be able to navigate towns and cities on your own.
Reviews
Michele
Sammamish, WA
Tour: 10/14/13
Overall rating:
It exceeded my already very high expectations!
Favorite "WOW" moment
"Hearing all the churches of Matera ring their bells for vespers, while looking out of our hotel room window over this amazing town and feeling like I had gone back in time a thousand years. Amazing!"
Katherine
Olympia, WA
Tour: 10/14/13
Overall rating:
We had a grand time! We had an easy mix of group sightseeing and time on our own. Our guide had terrific and helpful suggestions about restaurants, how to order, transportation and directions. This tour balanced an amazing depth of history and an expansive collection of art and architecture with spectacular scenery and cultural experiences. This nice balance of experience and activity also enhanced the time getting to know our fellow travelers. What a super group who also chose this tour!
Favorite "WOW" moment
"There are so many 'wows" to choose from. The day to Capri was pretty special. After the long days of walking to sight see all there is to see, Capri was like a vacation from the tour. The boat ride, the blue grotto, the chairlift to Mont Solero and the Krupp walk down to the boat were all wows and sharing all of that with people I had just spent more than week getting to know, admire, and enjoy really built that day into a 'wow', a not to miss day for me!"
Debbie
Edinboro, PA
Tour: 10/14/13
Overall rating:
This was our 3rd RS tour, so we were very used to the routine and flow of the tours. I will admit, that this was probably the most strenuous of all three, maybe because we are older and/or because of the many inclines, hills, stairs of Southern Italy. But it was all good! As always, we had a great guide, and a great group of travel companions. The sights, towns and experience opportunities met my expectations.
Favorite "WOW" moment
"I suppose my "moment" had to be the scenery as we drove along the Amalfi coast. It seemed one curve after another just kept bringing spectacular views through Positano, Sorrento, Naples."
Janice
Birmingham, AL
Tour: 10/14/13
Overall rating:
I felt like I had been invited to a wonderful two-week-long party, hosted by our incomparable guide, Donald White! He gave us one memorable experience after another and kept everything smoothly flowing. I feel sure that we saw many aspects of Italy we would never have had the opportunity to see on our own.
Favorite "WOW" moment
"The first night, following a walking tour in Rome, we had a fabulous dinner complete with strolling musicians who serenaded us and involved some tour members in the musical presentation. I wondered how it could ever get any better, but many others followed: our memorable dinner at the home of Pasquale and Marisa, standing on the square and looking at the balcony where Mussolini made his WWII speeches, the breathtaking Amalfi coast, the goodbye finale party, etc."
Jim
Edinboro, PA
Tour: 10/14/13
Overall rating:
Excellent
Favorite "WOW" moment
""farewell dinner""
Brad
San Francisco, CA
Tour: 10/14/13
Overall rating:
Great group and Donald is finest kind....
Favorite "WOW" moment
"Matera!"
Wai
Saratoga, CA
Tour: 10/14/13
Overall rating:
Favorite "WOW" moment
"How does one respond to this when there was more like a five hundred and fifty wow moments on this tour. As one who lives near a world class coast, particularly loved the natural beauty of the coastal areas."
Timothy
Sammamish, WA
Tour: 10/14/13
Overall rating:
I don't know where to begin. This was our first Rick Steves tour. Our tour guide, Donald White was fantastic. We could not have asked for a better tour guide. The weather was perfect. The hotels were very comfortable. It was the perfect mixture of structured group tour time and independent unstructured time. It was also a delightful mix of big cities (Rome and Naples) and smaller, historic towns like Vieste, Matera and Alberobello. We will definitely be signing up for another Rick Steves tour
Favorite "WOW" moment
"The boat ride to and around the Isle of Capri, followed closely by just walking down the streets of Positano to the water front."
Nicholas
Bakersfield, CA
Tour: 10/07/13
Overall rating:
This is our second trip in two years and it was everything plus what I expected. My wife and I enjoyed the pace and the free time we had on our own. This experience has us planning our next trip already.
Favorite "WOW" moment
"Too many for one wow moment. What can you say Vieste, Pompeii, Matera, Capri, Positano, Amalfi Coast, sleeping in a cave or taking the boat ride on the Coast. If you haven't been on this tour - take it you'll enjoy just not the scenery but also the food. Our guide Donato taking made excellent choices of where to eat and visiting the street in Naples where they make the Nativity scenes. Priceless. We're already planning our next Rick Steve's trip to Scandinavia - can't wait."
Carol
El Macero, CA
Tour: 10/07/13
Overall rating:
This was our fourth Ruck Steves tour and our seventh time in Italy. It was great seeing the south of Italy that we had missed before. We loved our fellow travelers and we seemed to have the opportunity to interact with all of them.
Favorite "WOW" moment
"Taking the chairlift to the top of Anacapri and having a lemon granita on the terrace while overlooking Mt Vesuvius looming over Naples in the distance. Also, the boat ride from Vieste, in and out of sea caves, and having a fisherman show off the big octopus he caught to the appreciative people on our boat. Oh, I have to mention the Greek temples at Paestum, too"
Steven
North Providence, RI
Tour: 10/07/13
Overall rating:
This was my first trip overseas and I think a Rick Steves tour was a great way to do it. I could have done it cheaper by myself or with another tour, but there is no way I would have had so many different activities in fifteen days. And I still had two free days on the Amalfi Coast!
Favorite "WOW" moment
"This is a tough one. I think the view at sunset of the Sassi homes across the valley right outside my hotel room in Matera was simply breathtaking. This was a "wow" moment for me because it was so unexpected, compared to other great moments that were a little more predictable like the view of the Roman forum or museum exhibits or the mozzarella farm. (All of which I enjoyed immensely.)"
Timothy
Seattle, WA
Tour: 10/07/13
Overall rating:
Well planned, well paced and well executed. I was initially expecting just to sit back and enjoy the physical beauty leading up to the Greek and Roman sites, but soon got caught up in the tremendous history of each place we visited.
Favorite "WOW" moment
"It had to be Pompei coupled with the artifacts in the Naples Archeological Museum. We had done some study beforehand to refresh our knowledge. But the actual physical reality of the sites and unearthed treasures hit me right between the eyes. This was a very advanced culture."
James
El Macero, CA
Tour: 10/07/13
Overall rating:
Tour was a remarkable whirlwind trip through current Southern Italian culture plus 2500+ years of history. It was well organized, wonderfully informative and made all the better by the many personal observations, personal favorites and well researched discourses by our guide, Donato. As is so often true on the Rick Steves' tours, geting to know our guide and having the opportunity to gain in depth understanding because of their knowledge is one of the great joys of this travel experience.
Favorite "WOW" moment
"This is always an interesting question. In this case, the "Wow" was the dramatic variety of the places visited, from Rome contemporary and ancient to the exotic German favorite resort of Vieste on the Adriatic to the sumptious beauty of the Amalfi Coast and ending with the something to please every sense full bodied taste of Naples, each with wonderful food and wine and visual experiences to match. Also, the view from the top of Mt. Solaro on Capri on a sunny day was a wow."
Ann
Catonsville, MD
Tour: 10/07/13
Overall rating:
This was the first guided tour that I have taken in 30 years and I was very impressed with the quality of the guides, the accommodations and the food that were included. I liked the fact that our group was limited to 28 people, which meant that we didn't totally overwhelm places like rest stops that we visited. I also think that the tour struck a good balance of days with intense sightseeing with those that provided some down time. Overall, a very enjoyable experience.
Favorite "WOW" moment
"I particularly enjoyed the Archaeological Museum in Naples. I had visited Pompeii before, but never had the opportunity to go to the museum. The mosaics and frescoes from Pompeii truly blew me away. Photos simply don't do them justice."
Theodore
Catonsville, MD
Tour: 10/07/13
Overall rating:
This was a great tour, well planned and organized. The hotels were in great locations and provided great rooms. The transportation was excellent and well organized. The group size was just right. The amount of walking was "as advertized" and provided excellent exercise.
Favorite "WOW" moment
"I think the entire tour was a favorite. It would be hard to single out just one moment/event/local sight."
Lynette
Enon, OH
Tour: 10/07/13
Overall rating:
For me, one of the best tours (this is our fifth) which is saying a lot because I've thoroughly enjoyed all of the tours I've been on. The group on this tour were so nice, and made the tour that much better.
Favorite "WOW" moment
"Many "wow" moments. One of the first was, after having rain following us, waking up to a cloudless, beautiful blue sky in Vieste so that we could enjoy our boat ride. So much history to absorb. Every day there would be something to marvel and enjoy."
Martha
Perry, ME
Tour: 10/07/13
Overall rating:
This tour took me to a part of Italy unfamiliar to me, and I loved it. Donato was a wonderful guide, and the group was the most congenial and laugh-provoking of all my RS tours. I have now traveled from Venice to Florence to Rome to Naples...it is time to reflect on my Italy experiences.
Favorite "WOW" moment
"I read Carlo Levi's book Christ Stopped at Eboli and identified strongly with the peasants living in such abject poverty. And I Googled the town and the sassi caves and looked at many images online, so thought myself prepared. But the drive toward Matera, up the winding road to the bluff overlooking the "new" town and sassi caves left me speechless. The terrain was as rocky and bleak as Levi's book described, and it was heartbreaking to imagine the dirt and squalor these people lived in."
Wendy
Niceville, FL
Tour: 10/07/13
Overall rating:
The geography of Italy is amazing. The cliffs, caves and hillsides were dazzling. The food divine. We love Rome. There is so much to do there. The tour of the Jewish Ghetto was very special and I'm glad it was included. Hadrian's Villa: Awesome- seemingly untouched history. Matera was beyond words. Great group of people and leader of the tour.
Favorite "WOW" moment
"Nothing could have prepared us for how beautiful Matera was. From the stunning moment viewing the city across the ravine to actually walking and "living" in the historic cave dwellings was incredible."
John
Lakewood, CO
Tour: 09/30/13
Overall rating:
This was our seventh Rick Steve tour and we thought it was excellent. The accomadations everywhere were very good as was the food . The group cohesiveness was superb which always helps to make a good trip great.
Favorite "WOW" moment
"We were very fortunate to be in Positano on the day and evening when a local church celebrated Mary of the Rosary. There was a marching band that provided music as they carried a large statue of Mary up and down severl streets. There were fireworks and a local music group that provided music for street dancing and for attractive young people to do traditional folk dances. We participated in the street dancing. It was a very special "Wow" moment!"
Mary
West Linn, OR
Tour: 09/30/13
Overall rating:
The tour was comprised of more first time members than I have experienced before. The guide was very good with these people while not ignoring the rest of us. The tour was well managed - things happened as advertised and planned. We covered a lot of territory and the driver was skilled in getting us where we needed to be. We had great meals. Also, we had the right amount of free time to explore on our own.
Favorite "WOW" moment
"I loved the drive through the Gargano Peninsula to Vieste. But I would have to say that the wow moment was the trip to and the stay in Matera. I was so impressed to think that I was staying in a location that had been occupied continuously going back to the Stone Age. And I couldn't help but think of what life must have been for people living in the area without the plumbing and electricity."
Rosemary
Lakewood, CO
Tour: 09/30/13
Overall rating:
As always the tour was wonderful. This was our 7th tour and they have all been great. This one seemed to be more demanding as there was little down time. Could be because I am getting older. Also, we covered lots of miles so some of the days were long.
Favorite "WOW" moment
"The whole trip was great but, of course, there were somethings I liked better than others. I really liked Matera and the whole experience there. However, I must say my "wow" moment was in Positano. We were there for the feast day of Our Lady of the Rosary and it was spectacular. The parade with the lifesize statue of Mary, the band playing, fireworks and then the party with dancing in the street. Quite a spectacular event. We were so lucky to be there for the celebration."
Catherine
Eugene, OR
Tour: 09/30/13
Overall rating:
Favorite "WOW" moment
"Most of our wow moments occurred when we weren't on the tour (Borghese Gallery, Villa Cimbrone, Herculaneum, Solfetara, etc.)."
Peter
North Muskegon, MI
Tour: 09/30/13
Overall rating:
Tour was better than my expectations. My first tour but liked the format, the local guides and especialy our travel guide Susanna. Hotel and eating selections more than met our needs as did the coach.
Favorite "WOW" moment
"I thought that the local guides all brought an intensity and knowledge of their areas so that ruins of Pompeii , the archeological museum, the tour of the Jewish getto, seemed to standout as wow moments."
Donna Fay
Ventura, CA
Tour: 09/30/13
Overall rating:
The tour was well organized and Susanna was a great guide. The hotels were good but when two women travel together we would really like a mirror in the bedroom area. We can't both be in front of a small mirror with a small sink that has no room to set up any cosmetics. The staff in the Rome hotel were not at all helpful. I appreciated drinks being included in the meals we had together. The whisper system is good. I liked the east coast variety but really needed a guide for Hadrian's villa.
Favorite "WOW" moment
"I really enjoyed the water buffalo farm and the meal was fantastic. Also loved Matera and the cave hotel."
Barbara
Seattle, WA
Tour: 09/30/13
Overall rating:
The Rome and South Italy tour was excellent. Visits to Hadrian's Villa, Vieste, Alberobello, Matera, the Amalfi coast, Pompeii, and Naples were all fascinating. I am not a big fan of farm visits, but the water buffalo farm was terrific. I would have enjoyed more time touring in Rome (perhaps eliminating Positano or Sorrento). Meals and accommodations were great, and the bus driver was great too.
Favorite "WOW" moment
"The visit to Pompeii was so enlightening, despite a drenching rain. Gaetano, the tour guide, gave a no nonsense tour, demonstrating how advanced the Romans were 2500+ years ago, socially and technologically. He put life in perspective for me, making me wonder more about how our society will look to descendents centuries hence (whether we are overcome by a volcano, massive earthquake, or disaster of our own making)."
Nancy
Edmonds, WA
Tour: 09/28/13
Overall rating:
The tour was fast paced and we were provided with a plethora of historical facts and current life information. Our guide was fantastic. The hotels were well located and adequate. There was a nice amount of structure as well as free time.
Favorite "WOW" moment
"While on the Amalfi coast we decided to go from Positano to Vietre sur Mare because a friend of ours had suggested that we visit the ceramic store that his cousin worked in and owned. We did that, took pictures of the cousin and she gave us a couple of limoncello glasses. In the meantime it is raining TORRENTIALLY so we attempt our bus ride back to Amalfi where we will catch the boat back to Positano. When we buy our bus tickets we are told that the bus will be along in about five *continued"
Bruce
Long Beach, CA
Tour: 09/28/13
Overall rating:
Nina Bernardo was just fabulous. The Italians are much friendlier and more forgiving of my mistakes than the Germanic people I have met in previous travels.
Favorite "WOW" moment
"The Archaeological Museum in Naples. The frescoes and mosaics were amazing."
Thomas
Vancouver, WA
Tour: 09/28/13
Overall rating:
Everything was timed so well, travel in the bus, meals, hotels, tours and free time, we never had any idle waiting time. Nina is a spark plug! She moves quickly and talks quickly.....she really keeps things moving and on task. She also gave incredible mini lectures while we traveled in the bus...a wealth of information. "Ondiamo!"
Favorite "WOW" moment
"I have always wanted to see Pompeii. It was more impressive than I had built up in my mind. Seeing all the art from there, in the Naples museum, was even more amazing!"
Patrice
Gold River, CA
Tour: 09/28/13
Overall rating:
This was our first RS's tour, and it was everything we imagined and more. Having used Rick's guidebooks for 20 years helped make us feel right at home. Our guide was exceptional. She was full of so much information and presented it in a way that we could retain it. I liked how she used bus time to orient us on the next stop, and her instructions were clear and precise. The guides at our various museum stops and walking tours made everything we were seeing seem so personal.
Favorite "WOW" moment
"My favorite "wow" moment ... there were many. But I have always wanted to see the Amalfi Coast, and as our bus rounded corner after corner and it came into view, I was in Heaven! After watching Rick's DVDs for years, I knew where we were immediately."
Brian
Apo Ae, AE
Tour: 09/28/13
Overall rating:
Great experience. Because it was late in the season the weather didn't always cooperate, but that was expected. Was still surprised by how crowded many of the popular places were. It was nice to get off the beaten path in places like Vieste and Matera.
Favorite "WOW" moment
"Would have to say Pompeii. I had not appreciated how large the place was. The local guide did a great job bringing the ancient city back to life."
Norbert
Edmonds, WA
Tour: 09/28/13
Overall rating:
Well organized and informative tour. Great guides. Plenty time to do our own thing.
Favorite "WOW" moment
"Cobble in doorway of his shop in Sieste."
Gene
Roseville, CA
Tour: 09/28/13
Overall rating:
Although I have been to Italy eight times previous to this trip, I have never been south of Rome. The exception was a Rick Steves trip to Sicily and a train trip from Rome to Sicily. Seeing this part of Italy was a gratifying experience. Nina, with her charm and special skills helped make this trip a memorable one.
Favorite "WOW" moment
"Seeing the Amalfi Coast and spending a full day in Positano was special - rainy weather notwithstanding. However the special "wow" moment was seeing Matera and the Sassi. Our cave hotel was unique and something we will take about for a long time."
Patricia
San Jose, CA
Tour: 09/23/13
Overall rating:
Awesome tour!!! Great Tour Guide: Knew Italy, including: It's customs History/current events Food/wine Area characteristics, soils, vegetation, etc. She made it a very fun tour and wonderful experience Felt very safe with her as a guide. Safe and professional bus driver, Salvatore from Sicily. He was very helpful and courteous.
Favorite "WOW" moment
"Boat cruise along the Gargano Coast: - Went into MANY beautiful, awesome grottos!!! - It was a small enough boat to see everything, but large enough to feel safe. - Saw fisherman, squid, octopus - It lasted longer than I thought it would and loved every minute. Could have gone on longer and would have loved it."
Christopher
Olympia, WA
Tour: 09/23/13
Overall rating:
Having just come off the Best of I. tour where the impressive sights diluted the tour totally, they got to me here where it was a world of small things. In the future, consider visiting more remote towns. The Amaphi (sp?) coast was an absolute zoo and Positano was too crazy for me with the madhouse of tourism. I only found a bit of real Italy here when I hiked the steps aka trail up from Almphi town to Revello. It was a welcome break and Revello was nice where I walked all over especially
Favorite "WOW" moment
"The museum in Naples where I could see the artifacts from Pompei."
Bonnie
Lafayette, IN
Tour: 09/23/13
Overall rating:
I thought the tour was very good. There were three long days in the bus, but of course we are aware of that before the tour. I thought Hadrian's Villa would have been more interesting if we had a map that was useable. You have great homemade maps in your book, one of those would have been much better that the one handed to us. That would be something to add. The boat trip in Vieste was great fun, but the extra time was a little long.
Favorite "WOW" moment
"Almost getting run down in Naples by the motorcycles. What an experience!"
Russell
Black Butte Ranch, OR
Tour: 09/23/13
Overall rating:
The tour was definitely slower than the 17 day Italy tour. I knew this in advance because the life style in southern Italy is different than the north except maybe Naples. The group of travelers on this trip were different than the one before and created some issues which I will discuss later. The issues were not major but something your tour administration may want to think about.
Favorite "WOW" moment
"Traveling in the local bus on the Amalfi Coast puts this drive in the "wow" moment. How the drivers of all vehicles live is beyond me. The tight curves, steep inclines, narrow roads, amount of traffic did not over shadow the beauty of the towns and shore line."
Bobbe
Huntington Beach, CA
Tour: 09/23/13
Overall rating:
The tour was very interesting & loved the sights. We did find it more strenuous than expected due to all the ups & downs in the streets of the various towns & changing hotels every 2 days. We also found the group too large, though all very compatible. Ireland spoiled us with only 17 of us.
Favorite "WOW" moment
"Pompeii!!"
Donna
Stillwater, MN
Tour: 09/23/13
Overall rating:
We enjoyed a trip very, very, much. On the whole we had a fantastic group of people and we made many friends that we will continue to communicate with. In Vieste we boated along the coast and into grottos. In Alberobella we enjoyed the wine tasting and the Trulli houses. At the water buffalo farm, we had the special buffalo mozzarella and a special lemon cake for my birthday, to be enjoyed by all. We spent that evening in Positano. Exactly where I wanted to be for my birthday evening.
Favorite "WOW" moment
"Matera was our favorite. Knowing we were going to be in a "cave" hotel made us all a little apprehensive. However, our hotel was unusual and fantastic. I even purchased and carried one of the special lamps that were locally made and placed in our rooms. The view over the city, especially at night were beautiful. They had a special lighting of candles all over the city the second night for a festival they were having. It was as if it was done just for us."
Art
Double Oak, TX
Tour: 09/23/13
Overall rating:
Our first trip to Europe! We were very pleased with the overall experience but had some issues, mostly with hotel rooms: Rome no complaints, Vieste-room was very small but no other complaints, Matera-room was moldy and musty and my wife developed a sinus problem as a result, Positano-room extremely small, Sorento-room felt like it was in the dungeon, Naples-ok, but neither the TV nor the airconditioning worked, were told to leave the window open, also, the "breakfast room" was too small.
Favorite "WOW" moment
"I loved Pompeii but hated the crowds, absolutely loved the Sansevero chapel in Naples, a very good stop."
Linda
Bridgewater, NJ
Tour: 09/23/13
Overall rating:
On the whole the trip was very enjoyable. Our guide was very knowledgeable, entertaining and efficient. What she did looked effortless, but probably was a lot of work. The choices of the cities, sights, hotels and restaurants were interesting and varied. At some sights we seemed a bit rushed, especially those where we were left to our own devices for a couple hours. A local guide at Hadrian's Villa and Paestum would have been nice.
Favorite "WOW" moment
"In Sorrento, looking out over the Bay of Naples at the beautiful blue-green water with Vesuvio quiet (for now) in the background. The boat ride in Vieste was also a highlight. I'm not particularly fond of boats, but this trip turned out to be well worthwhile. The nice weather helped, too."
Evelyn
Cherry Hill, NJ
Tour: 09/23/13
Overall rating:
Fantastic. Our fellow travelers were pleasant and cooperative and group comradarie was established early and continued throughout.
Favorite "WOW" moment
"So many. Staying in the sassy in matera. The ruins of Pompei the beauty of the analogies coast"
Linda
Stanwood, WA
Tour: 09/21/13
Overall rating:
Each day we learned something new as we explored the area with our tour buddies. It was a great mix of cultural immersion, authentic "foreign food", and new geography while we enjoyed the history and art. Our guide was greeted enthusiastically by each contact he introduced us to and this demonstrated to me that we really "lucked out" when it came to tour guides. His lifetime of experience was a gift to us. I appreciated not having to make all the transportation decisions.
Favorite "WOW" moment
"The day we took the boat into the caves was the best for me. Although I knew we might get to do a boat trip I had no idea what fun it would be to squeeze the boat into the "secret caves" as I liked to think of them. It was amazing to imagine real pirates doing the same thing!!! then we returned to don our swimsuits and swim in the sea next to our hotel."
Tim
Port Townsend, WA
Tour: 09/21/13
Overall rating:
Well run and very informative. Don really knows his history.
Favorite "WOW" moment
"To discover the facts and history of Matera."
Charles
Reading, PA
Tour: 09/21/13
Overall rating:
The tour didn't start out very well when the bus driver was not where the guide expecting him. He was two blocks farther away and refused to come closer even though bus parking was allowed closer. The driver made us walk an additional two blocks with luggage over un- even terrain. In one hotel the AC didn't work properly and the tub did not drain, but according to your book, that is to be expected. We averaged about 6 miles per day of walking, more than I expected or wanted.
Favorite "WOW" moment
"I can't say that there were any wow moments for me. The most interesting for me was Pompei. The best guide for the area was the guide for Pompei. The next best guide for the area was in Paestum the water buffalo farm, she was also good. The rest of the guides were hard to understand, they talked too fast and their English was not that good."
John
Story City, IA
Tour: 09/21/13
Overall rating:
We enjoyed our tour companions and sites we saw.
Favorite "WOW" moment
"Our wow moment was seeing Pompeii, Matera and the Island of Capri."
Mike
Sooke, BC
Tour: 09/21/13
Overall rating:
Well organized and executed. Donato made the tour fun and educational at the same time
Favorite "WOW" moment
"For me it was the three Greek temples."
George
Portland, OR
Tour: 09/21/13
Overall rating:
My wife and I had previously enjoyed the "Rome in 7 Days" experience with Cecelia Botai and found ourselves hungry for the experience of Southern Italy again. We had previously explored Naples, Sorrento, and Pompei as well as Siracusa and Tormina in Sicily on our own and so felt that to complete the picture, we needed to explore with Rick. Our guide, Donatello, as he likes to known performed the usual Rick Steve's miracle by welding us into an efficient eager and excited group of enthusiastic tr
Favorite "WOW" moment
"Matera by night and the walk back to our hotel at 11:00 PM in ghostly moonlight among the caves of Matera in the "Sassi" District of this little known city"
Kevin
Springfield, VA
Tour: 09/16/13
Overall rating:
Casa San Giuseppe, Rome, was in a poor location. Hard to find. My taxi could not find it. Public transportation was not convenient. I stayed 3 days before the tour at the Best Western Royal Santina, Via Marsala, by Termimi Station. Transportation was excellent: Train from airport, Metro and many buses. This BW Hotel had a excellent breakfast (best in Italy) and a modern bathroom. Best tour hotel was Locanda di San Martino in Matera: unique cave room and pool. Ulisse in Sorrento very good.
Favorite "WOW" moment
"#1 Ruins of Pompei. #2 Vieste boat ride along the coast."
Judy
Kelowna, BC
Tour: 09/16/13
Overall rating:
Enjoyed Italy very much, definitely will go back someday! Glad we took a planned tour as I think we were exposed to so much more than we would have seen if we had done it independently. Saw some amazing sites and learned so much about their history!
Favorite "WOW" moment
"The Amalfi coast was breathtaking, but the uniqueness of each small town was pretty "wow" too."
Lynda
Birmingham, AL
Tour: 09/16/13
Overall rating:
We enjoyed our South Italy tour very much. Great group of fellow travelers and a wonderful guide to provide leadership and focus.
Favorite "WOW" moment
"So many "wow" moments ! Walking through the Jewish Ghetto with Francesco to point out the sad story but also the magnificent ruins of a very old and proud neighborhood. Visiting Hadrian's Villa while a special exhibit was underway filled in many points of his life. We had visited Hadrian's Wall in May so this provide another view of his accomplishments. The boat ride around Vieste provided a view of spectacular scenery unlike the rest of Italy. So many wonderful moments and memories."
Chris
Bremerton, WA
Tour: 09/16/13
Overall rating:
Wonderful trip! Our guide was knowledgeable, the food was great, and the weather cooperated. Most of the hotel rooms were more than adequate; they were placed within walking distance of the many sights.
Favorite "WOW" moment
"My favorite spot was the stop on the cruise in Vieste. That beach and rocks were my favorites; I would have loved to stay there longer. Other wow moments include Positano and the cistern in Matera. I would recommend that to all tourists. Fascinating!"
Larry
Bremerton, WA
Tour: 09/16/13
Overall rating:
Great tour! Matera and the Locanda di San Martino were a pleasant surprise. An historical jem with a cave hotel experence. The Amalfi Coast was stunning. Naples was special in its own way and undeserving of the trepidation we had in going there. I can see how people spend a lot of time there. It has so much to see and draws you into its lifestyle.
Favorite "WOW" moment
"The boat ride arounf Capri and the Blue Grotto exceeded expectations, the great weather obviously helps."
Shannon
Redmond, WA
Tour: 09/16/13
Overall rating:
The guides make the tour, and this tour was no exception. She was amazing! She made Italy accessible and fun for me. She made it possible to even appreciate my least favorite part of the tour, Naples, of its finer points. I like the bits of the tour that wouldn't normally be thought of or perhaps accessible to the average tourist (catered lunch/tour at Mozzarella Buffalo Farm, cruise from Vieste up/down the coastline, guided tour of Rome's Jewish Ghetto, wine/food tasting at Trulli shop).
Favorite "WOW" moment
"Tour of Pompeii. Bright sunny day, our guide Giutano was informative and funny. Picturesque Mr Vesuvius loomed in background. Amazing!"
Nina
Westport, NY
Tour: 09/16/13
Overall rating:
Having explored Rome and northern Italy before, I wanted to learn more about the south. Places that I had never heard of before were the most interesting to me - Vieste, Matera, Alberobello, Paestum, Tivoli and of course the organic water buffalo mozzarella farm! Who knew! I though Napoli would be intimidating, but it was alive and exciting. This tour was an excellent balance between city and rural, known and unknown. I loved it.
Favorite "WOW" moment
"Naples, Naples, Naples! The Archaeological Museum. The Sotterranea (Underground). The Veiled Christ at the Cappella Sansevero. The Spanish Quarter. Old Town. Motorcycles carrying anything and everybody, including whole families. Street vendors. Pizza. Just the wonderful, alive feel of Naples."
Harold
Seattle, WA
Tour: 09/16/13
Overall rating:
It met and went beyond all our expectations. The tour guide was exceptional! The areas covered were interesting and not on the unsual tour itinerary!
Favorite "WOW" moment
"The cave dwellings and story of Matera[INVALID][INVALID][INVALID][INVALID] including our hotel! (Most unique hotel we've ever had the priviledge of visiting.) Also the view from our hotel in Positano."
Susan
Lancaster, CA
Tour: 09/16/13
Overall rating:
It was a great tour experience - super guide, pleasant tour companions, new and fascinating sights and of course delicious food! The fresh buffalo ricotta and mozarella were better than I even dreamed! (and I had high expectations for I had been thinking about the mozarella since my previous Italy trip!)
Favorite "WOW" moment
"There were many, many "wow" moments, but I will always remember entering my cave room in Matera! It was a regular door.... What a fascinating city!"
Jonathan
Lancaster, CA
Tour: 09/16/13
Overall rating:
The South Italy tour was excellent! Our guide, Susana, was outstanding and the group was very compatible. There was an excellent mix between exploring interesting places and having time to enjoy the beauty of South Italy.
Favorite "WOW" moment
"There were many wow moments. Taking the local bus from Amalfi to Ravello was an exciting and breathtaking experience. We ended our ride by having lunch at a restaurant overlooking the Mediterranean."
Adele
Hartland, WI
Tour: 09/16/13
Overall rating:
Unfortuately we had to leave the tour only after 3 days due to the death of my traveling companions father. I want to tell you that our guide was fabulous. She took and made all the arrangements for us to get back to the states and we did in it in a matter of hours. Since we had to leave the second day into the tour we are planning to return next year to do the same tour.
Favorite "WOW" moment
"Not enough time to have a "wow" moment"
Gail
Sacramento, CA
Tour: 09/16/13
Overall rating:
Very pleased with the tour experience!
Favorite "WOW" moment
"Matera. Also went to Ravella a while when we were in Positano (not included). Pompeii."
Michael
El Cajon, CA
Tour: 09/16/13
Overall rating:
A very interesting, wonderful tour. We saw many sights just as scenic and interesting as other, more famous spots in Italy but without the crowds. And we ate very well along the way!
Favorite "WOW" moment
"Walking the old streets of Matera - it felt like being in Jerusalem 2000 years ago. (As Mel Gibson will agree!) Eating wonderful pizza in the Trastevere area of Rome. Riding a speedboat into a cave near Vieste with luminous blue water all around. And others..."
Merita
Camp Hill, PA
Tour: 09/16/13
Overall rating:
Overall it was terrific. We thought our tour leader was organized, went out of her way to answer questions and "solve" problems, was knowledgeable [the info she shared about the current political goings on helped us better ground us as we interacted with native Italians], and we thought there was just the right mix of guided tour time and on-you-own time. We loved the Adriatic Sea and Vieste, Matera, Hadrian's Palace, and the Amalfi Coast.
Favorite "WOW" moment
"It's a tie. The Adriatic as first glimpsed from the bus navigating the scary roads leading to it, and Matera."
David
Olympia, WA
Tour: 09/14/13
Overall rating:
Enjoyed southern Italy. The sights, sounds and tastes were a real treat. We had a great group to travel with and there was a lot of interaction. Our guide, Nina, did an excellent job. Her knowledge of art, history, architecture, the Italian people etc. was very impressive. She also showed great interest in her tour members, going out of her way to fix issues that arrived.
Favorite "WOW" moment
"Pompeii and realizing how advanced they were. Then thinking about the tragedy they endured."
Gary
Farmington, MO
Tour: 09/14/13
Overall rating:
Wonderful. Never spent enough time in any one city to get bored. Always left thinking "Wish I had one more day to do this" Have every intention of doing another Rick Steves' tour in the future.
Favorite "WOW" moment
"Museo Cappella Sansevero was a complete surprise. I remembered the work from Art History class. Hercules at the National Archeological Museum Caravaggio at the Capodimonte. Would have to say tasting Naples Pizza was a "wow" moment."
Jill
Redlands, CO
Tour: 09/14/13
Overall rating:
Nine was an excellent guide. Really brought us full circle in sharing the history lesson of who reigned and when and then to reach Naples and see the statues of each of those whom we had heard about for the past 12 days was well done! Accommodations were great, sights, additional guides....all great. Two days in each location was good. Walking in every location was enjoyed!
Favorite "WOW" moment
"The history of Matera was defnitely a Wow moment. The buffalo mozarella farm truly unique and interesting...then the huge ruins at Pasteum!"
Andrew
Edmonton, AB
Tour: 09/14/13
Overall rating:
Totally awesome. She is without competition. She is the complete package - total historic and contemporary knowledge, organized, sensitive to individual and group needs, in sync with the group dynamic and in complete control. Oh yeah, one other thing, she has a wonderful sense of humour - so important for a leader to be able to make you laugh. Hard to imagine how the tour could have been better. It really was a completely cool experience! This tour attracts very fun and interesting people.
Favorite "WOW" moment
"Renting a scooter for the day on Capri with another couple. We had so much fun covering the whole island, stopping to swim or eat or shop as we wished. It is so beautiful, the water was magic, the weather perfect and the atmosphere euphoric. Plus it was my birthday (maybe the best one yet)."
Beth
San Francisco, CA
Tour: 09/14/13
Overall rating:
Nina was an extra special tour leader! She educated us and entertained us. It was a wonderful group of travelers, no whiners. Most of the group wanted to go to southern Italy because, although they had been to Italy a number of times, never south of Rome. I think we all got a real feeling of how the south is very difference from Northern Italy.
Favorite "WOW" moment
"Seeing Positano, the houses tumbling down to the beach."
Laura
Olympia, WA
Tour: 09/14/13
Overall rating:
I thoroughly enjoyed this tour from beginning to end! Nina was a wonderful tour guide. Informative, fun, smart, and entertaining. Nina really has a passion for Italy and her enthusiasm is infectious! She encouraged questions and didn't miss a beat in answering any question. The history and sights on this tour are truly amazing. The tour is so well planned, the accommodations great, and as for the food....really, really good!! And I came home with a great appreciation for Italian wines!
Favorite "WOW" moment
"For me the biggest "wow" was the history of Pompeii & Matera. Walking the same streets and sleeping in the caves of those who lived years before. My "fun wow" moment had to be swimming in that beautiful cave pool and spa in Matera at Locanda di San Martino, and appreciating the lovely "cave" room where we slept while envisioning how it was when the Sassi residents of this cave slept with chickens under the bed, and the cow most likely stabled in the lovely bathroom we enjoyed during our stay."
Dorian
Foster City, CA
Tour: 09/14/13
Overall rating:
Nina was fantastic!
Favorite "WOW" moment
"Taking the chair lift up to Ana Capris."
Terese
Vacaville, CA
Tour: 09/09/13
Overall rating:
It was our first R.S tour, and we enjoyed it very much. Our guide was very informative about the towns and sights we visited. The assistant guide was good with adding her insights, along with the Itallian culture with information that we would not have known if she did not tell us.
Favorite "WOW" moment
"Pompeii, I did not realize how big it would be. Our guide there was excellent, also."
William
Oceanside, CA
Tour: 09/09/13
Overall rating:
Totally awesome in every way. Tour guide was one of the best. We have been on 5 RS tours and Tommaso was among the best! The choice of itinerary is why we travel Rick Steves. Vieste, Matera, Alberobello, and the whole Amalfi coast reflected a whole new emphasis. The choice of hotels this time exceeded expectations.
Favorite "WOW" moment
"While there were several and we have been to Rome three times, the city guide - Francesca - was incredible in her story-telling!"
Margaret
Yarker, ON
Tour: 09/09/13
Overall rating:
Definitely enjoyed everything about the South Italy tour.
Favorite "WOW" moment
"Visiting the Pompeii Site and then later the Museum in Naples."
Jean
San Anonio, TX
Tour: 09/09/13
Overall rating:
Having two guides was super with both commenting on a particular bit of information. We loved having them together as they both added jovial times along with their never ending information--even discussing their homeland Sicily. Later we had each in their respective city as our local guide which was wonderful seeing them again and hearing this time history of their respective cities. Rosa will be a great tour guide and is a super city guide.
Favorite "WOW" moment
"Pompeii had been high on my list of places to see and I found it wonderful. But I was blown away by all the marvelous frescoes, statuary and mosaics formerly in Pompeii in the museum in Naples. How I wish I could visit that museum on regular basis!"
Roger
Gig Harbor, WA
Tour: 09/09/13
Overall rating:
Tour was all I had hoped it would be. Was impressed by the knowledge and enthusiasm of both Tommaso and Rosa. Accomodations were actually better than I expected. I especially enjoyed the fact all our tour companions fully embraced the Rick Steves philosophy: NO WHINING.
Favorite "WOW" moment
"Discovering Vieste and the boat tour of the limestone cliffs and grottos. I'd definitely recommend this tour over a visit to the crowded and overrated Blue Grotto. The only way I could see to improve this experience would be a chance to swim in one of the grottos."
Rosemary
Gig Harbor, WA
Tour: 09/09/13
Overall rating:
I never thought I would go on a "tour". I didn't want to be tied down to other traveler's agendas. How wrong I was! We saw and did things I never would have thought of doing. The group of people we traveled with were wonderful, friendly, funny and just a delight to travel with. Our guides, Tommaso and Rosa were exceptional. I would take another tour in a heartbeat.
Favorite "WOW" moment
"There was a "wow" moment in every city. Rome: Francesca guiding and giving us an historical tour of the Jewish ghetto. Very informative. Vieste: This was my favorite place. I loved the boat trip."
David
Morrison, CO
Tour: 09/09/13
Overall rating:
THIS WAS OUR SECOND ITALY TOUR. FROM A DISTANCE WE WILL ALWAYS LIVE IN ITALY AND ITALY WILL LIVE IN US. OUR TOUR GUIDES WERE AN ABSOLUTE JOY; INFORMATIVE, DOWNRIGHT FUNNY AND WERE THERE EVERY STEP OF THE WAY TO ASSURE OUR MILK-ALLERGIC DAUGHTER WAS TAKEN CARE OF AT ALL MEALS. THE USUAL ROUTINE OF TWO DAYS IN A CITY/TWO DAYS IN A COUNTRIFIED SETTING FIT US TO A TEE. AND NEVER IN OUR WILDEST DREAMS COULD WE HAVE IMAGINED VISITING A WATER BUFFALO FARM !!
Favorite "WOW" moment
"OH MY GOD THERE WERE SO MANY..HADRIAN'S VILLA, A MOST ANCIENT, SUMPTIOUS CITY OVERFLOWING WITH SCULPTURES, GORGEOUS 2,000 YEAR OLD ARCHITECTURE, SURROUNDED BY 40' HIGH WALLS...POMPEII; THE 6 BOOKS I HAVE READ ON THAT ONCE FLOURISHING TOWN DID NOT PREPARE ME FOR THE ACTUAL SITE. THE NAPLES ARCHEOLOGICAL MUSEUM WAS A SENSORY DELIGHT; I COULD HAVE SPENT A WEEK THERE."
Georgia
Morton, IL
Tour: 09/09/13
Overall rating:
FABULOUS!! tour guide Tommaso! Lovely sense of humor, very gentle, kind and patient with everyone. Helped us all immensely, with directions, history, instructions, etc. Rosa was marvelous! She provided priceless insight on Italian family life and culture. We would never have gotten that perspective from an American guide. We greatly appreciated having free time in the afternoons and occasional dinners with the group. We both commented what a nice blend of free time and organized activities
Favorite "WOW" moment
"Probably seeing Pompeii and understanding the incredible engineering and design of the Romans in laying out the streets, drainage and logistics and how advanced they were."
Deborah
Oceanside, CA
Tour: 09/09/13
Overall rating:
Our guide is the best. We have taken 5 RS tours and had great guides every time. This was our best trip ever. The tour was flawless and the places we visited were excellennt. Especially since they were "off the beated path"! Thanks to our guide and Rick
Favorite "WOW" moment
"Temples at Paestum"
Louanne
Gold River, CA
Tour: 09/09/13
Overall rating:
I am a first time traveler to Europe/Italy as well as a first time Rick Steves customer ... and can't say enough nice things about all! The tour: beautifully planned and [INVALID]d with hardly a bump along the way [INVALID] no missed connections but, at the same time, we did not adhere so tightly to the schedule that there wasn't room to cater to the group dynamic. As our guides worked and played off of each other's senses of history and humor, the lessons seemed like friendly conversations.
Favorite "WOW" moment
"I had several. First, when looking at the faces on the marble and bronze buses I though ... they look just like me! This woman could be my neighbor. Suddenly history came alive. Another: As I walked the ancient streets of Hadrian's Villa, Pompei and Paestum I thought ... Socrates, Caesar ... maybe even Jesus walked here. Now I am now part of history's [INVALID].. what is it that I can do that will impact or change history, even one little bit? Inspiring."
Steve
Santa Barbara, CA
Tour: 09/02/13
Overall rating:
Our guide was an attentive and interesting guide. We loved the Gargon Peninsula and would have liked to have spent a bit more time on the water. Thought the hotel in Sorrento was too hot in both the public areas and in our individual rooms.
Favorite "WOW" moment
"Vieste was an unexpected treat - we loved the water experience there."
Ellen
Harwich, MA
Tour: 09/02/13
Overall rating:
This was our second RS tour and it lived up to our high expectations. We found Southern Italy to be inspiring, eye-opening, educational and fun. However, we also found it physically a bit more taxing then the Venice , Florence, Rome tour due to the constant travel from town to town. That said, it was more than worth the exhaustion!! More time was needed in Hadrian's Villa. Also, a guide in both Hadrian's Villa and Paestum would have enhanced both experiences.
Favorite "WOW" moment
"Matera was a real surprise and made a lasting impression. I was especially, awed by the view from our hotel in the evening. Had almost a mystical, spiritual aspect to it. Carlo Levi artwork at the museum was also awe-inspiring. In addition, I heard so many negative things about Naples that I was almost scared to go there. After visiting this great city, I know i will return to experience all it has to offer. In my view, Naples is a misunderstood city and just a wonderful place to visit"
Jose
Feeding Hills, MA
Tour: 09/02/13
Overall rating:
Outstanding!!!
Favorite "WOW" moment
"Pompeii"
Farrell
Brookhaven, NY
Tour: 09/02/13
Overall rating:
Our experience was extremely positive. The tour did an excellent job exploring south Italy's diverse geography and cultures. Sea coast villages, ancient ruins and big cities along with important sites and museums were all introduced. For those seeking a deeper understanding of Italy and it's history, unification struggles and an understanding of the differences between north and south Italy, this tour is excellent.
Favorite "WOW" moment
"It is impossible to state only one wow moment so we will list a few: 1) sitting on a patio outside our hotel room in Matera...sharing the evening with our dear friends experiencing the mystical quality of the Sassi. 2) the grottos at Vieste simply...breathtaking! 3) Paestum was majestic !"
Terry Faye
Seattle, WA
Tour: 09/02/13
Overall rating:
This was our first Rick Steves tour experience, although we have used consultation from the Edmonds office with a previous trip to Italy. I have been on two 'Immersion trips' in past, through my work. Both of these trips were to central america (Belize and Nicaragua). This trip of Southern Italy was truly an Immersion experience, not just a trip to Italy. Our guide was excellent, we learned so much about culture and the historical details of areas we traveled through.
Favorite "WOW" moment
"Hard to come up with one: The vista and the Grotto boat tour in Vieste was beautiful, but staying in a Cave in Matera was really special. We also had a superior room there. The grotto - cave -spa was really a Wow."
Patricia
Brooklyn, NY
Tour: 09/02/13
Overall rating:
This was the one part of Italy we have never seen. Without this tour, we would never have understood how varied, historic and beautiful the southern region is. We were so thankful to have all the travel arrangement made by Rick Steves, as the trip was very complicated. It was particularly nice to have two-night stays. Heidi was key to our enjoyment, as she interfaced with us just the right amount with her teaching , help and humor. This trip had just the right amount of free time.
Favorite "WOW" moment
"We had several "wow"moments: 1. The beautiful caverns from the Adriatic Sea near Vieste. 2. The splendid and scary roads of the Amalfi Coast. 3. The cave hotel and restaurant in Matera. 4. Dinner in private home in Sorrento- delicious and fun."
Jack
Langley, BC
Tour: 06/10/13
Overall rating:
This tour was extraordinary. The time was well planned with pre-arranged tours as well adequate free time. The orientation walks in each city were invaluable in helping to make the free time easy to fill with worthwhile options.
Favorite "WOW" moment
"The Sansevero Chapel in Naples was an unexpected, breathtaking surprise. At the end of a full, hot day in Naples and arriving at a rather unexciting-looking building it came as a wonderful experience to see the magnificent statuary. The spectacular and varied scenery of the rugged coasts and the fertile farmlands were a never-ending visual feast."
Judy
Boulder, CO
Tour: 05/13/13
Overall rating:
This was our 3rd Rick Steves trip and once again it was top notch! We really lucked out on this one because we had three guides! Heidi our main guide was assisted by Lisa and Ann both of whom are main guides as well and were on our trip to become more familiar with the new itinerary. All three are fluent in Italian and either still live in Italy or have lived there at some point. It was so interesting to have 3 story tellers and three perspectives on all aspects of life in Italy!!
Favorite "WOW" moment
"Hard to say since it all was awesome. I thought both Vieste (special pasta making an lunch were awesome as was the hotel and town) and Matera (wow, loved exploring the town and had the best gelato there) were really wonderful surprises and Positano was awesome especially our hotel and our view! Francesca's tour of the Jewish Ghetto in Rome was so heartfelt, it brought tears to our eyes."
Weather

Italy / Rome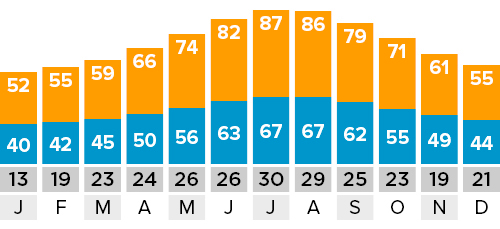 ---
Italy / Naples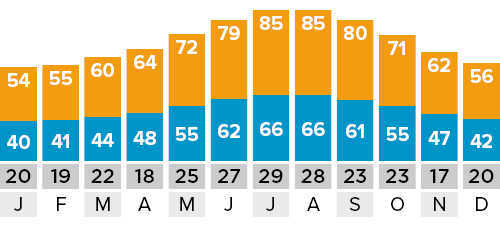 Pre-Tour
We've put together some specific information on what you should know about this tour before you go. You'll also find more general information about "Getting Ready for Your Tour" on our Tour FAQ.
Sightseeing On Your Own
If you arrive in Rome before your tour begins, use your Rick Steves' Italy guidebook to get oriented. Ride the public transportation, try out a few words of Italian, and get over your jet lag with lots of fresh air and exercise.
Here are suggestions for sightseeing in Rome that we do not do as a group: Colosseum, Roman Forum, Palatine Hill, St. Peter's Basilica, Vatican Museum.
Thinking of spending more time in Italy after the tour? From Naples you may want to make the trip up to the top of Mount Vesuvius; visit the impressive, ash-covered ruins of Herculaneum; you may even consider heading back south to Sorrento and the Amalfi Coast; or train back up to Rome for more time exploring the Eternal City.
Transportation
Most tour members arrive a day or two before the tour begins — and those who don't, wish they had. This allows you ample time to get over jet lag and make the most of the first few days of the tour.
There is more than one way to get to and from your tour. We recommend talking to your travel agent about "open jaw" airline tickets (flying into and out of different cities). The most direct route is to fly into Rome and home from Naples. Rome and Naples are major transportation hubs, making additional travel before or after your tour quite easy. You may also want to consider a roundtrip flight in and out of Rome; then traveling by train from Naples to Rome after the tour. You may save money on the flight, but you need to consider the cost of an additional night in Rome. Important: the train from Naples to Rome takes 70 minutes - two hours; therefore you need to avoid early morning flights (6-8 a.m.) out of Rome.
For information about flying within Europe, ask your travel agent or check Rick's list of European budget airlines.
For information about traveling by train, read Rick's train travel and rail pass tips and decide if your travel plans merit a railpass. You can get a rough idea of costs from the above guide or in Rick Steves' Italy guidebook.
Prior to your tour departure, you will receive detailed directions on how to get from the airport to your first tour hotel, as well as contact information for your first and last hotels in case you wish to book pre- or post-tour hotel accommodations.
If you need more information about additional European travel or for specific questions about your tour, contact the Tour Department at 425/608-4217 or email tour@ricksteves.com.
Trip Resources
Learn more about Italy: Check out a collection of Rick's TV shows, radio interviews and articles, plus find a list of recommended books and movies.
Packing
While it is important to pack light, there is one item you may wish to include when packing for this tour. This tour has several opportunities for swimming. You may want to pack a swimsuit and perhaps a lightweight microfiber towel.
For ideas on what to pack, check Rick's Packing List and our Women's Packing List.