Stockholm, Sweden

Stockholm's Stortorget Square

Kalmar Castle in Sweden

Nyhavn in Copenhagen, Denmark

Ærø Island, Denmark

Oslo, Norway

Norway's Sognefjord

Bergen, Norway
Tour Questions? Call 425-608-4217
Best of Scandinavia in 14 Days Tour
Scandinavia is Western Europe's most prosperous, pristine and progressive corner. Starting in Sweden, your Rick Steves guide will treat you to the top sights, including Stockholm's impressive Vasa Ship Museum, historic Kalmar Castle, Copenhagen's fun-loving pedestrian center, Denmark's charming Ærø Island, Oslo's proud maritime museums and whimsical Frogner Park sculpture garden, a nostalgic Norwegian open-air museum, and a waterfall-filled fjord cruise — all ending with a harborside walking tour of ruddy-cheeked Bergen. Join us for the Best of Scandinavia in 14 Days!
What's Included
A small, friendly group of 24-28 people — half the size of most tour groups
Full-time services of a professional Rick Steves guide and local experts who will make the fascinating history, art and culture of Scandinavia come alive for you
All tours and admissions — at no extra cost — covering at least 20 group sightseeing events • Walking tour of Stockholm including historic Gamla Stan • Vasa Ship Museum • Stockholm City Hall tour • Kalmar Castle tour • Copenhagen walking tour • Roskilde Cathedral tour • Roskilde Viking Ship Museum • Ærø Island coach tour • Oslo walking tour • 24-hour Oslo Pass covering transportation and entry to nearly every major sight • Norwegian Resistance Museum • Frogner Park sculpture garden • Bygdøy Viking Ship Museum • Norwegian Maritime Museum • Kon-Tiki Museum • Fram Museum • Maihaugen Open-Air Folk Museum tour • Jotunheimen scenic drive • Sognefjord cruise • Bergen walking tour...and more
All group transportation from Stockholm to Bergen
13 nights accommodations in memorable, centrally-located hotels (two-bunk cabins on the overnight cruise)
All breakfasts and half your dinners
All tips for guides and driver
Free stuff including Rick Steves Scandinavia guidebook, map, moneybelt and earplugs
Guaranteed tour price, locked in the moment you make your deposit
Optional single supplements — this tour has a limited number of private rooms for solo travelers for an additional fee
Tour alum discount of $50 for each tour you've taken prior to 2015
50% discount on a consulting appointment with our in-house experts to assist with your pre- or post-tour travel plans
Flexibility should you need to transfer, or cancel/interrupt your tour
Fine print: You are responsible for the cost of your drinks and free-time sightseeing. See our Tour Conditions Agreement for important details regarding everything listed above
Itinerary
Daily Activity Key
Light = 2-4 miles of mostly level walking throughout the day.
Moderate = 2-6 miles walking throughout the day with some hills and stairs.
Strenuous = 2-8 miles walking throughout the day with lots of hills, stairs and uneven terrain.
Day 1: Welcome to Sweden
We'll meet at our Stockholm hotel at around 4 p.m. for a Välkomna till Skandinavia get-together, followed by dinner and an orientation walk around our neighborhood. Sleep in Stockholm (2 nights). No bus. Walking: light.
Day 2: Stockholm's Old City and the Vasa
This morning we'll enjoy a walking tour through the cobbled alleyways of Stockholm's Gamla Stan (Old City), learning about its historic Stortorget Square, Cathedral and Royal Palace. After free time for lunch, we'll board a boat and cross the harbor to visit the Vasa Museum, where we'll marvel at the remains of the 200-foot warship Vasa, which sank here on her maiden voyage nearly 400 years ago. Your late afternoon is free to explore more of this cosmopolitan city. Boat: ½ hr. No bus. Walking: strenuous.
Day 3: Modern Stockholm and Cozy Kalmar
This morning we'll tour Stockholm's City Hall, home of the Nobel Prize banquet and striking mosaic murals celebrating humanism and the ideal of people working together in community. Then, after stopping along the Göta Canal for a lunch break, we'll drive through beautiful birch forests on our way to the seafaring, bridge-and-water-laced town of Kalmar, where we'll sleep (1 night). Bus: 6 hrs. Walking: light.
Day 4: Kalmar Castle and Copenhagen
Today we'll explore what may be Sweden's most striking, historically-significant building: bay-and-moat-ringed Kalmar Castle. As we tour the castle's interior and beautiful grounds, we'll learn about Sweden's 16th-century struggle for independence from the Danes. Then, to reach Copenhagen, we'll drive across the awe-inspiring five-mile Öresund bridge and tunnel connecting Sweden and Denmark. We'll get to know our neighborhood by strolling up to the lively Strøget pedestrian center, followed by dinner together at one of Denmark's oldest restaurants. Sleep in Copenhagen (2 nights). Bus: 5 hrs. Walking: moderate.
Day 5: Playful and Progressive Copenhagen
This morning we'll dive into the sights and sounds of Copenhagen's historical center on a walking tour with a local guide. The rest of your day is free to enjoy Europe's best people-watching on the Strøget, tour the Renaissance Rosenborg Castle, visit the fanciful Tivoli Gardens or experience the counterculture of Christiania. No bus. Walking: moderate.
Day 6: Viking Ships and Ærø Island Charms
After breakfast we'll drive to Roskilde to prowl through the evocative Viking Ship Museum, where we'll learn about the rough-and-tumble, yet surprisingly sophisticated, Viking culture of a thousand years ago. We'll also tour Denmark's venerable Roskilde Cathedral, the resting place of 38 kings and queens of Denmark, and the first Gothic church ever built of brick. Then a scenic ferry ride will take us to the nostalgic little island of Ærø and the old windjammer port of Ærøskøbing. Tonight we'll enjoy a traditional Danish feast together. Sleep on Ærø (2 nights, groups may be split between two B&Bs). Boat: 1½ hrs. Bus: 4 hrs. Walking: light.
Day 7: All Day to Explore Ærø Island
You'll have the morning free to relax and savor this epitome of small-town Denmark, or get Ærø-dynamic and pedal a rented bike past thatched cottages, tidy farms and windswept bluffs. We'll regroup just before noon for a bus tour of the island, stopping en route to enjoy a tasty smørrebrød lunch together. We'll return to Ærøskøbing to learn about island life from a local resident, then be free for dinner and the rest of the evening. The pub by the harbor is a fun place to meet the locals. Bus: 3 hrs. Walking: light to strenuous (your choice).
Day 8: Overnight Ferry to Oslo
Today we'll drive back to Copenhagen. After some free time for lunch, we'll hop aboard an overnight ferry for Oslo. It's a big boat; choose to dine at a buffet fit for a Viking or grab something smaller at the ship's café. After dinner, you can dance the night away in the nightclub, linger in the tax-free shop or enjoy the scenery as we cruise to Norway in style. Sleep on ferry (1 night). Boat: 18 hrs. Bus: 3 hrs. Walking: light.
Day 9: Historic and Artistic Oslo
We'll greet the sun as we glide up the Oslofjord — one of the most scenic parts of our tour — and into Norway's capital. Once ashore, we'll take a walking tour around the harbor and through the heart of Oslo. We'll learn about Norway's history and politics, including an inspiring visit to the WWII Norwegian Resistance Museum. After lunch, we'll visit the popular Frogner Park, home to Gustav Vigeland's whimsical, lifelike sculptures, and then share dinner together. Sleep in Oslo (2 nights). Bus: 1 hr. Walking: moderate.
Day 10: Norway's Seafaring Past
Today we'll cruise across the harbor to Bygdøy peninsula for a treasure trove of nautical history. We'll tour the Viking Ship Museum to learn about Scandinavia's best collection of Viking vessels and artifacts. Nearby, you'll also have time to see the impressive Maritime Museum — as well as special museums devoted to the innovative Fram polar explorer and the ocean-crossing rafts of adventurer Thor Heyerdahl (Kon-Tiki and Ra II). Inspired by Norway's seafaring history, you'll be free to sail back to Oslo's harbor. From there, armed with your Oslo Pass (giving you free admission to most museums and public transportation), you'll have the rest of your afternoon and evening free in this vibrant city. Boat: ½ hr. No bus. Walking: moderate.
Day 11: Lillehammer and Giant's Country
Driving northwest from Oslo, today we'll learn about daily Norwegian life and traditions. We'll tour Lillehammer's beautifully-situated Maihaugen Open-Air Folk Museum, including its array of sod-roofed houses and remarkable 12th-century stave church, constructed entirely from wood. After a scenic afternoon drive through farmland and forests, we'll settle into our rustic, creaky mountain hotel, located in the heart of Giant's Country. We'll share a traditional dinner together, and sleep in Elvesæter (1 night). Bus: 6 hrs. Walking: light.
Day 12: Fjord Country and Bergen
Make sure your camera is charged-up: today is scenery day! After breakfast our bus will climb the highest road in northern Europe (4,600 ft.) to the windswept Jotunheimen for a panorama of glittering snow and 8,100-foot peaks. We'll then take a dramatic corkscrew-drive down to sea level and hop aboard a ferry for a 2½-hour scenic Sognefjord cruise between cliffs and waterfalls (part of the "Norway in a Nutshell" route). Then we're back aboard our bus for one more scenic stretch of highway before you're free for dinner and the rest of the evening in ruddy-cheeked Bergen, where we'll sleep (2 nights). Boat: 2½ hrs. Bus: 6 hrs. Walking: light.
Day 13: All Day in Charming Bergen
A local guide will walk us through the salty history of this seafaring town, starting at the Bryggens Museum and through the enchanting old Hanseatic wharf area, where wooden warehouses lean together and recall their glory days as a center of North Atlantic trade. Your afternoon is free to explore more of Bergen, ride a funicular to the top of Mt. Fløyen for a thrilling view, or buy one of those hand-knit wool sweaters that caught your eye back at the wharf. This evening we'll gather for a hearty Norwegian feast to share travel memories and toast new friends. Skål! No bus. Walking: moderate.
Day 14: Tour Over After Breakfast
Breakfast is provided, but there are no group activities today. Those returning home can catch a short flight from Bergen to Copenhagen, London or other European cities for your direct flight home. Farvel!
Itinerary specifics subject to change.
Activity Level
Our tours are physically active! It's an essential part of the Rick Steves tour experience. On our Best of Scandinavia in 14 Days tour — among other things — you'll need to happily...
Carry/roll your luggage over uneven pavement (several blocks possible) and up stairways to reach your hotel; then up several flights of stairs to reach your room.
Be on your feet, walking and standing for up to three hours, indoors and outdoors, in all weather conditions.
Sleep with street noise and no (or weak) air conditioning.
After orientation and transportation lessons, be able to navigate towns and cities on your own.
Sleep in a cabin with no window on the overnight ship from Copenhagen to Oslo.
Be content with sharing bathroom facilities at your Ærø B&B.
Reviews
Susan
Madison, WI
Tour: 08/03/14
Overall rating:
Some of the hotels were located where it was too noisy for me. I did learn to sleep with ear plugs which helped. This is my 2nd RS tour and both times my fellow travelers would great to be with. I really enjoyed the less touristy spots like Aero & Roskilde.
Favorite "WOW" moment
"The quaint quiet of Aero is the top of my list. The B&b was absolutely beautiful. It was my first time sharing a bathroom and it worked out perfectly. Susanna was so warm and lovely, she let us use her laptop for quite a while so we could adjust our return plane trip."
Nell
Castle Rock, CO
Tour: 08/03/14
Overall rating:
Enjoyed seeing each country and learning their history. The Island in Denmark was very nice and relaxing.
William
Pasadena, CA
Tour: 08/03/14
Overall rating:
As in our previous RS Tours, the Best of Scandinavia proved to be a memorable experience that was better than we anticipated. It is a fast-moving tour with only two night stays, but there is much to cover and much to see. But because every element of the tour is well planned, it is easy to get so much in.
Favorite "WOW" moment
"My wow moment was actually the entire day traveling from Elvesaeter to Bergen. The fjords were magnificent and impossible to describe. It is a beauty that has to be experienced to fully appreciate. But, the views of the surrounding countryside with its green valleys and small villages slopping down to meet the water was so picturesque that it almost seemed unreal, like a Hollywood set. By the time we arrived in Bergen, it had been a very long and tiring day, but one that was well worth it."
Ann
Long Beach, CA
Tour: 08/03/14
Overall rating:
I had an excellent time! Nica our guide was wonderful, knowledgable, personable, and very helpful. I enjoyed the mix of big city, small city and free time versus structured time. I felt like someone had hand picked all these experiences for me allowing me to get the best experience possible. The accommodations were great and our team: Nica, Chloe, and Bussa were fantastic.
Favorite "WOW" moment
"Aero island- staying at Sussanah's b & b. Norway for the natural beauty."
Erwina
Yakima, WA
Tour: 08/03/14
Overall rating:
The tour was an amazing experience from Stockholm to Bergen. It is always amazing to see and hear and read first hand the history of these areas. Nicole was such an informative Guide that shared the special people, music and facts about each of the areas. She had a great since of humor, and concern about each of us. The many different modes of travel gave us an opportunity to see by foot, bus, ferries and boat. We had delicious and unique place to taste the cuisine from these countries.
Favorite "WOW" moment
"This is difficult to say any one WOW moment as I felt there were too many just to say one. I did enjoy talking with people and getting acquainted with the actual people from each of these countries and seeing the beautiful scenery and experiencing there culture."
Anthony
Western Springs, IL
Tour: 08/03/14
Overall rating:
We had a wonderful time. The tour was well planned and gave enough of time to explore on our own. Nicole, our guide was excellent and provided us with wealth of information. Our only complaint is that we need more time in each of the major cities. Three countries in two weeks was probably a bit much.
JoAnne
Glenwood, MD
Tour: 07/27/14
Overall rating:
I enjoyed the tour but in past tours we always had a special event like the Contessa visit in Sicily. I felt that was missing from this tour. We did not do the fiord ferry to Bergen since we missed it due to unforeseen construction. This was a big disappointment and only a ten minute ferry crossing was provided in compensation.
Favorite "WOW" moment
"Riding bikes on Aero Island"
Deborah
Chicago, IL
Tour: 07/27/14
Overall rating:
Great itinerary with an appropriate balance of city and rural travel. Knowledgeable tour guide and experienced bus driver. This was our initial travel to Scandinavia and we learned so much about the its countries, history, culture, politics and food. We were in awe when we saw the Vasa ship and surprised at the high quality of other museums that we visited.
Favorite "WOW" moment
"Driving through Norway listening to "Secret Garden", there were several people on the bus tearing up! Arriving at Aero Island at sunset, so beautiful. Seeing the huge, ornate Vasa Ship as we entered the museum. Seeing all the wind turbines in the sea as we departed Copenhagen en route to Oslo. All of Copenhagen! Traditional Christmas meal at Restaurant Mumm on Aero Island. Seeing the cost of one glass of red wine at our 1st restaurant in Stockholm."
James
Eugene, OR
Tour: 07/27/14
Overall rating:
Fine
Favorite "WOW" moment
"None... it was Scandinavia, wow does not apply"
Dorothy
Moline, IL
Tour: 07/27/14
Overall rating:
We started on our own in Iceland for 4 days and enjoyed that unique country. Like being on another planet. Stockholm was beautiful and everyone was polite. Great seafood!! Denmark was adorable with all the canals and bikers. Norway was natures gift to the world. However, I missed the fun of nightlife. Alcohol is expensive so no pub crawls or musicians showing up to liven up spirits. Scandinavia was special but if you want humor, beer, music and light heartedness.....go to Ireland!
Favorite "WOW" moment
"Vigeland sculptures! blew my socks off. Timeless beauty. Visiting the Norway World War 11 resistance museum. Leaned loads. The drive through the mountains was breathtaking."
Alan
San Marcos, CA
Tour: 07/27/14
Overall rating:
Everything was great, especially the weather. Our guide, Yiva, was excellent: knowable, funny, enthusiastic, organized. All the hotels were beyond our expectations. The bus driver, Lars, was the best. He was a great driver and humorous. Breakfasts were unbelievable. The number of days spent in each city was perfect.
Favorite "WOW" moment
"It rains in Bergen 330 days a year. We were lucky - hardly a cloud. The ride up the funicular to the top of the mountain and the view of Bergen was amazing. Some of the tour group walked up and the rest rode. Spectacular. Aero Island was peaceful and riding around the island on a bike was exhilarating."
Bob
Spokane, WA
Tour: 07/20/14
Overall rating:
I enjoyed the choice of places and the information given during bus trips. This was our third Rick Steves tour and I enjoyed this one perhaps best of all (I must admit to having heritage is Scandinavia).
Favorite "WOW" moment
"The ferry trip down the fiord was the most outstanding followed closely by Aero island."
David
San Diego, CA
Tour: 07/20/14
Overall rating:
I liked a couple of local guides a lot Hokan in Gamla Stan was entertaining & educational also Richard Karpen aka Hans Christian Andersen in Copenhagen was great. Hokan even took us to the apartment where he & his wife live. I also enjoyed meeting everyone on the tour and meeting local people to engage in conversation. I went to the Ice Bar in Stockholm where the bar and glasses are made of ice and they give you a coat when you enter because of the cold.
Favorite "WOW" moment
"The Fjord Cruise in Norway with the glaciers & waterfalls was beautiful also I enjoyed the Hotel Elvesaeter in The Land of Giants where we had a beautiful rainbow when we had dinner. Scandinavia is great but I especially enjoyed Norway such wonderful scenery. I also liked when we had the open faced sandwiches with the organic beer made by Monk's on AEro Island."
Carol
Miami, FL
Tour: 07/20/14
Overall rating:
I found it an excellent course in how to travel in Europe. When I saw the itinerary online I liked it, but when Nicole Johnson posted our days there were many more great adventures for us. I am vegetarian and I had no problem eating healthy on this tour. I was amazed at what I could see, feel and touch as we traveled. Our guides Nicole and Janine, and our bus driver Bosse put in superlative effort to make the trip one I will never forget. What a wonderful person he was.
Favorite "WOW" moment
"Walking in Stockholm where my ancestors came from. Knowing in Gamala Stan that they would have seen some of the many places I was seeing. Meeting our walking guide Jolcum (spelling?) Understanding life in Sweden. Visiting his home. In Denmark Aero Island was a wonderful experience and I look forward to returning. The magic of Hans Christian Anderson in Copenhagen over the top! The friendship of tour members!"
Karen
Newport Beach, CA
Tour: 07/20/14
Overall rating:
Loved our tour to Scandinavia. Our guides and bus driver made it fun and interesting. They are miracle workers organizing 28 people and making it look easy. Having time to ourselves to explore after a tour was a plus. Dinner and lunch choices were marvelous. Hotel accommodations could of been a bit better especially in Copenhagen. That particular hotel was very small and not centrally located. Not to mention the ammenities which there was none.
Favorite "WOW" moment
"My biggest wow factor was the boat ride through the Norway fjords. The waterfalls and mountains were just breathtaking. I also enjoyed our bus ride through the mountains in Norway where you could be the glaciers."
Nancy
Iowa City, IA
Tour: 07/20/14
Overall rating:
AMAZING FANTASTIC DAYS MIND BOGGLING THE BEST OF TRAVEL MOST OUTSTANDING FULFILLING PERFECTLY ENJOYABLE OVERWHELMING BEAUTY EXTREMELY PLEASURABLE 500 superlative adjectives cannot describe my feelings for this trip. I waited 75 years for it.....it was worth it!!!!
Favorite "WOW" moment
"The trip through the mountains AND the waterfalls from the boat in the Fjords in Norway.....I can't choose a best............it was all "scenic overload." Just when we passed one perfect view, right around the corner the scene was even more stunning and breathtaking than the one before."
Joan
The Villages, FL
Tour: 07/20/14
Overall rating:
It was a great trip! We had a wonderful group of 28 people that were all very interesting and everyone got along extremely well. I learned a lot from talking to different tour members - all very bright with good senses of humor. This tour was a great sampling Sweden, of Denmark and Norway and gave me very distinct memories of each.
Favorite "WOW" moment
"Elvesar in the mountains of Norway was in one of the most picturesque places I've been. We were seated at dinner in the lodge and looking out on a most idyllic setting, surrounded by mountains, trees, and rivers. But the icing on the cake, that made it the "wow" moment for me was an awesome rainbow that was breathtaking. ( I'll include a picture with the evaluation.)"
Barbara
Marshfield, VT
Tour: 07/20/14
Overall rating:
Very impressed w/ the planning and staff. I hadn't thought about how much I might learn just traveling on the bus. Bosse, our bus driver, had many stories of his own, and could not have been more helpful.
Favorite "WOW" moment
"I loved the museums and the "old cities", but the "wow" would have come from wending our way thru the scenery."
James
South Salem, NY
Tour: 07/20/14
Overall rating:
We enjoyed our Best of Scandinavia Tour very much. Nica and Janine were both great as was our coach bus driver Bussa. This was our second Rick Steve's Tour and as with the first our only complaint was that it was over too soon.
Favorite "WOW" moment
"My "most wow" moment(s) was the ferry trip on the Sognefjord. While the cities are beautiful the fjord views really set me back on my heels."
Gay
Nashville, TN
Tour: 07/20/14
Overall rating:
Overall it was very good. It's amazing how much territory we covered. I loved the gorgeous scenery of Norway in particular and being in a part of the world where so much care is given to preserving the environment, to having a government that works for all people, and to keeping the infrastructure in tip-top shape (roads, bridges, tunnels). It was truly an inspiration.
Favorite "WOW" moment
"My favorite "wow" moment was driving through the Jotunheimen Mountains with music from "The Secret Garden" playing over the speakers in the bus. The cruise through the Sognefjord was another "wow" moment, though it would have been better without the rain! Oh, yes... I was also in awe of the numerous and stunning Vigeland sculptures in Oslo."
Trisha
Spokane, WA
Tour: 07/20/14
Overall rating:
This is our 3rd Rick Steves tour and each one has been a most memorable experience. Everything went as planned our hotels were very comfortable with local experiences; out tour guides were well informed and friendly and our bus driver was experienced and friendly.
Favorite "WOW" moment
"Many favorite "wow" moments the best was certainly the fiords. They were magnificent, beautiful, over welling and awesome."
Eve
Winston-Salem, NC
Tour: 07/13/14
Overall rating:
This tour was exceptional, particularly since the guide, Pal, was so engaged and added so much value in terms of teaching us about the culture, the people, and the history of these three countries. I loved this tour and have been telling others about it since we returned.
Favorite "WOW" moment
"There were many wow moments on this tour but my favorite was on the ferry in the fjords of Norway (on our way to Bergen) when we were surrounded by the breathtaking cliffs and waterfalls. I think Norway provided most of my wow moments."
Julie
La Crescent, MN
Tour: 07/13/14
Overall rating:
Allen and I cannot begin to tell you how wonderful our trip and all of our experiences were this summer! This was a trip of a lifetime for us. I am still digesting all of the sites and experiences that we had in just two weeks time and I know we will have lasting memories forever.
Favorite "WOW" moment
"My favorite wow moment was arriving in Oslo on the ferry..which for me was returning to the homeland of my ancestors. To actually be in the country where my ancestors lived and see the country they left when they came to America was very moving for me. The beauty of the countryside was so like the rural Wisconsin where they lived, particularly the ride from Oslo to Lillehammer as my family had come from Ringsaker and Biri."
Clydine
Brush, CO
Tour: 07/13/14
Overall rating:
Everything was wonderful! It all started with our very capable and knowledgeable guide, Pal, and his assistant Laurel. Pal never left a stone unturned. He always had music, a joke, a short reading from a book and personal experiences to tie in with the history and scenery of this beautiful area of the world. We just the right balance between structure and free time. Laurel was wonderful too! She provided a lot of answers to questions that we all had. Lars was an excellent bus driver!
Favorite "WOW" moment
"No question about it, the Norwegian fjords! The scenery is beyond spectacular! Also AEro is one of the best-kept secrets. What a special place. And last, but not least, our group met Rick Steves along the way! He graciously took a group photo with us!"
Steve
Winston-Salem, NC
Tour: 07/13/14
Overall rating:
Amazing Scandinavia! A modern social experiment derived from an ancient civilization. Full of contrasts and contradictions. The world has much to learn from these countries. Thanks to the thoughtfully planned itinerary and to the warm and talented guide our exposure to this intriguing and picturesque part of the world was informative and entertaining---learning at its best.
Favorite "WOW" moment
"Learning about how these societies prioritize 'us' over 'I' and maintain the systems to ensure it. For most of Europe the interesting story is in the past, but for Scandinavia it is the present."
Tim
Lithia, FL
Tour: 07/13/14
Overall rating:
I really enjoyed visiting the Scandinavian countries. The tour did a great job of exposing us to the highlights of these countries and giving us some time in each of the great cities: Stockholm, Copenhagen, Olso, and Bergen.
Favorite "WOW" moment
"The highlight of the tour was the day we spent in the Jotundheim mountains and cruising in the Sognefjord. Both were incredibly beautiful. Between the mountains, the waterfalls, the water, the snow covered peaks, it was just magical."
Ron
Novato, CA
Tour: 07/13/14
Overall rating:
Well, there is no way to summarize 14 days filled with great experiences. The logistics, accommodations, choice of tour experiences, all great.
Favorite "WOW" moment
"The ferry trip down the fjords to Bergen was filled with spectacular beauty. The tall ships in Bergen harbor for the sailing race. Susana in Aero, delightful and great cinnamon rolls."
Wayne
Hernando, FL
Tour: 07/13/14
Overall rating:
Beautiful vistas; Interesting hotels; Excellent guides; Nice group of people; Mixture of local culture and historical input plus the tour guide's overview was practically perfect; Likely the best Rick Steves' tour I have experienced to date.
Favorite "WOW" moment
"Elvesaeter...I could have spent several days there either in summer or winter."
Susan
San Diego, CA
Tour: 07/13/14
Overall rating:
Pal, our tour guide, was exceptional. He guided us skillfully through Sweden, Denmark, & Norway, and did so with his personal knowledge of the lands, people, and history. He entertained us with his own experience as a Norwegian, using music, poetry, literature, and good humor along the way. The tour was well organized with excellent local guides. Hotels were first rate, and the dinners were tasty & educational. We were given lots of free time to explore on our own as well. Great trip!
Favorite "WOW" moment
"Making new life-long friends of course. Then I would say that experiencing the beauty of norway's fjords and enjoying the local summer festivals along the way were highlights. The Tall Ship races in Bergen Norway were a fantastic surprise. Aero island in Denmark was a magical experience."
Karen
Huntington Beach, CA
Tour: 07/06/14
Overall rating:
I loved this tour. At the beginning I wasn't sure there was enough to see but I soon realized that it was my ignorance of Scandinavian history and culture that colored my perception. We had so many experiences that we were never bored. Taking the overnight ferry to Oslo, biking on Aero, picnicking in Sweden, and touring museums - all fun and informative. I loved the long days and learning about Scandinavia. As always just enough tour and independent time.
Favorite "WOW" moment
"Was there one "wow" moment? The scenery was so fantastic it's hard to pick one. The ride to Bergen from Elveseter was spectacular. Even through the rain I was awestruck at the beauty of the mountains. Riding a bike on Aero with the sea on one side and the fields on the other was another singular experience."
Olga
Dallas, TX
Tour: 07/06/14
Overall rating:
I loved everything about it. We saw so many things, both historical and cultural. Our guide Ylva and the local guides were all knowledgeable and patient. They answered all of our questions. I think the order of visits was also well thought out to maximize our time.
Favorite "WOW" moment
"It is difficult to pick any one thing, but the beauty of Norway will stay with me forever. The mountains with snow/glaciers, the clear water of the rivers and fjords is just beautiful. Those stave churches in these beautiful settings are true treasures."
Bonnie
Lafayette, CA
Tour: 07/06/14
Overall rating:
My husband and I have traveled using Rick's books for 20 years and decided to take our first tour with his group. We were very pleased with the entire tour. Ylva, Nika and our local city guides were enthusiastic and well-informed. Hotels and organized group meals were very good. The entire tour was very memorable. I thought, based on Rick's well-organized books, that the tour would be well-planned. The tour exceeded my expectations.
Favorite "WOW" moment
"Since all the countries in this Scandinavian tour were new to me, there were many amazing sights and experiences. I think that my favorite, impressive "wow" moment was seeing the majestic fjords and glaciers for the first time."
Lawrence
San Jose, CA
Tour: 07/06/14
Overall rating:
This was my first Rick Steves tour and it was amazing. I really appreciated the method which helped us become more capable travelers. Every experience was interesting, informative, and helped me become more comfortable wandering around each location and trying new things.
Favorite "WOW" moment
"Elveseter was probably the "wow" moment, though Aero was very close. Both settings were beautiful, restful, and probably not something I would have ever seen on my own."
Erica
Lloydminster, AB
Tour: 07/06/14
Overall rating:
I loved this tour from start to finish. Nice tour buddies, great guides, wonderful destinations, 90% sunny days...hard not to have a good time. All the countries seem so similar but yet every stop was a completely different experience. I thought the day to day schedule was well designed with a perfect balance of group activities and free time.
Favorite "WOW" moment
"Walking into the Vasa Museum and viewing it for the first time, no photos or words can possibly prepare you for how spectacular it is."
Sandi
Naperville, IL
Tour: 07/06/14
Overall rating:
This was a fantastic tour! A good mix of city/rural, planned time/free time, group meals/ meals on our own.
Favorite "WOW" moment
"Every day was fun but there are two that stand out: being on Aero Island was so much fun- laid-back, off the beaten path, winding city streets that led to wonderful old houses and shops. The other Wow moment was our drive and then ferry ride through the mountains and fjord. You just can't capture the beauty in a photo."
James
Stockton, CA
Tour: 07/06/14
Overall rating:
Well conceived itinerary; excellent tour and local guides; very good included meals; accommodations ranged from adequate to outstanding.
Mark
Minneapolis, MN
Tour: 07/06/14
Overall rating:
This was our fifth Rick Steves tour. I'm giving this tour a rating of "very good" rather than "outstanding" only because the standard for "outstanding" was set on our tours of Italy in 2005 and Greece in 2008. It's perhaps unfair to compare such dissimilar tours to each other, but the "wow" moments were fewer on this tour. Ylva, Nicole, and our fellow travelers were all terrific, and the Scandinavian experience was certainly unique and worth while. I would enthusiastically recommend the tour
Favorite "WOW" moment
"Despite having read about and studied the Viegland sculptures for a number of years, to walk through Frogner Park amidst these magnificent works was overwhelming. Additionally, to walk around, on top of, and into the Oslo Opera House restored my faith in contemporary architecture."
Steven
Huntington Beach, CA
Tour: 07/06/14
Overall rating:
Pace was great. The group was great. Had a great time.
Favorite "WOW" moment
"The ferry trip down the fjord."
Melissa
Flanders, NJ
Tour: 07/06/14
Overall rating:
Overall the Scandinavia in 14 Days Tour was an amazing experience. The guides were incredibly knowledgable and passionate about the areas we visited. I really felt like we became well acquainted with the areas that we traveled through in a short amount of time.
Favorite "WOW" moment
"My favorite "wow" moment was bike riding on Aerø island. It was awesome seeing such a small part of Denmark and the island was beautiful."
Nicholas
Branchburg, NJ
Tour: 07/06/14
Overall rating:
Awesome experience. Our guide, Yila was incredible knowledgable and charismatic. It was a lot of fun to see everything with her.
Favorite "WOW" moment
"The fjords in Norway, absolutely stunning."
Harriet
Summerville, SC
Tour: 07/06/14
Overall rating:
Each country was interesting in it's own unique way. The Vasa Museum in Stockholm was very intriguing.It was more than a ship-it had a personality. The reconstructive bust startled me. Copenhagen was full of life.My favorite was AEro Island. Had a fun time exploring the streets of this delightful village.Wish we had more time here. Norway's beautiful Fjords and Fish market I wish the pace was a speck slower so I could digest every thing around me. Tour guide was full of wonderful information
Favorite "WOW" moment
"WOW! was it meeting an author in Stockholm OR jumping on a trampoline in Copenhagen Or the trolls in Norway? Many other favorites."
Norma
Stockton, CA
Tour: 07/06/14
Overall rating:
We traveled with 28 North American tourists to three countries in Scandinavia and were led by a Swedish guide, and by many other local guides. It was an adult field trip, in which we learned about the culture, customs, history, and vibe of three countries, Sweden, Denmark and Norway.
Favorite "WOW" moment
"I was impressed with the Vasa Museum, where a 17th century ship sank upon its maiden voyage, and recovered intact many many years later."
Robert
Summerville, SC
Tour: 07/06/14
Overall rating:
I enjoyed visiting "Socialist" countries and learning about their system of values, which are quite different than our own in many respects. Learning a bit of their "History" was also quite interesting; the Viking Period, the Middle Ages, and WW2 in particular. The food was mostly enjoyable. I ate lots of salmon and herring. The group meals were less enjoyable as choices were limited, and perhaps not what I would have preferred.
Favorite "WOW" moment
"The mountain scenery in Norway was spectacular. And Bergen was my favorite city, especially the "Fish Market" area, where the food was cooked to order. We enjoyed "Fish Cakes" and "Fish Soup" - Delicious!"
Basil
Six Mile, SC
Tour: 06/29/14
Overall rating:
The tour was everything we expect from RS: comfortable hotels centrally located, ancient, stately and innovative buildings, beautiful objects and art, knowledgeable local guides to explain their significance, gorgeous scenery, a wide range of unfamiliar foods, perfectly prepared, guidance on local languages and pronunciation, information on customs, beliefs and politics of the societies we visited, and congenial company.
Favorite "WOW" moment
"Learning how the Vikings built their boats by laying the keel, stern and prow, then constructed the hull of planks riveted together at the edges with wooden rivets and only added ribs at the end. I had never thought wooden rivets were a possibility, nor that one could form a hull without ribs."
Rebecca
Seattle, WA
Tour: 06/29/14
Overall rating:
AS always, the tour was planned with a great mix of city energy and more bucolic days on the bus. The rhythm was perfect and the mostly two-day stops really allowed for time to get immersed in the area we visited. Top notch all the way, including the excellent tour guides, both accompanying us and locally. I had come from a cruise to this group and felt as if I had come home to "my" people - my own special companions. Small gripe - some group dinners too heavy and too late in the evening.
Favorite "WOW" moment
"A rather quiet WOW but Aero was surprisingly my highlight. It was a place I knew nothing about so had no expectations. But the inn (Susanna is the soul of that experience), the town, the beach huts, the lovely island itself made for the nicest time on the trip for me. After an aborted Baltic swim, biking back through a rainstorm beside Lisa who was trying to take a phone call(!)while we were practically drowned by the rain made a memory of a certain piquant kind. Bergen was pretty great as well."
Mary
Six Mile, SC
Tour: 06/29/14
Overall rating:
We joined a happy, congenial group, knowledgeable about Scandinavia and eager to learn more. This was my 7th Rick Steves tour and it did not disappoint. The mix of being together and being on your own was just right. Looking back at photos and videos, it is amazing what we saw and learned in the time.
Favorite "WOW" moment
"There were "wow" moments and surprises. The biggest "wow" was the cruise on Sognefjord, a feast for the eyes. Milford Sound in New Zealand impressed me but Norway wins hands down for scenery. One of the surprises was seeing Hans Christian Andersen return from the grave to tell us about his life and work. That tickled my fantasy. The other surprise was being treated to champagne by our fellow travelers because it was our 50th wedding anniversary at tour's end. What a great bunch!"
Michael
Plainsboro, NJ
Tour: 06/29/14
Overall rating:
I thoroughly enjoyed every moment of the tour. The schedule was a great mix of cultural experiences, fun times, and free time. Everything was made more special by the wonderful people who organized, ran, and joined us on the tour. The accommodations were great, the food was very good, and the bus was comfortable. These things allowed me just to relax and enjoy every moment of the trip.
Favorite "WOW" moment
"There were so many of these it is hard to narrow them. I loved the Viking museums and was thrilled to get a chance to explore up close and personal some aspects of this culture that I have studied academically for so long. I loved traveling through the mountains and fjords of Norway, where everything you see is like a stunningly beautiful work of art. I also really treasured the few times when I was able to sit down and talk at length with local people we had met along the way."
Danielle
Plainsboro, NJ
Tour: 06/29/14
Overall rating:
This was a great introduction to Scandinavia! I had never been, and it left me wanting more. We really saw the individuality of these three countries, something I don't think Americans usually understand - we lump our idea of "Scandinavia" into one clean and orderly box, with fish and cream sauce. But Lisa and Pal did a great job of drawing our attention to the character of each big city, the personality of the countryside.
Favorite "WOW" moment
"As we were driving through Jotunheimen, coming down from the peak, Lisa put on some atmospheric music - the Grieg piano concerto. Hearing that powerful music, and seeing the amazing landscape that inspired that composer brought me to tears - that's something I'll always remember."
Ray
Rantoul, KS
Tour: 06/29/14
Overall rating:
I enjoy the tour very much. Thier so much to see and do and try to get it all in. The locals were very frendily and helpful when you was lost.
Favorite "WOW" moment
"Taken the river cruse in Stockholm and seeing everything from the water is one. But in Bergen, Norway looking down on city and the water way it dont get any better. Stockholm ice box was outstanding place to have a drink enjoy that very much also. It was suggested by ours guide and a group of us went along with the tour guide"
Judith
Kirkland, WA
Tour: 06/29/14
Overall rating:
Our family had a wonderful time exploring our roots. It was the first time in that area of Europe for all of us. I found it to be charming, warm, pristine and full of history. The tour was a great mix of history, activity, free time and fun meals. We had perfectly placed hotels, and an interesting mountain lodge. The road trip way up north over the mountains was sublime.
Favorite "WOW" moment
"I was wowed at the mountain scenery, and all of the amazing Viking ship museum experiences. The island of Aero was almost Disney perfect."
William
Stockton, CA
Tour: 06/29/14
Overall rating:
The tour exceeded all my expectations:, tour guides, hotel facilities, meals, places visited, advise by tour guides and companionship with others in the tour. Our group was delightful. Although we yukked when Lisa made us do the "Rick Name Game," it did make us more comfortable with one another and forced us to learn each others name. The tour bus was outstanding and our driver, Lars was a charming old Swede who sang a good morning song to us each morning.
Favorite "WOW" moment
"Walking in the museum in Stockholm and looking us at the Vasa ship. It was overwhelming! The lay out of the museum was outstanding. Other wow moments included the countryside and water falls in Norway. Lastly although each city we visited was facinating, I loved the charm of Bergen."
James
Woodbury, CT
Tour: 06/29/14
Overall rating:
A Rick Steves tour is like a traveling party, with the celebration moving from place to place through some of the most picturesque and historically significant sites in Europe. The tour members are enthusiastic, curious and energetic with never a whimper---not that there was anything to whimper about. It is such a comfort to leave all the details to Mr. Steves and the guides so that we tour members can devote ourselves to the sights, sounds and tastes of the wonderful places we experience.
Favorite "WOW" moment
"Visually, it was the unforgettable day we crossed the majestic snow-capped mountain range of Norway, with the music of Edvard Grieg on the bus sound system and then descending to our voyage on the fjord. Our photos couldn't begin to capture the grandeur of the day."
Sylvia
Rantoul, KS
Tour: 06/29/14
Overall rating:
The tour started out kind of slow and got better with each day with the scenery and activity.
Favorite "WOW" moment
"I was surprised and "wowed" to see all the water in Sweden and the beautiful mountains and waterfalls in Norway."
Richard
Camas, WA
Tour: 06/22/14
Overall rating:
The tour was great even with the rain at times. The group got along well and there was cooperation on all the activities.
Favorite "WOW" moment
"The ferry ride through the fjord in Norway and Aero Island."
Karen
Asheville, NC
Tour: 06/22/14
Overall rating:
This was my first Rick Steves' tour. It was fabulous. The activities for each day were seamless; the organization & timing worked perfectly. We did so much! Asa was the quintessential tour guide.
Favorite "WOW" moment
"There were lots of "wows." I loved City Hall in Stockholm with the Elsa steps. I loved the fjords, mountains & waterfalls of Norway. I loved Aero in Denmark & the boats on the canal in Copenhagen."
Susan
Albuquerque, NM
Tour: 06/22/14
Overall rating:
Typical of Rick Steves tours, the group of fellow travelers was outstanding and the tour guide full of interesting history. Our 'vacation from our vacation' in Aero was petty heavily scheduled but the activities so interesting that it didn't matter. Asa kept everything running smoothly and on time, the accommodations were top notch, and the transportation very comfortable.
Favorite "WOW" moment
"Even in the rain, the cruise through the fjords in Norway was nothing but breath-taking scenery."
Daniel
Albuquerque, NM
Tour: 06/22/14
Overall rating:
We had a great group of people so that makes the trip special. Saw a lot of country so we had to spend a lot of time traveling but Asa kept us going with talks, interesting info on the countries and societies, snacks and music. The best RS tour for us out of the four we have taken.
Favorite "WOW" moment
"I think the fjords on the boat were that moment. We had rain every day of the trip and that included the day on ferry but even with grey skies the fjord valleys are very impressive."
Stacy
Cary, NC
Tour: 06/22/14
Overall rating:
Very enjoyable experience which was made so by the organization of the program, the comfort and accessibility of the facilities (transportation, hotels and so on), the knowledge, preparation and warmth of the guide and the convivial nature of the tour group as a whole. The only negative in the experience was the weather which was somewhat uncooperative but of course nothing can be done about that!
Favorite "WOW" moment
"Well our "wow" moment actually came outside of the tour as we were able to locate the tombstones of my husband's great grandparents. Within the tour, I would say the biggest wow would have been the island of AERO. Very nice change of pace in the middle of the tour in a very scenic and relaxing setting."
Lee
Lubbock, TX
Tour: 06/22/14
Overall rating:
This was our first Rick Steves Tour and it won't be our last. The ease of travel, the extra sights we saw, and the group experience were all wonderful.
Favorite "WOW" moment
"Norway fjord country-both from the bus and the ferry."
Marla
Lewisville, NC
Tour: 06/22/14
Overall rating:
Despite rain EVERY day during our tour, Asa kept us busy, laughing, happy, and fed so that the rain was totally NOT an important factor on our trip. Our group bonded immediately which made for a relaxing and fun experience for all. Scandinavia was beautiful, the museums spectacular, and the local people very friendly and helpful.
Favorite "WOW" moment
"My favorite "wow" moment of the trip was on the island of Aero in Denmark. Aeroskobing was delightful. Our Christmas dinner in July at Mumm Restaurant was fabulous. Our tour of the island with a stop at a spectacular beach, a visit to Bregninge Church, lunch at a fortress, and a taste of Viking Blood (Mead) were all memorable. The highlight of this island experience was a picnic with my husband at one of the beach huts at sunset. Breathtaking!"
Beverly
Federal Way, WA
Tour: 06/22/14
Overall rating:
I enjoyed it immensely because our time was well organized, the highlights were interesting, the group was fun and our guide was excellent. Even though these are all hallmarks of the RS tours, this tour went extremely well. There were many logistical issues on this trip and they all seemed seemlessly managed. Many thanks to all involved!
Favorite "WOW" moment
"I enjoyed learning about the three countries - their similarities and their uniqueness. We were given an excellent overview of how they were connected, how they competed, and eventually how they evolved into being three of the most contented societies and stable regions of the world. In today's world, this is a "wow" achievement."
Paul
Eugene, OR
Tour: 06/22/14
Overall rating:
great guide, well-planned itineraries, comforatable motels, interesting bus rides, boat rides were a plus
Favorite "WOW" moment
"cycling around Aero Island, Denmark"
Richard
Asheville, NC
Tour: 06/22/14
Overall rating:
Outstanding tour leader in Asa! Great group of people. Good mix of organized time and free time. Excellent "history" and "culture" presentations by our guide (Asa).
Favorite "WOW" moment
"Some of the unexpected "fun" moments included: * the unexpected "meeting" with HC Andersen (played by someone named Richard) in Copenhagen; * the treats/ snacks passed out on the bus that represented traditional sweets/ candies and other snacks typically consumed in the countries visited * Ærø Island in Denmark"
Tsun-Chiu
Sunnyvale, CA
Tour: 06/22/14
Overall rating:
It was a very nice tour with a mix of beautiful scenery and interesting cities. I have learned a great deal of history, culture and people's life of Scandinavia countries.
Favorite "WOW" moment
"The beautiful mountains and glaciers of Norway."
Mark
Modesto, CA
Tour: 06/22/14
Overall rating:
On a previous Rick Steves tour, we asked our coach driver what his favorite tour was to drive. Without hesitation, he answered, "Scandinavia - because it's so beautiful." We agree. The natural beauty was matched only by the beauty of the people.
Favorite "WOW" moment
"My favorite "wow" moment for the tour was our final dinner together when each member of the group shared his or her favorite "wow" moment. It was a very moving opportunity that enabled each of us to relive the experience through the eyes of fellow travelers."
Laura
Modesto, CA
Tour: 06/22/14
Overall rating:
Because we've taken Rick Steves' tours in the past, our expectations were very high. And like the previous tours, this one far-exceeded our very high expectations. It was well organized with a good balance of group and individual time. Asa's skill meant that the group coalesced very quickly, which made for a very convivial experience. Previous reviews of this tour noted the rain (every day), but to be honest that didn't stop us in the least; it sort of became a running joke!
Favorite "WOW" moment
"I loved the Vasa museum in Stockholm, Kalmar Castle, our time in Aero, and the drive to and the cruise through the fjords. Another "wow" was all the information I learned about the societal decisions made by the citizens of these nations."
Edward
Federal Way, WA
Tour: 06/22/14
Overall rating:
Asa made all the difference in this tour. It rained every day and she made the tour a great experience.
Favorite "WOW" moment
"Touring Stockholm City Hall and Kalmar castle. Both were enjoyable times. Touring the Fram museum."
Yung
Sunnyvale, CA
Tour: 06/22/14
Overall rating:
We had a wonderful time on this tour. Under the expert guidance of our guide Aosa, I enjoyed the beautiful scenarary and leaned about the way of life in the Scandinavian countries.
Favorite "WOW" moment
"The magical Elvesaeter."
Kristen
Missoula, MT
Tour: 06/15/14
Overall rating:
As usual with a Rick Steve's tour, this tour exceeded my expectations. The guides were informative and knowledgeable AND happy to share about their area. The tour members were congenial and courteous to all, which really makes the trip so much more fun.
Favorite "WOW" moment
"The setting at Elveseter was incredible. All the details in the furnishings and decor, the history and the beauty of the setting; if the food had been a little bit better, this would have been over the top. This location probably had the worst food, but I still think it was worth it to see the museum quality living space and stay in such a historical spot."
David
Walnut Creek, CA
Tour: 06/15/14
Overall rating:
The large group size detracted a bit and made a couple of dining facilities too small for the group. The leader should be given the authority to subsidize drinks when it's appropriate to expedite the dinner. Happened at least twice including the farewell dinner. Certainly the rather high price of the tour could provide the funding. Other aspects of tour were top notch.
Favorite "WOW" moment
"The drive through the Norway mountains on an absolutely perfect day."
Karie
Lynden, WA
Tour: 06/15/14
Overall rating:
For me the tour was long. I did get tired of all the museums, especially seeing three viking ship museums. I loved Aero Island. What a nice dinner we had and the people were lovely. Our group got along so well, we had our own patio party with appetizers and drinks and this was a very nice memory. The bed and breakfast's that were chosen were beautiful. The overnight ferry was enjoyable as well. Some of us gathered for drinks and dancing at the club, we had a very good time.
Favorite "WOW" moment
"The Fjords were beautiful, and we had a spectacular day to go with it. I can't think of any "wow" moment besides that."
Keith
Austin, TX
Tour: 06/15/14
Overall rating:
It was a good tour and I will be experiencing the memories of it for many years.
Favorite "WOW" moment
"There are two moments that really stick out. The first was the warship Vasa. What a vessel and to think that it was preserved for so many years. It really showed the power of Sweden at that time. The other was the ferry ride through the fjords. What beauty. Pretty hard to improve on it."
Nancy
Broomfield, CO
Tour: 06/15/14
Overall rating:
Each country I had some wonderful experiences especially when I went exploring which I love to do in the non group time. The best for me was the two days pre-tour in Stockholm. I did an Archipelago Cruise to Grinda and Skansen both were wonderul. Post-Tour I took a 7 hour train from Bergen back to Oslo and flew home from Oslo. The scenery on the train was so beautiful and a pleasant, relaxing train ride. I was surprised that the cities we visited were overflowing with people and so crowded.
Favorite "WOW" moment
"My "wow" was walking out to the Small Beach Bungalows on Aero Island. The Bungalows face West for the sunset. When I was there, there were dark clouds, strong winds and choppy waves. Quite dramatic but a really wonderful experience!!!"
Joan
Sequim, WA
Tour: 06/08/14
Overall rating:
My husband, Bill, and I seldom take tours because we enjoy exploring on our own and like to interact with locals. This tour enabled us to do a lot on our own and our native guide was so informative and told us a tremendous amount about the history, culture, economics, education, etc. of the countries we visited. When we ate together as a group, our guide gave us interesting local choices to [INVALID] for our meal. There were 20 of us on our tour - a large number but a compatible group.
Favorite "WOW" moment
"The scenery in Norway is spectacular. The day when we drove over the mountains and took the ferry cruise on the Sognefjord was incredible! Aero Island was also unique...a very special place!"
Garry
Coeur D'alene, ID
Tour: 06/08/14
Overall rating:
The tour was very educational and smoothly conducted. The bus driver, Lars, was a special addition. I especially appreciated how Ylva included him as a part of the tour.
Favorite "WOW" moment
"Idyllic Aero Island and the spectacular fjords of Norway."
Clark
Roseville, CA
Tour: 06/08/14
Overall rating:
I had little knowledge of the area and didn't know what to expect, but it was a great experience. I was more intrigued by the cultural difference than other European locations I'd been. Ylva was very knowledgeable about the economic and political aspects of a their government, perhaps due to her experiences with the Parliament. The country is beautiful, the pace of the tour (including shift between urban and rural) was just right and, again, the tour group and guide all meshed well.
Favorite "WOW" moment
"Favorite stay: Ærø Island. Favorite city: Oslo Favorite evening: Elvesæter"
Nina
Sacramento, CA
Tour: 06/08/14
Overall rating:
My husband & I thoroughly enjoyed having Ylva as our tour guide. She has such a wealth of knowledge of history. Very energetic lady. This was our 3rd Rick Steves tour and we have enjoyed each one.
Favorite "WOW" moment
"The island of Aero was such a welcome visit (2 nights). We were wishing that we had more time & spend a few more days there. The ferry ride through the fjords was everything we had expected. Such beauty. Our stay at the Elvesaeter Hotel was fun but the real beauty of that day was going over the glacier covered mountain pass. Our bus driver for the 2 weeks was Lars & he was not only a good driver but lots of fun."
Eileen
Chester, MD
Tour: 06/08/14
Overall rating:
The people who go on Rick Steve's tours have a lot in common, and so it's nice to meet a new group of people with similar interests. Each of us had researched something that we really wanted to do on the trip, and it was fun to share that with others. Having a large bus to spread out in was comfortable and pleasant. Having time on our own to pursue interests (sometimes with other tour members) was good fun and satisfying. We did not feel like we missed exeriences
Favorite "WOW" moment
"Boat ride thru the fjord country. We really enjoyed Stockholm and we were glad we spent some time there before the tour. We did a Food Tour of Sodermalm and that was great. We were the only Americans on the food tour so we learned a lot. Great value! Stockholm was wow for me. Lots to explore, great culture and much to learn. Wonderful people and city."
William
Sequim, WA
Tour: 06/08/14
Overall rating:
The tour varied nicely between big cities and smaller towns. There was ample time for us to pursue our own interests in each area as well as enjoy the well-chosen arranged tours. The people were great and our guide was superb. The driver, Lars, became a valued member of the group. The weather was warm and rainless, which added to the positive experience.
Favorite "WOW" moment
"There were a few "wow" moments. The water was spectacular in each country - in Stockholm, in AEro and throughout Norway where some of it was snow in the mountains. The views from the hilltops in Oslo (at the end of the T-bahn line) and in Bergen were gorgeous. The charm of AEroskobing , particularly the Pension Vestergade, was welcome after the traffic of Copenhagen."
Stephanie
Edmonds, WA
Tour: 06/08/14
Overall rating:
Ykva was excellent - and our driver good as well.
Favorite "WOW" moment
"Christiana (sp)"
Nancy
Bellingham, WA
Tour: 06/08/14
Overall rating:
My overall tour experience was just wonderful. The experience surpassed my expectations. The history that was provided on the tour to accompany our sites and coach travel were so very helpful and informative. I found the pace of the tour very appropriate for what we did and the places we toured. Our group of travelers - 20 in total - were a really exceptional group and were a key component of this trip going so well along with the interaction of our tour leader and our coach driver.
Favorite "WOW" moment
"I had two wow moments of the trip; I thought that the island of Aero was magical and the Sognefjord non-stop breathtaking. And...our coach driver made every morning special when he would sing his good morning song to us in Swedish. It sounds corny but our whole group loved it and looked forward to it."
Harriet
West Lafayette, IN
Tour: 06/01/14
Overall rating:
We knew Scandinavia would be beautiful, but it far exceeded our expectations with its scenery and beautiful sunlight. Each country was beautiful in its own way. We learned a lot of history and saw wonderful works of art.
Favorite "WOW" moment
"We got two tickets at the last minute to a sold out house at the Opera House in Oslo.It is a magnificent building and we really enjoyed watching Swan Lake. We also liked the Vasa museum, Aero Island and finding our way on the tram and walking to the beautiful Edvard Grieg home on our free afternoon in Bergen. About the only thing we didn't like was the breakdown of our ferry engine during our fjords tour but even then the behavior of the large crowd on board was remarkable."
Carol
Olympia, WA
Tour: 06/01/14
Overall rating:
This was my first trip to Europe, and I found it well planned with a variety of experiences.
Favorite "WOW" moment
"Fjords, Norway's mountains, Kalmar castle, and Roskidle cathedral. The time on Aero was beautiful and relaxing. I also went to three open air folk muesums-enjoyed these very much. The hike in Norway to the waterfall was a treat."
Donald
Puyallup, WA
Tour: 06/01/14
Overall rating:
This tour was an outstanding tour that is in the tradition of other Rick Steve's tours that I have taken. The tour was run exceedingly well, all of the guides were top notch, time was used efficiently, and the amount of free time was just right. It left me wanting more.
Favorite "WOW" moment
"The entire trip was a "Wow" moment."
Pamela
Mount Vernon, WA
Tour: 06/01/14
Overall rating:
Fast paced, lots of free time, guide with a personality, good traveling companions. Need another food option for picky eater...can't go wrong with pasta.
Catherine
San Luis Obispo, CA
Tour: 06/01/14
Overall rating:
It was wonderful and I was very happy that things are still great with the Rick Steves tours as I had not been online for many years.
Favorite "WOW" moment
"My favorite wow moment was.....Æro island the hospitality of Suzanne and the lunch hosted at the hunting grounds."
Diana
Nampa, ID
Tour: 06/01/14
Overall rating:
The tour of Scandinavia was a great experience, we felt that we were able to get a glimpse of the culture, food, life in the various countries. We saw the big cities as well as small towns, which was perfect. We so appreciated Asa's knowledge, experience and her very kind and helpful attitude towards everyone and with everything. It was a special treat to have both Asa and Pal as they were both fantastic as tour leaders but also gave us special insight to their native countries.
Favorite "WOW" moment
"Our visit to Aero island was our favorite, it was such a charming and quaint village and we all just loved this magical little place."
Danielle
Nampa, ID
Tour: 06/01/14
Overall rating:
Overall I really enjoyed my first Rick Steve's tour. There was so much learning and exploring in each major city, we were able to get a good feel for the cities if we used our time wisely. The guides were very professional and stuck to a good schedule.
Barbara
Gig Harbor, WA
Tour: 08/18/13
Overall rating:
ETBD nailed it again!! Structure, free time, food, general info was just perfectly balanced Even the bus driver added to the positive experience
Favorite "WOW" moment
"Standing on deck of the overnight boat ride as we entered Oslo Fjord. Amazing! There were other wows, but this was special"
Bruce
Salt Lake City, UT
Tour: 08/18/13
Overall rating:
The tour went very well and met my expectations.
Favorite "WOW" moment
"There were many, Tivoli gardens at night, the Vasa, Aero, and overall beauty of the three countries. Of course the cost of food and drink was also a wow moment."
Walter
Naples, FL
Tour: 08/18/13
Overall rating:
Overall experience was very positive. We particularly enjoyed Lisa, our tour guide and bus driver, Andrej, and assistant, Cynthia were a terrific bonus. The great weather and compatible group added to the fun as well.
Favorite "WOW" moment
"More than a moment, but the warm, sunny weather and lack of rain (one day excepted) that late in the season was the highlight."
Maxine
Salt Lake City, UT
Tour: 08/18/13
Overall rating:
I really liked this tour. The itinerary was a wonderful alternation of big cities and small locales, walking and riding (bus and boat) and high culture (buildings, museums & palaces) and everyday activities (picnics, ferries & ice cream). Lisa was a perfect guide for this tour with her low-key, yet organized approach. Our well-traveled group was particularly congenial and prompt. Giving us Oslo passes was a brilliant idea. I was glad to have paid more for the extras on this trip.
Favorite "WOW" moment
"I could have spent a lot more time in the city halls of both Stockholm and Oslo. Entering each was a mesmerizing experience and we didn't even have time to contemplate the exteriors. I loved revisiting the Vasa, still an extraordinary experience. I loved the ferry through the fjords; especially a repeat visit to the Nærøyfjord, previously seen in May. The biggest surprise was Tivoli Gardens at night--so glad I went."
Patti
Madison, WI
Tour: 08/18/13
Overall rating:
Our guide & assistant guide were EXCELLENT! The bus ride was smooth & comfortable and the driver - Andrej was an safe driver and had a good sense of humor. There was a great mix of bigger burgs - Stockholm, Copenhagen & Oslo and neat new small towns I was not familiar with before this trip - Kalmar, Roskilde, Aero & Elvesaeter. Our co-travelers were interesting and fun. If we won the lottery, I would do every trip in the RS catalog.
Favorite "WOW" moment
"A discussion at The Nobel Peace Center in Oslo reminded me how much I absolutely love international people connections. We went there on a free day and joined a tour which included people from - Turkey, UK, Norway, Japan, Malaysia, Korea, Canada, & Poland etc. We had a long discussion about why the EU won the prize in 2012, why Norway and Turkey are not a part of the EU today and many other thought provoking topics. Pure heaven! Picked up a post card for each winner & plan to keep learning."
Sherri
Edmond, OK
Tour: 08/18/13
Overall rating:
Scandinavia is beautiful, especially Norway. The itinerary [INVALID]nated city and rural experiences, giving us changes in pace that kept us rejuvenated. Long bus days were broken up with stops that gave us a broader view of the country and enriched the experience. Loved the picnics and the villages and sites we saw along the way.
Favorite "WOW" moment
"It's hard to choose one. All the experiences in the fjords were amazing. We got up early on the overnight cruise to Oslo and experienced the beauty of those fjords in the stillness of the morning. We took an evening cruise in the Oslo fjord and were blown away with the sunset that lasted for over an hour. The fjord cruise of the Sognefjord and Naeroyfjord to Gudnangen provided the most dramatic scenery of all."
Barbara
Denver, CO
Tour: 08/11/13
Overall rating:
Whoever ordered the perfect,sunny weather Thanks! This was our second R.S. tour and again we were not disappointed. Ylva gave 110% to make our tour a memorable experience. Never thought we would enter a private residence in Stockholm, all 24 of us in our Guide and Partner's home. This was truly above and beyond.
Favorite "WOW" moment
"The bus ride from Elfvastatter(spelling?) Norway over the J... mountain range while Ylva had the "Secret Garden" CD playing. The mountains and music were magical to me."
Joan
Eugene, OR
Tour: 08/11/13
Overall rating:
This is my second Steves Tour [INVALID] Heart of France last year. Ylva was wonderful [INVALID] positive, energetic and enthusiastic, offered challenges to the more fit but was reasonable in expectations. The icing on the cake was her willingness to open her home to our group so that we could actually see the inside of a home in Old Town, Stockholm. She was very respectful of all in our quite diverse group, aged approximately 20 to mid-seventies. I love that Steves allows such diversity on their tours.
Favorite "WOW" moment
"I particularly enjoyed the bus tour through the mountains of Norway and the expert and safe driving of Silvan (from Belgium). He was also a great asset on this trip -- his always smiling face and positive attitude was a real plus. And his partaking in the bike ride on the Denmark island of Aero. Aero was also quite a treat and relaxing opportunity right in the middle of the tour."
Steve
Eugene, OR
Tour: 08/11/13
Overall rating:
Learned a lot about Scandinavia and saw much more than we could have if we were on our own.
Favorite "WOW" moment
"1. Touring the Stockholm City Hall. 2. Viewing Vasa ship. 3. Seeing Stockholm at night from high walking bridge. 4. Bicycle trip on Aero island."
Erin
West Roxbury, MA
Tour: 08/11/13
Overall rating:
This tour was absolutely fantastic. We got to see so much in a limited amount of time. We really enjoyed learning about the history of the different countries and Ylva was extremely knowledgeable about a variety of subjects. Our only regret was not arriving in Stockholm a day earlier. We really loved that city and did not feel that we had enough time there. The pre-tour information recommended arriving a day or 2 early and we now realize that was good advice!
Favorite "WOW" moment
"From a "sightseeing" perspective, I think it was the Viking Ship museum. From a scenery point of view, driving through Jotunheimen was absolutely breathtaking."
William
New Bern, NC
Tour: 08/11/13
Overall rating:
The tour was nicely paced, each day was packed with excitement and new things to see and learn. We were lucky and we had a great group that worked well together. Punctuality and fun were always present. Our guide worked within the planned itinery but frequently put together little side events during our "free time" it was a blast ! Even our bus driver "Silvan" was involved in our special hikes and side trips. Wonderful experience.
Favorite "WOW" moment
"The island of Aero, Denmark is a majical place. Small little town, cobble streets, very nice. We toured the island by bus and ended at a very nice renovated farm. The smorrebrod lunch was superb. That afternoon back at the hotel the guide and our bus driver Silvan asked if anyone wanted to take a bike tour of the island. Sure enough we put together a small group and off we went to see what the coastal area had to offer. was a beautiful experience, completely off the itinery."
Jim
Lexington, KY
Tour: 08/11/13
Overall rating:
The tour was overall very well done with excellent guides and a interesting and pleasant participants. We were afforded concise and interesting overviews of the culture of each country, had good accommodations and, for the most part, good food. What we found out about each country was inspiring in some instances, providing us with an appreciation of each of the cultures. In many cases we were reminded of values and practices from knowing families whose origins were from these countries.
Favorite "WOW" moment
"Waking up the Oslo Opera House roof in the early evening with a full moon shining on the white marble of this impressive structure."
Jack
Stillwater, MN
Tour: 08/11/13
Overall rating:
Very happy with it. Comprehensive, both educational and fun, good pacing, good balance between planned group activities and time on our own. Liked some of the little surprise "extras" such as meeting up with Hans Christian Andersen.
Favorite "WOW" moment
"Hard to name just one: Stockholm City Hall, Vasa Museum, Roskilde Cathedral, Village of Aerokjoping, Frogner Park/Vigeland sculptures, and Elvesaeter are among places that stood out for me."
Jean
Washington, DC
Tour: 08/04/13
Overall rating:
The tour was organized down to the last detail, but still had opportunities for serendepity. I took the trip not quite knowing what to expect. My expectations, vague as they were, were exceeded time and time again. Our hotels were right in the centre of each city in which we stayed so it was easy for me to learn my way around quickly and to wander off on my own adventure feeling safe and confident about my ability to navigate the city.
Favorite "WOW" moment
"Two stand out. One, visiting Susanna's Pension in Aero. Absolutely beautiful space to match Susanna's personality, a gem in this village. I would have loved to have been housed there, but glad she was gracious enough to have us all over for tea. The other standout was having my high school history and geography lessons come alive with all the great waterways that I went on (including the fjords that we travelled on) or saw from afar: the canals, rivers, seas."
Jeri
Auburn, CA
Tour: 08/04/13
Overall rating:
My overall tour experience was wonderful, fantastic and beyond my expectations. Since I am a rookie traveler, I appreciated having all the accommodations and transportation pre-arranged but now, with the travel "training," I feel more confident that I could travel on my own. I felt there was a good balance between guide tours and free time.
Favorite "WOW" moment
"Besides having Rick show up "out of the blue" in Copenhagen.............. I have been working on my genealogy for many years and one of the purposes of this Scandinavian tour was to visit Denmark and Norway where some of my ancestors had emigrated. So my "WOW" was visiting the church (Holmens Kirke) where my Great-Grandfather (and all) were baptized."
Christine
Nampa, ID
Tour: 07/28/13
Overall rating:
The tour included a great variety of sights and activities. There were good choices for free time for things to do or just to stop and soak it all in. I learned so much about the three countries. Overall, it was fantastic.
Favorite "WOW" moment
"So many things to choose from. I had at least one from each country. In Sweden. Stockholm is a beautiful city. In Denmark. The charm of Aero Island. In Norway. The beautiful trip over the mountains to the Sognefjord and the fjord boat trip scenery."
Judy
Boise, ID
Tour: 07/28/13
Overall rating:
This tour was wonderful. It covered the three countries very well considering that we had only two weeks. I really enjoyed all the water travel too. Also our tour was quite small so it was much more personal. A nice variety of cities and small places plus Aero Island.
Favorite "WOW" moment
"The trip over the Jotunheimen Mountains to the fjord country and then the ferry trip through the Sognefjord. It was so enjoyable being right there on the deck of the ferry taking in the beauty of the waterfalls, the little villages, the lush green landscape and the rugged terrain. WOW!"
Mark
Kirkland, WA
Tour: 07/28/13
Overall rating:
Excellent. This was our 5th tour and they keep getting better.
Favorite "WOW" moment
"Vasa ship in Stockholm"
Craig
Hinsdale, IL
Tour: 07/28/13
Overall rating:
A great combination of activities, tours and sights. Doing this tour allowed us to do things my wife and I would not normally have done on our own. This tour has expanded our horizons. The guide was the best we have ever had too.
Favorite "WOW" moment
"Many wow moments. Trying different types of food: whale (yuk), moose, raindeer, etc. I would not have normally tried it."
Kathie
Laguna Niguel, CA
Tour: 07/28/13
Overall rating:
The tour was well planned and well executed so that we were able to see and appreciate the best sights available. Nothing we could have handled as well on our own.
Favorite "WOW" moment
"There were many wow moments but next to the Vasa Museum and the Open Air Folk Museum, I think my favorite was the fjords and dramatic countryside."
Dan
Costa Mesa, CA
Tour: 06/16/13
Overall rating:
The tour was excellent. Great tour Guide (Ylva de Silva), she was absolutely fabulous. Straight out of central casting for a smart, friendly scandinavian woman. The tour featured good hotels, good food and a great bus with driver. Our guide was very personable and was constantly doing special little things for the group. Like buying chocolates or local snacks for on the bus. We toasted in a parking lot with Vikings blood. Overall a great trip.
Favorite "WOW" moment
"Oslo city Hall, Radhuset The mural depicting World War 2. Our local guide explained the figures and the chronography with such passion and pride. The young men fleeing to the forests, the loss of fredoms, firing squads and the triumphant return of the young men to help drive out the Nazi's. Our guide really helped me feel that sense of nationalism that Norway was struggling with. Great building with lots of symbolism. Great local guide and our tour guide made it really come alive for me."
Weather

Sweden / Stockholm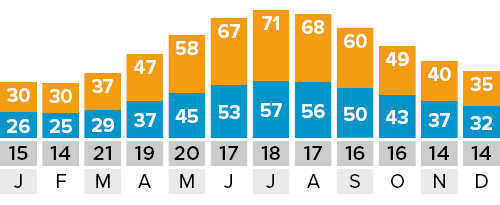 Denmark / Copenhagen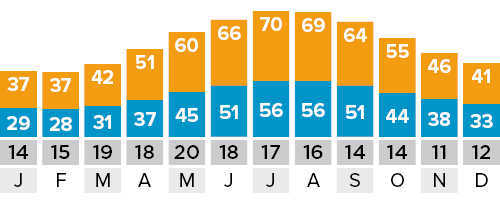 Norway / Oslo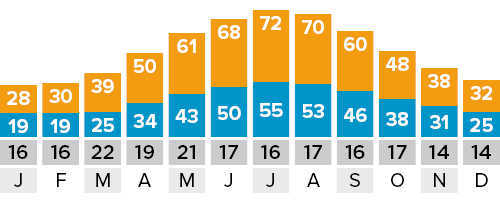 Pre-Tour
We've put together some specific information on what you should know about this tour before you go. You'll also find more general information about "Getting Ready for Your Tour" on our Tour FAQ.
Trip Resources
Learn more about Sweden, Denmark, and Norway: Check out a collection of Rick's TV shows, radio interviews and articles, plus find a list of recommended books and movies.
Transportation
Prior to your tour departure, you will receive detailed directions on how to get from the airport to your first tour hotel, as well as contact information for your first and last hotels in case you wish to book pre- or post-tour hotel accommodations.
Many tour members arrive a day or two before the tour begins — and those who don't, wish they had. This allows you ample time to get over jet lag and make the most of the first few days of the tour.
There is more than one way to get to and from your tour. Most tour members will arrange to fly into Stockholm and out of Bergen ("multi-city" on flight booking websites). Booking round-trip to one city will require a connecting flight or additional overnight stay. Stockholm and Bergen are transportation hubs, making additional travel before or after your tour quite easy.
For information about flying within Europe, ask your travel agent or check Rick's list of European budget airlines.
Read Rick's train travel and rail pass tips to decide if your travel plans merit a rail pass.
If you have additional European travel or tour questions, contact the Tour Department at 425-608-4217 or email tour@ricksteves.com.
Sightseeing On Your Own
If you arrive in Stockholm before your tour begins, use Rick Steves Scandinavia guidebook to get oriented. Ride the public transportation, try out a few words of Swedish (although many locals speak English well), and get over your jet lag with lots of fresh air and exercise.
Here are suggestions for sightseeing in Stockholm that we will not be doing as a group (see your guidebook for details): Royal Armory; Skansen; archipelago cruise; Millesgården sculpture museum; Drottningholm Palace; Royal Palace Museums; day trips to Uppsala or Sigtuna; overnight trips to Helsinki or Tallinn.
Packing
Scandinavia is known as the "Land of the Midnight Sun" due to its long spring and summer twilights. We recommend that you bring an eye shade and earplugs for easier sleeping.
For more advice on what (and what not!) to pack, see Rick's packing tips.