Casa Milà in Barcelona

Retiro Park in Madrid

Tapas in Madrid

Prado Museum

Toledo

Sagrada Família
Tour Questions? Call 425-608-4217
Best of Barcelona & Madrid in 8 Days Tour
Rick Steves' Best of Barcelona & Madrid tour combines Spain's top cities to create a sparkling, full-bodied eight-day adventure. First, you'll experience the pride and energy of Barcelona — rambling on the Ramblas, digging into delicious seafood, and marveling at architecture and art by Gaudí and Picasso. Then, we'll hop a high-tech train to Madrid for its terrific tapas, masterpiece-packed Prado Museum — and a day in historic Toledo. You'll come home with more memories than you ever thought possible in a week-long getaway. Join us for the Best of Barcelona & Madrid in 8 Days!
What's Included
A small, friendly group of 24-28 people — half the size of most tour groups
Full-time services of a professional Rick Steves guide and local experts who will make the fascinating history, art and culture of Barcelona and Madrid come alive for you
All tours and admissions — at no extra cost — covering at least 19 group sightseeing events • Ramblas orientation • Barcelona Articket museum pass • Sagrada Família tour • Casa Milà tour • Gothic Quarter walking tour • Barcelona Cathedral • Picasso Museum tour • Barcelona panoramic bus tour • Museum of Catalan Art tour • Madrid panoramic bus tour • Madrid walking tour • Royal Palace tour • Prado Museum tour • Reina Sofía Museum tour • Toledo day trip and walking tour • Santo Tomé Chapel (El Greco's The Burial of the Count of Orgaz) tour • Toledo Cathedral tour • Sinagoga del Tránsito tour • Wine tasting...and more
All group transportation from Barcelona to Madrid
7 nights accommodations in memorable, centrally-located hotels
All breakfasts and half your dinners
All tips for guides and driver
Free stuff including Rick Steves' Spain guidebook, Spanish phrase book, moneybelt and earplugs
Guaranteed tour price, locked in the moment you make your deposit
Optional single supplements — this tour has a limited number of private rooms for solo travelers for an additional fee
Tour alum discount of $50 for each tour you've taken prior to 2014
50% discount on a consulting appointment with our in-house experts to assist with your pre- or post-tour travel plans
Flexibility should you need to transfer, or cancel/interrupt your tour
Fine print: You are responsible for the cost of your drinks and free-time sightseeing. See our Tour Conditions Agreement for important details regarding everything listed above
Itinerary
Daily Activity Key
Light = 2-4 miles of mostly level walking throughout the day.
Moderate = 2-6 miles walking throughout the day with some hills and stairs.
Strenuous = 2-8 miles walking throughout the day with lots of hills, stairs and uneven terrain.
Day 1: Welcome to Barcelona
Barcelona, the proud capital of Catalunya, may be the most festive city on the Mediterranean. Meet your guide and group around 5 p.m. at our centrally-located hotel for an orientation meeting — then we'll join the party with a stroll along the surprise-filled, people-packed Ramblas boulevard before having dinner together. Sleep in Barcelona (3 nights). No bus. Walking: light.
Day 2: Gaudí Day
Today is devoted to the swirling, Modernista architecture of Antoni Gaudí. We'll tour the greatest works of Barcelona's master builder, including the towering, dizzying Sagrada Família church and his Casa Milà apartment building. The remainder of your afternoon is free to explore more Gaudí delights throughout the city. This evening we'll wrap up our day learning about what goes into Catalan cuisine including a visit to the lively, legendary La Boquería market, before setting you free for dinner on your own. No bus. Walking: strenuous.
Day 3: Barri Gòtic and Picasso
This morning, we'll explore Barcelona's maze-like Gothic Quarter, from its Roman foundations to the spires of its candle-, relic- (and geese-!) strewn cathedral. We'll end our tour at the Picasso Museum, Europe's best collection of Picasso paintings, where we'll trace the story of this hometown boy-genius' art as he evolved from a kid who painted like an adult...to an adult who painted like a kid. This evening we'll toast to our last night in Barcelona with a paella dinner together. No bus. Walking: strenuous.
Day 4: Montjuïc and a Speedy Train to Madrid
We'll start today with a panoramic bus tour of Barcelona, beginning atop the historic Montjuïc Hill. After a visit to the Museum of Catalan Art, it's "all aboard" for one of Europe's speediest trains (the AVE) to Madrid. Upon arrival we'll meet our bus for a tour of Madrid's major monuments and classy boulevards. Once we've settled into our hotel in the heart of Madrid, we'll take a neighborhood orientation walk, ending with a tapas-style dinner together. Sleep in Madrid (4 nights). Train: 3 hrs. Bus: 4 hrs. Walking: moderate.
Day 5: Madrid's Royal Palace
Today, we'll take a historical walking tour starting at the very center of Madrid, the bustling Puerta del Sol. From there we'll walk to — and through — the sumptuously-decorated Royal Palace. With 2,000 rooms, tons of luxurious tapestries, and a king's ransom of chandeliers, this is truly one of the great palaces of Europe. You'll be free for dinner on your own tonight, but first we'll prepare your taste buds with a Spanish wine tasting. No bus. Walking: moderate.
Day 6: Masterpieces of Madrid
This morning we'll tour one of Europe's premier art museums — the masterpiece-packed Prado — where you'll see paintings by Velásquez, Goya, El Greco and others. Then we'll visit the Reina Sofía, Spain's greatest modern art museum, home to Picasso's Guernica. The rest of the afternoon is yours to stroll through the majestic Retiro Gardens (Madrid's most popular park), do a little shopping, and maybe even catch a performance of flamenco. No bus. Walking: strenuous.
Day 7: Toledo
A short bus ride after breakfast will take us to Spain's old capital city of Toledo (and back in time about 500 years). We'll take a traffic-free walking tour that includes Toledo's magnificent cathedral, the historic Sinagoga del Tránsito and El Greco's The Burial of the Count of Orgaz in Santo Tomé Chapel. This afternoon you'll have time to enjoy the winding medieval streets of Toledo. We'll catch the bus back to Madrid for our final dinner together to share travel memories and toast new friends. Salud! Bus: 2 hrs. Walking: strenuous.
Day 8: Tour Over After Breakfast
Madrid's airport is an easy bus or taxi ride away — or you may want to continue your Iberian adventures on your own. Hasta luego!
Itinerary specifics subject to change.
Activity Level
Our tours are physically active! It's an essential part of the Rick Steves tour experience. On our Best of Barcelona & Madrid in 8 Days tour — among other things — you'll need to happily...
Carry/roll your luggage over uneven pavement (several blocks possible) and up stairways to reach your hotel; then up several flights of stairs to reach your room.
Be on your feet, walking and standing for up to three hours, indoors and outdoors, in all weather conditions.
Sleep with street noise and no (or weak) air conditioning.
After orientation and transportation lessons, be able to navigate in cities on your own.
Reviews
Michael
North Potomac, MD
Tour: 03/16/14
Overall rating:
Our tour guide Amanda was knowledgeable, well organized and friendly. Having Francisco along as her assistant was a real plus, he brought a native's point of view. The choices of what to visit with the group were great, and we had enough free time that we were able to fit some more things in (including some naps!).
Favorite "WOW" moment
"The first view of the interior of Gaudi's Sagrada Familia church in Barcelona."
Rebecca
Memphis, TN
Tour: 02/16/14
Overall rating:
Tour was totally enjoyable from beginning to end. Outstanding guide (Nygil) and very friendly group. Excellent balance of sightseeing, information, and free time. Hotels were great!
Favorite "WOW" moment
"View of Toledo from other side of the river. Probably would not have known about it if the bus hadn't taken us there."
Susan
Portland, OR
Tour: 02/16/14
Overall rating:
Nygil is a wonderful tour guide and he helped to make every day meaningful and fun. His knowledge of Spain, the people, customs, food and wine added to the adventure of the guided tours and the time we spent exploring on our own. Our tour group enjoyed spending time together. The local guides were very good and we were exposed to some of the divergent political views in Spain. It helped to visit 3 cities, all dynamically different in their hsitory, development, culture and attractions.
Favorite "WOW" moment
"The Sagrada Familia Church in Barcelona is amazing. It's over 100 year history of construction and the fact that it will not be completed for years to come ia tribute to Gaudi's enduring influence and peoples belief in his dream. It is both odd and beautiful and has been influenced by so many architects, engineers and laborers. The sculptures that adorn the building, the stain glass windows and thought to how the light enters, the massive columns - all the details are awe inspiring."
Craig
Palm Springs, CA
Tour: 02/16/14
Overall rating:
I was expecting a good tour and what I got far exceeded my expectations! I was very impressed with all of our guides. Nygil Murrell was a great tour leader, host, resource person etc. He was very good about spending time with all of our tour compatriots. I also especially enjoyed Mariana in Barcelona & Fredrico in Madrid. Fredrico's flair for the dramatic and sense of humor made the Madrid museum/palace tours a lot more fun. Everyone in our group blended well which was added value.
Favorite "WOW" moment
"The Sagrada Familia without a doubt. The entire trip was really a wow moment for me but the Sagrada Familia almost made me weep as it was so inspirational and I am not a religious person."
Kathi
Renton, WA
Tour: 02/16/14
Overall rating:
This was my fourth Rick Steves tour. As always there was a perfect mix of group activities and free time. As a solo traveler, I appreciate how friendly everyone is and their willingness to explore free-time activities with different members of the group.
Favorite "WOW" moment
"The sunlight streaming through the stained glass windows of the Sagrada Familia and learning about the plans to finish the cathredral. The chocolate and churros available fresh, 24 hours a day near the Madrid hotel. Wandering pedestrian-friendly streets among the locals in both cities..."
Jodi
Phoenix, AZ
Tour: 02/16/14
Overall rating:
Excellent tour of Spain - Barcelona, Madrid & Toledo Great group of people, enjoyed getting to know the people -- "Rick Steve's Tour Participants" are truly interesting people -- "my tribe" :-)
Favorite "WOW" moment
"The walks through the local neighborhoods, the back streets, learning the hidden gems of history - those were my 'wow' moments."
Jerry
Palm Springs, CA
Tour: 02/16/14
Overall rating:
Everything about the tour was professional . Every question and possible situation was covered and explained. Our main /accompanying guide, Nigel, was patient and understanding of each of us. The tour made our Spain experience unforgettable .
Nancy
Bakersfield, CA
Tour: 02/16/14
Overall rating:
This was our first Rick Steve's Tour, and we enjoyed a wonderful experience.
Favorite "WOW" moment
"There were many. I found the entire trip to be a wow experience."
Richard
Indianapolis, IN
Tour: 02/16/14
Overall rating:
An outstanding tour in all phases. It was just the right length and the weather was reasonable for February. The "tourist attractions" or not overly crowded since it was off-season and we thought it was a perfect time to visit. We had a great time!
Favorite "WOW" moment
"La Sagrada Familia and all the Gaudi sites are worth the trip alone."
Edward
Lewes, DE
Tour: 02/09/14
Overall rating:
We had a wonderful experience and are already discussing which tour to take next. From the orientation meeting on the first day, we knew we had made a good choice. All of the guides were knowledgeable and enhanced the overall experience. There was a good balance of organized time and free time. We ended the tour with a better understanding of the locality and its people, so much more so than if we had visited these areas on our own.
Favorite "WOW" moment
"It seemed like a little thing, but we made an unexpected stop at a cloistered convent where the nuns baked cookies. Through a plain wooden door on a narrow street, we walked down hallways and through little courtyards until we reached a small room with a lazy Suzan in the wall. Javier called out his order, put his money on the lazy Suzan, and spun it around. After several minutes, the lazy Suzan spun back with our cookies. This truly gave us an insight into the local culture."
Christina
King Of Prussia, PA
Tour: 02/09/14
Overall rating:
This was my first Rick Steve's tour and it was remarkable. The travel philosophy is great and the execution was nearly flawless.
Favorite "WOW" moment
"Coming out of the metro station and turning around to see the east façade of the Sagrada Familia was very moving."
Elizabeth
Northport, NY
Tour: 02/09/14
Overall rating:
Excellent trip, beautiful sights, delicious food and wine, lots of unexpected extras. Friends had raved about Barcelona and Madrid, now we know why. And holy Toledo, an unexpected delight! A perfect balance of planned activities and free time, facilitated by our excellent tour guide and knowledgable local guides. Our tour mates were great travel companions from start to finish. Though sometimes cool and drizzly, lower cost and no crowds are a winter travel plus.
Favorite "WOW" moment
"Never just one wow. Seeing Toledo from a vista point outside the city, through the mist, was one wow moment. Like looking at another time. I loved wandering the winding streets, being in the amazing cathedral, and experiencing the influence of three Abrahamic faiths in one holy place. Another wow was everything Gaudi in Barcelona. The forms, curves, and colors were mesmerizing. And the tapas and wine were a wow for my happy taste buds!"
Betsy
Salem, OR
Tour: 11/24/13
Overall rating:
I had never been to Spain before, so I thoroughly enjoyed seeing the sights and all the walking. The tour experience would have been improved by having a printed detailed itinerary at each city. One traveler was left behind early on the first day, and if that had been me, I would have had to go back to the hotel by taxi. The one-way radio was a great convenience. The Barcelona itinerary would have been improved by having more time at Montjuic and Olympic V, doing that early and Montserrat later.
Favorite "WOW" moment
"Sagrada Familia tour was my favorite site. I will never forget its charm, and it is one of the first European cathedrals that I've seen still a work in progress. The cathedral in Toledo was a wonderful stop too. I would have done fine skipping the cathedral in Barcelona in favor of touring the Fine Arts concert venue and touring the Olympic facilities on Montjuic. My other favorite was the guitar maker at the last dinner."
Richard
San Diego, CA
Tour: 11/24/13
Overall rating:
Had a really nice time and greatly appreciated all the arrangements, sites visited, eating places and museums visited. It was a great experience.
Favorite "WOW" moment
"The Sagrada Familia - very moving. And of course guide Frederico singing to us on the last evening dinner together!"
Laurel
Naples, FL
Tour: 11/24/13
Overall rating:
Enjoyed every moment of the tour, outstanding guides. Federico conveyed his knowledge and love of his country to all of us on the tour.
Favorite "WOW" moment
"The first time I saw Sagrada Familia I was awe struck. All Gaudi architecture makes Barcelona a magical place."
Melissa
Oxnard, CA
Tour: 11/24/13
Overall rating:
My 3rd RS tour and I had another wonderful experience. Good mix in ages and personalities helped with good group dynamics. Federico is an amazing and caring guide! THE best. I enjoyed all the sites and appreciate the balance between group time and personal time.
Favorite "WOW" moment
"Can't pick just one. Our time at the Prado museum with our guide's story telling and descriptions, I truly appreciated his presentation. Also, several of us went to a dinner and flamenco dance-wow!! And our farewell dinner with the guitar making experience and guide's singing."
Vicki
Seattle, WA
Tour: 11/24/13
Overall rating:
Knowledgeable, enthusiastic & personable guide mixed with a good group of people - my first trip to Europe ever, Federico made it easy by handling all the details. i enjoyed Barcelona & Spain more than expected because of the art & history lessons added by Feddie. Sometimes I wished for more time at one venue, but that would have meant fewer venues. A tough choice. Guess I'll need to go back
Favorite "WOW" moment
"Must I pick just one? First "wow" was the breakfast buffet at NH Barcelona, OMG! Learning about the history and symbolism behind Picasso's La Guernica was profound & emotional The richness and beauty of La Sagrada Familia is unforgettable"
ElsaAdele
Desmoines, IA
Tour: 11/24/13
Overall rating:
It would have been really nice to have had shuttle pickup at airport for transport to our hotel. I think director should have provided each participant with week itinerary in addition (or instead of) posting it in hotel lobby, so we could check it in evening to prepare for following day activities.
Favorite "WOW" moment
"Prado Museum and Gaudi Apts."
Lisa
Somerville, MA
Tour: 11/24/13
Overall rating:
The Barcelona and Madrid tour was fantastic. Art, history, food, and wine, and an absolutely extraordinary guide in Federico Garcia Barroso--what more is there?
Favorite "WOW" moment
"My favorite "wow" moment was in Madrid at the Reina Sofia when Federico was deconstructing "Guernica" by Picasso. For the first time ever, I felt like I was finally able to look at art without being intimidated. I actually felt very emotional when I "understood" what I was looking at. I truly feel I came away from that particular experience a changed person. Thanks, Federico!"
Jeff
Naples, FL
Tour: 11/24/13
Overall rating:
We did Rick Steve's ROME in april with Ben.. never in our life did we think we would ever find another Ben.. to our surprise.. Federico is AWESOME.. Another Ben. extremely knowledgeable of Spanish history, of sites in both Barecelona & Spain.. and a real character! thanks
Favorite "WOW" moment
"Gaudi's Cathedral (Sagrada Família ) was my top.. gaudi's apartment right up there. museums in both barcelona & Madrid were great.. Prada likewise. Downtown barcelona as the holiday season begun fantastic."
Victoria
Eugene Or, OR
Tour: 10/13/13
Overall rating:
Federico was "The Man"! He did such a great job of providing us with the art, history, architecture, and culture of Spain. He was kind, gentle, funny, fun, and warm and welcoming. It was a great balance of group activity and time for siesta and exploring on our own. He co-ordinated other non tour activities (such as the Flamenco show and bus trip to Monteserrat) that made it so easy for us. It was very educational as well as fun. I feel like I know so much more about Spain then when I came.
Favorite "WOW" moment
"The "Last Supper" where we gathered for our last meal was so very special. Our tour as a group really bonded, so it was fun to enjoy another social gathering with them. But to have the two surprises: the Flamenco guitarist play for us and to have Federico sing Opera for us, that was way over the top special! Lots of laughs and appreciation for a great tour. Also, Federico's passionate discussion of "Guernico" was a real "Wow" moment. Even the guards applauded!"
Frances
Springfield, MO
Tour: 10/13/13
Overall rating:
Never having aspired to visit Spain, and not having any expectations, I was so impressed with the guides in Barcelona, and Federico ...our main "man"in Madrid..."Feddy" loves his country and hometown of Madrid...he became the "artists" for us with his creativity, and entertained us with his wit, and lovely tenor arias! I had no expectations...and was not disappointed...the food, museums, history, and group activities were fabulous...Toledo was the cherry on top...I loved every minute!
Favorite "WOW" moment
"...the Flaminco Dancing in Madridr...it was awesome, and so entertaining...I am so glad it was offered, and so close to our lovely hotel, Hotel Opera...actually, the hotels were fabulous (especially Barcelona's breakfast) 2nd, the Sagrada Familia and it's history and progress were awesome...The beautiful scenery and drive into Toledo was also breath taking and beautiful...a must for travelers...I also loved the Spanish guitar demo in Madrid..I will treasure my memories and experience...Thank you"
Barbara
Stockton, CA
Tour: 10/13/13
Overall rating:
The tour was a wonderful experience for me. I was the only person in the group that did not come with a family member or friend, but everyone was very kind and always made sure that I was always included in free time activities. I also love that the tour group included an age mix from 20's to 70's!
Favorite "WOW" moment
"Well, that is difficult to say. For me the whole trip was a wow! Saying that, I think the farewell dinner in Madrid was certainly a wow from start to finish."
Amanda
Tulsa, OK
Tour: 10/13/13
Overall rating:
This trip was fantastic! I have been on one other Rick Steves' tour to the Heart of Italy so I knew I wanted to do it again. I didn't know very much about Spain so I was intrigued when I saw this trip. I am so happy I went! I learned so much about the art, culture, food, history and my favorite, wine! Our tour guide, Federico, was so enthusiastic about his country and he taught us so much. I also loved everyone in our group.
Favorite "WOW" moment
"My favorite "wow" moment was when we went to the Sagrada Familia in Barcelona. The church was amazing to see inside and out. To learn the history about it and to see it transform before your eyes was magical! I hope to go back one day when it is finished, hopefully, in my lifetime!"
Katherine
Aurora, CO
Tour: 10/13/13
Overall rating:
Second RS tour - Spain just as awesome as Heart of Italy tour. We love that everything is done for us - we need only show up and enjoy. Not a worry in the world. We are planning our next trip. Very telling- 22 folks on this tour - most had been on multiple RS tours previously. One couple was on trip #8!
Favorite "WOW" moment
"There were many, but the architecture, everywhere, was beautiful. LaSagrada Familia leaves one speechless"
Araceli
Emlenton, PA
Tour: 10/13/13
Overall rating:
We could have not asked for a better experience.This trip truly enriched our lives!
Favorite "WOW" moment
"There were several moments in this trip, foremost of which is the view overlooking the city of Toledo.Others include:being inside the Basilica de la Sagrada Familia, seeing the evolution of Picasso by his paintings, the richness of the cathedral in Toledo and Federico's kindness and generosity in showing us the building where Dr. Jose Rizal, the national hero of the Philippines ,lived when he studied in Madrid."
Rose
Portland, OR
Tour: 09/29/13
Overall rating:
Dear Rick: Your guides are picked so well. I don't believe we can have a bad Rick Steve's tour. Nygil was sweet, passionate, kind,diplomatic and knowledgable. We could only wish for Rick Steve's beyond Europe. I can vision you in New Zealand, Australia, Japan, and China. You probably shudder at the thought. However my traveling plans go well beyond Europe. We love Spain and have more to explore in the coming years and we will always use Rick Steve's tours. Sincerely Rose
Favorite "WOW" moment
"Dear Rick: I have to say the wow moment is once again the guides. They are the one variable..the sight s will pretty much stay the same but without the right guide they don't come to life...both Nygil and Frederico and our guide in Toledo whose name escapes me (I have to meet someone twice to remember their name) did just that they made the whole tour come alive. you can't ask for more wow than that."
Margaret
Twinsburg, OH
Tour: 09/29/13
Overall rating:
I thoroughly enjoyed this tour. It was well-organized from start to finish, with just the right blend of guided tours and 'on my own' time. I like traveling with a small group and my 'tour buddies' were wonderful - fun, friendly and good-humored. My tour guide (Nygil) was great. This was my first Rick Steves tour and Nygil was such a great guide that I plan to book more RS tours. Thank you for a wonderful experience!
Favorite "WOW" moment
"My favorite moment was not so much a big 'WOW' as it was a moment of great contentment and well-being. We had completed the tour of the Casa Mila and stopped at a cafe on the Paessig de Gracia for lunch. It was a beautiful fall day, and we sat at our table for a long time, enjoying our lunch and the great people-watching, and just marveling that we were in such a wonderful place. A perfect experience!"
Daphne
Sacramento, CA
Tour: 09/29/13
Overall rating:
My husband and I loved this tour and highly recommend it. Our guide was wonderful., and we had a great group of 24. We liked both hotels, and the food at dinners with the group was quite good. There was a nice balance between free time and structured time. All the food we ate was balanced by all the walking we did. We learned a lot from our guide and the local guides. Loved all the sights, enjoyed the museums and the day trip to Toledo.
Favorite "WOW" moment
"It is difficult to pick a favorite."
Ronald
Saskatoon, SK
Tour: 09/29/13
Overall rating:
we had a great time with our fellow travelers and our tour guide was the best. The balance of tours and free time was almost perfect.
Favorite "WOW" moment
"I cant pick one moment or event from our time in Barcelona each day was special."
Stephen
Kirkland, WA
Tour: 09/29/13
Overall rating:
OUTSTANDING!!! everything was special including nygil,city tour guides and accomodations. couldn't have been better orchestrated.
Favorite "WOW" moment
"holy toledo and our tour of the national museum with sonia was extra special."
Toni
Royal Oak, MI
Tour: 09/29/13
Overall rating:
I can honestly say that I had another fantastic tour experience. That makes three in a row. How is that possible? One, Nygil is fantastic. We began our tour meeting with a very welcome wine and cheese get-together. I felt like I was in more than capable hands. Two, Nygil is friendly, passionate about Spain and his work, and he made us all feel relaxed and ready to learn and enjoy the city/country. Three, I was blessed to be in the company of another amazing group of people.
Favorite "WOW" moment
"So very many...I know you read/hear that all the time. It was seeing La Sagrada Familia. We were coming out of the metro, and I literally turned around and it stood right behind us. I had never seen anything like it. It was like a giant sand castle cathedral."
Jane
Tacoma, WA
Tour: 09/15/13
Overall rating:
Overall the tour was wonderful. Our guide Nygil was perfect and the group was such a good mix of people. Barcelona was great and Madrid was even better. The day trip to Toledo was really nice. The bus ride back was fun - including the "final exam" given by Nygil.
Favorite "WOW" moment
"Seeing Picasso's Guernica. I was introduced to this work in an art class many years ago and it made an impression. Having the opportunity to see it and have the history told by our local guide Fredrico was amazing."
Jack
Tacoma, WA
Tour: 09/15/13
Overall rating:
Good experience. Good tour guide. Good group. Too much Gaudi.
Favorite "WOW" moment
"Frederico's tour of the Prado."
Barbara
Seattle, WA
Tour: 09/15/13
Overall rating:
This was my third Rick Steves' tour and the best so far. It was the people who made it so special. We all bonded during the trip and really wanted to know each other. I think that Nygil contributed a lot to the group dynamics because he is so open and friendly with everyone. And he is a lot of fun to be around. His enthusiasm and acceptance of everyone is infectious.
Favorite "WOW" moment
"My favorite "wow" moment was in the Picasso Museum in Barcelona when I saw the early realistic paintings by Picasso. It really helped me understand his genius."
Angela
Flossmoor, IL
Tour: 09/15/13
Overall rating:
This was my first RS tour and would highly recommend any tour of Spain that included Nygil Murrell as the guide! He was attentive to all and had an extraordinary attention to detail that make an ordinary vacation memorable. As a side note, we had many food sensitivities in our family, and he was mindful of all. No food mishaps on a trip is always a plus for us (and often times hard to avoid)
Favorite "WOW" moment
"The first view of Toledo!!!!! The special rooftop visit in Madrid that Nygil arranged for us in Madrid"
David
Denver, CO
Tour: 09/15/13
Overall rating:
We had a wonderful time - better than we could have expected. We enjoyed having the time to get to know two beautiful cities in Spain with very different histories and styles. A day trip to the incredible city of Toledo really topped off the experience. Nygil, our tour guide, was outstanding. He was very comfortable with the group and obviously very knowledgeable about the cities. I was particularly impressed by his ability to connect with each and every member of the group.
Favorite "WOW" moment
"The visit to La Sagrada Familia was very special -- something I will never forget. The scope of the undetaking and the incredible colors with the sunlight shining in the interior set it aart for me. I want to return when it is finished (hopefully by 2026). Toledo was also a real "must see.""
Thomas
Columbus, OH
Tour: 09/15/13
Overall rating:
The tour was superb. Nygil was a great tour guide-make sure you work hard to keep him.
Favorite "WOW" moment
"Toledo was exquisite. I really had not known anything about it before touring Spain."
Beverly
Fuquay-varina, NC
Tour: 09/15/13
Overall rating:
The tour was fabulous...well organized, just enough time in each city and I loved that Toledo was included for a day! We had a great group who all seemed in tune with the Rick Steve's style of travel. Loved the sites that were chosen for each city. The tour seemed to do a good job of highlighting the best of both cities!
Favorite "WOW" moment
"A few "wow" moments...some involving panoramic views! 1) Sagrada Familia-what an amazing architectural wonder! I've never seen anything quite like it. 2) Heading into Toledo, the bus pulled over and we were able to photograph beautiful, panoramic views of Toledo 3) Climbing the twin towers of Iglesia de los Jesuitas in Toledo! Beautiful from up there! Glad Nygil told us about it. You really should add this to your tour book! 4) The beautiful view of Barcelona from Montjuic"
Scott
Seattle, WA
Tour: 09/15/13
Overall rating:
This was the experience of a lifetime for us. Very comfortable hotels, well thought-out daily tours, great dining. I felt that Nygil was the best possible tour director. He had enthusiasm, charisma, a wonderful sense of humor, extensive knowledge of the culture & language, and great familiarity with Barcelona and Madrid. I noticed he also had a heightened sense of 'group awareness'; he made sure every individual was spoken to and included.
Favorite "WOW" moment
"The most awe-inspiring for me was experiencing La Sagrada Familia."
Morris
Seattle, WA
Tour: 09/15/13
Overall rating:
The tour itinerary was great...but what made the trip one not to forget was our guide, Nygil! He was fantastic in keeping the tour interesting, helping to form a real 'group' out of people who had never met, went out of his way to include those who were less extraverted and had local guides who knew their material, made the history of the day come alive and were fun to listen to and follow. A wonderful experience!
Favorite "WOW" moment
"Seeing the church and other building created by Gaudi...and having the guide give explanations of how he saw reality and expressed it in his work."
Ned
The Dalles, OR
Tour: 09/15/13
Overall rating:
I love Spain and the people that we met. Excellent guides, courteous people for the most part. The Spaniards are handsome people. Just the right amount of free time. Spanish food and wine were excellent. The wine was especially tart, light, and inexpensive. I loved the fast train to Madrid.
Favorite "WOW" moment
"I had many WOW moments/ The most profound was our tour of the interior of Gaudi's La Sagrada Famila. I had seen many pictures of the exterior over the years, but the interior was spectacular."
Kim
Medina, OH
Tour: 09/08/13
Overall rating:
The tour of Madrid and Barcelona concentrated on the Spanish artists and architects as well as the history of the Spanish culture. Our tour guide did a fabulous job on tying together the political situation of Spain at the time of each individual artist (Picasso, Dali, Goya, El Greco, Vazquez and others) and helped us understand their works in relationship to the times they lived and painted. The free time given allowed time for shopping, exploring and relaxing.
Favorite "WOW" moment
"The "Wow moment" actually had to be defined as "Wow moments"! Those moments would be the churches and Cathedrals we visited. Of course La Sagrada Familia was overwhelming. Exiting the subway and turning around to see the imposing building right in front of us was awesome. The stained glass, the architecture, the carved statues and the immenseness was fabulous. Then there was the Cathedral in old town Barcelona and the Cathedral in Toledo with the art and stained glass. Wow!"
John
Virginia Beach, VA
Tour: 09/08/13
Overall rating:
Just a great experience! Very well organized tour with a superb guide, Federico, backed up by several great local guides. In addition to the organized tours of cultural sites, we had plenty of time to explore on our own. The hotels and transportation accommodations were great. I would highly recommend this tour to anyone interested in learning more about Spain, its people and its history.
Favorite "WOW" moment
"As an architects, the single best moment was the visit at Sagrada Familia in Barcelona, but overall, the best feature of this tour was our guide."
Patti
Santa Ana, CA
Tour: 09/08/13
Overall rating:
Favorite "WOW" moment
"Although we had several "wow" moments, I think my favorite one was when we came out of the metro with our local guide and she told us to turn around. Towering up before us was the amazing Sagrada Familia - WOW! What a great introduction to Gaudi."
Midge
Fort Worth, TX
Tour: 09/08/13
Overall rating:
It was an excellent tour, with many wonderful and unique "surprises." For example, viewing a demonstration of how the Spanish guitar is built and Frederico's awesome vocal performance at the group dinner were unexpected delights!! In addition, each of the tour guides' depth of the culture and history of each location added to my personal knowledge of each city, made the tour more meaningful and has created incentive for me to do my own research.
Favorite "WOW" moment
"Frederico's "performance" at the Prodo was unforgettable!! He was so organized and prepared throughout the tour. Frederico's sense of humor was great!!"
Meredith
Newport Beach, CA
Tour: 09/08/13
Overall rating:
I've been on many trips with OAT, elder hostel, and mt travel sober and this trip surpassed all! Guide Fredriko was fabulous, loved the personal mikes, guidebooks which helped me plan my trip, walking tour of Venice and grand canal I used on my iPod in two days before trip when I was by myself. Loved the no tipping, and. Fact we didn't feel obligated to shop. Best part was the art-- fulfilled my dreams and I even got to go to the sorrolla museum in Madrid--- my main reason for this trip.
Favorite "WOW" moment
"Prado, Sophia and sorrolla museums and the inside of the sangria familia"
Anne
Virginia Beach, VA
Tour: 09/08/13
Overall rating:
Our first trip to Europe, in 2007 was to Italy, using our Rick Steves' guide. While we felt very well prepared and had a great trip, we wanted to try a RS tour. So in 2011, we took a RS Scotland tour and now we don't think we will ever go on our own. We loved the Scotland tour so much that we didn't think the Barcelona/Madrid tour would live up to it, but lo and behold, it surpassed our expectations and has become our favorite. We are confident we will feel the same about future planned RS tours
Favorite "WOW" moment
"It's hard to isolate my favorite "wow" moment because there were so many. As an artist, I would have to say that the impressive, monumental detail of the outside and the powerful artistic flowing patterns of the inside of the Sagrada Familia was the most awe inspiring for me."
Kathleen
Cincinnati, OH
Tour: 06/16/13
Overall rating:
This was my first Rick Steves tour and I have already recommended it to many friends and family. I loved it and will definitely be back for more.
Favorite "WOW" moment
"While I loved all that I saw in Barcelona and Madrid (wouldn't want to miss anything there!) my favorite part of the trip was Toledo for its' charm and countryside. To me, it said Spain!"
Weather

Spain / Barcelona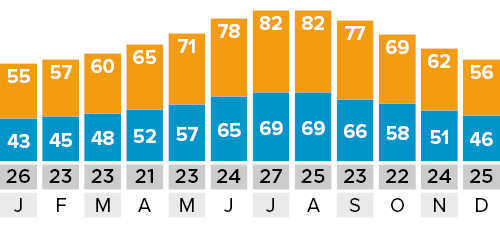 ---
Spain / Madrid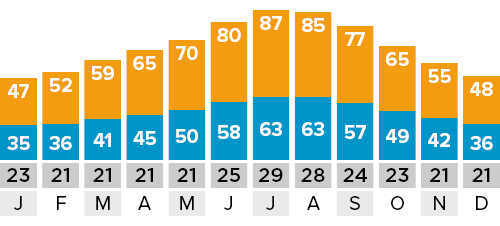 Pre-Tour
We've put together some specific information on what you should know about this tour before you go. You'll also find more general information about "Getting Ready for Your Tour" on our Tour FAQ.
Sightseeing On Your Own
If you arrive in Barcelona before your tour begins, use Rick Steves' Spain guidebook to get oriented. Ride the public transportation, try out a few words of Spanish and get over your jet lag with lots of fresh air and exercise.
Here are suggestions for sightseeing in Barcelona that we do not do as a group: City History Museum, Catalan Concert Hall, Fundació Joan Miró, Maritime Museum, and Parc Güell.
If you are interested in attending zarzuela, the Spanish light opera, during or after your tour, you may want to check the schedule and buy tickets before leaving home. More information can be found in Rick Steves' Spain guidebook; schedules and booking information are at http://teatrodelazarzuela.mcu.es. For additional sightseeing after your tour, see your Rick Steves' Spain guidebook for suggestions. Your guide will also be happy to help you with your post-tour plans.
Transportation
Most tour members arrive a day or two before the tour begins — and those who don't, wish they had. This allows you ample time to get over jet lag and make the most of the first few days of the tour.
There is more than one way to get to and from your tour. We recommend talking to your travel agent about "open jaw" airline tickets (flying into and out of different cities). Barcelona and Madrid are transportation hubs, making additional travel before or after your tour quite easy.
For information about flying within Europe, ask your travel agent or check Rick's list of European budget airlines.
Read Rick's train travel and rail pass tips and decide if your travel plans merit a rail pass.
Prior to your tour departure, you will receive detailed directions on how to get from the airport to your first tour hotel, as well as contact information for your first and last hotels in case you wish to book pre- or post-tour hotel accommodations.
If you need more information about additional European travel or for specific questions about your tour, contact the Tour Department at 425/608-4217 or email tour@ricksteves.com.
Trip Resources
Learn more about Barcelona and Madrid: Check out a collection of Rick's TV shows, radio interviews and articles, plus find a list of recommended books and movies.
Packing
For ideas on what to pack, check Rick's Packing List and our Women's Packing List.