Brandenburg Gate in Berlin

Berlin Wall

Prague's Old Town Square

Charles Bridge in Prague

Český Krumlov, Czech Republic

Vienna's Café Scene

Belvedere Palace in Vienna
Tour Questions? Call 425-608-4217
Best of Berlin, Prague & Vienna in 12 Days Tour
Any listing of Europe's great cities must include these three, where a banquet of travel thrills awaits you. Beginning in Berlin and ending in Vienna — with Prague, Dresden and the Danube in between — our dozen-day adventure explores the very heart of Europe. From the music of Strauss to the dynasty of the Habsburgs and the idealism of the Velvet Revolution, these remarkable cities have sparked the dangers, hopes, and beauty of Europe — yesterday and today. Join us for the Best of Berlin, Prague & Vienna in 12 Days!
Dates & Prices
What's Included
A small, friendly group of 24-28 people — half the size of most tour groups
Full-time services of a professional Rick Steves guide and local experts who will make the fascinating history, art and culture of Berlin, Prague and Vienna come alive for you
All tours and admissions — at no extra cost — covering at least 19 group sightseeing events • Historic Berlin walking tour • East Berlin and Jewish Sites walking tour • Otto Weidt's Workshop (when available) • Deutsches Historisches Museum tour • Dresden walking tour • Frauenkirche • Nelahozeves Castle visit • Terezin Memorial tour • Historic Prague walking tour • Prague Castle tour • Jewish Museum in Prague pass • Český Krumlov Castle and Baroque Theater tour • Melk Abbey tour • Danube cruise • Historic Vienna walking tour • Vienna Opera tour (when available) • Hofburg Treasury • Vienna Art Nouveau walking tour • Belvedere Palace tour...and more
All group transportation from Berlin to Vienna
11 nights accommodations (all but two are 3-night stays) in memorable, centrally-located hotels
All breakfasts and half your dinners
All tips for guides and driver
Free stuff including three guidebooks (Rick Steves Snapshot Berlin; Prague & Czech Republic; and Vienna, Salzburg & Tirol), German phrase book, map, moneybelt and earplugs
Guaranteed tour price, locked in the moment you make your deposit
Optional single supplements — this tour has a limited number of private rooms for solo travelers for an additional fee
Tour alum discount of $50 for each tour you've taken prior to 2015
50% discount on a consulting appointment with our in-house experts to assist with your pre- or post-tour travel plans
Flexibility should you need to transfer, or cancel/interrupt your tour
Fine print: You are responsible for the cost of your drinks and free-time sightseeing. See our Tour Conditions Agreement for important details regarding everything listed above
Itinerary
Daily Activity Key
Light = 2-4 miles of mostly level walking throughout the day.
Moderate = 2-6 miles walking throughout the day with some hills and stairs.
Strenuous = 2-8 miles walking throughout the day with lots of hills, stairs and uneven terrain.
Day 1: Welcome to Berlin
We'll have a "Welcome to Berlin" meeting around 5 p.m. at our hotel in the Prenzlauer Berg neighborhood. On our way to dinner together, we'll get oriented to this up-and-coming corner of the former East Berlin, and learn to use the city's public transportation system. Sleep in Berlin (3 nights). No bus. Walking: light.
Day 2: Berlin's Historic Heart
We'll begin our day with a walking tour through the historic heart of Berlin. At the Brandenburg Gate, we'll hear how locals felt on the day in 1989 when the Berlin Wall suddenly became irrelevant. We'll continue our walk with a stop at Checkpoint Charlie, and then focus on Germany's reunification and how Germans view their place in the EU today. For the rest of the day, you'll be free to explore the city with time to spare for discovering a neighborhood beer garden. No bus. Walking: strenuous.
Day 3: Today's East Berlin
This morning we'll hop on a tram to Hackescher Markt and explore ever-changing East Berlin. We'll see a once-destroyed Jewish neighborhood now renewed with a flourish, an island dedicated to world-class museums, and the site where the Nazis burned 20,000 books. We'll finish our afternoon with a guided tour of Berlin's highlight-packed Deutsches Historisches (German History) Museum before setting you free steps away from the Spree River. No bus. Walking: strenuous.
Day 4: Resurrected Dresden
Today we'll board our bus and head south to delightfully Baroque Dresden. We'll start our visit with a walking tour of the reborn-from-the-ashes city, including the city's greatest symbol of pride: the inspiring Frauenkirche, destroyed during WWII and rebuilt since the 1990s with donations from around the world. From there you'll be free to contemplate the priceless pieces in the Zwinger Museums' Old Masters Gallery, Royal Palace, or Green Vault. Sleep in Dresden (1 night). Bus: 3 hrs. Walking: moderate.
Day 5: Terezin and Prague
We'll continue south to the Czech Republic today, stopping in the fortified town of Terezin, which was converted into a concentration camp in 1941. Today it's the Terezin Memorial, and we'll go inside to learn its story. Just down the road, we'll find a completely contrasting experience in Nelahozeves, birthplace of Czech composer Antonín Dvořák, where we'll stop for lunch and a tour of the Renaissance castle perched high above the Vltava River. Later this afternoon we'll arrive at our hotel in Prague's Baroque Old Town. After settling-in, we'll take an orientation walk through the Old Town, including the wonderfully pedestrian Charles Bridge, and enjoy dinner together. Sleep in Prague (3 nights). Bus: 5 hrs. Walking: moderate.
Day 6: The People's Prague
We'll enjoy a full morning of sightseeing with our local guide, beginning with a walking tour of the Old Town Square. After learning about the Velvet Revolution, the people's march that toppled the Communist regime in 1989, our morning will end in the proudly-preserved Josefov neighborhood, with its Old Cemetery and historic synagogues. The rest of the afternoon you'll be free to explore more of the Josefov neighborhood (with your Jewish Museum in Prague pass), visit the Mucha museum, or make your own discoveries in Prague. No bus. Walking: strenuous.
Day 7: Royal Prague
This morning we'll hop on a local tram to take us across the Vltava River and up the hill to the most massive castle complex in continental Europe: Prague Castle. We'll tour the impressive St. Vitus Cathedral, Old Royal Palace and Golden Lane. Is Prague really home to the best beers in Europe? We'll find out by sampling one during lunch together at a local brewery, followed by free time for more sightseeing on your own. This evening will be a great time to catch a classical concert in one of Prague's many venues. No bus. Walking: strenuous
Day 8: Delightful Český Krumlov
Today we'll hop on our bus and head for the centuries-old town of Český Krumlov. Our first stop is the castle fortress and one of Europe's best-preserved, and still-functioning, 18th-century Baroque theaters. Later this afternoon you'll have time to explore this photogenic old town of quaint shops and cobbled lanes — maybe even rent a canoe. We'll feast on locally-caught trout for dinner, and sleep in Český Krumlov (1 night). Bus: 3 hrs. Walking: light.
Day 9: Melk and Vienna
After an early morning drive to the Danube Valley, we'll tour the artistic treasures and Baroque wonders of Melk Abbey and cruise Austria's prettiest stretch of the Danube: the Wachau Valley. Then we'll set course for the one-time capital of a powerful empire — and our tour's grand finale — Vienna. Tonight, we'll enjoy an orientation walk, followed by dinner together. Sleep in Vienna (3 nights). Boat: 2 hrs. Bus: 5 hrs. Walking: moderate.
Day 10: Habsburg Vienna
Let's begin with a walking tour of Vienna's Art Nouveau architecture and the lively Naschmarkt produce market. Then we'll continue with a tram ride out to the elegant Belvedere Palace for a tour, including a roomful of Gustav Klimt's wildly-gilded — he called them erotic — paintings. (Ponder The Kiss and decide for yourself.) Your afternoon is free to explore a world-class museum or two, or slow down to enjoy sipping a coffee in the city where Europe's café scene was born. No bus. Walking: moderate.
Day 11: Artistic Vienna
This morning we'll take a walking tour from Stephansplatz to the elegant Opera House while learning of the 640-year rule of the Habsburg Empire. We'll take in the dramatic architecture and history of the Opera House (when available) and be blinded by the stunning collection of royal regalia at the Hofburg Treasury. The rest of your day is free to explore more of Vienna's highlights, and maybe stop to savor every chocoholic's dream: Viennese Sacher-Torte. Tonight we'll meet for our last dinner together at a traditional Viennese heurige, where we'll share travel memories and toast new friends. Prost! No bus. Walking: moderate.
Day 12: Tour Over After Breakfast
Breakfast is provided, but there are no group activities today. It's a breeze to reach Vienna's airport by shuttle, bus or taxi. You'll have easy connections to home, back to Prague, or on to Budapest and other points in Europe. Auf Wiedersehen!
Itinerary specifics subject to change.
Activity Level
Our tours are physically active! It's an essential part of the Rick Steves tour experience. On our Best of Berlin, Prague & Vienna in 12 Days tour — among other things — you'll need to happily...
Carry/roll your luggage over uneven pavement (possibly several blocks) and up stairways to reach your hotel; then up several flights of stairs to reach your room.
Be on your feet, walking and standing for up to three hours, indoors and outdoors, in all weather conditions.
Sleep with street noise and no (or weak) air conditioning.
After orientation and transportation lessons, be able to navigate towns and cities on your own.
Reviews
Daniel
Durham, NC
Tour: 09/29/14
Overall rating:
As this was our first tour ever, we approached it with some trepidation. We couldn't have been more pleased. It was well organized and an excellent value. We experienced and learned much.
Favorite "WOW" moment
"Berlin as a whole. It has played such a significant role in recent world history. It was a wonderful experience to finally be there and see where it all happened."
Julie
Woodland, CA
Tour: 09/29/14
Overall rating:
Incredible tour - exceeded every expectation I held. The itinerary was fast paced but included so much. The focus on 20th century history in Berlin, Dresden and Prague filled in so many spaces for me growing up post-WWII. It was a great group of fellow tour members and we had the greatest guide, Fabian who just gave the right touch to blending past and present.
Favorite "WOW" moment
"Berlin - I wasn't expecting to learn so much about the German people and their lives before, during and after the Nazi atrocities. Seeing unified Berlin and learning about life under communism in the Eastern part was jaw-dropping."
William
Woodland, CA
Tour: 09/29/14
Overall rating:
Exhausting at times. Painful at times. Fantastic most times. Difficult to believe our guide got us to so many interesting places so efficiently. Even the rest stops were interesting. Each city is special in its own way, and should we desire to revisit one, I now have confidence that we could do very well on our own. Pre-tour the level of confidence was zero. The free time usually worked very well with finding things particularly interesting to us. My European horizons have been greatly expanded.
Favorite "WOW" moment
"Two, actually. Waltzing in the ballroom adjacent to the hotel in Vienna. "Wow. We did it. We walzed in Vienna." Getting into the U Flek? "brewpub" in Prague. Long shared tables, old decor, prompt service, accordian player with some drinking songs, and the best beer I had on the trip. Wow! http://www.ratebeer.com/p/u-flek367/1652/"
Kathryn
Durham, NC
Tour: 09/29/14
Overall rating:
Although my husband and I have been to Europe several times, this was the first tour of any type we have taken. We chose a Rick Steves tour because we were not interested in being herded behind a flag like so many other tours we have seen through the years. We were very pleased with the tour. Our guide, Fabian, was extraordinarily knowledgeable and well-prepared, and made the tour fun as well as informative. The arrangements were seamless. Thank you!
Favorite "WOW" moment
"The first night in Prague was so memorable, gazing at the castle in the evening light and having going on the orientation tour in the evening through the medieval lanes. It was exotic!"
Nancy
Grand Rapids, MN
Tour: 09/29/14
Overall rating:
This trip perfectly filled my expectations - great guide, terrific educational exploration of each city, including getting to know the city's public transportation system, loads of time to ourselves and a wonderful group (small) of like-minded travelers. Fabian's first hand experiences of Berlin before and after the wall were priceless. His love of history and his country was apparent and made the tour that much more exciting.
Favorite "WOW" moment
"I loved Prague...and expected to before I got there. And my "wow" moment happened there (if I really must have only one). Several of us bought concert tickets at a small concert hall. When we arrived, we found ourselves in a room of 65 seats where Beethoven and Mozart had played. We listened to a beautiful 9 piece string orchestra (plus a guest violinist) play 6 selections, most of which were familiar to our ears. We were transported back in time for an hour. Wow."
Michael
Saint Charles, MO
Tour: 09/29/14
Overall rating:
Great opportunity to visit three cities, each different, but each steeped in history. Lot's of learning opportunities, with much of the subject matter being somewhat grim, but especially important given its relative timeliness. Wonderful group of fellow travelers. Guide was top notch.
Favorite "WOW" moment
"In Berlin I had opportunities to tour the Reichstag and the Pergamon Museum to see the Pergamon Altar. Both really remarkable. I enjoyed Berlin especially due to its many museums. The Jewish Museum was well worthwhile too. I appreciated that as we exited Berlin we could see the East Side Gallery and stopped at the Sobiet Monument."
Tony
McKinney, TX
Tour: 09/29/14
Overall rating:
This was our second Rick Steves tour and we enjoyed it every bit as much as our first. Everything was very well planned and laid out. Our guide Fabian was simply outstanding. His knowledge of the history, current events, and the folklore of all the areas we visited was just incredible. He provided a good mix of history, art and local customs. Even knew the top three beers for us to try in Prague, and we enjoyed trying them all! Fun, fulfilling, educational experience. Ready for the next trip
Favorite "WOW" moment
"Had two. 1) I was really impressed by all of our guides in addition to Fabian. The knowledge and ability to share was one of the top things of the tour for me. Very impressive individuals. 2) I was overwhelmed by how much Berlin has changed since the fall of the wall. My last visit was 5 years before the reunification and I was amazed. Wasn't sure what to expect but was just in awe of how things had progressed in what was "East Berlin"."
Julie
Baltimore, MD
Tour: 09/29/14
Overall rating:
Well organized; excellent group and city guides; good food; good hotels; excellent bus and driver. I was very pleased with the accommodations for and inclusion of a solo traveler into the group, both by our guide and by my fellow travelers.
Favorite "WOW" moment
"I don't have a "wow" moment but I was tickled to see the Prague Defenestration window, albeit from a distance and over the heads of lots of other people. On my own, I visited the German Film & Television Museum in Berlin (fantastic with full information in English and German), the German History Museum (I managed 500D to 1648AD, before getting kicked out at closing time), and in Vienna, I visited the Austrian National (Court) Library[INVALID]a Baroque barrage so different from the usual churches."
Nancy
Lyndhurst, OH
Tour: 09/22/14
Overall rating:
Each of my three Rick Steves' tours has given me a different overall outlook. This tour's take away was a much better and cohesive understanding of people and their histories in the regions of Germany, Czech Republic, and Austria. At last, it fits together because of the excellent guides who talked about today's attitudes as well as those in the past.
Favorite "WOW" moment
"Not a happy "wow," but walking in the Prenzlauer Berg neighborhood in the former East Berlin, seeing the actual sections of the Berlin Wall and reading the markers that made it all so real, getting off the tram at Zionskirche where Bonhoeffer worked. Today's Prenzlauer Berg is a vibrant neighborhood where people live and play alongside sobering markers in the same way we all live with our past."
Celia
Boise, ID
Tour: 09/22/14
Overall rating:
Jana and the tour guides in each city were very good. The hotels were typical of RS tours so centrally located and clean but not fancy. The food served at most of the group dinners was disappointing. The cities are very interesting and well worth visiting. Be prepared for a lot of history about the Nazis and the Holocaust during the stay in Germany, especially in Terezin. Prague and Cesky Krumlov are lovely but our favorite city was Vienna.
Jerry
Bellevue, WA
Tour: 09/22/14
Overall rating:
Jana was great start to finish
Favorite "WOW" moment
"Prague castle"
Rebecca
Concord, CA
Tour: 09/22/14
Overall rating:
This was a good tour for people wanting to experience more time in big cities with minimal bus time. However, I personally enjoyed the side trips we made away from the cities more.
Favorite "WOW" moment
"I loved the visit to Terezin Concentration Camp. Actually being able to walk around and be present at a site where such atrocities took place had a profound effect on the way I will view these events in history from this point forward. It not only informed me, but moved my spirit. Not many places can do that."
Brendan
Toronto, ON
Tour: 09/22/14
Overall rating:
Enjoyed the high energy pace. Never a dull moment. Good tour director (Jana) and local guides. Loved the group members on the tour. Couldn't find better people to travel with.
Favorite "WOW" moment
"The bustling Charles Bridge in Old Prague. Lots of people, tourists, vendors and the night scene. Quite a festive atmosphere."
Bill
Birmingham, MI
Tour: 09/22/14
Overall rating:
Each of the places that we visited was interesting. There was no place that I would have skipped. The 3 major cities Berlin, Prague and Vienna are completely different from each other. Jana did a great job explaining the history, culture and customs of each location. She taught us how to use public transportation, which gave us more freedom. The tour provides a sample of what each place has to offer. Now, I want to go back as an independent traveler.
Favorite "WOW" moment
"The "wow" moment was Prague. We were in Prague in 1972 as independent travelers. What an amazing contrast. It was great to see the prosperity of Prague today. The people are happy. Prague is vibrant and beautiful. Freedom cures almost everything!"
Susan
Bothell, WA
Tour: 09/15/14
Overall rating:
First off Hana was the most amazing tour guide and I belive gave all of us an extra special tour. Thus was a trip I wanted to follow for the past 3 years and it was worth the wait. The tour guides, Bob our bus driver, food and hotels were all exceptional.
Favorite "WOW" moment
"Without a doubt Vienna and I particularly loved the tour of the opera house. We were able to go backstage which was an extra wow moment."
Anthony
Seattle, WA
Tour: 09/15/14
Overall rating:
I like the format of local group walking tour in the morning, and personal time in the afternoon, with some evening dinners shared together. This worked pretty well in Berlin, Prague and Vienna. The tour guide Jana was great; she provided a surprise at just about every stop along the way, and was very helpful in answering questions about things to do and see on our free time. The local guides were also pretty good, and quite knowledgeable about the local history of each place we visited.
Favorite "WOW" moment
"Hard to say. Really liked the visit to the Reichstag dome in Berlin, walking around the Prague Castle, the last dinner in Vienna, and some of the music concerts in Prague and Vienna. (The Four Seasons concert in Charles Kirke on the last night was especially memorable.)"
Roselee
Seattle, WA
Tour: 09/15/14
Overall rating:
We had a very positive experience with Rick Steve's Travel. I doubt I could expect more. It was very well organized, and it was enriching to have a group of people to share the experience with a guide, as well as to have the freedom to have time to do whatever was not part of the scheduled tour.
Favorite "WOW" moment
"There were many `wow' moments. I loved the Pergamon Museuem with its Isthar Gate, the Allepo Room and all the antiquities. East Berlin was amazing, enriched by the Berlin tour guide. Prague was `wow' for the history, Prague castle, Old Town,and the music opportunities. We went to an amazing concert in the beautiful Municipal building with its art nouveau interiors. Cesky Krumlov for its authentic setting, castle and garden Vienna-last concert before leaving for home was amazing."
Mary
Burlington, VT
Tour: 09/15/14
Overall rating:
My tour experience was amazing. The three major cities really complimented each other. Berlin that never sleeps. Praha and it's old world elegance. Vienna a truly musical city. The ability to be in each city for three days, really made it possible to experience them fully. There was just the right amount of organized tours and time on your own. The Local guides brought the cities to life for us. The accommodations and meals were excellent. This is my third Rick Steves' Tour!
Favorite "WOW" moment
"I had too Wow Moments. I visited Berlin as a Military Member when it was still divided. Being able to stay in 'East Berlin' and then ride a bike on a gorgeous Berlin afternoon around the Tiergarten and right through the Brandenburg Gate was for me way too cool. I also visited Dresden a few years after the "WALL" went down. Seeing the Frauenkirche finally restored was a sight to behold!"
Marguerite
Lakeland, FL
Tour: 09/15/14
Overall rating:
We loved our guide Jana. She was full of information for us, fun, pleasant all the time, and made this trip great for us. The local guides were excellent too. One of them was so enthusiastic about her topic that she talked thru what should have been our lunch time the first day in Berlin, but she was more sensitive to our needs the second day. The hotels exceeded our expectations, although the small European bathrooms take some getting used to.
Favorite "WOW" moment
"I loved hearing JFK 's Berlin speech as we drove past the Berlin Wall"
Barbara
Long Beach, CA
Tour: 09/15/14
Overall rating:
The tour was definitely a learning experience. Our guides immersed us in WWII history. Jana kept us all in line with her good humor and great organization. Our accommodations and dining experiences were all very nice. I particularly appreciate the planned stops on travel days. They are always enlightening and enjoyable and you really don't notice that you've spent much time traveling on the bus.
Favorite "WOW" moment
"I'm afraid I was in love with Prague and wished there were more days to wander this city. We spent one evening at the restaurant at the top of the U Prince hotel and enjoyed the sunset and the lights coming on in the Old Town Square."
John
Hammonds Plains, NS
Tour: 09/15/14
Overall rating:
First tour with Rick Steeves The level of organization without regimentation is impressive! There was none of the "Rush!, we're missing something" that I feared this trip would be
Favorite "WOW" moment
"Several come to mind: -Hey, I'm in Europe and getting along just fine. -All the history, good and bad (Best of all, presented by guides who have lived it!!) -A real good group of people to travel; no 'high-maintenance' folks"
Kathy
Hammonds Plains, NS
Tour: 09/15/14
Overall rating:
This was our first organized tour. We choose a Rick Steves tour based on feedback from friends that have gone on Rick Steves tours. The tour was everything and more. Our expectations were far exceeded. On a rate of 1 - 10, our experience was a 14++. Absolutely NO complaints!
Favorite "WOW" moment
"I could not possibly pin point just one "wow" moment - it was all fantastic."
Barbara
Andover, MN
Tour: 09/15/14
Overall rating:
This was our 1st RS tour although it was my 15th trip to Europe. We really enjoyed the tour. One of our primary motivations for going was to enjoy the company of like-minded people. Success - it was a great fun group. Jana, our guide, was very good as were Carolina in Berlin and Wolfgang in Vienna.
Favorite "WOW" moment
"My favorite was Vienna which was fantastic. Unfortunately, it was pouring rain on the Charles Bridge in Prague."
Frank
Byron Center, MI
Tour: 09/15/14
Overall rating:
To start with Jana was an amazing tour guide. The way she had us learn each others names was great. She was the tour guide but she was also one of us. She never made you feel out of touch. She kept everything on schedule and fun. Our bus experience was great because she always interacted with us in some way or was handing out treats. She knew her history and facts and was great at teaching us and answering questions.
Favorite "WOW" moment
"Nelahoseves Castle with wonderful lunch room, tour and explanation of the furnishings, and wine tasting. This was certainly a gift from the Lobkowicz family and we really appreciated it. Staying in East Berlin and seeing the sections of the wall. The Jewish memorial was very moving--all those gray rectangles with aisles in between. So sad of a time in our history."
Richard
Houston, TX
Tour: 09/15/14
Overall rating:
Excellent tour guide, excellent city/museum tours, interesting sights and experiences, and great fellow travelers in our tour group.
Favorite "WOW" moment
"The were so many "Wow Moments" during this trip, it's hard to pick just one as my favorite, but if I have to pick one, it was the two days of Berlin city walk tours topped off by Jana's recording of JFK's speech while driving past the remains of the Berlin Wall as we headed out of Berlin."
John
San Ramon, CA
Tour: 09/15/14
Overall rating:
Everything stated in the "You'll get all this!" tour information was delivered and more - such as special local city treats and exceptional personal attention by the tour guide.
Favorite "WOW" moment
"The entire tour was my favorite "wow" moment. The personal attention of the tour guide to ensuring that everyone's needs and expectations were met was above and beyond! The rebuilt city of Dresden was particularly spectacular!"
Judy
Broomfield, CO
Tour: 09/15/14
Overall rating:
This tour provided a wonderful balance of guided tour and 'on your own' free time in each city.
Favorite "WOW" moment
"Our 'WOW' moment was when our local Berlin guide, Carolina, was emotionally telling us about her two grandfathers' roles in the German military during WWII. Her captivating narrative parallels the way Germany as a nation seems to be facing the darkest chapters of its history, as evidenced on our tour of Berlin."
Susan
Dallas, TX
Tour: 09/15/14
Overall rating:
Interesting group of travelers who appreciate the Rick Steves philosophy and spirit of travel.
Favorite "WOW" moment
"Hard to pick one moment but the city of Berlin is calling me to return."
Marian
Roseville, MN
Tour: 09/15/14
Overall rating:
Tour guide was very pleasant, friendly and helpful. Fellow tour members were very nice.
Favorite "WOW" moment
"None this year."
Arthur
Seatle, WA
Tour: 09/08/14
Overall rating:
I had a great time. What a wonderful adventure to share with new friends. Once again you provided us with a fascinating and wonderful experience.
Favorite "WOW" moment
"The Brandenburg gate at night. Berlin is beautiful at night and we had a beautiful bike ride through the city on our last evening in the city."
John
Richland, WA
Tour: 09/08/14
Overall rating:
The tour guide was exceptional. She loves what she does and it shows. She made the tour great for us and the other travelers as well.
Favorite "WOW" moment
"The drum and bugle band as we walked down an alley in Prague was exceptional."
Suping
Marlborough, MA
Tour: 09/08/14
Overall rating:
I enjoied all trip time. Especially thanks Jana, she is a excellent guide and take care of our everyone.
Favorite "WOW" moment
"Favorite "wow" moment: many place."
Gary
San Rafael, CA
Tour: 09/08/14
Overall rating:
Good trip. Great lead guide Wonderful local guide in Berlin named Ryan. Hotel accommodations were good This our 2d tour with Sreve's and have very much enjoyed both.
Favorite "WOW" moment
"Visiting the concentration camp outside of Prague, Terazin."
Kevin
Beaverton, OR
Tour: 09/08/14
Overall rating:
A great itinerary! Spending three nights in each of the title cities gives you a real chance to settle in and know the place (especially if you extend at the beginning and end, as recommended). The tour also takes the time to see smaller but equally worthwhile sites between the big cities (Dresden and Terezin, Cesky Krumlov and Melk Abbey), so you feel like you saw everything FROM Berlin TO Vienna, not just Berlin AND Vienna.
Favorite "WOW" moment
"The "wow" moment came in Prague, at a brief stop in front of a small memorial plaque to "17.11.1989". Our tour guide and city guide, both Prague natives, explained the start of the Velvet Revolution and the fall of communism, and then lit a candle in remembrance. It was a reminder that the events that lead to the creation of monuments, from winning a decisive battle to surviving a plague, are far more than just dates in a history book. They had a lasting impact on the people who were there."
Timothy
Kaysville, UT
Tour: 09/08/14
Overall rating:
Jana was excellent! Sites she selected were very good. Local guides were outstanding.
Favorite "WOW" moment
"Learning about communism. Walking tours were always fun."
Sandy
Salt Lake City, UT
Tour: 09/08/14
Overall rating:
Our tour was extremely enjoyable and educational. It was a nice combination of large cities and small towns, while also experiencing three different countries. Our fellow tour members were convivial and well traveled. We had a great guide and the bus transportation was comfortable and not too long between destinations.
Favorite "WOW" moment
"There were many "wow" moments on this trip, but those that stood out were; - a tour of the glass Cupola on top of the Reichstag - the Eastside Gallery of the Berlin Wall - the Memorial to the Murdered Jews of Europe - the library at the Melk Abbey - a performance of the Czech Philharmonic at the Dvorak Music Festival in Prague"
Kathleen
Mt Shasta, CA
Tour: 09/01/14
Overall rating:
This was our first organized tour although we have traveled quite a bit on our own. It was excellent and we will do another tour in the future. We learned a lot which helped us as we continued touring for three weeks after the tour ended. I was pleased with how active the tour was, with the hotels and common meals, and with the quality of the guides. We had a large group, but everyone got along.
Favorite "WOW" moment
"I enjoyed Melk Abbey and the boat ride. I wasn't expecting it and I thought the Abbey was amazing and the ride on the Danube was beautiful. I also liked Cesky Krumlov. My favorite guide was Wolfgang in Vienna. Going to the Opera (standing room only) was incredible, a real wow."
Bob
Mt Shasta, CA
Tour: 09/01/14
Overall rating:
This was our first Rick Steves tour and we LOVED it. Our guides, Jana and Carlos, were first rate. Throughout the 12 days, they were very well organized, thoughtful in anticipating the needs of the group, knowledgeable, and always willing to go out of their way to ensure that the group as a whole, and each of us individually, were well taken care of. The hotels were excellent. We especially liked the fact that they were locally owned and not a chain or a subsidiary of a larger US hotel.
Favorite "WOW" moment
"I think the first time we set our eyes on Prague after dinner when Jana took us to the bridge. The breathtaking site of the castle/palace across the river was stunning...WOW!"
Jeanne
Arlington, VA
Tour: 09/01/14
Overall rating:
Every day was informative, and mostly a pleasure, with a very compatible tour group and delightful leaders. The focus on WWII, the Holocaust, and the cold war in Berlin, and the tour of the Terezin concentration camp were sad and at times overwhelming, but I was very interested in hearing how modern Germans are dealing with this part of their history, and Carolina in Berlin and the local guide at Terezin provided insight and perspective. Everything else was fun!
Favorite "WOW" moment
"I have to list three: seeing the Ishtar Gates in the Pergamom Museum in Berlin (gorgeous), and the first glimpse of the Prague Castle at night when Jana took us to a viewpoint after dinner on our first night there, and attending a performance of The Flying Dutchman at the Vienna Staatsoper."
Janet
Yakima, WA
Tour: 09/01/14
Overall rating:
Overall a very good tour, with lots to do and see, and lots of free time too. We got to cruise on the Danube as part of the tour and that was definitely a highlight for both of us! I know people hate the name game, but Jana did it relatively painlessly and it really helped us to bond as a group to know everyone's names, especially with such a large group.
Favorite "WOW" moment
"My favorite WOW moment was when we were standing in the plaza outside of St. Vitus Cathedral (Prague Castle) and the bells started ringing, and ringing, and ringing, and even Zigmund (the biggest bell in the Czech Republic that only rings on very special occasions) was ringing. I still get chills as I remember it. Second favorite WOW was cruising on the Danube!"
Neil
Mt Shasta, CA
Tour: 09/01/14
Overall rating:
I have taken many tours. Jana was the best tour guide I have ever had. The rooms excellent. My wife and I are vegans. We consistently had pre arranged high quality food appropriate for our diets. We sere favorably impressed and will probably take other Rick Steves tours.
Favorite "WOW" moment
"We loved Berlin and the the Jewish memorials and the guides who brought the sites to life."
Helga
Tacoma, WA
Tour: 09/01/14
Overall rating:
The tour was great and the people fun to be around. The tour guides were helpful, knowledgable and fun. Aside from all of this, I am not sure that I would like to take another multiple stop tour. I have taken your London and Rome tour and really enjoyed them. I did not like paking my suitcase every couple of days and when I look at my pictures, I am not sure which town am seeing. Again, this is not a critizism about the tour, just personal preference.
Favorite "WOW" moment
"Terezin was not a wow moment, but a deeply moving moment. How can my people have done that to anybody?"
Tara
Maryville, IL
Tour: 09/01/14
Overall rating:
This was our first Rick Steves tour although we have used his guidebooks while traveling to Europe for years. The organization of the tour was fantastic and tour guide Jana was excellent along with her assistant Carlos. We have been so spoiled with the ease of seeing Europe that we have already booked another tour for next year. Having 3 large cities; Berlin, Prague and Vienna on the itinerary was a lot since each have so much history. We could not have had the same experience on our own.
Favorite "WOW" moment
"The guide at Terezin was very moving and brought the sad place to life. The itinerary fits nicely together learning from city to city the history of the Halsbergs, the Nazi regime and their treatment of the Jewish community and communism. Seeing the main square in Prague lit up at night and the beauty of Vienna was a WOW moment for me. We really enjoyed our great guides and a great group. We extended the trip to include the Rhine before and Budapest after and it was all beautiful as well."
Sandy
Tacoma, WA
Tour: 09/01/14
Overall rating:
The tour was very well-organized. I only needed to worry about meeting times and places every morning, while all other arrangements and plans were totally seamless. Jana and Carlos greatly enriched the tour experience for me. Their education and backgrounds were perfect complements to the destinations - and the history and culture we learned about at those destinations. They were very personable, open and conscientious.
Favorite "WOW" moment
"Jana's account of her life in Czech - both before the fall of communism and after. I have been exposed to some of the information through books, movies, education, etc., but none of it was as detailed and personal as what Jana told us."
Rich
Seattle, WA
Tour: 09/01/14
Overall rating:
I especially loved the rhythm. Spending the mornings with excellent tour-guides, learning about the context of each environment we were in deepened both my appreciation and hopefully my insight. Having most afternoons and evenings free - having learned a thing or two about context - enriched my twelve days.
Favorite "WOW" moment
"For me - Prague was so beautiful that it was almost overwhelming. But my "wow" moment came from first discovering Bonhoeffer's Church in East Berlin (on my own) but then, through the tour, learning more deeply about the later resistance to the Stasi. My biggest insight was that the horror of communism was in its attempt to erase "memory", all in a futile effort to create the "new man in the new society". This theme played out in East Berlin, and Prague."
Michael
Arlington, VA
Tour: 09/01/14
Overall rating:
This tour was excellent in just about every way. The itinerary, organization, and amenities were all top notch. This is our fourth tour and would have to be at the top regarding all these aspects. In addition, I particularly appreciated the guide and assistant's emphasis on group building activities right from the beginning, which created a really nice group chemistry which continued throughout the tour. Also, the pace was a good one, leaving adequate time for activity and rest.
Favorite "WOW" moment
"I think I actually said "wow" when we were out on our orientation walk in Prague, which was after dark, and came around a corner to see the castle, which was lit up and was overlooking the river and the Charles Bridge. It has to be one of the most amazing sights I've ever seen. A second was walking in the neighborhood of our hotel in Berlin, and happening on the Zion Kirche, which was the church where Dietrich Bonhoeffer was pastor before he was arrested during WWII."
Denise
Scottsdale, AZ
Tour: 09/01/14
Overall rating:
Very pleased with trip. Good meals and hotels.
Favorite "WOW" moment
"Vienna opera-had a standing room ticket"
Paul
Medford, NJ
Tour: 09/01/14
Overall rating:
* Really Liked the tour! * Really liked the tour guide (Yana) and her guide assistant (Carlos). Both were always totally friendly and helpful. * The size of the group was a bit larger than we had hoped for, but I believe the fact that Yana had a very capable assistant (I.e., Carlos) made up for the larger than expected group size. * The tour's first hotel in Berlin was not bad, but the WIFI in the hotel was below par, and a real frustration. * Dresden was below expectations.
Favorite "WOW" moment
"Tiny bridge in Cesky Crumlov at night. The lit up towers and low key musicians were so memorable. Prague Old Town Square in the afternoon and evenings with its European diversity was a very positive experience. Even the political "Putin Protests" (in old town Prague) were sincerely appreciated."
Orlando
Seattle, WA
Tour: 08/25/14
Overall rating:
First time experience w/Rick Steve's tour and met all what I had expected and come to understand, i.e. small group of 18, excellent guide and local guides and enjoyed and appreciated the initial orientation, walking, information provided in each tour and city and the allotted personal free time to do our own thing. The orientation for each city was informative enough to confidently manuver throughout a new place on our own, thank you!
Favorite "WOW" moment
"Berlin's Russian monument and Rosa / Santini memorial as well as the Vienna Opera house"
Barbara
San Jose, CA
Tour: 08/25/14
Overall rating:
Too much history. Too much local tour time, little free time. Tour activities need to be reviewed and changed. Guide seemed out of touch with her group.
Favorite "WOW" moment
"Appreciated guide helping us with the public transportation systems."
Patricia
Pasadena, CA
Tour: 06/23/14
Overall rating:
Fantastic tour guide (Andrea), wonderful city tours, better than normal hotels. I really enjoyed the other people in our group and loved having Aaron (from Rick Steve's) join our tour. I also love the combination of scheduled tours and free time to explore further on my own things that interested me.
Favorite "WOW" moment
"The Melk Abbey. It was beautiful, the tour was fascinating, and I wish we had more time to explore the beautiful gardens."
Christine
Rancho Cucamonga, CA
Tour: 06/23/14
Overall rating:
As always, this Rick Steve's tour was expertly planned and organized. The guide, Andrea, (as well as the assistant, Aaron) was wonderful. The group was intelligent, considerate, interesting and fun. What more could one ask for. We also were traveling while the World Cup was going on which added to the international flavor and excitement of the trip.
Favorite "WOW" moment
"I was surprised and enchanted with Dresden. What a beautiful city; I could have spent more time exploring it."
Ed
Houston, TX
Tour: 06/23/14
Overall rating:
The logical layout of the tour, sites to see, guides (both our own guides and the local guides) and even the time to explore on our own helped to create a perfect tour.
Favorite "WOW" moment
"Not a wow moment but the most lasting impression I will take from this tour is the brief few hours we spent in Terezin. The countless books I've read on Nazi Germany and the knowledge of these atrocities didn't quite prepare me for this visit. And although this reminded me of the evil that exists, the new friends encountered on this trip helped to reaffirm the goodness that also exists. That good (God for me, maybe something else for others)keeps us going."
Lisa
Winter Park, FL
Tour: 06/23/14
Overall rating:
The tour far exceeded our expectations! Andrea and Aaron are terrific guides- knowledgeable, intelligent and genuinely enthusiastic. We had a sense of commaraderie that I did not expect as a result of their efforts, and it took this your from an A plus to off the charts. The local guides were also impressive[INVALID]well educated, personable and helpful. The [INVALID]ion of guided visits and free time good. The restaurants where we ate made us feel special, but also like we were enjoying and authentic
Favorite "WOW" moment
"We had lousy weather most of the time in Berlin and no one so much as fidgeted because Torbin, the local guide, was so fascinating. I love the book memorial--so subtle and powerful. Terrazin Concentration Camp was powerful, albeit disturbing. It's hard to pick one moment. Every day was a stand alone wonder!"
Maureen
Portland, OR
Tour: 06/23/14
Overall rating:
This was my third Rick Steves tour and it was probably the best. Andrea is an amazing guide. She is organized, efficient and really cares about the tour members. Her passion for her country is evident to participants. The local guides were good. The standouts were Torbin, Andrea and Denisa. The local Vienna guides were the weakest. The hotels were great! Trying to get a "non-smoking" room in Prague was the only issue. The blend of "tour mornings" and fee afternoons was perfect.
Favorite "WOW" moment
"My WOW moment was first night in Prague, walking tour and dinner at a great local restaurant. Sober "Wow" was tour or Terrizine concentration camp. The trip was filled with "Wow" moments."
Julie
Murrieta, CA
Tour: 06/23/14
Overall rating:
After getting past the unusual situation of traveling with strangers for 12 days...it was a very enjoyable way to see parts of the world we hadn,t seen yet in a way we had never travelled before! Accommodations were all in great locations and very adequate. All tour guides were very knowledgable and Andrea was super with the whole group...very patient and accommodating. loved staying in towns that were not the main event! Beer tour in czesky Krumlov was only disappointment.
Favorite "WOW" moment
"Being in the medieval town of czesky Krumlov!"
Doug
Crystal Lake, IL
Tour: 06/23/14
Overall rating:
This was an expansive, well-paced, thorough and enjoyable tour of this part of central Europe. We had a pleasant group of fellow travellers, outstanding guides, and a plethora of interesting experiences - both large (as part of the scheduled activities) and small (as part of the atmosphere enhanced by our guides). It was fascinating to compare the energy of Berlin, the rebirth of Dresden, the historicity of Prague and Cesky Krumlov, and the relaxed atmosphere of Melk and Vienna.
Favorite "WOW" moment
"There were more than one: experiencing the World Cup atmosphere with Berliners, looking out over Prague from the heights of the Castle, wandering the narrow streets of Cesky Krumlov wondering what interesting shop or pub was around the next corner, people-watching from a cafe in Vienna, coming across an organ concert in St. Peters in Vienna, wine tasting in the crypt of a Czech castle, exploring side-streets on the way back to a hotel."
Susan
Elkins Park, PA
Tour: 06/23/14
Overall rating:
From the moment we met Andrea and Aaron, the group was a group. Everyone made an effort to befriend one another. For the most part the local tour guides were informative, friendly and energetic. Andrea and Aaron were enthusiastic, great at organizing, kept everyone informed, knew their way around, had great suggestions, but most of all, appeared to being enjoying themselves too.
Favorite "WOW" moment
"My favorite "wow" moment took place in Cesky Krumlov. After a walking tour through the historic town, my friend and I went to lunch at one of the restaurants on a street pointed out to us during the tour. We were dining outdoors on the banks of the Vltava River watching the kayaks and rafts go by, when the waiter came over to chat with us. We discussed the origins of decadence and anarchism from Taoism through Bakunim and Kropotkin. A memorable meal, place and conversation."
Mary Kay
Chicago, IL
Tour: 06/23/14
Overall rating:
I'm sure, given the itinerary, the guides, and the food, I would have enjoyed the tour no matter what. But having a great group (NO GRUMPS, truly!) just made the experience all the more special. People went out of their way for each other, whether they were setting up free-time activities, sharing food (or an umbrella), or just complimenting your appearance (after two weeks of living out of a carry-on, that was very welcomed). And every group meal seemed like a family party!
Favorite "WOW" moment
"This was a tour for which it was hard to pick out one "wow" moment – there were too many interesting things following quickly one after another. But it was while standing in the Pinkas Synagogue in Prague that I felt I comprehended, for the first time in my life, the true enormity of the murder of the Jews during the Second World War."
James
Reno, NV
Tour: 06/23/14
Overall rating:
Great Group. This was my 6th Rick Steves' tour and this collection of diverse personalities is in the running for best overall group. That's not just the equally great German and Czech beer talking either. (maybe it is the Austrian wine's influence....) This tour had balance with the big cities "BPV" with fantastic smaller overnight stops. Time was well spent with our primary guides and each of the excellent Local Guides.
Favorite "WOW" moment
"Wow - Dresden. The "Wow" was made even better after walking from our hotel through the modern "big city" section down towards the river Elbe and finding the wonders of Central Old Town Dresden. The Frauenkirche and the area of the Zwinger Museums, followed by a drink on the "Balcony of Europe". Dresden needed more time."
Craig
Chicago, IL
Tour: 06/23/14
Overall rating:
As with past RS tours, the experience was exactly what I wanted: smooth logistics in getting from town to town, introductions to local transportation, unique tours or experiences at the big sites, time to do what I want, and a good group of travelers with whom to share experiences and meals. All of the stops were interesting, and I could have spent more time than was available at each one.
Favorite "WOW" moment
"Winding through the narrow streets of Prague and coming out on the Old Town Square. Prague was amazing. The unfamiliar language and architecture saved from destruction in World War II made Prague an exciting city to explore. Terezin was an emotional experience, especially with some of the original furnishings still in place. Having local media cover our visit to a Dresden sports bar to root during the USA-Germany World Cup match was a fun experience!"
Christina
New York, NY
Tour: 06/23/14
Overall rating:
This tour was a first of many things for me: first time joining a Rick Steves tour on my own, first time meeting a myriad of strangers - tour members and locals - who I now count as friends, first time having the freedom to explore cities for half a day while on a tour, and first time actually liking something enough to write a review about it. The tour exceeded my hopes for minimal travel time and ample personal time. Andrea, our guide, and Aaron, our assistant, were a truly phenomenal duo!
Favorite "WOW" moment
"Discovering the Austrian National Library on one of the free afternoons in Vienna. It was absolutely stunning!"
Dan
Oviedo, FL
Tour: 06/23/14
Overall rating:
My foreign trips are a very valuable part of my experience. These are my hobbies, adventures, etc. We save up for these trips and we plan them in great detail. Your organization has assisted us, through excellent publications and advice, to achieve several successful vacations in Europe. This time we opted for the tour itself and we were not disappointed. The pre-planned bus transportation and itineraries really helped.
Favorite "WOW" moment
"Quite by accident my wife was injured as she walked down a restaurant stairway in Berlin. The treatment we received from our guide and her assistant were above and beyond what I could have hoped for. These two stayed with us until midnight in order to see us through the worst hospital experience you could imagine!Wow!"
Linda
Oviedo, FL
Tour: 06/23/14
Overall rating:
I had a terrific time on the tour[INVALID]great guides, well-planned days, and a wonderful group of fellow tour members. Our guides and fellow travelers were interesting and engaging, well-traveled, polite, and helpful. Since we traveled during the 2014 World Cup games, it was particularly fun to share the experience as a group in a local German sports bar as the USA played Germany. The owner went out of his way to reserve tables for us. We even made it on their local news!
Favorite "WOW" moment
"I was immensely impressed at how our tour guides Andrea and Aaron rose to the occasion when I slipped on the metal staircase when leaving our welcome dinner. I ended up ripping into my lower right leg, and it did not look good! Both guides jumped to my assistance. They asked if I wanted to go to a hospital so as to treat it properly. Both of them went with my husband and me and helped navigate us through the process. Their help was invaluable. Their sincere concern was appreciated."
Carl
Pittsford, NY
Tour: 06/09/14
Overall rating:
It was wonderful. The group really bonded (we had 14 total, which made it easy). Plus we had the two most incredible, passionate, and caring guides in Jana and Andrea, who did their utmost to expand our horizons. What could be better than standing on the street late at night, eating ice cream with the locals while watching the world cup?
Favorite "WOW" moment
"It was 'museum night' in Prague, where everything was free. Jana encouraged us to go out and take advantage of mingling with the locals. We climbed the Vitkov monument - The area was full of locals enjoying the evening, and it was capped by a beautiful sunset over the city from behind the Prague Castle."
Shaun
Coos Bay, OR
Tour: 06/09/14
Overall rating:
The tour was excellent. The organization was flawless and the guides were great.
Favorite "WOW" moment
"We were surprised with a river cruise for a day and it was amazing. We saw beautiful castles, vineyards, and landscapes. It was absolutely my "WOW" moment."
Anne
Coos Bay, OR
Tour: 06/09/14
Overall rating:
Our tour guides, Jana and Andrea, were excellent. Having a smaller group was such a plus. We really enjoyed hearing personal stories and accounts from their lives and from our guides in each city. I think this was almost the best part. I was amazed at the historical knowledge of all periods. It has motivated me to read more books about these individual places and times in history. I loved how we walked everywhere and were not stuck on busses like some other groups.
Favorite "WOW" moment
"The realization that so much of the history of Germany happened in our adult lifetime, and seeing the pieces of the Berlin Wall, knowing that it prevented people from moving freely. Also, the fact that English is spoken everywhere and even when we tried to speak the country's language people ended up answering or repeating what we were trying to say into English."
Lloyd
Everett, WA
Tour: 06/09/14
Overall rating:
It was a great experience to go on another Rick Steves tour. We know we will be taken care of, stay in a hotel in a convenient location, well fed, have a moderate sized group, and have time on our own. That certainly was the case this time. We even got to try out a river boat experience on the Danube. We enjoyed learning survival languages of the countries we visited and learning how to use public transportation to get around on our own. The sites we visited were well planned and easy to get to.
Favorite "WOW" moment
"Our group's last dinner together was very special. It was in a cozy Vienna restaurant in the suburbs. We had all bonded by this time and we enjoyed one last meal together, punctuated by laughter, tour experiences, and the best sauerkraut I've ever had. It was hard to say goodbye knowing we would not be traveling together much longer."
Kathy
Everett, WA
Tour: 06/09/14
Overall rating:
We love Rick Steves tours! The mix of culture immersion, local guides and walks, no worries about transportation and hotels, as well as equipping us with the skills to explore independently from centrally located hotels fits us perfectly!
Favorite "WOW" moment
"A variety of activites in these cities was what made this a WOW trip. I liked the Istar Gate at the Pergammon Museum, the Mucha Window in the St. Vitus Church, the views from the clock tower in Prague, the Melk Monastery, the Nelahozeves Castle moat picnic and its interiors, and I was emotionally moved by the visit to Terezin."
Marilyn
Sutton, MA
Tour: 06/09/14
Overall rating:
It was fantastic. The tour, guides and our new friends were just great. I especially enjoyed Prague. It's people, town squares and local entertainment was delightful. It is the most talked about part of my trip. Berlin was a great history city and full of things to learn about the past and their future. We had visited Vienna before, but this time discovered much more in the way of art and history. I would recommended a Rick Steve's tour without hesitation and definitely take another.
Favorite "WOW" moment
"The Charles Bridge and it's surrounding area."
Robert
Fairfield, CA
Tour: 06/09/14
Overall rating:
Very interested in the WW1 andWW2 history. Also the Communist experience. These were covered very well. Group was very compatible. Guides were informative and fun to be with.
Favorite "WOW" moment
"Most fun: river rafting Best music: Prague. Being able to walk around and have acoustically brilliant music readily available in the churches. Best castle: Cesky Krmlov Best river: Danube Best zoo: Berlin"
Marcia
Fairfield, CA
Tour: 06/09/14
Overall rating:
The tour was particularly good because we had a very compatible group of travelers and because it was a small group (14). We have gone on previous Rick Steves" tours with 24 people and this was much preferable. Our two guides were outstanding and we really liked the local guides as well.
Favorite "WOW" moment
"It was remarkable to be in Berlin and view the museums, the remnants of the wall, and the thriving city that it has become. In all the cities it was very sobering to see the influence of first Nazism and then Communism, plus the long term history of the Hapsburgs and their wars. My favorite exhibit was the Slav Epic."
Robert
San Francisco, CA
Tour: 05/26/14
Overall rating:
I was returning to cities that I had not seen since 1956 -- Berlin and Vienna -- thus, entirely "new" cities ... and looking forward to exploring regions that I had never experienced before (Czech Republic). I was not disappointed in any aspect and very pleasantly surprised in my new discoveries.
Favorite "WOW" moment
"Desden -- I did not know that it had been rebuilt in the virtually the same architectural aspect that it had previous to the city's destruction in WWII -- amazing."
Sharon
Libertyville, IL
Tour: 05/26/14
Overall rating:
Appreciated the 20th century historical context of so much we saw. Most of us remembered WW 2 and here it was. Our guides were honest about their experiences and did not hesitate to answer questions candidly. It was great to be introduced to trams, underground and bus so we could use free time to see a variety of things. We enjoyed local food, beers and the delicious sacre torte. The overnight stops in smaller towns were welcome respits from crowded cities.
Favorite "WOW" moment
"Seeing Frauen Kirche in Dresden and hearing the stories about how people worldwide supported its restoration. I remember the photos of bombed out city."
Isa
New Castle, CO
Tour: 05/26/14
Overall rating:
Jana our guide was excellent. She was very good in explaining the public transportation system in each city. With this in hand we could travel about on our own with confidence. I was very disappointed in the fact that we did not get our museum pass for our Berlin stay. We arrived in Berlin a few days early and we could have purchased them on our own. Unfortunately we didn't find out that we weren't t going to get them until the first evening of our tour.
Favorite "WOW" moment
"All of Viennna."
Ronald
Carmichael, CA
Tour: 05/26/14
Overall rating:
I rated tour outstanding, but for me it was somewhere between outstanding and very good. Like an A-. I've been back a week and I'm still thinking about the experience and the good times like a fine movie or a play that stays with you for a while.
Favorite "WOW" moment
"There were two: (1) First night in Prague walking through the main square to the restaurant and then to the Charles bridge. What everyone has been saying about Prague is true [INVALID]- more beauty than the heart deserves. (2) The Jewish cemetery in Prague.Those old headstones emerging from the ground like a poem or an organic work of art. I could feel the souls of the Jewish dead. No artist could have created what happened naturally over the centuries."
Marketa
North Saanich, BC
Tour: 05/26/14
Overall rating:
I very much enjoyed the tour and learned lots. Our guide and the guides in the various cities were great. I visited Prague and Vienna as a child because my grandparents lived there so I really appreciated as an adult learning more about the history and the culture of each country.
Favorite "WOW" moment
"It's difficult to say I enjoyed everywhere we went and what we experienced for its own uniqueness and because it brought back memories of times past. For me it was a very special experience."
Thomas
Portland, OR
Tour: 05/26/14
Overall rating:
Favorite "WOW" moment
"The overall cuteness and historical feel to Dresden & Cesky Krumlov"
Kermit
Gainesville, FL
Tour: 05/26/14
Overall rating:
Very good. Enough off-time to rest and do our own things. Impressed with the keeping the memory of the Jews and other WWII history.
Favorite "WOW" moment
"Astronomical clock in Prague."
Anne
Gainesville, FL
Tour: 05/26/14
Overall rating:
This tour was more serious than others we've done because of the memories of WWII and of the wall. The guides were helpful, showing the material, telling their stories, and letting us process in our own ways.
Favorite "WOW" moment
"I especially enjoyed our time in Cesky Krumov - time to wander and enjoy with no pressure."
Lester
Vancouver, WA
Tour: 05/26/14
Overall rating:
This was a very nice trip. The local guides were very knowledgeable and personable. We had fun exploring and learning about the different cultures.
Favorite "WOW" moment
"Prague was the highlight of our trip. We really enjoyed the old town square and the surrounding area, it was amazing to explore!"
Joseph
New Castle, CO
Tour: 05/26/14
Overall rating:
Overall I was very pleased with the tour. Jana was an excellent guide. Not only was she informative, she went out of her way to ensure we were comfortable with the local surroundings including public transportation. Our local guides, Carlos, Sharka, and Wolfgang were also outstanding. The main cities on the tour all had plenty to offer.
Favorite "WOW" moment
"Rather than a "wow" moment I loved the overall feeling in all the large cities we visited...Berlin for the WW II and cold war history, Prague for it communist past and new freedom and Vienna for its vibrancy and elegance. I had never been to any of theses cities and was eager to visit each of them. I was not disappointed!"
Malcolm
Alexandria, VA
Tour: 05/26/14
Overall rating:
The trip was all that I expected. The trip leader was outstanding and there was
Linda
Upper Arlington, OH
Tour: 05/19/14
Overall rating:
I thought that Jana was a wonderful guide - very patient, good humored, organized, and genuine. We thought the hotels were nice - the food was excellent. Personally, I would have preferred one more day in Prague or Vienna in exchange for the day in Cesky Krumlov. There is so much to see in all of the bigger cities on the tour that, although pleasant, I didn't really care that much for the quaint tourist town.
Favorite "WOW" moment
"I loved the Prague Castle complex - I'm a history nerd - so this was wonderful. I also very much enjoyed the history museum in Berlin. The transit camp at Terezin was memorable."
Lynell
Noblesville, IN
Tour: 05/19/14
Overall rating:
The tour was planned with interlocking information through all of the cities and it brought to light areas of history that I would not have understood without the guides. This was my first experience with a tour and I enjoyed being in a small group of folks that were so interested in all the locations that we visited.
Favorite "WOW" moment
"I just got home (after being gone for a month)and downloaded my pictures. It is amazing how many new experiences that I had and it will take time to [INVALID] a WOW from the tour. Because of the places we visited there were many sad moments on the tour."
Peggy
Centerville, OH
Tour: 05/19/14
Overall rating:
I liked the tour very much. Jana our tour guide was very friendly, organized and addressed any question or problem professionally. I would highly recommend this tour.
Favorite "WOW" moment
"Well unfortunately the WOW moment wasn't a positive one. When I was in Dresden at the Hotel Kipping I was taking a shower and the water turned to COLD! I was unable to adjust the temperature and had to finish the shower as best I could with very cold water. I did mention this to Jana and she said she would investigate the cause of my problem."
Janice
San Diego, CA
Tour: 05/19/14
Overall rating:
The tour was well paced. The tour guides in each city were excellent and our main tour guide was one of the best I have ever experienced. She added so much to the group with her knowledge and her expertise.
Favorite "WOW" moment
"I especially liked Chesky Krumlov and the Melk Abbey but there were plenty of other places of interest along the way."
Thomas
Brighton, MI
Tour: 05/19/14
Overall rating:
It was pretty much what I expected from Rick Steves. Another truly great experience. We had a great time. If I had to rate the destinations I would say I like Vienna the best followed by Ceskey Krumlov and then Praha. Terezin was a very unique and humbling experience. Berlin was too long (we did get there two days before the tour); Dresden seemed rushed as was Melk Abbey. Weather was not perfect, but we made due and still had a great time.
Favorite "WOW" moment
"Vienna, Vienna, Vienna I don't know what it was about the city, but I felt more comfortable there than in any other city. I liked how compact the old city is and how easy it is to get from point A to point B. Ceskey Krumlov was also very nice as was Praha, but I really liked Vienna."
Michele
Brighton, MI
Tour: 05/19/14
Overall rating:
It was a wonderful experience. Many WOW moments(see in following details) Jana was WONDERFUL; our fellow travelers DELIGHTFUL. We would spend less time in Berlin,time in Dresden felt rushed, ALL OF THE CZECH REPUBLIC was fabulous; we were TOO RUSHED at Melk Abbey and didn't see enough; Vienna was heavenly. However, we failed to note change from printed book to final tour that we wouldn't get tickets to Museum Island in Berlin. This may have affected our attitude toward Berlin.
Favorite "WOW" moment
"Berlin: Pergamon Altar; Terezin;tour of Castle Nelahozeves; Prague: View from Prague Castle over the city; the Pinkas Synagogue and art of the children of Terezin;St Vita's stained glass; Mucha Museum; Municipal House;Astronomical clock; all of Ceskey Krumlov; Vienna: Opera house tour then watching the opera outdoors on the big screen TV,Kunsthistorisches Museum;Belevedere Palace; Naschmarkt; gardens: Volksgarden, Burggarten and Schonbrunn;and Imperial cake and Vienese coffee."
John
Walnut Creek, CA
Tour: 05/19/14
Overall rating:
This was my first Rick Steves tour, but it certainly will not be the last. Excellent guides (with the exception of Vienna) and an outstanding leader in Jana. Just the right amount of free touring as well as structured morning tours. I cannot stress how useful it was to be walked through all of the steps needed in each city to use the municipal transportation systems. This really added to my confidence in venturing far out into the cities.
Favorite "WOW" moment
"This is going to sound stupid, but our side trip to a Berlin beer garden seemed to put right in the middle of the people of Berlin rather than looking at them as tourists. Enjoyed it enormously!"
Diane
Auburn, WA
Tour: 05/19/14
Overall rating:
We had an exceptional group of participants and Jana was a great guide. I think I could have given the tour an outstanding if I had done more homework on the various museums, palaces, monasteries, etc we visited. After awhile they all ran together. It might have helped to throw in an activity or two that was not geared to all that ancient history, perhaps a concert.
Favorite "WOW" moment
"Berlin was my favorite city. There were a whole bunch of "wows" there. Our guide, Torben, was exceptional and unfortunately made the following guides lesser in comparison. At the beginning Jana explained the transportation system to our group and guided us through the process our first night. That was a good start to the trip."
Todd
Sherwood, OR
Tour: 05/19/14
Overall rating:
An excellent blend of structured and free time. Also, a nice compliment of large cities (Berlin, Prague, and Vienna) with smaller cities (Dresden and Chesky Krumlov). Our guide, Jana, was outstanding and a perfect ambassador for her home country of Czech Republic! She was knowledgable, helpful and resourceful, and brought the right balance of fun and attention to detail. Our local guides were also very good and provided great historical context to the places we visited.
Favorite "WOW" moment
"Every day had its own "wow" moment so it would be difficult to pick just one. Perhaps the Prater Bier Garten in Berlin because it was an opportunity to see how the locals live without feeling like a tourist. Also, it was early in the tour so it was a great introduction into things to come. Our 11 year old daughter came back from the bier garten and said "wow, that was really fun" and any feelings she had of homesicknesses quickly subsided after that visit."
Norman
Beaverton, OR
Tour: 05/19/14
Overall rating:
Except for the weather in Vienna, it was the perfect tour. Every aspect was well organized and there was a good mix of time with the tour guides and time for us to do things on our own. And our tour group was also outstanding.
Favorite "WOW" moment
"It is hard to describe as a "wow" moment but the visit to the concentration camp at Terezin left a lasting impression."
Susannah
Redmond, WA
Tour: 05/19/14
Overall rating:
We consider ourselves Rick Steves tour veterans but this was the first time we were on one of your "city tours". We ended up walking 8 -9 miles a day on cobblestone streets wanting to see everything so this was the first time your "strenuous" description panned out! We actually enjoyed the stops in between the cities as much as the cities. We had an exceptionally congenial group of people which was great fun.
Favorite "WOW" moment
"It's hard to pick a favorite! We loved the Prenzlauer Berg neighborhood/beer garden because we were so a part of it. I also loved the town of Cesky Krumlov."
Frances
Pelican Rapids, MN
Tour: 05/12/14
Overall rating:
This trip was unique in that all of the folks on the tour had been on a Rick Steves' tour before except for one couple. Therefore, we started out immediately getting to know each other and becoming friends. Much quicker than the group I was with on a previous tour. This trip was also more about the people than the churches and palaces. Jana and Andrea gave us a personal reflection about what it was like to live in a Communist country and what were the continuing effects.
Favorite "WOW" moment
"The concentration camp at Terizen had the biggest impact on me. Do not know if this would be "wow" because it was not enjoyable but it was the most emotional and moving experience. The tour guide there was excellent."
Dawn
West Fargo, ND
Tour: 05/12/14
Overall rating:
This trip was spectacular! Overall, it was a great combination of history, fun and leisure. Couldn't have been better.
Favorite "WOW" moment
"There were so many memorable moments but hearing personal stories from our array of guides left a lasting impression."
William
Cincinnati, OH
Tour: 05/12/14
Overall rating:
Our tour was marvelous, beginning with the selection of sites embedded in the tour's design to our guides and specialty guides and their efforts to assure us a worthwhile experience.
Favorite "WOW" moment
"Exploring Berlin and Vienna on our own to supplement our guided tours, using our Rick Steves guidebooks, public transit, and our guides' very helpful advice. The combination of guided tours plus exploring on your own in these two large cities was fantastic."
Howard
Camas, WA
Tour: 05/12/14
Overall rating:
The tour leader(s) were all great, personable, knowledgeable, resourceful, proactive and patient. The fellow tour members were also great. Many were seasoned Rick Steve's travelers. All were cheerful, interesting and considerate.
Favorite "WOW" moment
"The thought provoking and sobering tour of a concentration camp. On the upside, I liked seeing a cannon ball fired in 1683 still stuck up high in a cathedral wall."
Maxine
Salt Lake City, UT
Tour: 05/12/14
Overall rating:
I enjoyed the tour. On our own we went to the Tuesday Reichstag lecture which enhanced our Berlin experience. The itinerary is wonderful, although it does feel like it would work better in 14 days. Our vacation in Krumlov felt really rushed. Appreciated the switch in itinerary in Vienna so we could see everything there. Ending at the Opera House was perfect. Loved the music in Prague & Vienna. Very experienced fellow travelers were great companions.
Favorite "WOW" moment
"I dislike trying to choose 1 favorite moment. Landing in Berlin and discovering what this cosmopolitan city has to offer, both through museums and a particularly articulate local guide got my trip off to the perfect start. Learning about Nazi and Communist control and influence from East Germany to Vienna was a sobering, yet necessary experience. (We continued our travels by river from Budapest to Romania, so came home with a better understanding of place and time)."
Kathy
Holmen, WI
Tour: 05/12/14
Overall rating:
I was disappointed in the Berlin portion of the tour: 2 walking tours that seemed to devote too much time to Nazism and the its associated atrocities. I would have preferred to spend more time on the Museum island. After the guided tour in the German history museum, we went to the Pergamon museum on our own and I would have liked to have explored the Egyptian collection, but we simply ran out of time that day.
Favorite "WOW" moment
"Wow, another Jewish cemetery. That Jewish museum ticket in Prague was a waste for us. After going through the cemetery in the rain with the guide, none of the three of us visited any of the other sights covered by the pass. The actual "wow" moment was the group itself."
Katherine
Oconomowoc, WI
Tour: 05/12/14
Overall rating:
Overall I very much enjoyed the tour. This was my first tour and I was impressed with all the details that were just taken care of. It really left me free to enjoy my time. We had a really good group for our tour. I hope if I go on another tour our group will be just as good.
Favorite "WOW" moment
"After visiting the castle in Prague, I asked Jana to highlight what might be a scenic way back towards the hotel. It seemed like most of the map was highlighted and I realized that most everything in Prague is historic and has such charm."
Bruce
Salt Lake City, UT
Tour: 05/12/14
Overall rating:
This was a great tour. A tour like this has built in difficulties. There is no way the recent past does not distort the views of both guides and tourists. I felt all of the guides, both local and tour, made a sincere and successful attempt to present the past and the present in a factual manner. There seemed to be little confusion about problems of the past, while at the same time allowing us to experience their pride in their countries and what the countries are now trying to accomplish.
Favorite "WOW" moment
"My wow moment was the city of Berlin. We arrived early and found the city relatively easy to navigate. The sites were great. I recommend the Reichstag tour on your free time. Also if you have the time, a day trip to Potsdam is wonderful."
Eddie
Las Cruces, NM
Tour: 05/12/14
Overall rating:
In all fairness the tour was great, the tour guide Jana and Andrea were EXCELLENT!! But, I will never go on another guided tour again for the following reason: It was difficult to hear the guides whenever they spoke to us in public around the noisy surroundings...sirens going off, construction noise, vehicles noises, hundreds of other tourists chattering, etc. It was especially bad for those with hearing impairments and even some without the problem had difficulties hearing our guides.
Favorite "WOW" moment
"the whole city of Prague, was not impressed with Berlin but glad I went. All in all, the tour was good, main complaint was that it was extremely difficult to hear the guides."
Harriet
Cincinnati, OH
Tour: 05/12/14
Overall rating:
It was a marvelous trip. Jana was professionally adept at every turn.
Weather

Germany / Berlin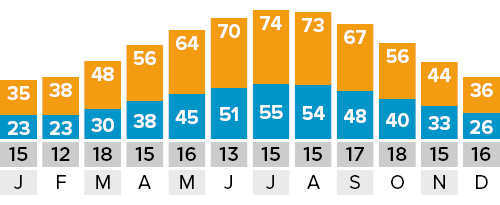 ---
Czech Republic / Prague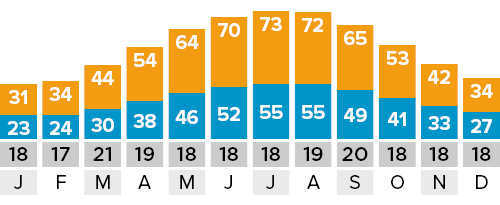 ---
Austria / Vienna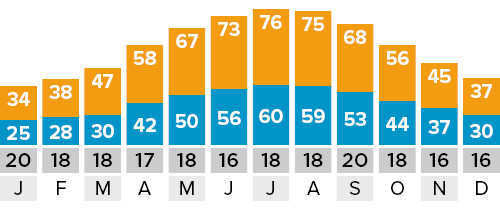 Pre-Tour
We've put together some specific information on what you should know about this tour before you go. You'll also find more general information about "Getting Ready for Your Tour" on our Tour FAQ.
Trip Resources
Learn more about Berlin, Prague, and Vienna: Check out a collection of Rick's TV shows, radio interviews and articles, plus find a list of recommended books and movies.
Transportation
Prior to your tour departure, you will receive detailed directions on how to get from the airport to your first tour hotel, as well as contact information for your first and last hotels in case you wish to book pre- or post-tour hotel accommodations.
Many tour members arrive a day or two before the tour begins — and those who don't, wish they had. This allows you ample time to get over jet lag and make the most of the first few days of the tour.
Most tour members will arrange to fly into Berlin and out of Vienna ("multi-city" on flight booking websites). Booking round-trip to one city will require a connecting flight, train trip, or additional overnight stay. Berlin and Vienna are transportation hubs, making travel before or after your tour quite easy.
For information about flying within Europe, ask your travel agent or check Rick's list of European budget airlines.
Read Rick's train travel and rail pass tips to decide if your travel plans merit a rail pass.
If you have additional European travel or tour questions, contact the Tour Department at 425-608-4217 or email tour@ricksteves.com.
Sightseeing On Your Own
If you arrive in Berlin before your tour begins, use Rick Steves Germany guidebook to get oriented. Ride the public transportation, try out a few words of German (although many locals speak English well), and get over your jet lag with fresh air and exercise.
Here are suggestions for sightseeing in Berlin that we will not be doing as a group (see your guidebook for details): Jewish Museum; Gemäldegalerie; Museum of the Wall at Checkpoint Charlie; Potsdamer Platz; Gendarmenmarkt; Reichstag Dome. If you'd like to visit the Reichstag Dome, you must make advance reservations. The best time to visit is pre-tour or after 3 p.m. on Day 2 or Day 3.
If you want to spend more time in Vienna after the tour, visit the Schönbrunn Palace, the world-class art at the Kunsthistorisches Museum or enjoy numerous performances around the city. Your Rick Steves Vienna, Salzburg & Tirol guidebook has plenty of ideas for any extra time you may have after your tour and your guide will be happy to help you with post-tour plans.
Packing
For advice on what (and what not!) to pack, see Rick's packing tips.