Prague Spires

Prague's St. Vitus Cathedral

Beer Tasting in Prague

Chain Bridge in Budapest

Budapest's Great Market Hall

Széchenyi Thermal Baths in Budapest
Tour Questions? Call 425-608-4217
Best of Prague & Budapest in 8 Days Tour
We've brought together Eastern Europe's must-see cities — Prague and Budapest — for an eye-opening eight-day adventure. You'll explore Prague's mighty castle, swirling Baroque churches, fascinating Jewish Quarter, and sample what may be Europe's most refreshing beers. Then it's on to cosmopolitan Budapest, with its unexpected elegance, hidden courtyards, remarkable markets, and tales of a tumultuous history — an experience that's spiced with surprising cuisine and a panoramic cruise along the Danube. Join us for the Best of Prague & Budapest in 8 Days!
Dates & Prices
What's Included
A small, friendly group of 24-28 people — half the size of most tour groups
Full-time services of a professional Rick Steves guide and local experts who will make the fascinating history, art and culture of Prague and Budapest come alive for you
All tours and admissions — at no extra cost — covering at least 20 group sightseeing events • Prague Castle tour • St. Vitus Cathedral • St. George's Basilica • Old Town orientation walk • Municipal House tour • Mucha Museum • Jewish Museum in Prague pass • Spanish Synagogue • Josefov Neighborhood Jewish Quarter walking tour • Velvet Revolution walking tour • 3-day Prague transportation pass • Cultural performance • Buda Castle district and Matthias Church tour • Pest walking tour • St. István's Basilica • Great Market Hall • Hungarian cooking class • Hungarian State Opera tour • Heroes Square walking tour • Danube cruise...and more
All group transportation from Prague to Budapest
7 nights accommodations (4- and 3-night stays) in memorable, centrally-located hotels
All breakfasts and half your dinners
All tips for guides and driver
Free stuff including Rick Steves Prague & Czech Republic and Rick Steves Budapest guidebooks, map, moneybelt and earplugs
Guaranteed tour price, locked in the moment you make your deposit
Optional single supplements — this tour has a limited number of private rooms for solo travelers for an additional fee
Tour alum discount of $50 for each tour you've taken prior to 2015
50% discount on a consulting appointment with our in-house experts to assist with your pre- or post-tour travel plans
Flexibility should you need to transfer, or cancel/interrupt your tour
Fine print: You are responsible for the cost of your drinks and free-time sightseeing. See our Tour Conditions Agreement for important details regarding everything listed above
Itinerary
Daily Activity Key
Light = 2-4 miles of mostly level walking throughout the day.
Moderate = 2-6 miles walking throughout the day with some hills and stairs.
Strenuous = 2-8 miles walking throughout the day with lots of hills, stairs and uneven terrain.
Day 1: Welcome to Prague
We'll meet in our hotel around 4 p.m. to get acquainted and go over the week's schedule. Then we'll take an orientation walk through our Old Town neighborhood and over the historic Charles Bridge — one of Europe's most entertaining promenades — followed by a hearty dinner together. Sleep in Prague (4 nights). No bus. Walking: light.
Day 2: Prague of Kings and Nobles
This morning we'll hop on a local tram to take us across the Vltava River and up the hill to the most massive castle complex in continental Europe: Prague Castle. We'll tour the impressive St. Vitus Cathedral, Old Royal Palace, St. George's Basilica and the Golden Lane. To see for ourselves whether Prague really is home to the best beers in Europe, we'll walk to a nearby monastery's brewery for a refreshing mug and lunch together. Then you're on your own to wander back down to the Old Town, where you'll be free for the evening. No bus. Walking: strenuous.
Day 3: Jewish and Art Nouveau Prague
Today we'll take a walking tour through the Josefov neighborhood, once the site of Prague's Jewish Ghetto — and still one of the most evocative Jewish districts in all of Europe. For a thousand years one of the leading centers of Judaism, the neighborhood is studded with thought-provoking museums, fascinating synagogues, and a Kafkaesque, dream-like cemetery. After free time for lunch, we'll take a tour of the classy concert halls and salons of the city's Municipal House and continue our Art Nouveau education at a museum devoted to the local master: Alfons Mucha (whose stained glass you will have already admired inside St. Vitus Cathedral). Your evening will be free for dinner on your own. No bus. Walking: strenuous.
Day 4: Revolutionary Prague
We'll start our day with tales of Prague's past struggles with communist occupation, the significance of the Prague Spring and the emergence of Václav Havel. We'll then retrace the footsteps of Prague's celebrated Velvet Revolution, following the events of November 17, 1989, through the modern city to Wenceslas Square, where thousands of Czechs held up and rattled their keys, telling their communist leaders, "The time has come for you to go home." We'll return to the present in time to enjoy dinner together and catch a cultural performance, perhaps a classical concert or experience the quirky and uniquely Czech, Black Light Theater. No bus. Walking: moderate.
Day 5: On to Budapest
This morning we'll board our coach for the drive to Budapest. En route we'll pass through the rolling hills of ancient Moravia and modern Slovakia, catching our first glimpse of the wide, blue Danube as we approach the capital city that straddles both banks of the river. Upon arrival this afternoon, we'll meet with a local guide for a tour of Pest. The larger, more sprawling half of the city , we'll crane our necks beside Europe's largest, most ornate parliament building to learn how Hungarians coped with half a century of fascist and communist tyranny, and hearing at St. István's elaborate basilica why, once a year, locals parade the saint's millennium-old fist around the city. At the end of our walk, we'll treat ourselves to a paprika-infused feast together. Sleep in Budapest (3 nights). Bus: 7 hrs. Walking: moderate.
Day 6: Bustling Budapest
Our day begins atop Buda's proud Castle Hill with an introduction to Budapest's greatest church: the sumptuously-gilded Matthias Church. The nearby Fisherman's Bastions provide a perfect bird's eye view of "twin city" Pest across the river and a glimpse of our next destination – a traditional Hungarian cooking class and lunch. This afternoon you're free to sample more of the city, including more delicacies in its Great Market Hall (Nagyvásárcsarnok). Later tonight we'll regroup and relax with a cruise along the Danube. Boat: 1 hr. No bus. Walking: strenuous.
Day 7: Elegance of Empire
This morning we'll tour the caked-in-splendor home of the Hungarian State Opera. Built in the 1880s, when Budapest was co-capital of the Austro-Hungarian Empire, the Hungarians took every opportunity to make their opera house more opulent than anything the Viennese could muster. You'll see they succeeded. Then we'll ride on the oldest metro in continental Europe, on our way to Heroes Square to see and learn about the bronze-cast, larger-than-life players in Hungary's national story. This afternoon your guide will be happy to arrange a chance to soak in the ornate public Thermal Baths (yes, you'll have plenty of time to soak it all in!). Tonight we'll rendezvous for a farewell dinner together, sharing travel memories and toasting new friends. Egészségedre! No bus. Walking: strenuous.
Day 8: Tour Over After Breakfast
Breakfast is provided, but there are no group activities today. Budapest's Ferihegy Airport and three busy train stations can connect you to practically anywhere in Europe, and your return home. Whatever your plans, your guide will help you get on the right track. Viszontlátásra!
Itinerary specifics subject to change.
Activity Level
Our tours are physically active! It's an essential part of the Rick Steves tour experience. On our Best of Prague & Budapest in 8 Days tour — among other things — you'll need to happily...
Carry/roll your luggage over uneven pavement (several blocks possible) and up stairways to reach your hotel; then up several flights of stairs to reach your room.
Be on your feet, walking and standing for up to four hours, indoors and outdoors, in all weather conditions.
Sleep with street noise and no (or weak) air conditioning.
After orientation and transportation lessons, be able to navigate towns and cities on your own.
Reviews
Susan
Clackamas, OR
Tour: 10/26/14
Overall rating:
Our guides, Katerina, Martin, and George gave us an extensive background on the history and customs of the Czech Republic and Hungary. Katerina thought of everything, even arranging for our trip to the airport and breakfast bags when she would be gone and we were still at the hotel. I learned much that was not in the history books. Safety was also a top concern; Katerina made sure we knew how to do the Hungarian Metro on our own and practiced with us before letting us loose.
Favorite "WOW" moment
"I am a painter, so it was the Alphonso Mucha Museum in Prague and the Museum of Fine Arts in Budapest. The stunning views of the night Danube cruise with its lighted palaces and buildings against the black water."
Connie
Charles Town, WV
Tour: 10/26/14
Overall rating:
I thought the tour was excellent, events were well scheduled and executed. Please add an additional day for Budapest! This unique city deserves more time!
Favorite "WOW" moment
"I especially enjoyed the tours of the castles and opera houses. Seeing how the countries were evolving from the days behind the iron curtain was inspiring. The city walks were great and the history provided was informative and gave great insight."
Christina
Spring City, PA
Tour: 10/26/14
Overall rating:
This was a wonderful tour of two cities rich in both ancient and recent histories. A great introduction to the cities and highlighted places of interest. Tour instilled confidence to navigate independently--just wish there was more time to see everything!
Favorite "WOW" moment
"Katerina was explaining to the group how the trains on the Budapest subway were from Communist Czech. Then to see the stark, industrial train roll into the station was like being transported back to that time. After a week of communist history and the museum of terror, it was surreal to be riding on a train from that era."
Kathleen
Boerne, TX
Tour: 10/26/14
Overall rating:
The guides, Katka, and the guy in Budapest, made the tour. I appreciate their openness, honesty about their, and their families, lives under the Nazis as well as the Communists. I love it when our hotel is near a recognizable landmark, Tyn Church, so I am able to roam without worry.
Favorite "WOW" moment
"The St. Vitus Cathedral inside the castle walls was the first WOW. The second was while on the bus and seeing Parliament lit up and on the hill looking across the Danube at Parliament. The Jewish Museum with all the names of the murdered and the plaques in the sidewalks were wow in a different way."
Susan
Rohnert Park, CA
Tour: 10/26/14
Overall rating:
This tour was outstanding. I had never been to Prague or Budapest before and, frankly, it was a bit daunting at first. But, Katerina (and the local guide) made it so interesting and fun. The tour was nicely paced with a fair amount of tour time and free time.
Favorite "WOW" moment
"On our way to our first dinner, Katerina took us off the beaten track to the PRAGUE LENNONWALL. She explained that it not only commemorated John Lennon, but commemorated the new found freedom to express oneself after not being able to for such a long time. That was an eye-opener and the beginning of my understanding of what it was like before under Soviet rule. Also seeing the bronze shoes on the wharf in Budapest (mentioned by the Budapest guide) was an eye-opener as well."
Leona
Sun City Center, FL
Tour: 10/26/14
Overall rating:
This was our sixth Rick Steves tour and we enjoyed it very much. We had enough time to see all that we wanted to see in the two cities, Prague and Budapest, and the tour was the perfect length for us to add on time at the beginning and end to do more on our own while we were in Europe. Keeping the group size to under 26 is why we have stayed with these tours.
Favorite "WOW" moment
"The most stirring moment for me in Prague was being in the Jewish section and seeing the names on the memorial wall inside the Synagogue, then walking outside to see the graveyard with stones placed on top of the graves. In Budapest it was when we were on Buda Hill and saw the lights come on across the Danube on the Pest side. Beautiful."
Kathleen
Auburn, IN
Tour: 10/26/14
Overall rating:
GREAT!!
Favorite "WOW" moment
"All of Prague! BEAUTIFUL!! We have dreams about walking the streets of Prague and everything is so vivid!!"
Kathryn
Lexington, KY
Tour: 10/05/14
Overall rating:
I was very disappointed that we did not have ear bud receivers so we could hear all our guides. Many parts of the tour took place in crowded areas where it was difficult to hear. Many times I was concentrating so hard & looking at the guides face to make sure I didn't miss what was being said that I missed seeing the actual places in the cities we visited. The guides worked very hard to project & to repeat but it was distracting from the actual tour experience. Older people couldn't hear well.
Favorite "WOW" moment
"Etilka and all the other guides: Jana, Teresa, and Peter? Made us feel we were visiting family and getting very authentic information as well as sharing a lot of their personal experiences. I wish I could have heard the questions and answers as we moved from place to place. It would have filled gaps in info and understanding that I had."
George
Ashburn, VA
Tour: 10/05/14
Overall rating:
Recipe: Perfect Prague-Budapest Tour Ingredients: 2 doz great tour group members 1 Etelka, a perfect guide A pinch of Teresa, Jana, Peter A great itinerary Steps: In Prague, combine tour group with Etelka; mix thoroughly Add Teresa, Jana; create great experiences Fold-in excellent meals; continue mixing Put tour members & Etelka into bus; transfer to Budapest In Budapest, fold-in more great meals Add Peter; create more great experiences Mix; create wonderful memories Serve w/many red wines.
Favorite "WOW" moment
"1. Etelka being pre-informed of my diet (i.e., no red meat), and making sure that I always had an enjoyable meal that met my needs. 2. The excellent group meal restaurant selections; the duck leg in Budapest was the best I've ever had. 3. Attending the symphony in Prague - a very cool cultural experience, and great way to hang with the locals. 4. The cooking class in Budapest was something fun and different. It was nice to not just be a "museum tourist". 5. The baths: AWESOME!"
Pidge
Leawood, KS
Tour: 10/05/14
Overall rating:
Couldn't have been better. Not one complaint - except that I think it's a MUST to have another day in Budapest. My friend and I arrived two days early to Prague and stayed another day and night in Budapest. Wish I had had at least one more day in Budapest. Loved the two city itinerary.
Favorite "WOW" moment
"Matthias Church - the inside and out!!....and view of Pest from the church."
Barbara
Exeter, NH
Tour: 10/05/14
Overall rating:
This was my first Rick Steves' tour as well as my first trip to Central Europe, and I thoroughly enjoyed both! In fact, this experience won over a convert to the pluses of touring with the right outfit! I love the Rick Steves' philosophy of traveling and so it was gratifying to be among other like-minded travelers led by native guides who love their countries and are eager to share them with visitors. The tour was part history lesson, part cultural experience, and part making new friends!
Favorite "WOW" moment
"Every day held its own favorite "wow" moment! But if I have to choose only one, it would be a moment that occurred upon our arrival in Budapest. We had stopped at the foot of Castle Hill to tour Matthias Church before heading on to the hotel on the other side of the Danube. As I was climbing the stairs, I turned around midway to look at the view when I saw the magnificent Parliament Building...a building I had often seen on covers of travel brochures but I was unaware it was in Budapest! WOW!"
Timothy
Valparaiso, IN
Tour: 10/05/14
Overall rating:
This was a wonderful tour of two beautiful cities.
Favorite "WOW" moment
"How well preserved Prague was."
Susan
Piedmont, CA
Tour: 10/05/14
Overall rating:
I had a great time and loved Etelka. She is a warm, organized, understanding, professional guide. I loved both cities we visited. As with my trip with Rick Steves in May this year, the Rick Steves' guides were all amazing, and every restaurant we went to had amazing food. The accommodations were all very nice. On this tour, we had the best group of people that signed up. I was very fortunate to feel so comfortable as a solo traveler.
Favorite "WOW" moment
"I had two. I loved the Lobkowicz Palace which I went on my own. The one item on exhibit there that had the "wow" moment is the manuscript from a Beethoven symphony that had Beethoven's notations on it. I love Beethoven, so that was a huge highlight for me. The second "wow" moment was the guided tour at the Municipal House in Prague. The tour of the beautiful art deco rooms (now only for private functions) were all so amazing and each one more beautiful than the other."
Paul
Redmond, WA
Tour: 10/05/14
Overall rating:
Accommodations were very comfortable and close to major attractions. Food choices were excellent and the local guides were great. Our tour guide was marvelous. The schedule was also good and allowed free time to explore on our own.
Favorite "WOW" moment
"My favorite experience, though there were many, was the Hungarian cooking school. No, wait, it was the baths in Budapest. Its hard to chose."
Gene
Lexington, KY
Tour: 10/05/14
Overall rating:
Very nice experience. Our excellent tour companions made it even more special. Etelka was our guide and she was always above and beyond expectations. Her enthusiasm and upbeat tone were infectious and wonderful and she kept everyone moving with precision. Her personal and detailed knowledge of history, the sites, and the peoples of the area were much appreciated. Theresa, Jana and Peter were all local guides. Each of them was excellent.
Favorite "WOW" moment
"There were many. The history, the buildings, the surrounding countryside: I enjoyed it and learned a lot."
Becky
Seattle, WA
Tour: 09/21/14
Overall rating:
There was just the right mix of structure and free time. The guides provided very real and educational information about their countries. They were great about teaching us how to get around the two cities. For the most part, the amount of walking was acceptable.
Favorite "WOW" moment
"I loved the ballet in Prague. I was also taken with the history of Budapest and how much of it had been rebuilt. Ultimately I came to realize how different the system of government was in these countries. They didn't vote change; they had a revolution."
Nadine
North Vancouver, BC
Tour: 09/21/14
Overall rating:
It was a wonderful experience and our guide, Honza was outstanding host and tour guide. My husband Bill and I enjoyed all aspects of the tour... the accommodation, the pace, the structure of each day and everything in-between. I especially loved all the history, stories and places of interest that were highlighted and featured each day. My husband loved the opportunity to take over 1600 photos of beautiful Prague and Budapest.
Favorite "WOW" moment
"There were many "WOW" moments. I still think of the the morning we spent with Andrea, visiting the Pinkas Synagogue and the Old Jewish Cemetery. It was heartbreaking to look at all the artwork of the children and see all the names listed on the walls of the Synagogue. Also, Honza sharing his personal experience as we retraced the steps of the student march of the Velvet Revolution. Loved the Alfons Mucha exhibit and the Opera House in Budapest was stunning."
Barbara
Altadena, CA
Tour: 09/21/14
Overall rating:
Felt we saw, learned and experienced more on this tour than if we had visited the two cities on our own. A big plus to have accommodations, meals, tickets, transportation guides, etc. arranged for you. The size of our group was small enough to get to know one another, and not so large that it was difficult hearing our guide, transporting ourselves to various sites and venues and having meals as a group.
Favorite "WOW" moment
"Both cities had magical character. Attending a concert in a 500+ year church listening to a mezzo soprano sing Ave Maria (2 of the 3 versions I never heard before) without any amplification was a highlight. A close second was viewing with Honza explaining Mucha's Slavic Epic at the Veletrzni Palace."
Denise
Grand Rapids, MI
Tour: 09/21/14
Overall rating:
My first Rick Steves Tour experience met all of my expectations! Our group was friendly and inclusive, led by an outstanding guide, Honza, with impeccably impressive English skills. The locations of the two hotels were key to our independent mobility--accessible to efficient public transportation and walkability. I felt like we were right in the thick of things in both cities. Excellent eateries in both neighborhoods. I felt like I was a participant in an onsite European history class!
Favorite "WOW" moment
"In Budapest, our hotel was across from the Opera House, where there was a 130th birthday celebration, complete with parade, costumes, orchestra outside on the upper deck, and fireworks! Danube river cruise was like being in a fantasy world, the stuff that Disney tries to recreate! In Prague, my favorite evening was listening to the Prague Symphony in the incredible Municipal House!"
Rebecca
Sunset, SC
Tour: 09/21/14
Overall rating:
This was mt first Rick Steve's Tour. I will definitely go on another one.
Favorite "WOW" moment
"Everything - the Architecture, concerts, history relayed to us and the people we traveled with and met on the tour."
Lee
Fort Collins, CO
Tour: 09/21/14
Overall rating:
I appreciated having tour guides who had first person experience with some of the history they reported. There was so much history to absorb that it could be overwhelming. The tour books helped familiarize us with history and reading other books on the history of central Europe should be encouraged. Madeline Albright's book, Prague Winter, was helpful for me. The tour hit the "hot spots" in each city and we had enough free time to hit the areas we had personal interest in.
Favorite "WOW" moment
"The evening cruise on the Danube in Budapest."
Tim
Frisco, TX
Tour: 09/21/14
Overall rating:
We had a great time and were very lucky to have Honza since he helped write the guide book. He was very thorough in his explanations of the history of the region and describing his own experiences growing up in Prague. The walking was strenuous as described but the standing was probably worse. The bus ride to Budapest was time consuming but the group made the trip enjoyable. The local guide told may stories and guided us thorough the streets. We could have used another day in Budapest.
Favorite "WOW" moment
"The sightseeing ride on the Danube in Budapest at night. We all sat outside on the lower desk. The parliment building is breathtaking. The city view from the clock tower in Prague was the second Wow!"
Jeffrey
Peterborough, NH
Tour: 09/14/14
Overall rating:
Great trip. I really enjoyed Prague and Budapest through the back door. Another wonderful Rick Steeves tour.
Favorite "WOW" moment
"No single wow moment."
Jacqueline
Keene, NH
Tour: 09/14/14
Overall rating:
The local guides in both Prague and Budapest were excellent especially the guide in Budapest. Location of hotels in both cities was great and both hotels as to amenities were fine. Also liked the amount of free time to explore these cities on one's own.
Favorite "WOW" moment
"In Prague, the best moments were attending 3 concerts in one of the churches, in the Spanish synagogue, and in the Chapel of Mirrors of the Klementinum. In Budapest, it was attending a ballet at the opera house."
John
Portland, OR
Tour: 09/14/14
Overall rating:
The tour provided an excellent introduction to these two countries and inspired us to explore both in the following month.
Favorite "WOW" moment
"The Art Nouveau architecture in both Prague and Budapest."
Patricia
Garland, TX
Tour: 09/14/14
Overall rating:
My overall experience was great. I found myself doing things that I probably would not have done just following the Rick Steves guides. For instance, the cooking class in Budapest, which I thoroughly enjoyed!
Favorite "WOW" moment
"the local guides knowledge and personal stories about living through the political changes"
Mollie
Everett, WA
Tour: 09/14/14
Overall rating:
My husband and I were not sure if we would enjoy a tour, but we truly enjoyed it! We enjoyed having local guides and cuisine. With most tour activities occurring in the morning, we were able to enjoy things not covered in the tour in the afternoons and evenings.
Favorite "WOW" moment
"I'm not sure if I could pick just one 'wow' moment. The walking tour of the Jewish district in Prague was an emotional experience for me. The tours about communist Prague and Budapest were so interesting. I also enjoyed the Hungarian cooking class. We've already tried a couple of recipes at home."
Gail
Edmonds, WA
Tour: 09/07/14
Overall rating:
It was a good group of folks and a great trip
Favorite "WOW" moment
"Mucha's Slavic Epic at the museum of modern art in Prague and the Opera."
Rolf
Seattle, WA
Tour: 09/07/14
Overall rating:
Honza made this tour an incredible experience. His vast knowledge of the history of the area was enhanced by his telling his families personal stories as they went through the oppressive Nazi and Soviet regimes. He made the history come alive. He arranged for a wonderful entry for the first dinner with local musicians that set the tone for the tour. His suggestions for places and things to do outside of the tour proved to be very good experiences. The tour group held together nicely.
Favorite "WOW" moment
"The Prague castle, the Charles bridge vendors, the pork dishes, organ concert in the cathedral in Budapest, the opera in Praha, the Jewish history in both cities"
Barry
University Place, WA
Tour: 09/07/14
Overall rating:
Our experience is typical, I think, of the tours organized by your company. Excellent, knowledgable guides who seem to enjoy helping tourists learn about the culture and history of their home. Also the people on the tour were all special and enjoyed each other.
Favorite "WOW" moment
"My wife loved the cooking school and our co-travelers. I loved the whole city of Prague, it's architecture and it's energy. And we both were struck by the shoes at the edge of the river in Budapest. We were both disappointed by the direction of politics in Hungary."
Susan
Tucson, AZ
Tour: 09/07/14
Overall rating:
We are not usually tour people, but this trip has made us believers. Our guide, Honza in Prague and Budapest, was absolutely wonderful. We saw just the right mix of places and at a good pace. The people on the tour were all muy sympatico (that's why we chose Rick Steves). Personally, we had to adjust a bit to being on a tour schedule but the balance of structured and free time was very well handled. Of course, you always want more time. :-)
Favorite "WOW" moment
"The Szechenyi Baths were a surprise and delight. I was a little wary, but it turned out SO MUCH FUN! Being let into a BOX at the Prague Opera, surrounded by gold and white and dripping ceilings, another surprise and delight! We probably made fools of ourselves, waving to each other, and passing cameras back and forth to get photos. The mind-blowing Bookcafe at Alexandra's bookstore. Being with Honza for a week and seeing his world unfold through his eyes."
Nola
Oak Park, IL
Tour: 09/07/14
Overall rating:
Honza was wonderful. Elemer was also very good. I was especially touched that Honza made arrangements for the hotel to have a breakfast available for us when we left to come home at 4:30 in the morning. Lots of great history. Moving account of the Velvet Revolution. Wonderful trip overall. Thanks!
Favorite "WOW" moment
"Budapest - incorporaingthe old with the new (architecture) after repeated decimation caused by occupations."
Larry
Seattle, WA
Tour: 09/07/14
Overall rating:
Prague Hotel too noisy. Breakfast lousy. Great location. Budapest tour speaker difficult to hear due to street noise and low voice. Headsets should be used. Honza (guide) very knowledgeable, very attentive to needs of guest, only a few criticisms. Honza is too focused on his own lifetime experiences. He needs to spends more time on the historical significance of the sites. The Austro-Hungarian, Hapsburg, kings and emperors were given a few hours, the 1989 velvet revolution droned on and on
Favorite "WOW" moment
"Expansive view of old town from the site adjacent to the castle."
Linda
Stockton, IL
Tour: 09/07/14
Overall rating:
Honza was excellent in modifying his agenda to meet needs expressed by the group.
Douglas
San Jose, CA
Tour: 08/31/14
Overall rating:
Tour was more than I expected. They keep you going day and night. So much history incorporated in the Tour which was interesting.
Favorite "WOW" moment
"Cruising the Danube in Budapest at night with all the buildings lite up."
Bethany
Mankato, KS
Tour: 08/31/14
Overall rating:
loved the tours and excellent dinners. I would do another Rick Steves tour. Also liked that we had plenty of time to explore on our own.
Favorite "WOW" moment
"I loved the night cruise on the Danube in Budapest. Beautiful and magical. Another very fun enriching experience was the cooking class in Budapest. The tour guides in Prague and Budapest were excellent."
Kenneth
Pleasanton, CA
Tour: 08/31/14
Overall rating:
Wonderful. We arrived a few days early and saw many sites not on the tour. The tour however provided us with the history that accompanied the things we saw. Hearing was so much better than reading a guide book. Outstanding!
Favorite "WOW" moment
"The cooking school."
Dick
Cupertino, CA
Tour: 08/31/14
Overall rating:
The tour was well organized, the guides were very knowledgeable and there was a good choice of the sites visited.
Favorite "WOW" moment
"The Scottish chef in Budapest and the participation."
Paul
Orland Park, IL
Tour: 08/31/14
Overall rating:
The tour had a perfect mix of free time and scheduled activities. The guides, both our main and the local, were well informed and engaging. The guides were both teachers and tour members, allowing themselves to openly interact with the tour members and share their life experiences as well as their subject matter expertise. Suggestions for free time activities were ample, especially for dining options which allowed us to go to local restaurants instead of just the tourist oriented locations.
Favorite "WOW" moment
"Arriving in Budapest and being in a city that did not overwhelm me as a tourist location, but a city that was alive with local residents who were truly welcoming. While Prague is a beautiful city with amazing historical sites, Budapest, with a smattering of Soviet era buildings interspersed with those from the 1800s is real city to which I would love to return. I wish the tour had more days in Budapest."
Karin
Modesto, CA
Tour: 08/31/14
Overall rating:
So many new experiences for me...lots of wow moments. I was very impressed with the local tour guides knowledge and ability to convey it to the group. Hotel accommodations were great, however the hotel Metamophsis directions from the shuttle were a bit confusing. We had to ask several for help. Meeting new people was amazing. We all got along so well, felt like family by the end. Hope to stay in contact with some. I loved all of the walking and stair climbing.
Favorite "WOW" moment
"Too many to mention."
Lauren
Centennial, CO
Tour: 08/31/14
Overall rating:
The tour was outstanding! It exceeded my expectations. This is what I liked about it: *Upscale hotels / delicious breakfast buffets *All tours were included and so well organized *Local tour guides were so knowledgeable. They made history come alive! *Pacing/walking level was not a problem *Our guide for the 8 days took care of us in a very nice way. Cookies & chocolates were great *Washington Team kept me updated and informed prior to the trip
Favorite "WOW" moment
"How can I choose one WOW moment? I loved the cooking school in "Pest". Can't wait to have a dinner party with my friends."
Keith
Mankato, KS
Tour: 08/31/14
Overall rating:
We kept busy which is good. It seemed like a more educational experience than travelling solo. I enjoyed peer group; lots of smart people and experienced travelers. I love to surround myself with people that know more than I do.
Favorite "WOW" moment
"Poignant recollections of three Local Guides about dreary life behind the Iron Curtain and then vivid stories about its fall in 1989; it really affected me and others in the group. In Hungary dismay was expressed with Prime Minister Orban(pro-Putin, anti-Semitic, authoritarian) by a local guide and other Hungarians we visited with. I was both shocked and thrilled when our local guide took us to the controversial WWII monument. Concern was also expressed about Russians in neighboring Ukraine."
Lynn
Hillsboro, OR
Tour: 06/29/14
Overall rating:
I absolutely enjoyed my first Rick Steves European tour, and have only positive things to say about my experience. I've traveled to Europe before, but this was my first time as part of a tour, so I was somewhat apprehensive. However, my apprehension was completely unfounded, as the group dynamics were very good. The tour also mixed an ample amount of individual time with the guided group time, which allowed me to spend additional time exploring those sights that held special interest for me.
Favorite "WOW" moment
"I was blown away by the history of the cities we visited. I realized how little I knew about how the cities were settled, how old they were, and the changes they underwent over time. Prague, in particular, was striking in both the beauty and age of its buildings. I truly appreciated the local guides and their knowledge of history, as they were able to add context to the things we saw. That was just one of the things that made the tour so special."
Mona
Newton, MA
Tour: 06/29/14
Overall rating:
This was the first time I have traveled with Rick Steve's and was quite happy with the experience. Jana our tour guide was amazing. She was knowledgeable, caring, and fun to be with. She certainly set the tone. The group was varied and we all seemed to enjoy each other. Prague and Budapest were lovely cities and I felt like I learned a lot about each city, its history, and its architecture. Prague seemed to be better organized - each tour was a specific topic. Budapest was more jumbl
Favorite "WOW" moment
"There were many wonderful moments on the trip but I guess the one that stands out the most is the concert at the Villa America. It was a true WOW! A private (and high quality) concert in such a beautiful setting. Prague was such a wonderful city to walk around. I loved our tour of the Municipal House. The Spanish Synagogue and the Pinkas Synagogue were quite meaningful. In Budapest the cooking class, the baths, and the ruin bar stand out to me."
Jonathan
Edmonds, WA
Tour: 06/29/14
Overall rating:
The overall experience was excellent. Would have liked a slightly smaller group size but realize financial constraints dictate minimum size. For the non-Jewish in the group there could have been a bit less of the Jewish experience (or it could have been made optional during free time).
Favorite "WOW" moment
"First meeting with tour leader."
William
Marshall, MI
Tour: 06/29/14
Overall rating:
The trip was well organized. The guides were pleasant and knowledgable and provided helpful information. The cities were beautiful and the hotels centrally located. The sights and tour group made the trip well worth it.
Favorite "WOW" moment
"Having a wonderful trip with my family."
David
Shoreline, WA
Tour: 06/29/14
Overall rating:
This was another wonderful & compelling tour. The guides & my fellow tour participants were exceptional, fun and easy to be with. Jana, the main guide was knowledgeable, friendly and very helpful. The local guides were passionate and smart and did a great job as well. I was moved by the stories about the ways the Eastern Europeans survived both the Nazi and the Communist totalitarian governments. Hearing those stories gave me a better appreciation of the freedom we take for granted in the U.S.
Favorite "WOW" moment
"As noted above - touring the communist museum & hearing the stories of the Nazi occupation helped me to better understand & appreciate how these gracious & friendly people managed to live under these totalitarian systems. It reminded me that at any time we are susceptible to being twisted by corruption, power, fear & greed into forgetting our humanity & turning against each other in horrific ways. While things aren't perfect in the U.S., we at least still have the capability to change."
Jennifer
Marshall, MI
Tour: 06/29/14
Overall rating:
What a great tour! Our guide, Jana, was so knowledgeable and friendly. She made our whole group feel welcome right away. Learning the history of Prague and Budapest firsthand from guides who lived in the cities really enhanced the trip. Their willingness to share personal stories made it feel like a visit with friends rather than a tour. I only wish the tour had had equal time in Budapest and Prague.
Favorite "WOW" moment
"St. Matthias Church in Budapest was amazing! We saw several churches on in Prague and Budapest but the painted interior stood out for me. Starting our time in Budapest overlooking the river and city from St. Matthias and Fisherman's Bastion was a stunning introduction to the city."
Caren
Jamaica Plains, MA
Tour: 06/29/14
Overall rating:
As a seasoned traveler this was my first tour experience and I am so glad I chose Rick Steves. It was a wonderful adventure from start to finish and made all the better because of our exceptional leader, Jana Hronkova, who was a warm, caring, organized, articulate, and knowledgeable guide. Our group was varied in age, geography and interest, and we all melded together like an extended family. Prague and Budapest were interesting, beautiful cities, sharing common histories and challenges.
Favorite "WOW" moment
"That's hard, there were many, but would have to say the most unexpected and magnificent experience was our "private" Dvorak concert at Vila Amerika. It captured the old city charm and culture of Prague on our farewell night. The exceptional operatic performances and ambiance of the salon were breathtaking! Other wows in Prague included touring the Municipal House and the Spanish Synagogue. In Budapest, it will be hard to forget our cooking class and the afternoon at the thermal baths!"
Maria
Glendora, CA
Tour: 06/15/14
Overall rating:
The tour was great. Prague is a great city. We visited Kutna Hora on our own and it was a spiritual experience. Not creepy at all! I would suggest you contemplate including it as part of the trip. Budapest is an elegant city and George just shined showing us "his city". I wish we had an extra day in Budapest
Favorite "WOW" moment
"My WOW moment happened when George met us in the hotel lobby at 4:00 o'clock in the morning to make sure that the taxi that he had pre-arranged was there on time to take us to the airport. That was beyond my expectations!"
Larry
Luxembourg,
Tour: 06/15/14
Overall rating:
Another fantastic Rick Steves trip, with great guides, well situated lodging, and nice mix of group and free time.
Favorite "WOW" moment
"The beauty of Prague old town square early in the morning, as the sun is coming up, and it's void of crowds. The view of Budapest, including the Danube and Parliament building, from the castle hilltop."
Jovina
Punta Gorda, FL
Tour: 06/15/14
Overall rating:
We really enjoyed this tour, mostly because of the historical interest generated by the guides. The activity level was good and the free time was well spaced.We would have preferred less time in Prague and more in Budapest. We thought Budapest the more interesting and accessible city.
Favorite "WOW" moment
"Oddly enough, we were pretty wowed seeing the horrid Hilton Hotel next to the lovely church on the castle hill in Budapest. What a testament to the cold war mentality."
Fred
Springfield, NJ
Tour: 06/15/14
Overall rating:
This was our sixth Rick Steves' tours and one of the best. Our guide George and his assistant, Jana, were both home grown and valuable assets. They shared wonderful stories and provided us with insider tips and assistance. Prague and Budapest were presented to us in an exciting manner. The cultural sites that we covered as a group captured the essence of each city. George encouraged us to strike out on our own during our free time to visit the remaining key sites.
Favorite "WOW" moment
"Our visit to the Spanish synagauge in the Jewish Quarter in Prague and happy and relaxed cafe lifestyle of Budapest."
Carl
Winston-salem, NC
Tour: 05/25/14
Overall rating:
We enjoyed both Prague and Budapest. We could not have had a better guide than Honza, and the city guide in Budapest was superb. These are not cities on my bucket list, but I'm glad we made the tour. Honza's experience made both cities and countries come to life. I'm still not a big fan of the food there, but..now I have a better feel for these cultures.
Favorite "WOW" moment
"I really enjoyed the visit to Buda, and the great view of Pest looking across the Danube."
Shirley
Minster, OH
Tour: 05/25/14
Overall rating:
Honza Vihan, our amazing tour guide, made this trip outstanding. His vast knowledge and intelligence, excellent communication skills, pleasant personality, caring attitude toward everyone in the tour group, and overall sense of responsibility about his role as tour guide were really exceptional. So good to have a native Czech as our leader, too! We also had a nice amount of free time to do our own activities and to dine on our own, too.
Favorite "WOW" moment
"It was emotional and educational as I followed our tour guide, Honza Vihan, as we traced the steps he took on Narodni Street toward Wenceslas Square during the 1989 Velvet Revolution. His personal, passionate, and profound explanation brought tears to my eyes. The narrative he provided was his very own experience! Honza was on that Square as a young teenager to make a difference! Now 25 years later, as a husband and father, he shared this with me and our tour group. So powerful!"
Bruce
Sunnyvale, CA
Tour: 05/25/14
Overall rating:
Very interesting to see a part of the world I had never been to before. Very knowledgeable tour guides. Also really liked the suggestion from the Travel consultant at Rick Steve's to visit Cesky-Krumlov, accommodations at Castle View apartments were the best of the whole trip.
Favorite "WOW" moment
"Visit to Prague Castle Complex."
Vivian
Sunnyvale, CA
Tour: 05/25/14
Overall rating:
Honza was an excellent tour guide - bringing the history of Czech Republic to life as well as sharing contemporary life with us. We loved the variety of activities - opera, historical sites, boat trips, etc. Honza was great at helping us learn our way around so during free time we were comfortable touring independently. He was a great resource for ideas of things to visit, restaurants, key Czech words, etc.
Favorite "WOW" moment
"I realized the horror of the Sudetenland annexation to Hitler. Prague is a beautiful city because it was never bombed during the war. The cost was very high - all the Jews were handed over to Hitler. What a high price to pay. On a more positive note, you feel like you are walking on a movie set from the 1800s in a lovely city, Prague."
Robert
Morgan Hill, CA
Tour: 05/25/14
Overall rating:
Our guide, Honza was a wonderful host and leader. As promised, he moved us along quickly, and then spent plenty of time explaining history, architecture and society. His home town, Prague, was of principal interest to him, but he also did very well in Budapest, leading us to a wonderful gulyas hands-on cooking experience and a wonderful final night's dinner in a famous, old restaurant. For the local history and flavor, Elemer was very knowledgeable. The accommodations-top-notch.
Favorite "WOW" moment
"Honza's first-hand experience with the Velvet Revolution in 1989 as a 14-year old, accompanying his older sister on the march to Wenceslas Square. What an experience- to be a part of history at its most dynamic."
Charles
Tallahassee, FL
Tour: 05/18/14
Overall rating:
This was our second tour with Rick Steves' and we enjoyed the special guided tours in both cities.
Favorite "WOW" moment
"Every day provided a "wow" experience of sights, sounds, scenery and food."
Emily
Tallahassee, FL
Tour: 05/18/14
Overall rating:
This was our 2nd Rick Steves tour and once again, we were not disappointed. I like the local-guided walking tours, the mix of organized and free time, the use of public transportation, and getting to know other travelers.
Favorite "WOW" moment
"In Prague, it was the personal experiences and information shared by Lenka when she told us about life under the Communists and the Czech Republic's eventual freedom. In Budapest, I loved seeing the lighted buildings on our Danube cruise."
Sue
Chesapeake, VA
Tour: 05/18/14
Overall rating:
This tour exceeded my expectations. I knew that the tours of the castles, churches, bridges, etc would enhance the sightseeing experience. What I didn't expect was the outstanding meals. Considering we were a group, I thought every restaurant was fabulous. And the recommendations for sight-seeing and meals for our free time were also first-rate. I also was fascinated to hear about the guides' personal experiences living under communism.
Favorite "WOW" moment
"This is a tough one. Prague and Budapest are both beautiful cities. I would have to say the view of Prague from the castle complex was breath-taking. The "cooking lesson" in Budapest was a nice break from sightseeing, yet allowed us to experience something new. Really enjoyed that. The Danube river cruise was beautiful."
Nancy
Portland, OR
Tour: 05/18/14
Overall rating:
I totally enjoyed my tour.I felt like by the end,I had a understanding of the history, culture and the unique characteristics of both Prague and Budapest.The over all experience was magical. I had wanted to go to Prague for years because I had heard some many people say it was wonderful, and I was not disappointed. The cobblestone streets, the old churches,the shops and restaurants were all amazing.Budapest was a My fellow travelers were delightful as were our trusty guides, Istvan and Rebecca
Favorite "WOW" moment
"That is a hard question to answer. The views from all the towers and high places were wonderful, but I think for me it was the size and outstanding features of the churches and opera we visited. They were breathtaking.I took a lot of pictures inside and out. The ornateness of the alters and the details in the architectu, the stained glass windows, and the tile floors, and colors and designs ,and the statues.just all the intricut details and human energy that went into each one was awesome to me."
Phil
Chesapeake, VA
Tour: 05/18/14
Overall rating:
It was amazing!Prague's old world charm was magnificent! Budapest is an incredible cosmopolitan city. Having afternoon's off to do some exploring on our own worked well. The restaurants and pubs Istvan took us to were excellent...the food and drink were fabulous! Well done!!! As for our group, we were all similar in age, and got along really well. And the part you're not gonna wanna read...there were only 14 of us! It was the perfect sized group!!
Favorite "WOW" moment
"There were many...but spending an afternoon in the cooking school in Budapest was the "wow" moment!! Wasn't expecting that!"
Marilyn
East Brunswick, NJ
Tour: 05/18/14
Overall rating:
All important sites were shown to us.small group helped it be that more Intimate.everything coordinated.
Favorite "WOW" moment
"Both cities were wow but my personal wow was at the Pincus Synogue."
Claudia
Oakland, CA
Tour: 05/18/14
Overall rating:
The location of our hotels could not be better. They were clean. The included breakfasts were wonderful, lots to choose from. The staffs at the hotels were very helpful and quick to respond to any issues. Our group was small (13) which was excellent. It was easy to get to talk to everyone. The restaurants chosen for our group were great and the food all fabulous!
Favorite "WOW" moment
"I think my favorite moment was when our group went to a Hungarian cooking school and made our own lunch - from soup to dessert - and we each received a free cook book."
Dennis
Oakland, CA
Tour: 05/18/14
Overall rating:
The tour was everything I expected and more. It was my wife and myself first tour in Europe and with Rick Steves, although we have toured Europe on our own 3 or 4 times. I can't imagine any tour having a outstanding rating, so I would rate this one very good if it were listed on the survey. Anyway, the guides,accommodations, and the tour were top-notch. The tour group were a bunch of great people. We had a lot of fun together.
Favorite "WOW" moment
"There were too many to narrow it down to one! The cooking class was a lot of fun and the food we prepared turned out to be quite good!"
Weather

Czech Republic / Prague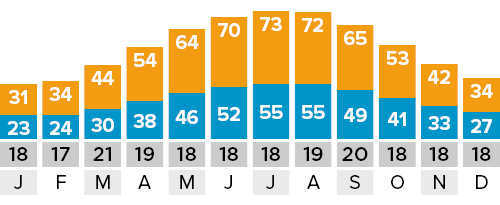 ---
Hungary / Budapest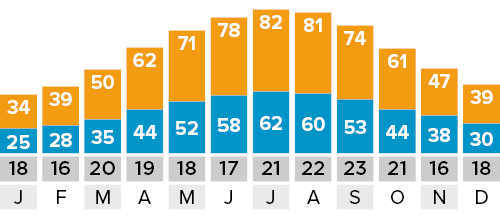 Pre-Tour
We've put together some specific information on what you should know about this tour before you go. You'll also find more general information about "Getting Ready for Your Tour" on our Tour FAQ.
Travel Resources
Learn more about Prague and Budapest: Check out a collection of Rick's TV shows, radio interviews and articles, plus find a list of recommended books and movies.
Transportation
Prior to your tour departure, you will receive detailed directions on how to get from the airport to your first tour hotel, as well as contact information for your first and last hotels in case you wish to book pre- or post-tour hotel accommodations.
Many tour members arrive a day or two before the tour begins — and those who don't, wish they had. This allows you ample time to get over jet lag and make the most of the first few days of the tour.
There is more than one way to get to and from your tour. Most tour members will arrange to fly into Prague and out of Budapest ("multi-city" on flight booking websites). Booking round-trip to one city will require a connecting flight, train trip, or additional overnight stay in Europe.
For information about flying within Europe, ask your travel agent or check Rick's list of European budget airlines.
Read Rick's train travel and rail pass tips to decide if your travel plans merit a rail pass.
If you have additional European travel or tour questions, contact the Tour Department at 425-608-4217 or email tour@ricksteves.com.
Sightseeing On Your Own
If you arrive in Prague before your tour begins, use Rick Steves Prague guidebook to get oriented. Ride the public transportation, try out a few words of Czech (although many locals speak English well), and get over your jet lag with fresh air and exercise.
Here are suggestions for sightseeing in Prague that we will not be doing as a group (see your guidebook for details): Museum of Medieval Art; Havelská Market; National Museum; Toy and Barbie Museum; rowboat or paddleboat on the Vltava River.
Packing
While it is important to pack light, there is one thing you should consider including when packing for this tour. Budapest is known for its natural hot springs and spending time at one of the many baths around town is a great treat, so you may want to bring along a swimsuit.
For advice on what (and what not!) to pack, see Rick's packing tips.