Prague Spires

Prague's St. Vitus Cathedral

Musicians in Prague

Hungarian Parliament in Budapest

Budapest's Great Market Hall

Széchenyi Thermal Baths in Budapest
Tour Questions? Call 425-608-4217
Best of Prague & Budapest in 8 Days Tour
We've brought together Eastern Europe's must-see cities — Prague and Budapest — for an eye-opening eight-day adventure. You'll explore Prague's mighty castle, swirling Baroque churches, fascinating Jewish Quarter, and sample what may be Europe's most refreshing beers. Then it's on to cosmopolitan Budapest, with its unexpected elegance, hidden courtyards, remarkable markets, and tales of a tumultuous history — an experience that's spiced with surprising cuisine and a panoramic cruise along the Danube. Join us for the Best of Prague & Budapest in 8 Days!
What's Included
A small, friendly group of 24-28 people — half the size of most tour groups
Full-time services of a professional Rick Steves guide and local experts who will make the fascinating history, art and culture of Prague and Budapest come alive for you
All tours and admissions — at no extra cost — covering at least 18 group sightseeing events • Prague Castle tour • St. Vitus Cathedral • St. George's Basilica • Old Town walking tour • Municipal House tour • Mucha Museum • Josefov Jewish Quarter orientation • Velvet Revolution walking tour • Budapest bus orientation tour • Buda Castle district and Matthias Church tour • Pest walking tour • St. István's Basilica • Great Market Hall • Hungarian cooking class • Cultural performance • Hungarian State Opera tour • Heroes Square tour • Danube cruise...and more
All group transportation from Prague to Budapest
7 nights accommodations (4- and 3-night stays) in memorable, centrally-located hotels
All breakfasts and half your dinners
All tips for guides and driver
Free stuff including Rick Steves' Prague & Czech Republic and Rick Steves' Budapest guidebooks, map, moneybelt and earplugs
Guaranteed tour price, locked in the moment you make your deposit
Optional single supplements — this tour has a limited number of private rooms for solo travelers for an additional fee
Tour alum discount of $50 for each tour you've taken prior to 2014
50% discount on a consulting appointment with our in-house experts to assist with your pre- or post-tour travel plans
Flexibility should you need to transfer, or cancel/interrupt your tour
Fine print: You are responsible for the cost of your drinks and free-time sightseeing. See our Tour Conditions Agreement for important details regarding everything listed above
Itinerary
Daily Activity Key
Light = 2-4 miles of mostly level walking throughout the day.
Moderate = 2-6 miles walking throughout the day with some hills and stairs.
Strenuous = 2-8 miles walking throughout the day with lots of hills, stairs and uneven terrain.
Day 1: Welcome to Prague
We'll meet in our hotel around 4 p.m. to get acquainted and go over the week's schedule. Then we'll take an orientation walk through our Old Town neighborhood and over the historic Charles Bridge — one of Europe's most entertaining promenades — followed by a hearty dinner together. Sleep in Prague (4 nights). No bus. Walking: moderate.
Day 2: Prague of Kings and Nobles
This morning we'll hop on a local tram to take us across the Vltava River and up the hill to the most massive castle complex in continental Europe: Prague Castle. We'll tour the impressive St. Vitus Cathedral, Old Royal Palace, St. George's Basilica and the Golden Lane. To see for ourselves whether Prague really is home to the best beers in Europe, we'll walk to a nearby monastery's brewery for a refreshing mug and lunch together. Then you're on your own to wander back down to the Old Town, where you'll be free for the evening. No bus. Walking: strenuous.
Day 3: Jewish and Art Nouveau Prague
Today we'll take a walking tour through the Josefov neighborhood, once the site of Prague's Jewish Ghetto — and still one of the most evocative Jewish districts in all of Europe. For a thousand years one of the leading centers of Judaism, the neighborhood is studded with thought-provoking museums, fascinating synagogues, and a Kafkaesque, dream-like cemetery. After free time for lunch, we'll take a tour of the classy concert halls and salons of the city's Municipal House and continue our Art Nouveau education at a museum devoted to the local master of Art Nouveau: Alfons Mucha (whose stained glass you will have already marveled at inside St. Vitus Cathedral). Your evening will be free for dinner on your own. No bus. Walking: strenuous.
Day 4: Revolutionary Prague
We'll start our day with tales of Prague's past struggles with communist occupation, the significance of the Prague Spring and the emergence of Václav Havel. We'll then retrace the footsteps of Prague's celebrated Velvet Revolution, following the events of November 17, 1989, through the modern city to Wenceslas Square, where thousands of Czechs held up and rattled their keys, telling their communist leaders, "the time has come for you to go home." We'll return to the present in time to enjoy dinner together and catch a cultural performance, perhaps a classical concert or experience the quirky and uniquely Czech, Black Light Theater. No bus. Walking: moderate.
Day 5: On to Budapest
This morning we'll board our coach for the drive to Budapest. En route we'll pass through the rolling hills of ancient Moravia and modern Slovakia, catching our first glimpse of the wide, blue Danube as we approach the capital city that straddles both banks of the river. Upon arrival this afternoon, we'll drive up Buda's steep Castle Hill for bird's-eye views of "twin city" Pest across the river, and introduce you to Budapest's greatest church: the sumptuously-gilded Matthias Church. When we've finished here, we'll settle in to our hotel and enjoy a Hungarian dinner together. Sleep in Budapest (3 nights). Bus: 7 hrs. Walking: light.
Day 6: Bustling Budapest
Pest — the larger, more sprawling half of Budapest — is a puzzle of Baroque, classical, and modern architecture. On our walking tour this morning we'll crane our necks beside Europe's largest, most ornate parliament building, and learn how Hungarians coped with half a century of fascist and communist tyranny. At St. István's elaborate basilica, we'll hear why, once a year, locals parade the saint's millennium-old fist around the city. Then we'll explore the city's Great Market Hall (Nagyvásárcsarnok), where we'll treat our senses to a few paprika-infused delicacies in a special Hungarian cooking class. Later tonight we'll regroup and relax with a cruise along the Danube. Boat: 1 hr. Walking: strenuous.
Day 7: Elegance of Empire
This morning we'll tour the caked-in-splendor home of the Hungarian State Opera. Built in the 1880s, when Budapest was co-capital of the Austro-Hungarian Empire, the Hungarians took every opportunity to make their opera house more opulent than anything the Viennese could muster. You'll see they succeeded. Then we'll ride on the oldest metro in continental Europe, on our way to Heroes Square to see and learn about the bronze-cast, larger-than-life players in Hungary's national story. This afternoon your guide will be happy to arrange a chance to soak in the ornate public Thermal Baths (yes, you'll have plenty of time to soak it all in!). Tonight we'll rendezvous for a special dinner together, sharing travel memories and toasting new friends. Egészségedre! No bus. Walking: strenuous.
Day 8: Tour Over After Breakfast
Budapest's Ferihegy Airport and three busy train stations can connect you to practically anywhere in Europe, and your return home. Whatever your plans, your guide will help you get on the right track. Viszontlátásra!
Itinerary specifics subject to change.
Activity Level
Our tours are physically active! It's an essential part of the Rick Steves tour experience. On our Best of Prague & Budapest in 8 Days tour — among other things — you'll need to happily...
Carry/roll your luggage over uneven pavement (several blocks possible) and up stairways to reach your hotel; then up several flights of stairs to reach your room.
Be on your feet, walking and standing for up to four hours, indoors and outdoors, in all weather conditions.
Sleep with street noise and no (or weak) air conditioning.
After orientation and transportation lessons, be able to navigate towns and cities on your own.
Reviews
Ben
Lexington, SC
Tour: 10/27/13
Overall rating:
Our tour guide Kata was outstanding. She is a walking history book and paid close attention to every detail.
Favorite "WOW" moment
"Realizing first hand the difficulties the two country's experienced under Hitler, then Stalin."
Eric
Tigard, OR
Tour: 10/27/13
Overall rating:
This was a great trip! The guides were excellent and informative and very responsive to the group. Katka was outstanding both in the information she provided and how well she kept us organized and on task. Accomodations were very nice and their locations were perfect.
Favorite "WOW" moment
"There were just too many to narrow it down to one."
Ann Marie
Easton, MD
Tour: 10/27/13
Overall rating:
I have travelled independently for many years with my husband and friends. This was my first tour, ever, and it was one of the best travel experiences of my life. The balance of free / managed time was perfect. Our guides, especially Katerina, added an element of personal experience and knowledge that I otherwise would have missed that added to an outstanding trip. It felt as though I spent a week+ in school and that's a very good thing!
Favorite "WOW" moment
"My favorite "wow" moments are a toss up between two. Crossing the Vltava at night for the very first time, as we approached Stare Mesto. "Spectacular", I declared! "I don't know this word!", exclaimed the taxi driver. And, hearing the personal stories of all our local guides. I felt humbled and enlightened by their experiences and what they had to share."
Rebecca
Portland, OR
Tour: 10/27/13
Overall rating:
A year ago right now, I knew very little about the Czech Republic and Hungary. I had heard how beautiful both were--but they were just names to me. Being on this trip with our knowledgable guide, Katka, experiencing the culture, learning the past and recent history, and reading Prague Winter by Madeline Albright has changed me. I now have a deep appreciation for that part of the world.
Favorite "WOW" moment
"I think arriving at Buda Hill right at sunset and taking pictures across the Danube of the Parliment was my WOW moment. Even the pictures I got on my iPhone are spectacular."
Steven
Sparta, MI
Tour: 10/27/13
Overall rating:
The tour allowed us enough insight to feel very comfortable traveling by ourselves during the scheduled free time. We attended an opera and a concert on our own with confidence gained by the tour's orientation walks.
Favorite "WOW" moment
"The public baths of Budapest were pure joy. the "ruin pubs" of Budapest were also an unexpected boon. Prague had some of the best "street food" that I've tasted."
Gerri
Redmond, WA
Tour: 10/27/13
Overall rating:
Interesting, informative and fun! I knew so little about the history of these 2 countries and Katka was the perfect guide to lead us. I gained perspective on the varied past, saw beautiful sites and had gun experiences with our tour members. And the accommodations and food were excellent. This was my first Rick Steves' tour (used consulting services before) but it won't be my last. I liked the amount of free time with good advice from Katka on how to use it well.
Favorite "WOW" moment
"Visiting Prague Castle complex and the views of the city. Prague is a stunningly beautiful city."
Vicki
Seattle, WA
Tour: 10/27/13
Overall rating:
In preparation I read some history and in depth current event books. Although critical dates and facts stuck in my head, I felt so small the first day I walked in Prague. I was mesmerized by the cobblestones and the lintels above doors; and that was before I looked up. The architecture, history and people - I loved it all. Katerina was wonderful, and represents her country and profession very well. I plan on returning to both Prague and Budapest for a longer stay.
Favorite "WOW" moment
"Walking across the Charles bridge. I pretended we were in an earlier century and I was headed to the castle."
Vern
Kidron, OH
Tour: 10/06/13
Overall rating:
I love history and this fairly reeked of it. The treatment of the Jews in both countries as well as stories of the Soviet occupation were heart rending. I will never forget 60 Anastassy st.
Favorite "WOW" moment
"The boat tour at night on the Danube was one of many."
Shirley
Kidron, OH
Tour: 10/06/13
Overall rating:
It was a wonderful week of history, great food (I like the food in Budapest better than Prague), fellowship with wonderful people and great beer...and wine!! There was just the right amount of planned events and free time. We are planning the next trip with Rick Steves.
Favorite "WOW" moment
"Must I choose one? I loved our local tour guide Martin the best. When he shared his own personal stories of communism and I saw the feelings in his eyes, I began to understand the whole situation a lot more. I hope I never forget it."
Claire
Raleigh, NC
Tour: 10/06/13
Overall rating:
Prague and Budapest were both really fun cities. Quite different from each other and the time spent in each was perfect.
Favorite "WOW" moment
"Prague Castle was great! Astronomical Clock was a fun highlight. Crossing Charles Bridge was an experience not to be missed. Concerts in Prague are plentiful and worth an hour. None of these things were included in the tour: Thermal Baths in Budapest. The House of Terror was scary and sobering. Well worth seeing. Don't miss having a drink at the New York Cafe and Gerbeau! Don't miss walking along the Danube, seeing the shoes, and crossing the Chain Bridge."
Sandy
Key Colony Beach, FL
Tour: 10/06/13
Overall rating:
This is my first group tour and I appreciate all the planning that I did not have to do. I must say that I am used to using my Ricky guide and local tours to see the sights at my own pace so being on someone else's schedule took a bit to get used to. I applaud the effort made by the this tour to teach each of us how to see the city in our free times on our own by providing guide books and local bus/subway passes. I so much enjoyed meeting and spending time with the other travelers!
Favorite "WOW" moment
"My favorite wow moment was the night cruise in Budapest - simply beautiful! But my most memorable moment was touring the House of Terror and realizing what the people of Hungary and Czech had gone thru while I enjoyed my easy life in the US. This realization came from not just this one museum but as a series of reflections from visiting the Jewish ghetto, stories of the Nazis and then personal stories of life under Soviet rule and the Velvet Revolution"
Robert
Holland, MI
Tour: 10/06/13
Overall rating:
Eszter was great. Highly energetic and very knowledgable. I enjoyed the group of people that we were with.
Favorite "WOW" moment
"hearing from a tour guide who lived through communism"
Cynthia
Lincoln, NE
Tour: 10/06/13
Overall rating:
Loved the cities, loved Eszter, guided tours were excellent, and chosen to present specific aspects of each town. Thanks for instruction on how to use public transport in each city, gives us freedom to explore after guided tours are over. Like the afternoon free time worked in. Loved this tour Rick. I hope to travel with RS again and often.
Favorite "WOW" moment
"Cooking class in Budapest, Art Nouveau in Prague."
Thomas
Key Colony Beach, FL
Tour: 10/06/13
Overall rating:
Excellent guides. Very knowledgeable and helpful. The use of pulic transportaton ws excelent. It provides a good understandng of the cities and allows the travelers to meet locals
Favorite "WOW" moment
"Baths in Budapest"
Boris
Livingston, TX
Tour: 10/06/13
Overall rating:
The tour guide and the local tour guides were awesome.The approach of balancing guided tours and personal exploration was just right.This trip validated your approach of limiting the trip to people who accept the "no-whining-clause",only have a small backpack,and are comfortable traveling on their own on subways in different non-English speaking cities.The group was varied, fun.The choice of hotels was excellent and struck a good balance between cost. location,charm,services.Were were HAPPY
Favorite "WOW" moment
"Experiencing 4 concerts in Prague,and 2 very different operas in Budapest."
Judy
Bend, OR
Tour: 10/06/13
Overall rating:
We chose a RS tour because we like the travel philosophy and we weren't disappointed.
Diane
Apple Creek, OH
Tour: 10/06/13
Overall rating:
I enjoy cities and these two were very different so it definitely two distinct experiences. a nice contrast between a mostly historical area and a more modern city. There was a good mix of planned walking tours and free time to do extra things.
Favorite "WOW" moment
"i was amazed how much we were able to do before the tour started so that was a good feeling. going to the House of Terror in Budapest was a very moving experience. it was very well done from the background music and other sound effects to the first person videos detailing their experiences."
Dennis
Seal Beach, CA
Tour: 09/22/13
Overall rating:
Totally wonderful experience in all respects. Both cities a real eye opener for us. A real cultural and humbling experience.
Favorite "WOW" moment
"The architecture ang age of the buildings in Prague. Also the fact that Russian rule was there till 1989."
Henry
Summit, NJ
Tour: 09/22/13
Overall rating:
The tour was great! Perhaps too short. Prague a fascinating trip back in time [INVALID] untouched by World Wars (or any was after 1648); Budapest an ancient city that was reborn in 1867 (or so), matching Paris. Wonderful guide (Peter) and a great group [INVALID] no whiners. Great mix of arranged tours and time to ourselves. And some nice food too.
Favorite "WOW" moment
"I'd say the Szechenyi Baths. Just a wonderful, fun, hot time in the baths -- particularly the current pool. Glad we decided to do it!"
Steve
Seattle, WA
Tour: 09/22/13
Overall rating:
A most enjoyable experience!
Diane
Upper Arlington, OH
Tour: 09/22/13
Overall rating:
We really liked this tour. It made a part of the world where we do not know the local language accessible and enjoyable.
Favorite "WOW" moment
"There were so many! Loved St. Vitus Cathedral, and the Danube boat tour (even in the cold!). Being in Wenceslaus Square where so many historical events have taken place was amazing. Also, the baths in Budapest were a lot of fun!"
Mary
Ravenna, OH
Tour: 09/22/13
Overall rating:
I really enjoy the learning aspects of the program (Prague and Budapest) and this program had many opportunities to learn. Our guides were knowledgeable and some even passionate about making sure we understood the culture now and how it has been shaped by the years behind the iron curtain. I like being taken out of my comfort zone and learning to use the public transport. We stayed a few days after and were able to go other places because we had that understanding.
Favorite "WOW" moment
"My wow moment came from Martin, one of our tour guides in Prague tied with a visit on our own at Peter's suggestion, to the House of Terror in Budapest. Martin's passion about how people had to live behind the Iron Curtain coupled with the very visual and audible experiences in the House of Terror woke me up to the fact of how tied up in my own world I was during that time. It makes me more aware of what is happening in this world and letting my children and grands know to pay attention!"
Linda
North Liberty, IA
Tour: 09/22/13
Overall rating:
At the onset of the tour, I was worried that it would be too strenuous. Thankfully, it was not. There was a good mix of guided activities and free time. Our tour guide was more knowledgeable about Budapest than Prague, but since he was Hungarian that was to be expected. He made a big deal about Czechs not smiling and being gruff, but I didn't find the Hungarians to be especially welcoming either. His stories about growing up in Hungary were wonderful. Martin was the best Czech guide.
Favorite "WOW" moment
"The concert at the Spanish Synagogue. The combination of the musical golden oldies and the richness of the decoration in the synagogue was magical. I wish Peter had mentioned where other concerts were taking place. He did talk about the Black Light Theater, but when we went, tickets were sold out."
Elizabeth
Summit, NJ
Tour: 09/22/13
Overall rating:
We had an active and cheerful group! Peter was an excellent tour supervisor and local guide in Budapest, and the local guides in Prague were also excellent. The sites you selected to show us were fascinating. We especially appreciated the instruction on public transportation as well as the 3-day transit passes. The whole trip was well-organized, very smooth, educational and a lot of fun. Even the weather cooperated.
Favorite "WOW" moment
"I don't know that I would call these "wow" moments, but the extras--the nighttime Danube cruise and the Hungarian cooking lesson--were lots of fun. Also, Peter was very good at explaining how to manage the thermal baths in Budapest, and they were a blast."
Elizabeth
Iowa City, IA
Tour: 09/22/13
Overall rating:
Excellent guides, well thought out itineraries, and centrally located hotels.
Favorite "WOW" moment
"The concert in Prague was amazing!"
Ross
Huntingdon Valley, PA
Tour: 09/22/13
Overall rating:
We just loved our trip. We got to see a part of the world that was new to us, and there were just many great things to see and learn while there.
Favorite "WOW" moment
"This was our first group tour, and we had some slight qualms about being with a group with people we didn't know. As it turned out, our group turned out to be so great we made new friends with many of our fellow tourers."
Noel
Pittsburgh, PA
Tour: 09/15/13
Overall rating:
First and formost, the guides were fabulous. They were knowlegdable and open about the attractions and gave us insight into life in these places. The group was a perfect size and we all got along very well. The hotels were perfectly situated and had wonderful ammenities. There was a good combination of planned and free time. I am looking forward to my next tour (of course with Rick Steves).
Favorite "WOW" moment
"There were too many to just list one."
Gail
Pittsburgh, PA
Tour: 09/15/13
Overall rating:
I thoroughly enjoyed being in the midst of the people in Prague and Budapest, being able to talk with them, being helped by them when we had a bit of transit confusion, learning about the history and cultural mores of the Czech Republic and Hungary, and hearing about current life in Prague and Budapest especially from all of our guides, both trip guides and local guides. The itinerary was well designed combining history, architecture, arts and even a cooking class in Budapest!
Favorite "WOW" moment
"The various Art Nouveau buildings culminating in the house Elemer Boreczky took us to on our Budapest walk. He got special permission for us to even walk into the grounds in the back, to see how the once elegant home was now used."
Phil
Saint Paul, MN
Tour: 09/15/13
Overall rating:
The tour was an excellent educational experience for me. While Prague has a bit more soot and Budapest seems to beg comparison with Paris it was fascinating to see people in both cities go about their daily lives, care for their children and pamper their dogs. The food is different but the appreciation of music is similar.
Favorite "WOW" moment
"A couple of mundane moments stand out as "wow"moments for me. One was looking out of our hotel room in Prague and realizing that building had been there since the 1300s. The next was lunch at the Bake Shop in Prague and seeing customers interacting, enjoying a great lunch, reading papers and business reports much like one sees in major US cities."
Debra
Fort Collins, CO
Tour: 09/15/13
Overall rating:
I was not that impressed with Prague and would have rather spent more time in Budapest. This was my second visit to Budapest and I could go back a third time where as one visit to Prague was enough for me.
Favorite "WOW" moment
"The good examples of architecture. Seeing all the art nouveau architecture was my wow moment."
George
Madison, WI
Tour: 09/08/13
Overall rating:
Everything went like clockwork (in fact, just like the Astronomical Clock). Tour guides were all knowledgeable and we went away with a real understanding of the locations, history, people and culture (as much as possible in 8 days)
Favorite "WOW" moment
"The cruise on the Danube seeing Budapest at night."
Edward
Plymouth, MN
Tour: 09/08/13
Overall rating:
Despite some inclement weather the tour was nothing short of outstanding!
Favorite "WOW" moment
"I was in Moscow in 1968 on Aug 19th and our tour was to fly to Prague the next day. Unfortunately the Russians changed our plans as they choose to "put down" an up rising by sending tanks down St Wenceslas Square. Holes still remain in some buildings from the gunfire. We were to stay at the Grand Hotel on the square. I often wonder what it would have been like if I were to have been there a day earlier. We enjoyed a wonderful string sextet concert in Prague. The beer was great."
Peggy
Plymouth, MN
Tour: 09/08/13
Overall rating:
I am very interested in the history and the people in the Czech Republic and Hungary. We learned so much from our tour and the guides. I like that we are taught to use public transportation so we can use our free time to see additional sites. The guide books were very helpful also.
Favorite "WOW" moment
"I really liked touring the Opera House in Budapest! It was so grand and beautiful! We were fortunate to see an outdoor performance promoting the coming Opera season. The old Jewish cemetery in Prague was also a "wow" moment."
Laurie
Delmar, NY
Tour: 09/08/13
Overall rating:
I've already resisted going on tours, would rather do it myself. Chose this tour for small group size, fan of Rick's books. Was generally happy with the experience. Hotel locations & the tour leader & guides were all excellent. Also the whole RS 'mentality' -very congenial group, no whiners. Appreciated getting the 3-day transit passes, being taught how to use the system early on. Full day bus ride Prague-Budapest kind of a waste of time on 6 1/2 day tour - could we have taken night train?
Favorite "WOW" moment
"Jewish Quarter and Cemetery in Prague. I was very affected by the whole experience. Gershwin concert in beautiful Spanish synagogue - which we did on our own. Also first walk across the Charles Bridge, fortunately later in the day when crowd had dissipated somewhat. In Budapest, loved the Market Hall, cooking class and going to the thermal bath."
Melinda
Provo, UT
Tour: 09/08/13
Overall rating:
Our tour was completely fabulous! We have traveled extensively on our own but this was our first Rick Steves' tour, though we've used his books for years and we've hired his recommended guides frequently as private guides for our family for a day or two in various cities. Going on the fully organized tour really took our travel to the next level. It was great to have all the details taken care of, the guides were phenomenal, as always, and there was plenty of "free" time to explore on our own.
Favorite "WOW" moment
"There were so many memorable moments but I particularly appreciated hearing the stories of several heroes of the Holocaust that I had been previously unaware of. Upstairs in the synagogue in Prague there is a display about a woman who secretly taught the children art in the concentration camp that was amazing. Touring the Jewish ghetto in both Prague and Budapest was very educational and powerful. In both cities, we might not have seen those on our own, which is one reason the tour was so great."
Carol
Rancho Palos Verdes, CA
Tour: 09/08/13
Overall rating:
First organized tour for my husband and self. George, Sharpa and Leann were the best! I learned so much about the history and culture. All of the people in our group were friendly and easy going. No stress. I loved the structure in the morning with some free time in afternoon. Zipping around town on the subway system is the way to go. Evening dinners were very enjoyable. Staying 5 nights in Prague and 3 in Budapest was perfect. I need a minimum of 3 days in one city.
Favorite "WOW" moment
"Small intimate church concert in Prague. We were in front row and could have touched the violinist."
Frances
Hingham, MA
Tour: 09/08/13
Overall rating:
I really enjoyed the trip. Thought the hotels were "boutique hotels" and both were in a great location. Enjoyed the size of the group and felt that the guides were fantastic. Geoge , our leader kept everything on schedule and was very interesting . The cooking class and Evening river cruise were delightful in Budapest. Did not lke the show in Prague. Would have definitely preferred a Concert.
Favorite "WOW" moment
"In Budapest I enjoyed the Castle area. Very beautiful and easy to walk around."
Beth
Burien, WA
Tour: 09/01/13
Overall rating:
Our tour was fortunate to have guides (Honza and Eszter) who were actually from Prague and Budapest. Learning about the cities from them made it totally personal. In addition, the local guides (Martin and Elemer) added so much history and their own stories. The guides were all fantastic, personal and incredibly knowledgeable. We can't help but wonder where the tour is able to find them! So much of the fun on a tour like this is getting to know our fellow tourmates. Our group was the best!
Favorite "WOW" moment
"Finally seeing the cities we've read and heard about all our lives. Seeing the architecture and centuries-old buildings and sites in person was something that a photo doesn't quite capture."
Carolyn
Wenatchee, WA
Tour: 09/01/13
Overall rating:
The guide Hanza seemed distracted or troubled, and we discovered later there was something amiss. Ester stepped in and did a very nice job, very customer service oriented and fun. The noise at the first hotel from the club and bars was very load at night, but overall was a nice hotel. The breakfasts were very good in both hotels. Sunday night dinner, Wed. night dinner and Sat. night dinner were subpar (the one dinner with good food was the first night in Budapest).
Favorite "WOW" moment
"Enjoyed the walking tours and Ester saving the tour from strangeness was very good. We bonded as a group more with her in the few days we had, than the first 3 days. Really moved by the Jewish quarter in Prague."
Pamela
Barnum, MN
Tour: 09/01/13
Overall rating:
This was my first "tour" by anyone. I notice that Eszter is the tour guide listed, but I hope our guide from Prague will also be given credit for providig an "over-the-top" historical lesson of Prague. On top of that, his knowledge of the architecture of Prague was tough to beat by anyone. I hope to attend another Rick Steves tour in the future. Maybe something with my daughter.
Favorite "WOW" moment
"Walking down the square with Hansa (sp) and hearing his first-hand experience of the Velvet Revolution."
Lynn
Pewaukee, WI
Tour: 09/01/13
Overall rating:
I've never been a part of a tour group before and was hesitant to do so, however, the tour was great and we had a good group. All of the tour guides were very knowledgeable and willing to answer any questions we had. We had time together as a group and also time on our own to do our own exploring. I do think that we could have seen a few more sights together as a group. The accomodations were very nice and the tour as a whole was very organized and efficient.
Favorite "WOW" moment
"My most memorable part of the tour was the Jewish Quarter in Prague. Reading the names on the walls made me realize just how very fortunate I am and how many people perished. It is almost unbelievable. The childrens art exhibit was fasinating and sad at the same time."
Ingrid
Sarasota, FL
Tour: 06/23/13
Overall rating:
This is our third Rick Steves tour. We've thoroughly enjoyed each one, but the personalities of our guides and efforts to establish group harmonics and cohesiveness and personal attention on this tour were unsurpassed. Area history (early and recent) and architecture presented by the local guides and the good humor each had was wonderful. We loved the extras - local musicians playing for us, the dinners, the concert at the Spanish Synogogue, suggestions for free time activities, etc.
Favorite "WOW" moment
"I was knocked out by the fabulous musicians and soprano at the Spanish Synogogue and what a setting!! Beautiful!"
Edward
Sarasota, FL
Tour: 06/23/13
Overall rating:
We enjoyed it so much that we can't wait for our next Rick Steves Tour. But which one to choose?
Favorite "WOW" moment
"The actual window for The Defenestration of Prague. The evening river cruise on the Danube. A dinner serenade by 2 wonderful musicians (Prague). A goulash school (with diploma) in Budapest. I tried the recipe at home. An unexpected chamber concert in Prague - very good musicians and a very good soprano."
Weather

Czech Republic / Prague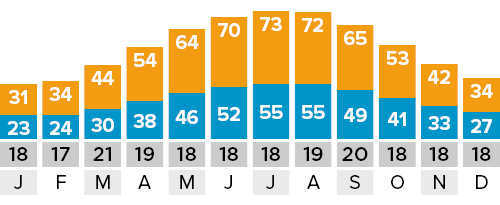 ---
Hungary / Budapest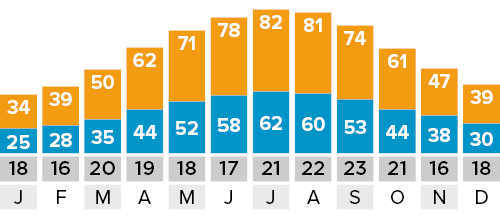 Pre-Tour
We've put together some specific information on what you should know about this tour before you go. You'll also find more general information about "Getting Ready for Your Tour" on our Tour FAQ.
Sightseeing On Your Own
If you arrive in Prague before your tour begins, use Rick Steves' Prague guidebook to get oriented. Ride the public transportation, try out a few words of Czech (although many locals speak English well), and get over your jet lag with fresh air and exercise.
Here are suggestions for sightseeing in Prague that we will not be doing as a group (see your guidebook for details): Museum of Medieval Art, Havelská Market, National Museum, Toy and Barbie Museum, rowboat or paddleboat on the Vltava River.
Transportation
Most tour members arrive a day or two before the tour begins — and those who don't, wish they had. This allows you ample time to get over jet lag and make the most of the first few days of the tour.
There is more than one way to get to and from your tour. We recommend talking to your travel agent about "open jaw" airline tickets (flying into and out of different cities). Prague and Budapest are transportation hubs, making travel before or after your tour quite easy.
For information about flying within Europe, ask your travel agent or check Rick's list of European budget airlines.
Read Rick's train travel and rail pass tips and decide if your travel plans merit a rail pass.
Prior to your tour departure, you will receive detailed directions on how to get from the airport to your first tour hotel, as well as contact information for your first and last hotels in case you wish to book pre- or post-tour hotel accommodations.
If you need more information about additional European travel or for specific questions about your tour, contact the Tour Department at 425/608-4217 or email tour@ricksteves.com.
Travel Resources
Learn more about Prague and Budapest: Check out a collection of Rick's TV shows, radio interviews and articles, plus find a list of recommended books and movies.
Packing
While it is important to pack light, there is one thing you should consider including when packing for this tour. Budapest is known for its natural hot springs and spending time at one of the many baths around town is a great treat, so you may want to bring along a swimsuit.
For ideas on what to pack, check Rick's Packing List and our Women's Packing List.