Venice

Florence

Swiss Alps

The Netherlands

Rothenburg, Germany

Neuschwanstein Castle

Rome

Italy's Cinque Terre

Beaune

Paris
Tour Questions? Call 425-608-4217
Best of Europe in 21 Days Tour
Our classic, three-week Best of Europe tour packs more travel thrills into a single vacation than you can imagine. Starting in the Netherlands with your Rick Steves guide, you'll experience the best of Amsterdam, Germany's Rhine Valley and Romantic Road, castles and forests of the German-Austrian Tirol, canals of Venice, Renaissance Florence, the art and history of Rome, seaside villages of the Cinque Terre, the majestic Swiss Alps, country charms of France's Burgundy region, and the City of Light — Paris. Join us for the Best of Europe in 21 Days!
What's Included
A small, friendly group of 24–28 people — half the size of most tour groups
Full-time services of a professional Rick Steves guide and local experts who will make the fascinating history, art and culture of Europe come alive for you
All tours and admissions — at no extra cost — covering at least 34 group sightseeing events • Haarlem walking tour • Amsterdam walking tour • Rijksmuseum tour • Anne Frank House • Amsterdam canal cruise • Dutch Open-Air Museum • Rhine cruise • Rheinfels Castle tour • Bacharach walking tour • Rothenburg Night Watchman tour • Dachau concentration camp tour • Wieskirche • Hohenschwangau Castle tour • Neuschwanstein Castle tour • Mountain luge ride (weather permitting) • Venice walking tour • Florence Renaissance walking tour • Uffizi Gallery tour • Florence's Accademia Gallery including Michelangelo's David • Trevi Fountain • Colosseum tour • Forum tour • Pantheon • St. Peter's Basilica tour • Vatican Museum tour • Italian hill town visit • Orientation for "vacation" day on Italian Riviera • Hiking orientation in the Swiss Alps • Hôtel Dieu in Beaune • Wine tasting in Burgundy • Louvre Museum tour • Paris walking tour • Notre-Dame • Sainte-Chapelle...and more
All group transportation from Haarlem to Paris
20 nights' accommodations in memorable, centrally located hotels
All breakfasts and half your dinners
All tips for guides and driver
Free stuff including Rick Steves' Best of Europe guidebook, French-Italian-German phrase book, Europe Sightseeing Supplement, map, money belt and earplugs
Guaranteed tour price, locked in the moment you make your deposit
Optional single supplements — this tour has a limited number of private rooms for solo travelers for an additional fee
Tour alum discount of $50 for each tour you've taken prior to 2014
50% discount on a consulting appointment with our in-house experts to assist with your pre- or post-tour travel plans
Flexibility should you need to transfer, or cancel/interrupt your tour
Fine print: You are responsible for the cost of your drinks and free-time sightseeing. See our Tour Conditions Agreement for important details regarding everything listed above
Itinerary
Daily Activity Key
Light = 2-4 miles of mostly level walking throughout the day.
Moderate = 2-6 miles walking throughout the day with some hills and stairs.
Strenuous = 2-8 miles walking throughout the day with lots of hills, stairs and uneven terrain.
Day 1: Welcome to the Netherlands
We'll start in quintessentially-Dutch Haarlem, a quick 30 minutes by train, bus or taxi from the Amsterdam airport. We'll meet at our hotel around 4 p.m. for an orientation and chance to get acquainted, followed by a walking tour of this charming town and a traditional rijsttafel dinner together. Sleep in Haarlem (2 nights). No bus. Walking: light.
Day 2: Progressive, Artistic Amsterdam
We'll take the train into Amsterdam this morning, and then hop aboard a tram for an introduction to this progressive, artistic city. Our first stop will be a visit to the Anne Frank House, followed by a walking tour of Amsterdam's historic streets, lined with teetering, gable-topped houses overlooking centuries-old canals. This afternoon we'll tour the remarkable Rijksmuseum, featuring masterpieces by Rembrandt and Vermeer. Afterward, you'll have free time to see another artist's rich legacy at the nearby Van Gogh Museum. We'll finish up in Amsterdam with a relaxing canal boat cruise and eye-opening Red Light District walk, before returning to Haarlem for dinner on your own. Train: 1 hr. Boat: 1 hr. No bus. Walking: strenuous.
Day 3: Dutch Treats and Rhine Views
We'll travel to Arnhem's open-air museum this morning to see what life was like in this corner of Europe centuries ago. We'll wander among the quaint houses, village storefronts and working windmills, followed by a traditional Dutch pancake lunch. Then we'll work our way down to Germany's castle-studded Rhineland, enjoying dinner together at our 700-year-old hotel, nestled in the medieval village of Bacharach on the Rhine (2 nights). Bus: 6 hrs. Walking: light.
Day 4: Rhine Castles and a River Cruise
This morning we'll take a walking tour of the village of Bacharach with an entertaining local guide. At nearby St. Goar we'll hike up the hill to tour the mighty medieval Rheinfels castle, and enjoy its commanding view of the Rhine valley. We'll then board a boat for a relaxing Rhine river cruise, passing picturesque villages and feudal castles, followed by free time for dinner on your own. Boat: 1 hr. Bus: ½ hr. Walking: strenuous.
Day 5: Medieval Rothenburg
We'll get an early start today, arriving in Rothenburg, Germany's best preserved medieval town, just before lunchtime. After a helpful orientation tour, the afternoon is yours to see the best woodcarving in Germany (Riemenschneider's altarpiece), walk the medieval wall, tour the Crime and Punishment Museum, or hunt down the best apple strudel in town. This evening we'll tag along on the legendary Night Watchman's tour. Sleep in or near Rothenburg (1 night). Bus: 4 hrs. Walking: light to strenuous (your choice).
Day 6: Dachau and Austria's Tirol
Today we'll make a 21st-century pilgrimage to the Dachau concentration camp near Munich, where we'll learn powerful lessons about the Holocaust and WWII. We'll then drive across the Bavarian countryside to visit Germany's greatest Rococo-style church, the Wieskirche. Winding our way toward Austria, we'll arrive at our rural Tirolean guest house in time for a traditional dinner. Sleep near Reutte (2 nights). Bus: 6 hrs. Walking: moderate.
Day 7: Royal Castles and a Luge
It's a short drive to Hohenschwangau Castle, the boyhood home of "Mad" King Ludwig. After touring the castle and learning about his childhood, you'll have time to grab some lunch before making the half-hour walk uphill to visit Ludwig's idea of a home fit for a king, the deservedly-famous Neuschwanstein Castle. Afterward (weather permitting) you'll barrel down the Tegelberg luge, and still have free time to stroll in the woods or relax at our peaceful hotel before dinner together. Bus: 1 hr. Walking: strenuous.
Day 8: Italy's Incomparable Venice
We'll take a scenic, all-day drive to Venice today, stopping en route for lunch together in a characteristic Italian-Tirolean village. In Venice we'll park our bus and board a vaporetto boat for a Grand Canal ride to our hotel in the historic heart of this seductive city. Tonight we'll take an alleys-and-canals orientation stroll to our first Italian dinner together. Afterward your guide will organize an optional gondola ride for this unique Venetian experience. If the moon is out, it will hit your eye like a big pizza pie. Sleep in Venice (2 nights). Boat: ½ hr. Bus: 7 hrs. Walking: light.
Day 9: The Art of Wandering in Venice
This morning our local guide will take us on a winding walking tour through Venice, blending historic and modern-day stories of this one-of-a-kind treasure, and giving us a local's perspective on Venice's fascinating past...and its uncertain future. The rest of your day is free to visit St. Mark's Basilica, the Doge's Palace, or the Titian- and Tintoretto-packed Accademia art gallery. Better yet, get lost (remember, it's an island) exploring the alleys, cruising the canals, and "crawling" the pubs. No bus (too much water). Walking: moderate.
Day 10: Florence and Michelangelo's David
An early-morning vaporetto ride will reunite us with our bus and driver. We'll drive straight to Florence, and hit the ground walking with a Renaissance tour of the city's historic center. We'll see and learn about Brunelleschi's magnificent cathedral dome, Ghiberti's Baptistery doors, and other creations that helped define this world-changing era. We'll end our walk at the Accademia Gallery to marvel at works of sculptural genius: Michelangelo's rough-hewn Prisoners and his greatest masterpiece, David. We'll have dinner together tonight, and sleep in Florence (2 nights). Boat: ½ hr. Bus: 4 hrs. Walking: moderate.
Day 11: Wonders of Renaissance Florence
This morning is on your own. You can sleep in — or get an early start and scramble to the top of Brunelleschi's dome, or browse through Florence's colorful food and craft markets. After lunch, we'll tour the wealth of Botticellis, Leonardos and Raphaels in the greatest collection of Italian paintings anywhere — the Uffizi Gallery. This evening is free to make your own discoveries. No bus. Walking: moderate.
Day 12: A Walk Through Caesar's Rome
This morning we'll drive straight to the heart of Rome. After a quick lunch and a Roman transportation lesson, we'll spend the rest of the afternoon uncovering Ancient Rome as a local guide takes us through the monumental Colosseum, history-drenched Roman Forum, and the awe-inspiring Pantheon. Tonight you may wish to celebrate la dolce vita Roman-style, with an after-dinner stroll through the floodlit heart of the city, lacing together the lively campos, classy piazzas, and the splashy Trevi Fountain. Sleep in Rome (2 nights). Bus: 4 hrs. Walking: strenuous.
Day 13: St. Peter's and the Vatican Museum
Today we'll focus on Renaissance (Catholic) Rome. At the sprawling Vatican Museum we'll tour its vast collection of treasures as we make our way to one of the world's most famous works of art: Michelangelo's Sistine Chapel. Our tour will continue inside the greatest church in Christendom, the awe-inspiring St. Peter's Basilica, home to Michelangelo's sublime Pietà. You'll have the rest of your day and evening free to wander through this immense church, climb the dome if you're feeling energetic, and explore more of the Eternal City on your own (don't forget to taste some delicious gelato along the way). No bus. Walking: strenuous.
Day 14: To Italy's Cinque Terre
We'll drive along Italy's western coast today, with a refreshing stop at one of Italy's enchanting hill towns. This afternoon's destination is Italy's dramatic Cinque Terre: five perfectly preserved fishing villages, laced together with hiking paths that meander between vineyards and the deep blue sea. As we approach the Cinque Terre, we'll park our bus and take a short train ride into seaside Monterosso al Mare, where we'll sleep (2 nights). Train: ¼ hr. Bus: 6 hrs. Walking: moderate.
Day 15: Free Day in the Cinque Terre
Ahh, it's time to take a "vacation from your vacation" today in our Mediterranean getaway. Pick a Cinque Terre village and spend your day exploring the stairways and alleyways, sunning yourself on the rocks, or sipping a cappuccino and catching up on your journal at an outdoor café. Or, if you're looking for lots of exercise, fresh air and panoramic views, start your day early and hike the cliff-side paths that connect the towns. No bus. Walking: light to strenuous (your choice).
Day 16: To the Heart of the Swiss Alps
Today we'll catch an early train back to our bus and head over the hills, past the farms and along the pristine lakes of northern Italy, and into the Alpine wonderland of Switzerland. After a breathtaking drive into the very heart of the Swiss Alps, we'll arrive at our creaky chalet in the magnificent Lauterbrunnen Valley, where we'll have dinner and sleep (2 nights). Train: ¼ hr. Bus: 7 hrs. Walking: light.
Day 17: Free Day in the Alps
The day is all yours to enjoy some of Europe's most dramatic scenery. You may want to join your guide for an optional mountain excursion that combines the local narrow-gauge railway, a gondola lift, and a spectacular Alpine walk above the tree line, surrounded by a panorama of cut-glass peaks...or ride a gondola lift up to the Schilthorn at 10,000 feet, loiter in the thin air, and hike down...or wander through the valley and walk to the thundering Trümmelbach: a unique set of waterfalls encased behind the valley walls. We'll have dinner together tonight. No bus. Walking: light to strenuous (your choice).
Day 18: A Hearty Taste of Burgundy
Today we'll say Auf Wiedersehen to the Alps and Bonjour to la belle France. We'll drive into profoundly French Burgundy for a look at small-town France. We'll have an orientation walk through the heart of Burgundy's inviting wine capital, Beaune, visit the famous Hôtel Dieu medieval hospital, then enjoy a wine tasting together. Sleep in Beaune (1 night). Bus: 5 hrs. Walking: light.
Day 19: Historic and Neighborhood Paris
This morning we'll drive straight to Paris, where you'll have an orientation of the neighborhood markets and cafés to find lunch on your own. After checking into our nearby hotel, we'll have a transportation lesson and Métro ride to the historic heart of Paris: the Ile de la Cité. Prepare to be awed by the brilliant stained glass windows of Sainte-Chapelle, and enlightened on a historic walk through the Latin Quarter, ending at the stunning Notre-Dame Cathedral. Your evening is free for dinner and more discoveries. Sleep in Paris (2 nights). Bus: 4 hrs. Walking: moderate.
Day 20: Parisian Masterpieces
This day provides a busy, star-studded finale for our tour. Our morning is devoted to touring Europe's greatest museum — the Louvre — where you'll come face-to-face with timeless treasures that include Mona Lisa, Winged Victory, Venus de Milo and hundreds more. You'll be free for the rest of the afternoon to round out your Paris sightseeing with a walk down the Champs-Elysées, or perhaps a visit to such legendary museums as the Orsay and Rodin. This evening we'll have our final dinner together, sharing memories and toasting our newly-made friends. Salut! No bus. Walking: moderate.
Day 21: Tour Over After Breakfast
If you're staying on in Paris, today would be a great day to hop on the train and tackle the sprawling palace and grounds at Versailles. If you're headed home, it's a breeze to reach Paris' airports by taxi, shuttle or public transportation. Au revoir!
Itinerary specifics subject to change.
Activity Level
Our tours are physically active! It's an essential part of the Rick Steves tour experience. On our Best of Europe in 21 Days tour — among other things — you'll need to happily...
Carry/roll your luggage over uneven pavement (several blocks possible) and up stairways to reach your hotel; then up several flights of stairs to reach your room.
Be on your feet, walking and standing for up to three hours, indoors and outdoors, in all weather conditions.
Sleep with street noise and no (or weak) air conditioning.
After orientation and transportation lessons, be able to navigate towns and cities on your own.
Be content with the possibility of sharing bathroom facilities at one hotel during this tour.
Reviews
Karen
Snohomish, WA
Tour: 10/06/13
Overall rating:
This was an exceptional trip, and one I'll never forget! Martin & Trish, and our busdriver Peter, made our experiences on this tour so rich that it has set the standard for European tours! Our local guides in the different cities we visited gave us a wonderful flavor of local history and current lives as well. You have exceptional staff, and the planning that goes into this European tour was obvious. Thank you, and I'm excited for my next tour with you! Thank you so much Martin & Trish!
Favorite "WOW" moment
"Rome was awe inspiring, and the history and rich background as well as current political and economical info Martin shared with us, all came together here. I felt an immense pride in our neighbors across the "big pond" and feel a definite connection with them now- something I had never given much thought to before!"
Candace
Medford, OR
Tour: 10/06/13
Overall rating:
Excellent! Far exceeded my expectations1
Favorite "WOW" moment
"All the Cathedral's."
Chonita
Rio Rico, AZ
Tour: 10/06/13
Overall rating:
The tour was great but I was not in the best of shape. I felt that it was going too fast for me. My knees were killing me but I kept up with the rest most of the time. Martin is incredibly knowledgeable. Trish was very good too. The tour has given us a taste of Europe and we plan to go back. We would like to do a smaller one concentrating on certain parts of Europe. We would love to do a WWII tour and would also like to go to Spain.
Favorite "WOW" moment
"I loved Rothenburg! I loved going up to the Baroque church and finding snow! I loved the small towns we visited!"
Fred
Rio Rico, AZ
Tour: 10/06/13
Overall rating:
The tour was well designed to hit the top, well-known attractions in Europe. There were some very enjoyable small town sites thrown in as well. The mix between organized tour time and free time was just about right. As a learning experience the tour was great. We'll know how to do it right the next time.
Favorite "WOW" moment
"The sheer beauty of Switzerland was something I was not expecting."
Susan
Florence, OR
Tour: 10/06/13
Overall rating:
Our trip was amazing! We were so pleased with everything, our guides, our bus driver, our accomodations. We are so glad we took a Rick Steves tour.
Favorite "WOW" moment
"Loved Cinqepue Terre. Absolutely beautiful area. Wished we could have spent more time there."
Sherry
Bellevue, WA
Tour: 09/29/13
Overall rating:
We were simply blown away by the level of expertise our tour guide exhibited the entire trip. He told us of the history of places, people, helped us understand the cultures of areas we would visit. His knowledge of architecture, struggles of people throughout history was very impressive. He made our trip a grand adventure of foods, music, experiences, many places we never would have found on our own. He was kind, bent over backward to help us get the most from each day.
Favorite "WOW" moment
"Our tour guide that never faltered in three weeks of touring! The cathedrals, Colosseum, Rome's ruins, the David, Louvre, the Eifel tower, Cinque Terre and the beach, boat rides, food! We loved the hill towns of Switzerland. We loved all the bicycles in Amsterdam -- and the Rijks Museum. The FOOD was wonderful -- everyone on the tour exclaimed again and again about all the incredible dinners. The different modes of transportation we enjoyed, as well."
Jack
Knoxville, TN
Tour: 09/29/13
Overall rating:
Fantastic!! The guides were incredible at providing relevant information and history concerning the places we visited. Scheduling was efficient, yet not frantic as to be uncomfortable. Lodging was superb. Facilitation of relationships between tour members was thoughtful and effective. Could not have asked for a better experience.
Favorite "WOW" moment
"There were too many "wows" to be able to isolate only one. Every city, town, restaurant, museum, cathedral, and shop had it's own distinctive and absorbing charm. Even the bus ride was a "wow"."
Martha
Knoxville, TN
Tour: 09/29/13
Overall rating:
This was our "trip of a lifetime" and we are so pleased that we decided to travel with a Rick Steves group. After watching him on PBS for several years, we knew that this style of travel was just what we were looking for. We loved staying in independently operated hotels, we enjoyed the ambiance of our group, the food was wonderful, and our guides were probably your best...very knowledgeable and very fun!
Favorite "WOW" moment
"As you probably hear over and over, every day was a Wow for me. I had been dreaming of going to Europe for years and so just to wake up each morning in Europe was a Wow. Every destination was special for different reasons. The Lauterbrunnen Valley definitely was a major Wow, though. Not only was the scenery breathtaking but we felt so welcome staying at Otto's in Stechelberg. I will never forget the gently tinkling cowbells as we hiked home through the valley...pure magic."
Lynn
Bellevue, WA
Tour: 09/29/13
Overall rating:
Our local guide, Franchesca, used 'awesome' in describing Ancient Rome's Coliseum. In Webster's, the definition is 'causing feelings of fear and wonder'. I want to describe one of those days. Note: the day before we lived in a fairy tale. We ate a beautiful hearty breakfast in Rothenburg. Then, had a day experiencing a range of emotions from remembering the stark horror of Dachua. visiting the ornate Wieskirche in a pasture and ended with the delight of lugging. Overall... it was awesome!
Favorite "WOW" moment
""wow" moments: 1- seeing Michelangelo's David... to a point where I was misty eyed 2- the Swiss Alps I didn't think I could be impressed... after all, I've seen mountains, and the Alps and David through photos. Something to be said when you start at eye level and your eyes keep going up. serendipity moment: ~the local Egna band striking up a tune as we walked into the square and their Herbstfest. Felt like magic happening."
Cassandra Leah
Old Ridge, NB
Tour: 09/29/13
Overall rating:
My husband and I had a wonderful experience. Not ever travelling to Europe before, we had no expectations. We just packed our bags and from the time we landed in Amsterdam Rick Steeves Tour took care of everything and more. Every day was filled with "ah ha" moments! We feel very lucky to have chosen Rick Steeves Tour as our first introduction to Europe.
Favorite "WOW" moment
"Our "wow" moment was in the Swiss Alps. Our guides took us up the mountains and we walked back a beautiful path. There was truly amazing scenery to see and better yet we had a very memorable day. Pictures we took couldn't show the vastness of this beautiful country."
Frederick
Wynantskill, NY
Tour: 09/29/13
Overall rating:
We have signed up for another one so we must have been pleased with the operation.
Favorite "WOW" moment
"My most enjoyable part was the Swiss Alps."
James
Eugene, OR
Tour: 09/29/13
Overall rating:
The tour was even better than my expectations.
Favorite "WOW" moment
"Wow moments were plentiful. The transition from alpine Austria to the water based world of Venice was the most amazing day. While the late afternoon and evening walking tour of Rome - the Colosseum, Forum, Pantheon, dinner, and Trvi Fountain would be the most outstanding part of the tour."
Patricia
Tucson, AZ
Tour: 09/29/13
Overall rating:
Saw and did so many interesting and fun activities-museums, hikes, dinners and discoveries on my own. Tour guide-Ben was amazing and his assistant Carey was very kind and helpful. It was such a relief to walk directly into museums rather than stand in a long line to get tickets/reservations and also to be in "off the beaten track" lovely hotels and restaurants I don't think I would have found on my own. The tour also gave us plenty of time and options to explore areas on our own.
Favorite "WOW" moment
"Hard to pick one. Loved the group dinners and walking tours-especially in Rome."
Everett
Innisfail, AB
Tour: 09/29/13
Overall rating:
We'd picked our Rick Steves tour from a large array of tour companies because they provided excellent detail of what was included in their tours, and also what was expected of us if we were to participate. In the end, we knew we'd chosen the best tour company, and loved every day of our European trip. A great bus and bus driver, a wonderful selection of hotels to stay in, and the best tour guides we could have wished for. The tour had an excellent pace and balance of activities throughout.
Favorite "WOW" moment
"I was so enthralled with everything I witnessed that I never even slept on the bus as I didn't want to miss anything, especially the interesting commentaries and insights from our excellent tour guides. Probably my biggest wow moment, which made me instantly realize Europe was quite different than Canada, was when we were pulling our luggage to our hotel in Haarlem and saw everyone riding bicycles or scooters. Not a day went by without many such WOW moments - like the Eiffel Tower at night!"
Jared
Vancouver, BC
Tour: 09/29/13
Overall rating:
I had a fantastic time. Our tour guides and bus driver were wonderful, I saw a lot of amazing things, and everyone got along exceptionally well. The tour exceeded my expectations in every possible way.
Favorite "WOW" moment
"The Lauterbrunnen Valley in Switzerland was absolutely incredible. I've never seen anything like it."
Shirley
Land O Lakes, FL
Tour: 09/22/13
Overall rating:
I was very satisfied with the tour and the number of sights we were able to see in 21 days. I did feel rushed at times while on the walking tours with our guide and felt we would loose the group and become lost in the large cities. A slower pace would have been beneficial for some of us. That said, it was still a wonderful trip. I met some great people and will never forget all the beautiful cities we visted.
Favorite "WOW" moment
"I loved all of the smaller towns and would definitely consider returning to several of them. I would say my WOW moment was St.Peter's Basilica."
Kianna
Woodinville, WA
Tour: 09/22/13
Overall rating:
I had just graduated college with my best friend and decided to book a Rick Steves tour. At first we were a little nervous about the age difference among our group, however, we couldn't have had a more amazing experience! We became a close knit family in a matter of 48 hrs! This was my third time going to Europe. I had previously gone with a cruise and on my own. This was my first guided tour experience, and I don't think I will ever go to Europe again without doing a Rick Steves tour!
Favorite "WOW" moment
"In all honesty, the entire trip was a wow moment for me! Every scenic drive, cathedral, museum, food, entertainment, was all amazing! If I had to narrow it down it would be taking a gondola lift to the top of the Schiltorn in Switzerland and later Paragliding down the Swiss Alps!"
William
Land O Lakes, FL
Tour: 09/22/13
Overall rating:
The tour was exactly as described with each day not traveling on the bus being filled with a lot a museums and tours that required a lot of walking and many stairs which always seemed mostly up. Many times I wished I was 20 years younger and would have had the energy to enjoy the traveling more. At the end of each day the bed was a welcome sight. Toward the end of the 21 days many of the churches and museums seemed to blur together.
Favorite "WOW" moment
"I would have to say that the Sistine Chapel and St. Perter's Basilica were beyond belief in the size and detail that was incorporated during the construction."
Henry
Eugene, OR
Tour: 09/22/13
Overall rating:
I'd do it again. It was a bit more active than I felt comfortable with, but I don't what I'd cut out if I were to shorten up the itinerary. I do worry that I won't be physically able to participate in tours like this as time goes by. But I enjoyed the places we visited, the food we eat, and the company we kept. I'm tired, but happy.
Favorite "WOW" moment
"The Alps. I loved Reutte. I loved Switzerland. I loved hot chocolate on top of the Schilthorn."
Caitlyn
Petaluma, CA
Tour: 09/22/13
Overall rating:
This tour was amazing! As a person who often travels solo, this was my first time going on a guided tour and admittedly, I had hesitations about what it was going to be like. I don't usually like abiding by someone else's itinerary, and since I've been to Europe before, many of the activities scheduled were places I'd already been. This tour BLEW ME OUT OF THE WATER! I cannot tell you how much I enjoyed this experience and I would do it again in a heartbeat!
Favorite "WOW" moment
"Paragliding over the Swiss Alps. I've never been to Switzerland, and when one of the other group members and I were given the opportunity to do that, we literally jumped on it....then jumped off a cliff."
Gloria
Snohomish, WA
Tour: 09/22/13
Overall rating:
The tour was fantastic! Our guide, Robin, made sure we had just the right amount of info when needed and was so helpful with planning extra activities several of our group wanted to schedule. The food was absolutely delicious in every place we visited and the variety of hotels and events kept us engaged for the whole 3 weeks. We began as 28 tour participants, one "mama duck" guide, one kindly tour assistant, and one meticulous bus driver and we finished as treasured "friends"!
Favorite "WOW" moment
"Seeing the Eiffel Tower light up with twinkling lights!"
Thaddeus
San Jose, CA
Tour: 09/17/13
Overall rating:
It was a great way to sample several countries, to be able to plan future trips. Our tour was better than expected. The locations were great, our tour guide, Dimitri was knowledgeable, helpful and fun. He really added an extra dimension to the tour. Our driver, Paul, was superb. We enjoyed the other tour members and was very pleased with the hotels and meals. From the outside an average tourist may not have considered the various hotels, but they were all comfortable and enjoyable.
Favorite "WOW" moment
"Seeing the Eiffel tower, at night and sparkling with the strobes was fantastic. And being a short walk from the hotel made it easy to enjoy it several times."
Tracy
Chesapeake, VA
Tour: 09/17/13
Overall rating:
The trip was everything I had hoped for and, even after 21 days, I left the tour pining for more travel. I fell in love with so much of Europe through the quiet walking towns we visited, our knowledgable and enthusiastic guide, the breathtaking scenery we saw, and the wonderful group of people I got to share it with and came to call friends. I loved the mixture of busy city with quiet towns, the contrast of viewing famous art pieces along with people watching while enjoying a cup of coffee.
Favorite "WOW" moment
"Taking the gondola up to Schilthorn and seeing that amazing scenery was my visual "wow". I really appreciated Dimitri making arrangements for the group on our "free" day. It turned out to be a highlight. And, of course, I can't leave out Paris. People watching with a fresh baguette in front of the Eiffel Tower, taking a cruise along the Seine, using the metro to jump from Sacre Coeur to the Latin Quarter for dinner, and watching the Eiffel Tower sparkle and dance with lights wowed me!"
Nancy
Kelowna, BC
Tour: 09/17/13
Overall rating:
21 day Europe tour. This tour did for me all that I wanted. It put me in all the places in Europe that I have wanted to visit forever. It made it ultra easy for me to get to those places and I learned so much about the different cities and countries while I was travelling. The fact that hotels, entrances to sites, local tours which were so informative were all prearranged made a busy, full schedule go so smoothly. This tour accomplished all that I expected of it and much more.
Favorite "WOW" moment
"There were so many wows. How to just choose one? Can't, however Switzerland was so beautiful and I am so glad that it was on the tour itinerary. I live in the mountains and so would never have visited Switzerland if I had picked my own itinerary but this was so very different and I am thrilled that I was there and rode those gondolas and walked those trails and stayed in the calm green beautiful Lauterbrunnen Valley. Thanks! Venetian gondolas! Hotel tower in Florence, DAVID wow"
Allen
Kelowna, BC
Tour: 09/17/13
Overall rating:
Fully met my expectations! All tour literature was accurate and prepared us well for the tour. It taught us how to be independent which was well demonstrated by those who stayed after tour partaking in their own adventures in Paris and beyond. It was physical at times, but nothing more than advertised and I learned to travel with less. We wanted to see the highlights of Europe - mission accomplished!
Favorite "WOW" moment
"Three weeks in Europe there was more than one "wow" moment. In chronological order: 1. Oktoberfest Munich. So much larger than ever imagined. 2. 5 gondolas wide on the Grand Canal on a beautiful night in Venice. 3. David. No matter what you hear or read beforehand it does not truly prepare you for the experience of actually seeing the statue. 4. Hiking the Alps in Switzerland. 5. Paris. Exceeded all expectations. 6. The Eiffel Tower at night. Far better than any picture."
Leslie
Valley Center, CA
Tour: 09/17/13
Overall rating:
We could never have accomplished on our own what we did on this tour! We were looking for a big overview of Europe and an educational experience- which is what we received. Every day was jam-packed with activities and information, along with adequate time on our own to choose what we wanted to do and see (and eat!). Our guide Dimitri was a pleasure to spend 3 weeks with- his patience, knowledge and enthusiasm were unbelievable.
Favorite "WOW" moment
"There was no one particular WOW moment, but rather a series of them- -The excitement and anticipation of arriving in Haarlem from the Amsterdam airport and seeing all the bikes in town- -Seeing the Grand Canal in Venice for the first time- and taking the night gondola ride- I thought it would be hokey but it was a wonderful experience -Eating yummy Amphora at the Belvedere restaurant in Monterosso al Mare - The farmer herding his cows past us on the hiking path in Lauterbrunnen Valley"
Teresa Jayne
Lake Forest, CA
Tour: 09/17/13
Overall rating:
Sept & Oct were good traveling weather months. Experiencing humanity outside North America was both emotionally & intellectually enriching. The recommended carry-on packing list was perfect. Using the two basic foreign hello & goodbye words with a smile helped you to quickly acclimate yourself to your surroundings. Having the correct Euro change for public bathroom use became humorous, but necessary. After each maximum 2 night stay in one place, the tour just got better & better.
Favorite "WOW" moment
"Many "wow" moments, but the moments that took my breath away were: 1) seeing my first windmill in the Netherlands; 2) running out solo to see a Venice canal & being surprised by the view near our hotel of the Grand Canal on the Accademia; 3) after learning that our Florence hotel had a tower, running to the top & being floored by the city's night time view; and 4) walking up towards the sight of the Eiffel Tower."
Terry
Kingwood, TX
Tour: 09/15/13
Overall rating:
My husband and I were excited, but apprehensive, about the idea of international travel, since we have never traveled abroad before. However, our tour guide, Colleen, and tour assistant, Chris, took very good "care" of us throughout the course of our amazing 3 week trip through Europe. The headaches of planning/purchasing tickets for travel, accommodations, and tours was taken care of, so that we could just relax and enjoy the experiences ahead of us on the trip. It was wonderful!
Favorite "WOW" moment
"Our tour bus driver, Peter, led us through a climb of 5,000 feet into the Swiss Alps, and as our bus twisted and turned slowly from one amazing vista of clouds and mountainside surrounding us to another, our tour group was quiet (unusual!) and we all held our breaths.....it was almost a religious experience.....so absolutely beautiful...that was my "wow" moment.."
Thomas
Port Austin, MI
Tour: 09/15/13
Overall rating:
Another great tour, almost as good a venue as the Eastern Europe tour.
Favorite "WOW" moment
"Sainte Chappell upper floor Windows."
Mary Ann
Springfield, VA
Tour: 09/15/13
Overall rating:
It was a great trip --- I thoroughly enjoyed it -- saw a great deal and learned a great deal. The pace of the trip was challenging, but overall I was able to do just about everything. One of the things that caused me to not enjoy parts of the trip as much as I think I could have involved inclement weather. While there is nothing that could have changed the weather, I do believe that the advice about what clothing to pack could have made it a more enjoyable experience.
Favorite "WOW" moment
"The best day of the trip for me was the hiking in Switzerland. It was amazing and I wished I could have stayed longer. Another important moment for me was getting a grasp of some of the history of the places we visited. As a historian and teacher, I had many insights into European history that up until now I had only read in books. An example of that is the importance of the support of King Ludwig to Richard Wagner's work and its link to rising fascist trends in Germany and Austria."
Robert
Springfield, VA
Tour: 09/15/13
Overall rating:
Truly an unforgettable experience! It's rare when all expectations are met, most often exceeded! The itinerary, while very active, was always interesting and doable. The group was fun-loving and friendly. The hotels' central locations more than made up for any deficiencies in individual hotels. The included meals were memorable and spurred greater group interaction. More than anything, it was the tour director, Colleen, who made everything work smoothly.
Favorite "WOW" moment
"There were many, but two stand out. One was our day spent hiking in the Swiss Alps: it was spectacular; great exercise combined with unforgettable vistas. The other was our walk through ancient Rome: from the Colosseum through the Forum and ending at the Pantheon. Years of reading and studying ancient history came to life; our guide (Francesca) was unbelievably knowledgeable and had answers for all my (many) questions. [The Army Museum/Napoleon's Tomb was another wow(we did this on our own)]."
Corina
San Jose, CA
Tour: 09/15/13
Overall rating:
I had never been to Europe and the tour was a great way to experience " the best of Europe". Flying into Amsterdam was a good way to be in another country. It was not too overwhelming. We were able to catch the bus from the airport to Harrlam. It felt like I was eased into the whirlwind journey through Europe. Overall my experience was amazing and I will never forget it. Our tour guides were experts and I had every confidence I was in good hands. Colleen explained things over and over.
Favorite "WOW" moment
"There were too many "wow" moments... Everything from the Van Gogh museum ...actually seeing the work of an artist I have admired for many years to the enormous Collosium... The amazing local guides who brought the history to life... The Sistine Chapel.. To our Pope sighting... The Swiss Alps... How can I not say WOW.....at the Swiss Alps..."
Derrick
Sacramento, CA
Tour: 09/15/13
Overall rating:
The itinerary was such a great and efficient use of time. There is no way that we would could get that much done even throughly planning a schedule. The fact that our awesome tour guide could navigate us directly out of each train station saved us so much time! Such a great mix of activities - both indoors and outdoors that could accommodate all age groups. Just when I thought I was over saturated in churches, we'd be taken on a walking tour of the city or given some time to explore on our own!
Favorite "WOW" moment
"There are to many to name a "favorite" - From the castles of Germany to the Coliseum and forum of Rome to the breathtaking landscapes of Switzerland, the whole trip was a "wow" moment to me. It being my first time in Europe, I was "wow"ed by something in every place that we visited!"
Teresa
Davison, MI
Tour: 09/15/13
Overall rating:
The philosophy and the activity level of the tour matched my expectations completely. The guides had that special chemistry to share their love of European culture and history in a meaningful way. The group dynamics were great, close but not forced. Half the fun was in getting to meet other travelers and share their life experiences. The group dinners were a great way to mix it up with fellow tour members and to sample and array of cuisine. I also liked the push to explore independently.
Favorite "WOW" moment
"Venice was particularly magical. Canals and bridges, couples kissing in St. Marks Square, the fish market, mask making, gondolas and gelato. Frari Church was amazing, saw my first Bellini there. The twisting turning streets that were impossible not to get lost in added to the adventure."
Brooke
Sacramento, CA
Tour: 09/15/13
Overall rating:
I just simply can't get over how many countries and how many sights I saw on this trip. I've been to Europe twice before this trip, so some of the cities and sights were duplicated for me. Nevertheless, to see them with either our regular guides or the local guides really made it like I was seeing some of these things for the first time. I keep raving to my friends and family about how great this tour was.
Favorite "WOW" moment
"Switzerland. It was cloudy the days we were there, but I was blown away by how beautiful the country was. The mountains were so tall, the grass so green, and waterfalls everywhere you look. When we hiked towards Murren, I thought we were pretty high up, but there were still mountains much higher than where we were. We took pictures where we jumped in as many cities as we could, but our picture in Switzerland has the beautiful background of the mountains behind us."
Nancy
Rye, CO
Tour: 09/15/13
Overall rating:
Had a great time! Fellow tour members were a fun group to be with & our guide Colleen, Assistant Chris & Bus Driver Peter all went out of their way to ensure that we had a very good experience. Colleen even did a record sprint back to our hotel to retrieve my forgotten sweat shirt - certainly an unexpected extra on her part. Also, thanks for the extra stop at a Beer Garden so that we might enjoy Octoberfest. Thanks to all for an outstanding time. A great way to celebrate my 70th year.
Favorite "WOW" moment
"My "WOW" moment, was an unexpected running into the Pope in Rome while my son & daughter-in-law wandered the streets looking for a particular piazza. We had gone a little astray, but what a great bonus. I got the picture of a life time, only 15 feet from the Pope."
Kristine
Port Austin, MI
Tour: 09/15/13
Overall rating:
Favorite "WOW" moment
"Hiking in the Swiss Alps. The hiking was a bit strenuous and it was a low cloudy day, but when the peaks were visible it was fantastic!! Stained glass windows in Sainte Chapelle and the Ovieta hill country town also were right up there is wow wonderful experiences!!"
Paula
Corvallis, OR
Tour: 09/15/13
Overall rating:
The Best of Europe tour was terrific. I loved staying in the quaint, well-located, authentic European hotels. I really like the mix of small town experiences and large metro areas. The pacing of the tour was perfect in that we saw lots of sites as a group but also had plenty of time to pursue our own interests at our individual activity levels. I was traveling solo but never felt like a "fifth wheel" because my companions were so welcoming, interesting, and friendly.
Favorite "WOW" moment
"Loved the luge! ALSO: At the end of the tour I stayed 2 extra days in Paris during which time I met up with a German friend and had dinner with friends from the US who were staying across town. I was so much more comfortable as a traveler that I surprised myself. I traversed across town on the Metro, requiring a transfer, and ordered dinner in French (believe me, I don't speak French, but she seemed to understand me)."
Allen
Kingwood, TX
Tour: 09/15/13
Overall rating:
The absolute best vacation, I have ever taken!
Favorite "WOW" moment
"THe "Rick Steves Experience"!!"
Michael
Show Low, AZ
Tour: 09/12/13
Overall rating:
Our trip was world class, due mainly to our guide, Stephanie. I don't know how Rick Steve's finds such good people, but Stephanie is a "keeper." The 21 day Best of Europe is a whirlwind tour to be sure, as we expected. But what a breadth of Europe that is covered! We've been home several days, but still will take weeks to appreciate all that we did. The tour had a great mix of travel and exercise. We really needed the walking as Europe has great history, beer, wine, and especially baguettes!
Favorite "WOW" moment
"I'd have to say the Sistine Chapel was the most inspiring. What an incredible gift Michelangelo was given! I have to admit that I also loved his humorous/rebellious streak for being forced to do the painting."
James
Cathedral City, CA
Tour: 09/12/13
Overall rating:
Excellent trip, great group dynamic. Intense at times a lot to take in, but all worth it and I was able to pull back at recharge when ever I felt like it. There where many opportunities to explore on my own. Our guide was very informative well educated about each place we visited. The language sessions on the bus where well appreciated.
Favorite "WOW" moment
"The hike in the Swiss alps!"
Robert
Brentwood, TN
Tour: 09/12/13
Overall rating:
My research into Rick Steve's tours gave me a good idea of what to expect but the actual experience far exceeded my expectations. I feel that I gained 26 new friends and greatly expanded my knowledge of Europe and its people. The tour really whetted my appetite and desire to visit again and to also explore other tours. Our tour guide, Stephanie, really enhanced the adventure with her in depth knowledge of the various city's and the key attractions.
Favorite "WOW" moment
"It's difficult to [INVALID] one "wow" moment from a series of eye popping events but viewing the fireworks along the Rhine River as part of the wine festival in St. Gore was an unexpected surprise. The whole Bacharach experience; hotel, meals, local transportation and guide tour with Herr Jong were something I will never forget."
Rosalyn
Brentwood, TN
Tour: 09/12/13
Overall rating:
I enjoyed every part of the tour, our guide Stephanie was very flexible and made the best use of our time. Using local guides added to the experience, they were very informative and seemed to really enjoy their jobs. The hotels and locations were outstanding, I enjoyed the locations that I had never heard of and is not a destination for most tourists ie Lauterbrunnen Valley. Venice was the only location that I would have liked to see before Cruise ships started visiting.
Favorite "WOW" moment
"My favorite location was Bacharach. The choose of hotel, the food, Heir Jong. Stephanie and her local friend making arrangement to see the fireworks in St Goar, the best I have ever seen. Just one more adventure Stephanie arranged that was unexpected."
Jeanne
Edmonds, WA
Tour: 09/12/13
Overall rating:
Having taken this tour two other times I must say I wasn't bored a minute and found it to be a wonderful experience with my daughter. So glad we have free time or can opt out if needed. Many had bad colds and it helped to stay away from the group. I loved being in Europe again. I noticed several changes in our tours, no assistants, no picnics, lots of pressure on the guide, however, she handled everything very well.
Favorite "WOW" moment
"Favorite was the unscheduled Fireworks outside Bacharach that Tomas told us about. Was wonderful and well worked out to get us among the huge crowds and back safely to our hotel. Overlooking the Alps from the gondola and from our lunch table in Murren. The surprise festival in Arnhem. All wow moments."
Nancy
Centerville, KS
Tour: 09/12/13
Overall rating:
This trip was all we had hoped for and more. Stephanie was terrific. She was so organized, I loved how we got an orientation walk shortly on arrival. This helped us to do things on our own when we had time. She always told us what to expect, even at the rest stops. We saw the highlights of each area. There wasn't enough time to see it all, but she always told us how to best use our free time to do some of those things. She really promoted fellowship, helping us to get to know each other.
Favorite "WOW" moment
"I think for me it was seeing the colosseum in Rome right as we came out of subway!! Also seeing the Swiss alps, and finally seeing the Eiffel Tower !!"
Dianne
Show Low, AZ
Tour: 09/12/13
Overall rating:
I imagine the first factor for a tour's success is the guide. So, our success was guaranteed as our's was exceptional. Stephanie was personable and thorough. On a tour you want to be independent when possible but also have as much information as necessary to feel comfortable. The bus was great and the size of the group allowed us to spread out. One factor that is beyond the company's control is the makeup of the group. Ours was exceptional. Everyone was considerate of others and fun.
Favorite "WOW" moment
"Switzerland. While the sights of man's creativity were astounding, the natural beauty of God's creation was overwhelming. Yet, it is impossible to name just one as the Louvre, the cathedrals, Versailles, are just a few of the many WOW moments."
William
Lorain, OH
Tour: 09/10/13
Overall rating:
This exceeded my expectations. The countries visited and the places I stayed in were wonderful. Keith, our tour guide, was excellent. I learned so much and the people in our group were fantastic. The walk-through of Rhinefels Castle, the Nightwatchman in Rothenburg, the mask making in Venice, the gondola ride in Venice, the fondue making in Stechelberg and the wine tasting in Beaune were very unique and special experiences. I will treasure them!
Favorite "WOW" moment
"There were many "wow" moments. I especially like the Roman Forum and Colosseum, but Venice, the Swiss Alps as well as Paris were fantastic. There were also "wow" moments with our dinners. The dinners in Bararach, Ruette, Venice, Rome, Cinque Terre and Stechelberg were awesome."
Janice
Kapaa, HI
Tour: 09/10/13
Overall rating:
This was my very first trip to Europe. It was the most educational, challenging and energizing experience of my life. Every hour, minute, and second of every day was totally exciting surpassing all my expectations plus.
Favorite "WOW" moment
""David" by Michael Angelo was by far my most favorite "wow" moment from the tour. The sculpture of "David" far surpassed my imagination."
Michael
Kapaa, HI
Tour: 09/10/13
Overall rating:
Our 21 days with your tour weren't a vacation [INVALID] no umbrella drinks, no sleeping late. Rather, one new experience followed another almost without a break. One of our members calculated from a pedometer that we'd walked 135 miles [INVALID] all of it uphill or up steps. We came home familiar with places all over Europe [INVALID] a movie on the plane had a shot in Paris on the bridge with all the locks, and we said, "We know that place." And now we read about European civilization with new enthusiasm.
Favorite "WOW" moment
"Both of us agree that seeing Michelangelo's David was the unexpected high point. We expected simply another statue. Other wows were the Alps in Austria and Switzerland, Rome, and Paris. My personal high point was the luge ride. We're ready to start one on Kauai."
Mary
Grand Rapids, MI
Tour: 09/10/13
Overall rating:
Took same tour in 2011. Found having a European guide vs. an American brought over to serve as a guide two different learning experiences. Keith is a fine person, as good a guide as any American could be, but the insights of a knowledgeable European guide can't be matched. That colored the overall experience. Loved the trip so much in 2011, decided to take it again. Can't say that about 2013.
Favorite "WOW" moment
"St. Peter's in Rome"
Alison
Marshall, VA
Tour: 09/10/13
Overall rating:
This was my first trip to Europe. Seeing The Netherlands, Germany, Austria, Italy, Switzerland and finally, France was spectacular. I enjoyed the 2 night stays vs. the 1 night. I especially liked arriving in the town/city and Keith would have us get settled in our room, then on to a walking tour with explanation about the transportation system, sites to visit on our own, history, places to eat, etc. It was nice to be with the group for 1 day and then option to be on our own the next.
Favorite "WOW" moment
"We had to change up our plans from 1 day to the next due to weather. Keith called the Luge folks in Austria, and they ended up staying open for our group! Riding the luge was SO MUCH FUN!!! I also appreciated seeing the grandeous art live and in person, so much better than the Art History books and slides in class. We also met some really great and fun people in our group."
Dorisendo
Capitol Heights, MD
Tour: 09/10/13
Overall rating:
It was a wonderful first time experience!!!Rome and Paris a little busy for me but it was good to go for future trip planning. I was Amazed by the Forum! I LOVED all the small villages and towns we visited. The one day stops made me wish for more time in those places. KEITH was AWESOME!! When we entered a country he played their anthem, held up the flag and gave us a history lesson. He would surprise us with a small treat too! The Local Guides get 100% Gold Stars as well. NOW to my 2014 tour!
Favorite "WOW" moment
"That's going to be HARD to do! The family run hotels, the bread, the beautiful landscaps, the fresh food, ALL that preserved history!WOW! I would say the Dachau Concentration Camp "The camp is a real reminder of the worlds history". Italian School of Leather at St. Crocr Church "The school in the Church is the beauty of what we are capable of if reach outside ourselves. Also the Hotel Due in Beaune France. That was a wonderful vision of helping your fellow man rich or poor!"
Pamela
Lorain, OH
Tour: 09/10/13
Overall rating:
The tour exceeded all my expectations. Each country and city visited left me with a memorable experience and a good understanding of it's history, culture and artifacts. This was achieved by having great guides, in addition, to Keith's innate ability to layer the historical periods repeatedly to reinforce our knowledge base. I achieved what I hoped for; to experience each county through mind, body and spirit and through all my senses.
Favorite "WOW" moment
"There are so many. Herr Jung made me laugh, he made me sing, he made me cry, he made me see another perspective of how his city experienced World War II. He was such an incredible teacher/guide and he imprinted my memory of Bacharach forever. A full moon on St. Mark's Square, listening to the the battling orchestra's on a warm night, sipping a Spritz. The gondola ride in Venice and the passionate Italian singer that accompanied our group. Standing in front of Michelangelo's David."
Sally
Kansas City, MO
Tour: 09/08/13
Overall rating:
Lisa is a great tour guide, funny, helpful and informative. Our bus driver, Ben was an important asset to our group, not only possessing excellent driving skills, but helping with tour information and experiences. From day one, it was as if I had known the other members of the tour and we were good friends. As a solo traveler, it's great when others include me in dinner plans and other activities. This group was exceptional, I felt right at home.
Favorite "WOW" moment
"There were many, but driving through the Swiss Alps was breathtaking. And then there was Venice. The waters of the Cinque Terre and having lunch hanging out over the ocean. The Eiffel Tower at night and eating crepes on the streets of Paris. Hard to pick just one."
Rita
Bothell, WA
Tour: 09/08/13
Overall rating:
The tour logistics and people were wonderful. Lisa was amazing. Ben the bus driver was outstanding as well.
Favorite "WOW" moment
"Venice and the gondola ride, because it felt like we were able to actually "gear down" and relax. It was an amazing treat. Equally amazing for different reasons was Switzerland. The beauty was overwhelming, it was quiet and there wasn't anything that wasn't breath takingly beautiful. Finally, Cinque Terra. I wanted much more time in both Switzerland and Cinque Terra."
Andrew
Tipp City, OH
Tour: 09/08/13
Overall rating:
The only way to tour Europe. Exceeded my expectations.
Favorite "WOW" moment
"Herr Young in Bacharach. The Bus ride in the Alps and the valley in Switzerland."
Louise
Sarasota, FL
Tour: 09/08/13
Overall rating:
From the itinerary, the expertise and warmth of our tour guide, Lisa, the bus rides, the hotels and our meals together everything I experienced during the 21 days was educational and fun - even after a full day of climbing stairs and walking on cobblestones.
Favorite "WOW" moment
"I have waited a long time, being of French descent, to visit Paris, the City of Lights and be present for the 10 pm viewing of the Eiffel Tower. Spectacular and filled with so many memories for years to come."
Bradley
Powell, OH
Tour: 09/08/13
Overall rating:
This trip was a trip of a lifetime for me. Because this was my first trip ever to Europe, it is hard to describe the feelings I had when seeing so many things I had only seen pictures of. They say that a picture is worth a thousand words. Well, seeing things with your own eyes is indescribable. What an opportunity! The pace sometimes was almost too much but in order to cover this itinerary, there isn't really much choice. In just a few words, this experience is one of my top 5 in my life!
Favorite "WOW" moment
"It is hard to pick one. I guess seeing the cows come down from the mountains on September 24th and parade through Lauterbrunnen all decked out with their bells really hit home with this old farm boy."
Blair
Maple Ridge, BC
Tour: 09/08/13
Overall rating:
Amazing, fantastic, wonderful experience. There was one wow moment after another with such a variety of incredible scenery and sights. It was an efficient way to visit such a vast array of popular European stops. The pace was uptempo with structured activities planned for our available time. We witnessed and learned about the history, art, and culture of the places visited. Our tour guide Lisa was fabulous bringing the present locations alive.
Favorite "WOW" moment
"Having just come down from the spectacular Mt. Schilthorn, my wife and I were leaving Lauterbrunnen, returning along the valley to our hotel. The sky was a deep blue and the sun was just dropping behind the sheer cliffs that lined the valley. The waterfall glowed with the back light from the sun, the grass was a vibrant green, the cow bells were clanging, the composition of color and sound was stunning. It was a masterpiece of beauty that I will never forget."
Marti
Bothell, WA
Tour: 09/08/13
Overall rating:
A whirlwind of excitement ...each locale offered unique food, customs and culture.just as soon as we learned to navigate our way somewhat, We were off to the next adventure, not wanting to leave but anxious for the next experience.
Favorite "WOW" moment
"Vernazza ,we hiked from monterosa and found the recommended restaurant in the hunt for a view and Pesto Wow did we find it! Al Costello we were invited to a waiting area overlooking the whole marina and I gathered my sketchbook and drew the local church. Magnifico. we were seated in the corner table with a 270*cliff view ,I was giddy with excitement .Marco took our orders trying the local favorites (anchovies)and PESTO lasagna. Mouthwatering..Food and vista...."
Kate
Santa Fe, NM
Tour: 09/08/13
Overall rating:
This was truly a trip of a lifetime kind of trip for me :) I felt... Happy. In awe. Interested in everything. Befriended by wonderful traveling buddies. Exhausted. Grateful for the bus rides. Inspired. Taken care of. Encouraged to be that 'independent traveler,' and was. Surprised. Educated (and interest awakened to learn more of the art and history). Immersed. Delighted. Thankful...
Favorite "WOW" moment
"My extraordinary North Face hike with 3 friends in the Alps; no contest... there aren't adequate words, really, to describe the feeling of being in such a majestic spot on earth."
Mindy
Bothell, WA
Tour: 09/08/13
Overall rating:
We were hesitant to do the 'group' thing. This experience changed our minds about group tours. We traveled Europe before; the big stress was figuring out hotels, transportation, etc., and never really seeing more than the touristy stuff. We wanted a more enriching experience. So we turned to a Rick Steves Tour. We were not disappointed. Our guide, the food, the sites, the history, the camaraderie, was all just like we see on Rick's television program. We're already planning our next tour.
Favorite "WOW" moment
"For me one of the top (of many) unforgettable experiences was Herr Jung, Bacharach's retired schoolmaster who graciously took us on a historic walk through Bacharach's cobbled lanes sharing his memories of WWII. His gentle remembering moved us all to tears. This was a day few travelers ever experience. With all the fun we had (and we had a lot of goofy fun) this trip was also grounded in history; Dachau, Anne Frank House and Herr Jung – an education I wish the world could have."
Debra
Campbell River, BC
Tour: 09/08/13
Overall rating:
I am writing this evaluation for both myself and my husband William. We were so excited with this whole tour. It was so much more than what we expected! The group we were blessed with was perfect and the staff were top notch. Around every corner of this tour were pleasant surprises and there was nothing we did not enjoy. The experiences were special and the people we met made every adventure , just that....an adventure.
Favorite "WOW" moment
"For my husband and myself, our 'wow' moment was the Alps. That was the first time I cried with pleasure seeing the magnificence and beauty. The weather cooperated and it was incredible. There were so many special moments though, with every part of this adventure."
Roberta
Sacramento, CA
Tour: 09/03/13
Overall rating:
I had a wonderful time on the 21day Best of Europe Tour. Excellant leadership was provided by our tour leader Rick. The bus was very comforatble and our bus driver was awesome. The hotels were well within my high expectations for a Rick Steves tour. I loved seeing and experiencing so many places in Europe on one trip. The fine group of people we traveled with could not have been friendlier. The "weather gods" were favorable to us which served to enhance our experience.
Favorite "WOW" moment
"There are so many memorable "wow" moments. I loved seeing the great works of art up close. I loved the sense of the ancient in the Forum. I was moved by the drama of Dauchau. I loved the grandeur of the ruined and restored castles and churches. The "wow" for me was seeing and feeling the incredible sense of history and of lives lived over the centuries that has lead to modern Europe."
Paul
Sacramento, CA
Tour: 09/03/13
Overall rating:
We had a wonderful time, absolutely wonderful, on our first trip to continental Europe. Seeing so much in "only 21 days" left us wanting more...a lot more. There were so many places we would have lingered. It was enormously helpful arriving in Haarlem early and staying over in Paris several days. If doing it over, we would have come to Haarlem 2 days early rather than just one. Rick was stellar in his management of the tour. We had great companions and fortunate fall weather.
Favorite "WOW" moment
"Taking in all of Florence from the top of the Duomo dome...no, circumambulating David...no, gently and quietly climbing through Anne Frank's house...no, meandering through the Louve...I mean the Orsay...no, the concert at Nortre Dame in Paris, or was it the one at Haarlem's Grote Kerk...I mean the explosion of color in Sainte Chappel...or perhaps Michaelangelo's Last Judgement in the Sistine Chapel. Yea, that was my favorite."
Mary
Federal Way, WA
Tour: 09/03/13
Overall rating:
I had a good time. The group I traveled with was great. Our tour guide was fantastic. I appreciated that our days seemed to be divided between busy and less busy. I would have liked if all cities in Italy were not treated as equally important. For example, Venice was given the approximate same amount of time as Rome and in my opinion, should not have been.
Favorite "WOW" moment
"My favorite wow moment was seeing the sculpture "David." That was amazing. It took my breath away--the beauty, the detail."
Brenda
Eugene, OR
Tour: 09/03/13
Overall rating:
When we told our family and friends that we were taking a Rick Steves' tour , even those who had traveled independently to Europe (using Rick Steves' books), indicated a RS tour would be the only one they would consider taking. Needless to say, we were not disappointed. We experienced Europe in a way we never would have been able to do if we had traveled on our own.
Favorite "WOW" moment
"I have been asked a lot what my favorite place on the tour would be. I can't answer that. Each country/city we visited had amazing sites to offer. I think my favorite "wow" moment would have to be the appreciation I came home with about the cultures and people in another part of the world."
Sheila
Victoria, BC
Tour: 09/03/13
Overall rating:
This tour was absolutely wonderful and surpassed my already high expectations. I appreciated so many things about it: - the organization which made travel, hotel and sight-seeing efficient without feeling rushed - the leadership and humanity of our guide Rick Garman - the diversity of destinations and mix of urban and rural - seeing the "must-sees" - the camaradarie of our group - lessons in how to be independent travelers - having independent time
Favorite "WOW" moment
"Wow is a big word! - some quiet time I spent walking alone outside our chalet/hotel in the Lauterbrunnen Valley - climbing the Duomo in Florence and seeing the city laid out below me - wandering through St. Peter's Bascilica - the Cinque Terra: standing above Vernazza after the hike, then later swimming in the Mediterranean - spending time in Anne Frank's house - and unexpectedly, visiting Dachau - Standing in Sainte Chappelle - then cruising down the Seine at sunset with friends - Rothenburg"
Tabb
Snohomish, WA
Tour: 09/03/13
Overall rating:
From beginning to end, Haarlam to Paris, our Best of Europe tour was much, much more than my wife and I had expected. Our tour guide, Rick, shared a wealth of knowledge in history, culture, recommendations, and travel tips with our group. His planning was exceptional, making our experience very enjoyable and without any glitches. Our tour group got along exceptionally well as we experienced the back doors of Europe. Jean, our driver, was very professional & enjoyable to travel with.
Favorite "WOW" moment
"There were many "wow" moments. Walking into St. Peter's Basilica. The gondola ride through the canals of Venice. Seeing the Jungfrau and Eiger in Switzerland. The meals throughout the trip. The quaint Haarlam. The Museums. The local guides."
Lowell
Bend, OR
Tour: 09/03/13
Overall rating:
The tour was exceptionally well-organized and well-planned. We were on the go almost constantly, but that was a good thing. After all, there was so much to see and experience. I think we all felt well cared for and looked after. With a fantastic, experienced driver and a seasoned guide, we were in excellent hands. I would recommend another Rick Steves tour without reservations.
Favorite "WOW" moment
"St. Peter's Basilica was my favorite "wow" moment. However, the cable car ride up the Alps in Switzerland would be a close second. Most importantly, there were at least another dozen "wow" moments."
Ruth
Bend, OR
Tour: 09/03/13
Overall rating:
The tour was well planned. All we had to do was show up. No worries about where to stay, how to get there, where shall we go? Getting tickets to major attractions, food. I would definitely ( and are planning) take another Rick Steve's tour) Our bus driver was excellent and we all felt very safe with him at the wheel. The places we went to were places I had wanted to go to all my life. They pretty much covered civilization.
Favorite "WOW" moment
"There were so many, but the favorite was seeing the Pantheon. It was like going back to ancient Rome. My breath was taken away at seeing it. Also the night walk through Rome was wonderful seeing the fountains lit up and all the people strolling about. Switzerland was another eye opener. Beautiful!!!!! Cinque Terre was a welcome rest from the fast pace of the tour."
Fred
Eugene, OR
Tour: 09/03/13
Overall rating:
Great group of fellow travelers Tour exceeded our best expectations
Favorite "WOW" moment
"Hiking in the alps Weather wasn't the best but still amazing"
Glenn
Vancouver, WA
Tour: 09/03/13
Overall rating:
We had a great time with a great tour guide, fantastic bus driver, great bunch of other tour members. I especially liked the smaller towns and less crowded cities. We were surprised at the crowds in Cinque Terra (hard to get on/off the train).
Favorite "WOW" moment
"Listening to the guest organ player inside the Harleem market square church. It wasn't on our tour so it was a real plus."
Brenda
Coquitlam, BC
Tour: 09/03/13
Overall rating:
The tour was absolutely amazing. It was everything I had hoped for and so much more. As a person who is blind I didn't need to see the landscape, art or castles, churches or cathedrals. The tour made me experience everything through all my other senses. Our guide, our driver, our travelling companions and the guides along the way enriched the varied experiences I had.
Favorite "WOW" moment
"There was not one specific WOW moment. I believe that each town and city that we visited is not just a dot on a map but people, culture and history. Everything that i have learned in my lifetime and all the stories and news of these regions has been clarified and I have been able to put together a timeline that creates a complete picture in my mind. As a person who is blind I had wondered how I would enjoy all the art but it all came alive for me as each piece has a story regarding the artist"
Neil
Coquitlam, BC
Tour: 09/03/13
Overall rating:
This tour brought European history, art, culture, languages, music, food, wine, personalities and geographies to life for us and cemented all the little bits and pieces together. It was an experience that we will be talking about and relating to for many years to come. My wife is a person who is blind and for me, it was terrific that she was able to experience all these things with me. We were so excited to concentrate on the experiences and not have to worry about hotel and transportation.
Favorite "WOW" moment
"Herr Jung, our guide in Bacharach was absolutely spellbinding. His talk about watching dogfights over the Rhine in WWII makes me want to cry every time I think about it. There was not a dry eye in the group when we had these most intimate chats on the walking tour. It was a great positive for me as I had been trying to fit the picture together since I was little and his story related it in deeply connected family terms. He should get a medal for his ability to express all that to people."
Jerry
Seatac, WA
Tour: 09/01/13
Overall rating:
The accomidations were good. No waiting in lines to see a site. Transportation and driver were very good always on time and ready to go. Plenty of free time and our tour guide was always ready to help fill the free time with suggestions. NO EXTRA TIPPING REQUIRED!
Favorite "WOW" moment
"Switzerland and the scenery"
Penny
Seatac, WA
Tour: 09/01/13
Overall rating:
This tour was all we had hoped for and more. Our guide, Jennifer, was over the top! She was energetic the entire time and seemed to have a genuine desire for showing the best Europe had to offer and doing everything in her humanly power to make sure we experienced the best Europe had available. Even giving up her free time to schedule many events like the Gondola in Venice.
Favorite "WOW" moment
"Switzerland - so beautiful and another day Jennifer gave up her free time to "play" with us in the Alps. She was amazing!!"
Geoffrey
Maple Ridge, BC
Tour: 09/01/13
Overall rating:
I am a man of many spoken words. Very few written words. Can only say it was worth every penny loved every minute.
Favorite "WOW" moment
"Herr Jung was a standout for me. But seriously, each day was filled with wows."
Brenda
Maple Ridge, BC
Tour: 09/01/13
Overall rating:
Apprehensive about a bus tour because of horror stories from friends. I have nothing but glowing praise for a trip that was amazing and a guide who was exceptional. There was not one moment of this trip that I would change. I feel, though my travelling has been limited, that I did see so much in 21 days and learn so much about the different cultures,foods,customs, history and politics that I have been on the most extraordinary immersion, tour experience of a lifetime.
Favorite "WOW" moment
"Was it the God created Swiss Alps in all their splendour: the amazing accomplishments of the Romans and the colleseum in Rome: the magnificent sculpture of David and the beauty of the Sistine chapel by Michelangelo , the gorgeous work by Monet of Waterlillies . Or was it the sparkle of the Eiffel Tower in the distance as we sipped champagne on the rooftop of our restaurant and a full moon rose over Paris. Perhaps it was Herr Jung's poignant memories of wartime Germany. I cannot choose!!"
Gary
Oregon, OH
Tour: 09/01/13
Overall rating:
This was a "Bucket List" trip for me, I couldn't imagine any way it could have been any better! I feel we really lucked out by getting Jennifer as our guide and Richard as our driver. Jennifer was amazing, she went out of her way to make sure our experience was the best it could be. On the itinerary in the times listed as free time, Jennifer would have optional activities that we could participate in if we wanted to join her. They were some of the best times we had the entire trip.
Favorite "WOW" moment
"We got into Switzerland on Monday afternoon and it was raining with very low clouds all evening. The next morning when we walked out of the hotel to go to breakfast, the clouds had lifted and it had snowed in the mountains. My jaw hit the sidewalk when I looked up at the Alps, it was the most spectacular thing I had ever seen!!"
Daryl
Surrey, BC
Tour: 09/01/13
Overall rating:
The Best of Europe in 21 days trip was outstanding! From our fantastic bus driver Richard, the local guides and of course our tour guide Jennifer, every person involved in making our tour experience a good one did an amazing job and far exceeded my wife and my expectations of the tour. The site were amazing, emotional, breath-taking & life changing. Our hotels all had a great amount of character and history, and the hotel staff were all great as well.
Favorite "WOW" moment
"There were definitely more than a few "wow" moments, with Venice being at or near the top for myself. The feeling of Venice made me feel as though we had travelled back in time. From accessing the city by boat to the grand intimacy of St. Marco's square at night with the duelling orchestra's, as well as seeing life go on around us, only being able to travel by foot or boat, we felt we could spend an eternity wandering, and getting lost in the streets of Venice."
Bob
Coto De Caza, CA
Tour: 09/01/13
Overall rating:
By far the best trip we have ever gone on. Every day was like a picture postcard and they just kept getting better and better, Our guide Jennifer was outstanding, she made it a lot of fun, she was flexible when she needed to be and gave us great intro's to all of the countries that we visited. We were on the 21 days of Europe tour. The other people in our group were great and it was a nice mix of folks.
Favorite "WOW" moment
"It is really difficult since there were so many wow moments. Probably in Rome getting to see all the sites that we have been reading about for years, but the same goes for Paris and Venice etc. The whole trip was a wow factor."
Andrea
Surrey, BC
Tour: 09/01/13
Overall rating:
Our tour was amazing! As never having traveled to Europe before we chose a tour so we didn't have to worry about hotels, transportation, etc. which allowed us to focus on the history and beauty of each country. We never could have seen everything we did in three weeks had we done this on our own. You can't put a value on the knowledge that we received from Jennifer and all of our local guides. It was truly an incredible experience!
Favorite "WOW" moment
"While the entire trip was a "wow" experience, there were two moments that really stuck out for me. The gondola boat ride in Venice which Jennifer arranged for our group was spectacular. Riding through the canals at night listening to the live music was amazing! The second "wow" moment was going to the top of the Schilthorn in Switzerland and then taking in the breathtaking views of the fresh snow and beautiful sunshine on our mountain walk back down. I was in awe."
Janet
Port Angeles, WA
Tour: 09/01/13
Overall rating:
Wonderful. I learned a lot and laughed a lot.
Favorite "WOW" moment
"That's a hard one. There were so many "wow" moments. Lauterbrunnen Valley took my breath away."
Daniel
Shawnee, KS
Tour: 09/01/13
Overall rating:
Everything was great. The group was an amazing, with the best parts of them brought out by Jennifer. Her willingness to flex as necessary and adjust rub off on the group. Turning the tour into an adventure of a lifetime. Jennifer's ability to communicate the view from the other side of the fence allowed us a better understand of how others see us. This also gave us an ability to blend in. We no longer have a fear of traveling to Europe alone. My wife is already talking about our next trip.
Favorite "WOW" moment
"Alps and Rome"
John
Newport, RI
Tour: 09/01/13
Overall rating:
I was delighted with the entire trip. We arrived in our first city two days early and enjoyed touring on our own. We met our tour guide, Jennifer, for dinner the first tour night and were on our way the next morning. Our time on the bus became our group's bonding time. The places we visited were varied and absolutely delightful. We had some local guides for more in-depth discovery. They were very professional and kind.
Favorite "WOW" moment
"I felt a profound appreciation for the ruins of the Roman Forum. Rome was very special, but for me, seeing the Forum was a look at early Roman society, and an immersion into what we had studied in our history classes in high school. To be able to stand where Caesar spoke, and see where he was killed, was a bit of an overwhelming moment for me."
Ken
Port Angeles, WA
Tour: 09/01/13
Overall rating:
I had very high expectations for the tour. They were exceeded in nearly every aspect. I knew I would see Europe's best places, but I had no idea how much I would learn about Europe's history, culture and people. All of this while having a great time getting to know my fellow travelers, enjoying their company and sharing our travel experience.
Favorite "WOW" moment
"It snowed the night we stayed in the Lauterbrunnen Valley. When we went up in the Gondola the Mountaintop was socked in with no view. Later that morning the skies cleared revealing the Valley and Mountains clad in a fresh coat of new snow. It was stunningly beautiful and an unforgettable visual experience. However the time that resonates the most with me was not visual, but emotional. that was listening to Herr Jung in Bacharach describe his and his family's experiences during World War II. ."
Beth
Newport, RI
Tour: 09/01/13
Overall rating:
Very fast paced, but complete, intense education about the history and current events of six European countries and Europe at large. Immersed in the culture, food, wine, beer, customs and language of six beautiful countries. Wet our appetites for more, once we catch our breath!
Favorite "WOW" moment
"I think the place that awed me the most was Venice. The decaying elegance, the beautiful canals, the great sites and of course, shopping left me speechless. Jennifer arranged our gondola ride, with music, and I will never forget it!"
Linda
Guthrie, OK
Tour: 08/25/13
Overall rating:
i was very skeptical at our first group meeting. We picked our buddies and by the 3rd day at our buddy toast & roast I felt like I knew everyone forever.At the tour end we were all sobbing and wishing for more time together. I would like more history and less art. Our guide, Reid, was the greatest. He spread his time among everyone, and gave great interesting info about each destination. He is a very caring person, and a stickler for timeliness.
Favorite "WOW" moment
"Switzerland was my favorite since it looked like I stepped into a Hanzel and Gretel storybook. Cows in the meadows with bells around their necks and sounds like a beautiful windchime. The Cinque Terra along the Mediteranian was also a beautiful old Italian area."
Melissa
Medicine Hat, AB
Tour: 08/25/13
Overall rating:
This tour was amazing! It gave a great cross section of the different cultures and countries in Europe. I enjoyed the balance of smaller towns and villages, such as Bacharach and Rothenberg in Germany, with the larger centers such as Rome and Paris. I am satisfied that I saw all the main monuments and sights that I wanted to see including the Colosseum, the Eiffel Tower, the canals of Venice and the Swiss Alps. I also enjoyed the freedom to choose what activities you wanted to partake in.
Favorite "WOW" moment
"The Piazza San Marco in Venice was wonderful. There was such romanticism in that City. We went there are first night after the canal right and I very much enjoyed the different orchestras playing at the cafes and watching everyone dancing and laughing and just socializing in the square. It wasn't for a particular event or a weekend thing only, that's just the way of life there; very relaxed and fun! Going to the top of the Eiffel Tower was also spectacular!-I can't choose only one "wow" moment."
Sandy
Brandon, MS
Tour: 08/25/13
Overall rating:
It took a while for me to decide to book this tour. So many factors. After searching & researching for months my heart told me this was the tour. We don't know if we will ever make it to Europe again so we wanted to do as much as possible. Also we wanted to learn to be independent travelers in places that were out of our comfort zone. This trip was overall PERFECT. Forget the day to day picture, step back and see the whole picture and I could not have asked for more.
Favorite "WOW" moment
"My husband is beginning to have difficulty with short term memory. Nothing major yet, but I keep a special eye on him. Our fellow travelers realized the situation and everyone at one time or other in some way let me know that they were keeping an eye on him. This group bonded so well and so fast. I believe that we have all become friends and will continue to stay in contact with each other. That camaraderie is one of the main things that made this trip so wonderful."
A C
Mcloud, OK
Tour: 08/25/13
Overall rating:
Overall, this was one of the very best experiences of my life. Traveling with my spouse of 45 years, my brother and his spouse, and a bus full of brand new acquaintances that have become dear friends. Our group was varied, from 20 somethings, to 70 somethings. The respect and concern exhibited by everyone in the group had to be experienced to be believed. Reid, everyones new best friend, had the unenviable job of trying to herd cats.
Favorite "WOW" moment
"Venice at night! Having been there before, but never giving it the time required, and realizing how different it is after the cruise ships depart, was great. The gondola ride was great also. I got the gondola with the guitarist, and singer in deference to our anniversary. It was truly magical."
Andy
Guthrie, OK
Tour: 08/25/13
Overall rating:
this was one of the best traveling experiences i have ever had. i learned a new way to travel because of reid.
Favorite "WOW" moment
"it was all overwhelming. but la cinque terre and switserland were yhe most breathtaking. as well as venice."
Bill
Raleigh, NC
Tour: 08/25/13
Overall rating:
Put simply, this was a great experience. It was a good introduction to traveling around Europe and it also left us with a depth of understanding and appreciation for European art, history, and cultures that I doubt we could have acquired without investing in multiple trips and much study on our own. And it was great fun thanks to group members as well as to Reid. Often the daily schedule felt like one really good idea after another. I liked how well this tour has been thought out and polished.
Favorite "WOW" moment
"Several: Skill and ease with which Reid moved our entire group around subways of Rome and Paris despite crowds. Likewise the efficiency of transporting our group to and from hotels in crowded cities. Singer with amazing voice on gondola ride in Venice. All of Switzerland when the drive as we crossed the border seemed to go from number of miles/wow to number of wows/mile. Couple of group dinner meals."
Duane
Columbia City, IN
Tour: 08/25/13
Overall rating:
Well paced tour. No wasted time figuring out logistics, getting tickets, figuring out what the "best" tour might be. Our guide loves history and explained the significance many times.
Favorite "WOW" moment
"Peter, our bus driver, was able to navigate the hair pin turns in the Alps, providing us with beautiful scenery without dropping us hundreds of feet."
David
Littleton, CO
Tour: 08/25/13
Overall rating:
This was my third trip to Europe but my first with a Rick Steve's tour. The 21 Day Best of Europe tour is an outstanding offering; great sites, excellent location guides, wonderful meals. Our tour guide was knowledgable, attentive to the needs of the individual and group, excellent with group dynamics, prepared with information, and loaded with historical insights. Note: bring the right shoes and pack light!
Favorite "WOW" moment
"My favorite "wow" moment was our gondola ride. Our tour guide arranged for our group to be serenaded by a guitarist and singer, in Venice. This night ride can be expensive, but we divided up into four gondolas and the cost came out to around €27/person; well worth the price. Having never been in Venice, let alone Italy, it was a magic moment, riding below the night's sky."
Sal
Fayetteville, GA
Tour: 08/25/13
Overall rating:
I am at one with the group in so enjoying the cities, towns, country, art and architecture that "Europe Through The Back Door" had to offer. The tour was tightly organized and led by an a sensitive buff of history. Reid Coen led me through an often irreverent version of the triumphant and tortured annals of European history. This is greatly appreciated as it answered some of my questions and helped to further define who and what I am. This is a trip not for air heads. Sal Benigno
Favorite "WOW" moment
"When a fellow soldier asked me where did I take the lieutenant (a lady friend) one evening in Hinesville, Ga.; I answered that we did the Camps-Elysees right next to Piggly Wiggly. This remark also betrayed my desire to actually having been there. For me there were a lot of "wow" moments on this tour, and it had to do simply with being there."
Leigh
Seattle, WA
Tour: 08/25/13
Overall rating:
First of all our tour guide Reid was awesome! I am a celiac (gluten free) and he took such good care of me making sure I had wonderful GF meals with no hassle. We saw and did so many amazing things so much more than we would have ever on our own. Our tour group was a wonderful group of people! I wish you did a tour for over 65. The pace was a little harder for us, but we kept up and loved every minute if it.We were amazed at how easily Reid kept 27 people all going in the same direction.
Favorite "WOW" moment
"There were so many! I guess experiencing and seeing everything for the first time. The historical guidance of Reid, and all of the amazing guides in each city."
Virginia
Littleton, CO
Tour: 08/04/13
Overall rating:
Wonderful tour. Rick Steves! You are the best. Our tour guide, Daniela, was also the best guide. Unbeknownst to you, you put just the right people together with Daniela to make the perfect tour group! Thanks!
Favorite "WOW" moment
"Many WOWs! The David. The Anne Frank home. Venice! But not getting lost in Venice and wondering if I would ever see my grandchildren again. The Mona Lisa. The Vatican. The View from the top of the Eiffel Tower. And many more."
Bob
Hillsboro, OR
Tour: 08/04/13
Overall rating:
Favorite "WOW" moment
"The Swiss Alps...pictures don't do it justice."
Tim
Naperville, IL
Tour: 08/04/13
Overall rating:
We were extremely happy with our Rick Steve's 21 day Europe Tour. The quality of the our guide, the itinerary and layout of the tour itself, accomodations, the total group experience, the amount of free time, bus driver and getting to know some of the locals in the cities were excellant. We feel as though we saw twice as much and enjoyed it twice as much as we would have if we had done the trip on our own. Our level of stress was very low knowing all the details were taken care of.
Favorite "WOW" moment
"The Swiss Alps were amazing! I have to add the total group experience was much better than I had imagined. We are still in touch with many people from our group."
Thomas
Davidsonville, MD
Tour: 08/04/13
Overall rating:
My wife and I had a great time for our first European trip. The itinerary and our tour guide were excellent.
Favorite "WOW" moment
"My favorite "wow" moment was entering the St. Peter's Basilica and viewing Michelangelo's Pieta. My wife was reading aloud Rick Steve's supplement for the Basilica and started to choke up reading the description of work of art. I also started to choke up. It was one of those "lifetime moments" that will never be forgotten. I also greatly enjoyed the beauty of the Swiss Alps. We took great walks on a beautiful day."
Barbara
Davidsonville, MD
Tour: 08/04/13
Overall rating:
The tour was an outstanding experience. Most of the places we visited more than met my expectations. I was very impressed with how the tour was organized and the attention to detail. Everything seemed to work seamlessly and we really appreciate your ability to arrange for nice weather the three weeks we were on the trip.
Favorite "WOW" moment
"The Swiss Alps were magnificent and hiking along the mountains was spectacular. The oldness of Rome and the beauty of St. Peter's was also impressive."
Nancy
Bemidji, MN
Tour: 08/04/13
Overall rating:
I took this tour because I wanted to introduce my 33 year old daughter to Europe and celebrate the 50th anniversary of when I myself first toured Europe with my family in 1963 and 1965 in the "Europe on $5 a Day" era. Having lived and traveled overseas before I had seen many of the sights (except for Florence & Venice). However, this tour brought the added dimension of ease of travel, knowledgeable local guides & prearranged museum tours and fabulous local hotels centrally located.
Favorite "WOW" moment
"* Time on my own to sit in awe with Michelangelo's sculptures in Florence[INVALID]I had done extensive reading & was looking forward to times when the guide gave us the background information & guidance and then "let us go exploring". We were well prepared with Daniela's orientations. * Learning from Herr Jung in Bacharach with his heartfelt history of the area before, during and after the war; * Walking the valley in Lauterbrunnen & speaking w/ travelers auf Deutsch y un poquito Espanol...."
Glenda
El Cajon, CA
Tour: 08/04/13
Overall rating:
I was wowed throughout the 21 days and would recommend your services to my friends, especially for a first time intro to Europe. Our guide was extremely informative on the details of European history and its influence on art and culture. She was easy to understand and made the trip not only entertaining but enjoyable. Her knowledge for navigating Europe safely made sense and gave me a feeling of empowerment in the midst of seeming chaos at times. Thank you for the trip of a lifetime! ggg
Favorite "WOW" moment
"I thoroughly enjoyed paragliding in the Swiss alps! What a thrill to see a birdseye view of God's beautiful creation! Loved it!"
Carol
Edmonds, WA
Tour: 07/07/13
Overall rating:
We had a good time! We were apart of a great group of people who traveled well together. We had a great driver & guide that were knowledgeable, helpful, and kind. It was great that we were able to move effortlessly into hotels, museums, churches, and galleries, etc. because of reservations made for us. The bus was large & roomy!
Favorite "WOW" moment
"Switzerland! I could not believe the lovely scenery & the wonderful location of our hotel!"
Mark
Erie, CO
Tour: 07/07/13
Overall rating:
Best trip of my life! I knew it would be overwhelming - and it was - but I wouldn't have it any other way. Every day that passes since my trip I savor the amazing memories and sites I've seen and experienced. Rather than "do"ing, I spent the trip "be"ing because all the logistics were taken care for me. My only worry was where to show up at what time for our next outing. These tours are so well organized, with just the right mix of adventure with some downtime.
Favorite "WOW" moment
"Trummelbach Falls. This hidden gem in the middle of nowhere is simply awesome."
Ed
Tigard, OR
Tour: 07/07/13
Overall rating:
The tour, food, accomodations, and people on the tor were great.
Favorite "WOW" moment
"The Swiss alps."
Gene
South Lake Tahoe, CA
Tour: 07/07/13
Overall rating:
The Best of Europe Tour in 21 Days was a phenomenal experience. It combined the best of cultural, historical, gastronomical, and interpersonal ingredients into an unforgettable journey of a lifetime.
Favorite "WOW" moment
"The Sistine Chapel and the statue of David for art plus, everywhere we went the food was outstanding."
Richard
Mukilteo, WA
Tour: 07/07/13
Overall rating:
Very exciting! First time to Europe and the 21-day tour was just the "sampler" we were looking for. We spent 4-days in London on our way to Amsterdam and used Rick's London book and his audio tours. We saw so much in such a short time. I see now why everywhere we went we saw folks with his book! But it was nice to meet up with the tour and have someone else worry about the logistics, transportation, lodging, meals, etc. Donald is an outstanding, hard working, knowledgeable tour guide
Favorite "WOW" moment
"Seeing Michelangelo's David. WOW!"
Nancy
Monroeville, IN
Tour: 07/07/13
Overall rating:
This tour was a great chance to experience some of the most famous sites in Europe in only three weeks. We never would have been able to see and do everything that we did on the tour in three weeks if we had gone on our own. Our tour leader was great, and we had a great group to travel with.
Favorite "WOW" moment
"My favorite part of the trip was visiting Switzerland. The scenery was breath-taking, with mountains and hundreds of waterfalls all around. We also had the opportunity to go to the top of the Schilthorn, which had a spectacular view!"
Barbara
Monroeville, IN
Tour: 07/07/13
Overall rating:
I really enjoyed every part of the trip! It was everything that it promised to be. I especially appreciated the ease with which we got into our hotels, museums, and restaurants. I'm glad we stayed in so many local hotels that were located within walking distance of town centers. It was physically exhausting at times, but we were told it would be like that and were prepared!
Favorite "WOW" moment
"When we took the gondola to the top of the Schilthorn and walked part of the way down into the Lauterbrunnen Valley. It was like something out of a storybook!"
Eric
Mukilteo, WA
Tour: 06/30/13
Overall rating:
Fantastic tour! A once-in-a-lifetime event for me and my family. The tour did not disappoint.
Favorite "WOW" moment
"I honestly cannot narrow it down to one moment. There were many wows. Dinner with my family in a pub in Haarlem, the city tour with Herr Yung in Bacharach, walking the wall in Rothenburg, hiking across the border into Germany, crossing the grand canel in a vaporetto, seeing the David in Florence, touring the Colosseum in Rome, hiking along the Italian coast and in the Swiss alps and touring the Louvre. Too many wows to count. Thank you!"
Emily
Sultan, WA
Tour: 06/30/13
Overall rating:
Wondrous!! Absolutely wondrous. I had such a wonderful time because I was surrounded by a great group of people and was guided by two guides that wanted us to experience everything that we possibly could. Our bus driver was absolutely amazing getting us everywhere that we needed to be, and every hotel we stayed at was run by such friendly people who you not only saw when checking in, but also during breakfast. Everything was just wonderful (again) and I enjoyed every minute of it.
Favorite "WOW" moment
"I have to say that my favorite "wow" moment from this tour actually wasn't about a place we went (museum, etc.) or about something we learned (although there were many). My favorite "wow" moment, was when we were in Switzerland at our hotel and a local band, out of the blue, came out and serenaded us with beautiful music, while a group of women would join in and perform a dance to the music at the time. It was completely unexpected and a great way to spend a relaxing night with the group."
Anna
Mukilteo, WA
Tour: 06/30/13
Overall rating:
This tour was fabulous! I wanted a tour that gave our children the most exposure to Europe in a way that would motivate them to return for more and feel comfortable doing so.
Favorite "WOW" moment
"Each day had a "wow" moment, but for me turning the corner in Florence and seeing the Duomo was the biggest "wow". Unlike other places and churches on the tour, I knew nothing about this and was completely amazed."
Sylvia
Greenvale,
Tour: 06/30/13
Overall rating:
Overall tour experience was wonderful. A trip I will cherish and remember forever. I enjoyed every aspect of the trip and would dearly love to do another Rick Steves tour in the near future.
Favorite "WOW" moment
"Everyday had a "wow" moment but ultimately hiking in Switzerland and staying in Stechelberg was my favorite."
Ann
Oxford, WI
Tour: 06/25/13
Overall rating:
Just great!!! Fun, great group of people to travel with. Great leaders!
Favorite "WOW" moment
"Watching my husband paraglide in the Swiss Alps! The area we were in was absolutely breathtaking."
Dean
Port Hadlock, WA
Tour: 06/23/13
Overall rating:
This was the first time I have traveled with a group and it was the best. I can't wait for the next opportunity to arise so I can try one of your other tours. The guide was fantastic, the group was great and the driver was excellent and the sights, just exceptional.
Favorite "WOW" moment
"There was a wow moment around every corner."
James
Oregon City, OR
Tour: 06/09/13
Overall rating:
We developed fine esprit de corps, as I have come to expect of a Rick Steves tour. We had delightful spots of fun, like the luge. Our guide was quite helpful teaching us things the dumb tourists need to know to function in unfamiliar places. And part of the joy of the experience is in learning you can adjust to the unfamiliar. Our guide did not quite match the Irish guide, whose knowledge of the material seemed truly supreme.
Favorite "WOW" moment
"The luge, the Alps, Switzerland, marble sculptures and the esprit de corps."
Weather

Netherlands / Amsterdam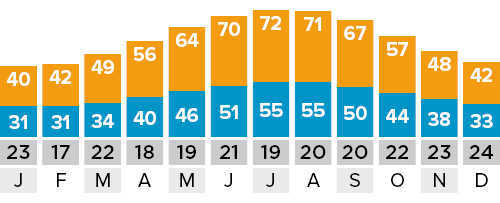 ---
Germany / Munich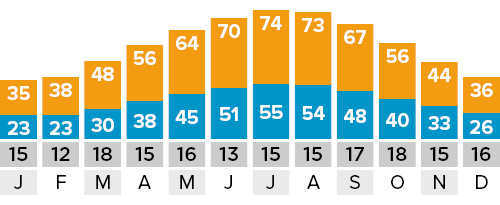 ---
Austria / Vienna
---
Italy / Venice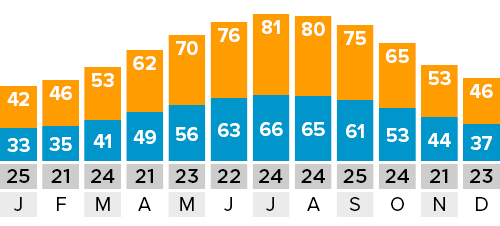 ---
Italy / Florence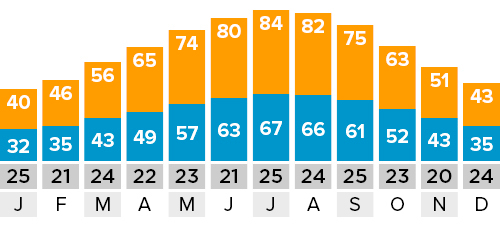 ---
Italy / Rome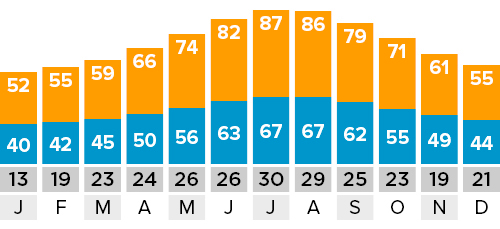 ---
Switzerland / Bern
---
France / Paris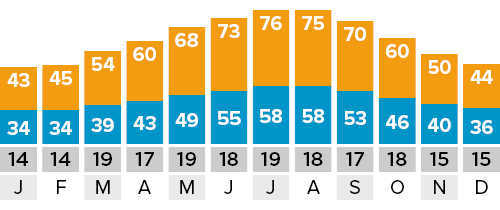 Pre-Tour
We've put together some specific information on what you should know about this tour before you go. You'll also find more general information about "Getting Ready for Your Tour" on our Tour FAQ.
Sightseeing On Your Own
If you arrive in Haarlem or Amsterdam before your tour begins, use Rick Steves' Best of Europe guidebook to get oriented. Ride the public transportation, try out a few words of Dutch (although most locals speak very good English), and get over your jet lag with lots of fresh air and exercise. Take advantage of the flat terrain and rent a bike in Haarlem!
Here are a few suggestions for sightseeing in Haarlem and Amsterdam that we will not do as a group. Haarlem: Frans Hals Museum, canal cruise, Teylers Museum, Corrie Ten Boom House, Grote Kerk (main church). Amsterdam: Amsterdam Museum, Jewish History Museum, Dutch Resistance Museum, Tropical Museum, Heineken brewery tour.
There is plenty to keep you busy with extra time in Paris. We suggest visiting the Orsay or Orangerie Museums for great Impressionist art. If modern art is your thing, you can't miss The Pompidou Center. Feeling museum-ed out? Then explore great neighborhoods of the Marais, St. Germain or the Montmartre. Spend some time in one of Paris' people-friendly parks like the Luxembourg or Tuileries Gardens or hop on a boat and take a tour of the river Seine.
Transportation
Most tour members arrive a day or two before the tour begins — and those who don't, wish they had. This allows you ample time to get over jet lag and make the most of the first few days of the tour.
There is more than one way to get to and from your tour. We recommend talking to your travel agent about "open jaw" airline tickets (flying into and out of different cities). Amsterdam and Paris are transportation hubs, making travel before or after your tour quite easy. The most direct route is to fly into Amsterdam and home from Paris. If you have extra time, you may want to consider a roundtrip flight into/out of either Amsterdam or Paris. These flights may be cheaper, but you'll need to consider the cost of the train fare between the cities, as well as an additional overnight stay.
For information about flying within Europe, ask your travel agent or check Rick's list of European budget airlines.
Read Rick's train travel and rail pass tips and decide if your travel plans merit a rail pass.
Prior to your tour departure, you will receive detailed directions on how to get from the airport to your first tour hotel, as well as contact information for your first and last hotels in case you wish to book pre- or post-tour hotel accommodations.
If you need more information about additional European travel or for specific questions about your tour, contact the Tour Department at 425-608-4217 or email tour@ricksteves.com.
Trip Resources
Learn more about Netherlands, France, Austria, Switzerland, Germany, and Italy: Check out a collection of Rick's TV shows, radio interviews and articles, plus find a list of recommended books and movies.
Packing
While it is important to pack light, there are a few things we'd like you to consider including when packing for this tour. There are some great opportunities for hikes in Italy's Cinque Terre and the Swiss Alps. While hiking boots are not necessary, we recommend you bring a pair of sturdy walking shoes. If you like to swim, we'll have a couple of opportunities to get wet, so bring along a swimsuit and perhaps a light-weight microfiber towel.
For ideas on what to pack, check Rick's Packing List and our Women's Packing List.