Colmar

Stained glass in Reims Cathedral

Kaysersberg

Wine tasting in Burgundy

French Alps near Chamonix

Annecy

Côtes du Rhône Vineyard

Port of Marseille
Tour Questions? Call 425-608-4217
Best of Eastern France in 14 Days
The bountiful vineyards, classic villages and hearty cuisine of Eastern France are legendary. Starting in the effervescent Champagne capital of Reims, you'll spend 14 fascinating days with your Rick Steves guide, exploring Colmar's cobbled lanes, Alsace's meandering Route du Vin, Verdun's historic battlefields, Burgundy's fabled Côte d'Or, Chamonix's majestic mountains, Provence's scenic Côtes du Rhône, and ending with a harborside toast in Mediterranean Marseille. Join us for the Best of Eastern France in 14 Days!
What's Included
A small, friendly group of 24-28 people — half the size of most tour groups
Full-time services of a professional Rick Steves guide and local experts who will make the fascinating history, art and culture of France come alive for you
All tours and admissions — at no extra cost — covering at least 18 group sightseeing events • Reims walking tour • Reims Cathedral • Champagne Cave visit and tasting • Verdun WWI battlefields tour • Colmar walking tour • Unterlinden Museum tour • Colmar wine region excursion • Alsatian wine tasting • Beaune walking tour • Hospices de Beaune tour • Market day in Beaune • Beaune wine tasting • Boat cruise on Lake Annecy • Hiking orientation in French Alps • Vaison la Romaine Roman ruins tour • Orange Roman Theater tour • Rhone Valley wine tasting • Tour of Marseille...and more
All group transportation from Reims to Marseille
13 nights accommodations in memorable, centrally-located hotels
All breakfasts and half your dinners
All tips for guides and driver
Free stuff including Rick Steves' France and Provence and the French Riviera guidebooks, French phrase book, moneybelt and earplugs
Guaranteed tour price, locked in the moment you make your deposit
Optional single supplements — this tour has a limited number of private rooms for solo travelers for an additional fee
Tour alum discount of $50 for each tour you've taken prior to 2014
50% discount on a consulting appointment with our in-house experts to assist with your pre- or post-tour travel plans
Flexibility should you need to transfer, or cancel/interrupt your tour
Fine print: You are responsible for the cost of your drinks and free-time sightseeing. See our Tour Conditions Agreement for important details regarding everything listed above
Itinerary
Daily Activity Key
Light = 2-4 miles of mostly level walking throughout the day.
Moderate = 2-6 miles walking throughout the day with some hills and stairs.
Strenuous = 2-8 miles walking throughout the day with lots of hills, stairs and uneven terrain.
Day 1: Welcome to France's Champagne Region
Just 45 minutes from central Paris by frequent TGV (bullet) train, the effervescent city of Reims is famous for its royal history, its towering cathedral...and Champagne. We'll meet at around 5 p.m. at our hotel for a short "bienvenue à Reims" meeting. Then we'll take an orientation walk through the heart of Reims, followed by time to get acquainted over dinner together. Sleep in Reims (2 nights). No bus. Walking: light.
Day 2: All Day in Reims
We'll spend our morning on a walking tour through Reims' historic city center, where we'll learn about the design and history of its glorious Gothic cathedral. Rivaling Paris' Notre-Dame in beauty and prestige, more than two dozen kings and queens of France were crowned here over the course of six centuries. The cathedral and its surrounding neighborhood were virtually destroyed during WWI, then rebuilt during the Art Deco age, which is delightfully reflected in the design and décor of Reims' downtown buildings. Today we'll also learn about this region's most famous product — Champagne — with a tour and tasting, courtesy of a local producer. Dinner will be on your own this evening. No bus. Walking: moderate.
Day 3: Battlefields and Lessons of Verdun
We'll meet our bus and driver today and take a short drive to the historic WWI battlefields at Verdun. We'll visit the ruins and monuments of one of Europe's costliest battles of attrition, where hundreds of thousands of French and German soldiers perished. Our day will end in France's Germanic region, the Alsace, the ultimate Franco-Germanic blend. Tonight we'll share a dinner of Alsatian specialties in the town of Colmar, where we'll sleep (3 nights). Bus: 6 hrs. Walking: moderate.
Day 4: All day in Colmar
Today is devoted to exploring the enchanting town of Colmar. We'll take a walking tour this morning, wandering over its cobbled lanes lined with leaning, half-timbered buildings, and learn about the historic importance of the community's canals. We'll wrap things up at one of Rick's favorite museums in Europe — the Unterlinden — home to the Isenheim Altarpiece by Matthias Grünewald. You'll have this afternoon and evening free to explore more of the city's sights and pedestrian-friendly lanes, and to enjoy more Alsatian specialties on your own. No bus. Walking: moderate.
Day 5: The Route du Vin
Let's take off and explore the region's scenic Route du Vin, where colorful villages and vineyards carpet the foothills of the Vosges Mountains — birthplace of the region's very dry Rieslings and aromatic Gewürztraminers. We'll visit Albert Schweitzer's hometown village of Kaysersberg and find the perfect winery to sample some local varieties. Then we'll return to Colmar, where you'll have the late afternoon and evening free. Bus: 2 hrs. Walking: light.
Day 6: A Hearty Taste of Burgundy
This morning we'll drive from the Teutonic tidiness of Alsace to the red-tiled villages of Burgundy and its bustling wine capital of Beaune. After some free time for lunch, we'll hit the ground walking with a tour of the town and its eye-opening medieval charity hospital, Hospices de Beaune. Tonight we'll have a Burgundian dinner together. Sleep in Beaune (2 nights). Bus: 3 hrs. Walking: light.
Day 7: Market Day and Vineyards
It's outdoor market day in Beaune! Your morning will be free for rubbing elbows with locals sampling smelly cheeses, creamy patés and fresh produce while doing their weekly shopping. This afternoon we set off for Burgundy's legendary and beautiful Côte d'Or wine country, where we'll have lunch together at a local domaine, along with a tasting of its celebrated harvest. We'll return to Beaune later this afternoon, where you'll be free for discoveries and dinner on your own. Escargots, anyone? Bus: 2 hrs. Walking: light.
Day 8: To the Alpine Peaks of Chamonix
This morning we'll make a bee-line for Europe's highest point, the Mont Blanc, arriving in the picturesque resort town of Chamonix in time to get acquainted with all the Alpine thrills this charming city offers. This evening we'll enjoy a traditional dinner of raclette or fondue together. Sleep in Chamonix (2 nights). Bus: 4 hrs. Walking: light.
Day 9: Free Day in the French Alps
Today is your day to enjoy the wonders of the French Alps. Weather and lifts permitting, your guide will help you make your way up the Aiguille du Midi gondola and find the right trail to hike, rewarded with stunning views of nearly 16,000-foot Mont Blanc and a supporting cast of Alps that seem to stretch forever. Or if you prefer, simply find a view table in Chamonix and take the day off in après-ski style. No bus. Walking: light to strenuous (your choice).
Day 10: From Peaks to Provence
Sit back and rest those hiking muscles as we spend our day driving south to sunny Provence, enjoying the countryside along the way. We'll stop for lunch and a boat ride (weather permitting) in exquisite Annecy — hands-down France's most beautiful lakefront town. We'll arrive at our history-rich, Provençal destination of Vaison la Romaine in time to get oriented and enjoy dinner together. Sleep in Vaison la Romaine (3 nights). Bus: 5 hrs. Walking: light.
Day 11: Roman Provence
We'll spend our morning sifting through the 2,000-year-old site of ancient Vaison la Romaine. There, we'll tour the ruins of a sprawling Roman mansion and the 6,000-seat Roman theater that is still used for performances today. Consider this a warm-up act for the most impressive of all Roman theaters — the Theater of Orange — which we'll drive to and experience this afternoon. Bus: 1 hr. Walking: moderate.
Day 12: The Vineyards of Côtes du Rhône
This morning, we'll drive through some of Europe's most picturesque villages and vineyards, stopping here and there along the way. One of our stops, at a favorite winery, will bring us a refreshing lunch and the chance to sample some formidable Côtes du Rhône wines at their source. We'll return to Vaison for free time this afternoon. Bus: 2 hrs. Walking: light.
Day 13: Hill Towns to Harbors
Today we'll continue south through Provence's intoxicating countryside, making our way to the seaside city of Marseille, where we'll tour its historic center and port with our local guide. This afternoon you'll have time to explore more of Marseille including the city-capping Notre-Dame de la Garde basilica. Tonight we'll share travel memories and toast new friends at our farewell dinner together. Sleep in Marseille (1 night). Bus: 3 hrs. Walking: moderate.
Day 14: Tour Over After Breakfast
Marseille's airport is an easy 30-minute bus, shuttle, or taxi ride away. For those staying longer, your guide will be happy to send you off in the right direction and help with any trip planning needs. Au revoir et merci!
Itinerary specifics subject to change.
Activity Level
Our tours are physically active! It's an essential part of the Rick Steves tour experience. On our Best of Eastern France in 14 Days tour — among other things — you'll need to happily...
Carry/roll your luggage over uneven pavement (several blocks possible) and up stairways to reach your hotel; then up several flights of stairs to reach your room.
Be on your feet, walking and standing for up to three hours, indoors and outdoors, in all weather conditions.
Sleep with street noise and no (or weak) air conditioning.
After orientation and transportation lessons, be able to navigate towns and cities on your own.
Reviews
Ann
Seattle, WA
Tour: 08/24/14
Overall rating:
I thoroughly enjoyed the tour and fellow travelers. All of the villages chosen were unique and interesting. My only reservation is that I did not understand from the tour description how great an emphasis on wine there would be. I would have enjoyed more villages and less vineyards.
Favorite "WOW" moment
"Chamonix was an absolute 'wow' moment. We had very poor weather the first few days so felt extremely lucky to have beautiful weather in the alps. The hotel was wonderful since one does become a little weary of 'odd' bathroom arrangements."
David
Seattle, WA
Tour: 08/24/14
Overall rating:
This was an enjoyable tour with an amazing diversity of experiences: Reims and Marseille, small towns and villages, the French Alps, and wineries. I was not prepared for the intense focus on wine and would have preferred an additional city visit (Avignon perhaps) rather than the 4th winery tour. Yet the picnic at the Mourchon Winery was lovely and the family has a compelling story to tell. An additional bonus was the quality of our travel companions, all genuine and delightful people.
Favorite "WOW" moment
"It's impossible for me to list just one "wow" moment so here are three: -- the French Alps above Chamonix on a sunny day. What could be more spectacular? -- the great port city of Marseille, ancient and new. -- Verdun, and especially Fort Duoaumont. The almost unimaginable lives of the men who fought there."
June
Seattle, WA
Tour: 08/24/14
Overall rating:
Our tour guide, Daniela, did an excellent job. I rated this trip "very good" and not outstanding because we wanted more hikes and outdoor activities and less wine tasting. I realize we were traveling through 4 major wine regions, and the wine was indeed high quality, but for us, being out in nature is important. The Adriatic tour the previous year and our GAS tour seemed to have more of that. Even more history would have been preferable and less wine.
Favorite "WOW" moment
"The day and a half in Chamonix were the best. We loved the hike we took and would have been happy to have time to take another one. We were fortunate to get spectacular weather and the views were breath-taking. The guide book helped us choose what to do."
Richard
Rancho Palos Verdes, CA
Tour: 06/29/14
Overall rating:
Outstanding itinerary, guide and driver. Nice group of travelers and good mix of planned activities and free time. Enjoyed the culture more than I anticipated, with Daniela's helpful guidance about useful ways to experience the differences and how the familiarity of home would be more appreciated as a result.
Favorite "WOW" moment
"Chagall windows in Reims cathedral. Other favorites were the view from Marseille's Notre Dame du Garde, the tasting experience at Domaine Mourchon, the Beaune farmers market and Daniela's rapt description of Grunewald's Isenheim alter piece. I would skip the trip to Orange for the Roman Theater and show us the movie on the way to another tasting, perhaps in Chateauneuf de Pape."
Catherine
Santa Clara, CA
Tour: 06/29/14
Overall rating:
The Eastern France in 14 Days Tour was absolutely outstanding. Each place we visited was unique and yet also connected historically and culturally. Learning about the influence of the Gauls and Romans, the Holy Roman Empire, Medieval Europe on modern France was fascinating. Each town was charming and vibrant. The only exception was Marseille. It's a very interesting city, but after charming villages it was a jolt to the nervous system. Ending in/near Nice would have been more enjoyable.
Favorite "WOW" moment
"There were so many. Seeing the light show at the Reims Cathedral was amazing. Experiencing the senseless devastation of World War I in Verdun was very moving. Being up in the clouds in the Alps was breathtaking. Drinking good wine from Burgundy was delightful!"
Linda
Orlando, FL
Tour: 06/29/14
Overall rating:
Perfect way to relax and learn about French food and wine.
Favorite "WOW" moment
"Rapelling down a waterfall in Chamonix"
Barbara
Castle Rock, CO
Tour: 06/29/14
Overall rating:
The trip was amazing! It was so thoughtfully planned with a wonderful itinerary. There was a perfect balance of organized activities and free time. Our tour guide Daniella was outstanding!
Steven
Gurnee, IL
Tour: 06/29/14
Overall rating:
Well, I think that my grades reflect the fact that I really enjoyed this tour. If I were to do any tinkering with the itinerary, it would be one less day in Beaune and one more day in Chamonix. The bus used on this tour was a lot more comfortable, with more leg room than the one we had on the Best of Italy tour a couple of years ago. I'm a bit taller than average, this meant a lot to me.
Favorite "WOW" moment
"I have to pick one??? Then it would have to be at the top of the Aiguile du Midi in Chamonix."
Tim
Newcastle, WA
Tour: 06/29/14
Overall rating:
We had a terrific time in France. The tour group got along well. Daniela, our guide was informative and helpful (and funny and German).
Favorite "WOW" moment
"I didn't have a particular "wow" moment unless you count watching Germany eliminate France from the world cup surrounded by a bunch of French people :) The entire tour just fit together so nicely."
Kathryn
Newcastle, WA
Tour: 06/29/14
Overall rating:
This was a great tour for wine lover's. It was very informative as well as beautiful. There was a good mix of culture and food as well as general site seeing. We were given enough free time to not feel trapped and enough group options to bond with our fellow travelers.
Favorite "WOW" moment
"Hiking in the Alps of Chamonix. The weather was not the best, but it was still gorgeous."
Justin
Pacifica, CA
Tour: 06/29/14
Overall rating:
We had an amazing group of well-travelled, kind, outgoing people who were passionate about Europe. We were like a family from day 1. This tour covered some amazing smaller towns, where the pace was slower and the focus was more on the food, wine, and culture. France is a beautiful country!
Favorite "WOW" moment
"The natural beauty of Chamonix; lunch and winery tour at Mourchon; strolling around Colmar; hanging out with locals watching the World Cup; the food of Burgundy."
Rebecca
Seattle, WA
Tour: 06/29/14
Overall rating:
Great tour, excellent itinerary for seeing the French countryside. This tour is loaded with culture, history, good food/wine and fantastic scenery. Good balance of structured and free time.
Favorite "WOW" moment
"I had several. The walking tour of Colmar, one of the most picturesque towns I've ever visited. The top of the Agui di Midi in Chamonix and taking the little gondolas over to Helbronner and back. The wine tasting and lunch at Domaine Mourchon. The group dinners on the shaded terrace at the hotel in Vaison La Romaine. The views of Marseille from Notre Dame de la Gard."
James
Huntsville, AL
Tour: 06/29/14
Overall rating:
Although we have traveled through much of France over the years, this trip took us to places we had never visited. It was a completely different experience for us. Daniela gave us excellent background information on the stops we made. Perhaps the most memorable parts of the trip were the wine tastings; we were able to learn a great deal about the various growing regions and varieties that we had not known before.
Favorite "WOW" moment
"The the visit to the battlefield and cemetery at Verdun was moving. Our visit to the Chateau Rully from Beaune was very enjoyable and the picnic lunch that Daniela assembled for the group was great. We thoroughly enjoyed Chamonix; the scenery was spectacular. The least favorite was the visit to the Roman theater in Orange from Vaison la Romaine; we've visited many Roman ruins and were not thrilled to see another."
Elizabeth
Lake Junaluska, NC
Tour: 06/15/14
Overall rating:
What an interesting trip! I was not familiar with any of the small towns visited on this trip....but was so delighted I had the opportunity to tour and explore them. The trip was well planned, the itinerary was well rounded and the hotels were charming. Loved the wine tastings! I learned so much about the western side of France. We were so lucky that the weather was perfect!!!
Favorite "WOW" moment
"Riding the Aiguille du Midi gondola in Chamonix to 12,600 ft at Mt. Blanc was awesome and unforgettable! I had never been up that high and my feet still on land! Ha! Also, in Vaison La Romaine, I felt like I had been transported back in time to the Romans and then the Middle Ages. My hotel room was in a 600 year old hotel...think of the history and 600 years of guests!!! So fortunate to have had the experience."
Cornelia
Somerset, MA
Tour: 06/15/14
Overall rating:
This tour introduced us to regional foods and customs in the regions of Champagne, Alsace, Burgundy, the French Alps and Provence. We visited medieval sites, A WWI battlefield,and Roman ruins. We saw some exquisite art (Chagall stained glass windows, the Isenheim Altarpiece, the Virgin in the Rosebush, and tapestries). We had optional hikes, wine tastings, and visits to vineyards. We had free time and group time. Chamonix was a great place for free day with many choices of activities. )
Favorite "WOW" moment
"The Sound and light show at the cathedral in Reims was a Wow. The spectacular scenery at the top of the Aiguille du Midi and the Step into the Void were also Wows. I have to include the town of Colmar and both the views from the terrace and the interior of Notre Dame de la Garde in Marseille."
Larry
Princeton, NJ
Tour: 06/15/14
Overall rating:
This was our 4th Rick Steves tour and we found it the best paced of all. Pleasant to exciting... informative... great fellow travelers ... and we learned a lot. The food was generally good... as were the facilities, but there were moments of perfection.... Usually enhanced by the attitude of the owners and staff of the hotel... and that's where we could really get to practice our knowledge of the culture and language.
Favorite "WOW" moment
"This really was a fantastic tour experience.... And sooo diverse... from Reims ...more classic France... to Colmar, Germanic and Alsatian, to Chamonix, the Alps, to Marseille with its more urban and North African influence. Neat... Taking a cable car and hiking up to watch the Paragliders was a wonderful treat. Also, the light show at the Notre Dame in Reims at 2300 was fabulous!"
Ernest
Pittsford, NY
Tour: 06/15/14
Overall rating:
Excellent tour
Favorite "WOW" moment
"Tour of Domaine de Mourchon and lunch"
Patricia
Pittsford, NY
Tour: 06/15/14
Overall rating:
We were very pleased with every aspect of the tour. We appreciated the various charming hotels, the very well-versed and personable guide, the excellent bus driver plus the pace of the tour seemed just right - enough tome on our own plus the right amount of scheduling.
Favorite "WOW" moment
"Our favorite "moment" was the time spent at Domaine de Mourchon. From the moment we climbed into the back of an old red pickup truck for the ride up to the winery until we regretfully left after the marvelous lunch, it was a marvelous day. The meal provided by the wife of the owner and served outside in the shade of lovely trees was first class. The wines from Mourchon are very well-crafted and delicious. It was great to learn about their production from vine to wine!"
Craig
Salt Lake City, UT
Tour: 06/15/14
Overall rating:
East France tour was my 9th tour with your company and as always, enjoyable. For me, all aspects of the tour were very efficient. Our bus driver, Hilde was great. Excellent driver with lots of information and humor. There was no wasted time. All group activities were well scheduled and we had lots of free time to explore on our own. A very relaxing tour of eastern France with a great variety of scenery,towns, and villages. The summer celebration in Beaune is fun!
Favorite "WOW" moment
"I have to say the 12,605 foot peak Alguille du Midi and walking inside the glacier-both in the lovely town,Chamonix. Spectacular views of mountain peaks and the town. The glacier cave was a terrific experience."
Charlie
Moraga, CA
Tour: 06/15/14
Overall rating:
Just a perfect combination of beautiful villages and scenery, plus history and ruins, wine and culture. Nice balance of planned events we could never do on our own plus free time to do and see what we wanted. Well paced, terrific guide, nice group of people to travel with. Also, the "demands" of a RS tour sort of limits them to pretty active and healthy people, like us, which was a nice benefit.
Favorite "WOW" moment
"Outdoor lunch after tour at Domaine de Mourchon. Spectacular food, wine, scenery, weather and hosts, plus a beautiful hike afterwards."
Stuart
San Clemente, CA
Tour: 06/15/14
Overall rating:
This "adventure" was a wonderful way to immerse yourself in French culture including the beauty of the countryside, the regional traits of French citizens, the wonderful wines of Eastern France, and the variances of French cuisine as we traveled southward on our journey.
Favorite "WOW" moment
"Staying in the village of Viason la Romaine in Provence was tremendous. Friendly people, 1st century Roman ruins, super hotel location, and the side trip to Seguret was top on my list. The visit to the Mourchon Winery and lunch at the owner's hilltop home was fantastic. The beauty of the countryside seemed magnified the entire day."
Angela
San Diego, CA
Tour: 06/15/14
Overall rating:
Rick Steve's tours have a great balance of group time and free time. Our guide Patrick was lively, fun and informative. Everyone on the trip was very nice. This particular trip was great because even though it was all in France, the regions we visited are so different they offered a wonderful variety.
Favorite "WOW" moment
"My favorite wow moment must have been the views from atop Aguille du Midi in Chamonix."
Lori
Charlestown, RI
Tour: 05/25/14
Overall rating:
Enjoyed the variety! Quaint little towns, vineyards, wine tasting, chateaus, cathedrals, mountains and seaside!....And a wonderful group, guide and bus driver to enjoy it all with us!
Favorite "WOW" moment
"Chamonix! Words cannot describe the beauty. Going to the top of Auguille du Midi after getting altitude sickness and then recovering was spectacular! Walking out into the glass box and looking down was a thrill I'll never forget!"
Charles
Crown Point, IN
Tour: 05/25/14
Overall rating:
My habit is to keep my expectations at a low to moderate level for trips I take. This experience would have exceeded my expectations, even if they had been high. There were a number of things about this tour that contribute to this evaluation. First, something you had no control over, the weather co-operated almost the entire time. Second, the tour consisted of just 14 people (7 couples). I thank you for allowing a group that small to proceed. Your profit margin must have been small.
Favorite "WOW" moment
"Without a doubt the Alps. It was the most impressive mountain scenery I have ever encountered. The trip up to the Midi at Chamonix was a memory I will carry with me always."
James
Portland, OR
Tour: 05/18/14
Overall rating:
It was a great itinerary up to Marseille. The pace was excellent with multiple days at each location and unscheduled time to explore on our own with excellent guidance from our tour guide. The bus was very comfortable. We enjoyed all of our tour members, (many of them were repeat Rick Steves tour participants) and we got valuable input on future tours for us from them. Helga, our bus driver, was very capable and friendly. All of the provided dinners were very good and interesting.
Favorite "WOW" moment
"Looking out at Vaison from our hotel room window and hearing the opera from the old Roman amphitheater."
Burton
Eugene, OR
Tour: 05/18/14
Overall rating:
This tour provided a great exposure to eastern France from north to south with other exciting tidbits thrown in like Chamonix and Verdun. Our tour guide Julie was an exceptional guide and always ready and willing to help anyone as well as possessing an in depth knowledge that was spectacular. We have done five previous Rick Steve's tours and all were incredible, but this trip was special. I think it's pace was what made it so good. There were adequate periods of alone time.
Favorite "WOW" moment
"Driving up into Chamonix and seeing Mont Blanc rising up above you and then ascending to the top of Aguille de Midi and looking out across the Alps. Having the next afternoon free and hiking up above the villages on trails and encountering wildlife and spectacular scenery."
Susy
Brentwood, CA
Tour: 05/18/14
Overall rating:
The sights, activities, food, local tour guides, and hotels selected for this tour were top notch. This was our 5th RS tour and was consistent in quality with the others.
Favorite "WOW" moment
"The wine tasting and tour experience in Provence at Mourchon. Also liked the champagne tasting as well as the tasting/picnicing at the castle."
Ann
Portland, OR
Tour: 05/18/14
Overall rating:
My husband and I have been on many Rick Steves trips and this one to Eastern France was among the top ten. The cultural experience of living in France was the most enjoyable part of the trip since it is nice to see how other people live. The agriculture as shown in the market places put our Saturday Markets to shame. Could we be a third world market in comparison. The visit to Verdun made me realize how terrible World War I was for all those young men. What a waste!
Favorite "WOW" moment
"Our day in the French Alps was awesome."
Daniel
Portland, OR
Tour: 05/18/14
Overall rating:
It isn't billed as a wine tour, but when you are going through four of the five great wine regions of France, it becomes a wine tour. And, boy, did I love it! It was so much fun to tromp through the vineyards and taste the wines at their source, and all with enthusiastic and knowledgeable fellow tour members. And as with other Rick Steves tours we've been on, the guide makes all the difference in the world. And Julie was among the best guides we've had, and that's a real accomplishment!
Favorite "WOW" moment
"That's tough, there were so many. But for me, it was the tour, tasting and lunch at Domaine De Mourchon near Seguret...starting with the pickup truck ride up the hill. The vineyard tour with Hugo, the story of how Walter, a Scotsman from the oil business, won over most of the local winemakers, tasting Walter and Hugo's great wines, and that sumptious lunch under the cobalt blue sky of Provence --- wow!"
Barbara
Walnut Creek, CA
Tour: 05/18/14
Overall rating:
I have taken 6 tours with Rick Steves and this was by far the best. Everything was well organized and interesting. I do not drink, but there was enough to do do that I felt I was not on a wine tour. The excellence of the tour was due to Julie the guide. She was wonderful and had good suggestions of things to do. Also the group on the tour was wonderful. As a single traveler, it is some times hard when couples go off on their own in free time. In this case I always had company during free time.
Favorite "WOW" moment
"The stay in Chamonix. The beauty of the mountains and the valley were impressive and totally stunning. We took the cable car to the top of the mountain and the view was impressive. Julie, our guide, suggested we go up the day we arrived as it was supposed to be cloudy the next day. We did and got to see the view. If we had waited we would have missed it."
Janet
Roseburg, OR
Tour: 05/18/14
Overall rating:
This was our second Rick Steves tour. We love that the group is small, hotels are small and interesting, and itinerary is varied. We chose this tour because it went to smaller towns in an area we probably wouldn't get to on our own.
Favorite "WOW" moment
"Loved the varied regions of France--Colmar and Provence were my "wow" areas."
John
Brentwood, CA
Tour: 05/18/14
Overall rating:
Overall tour experience was excellent as expected. Julie was very knowledgeable and did a great job of facilitating group activities.
Favorite "WOW" moment
"Mourchan winery & garden lunch. #2Chamonix experience."
Grace
Camarillo, CA
Tour: 05/11/14
Overall rating:
I loved the overall itinerary and not worrying about getting from one place to another. The excellent tour guide Chris and bus driver Henry were so fun, informative and helpful in making sure we had a good time and enjoyed every part of our trip. It made the whole trip worry free and fun. The hotels and meals were also well chosen. I enjoyed the locals guides provided in Orange and Marseille. The winery tours were also great, especially Mourchon where we were served a wonderful lunch.
Favorite "WOW" moment
"Chamonix, Mont Blanc! It was a beautiful day and we were able to take the Aiguille du Midi gondola to the top for a breathtaking view. I loved the plexiglass look-out down and over the mountain. The fondue and raclette diner together was also fun and plenty of places to hike."
Betsy
Winston-salem, NC
Tour: 05/11/14
Overall rating:
This was a wonderful tour. We have traveled around Europe to many of the big cities so this tour was perfect. Many of the places visited were small and out of the way where a tourist would not generally venture on their own making it well worth while. The overall experience was first class all the way.
Favorite "WOW" moment
"The view of Mont Blanc from the streets of Chamonix was breath taking."
George
Winston Salem, NC
Tour: 05/11/14
Overall rating:
This was our second tour with Rick Steves. The tour was of the highest quality as expected. Our tour guide, Christine, was excellent as was our driver, Han. Our experiences included history, food, wine tasting, architecture, culture, and nature. As with our Italy tour, the visits to relatively small French cities was relaxing. Having said that, we did get to stretch our legs on wonderful forest and vineyard treks. Our fellow travelers were fabulous. Well Done!
Favorite "WOW" moment
"Our "wow" moment was very simple but marvelous. While sitting on a park bench enjoying a picnic of goods purchased in the outdoor market during our free time in Annecy, a young French girl in a school group, maybe 8 years old, said "Bon Appetit" as running past. Our "Merci" not being quick enough, she stopped, looked at us directly and repeated the gesture to get our response. So cute and caring for a youngster to notice two strange elders having their lunch."
Eileen
Prairie Village, KS
Tour: 05/11/14
Overall rating:
One of the advantages of a Rick Steves tour is that we got to do things we never would have on our own. For example, having a picnic on the grounds of the privately-owned chateau near Beaune and the incredible lunch provided to us at the winery at Vaison la Romaine. These are the kinds of experiences that make me say, "thank goodness we signed up for this tour!"
Favorite "WOW" moment
"Impossible to say! But looking out over the city of Vaison la Romaine from our hotel room at dusk or sunrise would be near the top, as would the tour of the chateau near Beaune, and the view of the mountains in Chamonix."
Jim
Prairie Village, KS
Tour: 05/11/14
Overall rating:
I have visited France two other times with family, not part of nay tour. Being on this tour (as well as the days in Paris with your tour) brought a great deal of depth and breadth to my appreciation of France. It is a wonderful and diverse country.
Favorite "WOW" moment
"I love the mountains, so visiting Chamonix, and taking the lift up to the mountain next to Mont Blanc, was the top "wow" moment."
Carol
Conway, SC
Tour: 05/11/14
Overall rating:
This was our first guided tour to Europe since my husband and I had traveled on our own in the past. Now I wish we had taken a Steve's tour before as we saw and did so much more on this trip! Every aspect of this tour was well planned, organized and made sure we were exposed to all the important history and sights of each location. I especially loved staying in the various local , quaint and intimate hotels and meeting the "real" French people.
Favorite "WOW" moment
"The beauty of the French countryside, especially in Provance, was breathtaking! Also, the view from the top of Mt. Blanc was absolutely gorgeous!"
Terri
Tulsa, OK
Tour: 09/29/13
Overall rating:
Loved it! The end of the tour was a bit too much in one days time. Leave a little later and skip the stop in Aix-en-Provence though it was a nice stop, a little too long and it made the day too busy. Very rushed once we arrived in Marseille. I enjoyed seeing the Notre Damede la Garde basilica in Marseille, but something in this final day schedule for this tour needs to change.
Favorite "WOW" moment
"Visting, learning about and touring the Chateuax and picnic lunch provided by Daniela and Lisa. Time together eating a picnic with the guides and group was fun! The Colmar region vineyard tour with Gean-Claudeand the wine tasting. Was fun and a very interesting learning experience."
Carol
Kennebunk, ME
Tour: 09/29/13
Overall rating:
The tour was well organized and efficient. Daniela was very knowledgeable and entertaining. Lisa always willing to help in any way, and "holy cow" could Hielde park a bus. The people on the tour were delightful and made the experience that much more enjoyable. The variety of wine regions traveled were so diverse in their offerings ,everyday was an adventure. The food, wine and company a prefect combination. This was our second tour and we will continue to join other tours in the future.
Favorite "WOW" moment
"When we travel up on the Aiguille du Midi cable car to view Mont-Blanc that was a wow experience. The weather was prefect and see could see forever. It was a day we will always remember. The Gallo Roman ruins in Vaison la Romaine were incredible. Our local guide was very knowledgeable. The wine tour and lunch at Mourchon Winery was a delightful and enjoy our new friends. The Saturday market in Beaune was a sampling of life in the region."
Lisa
Olmsted Falls, OH
Tour: 09/29/13
Overall rating:
We had a wonderful time with Daniela and Lisa as our guides. We thoroughly enjoyed the combination of history and wine. We continue to enjoy the once in a lifetime experiences the Rick Steves tours provide, such as wine tasting with a Count!
Favorite "WOW" moment
"Our favorite WOW moment was the tour of the Mourchon vineyard followed by lunch in their backyard overlooking the vineyard. Our second most favorite WOW moment was the fort in Verdun. This was a very moving, eerie experience. I'm glad we learned more about the fate of the French and German soldiers."
Janet
Camas, WA
Tour: 09/29/13
Overall rating:
Enthusiastic leaders, outstanding fellow trippers, wines and foods galore, plus interesting small towns and regions.
Favorite "WOW" moment
"Spending an afternoon walking through a vineyard tasting ripe grapes, then tasting wines made from the different varieties."
John
Seabeck, WA
Tour: 09/29/13
Overall rating:
I thought the experience memorable. The commentary enlightening, and some of the sites will be etched in my brain for ever. About the only thing that could have been better was the weather
Favorite "WOW" moment
"There were so many; The cathedral of Reims, The streets of Colmar, and Vaison The market of Beaune, and Aix, Alsace vineyards Mourchon winery Theater at Orange, And of course the sites of picturesque Chamonix"
Ronald
Normal, IL
Tour: 09/29/13
Overall rating:
Relaxing,like the fact we stay in a hotel multiple days,like the guides knowledge of local history,geat food and wine , I like the free time that we have, I like the small groups
Favorite "WOW" moment
"Top on the mountain in Chamonix"
Charles
San Antonio, TX
Tour: 09/29/13
Overall rating:
Best group of travelers yet!! DW did a great job.
Favorite "WOW" moment
"Chamonix!!! What a place."
James
Nanoose Bay, BC
Tour: 09/22/13
Overall rating:
As expected, it was great overall. Our tour group all had similar interests and got along splendidly. We saw everything that we wanted, the food and wine were great and we made good friends in the bargain. The only problem was that the tour was over too soon.
Favorite "WOW" moment
"The city of Colmar with its half timbered, picturesque houses was high on my list, but also the Roman ruins of Vaison la Romaine."
Louise
Greenwood Village, CO
Tour: 09/22/13
Overall rating:
I was very skeptical about going on a group tour but I was trying to keep an open mind. I had planned a few trips on my own with many problems and troubles and I was definitely ready to give that chore away. I thought this was a fabulous way to travel. I loved having all the arrangements made for me and all of the sight seeing defined and organized. The real surprise was the tour leader, Tony. She was wonderful--so incredibly knowledgable, friendly, flexible, creative, fun.
Favorite "WOW" moment
"There were so many on this lovely tour. I guess the views from the top of Aiguille du Midi of the peaks above Chamonix. It could have been the beautiful french lunch on the lawn of the home of the winemaker in Seguret (which was never going to happen if I had been arranging this wine tasting). it could be the basic camaraderie of the entire group at various moments. The well organized day after day notices about what was happening and what to expect."
Barbara
Canton, MI
Tour: 09/22/13
Overall rating:
The tour was really great, the itinerary, the guide, the tour members, the food and wine, all outstanding. Each day brought a new high point. I really appreciated having three nights in two of our stops. It made the tour seem less rushed even though the days were very busy.
Favorite "WOW" moment
"I had two "wow" moments. The first was the sound and light show at the Reims Cathedral. Usually that type of thing is not "my thing" but this was amazing. The other "wow" was the view from the Aiguille du Midi in Chamonix. It was truly breathtaking."
Rita
Carlsbad, CA
Tour: 09/22/13
Overall rating:
The tour had the perfect balance of group activity and free time. The cities we visited were interesting and the activities had something for everyone in the group. I especially enjoyed the day at the Mourchon winery. The owners and their family were gracious, informative and delightful.
Favorite "WOW" moment
"There were several "wow" moments. My favorite location was Vaison la Romaine and the Hotel Bellfroi. The town was lively and the hotel was charming, with the best food on the tour! Also, the glaciers in Chamonix. Very fortunate to have seen them and the sites from the mountain. Although it was overcast from the hotel, the gondola rose above the clouds and there was sunshine and blue skies - it was magical. Everyone took too many pictures that day!"
Nancy
Hermosa Beach, CA
Tour: 09/22/13
Overall rating:
I had a wonderful time, Toni was so educated with history and personal life experiences, I wanted to learn about french culture, and I learned. Information kept flowing as did lovely scenery, food and wine.
Favorite "WOW" moment
"Can there be two? Chamonix, Aiguille du Midi was nearly heart stopping. I have been on many mountains, this was special. I don't know how Rick Steves does it but once up there it was a Disney or rather film moment, cue the mountain climbers, paragliders, helicopters. Second, the beautiful lunch at the Mourchon vineyard. Again, I have been on many vineyard tours but Hugo clearly and interestingly led us through the process."
Sandra
Seattle, WA
Tour: 09/22/13
Overall rating:
We did so much in just 14 days! Our guide, bus driver and entire tour group were a joy to be with. There was a nice mix of champagne/wine tasting, art, and history. Colmar was my favorite town.
Favorite "WOW" moment
"Our traditional raclette and fondue dinner in Chamonix was an over-the-top experience."
Neil
Greenwood Village, CO
Tour: 09/22/13
Overall rating:
I had a very enjoyable time seeing a wide variety of sights: charming villages, the Alps, Roman ruins, medieval villages, cathedrals, castles and chateaus. I learned a lot about the history of Europe. All in an efficient and fun way to travel.
Favorite "WOW" moment
"Seeing the medieval center of Colmar."
Russell
Canton, MI
Tour: 09/22/13
Overall rating:
This was our eighth RS tour and it lived up to our expectations. As usual, the mixture of structured and free time provided a nice mix to help learn and absorb the local color and culture. The tour group was a one of the more congenial groups we have experienced on RS tours. Many good times were enjoyed together. Almost ideal weather, of course, facilitates any trip!
Favorite "WOW" moment
"Probably going up to Aiguille du Midi at Chamonix. We were blessed with clear blue skies that morning with only scattered low clouds. The views from there were breathtaking rivaling many we have experienced in Switzerland."
Karen
San Diego, CA
Tour: 09/15/13
Overall rating:
Even though I had prepared a little for the trip by looking up our destinations on-line and read other people's experiences of the same trip, there is just nothing that can substitute for actually being there, "boots on the ground." We arrived in the time zone a day early, and plunged into our holiday ready to roll. Even though we were met by rainy weather at the beginning, our spirit of adventure led us to new and enjoyable "discoveries." We find travel to be empowering as well as satisfying.
Favorite "WOW" moment
"I think it was emerging from the narrow walkway onto the square in Colmar, being immersed in a fairy tale village of half timbered buildings, cobbled streets, flowers everywhere - I couldn't stop beaming. We had perfect weather in Chamonix, so Mont Blanc and the French Alps were gorgeous, and even the loooong walk up to our hotel, le Beffroi, was charming, as were the worn stone circular stairs to our room in this 16th century building! Dinners in the courtyard there were magical!"
Judith
Story, WY
Tour: 09/15/13
Overall rating:
Favorite "WOW" moment
"The tram ride up to Mont Blanc. All of the chamois experience was a highlight for me."
Mike
Lacey, WA
Tour: 09/15/13
Overall rating:
We covered exactly what we were seeking and several extras we hadn't anticipated. Patrick did a great job of explaining the history and customs.
Favorite "WOW" moment
"Seguret is a village of 112 perched on a hill overlooking vineyards and a beautiful valley."
Curtis
Redmond, WA
Tour: 09/15/13
Overall rating:
We enjoyed the whole trip; it had great variety and an enjoyable group of fellow travellers. We were very fortunate to have beautiful weather most of the trip especially in the scenic areas of Chamonix, Lake Annecy, and Colmar. Note:This is a combined report from both Marion and Curt.
Favorite "WOW" moment
"Curt's favorite "wow" was the trip to Aiguille du Midi. Marion's favorite "Wow" was the walk on the roof of the Cathedral of Reims plus the picturesque old town of Colmar with its flowers, canals, and old buildings. We both thought the Roman Theatre at Orange was the most impressive historical site. The tour of Verdun was the most dramatic, grim, and somber site!"
Jane
Nipomo, CA
Tour: 09/15/13
Overall rating:
Our tour was wonderful. We especially enjoyed being in smaller cities and villages instead of large cities. We also enjoyed the high quality local guides who were so knowledgeable about their local areas.
Favorite "WOW" moment
"For my husband, the "wow" moment was being at the top of the Aguille de Midi on a clear beautiful day and spending time marveling at Mont Blanc and the surrounding area. For me, it was staying in the Medieval village in Vaison La Romaine. What a treat to stay in a 15th century building, and hike up to a 12th century castle ruin just a little distance away. We also loved the winery tour and picnic at Domaine Mourchon. What a treat!"
James
Mason Neck, VA
Tour: 09/15/13
Overall rating:
This was our sixth RS tour and it met our expectations by providing another memorable tour. We will continue to use RS for our European travel.
Favorite "WOW" moment
"The vineyard tour, wine tasting, and lunch at the Mourchon winery just outside the village of Seguret."
Denise
Los Alamos, NM
Tour: 09/08/13
Overall rating:
I've been to France several times, but this was the first time in all the cities and towns we visited. I liked the variety of cuisine, scenery, wine and customs. The mix of stops included wineries, museums, castles, Roman ruins -- a good blend. The pace seemed more relaxed than some of our other trips without too many long days in the bus. We only look at tours that stay 2 and 3 nights in locations. It gives one a chance to get to know a place. In short, it was good fun and I learned lots!
Favorite "WOW" moment
"I thought maybe I'd say it was discovering that the French serve fries with salad and omelets and mussels... But seriously I'd have to say it was the painting of the Madonna with the Rose in Colmar. Maybe because I expected to be awed by the Isenheim altarpiece and expected the Madonna painting to come in second. But it didn't for me."
Joan
Georgetown, TX
Tour: 09/08/13
Overall rating:
Julie was an outstanding tour guide, always was interested in us and making sure we thoroughly enjoyed our experience.
Favorite "WOW" moment
"Seeing the Theatre in Orange was amazing. To think that it was built so long ago and is still standing today."
Kathleen
Cambridge Springs, PA
Tour: 09/08/13
Overall rating:
From start to finish the trip was wonderful. The variety of scenery, experiences and wonderful food offerings was outstanding. Our guide was so knowledgeable and familiar with each new place and circumstance. She guided us through it all seamlessly. We experienced a diversity of locations- large towns, small quaint villages, an Alpine village and accompanying majestic outdoor scenery, and finally Marseille on the water. Wine and cultural offerings were terrific.
Favorite "WOW" moment
"Chamonix was a highlight for me. I'd never been near a glacier before and staying at the base of the mountains with Mt. Blanc nearby was amazing."
Patricia
Haymarket, VA
Tour: 09/08/13
Overall rating:
Favorite "WOW" moment
"Everything!"
James
Los Alamos, NM
Tour: 09/08/13
Overall rating:
Favorite "WOW" moment
"Theater at Orange, Marseillies old town and port area with the renewal!"
Rebecca
St Paul, MN
Tour: 09/01/13
Overall rating:
It was a wonderful time again (our third ETBD tour). We like the size of the group. The beautiful weather (except for Beaune and Annecy) made the small villages delightful. Loved the color: the flowers, the food, all of it. The hotel at Vaison was especially charming.....except the walk to it! I also loved the little courtyard in Beaune where we had Happy Hour. Our guide, was wonderful. Shopping for our picnic at the local market was fun and a good team activity.
Favorite "WOW" moment
"The gondola ride at Chamonix. The lovely outdoor lunch served to us at the residence of the vineyard...and the walk back to town! The rushing river outside of our hotel in Chamonix. The beautiful flowers/colors everywhere. The light show on the cathedral in Reims. The amphitheater at Orange was a big wow."
Wendell
Ventura, CA
Tour: 09/01/13
Overall rating:
Well planned and laid out. Exellent guide and excellent driver. A fun group of people to be with. Rushing from Vaison la Romaine to Aix for a quick stop then off to Marseille for a walking tour and then on the little train up to the cathedral was too much for one day, particulary the last day.
Favorite "WOW" moment
"It is hard to choose only one so I will choose two. The wine visits in Rully and then in Provence. These were places we would have never known about otherwise. It was sobering to visit Verdun and see the futility and tragedy of war."
Dennis
Beaverton, OR
Tour: 09/01/13
Overall rating:
This was our first Rick Steve's tour and it was beyond our expectations. Everything from our guide, the scenery, history, accommodations, and weather were wonderful. All of the people are the tour were great and very engaging. Our bus driver, Hilda, was outstanding. Her driving skills were suburb and her personality was even better.
Favorite "WOW" moment
"Our "wow" moment was at the 12,650 foot level at the base of Mont Blanc. It requires two gondola rides to reach this point. The prior day it had rained, but this day was clear blue skies and unbelievable views. Dress warm, as temps are about 20 degrees, but it is well worth the experience."
Patricia
Winona, MN
Tour: 09/01/13
Overall rating:
This tour was our fifth Rick Steve's tour and it rated right up with the other four. I felt so taken care of. Rick would be very proud of our tour guide. He was a true Frenchman who loved his country. As we traveled along on the bus, he made great use of the time filling us in on the history of the area we were going through at the time. The local guides all loved their areas and enjoyed sharing this love with us. They were all very enthusiastic.
Favorite "WOW" moment
"I had many WOW moments and can't pick out just one. I loved the medieval charity hospital in Beaune. I felt like a child again riding in the back of a pickup truck taking us to the Domaine de Mouchon Winery. It was by choice as I grew up getting rides in the back up a pickup truck with my country relatives so I knew I would enjoy it again. My first glance at the glacier on Mont Blanc was breath taking. Seeing bones through a window at Verdun was very moving."
Denise
Ventura, CA
Tour: 09/01/13
Overall rating:
The tour was fabulous and I would highly recommend it. By staying at each stop more than one night, we could relax and, with some free time, had the opportunity to explore and really get a flavor of each town. Each stop was so unique that each stands out like an individual jewel from the others. A far cry from "if it's Tuesday, it must be Belgium" type of trip.
Favorite "WOW" moment
"I loved Vaison la Romaine and want to return one day and stay for a week or 2. The tour of the Roman ruins, as well as the tour of Domaine de Mourchon and the lunch prepared by the owners are great memories. I also would like to return to Colmar. I didn't believe that any town could possibly be as beautiful as the photo in the brochure, but it's even more beautiful that the photo!"
Weather

France / Paris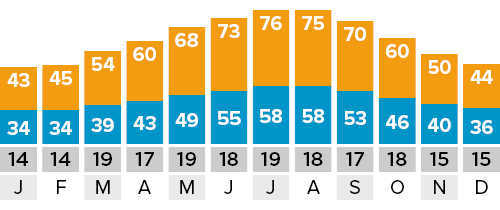 ---
France / Nice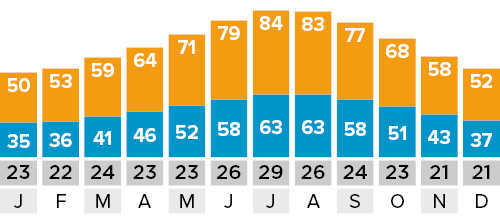 Pre-Tour
We've put together some specific information on what you should know about this tour before you go. You'll also find more general information about "Getting Ready for Your Tour" on our Tour FAQ.
Sightseeing On Your Own
If you arrive in France before your tour begins, spending time in Paris or Strasbourg are logical choices. Reims is only 45 minutes and Strasbourg only two hours from central Paris via TGV (bullet) trains. Use Rick Steves' France guidebook to get oriented. Ride the public transportation, try out a few words of French, and get over your jet lag with lots of fresh air and exercise.
Here are a few suggestions for sightseeing in Paris: visit the Eiffel Tower; walk the Champs-Elysées and climb the Arc de Triomphe; tour the Louvre and Orsay Museums; or take a day trip to Versailles.
If you'd rather spend your pre-tour time in Strasbourg, visit the cathedral, wander the waterways and stroll through the city. From Strasbourg it is a two-hour train ride to Reims. In Reims visit the Museum of the Surrender (Musée de la Reddition) or add a Champagne tour at Mumm (we will not taste here as a group).
Transportation
Most tour members arrive a day or two before the tour begins — and those who don't, wish they had. This allows you ample time to get over jet lag and make the most of the first few days of the tour.
There is more than one way to get to and from your tour. We recommend talking to your travel agent about "open jaw" airline tickets (flying into and out of different cities). It's easiest to fly into Paris and home from Marseille. Paris and Marseille are transportation hubs, making travel before or after your tour quite easy. For links to helpful rail and air websites, go to our Favorite Links page and look under "Transportation."
You may want to arrive early to spend time in either Paris or Strasbourg before taking the train to Reims to meet the tour. Another option is to book a round-trip flight in and out of Paris and then take the train (6 hours), drive, or fly from Marseille to Paris and spend at least one night in Paris before flying home.
For information about flying within Europe, ask your travel agent or check Rick's list of European budget airlines.
Read Rick's train travel and rail pass tips and decide if your travel plans merit a rail pass.
Prior to your tour departure, you will receive detailed directions on how to get from the airport to your first tour hotel, as well as contact information for your first and last hotels in case you wish to book pre- or post-tour hotel accommodations.
If you need more information about additional European travel or for specific questions about your tour, contact the Tour Department at 425/608-4217 or email tour@ricksteves.com.
Trip Resources
Learn more about France: Check out a collection of Rick's TV shows, radio interviews and articles, plus find a list of recommended books and movies.
Packing
While it is important to pack light, there are some items we'd like you to consider when packing for this tour. Weather and lifts permitting, you will have the opportunity to go to top of the Aiguille de Midi and/or hike in the Alps while in Chamonix. It can get cold up there. We recommend bringing a pair of comfortable walking shoes with soles offering good traction and some warmer clothes. Regardless of season, the weather in the Alps can be cooler than expected especially at the higher altitudes.
For ideas on what to pack, check Rick's Packing List and our Women's Packing List.