Ghent, Belgium

Grand Place in Brussels, Belgium

Belgian Chocolate Tasting

Boating in Bruges, Belgium

Bruges Canals

Delft, Holland

Amsterdam, Holland

Spring Flowers in Holland
Tour Questions? Call 425-608-4217
Heart of Belgium & Holland in 11 Days Tour
The cities of the Low Countries are a delight to experience. Beginning in Ghent, your Rick Steves guide will take you on story-filled walks through the hearts of Ghent, Bruges, Delft, and Amsterdam. You'll also visit the de facto capital of Europe — Brussels, a traditional Belgian brewery, thought-provoking Flanders Fields, a historic Dutch town, a high-tech sea-barrier project, and the world's largest flower auction — ending in Amsterdam with the poignant Anne Frank House, and the brilliantly restored Rijksmuseum. Join us for the Heart of Belgium & Holland in 11 Days!
Dates & Prices
What's Included
A small, friendly group of 24–28 people— half the size of most tour groups
Full-time services of a professional Rick Steves guide and local experts who will make the fascinating history, art and culture of Belgium and Holland come alive for you
All tours and admissions — at no extra cost — covering at least 20 group sightseeing events • Ghent walking tour • St. Bavo's Cathedral tour • Ghent canal boat tour • Brussels walking tour • Royal Museums of Fine Arts of Belgium tour • Tour of Flanders Fields WWI sites • Bruges walking tour • Bruges Memling Museum tour • Chocolatier tour and tasting • Bruges Museum Pass • Belgian brewery tour and tasting • Deltaworks and tour of Maeslant sea barrier • Delft walking tour • Delft New Church • Aalsmeer Flower Auction • Historic Dutch town visit • Red Light District tour • Rijksmuseum tour • Historic Amsterdam walking tour • Anne Frank House…and more
All group transportation from Ghent to Amsterdam
10 nights accommodations in memorable, centrally located hotels
All breakfasts and half your dinners
All tips for guides and driver
$100 Shopping Spree (per household) at the Rick Steves Travel Store to get guidebooks and gear for your trip
Guaranteed tour price, locked in the moment you make your deposit
Optional single supplements — this tour has a limited number of private rooms for solo travelers for an additional fee
Tour alum discount of $50 for each tour you've taken prior to 2016
50% discount on a consulting appointment with our in-house experts to assist with your pre- or post-tour travel plans
Flexibility should you need to transfer, or cancel/interrupt your tour
Fine print: You are responsible for the cost of your drinks and free-time sightseeing. See our Tour Conditions Agreement for important details regarding everything listed above.
Itinerary
Daily Activity Key
Light = 2–4 miles of mostly level walking throughout the day.
Moderate = 2–6 miles walking throughout the day with some hills and stairs.
Strenuous = 2–8 miles walking throughout the day with lots of hills, stairs, and uneven terrain.
Day 1: Welcome to Belgium
Our adventure begins in medieval Ghent. We'll gather at our hotel at 2:30 p.m. for an introduction meeting. We'll start things off with a walking tour that includes a visit to St. Bavo's Cathedral and its treasured Van Eyck altarpiece. Then we'll hop aboard an informative and fun canal cruise through the historic center of Ghent. Our evening ends with a traditional Belgian dinner together. Sleep in Ghent (2 nights). Boat: 1 hour. No bus. Walking: light.
Day 2: Historic Brussels
This morning we'll hop on a train and head to Belgium's capital city. We'll begin with a guided tour of the Royal Museums of Fine Arts, home to dazzling Flemish and Belgian masterpieces and then explore Brussels' medieval city center including the Grand Place (considered the grandest square in Europe) with its splendid medieval guild halls, freshly fragrant waffles, and the quirky Mannekin-Pis statue nearby. You'll have the afternoon and evening free to spend more time in Brussels or train back to Ghent for dinner on your own. Train: 1 hour. No bus. Walking: strenuous.
Day 3: Flanders Fields and Beautiful Bruges
Today we'll meet our driver and board our bus for the short drive to the WWI battlefields around Ypres. Half a million soldiers were killed here, making it one of the deadliest — and today the most hallowed — stretches of land along the Western Front. With the aid of a local expert, we'll tour the monuments, visit a thought-provoking museum, and see "the fields where poppies grow." After lunch together, we're off to Bruges and our lovely canal-laced and ivy-draped hotel. After check in and some time to relax, we'll regroup for an orientation walk and dinner together. Sleep in Bruges (3 nights). Bus: 5 hrs. Walking: moderate.
Day 4: Gothic Bruges
We'll meet our savvy local guide who will introduce us to the pedestrian-friendly streets and alleyways of Gothic Bruges, including a tour of the Memling Museum — showcasing several of Hans Memling's masterpieces all housed within one of Europe's oldest medieval hospitals. Our afternoon continues with a visit to a legendary Bruges chocolatier, where we'll learn about the artistry and traditions of Belgium's most mouth-watering export. After a free afternoon, we'll regroup for a tour of Bruges' oldest brewery to learn about what makes Belgian beer famous around the globe and enjoy a taste ourselves. The remainder of the evening is free to find the perfect Belgian dinner. No bus. Walking: strenuous.
Day 5: Free Day in Bruges
Today is yours to explore Bruges. Armed with your Bruges Museum Pass, you'll have free entry to any four museums — including the masterpiece packed Groeninge Museum. You may decide to go on a culinary scavenger hunt tasting your way through a myriad of Belgian specialties. Or you can hop on a bike and take a wonderful hour-long ride along a tree-lined canal to the nearby small town of Damme. The choices today are endless. No bus. Walking: light to strenuous (your choice).
Day 6: Challenging the Sea
Today we'll discover how a country stays dry when nearly half of its land is below sea level. Over centuries, the Dutch created an immense system of dams, barriers, and dikes for protection from the North Sea — the Deltaworks. We'll explore these feats of modern engineering culminating with a tour of one of earth's largest moving structures — the Maeslant storm surge barrier — and gain a better appreciation of the fragility of the Low Countries. We'll continue on to the traditional Dutch town of Delft for an orientation walk and dinner together. Sleep in Delft (2 nights). Bus: 5 hrs. Walking: light.
Day 7: Delectable Delft
This morning an in-depth walking tour with a local will give us a personal introduction to Vermeer's hometown including the massive Gothic New Church, where generations of the ruling House of Orange are buried and revered. We'll also visit a workshop to discover the qualities that make Delftware so dear. The rest of your day is free to explore the many other charms of Delft or take a short tram ride to The Hague, where you can get up close and personal with paintings by Rembrandt and Vermeer at the Mauritshuis, or travel back to an 1880 seaside at the Panorama Mesdag. No bus. Walking: light.
Day 8: Tulips, Countryside and Amsterdam's Red Lights
We'll begin our day in Europe's biggest building — filled with acres of flowers — learning about the worldwide distribution of beauty that begins each day at the Aalsmeer Flower Auction. Then we'll stop for lunch and exploration in a historic Dutch town on our way into Amsterdam. Upon arrival, we'll take an orientation walk through the city and window-shop the Red Light District, learning about how the Netherlands regulates the world's oldest profession. We will end our day with a traditional rijsttafel dinner together. Sleep in Amsterdam (3 nights). Bus: 3 hrs. Walking: strenuous.
Day 9: Vibrant and Historic Amsterdam
This morning get chummy with this great city's gabled houses, bridges and canals learning why the Golden Age glimmered so brightly here. We'll take an historic walk through the heart of the city stopping to visit the Anne Frank House for a thought-provoking look at the hideaway of Anne and her family during the Nazi Occupation of the Netherlands. We'll continue our lessons on Dutch tolerance stopping at a local "coffee shop" to learn about this nation's creative, pragmatic approach to drug policy. The rest of the day is yours to tackle any number of Amsterdam's wonderful museums. No bus. Walking: moderate.
Day 10: Amsterdam's Art
We'll start the day with a thrill: getting up-close and personal with Rembrandt and Vermeer on our tour of Amsterdam's remarkable Rijksmuseum. You can continue your encounter with artistic genius at the nearby Van Gogh Museum, home to 200 of Vincent's works or enjoy the nearby charm of Vondelpark. This evening we'll enjoy our farewell dinner, where we'll share memories and toast new friends. Proost! No bus. Walking: moderate.
Day 11: Tour Over After Breakfast
Breakfast is provided, but there are no group activities today. Amsterdam's Schiphol Airport is an easy bus ride away. Your guide will help you with any post-tour planning, leaving you well prepared for the road ahead. Tot ziens!
Itinerary specifics subject to change.
Activity Level
Our tours are physically active! It's an essential part of the Rick Steves tour experience. On our Heart of Belgium & Holland in 11 Days tour — among other things — you'll need to happily...
Carry/roll your luggage over uneven pavement (several blocks possible), on and off public transportation and up stairways to reach your hotel.
Sleep comfortably in historic canal houses with several flights of steep, narrow staircases to reach your room, with street noise and no (or weak) air conditioning.
Be on your feet, walking and standing for up to three hours, indoors and outdoors, in all weather conditions.
After orientation and transportation lessons, be able to navigate towns and cities on your own.
Reviews
Sandra
Darien, IL
Tour: 09/16/15
Overall rating:
Favorite "WOW" moment
"Ann Frank House. Flanders cemetery day. Van Gogh Museum. Liberalness that was the heart of Amsterdam.."
Mary
Freeville, NY
Tour: 09/16/15
Overall rating:
This was my 8th Rick Steves tour so my expectations were high; the Heart of Belgium & Holland did not disappoint. Knowledgeable guides, intriguing itineraries, comfortable centrally-located hotels, wonderful restaurants serving local specialties, and like-minded travelling companions combined to make another memorable travel experience. My only question now is "where will I go next year?"
Favorite "WOW" moment
"I came for the art but was blown away by the engineering. The long awaited experience of seeing great works by Rembrandt, Memling, Vermeer, and Van Eyck was thrilling but learning about the Deltaworks in the Netherlands and seeing the Maeslant storm surge barrier was far more fascinating than I anticipated."
Judy
Waterloo, ON
Tour: 09/16/15
Overall rating:
Our activities were on time and well organized. Although the tour was as described on our itinerary, I must admit that I would have appreciated some time in a smaller, quiet town in Holland - somewhere with a little shopping and a QUIET PEACEFUL bicycle trail beside a canal. The Delft Pottery was interesting, but the town itself was not. A tour highlighting cheese production would be a nice addition. Could have done without the Red Light District and the Coffee House - didn't feel right!
Favorite "WOW" moment
"The Flanders tour along with the wonderful farm lunch was definitely a highlight! Enjoying a delicious lunch on a property directly affected by war was an awesome experience! My other " Wow " moment took place on our free Sunday in Bruges. It was warm and sunny, and just happened to be the one day of the year with no automobile traffic in the city. It was lovely to wander, enjoy the music and family activities in the square and just " experience the joys of Bruges!!! ""
Bonnie
Palos Heights, IL
Tour: 09/16/15
Overall rating:
Fun & educating tour. The usual high standard of a RS tour. Fun group!
Favorite "WOW" moment
"Not necessarily a "wow" .. but certainly thought provoking .. the cemetery tours in Flanders. Guide Kristen's knowledge of WWI was impressive as was walking in a "trench" ."
Gail
Grafton, OH
Tour: 09/09/15
Overall rating:
Oh my, it was all wonderful. Only better, sunnier weather could have improved the experience for me. This was my first trip to Europe, and my first trip, but hopefully not the last, with Rick Steves' tours. I traveled with my daughter, who had taken one of his tours in the past. We had such a great time!
Favorite "WOW" moment
"That would be hard to choose. Was very moved by the Flanders Fields and WW1 battlefields. The Anne Frank house, the amazingly old and well preserved architecture of the buildings of Ghent, Brugges, Delft , Brussels, Amsterdam etc. The magnificent Deltaworks, and seeing the Maeslant storm surge barrier was just amazing. (sadly we could not stop to view the North sea due to rain), I was looking forward to that visit. The canal boat cruise and Aalsmeer Flower auction tour. Awesome!"
Susan
Council Bluffs, IA
Tour: 09/09/15
Overall rating:
The pace and the tour allowed us to see many things both historical and today. We gained a better understand of the people and their culture. Seeing things from the past allowed us to know more about the history.
Favorite "WOW" moment
"The Maeslant storm surge barrier we visited at Rotterdam. It is an amazing feat of human engineering!!!! We now know the lengths that are taken to keep the water at bay and reclaim the land The Aalsmeer Flower Market. The Rijksmuseum. Seeing the paintings up close and getting background from the guide helped us to understand how innovative the great artists were."
Egidio
Los Angeles, CA
Tour: 09/09/15
Overall rating:
Great experience. Sights, foods, and people were very enjoyable. Would recommend to everyone no matter age.
Favorite "WOW" moment
"Standing and looking upward in several large churches."
Jeffrey
Waukesha, WI
Tour: 09/09/15
Overall rating:
Had a wonderful time. Great sights and good people, again making friends that we will keep in touch with. Weather a bit iffy at times but doable. Our tour guide ( Hilbran) was terrific, extreme knowledgeable and related well with all in the group. Loved the beers!
Favorite "WOW" moment
"There are several, finding Bruges a fantastic city, visiting the StromSurge Protector, visiting the Haige Musuem and the Rijks Museum......and then all that fabulous food."
Natalie
North Olmsted, OH
Tour: 09/09/15
Overall rating:
My husband and I have traveled to Europe before but we felt like we were missing things. I've loved watching Rick Steves on PBS and we thought we'd give his tours a try. They get nothing but rave reviews. Those reviews sure are right! Our tour guide was so knowledgeable and personable. The other tour members were returning pro's and told us all about their previous tours with Rick Steves. We were among the youngest people in our group but we sure had a hard time keeping up with them!
Favorite "WOW" moment
"Out of all the "wow" moments I did have on this tour, I have to say the one that sticks out for me is the Flanders Field American Cemetery. The gentleman that is in charge of that cemetery must be commended. I couldn't believe how meticulously each grave is taken care of. If we were on our own, I think we would have driven passed these places or maybe stopped to get out and take pictures. But being there with guides made it so much more meaningful."
Laura
Santa Clara, CA
Tour: 09/09/15
Overall rating:
This tour gave me a good understanding of these countries, both their past and present. The pace gave ample time to enjoy and reflect upon all that we were seeing and learning. The accommodations were very comfortable and all the meals were excellent.
Favorite "WOW" moment
"The tour of Flanders Field and of the Rotterdam Harbor gates were amazing. Each gave such an insight into the history of the low countries and to their present."
William
Princeton, NJ
Tour: 09/09/15
Overall rating:
a great group of people led beautifully by Hilbren. He kept everyone moving and played the role of professor with detailed knowledge and good humor. Even dressed the part. He was well prepared and balanced his time with group members very well, picking up on individual personality traits quickly and playing off of them.
Favorite "WOW" moment
"no particular wow moment just a nice glowing feeling about the trip overall."
Marie
Davenport, IA
Tour: 08/26/15
Overall rating:
This was our 6th Rick Steves tour. We have never been disappointed and return home ready to book our next one. The experience is very rewarding. We always enjoy the stucture and free time allotted. However, on an 11 day tour we felt 2 days of free time was a little too much this time.
Favorite "WOW" moment
"The "wow" moment for us was the bike ride to Damme along the tree lined canal. It had rained during the night and gave the landscape a mystical appearance. It was perfect for picture opportunities."
Jacquelynn
Richfield, OH
Tour: 08/26/15
Overall rating:
Very pleased with the tour content and guides. The guides went beyond our expectations to accommodate my husband's shellfish allergy. My only complaints are about two of the four hotels, and the difficulty hearing the guides during the walks. In one museum we had wireless headsets, and that was perfect. We would strongly urge you to use these on all parts of the tours. We noticed other tour groups who had these and we were envious.
Favorite "WOW" moment
"The Storm Surge Barrier and water management systems in The Netherlands was amazing."
Carrie
New Philadelphia, OH
Tour: 08/26/15
Overall rating:
great balance of organized tour time and on your own time. loved getting transit day passes and museum passes, however better information about exactly which museums were covered by the pass would have been helpful (in Brussels and also in Delft/Hague areas).
Favorite "WOW" moment
"viewing Ghent from atop the Castle of the Counts. just beautiful!"
Jane
Charlotte, NC
Tour: 08/26/15
Overall rating:
Overall, the experience was good, safe, informative, and pleasant. The weather did not always help, and Amsterdam was difficult to manage with the rain, the traffic, and the number of people to herd. Basic information could have been delivered in the dry hotel better than on crowded, wet streets. Similarly, some directions, tram stop information, etc., restaurant names, could have been distributed in advance to avoid panic and confusion.
Favorite "WOW" moment
"The art. We took the trip to visit the museums and thoroughly enjoyed them, even though we missed the Van Gogh. We loved The Hague and found that extra trip rewarding. We had to go early in order to see the Altarpiece in Ghent, but that was worth the extra expense, although one wonders if a special viewing might have been included. On every occasion we took the opportunity to return to the museums and other art sites. There is no way to assess the pain of the Flanders Fields experience."
Gregory
Sonoma, CA
Tour: 08/26/15
Overall rating:
An enjoyable experience which we coupled with the Germany/Austria/ Switzerland tour afterwards. Everything went smoothly.
Favorite "WOW" moment
"No major "wow", but we enjoyed all of the local guides and the great museums that we visited. Our Rick Steves' guides were so warm and they took so much pride in sharing their love for their home. Both Angelique and Jodi were knowledgeable, personable, and had great smiles... and they were a joy to travel with."
Nancy
Sonoma, CA
Tour: 08/26/15
Overall rating:
Lovely tour. Enjoyed the feminine touch!
Favorite "WOW" moment
"Loved Delft but visiting the North Sea beachside and seeing "Vermeer's clouds" was wonderful."
Richard
West Hartford, CT
Tour: 08/26/15
Overall rating:
We had a really good time, and learned a lot. The ratio of group activity and free time was just right. Both Angelique and Jodi were extremely friendly, helpful, informative and capable, and both were fun-loving and humorous.
Favorite "WOW" moment
"The day we spent learning about "water management" in the Netherlands. That term is a euphemism for the techniques that the Dutch have used successfully for centuries (and newer methods in modern times) to hold back the sea and deal with flooding. Since I was a little kid I always wondered how they did that, and now I know a lot more about it."
David
Lacey, WA
Tour: 08/26/15
Overall rating:
We had a good time but our guide showed her inexperience. Not her fault. This was a big group and Rick needs to consider listening devices. Also, it appears Rick is trying to maximize the numbers and cut back on local guides to save money. This was our sixth trip. Rick should consider updated accommodations that include air conditioning.
Favorite "WOW" moment
"The giant gates to hold back the ocean in the Netherlands."
Donald
Austin, TX
Tour: 08/19/15
Overall rating:
The tour was very good. We learned a great deal about two countries that are often overlooked. Our guide, Nina was exceptional. She gave 110 percent of herself and was very intuitive. One of the best guides we have had in five Rick Steves tours! And, equally important, our group was a really nice group. Everyone in the group was interesting and compatible. The only issue was Amsterdam. Amsterdam was not fun! The bicycles made walking about very dangerous.
Favorite "WOW" moment
"Perhaps "wow" is not the term I would use, but the days spent touring the Flanders cemeteries and seeing how the Dutch "tame" the sea were outstanding."
Betsy
Monrovia, CA
Tour: 08/19/15
Overall rating:
You know, it came down on the disappointed side. The tour needs redesigning to up the ante in terms of the experience and to solve some scheduling problems. I've been on six RS tours and this one didn't measure up.
Favorite "WOW" moment
"There wasn't one and that's a problem. I think there needed to be more content. I think part of the problem is that we had about 2.5 days of free time on a tour that's only 10 days long. It was too much. I felt like we didn't get to tap into Nina's great expertise."
Scott
San Diego, CA
Tour: 08/19/15
Overall rating:
This was the trip of a lifetime! It was our 25th anniversary, the first time out of the US, and the first time vacationing without the kids. The colors, the people we met, the cultures we explored, the history we witnessed, the food we tasted - everything was amazing! Every guide we had was incredibly knowledgeable about their area of expertise. I can not wait to go on another tour.
Favorite "WOW" moment
"The beautiful colorful country side was incredible. Everything was so green. When we first arrived in Ghent got to eat and drink beer outside of a real castle. It was mind blowing! Being from Southern California, I am use to everything being "Disney-ized" / reproductions."
Paula
Bainbridge Island, WA
Tour: 08/19/15
Overall rating:
This was a pleasant and comfortable tour - Nina and Lauren were awesome - and I hope to keep in touch with them. Loved every city we visited - especially Bruges. The local guides were great - and I especially enjoyed Raoul who showed us through Flanders Fields - He gave us a great understanding of what happened as well as the care that the locals still take in remembering the sacrifices that so many gave. Danielle in Bruges was also excellent as well as Marianne in the Rijksmusium.
Favorite "WOW" moment
"Walking through Bruges in the early morning - the sun was shining and the air was still - The reflections in the canals of the beautiful buildings was picture perfect. I could have stayed there another week."
Karla
San Diego, CA
Tour: 08/19/15
Overall rating:
This was our first trip to Europe together and my husband and I celebrated 25 years married on this trip! The trip exceeded our expectations in all ways. We loved being so well educated along the way as well as being able to explore on our own. We made friends and enjoyed meeting he other tour members and traveling together. It was a trip of a lifetime!
Favorite "WOW" moment
"Crazy enough my favorite "wow" moment wasn't anything that had been planned. Instead, it was a off the cuff idea of a way to spend our free day in Bruges. A group of us took out the available bikes from the Hotel Adornes and rode out to Dammes and back stopping for a picnic along the way. It was exhilarating and relaxing at the same time and we toured a windmill on the route. Fun and free with no game plan. <3 <3"
John
Lynbrook, NY
Tour: 08/19/15
Overall rating:
Exploring the low countries of Europe was a great experience. Our tour guide Nina was great her warmth and humor brought the tour alive. The canals in Bruges, Ghent, Delft and Amsterdam were all unique and beautiful. Our tour of the flood control system in Holland showed how the Dutch have beaten back the seas something we in NY Harbor are attempting to do now. I would like to also thank Lauren of Rick's Seattle office for adding to the experience.
Favorite "WOW" moment
"There were plenty of wow moments but one that caught me by the surprise was the farm lunch during our ww1 tour and seeing the farmers private collection of war items that has and continues to collect off his farm land 100 years after the event. I would be remiss not to mention the very bad downpour of rain we got stuck in our tour of the Red-Light district in Amsterdam it was great to participate with the group in making sure we all got safely back to the hotel Nina was outstanding"
Anna
Seattle, WA
Tour: 07/01/15
Overall rating:
The tour went almost exactly as the itinerary said with the exception of last-minute trips to Harlem & Zierikzee. I also could have gone to Den Hague but decided to skip it as my knee was already very sore from walking; i was very sad to have missed this additional trip.
Favorite "WOW" moment
"Man, there were so many. The first being that I was on the tour in the first place ~ life-long dream finally come true! One WOW was walking around a corner & seeing The Night Watch ~ I knew of the painting but had no idea it was so big. Conversely, I was surprised to see The Milkmaid was so small ~ we had a print of it in our house when I was growing up. Same with Breugel's The census. I LOVED the canals, the flowers, the roof lines, the doors, the windows, the brick streets, the outdoor ca"
Lynelle
Woodbridge, CA
Tour: 07/01/15
Overall rating:
As this was our eleventh RS tour, we somewhat know what to expect. Again we did have some unexpected which is always exciting! We had been to a couple stops on previous RS tour and also on our own independent travels, but still experienced new things. We keep coming back! Enjoyed Ghent, or is it Gent. Upon arriving a day early, we had such wonderful experiences while on our own. Everyone was very friendly. Having a very experienced guide and also a assistant from the area is such a treat.
Favorite "WOW" moment
"We truly enjoyed Flanders field, very moving to experience WWI after so much WWII in our travels. The wow was the bicycle ride we took to Damme. We were so lucky as shortly after we returned, it started to rain. Also a wow was the impressive Storm surge barrier."
Michael
Irvine, CA
Tour: 07/01/15
Overall rating:
Favorite "WOW" moment
"Thanks mostly to our enthusiastic and knowledgable guides in both the Royal Museum in Brussels and the Rijksmuseum in Amsterdam, I learned to love art from the lowlands. Big dramatic works, small dramatic works, deeply quiet artworks, they were all good. Vermeer I already liked, Rembrant and the Van Eycks were revalations. So was all the contemporary art in museums and on the streets and even in the roundabouts."
Erin
West Lawn, PA
Tour: 06/24/15
Overall rating:
This was our seventh tour with RS Europe and it was everything we have come to expect from the tours. We learned about history, art, and culture all while relaxing and having a wonderful time. Our guide was outstanding! The towns we visited were beautiful! It was exactly what we hope to experience on a trip to Europe. Thank you!
Favorite "WOW" moment
"My favorite wow moment from the tour, that I would not have experienced had I traveled on my own, was the Aalsmeer Flower Auction. The size of the building was impressive, but the flowers were just amazing. Would have been even more fantastic to see it earlier in the morning with more action. The other wow moment was the Anne Frank House. It was one of the best museums I have ever been to. (And very nice that with the tour you don't have to wait in line.)"
Craig
Salt Lake City, UT
Tour: 06/24/15
Overall rating:
Hello! My tour of Belgium and Holland was tour number nine since 2001! OUTSTANDING! Nina, our tour guide was great! People in Belgium and Holland have a lot to teach Americans how to learn about life. I was impressed with the cooperation of Nina and our coach driver Rene! Outstanding team work!
Favorite "WOW" moment
"Every thing! This tour was my first time to visit Belgium and my "wow" moments were learning from Nina about Belgium! Daily life, history, AND wading in the North Sea!"
Ellen
West Orange, NJ
Tour: 06/24/15
Overall rating:
Going on a Rick Steves tour has been something we have wanted to do for quite some time. It didn't disappoint! We so enjoyed meeting people of varying ages from different places. The itinerary was full, and there was no shortage of options from which to choose after the "official" day or tour ended. Having guides just for our group was terrific. A canal tour we took on our own in Bruges required the guide to switch among three languages. Very difficult to follow.
Favorite "WOW" moment
"I was not expecting to so enjoy the Van Gogh museum. Being tired, I thought I'd just see one or two floors. I wound up seeing all four floors and was very glad I did. Also, the Hotel Harmony was definitely my favorite hotel and enjoyed both the staff and wonderful breakfast."
Judi
Mt Pleasant, SC
Tour: 06/24/15
Overall rating:
It was a wonderful tour--just perfect as a high school graduation present for my granddaughter and her first trip to Europe. Many new & wonderful experiences that I'm sure she'll remember for the rest of her life especially art, food, scenery. My friends will enjoy the Belgian dinner party I'll have in Oct. Already researching recipes!! Thanks
Favorite "WOW" moment
"There were so many "wow" moments on this tour[INVALID]American Cemetery, Bruge, Maeslant storm surge barrier, Delft, The Hague, the flower auction, the Anne Frank House, Van Gogh museum but the biggest wow had to be the Rijksmuseum and our guide Robert who gave the most outstanding discussion of The Night Watch by Rembrandt I have EVER heard from any guide in any museum anywhere in the world!!!"
Carl
Villa Hills, KY
Tour: 06/24/15
Overall rating:
I did not expect to enjoy a pre-planned tour, but the experience proved my fears false. This was a great experience for someone who likes to learn about the local history, society and contemporary issues in the places visited. The guide's tasks were challenging and she performed flawlessly - this from a very critical person. The other tour members were also wonderful, something I hadn't given much thought but proved to be one of the nicest parts of the journey.
Favorite "WOW" moment
"The local guides consistently wowed me and I can't pick a favorite. Visiting the "shops" - chocolate, pottery, coffee, etc. really added to my enjoyment."
Barbara
Villa Hills, KY
Tour: 06/24/15
Overall rating:
Our tour was a wonderful experience! And we are already beginning to plan our next Rick Steves tour!
Favorite "WOW" moment
"Honestly, I cannot pick out one experience, I was wowed over and over on this tour."
Anthony
West Orange, NJ
Tour: 06/24/15
Overall rating:
My wife and I have always traveled to Europe independently. At first we were a little skeptical about traveling with a tour. Both of us were pleasantly surprised by the professionalism and knowledge of all your guides. This tour was well worth it and we would definitely consider other tours sponsored by your network.
Favorite "WOW" moment
"Just being in Belgium and Netherlands."
Richard
Acton, MA
Tour: 06/17/15
Overall rating:
I would first like to start out by saying that our tour guides; Hilbren and Angelique, were both great and well versed in the history of the countries while being very attentive to our tour group needs. Our subject experts at the museums, city walks and country stops were excellent and very knowledgeable! Our tour group was only 16 members, which I thought made it easy for everyone to interact and get to know one another.
Favorite "WOW" moment
"I guess for me, my "wow" moment was our guide at Flanders. I had no idea of the great losses that took place there during World War I. Touring the areas where the war took place was most interesting for me plus meeting the farmer for lunch at his farm proved to be a great stop. His barn host all of the WWI items he has uncovered each spring plowing his fields in preparation for spring planting. Anne Franks home and self guided tour was very moving knowing what the family went through."
Geraldine
Midlothian, VA
Tour: 06/17/15
Overall rating:
The tour was just what I have come to expect from a Rick Steves' tour. Our guides were very good;they had wonderful senses of humor and accepted our gentle teasing well. I knew very little about these countries and learned a lot about them from our guides. It was obvious that they enjoyed what they were doing. It was nice to be able to stay in some of the towns for three nights. Being part of a smaller group of people was an unexpected bonus.
Favorite "WOW" moment
"I have two moments. When we were in Bruges, we decided to visit the Arenthuis Museum, next to the Groeninge Museum, on a whim. We discovered an exhibit of the artist, Frank Brangwyn, whom we had never heard of. We loved his work. The second moment was the Anne Frank museum. It was incredible to walk in her footsteps, undisturbed by the folks around us. The museum is set up just as it should be -- no guides, just a quiet reading and listening to parts of the exhibit."
Albert
West Islip, NY
Tour: 06/17/15
Overall rating:
This was our second Rick Steves tour and like the first, was excellent. There was so much to see and do. This tour had a bit of everything: art, engineering, history. And I learned so much about the Dutch people.
Favorite "WOW" moment
"For me it had to be the old working windmill in the little town of Damme, Belgium, which we rode to on bicycles from Bruges. It was a windy day and the mill was really spinning even though only two of the four sails were unfurled. Then the miller stopped the mill to fold up the two remaining sails and rotate the mill, then started it up again. As we looked out the window after climbing to the top, we could see modern wind turbines on the horizon, linking the past with the present."
Mary Ellen
Braintree, MA
Tour: 06/17/15
Overall rating:
I had a great time on the tour. It was a good balance of history, art, seeing the beautiful sights, and having time on our own to explore. All guides were excellent and our fellow travelers were fun to be with.
Favorite "WOW" moment
"There were a number of "wow" moments - the view from our room in Gent (we loved Gent!), bicycling in Bruges, walking the streets of Delft, the beautiful ride from Belgium to the Zeeland province of the Netherlands, seeing the North Sea and being able to dip our toes in the water, and everything about Amsterdam!"
Gunnar
Emeryville, CA
Tour: 06/17/15
Overall rating:
This tour lived up to Rick's mantra: small groups, great guides, no grumps. There was so much history, art and even science. We missed the first day's activities. We were scheduled to fly on United from SFO to ORD and then ORD to BRU. Our flight from SFO was delayed by several hours making the connection impossible. We were given an alternate itinerary through FRA. Let this be another reason for arriving a day early.
Favorite "WOW" moment
"Ahead of time I thought I would say "Seeing all the good looking women on the tour of the Amsterdam Red Light district." But we went too early in the day for that. Now I would say it was the surprises prepared by our guide Hilbren. (Spoiler alert.) For example, when we returned to the hotel from our free afternoon in Bruges we found Hilbren pouring wine and preparing a large pot of Belgian mussels for us."
Paul
Eden Prairie, MN
Tour: 05/27/15
Overall rating:
I enjoyed it immensely.
Favorite "WOW" moment
"I really enjoyed Ghent, wandering around pre-tour, meeting our group and guide and our first dinner."
Hodge
McDonough, GA
Tour: 05/27/15
Overall rating:
The tour was very well organized with just the right amount of structured and free time. We could have never visited all we did in the same amount of time ourselves. Both my wife and I very much enjoyed our experience. Our guide Nina was excellent and a real joy to talk with. She gave us lots of good insight and background into the countries and cities and people we were visiting. The restaurants she chose for our group meals were outstanding.
Favorite "WOW" moment
"We had many favorite moments on the tour. I'd visited Brussels and Brugge years ago, so there was less of a wow experience on this trip for me."
Paula
Lewiston, NY
Tour: 05/27/15
Overall rating:
Beautiful architecture, amazing art, fascinating history, and delicious food. This was a great trip. The only stage of the trip that didn't amaze me was Delft. It was great to take the tram from Delft to The Hague to the art museum, but Delft itself didn't offer anything radically different from the other cities we visited.
Favorite "WOW" moment
"I may have enjoyed the art museums in Belgium and the Netherlands more than I enjoyed the Louvre, and that's saying a lot."
Marge
Cambridge, NS
Tour: 05/27/15
Overall rating:
This was my very first visit to Europe and I really appreciated the opportunity to go on this tour. I live on the East coast of Canada and I re-connected with a childhood friend who now lives on the west coast USA. She highly recommended this tour company and I agree - it was outstanding, from the first moment I set foot on Belgian soil until the very last day in Holland. Not to mention that my children's great grandparents were born in Belgium and my grandchildren's "Oma" was born in Holland
Favorite "WOW" moment
"Favorite "wow" moment had to be my first vision of the architecture of Belgium and it did not stop there. I was infatuated with everything - from the architecture to the resolution of transportation issues to the wonderful hotel rooms (we did not have a funky hotel room in Delft like some of the others). All museum visits were great coupled with the very knowledgeable tour guides in addition to my travelling companion."
Stephen
Piedmont, SC
Tour: 05/27/15
Overall rating:
The tour was exactly as we expected and Nina, our tour guide was very good. Sometimes, it seemed that the bus rides were too long but overall it met our expectations.
Favorite "WOW" moment
"The Ghent canal cruise. The pilot was very knowledgeable and enjoyed sharing his love of Ghent with us. Also, the brief introduction into Dutch history by Robert our guide at the Rijks Museum."
Elaine
Piedmont, SC
Tour: 05/27/15
Overall rating:
We enjoyed the diversity of the daily tours. The history presented by the guides was exceptional and the opportunities to explore on our own was fun.
Favorite "WOW" moment
"I had a 'wow' experience as I understood the differences between Belgium and Holland as described by Nina across educational, architectural and social lines. Visiting other countries is so much more than looking at buildings, farmlands and canals. Events in those countries are more meaningful now."
Fran
Atlanta, GA
Tour: 05/20/15
Overall rating:
This tour exceeded my expectations and was even better than the previous 2 Steves' tours I've been on (all since 2011): Paris in 7 Days and Heart of Italy. Our guide, Hilbren, was so good, and the food and hotel choices (with 1 exception) were excellent. This tour was nicely paced. Really liked the spacing of free time on the agenda; we looked forward to visiting with the group but also enjoyed exploring these charming cities on our own.
Favorite "WOW" moment
"There were so many! The Aalsmeer flower auction was simply amazing! The Maeslant storm surge barrier was unbelievable-huge beyond belief. Some of my favorite moments from the tour were the unexpected joys: dipping toes in the North Sea; riding a bike to Damme with lunch at an outdoor café; eating a 15" pancake at an impromptu group lunch, drinking hot chocolate at a café with our lovely local guide. And wow, what a great group of fellow travelers on this tour."
Maureen
St Johns, MI
Tour: 05/20/15
Overall rating:
My husband , Dan, and I thoroughly enjoyed our trip into the Belgium and Netherlands countryside and cities, especially the smaller towns. We had a wonderful group of co-travellers, a knowledgeable tour "captain" in Hilbren, and a new area of the continent to explore. We found many restaurants via Tripadvisor to visit in our free time, and lots of free time to find the out-of-the-way new experience.
Favorite "WOW" moment
"WOW MOMENTS -Walking up the towers in both Delft and Brugge The Riyksmuseum and the Van Gogh Museums the Chocolaterie demonstration and the Brewery de Halve Maan tour The Anne Frank House and all the WWI cemetaries BEER ,CHOCOLATE, FOOD AND HISTORY!"
Martin
Pittsburgh, PA
Tour: 05/20/15
Overall rating:
I had a very enjoyable vacation. I learned a lot of the culture and history of Belgium and the Netherlands, and the group got along very well.Hilbren was excellent -- very personable and willing to spend time with all of us. My only disappointment was with Brussels. I wish we had spent more organized time there, and saw more of the city. We covered Amsterdam much more thoroughly than Brussels.
Favorite "WOW" moment
"Not one but many of the same moments -- seeing many canals in four different cities, and at different times of day. Beautiful scenes."
Daniel
Seattle, WA
Tour: 05/20/15
Overall rating:
I thought the tour was very stimulating, as well as intelligently designed and selected. I learned so much about how much I have to learn about Belgium and the Netherlands! Hilbren was extremely talented and personable - interesting and fun to talk to. The group was convivial and welcoming. I would recommend this tour to my friends.
Favorite "WOW" moment
"1. Going through the Rijksmuseum with the brilliant guide Robert giving us an education in the Dutch character, art history, and art appreciation, all with a sense of humor and excitement about his subject. 2. Visiting Flanders Fields, the somber German cemetery, and contemplating the mass slaughter of a generation of young people, and the "long tail" of the age of empire today. 3. Seeing how Amsterdam works as a bicycle city, not a car city, and thinking about how US cities could be better."
Edward
Houston, TX
Tour: 05/20/15
Overall rating:
Very good tour with a diversity of things to see with the tour group and "free" time to explore on my own.
Favorite "WOW" moment
"seeing the WWI battlefields and cemeteries, it was hard to imagine the level of death and destruction on this battlefield within such a relatively small area. Little is generally discussed in the USA about WWI (versus WWII) so this part of the tour was eye-opening. As a German American, I found a few last names the same as mine in the German cemetery; however, my ancestors left Germany in 1842 to come to Ohio but I still thought, are these dead German soldiers related to me?"
Elgin
Atlanta, GA
Tour: 05/20/15
Overall rating:
The pace was fairly brisk and typical of a Rick Steves tour. There were numerous day activities that broke up the bus travel and provided the ability to learn more about each country. Some of the activities seemed to be added by our tour guide, Hilbren (picnic lunch by the castle, a visit to a small town for exploring, stop at the North Sea for a dip in the water). There was ample "on our own time" in each stop that allowed us to explore the cities, have some down time, etc.
Favorite "WOW" moment
"I would have to say that the demonstrations on how they make the delft ware and Belgium chocolates were most fascinating as this was totally different from the Paris and Heart of Italy tours (they were unique to their areas)."
David
St Johns, MI
Tour: 05/20/15
Overall rating:
It was all "very nice", as our tour guide would say. I found the history, the changing culture, the beer and sweets scene, and the land reclamation to be incredibly interesting! My tour guide was an outstanding young man with a lot of positive energy. He connected well with his tour members while still providing a vast array of information on everything and anything we visited. He was incredibly knowledgeable which made an information seeker like me, very pleased.
Favorite "WOW" moment
"My "wow" moment from this trip was not like other "wow" moments from trips in the past. I generally sink my teeth into some delicious food from a country, and that's what seals the deal for me. However, on this trip there really wasn't any food to be wowed by. If I'm not to include experiences from outside the tour, I would say my "wow" moment was coming around the turn in Bruges and seeing that bell tower. It made everything real, and just brought a smile to my face!"
Daniel
Los Osos, CA
Tour: 05/20/15
Overall rating:
The tour was awesome!!!
Favorite "WOW" moment
"The first night in Ghent was brilliant.....the hotel right on the canal was magical!"
Berry
Indiana, PA
Tour: 05/20/15
Overall rating:
This tour was a bit pleasantly different from the other RS tours I have been on because of the small, elegant moments that were traditional to the region, and provided to us by our guide. It was a small taste of chocolate while on the train to Brussels to get us ready for the exquisite chocolate shops there; Netherlandish black licorice on the bus as we crossed the Belgium border; a treat of coffee and hot chocolate in a warm and cozy cafe in Delft that was the epitome of "gezellig." So nice!
Favorite "WOW" moment
"Our group got to the Rijks early so the large gallery exhibiting Rembrandt's THE NIGHT WATCHING was practically empty. Seeing this painted allegory of leadership was a wow moment for me. Plus our museum guide's narrative description was insistent and thrilling. My husband and I then went to the museum cafe for coffee. Our tall, young server got down on one knee to tell us what a priveledge it was to work in this museum and how proud the Dutch people were of it. Double wow."
Miriam
Pittsburgh, PA
Tour: 05/20/15
Overall rating:
It was informative, beautiful and fun. I loved learning the history and current realities of the two countries. Spending time in smaller, scenic towns is a huge plus and participating in both the scheduled activities - whether it was walking tours, museums,chocolate shop or castle visit -and the free time activities provides a great mix of fun and information. I also found it extremely interesting to observe -- bicycles, canals,windmills, sheep and beer.
Favorite "WOW" moment
"I have to pick two. (1) We rode our borrowed bikes from Hotel Adornes (Brugge)to Damme. What a beautiful ride! Rode along a canal, saw sheep, cows and a few donkeys. There was a windmill along the way that we could go in and climb to the top. Damme was lovely and we followed our noses into a small place with great food for lunch. (2)Visiting Deltaworks on the North Sea to learn what the Dutch have done/are doing to prevent flooding. Amazing."
Martha
Colstrip, MT
Tour: 05/13/15
Overall rating:
I had a wonderful time. I saw much more art than I expected. I saw more relics and architecture from the Middle Ages than I expected and I am very happy about that. I had no major negative experiences....and when I thought I had lost my phone....Nina was right on it and took the matter very seriously. She also did not make me feel foolish when I quickly found it. Traveling alone is not easy for me but once more I have decided that I made a most excellent decision in booking a trip with R.S.
Favorite "WOW" moment
"It was wow from day one till I left the morning of day eleven."
Michael
Nanaimo, BC
Tour: 05/13/15
Overall rating:
As usual, the guide was the key to the value added in the tour. This was our second tour with Nina (Villages Italy) and she enhanced each day. All the hotels were well located and the rooms and facilities were certainly adequate. Robert, the guide in the Rijksmuseum is up there with Francesca (of Rome) as a local guide. Keep him. The days were appropriately divided between programmed time and free time. Unfortunately, the good weather occurred prior to our arrival, and after our departure.
Favorite "WOW" moment
"-"
Deborah
Arlington, VA
Tour: 05/13/15
Overall rating:
I can't imagine a better combination of tour guides than Nina, who is Belgian, and Angelique, who is Dutch. Nina was welcoming, knowledgeable, energetic, playful, and helpful in every way imaginable. She taught us so much AND she made it fun. The interplay between Nina and Angelique added a great dimension by giving us a sense of the differences in history and outlooks between the two countries. Wonderful leaders!
Favorite "WOW" moment
"Highlights included the Rijks Museum, the North Sea, and the Dutch sky."
Cynthia
Lincoln, NE
Tour: 05/13/15
Overall rating:
Excellent tour. Enthusiastic guide and her push to go beyond the described itinery was outstanding. Thank you Nina!
Favorite "WOW" moment
"So many. But the day in Flanders Field was the most touching. I don't imagine many tour groups stop at the German Cemetary, I am glad that we did, it completes the story."
Rick
Grass Valley, CA
Tour: 05/13/15
Overall rating:
Had always been wanting to go to Belgium and Holland (I figured there has to be more to Europe than England, France, and Italy) and this tour really made understand the lure and charm of them.
Favorite "WOW" moment
"There were many WOW moments but the biggest surprise was the Bruges City Hall interior."
Dorothy
Brockport, NY
Tour: 05/13/15
Overall rating:
The tour got off to a little bit of a bumpy start in Brussels but each day improved. Too much time taken in the old part of the city showing all the restaurants. Too much to take in.
Favorite "WOW" moment
"A bike ride from Bruges to Damme along the canal. Beautiful scenery, great windmills, quaint shops. Also the Maeslant storm surge barrier - amazing, Flanders Fields and the Anne Frank House were very moving."
Alexandria
Greenville, NC
Tour: 05/06/15
Overall rating:
This was my first time participating in a Rick Steves tour and it exceeded my expectations. The smaller size compared to other tours, extra free time, and focus on immersion in local culture were all big pluses for me. It was nice to know all the big points of interest were covered in the tour, but we had free time to customize the experience. The activities that weren't of particular interest to me, I found educational at the very least.
Favorite "WOW" moment
"I don't know I have one "wow" moment. Seeing Ghent for the first time (it was our first stop), our time in Brugge, Keukenhof Gardens, Anne Frank House, and all the art and architecture were highlights."
Thomas
Elkhorn, NE
Tour: 05/06/15
Overall rating:
The tour was very nice, and well run as usual. If possible I would have liked to see more activities, and find out more about the current events. In Holland more information on the Tulips. A cooking class is always fun.
Favorite "WOW" moment
"One of the main reasons for choosing this tour In early May was to see the tulips. The one stop on this trip at the tulip gardens was a Wow moment. We loved seeing all of the flowers and it would have been nice to have had some discussions on what to expect, and information on buying and raising tulips. We had to find out this information on our own."
Barbara
San Diego, CA
Tour: 05/06/15
Overall rating:
This was a very good tour. However, it was not the right tour for me. This was no fault of Rick Steves or the tour guide. Parts of it were simply too strenuous for me.
Favorite "WOW" moment
"Experiencing Keukenhof."
Margaret
San Antonio, TX
Tour: 05/06/15
Overall rating:
This tour was both enjoyable and informative. I loved learning about the history of Belgium and the Netherlands. Arriving in Ghent was amazing, the canals, markets and guild houses with the late afternoon sun shining on them was beautiful. The tour of the WW1 battlefields was interesting, our guide provided an excellent understanding of what took place in that small area. The flood museum and delta works in Rotterdam lent perspective on the relationship between the citizens and the water.
Favorite "WOW" moment
"My favorite "wow" moment was my first glimpse of the Rijksmuseum and learning that the building was built specifically as an art museum even though it looks like it could be a cathedral. Another wow was the Groeninge museum in Bruges showcasing the Flemish primitive painters. Favorite "wow" piece of art was the prayer nut at the Rijksmuseum."
David
Laredo, TX
Tour: 05/06/15
Overall rating:
Generally very good. I liked the places visited very much. The hotels were good, especially in Ghent, or interesting, as in Delft. The ww1 battlefields were a revelation. I do think that some of the Amsterdam tour is outmoded, the pot store and the red light district seem unnecessary to me. I'm more interested in historic buildings and churches, perhaps than most. Great guide in the museums. Hilbren is a good guide but he moves more rapidly than I was able to do, sometimes.
Favorite "WOW" moment
"The Anne Frank house. I'm very familiar with her story and writing and the house tour was an emotional experience I did not quite expect."
Karen
Pleasant Hill, CA
Tour: 05/06/15
Overall rating:
I loved the trip! We saw a good variety of "sights" and had many memorable experiences.The Dutch people were warm and welcoming and my guide and trip mates were the same.
Favorite "WOW" moment
"There was a lot of "wow" moments, but the Keukenof FlowerGardens was probably my favorite."
Gene
Lexington, KY
Tour: 05/06/15
Overall rating:
This was our 3rd trip with you. We had ear-buds in Istanbul but not in Prague & Budapest. No ear-buds on this trip except at the Rijksmuseum, museum. They made the presentation at least 40% better. Please institute a policy of the guide using a microphone and guests using ear-buds. They GREATLY enhance the experience.
Favorite "WOW" moment
"The Flanders Fields portion was quite moving."
Rich
Ellicott City, MD
Tour: 05/06/15
Overall rating:
This is our fourth tour with Rick Steves, and although it was not as good as some of the others, it was still very good. We enjoyed everything on the tour, especially the tulips ! Our hotels were excellent and the group we were travelling with was a great group ! Even better, the euro was at a low level, so as to make our purchasing power much greater !
Favorite "WOW" moment
"The tulips by far !!! followed by the Van Gogh museum"
Suzanne
Greensboro, NC
Tour: 05/06/15
Overall rating:
The Rick Steves tour was great. I would recommend it to anyone who wants experience Europe, from its history, architecture, food, culture, and people.
Favorite "WOW" moment
"I have two wow moments. One is the Kuekenhof Gardens. Beautiful tulips as far as the eye can see. Just when you think you've seen the best combination of colors and textures, there is another display of beautiful flowers. The second was a free day when we rode bikes to the village of Damme along a tree lined bike path beside a canal. At Damme we explored a working windmill, artsy shops, a book fair, and a fabulous lunch. It was beautiful being in the countryside."
Donald
San Francisco, CA
Tour: 04/29/15
Overall rating:
More than fulfilled my expectations of seeing Belgium and Netherlands.
Favorite "WOW" moment
"Keukenhof tullips were more than just one "wow" moment. Great tours of Van Gogh and Matise Museums."
John
Albany, NY
Tour: 04/29/15
Overall rating:
Favorite "WOW" moment
"My "wow" moments included: Keukenhof and the flowers, Van Gogh musem , and Ghent. It had it all for me; art, history and architecture."
Chris
Aurora, IL
Tour: 04/29/15
Overall rating:
This tour met RSE's highest standards. There was a wide variety of sights and activities, some planned and some spontaneous. Smaller hotels were simply delightful.
Favorite "WOW" moment
"Blooming tulips both in the fields and in the marvelous Keukenhof Gardens."
Diana
Denver, CO
Tour: 04/29/15
Overall rating:
Favorite "WOW" moment
"One word - TULIPS!! Unlike anything we could have imagined..... Another "wow" moment was the view from the Sky Lounge in Amsterdam where we stopped for a glass of bubbly before dinner. And yet another was the somber beauty of the cemeteries in the Flanders Fields area, and especially the small US Cemetery in Waregem."
Clint
Tucson, AZ
Tour: 04/29/15
Overall rating:
Enjoyed all of it. Great group. Rolinka was an outstanding tour leader.
Favorite "WOW" moment
"The beauty of Brugge"
Jan
Aptos, CA
Tour: 04/29/15
Overall rating:
The entire tour was top notch! Out guide, Rolinka was fabulous, our fellow tour members were great and the tour offered us a lot of variety while giving us the chance to experience the full flavor of the areas we visited.
Favorite "WOW" moment
"It has to be the TULIPS! Keukenhof Gardens was amazing! It is indescribable!"
Lauren
Aptos, CA
Tour: 04/29/15
Overall rating:
When asked how our trip was, I have a one word answer. Fabulous.
Favorite "WOW" moment
"When you time it right to see the tulips in bloom in Keukenhof gardens, it is pretty hard to top. Although there were many great memories, this has to take the prize for my favorite "wow"."
Caroline
Westwood, MA
Tour: 04/29/15
Overall rating:
This was my first Rick Steve's tour and it was everything I thought it would be. Well organized, got me to experience everything that I had wanted to and even more, and flexible, a good mix of free time and scheduled activities.
Favorite "WOW" moment
"This is very difficult to say, every new city was like wow this is fantastic. Probably the number one "wow" moment was the Kerkenhof Garden. Brilliant!"
Steven
Bellevue, WA
Tour: 04/29/15
Overall rating:
This was our 7th Rick Steves' tour and proved to be typical - very good, great guide, experienced and friendly tour members.
Favorite "WOW" moment
"Probably the way Netherlands has dealt with the fact that most of the country is below sea level"
Judith
Tacoma, WA
Tour: 04/22/15
Overall rating:
This was a great combination of small towns, history including WWI and some WWII, demonstrations (chocolate, beer, and Delft pottery), fascinating water control info, and some city time, Our guide was tactful, informative, and fun. The group was respectful by being prompt. The driver was amazing. There was art and good food and enough free time to stay sane and in clean clothes.
Favorite "WOW" moment
"Walking onto the first path in the Keukenhof, where it became evident that it wasn't all rectangular beds, but also woods and water, little hills, trees and wildness and singing birds as well. It brought tears to my eyes."
Karen
Tacoma, WA
Tour: 04/22/15
Overall rating:
Very pleasant, informative, and enjoyable. As usual I hade to remind myself that this was an overview of the Low Countries. Could have added another day to each site and still have wanted more. In fact we added time at the end of the tour in Haarlem and are glad we did.
Favorite "WOW" moment
"It is literally impossible to describe the splenderof the Keukenhof!!"
Jack
Corte Madera, CA
Tour: 04/22/15
Overall rating:
We continue to enjoy the Rick Steves' experience, really regardless of the countries toured.
Favorite "WOW" moment
"The Keukenhof, surprise, surprise, surprise. But we really enjoyed experiencing King's Day in the interesting, lively smaller town we visited just after entering Holland. Sometimes those relaxed experiences, soaking up life as a local on a festive day in a small town are as memorable as the storied "wow" moments."
Nancy
Fort Bragg, CA
Tour: 04/22/15
Overall rating:
This was my very first Rick Steves tour. Having experienced many tours with other companies both on land and sea, I consider myself a fairly seasoned traveler. I appreciated the Steves' approach of providing me with the information and tools to enjoy Belgium and Holland independently during our free time. The knowledgeable and articulate local guides and tour director enhanced my understanding and appreciation of the countries visited. I'll be back.
Favorite "WOW" moment
"The huge parking structure at the Central Station in Ghent devoted entirely to bicycles. Wow! Not a car in sight. Bicycles in use everywhere in Holland and Belgium. Plus public transportation--bus, train, tram--that was clean and efficient. I was impressed and envious, especially when I returned to the Bay Area and had to ride a dingy, dirty BART train home."
Beverly
Cary, NC
Tour: 04/22/15
Overall rating:
Outstanding tour! Never dreamed I would learn so much. Really got to know Brussels, Ghent, Bruges, Delft and Amsterdam. Hans was a terrific guide and we had a fun group. Nice accommodations and excellent food. Well organized. Great art, beautiful flowers, historical insights and action-packed itinerary. Looking forward to our next Rick Steves tour.
Favorite "WOW" moment
"Can't decide between Keukenhof Gardens, Flanders Fields or flood gates. Breathtaking art as well."
Bud
Mount Desert, ME
Tour: 04/22/15
Overall rating:
This was our nineth tour and they have all been incredibly special. We had the opportunity to spend extra time there and the guidebook was very helpful in focussing on things to do with our time. The cities chosen were wonderful locations and the hotels were all conveniently located. Keukenhof Gardens was a wonderful addition to our tour.
Favorite "WOW" moment
"There were two moments that were special. The first was to spend several hours in Zierikzee on King's Day. To be in a small town and share in the "warmth" of the celebration was very special. The second was going to Keukenhof Gardens. Even though we had been there nine days before, it was still a special time. We arrived there very early which led to few people being there for the first hour. We could actually take some pictures without people being in the way."
Ann
Pittsburgh, PA
Tour: 04/22/15
Overall rating:
Overall tour experience was very good. There were times when I was a little anxious (e.g., getting from Brussels to Ghent by myself), but it was part of building confidence and part of the "adventure". My co-travelers were very convivial and appeared to have the same philosophy of travel. It is really hard to travel alone sometimes; yet, I managed on this trip, which says a lot about the tour.
Favorite "WOW" moment
"There are so many. All museums (the Mauritshuis and Rijkmuseum). The Lord in the Attic Church was amazing. But the Keukenhof garden was VERY special."
Rae
Valley Forge, PA
Tour: 04/22/15
Overall rating:
Great guide! Just enough free time. Very comprehensive tour.
Favorite "WOW" moment
"Seeing the tulips at the Keukenhoff"
Frank
Valley Forge, PA
Tour: 04/22/15
Overall rating:
First of all Hans, our Rick Steves' Guide, was fantastic. The tour locations, hotels, and activities were most interesting, varied and representative of Belgium and the Netherlands. Our group very quickly became travelling buddies having a fabulous time.
Favorite "WOW" moment
"My favorite 'wow' moment was being in a small Dutch village by the sea on King's Day, a Netherlands holiday. The town was all decked out having parades, children's rides, contests and entertainment from drumming to belly dancing. It really made me feel like a temporary local."
Suzanne
Shreveport, LA
Tour: 04/22/15
Overall rating:
We feel we know Belgium and Holland. Especially taking your advice and going in the beautiful neighborhoods of Amsterdam. It gave us a much better feel for that city. Favorite city was Gent. Our first stop for a beer we were asked what are you doing here?? It is not full of tourists.
Favorite "WOW" moment
"The Keukenhof Gardens. Magnificent!!!!!!!"
Sanders
Shreveport, LA
Tour: 04/22/15
Overall rating:
This was a wonderful, typically unique, tour of Belgium and the Netherlands. We had a wonderful group to travel with. Generally this was a less "adventurous" tour probably related to the fact that the average age of the tour member was older and I think many people were focused more on the art, the tulips, the gardens, etc. rather than the "experience life as a local" as he is more typical of the Rick Steves tours that we have taken.
Favorite "WOW" moment
"The gorgeous Keukenhof Gardens would have to be one of the real highlights of the trip. For my wife and I however, the best parts of the trip involved interacting with local people in the smaller restaurants, cafés, and pubs."
Kay
Poulsbo, WA
Tour: 04/15/15
Overall rating:
Favorite "WOW" moment
"We learned that the city halls in Belgium and the Netherlands are ornately decorated and give the citizens a source of great pride. The city charters were locked away in the tower to keep them safe. They could look up at the tower and know that was where there rights were kept, safe and sound. My BIG WOW moment was when we climbed the Bruges tower and saw the chest and locks that were for storing the city charter. I then understood the importance of the charter at that moment."
Jennifer
Port Williams, NS
Tour: 04/15/15
Overall rating:
I was amazed at the amount we were able to see and do in the short time of the tour. It was a "crash course" on the historic, cultural and social life of these countries. I enjoyed the mix of urban and rural tours which provided a broad understanding of how people have and do live in these countries. My favourite places were Ghent, Delft and Flanders and rural Holland.
Favorite "WOW" moment
"This is a difficult one to answer - there were so many. However, I must say the day in the countryside and visit to the Keukenhof Garden was wonderful. Maybe because it was finally SPRING after a long Canadian winter and because Rolinka insured that we arrived early before masses of people, it was a peaceful respite from our travel. As a gardener, it reminded what flowers can do for the soul. However, each day brought something wonderful."
Deb
Appleton, WI
Tour: 04/15/15
Overall rating:
Our tour was great with a variety of experiences, 22 other energetic travelers, led by Rolinka who was very professional and caring!
Favorite "WOW" moment
"Wow moments: first day canal tour in Ghent before great dinner, Bruges chocolate & brewery tours, Keufenhof gardens"
Cheryl
Auburn, WA
Tour: 04/15/15
Overall rating:
Only 500 characters? Well, I'll do my best. This tour was excellent in every way. Our guides were great, the food and beer was wonderful, the museums outstanding and the cities charming and picturesque. As a bit of a history buff, I found what I call WWI day ( visits to the American, German and Commonwealth cemeteries) to be very moving. But the highlight for me was the beautiful Keukenhof Gardens. We spent four hours there and I could have easily spent more. One word summary: Delightful.
Favorite "WOW" moment
"That is easy: The Keukenhof Gardens. The Netherlands waterworks were impressive. The cities lovely. The WWI cemeteries and Ann Frank House moving but the Keukenhof Gardens were my "wow" moment."
Larry
Annandale, VA
Tour: 04/15/15
Overall rating:
Generally met expectations. The guides, bus driver, and tour members were a pleasure. The itinerary was well-designed, but there should have been less time at the flood museum and floodgate to allow more time in Delft to allow a visit to the Hague. Start in Brussels with a general morning tour, then lunch, then go to Ghent. Museum tour in Brussels a waste. The coffee shop in Amsterdam was too much.
Favorite "WOW" moment
"Most everything, but I have been on 6 RS tours, and the guides and tour members on this one were closest to exemplifying what a RS tour should be in my view. Also, the flowers and Vermeers."
Bob
Raymond, MS
Tour: 04/15/15
Overall rating:
My wife Jean and I are compiling our joint experiences on one evaluation form. We both thoroughly enjoyed our first Rick Steves tour. All the plans were well made and efficient, and the hotels, restaurants, and sites were first rate. We liked having some free time to pursue our special interests and some meals on our own to eat where and when we preferred. Our tour guides were energetic and upbeat and happy to answer questions. We enjoyed the fairly compact geographical area with 4 hotels.
Favorite "WOW" moment
"The Keukenhof Gardens took our breath away, and the Flanders Fields were a somber site which filled in a gap in our world history. The visit to Anne Frank's house was also filled with emotion, and the crowds were gratifying to see that so many people want to understand the need for tolerance and peace in the future."
Chuck
Appleton, WI
Tour: 04/15/15
Overall rating:
I am pleased with the tour and our tour leader...we plan to take more tours with RSE. Would LOVE her again The tour provided the right amount of diversity and showed us a good amount of sights and places. The food was excellent and hotels better than expected. We like the tour style: Orientation and equipping us and providing a limited number of suggested places to explore, half the meals on our own was excellent, we like group activities but also enjoy discovery on our own or in small groups.
Favorite "WOW" moment
"The WOW moment for us was the Tulip Gardens!! We asked for more time and were allocated 4 hours including lunch and coffee break. hahaha We skipped lunch and walked with coffee. We would have loved MORE TIME there. That is why we came!! But we left wanting more and planning to go back again. (Better than reverse. :)) We have hundreds of pictures and are NOW enjoying tulips in Wisconsin so HAPPY!We also went to Haarlem AFTER the tour and saw the Flower parade as it came into town! Wonderful to s"
Greg
Winnipeg, MB
Tour: 04/15/15
Overall rating:
This was our first tour experience and we had some concerns about whether or not this was something that would work for us. I am happy to say that it did - it was extremely positive. Staying more than one night in various places is a very good idea. Small towns and small hotels is also a good idea. Free time was appreciated. Informed guides interested in their work was great. Group dinners in each new place were fun. Easy museum access was very helpful.
Favorite "WOW" moment
"There was not one wow moment ...both countries and all the places we visited were wow! The architecture,the information learned from guides ...from Jack about the First World War, to "Q" about Delft and the young woman helping hold back the North Sea and the Rijks guide. Rolinka and Angelique were knowledgable as well. A long walk through the countryside and by the sea as well as a bike ride from Bruges to Damm ware also memorable."
Barbara
Oakland, CA
Tour: 09/24/14
Overall rating:
Loved all the Medieval cities + all the countryside in-between. Enjoyed all the orientation walks, the cultural tours, the tours of the Brewery, the Storm Surge Barrier, the replica of the Dutch East Indies Ship, the Flower Market, the Delft pottery manufacturing, the Rijksmuseum. Understood greatness of Holland. Very moved by the day in Flanders & guide at the American Cemetery and our guide Andre who gave us such an atmospheric picture of the tragic WWI events.
Favorite "WOW" moment
"Understanding why the Netherlands became such a great power and champion of individual rights. All done without an aristocracy or Church. Understood why merchant class became dominant and understandably proud which manifested in Dutch art being so different than art in countries dominated by the Catholic Church or an aristocracy. Particularly driven home by Rijksmuseum guide Anne Julie. Also wowed by clarity our guide Nina brought to understand long rivalry between Belgium & Netherlands."
Richard
West Hartford, CT
Tour: 09/24/14
Overall rating:
This was my first time on an actual tour. We usually make our own arrangements, so I wasn't sure how I would like it. I loved it and hope to see you again very soon. Nina was a wonderful guide. She is very knowledgable and made sure that everyone's needs were met.
Favorite "WOW" moment
"I loved Bruges. Our tour there was wonderful. We had a free day where we biked outside the city which I loved. I also really enjoyed the trip to the storm barrier in Rotterdam."
Rhonda
Delanco, NJ
Tour: 09/24/14
Overall rating:
Everything and more than what we expected. Everything smooth and well planned. My husband and I enjoyed ourselves immensely.
Favorite "WOW" moment
"Biking to Damme and other sites outside Brugge, Belgium."
Teresa
Ripon, CA
Tour: 09/24/14
Overall rating:
My overall experience.. I had fun! Well balanced in terms of learning history and relaxation times. The low point was the visit to several cemeteries Flanders Fields would have been enough.
Favorite "WOW" moment
"The Aalsmeer Flower Auction, the vivid colors of flowers were just amazing!"
Mary Ann
Houston, TX
Tour: 09/24/14
Overall rating:
I have traveled extensively with Rick's books, but this guided tour was heads and shoulders better than even that! The hotels were nice, the food was good, but what really made the trip was Nina, our guide. (see below) My one regret was that I didn't realize that the emphasis would be on paintings in museums -- not my priorities. I should have realized that, but.... I loved seeing the Water Works, the flower market and how the people live and make their living
Favorite "WOW" moment
"The visit to the WW1 sites. I thought it would be a throw-away day but by the end of the visits I knew and appreciated more about "the war to end all wars" and the sacrifices that were made on that hallowed ground. In fact, I was in tears."
Mary
Seattle, WA
Tour: 09/17/14
Overall rating:
I thoroughly enjoyed the tour and definitely look forward to going on another Rick Steves' tour. It was well organized, our tour guide and the local guides were very knowledgeable and enjoyable, the sights and variety of sights were well-selected, there was a good mix of organized tour time and free time and the food was exceptional. It was a great experience.
Favorite "WOW" moment
"There were many "wow" moments,but a few stand out. The Maelsant storm surge barrier tour and the Aalsmeer Flower Auction stand out because they were so different. A guided tour of the flower auction would have been nice because the operation was fascinating. I was mostly affected by Flanders Fields and the Anne Frank House. And the food was awesome."
Robert
Santa Rosa, CA
Tour: 09/17/14
Overall rating:
As this was our first Rick Steves tour, we can only compare it to our Road Scholar tours. On this tour Hilbren was outstanding as our tour guide, the meals we ate were outstanding, and we appreciated the amount of time we had on our own after we were shown the ropes. The day in Brussels needs to be rethought by Rick, and the hotel in Amsterdam was the worst we experienced in 5 trips to Europe. It would be better to have the trip end in a good, clean hotel.
Favorite "WOW" moment
"Our favorite town was Delft, but the feelings we had for the town were more along the lines of "ahhhh" rather than "wow". It was charming, quiet, filled with a rich history and our local guide was delightful. The "wow" of the trip really was Hilbren. Every single day! Full of energy, knowledge, charm, always smiling and full of enthusiasm."
Ed
Richland, WA
Tour: 09/10/14
Overall rating:
I enjoyed the tour and thought the excursions at Flanders Fields, Maeslant Storm Surge Barrier, Flower Auction, and the Batavia Boat Yard were a good balance to the museums, art and architecture in the cities. I thought the Batavia Boat Yard was a good tour probably because I enjoy working with wood. I found it interesting the process they went through to be able to bend a 5 inch thick piece of oak to fit the curves of the hull of the ship.
Favorite "WOW" moment
"More of a subdued moment was the American Cemetery at Waregem, Flanders Fields, and the German Military Cemetery at Langemark with the mass grave for some 25,000 German Soldiers."
Cyndy
Eugene, OR
Tour: 08/27/14
Overall rating:
This was a great tour! Hans was a good guide who "warmed" to the group as we went along. Ghent was the perfect starting place and we'd suggest skipping the day back & forth to Brussels.
Favorite "WOW" moment
"Not sure there was one "wow" moment. The American cemetery at Flanders Fields and all the WWI cemeteries/battlefields were certainly high on our list, especially as this was the 100th anniversary of WWI. I think the idea that artillery in WWI could totally flatten villages/towns was amazing. Our guide always said, "and this town didn't exist before 1920" made us realize how much devastation occurred in Belgium! Villagers in Flanders have all adopted graves in the American cemetery, amazing!"
Marvin
Huntingdon Valley, PA
Tour: 08/20/14
Overall rating:
This was Leslie's and my 3rd tour with Rick Steves. We also have done on our own extensive touring in Europe.(After the tour we drove through western France Avers sur Oise to Rouen, then rented an apartment in Paris for a week.) Rick's tours have provided us with unique and very welcome insights into the places we go to. When WE travel its usually point to point, using our limited time to see the areas top 10 BEST attractions. With Rick we get to experience what's in between the points.
Favorite "WOW" moment
"In Ghent it was standing by a plaque honoring the signing of the treaty of Ghent, in Delft it was tramming to the Mauritshuis and standing 2 feet by the Girl with the Pearl Earring, in Amsterdam it was a quest to find the statue of Spinoza, but my wow moment was in the 2nd floor of the Memling museum viewing the installation by Christian Boltanski of thousands of tins bearing the names and photos of the workers of the Grand Hornu Coal Mine, ordinary people who were forgotten as time passed."
Weather

Belgium / Brussels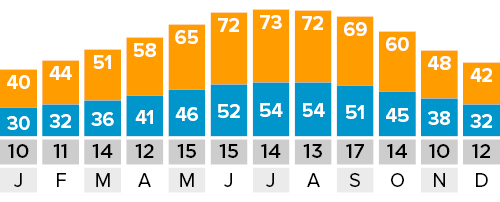 ---
Holland / Amsterdam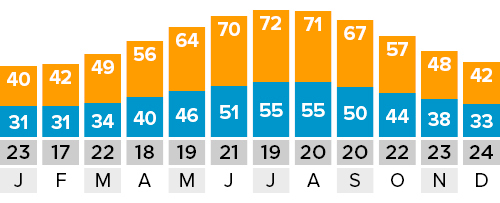 Pre-Tour
We've put together some specific information on what you should know about this tour before you go. You'll also find more general information about "Getting Ready for Your Tour" on our Tour FAQ.
Trip Resources
Learn more about Belgium and Holland: Check out a collection of Rick's TV shows, radio interviews, and articles, plus recommended books and movies.
Transportation
Prior to your tour departure, you will receive detailed directions on how to get from the airport to your first tour hotel, as well as contact information for your first and last hotels in case you wish to book pre- or post-tour hotel accommodations.
Many tour members arrive a day or two before the tour begins — and those who don't, wish they had. This allows you ample time to get over jet lag and make the most of the first few days of the tour.
There is more than one way to get to and from your tour. Most tour members will arrange to fly into Brussels and out of Amsterdam ("multi-city" on flight booking websites). Booking round-trip to one city will require a connecting flight, train trip, or additional overnight stay. Brussels and Amsterdam are transportation hubs, making travel before or after your tour quite easy.
For information about flying within Europe, ask your travel agent or check Rick's list of European budget airlines.
Read Rick's train travel and rail pass tips to decide if your travel plans merit a rail pass.
If you have additional European travel or tour questions, contact the Tour Department at 425-608-4217 or email tour@ricksteves.com.
Sightseeing on Your Own
If you arrive in Ghent before your tour begins, use the Rick Steves Belgium: Bruges, Brussels, Antwerp & Ghent guidebook to get oriented. Ride the public transportation, try out a few words of Flemish (although many locals speak English well), and get over your jet lag with fresh air and exercise.
Here are suggestions for sightseeing in Ghent that we will not be doing as a group (see the guidebook for details): Gravensteen Castle; Design Museum; Fine Arts Museum; or Ghent City Museum.
Staying on after the tour ends? Amsterdam is a city of museums and you can find one to suit every taste. We'll see the biggies together, but you may also want to check out the Van Gogh Museum, Amsterdam History Museum or Dutch Resistance Museum. Consider touring an elegant 17th-century canal house or see what it would be like to live in one of the many canal boats. You may wish to take a short day trip to explore more of the Netherlands. Renting a bike is easy and the countryside is not far away. Haarlem is a charming town to visit…a pleasant half-day trip by bike or an easy 30-minute train ride away.
Packing
The Low Countries are aptly named and the lack of elevation means that wind often blows off of the North Sea. It is a good idea to bring a waterproof wind breaker and lightweight clothes for layering.
For advice on what (and what not!) to pack, see Rick's packing tips.