Ghent, Belgium

Grand Place in Brussels, Belgium

Belgian Chocolate Tasting

Boating in Bruges, Belgium

Bruges Canals

Delft, Holland

Amsterdam, Holland

Spring Flowers in Holland
Tour Questions? Call 425-608-4217
Heart of Belgium & Holland in 11 Days Tour
The cities of the Low Countries are a delight to experience. Beginning in Ghent, your Rick Steves guide will take you on story-filled walks through the hearts of Ghent, Bruges, Delft and Amsterdam. You'll also visit the de facto capital of Europe — Brussels, a traditional Belgian brewery, historic Flanders Fields, a nostalgic Dutch open-air museum, a high-tech sea-barrier project, and the world's largest flower auction — ending in Amsterdam with the poignant Anne Frank House, and the brilliantly restored Rijksmuseum. Join us for the Heart of Belgium & Holland in 11 Days!
What's Included
A small, friendly group of 24-28 people— half the size of most tour groups
Full-time services of a professional Rick Steves guide and local experts who will make the fascinating history, art and culture of Belgium and Holland come alive for you
All tours and admissions — at no extra cost — covering at least 20 group sightseeing events • Ghent walking tour • Ghent canal boat tour • Brussels walking tour • Royal Museums of Fine Arts of Belgium tour • Tour of Flanders Fields WWI sites • Bruges walking tour • Bruges Memling Museum tour • Chocolatier tour and tasting • Bruges Museum Pass • Belgian brewery tour and tasting • Netherlands Museum Card, allowing free admission to museums throughout the country • Deltaworks and tour of Maeslant sea barrier • Delft walking tour • Delft New Church • Aalsmeer Flower Auction • Dutch Open-Air Museum • Red Light District tour • Rijksmuseum tour • Historic Amsterdam walking tour • Anne Frank House...and more
All group transportation from Ghent to Amsterdam
10 nights accommodations in memorable, centrally-located hotels
All breakfasts and half your dinners
All tips for guides and driver
Free stuff including Rick Steves Amsterdam, Bruges & Brussels guidebook, map, moneybelt and earplugs
Guaranteed tour price, locked in the moment you make your deposit
Optional single supplements — this tour has a limited number of private rooms for solo travelers for an additional fee
Tour alum discount of $50 for each tour you've taken prior to 2015
50% discount on a consulting appointment with our in-house experts to assist with your pre- or post-tour travel plans
Flexibility should you need to transfer, or cancel/interrupt your tour
Fine print: You are responsible for the cost of your drinks and free-time sightseeing. See our Tour Conditions Agreement for important details regarding everything listed above
Itinerary
Daily Activity Key
Light = 2-4 miles of mostly level walking throughout the day.
Moderate = 2-6 miles walking throughout the day with some hills and stairs.
Strenuous = 2-8 miles walking throughout the day with lots of hills, stairs and uneven terrain.
Day 1: Welcome to Belgium
Our adventure begins in medieval Ghent. We'll gather at our hotel at 3:30 p.m. for an introduction meeting. We'll start things off with an informative and fun canal cruise followed by a walking tour, getting an intimate introduction of the historic center of Ghent. Our evening ends with a traditional Belgian dinner together. Sleep in Ghent (2 nights). Boat: 1 hour. No bus. Walking: light.
Day 2: Historic Brussels
This morning we'll hop on a train and head to Belgium's capital city. We'll explore Brussels' medieval city center including the Grand Place (considered the grandest square in Europe) with its splendid medieval guild halls, freshly-fragrant waffles and the quirky Mannekin Pis statue nearby. You'll have free time for lunch and discoveries of your own before we regroup for a guided tour of the Royal Museums of Fine Arts, home to dazzling Flemish and Belgian masterpieces. This evening you're free to spend more time in Brussels or train back to Ghent for dinner on your own. Train: 1 hour. No bus. Walking: strenuous.
Day 3: Flanders Fields and Beautiful Bruges
Today we'll meet our driver and board our bus for the short drive to the WWI battlefields around Ypres. Half a million soldiers were killed here, making it one of the deadliest — and today the most hallowed — stretch of land along the Western Front. With the aid of a local expert, we'll tour the monuments, visit a thought-provoking museum, and see "the fields where poppies grow." After lunch together, we're off to Bruges and our lovely canal-laced and ivy-draped hotel. After check in and some time to relax, we'll regroup for an orientation walk and dinner together. Sleep in Bruges (3 nights). Bus: 5 hrs. Walking: moderate.
Day 4: Gothic Bruges
We'll meet our savvy local guide who will introduce us to the pedestrian-friendly streets and alleyways of Gothic Bruges, including a tour of the Memling Museum — showcasing several of Hans Memling's masterpieces all housed within one of Europe's oldest medieval hospitals. Our afternoon continues with a visit to one of Bruges' oldest chocolatiers, where we'll learn about the artistry and traditions of Belgium's most mouth-watering export. After a free afternoon, we'll regroup for a tour of Bruges' oldest brewery to learn about what makes Belgian beer famous around the globe and enjoy a taste ourselves. The remainder of the evening is free to find the perfect Belgian dinner. No bus. Walking: strenuous.
Day 5: Free Day in Bruges
Today is yours to explore Bruges. Armed with your Bruges Museum Pass, you'll have free entry to any four museums — including the masterpiece packed Groeninge Museum. You may decide to go on a culinary scavenger hunt tasting your way through a myriad of Belgian specialties. Or you can hop on a bike and take a wonderful hour-long ride along a tree-lined canal to the nearby small town of Damme. The choices today are endless. No bus. Walking: light to strenuous (your choice).
Day 6: Challenging the Sea
Today we'll discover how a country stays dry when nearly half of its land is below sea level. Over centuries, the Dutch created an immense system of dams, barriers and dikes for protection from the North Sea — the Deltaworks. We'll explore these feats of modern engineering culminating with a tour of one of earth's largest moving structures — the Maeslant storm surge barrier — and gain a better appreciation of the fragility of the Low Countries. We'll continue on to the traditional Dutch town of Delft for an orientation walk and dinner together. Sleep in Delft (2 nights). Bus: 5 hrs. Walking: light.
Day 7: Delectable Delft
This morning an in-depth walking tour with a local will give us a personal introduction to Vermeer's hometown including the massive Gothic New Church, where generations of the ruling House of Orange are buried and revered. We'll also visit a workshop to discover the qualities that make Delftware so dear. The rest of your day is free to explore the many other charms of Delft or take a short tram ride to The Hague, where you can get up close and personal with paintings by Rembrandt and Vermeer at the Mauritshuis, or travel back to an 1880 seaside at the Panorama Mesdag. No bus. Walking: light.
Day 8: Tulips, Countryside and Amsterdam's Red Lights
We'll begin our day in Europe's biggest building — filled with acres of flowers — learning about the worldwide distribution of beauty that begins each day at the Aalsmeer Flower Auction. Then we are off to visit one of the Netherlands open-air museums, a cultural journey into the past to experience first-hand, the Dutch maritime tradition. After lunch, we'll make our way to Amsterdam, where we'll take an orientation walk and enjoy a traditional rijsttafel dinner together. After dinner, we'll window-shop the Red Light District and learn about how the Netherlands regulates the world's oldest profession. Sleep in Amsterdam (3 nights). Bus: 3 hrs. Walking: strenuous.
Day 9: Vibrant and Historic Amsterdam
This morning get chummy with this great city's gabled houses, bridges and canals learning why the Golden Age glimmered so brightly here. We'll take an historic walk through the heart of the city stopping to visit the Anne Frank House for a thought-provoking look at the hideaway of Anne and her family during the Nazi Occupation of the Netherlands. We'll continue our lessons on Dutch tolerance stopping at a local "coffee shop" to learn about this nation's creative, pragmatic approach to drug policy. This afternoon, armed with your Netherlands Museum Card, you'll have the rest of the day free to tackle any number of Amsterdam's wonderful museums. No bus. Walking: moderate.
Day 10: Amsterdam's Art
We'll start the day with a thrill: getting up-close and personal with Rembrandt and Vermeer on our tour of Amsterdam's remarkable Rijksmuseum. You can continue your encounter with artistic genius at the nearby Van Gogh Museum, home to 200 of Vincent's works, with your included museum pass. This evening we'll enjoy our farewell dinner, where we'll share memories and toast new friends. Proost! No bus. Walking: moderate.
Day 11: Tour Over After Breakfast
Breakfast is provided, but there are no group activities today. Amsterdam's Schipol Airport is an easy bus ride away. Your guide will help you with any post-tour planning, leaving you well prepared for the road ahead. Tot ziens!
Itinerary specifics subject to change.
Activity Level
Our tours are physically active! It's an essential part of the Rick Steves tour experience. On our Heart of Belgium & Holland in 11 Days tour — among other things — you'll need to happily...
Carry/roll your luggage over uneven pavement (several blocks possible), on and off public transportation and up stairways to reach your hotel.
Sleep comfortably in historic canal houses with several flights of steep, narrow staircases to reach your room, with street noise and no (or weak) air conditioning.
Be on your feet, walking and standing for up to three hours, indoors and outdoors, in all weather conditions.
After orientation and transportation lessons, be able to navigate towns and cities on your own.
Reviews
Cynthia
Laurel, MD
Tour: 08/27/14
Overall rating:
This was my first tour, and I enjoyed it, I understand trying to pack as much in as you can. However, I tend to like a little more down time and relaxation while on vacation. I understand the need to balance activities, but I would have preferred more history (WW1 , WW2) and less art museums.
Favorite "WOW" moment
"WW1 monuments and battlefield tour"
Neil
Cedar Park, TX
Tour: 08/27/14
Overall rating:
I enjoyed the tour. The orientation walks and dinner the first night in a new place were a good idea. The special tours of the brewery and chocolate shop were excellent. Could have spent another day in Ghent. Could have skipped the Batavia or at least shortened the time there significant, especially in the mall area. We had a friendly, easy-going group which made walking around fun. We should have gotten to the flower market earlier to see more auction action. Our bus driver, John, was excellent
Favorite "WOW" moment
"Bruges was fantastic! So picturesque. I loved the boat ride on the canals. I also liked Zierickzee. We only stopped for a few hours, but food there was significantly cheaper than in the big cities, the locals were very friendly and the town was quite picturesque. We had a nice, sunny day there which probably helped. I really appreciated the tours of the Dutch water works. They were amazing."
Kathryn
Simi Valley, CA
Tour: 08/27/14
Overall rating:
The Heart of Belgium and Holland had a great variety of things to see and do. We enjoyed each city and could have spent more time in each city. The member of our tour were wonderful and it is a part of the Rick Steves tours that we look forward to.
Favorite "WOW" moment
"The "De Halve Maan" brewery tour and our guide,Inge was definitely a "WOW" moment. She was so funny and entertaining. It was something I was looking forward to and it exceeded my expectations. Another "WOW" moment was walking into the Café Restaurant de V in Delft with the Rick Steves book and 4 other people from our tour for dinner. The owner came right over and gave us a wonderful welcome and great service. He also said he has never met Rick Steves before but loves the guy."
Martta
Austin, TX
Tour: 08/27/14
Overall rating:
I enjoyed this tour and thought it was a great trip to some very interesting locations that are often overlooked. This tour desperately needs an additional day in Ghent. I'd like to see 1: Ghent, 2: Brussels, 3: Choose your own adventure - Ghent or Brussels. Individual train tickets for the return from Brussels would be nice. I felt very rushed in these two cities. It was delightful to have an additional day in Bruges.
Favorite "WOW" moment
"My "wow' moment was walking into the Tyne Cot cemetery. In that space you could feel the vastness of the loss of life in the war."
Mark
Portland, OR
Tour: 08/27/14
Overall rating:
As always... educational, efficient and fun.
Favorite "WOW" moment
"Tour of the giant gate to the waterway into Rotterdam... the art of the Rijksmuseum in Amsterdam... the making of chocolate in Bruges... and the waterways everywhere."
Arlene
Charleston, SC
Tour: 08/27/14
Overall rating:
A very nice tour, but also tiring. Some non-stop days from early morning through dinner were especially tiring. (The free day was much appreciated) Also disliked having to transport our own luggage several blocks to/from the hotel at two stops. Our guide Hans was terrific and the group seemed to get along together well. Would have preferred having our coach take us to/from Brussels rather than spending time on tram and train in both directions, i.e. giving us more time in Brussels.
Favorite "WOW" moment
"We saw many impressive sights, but perhaps Flanders Fields cemeteries were most memorable."
Julene
Lake City, MN
Tour: 08/20/14
Overall rating:
The tour was just what we were looking for[INVALID]a directed experience, with knowledgeable guides who could orient us to our location and provide us with the tools (maps, tram and museum passes, and helpful suggestions) that we needed to be able to explore successfully on our own during free time. And what a great group of travelers[INVALID]friendly, prompt and interesting!
Favorite "WOW" moment
"It was a Sunday morning Mass in Bruges. We were welcomed at a sparsely attended service in a densely populated neighborhood that slumbered on that Sunday morning. The service was in Dutch, but we were able to follow the progress and sing hymns with new words. We were offered gestures of peace from friendly faces, and felt part of a larger family, a larger world. I left with a warm heart and a deeper appreciation of the lasting effect of the Dutch Reformation on the Catholic Church."
Leslie
Huntingdon Valley, PA
Tour: 08/20/14
Overall rating:
lots of great times --wonderful fellow travellers, riding the trams in Belguim and Holland, being at the Rijksmuseum, free time to soak in local culture, great guides, great planning of the whole experience, actually learning everyone's names
Favorite "WOW" moment
"everything was a wow [INVALID]some of the special small wows were WWI battlefields, walking into the North Sea, having a mussel making demonstration in Brugges, going to small towns, having a picnic on a Holland roadside, seeing Vermeer paintings, riding the trams [INVALID]especially to Den Haag and the Merithouse, the Ann Frank House without the long lines and the Rijksmuseum"
Marcia
Wichita, KS
Tour: 08/20/14
Overall rating:
Another fantastic Rick Steves tour, our 9th. For us, it's the ideal way to travel internationally!
Favorite "WOW" moment
"The spur-of-the moment stop to wade in the North Sea and gather sea shells. Our guide, Hilbren, said he'd never seen the sea so calm, so he asked the driver to pull over for an impromptu stop. Later, we had a picnic lunch by the side of the road, overlooking the inlet. Hilbren provided delicious treats and our driver, Philipe, had wine, beer, soft drinks, bottled water and cups of soup available for purchase. What a pleasant day on our way to Amsterdam!"
Candyce
Yuba City, CA
Tour: 08/20/14
Overall rating:
Overall the tour was very good. I would definitely change the itenerary and start in Amsterdam and end in Ghent. I am very high energy, but even I was exhausted by the time we got to Amsterdam and it is the place where I needed the energy. After being in much more mellow and quaint locations, it made Amsterdam seem loud, dirty, and less attractive than the other cities. Ending a tour on a softer note would be better.
Favorite "WOW" moment
"There were many."
Meschelle
Live Oak, CA
Tour: 08/20/14
Overall rating:
It was nice to have the historic city tours preplanned with additional tours at specific locations.
Favorite "WOW" moment
"Flanders field was a surprise for me that I had not expected. Our tour guide that day was fabulous, and one if the best on the trip. The cemeteries were beautiful. The fact that it rained most of that day only added to the somber mood of the visit. It was beautiful."
Ted
Wichita, KS
Tour: 08/20/14
Overall rating:
Our 9th Rick Steves Tour was another success. Great guides, great group and great cities. This trip was filled with "the little things" that set these Tours apart from the competition, i.e., surprise picnics, walking in the North Sea, mussels at the hotel, parties, etc. With museum passes, meals, tram passes, train tickets, and all the rest, I feel that we get great value from our Rick Steves Tours.
Favorite "WOW" moment
"Seeing the activity at FloraHolland. Close second was seeing Fabritius' The Goldfinch at the Museum in The Hague."
Daniel
Concord, CA
Tour: 06/25/14
Overall rating:
Great experience! We will go again on another Rick Steves tour. While we had been on another RS Tour, most in our group had been on multiple trips with 3 or 4 tour members having been on as many as 5 tours. Not many products or services have such a loyal following which is a testimony to the overall quality of the tours which are thoughtfully designed and well executed by a knowledgable, eloquent, enthusiastic, fun home grown guide (Nina) who works seamlessly with expert bus driver (Danny).
Favorite "WOW" moment
"1. Flanders Field American Cemetery; 2. smoked cod at outdoor museum in Netherlands (tasty!) 3. Ghent 4. Refurbished Reijksmuseum with wonderful local guide 5. Belgium beer 6. impromptu stop on North Sea 7. bike riding in Bruges past working windmills 8. Bruges brewery tour with hilarious guide 9. Nina's impromptu Bruges "stroll" 10. watching the World Cup with the locals and still managing to not totally understand soccer's offside rule! 11. watching the flock of parrots @ Amsterdam hotel"
Benjie
Wytheville, VA
Tour: 06/25/14
Overall rating:
Nina was an excellent tour guide, organized and very personable. The only thing that would have made it more enjoyable would have been to provide the tour guide with an audio system with ear phones for the tour group.
Favorite "WOW" moment
"No WOW moments. Very enjoyable tour, loved the people, the food and the architecture."
Sam
Tucson, AZ
Tour: 06/25/14
Overall rating:
Great tour ... Nina was a tremendous tour guide. We saw many wonderful sites. The food was great and the extras like the tram pass in Amsterdam and museum cards were great. Definitely worth the money
Favorite "WOW" moment
"Going to the North Sea was a very pleasant surprise. The visit to the Rijsmuseum was great especially since our museum guide was incredibly knowledgeable"
Patricia
Wytheville, VA
Tour: 06/25/14
Overall rating:
This trip was excellent in every way! Nina is a fantastic guide, full of knowledge and interesting stories. We were able to see the high points of every city and still have plenty of time to explore on our own. This tour was everything that we wanted it to be!
Favorite "WOW" moment
"My favorite "wow" moment was surprisingly the day at Flanders Field. I wasn't that interested in WWI history until I got there and heard the stories and saw the graves. It became so real to me. It totally changed how I felt about the war. I could have stayed there for days."
James
Littleton, CO
Tour: 06/25/14
Overall rating:
The tour was enjoyable and educational. Our smaller city visits were particularly gratifying. Amsterdam was somewhat disappointing. Its museums were wonderful, but it lacked the smaller cities' charm. It seemed just another congested metropolitan area. The optional (Expectedly, everyone went) red light district and coffee shop tours showed only that the practices were less pervasive than understood. The outdoors museum was rather duplicative of Williamsburg and Mystic Seaport in the States.
Favorite "WOW" moment
"There were three. First, Flanders Fields demonstrated how little we knew about WWI. It no longer seemed "so long ago". Our visit had a profound effect on all. Our visit to the historical North Sea was a whimsical adventure arranged by Nina, and our tour of the Delta Works was fascinating. All unique and invaluable experiences."
Timothy
Moorpark, CA
Tour: 06/25/14
Overall rating:
This tour is everything I expected from Rick Steves' Tours; my high expectations were completely met. The composition and size of the tour group was excellent. All of the people on the tour were active and personable, there were no grouches or "Ugly Americans," and the leadership was brilliant. The excellent weather also helped. The itinerary was appropriate and consistent with the Rick Steves philosophy. The pace of the tour was active and appropriate (and as advertised!).
Favorite "WOW" moment
"The tour of Belgium and the Netherlands was full of "wow" moments; I have to admit that my biggest surprise was the excellent local cuisine. I was expecting amazing beer and chocolate (though usually not at the same time), but the other local food was interesting and very good. I wasn't looking for a culinary tour, but this isn't a bad tour for foodies. Nina often passed around yummy local treats, too. The Flanders Fields tours were interesting and (for me) a very pleasant surprise."
Jean
Tucson, AZ
Tour: 06/25/14
Overall rating:
This was our first tour of this kind and we couldn't have been more pleased. We lucked out with terrific weather, a great group and the best guide. We felt well prepared and liked the free time to slow down and explore on our own. Looking back, we would' have skipped the day trip to Brussels which was our least favorite spot. But since it was at the beginning our tour we felt it was more important to be with the group and get to know how it was all going to work.
Favorite "WOW" moment
"Favorite times on the tour included our tour at Flanders Fields. That was unexpected for me. The history and being at the sites was so moving. The guide was superb. Our brief stop at the North Sea was great, spontaneous and fun. Tour at the Rijksmuseum was fascinating. Delft was my favorite city, so full of charm."
Thomas
College Station, TX
Tour: 06/25/14
Overall rating:
Very good, lots of interesting things, good on the water management in the Low Countries, particularly the Dutch engineering, great on the art, particularly the teaching museum experience, some new food, a good mix of people and places
Favorite "WOW" moment
"The day along the Dutch dikes and water projects. It was one thing to know about them, another to see and get up close to them."
Beth
Moorpark, CA
Tour: 06/25/14
Overall rating:
This tour was outstanding. It provided an enjoyable combination of beautiful art and architecture, informative history, lovely scenery and yummy food. Our tour guide and all of the local guides were so friendly and knowledgeable. The pace was active, but overall the trip seemed very relaxing. I am so glad that I spent my vacation visiting these beautiful countries.
Favorite "WOW" moment
"My favorite moment was watching everyone in our group take off their socks and shoes and dip their toes in the North Sea. I don't think any of us expected such a warm and beautiful day in the Netherlands. Our driver didn't even mind all the sand we tracked back into the bus."
Joyce
Cumberland, RI
Tour: 06/25/14
Overall rating:
Favorite "WOW" moment
"When I realized the number of times that I was saying "it's interesting that they...,", "it's amazing that...""
Susan
College Station, TX
Tour: 06/25/14
Overall rating:
Overall we had a wonderful tour experience. The guide, Nina, was excellent and the other tour members were quite convivial. That said, we chose this tour because of the timing and a general interest rather than a passion to see this area of Europe so although we enjoyed ourselves it did not have to impact our previous tour experiences did. As usual there were hidden gems that we never would have found ourselves and the location of the hotels were fantastic.
Favorite "WOW" moment
"My favorite "wow" moment was the north sea beach. The experience was totally unexpected. Also appreciated the Dutch storm surge barrier in Maeslant."
Laurie
Woodinville, WA
Tour: 06/18/14
Overall rating:
This was the first organized tour my husband and I have ever taken. We were always afraid that a tour would leave us wishing we could have more time at the sights we found interesting and that we would feel llike we were cattle being hearded in a large group. We didn't feel that way at all. There was a good balance between tour time and free time. Also the group was small enough and our tour members were also as interesting as the sights.
Favorite "WOW" moment
"I feel my wow moment was enjoying the company of our fellow tour members. My husband and I had always traveled alone and it was nice to have others share in the experiences with thoughts and conversation."
Denise
Mentor, OH
Tour: 06/18/14
Overall rating:
Belgium and the Netherlands seem quite similar so there wasn't the big change in scenery, architecture and culture that we have seen in our other trips. This was our 6th trip with RS and I wouldn't do it any other way. Rick's philosophy of foreign travel as Americans is perfect for us and those we traveled with. As a group this was one of the best. Accommodations, guide, sites all top notch.
Favorite "WOW" moment
"Interestingly, we got to visit the Atlantic Seawall in Oostende due to an event at Franders Fields making it unavailable. The guide, who lived in the area as a child, was fabulous, as is the site. A second wow, was definitely the Maeslant storm surge barrier."
Craig
Mentor, OH
Tour: 06/18/14
Overall rating:
A great tour all around - great tour guides and great tour group. Mild weather, good food and good beer. My wife and I found the entire trip very entertaining and relaxing.
Favorite "WOW" moment
"I was impressed at the level of commitment that the Dutch have made to holding back the sea. The moveable seawall outside of Rotterdam was amazing. I think New Orleans could learn a lot from The Netherlands."
Mikie
Portland, OR
Tour: 06/18/14
Overall rating:
Hilbren was terrific and the group was very friendly and there were no grouches. I really liked Ghent. The hotel in Delft had a very unpleasant bathroom. It would have been nice to see another town in Holland.
Favorite "WOW" moment
"The Aalsmeer flower auction was amazing. The french fries in Belgium were excellent. I didn't think anything so pedestrian could be that good."
Michael
Woodinville, WA
Tour: 06/18/14
Overall rating:
This was the first time my wife and I have been on an organized tour, we have seen the tour groups at place we have been and they were large and herded around like a group cattle. This was not the case with the Rick Steves' tour, we had a great tour guide who was very knowledgeable and personable as well. It was a small group of very interesting people who all made the trip better. We enjoyed it enough that we are planning on taking another tour next year, with Rick Steves' of course.
Favorite "WOW" moment
"The fact that the group added to our experience. There were people who had been to this area before and added their own insight to what we were seeing, there were people with questions that I found very interesting that I would not have thought of asking. I think that each and every one of the people in our group added to the tour and made it more enjoyable for us, kind of that whole shared experience thing."
Ted
Northfield, MN
Tour: 06/18/14
Overall rating:
Really enjoyed the two weeks. Great weather and great fellow travelers.
Favorite "WOW" moment
"Out time in Ghent and especially outré time ion Bruges.What a remarkable treasure."
Beth
Elgin, SC
Tour: 06/18/14
Overall rating:
The tour was a wonderful way to experience the history, culture, geography, cuisine, and people of Belgium and the Netherlands. And all of that with knowledgeable guides, nice hotels, a comfortable bus, and compatible fellow travelers. I felt that the special qualities of these two countries were revealed to us as we traveled across Belgium and the lowlands of the Netherlands. How their geographic placement impacted their history and current policies was evident.
Favorite "WOW" moment
"Several "wow" moments while viewing the art of the Flemish Primitives, the Dutch Masters, and Van Gogh. Thanks so much for providing the opportunities to enjoy my favorites from the art world. Seeing "Night Watch" and having it interpreted by such a compelling museum guide was a thrill!"
Michelle
Northfield, MN
Tour: 06/18/14
Overall rating:
We had a great group to travel with and a very good guide. This is our 3rd RS tour and it did not disappoint! We loved the itinerary and especially enjoyed being in Belgium, which we hadn't known much about before this trip.
Favorite "WOW" moment
"The picture-postcard towns we visited were wonderful and all deserved "wow's." I think the time I actually said the word "wow" out loud was at the Riks Museum when we walked into the room with the "Night Watchman" painting. All of the museum tours on this trip were outstanding, as were the guides."
Jeanette
Lemont, IL
Tour: 06/18/14
Overall rating:
I was pleased with our trip and tour. I like the guide and the people we travelled with. There were a couple of days we were walking to basically kill some time and that really wasn't necessary. Several others on the tour agreed. He could have easily let us on our own and we could have met him later.
Teresa
Kissimmee, FL
Tour: 06/18/14
Overall rating:
We had never given much thought to touring Belgium and Holland until we came upon this Rick Steves tour. We really enjoyed both countries and learned a lot! It is quite an eye opener to Americans to get a glimpse of the history and accomplishments of these small countries who have contributed so much to the development of commerce and art. Oh yes, and also waffles, beer and chocolate. Our tour group was very easy to get along with and the mix of people really added to the fun of the trip.
Favorite "WOW" moment
"Two things in the Netherlands blew me away: (1) the history of the great flood of 1953 resulting in the development of the Maeslant storm surge barrier and (2) the FloraHolland Flower Exchange. The Maeslant barrier was an incredible feat of engineering, which proves that the Netherlands understands how to live with water better than any other country in the world. The flower exchange was incredible. It was like the NYSE but for the world's most beautiful flowers."
Edward
Kissimmee, FL
Tour: 06/18/14
Overall rating:
Hilbren consistently delivered more than our expectations or what we felt he was responsible for.
Favorite "WOW" moment
"The "extras" that Hilbren delivered. It was very nice, and unexpected, that he had a discretionary budget to provide a picnic, the shrimp croquettes at his own neighborhood bar, and the mussels aperitif in Bruges (that was the real high point item)"
Julie
Turlock, CA
Tour: 06/18/14
Overall rating:
This was my second tour with Rick Steve's. Once again very impressed!
Favorite "WOW" moment
"The whole trip! Something new around every corner!"
Brent
Turlock, CA
Tour: 06/18/14
Overall rating:
There was a bit more walking on some days that I don't think we all expected. It was not the tour guides fault just that some of the planned timed events were off so that alternate items or juggling of events had to happen. This caused use to scramble a bit more that I thought we would
Favorite "WOW" moment
"Free time on a Rick Steves tour is always a wow time. We were able to explore Brugge in more depth and found it to be really extraordinary."
Carol
Bellevue, WA
Tour: 05/21/14
Overall rating:
It was a very educational tour. It is so great to see historical places first hand. Traveling just before Memorial Day made the WW1 and WW 2 sights particularly poignant. A more serious tour then others we have been on. So many museums, although that is how we spent our two extra days seeing more. The Museumcard was amazing. I particular enjoyed walking the neighborhoods on our own time and seeing how these residents live. Wondering if I would enjoy living their life style.
Favorite "WOW" moment
"I don't think I have just one. As a group, we saw and learned so much, I enjoyed our time alone absorbing the culture. Perhaps Holland and Belgium's lifestyle is just not that different from ours. As opposed to Sicily or the south of France or Eastern Europe. Of course the battle fields and cemeteries are very sobering. One thing I found interesting is the praise "where poppies grow" as I have always heard is in fact "where poppies blow" on the bronze plaque of John McCraes poem at Ypers."
Patti
Santa Ana, CA
Tour: 05/21/14
Overall rating:
Well, I guess overall this trip would get a "B". The countries we visited were interesting and the tour kept up a good pace so we were able to see a lot as is usual with a Rick Steves' tour. The group was fabulous - lots of well-traveled people. We were on our fifth RS trip but we had one couple on their 13th trip, two couples on their 9th RS trip and on down the line. As a result, everybody knew what to expect and was always on time, courteous, helpful, etc.
Favorite "WOW" moment
"I was blown away by the dignity of the Anne Frank House. It was such a thoughtful presentation of a very sad subject. It was quite crowded the day we visited yet you could hear a pin drop. I think everybody was in awe of the exhibit. Also, the city of Bruges was a wow."
Dennis
Portland, OR
Tour: 05/21/14
Overall rating:
The guide was great. The tour was enlightening. The food was better than expected; quite good in fact. Rain a few days did dampen our experience some, but what can you do.
Favorite "WOW" moment
"The visit to Bruges was the highlight. This well preserved, very old, town was great to wander around in. Though I confess I got easily lost which is unlike me. We had some of the best dishes ever at a centralized restaurant that I expected to be touristy. But it was outstanding, omelets, salads for example. It is called Morzarthuys."
Maureen
Palm Desert, CA
Tour: 05/21/14
Overall rating:
Favorite "WOW" moment
"The visits to the museums, Royal Museum of Beaux Arts, Memling Museum , Rijks museum were excellent and the guides were fabulous. Also the Ann Frank house was very moving. Even though the Maeslant Storm Surge Barrier talk was way too long, it was some of the most important information we got from our trip. It certainly put a lot of perspective on what is happening around the world with regard to this subject."
Randall
Roseville, MN
Tour: 05/21/14
Overall rating:
I gained an added appreciation for the intensity of the infrastructure needed to maintain economically feasible land below sea level. The canals, water management (e.g. flood plain, dams, dike, hydraulic gates), disaster readiness (e.g. the Maeslantkering storm surge barrier). The beer was terrific as well as the chocolate. I found a Trappist beer at the local liquor store so I could continue to enjoy it at home.
Favorite "WOW" moment
"How the canals and dikes are able to coexist with day to day living and transportation, including the fantastic train / tram systems in Belgium and The Netherlands."
Diana
Poway, CA
Tour: 05/21/14
Overall rating:
We very much enjoyed our fellow tour members. This was an experienced group of RS travelers with varied backgrounds & interests, the kind of great travel group we've come to expect from RS tours. The overall itinerary was good with the exception of the Batavia. Including time in the itinerary for the Magritte & Music Museums in Brussels would have been valuable. The majority of local guides were outstanding. Ultimately, a more effective RS tour guide would have greatly enhanced this trip for us.
Favorite "WOW" moment
"Our day in Flanders was outstanding starting with a visit to the WWI American cemetery and a guided tour led by the cemetery director...a unique and meaningful experience. For the rest of the day, we had an excellent local guide. Gen was knowledgeable and passionate as she related the stories surrounding the WWI battles. She made the events in the Ypres area come alive with her articulate storytelling. Another "wow" moment was the visit to the Maeslant Barrier...another excellent local guide."
Douglas
Palm Desert, CA
Tour: 05/21/14
Overall rating:
The overall experience was wonderful. The various sites we visited were so typical of the region and helped present the past and the present life in the area. Getting to hear several local speakers brought the message home,that the residents of this area are historically determined to reside in this challenging geographic location. The tour helped me to more fully appreciate the countries we visited and their place in world affairs past and present. Our guide efficiently facilitated this .
Favorite "WOW" moment
"The flower market was monumental."
Kevin
Walnut Creek, CA
Tour: 05/14/14
Overall rating:
Local guides were very good and I enjoyed the variety along with our guide, as this system seems to keep things very interesting. This tour may try to cram too much in to the schedule.
Deborah
Auburn, CA
Tour: 05/14/14
Overall rating:
We did not know exactly what to expect. We read the guide book which helped a lot. Everything went smooth. We could not quite keep up and got tired out. We felt very much at home in each place. Hans is a perfect guide and really treated us like family. Others in our group had been on several other Rick Steves' trips, and I can understand why. I would like to take other trips, and would feel comfortable even going without my husband. Suggestion, print local restaurants
Favorite "WOW" moment
"My husband Karl asked Hans about a statue of a Hoorn man somewhere in a park in Brussels. Hans said that we are almost there, so we can see it for ourselves!"
Camille
Evans, GA
Tour: 05/14/14
Overall rating:
My first RS tour and won't be my last. I've followed Rick's guidebook plans for years and visited most of his suggested places on my own but after experiencing a tour, I'm sold! Had a receptive guide, he added a lot to the tour I felt. The small group was comforting, got to know most people and friends with a core group whom I will visit here at home. Planning my next tour already, Turkey next spring!
Favorite "WOW" moment
"Ghent, never heard of it before, unlike Bruges and Brussels, but it was fab!"
William
Port Ludlow, WA
Tour: 05/14/14
Overall rating:
While some parts of the tour were outstanding, overall it was good. Would have appreciated more time in Brussels, perhaps by adding a day, or less time in one of the other locations. The amount of time devoted to the Flanders Fields was a bit much - the one graveyard would have been sufficient.
Favorite "WOW" moment
"The favorite moment(s) at least two: 1) Tour of the Rijksmuseum in Amsterdam with our local tour guide who was perhaps the best we've ever seen in our many river cruises plus Rick Steves tours an d 2) our arrival dinner in Amsterdam at the Indonesian Restaurant where the food was better than excellent and the service was wonderful."
Carl
Seattle, WA
Tour: 05/14/14
Overall rating:
Very well managed, enjoyable tour. Found every local I talked to spoke English, or Spanish in some cases. Generally very friendly people, willing to talk about local conditions, provide directions, be helpful. Personal contact one of the best experiences of the tour. A delightful mix of human origins in these two countries.
Favorite "WOW" moment
"I'm not a "wowable" person, but found the dike and storm gate system a remarkable feat of engineering - now trying to research this to get a better picture of it all. Always impressed by the bus drivers' ability (on all tours) to bend those big buses around corners and along those narrow old town streets!"
Roger
Orlando, FL
Tour: 05/07/14
Overall rating:
It was great. I have nothing but good memories. The leader, Mr. Hilbrum, was perfect. You do not need to change a thing.
Rosemary
Fairfax Station, VA
Tour: 05/07/14
Overall rating:
I thought the tour was outstanding. I would have preferred to spend another day in Brussels. I would recommend knocking out the Batavia tour and adjusting more time in Brussels. It was hard for some people to get around inside the boat. I can't imagine touring that boat in the heat of the summer.
Favorite "WOW" moment
"My WOW moment was visiting the Flanders Field American Cemetery and Memorial. I recently retired as a Civilian from the Department of Defense and was extremely touched by the presentation of the Superintendent and learning about our World War I Veterans. I visit Arlington Cemetery often. Flanders Field touched me just as much as Arlington Cemetery touches me and Flanders Field is just as beautiful!"
Susan
Orlando, FL
Tour: 05/07/14
Overall rating:
Our tour was a wonderful combination of history and art together with experiencing the present. We had a terrific guide and friendly group that made walks, dinners, and bus rides fun.
Favorite "WOW" moment
"Touring the Anne Frank House was a powerful experience. That, along with my individual tour of the Dutch Resistance Museum, gave me new depth of understanding of that history."
Bob
Tulsa, OK
Tour: 05/07/14
Overall rating:
This is a completely different tour experience than most of my previous RS tours (usually involving Italy) but thoroughly enjoyable. As usual, the tour guide (Hilbren) and the fellow tour group members were outstanding. Although it rained at some point on about half the days, it never interfered with our tour experience. All the highlights that we expected and looked forward to were included and experienced with a great guide and new friends who were fun to be with.
Favorite "WOW" moment
"Of the many "wow" moments, the Anne Frank house would have to top the list. I would strongly recommend watching the excellent BBC produced movie prior to the trip to maximize the impact of this experience. Each of the 5 cities we experienced (Ghent, Brussels, Bruges, Delft, & Amsterdam) also qualified as "wow" moments, starting with arrival at each city."
Rebecca
Aptos, CA
Tour: 05/07/14
Overall rating:
We are glad we had a full day in Ghent to explore on our own because there was no time during the tour, even though we were staying in Ghent for two nights. Time was wasted getting to Ghent from Brussels and then returning the next day. We are also glad that we stayed in Brussels on our own for two days. Most parts of tour are outstanding like the choice of cities and places we stopped. The tour of the rebuilt ship was too long and Flanders Fields tour was good, but too many stops/long.
Favorite "WOW" moment
"Many wows! More bicycles than cars w separate bike lanes/red lights/signs. Innovative bike designs/cargo. That the Dutch speak English and will answer you, but do not show eye contact, smile, or converse unless doing business with us. lots of young people, lots of kids, babies, and pregnant women. Our bike rides to Muiden, Muiderslot Castle, Haalem, The North Coast, Damme, Beersal Castle, Delft Castle, and all the towns we stayed in. The Dutch water barriers, Canal Museum, Jopen Brewery."
Patricia
Sacramento, CA
Tour: 05/07/14
Overall rating:
This tour, like the other ETBD I have taken, has met and/or exceeded my expectations. Your company has a knack for choosing the right guides, hotels and itineraries.
Favorite "WOW" moment
"There were so many, but my favorite would have to be visiting Brugge. Many parts of the city look to me as they would have looked in the 17th century. The homes and former guild houses, many nestled on canals, seemed so tranquil. Everywhere you looked, there was another peaceful setting, just beckoning one to be still a little longer and just enjoy."
Chris
Tulsa, OK
Tour: 05/07/14
Overall rating:
A wonderfully paced, informative, and FUN tour! This was the second Rick Steves' tour that my wife and I had the good fortune of accompanying my father and step-mother on. Their company was wonderful and, as with our first experience, the company of many of the other tour group members enhanced our vacation with many positive personalities, varied interests and keen intellects, and many great senses of humor. Our tour guide, Hilbren embodied all of these aforementioned qualities.
Favorite "WOW" moment
"I cannot surmise a favorite "wow" moment because there were so many from start to Finnish! Flanders Field was sobering and the Half Moon Brewery in Bruges was intoxicating (and our brewery guide, Inge, was hilarious). Ghent was great, Delft was peacefully beautiful (and the hotel room was extraordinary), and Amsterdam is indescribable. Where else can you view Rembrandt's masterworks in the morning, enjoy a smoke in a coffee shop that afternoon, and watch the debauchery of the RLD that evening?"
Hannah
Jenkintown, PA
Tour: 04/30/14
Overall rating:
Our guide, Hans, was the quintessential Rick Steves tour guide - very knowledgeable, encouraged our independence, full of good stories about the countries and towns we visited. A good mix of activities - cultural, historical, local color.
Favorite "WOW" moment
"The Maeslant Storm Surge Barrier - I had not known about that before and was amazed at the engineering marvel - and the thought that went into the whole project and how it is managed. We had an excellent guide who told us the story."
Phyllis
Newbury Park, CA
Tour: 04/30/14
Overall rating:
I learned so much more than I ever expected and I was thrilled. I believe I got a glimpse into the historical significance of Belgium. Thank you to Daneille who brought the city and the art alive. The most moving day was Flanders Field and nothing will compare with that experience because the local guide brought it to life. The Delta Works were amazing and I am glad the trip included such a significant structure. The gardens, the boat, Amsterdam and the museums were wonderful.
Favorite "WOW" moment
"Flanders Field, see above! I felt like I had been there"
Frank
Newbury Park, CA
Tour: 04/30/14
Overall rating:
The tour would have been "outstanding" but for our day in Brussels. Bruges, Flanders Fields, the Deltaworks, Keukenhof and the Rijksmuseum all got A+'s. Superb guides and remarkable sights to see. A very good mix of art, history, culture, engineering and gardens. The one negative was that the Royal Museums were closed and the alternative trip to the King's Greenhouses was a logistical nightmare that should not have happened.
Favorite "WOW" moment
"There were many "wows" but Keukenhof was the most spectacular. We had adequate time to meander about and take it all (well, almost all) in. There's nowhere else where one can experience this. For me, the recently renovated Rijksmuseum was the runner-up. The collections are beautifully displayed and our local guide provided tremendous insight into the background of the paintings we saw. I could have listened to him for 2 more hours."
Diane
New Bern, NC
Tour: 04/30/14
Overall rating:
It was a very thorough and fun tour. Ghent was my favorite place. I think the tour may be better if started in Amsterdam and ending in Ghent. Saving the best for last. Also, Haarlem should be an overnight
Favorite "WOW" moment
"Seeing the lovely and peaceful canals. Bike riding in Brugges."
Glenn
Tampa, FL
Tour: 04/30/14
Overall rating:
Belgium and Holland were wonderful! However, i would recommend spending time in Brussels prior to the tour as this tour spends a very time in Brussels. Ghent was a wonderful gem!! Bruges was great as well. I would have enjoyed the Netherlands Open Air museum rather than the old ship visit that we did, but the ship was interesting. I felt that we could have had more time in the Dutch countryside OUTSIDE of Amsterdam.
Favorite "WOW" moment
"Lunch on the canal side in Ghent as well as lunch in Zeirikzee. Zeirikzee was BEYOND delightful as a quaint fishing village with a charming square! The evening walk in Bruges was also a thing of beauty! Such a beautiful town!"
Wilson
Spartanburg, SC
Tour: 04/30/14
Overall rating:
Well planned with one exception. There was a holiday in Brussels and everything was closed. Hans substituted the Royal gardens which were marginally interesting. Busses were also on holiday schedule. I would have liked to have seen the EU center even if from a bus. It was one of the reason I chose this tour. A local guide who could tell us about the current state of EU politics would have been great. Especially enjoyed the demonstrations at the chocolate store and the brewery tour.
Favorite "WOW" moment
"Definitely the Messingen gate which was mind boggling. It is one of the wonders of the world. It was worth going on the tour just to see the dykes and the gate. The chocolate shop Sukerbyce in Bruges was wonderful and wish I had saved my chocolate money for their chocolate which was outstanding instead of Neiderman's. Flanders field was very moving and the war museum down the road was well worth the visit."
Val
Coeur D Alene, ID
Tour: 04/30/14
Overall rating:
A terrific overview! Always busy with a wide variety of outstanding experiences. Amsterdam was an interesting counterpoint to the small towns on the tour. Brussels was a letdown for me as logistic challenges, holiday crowds, weather combined to make the day more effort than edification. All local guides were outstanding, enhanced tour experiences greatly! Loved seeing so many artworks & places I have read about all my life. Liked Bruges, Delft, Flanders Field best.
Favorite "WOW" moment
"Saw something "wow"-worthy at every turn. Art - not just inside the incredible museums though Van Gogh & Rijksmuseum were very special WOW experiences. Architecture, uncountable "eye-catchers", Dutch ingenuity managing water/land reclamation, Keukenhof, Anne Frank house, all provided many Wow moments. Most moving, thought provoking and significant of all was our Flanders Field day - way beyond WOW."
Rick
Coeur D Alene, ID
Tour: 04/30/14
Overall rating:
After 8 previous ETBD tours our expectations were high. This tour provided what we wanted. Belgium and Holland were areas we have had on our list for some time. The cultural and geographic experiences were enlightening. The art, the classic cities, the people, and our group made it delightful. Local guides were outstanding and among the best of all our tours. I was especially delighted and surprised by our college student guide in Delft. She was outstanding with her historical knowledge.
Favorite "WOW" moment
"Many things!! One that sticks in my mind was in Flanders Field at the German Cemetary where it was pointed how soldiers were re interred after the war in a mass grave of over 40,000 remains. WOW! The Rijksmuseum was great. To see and learn of the Masters from centuries of Dutch art...amazing. And of course the mastery of the lowlands to enable two countries to live and grow."
William
New Bern, NC
Tour: 04/30/14
Overall rating:
The overall Rick Steves' concept of teaching independence held true thru this tour. We have been on several and like the concept. The hotels were well places in city centers and of good quality. Included tour extras were plentiful and fun. The tour covered cities Ghent, Bruges, Delft, and Amsterdam. The itinerary was well balanced with both old and newer history.
Favorite "WOW" moment
"There wasn't a WOW moment, the entire tour was exciting and a very educational experience."
James
Sherwood, OR
Tour: 04/30/14
Overall rating:
This was my 5th Rick Steves Tour and all have been excellent. I enjoyed the information we received on WWI, WWII, the Deltaworks, the world renown painters, and the history of Brussels and Amsterdam. I especially enjoyed our time in Bruges, Ghent, and Delft. Since we visited Brussels before the tour, we stayed in Ghent the 2nd day and saw the Castle and a museum. This was more appealing than a round trip train ride for the day in Brussels.
Favorite "WOW" moment
"There was no "one" WOW that stood out. I enjoyed the day in Flanders, the visits to (1)the Deltaworks project(dam), (2)the Maesland storm surge barrier), and (3)the visit to the ship the Batavia. Each visit provided input and information into life in the Netherlands over the years. The day in Flanders provided me more information on WWI. That was quite emotional for me."
Kevin
Wilsonville, OR
Tour: 04/30/14
Overall rating:
As usual Rick Steves tour participants are congenial and well rounded. No grumps. The only tough day was in Brussels where transportation to the garden was less than the best.
Favorite "WOW" moment
"I have a difficult time with superlatives and "wows". My favorite beer is the one in my hand. I was really impressed with the Flanders Field American Cemetery......maybe because my brother is buried in the American Cemetery in Manila. Also of note was the explanation of the dam and dike works and the long term planning by the Dutch. A highlight of my trip, although not included in the tour, was the viewing of Van Eyck's "adoration of the mystic lamb""
Marion
Sherwood, OR
Tour: 04/30/14
Overall rating:
Our tour was wonderful and thanks to excellent guides and Rick's book ( plus reading such books as Amsterdam by Russel Shorto) very enlightening. The people on our tour were friendly and upbaet travelers - ffun to be with. Philip was the best bus driver we have ever had on any tour. He drove safely - also was knowledgable and interacted with the group. We enjoyed his Belgian background.
Favorite "WOW" moment
"I had lots of favorite moments - probably "wows"would include the visit to Flanders Field and seeing the Maeslant storm barrier. The Dutch are an amazing people - they are a WOW!"
Carolyn
Boston, MA
Tour: 04/30/14
Overall rating:
Probably because I went with a broken ankle and a cane , my memories of the trip get better with time. I loved Ghent for its peace and quiet. I loved Bruges for its place in 16th century history. I was very tired by the time we got to Amsterdam, and I hope to return as there is still more to see. Hans.
Favorite "WOW" moment
"The van Gogh Museum"
Barbara
Monmouth, OR
Tour: 04/30/14
Overall rating:
My tour through Belgium and The Netherlands introduced me to a part of Europe that was largely unknown to me. The trip was a perfect mixture of history, culture, famous sights and engineering (especially in The Netherlands!), and, of course, great food and drink! Added to that was the excellent leadership of our guide, Hans, and the insights of various other short-term guides that met us along the way. An unexpected bonus was the company of fellow travelers who enjoyed learning about our world.
Favorite "WOW" moment
"I wouldn't leave a bit of the tour out, but I was especially struck by our day touring Flanders Fields. Visiting the American WWI cemetery was especially poignant. The sacrifices and costs of the war could never be illuminated so well in a history book as in seeing these sites in person. It has left a searing memory and is the part of the trip I talk about most with friends and family back home."
Nyuk-Hon
Sherwood Park, AB
Tour: 04/23/14
Overall rating:
Well planned and guided by a very experienced guide Rollinka. Truly enjoyed the expereince and the sights & sounds of the places we visited in Holland & Belgium. The local guides were first class...sharing much in-depth of history and insights from Flanders fields to paintings in museums, historical buildings & engineering flood control...... A wonderful journey in very good company with fellow travellers whom we met for the first time.....
Favorite "WOW" moment
"It was an experienced to visit first hand the Flanders fields both at the Americans cemetery and the commonwealth cemetery-Passchendaele. The museums of fine European paintings by grand masters in Brussels, Bruges and Amsterdam......... The Tulips at Keukenhof and the visit to a coffee shop (where marijuana is consumed and sold) were wow to us too.........."
Judith
South Deerfield, MA
Tour: 04/23/14
Overall rating:
The trip was well planned, provided the right balance between guided activities/personal time, and was an efficient use of our time. It was a good mix of culture, history, food, art, and sights. Spending 2 nights in each location (one day guided, one day on our own) gave us the opportunity to really explore each town. The camaraderie of our small group and our excellent tour guide/local guides all made for a memorable trip.
Favorite "WOW" moment
"I loved Keukenhoff Gardens, charming Brugges, and lunch with a local family in Zierikee."
Gregory
South Deerfield, MA
Tour: 04/23/14
Overall rating:
Having been on the Best of Northern Italy tour last year and having had such a wonderful experience, gave us high expectations. They were well met, with an experienced guide who was very well organized and a fun group of travelers. There were so many interesting venues beyond chocolate, waffles, and beer that filled each day and evening.
Favorite "WOW" moment
"We came, we saw, and we loved the tulips at Keukenhof Gardens and WOW-Bruges!"
Jonathan
Little Rock, AR
Tour: 04/23/14
Overall rating:
This was my first Rick Steves tour and it will not be my last. Every aspect of the trip was not only well planned but executed magnificently. The hotels were centrally located, clean, and the staff was very responsive to any requests. The free time recommendations as well as food recommendations were always excellent. Our tour guide, Rolinka, was amazing. I have a hard time imagining that anyone could be as good a guide as her. If she is your tour guide, then you'll be in for a treat.
Favorite "WOW" moment
"For me, the wow moment was the first night in Ghent. We took a canal boat ride at sunset and I couldn't describe it as anything but perfect. It was a great way to start the trip and introduce the beauty of the lowland countries."
Neva
Auburn, WA
Tour: 04/23/14
Overall rating:
Our guide was EXCELLENT, one of the best I have had on my 9 Rick Steves tours. Learning the history of the two countries was very interesting and presented well by our guide and the city guides we had. The travel group was a good mix and that is important. I loved experiencing every aspect of the tour. and always the food. The group dinners were delicious and the restaurants chosen were great. We had plenty of free time to explore yet ample group time. Also chatting with locals.
Favorite "WOW" moment
"I had several favorites. Seeing the Van Eyck Altarpiece and the Madonna and Child in Ghent. Everything in and around Bruges, which was my most favorite city on the tour. Visiting Flanders Field and learning about the care of American military cemeteries. Seeing and enjoying Keurkenhof Gardens, and visiting the Anne Frank House in Amsterdam."
Peter
Little Falls, MN
Tour: 04/23/14
Overall rating:
it was my first european group tour and i was completely satisfied. i was very impressed by our tour guide , Rolinka and all the local guides too. the pace was busy but also plenty of free time. it was so nice to have all the museums and tickets covered without and stress or mistakes.
Favorite "WOW" moment
"i loved the town squares of ghent and brugge. it felt urban european and historical all at once."
Laura
Santee, CA
Tour: 04/23/14
Overall rating:
This tour was even better than I could have imagined. My mother and I took this tour to fulfill a "bucket list" destination. We were so fortunate to have Rolinka as our guide. Being from the Netherlands and helping to create this tour, her passion for sharing her country came through each day. The tour was a great combination of history, architecture, culture, art, and modern issues the countries are dealing with. The variety was wonderful and kept our interest the entire time.
Favorite "WOW" moment
"Two favorite "Wow" moments: the day we traveled from Bruges to Delft: demonstrating how the Netherlands is protecting the lowlands (touring the Maeslant storm surge barrier). The second wow moment was visiting Keukenhof Gardens."
Bill
Fort Collins, CO
Tour: 04/23/14
Overall rating:
Travel should be more than simple recreation: it should expand one's consciousness of the world and of one's place in the world. This tour definitely accomplished that. I came away with a much deeper understanding of art, history, and culture. The 17th century Dutch paintings and Michaelangelo's Madonna &Child evoked a stronger emotional response (and appreciation) than I had expected. On a lighter note, this Colorado boy finally learned to regard a 19th-century building as "new."
Favorite "WOW" moment
"It's hard to pick just one, but I will mention the efficient transportation systems that I saw almost everywhere we went. I live near Denver, which contains many cultural amenities, but I rarely go there because the only way to go is to drive a horrible white-knuckle highway. The emphasis on alternate and efficient forms of transportation in Belgium & Holland (bikes, trams, buses, trains) was a delight, and an inspiration for doing better in the U.S."
Janis
Palm Desert, CA
Tour: 04/23/14
Overall rating:
Loved my guide Rolinka. She made my sister and I trip so wonderful.
Favorite "WOW" moment
"Seeing the Ghent altar piece."
David
West Grove, PA
Tour: 04/23/14
Overall rating:
Great from the start. Our guide Rolinka was superior to any tour guide I ever knew. Her knowledge of the tour and her contacts throughout gave us added value. She was instrumental in getting the people on tour acquainted and acclimated quickly and each of us just fed off her cordiality.
Favorite "WOW" moment
"I enjoyed the initial meeting of the tour group. We gave our introductions to those assembled and created expectation which got the tour 'going' in a good direction."
Lisa
Little Falls, MN
Tour: 04/23/14
Overall rating:
The tour was amazing! Our tour guide, Rolinka, made it very, very special. We were able to see many wonderful sites and get an up close look at the culture.
Favorite "WOW" moment
"I loved every bit of the trip! The Keukenhof gardens was my Wow moment!"
Cheryl
San Diego, CA
Tour: 04/16/14
Overall rating:
A great trip through old cities with picturesque canals. Had lots of great food, nice hotels, comfortable bus travel. Each city/special sight had its own excellent and knowledgeable guide, that added information and enjoyment to our activity. Our skillful shepherd, Hilburn, guided, answered questions and gave suggestions.
Favorite "WOW" moment
"Anne Frank house was very memorable and emotional."
Pat
San Mateo, CA
Tour: 04/16/14
Overall rating:
Seldom is something better than you thought it would be but that is the case with the tour we just finished. Hillbren did an outstanding job. He was totally attentive, available, on time and made sure everyone and everything was taken care of. I was amazed that a group of 16 strangers could get along so well for ten days with not one complaint that I heard. Many of the couples on the trip had been on more than one Rick Steves' tour before and commented that this was the best one.
Favorite "WOW" moment
"We came to see the Tulips and the Keukenhof garden was exactly what we wanted."
Suzanne
Stuart, VA
Tour: 04/16/14
Overall rating:
This trip had been on my and my husband's bucket list for years, and we were not disappointed! Our guide was great, people in the group were so compatible & fun; we just had a wonderful time! I loved all the old buildings, the interesting architectural features. Ghent and Bruges, especially, were beautiful cities; I'm so glad they were part of the tour!
Favorite "WOW" moment
"Definitely the Keukenhof Gardens, they were glorious! We were happy we were able to change the itinerary to include them. There were plenty of other wow moments too, so if we had not gone while the gardens were open, I don't think we would have been disappointed."
Ramona
Breaux Bridge, LA
Tour: 04/16/14
Overall rating:
Just a wonderful trip all around!. This was our 9th Rick Steve's tour.
Favorite "WOW" moment
"Many "wow" moments... the canal trip in Ghent, the family owned chocolate candy making tour, the chocolates were DELICIOUS! All of the walking city tours, the local guides were really knowledgeable and interesting, Flanders Fields, fun group of people we were with, Bruges, Brussels, Delft with its wonderful blue and white china, Amersterdam was really a surprise and GREAT! The waffles, beer, pancakes, the meal at the Indian restaurant ! Fantastic!"
Catherine
Aurora, CO
Tour: 04/09/14
Overall rating:
This was my first Rick Steve's tour so I went into it not knowing what to expect. It was remarkable!!!!! I could not envision accomplishing so much in 11 days--my head is still spinning. One cannot see everything, but I feel we saw much to give an appreciation of how remarkable Belgium and the Netherlands are and the people who make-up these countries.
Favorite "WOW" moment
"The WOW moment would be the Keukenhof Gardens and the 7 million blooming flowers. Words do not adequately describe visual panorama of colors that are experienced. The most somber moments would be both the American Cemetary in Belgium and the Anne Frank House. It is so important for all of us to no forget what young people have sacrificed for all of us."
Jodie
Lititz, PA
Tour: 04/09/14
Overall rating:
This was a great tour of the highlights of Belgium and the Netherlands. Our tour guide Rolinka was fantastic as a guide and extremely friendly. The length of the tour was just right. We have been on some tours that were around 16 or 17 days and we found those to be too long. We enjoyed the fact that on the first day in each new area we were given the "tour" and familiarized with the area, and that on successive days we were given free time to explore these areas on our own.
Favorite "WOW" moment
"My favorite wow moment of the tour was seeing Keukenhof gardens at its most glorious peak. The timing of our tour with the blooming of the tulips in the Netherlands could not have been better. We also enjoyed seeing the fields of blooming tulips in the area around Keukenhof. My other wow moment of the tour was visiting the town of Bruges in Belgium. I had seen footage of this town on a Rick Steve's video, and it exceeded my expectations. Also enjoyed seeing the working windmill in Damme."
Brian
Lititz, PA
Tour: 04/09/14
Overall rating:
I had been on 2 other tour groups in Europe (not Rick Steves) and this was easily the best of the 3. We got very lucky that our group size was only 16, which made for a very intimate, friendly group. Everyone got along very well, and Rolinka was the best guide we could have had. I appreciated the little extra touches that the tour provided. Rolinka used her discretionary budget for things such as lunch one day, drinks with an evening meal, and pickled herring in Amsterdam, all at no cost to us.
Favorite "WOW" moment
"I really enjoyed everything about Bruges. It was a beautiful medieval town. We had a great local guide there. I enjoyed the brewery and candy-making tours. I enjoyed drinking the Belgian beer in the cafes. I liked the restaurants and food there. And a real highlight of the trip for me was the suggested side trip to Damme by bike. I loved riding a bike like the locals, and the trip along the canal was beautiful. And were rewarded in Damme with a visit to a working windmill!"
Katy
Bellingham, WA
Tour: 04/09/14
Overall rating:
This was an excellent tour with a good variety of places visited. We could easily have spent more time in Amsterdam. It was nice to stay in smaller towns (Ghent, Delft), not just big cities
Favorite "WOW" moment
"Most interesting to me was the time spent exploring and learning about Flanders Fields."
Janice
Frisco, CO
Tour: 04/09/14
Overall rating:
This is the first tour I have been on - the experience was very satisfying. I enjoyed being shown the sights and having museum,tram, canal, train and bus arrangements taken care of - but also enjoyed having free time - a very good idea.
Favorite "WOW" moment
"The Rijksmuseum is high on the list - the guide was exceptional in his knowledge."
William
Bellingham, WA
Tour: 04/09/14
Overall rating:
This was our second R>S> tour and like the first one it was delightful!! Great guide, good food, quirky hotels, great driver and amazing learning experience!
Favorite "WOW" moment
"Flanders fields and all the cemetaries were certainly the most moving part of the trip. The "water works" reclaiming the land from the sea was probably my "wow" moment."
David
Frisco, CO
Tour: 04/09/14
Overall rating:
The whole tour was better than I expected. I expected a well done, professional tour. It was much better then that. Clearly a lot of experience and planning went into the effort and it worked.
Taryn
Coon Rapids, MN
Tour: 09/25/13
Overall rating:
I had a wonderful holiday! I met an amazing group of people - who added a lifetime of good memories, Rick Steve's attracts the most fun, amazing, and smart people!!! I learned alot, which is always the hi-lite for me. It was almost a two week crash course in History, Art, Culture, Food, Beer, and enjoying life to its fullest. The weather could not have been more perfect as well. How can you not have an amazing wonderful time in Europe, it really is impossible.
Favorite "WOW" moment
"While on the tour, one of our guides, Danielle talked about a book....The Monuments Men saying what a great book it was, and referred to it several times on the tour. I had never heard of it before, and then when I returned home I downloaded the book to my Kindle. The WOW moment was when I went to a movie the next weekend, and saw previews of an up-coming movie...The Monuments Men! That was really amazing. If I had not gone on this trip, I would not have heard of it, maybe even missed it!"
Teresa
Louisville, KY
Tour: 09/25/13
Overall rating:
My husband and I have been on five Rick Steves tours and all of them have been great. The Heart of Belgium & Holland tour was no exception. It was a nice combination of history, art and food. A nice surprise was that there wasn't a language barrier since most people in those countries speak English. The people were very friendly and warm and seemed to genuinely enjoy having Americans visit their countries.The short distances traveled on the bus between cities made it very enjoyable.
Favorite "WOW" moment
"Seeing the Ann Frank House has always been on my list of "must sees" since reading her diary when I was a teenager. Visiting the Van Gogh Museum was a wonderful experience because I was able to see his works up close."
Robert
Lander, WY
Tour: 09/25/13
Overall rating:
Very pleasurable experience! Good weather, only a little rain on the last day in the morning. Excellent guide, very low key, knowledgeable (no surprise), good dresser, easy to converse with. His only concern, that we not get run over by a flying bicycle, so he reminded us frequently to look both ways before crossing the bicycle lanes. Small compatible group always ready for a new adventure! Best day; visit to Flanders's field, very moving experience.
Favorite "WOW" moment
"Flanders's fields; an incredible WW1 battlefield. Although not scheduled, I think, Hilbren scheduled a guided walk through the US cemetery there. We care for our fallen soldiers with a great deal of reverence. I would consider it a must see on tours of Belgium. Sorry I need to mention another; the flower auction. I could have spent more time there just "smelling the roses"!"
Johannes
Simpsonville, SC
Tour: 09/25/13
Overall rating:
This was my first Rick Steves tour, and I was greatly impressed by all of the careful arrangements and by our guide. I would definitely consider joining another RS tour.
Favorite "WOW" moment
"It's hard to choose just one favorite "wow" moment, but the opportunity to see Jan van Eyck's Ghent Altarpiece up close certainly ranks near the top of my list. Furthermore, I fell in love with Bruges."
Linda
Los Gatos, CA
Tour: 09/25/13
Overall rating:
I was very impressed with this tour. It was my first Rick Steves' tour and I thought it was first class. I felt that there were many things that we were privileged to see that I might not have see if I were traveling on my own. Each local guide in each city was informative in his/her own way. The hotel accommodations were good - and each hotel breakfast was tasty. Our guide, Hilbren, was a delight to be with and very knowledgeable. I will definitely consider another Rick Steves' tour.
Favorite "WOW" moment
"As a former art teacher, I always enjoy visiting art museums. Each of the guides we had at every museum was informative and thorough. I especially loved how the guide at the RIjksmuseum broke down the Night Watch and pointed out each part of the painting and some of its meanings. I also appreciated having time on our own to explore the museums in more depth. Weren't we lucky that the Rijksmuseum was finished in time for our tour!"
Ken
Oceanside, CA
Tour: 09/18/13
Overall rating:
As I hhave been to a lot of Europe, I could not believe the difference between Belgium and Holland and the rest of Europe.
Mable
Lethbridge, AB
Tour: 09/18/13
Overall rating:
** This evaluation is from both of us: May & Darrel Maisey Tour was enjoyable and fulfilled our expectations. It was memorable.
Favorite "WOW" moment
"Tops were: Flanders, Rijks Museum, Floral Holland"
Barry
Moraga, CA
Tour: 09/18/13
Overall rating:
This was our fourth Tour with Rick Steve's and it ranked close to the top. We were happy to see that the quality of the Hotels was addressed. They were all clean and safe. Nina, our Tour Guide, was a big part of making this such a wonderful experience.
Favorite "WOW" moment
"The highlight was Nina's orientation for each of the places we visited. We also enjoyed our free time and Tour we had of the Jewish Quarters in Amsterdam."
Susan
Mpls, MN
Tour: 09/18/13
Overall rating:
The tour was truly outstanding. I have taken other tours but they were no match for this tour. Every detail was well thought out including how to help us enjoy our "free" time.
Favorite "WOW" moment
"That's hard because there were so many. I think seeing the Maeslant storm surge barrier was probably the real "wow." I'm not an engineer by any means but the guide was so thorough, that I understood it. I also really enjoyed Aalsmeer Flower Market."
Robert
Minneapolis, MN
Tour: 09/18/13
Overall rating:
We had a great time. Saw quite alot. Felt like there was more that we would of liked to see/experience but with the limited time available much was done. We did have time on our own which allowed us to delve more deeply in [INVALID]ed places. Had a nice group of people on the tour. The guide was great. Would go back.
Favorite "WOW" moment
"My personal favorite was touring the Musical Instrument Museum in Brussels. Amazing collection of instruments from around the world. My only regret was not trying to contact them before hand to see if I could have gotten a behind the scene tour. It was appearent that they had classes for children/students encouraging them to build their own instruments."
Joan
Issaquah, WA
Tour: 09/18/13
Overall rating:
Interesting. Loved the countryside I saw. Bruges is wonderful, vibrant and great fun.
Favorite "WOW" moment
"The Anne Frank House was my wow moment."
Sally
Tualatin, OR
Tour: 09/11/13
Overall rating:
The tour of Belgium and Holland exceeded my expectations. It was a very memorable journey that will leave me with wonderful, lasting impressions.
Favorite "WOW" moment
"Bruges and Ghent with their gothic and midieval sights truly captured my imagination. Just about every turn on our walks and from our boat ride on the canal in Ghent was a 'wow' moment for me...amazing structures rich with hstory. To visit Flanders Field and Anne Frank House touched me greatly...a sadness which couldn't be helped."
Don
Stevenson Ranch, CA
Tour: 09/11/13
Overall rating:
This is my second RS tour. I will definitely do another.
Favorite "WOW" moment
"Bruges was the best! An extra whole day of down time would have been nice."
Lee
San Diego, CA
Tour: 08/28/13
Overall rating:
Hilbren, our unflappable guide, has an enchanting European flair; his intellect, warmth, humor, and devotion to the group made for comfortable, enriching travels indeed. Hilbren is brimming with helpful suggestions. The bus travel was quick and smooth; each new sight seemed just a short bus journey away. Delightful local guides (Brussels, Bruges, Rijksmuseum) had a twinkle in their eyes. The tour days were satisfyingly full (of well-chosen sights), but not exhausting.
Favorite "WOW" moment
"The Grand-Place in Brussels lit-up at night is awesome, magical. I acquired an unexpected appreciation for Dutch ingenuity (particularly in technology and water management); it seems this small country has a large impact on the world. The Flemish masters (van Eyck, van der Weyden) are a joy to behold."
Weather

Belgium / Brussels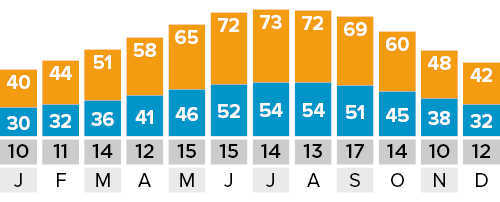 ---
Holland / Amsterdam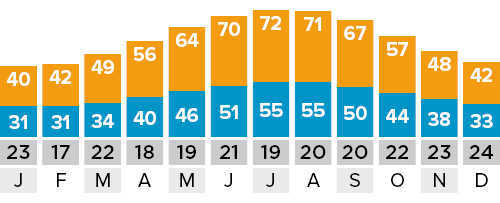 Pre-Tour
We've put together some specific information on what you should know about this tour before you go. You'll also find more general information about "Getting Ready for Your Tour" on our Tour FAQ.
Trip Resources
Learn more about Belgium and Holland: Check out a collection of Rick's TV shows, radio interviews and articles, plus find a list of recommended books and movies.
Transportation
Prior to your tour departure, you will receive detailed directions on how to get from the airport to your first tour hotel, as well as contact information for your first and last hotels in case you wish to book pre- or post-tour hotel accommodations.
Many tour members arrive a day or two before the tour begins — and those who don't, wish they had. This allows you ample time to get over jet lag and make the most of the first few days of the tour.
There is more than one way to get to and from your tour. Most tour members will arrange to fly into Brussels and out of Amsterdam ("multi-city" on flight booking websites). Booking round-trip to one city will require a connecting flight, train trip, or additional overnight stay. Brussels and Amsterdam are transportation hubs, making travel before or after your tour quite easy.
For information about flying within Europe, ask your travel agent or check Rick's list of European budget airlines.
Read Rick's train travel and rail pass tips to decide if your travel plans merit a rail pass.
If you have additional European travel or tour questions, contact the Tour Department at 425-608-4217 or email tour@ricksteves.com.
Sightseeing On Your Own
If you arrive in Ghent before your tour begins, use Rick Steves Amsterdam, Bruges & Brussels guidebook to get oriented. Ride the public transportation, try out a few words of Flemish (although many locals speak English well), and get over your jet lag with fresh air and exercise.
Here are suggestions for sightseeing in Ghent that we will not be doing as a group (see your guidebook for details): St. Bavo's Cathedral and its highlight, Van Eyck's Adoration of the Mystic Lamb (closes daily around 16:30, later in summer), Gravensteen Castle, Design Museum, Fine Arts Museum or Ghent City Museum.
Staying on after the tour ends? Amsterdam is a city of museums and you can find one to suit every taste. We'll see the biggies together, but you may also want to check out the Amsterdam History Museum or Dutch Resistance Museum. Consider touring an elegant 17th-century canal house or see what it would be like to live in one of the many canal boats. You may wish to take a short day trip to explore more of the Netherlands. Renting a bike is easy and the countryside is not far away. Haarlem is a charming town to visit....a pleasant half-day trip by bike or an easy 30-minute train ride away.
Packing
The Low Countries are aptly named and the lack of elevation means that wind often blows off of the North Sea. It is a good idea to bring a waterproof wind breaker and lightweight clothes for layering.
For advice on what (and what not!) to pack, see Rick's packing tips.