Tallinn, Estonia

Marzipan Shop in Tallinn

Lutheran Church in Helsinki, Finland

Helsinki's Sibelius Monument

St. Petersburg's Church on Spilled Blood

Peter & Paul Cathedral in St. Petersburg, Russia

Catherine Palace in Pushkin, Russia
Tour Questions? Call 425-608-4217
Best of St. Petersburg, Tallinn & Helsinki in 9 Days Tour
Discover a formerly forbidden corner of Europe, where a blend of east and west has created a region unlike any other. Your Rick Steves guide will get you started with the cozy squares and inspiring independence of Estonia's capital of Tallinn. Then you'll travel by ferry across the Gulf of Finland to the Art Nouveau ambience and high-tech prosperity of Helsinki. From there, it's a mere train ride to the elegant, treasure-packed city of St. Petersburg and its magnificent Hermitage. Join us for the best of St. Petersburg, Tallinn & Helsinki in 9 Days!
What's Included
A small, friendly group of 24-28 people — half the size of most tour groups
Full-time services of a professional Rick Steves guide and local experts who will make the fascinating history, art and culture of St. Petersburg, Tallinn and Helsinki come alive for you
All tours and admissions — at no extra cost — covering at least 19 group sightseeing events • Tallinn walking tour • Russian Orthodox Cathedral • Museum of Occupation • Kadriorg Park • Rusalka Monument • Song Festival stage • Sibelius Monument • Seurasaari Open-Air Folk Museum • Helsinki walking tour • Lutheran Church • Panoramic bus tour of St. Petersburg • Peter and Paul Cathedral • Church on Spilled Blood • Hermitage Museum tour • Catherine Palace tour • Siege Museum tour • Monument to the Heroic Defenders of Leningrad • St. Isaac's Cathedral • St. Petersburg walking tour...and more
All group transportation from Tallinn to St. Petersburg
8 nights accommodations in memorable, centrally-located hotels
All breakfasts and half your dinners
All tips for guides and driver
Free stuff including Rick Steves Snapshot: St. Petersburg, Helsinki & Tallinn guidebook, moneybelt and earplugs
Guaranteed tour price, locked in the moment you make your deposit
Optional single supplements — this tour has a limited number of private rooms for solo travelers for an additional fee
Tour alum discount of $50 for each tour you've taken prior to 2015
50% discount on a consulting appointment with our in-house experts to assist with your pre- or post-tour travel plans
Flexibility should you need to transfer, or cancel/interrupt your tour
Fine print: You are responsible for the cost of your drinks and free-time sightseeing. See our Tour Conditions Agreement for important details regarding everything listed above
Itinerary
Daily Activity Key
Light = 2-4 miles of mostly level walking throughout the day.
Moderate = 2-6 miles walking throughout the day with some hills and stairs.
Strenuous = 2-8 miles walking throughout the day with lots of hills, stairs and uneven terrain.
Day 1: Welcome to Tallinn
Our hotel is in the charming Old Town of Estonia's capital city, just a short walk from the historic Town Hall Square (Raekoja plats). We'll meet at the hotel at 5 p.m. for a "Welcome to Tallinn" get-together, a short orientation and dinner. Sleep in Tallinn (2 nights). No bus. Walking: light.
Day 2: Historic Tallinn
Our morning begins with a walking tour of Tallinn's Old Town — a marvelous mix of Swedish and Germanic influences from the Reformation and Middle Ages. Starting with the Old Town's narrow streets and whimsically-decorated merchant houses, we'll walk up Toompea Hill to the Upper Town. There we'll learn about the Estonians' struggle for independence as we see the onion-domed Russian Cathedral, Parliament Building, and the fascinating Museum of Occupation. The afternoon and evening are yours to explore Tallinn's inviting streets, squares, cafés, shops and museums. No bus. Walking: strenuous.
Day 3: Over the Baltic Sea
This morning we'll take a bus outside Tallinn's walls to Peter the Great's ornate Kadriorg (Catherine) Park and equally-Russian Rusalka Monument. We'll also visit the famous Song Festival stage where Estonia's peaceful "singing revolution" began back in 1987. Then we'll hop aboard a streamlined ferry to cross the Gulf of Finland. In a couple of hours we'll arrive in Helsinki — one of Europe's wealthiest, fastest-growing cities. Upon arrival we'll visit the imaginative Sibelius Monument, the wonderfully-furnished Seurasaari Open-Air Folk Museum, and the awe-inspiring "Church in the Rock." After an orientation to this surprisingly young capital, we'll end our day with dinner together. Sleep in Helsinki (2 nights). Boat: 2 hrs. Bus: 3 hrs. Walking: light.
Day 4: Helsinki's Old Town
We'll begin our day with a walking tour of Helsinki's relatively young (mid-1800s) "Old Town" — a tidy tangle of Neoclassical and Art Nouveau streets. Starting on the busy Market Square, we'll see the unusually-Orthodox Uspenski Cathedral, the contrastingly stark Lutheran Church, the seriously Art Nouveau train station and the pedestrian-friendly Esplanade. The rest of the day is yours to explore the city's modern side, or take an excursion out to the islands where Suomenlinna fortress guards the city. No bus. Walking: strenuous.
Day 5: All Aboard to Russia
This morning we'll catch the train to St. Petersburg (formerly Leningrad), Russia. Arriving by early afternoon, we'll transfer to our bus for a rolling tour of St. Petersburg's bridge-and-canal-laced city center. We'll stop to visit the city's birthplace and resting place of the tsars, the golden-steepled Peter and Paul Cathedral. We'll end our tour at the colorfully-ornate, mosaic-filled Church on Spilled Blood, built on the spot where Tsar Alexander II was assassinated in 1881. Then we'll get settled in our centrally-located hotel and enjoy a Russian meal together. Sleep in St. Petersburg (4 nights). Train: 4 hrs. Bus: 2 hrs. Walking: light.
Day 6: The Hermitage
We'll spend the morning at the Tsars' Winter Palace, known today as one of the world's premier museums — The Hermitage. With over 2.5 million items on display, our three-hour guided tour will focus on the opulent rooms of the palace and the museum's must-see masterpieces by Leonardo, Rembrandt, Picasso, Chagall and others. Your afternoon is free to relax, continue sightseeing on your own through the palace/museum's six buildings, or take an excursion out to Peteroff by hydrofoil to view the palace's spectacular fountains. No bus. Walking: strenuous.
Day 7: Catherine's Palace and WWII Leningrad
Today we'll venture out to the town of Pushkin where we'll tour Catherine I's palace and its stunningly restored Amber Room. After lunch together we'll return to the city to tour the Museum of the Defense and Siege of Leningrad and the Monument to the Heroic Defenders. Here we'll learn how the city, from 1941 to 1944, endured a 900-day Nazi blockade. Bus: 2 hrs. Walking: moderate.
Day 8: St. Petersburg's Sights
On a walking tour this morning, our local guide will help us gain a vivid understanding of Peter the Great's love for the town he created. We'll explore more of the remarkable buildings, streets, and old ethnic neighborhoods that make St. Petersburg unique, ending at the impressively-domed St. Isaac's Cathedral. You'll have the remainder of the day free to wander along Nevsky Prospect (the Champs-Elysées of St. Petersburg) and the picturesque canals, or see more masterpieces at the Russian Museum. For our final dinner together, we'll share travel memories and toast new friends. Nastrovia! No bus. Walking: strenuous.
Day 9: Tour Over After Breakfast
Breakfast is provided, but there are no group activities today. Some will head for the airport to fly home, while others may choose to continue along the Volga to Moscow. (Be sure to finalize your visa to match your full Russian itinerary, including any post-tour travels in Russia.) Dosvedanya!
Itinerary specifics subject to change.
Activity Level
Our tours are physically active! It's an essential part of the Rick Steves tour experience. On our Best of St. Petersburg, Tallinn & Helsinki in 9 Days tour — among other things — you'll need to happily...
Carry/roll your luggage over uneven pavement (several blocks possible) and up stairways to reach your hotel; then up several flights of stairs to reach your room.
Be on your feet, walking and standing for up to three hours, indoors and outdoors, in all weather conditions.
Sleep with street noise and no (or weak) air conditioning.
After orientation and transportation lessons, be able to navigate towns and cities on your own.
Reviews
Dee
Cottage Grove, WI
Tour: 08/11/14
Overall rating:
All was well organized and ran on time just as expected.
Favorite "WOW" moment
"I never really expected to visit Russia but there I was, actually in The Hermitage seeing all this stuff!"
Michael
Petaluma, CA
Tour: 08/11/14
Overall rating:
We've taken 13 RS tours. This tour gave a great overview of Estonia which had never been on my travel radar and a wonderful introduction to Russia in St. Petersburg. The city of Tallinn has a very walkable old town and our hotel was well located just inside the city walls. St. Petersburg was over-the-top opulence from the Czars with a Venice-like feel because of the canals. It's a city you could easily spend a week exploring.
Favorite "WOW" moment
"My WOW moment was the political discussion I had with one of our local St. Petersburg guides. It drove home the fact that you are very much a product of your experiences and the news you are fed. He was well educated, but his views of the West and especially the situation in the Ukraine were very different from what we see in our news. In the end we agreed to disagree but it was really eye opening to meet someone whose "facts" were so different from mine."
Kenneth
Painesville, OH
Tour: 08/11/14
Overall rating:
This was my second tour so I was able to gauge the quality from one tour to the other. My expectations were met and exceeded on every level. The accommodations were consistent with RS policy, being small, friendly and in the center of our activities. In every case the hotel staffs were friendly and helpful. Transportation was consistently clean, modern and comfortable.
Favorite "WOW" moment
"There were many "wow" moments for me but one outstanding moment was the choral performance in Helsinki at the Lutheran Cathedral. A large number of individual choirs sang together outside, on the steps, in front of the White Church. Finlandia by Sibelius has always been a favorite of mine but I got chills hearing it performed in that venue and by so many beautiful voices. It was an unexpected addition to an impressive tour."
Theresa
Petaluma, CA
Tour: 08/11/14
Overall rating:
Three countries and cultures is a lot to absorb in 9 days, but Tallinn, Helsinki and St. Petersburg have much in common. It was fascinating to follow the cultural and historical threads from country to country. The three languages are another story, however ...
Favorite "WOW" moment
"1. People Our group was so compatible and gelled very quickly into a traveling "family". We all looked after each other and showed true consideration for each other. 2. Places Tallinn's Old Town was delightful with photo ops around every corner. The food was a surprise to me - I didn't know what to expect but all the meals were wonderful. 3. Things The Armory in the Kremlin holds amazing artifacts from Russia's imperial past, like the Diamond Throne. Wow!"
Maxwell
Atherton, CA
Tour: 07/21/14
Overall rating:
Enjoyed the tour a lot. Very knowledgeable guides, interesting places to visit. Only negative comment is that Helsinki is not up to the other places. We could have gone elsewhere or cut the time in Helsinki considerably.
Favorite "WOW" moment
"Initially, St. Petersburg was not very appealing, largely because of the 85+ degree weather. But as it cooled down a bit, we warmed up to St. Petersburg. The Church of Spilled Blood and the Russian Museum were our favorites."
Daniel
Minneapolis, MN
Tour: 07/21/14
Overall rating:
Tour began in Tallinn, Estonia - a charming medieval city. The people are friendly and the food was excellent. After 2 days we headed to Helsinki, Finland, by ferry. Helsinki is spotless. The people are the friendliest I have encountered. Meals were excellent. Lastly we took train to St. Petersburg. WOW. Incredible city with a rich incredible history. Thank you to Adelka (sp), George and our many local guides for making this trip an unforgettable experience. I HIGHLY recommend!
Favorite "WOW" moment
"Winter Palace in St. Petersburg. I was awed by it's size."
Darlene
Baton Rouge, LA
Tour: 07/21/14
Overall rating:
This was my second tour and it was very well organized. All hotels were quite good and I appreciated the air-conditioning as it was 90 degrees in St. P. one day. Etelka did a fantastic job and was always available to answer questions. She is enthusiastic about sharing her knowledge about traveling and I really enjoyed being with her. The ferry ride to Helskini was fun and I enjoyed the train ride to St. P. All local guides were very knowledgable and also gave good restaurant suggestions.
Favorite "WOW" moment
"I think seeing the Church on Spilled Blood in St. P. I really wanted to see the burial place of Nicholas II and his family since I had read a lot about them and I am so glad that I was able to see their final, dignified resting place. The word "[INVALID]d" was used instead of "died" on the tombstone - this spoke volumes about how the Russians have come to view this chapter in their history."
Barbara
Raleigh, NC
Tour: 07/07/14
Overall rating:
This was our first Rick Steves tour. We had a great time, saw a lot, and learned a lot. There was a great balance of "tour" and free time. LOTS of walking, but this encourages folks to take more tours sooner rather than later!! Local guides were excellent and fellow travelers congenial. We expect to take another tour with Rick Steves.
Favorite "WOW" moment
"I really enjoyed our "back door" tour in St. Petersburg with Peter. After having a little time to experience and absorb the city, it was fascinating to have the perspective of a long-time resident who gave insights into ordinary folk over the past 30 years. This helped me bridge the gap between growing up in the Cold War 50s and contemporary Russia. (BEFORE Rick Steves tour, we had attended the Estonian Song and Dance Festival with Estonian friends, which was a really unbeatable WOW moment)."
Paul
Raleigh, NC
Tour: 07/07/14
Overall rating:
Very good introduction to the 3 cities. Fast paced but well done. The local guides were excellent. Eszter did a very good job.
Favorite "WOW" moment
"Hearing the local guide Peter on the last day present his intimate portrayal of the culture and society in Russia."
Patricia
Ponte Vedra Beach, FL
Tour: 07/07/14
Overall rating:
the entire trip was outstanding. wouldn't change a thing!
Favorite "WOW" moment
"the ballet at the marinksky theater in St Petersburg"
Bill
Washougal, WA
Tour: 07/07/14
Overall rating:
Dry weather, an excellent guide, interesting activities, good hotels and restaurants, and pleasant fellow tour participants made our first group tour a great experience. There was adequate free time on this itinerary, and Eszter offered plenty of good suggestions to occupy it. Time at some sites (St. Petersburg's Peter & Paul Fortress and Tallinn's Kadriorg Park) was limited, and we would have preferred to have an additional day in both Helsinki and Tallinn, but we hit most of the highlights.
Favorite "WOW" moment
"There were several "wow" moments for us in St. Petersburg: entering the Church on Spilled Blood to view its incredible mosaics; seeing the memorials, exhibits and sobering film illustrating the siege of Leningrad at the Siege Monument; filing past countless art masterpieces in the Winter Palace; and learning the gift-giving extravagances of the Russian nobility at the Shuvalov Palace (an optional site Eszter recommended)."
Darby
Salisbury, MD
Tour: 06/27/14
Overall rating:
Our guide, Eszter was outstanding. The hotels were all comfortable and in convenient locations. It was our first Rick Steves tour and we would do another one.
Favorite "WOW" moment
"St. Petersburg was a beautiful city. Staying so close to the Winter Palace and the Church on Spilled Blood and walking along the canals was an unforgettable experience. We also got to see a ballet at the old Mariinski theater that was amazing."
Veronica
Prague,
Tour: 06/27/14
Overall rating:
Everything was well organized and went smoothly. I know from previous experience that once the tour starts, I don't have to worry about details but can just enjoy and soak it all in, and such was the case with this tour as well. Local guides were excellent and Eszter was exceptional! She is personable, knowledgeable and was attuned to the "pulse" of the group.
Favorite "WOW" moment
"The opulence of Summer Palace in St. Petersburg... AND...by some alignment of the cosmos, the throne room was completely empty when we arrived. It was an incredible sight. Interestingly, I was unimpressed upon arrival in St. Petersburg- crowded, traffic congested, all the pre-warnings of pick pockets colored by impressions. As we explored the city, I came to really appreciate its beauty and history."
Ruth
Fayetteville, PA
Tour: 06/27/14
Overall rating:
This was our 5th Rick Steves tour, and like the others it was great. We didn't want to go to Russia on our own, but now I feel that we could travel there independently. Eszer was a wonderful guide. She was very patient with all of our questions.
Favorite "WOW" moment
"I was amazed at Catherine's Place and Christ the Savior on Spilled Blood. All of St. Petersburg is very interesting. I enjoyed The Hermitage even though it was very crowded. Our boat trip on the last evening topped it all off."
Ricardo
Maitland, FL
Tour: 06/27/14
Overall rating:
Favorite "WOW" moment
"The frescos inside the Church of Spilled Blood in St Pete."
Steven
Sun Prairie, WI
Tour: 06/27/14
Overall rating:
The guide was super and the locations I saw were memorable. The hotels were fineand the food great.
Favorite "WOW" moment
"You know this is a hard one because I thought everything was great. I think my favorite part of the tour was that the group was small and we all got along so very well. I couldn't have asked for better tour mates."
Madeleine
Dallas, TX
Tour: 06/27/14
Overall rating:
Our personal goal was St. Petersburg, but Tallinn Estonia was charming a great kickoff to the tour. Our group fell into easy rhythms of conversation and shared pleasures in the discoveries we made each day. A good balance of guided touring vs. free time. All the hotel stops were conveniently located with very friendly staff, and the restaurants for shared dinners were all great. We couldn't have asked for a better leader than Eszter, and the local guides were highly informative. Super!
Favorite "WOW" moment
"Sitting next to a 50-ish Korean gentleman during a folk music show in St. Petersburg. I asked him if he'd learned his English in school, and he said he'd learned by listening to American popular music. He is a DJ in Seoul, going by the name Kim Pop. We spent 10 plus minutes comparing artists and music we liked, he was always able to quote a lyric or name a band member. We both agreed that music can bring the world together and politicians should be made to attend pop music concerts regularly."
Thomas
Vancouver, WA
Tour: 06/16/14
Overall rating:
The overall tour experience was fanastic; from the sign-up process, advanced tour information, suggestions on visa processing, the destinations, tour guide, hotels, and included dinners. We just love Rick Staves tours and while we enjoy travelling indepentdently, using RS books when they cover the areas where we are travelling, we enjoy taking a RS tour within our independent touring. This tour was no exception. We enjoyed all of the cities we visitied with our small, friendly group.
Favorite "WOW" moment
"Lots of wow's but rolling into St Petersburg on the buss from the train station and stoping in front of the Church on Spilled Blood and going inside. All that gold gleaming in the sun I knew we were in for a stunning time in St Petersburg."
Patricia
University Heights, OH
Tour: 06/16/14
Overall rating:
good value. well organized.
Favorite "WOW" moment
"hermitage tour. visit to church of spilled blood."
Kimberly
Cypress, TX
Tour: 06/16/14
Overall rating:
The tour experience was great! This was my 4th Rick Steve's tour and as usual, found this to be another exceptional tour. We were a small group of 13 and traveled well together. I thought Eszter did a terrific job of tending to our needs!
Favorite "WOW" moment
"I would say all of St. Petersburg was a WOW! This was the reason I wanted to do this tour since I wasn't comfortable going into Russia on my own. The first wow was just getting my passport stamped on the train by the Russian officials, knowing I finally made it into Russia! The Church of Spilled Blood, the Hermitage, seeing Swan Lake at the Hermitage Theater were all WOW moments! Hard to pick just one!"
Kathryn
Columbus, OH
Tour: 06/16/14
Overall rating:
My husband and I have used Rick Steves guide books for our European travels for 13 years; very successfully, I might add. This was our first tour and needless to say, I was curious if I would feel out-of-sync with the pace of the group plans and yearning for my own time to explore. I am happy to report that the tour exceeded my expectations and made me realize the value of having great guides at each location, and Eszter in particular. I was thankful the trip was "on" with 13 people.
Favorite "WOW" moment
"My "wow" moment came each time I saw the hotels in all 3 cities and realized that location and comfort were ideal in each city. As I woke up each morning, well rested and well fed, I couldn't wait for the day's plans to unfold (even in the rain and cold). I eagerly anticipated what we were going to do in our free time too because we were so conveniently located to what we wanted to visit or revisit. I felt that I had the best of both worlds available to me."
Donald
Puyallup, WA
Tour: 06/16/14
Overall rating:
This tour exceeded my expectations. This was a well organized tour with just the right amount of structured vs. free time. The guides were all top notch who went out of their way to give us the required information.
Favorite "WOW" moment
"St. Petersburg"
Mary
Jefferson City, MO
Tour: 06/16/14
Overall rating:
Small group who got along very well.Eszter was amazing and mostly very patient at, as someone I said I think, herding us cats.Saw/experienced a lot in really a short time. Good mix of tour/free times. Very well organized.Would've liked to spent more than 5 minutes in couple of churches/ less time at russian monument where it was all in Russian. Guides were incredibly knowledgable most local tours were excellent.
Favorite "WOW" moment
"All in St Petersburg: marveling at the glory of St Isaacs Cathedral, the incredible Amber room in Catherine's Palace, the Russian singers performing in Hermitage and on my own- the ballet Sylvia at Marinski Theater"
Marc
Des Moines, WA
Tour: 06/06/14
Overall rating:
Eszter was fantastic! She was really a wonderful guide and you couldn't have asked for a more helpful, friendly and genuine person to lead our group. The tour was well-paced with ample time for individual activities. Having only ever been an independent traveler, I was a little skeptical of a company-arranged tour. However, this was a fantastic experience and I think we were able to get the most out of each city in a short amount of time thanks to the program. Hats off to everyone involved!
Favorite "WOW" moment
"It is hard to pick a favorite city or place, but I guess I really did love that boat tour at the end of our stay in St. Petersburg. It was not only a good way to see the city, but a sweet end to our stay. I loved the Hermitage, and I loved our tour of Tallinn."
Victor
Oakland, CA
Tour: 06/06/14
Overall rating:
Well organized, with good choices of well located hotels, pleasant and knowledgeable local tour guides, presenting their information in an understandable English.
Favorite "WOW" moment
"Hermitage in St Petersburg, very crowded, and being well led through these masses and explaining what we were seeing via a comprehensive audio system."
Barbara
Oakland, CA
Tour: 06/06/14
Overall rating:
Great guide, great hotels. Like the overall pace with tours in the AM and most afternoons free. Most of the city guides were good. The group was terrific .
Favorite "WOW" moment
"The Church of the Spilled Blood. It is overpowering, but I wish we could have seen it at a less crowded time if there is one. Second for me was the evening boat ride in St P. wonderful to see it all spread out with a gorgeous. Sky."
Marina
Washington, DC
Tour: 06/06/14
Overall rating:
The experience was great, the cities were very interesting and the tour went really smoothly. I loved the hotels and our tour guide was fabulous! Also, the group was the best!
Favorite "WOW" moment
"My favourite "wow" moment was seeing the Church on the Spilled Blood, so beautiful, and the Hermitage in St Petersburg, especially one of my favourite paintings ever, "The return of the Prodigal Son", it brought tears to my eyes."
Carl
Mill Valley, CA
Tour: 06/06/14
Overall rating:
Eszther as a tour leader was just terrific. Tallinn was very interesting as was Helsinki; the hotels were excellent. St. Petersburg, while somewhat over-whelming was also very, very good. Our hotel was very good, too. Eszther was also excellent in guiding us through the ins and outs. The sub-guides we had were also excellent. Peter was just terrific. Out group melded very well, so we are happy campers. Thank you.
Favorite "WOW" moment
"St. Petersburg; church of the split blood; Wow."
Judi
Mount Pleasant, SC
Tour: 06/06/14
Overall rating:
Eszter is fantastic. [INVALID]ed great restaurants, helped us with tickets, gave us a variety of items to choose from for free time activities. As usual for a R Steeves tour the group was full of interesting, on time, non complaining travelers.
Favorite "WOW" moment
"The Hermitage was simply breathtaking as were the mosaics in the Church of the Spilled Blood."
Karen
Des Moines, WA
Tour: 06/06/14
Overall rating:
Wonderful tour, jam packed with history, art, culture and enough free time to explore places individually. Well balanced. Informed local tour guides, with the exception of our guide for Helsinki who was not particularly helpful or interesting. All the others were delights. And our overall tour guide, Eszter was terrific in making options available and giving us ideas for other things to do.
Favorite "WOW" moment
"The Hermitage was my favorite "wow" as I have wanted to see it for many years. It lived up to its reputation!"
Robert
Boise, ID
Tour: 05/26/14
Overall rating:
It was easly one of the best trips of our life and we have traveled the world extensively... most on our own. Our first Rick Steves Tour was to Turkey a couple of years ago. That trip was far to over organized and exhausting, though still a great trip. This trip was incredible: new and interesting places, great, and I mean great local guides, and lots of "afternoons and eveings on your own". And some late morning starts. We love to have a casual time.. with time to explore on or own. Our group
Favorite "WOW" moment
"The local tour guides: in Tallin, and St Petersburg: Olga, Peter and the Jana in TAllin...just incredible..the big WOW was St Petersburg.. a great sprawling incredible city..with rivers and canals and old, gorgous buildings.. the best moment: riding the Subway.. and finding our way back to the hotel..."
Charles
Kent, WA
Tour: 05/26/14
Overall rating:
Well organized. Guide was great! She set clear expectations for the tour and the day. She threw in a few extras which enhanced the experience. Local guides were excellent, particularly in St. Petersburg. The guide in Helsinki not so good.
Favorite "WOW" moment
"Can't say I had a wow moment. St Petersburg and the Church of the Split Blood were certainly highlights."
Kathleen
Dayton, OH
Tour: 05/26/14
Overall rating:
Etelka 's expertise in the Russian language and her exuberant personality made this a great trip. She smoothed our entrance into Russia at the intimidating border crossing. She recommended restaurants and optional activities for us. A highlight was traveling the St. Petersburg subway system with her instructions. And her flexibility was admirable as some people in our group preferred to have solo experiences. She kept us on track and on time.
Favorite "WOW" moment
"My favorite wow moment was the optional KGB Museum in Tallinn . Getting to see the equipment left behind by the KGB at the hotel Viru as the Soviet Union was unravelling and hearing the stories of the KGB's spying on the hotel guests was a highlight. We had 3 local guides in St Petersburg. Another wow moment was the realization that their views on currents events are very different from ours. They all felt strongly that the Crimea should belong to Russia. One felt that the Ukraine should, too."
Marfa
Corvallis, OR
Tour: 09/09/13
Overall rating:
The tour, itself, was great in many ways, disappointing in others. The guide was fantastic. The group was delightful. Food was terrific. The local guides - 25% good. The "through the back door" part very disappointing. Seemed we were usually at the same sights as every other tour group with only a few exceptions. The weather you ordered was marvelous. Thanks!
Favorite "WOW" moment
"Back ways of Saint Petersburg. Rock Church in Helsinki - but with only minutes to be there!!! Really enjoyed the boat ride in St. Petersburg. Evening was the perfect timing for it. Like learning about the history of this part of the world, distressing as it is."
Jerry
Chicago Il, IL
Tour: 09/09/13
Overall rating:
I'm a chronic introvert and when we first gathered in the hotel meeting room to "meet and greet" I looked around at all those intimidating people and strangers and thought "there is no way in hell I can get through the next eight days." And by the eighth day I was feeling very sad to be saying good-bye to some new friends. Our guide was terrific (plus all the local Guides), plus the hotels (location!), food, and things went so smoothly. THANK YOU.
Favorite "WOW" moment
"It was coincidence, but I had my 58th birthday during the Tour. It was terrific that Eszter generated the Birthday Song in my honor that morning just before we headed to our bus, but then she also gave me a Christmas ornament as a token of appreciation not having any idea of my connection to Christmas (I founded a Christmas collector's club/magazine in 1980). Then all throughout the day many of the tour members brought up my birthday and made a special effort to reference it."
Daniel
Portland, OR
Tour: 09/09/13
Overall rating:
Three different cities that were so different from each other. Lots of history and things to see. Nice group of people to experience it with.
Favorite "WOW" moment
"The maritime museum in Tallinn. Our guide visited it earlier and recommended it to us as something "different". She was right."
Lynn
Portland, OR
Tour: 09/09/13
Overall rating:
Three fascinating cities. This tour was an incredible experience, especially with such an outstanding guide. She ensured lots of local experiences and we learned so much about the culture, people, and history of these cities.
Favorite "WOW" moment
"St. Petersburg subway tour was amazing. I ride the train to/from work everyday at home, and it was so cool to be with locals doing the same thing halfway across the world. Except their subway stop have crystal columns, chandeliers, and tell a cultural/historic story."
Ralph
Long Beach, CA
Tour: 09/09/13
Overall rating:
Energetic, knowledgeable "uber" guide Ezter, great sense of humor and excellent problem solver! Very compatible group, good synergy, much laughter! Local guides in Helsinki and Saint Petersburg were outstanding, informative, energetic. One in Saint Petersburg, Katja (sp) has a PHD in Art History. You can't come more qualified than that!
Favorite "WOW" moment
"The Hermitage, overpowering splendor, incredible history."
Karen
Kent, WA
Tour: 09/09/13
Overall rating:
Great! Our tour guide worked super hard to make our tour fun and stress free
Favorite "WOW" moment
"The Hermitage and Russian singers singing folk songs. Walking through St Petersburg and the parks in Tallin"
Wendy
Langley, WA
Tour: 09/09/13
Overall rating:
We choose to join this tour because it is an area of the world we were uncomfortable traveling in on our own. This was our first Rick Steves tour. I would have to say that the tour exceeded all of our expectations. The hotels were charming boutique hotels located in the city of each city we visited, the shared meals were regional cuisine and delicious, and our guide was fabulous!!!! The group that we traveled with were interesting and like minded folks.
Favorite "WOW" moment
"I really liked having the opportunity to go the Song Festival stage where the 'Singing Revolution' happened in Estonia and the Museum of Occupation. My husband was very taken with the Russian part of the trip, but I liked the connections to the people best...and these occurred in Finland and Estonia."
Robert
Oak Park Il, IL
Tour: 09/09/13
Overall rating:
Our guide was excellent. She managed the whole experience with great charm and efficiency. And our group itself was quite cohesive and cooperative. I especially appreciated how she helped us arrange for extra curricular events that were not included on the regular tour schedule. A wonderful tour experience.
Favorite "WOW" moment
"Attending the folkloric production at the Nicolaievsky Palace on Sun. evening."
Mary
Vancouver, WA
Tour: 09/09/13
Overall rating:
Wanted to do tour that would get me into Russia. Felt a bit intimidated in going to Russia on my own. So going to Russia was the driving force and then to have Estonia and Finland on top of this made this for a great tour. Small group (22) was just right for getting about in confined places, being able to hear and to feel like you got to know the people who were sharing the experience with you. The Rick Steves organization made everything very easy especially in getting the visas.
Favorite "WOW" moment
"Life is not about the number of breaths you take, but about the things that take your breath away. This happened several times on this tour. First at the Church in the Rock in Helsinki, the second on hearing 5 men singing The Volga Boatman in a small pavilion near Catherine Palace and lastly the Church on the Spilled Blood."
Nelda
San Antonio, TX
Tour: 08/26/13
Overall rating:
This was our 4th Rick Steves' tour, and just like the previous ones this one was outstanding. Not only was our weather perfect, but our tour group was amazing. Our guide was truly a treasure - so knowledgeable and caring. It could not have been any better!
Favorite "WOW" moment
"Probably the whole of St. Petersburg was a constant visual, mental and sensory experience - a truly awesome blend of history, palaces, museums, art, canals, churches and people."
Janet
Westfield, NJ
Tour: 08/26/13
Overall rating:
We were incredibly lucky to have such good weather. The tour was extremely well planned out.Such a great way to get a look at Tallinn,Helsinki, and St. Petersburg.
Favorite "WOW" moment
"The quality of life in Helsinki. What the country has been able to do since WW2. Finland seems to have been on a clear path as to what they want for their country and citizens. We Americans are not envied anymore as the "go to country" we need to learn how to get along in the world."
John
Klamath Falls, OR
Tour: 08/16/13
Overall rating:
My overall feeling was just outstanding. As usual a Rick Steves Tour was fun, exciting and the guide was great. Our guide went out of his way to help my family on the tour. He had the knowledge to make the experience very rewarding. Helsinki was very pretty, and St. Petersburg was a crown jewel to behold. Very rooms and food was also very nice. The local guides kept us going and everything moved without any problems.
Favorite "WOW" moment
"My "wow" moment should be moments with the ferry to Helsinki, the train ride to St. Petersburg, and the homes of the czar. Enjoyable time from start to finish."
Curtis
Dallas, TX
Tour: 08/16/13
Overall rating:
The tour met all my expectations. The mechanics of the tour worked well. Time was used well when arriving in Helsenki and St P. Hotel check in, ferry transport and train all were efficient.
Favorite "WOW" moment
"Viewing an Orthodox service in St. P. Clear sunny afternoon to see the fountains and Petrograd. Early morning walks before tour and crowds in each city. Free time to do our own things."
Kathie
Laguna Niguel, CA
Tour: 08/12/13
Overall rating:
This trip was an extended tour after 16 days on our Rick Steves' tour of Scandanavia. It was interesting to see the similarities and differences between the countries. It was also great to have transportation and direction to the best sites to see and times to see them. Without the tour we would have missed too much.
Favorite "WOW" moment
"The Hermitage - Winter Palace and Summer Palaces and the surprise visitors on the trip."
Judy
Boise, ID
Tour: 08/12/13
Overall rating:
I so enjoyed this tour of three cities in three countries. There was so much to see and do that one could come back for another visit. I felt in the time we had, our tour did a great job of hitting the highlights of each city.
Favorite "WOW" moment
"The old walls, the watch towers and the gabled houses in Tallinn's Old Town were amazing. Walking through the narrow cobblestone lanes while exploring Old Town gave one the feeling of going back in time. I was also taken with the history of the Estonian Song Festival and their gaining independence by a peaceful singing revolution. It was heartwarming."
Geoffrey
Kalamazoo, MI
Tour: 08/12/13
Overall rating:
This trip gave me new insights into a part of the world I knew only a little about. These three cities (Tallinn, Helsinki, St. Petersburg) are really not much different than any other European community. I gained a new appreciation for Russian culture and daily life.
Favorite "WOW" moment
"Visiting the Hermitage in St. Petersburg was the highlight of the trip for me. Also, meeting and touring with Rick for a day was special and unexpected."
David
Street, MD
Tour: 08/12/13
Overall rating:
Great experience. These are cities I wanted to see but they were not on my top tier list. I enjoyed it very much although, they still are not on my top tier. Not the fault of the tour, however. Great group and an outstanding leader. Our guide was a jewel! One of the most enthusiastic humans I have had the pleasure of meeting.
Favorite "WOW" moment
"Actually, it was at the Hermitage but not with the tour. We went back on our own and I got to the Antiquities Area which I loved. The rooms themselves were just beautiful. Our tour guide did not take us to this area (understandable) but I found it on my own. Not as many people also. Some of the stops in St. Petersburg were great but the number of people hurts the experience."
Karen
Schaumburg, IL
Tour: 08/12/13
Overall rating:
Wonderful tour! Loved the diversity/variety between the three cities.
Favorite "WOW" moment
"Seeing the Hermitage- a once in a lifetime experience!"
Christine
Nampa, ID
Tour: 08/12/13
Overall rating:
I enjoyed everything about this tour. We arrived two days early in Tallin so were able to enjoy the city at a slower pace and do many of the recommended pre tour suggestions. There were so many choices of things to see in each city, and I learned a lot about the history of each country and the lives of the people there now. It was worth going through the visa process to go to St. Petersburg. The buildings in all three cities were fantastic to see and the people we met were friendly.
Favorite "WOW" moment
"The Hermitage was wonderful and what I was wanting to see on this trip. What really "wowed" me though, was the walking tour by Marget in Tallin, when she told us about the struggles of the people under communism and the patience they had gaining their independence, and the singing revolution. Read the book "The Madonnas of Leningrad" before going to the Hermitage. Also, watch the DVD "The Singing Revolution" about Estonia. Pre-tour suggestions of books and movies in Rick's book are good."
Janet
Bay City, TX
Tour: 07/08/13
Overall rating:
Took the tour as a way to go to Russia. Was extremely relieved to leave the tour and head to Moscow on our own. The guide was wonderful. The other travelers were nice company, the hotels were fantastic (!) The food was awful. The tour served its purpose, I wouldn't go on another one, unless it was to China. When the tour ended and we went to Moscow I nearly cried when I entered our hotel room. Our usual level of RS hotel, it was a shock after the luxury hotels on the tour.
Favorite "WOW" moment
"Sadly it was "wow" fish again for dinner? Really? Otherwise it was the wonderful hotel staff in St Petersburg. They were awesome. And the people on the tour, they were nice people. Everyone enjoyed each other's company. Many of them were were quite well traveled - they were impressive."
Weather

Estonia / Tallinn

---
Finland / Helsinki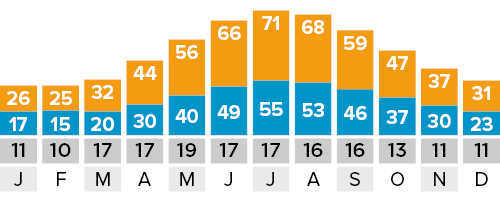 ---
Russia / St. Petersburg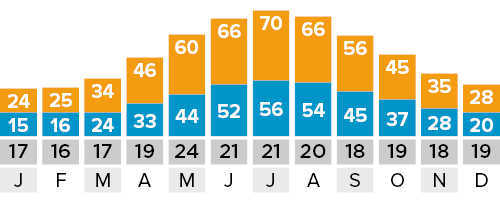 Pre-Tour
We've put together some specific information on what you should know about this tour before you go at our St. Petersburg, Tallinn & Hesinki FAQ. You'll also find more general information about "Getting Ready for Your Tour" on our Tour FAQ.
Trip Resources
Learn more about St. Petersburg, Tallinn, and Helsinki: Check out a collection of Rick's TV shows, radio interviews and articles, plus find a list of recommended books and movies.
Transportation
Prior to your tour departure, you will receive detailed directions on how to get from the airport to your first tour hotel, as well as contact information for your first and last hotels in case you wish to book pre- or post-tour hotel accommodations.
Many tour members arrive a day or two before the tour begins — and those who don't, wish they had. This allows you ample time to get over jet lag and make the most of the first few days of the tour.
There is more than one way to get to and from your tour. Most tour members will arrange to fly into Tallinn and out of St. Petersburg ("multi-city" on flight booking websites). Booking round-trip to one city will require a connecting flight, train trip, ferry ride, or additional overnight stay.
If you decide to fly roundtrip to Helsinki, you can then take the two-hour ferry from Helsinki to Tallinn to start the tour. For ferry information please see the Tallink website. To return to Helsinki from St. Petersburg after the tour, you can take the train from St. Petersburg.
If you fly roundtrip to Tallinn, you can take a bus from St. Petersburg to Tallinn after the tour. The bus takes up to six hours and you can buy tickets online at www.luxexpress.eu/en.
If you have additional European travel or tour questions, contact the Tour Department at 425-608-4217 or email tour@ricksteves.com.
Sightseeing On Your Own
If you arrive in Tallinn before your tour begins, use your Rick Steves guidebook to get oriented. Ride the public transportation, try out a few words of Estonian (although many locals speak some English), and get over your jet lag with fresh air and exercise.
Remember that Tallinn is a small city and we will be covering a lot of the sights during our walking tour on Day 2 of the tour. Here are suggestions for sightseeing in Tallinn that we will not be doing as a group (see your guidebook for details): Tallinn City Museum, Estonian History Museum, Kumu Art Museum, Estonian Open-Air Museum.
Packing
In the spring or summer, you may find that the longer days affect your sleep. You may want to pack an eye shade to help with getting the darkness you need for a good night's sleep.
For more advice on what (and what not!) to pack, see Rick's packing tips.