La Pedrera in Barcelona

Plaza Mayor in Madrid

Toledo

Granada

Bullring in Ronda

Flamenco Dancer in Sevilla
Tour Questions? Call 425-608-4217
My Way: Spain in 11 Days Tour
Beginning in beautiful Barcelona and ending in sensual Sevilla — with the cultural delights of Madrid, Ronda, and Granada laced together in between — Rick Steves' money-saving "My Way" tour gives you the freedom to decide your own daily sightseeing priorities and pace. We cut the stress by providing comfortable rooms in centrally located hotels, private bus transportation from city to city, and a travel-savvy tour manager to help advise you along the way. Join us for My Way® Spain in 11 Days!
Dates & Prices
What's Included
This is an "un-guided" tour — giving you the freedom (and responsibility) to manage your daily sightseeing schedule and meals
A small, friendly group of 24–28 people will share our big, comfy bus during the trip, but not do organized sightseeing together
A Rick Steves tour manager will coordinate the group's transportation and hotels and provide advice for sightseeing, meals, etc.
All group transportation from Barcelona to Sevilla
10 nights accommodations in memorable, centrally located hotels
All breakfasts are included
All tips for tour manager and driver
Free Audio Europe™ app for Apple and Android (or get free podcast/mp3 files) featuring Rick's radio interviews with experts on destinations covered in this itinerary
$100 Shopping Spree (per household) at the Rick Steves Travel Store to get guidebooks and gear for your trip
Guaranteed tour price, locked in the moment you make your deposit
Optional single supplements — this tour has a limited number of private rooms for solo travelers for an additional fee
Tour alum discount of $50 for each tour you've taken prior to 2016
50% discount on a consulting appointment with our in-house experts to assist with your pre- or post-tour travel plans
Flexibility should you need to transfer, or cancel/interrupt your tour
Fine print: You are responsible for the cost of your drinks and free-time sightseeing. See our Tour Conditions Agreement for important details regarding everything listed above.
Itinerary
Sightseeing notes
(r) = reserve a time before you leave the USA
Day 1: Welcome to Spain
Welcome to Barcelona, one of Europe's most dynamic and diverse cities. Depending on when you arrive, today is a great day to wander through the maze-like Gothic Quarter, medieval cathedral, and refurbished harbor area. We'll rendezvous at our Barcelona hotel at 5 p.m. for a group get-together. Your tour manager will give an overview of the days ahead, answer your questions, and offer a quick orientation to our neighborhood and Barcelona's public transportation system. Then you're free for dinner on your own, and maybe an evening stroll up and down the Ramblas. Sleep in Barcelona (2 nights). No bus today.
Day 2: Lively, Artistic Barcelona
You have the entire day and evening free to explore this remarkable city. Armed with a guidebook, you could hop the subway to see Gaudí's towering, dizzying Sagrada Família Church (r) and his colorful, playful Park Güell. Closer to the center, you can check out the Modernisme-themed Avenue of Discord, and a museum dedicated to another artistic visionary: Pablo Picasso (r). No bus today.
Day 3: A Speedy Train to Madrid
All aboard! After breakfast we'll take one of Europe's speediest trains (the AVE) to Madrid. By mid-afternoon you'll be settled in your Madrid hotel, and free for the rest of the afternoon and evening, maybe to explore the lively streets around the Puerta del Sol and Plaza Mayor, or the majestic Retiro Gardens. Sleep in Madrid (3 nights). Train: 3 hrs. Bus: 1 hr.
Day 4: Masterpieces of Madrid
Today and this evening are entirely free to cover the best of Madrid. For many, that means the masterpiece-packed Prado (r) — featuring paintings by Velázquez, Goya, El Greco, and others. The Royal Palace is another great place to wander and soak up the opulence of Spain's capital city. Tonight, use your guidebook to put together a tapas crawl, and use your phrase book to connect with the locals (and to figure out what you're eating)! No bus today.
Day 5: Day trip to Toledo or Segovia
Your day and evening are free. It's cheap and easy to hop on a Spanish bus for a day trip to the old capital city of Toledo (for its magnificent cathedral, the Synagogue Santa Maria la Blanca and Santo Tomé Chapel) — or to Segovia (for its thrilling Roman aqueduct, Gothic cathedral, and imposing Alcázar). No bus today.
Day 6: La Mancha and Granada
Today we'll drive through windswept "Don Quixote country," stopping to sniff the saffron. At about 4 p.m. we'll reach our destination of Granada. Once you've checked into the hotel, you might head up the Albayzín hill, find an interesting place for dinner, and enjoy a sunset view of tomorrow's treat — the Alhambra. Sleep in Granada (2 nights). Bus: 5 hrs.
Day 7: Moorish Treasures of Granada
Your entire day and evening are on your own, and there's no better way to start than with a visit to the sprawling palace and garden complex of the Alhambra (r) — the last and greatest of Europe's Moorish palaces. Afterward, you might explore the colorful streets and alleyways of Granada's Old Town, and ponder the course of history at the ornate tombs of world-changing Ferdinand and Isabella, who reigned over a new age of religious zeal at home and exploration of the "new" Americas. No bus today.
Day 8: Ronda
This morning we'll drive to the hill town of Ronda, home to Spain's oldest bullring and its most breathtaking gorge. The afternoon and evening are yours to explore Ronda's Moorish and Mercadillo Quarters, linked together by the famous gravity-defying stone bridge (towering over the rubble of an earlier one that wasn't). Sleep in Ronda (1 night). Bus: 3 hrs.
Day 9: Sevilla's Barrio Santa Cruz
Today we'll wind our way between olive groves and pueblos blancos on our way to the flamboyant and atmospheric city of Sevilla. Our hotel's central location makes it easy to spend this afternoon and evening marveling at the world's largest Gothic cathedral — and window-shopping along the narrow whitewashed lanes of Sevilla's Barrio Santa Cruz. Tonight, you might look for a performance of sultry, swirling flamenco. Sleep in Sevilla (2 nights). Bus: 2.5 hrs.
Day 10: Sevilla's Royal Alcazar
Your entire day and evening are free to do as you please. You could start with a visit to the beautifully Moorish-style Alcazar palace, the Sevilla home of the Spanish Royal Family for the past 500 years. Afterward, you can walk in the footsteps of Carmen and Don Juan, linger in Sevilla's charming squares, or stroll along the romantic Guadalquivir River. This evening, consider capping off your My Way Spain adventure with a carriage ride through the streets of Sevilla. Salud! No bus today.
Day 11: Tour Over After Breakfast
Sevilla's airport is a bus or taxi ride away with easy connections throughout Europe. Alternately there is an AVE train to Madrid to continue your Iberian adventures on your own. Hasta luego!
Itinerary specifics subject to change.
Activity Level
Our tours are physically active! It's an essential part of the Rick Steves tour experience. On our My Way® Spain in 11 Days tour — among other things — you'll need to happily…
Carry/roll your luggage over uneven pavement (several blocks possible) and up stairways to reach your hotel; then up several flights of stairs to reach your room.
Sleep with street noise and no (or weak) air conditioning.
Be able to navigate towns and cities on your own.
Be responsible for your own daily sightseeing, admissions, meals (except breakfasts), and non-group transportation.
Travel on a bus without a toilet (rest stops every two hours).
Reviews
Daniel
Greenville, SC
Tour: 06/25/15
Overall rating:
A wonderful experience! I would definitely go again.
Favorite "WOW" moment
"The light from the stained glass in Sagrada Familia in the early morning. Sunset and sangria at the Plaza San Nicholas in Granada overlooking the Alhambra. Spontaneous flamenco in a dive bar in Sevilla. Pimientos de Padron! It's so difficult to choose."
Allyson
Phoenix, AZ
Tour: 06/25/15
Overall rating:
We loved the my-way format. It made it easy to venture out and explore on our own, but to do so as well-informed travelers.
Favorite "WOW" moment
"Ronda's gorge. Simply gorgeous."
Peter
Monkton, VT
Tour: 06/25/15
Overall rating:
Generally, it was a wonderful, memorable experience. The itinerary was varied and interesting, the transportation was excellent, and the tour group bonded really well. The heat wave necessitated siesta time, and while this was fine, I felt the down time somewhat limited my daytime touring abilities.
Favorite "WOW" moment
"The "tesoro" (treasure room)at the Santa Iglesia Catedral in Toledo holds an astonishing display of large elaborate, bejeweled religious objects. At least one of these was ordered by Queen Isabella to be crafted from the first gold extracted (presumably by slaves) from the "new" world. This vividly put important Western world history into perspective for me. Otherwise: Barecelon: Sagrada Familia, Granada:street flamenco and excellent tapas y vinos everywhere, were among the big hits for me."
Mae
Vancouver, WA
Tour: 06/18/15
Overall rating:
We had a wonderful small group of 19 people, plus an outstanding guide, William Rosendin, who provided us with plenty of helpful advice and lots of enthusiasm. Everything ran smoothly, buses and trains were on time, and no one got pick pocketed! Money belts worked great.
Favorite "WOW" moment
"We celebrated our 40th anniversary on this trip, and we were in Madrid on that day, seeing the Prado museum, and our favorite: the Thyssen Museum! It has an outstanding collection, wasn't crowded, and had a great gift shop too. We also loved the Ahlambra."
Mary
Ardmore, PA
Tour: 06/18/15
Overall rating:
While I was unsure about how the My Way concept would work out, I couldn't be more pleased with the results. All the details were managed flawlessly by our tour manager, William. The hotels were clean and comfortable with breakfast offerings that started each day off right. Traveling was comfortable and easy.
Favorite "WOW" moment
"While it is hard to choose a single moment I would have to say the cooking class in Seville. I learned a great deal amid the laughter and conversation. Not having been to Spain before, there were many eye-opening moments. I look forward to see more of Spain, thanks to Rick Steves."
Susan
Van Nuys, CA
Tour: 06/18/15
Overall rating:
It met my expectations: a nice blend of the convenience of having hotel and travel arranged with the freedom to move about at my own pace during the days. I knew going in that I wouldn't be thrilled about having two one-night stays and I wasn't. I found those days very tiring and allowing insufficient time to explore both Toledo and Ronda. Added to that, arriving at midday and having only the hot afternoon hours to explore made for a less than optimal experience in those two places.
Favorite "WOW" moment
"Visually, arriving in Toledo, seeing it from afar. Magical! A close second was walking up the Albazin in Granada and viewing the Alhambra from across the valley in the setting sun. Pretty much all of Barcelona, Granada, and Toledo"
Mary
Cleveland Heights, OH
Tour: 06/18/15
Overall rating:
The "My Way Spain Tour" was the perfect way to travel. The tour handled the transportation and the hotels. The tour escort was available for advice & in case of emergencies – which is reassuring in a country where we didn't speak the language. I have always planned our trips. I previously avoided tours because we didn't want to be scheduled nor have the sights or restaurants dictated to us. But with the freedom of a My Way tour, we will gladly take another tour.
Favorite "WOW" moment
"My favorite wow moment occurred while standing in Gaudi's Cathedral. The morning light was streaming through the stained glass windows filling the immense space with light and color, and I looked upward to see the columns that branched out like trees to support the ceiling. Stunning!"
Jearl
Cleveland Heights, OH
Tour: 06/18/15
Overall rating:
Great!
Favorite "WOW" moment
"My favorite "wow" moment was probably the Miro Museum in Barcelona. It was fascinating to see a large body of work covering the artist's lifetime. I found it more interesting than the Picasso Museum."
Kevin
Folsom, CA
Tour: 06/18/15
Overall rating:
My wife and I decided to take the Spain My Way tour instead of a fully guided tour because we wanted to experience the culture first hand but not worry about logistics. The tour provided exactly what we wanted - the freedom to arrange our days as we wanted without worrying about hotels or transportation. Our guide, William, was essential to our experience as he took care of all the details and provided enthusiastic and cheerful overviews of each of the cities with suggestions and helpful advic
Favorite "WOW" moment
"Visiting the Al Hambra in Grenada during the day was a marvelous experience."
Kim
Seattle, WA
Tour: 05/21/15
Overall rating:
We are independent. We like to go where we want when we want and have our own taste, I am not likely to enjoy a prolonged group event, but that freedom brings with it some inherent restrictions. Things such as accommodations and transportation will always be restrictive. Rick Steves' My Way Tour was a very, very good solution, with a really nice benefit: an attached guide to provide guidance, assist with local connections and offer suggestions to maximize each location. We loved Amanda!
Favorite "WOW" moment
"Arriving in Ronda and our stay there. The hotel was a magical place as was the town. That is saying a lot because Sevilla and the Alcazar (#2) and La Alhambra (#3) were next on the list. Barcelona was given extra time and was amazing also. I would return to any of those places happily! Spain was wonderful!"
Michelle
Lynnwood, WA
Tour: 05/21/15
Overall rating:
Our Spain tour was so much fun! We had a great group of people who all seemed to get along well. We would often see each other in our individual walkabouts and often joined each other for lunch or dinner. My husband thought he would get tired of churches but changed his opinion after viewing the wonderful historic and beautiful buildings. I found that most Spaniards were friendly and welcoming. The Spain book was very reflective of what we experienced.
Favorite "WOW" moment
"My favorite "wow" moment was my first view of the Sagrada Familia. Nothing can prepare a person for such a spectacular site; it's almost like something out of a child's fairytale book."
Mary Ellen
East Hampton, CT
Tour: 05/21/15
Overall rating:
Loved Spain - for the beauty and variety and incredible Moorish art. Wasn't sure I would like the larger cities but each one had something unique that made it worth a visit. The my-way protocol worked perfectly for us. Having Amanda as our tour "manager" provided a comfort level that made it easy to travel around.
Favorite "WOW" moment
"So many incredible things to see but perhaps the Alhambra guided tour that we took."
Theresa
Gatineau, QC
Tour: 05/21/15
Overall rating:
I enjoyed my way tour, it was an excellent way to take the stress off of having to plan ur hotels and transportation and just concentrate on the sites to be valued in each city travelled.
Favorite "WOW" moment
"I had a few wow factors on this trip, each city provided me with a wow!!!!!!!!"
Christine
Kitchener, ON
Tour: 05/21/15
Overall rating:
We had a wonderful time on the tour- it exceeded our expectations. The hotels were centrally located and most destinations could be reached on foot. It was well organized and all the vexing problems with travel were avoided as they were taken care of for us.
Favorite "WOW" moment
"My wow moment was standing before Velazquez's Las meninas at the Prado in Madrid- a transcendent moment."
Eva
Kitchener, ON
Tour: 05/21/15
Overall rating:
It was my first Rick Steves Tour and I enjoyed it a tremendously. It met my expectations and beyond. The Tour was perfectly set up with the Hotels being central and typically European as I prefer them to be. The rooms were clean and comfortable and staff very accommodating and friendly. If I had any small suggestion is that a few hotels could certainly improve on the breakfast. One in particular was very poor. Amanda our tour guide was excellent. She was knowledgeable, helpful and sweet.
Favorite "WOW" moment
"I actually had quite a few "WOW" moments. It seemed I was saying WOW quite a lot! The Sagrada Familia was one of them and I will never forget it."
John
Camarillo, CA
Tour: 05/21/15
Overall rating:
An excellent introduction to Spain. I really like the My Way format where we could do our own exploring. I also really appreciated our guide's (or escort's)advice and suggestions.
Herbert
Aptos, CA
Tour: 05/21/15
Overall rating:
Every stop was unique. Enjoyed it all. However, we added Bilbao on or own & that was an amazing surprise. You should exclude that stop next year.
Favorite "WOW" moment
"Our directions to the Sangria cathedral were not that clear so when we got off at the last stop we were told it was another 10 minute walk. When we started to walk, we asked a local for directions; she laughed & said turn around. The huge building was just across the street!"
Howard
East Hampton, CT
Tour: 05/21/15
Overall rating:
The My Way experience provided the right balance of structure and free time. Some consideration should be given to expanding these kinds of trips
Favorite "WOW" moment
"Alhambra by far"
Robert
Lynnwood, WA
Tour: 05/21/15
Overall rating:
This tour was a perfect blend of support from the wonderful Amanda and independence. We walked our feet off, met locals, sipped wine not usually poured for "normal" tourists and ate food that makes us ache for Spain! The tragedy is there are no tapas for me mid-day and I have to get up too early to eat as late as we did on vacation. Seamless organization for transport and lodging!
Favorite "WOW" moment
"Our independently arranged trip to Cordoba where we saw the Alcazar - a stunning expression of ancient architecture. Every place we went, we had a ball. Ronda, the gorge and the owl that flew over our table as we supped by starlight. The Alhambra by night. The stunning sense of adventure at every turn."
Joanie
Santa Rosa, CA
Tour: 05/21/15
Overall rating:
Amazing, my daughter and I took this trip to Spain to celebrate her earning her master's degree and we were reluctant to sign up for a tour, but the My Way caught our attention. So we made all of our own sightseeing plans in advance, but what a joy to meet up with a wonderful bunch of tour companions, an awesome guide - Amanda - and to have all of our traveling and accommodations planned for us. The hotels were delightful and the locations perfect for experiencing each new city and for walking.
Favorite "WOW" moment
"A - Z - I don't think there was only one favorite. Toledo was like opening a fairytale and we were the characters. The Alhambra was a wow, as were the amazing cathedrals. Walking by day and crossing paths with fellow My Way tourists, and ending up dining and tapas hopping together also a joy. Our final dinner together - well, that was a highlight for sure."
Rhiannon
Santa Rosa, CA
Tour: 05/21/15
Overall rating:
Amanda was a fantastic tour guide and everyone really clicked on our tour. It was such an incredible experience that I would recommend to everyone! I loved being able to pursue my own interests during the days and meet up with other tour members at night to discuss our adventures of the day. It was a wonderful group of people and I'm absolutely thrilled with the whole experience.
Favorite "WOW" moment
"I have to say, as much as I loved the cities, Toledo was a purely magical experience. As was Granada. Do NOT miss the Alhambra, The Real Alcazar in Sevilla, and the ancient grandeur of Toledo."
Jan
Everett, WA
Tour: 10/09/14
Overall rating:
My wife and I had a wonderful time on our Spain "My Way" Tour. Accommodations and travel arrangements were very top notch. Seeing six cities was great, but not enough time in each city to see all we wanted to see was disappointing.
Favorite "WOW" moment
"Two "WOW" moments for me - The Sagrada Familia in Barcelona and the flamenco dance night in Sevilla. Lots of other moments could easily make the list as well."
Stephen
Okatie, SC
Tour: 10/09/14
Overall rating:
The tour was everything I expected and more. The transportation and logistics provided through the tour were invaluable in maximizing the time spent at all the planned destinations.
Favorite "WOW" moment
"Would have to say Sagrada Familia in Barcelona. Pictures or video do not even scratch the visual impact of this architectural masterpiece."
Pat
Austin, TX
Tour: 10/09/14
Overall rating:
My visit to Spain was a long time in coming and I thoroughly enjoyed it. There are not enough adjectives to describe the experience. The tour was meticulously planned and executed. There was not one city or site that I did not enjoy. My one disappointment was that there were not more solo travelers and that I could not coordinate with them prior to the tour. That and I didn't want it to end.
Favorite "WOW" moment
"The first city on the tour was Barcelona. I arrived late afternoon and planned to walk some, eat, and have an early night. Just strolling along I came across Gaudi's Casa Battlo-WOW. The line was short so in I went. The first of many wow's on the trip."
Susan
Gales Creek, OR
Tour: 10/09/14
Overall rating:
Robert did a great job as our escort. This was our first tour ever and we were very happy with the My Way format. We had fun with the other tour group members, but we could also do our own thing. We enjoyed the Spanish people and culture. We had a great trip.
Favorite "WOW" moment
"The Sagrada Familia in Barcelona. The Flamenco show in Sevilla. The walk with Concepcion in Sevilla. The dinner at Taberna Alaberdero (?) that Robert arranged for the group the last night in Sevilla."
Roberta
Corona, CA
Tour: 10/09/14
Overall rating:
When we first started talking about going to Spain, we had no idea about how to go about choosing hotels, transportation between cities, and what cities we wanted to visit. Then we had several people tell us about Rick Steves'. We didn't really want a tour group, but we checked it out and that's when we discovered the My Way tours. The My Way tour made everything perfect! We didn't have to worry about rooms or the transportation between cities, and we were able to tour the way we wanted.
Favorite "WOW" moment
"We of course loved Barcelona, but our wow moments would have to be Toledo and Ronda. I don't know if we would of chosen to go there if they hadn't been included in the tour. But we really enjoyed both of the small cities."
Patricia
Everett, WA
Tour: 10/09/14
Overall rating:
The "My Way" tour exceeded my expectations. I really liked the connection and bonding we made on a previous full RS tour to Italy so I wasn't sure we would have thatagain However, we did make a connection with other tour members on the "My Way" and that is a big part of the enjoyment for me. There was more anxiety in preparing for this trip since we had to make our own advance reservations. After arriving in each city, Robert was very helpful in advising alternate ways to get to our venues.
Favorite "WOW" moment
"Even though I knew what to expect at the Sagrada Familia in Barcelona...it was still a "wow" when I first entered. Having said that, I really think the Alhambra was the highlight. Although...I am now recalling the phenomenal Flamenco show in Seville. The performance was a definite "WOW"!"
Helen E
Sedona, AZ
Tour: 10/09/14
Overall rating:
Spain Your Way Trip, overall, was the best trip I have ever taken. The historic sites, the transportation, the accommodations were very satisfying. This trip has inspired me to travel to other parts of Spain which were not covered on this trip. I am very pleased with the Rick Steves travel experience and will encourage all my traveler friends to sign up for future trips.
Favorite "WOW" moment
"The trip was one big wow moment. Probably, the Gaudi sites, especially the Sagrata Familia. Then again, I am an art lover."
Paul
Forest Grove, OR
Tour: 10/09/14
Overall rating:
The "My Way" format worked very well for us. The standard tours seem to be a lot of churches and museums, we like more gardens and markets. So we could do our own thing. The travel "escort" could not have been better, just the right touch in providing orientation and tips for each stop, and good availability for needed directions or assistance, but not intrusive or dictatorial in his direction. We would really like to to a "My Way" type tour of Portugal with Robert.
Favorite "WOW" moment
"Robert put together a group meal at a culinary school, Taberna Alabardero, very nice touch on his part. Allowed us to say good-by to each other without any fuss or extra planning. Alcazar in Sevilla, Conception's walking tour assisted by Robert on an impromptu basis was also really nice. Sagrada Familia was special, much more impressive than its photographs."
Eugene M
Sedona, AZ
Tour: 10/09/14
Overall rating:
I usually plan our trips to Europe but this was our first tour. I felt relieved that I just had to plan our daily activities (the part of planning I like best) and not worry about lodging and transportation. With the information from R.S.'s Spain, the Spain DVD and the information and suggestions from our escort, Robert Wright, we had a fantastic trip.
Favorite "WOW" moment
"It is hard to pick just one "wow" moment on a trip with so many "wow"s. The Sagrada Familia was up there as a jaw dropper. The Prado provided an exceptional art experience. We actually returned a second time on our way home from Madrid. The real show stopper for a retired Social Studies teacher, was the newly completed National Archaelogical Museum MAN in Madrid. It gives a visitor a real sense of the history of Spain. I would give it more than one triangle in the guide."
Carol
La Mesa, CA
Tour: 10/09/14
Overall rating:
Our trip went so smoothly with Robert guiding us through the uncertainties of navigating the transportation in a foreign country and locating our hotels after arriving in a new city. He was always available to help us with plans for sightseeing or meals, and offered a great overview of each city we visited before we arrived. All his little insights into the places and people enhanced our journey and helped us make the most of all our free time. A perfect guide for this trip!
Favorite "WOW" moment
"I was overwhelmed by the Sagrada Familia in Barcelona. I looked forward to seeing it, but had no idea the building itself and the concept behind it would be so stunning. It is a soaring monument to humanity."
Robert
Bainbridge Island, WA
Tour: 10/09/14
Overall rating:
My partner and I have never gone on a group tour before and have avoided them as we wanted to be in control of our own time, companions, agendas and time allowed for various site. The My Way Tour took care of the stressful part of traveling - accommodations and trans[ortation. It was well organized, clear in RS Co. expectations & processes. It was led by an exc. "guide" and resource. He was very conscious of each tour members individuality and desire to be separate or a part of the group.
Favorite "WOW" moment
"Barcelona was a standout for me and my partner. As an Architect I was very taken by the work of Antonio Gaudi and the Moderista Movement. Visiting Sagrada Familia was the highlight experience of the trip."
Vicki
Rochester, NY
Tour: 10/02/14
Overall rating:
Spain My Way is a great way to take a trip and focus on what you want to do, rather than time consuming trip logistics. From Barcelona to Madrid to Granada to Seville (with additional one-night stops in Toledo and Ronda), it was fabulous to arrive time and again at a welcoming little hotel in the heart of each city, and be able to immediately start seeing what you came to see, explore areas you didn't know existed, and find wonderful local music, food, and fun conversation.
Favorite "WOW" moment
"Finding ourselves at the Palau de la Musica in Barcelona hearing a Grammy-award winning classical guitarist and realizing we'd never been in a more beautiful building for a concert - ever. Amazing! We also loved the extra days we added to our tour so we could see Arcos and Cordoba. Really, don't miss the Mezquita! Then again, sitting having yogurt across from the Europa Hotel in Madrid and watching police don riot gear, and seeing police - six-deep -- chasing protestors was a wow moment."
Patricia
Savannah, GA
Tour: 10/02/14
Overall rating:
The tour was well organized and flowed smoothly. We were blessed with a most congenial group. My only regret was that my two favorite places were Toledo and Ronda, and we only spent one night in each. I recognized that this is an individual preference and may not be one shared by the majority of travelers.
Favorite "WOW" moment
"I was amazed at the opulence of the Palace in Madrid and seeing the Alhambra at night was awe inspiring. But then there was the Sagrada Familia! I guess I had a few "wow" moments."
Katherine
San Diego, CA
Tour: 10/02/14
Overall rating:
I was really happy with the "My Way" experience and would use it again. I have travelled in Europe both independently and on fully guided tours and this was the best of both arrangements. I had the independence I like, but I didn't have to hassle with booking the hotels or any of the transportation. In addition our escort/guide saved additional prep work in that he provided helpful information on safety, customs, and how to use the public transportation. The hotels were all excellent.
Favorite "WOW" moment
"Hard to pick one. I really enjoyed the people on the tour (great NPR crowd) and our guide William. I loved the little towns, Toledo and Ronda the best."
Jean
Port Townsend, WA
Tour: 10/02/14
Overall rating:
This was my first tour, I was very pleased with the option of a My Way Tour. I hope and encourage you to do more tours My Way especially to Turkey. I truly am not interested in "regular" tours for I do not like the "herding" aspect, of those types of tours, Our guide William was exceptional!!!! He was knowledgeable, caring, funny, very organized, and just an overall nice person. He is a keeper and I am afraid has spoiled me for any other "tour guide" experiences.
Favorite "WOW" moment
"Viewing the Alhambra all lit up at night with a Full moon! Worth the climb up the hill and very fun!!!"
Roger
Rochester, NY
Tour: 10/02/14
Overall rating:
The concept of "my way" is perfect for us. The travel arrangements and hotels took the guesswork out of organizing the trip and left us with flexible time for our touring desires. The hotels were located in perfect locations and areas. Having a tour arranger with us worked great! The places you picked in Spain were great. We added time in the front end and back end and that was also great. This was our 5th trip overseas and ranks high on the list.
Favorite "WOW" moment
"Sorry - there were several. Opening the door to our hotel room in Ronda - WOW! Our experience with the restaurant (Arrayanes) and its owner (Mostafa) was memorable (he spent much time with us and bought us tea and tapas) - WOW! Being able to visit the La Mancha windmills WOW! The Cordoba Mestique (from our estended trip) WOW! The Alhambra, Sagrada Famalia, and Cathedrals (we attended services at two of them which enhanced the experience) - WOW!"
Darlene
Avon Lake, OH
Tour: 10/02/14
Overall rating:
As a first time Rick Steves traveler, I did not know what to expect. Spain is a beautiful country and should be on more of you PBS shows. I found the tour to be outstanding and very educational as far as learning about the country and it's people. The "my way" tour really worked to my favor, as I have Rheumatoid Arthritis and need to be on my own schedule. Thankfully I did really well in Spain. This is the first trip I've been on and didn't not say "I am ready to go home".
Favorite "WOW" moment
"I can not give you one "wow" moment. My eyes were open to so much that I did not know. So, I guess "wow" moment would be the whole 11 days."
Michael
Macon, GA
Tour: 10/02/14
Overall rating:
Our trip through Spain was great in every way. This was my first Rick Steves adventure, but it certainly won't be my last. The "My Way" option allowed us to tour at our own pace without feeling the need to "keep up" or "slow down" for others.
Favorite "WOW" moment
"Sitting across the valley having dinner and watching the Alhambra in Granada come to life as the sun set and the illumination was turned on was just amazing."
Richard
Savannah, GA
Tour: 10/02/14
Overall rating:
It's was a great way to see Spain without the stress and hassle of having to arrange accommodations and in-country travel. It was a perfect blend of group and private travel.
Favorite "WOW" moment
"The Alhambra is a site everyone should see at least once."
Victor
Fort Myers, FL
Tour: 09/25/14
Overall rating:
This tour provided just the right balance between guidance and total freedom. Bed, breakfast, bus, and daily access to our guide was just right. This allowed us to explore on our own, with helpful advice from the guide.
Favorite "WOW" moment
"Discovering the back streets and alleys of Barcelona. We spent 3 extra days there (post-tour) and would have been happy to spend the whole two weeks just getting lost in those alleyways!"
Jospeh
Indianapolis, IN
Tour: 09/25/14
Overall rating:
The My Way experience is a great way to travel. You took care of all the hotel's which were located in the heart of each city. And the transportation was excellent taking the worry out of it. Our tour guide Robert Wright was very in formative and very friendly! Fun to be around!
Favorite "WOW" moment
"The trip as a whole was wow, meeting the locals and others in our group."
Toni
Minneapolis, MN
Tour: 09/25/14
Overall rating:
We loved the trip[INVALID]the cities and the major sites. While we liked Spain, it turns out that we probably won't visit it again[INVALID]unlike our trips to Italy and France. Spain is, overall, rule-laden[INVALID]for everything. You can't go anywhere without a ticket and a specific time. And it seems to be too much[INVALID]there were hardly crowds anywhere, including the Alhambra and at the El Greco exhibit at the Santa Cruz museum where they gave us a hassle and made us buy additional tickets.
Favorite "WOW" moment
"The Alhambra and Sagrada Famiglia."
Jane
Toronto, ON
Tour: 09/25/14
Overall rating:
We have done three independent trips using Rick Steves' guidebooks and three fully guided RS trips. This was our first 'my way'. Spain is an easy country to visit independently which makes it a good candidate for the 'my way' experience. The one negative to fully guided tours is the inconsistent level of hotel accommodation. By choosing a 'my way' I ended up with that same one negative. Should have thought of that! Our escort Robert was knowledgeable, personable and organized.
Favorite "WOW" moment
"Gaudi...all things Gaudi"
Rodney
Indianapolis, IN
Tour: 09/25/14
Overall rating:
I thought the MyWay Spain tour was absolutely fantastic! First off, the "My Way" approach to travel was a perfect balance for us as it eliminated the "stressful" part of traveling in a strange place (such as driving, choosing a nice and well located hotel, navigating public transportation, etc) but allowed us complete freedom once we arrived at our destination to be independent travelers. As far as Spain...need I say more...it is a wonderful place to explore!
Favorite "WOW" moment
"This is so hard to answer as there were so many unexpected surprises. However, in general I would say that Rick Steves placed us in centrally located hotels that gave us ready access to so many wonderful sites and hidden treasures. I just felt like we got dropped in the middle of the action at all of our destinations which made exploring, discovering, and experiencing the culture so much easier."
Candie
Fort Myers, FL
Tour: 09/25/14
Overall rating:
I was in Spain (Barcelona, Baleric Is.) 40 years ago so I don't remember much about that trip. I did notice that I wasn't met in the airport by men with machine guns on this trip. My husband is an artist, interested in drawing city scapes & the Gaudi architecture was a big "draw" for him. I loved all the tile work & use of broken dishes on many of the Gaudi works. I am an art quilter & got a lot of inspiration for new quilts from the mosaics & from the many olive trees dotting the hills.
Favorite "WOW" moment
"I was truly spellbound when I entered the Sagrada Familia for the first time. I had seen the outside 40 years ago and there has been so much done to it since then. The light glowed pink then blue then green with the changing of the sun shining through the stained glass. I loved discovering all the little shops in the old sections of all the towns we visited."
Thomas
Oakland, CA
Tour: 09/25/14
Overall rating:
Saw all the cities [INVALID]- right from the center of historic areas! Great!
Susan
Manalapan, NJ
Tour: 09/11/14
Overall rating:
Our MY WAY SPAIN experience was absolutely fabulous. The concept of a "my way" tour is brilliant....we loved NOT having to plan for our hotels and transportation. We did what we wanted to and when, but still had the connection that we appreciated with our wonderful tour leader, Robert. The itinerary was perfect. We did, however, arrive in Barcelona a full two and a half days early, which we really appreciated, giving us time to get over the jet lag, and time to see more in Barcelona.
Favorite "WOW" moment
"I was enthralled with the town of Ronda! We actually would have loved TWO FULL days and nights in that town. The hotel there was a GEM,Hotel San Gabriel, which we didn't fully appreciate given the short time that we spent there. The walking opportunities in Ronda seemed limitless, and every turn was a picture taking moment! We loved seeing the bullring in Ronda, and learning some of its history."
Barbara
Woodbury, MN
Tour: 09/11/14
Overall rating:
Loved the flexibility of "My Way" tour. Had lots of fun with the tour group and our guide! We didn't expect to spend so much time with many of our group. An unexpected and nice surprise! We did all of our "must see" sights and still had time to relax and enjoy our surroundings.
Favorite "WOW" moment
"View from St. Nicholas area of the Alhumbra at sunset. A close second was a tapas crawl with tour group members!"
Weather

Spain / Barcelona
---
Spain / Madrid
---
Spain / Sevilla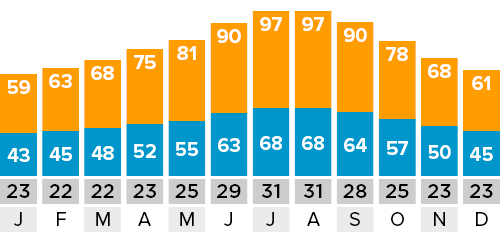 Pre-Tour
We've put together some specific information on what you should know about this tour before you go. You'll also find more general information about "Getting Ready for Your Tour" on our Tour FAQ.
Trip Resources
Learn more about Spain: Check out a collection of Rick's TV shows, radio interviews, and articles, plus recommended books and movies.
Transportation
Prior to your tour departure, you will receive detailed directions on how to get from the airport to your first tour hotel, as well as contact information for your first and last hotels in case you wish to book pre- or post-tour hotel accommodations.
Many tour members arrive a day or two before the tour begins — and those who don't, wish they had. This allows you ample time to get over jet lag and make the most of the first few days of the tour.
There is more than one way to get to and from your tour. Most tour members will arrange to fly into Barcelona and out of Sevilla ("multi-city" on flight-booking websites). Booking round-trip to one city will require a connecting flight, train trip, or additional overnight stay in Spain.
For information about flying within Europe, ask your travel agent or check Rick's list of European budget airlines.
Read Rick's train travel and rail pass tips to decide if your travel plans merit a rail pass.
If you have additional European travel or tour questions, contact the Tour Department at 425-608-4217 or email tour@ricksteves.com.
Sightseeing on Your Own
If you arrive in Barcelona before your tour begins, use the Rick Steves Spain guidebook to get oriented. Ride the public transportation, try out a few words of Spanish and get over your jet lag with lots of fresh air and exercise. Check the guidebook for museum hours (some are closed one day per week; some stay open late one day per week).
Remember, you will be in charge of your own sightseeing for ALL destinations on this trip. We strongly suggest you begin planning well before you fly to Spain! To guarantee entrance, make reservations for the Alhambra in Granada in advance from home. We also recommend reserving the Sagrada Família Church and Prado Museum a few days in advance. See the Rick Steves Spain guidebook for details on how to reserve.
If you are interested in attending zarzuela, the Spanish light opera in Madrid, you may want to check the schedule and buy tickets before leaving home. Find more information in the Rick Steves Spain guidebook; schedules and booking information are at http://teatrodelazarzuela.mcu.es.
Packing
We recommend that you bring a smart phone, tablet or other device to assist in planning your activities, and to access Rick's Audio Europe app.
For more advice on what (and what not!) to pack, see Rick's packing tips.