Salzburg, Austria

Hallstatt, Austria

Alpe di Siusi, Italian Alps

Zugspitze, German Alps

Neuschwanstein Castle

Berner Oberland, Swiss Alps

Aiguille du Midi, French Alps
Tour Questions? Call 425-608-4217
My Way: Alpine Europe in 12 Days Tour
This trip delivers endless opportunities for fresh-air thrills, from Austria's Sound of Music country to flower-carpeted meadows in Italy's Dolomites, fairytale castles in Germany's Bavaria, cut-glass peaks in Switzerland's Berner Oberland, and France's Mont Blanc. For a dozen free-spirited days, this money-saving My Way tour gives you the freedom to decide your own daily priorities and pace. We cut the stress by providing comfortable rooms in well-located hotels, private bus transportation to each destination, and a travel-savvy tour manager to help advise you along the way. Join us for My Way®: Alpine Europe in 12 Days!
Dates & Prices
What's Included
This is an "un-guided" tour — giving you the freedom (and responsibility) to manage your daily sightseeing schedule and meals
A small, friendly group of 24–28 people will share our big, comfy bus during the trip, but not do organized sightseeing together
A Rick Steves tour manager will coordinate the group's transportation and hotels and provide advice for sightseeing, meals, etc.
All group transportation from Salzburg to Chamonix
11 nights accommodations in memorable, centrally located hotels
All breakfasts are included
All tips for tour manager and driver
Free Audio Europe™ app for Apple and Android (or get free podcast/mp3 files) featuring Rick's audio walking tours of sights, museums, and neighborhoods in Germany and Austria. Also includes Rick's radio interviews with experts on destinations covered in this itinerary
$100 Shopping Spree (per household) at the Rick Steves Travel Store to get guidebooks and gear for your trip
Guaranteed tour price, locked in the moment you make your deposit
Optional single supplements — this tour has a limited number of private rooms for solo travelers for an additional fee
Tour alum discount of $50 for each tour you've taken prior to 2016
50% discount on a consulting appointment with our in-house experts to assist with your pre- or post-tour travel plans
Flexibility should you need to transfer, or cancel/interrupt your tour
Fine print: You are responsible for the cost of your drinks and free-time sightseeing. See our Tour Conditions Agreement for important details regarding everything listed above.
Itinerary
Sightseeing notes
(r) = reserve a time before you leave the USA
* = included in Rick's audio walking tours
Day 1: Welcome to Salzburg
Welcome to Austria's charming city of Salzburg, the birthplace of Mozart. We'll rendezvous at our hotel at 5 p.m. for a group get-together. Your tour manager will give an overview of the days ahead, answer your questions, and offer a quick orientation to our neighborhood. Then you're free for dinner on your own, and maybe an evening stroll around Salzburg's delightful, pedestrian-friendly Old Town*. Sleep in Salzburg (2 nights). No bus today.
Day 2: All Day in Salzburg
Today is all yours for savoring Salzburg. Begin or end your day with a climb up to the fortress and its sweeping view of the city and surrounding mountains. You can also enjoy exploring the town's Baroque churches, playful fountains, and colorful markets. Rent a bike for an easy ride and picnic along the Salzach River, try your hand at Doe-a-Deer by joining a Sound of Music bus tour, or take an excursion out to nearby Berchtesgaden to see Hitler's infamous Eagle's Nest retreat (r). No bus today.
Day 3: Heavenly Hallstatt
This morning we'll pack up, bid auf wiedersehen to Salzburg, and hop aboard our comfortable bus for a short drive to the picture-perfect lakeside town of Hallstatt. We'll arrive with plenty of free time for you to stroll around the town, take a peaceful boat trip across the mountain-ringed Hallstättersee — or go underground, tagging along on a tour of the world's oldest salt mine. Sleep in Hallstatt (1 night). Bus: 2 hrs.
Day 4: Dolomites Drive to Italy
We'll spend this morning enjoying breathtaking views as we drive into Italy, where the forested Austrian Alps give way to the chiseled 10,000-foot peaks of the Italian Dolomites. After a mid-day stop in Tirolean Bolzano, we'll reach our cozy mountain retreat nestled at the foot of Europe's largest (and arguably most beautiful) Alpine meadow, the Alpe di Siusi. Dotted with farms and crowned by towering granite cliffs, this high-altitude plateau offers hundreds of miles of trails with an array of challenging hikes and easy walks to suit everyone's pace. Grab an evening aperitivo and toast to nature's splendor as the setting sun paints the mountains pink. Sleep near the Alpe di Siusi area (2 nights). Bus: 6 hrs.
Day 5: All Day in the Alpe di Siusi
Today your options are as wide-ranging as the surrounding mountains. Chairlifts abound, providing springboards for the day's adventures. Take a leisurely stroll through rolling green pastures and befriend a free-roaming cow or two. Duck into a hut café to rub elbows with locals and sample traditionally prepared South Tirolean treats. For those with more energy, ridge trails get the heart pumping and provide unforgettable vistas with every step. Feeling a little more cosmopolitan? Catch a convenient bus for a scenic one-hour drive to Bolzano, where cobbled lanes pave the way to a colorful street market and the impressive South Tyrol Museum of Archaeology, home to 5,300-year-old Ötzi the Iceman. No bus today.
Day 6: To the Zugspitze and Bavaria
This morning we'll head northwest, into Austria's Tirol country. On the way, you'll have some free time (weather permitting) to ride a gondola lift to Germany's highest point, the 9,700-foot Zugspitze. At the top, you'll stand with one foot in Germany and the other in Austria, enjoying vistas of each. Then we're off to the charming riverside village of Füssen in beautiful Bavaria. Follow Rick's walking tour around the old town, or maybe take a woodsy walk along Füssen's Lech River to the nearby Lechfall. This evening is perfect for sitting in an outdoor beer garden, and hoisting a liter-size mug with new friends. Prost! Sleep in or near Füssen (2 nights). Bus: 4 hrs.
Day 7: Bikes, Hikes and Castles
King Ludwig's fairytale Neuschwanstein and Hohenschwangau Castles (r) are less than an hour's walk, or a quick bus or taxi ride, away. The Bavarian countryside is laced with wonderful bike paths, so you might rent a bike and ride to the nearby castles in Schwangau, to Tegelberg for a luge ride, or over the border into Austria to explore nearby Reutte. Be sure to break for coffee (or a cold eiscafe) with cake at a café along the way. No bus today.
Day 8: On to the Best of Switzerland
Today we'll drive across Bavaria and climb high into the heart of the Swiss Alps. By dinner time we'll be in the Berner Oberland's magnificent Lauterbrunnen Valley, flanked by vertical, waterfall-laced cliffs and crowned by a trio of Switzerland's most formidable alps: the Eiger, Mönch, and Jungfrau. After settling into our creaky old chalet, you'll find hearty dinner options and spectacular views just a short walk away. Sleep in the Lauterbrunnen Valley (2 nights). Bus: 6 hrs.
Day 9: All Day to Explore the Swiss Alps
This morning you'll wake up in one of the most beautiful spots on Earth. Take off on a mountain excursion that combines the local cog railway, a gondola lift up to Männlichen, and a spectacular Alpine walk above the tree line, surrounded by a vista of cut-glass peaks. You can also book a seat on the Jungfraujoch train, which leads to Europe's best glacier panorama. Or, explore what's above the opposite side of the valley: ride a gondola lift to the top of the 10,000-foot Schilthorn, and hike back down. For a more restful day, stick closer to home and walk to the thundering Trümmelbach: a unique set of waterfalls encased behind the valley walls. No bus today.
Day 10: To the French Alps
This morning we'll head west toward France and our final Alpine destination: the resort town of Chamonix, site of the first Winter Olympics. Spend the afternoon soaking in the French Alps ambience at the foot of Europe's highest peak (at 15,780 feet), the mighty Mont Blanc. Consider taking the gondola lift to Le Brévent for a spectacular view, and end your day enjoying a traditional dinner of raclette or fondue. Sleep in Chamonix (2 nights). Bus: 4 hrs.
Day 11: Aiguille du Midi Dreamin'
Today is your day to enjoy the wonders of the French Alps. You can choose between several great hiking trails with stunning views of Mont Blanc and a supporting cast of Alps that seem to stretch forever. For one of Europe's great Alpine thrills (weather permitting), take Europe's longest vertical gondola ride up to the 12,600-foot Aiguille du Midi viewpoint. From there, mini-gondolas take travelers over the snowfields and on to Italy. Or, if you prefer, simply find a café table with a view in Chamonix, and take the day off in après-ski style. No bus today.
Day 12: Tour Over After Breakfast
From Chamonix, you can book a convenient two-hour shuttle bus ride to Geneva's airport. Your tour manager will help you with any post-tour planning, leaving you well prepared for the road ahead. Au revoir!
Itinerary specifics subject to change.
Activity Level
Our tours are physically active! It's an essential part of the Rick Steves tour experience. On our My Way: Alpine Europe in 12 Days tour — among other things — you'll need to happily...
Carry/roll your luggage over uneven pavement (several blocks possible) and up stairways to reach your hotel; then up several flights of stairs to reach your room.
Sleep with street noise and no (or weak) air conditioning.
Be able to navigate towns and cities on your own.
Be responsible for your own daily sightseeing, admissions, meals (except breakfasts) and non-group transportation.
Reviews
Susan
Alcoa, TN
Tour: 09/14/15
Overall rating:
I have been on one other RS tour, and my evaluation for this one is the same, though my first was guided and this was a My Way. Well-organised, great value, efficient and a delight.
Favorite "WOW" moment
"Seeing Mont Blanc the first time from Chamonix. I am still speechless over it."
Janie
San Jose, CA
Tour: 09/14/15
Overall rating:
My friend Jane and I had the most fun trip ever! Each day I thought this is perfect, how could it get any better. It did. The views were awesome, loved the hiking riding the gondolas. Our tour guide Laurel was the most fun guide ever. I loved her sense of humor and her contagious laughing. This is my number one trip ever!
Favorite "WOW" moment
"The sound of music tour was so much fun. I was living my bucket list."
Ivan
Victoria, BC
Tour: 09/14/15
Overall rating:
Our first tour, we normally plan our own tours. Chosen locations highlighted what the Alps have to offer, all offering a specific experience. Well executed; on time, smoothly run and adequate time for each stop. Constructively, we felt that the stop at Fussen (full day on Sunday) should have taken place on a different day of the week (not Sunday). Most other stops could have been executed on a Sunday but most of the infrastructure in Fussen was closed on Sunday (stores for shopping).
Favorite "WOW" moment
"Hiking on the alpine meadows at the Dolomites (Alpe di Siusi. Great hiking options, suitable for all fitness levels."
Phyllis
Egg Harbor, WI
Tour: 09/14/15
Overall rating:
This was our first tour and we were hesitant to try it since we do not consider ourselves "tour" type of people but your "My Way" tour of the Alps was exactly where we wanted to travel and we are big Rick Steves fans so decided to try it. We could not have been more pleased. The hotels were great, Andre the bus driver was charming and Laurel our escort was exceptional and we loved being able to do our own thing at each stop.
Favorite "WOW" moment
"It's hard to pick just one "WOW" moment, there were so many but if I can choose only one it would be hiking at Alpe di Siusi. Hiking the the meadows with the bells clanging from around the cows necks and beautiful mountains surrounding you and Alpine forests was absolutely amazing. All that I ever dreamed a trip to the Alps would be."
Linda
Beulah, MI
Tour: 09/14/15
Overall rating:
Tour was very well run, professional and personable guide and driver. Tour sites were breath-taking.
Favorite "WOW" moment
"Riding the Mont Blanc panoramic cable cars to Hellbronner near chamonix."
Ramona
Des Moines, IA
Tour: 09/14/15
Overall rating:
My friends and I had a wonderful time in beautiful alpine surroundings with an A+ leader (Laurel) and a fun group of fellow travelers. Activity and dining suggestions were great and we took full advantage of them. The trip truly got better each day and we hated to say goodbye at the end.
Favorite "WOW" moment
"This is an impossible question to answer because there were so many WOW moments, we were in the Alps!! If I have to pick one favorite it might be the cable car ride up to Monte Blanc with our new friends. The sky was clear and there was a collective gasp each time the car swung up past a cable tower. It was incredible. The Alpe di Suisi was awesome too, especially when there were breaks in the clouds."
Richard
Andover, MA
Tour: 09/07/15
Overall rating:
My Way is great. Could "go" when we felt active and we could "sleep in" when we were exhausted...at our own pace.
Favorite "WOW" moment
"Wow - Chinese restaurants in Fussen and Lauterbrunen! Hot and sour soup (had 3 bowls) was a nice find after 12 days of cold cuts. Spitszug and Schilthorn were "Wow"-we had clear days. Bond museum informative, fun, nostalgic-based on Bond movie made 40+ years ago!"
Carol
Hillsborough, NC
Tour: 09/07/15
Overall rating:
The geography of the countries that we toured was just amazing. It seemed that we captured the very best of the Alps in each of the countries we toured. The weather was not great, but we still managed to have a fantastic time and we felt that we got a good feel of each of the different areas. This was our first "My Way" tour, and it took a bit of time to get used to the lesser amount of guidance and group dinners.
Favorite "WOW" moment
"Walking in the Alpine meadow about Castelrotto was amazing. Also, taking the cable car up to the top of the Zugspitze in Germany was unforgettable! It was one of our relatively few totally clear days and it felt that we were on top of the world! I also loved feeding a horse (who wore a cow bell) two apples during our hike in Switzerland-- I definitely made a new friend."
Robert
Vancouver, BC
Tour: 09/07/15
Overall rating:
The My Way tour looked after all of the logistics of bus travel and accommodation. I was free to focus on how to spend my time at each destination. I liked the open structure. I felt we received excellent value for the tour cost.
Favorite "WOW" moment
"Visiting the Museum of Anthropology in Bolzano to see the 5,350 year old Ice Man."
Jennifer
Portland, OR
Tour: 09/07/15
Overall rating:
This was my first Rick Steves tour... It was amazing! I love the mountains and to hike, so the my way alpine tour was right up my alley. We had a wonderful tour guide, Andrew, who went above and beyond to make sure all of the members had a wonderful vacation! The towns we stayed in as well as the accommodations were very fantastic. The hotels were charming and very centrally located! It was nice to have other like minded people on the tour to run into along the way!
Favorite "WOW" moment
"Man... so many "wow" moments! Probably hiking in Alpe di Siusi. absolutely breathtaking! We followed the Panorama to Zallingerhutte hike in the book and it was fantastic! Taking all of the gondolas and lifts up and hiking with the peaks all around you... as well as hearing the cow bells... so cool! Also - making it up Zugspitze on a sunny clear day was pretty spectacular also. Really, the entire trip was "WOW" If you enjoy alpine holidays you will LOVE the alpine tour!"
Michael
Appleton, WI
Tour: 08/31/15
Overall rating:
The arrangements were very well orchestrated. Hotels were comfortable and clean, with very friendly and helpful staff. The bus driver was excellent. Our guide, Don, was extremely knowledgeable and able to help us navigate some tricky aspects of the trip. The destinations on the trip were truly outstanding, providing some amazing and unique natural scenery.
Favorite "WOW" moment
"There were several, but if I hd to pick one it would be hiking the Northface Trail in the Lauterbrunnen Valley."
Robert
Mt Vernon, WA
Tour: 08/31/15
Overall rating:
Well constructed tour of multiple alpine highlights.
Favorite "WOW" moment
"Hiking the alpine regions."
Barbara
Mt Vernon, WA
Tour: 08/31/15
Overall rating:
Excellent "taste" of the hotspots of alpine Europe. Efficient transport and guidance provided. Met all expectations after experiencing (ten!) prior tours. This tour in particular was very well suited to the My Way format.
Favorite "WOW" moment
"Hiking the beautiful areas around Mt Garni, the Eiger, and Mt Blanc. We hope to return to one or more of these areas for a longer time to explore further."
Keith
Spring Lake Park, MN
Tour: 08/31/15
Overall rating:
We loved this tour! Having the free "my way" time was especially appreciated, the other tour members were very nice and friendly, and the choice of small towns enabled us to truly enjoy what was advertised: "a spectacular alpine experience."
Favorite "WOW" moment
"Every stop on this tour was memorable! Salzburg offered a wide range of activities. In particular, the walk in the meadows and valleys above Ortisei were memorable. However, Chamonix had everything: lovely little town, spectacular views both from the village looking up and at the end of the gondola rides, and lovely hotel."
Arianne
Nampa, ID
Tour: 08/31/15
Overall rating:
This was our first "My Way" tour and we loved it! We had the freedom to do whatever we wanted in each town we visited. We are big hikers, so to spend all day or multiple days hiking in The Alps and The Dolomites was fantastic!
Favorite "WOW" moment
"Aiguille Du Midi! Perched 12,000+ ft above Chamonix, France on the most jagged and steep rock I have ever seen! From there we watched mountain climbers summit Mont Blanc. Amazing views on a clear day!"
Chuck
Appleton, WI
Tour: 08/31/15
Overall rating:
We were excited before the trip....but very happy but total experience. This truly is a "nature tour" and I loved it! The best part is the MY WAY feature worked for us. We could plan our days with help from guide Don and Rick's books and tapes. Each day had one or two WOW! experiences.
Favorite "WOW" moment
"My favorite was hiking in high meadows of Dolimites in Italy Alps. Breathtaking scenery that we could get to!!! I had thought we would SEE it but we actually could hike for hours and EXPERIENCE it. I am not as young as I used to be :).... but this was DOABLE!"
Jeanne
Valleyford, WA
Tour: 08/31/15
Overall rating:
We loved this itinerary! The mountains and villages were excellent. Great locations to access a variety of options in our day. Bus,hotels & breakfasts were very nice and our guide, Don, gave us useful help.
Favorite "WOW" moment
"The French alp mountains around the Chamonix valley were awesome! Steeply jagged with deep fresh white snow and so close. Hiking, up a gondola or sitting below in an outdoor cafe, was spectacular. A close second was storybook Hallstatt, steeply nestled against it's serene lake. It's quaintness transports you away from the modern day and gives you peacefulness."
Paul
Valleyford, WA
Tour: 08/31/15
Overall rating:
2nd tour with RS - first my way. Excellent way to do Alpine tour given different people's fitness. Great locations to visit Alps and the hotels seems better than our last visit.
Favorite "WOW" moment
"Taking the tram up to the Aiguille du Midi at 12,600' on a pinnacle of rock looking up to the Mount Blanc and down to Chamonix."
Donna
Richfield, MN
Tour: 08/24/15
Overall rating:
Wonderful scenery! Especially loved hiking with the sound of cowbells and watching the extreme sports in the mountains. We had a great guide, bus driver and a fun group of people!
Favorite "WOW" moment
"Hiking with the sound of cowbells! It was the best! I thought I was Heide!!"
Jeanne
Draper, UT
Tour: 08/24/15
Overall rating:
This was my second Rick Steves tour experience -- I did Italy My Way in 2012 and neither experience disappointed me. I really like the idea of doing a "tour" my way -- you make the lodging and transportation arrangements and I get to do what I want when I want to do it at each destination. For me this combines the best of both worlds and gives me a flavor of a place I may want to return to. In this case, I would go back to the Alpe de Suisi and the Lauterbrunnen Valley in a heartbeat.
Favorite "WOW" moment
"I LOVED the Lauterbrunnen Valley in Switzerland. The view from the Schilthorn was spectacular, not to mention the delightful villages that I visited. I seriously contemplated not leaving there!"
Kathleen
Minneapolis, MN
Tour: 08/24/15
Overall rating:
Wished we'd arrived a day early in Salzburg-beautiful city-much to see. Stunning Alpine scenery throughout. Halstatt-oh my! Lauterbrunnen Valley-wow. And Chamonix[INVALID]my new favorite town[INVALID]great food and it's all about the mountains. Loved eating at all the outdoor cafes in each place. Fantastic hiking in Dolomites, Lauterbrunnen and Chamonix[INVALID]could be challenging, but gorgeous. Armed with tips from the guide, a lot can be experienced at each stop. Glad we stayed longer in Chamonix.
Favorite "WOW" moment
"The day we arrived in Chamonix, most of our tour members thought it was too cloudy to go up l'Aguille du Midi to the "top of Europe". Four of us were optimistic we'd break through the clouds. When we did just that, there was a collective "Aaahhhh!" from the entire gondola full of people. It was stunningly gorgeous. I got calendar quality photos of mountain climbers, snow capped peaks and brilliant sunshine. We couldn't stop grinning. The cable car over to Helbronner was amazing too."
Sandra
Bend, OR
Tour: 08/24/15
Overall rating:
It was the perfect tour for us. We knew where we wanted to go in Europe and what we wanted to see but the My Way concept took the hassle and worry out of the hotel choice and especially, the transportation from city to city. We had a very congenial group and enjoyed traveling with them and getting to know them. We would go on another My Way tour in a heartbeat!
Favorite "WOW" moment
"We really have two WOW moments. First, the whole Aiguille du Midi experience was over-the-top amazing and totally fulfilled my expectations. But the big surprise "Wow" was how much we loved the Alpe di Suisi area-- we had never heard of it before the tour and we were blown away by it's unique beauty."
Ilona
Glenhaven, CA
Tour: 08/24/15
Overall rating:
Favorite "WOW" moment
"Hiking the Alpe di Suisi by far! There were lush green meadows and alpine peaks in all directions. It is peaceful and invigorating all at once. I wish I had at least 2 days to hike there."
Jim
Houston, TX
Tour: 08/24/15
Overall rating:
Overall it was very good. Our tour host was good, the accommodations were what we expected and the others on the tour were enjoyable.
Favorite "WOW" moment
"Hiking in the Lauterbrunen area."
Patty
Girard, KS
Tour: 08/24/15
Overall rating:
We loved every minute of this trip. Even the long bus drives(6hrs) flew by as the scenery was so beautiful. Our "my way" experience was just as we had hoped, what we purchased was transportation and hotels with just enough information from our guide to help us plan our days. We have no complaints with any of the hotels. We are used to the European type boutique hotel so we knew what to expect and were completely satisfied.
Favorite "WOW" moment
"For my husband it was Hallstatt. He dreams of returning there and renting an electric powered boat again and just cruising the lake. For me it was the Alpe Di Siusi. What a glorious morning-afternoon just wandering the meadow and over every hill was another spectacular vista."
Takashi
Renton, WA
Tour: 08/10/15
Overall rating:
It was wonderful tour this time. I met lot of nice people in this tour.
Favorite "WOW" moment
"I saw gorgeous Alps mountains, and most beautiful lakeside town at Hallstatt in Austria."
Marie
Pittsburgh, PA
Tour: 08/10/15
Overall rating:
I found the tour to be well organized and laden with delight.
Favorite "WOW" moment
"I think it was stepping into our hotel room in Hallstatt and seeing past the flower filled balcony to a view of the lake."
Carol
Seattle, WA
Tour: 08/10/15
Overall rating:
we had an outstanding tour covering the Bavarian alps. most of our tour mates were friendly and conversant. we were able to have companions on the hikes and company for meals. we will continue to be in contact. there were ample opportunities to walk and hike. the choice of stays provided a look at local smaller cities.
Favorite "WOW" moment
"following dan on a walk around the lake from Austria into Germany and finding a rare black alpine salamander. and seeing castles in the fog."
Gerard
Mill Valley, CA
Tour: 08/10/15
Overall rating:
Excellent lodging and bus transportation to some of the most spectacular sites in the Alps. Great people on the tour with a very knowledgeable escort, Dan Swenson. Weather was really hot in the beginning, followed by some rain and clouds which obscured some of the peaks. However, the weather cleared and we had a fantastic experience riding up to the Aguille du Midi and Helbronner lifts out of Chamonix. Definitely a tour to remember if you love the mountains!
Favorite "WOW" moment
"My favorite "wow" moment was being up at about 13,000 feet above Chamonix and seeing the glaciers, Mount Blanc, Matterhorn and other famous peaks. The gondola ride over to the Italian side was also fabulous."
Philippe
Pittsburgh, PA
Tour: 08/10/15
Overall rating:
I enjoyed the tour very much. The choice of locations visited was excellent and gave a very good sampling of various aspects of the Alps. We were lucky to have good weather a lot of the time. The only rainy and cloudy day was in Lauterbrunnen, Switzerland, where,unfortunately, the JUNGFRAU remained hidden except for a few seconds. We had a very good group of interesting people with diverse backgrounds ranging in age from about 17 to 82, all from the US and Canada.
Favorite "WOW" moment
"My favorite place was Chamonix. The weather was great, the town very pretty, the views were breathtaking and the "grand balcon Nord"hike was superb with outstanding vistas. I would like to note for future hikers that the 2.5 hours indicated in the pre-tour guide to go from Plan de l'aiguille to Montenvers is a significant underestimate if you often stop to admire the scenery and if you are not a young athlete."
Anna
Renton, WA
Tour: 08/10/15
Overall rating:
My husband and I really loved the trip. Enjoyed all of the trip stops. Hallstatt was awesome and Lauterbrunnen was the best! I wish the weather cooperated though. It was still very beautiful! Love, love it.
Favorite "WOW" moment
"lauterbruunen was the best! But then Chamonix welcomed us with the best weather."
Debbie
Danville, CA
Tour: 08/10/15
Overall rating:
This was a new concept for me with doing it "My Way". Very informative booklet to help with planning and our guide Dan was excellent. As usual, the co-travelers were interested in having the best experience possible. The locations in the Alps were beautiful and provided each day with a new challenge. Scenery breathtaking and the small towns quaint and hospitable.
Favorite "WOW" moment
"In Chamonix, France taking the Aiguille du Midi gondola up to the top of the needle - 13,000 feet above the town. Overlooking the glacier and jagged Alps surrounding us. The clouds cleared from the day before and it was picture perfect!"
Pamela
Walnut Creek, CA
Tour: 07/27/15
Overall rating:
How could we miss with this itinerary! All so incredibly beautiful. Travel was comfortable and accommodations very nice and in some cases exceptional.
Favorite "WOW" moment
"Favorite "wow" moment was the Helbronner gondola. Rick wasn't kidding, this is not to be missed!"
Joseph
Sacramento, CA
Tour: 07/27/15
Overall rating:
This is our second My Way. I tell everyone I know about my experience. Fantastic!!!!!!!
Favorite "WOW" moment
"Ice Caves in Chamonix, France."
Gera
Madison, WI
Tour: 07/27/15
Overall rating:
Skeptics beware! High expectations surpassed beyond measure! Each town held surprises; unique in landscape, architecture, culture, and activities! Picture window views from an amazing coach bus made it the perfect venue for touring! No napping for fear of missing a turquoise lake, castle, or white capped mountain. We hiked amongst cattle bell gongs, biked the German castle country, parasailed off a mountain top, met a 5300 year old cave man, and stood beyond the edge of a cliff. A+ grade.
Favorite "WOW" moment
"On a fluke, we decided to bike the eastern perimeter of Lake Forggensee in adorable Fussen, Germany. Returning to Schwangau in the sweet-light of dusk, washed Neuschwanstein castle and the surrounding mountain with a warm red hue. We spent 5 hours biking and photographing! It was only one of the spectacular "WOW" moments provided around every corner of this My Way Alpine Europe tour."
Mary
Galesburg, IL
Tour: 07/27/15
Overall rating:
After our first My Way tour of Italy last year, we had a good idea what to expect this year with the Alpine Tour. We were thrilled to be assigned the same guide, Laurel, this year. We booked this tour because of its connection with nature and smaller cities of the Alpine region, and thoroughly enjoyed it.
Favorite "WOW" moment
"We were fortunate to have great weather so took the telecabine-Panoramic Mont Blanc to Italy's Helbronner Point; Rick was right-it is a WOW moment and the cost no longer mattered. The variety of hiking in the Alpe di Suisi and Lauterbrunner Valley are also good memories."
John
Madison, WI
Tour: 07/27/15
Overall rating:
Exceeding my expectations - the destinations, traveling by bus and having Laurel as the escort
Favorite "WOW" moment
"Chamonix"
Lori
Redmond, WA
Tour: 07/27/15
Overall rating:
As a first time traveler to Europe, you could call me a reluctant traveler. I had a lot of concerns and questions about the unknowns. I am also not much of a group person, and at our first nights meeting all those people were just strangers to me. Having our guides available to us through out the trip, and not having to worry about transportation was a huge benefit. I can not tell you what a wonderful time we had, and the new friends we made. Having people to back you up was very comforting.
Favorite "WOW" moment
"We had many WOW moments since our tour was in Alps. I think the day i reflect on most was hiking around the Alpe Di Suise. The weather was perfect, the trails were perfect, the Italian Dolomites were amazing, and the cows with their bells....it was like walking through a field of wind chimes. Then there was the lunch at a hutte! We ran into some people from our tour and all had lunch together and shared our experiences and some Radlers!...Just an amazing day"
Alice
Sacramento, CA
Tour: 07/27/15
Overall rating:
My husband and I went on the Alpine Tour 2015 and loved every minute of it. The tour guide(s) helped provide detailed information on where to go and how to get there. Several choices touching all levels of interest and physical fitness were always given at each stop. We felt very well taken care of and also free to be truly on our own when we wished.
Favorite "WOW" moment
"The hikes from Lauterbrunnen Valley up Jungfre Mountain area. *Please know that choosing one "wow" moment is really literally impossible. Every single place we stayed, the accommodations, the scenery, the food, the people were an absolute delight."
Robert
Smyrna, GA
Tour: 07/27/15
Overall rating:
Since this was my first Rick Steve's tour I don't have anything to compare it to except a twelve day Mediterranean cruise in 2014. I was happy to have such a fabulous bus driver in Richard navigating those narrow mountain roads. Laurel and Andrew were always available to us almost better then Google with a lot more personality. I am not a "seasoned traveler" thus they provided direction when needed and made me feel very comfortable. I had a great tour experience. Thank you!!
Favorite "WOW" moment
"I have been pondering this question since the tour ended. It's between the Alpe di Siusi and the Lauterbrunner Valley hikes. I think the Alpe di Siusi alpine meadows were a little nicer and the weather was perfect for the hikes there. The hike from Grutschalp to Murren to Gimmelwald to Stechelberg was a very very close second in my mind. Personally each stop on the tour had its own WOW moments."
David
Covina, CA
Tour: 07/27/15
Overall rating:
It was such a pleasure to have all hotel and travel arrangements taken care of by the Rick Steves organization. This was our first trip to Europe, and I shudder to think of what a disaster it would have been - getting from place to place, etc. - if we had been doing it on our own. The "My Way" format was perfect for my wife and I. We are "up there" in age (75 and 76) and "My Way" allowed us to take "time outs" to relax when we wanted (or needed) to. And our Escort was outstanding!
Favorite "WOW" moment
"Hard to pick just one moment. I have told our friends and family upon return that our first stop in Salzburg, Austria was fabulous and things just got better from there."
Katie
Englewood, CO
Tour: 07/27/15
Overall rating:
It was my husband's and my first trip to Europe, so we decided to take a tour (My Way) for part of it to learn the ropes and have some help with the outlined route and lodging. The Alps were first on our list, and we were amazed and delighted at the stops on the Alpine My Way Tour. The other tour members were very nice - I think the My Way Tour attracts independent and active like-minded people which was great. Our guides were very friendly and helpful. We made memories to last a lifetime!
Favorite "WOW" moment
"The Dolomites were like nothing I'd ever seen, just stunning. We are from Colorado and I was interested going into the trip to see how the mountains differ from "our" Rockies. Everywhere we went was fun, but the Alpe di Suissi took my breath away. Also, we were so happy that our tour group were such lovely, smart, friendly, active folks - it was easy to travel with each and every one of them, and we made a slew of new friends. Thanks Rick!!"
Kathy
San Rafael, CA
Tour: 07/20/15
Overall rating:
This was a fabulous trip. Our hotels were all centrally located and such nice places to be. We enjoyed everyone of them. Our tour guide was so helpful throughout the entire trip. So supportive of everyone's ideas of what they wanted to do on this My Way Tour. The bus driver was excellent. So friendly, helpful and such a safe driver. I really appreciated her work! Thank you for the wonderful experience in the Alps.
Favorite "WOW" moment
"The wow moment for us was dinner on the deck of our hotel in Hallstatt . We truly had the best table in the house. Right on the water. Sooo beautiful!,,, the hikes in the mountains were hard to beat. Spectacular! And eating the wild blueberries along the way was an added treat!"
Michael
Richland, WA
Tour: 07/20/15
Overall rating:
Exceeded my expectations...and my expectations were pretty high.
Favorite "WOW" moment
"Too many to pick just one..."
Mark
Stratham, NH
Tour: 07/20/15
Overall rating:
I had a wonderful experience. The materials provided prepared me for the trip. Trish provided the current conditions at each location every day so I was always informed about my choices. Members of the tour group were easy to travel with and get to know. Trish and Hilda were the absolute best.
Favorite "WOW" moment
"Traveling to the 'Top of Europe' in Switzerland."
Thomas
Seattle, WA
Tour: 07/20/15
Overall rating:
We had just the right amount of assistance with bus/lodging and advice.
Favorite "WOW" moment
"I thought Lake Hallstett was a really unexpected "wow" moment - but then the Lauterbrunnen valley was also a "wow" moment as well."
Cynthia
Stratham, NH
Tour: 07/20/15
Overall rating:
My experience on me recent My Way Alpine tour was better than I had ever expected it to be! There were just no negatives that I can think of. The pace of the tour was appropriate, not too long in one place or too short in another. The hotels we stayed in were wonderful! Unique and charming yet surprisingly upscale. The breakfast buffets abundant and delicious. However the best part of the tour were the other people on the tour and the tour guide and bus driver. Both were amazing and fun!
Favorite "WOW" moment
"Going up a cable car to the top of the zugspite (SP?) being super nervous but overcoming my anxiety by being surrounded by this wonderful new group of people I was traveling with. Unbelievable views and I was actually able to enjoy myself. Sitting at the top and sharing lunch with a group of people I knew was such a treat and I felt like I had really allowed myself to enjoy something that I had literally had nightmares about. WOW, I did it!"
Larry
Two Rivers, WI
Tour: 07/20/15
Overall rating:
What made this time "absolutely relaxing and fun," besides the AWESOME SCENERY OF THE ALPS, were the Rick Steves' staff (Trish and Hilda) and the other people in our group. The group chemistry and personality just simply came together and made all the difference. The coordination/logistics of the trip while in Europe, the quality and location of all lodging sites (not to mention the breakfasts), and particularly "the care and concern" ALWAYS PRESENT from your "trip staff" made for the best..
Favorite "WOW" moment
"Hiking the Alpine Meadows with six other tour participants AND simply the care of your on sight team (Trish and Hilda). And I'll mention it again: the other tour participants. I'm wondering if there's a "modifying element" inherent in the PBS audience?"
Dave
Portland, OR
Tour: 07/13/15
Overall rating:
This tour turned out to be exactly as advertised and then some. I had been wanting to take a RS tour for several years and was not disappointed. A few key elements were better than expected,namely the hotels. I had braced myself to stay at some lower mid-range hotels with dingy hallways and a patina of wear and old age. Instead,all of our lodgings were well maintained and clean with the usual mod-cons (not AC,however,as was made clear in the tour description.)
Favorite "WOW" moment
"Seeing the high Alps as we rode the gondola up to Mount Blanc."
Patti
Forest, VA
Tour: 07/13/15
Overall rating:
Our "My Way" tour exceeded our expectations. The scenery and destinations were as expected and we were blessed with beautiful weather overall. However, we were pleasantly surprised with the options for activities and the easy, though costly lifts and gondolas which granted us access to the amazing vistas. The comfortable bus rides allowed us time to recharge and enjoy, what else, the beautiful scenery as we glided along. We also appreciated the camaraderie with our other tour members.
Favorite "WOW" moment
"My husband I began talking about our favorite "wow" moment while we were still experiencing the trip and we just can't limit it to one moment! Two highlights were hanging over a glacier in a cute telecabine between Chamonix and the Italian border observing a small avalanche and the all day hike we made with some fellow tour members in the Alpe di Siusi, Europe's largest alpine meadow. We were exhausted but exhilarated and celebrated our adventure with gelato in charming St. Ulrich!"
Stan
Renton, WA
Tour: 07/13/15
Overall rating:
Great time! Ruth ann was very helpful! Great location for our hotels, and the sites were wonderful!!!
Favorite "WOW" moment
"Being above the clouds at Aiguille du Midi!!"
Christine
Portland, OR
Tour: 07/13/15
Overall rating:
Favorite "WOW" moment
"Halstatt was just as picturesque as it looked on TV shows - the amazing hotel we stayed at, literally right on the lakeside only added to the magical experience. Days in Alpe de Suise and Gimmelwald were highlights also."
Larry
Springfield, OR
Tour: 07/06/15
Overall rating:
Choice of a MY WAY over the traditional tours came partly because my mobility at this time was reduced and because these alpine sites gave good options in new places for this experienced traveler. This alpine tour experience surpassed all my expectations. From the first meeting of our group, and the brief introductions to fellow travelers, I knew I'd really enjoy everyone, and this would be a unique and rememberable time together.
Favorite "WOW" moment
"My real first joy in traveling relates to the local european folks we meet every day, in our hotel, at a town shop, or seated across the table of a busy cafe. That is a hallmark of every tour. This tour my WOW moment came in The Dolomites. There, after briefly glancing through a local area magazine I read of a local craftsman knife maker. His work looked amazing...I wanted to see his creations. With local help from hotel staff I met him in his workshop, and bought a amazing unique knife! WOW!"
Mary
Mahopac, NY
Tour: 07/06/15
Overall rating:
Wonderful vacation. It was great not to have to worry about hotel arrangement and transportation..just talked about what we wanted to do and see. No worries....
Favorite "WOW" moment
"The hikes and bike ride were our "wow" moments. Every hike was better than the previous one! Our last day hiking part of the Aiguille du midi in Chamonix, we stopped at the Refuge du Plan de l'Aiguille for lunch. I will remember the beauty of the area and the sweet moments with my family at his spot."
Harriet
Scottsdale, AZ
Tour: 07/06/15
Overall rating:
This tour was perfect for us. We had the convenience of having hotels booked for us and transportation provided, but the freedom to fill our days as we wished. It was a pleasant surprise that this independent approach sttill allowed for comaraderie with fellow travelers. Our guide, Mary, was a wealth of information, sharing ideas of how to fill our days. Her sense of humor was genuine and I couldn't imagine making this trip without her. Andre, our driver, was highly competent and friendly.
Favorite "WOW" moment
"Wow, so many wow moments! I will simply lump them together and say that each cable car ride to a mountain top was amazing. I was surprised that the scenery could be so varied atop the different mountains. How lucky we were to have clear skies for each adventure. The intense heat was a wow of a different sort, but even Rick has his limitations as to what he can arrange."
Michael
Petaluma, CA
Tour: 07/06/15
Overall rating:
First time to Europe, so every moment added to the experience. It was a very good and sociable group and our tour leader, Mary, was great. Just enough structure and guidance so we knew what to expect and felt comfortable without having to lose a lot of time figuring out what to do or where to go. We tend to be more independent travelers when we're on our own, so the "My Way" structure provided a nice balance of guidance and independence.
Favorite "WOW" moment
"Since it was our first time to Europe, we had a "wow" moment every day and often several in a day. The ones that stand our for me was hearing a Mozart Mass played at the Salzburg Cathedral (actually the day before the tour officially started, but we were there because of the tour); buying cheese and sausage at the "self-serve" dairy in Gimmelwald; and taking the tram from Aguille du Midi to Hellbronner. We actually saw an avalanche on the trip back."
Alice Elizabeth
Olympia, WA
Tour: 07/06/15
Overall rating:
The My Way tour was great for my son and I. We were both able to do different things. I would certainly do it again. Mary was a wonderful escort.
Stephanie
Grapevine, TX
Tour: 07/06/15
Overall rating:
Exceeded my expectations. Knowing that experts had planned the itinerary, selected hotels and taken care of transportation gave me peace of mind and allowed us to focus on how to spend our days and pre-tour activities. It was the perfect 3-generation tour: Nana, me and daughter leaving for college. All three of us shared in the beauty of the Alps but there was always a way back for Nana via cable car or with our new friends when Olivia and I went more aggressively "wandering."
Favorite "WOW" moment
"A storm moving in over Hallstatt See from the balcony of our room at the Gruener Baum. Watching my daughter communicate with grace in French. The 20-mile hike in Alpe di Siusi to Plattkofel and back to Castelrotto. So much beauty[INVALID]mountains, streams, biting ponies, a cow-bell cacophony, homemade yogurt with fresh berries at Mahlknecht Hutte, returning to Castelrotto from the hills above. Experiencing 12,605 ft at Aiguille du Midi and the stunning hike from Plan de l'Aguille to Mentenvers."
Rose
Centralia, WA
Tour: 07/06/15
Overall rating:
Our goal was to visit the Alps of Europe. This tour gave us that and more. I am sure it was only good luck, but the weather, while a bit hot, was wonderful with clear skies ensuring we always had the best view. The bus and driver were top notch. I am more limited with mobility strength than most of the members of the tour, but there was plenty for me to do and see while the more mobile members were able to do their extreme hikes and enjoy the day.
Favorite "WOW" moment
"There were so many "wow" moments. Being able to take the gondola to the top of the Schilthorn and enjoy the panoramic view all around. Finding the little stone church in Chamonix that was filled with original art from well known artists. Touring the Salt Mines in Halstatt; I didn't expect the slide, but decided to go for it. I was one fast granny; clocked at 31.2 KM per hour."
Sy
Scottsdale, AZ
Tour: 07/06/15
Overall rating:
This tour was an excellent way to tour the Alps. Mary was an excellent tour manager and Andre an excellent driver. The group bonded and this was due to Mary's leadership. Hotels were fine (air conditioning would help) and nicely located. An extra day in Hallstatt would have been nice. Breakfasts were good and Mary's tips helped us time and again. Cooperating weather was helpful. In the words of an African guide we had, we were "happy happy".
Favorite "WOW" moment
"Each location had a wow moment. The mountain top view in Chamonix was breathless, the misty lake in Hallstatt hypnotizing, walking in the meadow in the Dolomites and the whole Lauterbrunnen experience refreshing. Fuss en's castles were wonderful. Our group get togethers made this exceptional."
Amanda
San Antonio, TX
Tour: 07/06/15
Overall rating:
The MY WAY tour was perfect for my daughter and I. We were able to see and do the sights and activities that were meaningful to us, without having to follow a rigid schedule. I was able to hike at my pace, having recovered from a smashed ankle two years ago. I also appreciated the suggestions provided by Mary as we traveled by bus from town to town. She was very helpful. Our bus driver, Andre, was an added bonus -- so much fun and extremely competent.
Favorite "WOW" moment
"My favorites: 1) in Fussen, everything but Neuschwanstein, which was disappointing. We hiked thru fields & across a stream to a rural hut for lunch where no one spoke English (a plus!), followed by the Tegelburg luge & then on to the relaxing Royal Crystal Baths, filled with locals and us. 2) the salt mine tour in Hallstatt, which was also probably my favorite town. 3)hiking in the Dolomites and Swiss Alps 4) Trummelbach Falls - exhilarating & great way to cool off!"
Sarah
San Antonio, TX
Tour: 07/06/15
Overall rating:
I loved how easy it was to figure out what to do each day with the help of our lovely Escort, Mary. Everything was efficient, organised and friendly. The size of the group was perfect--just big enough for meeting new people, but just small enough to feel personal.
Favorite "WOW" moment
"Seeing Mont Blanc from the Panorama Lift in Chamonix was really excellent[INVALID]I felt like a National Geographic photographer scouting the perfect views. It was also fun to hop over to the Italian side."
Jody
Redlands, CA
Tour: 06/29/15
Overall rating:
Beyond expectations! Ruth Ann was an incredibly knowledgable guide. She always gave impeccable suggestions for adventures to take while we were staying in each town. Her bus ride conversations were just the right amount of light humor and travel suggestions. We have incorporated her "wakie, wakie" into our personal lexicons.Ween was an extraordinary driver. We felt so safe in his hands on those often winding alpine roads meant for a moped and a smart car. HIs driving was genius! Thanks!
Favorite "WOW" moment
"So many wow moments, but for me it was the 4 hour hike near Mont Blanc in Chamonix. We ate lunch at the hut and then hiked to the train in Monteverde. Incredible, breathtaking, unforgettable views every step of the way. I would suggest walking poles for this hike even though Ruth Ann hiked it pregnant and in tennis shoes - she is such a stud-dette!"
Diane
Barstow, CA
Tour: 06/29/15
Overall rating:
Totally excellent. Tour family was the best group of people. And so refreshing to see teenagers on the tour enjoying themselves. Everywhere I went was enjoyable. In spite of the heat wave I had a blast.
Favorite "WOW" moment
"Viewing Mont Blanc while hiking."
Jil
Lake Forest Park, WA
Tour: 06/29/15
Overall rating:
The My Way experience really enhanced our trip. We also felt part of a group when we wanted and were able to do what we wanted alone. The group of people were nice to travel with and there was lots space on the bus. We had a good tour guide (Ruth Anne) and Weim was a great driver. I brought my teenage son and didn't realize how nice it was to have other teenagers on the tour until we got there. My kid was able to go play games or sauna with other kids and we weren't nose to nose the whole trip.
Favorite "WOW" moment
"It was a collective of experiences with my teenage son. The tour allowed me to cover more ground than I could have on my own. Probably seeing Mount Blanc in Chamonix hit the highest note...no pun intended. The Shilthorn was something we geeked out on beforehand with the Trammelbach Falls as a surprise. Breathing the air and eating the food and trying out our language skills flavored our whole trip. I wish I could have had a beer with Rick but maybe someday :)"
Neva
Auburn, WA
Tour: 06/29/15
Overall rating:
It was everything I hoped for and so much more. It was my first "My Way Tou" after doing 9 Rick Steve's guided tours. I had been to all of the places on previous tours so as a solo traveler, I felt confident that I would know my way around. We had a great group of travelers, a good tour manager and a careful coach driver. I will continue traveling on Rick's tours because they are a good mix of group activities and free time for exploring on your own. They are perfect for a solo traveler.
Favorite "WOW" moment
"Every stop on this Alpine tour was a WOW moment. Seeing old town Salzburg lit up at night with a full moon above. Hiking up The Echernal Valley to Waldbachstrub Falls and seeing even more falls was a highlight in Hallstatt. Hiking in the Dolomites with carpets of wildflowers was spectacular. Doing the luge and Cablecar lift at Tegelberg and seeing the castles was fun. Lauterbrunnen I guess is my favorite and Mount Blanc is a close 2nd. I will always want to go back!"
Trinell
Edmonds, WA
Tour: 06/29/15
Overall rating:
I hiked everyday we had a full day at. Salzburg I did an eighteen mile bike ride. Hallstatt I did the hike recommended to the waterfalls, glacier gardens, and then I hiked up above to the bridge overlooking the waterfall and where the mountain biking trails are. Fussen I hiked from the where the paraglider jumped and down the mountain to the mountains. The dolomites I summited Schlern. Switzerland I did the hike up to Busenalp/Obersteinberg/Obernhouse. Chamonix I hiked from the lift to the glaci
Favorite "WOW" moment
"Definitley in Switzerland hiking from Busenalp to Oberhouse (or whatever is the name of the back mountain glacial lake)."
Samuel
Peoria, AZ
Tour: 06/15/15
Overall rating:
From the first time meeting and being with Martin I had a good feeling and could tell that this was going to be a well organized and caring tour. That first evening Martin took the time to take our group up and down the main street in Salzburg to explain how to approach and what to expect from the town and of the people. The approaching people in the various towns and countries that we visited was extremely helpful and made our experience much more delightlful.
Favorite "WOW" moment
"Pulling into each town that we visited was very exciting and seeing the architecture with each culture. The mountains were fantastic at all destinations and the travel on the bus seeing the country side was just great. Vem showed that he was a very good driver with a smooth ride. I loved hiking in the Dolomites in northern Italy."
Becca
Bellingham, WA
Tour: 06/15/15
Overall rating:
I loved the trip - the places we visited, the group we traveled with, and Martin. All were exceptional! I also loved the pace of the journey. We had a little over a day in most places, and it was just enough time to get in a good amount of the opportunities available, and whet the appetite for places we would like to come back to.
Favorite "WOW" moment
"I think the Alpe di Siusi was my favorite 'wow' - it offered such a beautiful landscape for hiking (and hikers of all levels), and was also smattered with great stops for cheese and snacks! The Gondola and chair rides added to the fun as well."
Nancy
Ridgefield, WA
Tour: 06/15/15
Overall rating:
We are avid hikers, and we loved the active nature of the tour. Our trip took us to amazing hiking locations, and we were able to experience five countries without worrying about lodging or transportation. I enjoyed the "My Way" experience for this particular trip. We felt that we had plenty of guidance from our guide, Martin, during his daily "office hours" over breakfast, and then we could plan our daily adventures on our own.
Favorite "WOW" moment
"We were in Fussen on Father's Day, and it was a Father's Day that we will never forget. We spent the morning exploring the two castles, and then we had our very nice rental mountain bikes (arranged with our guide, Martin's help) waiting for us at the hotel. We spent four hours biking on paved bike trails past gorgeous farms, cows, llamas, and the beautiful lake. Then, we stopped for a traditional German meal at an inn. It was a wonderful day."
Robert
Lafayette, CA
Tour: 06/15/15
Overall rating:
The tour provided all the support needed to efficiently bus from point to point and be quickly established in a great hotel room. The "my way" format then gave total freedom to spend the day with any subset of fellow travelers interested in a similar selection among the activities superbly laid out in the tour guide and by Martin, our super guide. Loved the fellow travelers- every one!! The Alpine views were spectacular and I shot over 1000 photos. Can't wait to share on our post-tour network.
Favorite "WOW" moment
"I had a lot of Wow moments!! Favorite was at the Otzi museum in Bolzano, examining the knots in the stitching of the ice man's leather clothing. These were made 5000 years ago by the very hands of the preserved man I had just seen in the other room. I admired the skill and artistry of his solutions to creating gear for high mountain snow travel with his limited materials and felt a collapsing of the millenia between him and me. That is a wow moment, no?"
Janice
Malverne, NY
Tour: 06/15/15
Overall rating:
We are an older couple and never could have done this on our own. So we chose Rick Steves' My Way so my husband and I could plan our own day and he could take all the time he needed to take the photos he enjoys so much taking. Our overall experience was more than we could have imagined! The tour, our escort Martin, his knowledge,the hotels, the bus, the driver and our group was just what we needed to feel comfortable, safe and enjoy ourselves.
Favorite "WOW" moment
"My favorite "wow" moment has to be Hallstatt! I have never seen a more beautiful village. I had read Rick Steves' books and and couldn't wait to arrive there! It was as I pictured and more. First thing we did was take the boat ride around the lake, which is what I wanted to do! The sun came out and I got tears in my eyes! So thankful to be able to experience this day."
Gay
Yakima, WA
Tour: 06/15/15
Overall rating:
A magical, though somewhat rainy adventure through the Alps. I was too excited about everything to let the rain get me down. I am still reliving all the special memories.......
Favorite "WOW" moment
"During a very rainy day hiking from Mannlichen, the clouds broke revealing two beautiful lakes and stunning scenery. It was probably more special because it only lasted for about 30 minutes."
Helen
Seattle, WA
Tour: 06/15/15
Overall rating:
We loved the tour, we usually use Intrepid Travels to take us to the destinations. At first I worried about 28 people as being too many, Intrepid has only 12 but everything worked out quite well. All of the members of our group were interesting and nice people.
Favorite "WOW" moment
"It was definitely the Alps, being in it and hiking around. The majesty of the surroundings were overwhelming at best. Neuschwanstein was pretty amazing too."
Clarice
Duluth, MN
Tour: 06/15/15
Overall rating:
The tour exceeded expectations. The scenery was spectacular, transportation was efficient, hotel staff was friendly and accommodating. And the tour guide was outstanding, as was Vim the bus driver.
Favorite "WOW" moment
"Several moments: Hallstadt and the church bells at 6 a.m. right outside our window; the magnificent sound of the organist practicing in the church in Casselrotto; coming around a corner and seeing the Eiger, Monch and Jungfrau; walking down the narrow, twisty lanes in Salzburg, Fussen, Chamonix......"
James
Seattle, WA
Tour: 06/15/15
Overall rating:
The entire group was great to be with, the hotels and transportation were fine, as was the driver ("Vim"), and Martin was helpful and attentive throughout. We have used Intrepid in the past, and found this tour equal or better, and just what we wanted - the basics taken care of, and freedom to do our own thing at each location. We look forward to an increasing number and variety of My Way tours.
Favorite "WOW" moment
"Sorry, I find it impossible to pick out a particular moment. We did several hikes, each of which was special. We had a number of memorable meals, generally at recommended restaurants. I suppose the one negative Wow was the higher prices in Switzerland, but not much you could do about that."
Lori
Peoria, AZ
Tour: 06/15/15
Overall rating:
This tour exceeded all expectations. It was a "My Way" so we made our own decisions each day as to what we wanted to do. Since this tour covered the Alps, our main interest was hiking. Martin, our tour manager, provided valuable information on which hikes to take and the details of getting to them. He knew the areas like the back of his hand. One member of our group is not much of a hiker and was perfectly content just to wander around the bucolic little towns we stayed in.
Favorite "WOW" moment
"This is like picking a favorite child. But, the reality of hiking in the Dolomites with the beautiful snow-capped mountains, the meadow flowers, and the cows with their bells was something out of a fairy tale."
Jim
Gilbert, AZ
Tour: 06/08/15
Overall rating:
I had an unforgettable experience. I had never traveled as part of a group,nor had I traveled to Europe by myself. Neither of these points ever became an issue. I could be part of a group when I wanted,or could be on my own when I wanted. I think after a few days,everyone in the group felt very comfortable with one another. I liked the way the tour was planned out,in that each stop got better and better. All our lodging was ideally located,clean and had a friendly staff.
Favorite "WOW" moment
"After experiencing some unfortunate weather in Switzerland,my "wow" moment had to have been at the Aiguille du Midi.We were above the clouds,the sun was shining and the scenery was breathtaking."
Elaine
Walnut Creek, CA
Tour: 06/08/15
Overall rating:
Well organized, great tour guide, great bus driver, fun traveling companions.
Favorite "WOW" moment
"Alpe de Suisi - being up on the high ridge between the Mahlknechthutte and the Plattkofelhutte all by ourselves, hearing only a rushing river in the distance and a symphony of cowbells."
Lynn
Lake Forest, IL
Tour: 06/08/15
Overall rating:
Having thoroughly enjoyed our previous "Traditional" Rick Steves' guided tours, I can also highly recommend the "My Way" tour concept. The locations were absolutely spectacular, areas which don't necessarily show up on other tour company itineraries. The accommodations actually ranged from very good to great. All clean, well maintained and friendly staff. Of huge importance was having our wonderfully capable, knowledgeable, upbeat and attentive guide, Cynthia. Many thanks!
Favorite "WOW" moment
"Lauterbrunnen Valley Hike. Even in the rain it was a spectacular hike with endless fields of wildflowers, cows with cowbells, beautiful vistas and friendly locals. Also, hiking in the Alps near Chamonix - breathtaking, literally and figuratively!"
Daniel
Lake Forest, IL
Tour: 06/08/15
Overall rating:
Great itinerary. The Alps My Way was more flexible than our prior RS trips but we still had a lot of group dynamics and get togethers. In many ways it is very similar to a regular RS trip. The hotel arrangements, bus and tour guide (Cynthia) were all outstanding.
Favorite "WOW" moment
"Chamonix France in the Alps. With clear skies, the mountains were spectacular. Also, the wild flowers throughout the Alps."
Keith
Sloughhouse, CA
Tour: 06/08/15
Overall rating:
We really enjoyed the tour, but in my opinion, I would have picked some other sites. First, this is a hiking tour experience, some of the destinations did not meet that expectation. I remember Hallstatt when I visited there in 1972 and 1986. The place is not the same. It's been discovered, and especially with the Chinese invading the place, it's not worth it. Fussen and the Kings castles is not really a hiking spot,again too many people and tour groups. Continued at item 13.
Favorite "WOW" moment
"By far the Aiguille d'Midi in Chamonix. Epic views from there. Went there 3 times (we had an extra day). I'm sure Lauter. would have had wow moments but never saw anything because of rain. In fact, it started to clear just when we were leaving - great. That's why I'm suggesting 3 nights and two days to improve odds on weather. (see below)"
Gail
Middletown, CT
Tour: 06/08/15
Overall rating:
The hotels were well located, the bus rides comfortable and the group very friendly. I easily found enjoyable companions to hike with and have meals with. It was illuminating to see the Alps through five different countries and cultures. Fog and rain did put a damper on the views in Switzerland, though. If it were anywhere else, the Lauterbrunnen Valley would be enough in itself to satisfy, but it was a bit wrenching to have to leave and not see all we came for.
Favorite "WOW" moment
"I wish I could say the mountains in Switzerland, but they did not show themselves clearly in the two days we were there. The wildflowers along the trails were wonderful and the rain brought gusto to the waterfalls . My biggest wow was Mt. Blanc. That's a very impressive mountain and is still surrounded by active glaciers."
Lorna
New Brighton, MN
Tour: 05/25/15
Overall rating:
It was a wonderful trip. Our guide Dan was great and the tour participants were so congenial. At age 76 I wondered about the hotels (given the fact the last Rick Steves tour I'd taken was over 20 years ago) but they were very good. I so enjoy being in the midst of the European culture, unlike some tours where all you see are other American travelers. The alpine tour worked for me. The views from the bus were fantastic and I was free to do only what I was able.
Favorite "WOW" moment
"My favorite "wow" moment was taking the lift to the top of Mt. Blanc and then riding the gondola to the Italian border and back."
Matthew
Los Olivos, CA
Tour: 05/25/15
Overall rating:
Stunning! Magnificent! Incredible! Every day is better than the last! Every turn offers a view more beautiful than the last. The trip of a lifetime! How can you top this? These were my reactions upon completing our My Way Tour of Italy in the Fall of 2014. How did we top that?...We signed on to the "My Way" Alpine Europe Tour....and it was nothing short of UNBELIEVABLE!!!! I am a lover of God's creation, and I was truly blown away at every stop on this amazing trip. How do you top this?
Favorite "WOW" moment
"Every day offered more WOW than the one before..and we started our trip in Salzburg...from the Mirabell Palace to the Hohen-Salzburg Fortress and all points in between. Must mention the beers at StieglKeller and the Augustiner...WOW...and the Sound of Music tour. Every person on earth should visit Hitler's Obersalzberg complex. It was sobering beyond belief, and what was orchestrated there must never be forgotten. Hallstadt was more beautiful than Lake Como, but my big WOW were the Alps!"
Lisa
Washington, DC
Tour: 05/25/15
Overall rating:
I normally don't join tours but decided to do the my way tour because I was very busy at work and had no time to do any of the logistics planning involved in setting up a vacation. Initially it was my plan to just do my own thing but there were 15 people on this tour and the group meshed so well that I frequently found that I preferred hanging with the other folks in the group. this is a great way to travel when you want the flexibility to do your own thing or to hang out with others.
Favorite "WOW" moment
"There were too many to count. The landscape got better each day and the baseline was pretty spectacular. If I had to pick one I would say my hike in Chamomix with two other tour members. Good company, good views."
Leonard
Lighthouse Point, FL
Tour: 05/25/15
Overall rating:
Amazing. The trip was well planned and everyone was very informed. I would really recommend this trip.
Favorite "WOW" moment
"Lauterbrunnen/Gimmwald Switzerland was the most amazing. I may be biased because I got engaged there but it was the most beautiful place I have ever seen."
Joseph
Tempe, AZ
Tour: 05/18/15
Overall rating:
Gretchen made us feel like were part of her family. Very warm, delightful person. Very informative, could not do enough for us to make our trip a success.
Favorite "WOW" moment
"For me it was having the chance to see the Alps, in all kinds of weather, as you know. [give me 5 minutes and the weather changes]."
Barrie
The Woodlands, TX
Tour: 05/18/15
Overall rating:
Very well organized.Hotels were adequate.The group got along very well.Gretchen did a good job directing the tour.She was especially good at being flexible as to the needs of the group. I liked the Alps in particular. Bus was very comfortable.Super tour guide.
Favorite "WOW" moment
"Driving in the alps."
Kathleen
The Woodlands, TX
Tour: 05/18/15
Overall rating:
The scenery was wonderful
Favorite "WOW" moment
"Lauderbraner"
Donelle
Chandler, AZ
Tour: 05/18/15
Overall rating:
Our Alpine tour could not have been better other than the fact that my husband had to see a pharmacist and later a doctor (in the Lauterbrunnen Valley, the one in the book!)for a bad head cold and tick bite (in Prague, not the tour!). Each place was unique and scenic. The book was great for helping us to plan. Our guide Gretchen was fabulous, so helpful, friendly and fun. The hotels were great, locations perfect and breakfast delicious, nice variety.
Favorite "WOW" moment
"So hard to say, the Lauterbrennen Valley and Chamonix had jaw dropping views. We so enjoyed the villages Grunnewald and Mirren, so like Heidi should walk around the corner! Chamonix, just incredible to get so close to Mont Blanc, just amazing views all around us!"
Sue
Melbourne, FL
Tour: 05/18/15
Overall rating:
We had a wonderful time and we were so happy that we decided to take our first "My Way" Tour. Our only issue was the rainy weather that seemed to follow us, but can't blame that on anyone but mother nature! Gretchen was out tour guide and she was absolutely wonderful! Would definitely do it again!
Favorite "WOW" moment
"Atop the L'Aiguille du Midi - what a spectacular view!"
Barbara
Aiken, SC
Tour: 05/18/15
Overall rating:
The My-Way tour was a great way to travel. The Rick Steves group takes care of all the logistics (travel and rooms) and you're free to do what you want.
Delores
Mcminnville, OR
Tour: 05/18/15
Overall rating:
I enjoyed the tour from beginning to end. The choices of stops and hotels were great. I even enjoyed the bus time to watch the countryside roll by and hear Gretchen's prep for our next stop and catch up on journaling. Weather prevented some of our hiking plans, but Gretchen always had great alternate ideas
Favorite "WOW" moment
"There were two: The amazing chamber music in the fortress at Salzburg with the sun slanting in to the room and the view from the top of the Aiguille du Midi gondola in Chamonix across a gorgeous panorama of snow covered alps"
Tom
Melbourne, FL
Tour: 05/18/15
Overall rating:
We normally don't do "Tours" and this was our first "My Way Tour" and I really like the concept. Removing the hassle of getting from one place to another and not having to research and negotiate for hotels is a great idea as it left the onerous parts for someone else and we got to enjoy planning and executing actual tour locations, activities and sights. The Guide book was invaluable for pre-planning and useful as a reference as we went along. The tour guide Gretchen was fabulous.
Favorite "WOW" moment
"Due to 10 days of on/off rain it was fantastic that the sky's cleared in Chamonix and as we reached the top of Aguille du Midi by cable car the French Alps were in all the glory with a blue sky, white peaks and 20 degree weather. It was very exhilarating and we liked it so much we went back the next morning to catch morning sun on the peaks and we stayed up there even longer."
Tim
Mcminnville, OR
Tour: 05/18/15
Overall rating:
The stops and sights that we experienced were exactly those that we would have chosen if we had planned the itinerary. We had visited parts of this area of Europe about 16 years ago using the Rick Steves guide books and traveling on our own. To return using the "My Way" format relieved us of those annoying issues of housing and ground transportation. Thus letting us enjoy the sights to a fuller extent. It was a good choice.
Favorite "WOW" moment
"To look up toward Mt. Blanc from Chamonix and see Aiguille du Midi crystal clear against a cloudless blue sky. And the Dolomites from Castelrotto with plenty of snow and to have the chance to hike the Alpe di Siusi in a Spring Snow Flurry."
George
Sandpoint, ID
Tour: 05/18/15
Overall rating:
It was well-run and smooth. A good mix of bus time and arrival at destination with adequate time to sightsee, then having the next complete day to explore made for a satisfying experience. A perfect tour for those who want to be more independant. Well-chosen destinations and well-orchestrated time-wise. Breakfasts were awesome. Our tour guide Gretchen was the best one could hope for.
Favorite "WOW" moment
"The Alps, of course ! And the bonding with our guide and fellow travelers. Also, because we were taken care of in the tour setting, we were relaxed and comfortable out on our own, reaching out to other travelers and locals we came across in restaurants and other venues, enlarging our entire experience."
William
Sugar Hill, GA
Tour: 05/18/15
Overall rating:
Destinations ended up being just what we wanted. Enjoyed Salzburg more than I had imagined. Crowds here I expected to be overwhelming but was very manageable.Fussen and the castles was all and more than I hoped.Must arrive early!Line was CRAZY by mid-day. The weather (clouds & on and off rain) seemed to follow us. Even without the blue skies we thoroughly enjoyed all the new places and loved being back in Switzerland.
Favorite "WOW" moment
"Ascending up Mont Blanc in Chamonix, the views are amazing. Leaving the 70's in the valley to be in the 20s at the summit, all in a matter of minutes was unforgettable. Deathly afraid of heights. This spot, along with Switzerland, The Dolomites and Paris earlier in the tour truly helped me face the fear. Paid too much to let fear take away the experience."
Dorothy
Tempe, AZ
Tour: 05/18/15
Overall rating:
We had our fair share of rain, but I've got to say it never dampened our spirits or ruined our tour experience. Our trip was all we had hoped it would be. We had everything going for us: 1. Top notch guide, Gretchen 2. Professional, personable bus driver, Derek 3. Compatible, friendly tour group members 4. Lovely hotels that were, as promised, centrally located 5. Many options for us to choose what we wanted to see and do
Favorite "WOW" moment
"There were a number of "wow" moments. After all, it was a "My Way Alps" tour with mountain grandeur everywhere! I can say without a doubt, though, that my most awesome experience was riding the cable car from the Chamonix station up to the Aiguille Du Midi and Mont Blanc. It was "other worldly" and seeing the paragliders midway on our journey jump off the cliffs at the Plan de l'Aiguille was quite a thrill, too. What a way to spend the afternoon...and the weather was perfect that day!"
Todd
Bainbridge Island, WA
Tour: 05/18/15
Overall rating:
My wife and I had a wonderful time on the trip! Everything was well planned with plenty of options. Our tour escort Gretchen was extremely helpful, friendly and a lot of fun.
Favorite "WOW" moment
"My favorite experience was a valley walk we took in Lauterbrunnen. Even though it was a little rainy, we had such a nice time walking through the valley and taking in all of the beauty that surrounded us. It is really a breathtaking area!"
Amy
Bainbridge Island, WA
Tour: 05/18/15
Overall rating:
We had an amazing time on our trip! This was our first Rick Steve's tour, and it exceeded our expectations. Our tour escort, Gretchen, was outstanding! We loved the locations we visited, the hotels were nice, and the bus was great.
Favorite "WOW" moment
"An unexpected fun experience for us was riding a louge. We had not planned on doing this, but when we ran into Gretchen and saw her having a great time at the louge, we decided to give it a try and had an awesome time!"
Larry
Vale, OR
Tour: 09/15/14
Overall rating:
The tour was a great success on many levels: Martin, our guide, was delightful; the locations allowed us to sample a range of European cultures; the Alps are magnificent; and the transportation and accommodations were low-stress. Three weeks afterwards, I still have a warm glow from the whole experience.
Favorite "WOW" moment
"The scenery around Wengen was one long "pinch me" moment."
Cathy
Missoula, MT
Tour: 09/15/14
Overall rating:
The Alps were truly spectacular in all the countries we visited. Since we live in the Rocky Mountains, we thought we had seen mountains, but this tour took us to new heights! Of course the excellent tour guide and friendly tour participants added greatly to the experience. The itinerary was great--although it felt rushed in most places, since we our destination arrivals were late afternoon. Three additional days would have allowed time to adequately explore major destinations.
Favorite "WOW" moment
"The Otsie museum in Bolzano Hiking in the Swiss Alps Mr. Blanc in Chamonix"
Donald
Kingwood, TX
Tour: 09/15/14
Overall rating:
As a MY Way tour we pretty much made the trip to our desire. The cancel of the stay in Fussen was a definite downgrade in what we purchased. Reutte was a poor substitute. Reutte is not ready for tours; lack of activities(castles mediocre at best), town is nothing, lacks transportation on weekends, taxis inadequate and a lot more deficiencies. Martin made arrangements for the bus to Fussen, but this resulted in lost time because we didn't know much ahead of time to plan.
Favorite "WOW" moment
"Zugspitze -we were there the first day of Oktoberfest- and Chamonix."
Robin
San Diego, CA
Tour: 09/15/14
Overall rating:
I've had a number of wonderful travel experiences, but I think this is the best one ever! My husband is no longer able to travel and I was looking for a way to go places that wouldn't be practical as a solo traveler. The My Way format was perfect, especially for the Alpine Europe itinerary. I enjoyed being able to craft my own agenda and yet always have traveling companions to do things with, and having all the logistics handled. Plus, our group was great!
Favorite "WOW" moment
"Every day brought a wow moment: The sheer beauty of Hallstatt; hiking amid the stunning scenery of the Alpe di Siusi, the Lauterbrunnen Valley and Chamonix; astounding views from the tops of mountains (and the cable car rides to get there!); unexpectedly finding ourselves in the midst of a rollicking Octoberfest celebration at the top of the Zugspitze! The whole trip was like living in a postcard for 12 days, with wonderful new friends."
Carol
Placerville, CA
Tour: 09/08/14
Overall rating:
Very organized and Renee was the BEST bus driver ever! Chris was very approachable with ideas on what to do and see.
Favorite "WOW" moment
"Everything in Hallstadt."
Barbara
Oakland, CA
Tour: 09/08/14
Overall rating:
I loved the Alps My Way Tour. The Alps are so spectacular. I loved the ability to get close to the remarkable, steep, yet accessible mountains, the COWS everywhere, the skinny hiking trails, the breathtaking gondolas & cog trains. Loved the sequence: starting in Austria (Mozart home & concert!, SOM, grand palaces, gardens), then Italy (LOVED hiking UP in Alpi di Suisi), Germany (rivers, castles, forests, clouds), Switzerland (peaks, commuters on gondolas!), then shear French Alps & glacier.
Favorite "WOW" moment
"Hiking in the Alpi di Suissi was just breathtaking! To be so close to the grandeur of these mountains and hike among the clouds and peaks is exquisite. And then I would turn around and see cows with their bells even higher up than me! Just awesome and I loved it!"
Michael
Edmonds, WA
Tour: 09/01/14
Overall rating:
This was one of my greatest trips ever because of the continued variety of experiences and surprises. The my-way option worked good for us. We didn't need to stress over driving, finding our way or finding good places to stay. I got to look out the window as we traveled along. When we got to our destination, we felt free to do what we wanted to do.
Favorite "WOW" moment
"Seeing for the first time, Mont Blanc. Frankly there were many wow moments. One was when we needed to step off the pathway to let agroup of goats go down to their evening stay."
Michael
Galloway, NJ
Tour: 09/01/14
Overall rating:
After five tours, they just keep getting better. A combination of locations and good people, both locals and the members of the tour group, made this trip unforgettable. Friends I did not have two weeks before, I will have for years to come.
Favorite "WOW" moment
"The Swiss Alps, from taking the cable cars up and having smoked salmon and champagne on the top of the Schilthorn to just chilling at the pennsione beer garten in Gimmelwald."
Debra
Las Cruces, NM
Tour: 08/11/14
Overall rating:
Favorite "WOW" moment
"The beauty and peacefulness of Halstatt was unexpected. From our hotel balcony, we loved the lake and mountain views."
Steven
Houston, TX
Tour: 07/28/14
Overall rating:
The My Way Alpine Europe tour provided us a fantastic way to see up-close some of the most fantastic scenery on the planet at our own pace and schedule. Cynthia, our tour escort, was always available to get us oriented and point us in the right direction, but encourage us to find our own way and create our own adventures. The adventures were absolutely non-stop from unbelieveable all-day hiking to trying to figure out European laudromats and bus schedules.
Favorite "WOW" moment
"It seemed like everyday consisted of numerous "wow" moments, but if I had to pick one, I would say it was our all-day hike on the north side of the Lauterbrunnen Valley and particularly the steep little hike coming down past (and under) Sprutz Falls finally opening onto a panorama view of Gimmelwald and the surrounding mountains. I can't convince any of my family that our pictures of that area are completely real without any photoshopping or alteration whatsoever - unbelievable!"
Weather

Austria / Vienna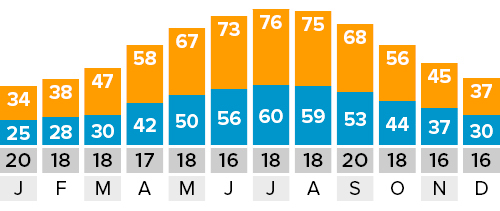 ---
Germany / Munich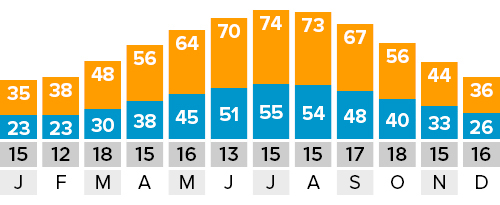 ---
Italy / Milan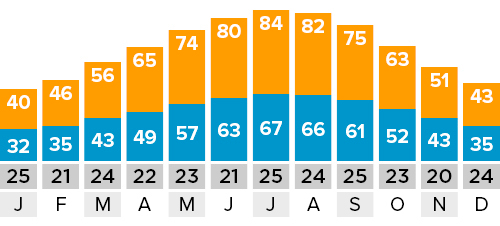 ---
Switzerland / Bern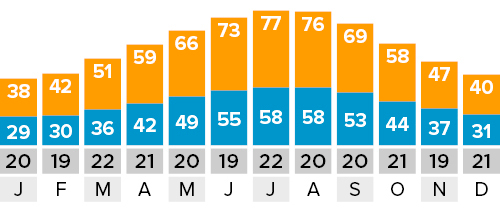 Pre-Tour
We've put together some specific information on what you should know about this tour before you go. You'll also find more general information about "Getting Ready for Your Tour" on our Tour FAQ.
Trip Resources
Learn more about Austria, Italy, Germany, Switzerland, and France: Check out a collection of Rick's TV shows, radio interviews, and articlesplus recommended books and movies in the "Plan" section.
Transportation
Prior to your tour departure, you will receive detailed directions on how to get from the airport to your first tour hotel, as well as contact information for your first and last hotels in case you wish to book pre- or post-tour hotel accommodations.
Many tour members arrive a day or two before the tour begins — and those who don't, wish they had. This allows you ample time to get over jet lag and make the most of the first few days of the tour.
There is more than one way to get to and from your tour. Most tour members will arrange to fly into Salzburg (Munich and Vienna are alternatives with easy train connections) and out of Geneva, using airport shuttle bus service from Chamonix ("multi-city" on flight booking websites). Booking round-trip to one city will require a connecting flight, train trip, or additional overnight stay in Europe.
For information about flying within Europe, ask your travel agent or check Rick's list of European budget airlines.
Read Rick's train travel and rail pass tips to decide if your travel plans merit a rail pass.
If you have additional European travel or tour questions, contact the Tour Department at 425-608-4217 or email tour@ricksteves.com.
Sightseeing on Your Own
When you arrive in Salzburg, use the Alpine Europe Sightseeing Guide to get oriented. Ride the public transportation, try out a few words of German, and get over your jet lag with lots of fresh air and exercise.
Walking tours make a great introduction to any town. Use the free Audio Europe™ app for Apple and Android (or get free podcast/mp3 files) which include a Salzburg town walk.
Remember, you will be in charge of your own sightseeing for ALL destinations on this trip. We strongly suggest you begin planning well before you fly to Europe! To guarantee entrance, we recommend you make reservations in advance from home for King Ludwig's Neuschwanstein and Hohenschwangau Castles in Bavaria. See the Rick Steves sightseeing guide for details on how to reserve.
Packing
There will be great opportunities for hikes on this tour. We recommend you bring a pair of lightweight hiking boots or comfortable walking shoes with good traction. The weather can change suddenly in these Alpine regions, so please pack a lightweight rain jacket. We also recommend bringing a smart phone, tablet or other device to assist in planning your activities, and to access Rick's Audio Europe app.
For more advice on what (and what not!) to pack, see Rick's packing tips.