Salzburg, Austria

Hallstatt, Austria

Zugspitze, Germany

Italy's Dolomites

Neuschwanstein Castle

Switzerland's Berner Oberland

Chamonix, France
Tour Questions? Call 425-608-4217
My Way® Alpine Europe in 12 Days Tour
This trip delivers endless opportunities for fresh-air thrills, from Austria's Sound of Music country to flower-carpeted meadows in Italy's Dolomites, fairytale castles in Germany's Bavaria, cut-glass peaks in Switzerland's Berner Oberland, and France's Mont Blanc. For a dozen free-spirited days, this money-saving My Way tour gives you the freedom to decide your own daily priorities and pace. We cut the stress by providing comfortable rooms in well-located hotels, private bus transportation to each destination, and a travel-savvy escort to help advise you along the way. Join us for My Way: Alpine Europe in 12 Days!
What's Included
This is an "un-guided" tour — giving you the freedom (and responsibility) to manage your daily sightseeing schedule and meals
A small, friendly group of 24-28 people will share our big, comfy bus during the trip, but not do organized sightseeing together
A Rick Steves escort will manage the group's transportation and hotel arrangements, and provide advice for sightseeing, meals, etc.
All group transportation from Salzburg to Chamonix
11 nights accommodations in memorable, centrally-located hotels
All breakfasts are included
All tips for escort and driver
Free Audio Europe™ app for Apple and Android (or get free podcast/mp3 files) featuring Rick's audio walking tours of sights, museums and neighborhoods in Paris, Venice and Rome. Also includes Rick's radio interviews with experts on destinations covered in this itinerary
More free stuff including My Way: Alpine Europe Sightseeing Guide; Europe Through the Back Door travel skills handbook (one per household); French-Italian-German phrase book; map; moneybelt; and earplugs
Guaranteed tour price, locked in the moment you make your deposit
Optional single supplements — this tour has a limited number of private rooms for solo travelers for an additional fee
Tour alum discount of $50 for each tour you've taken prior to 2014
50% discount on a consulting appointment with our in-house experts to assist with your pre- or post-tour travel plans
Flexibility should you need to transfer, or cancel/interrupt your tour
Fine print: You are responsible for the cost of your drinks and free-time sightseeing. See our Tour Conditions Agreement for important details regarding everything listed above
Itinerary
Sightseeing notes
(r) = reserve a time before you leave the USA
* = included in Rick's audio walking tours
Day 1: Welcome to Salzburg
Welcome to Austria's charming city of Salzburg, the birthplace of Mozart. We'll rendezvous at our hotel at 5 p.m. for a group get-together. Your escort will give an overview of the days ahead, answer your questions, and offer a quick orientation to our neighborhood. Then you're free for dinner on your own, and maybe an evening stroll around Salzburg's delightful, pedestrian-friendly Old Town*. Sleep in Salzburg (2 nights). No bus today.
Day 2: All Day in Salzburg
Today is all yours for savoring Salzburg. Begin or end your day with a climb up to the fortress and its sweeping view of the city and surrounding mountains. You can also enjoy exploring the town's Baroque churches, playful fountains and colorful markets. Rent a bike for an easy ride and picnic along the Salzach River, try your hand at Doe-a-Deer by joining a Sound of Music bus tour, or take an excursion out to nearby Berchtesgaden to see Hitler's infamous Eagle's Nest retreat. No bus today.
Day 3: Heavenly Hallstatt
This morning we'll pack up, bid auf wiedersehen to Salzburg, and hop aboard our comfortable bus for a short drive to the picture-perfect lakeside town of Hallstatt. We'll arrive with plenty of free time for you to stroll around the town, take a peaceful boat trip across the mountain-ringed Hallstättersee — or go underground, tagging along on a tour of the world's oldest salt mine. Sleep in Hallstatt (1 night). Bus: 2 hrs.
Day 4: Dolomites Drive to Italy
We'll spend most of today enjoying breathtaking views as we drive into Italy, where the forested Austrian Alps give way to the chiseled 10,000-foot peaks of the Italian Dolomites. Late this afternoon we'll arrive at the university town of Bolzano, our gateway to the mountains and meadows beyond. You'll have time this evening to explore Bolzano's pedestrian shopping streets and lively piazzas before dinner and (this is Italy, after all) gelato. Sleep in Bolzano (2 nights). Bus: 6 hrs.
Day 5: Bolzano and Alpe di Siusi
Today your options are as wide-ranging as the surrounding mountains. Stay in town, checking out the charms of Bolzano's colorful street market and the impressive South Tyrol Museum of Archaeology, home to 5,300-year-old Ötzi the Iceman. Or, take a gondola lift to the higher, quieter village of Oberbozen. Feeling a little more active? Catch a convenient bus for an hour drive up to the Alpe di Siusi, Europe's largest high Alpine meadow, ringed with towering granite peaks and laced with walking and hiking trails galore. No bus today.
Day 6: To the Zugspitze and Bavaria
This morning we'll head northwest, into Austria's Tirol country. On the way, you'll have some free time (weather permitting) to ride a gondola lift to Germany's highest point, the 9,700-foot Zugspitze. At the top, you'll stand with one foot in Germany and the other in Austria, enjoying vistas of each. Then we're off to the charming riverside village of Füssen in beautiful Bavaria. Follow Rick's walking tour around the old town, or maybe take a woodsy walk along Füssen's Lech river to the nearby Lechfall. This evening is perfect for sitting in an outdoor beer garden, and hoisting a liter-size mug with new friends. Prost! Sleep in Füssen (2 nights) Bus: 4 hrs.
Day 7: Bikes, Hikes and Castles
King Ludwig's fairytale Neuschwanstein and Hohenschwangau castles (r) are less than an hour's walk, or a quick bus or taxi ride, away. The Bavarian countryside is laced with wonderful bike paths, so you might rent a bike and ride to the nearby castles in Schwangau, to Tegelberg for a luge ride, or over the border into Austria to explore nearby Reutte. Be sure to break for coffee (or a cold eiscafe) with cake at a café along the way. No bus today.
Day 8: On to the Best of Switzerland
Today we'll drive across Bavaria and climb high into the heart of the Swiss Alps. By dinner time we'll be in the Berner Oberland's magnificent Lauterbrunnen Valley, flanked by vertical, waterfall-laced cliffs and crowned by a trio of Switzerland's most formidable peaks: the Eiger, Monch and Jungfrau. After settling into our creaky old chalet, you'll find hearty dinner options and spectacular views just a short walk away. Sleep in the Lauterbrunnen Valley (2 nights). Bus: 6 hrs.
Day 9: All Day to Explore the Swiss Alps
This morning you'll wake up in one of the most beautiful spots on Earth. Take off on a mountain excursion that combines the local cog railway, a gondola lift up to Männlichen, and a spectacular Alpine walk above the tree line, surrounded by a vista of cut-glass peaks. You can also book a seat on the Jungfraujoch train, which leads to Europe's best glacier panorama. Or, explore what's above the opposite side of the valley: ride a gondola lift to the top of the 10,000-foot Schilthorn, and hike back down. For a more restful day, stick closer to home and walk to the thundering Trümmelbach: a unique set of waterfalls encased behind the valley walls. No bus today.
Day 10: To the French Alps
This morning we'll head west toward France and our final Alpine destination: the resort town of Chamonix, site of the first Winter Olympics. Spend the afternoon soaking in the French Alps ambience at the foot of Europe's highest peak (at 15,780 feet), the mighty Mont Blanc. Consider taking the gondola lift to Le Brévent for a spectacular view, and end your day enjoying a traditional dinner of raclette or fondue. Sleep in Chamonix (2 nights). Bus: 4 hrs.
Day 11: Aiguille du Midi Dreamin'
Today is your day to enjoy the wonders of the French Alps. You can choose between several great hiking trails with stunning views of Mont Blanc and a supporting cast of Alps that seem to stretch forever. For one of Europe's great Alpine thrills (weather permitting), take Europe's longest vertical gondola ride up to the 12,600-foot Aiguille du Midi viewpoint. From there, mini-gondolas take travelers over the snowfields and on to Italy. Or, if you prefer, simply find a café table with a view in Chamonix, and take the day off in après-ski style. No bus today.
Day 12: Tour Over After Breakfast
From Chamonix, it's a convenient two-hour shuttle bus ride to Geneva's airport. Your escort will help you with any post-tour planning, leaving you well prepared for the road ahead. Au revoir!
Itinerary specifics subject to change.
Activity Level
Our tours are physically active! It's an essential part of the Rick Steves tour experience. On our My Way: Alpine Europe in 12 Days tour — among other things — you'll need to happily...
Carry/roll your luggage over uneven pavement (several blocks possible) and up stairways to reach your hotel; then up several flights of stairs to reach your room.
Sleep with street noise and in most alpine hotels no air conditioning.
Be able to navigate towns and cities on your own.
Be responsible for your own daily sightseeing, admissions, meals (except breakfasts) and non-group transportation.
Reviews
Barbara
Durango, CO
Tour: 08/12/13
Overall rating:
He was the perfect guide for this trip as I'm sure others will join me in this statement. The travel arrangements were well thought out and worked perfectly for the Alpine experience.
Favorite "WOW" moment
"It's always the Jungfrau !!!!"
Joseph
Reston, VA
Tour: 08/12/13
Overall rating:
The tour met or exceeded all my expectations. The only change I would make in the tour would be to spend a full days in Hallsttat instead of just an overnight stay. Otherwise I can't think of anything I would change. I enjoyed meeting the escort who was very professional. He provided useful information on the activities I had selected by making suggestions that would make it more enjoyable. The bus driver was also very professional.
Favorite "WOW" moment
"I guess my WOW moment occurred at the end of the tour in Chamonix and Mont Blanc. I still marvel when I look at the classic picture of Aiguille Du Midi taken from Chamonix and the pictures I took from the top. The other WOW moment occurred during the stay in Bolzano and the hikes throughout Alpe di Slusa."
Carol
Wellsville, NY
Tour: 08/12/13
Overall rating:
Absolutely great in all ways. Martin, our "escort," was very congenial and accommodating in helping with advice. My initial qualms of travel by bus were quickly overcome; all was pleasurable and efficient. The itinerary was well coordinated, although more days in each location would have been great - as if there could be more days in a week. The other people on the My Way Tour certainly were a plus - fun and the "Rick-type."
Favorite "WOW" moment
"No "one" wow, but simply seeing and climbing mountains everyday."
Nancy
Winter Park, FL
Tour: 08/05/13
Overall rating:
Great group on the trip. Hotels with no AC during that early August heat wave made for long hot nights. Fans were scarce. RS should have enough influence to insure fans are provided. Tons of wow moments. Perfect length tour for The Alps. I think I'd prefer a 3 night stop in Lauterbrunnen. For me going down to Bolzono offered some great opportunities, but also added a lot of bus time. I'd remove that stop altogether and include it in one of the Italy tours.
Favorite "WOW" moment
"Chamonix. Here is another spot where 3 nights would work."
Debra
Salem, OR
Tour: 08/05/13
Overall rating:
This My Way tour was a perfect complement to the Germany, Austria and Switzerland tour I took in 2012. This tour visited some of the same places as the GAS tour and gave me the opportunity to visit areas I did not have time to visit previously. The educational piece of the GAS tour plus the My Way guidebook provided the information I needed to explore on my own. Our escort was a great resource as well when I had questions.
Favorite "WOW" moment
"I took a train from Salzburg to Werfen, where I visited Eisriesenwelt, described as the world's largest accessible ice cave. The tour in the cave lasted an hour and the ice cave was probably one of the most amazing natural wonders I have ever seen."
Barbara
San Francisco, CA
Tour: 08/05/13
Overall rating:
The scenery everywhere was spectacular! This was a great introduction to the Alps. There were great hiking opportunities and I had a chance to hike with different group members at various places. The format allowed everyone to do as much or as little as they wanted. With the beautiful weather we had, more time in Lauterbrunnen would have been nice but I am not sure I would add days there to the tour since if it were raining there would not have been much to do. Overall the tour was excellent.
Favorite "WOW" moment
"All of the hikes and beautiful views! Swimming in the lake at Hallstatt surroounded by the mountains was a definite wow moment. Ice cave outside of Salzburg was spectacular as well."
Barry
Naperville, IL
Tour: 08/05/13
Overall rating:
Overall if given the choice I would have rated the tour excellent (better than good but not quite outstanding).The locations selected were all very enjoyable and whets the appetite for more. The mix of travel time and overnight stays was appropriate and I very much enjoyed experiencing a taste of 5 countries in less than two weeks.
Favorite "WOW" moment
"There were several wow moments starting with the lift to the top of the Zugspitze. A truly incredible ride and views. The highlight had to be Lauterbrunnen. Absolutely loved taking the cable car to the top of Schilthorn and hiking in the area. The views were unforgettable and pictures can never quite do it justice. Chamonix was a fitting end with the gondola ride to Aiguille du Midi and viewing Mt. Blanc above the clouds. Hiking was also outstanding with memorable views of French Alps."
John
Edmonds, WA
Tour: 08/05/13
Overall rating:
Alpine Tour: We've gone on several organized tours with guides, but really enjoyed the "my way tour" with available guide and the ability to select our own day's activities. We would re-think taking the Panorama tour in Salzburg. (Bavarian Mtn. tour in particular)
Favorite "WOW" moment
"Favorite time was hiking in the Dolomites and hiking in Lauterbrunnen areas and exploring the different trails, cable cars, trains, and funiculars. Beautiful scenery and perfect weather! Chamonix was spectacular and enjoyed watching the paragliders up on the mountain."
Kathleen
Farmington, IL
Tour: 08/05/13
Overall rating:
Enjoyed the culture and topography and the other tour members very much. Our escort was excellent with providing tips and suggestions for activities as well as introductions to the public transportation. The hiking was awesome although pretty demanding at times...at least the treks we chose! Enjoyed the tour to the Eagle's Nest and the Sound of Music Tour in Salzburg! Salt Mine Tour in Hallstatt was disappointing! Enjoyed the castles in Fussen and the Zugspitze as well as the luge
Favorite "WOW" moment
"Mount Blanc visuals and hike back down! That 5 hr. down trek was more than challenging! We would have enjoyed another night in Lauterbraunan Valley."
Roger
Lynn, MA
Tour: 08/05/13
Overall rating:
each day was better than the last. patrick our bus driver was great and informative our guide,thanks for sending her with us each hotel was a culture trip of its own, good [INVALID]ion. our group blended together nicely, nice job not knowing who we were. we would go anywhere with you bravo...............
Favorite "WOW" moment
"shilthorn and klien shiendig in the same day aigulille du midi, view of a lifetime fussen and bolzano outdoor dinning"
Brenda
Lynn, MA
Tour: 08/05/13
Overall rating:
every day got better and better. would do it again in a minute.
Favorite "WOW" moment
"the whole experience of the alps"
Gracie
Charlottesville, VA
Tour: 08/05/13
Overall rating:
This tour was a perfect balance of assistance and freedom and I will be doing a "My Way" tour again because of it! The Alpine destinations were ideal areas from which to enjoy the Alps from every angle - be it in Fussen or Chamonix.
Favorite "WOW" moment
"Switzerland! I had been there 22 years ago and it has remained ideally the same - beautiful Murren and Gimmelwald - best places on Earth! Also, the Hotel let us hold my daughter's 20th birthday party and supplied a Black Forest Birthday cake ! It was the best party my daughter has ever had - and with her new tour friends! (We can supply photos!)"
Mary
Naperville, IL
Tour: 08/05/13
Overall rating:
Overall the trip was what I had expected. It is a lot to do and see in a 12 day period. The tour escort was great, she made doing Alpine Europe "My Way" easy and comfortable. The weather was probably the biggest factor that affected the tour experience but that is not in anyones control. The bus driver was great, very friendly and kept a wonderfully clean bus.
Favorite "WOW" moment
"Hard to say that there was a favorite "wow", just seeing the alps from different countries and at different locations below and above is a pretty good "Wow". Enjoyed hiking the high mountain meadows the most and wished there was time to do more."
Ivy
Charlottesville, VA
Tour: 08/05/13
Overall rating:
It was the best vacations I have ever been on, and the best birthday I've ever had! The guide and bus driver were awesome and all of the guests were wonderful!
Favorite "WOW" moment
"I loved Switzerland and the view of the Eiger, Monch, and JungFrau. The views from our hike were outstanding. I also have to admit that I love food, and the food from Switzerland was wonderfully cheesy!!"
Ray
Alachua, FL
Tour: 08/05/13
Overall rating:
The sights were great, the escort did a good job but the hotels were not my best RS experience. This trip is well-suited for a "My Way" tour because of all the grand independent sightseeing options.
Favorite "WOW" moment
"I wanted to see mountains and my wishes were granted. It was incredible experiencing the Alpe di Siusi on Friday, the top of the Zugspitze on Saturday, the view of the Eiger, Monch and Jungfrau from the Schilthorn on Tuesday and capping it off with being upclose and personal with Mont Blanc on Thursday. The mountains became grander with each stop on the tour. Add to that the wine festival in Bolzano on Friday night and the downtown beer festival in Fussen the next night."
Philip
Helotes, TX
Tour: 07/15/13
Overall rating:
I wanted to see the Alps and this My Way accomplished it much better than I think I could have managed on my own. This was a different kind of trip; it was not so much about sight seeing, visiting museums, admiring the architecture, great food, absorbing the art and history - it was really about the beauty of these places and being in the outdoors. In that sense, we got exactly what we were hoping for.
Favorite "WOW" moment
"Hiking in the Alpe du Siusi"
Craig
Bellevue, WA
Tour: 07/15/13
Overall rating:
Europe My Way: Alpine Tour was just what I was looking for. Why, they even arranged for spectacular weather for the whole 12 days - now how did they do that?? I liked the freedom and flexibility of the My Way concept and it matched perfectly with the Alpine experience. I was able to plan a hike one day and go for a bike ride the next. As a single traveler, this was just right. I was able to join similar minded travelers and matched up well with several members of our tour group.
Favorite "WOW" moment
"Just taking in the breathtaking beauty of this most beautiful corner of Europe. I especially enjoyed hiking an alpine mountain meadow one day in Switzerland and realized I had most of this hike to myself with constant views to the Eiger and the Jungfrau."
Thomas
Southampton, NJ
Tour: 07/15/13
Overall rating:
It was exciting to see the Alps in person. It was much more beautiful than I could ever imagine. I liked the small tour group. It attracted a more involved and motivated tour group than other non-Steves tours.
Favorite "WOW" moment
"We attended a concert in Salzburg in the church at Mirabell Castle. The acoustics were unbelievable and the duo was incredibly talented. The hour-long concert was completely memorized! Only about ten people attended. It was amazing."
Linda
Ramona, CA
Tour: 07/15/13
Overall rating:
This was my first trip to Europe. My daughter and I had been on a different tour just one week earlier through Italy. We loved the RS Alpine trip. Saw so much and never hiked so much in my life. I can't believe we hiked down the Swiss Alps. The guide book told us it was a 1 1/2 hour hike. It ended up o be 4 1/2 hours. The difficulty was more than moderate. Because we were on two trips we brought large luggage pieces so it was difficult to get up the stairs. Loved the views from rooms.
Favorite "WOW" moment
"Everyday was exciting with new adventures. The most breathtaking was the gondola ride from Chamonix up toward Mt. Blanc and the walk down from mid mountain to the glacier and the train. The endless scenery with snow capped mountains, the wildflowers, the cows jingling their bells, the charming huts with flower boxes in windows was more like being part of a fairy tale. It was all so enchanting!"
Dennis
Littleton, CO
Tour: 07/15/13
Overall rating:
The tour was a good experience. It was interesting to be able to choose our own activities for each day, and we certainly chose differently than some people, in that we were not trying to cram as many hikes as possible into the tour. One drawback is that you don't have the opportunity to get to know the other folks on the tour as well as you would on a guided tour.
Favorite "WOW" moment
"I would list two. The first is the Zugspitze, which was an easy ride, the views were spectacular, there was a party atmosphere at the top, and the food was outstanding. The second was the hike from Mannlichen to Kleine Scheidigg, with the wonderful mountain views in sight for so long, punctuated by a wonderful picnic."
Deborah
Wasilla, AK
Tour: 07/15/13
Overall rating:
as a veteran of 10 previous tours it was exactly as i expected...wonderful...I did the My Way Italy tour last September and knew exactly what to expect and how to prepare for this concept vs your guided tours....I thought everything went well for this tour being the very first one ever....and we had a great driver in Peter ,great escort, and fantastic tour members
Favorite "WOW" moment
"absolutely Chamonix....the Hellbronner cable cars from Aguille du Midi over to Italy and back...the clouds were out and once we took off it was sunny, clear and absolutely breathtaking!!I expected Chamonix to be like Vail, CO since I used to live in Colorado...and was suprised and excited to see that it was warm, friendly, and down to earth.."
Debra
Narberth, PA
Tour: 07/15/13
Overall rating:
The time flew by! Salzburg I found a little crowded, but had a very satisfying day. Previously I had only experienced it as a Christmas destination. Hallstatt I would like to spend more time in to really relax. Bozen - I did not do all I wanted to so will return. I like that Fuessen is a real town, not just a tourist stop. Switzerland – I will be back, maybe in fall. Chamonix was a good place to wind down. Overall, I liked touching 5 different countries. I think next time I'll linger.
Favorite "WOW" moment
"Wow moment was the morning in Hallstatt. I really wanted more of that. Such peace. Second would be the area around Lauterbrunnen. I had never stopped in Switzerland before and can see returning for a more leisurely approach to wandering more trails. Stopping at the Zugspitze was unexpected and fun, too. Oh, and the Greek restaurant in Fuessen was really great."
Rick
Ankeny, IA
Tour: 07/15/13
Overall rating:
The escort, the coach and driver and the hotels were all very good. If anything, I wanted to spend more time in most of the towns on the itinerary. The exception was Bolzano. The city itself offered little for me and I would have prefered to be closer to the Seiser Alm.
Favorite "WOW" moment
"Hiking in the Seiser Alm. With puffy cloulds blowing over, the changing lighting and different viewpoints offered beautiful mountain views every few minutes."
Janet
Bend, OR
Tour: 07/15/13
Overall rating:
This was a wonderful tour and I thank you for putting this together for us. We enjoyed all the places, all the tour members and our hostess.
Favorite "WOW" moment
"The biggest "wow" moment has to be the Helbronner gondola ride from the Aiguille du Midi on Mt. Blanc across to Italy and back on a beautiful blue sky day. This actually happened the day the tour ended but we stayed in Chamonix two extra nights and that was none too long. We had great weather for the early train up to the Jungfraujoch also and that was also a big "wow" place. All the hikes in these special places presented many "wows" along the way."
Ralph
Bend, OR
Tour: 07/15/13
Overall rating:
See Janet's report which I collaborated with. The taking of the tour bus to Zugspitze was a good idea as making us get there on our own from Fussen would have turned the adventure into an all-day affair.
Favorite "WOW" moment
"The trips to the near-tops of Yungfrau, Zugspitze, Mont Blanc, as well as the gondola ride from Mont Blanc to Italy; were all exciting. The hikes were all inspiring too."
Bonnie
Southampton, NJ
Tour: 07/15/13
Overall rating:
This was my first Rick Steves tour and it was fabulous. Our escort was perfect. The other tour members were fun and generous and great companions. We were the first Alpine My Way and it went very smoothly. I've never been to any of those towns or cities so it was a real adventure. It was so nice to have only 25 people. There was room to move on the bus and everyone could hear Martin when he was giving outdoor instructions. I would strongly recommend this tour.
Favorite "WOW" moment
"The Kleine Scheidegg hike near Lauterbrunnen, Switzerland. The view of the north face of the Eiger was breathtaking. We walked through cow pastures past the cows with their bells, had a picnic and took about 500 photos."
Weather

Austria / Vienna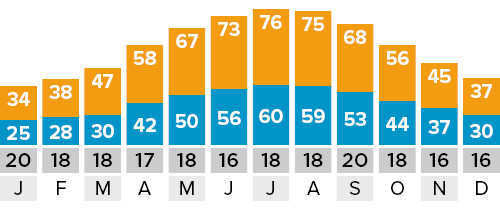 ---
Germany / Munich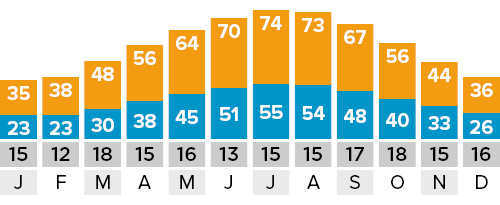 ---
Italy / Milan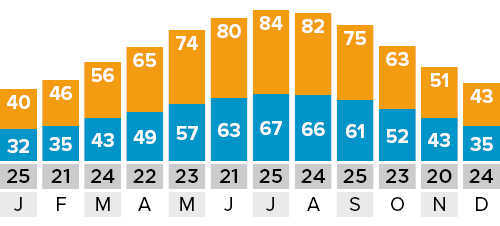 ---
Switzerland / Bern
Pre-Tour
We've put together some specific information on what you should know about this tour before you go. You'll also find more general information about "Getting Ready for Your Tour" on our Tour FAQ.
Sightseeing On Your Own
When you arrive in Salzburg, use your Alpine Europe Sightseeing Guide to get oriented. Ride the public transportation, try out a few words of German, and get over your jet lag with lots of fresh air and exercise.
Walking tours make a great introduction to any town. Use your free Audio Europe™ app for Apple and Android (or get free podcast/mp3 files) which include a Salzburg town walk.
Remember, you will be in charge of your own sightseeing for ALL destinations on this trip. We strongly suggest you begin planning well before you fly to Europe!
Transportation
Most tour members arrive a day or two before the tour begins — and those who don't, wish they had. This allows you ample time to get over jet lag and make the most of the first few days of the tour.
There is more than one way to get to and from your tour. We recommend talking to your travel agent about "open jaw" airline tickets (flying into and out of different cities). It's easiest to fly into Salzburg (Munich and Vienna are alternatives with easy train connections) and home from Geneva (using airport shuttle bus service from Chamonix).
For information about flying within Europe, ask your travel agent or check Rick's list of European budget airlines.
Read Rick's train travel and rail pass tips and decide if your travel plans merit a rail pass.
Prior to your tour departure, you will receive detailed directions on how to get from the airport to your first tour hotel, as well as contact information for your first and last hotels in case you wish to book pre- or post-tour hotel accommodations.
If you need more information about additional European travel or for specific questions about your tour, contact the Tour Department at 425/608-4217 or email tour@ricksteves.com. Thinking you could use some expert, in-depth help to plan your sightseeing days? Tour members enjoy a 50 percent discount on Rick's Trip Consulting services!
Trip Resources
Learn more about Austria, Italy, Germany, Switzerland, and France: Check out a collection of Rick's TV shows, radio interviews and articles, plus find a list of recommended books and movies.
Packing
There will be great opportunities for hikes on this tour. We recommend you bring a pair of lightweight hiking boots or comfortable walking shoes with good traction. The weather can change suddenly in these Alpine regions, so please pack a lightweight rain jacket. We also recommend bringing a smart phone, tablet or other device to assist in planning your activities, and to access Rick's Audio Europe app and walking tours.
For ideas on what to pack, check Rick's Packing List and our Women's Packing List.