Eiffel Tower in Paris

Notre-Dame Cathedral in Paris

Hôtel Dieu in Beaune, France

Swiss Alps

Odeonsplatz in Munich

Venice

Manarola in Italy's Cinque Terre

Colosseum in Rome

Vatican City in Rome
Tour Questions? Call 425-608-4217
My Way® Europe in 14 Days Tour
On a two-week, "greatest hits" route that takes you from Paris to Rome — via Burgundy, the Swiss Alps, Munich, Venice, and the Cinque Terre — Rick Steves' money-saving My Way tour gives you the freedom to decide your own daily sightseeing priorities and pace. We cut the stress by providing comfortable rooms in centrally-located hotels, private bus transportation from city to city, and a Euro-savvy trip escort to help advise you along the way. Join us for My Way: Europe in 14 Days!
What's Included
This is an "un-guided" tour — giving you the freedom (and responsibility) to manage your daily sightseeing schedule and meals
A small, friendly group of 24-28 people will share our big, comfy bus during the trip, but not do organized sightseeing together
A Rick Steves escort will manage the group's transportation and hotel arrangements, and provide advice for sightseeing, meals, etc.
All group transportation from Paris to Rome
13 nights accommodations (all stops but one are for two nights) in memorable, centrally-located hotels
All breakfasts are included
All tips for escort and driver
Free Audio Europe™ app for Apple and Android (or get free podcast/mp3 files) featuring Rick's audio walking tours of sights, museums and neighborhoods in Paris, Venice and Rome. Also includes Rick's radio interviews with experts on destinations covered in this itinerary
More free stuff including Rick Steves' Best of Europe guidebook; Snapshot: Munich guidebook; Europe Through the Back Door travel skills handbook (one per household); French-Italian-German phrase book; My Way: Europe Sightseeing Supplement; map; moneybelt; and earplugs
Guaranteed tour price, locked in the moment you make your deposit
Optional single supplements — this tour has a limited number of private rooms for solo travelers for an additional fee
Tour alum discount of $50 for each tour you've taken prior to 2014
50% discount on a consulting appointment with our in-house experts to assist with your pre- or post-tour travel plans
Flexibility should you need to transfer, or cancel/interrupt your tour
Fine print: You are responsible for the cost of your drinks and free-time sightseeing. See our Tour Conditions Agreement for important details regarding everything listed above
Itinerary
Sightseeing notes
(r) = reserve a time before you leave the USA
* = included in Rick's audio walking tours
Day 1: Welcome to Europe
Welcome to Paris, one of the world's most thrilling cities! Today is a great day to start tackling some of Paris' amazing museums: the Louvre*, the Cluny, the Rodin, the Orsay* and the Pompidou (plan accordingly; many museums are closed one day a week). We'll rendezvous at our hotel at 5 p.m. to meet your escort and have a group get-together. Your escort will give an overview of the days ahead, answer your questions, and offer a quick orientation to our neighborhood and Paris' easy-to-use public transportation. Then you're free for dinner on your own. This evening you could stroll around the brilliantly-lit Eiffel Tower(r) and enjoy a twilight ride to the top. Or, enjoy the view from below, aboard one of Paris' numerous floodlit Seine River cruises. Sleep in Paris (2 nights).
Day 2: All Day in Paris
Today Paris is all yours. With your Best of Europe guidebook and Rick Steves' audio tours in hand, you might begin your day where Paris did — on the Ile de la Cité* — visiting Notre-Dame Cathedral* and exquisite Sainte-Chapelle*. Or explore the sprawling grounds of the ultimate royal palace at Versailles* — every King's dream. This evening, head up to Montmartre to savor the bohemian flair of Amelie's "village Paris" and take in the breathtaking vistas from the Sacré-Coeur Basilica. Or go to the Arc du Triomphe and stroll down the grandest boulevard in the world — the Champs-Elysées. As with every day of this trip: it's your choice! No bus today.
Day 3: Burgundy's Wine Capital
This morning we'll pack up, bid adieu to Paris, and hop aboard our comfortable bus (your escort will always post departure times well in advance). Then we'll roll into the French countryside, passing pastures and vineyards en route to the "profoundly French" town of Beaune in the heart of Burgundy's wine country. After checking in to our hotel early this afternoon, you'll have time to stroll around the town's center, rent a bike for a ride along the Côte d'Or vineyards, enjoy a wine tasting, and savor the rich regional specialties over dinner. Boeuf bourgignon et escargots, anyone? Sleep in Beaune (1 night). Bus: 4 hrs.
Day 4: Scenic Drive to the Swiss Alps
We'll leave the rolling hills of beautiful Burgundy this morning, and climb high into the heart of the Swiss Alps. By suppertime we'll be in the Berner Oberland's magnificent Lauterbrunnen Valley, flanked by towering, waterfall-laced cliffs and crowned by a trio of Switzerland's most formidable peaks: the Eiger, Monch and Jungfrau. After settling into our creaky old chalet, you'll find hearty dinner options and spectacular views just a short hike away. Sleep in the Lauterbrunnen Valley (2 nights). Bus: 5 hrs.
Day 5: Spectacular Hikes in the Alps
You'll wake up in one of the most beautiful spots on Earth...and the day is all yours. Take off on a mountain excursion that combines the local cog railway, a gondola lift up to Männlichen, and a spectacular Alpine walk above the tree line, surrounded by a panorama of cut-glass peaks. You could also explore what's above the opposite side of the valley, ride a gondola lift to the top of the 10,000-foot Schilthorn, loiter in the thin air, and then hike down. Closer to the valley floor, you can witness the roaring, thundering, crashing, splashing display of nature's awesome power in Trümmelbach — a series of subterranean waterfalls that plunge hundreds of feet into darkness behind the valley's cliffs. No bus today.
Day 6: On to Bavaria
Today's drive is a good time to catch up on your journal, listen to music, curl up with a good book, or just sit back and enjoy views of pristine mountains and sparkling lakes as we make our way into the heart of Bavaria. Our destination is the people-friendly city of Munich, where we'll sleep (2 nights). Bus: 7 hrs.
Day 7: Marvelous Munich
Germany's most livable city, Munich is pleasantly explored by foot, bike, or public transit. Today you can take in the opulent Residenz palace, the dazzling Deutsches Museum, the sprawling English Garden, or take a short bus or subway ride to Dachau Concentration Camp or the state-of-the-art BMW Museum. This evening, feel free to join the party at the Hofbräuhaus beer hall, where you can hoist a liter-size mug of beer, and a pretzel as big as your head. No bus today.
Day 8: Over the Alps to Venice
We'll take off early this morning for a scenic, all-day drive to Venice. At the edge of Venice we'll board a vaporetto boat for an "am-I-really-here?" Grand Canal ride* to our hotel in the historic heart of this seductive city, arriving late this afternoon. Tonight you can enjoy dinner at an out-of-the way trattoria and soak in the outdoor nightlife of St. Mark's Square*. If the moon is out, it will hit your eye like a big pizza pie. Sleep in Venice (2 nights). Boat: ½ hr. Bus: 8 hrs.
Day 9: Seductive Venice
The entire day and evening are yours to experience (with the help of Rick's audio tours) the Byzantine majesty of St. Mark's Basilica*, the formidable Doge's Palace, the masterpiece-packed Frari Church*, and more. Along the way, take time to simply get lost (remember, it's an island) exploring the alleys, cruising the canals, and "crawling" the pubs of this amazing city. No bus today (too much water).
Day 10: Cinque Terre
Today we say "Ciao Venezia" as we hop back aboard our bus and make a beeline for the relaxing beaches and villages of the Cinque Terre. To get there, we'll traverse Italy's agricultural breadbasket and the forested spine of the Apennines, finally winding our way down to the seaside village of Levanto, where we'll board a train for the 10-minute ride to Monterosso. We'll arrive late this afternoon, with plenty of time to enjoy Monterosso's pleasant eateries and ambiance. Sleep in Monterosso (2 nights). Train: ¼ hr. Boat: ½ hr. Bus: 6 hrs.
Day 11: Riviera Livin'
Ahh, it's time to take a "vacation from your vacation" today in our Mediterranean getaway. Pick a Cinque Terre village and spend your day exploring the stairways and alleyways, sunning yourself on the rocks, or sipping a cappuccino and catching up on your journal at an outdoor café. Or, if you're looking for lots of exercise, fresh air and panoramic views, start your day early and hike the cliff-side paths that connect the towns. For dinner tonight, enjoy what's local and fresh: the seafood and pasta with pesto. No bus today.
Day 12: Historic and Nighttime Rome
This morning we'll get an early start as we make our way from the Cinque Terre to Rome. Arriving at our Rome hotel late this afternoon, you'll have the cooler part of the day to eat at the outdoor café of your dreams, then celebrate la dolce vita Roman-style, with an after-dinner stroll through the floodlit heart of the city, lacing together the lively Campo de' Fiori, classy Piazza Navona, and splashy Trevi Fountain. Don't forget to taste some refreshing gelato along the way. Sleep in Rome (2 nights). Train: ¼ hr. Bus: 6 hrs.
Day 13: A Day of Roman Roamin'
Rome is the grand finale of our trip, packed with historical riches, cultural delights and an infinite supply of wows. Today, aided by Rick's audio tours, you could follow the footsteps of emperors through the Roman Forum*, Colosseum* and Pantheon*. If the Renaissance is more your speed, the immense St. Peter's Basilica* (home to Michelangelo's sublime Pietà) and the sprawling Vatican Museum*(r) (home to his mind-boggling Sistine Chapel) are a Metro or bus ride away. It's your final night in Rome, so get out and make it special. Salute! No bus today.
Day 14: Tour Over After Breakfast
It's a breeze to reach Rome's airports by taxi or train. Your escort will help you with any post-tour planning, leaving you well prepared for the road ahead. Grazie e ciao!
Itinerary specifics subject to change.
Activity Level
Our tours are physically active! It's an essential part of the Rick Steves tour experience. On My Way: Europe in 14 Days — among other things — you'll need to happily...
Carry/roll your luggage over uneven pavement (several blocks possible) and up stairways to reach your hotel; then up several flights of stairs to reach your room.
Sleep with street noise and no (or weak) air conditioning.
Be able to navigate towns and cities on your own.
Be responsible for your own daily sightseeing, admissions, meals (except breakfasts) and non-group transportation.
Reviews
Tao
Toronto, ON
Tour: 06/23/14
Overall rating:
I was pleased to have a significant portion of the time to myself, which I used to explore the destinations at a comfortable and rewarding pace. The bus and our time in transit was comfortable. The guide was helpful, polite, and upbeat and managed to coordinate the whole affair without a hitch. Although 2 nights might seem insufficient to see a city, the freedom of the My Way tour ensures that your day is as efficient as you want it to be.
Favorite "WOW" moment
"Seeing the Swiss Alps firsthand was probably the best, considering the view and relative quiet of the Lauterbrunnen stop. Also, mountain biking. Arriving in Paris and seeing the Eiffel tower in person (photos have not done it justice) was also incredible. I spent so much time sitting in the Champs de Mars just resting and admiring it. I'm also an awful cook so the food there was absolutely unforgettable."
Bea
Tacoma, WA
Tour: 06/23/14
Overall rating:
We traveled with a 16 year old granddaughter with an intent of introducing her to the joys of world travel. Our experience with Rick Steves completely met our expectations.
Favorite "WOW" moment
"My husband and I have traveled in each of the cities on the tour previously -- this trip was to introduce our granddaughter to Europe. Therefore, the "wow" moments were interactions with our guide, Brenna. Her brief but to the point introductions to the cities we visited were spot on. Frosting on the cake were the brief but very helpful walks to orient us to each new city as we arrived."
John
Sedona, AZ
Tour: 06/23/14
Overall rating:
A chance to see all that we did without having to find hotels, drive between cities, find parking, and still enjoy 14 days. It was great.
Favorite "WOW" moment
"We were planning on viewing the falls in Lauterbrunnen and then have time to rest, but instead we loved the area and did more hiking and sightseeing than planned. The views into town, while in town, and exciting town on our way to Munich were gorgeous!"
Kathy
Sedona, AZ
Tour: 06/23/14
Overall rating:
The My Way tour provided just the right amount of guidance and travel accommodations to make the trip low stress, but action packed. Brenna was very helpful with orienting our group to the country and city. Even with a wide range of ages, everyone on the tour got along well. The hotels were in great locations and were comfortable. The tour bus was also comfortable and our driver was friendly and likeable.
Favorite "WOW" moment
"We loved Switzerland. We were fortunate to have perfect weather. The hiking, scenery, people, and other activities were great. Really, all of the destinations were exceptional. Local people were helpful and friendly. Conversations with others on our tour or other tourists we met along the way were pleasant and informative. We appreciated learning about the geography, history, art, language and culture throughout Europe."
Emily
Alexandria, VA
Tour: 06/23/14
Overall rating:
Better than I ever expected! I set my expectations high but the tour exceeded them all! It was a wonderful mix of cities and the perfect length of travel time. This was the best way to explore Europe for the first time. It allowed me to focus on sightseeing rather than researching accommodations or worrying about transportation. I enjoyed the company of our guide, driver and entire group. The most memorable vacation of my life was made even better by sharing it with complete strangers!
Favorite "WOW" moment
"If I had to choose just one "wow" moment it would be walking around Rome by myself. Since my family was thoroughly done with sightseeing, I did it on my own....and loved it! This was a huge accomplishment since I can't even walk around a major US city alone. My other "wow" moment was how much I enjoyed meeting the locals and fellow travelers. They played a huge role in making this an amazing adventure as did visiting all the beautiful sights of Europe!"
Daniel
N.Vancouver, BC
Tour: 05/26/14
Overall rating:
Outstanding because all the pieces worked, i.e., great plan and fabulous guide: Cary made a huge difference; diligent,contientous,generous, approachable and fun to be with. Our friends will hear alot about a great overall package!
Favorite "WOW" moment
"Each morning."
Deborah
Harrisburg, PA
Tour: 05/26/14
Overall rating:
From the very first moment that our group met Cary, I knew we were in good hands! Cary was so well organized and gave us ideas for touring each day - she made it happen for us! Cary was also very caring with us as individuals, and facilitated many positive interactions with our group of travelers. The tour was very active and full of treasured moments - and of course, much laughter and conversation.
Favorite "WOW" moment
"This is difficult because there were many "wow" moments for me, but two come to mind. I have toured Europe in the past, but never was in Paris. A real "wow" moment was the light studded Eiffel Tower at 11 p.m. - I fully realized that I was in Paris and the City of Lights surpassed my expectations. The other "wow" moment was hiking in the Lauterbrunnen Valley in Switzerland - the majestic Alps and the quiet crunching of the stones as we walked in awe of our 360 degrees of beauty."
Alice Lauren
Vancouver, BC
Tour: 05/26/14
Overall rating:
I enjoyed the variety of experiences provided on the trip and all so enjoyed the fact that I did not have to worry about the hotels and transportation. Our guide Cary was very helpful in providing information about each place which saved time for us in doing our own research.I had a minor medical problem needing a doctor and Cary helped me with this as well. I also enjoyed meeting the other tour members and leArned from their experience.
Favorite "WOW" moment
"Seeing Eyeing ,Venice ,Cinque de Terre and the Swiss Alps. It wAs like I was in a dream!"
Stuart
Highlands Ranch, CO
Tour: 05/26/14
Overall rating:
This "my way tour" took all the stress out of traveling from one site to another. The great information Cary provided between cities gave us great "back door" sight seeing ideas as well as places to eat.
Favorite "WOW" moment
"Wow there were so many: the beauty of Lauterbrunnen was stunning, the wine caves in Beaune were a complete surprise, the caves had over 3,000.000 bottles of wine in them dating back to the 1600's. The fois gras and snails were the best I have ever eaten."
Margaret
Hershey, PA
Tour: 05/26/14
Overall rating:
Cary was the best! Very knowledgeable, always there to answer every question . I can't say enough good things about her. Overall I had an excellent trip. The bus transport from place to place was comfortable and stress free. Thanks, Peter.
Favorite "WOW" moment
"Switzerland was my personal favorite. Scenery, hiking Gimmelwald!"
Mary
Northfield, MN
Tour: 05/26/14
Overall rating:
The escort was great and trust worthy and dedicated to all of us! It was hard to be alone and no fault of the tour that I am a single traveler. Also no fault of the tour that my room mate & I had troubles getting along. She was a light sleeper and blamed me for her troubled sleep. I benefited greatly from having used your books to plan ahead. Also, the freedom to arrange my own schedule worked wonderfully for dealing with any health issues. (Occasional pain in my knees).
Favorite "WOW" moment
"Listening to some of my fav. American music in the late 1/4 in paris. Sorry."
Robert
Phoenix, AZ
Tour: 05/19/14
Overall rating:
The tour really exceeded our expectations. Each city/village was special, unique in many respects, and very interesting to explore. The convenient hotel locations made it easy to see a lot during each stay. Steves books provided the right level of visitor information to help choose what to see, walks to take, etc. Our small group (21) got along extremely well. Our escort was terrific, well informed and a lot of fun.
Favorite "WOW" moment
"The view from our balcony of the snow covered Alps was awesome. The Lauterbrunnen Valley is absolutely beautiful."
Nela
Baton Rouge, LA
Tour: 05/19/14
Overall rating:
I loved the My Way Tour. Everyone in our group was extremely nice and we all did exactly what we wanted. The days riding on the bus were great because it was a time we all shared what we did and what our plans were for the next stop. Our tour guide, Brenna, was fantastic. Her enthusiasm for every place we went was contagious. She gave us advice on what we may have planned and how to get around and meet up with any tours we had scheduled. The entire trip was better than I expected.
Favorite "WOW" moment
"There were so many "wow" moments but I feel it was our destination in Lauterbrunnen. It's beauty is unbelieveable and I had a great hotel room with a beautiful view of the mountains and many waterfalls."
June
Gilbert, AZ
Tour: 05/19/14
Overall rating:
This was our first trip to Europe so we wanted to maximize where we visited but also see what interested us. So the "My Way" tour appealed to us. While at times it was stressful trying to navigate subways and trains, we liked the flexibility of doing what we wanted when we wanted to do it & with or without other tour members:) We felt the "My Way" experience worked for us!
Favorite "WOW" moment
"We absolutely loved the beauty & grandeur of Switzerland. It was a respite from the busy city experiences and actually gave us time to relax. This is a place we would love to go back to and spend more time."
Marilyn
Phoenix, AZ
Tour: 05/19/14
Overall rating:
I was pleased and comfortable with the bus and hotels. The preview information was very accurate in terms of distances and terrains we would have to transport our bags over. We had a great group to travel with; pleasant and easy to get along with.
Favorite "WOW" moment
"Upon arrival in the Lauterbrunnen Valley, it was a bit rainy and cloudy; the next morning was beautiful.....and there were the alps; gorgeous views all around us....WOW!"
Judith
Lakewood, CO
Tour: 05/19/14
Overall rating:
Great people[INVALID]very compatible group. Very fun experience.
Favorite "WOW" moment
"WOW--so many wows: the falls in Switzerland, the church in the Roman Baths--St. Mary of the Martyrs and Angels."
Natalie
Mukilteo, WA
Tour: 05/19/14
Overall rating:
We were very pleased with everything about the My Way tour. I had read all the materials ahead of time and knew what to expect. We had a wonderful experience and look forward to vacationing on another My Way Tour.
Favorite "WOW" moment
"I completely enjoyed every place that we visited. But the Cinque Terre has the most spectacular coastline I have ever seen. I love the village of Monterosso, and appreciate the effort of the citizens to keep it looking so fresh and beautiful. It had everything I need to relax and enjoy our time there. I wish it was longer."
Jo Ann
Port Allen, LA
Tour: 05/19/14
Overall rating:
Everything was just great. Brenna was outstanding. She answered all our questions, gave great advice on how to get around each new city, was so knowledgeable about everywhere we visited, gave good food places to eat, just as friendly as you could be to everyone.....she was great[INVALID]couldn't have asked for anyone better. The "my-way" was perfect for our group of 4 friends. We really got to do what we wanted and saw so many wonderful places. I will surely recommend this trip to my friends.
Favorite "WOW" moment
"Switzerland was my "wow" moment. It was so beautiful, clean and crisp. We hiked into a little town on the mountain and were looking for a store to buy cheese and sausage so we could picnic on mountainside. What we found was a home with a sign inviting you to take some of their homemade cheese and sausage and just leave the money for it in the box by refrigerator!!!! Where else in the world could this happen. I think it was the best cheese and sausage we had the whole trip."
Carolyn
Sacramento, CA
Tour: 05/19/14
Overall rating:
We had such a fantastic time on the Rick Steve's My Way Tour. Brenna was a great tour guide, very friendly, patient and informative. She helped us figure out our plans for each city and made suggestions on the best places to go to and see. We had a fantastic group. Everyone got along with each other and many of us went out to eat together or similar day trips. Though we may never see each other again, we will always remember and cherish the friends we met on this trip.
Favorite "WOW" moment
"Switzerland was my favorite, beautiful, clean, green and gorgeous. I would go back there again in a heartbeat."
Carol
Portland, OR
Tour: 09/23/13
Overall rating:
Our first trip to Europe, and it exceeded our expectations! I liked the freedom the 'my way' tour gave us, but with support on travel and hotels, giving us more time to enjoy each location. We now feel like we can go back to some favorite places on our own. (Though I still cannot pick a favorite place...)
Favorite "WOW" moment
"The stunning scenery of Switzerland!"
Robin
West Lafayette, IN
Tour: 09/23/13
Overall rating:
This was my second tour with Rick Steves. After many years of urging my parents, who are not travelers, that they MUST do a Rick Steves tour of Europe, they finally signed up. We chose a 'My Way' tour so I could personally show them the sights! It was a great way to go. I got to visit Europe again, but this time share it with my parents and on their schedule and their way. I liked "My Way" because I was able to meet their needs with their activity level. They LOVED the the trip!
Favorite "WOW" moment
"Walking past a 2-mile long line to get into the Vatican Museum. My dad said "Good Job, Robin". I said, don't thank me...thank Rick Steves! He did the research, I just followed it!"
Donald
Chelan, WA
Tour: 09/23/13
Overall rating:
We were given the opportunity to explore the areas we were interested in visiting without any tour structured to provide that experience for us. We could make it OUR tour and do, see and experience the things we were interested in personally. The transportation was excellent and that planning was eliminated. The lodgings provided were very well chosen by having a neighborhood feel in the communities of the areas we visited. Our "tour escort" was excellent.
Favorite "WOW" moment
"I enjoyed every aspect of the adventure. The Europeans multiple language skills were amazing! Paris was my favorite. I expected less and received way more. The French are NOT snobs, they are the same as people everywhere; that was my "wow" moment! Everyplace visited was an excellent overview of European culture."
Marcia
Lakewood Ranch, FL
Tour: 09/23/13
Overall rating:
i had a wonderful experience, especially as this was my first time to Europe. Our tour guide, Brenna was so eager and enthusiastic and turned a great travel experience into a fantastic trip. I love the "MY WAY" trip, a nice blend of structure and independence. We often bumped into a family or two from our group around dinnertime and arranged to have some nice meals together. We were blessed with a very nice group of 29 eager travelers, who bonded together very early in the trip.
Favorite "WOW" moment
"1 Going to the top of the Eiffel Tower, looking down over the entire city was breathtaking and found Paris to be very beautiful and very clean. Loved al of the gray-white buildings!! 2 was being able to walk around the Colosseum in Rome. So much history is there[INVALID]if only the walls could talk! Amazing that that huge arena was constructed as it was, so many centuries ago. 3We had amazing last night dinner at local place in Rome w/music/entertainment from rest. mgr./Brenna's b.day celebration"
Amy
Grass Valley, CA
Tour: 09/23/13
Overall rating:
Having never been on a "group" tour before and not being a very good "follower", I was a little nervous about what to expect being on a bus for 10 days with strangers. Well, strangers are just friends you haven't met yet, and that certainly proved true on this trip. I loved the My Way experience. It was so wonderful to have transportation and lodging taken care of by the Rick Steve's experts. Each hotel seemed to be chosen just for the things I wanted to experience. Thanks Rick!
Favorite "WOW" moment
"Arriving in Paris and gazing out of my hotel window at the Eiffel Tower was a definite "pinch me" moment. Also, standing in the Sistine Chapel surrounded by works of Michelangelo resulted in uncontrollable sobbing. Sounds silly, but all I could think of was "I'm REALLY here! I can't believe it!" The beauty and history of the paintings was awe-inspiring for me."
Ronald
Lakewood Ranch, FL
Tour: 09/23/13
Overall rating:
The tour met all our expectations, our group was very compatible with one another and we had a great time. What really made the tour special was our escort, since this was a My Way Tour, Brenna. She gave us important background on each location, tips on making the best use of our time and more importantly helped us to come together as individuals to share and enjoy some common experiences but at the same time giving us our freedom to shape our own touring and dining experiences.
Favorite "WOW" moment
"There were three wow moments: 1) Ascending to the top of the Eiffel Tower and later admiring it every morning and evening from our room while in Paris, 2) experiencing the ALPs early in the morning and hiking the trail surrounded by snow covered peaks, and 3) our farewell party the last night of our tour--it was both great fund and very emotional in part because of our escort sang us a song with extraordinary feeling and meaning. WOW, what an experience!!"
Alicia
Moodus, CT
Tour: 09/23/13
Overall rating:
Fantastic way to see Europe without the stress of arranging transportation and hotels. The added bonus of getting an orientation at each destination was wonderful!
Favorite "WOW" moment
"Switzerland, lauterbrunnen Valley was Absolutley spectacular. The natural beauty of the area is unsurpassed!"
John
Portland, OR
Tour: 09/23/13
Overall rating:
This was our first time to Europe so it was great to get a slice of several different places. It showed us several places we want to spend more time exploring. If we don't mind figuring out the reservations and transportation it looks like Europe would be easy to visit again on our own. Though we sure enjoyed the tour leader and the people on the tour. Everyone was very open minded and there to have a great time, which we all did.
Favorite "WOW" moment
"Boy this is hard to say but if I have to near it down to one then I would say stepping out of our room the first night and having the Eiffel Tower right there out our window."
Omar
Newark, CA
Tour: 09/23/13
Overall rating:
The experience was wonderful! The My Way tour was exactly what we expected and it even exceeded our expectation. We liked the combination of someone taking care of some of the logistics of the travel yet have the freedom to explore on your own! And the company of our fellow travelers just simply added color to an already incredible adventure!
Favorite "WOW" moment
"The 'wow' moment was how our group bonded at the last day when we all had a farewell dinner together. Sure the places that we've explored was incredible but it'll be the relationships that we've experienced that we'll cherished as we look back in our Europe adventure!"
Richard
Hickman, NE
Tour: 09/23/13
Overall rating:
very good. having the day free worked perfectly for us.
Richard
Tallahassee, FL
Tour: 09/16/13
Overall rating:
The tour was way better than my expectations. The tour group all got along well. Cary our tour guide was excellent and made everyone feel special. The bus was comfortable and easy to see out which is very important for long trips through beautiful countryside. All the stops were interesting although personally I could have done without Venice. Way too touristy, locals are not particular friendly and it is very confusing.
Favorite "WOW" moment
"There were a few wow moments but the Lauterbrunnen Valley in Switzerland was definitely one of them, just an awesome place and we had perfect weather, got lucky I think. Munich was also a wow moment for me, just wasn't expecting it to be so much fun. Cinque Terre was not far behind and definitely had some wow views from the hiking trails."
Diane
Toledo, OH
Tour: 09/16/13
Overall rating:
We had a wonderful time on our Best of Europe My Way Tour! The "My Way" Tour was perfect for us because I like to do a lot of research/planning on my own but would prefer to leave the driving and hotels to someone else. Cary, our escort, was an unexpected wealth of information and it was great to connect with the other members of our group to see what they had planned and glean information from them as well.
Favorite "WOW" moment
"I'd have to say Switzerland. We are from Ohio so I found the Swiss Alps breathtaking. We were blessed with beautiful weather when we were there so were able to take the cablecar to Schilthorn which was amazing."
Sharon
Tarzana, CA
Tour: 09/16/13
Overall rating:
This tour offered the best of both worlds, offering a wonderful itinerary, accommodations, transportation, a tour escort, and breakfasts, while allowing us to arrange and explore each city on our own. This enabled us to choose our own level of participation within the tour group. It was obvious that we joined this My Way tour because we were all independent souls. At the same time, this was a delightful group and I felt blessed to have ended this tour as friends.
Favorite "WOW" moment
"Stepping out onto my tiny balcony in my Paris hotel room at night after it had rained and seeing the Eiffel Tower lit with its beam of light glowing across the sky. Touring Marie Antoinette's Hamlet at Versailles. Viewing the Swiss Alps on a brilliantly clear day from the Schilthorn vantage point. Drinking pure spring water from a fountain in Murren. Riding a gondola at night and attending a Vivaldi concert in Venice. Wandering through the back streets of the beautiful Cinque Terre villages."
Randy
Calgary, AB
Tour: 09/16/13
Overall rating:
The trip was a whirl wind experience. We definitely covered allot of ground and experienced new things each day. As a first time "Bus traveler" I appreciated the less than full bus and the ability to spread out a bit. Each destination had something different to offer and even now I have trouble answering the question of "Which place did you like the best?". Our tour guide " Cary" was enthusiastic, cheerful and a wealth of knowledge, she definitely added to our experience.
Favorite "WOW" moment
"I don't think I have a "Wow" moment, perhaps it would be the first day when you could look out the hotel window and see the Eiffel Tower only blocks away. The same feeling was experienced when we walked to the top of Victor Emmanuel Monument and saw the Coliseum nearby."
Margaret
Raleigh, NC
Tour: 09/16/13
Overall rating:
Wow! It was my first trip to Europe and I felt it was perfect considering my concern over language differences and transportation. The trip was so easy. All I had to do was decide which of the several suggested options I wanted to do each day and I could change my mind as the day progressed. My way is the ideal way for a first timer or when you just want an easy going fabulous experience. Cary was very helpful and made the trip fun. I have already recommended it to all my travel friends.
Favorite "WOW" moment
"Switzerland and Monterrosso were my favorite. I especially enjoy hiking in the national parks so these outdoor beautiful spaces helped me reintergize for the big cities. Paris and Rome were full of museums that I felt were must sees but I mostly enjoyed the city walking tours. Venice was fun too."
Steve
Cedar City, UT
Tour: 09/16/13
Overall rating:
The tour was everything that I had hoped for and more. I think the choice of destinations and the amount of time spent at each was just right. I can't think of any changes that I would make to the itinerary. Transportation by bus, and not having to worry about planning personal transportation details, was perfect- and very comfortable. Our bus driver, Sandro, blew me away with his kindness and driving skills.
Favorite "WOW" moment
"I honestly can't say that I had a favorite moment. Each location that we visited left a good, indelible impression that I'll never forget. The entire experience!"
Kathy
Salem, OR
Tour: 09/16/13
Overall rating:
Even though I had previously visited most of the places on this tour, it was wonderful to experience it with my sister. She was on her first European visit. This was my third Rick Steves Tour and my sixth visit to Europe, but it was still magical! This tour is a taste of Europe! Cary is an outstanding escort, and I also appreciate Sondro's great driving skills! I enjoyed all the people in our tour group. What a great bunch!
Favorite "WOW" moment
"I found it so refreshing to go from the big cities to the quiet places. Such as: Paris to Beaune, and Venice to Cinque Terre. And since my sister and I have family roots in the Berner Oberland. It was so awesome to share that experience together. We both felt like we were going home!"
Cheryl
Tallahassee, FL
Tour: 09/16/13
Overall rating:
Well exceeded my expectations ... trip of a lifetime ... hard to put into words really, maybe "magical" says it best. The My Way Tour format was the best of all worlds.
Favorite "WOW" moment
"It just got better and better each and every day. We never wanted to leave one stop to move on to the next but were always happy when we did. Lauterbrunnen Switzerland was by far the #1 stop."
Jolene
Orting, WA
Tour: 09/16/13
Overall rating:
The "my way" tour offers the best opportunity for travelers who want to leave the travel logistics to the professionals, and are confident enough to plan and enjoy daily activities meeting their own interests and pace. Our escort (Cary), bus driver (Sandro) and cameraderie of fellow travelers, made a once in a lifetime trip a wonderful experience. Two weeks flew by!
Favorite "WOW" moment
"Lauterbrunnen valley, Switzerland. The sunny weather made for spectacular views along the tram rides to Shilthorn and lunch outdoors in the quaint hillside village of Gimmelwald combined to make a perfect stress free day in the Alps. Green with envy!"
Bob
Yardley, PA
Tour: 09/16/13
Overall rating:
This was my first European vacation and my expectations were high. Nevertheless the reality of this My Way tour exceeded my expectations! Kudos to Cary and your entire organization.
Favorite "WOW" moment
"The Lauterbrunnen Valley offered perfect weather and a day full of picturesque beauty on September 20th. I was spellbound."
Ann
Martinez, CA
Tour: 09/16/13
Overall rating:
Exhausting but well worth it when you think of all the places we visited. The bus was comfortable and you had the option of having a whole seat to yourself. My main complaint was the lack of time to see everything I wanted to see. I would like at least two full days in most places. It was very frustrating trying to get acquainted with a new place every other day. I think we got lost in every place we were and that took valuable time. More guided tours would have been good.
Favorite "WOW" moment
"All the moments in Paris were "wow" moments even though it was raining and freezing cold. The walks, museums, food, metro and the French people were all amazing. It would be hard to pick one wow over the over the other. I'm glad we arrived early. It was great to come back here after 38 years."
Linda
Martinez, CA
Tour: 09/16/13
Overall rating:
The my way tour was handled efficiently with no real problems of any kind. It was great to have hotels, transportation and food en route all taken care of. Even drinks on the bus were available. I never could have taken in so many cities and countries on my own. Thanks to Cary, a very capable guide, it was possible to get help regarding all travel issues and information, like how to use the metro, and work out your daily itinerary. Lots of spectacular scenery on the bus rides.
Favorite "WOW" moment
"There was nothing more amazing than hiking and riding the cables in the Lauterbrunnen Valley. Watched the changing clouds and light, plus waterfall, from my balcony until the last daylight. Snow covered peaks and amazingly green valley and mountains. Cows and sheep grazing along the road. My favorite destination of the tour."
Sue
Yardley, PA
Tour: 09/16/13
Overall rating:
Taking this trip was one of the most amazing experiences of my life! It was my first trip to Europe, and I'd been trying to plan it for years. I was so overwhelmed with trying to decide on an itinerary, figure out the travel plans, and booking hotels. When I read about the My Way tour I knew it was just what I needed to finally get me over to Europe! It was so much more than I expected it would be.
Favorite "WOW" moment
"It's hard to come up with just one. I'd have to say it was the moment I swung open the window in our room in Monterrosa and saw the beach and the water right in front of me!"
Lori
Delta, BC
Tour: 09/16/13
Overall rating:
Had the best time ever! Couldn't pick my favorite day or place because, I loved it all. Our tour guide, bus driver and fellow travelers made the trip. Everyday was an adventure.
Favorite "WOW" moment
"Maybe...France, Switzerland , Germany, Italy.....!! All good! Eat, eat and eat some more!"
Denise
Bonney Lake, WA
Tour: 09/16/13
Overall rating:
First experience traveling out of country & couldn't have picked a better "tour". Being allowed to choose what to do & see in each place made the time more manageable and was able to see what I, & my friends, wanted to see/do. This tour gave me a taste of different countries, although 1.5 to 2 days per isn't enough time to see everything so pre-planning was a necessity. I will say though that Munich seemed out of place, would loved to have spent another day or so in Lauterbrunnen or Cinque Terre
Favorite "WOW" moment
"Switzerland - Lauterbrunnen was breath-taking. But how can I just choose one? Cinque Terre, Venice...oh my. Eiffel Tower, Arc de Triomphe, Grindelwald, Schilthorn, Colliseum in Rome. Too many "wow" moments to choose from!"
Richard
Delta, BC
Tour: 09/16/13
Overall rating:
As an overall comment this was an amazing trip and everything from our perspective met or exceeded expectations. Our tour guide went above and beyond and even though this was a my way tour she was always available to give advise directions or just answer general directions. The bus was roomy and comfortable and the driver (Sandro) was fantastik and fit right in with the group. All accomodations exceeded expectations as they were centrally located and clean.
Favorite "WOW" moment
"For me each stop was new and unique and every day was an adventure."
Michael
Lexington, NC
Tour: 09/02/13
Overall rating:
I have been on guided and unguided trips before and none of them have meet my expectations as well as the My Way Tour with Rick Steves. All details were covered from the size of the bus, with 2 hour stops, the central locations of all the Hotels and a fantastic tour guide to help us with all our adventures along the way. Number 1 in my book.
Favorite "WOW" moment
"Every town was a great experience, one WOW moment after another. The one "wow moment" that was at the top would be the hike from one town to another, in Cinque Terre."
Suzanne
El Cajon, CA
Tour: 09/02/13
Overall rating:
The tour was well organized and there was a constant feeling of support and guidance. This was important to me because it was my first time traveling through Europe. I wanted the freedom to do things that I wanted but it was great to have some direction to achieve theses goals.
Favorite "WOW" moment
"There were many wow experiences through out the trip. I think that my favorite experience or wow moment was Lauterbrunnen, Switzerland. Being up in the georgeous mountains and hiking through the colorful landscape gave me a chance to reflect on its beauty and appreciate the experiences that the My Way tour provides."
Sarah
Mooreland, IN
Tour: 09/02/13
Overall rating:
The My Way tour is the best of both worlds. Your accomadations are taking care of but you decide how you spend your time. This was my first time abroad and the Rick Steves tour curbs any anxiety. Our tour guide was excellent and made the whole experience wonderful.
Favorite "WOW" moment
"There were so many I couldn't do them all justice."
Rhonda
Puyallup, WA
Tour: 09/02/13
Overall rating:
Our 14 day My Way tour of Europe was way, way, way beyond our expectations! It was superbly planned with lots of free time. Every question we had was answered. The accommodations were fantastic and the transportation was super comfortable and safe. We fellow travellers also helped make it a most memorable trip. They were independent and ready to experience all that this tour and various regions had to offer.
Favorite "WOW" moment
"There were so many!!! Maybe this will sound funny....but petting cows (with 'musical' bells around their necks) with the alps in the backdrop was out of this world."
Ginger
Southern Shores, NC
Tour: 09/02/13
Overall rating:
Our overall tour experience was outstanding! We had a wonderful time, and were so happy with the whole Rick Steve's unguided tour! We have nothing negative to report on our two week tour. We were happy with all of our destinations, and everything was so well organized. Hotels were all good, with great locations, and all with great European character. We were able to relax and enjoy all our experiences, because everything was so well taken care of!
Favorite "WOW" moment
"It's hard to pick out just one 'wow' moment, I had many "wow" moments! From hiking in the mountains in Switzerland, to climbing the Eiffel Tower in Paris,to wandering through ruins,cathedrals and churches in Rome, to Castles in Germany.........."
Michael
El Cajon, CA
Tour: 09/02/13
Overall rating:
The tour was a lot of fun as we were able to revisit some favorite locations we had enjoyed on previous tours. What really made it fun was the fact that our daughter and niece accompanied us. It was their first trip top Europe and their excitement at each new city was infectious. Their different perspectives about the cultures and sites we encountered added a lot to our experience.
Favorite "WOW" moment
"Looking out from the top of the Eiffel tower, riding the cable car down from Gimmelwald, visiting Dachau, standing at the 50 yard line in the Colosseum and feeling all of the history of the place, etc..."
Greg
Newnan, GA
Tour: 09/02/13
Overall rating:
This trip was the experience of a lifetime for my wife and me. I was amazed at how much I enjoyed traveling with other people, making and enjoying the company of new friends. Our guide, Cary, was outstanding. She equipped us with the critical things we needed to know to make the most of our Europe My Way vacation. And our driver, Henry, was a knowledgeable source of information too, as well as an exceptional driver. Everyone at Rick Steves was a pleasure to deal with. We loved it all!
Favorite "WOW" moment
"The scenery in an around Lauterbrunnen and then up through Austria was breathtaking. The Sistine Chapel and St. Peter's Basilica was awe-inspiring. But for us, the lasting memories will be interacting with locals and experiencing the wonders of different cultures."
Cathy
Shirley, IN
Tour: 09/02/13
Overall rating:
It was exactly what I expected and more! I thought that it would be great and that I would have freedom to do what I wanted but I also got a fantastic guide as a resource person and a group of fellow travelers that made the whole trip more enjoyable.
Favorite "WOW" moment
"The whole trip was a "WOW" moment."
Kim
Kelowna, BC
Tour: 09/02/13
Overall rating:
Enjoyed the overall experience, however next time we will take a tour that stays longer than two days at each place so we can see more. Enjoyed my way especially because it gave us the freedom to decide what worked for us.
Favorite "WOW" moment
"The Eiffel Tower, because it made it real, it felt like a dream, I never thought I would ever be able to visit Euope!"
Mary
Keene, NH
Tour: 09/02/13
Overall rating:
We felt very well looked after by our guide, yet she let us make our own decisions, and yet supported. The accommodations were very pleasant well located. All of our fellow travelers were good sports and lots of fun. We are recommending My Way to all of our friends.
Favorite "WOW" moment
"The views in Cinque Terre in Lauterbrunen Valley."
John
Smithton, IL
Tour: 09/02/13
Overall rating:
My wife and I were celebrating our anniversary so we wanted some alone time but did not want to worry about traveling details. We therefore chose the My Way Tour and loved every moment. Our guide, Carey and bus driver, Henry were our dream team. An anniversary that we will never forget.
Favorite "WOW" moment
"Every stop had its "wow" moments but the hiking in Switzerland was unbelievable. Clean, clear, crisp air with no crowds... WOW!!!"
Jennifer
Newnan, GA
Tour: 09/02/13
Overall rating:
I LOVED the My Way Tour and will definitely take another one in the future. It was the best possible vacation- it allowed us to focus on the fun (what do we want to see today? where shall we eat?) and took the headache out of having to plan the trip logistics (where will we stay? how will we get there? what time do we check out?, where is it located? etc.). Plus, we met some new friends along the way.
Favorite "WOW" moment
"There were so many- but probably the Eiffel Tower at night and driving into Switzerland and seeing the glorious mountains."
John
Spokane, WA
Tour: 07/22/13
Overall rating:
This was easily the best vacation I have been on, and I have been on many other trips. What a great experience to see other cultures and to visit some of the cities that I have only seen in pictures. It was also great meeting other travelers and to have many discussions with them on what we were able to see at the various locations. The escort was great and was very helpful on providing as much information that was needed at the various locations.
Favorite "WOW" moment
"The Swiss Alps and Cinque Terre."
Susan
West Palm Beach, FL
Tour: 07/22/13
Overall rating:
this was a fabulous introduction to so many places i have always dreamed of seeing.
Favorite "WOW" moment
"Switzerland! WOW!!"
Alice
Sacramento, CA
Tour: 07/22/13
Overall rating:
The My Way: Europe in 14 Days Tour was a perfect opportunity to experience a wide variety of European countries and cities in a short period of time. I definitely feel like we covered each place we visited, without feeling pushed and overwhelmed. There was a very nice balance of opportunities to be both social with and independent from other tour members.
Favorite "WOW" moment
"Arriving in the Lauterbrunnen Valley of Switzerland and driving through the Alps, past waterfalls, and by chalets....before being taken to our hotel."
Marsha
Austin, TX
Tour: 07/22/13
Overall rating:
I truly enjoyed each location visited and greatly appreciated the tips on how to avoid standing in long lines for museums. Walking past that long line of folks waiting to get into the Vatican Museum, many who had waited up to 2 hours, with my Vatican voucher was amazing. Looking back on this trip is like looking back upon a dream. It was wonderful.
Favorite "WOW" moment
"My favorite location was Lauterbrunnen, Switzerland - the mountains were breathtaking. My favorite "wow" moment was the Sistine Chapel - I sat near the middle of the chapel and listened to Rick Steve's walking tour of Michelangelo's paintings on my IPhone (through my earphones, of course). Amazing!"
Lynda
Fort Wayne, IN
Tour: 07/22/13
Overall rating:
Traveling with my sister was really the best experience ever. Loved having all transportation and lodging arranged. Matt was such a fun and COMPETENT driver. the Escort was inspiring and fellow travelers were top notch. I'd love to do another trip and see if my husband is as much fun as my sister! :)
Favorite "WOW" moment
"The mountains of Switzerland, hiking, traveling through, cow bells and fondue."
Andy
Ripon, WI
Tour: 07/22/13
Overall rating:
We had a great time. Going over everyone's names a couple of days into the tour was very helpful. While this was a sampling of part of Europe, it helped us focus on what we would like to do in the future. The format of being on our own during the day was perfect.
Favorite "WOW" moment
"It was either being in the Vatican or walking the trails on Lauderbruden (sp!)."
Laura
Bainbridge Island, WA
Tour: 07/22/13
Overall rating:
My best friend and I had never traveled before and we couldn't be happier with our escort and our whole experience. We LOVED our hotels and their locations, we loved the group we ended up with to travel, our escort was amazing and always helpful and super informational. We always felt like we could ask questions AND get them answered. We definitely got the most out of our trip in every way we could have hoped for. We have both recommended Rick Steves My Way tours to everyone we know!
Favorite "WOW" moment
"Paris... I'd spent my whole life wanting to go and I enjoyed every minute of being there and exploring."
Rachel
Chico, CA
Tour: 07/22/13
Overall rating:
I am definitely an independent traveler and usually avoid tours. I was however, pleasantly surprised at how enjoyable it was to go on a My Way tour. The stress of planning transportation and accommodation was eliminated but we could be as independent as we wanted during the day. Having an escort for tips and advice was also a nice touch that I appreciated. I have already been recommending this tour to my friends and family and would consider going on a My Way tour again.
Favorite "WOW" moment
"Since I had been to Europe several times as a poor student I really appreciated the nice hotels and being able to afford decent meals! Gelato in Venice!"
Annette
Englewood, FL
Tour: 07/08/13
Overall rating:
Great to see Europe's most popular places !! Just enough time in each city to get a taste for the region.
Favorite "WOW" moment
"Seeing Paris, Venice, Rome, Switzerland for the first time !!"
Karl
Wilmette, IL
Tour: 07/08/13
Overall rating:
Our family - all 4 of us including my two 24 year old twin daughters, my wife and me - enjoyed this tour immensely! We are an active family and the fast pace of this tour fit the bill for us perfectly. This was my family's first trip to the Continent too - we wanted to visit and see as many places as we could in two weeks. Also have access to a knowledgeable and helpful escort throughout. That plus our hotels/intercity travel taken care of. Expectations were exceeded in every respect!
Favorite "WOW" moment
"There were so many, it is hard to choose just one. And the "wow" moments were so varied - from the breathtaking scenery of the Alps to the majestic landmarks of Rome and Paris. Personally I enjoyed the Cinque Terra - such beauty and splendor - with wonderful hiking venues, an opportunity to enjoy beach combing and water sports, and great restaurants - all thrown together."
Betty
Lahaina, HI
Tour: 05/20/13
Overall rating:
The tour was wonderful. I had no expectations other than appreciating the 'experience' and wanting to enjoy each moment as it occurred. The trip did not disappoint! I chose this particular tour to get a glimpse of various countries in hopes of returning one day to the areas I am most attracted to. It has only left me wanting to see more.
Favorite "WOW" moment
"Each visit had it's own 'wow' moment, but with my first glimpse of the Eiffel tower all lit up at night, I had to pinch myself. My first sight of the Alps covered in snow was breathtaking. The view from my balcony in Lauterbrunnen was Spectacular! The excitement from my college-graduate daughter (who was born and raised in Maui, HI) when she saw the snow falling and gazed at the snowflakes resting on her glove."
Weather

France / Paris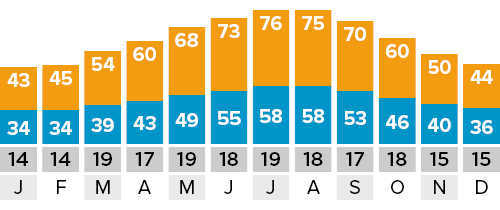 ---
Switzerland / Bern
---
Germany / Munich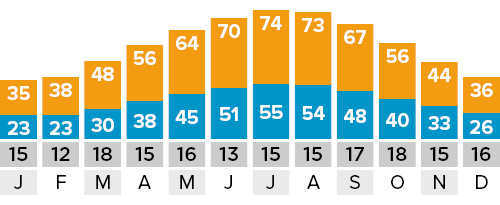 ---
Italy / Venice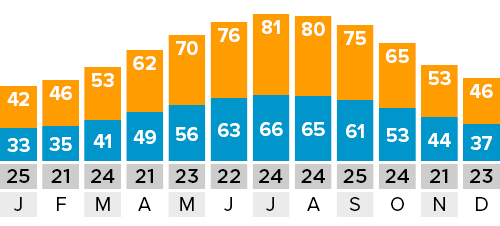 ---
Italy / Rome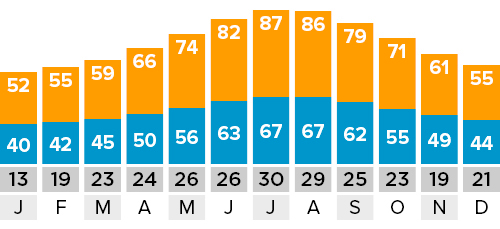 Pre-Tour
We've put together some specific information on what you should know about this tour before you go. You'll also find more general information about "Getting Ready for Your Tour" on our Tour FAQ.
Sightseeing On Your Own
When you arrive in Paris, use your included Rick Steves' Best of Europe guidebook to get oriented. Ride the public transportation, try out a few words of French, and get over your jet lag with lots of fresh air and exercise.
Walking tours make a great introduction to any town. Use your Audio Europe™ app for Apple and Android (or get free podcast/mp3 files) which includes a wealth of Paris neighborhood walks and self-guided museum tours. Check your guidebook for museum hours (some are closed one day per week; some stay open late one day per week).
Remember, you will be in charge of your own sightseeing for ALL destinations on this trip. We strongly suggest you begin planning well before you fly to Europe! To guarantee entrance, we recommend you make reservations in advance from home for the Eiffel Tower in Paris and the Vatican Museum in Rome. See your Rick Steves guidebook for details on how to reserve.
Transportation
Most tour members arrive a day or two before the tour begins — and those who don't, wish they had. This allows you ample time to get over jet lag and make the most of the first few days of the tour.
There is more than one way to get to and from your tour. We recommend talking to your travel agent about "open jaw" airline tickets (flying into and out of different cities). It's easiest to fly into Paris and home from Rome. Paris and Rome are transportation hubs, making travel before or after your tour quite easy.
For information about flying within Europe, ask your travel agent or check Rick's list of European budget airlines.
Read Rick's train travel and rail pass tips and decide if your travel plans merit a rail pass.
Prior to your tour departure, you will receive detailed directions on how to get from the airport to your first tour hotel, as well as contact information for your first and last hotels in case you wish to book pre- or post-tour hotel accommodations.
If you need more information about additional European travel or for specific questions about your tour, contact the Tour Department at 425/608-4217 or email tour@ricksteves.com. Thinking you could use some expert, in-depth help to plan your sightseeing days? Tour members enjoy a 50 percent discount on Rick's Trip Consulting services!
Trip Resources
Learn more about France, Switzerland, Germany, and Italy: Check out a collection of Rick's TV shows, radio interviews and articles, plus find a list of recommended books and movies
Packing
While it is important to pack light, there are some items we'd like you to consider including when packing for this tour. There are great opportunities to hike in the Swiss Alps and between the Cinque Terre villages. While hiking boots are not necessary, we recommend you bring a pair of comfortable walking shoes with soles offering good traction. If you plan to swim in the Mediterranean, you may wish to pack a swimsuit and a lightweight microfiber towel.
We also recommend that you consider bringing a smart phone, tablet or other device to assist in planning your activities, and to access Rick's Audio Europe app and walking tours.
For ideas on what to pack, check Rick's Packing List and our Women's Packing List.