Climate Smart Updates from Rick
October 2, 2019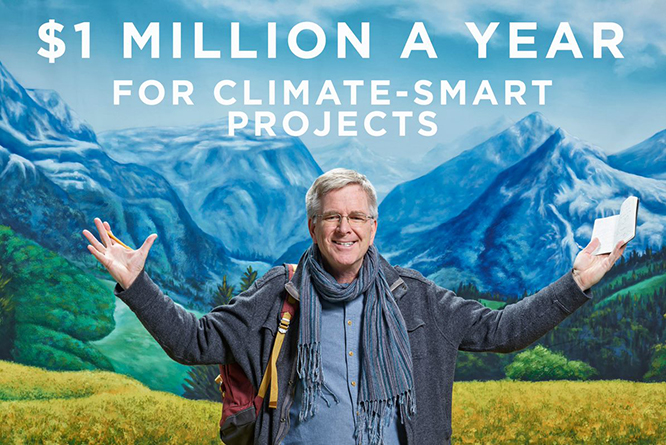 $1 Million a Year for Climate-Smart Projects
Today is an exciting day. We've chosen our 2019 Climate Smart Commitment recipients: 11 wonderful organizations that are fighting climate change in a way that fits our company's vision for this program. We've sent them the grants (donations totaling $1 million), and now we are telling the world. We're spreading this news because we hope that ethical tour companies will adopt this program themselves, as an innovative way to take real, concrete steps to mitigate the carbon emissions their businesses add to the environment.
Check out our Climate Smart Commitment Portfolio to learn how the 11 organizations we are supporting are helping fight climate change, and how they plan to put our grants to good use.
We hope you can help share the news about our self-imposed carbon tax — and how, until we have a government that sees the wisdom of fighting climate change, we as individual consumers and corporations can do the right thing for future generations.
Thanks — and keep on travelin'!
—Rick
---
September 5, 2019
Our Self-Imposed Carbon Tax
Our $1 million Climate Smart Commitment is about to spring into action. After carefully reviewing more than 50 grant requests, we've selected 12 organizations to receive funding for 2020 and we'll announce them on October 1. I'm grateful to everyone involved for their interest and encouragement in this project.
While there are plenty of good ways to fight climate change, I'm determined to be strict with our two-pronged mission: 1) helping farmers in the developing world live better while contributing less to climate change, and 2) lobbying our government to work with scientists and the rest of the world to take the climate crisis seriously.
Based on those parameters, we chose the organizations we liked best and divvied up the money. They're about 75 percent development aid and 25 percent advocacy. Each organization's work — and their plans for using our funding — will be explained here in our portfolio. I'm excited to share the details of their work on our website for several reasons: It's a way to raise awareness and appreciation of the creative ways that these organizations are working to combat climate change. We hope it will inspire more focus on climate-smart agriculture practices in the developing world. Interested travelers can click directly to each group's website to learn more. And independent travelers can charge themselves a carbon tax on their flights by donating to these groups, as we have done for our tour members.
Many have noted that this program only deals with the carbon emissions created by people who take a Rick Steves tour. That's true. I'm careful not to hype up what we're doing beyond our simple goal: to run our tour program in an ethical way. But there are lots of options for independent travelers to help mitigate the carbon emitted by their flights. And by endorsing the work of the organizations in our portfolio, we want to empower travelers to do their part by donating $30 per flight as they see fit.
Check back in on October 1 for more news and to see our portfolio for 2019.
---