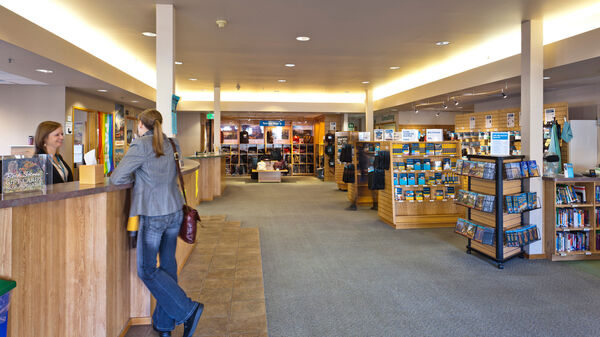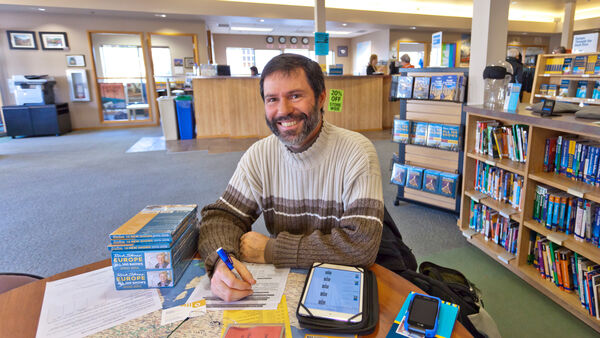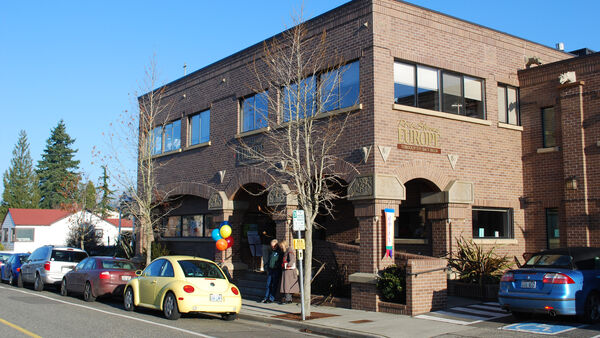 Visit our Travel Center in Edmonds, Washington! At our IQ-boosting Travel Center, our globetrotting staff is on hand to review your travel questions, familiarize you with our resources, and help you determine which guidebooks, rail passes, and travel gear are best for you.
Our spacious location at 130 4th Avenue North in Edmonds (30 minutes north of Seattle) helps us share a wealth of information with Europe-bound travelers. You'll find all this and more:
Rick's travel bags, books, maps, DVDs, and accessories (also available in our online Travel Store)
Information on our free-spirited European tours (also see our online Tour Store)
Our helpful, well-traveled staff
A comfy, 1,000-volume travelers' library
Stay a while in our cozy library
Our bookshelves are bursting with hundreds of books and maps about Europe — all packed into our cozy library with a stay-a-while fireplace. We've got big tables for you to spread out your notes on, a photocopy machine, and free Internet access to help plan your travels.
To meet staffing demands, we've suspended all Consulting Services until further notice.
You've gotta have the right stuff!
Once your plans are in order, you'll want the right gear for a safe and successful journey. Our travel advisors are experts at packing light. We travel in Europe every year and field-test the gear we sell. We offer three styles of travel bag, moneybelts to keep your money and documents safe, daybags, books and maps, and DVDs, and a selection of other goodies to help you travel safer and smarter without weighing you down. Our Travel Center will wrap your new items using environmentally friendly recyclable/degradable shopping bags.
To check out all of our groovy travel gear online, visit our Travel Store. In our Travel Center, you can test-drive a fully-packed bag and see everything we have for sale.
Join our tour family!
Not into do-it-yourself travel? We've got great tours! Independent travel is full of thrills, but some people prefer to let us do the work for them. We offer fully guided European tours for lively people with upbeat attitudes. All of our guides are Rick Steves-certified European experts with a knowledge and passion that brings Europe's history and culture to life.
Stop by our tour desk for a chat with one of our tour-sales experts — they have all assisted or guided many of our tours, so you can get a first-hand account of what it is like to travel on a Rick Steves tour. And we'll be happy to help with pre- and post-tour travel plans.
We offer some of the most enthusiastic guides in Europe, small groups, big buses, no smoking, and no grumps. For more information, visit our Tour Store, or call Tour Sales & Service at 425-771-8303.
How to find us
Edmonds is a fun town to visit. Take I-5 or Hwy. 99 to the Edmonds exit (Exit 177 from I-5) and proceed west on Hwy. 104. Follow the signs for the Kingston ferry. In about 10 minutes, you'll find yourself going down a big hill, with Puget Sound in front of you. Continue straight on the main road to "City Center"; do not take the exit for the ferry or waterfront. Highway 104/Edmonds Way will become 5th Avenue S. Continue through town until you come to Main Street, marked by a traffic circle with a gazebo and fountain. Turn left by making a three-quarter turn around the circle. Take the next right onto 4th Avenue N. We're on the right-hand side of the street, in the big brick building, next to the European Union flag. Use our handy map of Edmonds.