30 Years of Europe Through the Back Door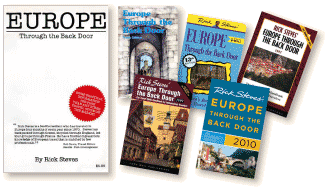 In 2010 we marked the 30th anniversary of the first edition of Rick's budget travel handbook, Europe Through the Back Door. Compiled from his travel-on-a-shoestring experiences in the late 1970s, Rick sweet-talked his girlfriend into typing it on a rented IBM Selectric, and his college roommate into doing the illustrations with a ball-point pen. Rick drove that precious pile of pages to nearby Snohomish Publishing, and — on his 25th birthday — returned to pick up 2,500 bound copies. And what a long, strange trip it's been for Europe Through the Back Door since then!
Scroll through the years, and click on the red boxes to learn more about events that have shaped our history.
Hint: Find the horizontal scroll bar near the bottom of the page