Download Logos for Rick Steves
The logos shown are available in two formats: EPS and JPG. The EPS files are in stuffed archives. See each logo's explanation for usage. These logos cannot be modified in any way from the original.
At right are the two colors used in the Rick Steves logo, Pantone 308 and 130. Both are used either as 4-color process or spot colors. The hexidecimal value is listed inside the box.
Rick Steves signature logo
Pantone 308: JPG | EPS
Black: JPG | EPS
This logo can be used in its two Pantone colors, 130 and 308, black, or white (reversed) over a photo, with a black background, or Pantone 308 background. This logo must appear with the registered trademark ® symbol. Photoshop drop shadows or glow effects can be applied to the signature if it's used on top of a photograph.
Rick Steves logo
Full color: JPG | EPS
Spot color: EPS
Gray: JPG | EPS
This logo is available in CMYK, two colors (Pantone 308 and 130), or in gray scale.
Radio Show: Travel with Rick Steves
Full color: JPG | EPS
Black and white: JPG | EPS
This logo should only be used in connection with the Travel with Rick Steves radio show. It is available in full color or in black.
Logo Do's and Don'ts
A. Don't break the Rick Steves signature logo into two lines. While the space it needs to fill is sometimes more square than horizontally oriented, it should still remain on one line — like a signature.
B. Don't change any of the specified colors. Use color logos either as spot, or with their CMYK counterparts. Use the black version of the logo for black and white print.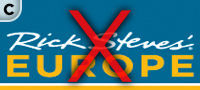 C. Don't tilt, stretch, or otherwise alter the shape of the logo. Maintain the size and proportion of Rick's signature to the type below it as in the original file.
D. Don't substitute fonts to recreate the logo or signature.
Keep adequate space around logo elements, including the PMS 308 background, as shown. Crop only when bleeding the logo on the top or sides.