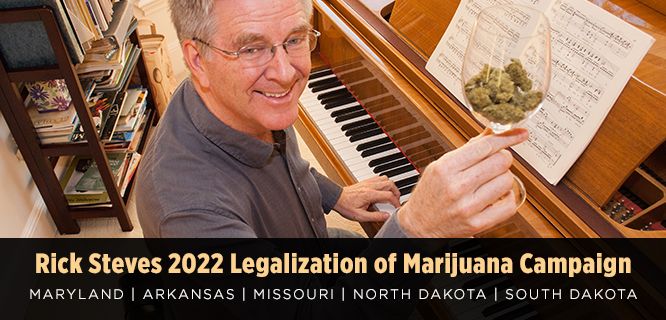 Welcome to Rick Steves' 2022 campaign for the legalization of marijuana. This tool kit is designed to be a resource for supporters, opposers, and undecideds to better understand how and why Rick works to end the prohibition of our age and legalize marijuana in the US.
For decades, Rick has been inspired by Europe's pragmatic approach to recreational drugs with success measured by harm reduction rather than incarceration. In 2012, he worked to help legalize marijuana in his home state of Washington — and every two years since then, he's dedicated a week of his time and a substantial financial contribution to help legalize, tax, and regulate marijuana wherever it's on the ballot. This year, in partnership with the National Organization for the Reform of Marijuana Laws (NORML) and the Marijuana Policy Project (MPP), Rick is participating in virtual campaigns in five states: Maryland, Arkansas, Missouri, North Dakota, and South Dakota. Check out the resources below — and to help legalize the recreational use of marijuana in these states in 2022, please use this material in any way you like.
To schedule an interview with Rick about his legalization work, contact [email protected], and for general media inquiries, contact [email protected].