Tips for Choosing the Best Travel Bag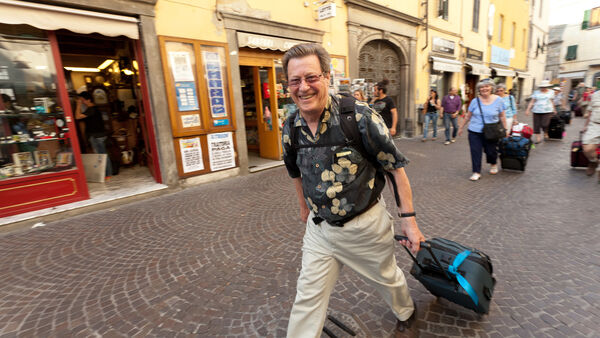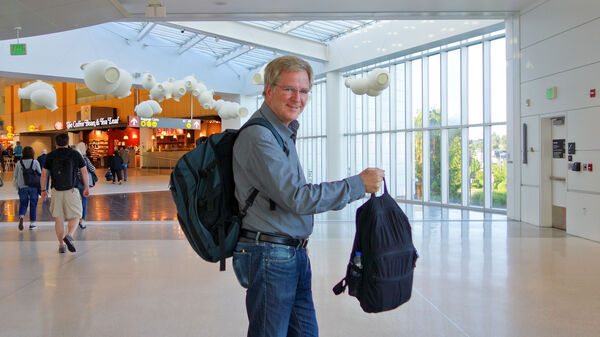 By Rick Steves
A fundamental packing question is your choice of luggage. Of all the options for travel bags, specifically for an overseas trip with lots of stops, I'd consider only four types:
a carry-on-size soft backpack,
an internal-frame backpack,
a carry-on-size bag with wheels, or
a carry-on-size rolling backpack.
Each of these options has its advantages and drawbacks. Before you decide, consider these factors:
External dimensions: Is it small enough to work as a carry-on? (If not, are you willing to put up with the extra fees and potential delays that come with checking your bag?)
Comfort and mobility: When deciding whether you want a bag with wheels or without, remember you'll need to maneuver it not just through airport terminals but also along uneven surfaces (cobblestones, gravel) and stairs. Also consider the advantages of having both hands free while toting your bag…as well as how easily you can carry 20–25 lbs on your back.
Efficiency of space: Look for the most (usable) capacity. Zip-out expandability is handy for bringing souvenirs bought just before the flight home, when it's low-hassle to check a bag that no longer fits in the overhead bin.
Weight: Even rolling bags need to be carried from time to time — look for the lightest bag that meets your needs and budget (the very lightest bags tend to be either flimsy or expensive). For me 7 lbs is the cut-off: Any empty bag that weighs more is an easy no for a multi-destination trip.
Frankly, no one bag is ideal all the time for every traveler. When weighing your options, think about which of the above factors matter most to you. Go with the bag that meets your most important needs, and make sure its downsides are ones you can live with. Here's how your main options compare, generally speaking:
Soft backpack

Internal-frame backpack

Rolling bag

Rolling backpack

Carry-on size?

Yes, if you pack light

Can be, though most are too big

Yes*

Yes*

Comfort/

Mobility

OK if your back and shoulders are strong enough; great for train travel; leaves both hands free

Good if you're sturdy enough and packed light; great for train travel; leaves both hands free

Great except for uneven surfaces; uses up a hand

Best — gives you best option for any circumstance

Efficiency of space

Great

Good (though hip belt takes up room)

OK (though wheels and handle take up room; if hard-sided, can't squish to accommodate bulk)

OK (wheels and handle take up room)

Weight
Lightest
Still fairly light
Heavier
Medium (typically)
*Of course, bags come in all sizes; look for one that's no bigger than 14" x 21" x 9" without wheels or no more than 14" x 20" x 9" with wheels — but always check with your airline(s) for their current regulations
Bag Breakdown
Here's my personal take on your main options:
Soft backpacks
To me, this kind of bag makes the most sense for my typical overseas trip. These soft bags basically hang on your shoulders (even those with hip belts) and work fine for getting from the train station to the hotel. (But they're not as comfortable for long hauls as backpacks with frames.) They're also well-suited as carry-ons, since they can squish down to fit virtually any overhead bin, provided you've packed light enough. And I really appreciate the mobility and practicality of having both hands free while en route — I can eat a sandwich or buy a bus ticket and hop aboard without breaking my stride. I live out of my Convertible Carry-On for four months each year — and I absolutely love it. (I supplement it with a separate day bag that's exactly to my liking; I'm not wild about the zip-off day bags that come with some backpacks.) The day will come when I'll be rolling my bag through Europe with the rest of the gang. But as long as I'm hardy enough to carry my gear on my back, I will.
Internal-frame backpacks
These are the most comfortable bags to wear on your back, as the frame and hip belt keep the weight off your shoulders and balanced over your hips. However, these bags can be expensive, and they're often "taller" than carry-on size — to me, that's not worth the trade-off. If you pack light, a soft backpack won't cause too much strain (and shorter carry-on-size bags force you to limit your stuff). But if you expect to be hauling your bag longer distances and don't mind checking it on flights, this option can make sense (check outdoor stores).
Rolling bags
If carrying a pack on your back isn't for you, wheels are the way to go. A rolling bag (like my Rolling Carry-On) frees your back for a smaller day bag, or you can set your smaller bag on top and roll it along. The drawbacks: Bags with wheels usually cost more, weigh substantially more, and offer a little less capacity than backpacks of similar dimensions (since wheel wells and the retractable handle cut into the internal space). Wheeled bags are great in airports, but can be cumbersome when negotiating narrow B&B staircases, crowded subways, and villages with cobbled or stepped lanes.
Unless you're traveling with your own butler, remember that you'll need to lift and lug your wheeled bag from time to time — up stairs, into and out of overhead compartments, on and off transit, over muddy footpaths, and perhaps above cobbles if the wheels are clackity-clunking loud enough to wake the whole village. Look for a rolling bag that's as roomy and sturdy as possible while still being small and light enough to lift and fit in a plane's overhead bin. Plenty of wheeled bags are well-designed for a typical European trip — most of my staffers prefer to roll with one. Just don't let wheels trick you into packing any heavier than you need to.
Soft-sided versus hard-shell: Rolling bags come in soft- and hard-sided formats. While the hard-sided ones are fine for getting your things to a single destination and home again, to me they're too heavy to haul around every few days for a while — even the newest ultra-light models are still a pound or two heavier than most soft-sided bags. Hard-shell bags tend to be more expensive, and many models don't expand to accommodate unplanned souvenir shopping. Their only major advantage is the protection they offer any breakables you're hauling home. My solution: Don't bring breakables home. If you must, pack them carefully in a protective container within a soft-shell bag, or consider a hybrid hard-side/canvas bag (my expandable Ravenna Rolling Case, for example, has hard-side edges and exterior soft pockets, and weighs less than a pound more than my soft-sided rolling bag).
Two wheels versus four: Four-wheeled "spinner" suitcases are the easiest to move along even ground — pushing one along takes less work than pulling a two-wheeled bag, which doesn't roll unless you're bearing some of its weight. For a trip that requires little more of your bag than moving your things through an airport or between taxi trunks and hotel elevators, a four-wheeled bag is a breeze. But when faced with surfaces more challenging than the even flooring of an airport terminal, spinners become ungainly tote bags — and they're utterly hobbled by cobbles. Extra wheels mean extra opportunities for breakage, and the casings of many spinner-bag wheels are more fragile, and more exposed, than those of rolling bags, while taking precious inches from your interior space. And while these bags easily roll downhill with you, they'll also do so without you. I would never take one of these bags on an overseas sightseeing trip. (If a spinner is a winner for you, look for sturdy wheels and minimized weight.)
Rolling backpacks
Some travelers appreciate the best-of-both-worlds flexibility of a bag that has both wheels and backpack straps. But that flexibility comes at a price: As a backpack it's much heavier than one without wheels — and the wheel wells and retractable handle both eat up interior space. Many travelers tell me that, while it's nice to have both options, they end up using their rolling backpack almost exclusively as a wheeled bag. Personally, I'd go with either one or the other.
Extra tips
Once you've decided which kind of luggage best suit(case)s your trip, take these factors into account when choosing an individual bag:
Quality: Go with a well-established and/or well-reviewed brand. Sturdy stitching, front and/or side pockets, and padded shoulder straps (for backpacks) are virtues; a product guarantee is a good sign.
Cost: It's easy to spend a fortune on your luggage, but you don't need to. If your bag costs more than $250, you're probably paying more for a brand name than quality. Just make sure your bag is made well enough to withstand at least a few trips' worth of wear and tear. A flimsy bag that fails mid-trip will cost you more than whatever it saved you up front.
Color: Bright bags can be fun, but darker, low-profile colors wear better over time.
Be aware that some airlines, particularly Europe's ultra-budget carriers, have more stringent carry-on restrictions than what we're used to in the US: Weight limits can be quite low, the standard 14" x 22" x 9" US carry-on may not pass muster, and the rules are often strictly enforced — confirm policies when you book. For flights within Europe — especially on cheapo airlines like Ryanair or EasyJet — it's best to pay for a carry-on or to check your bag when booking the flight, as on-the-spot baggage-check fees can easily top the cost of the flight itself.
Packing cubes are a worthwhile supplement to any bag purchase. They help compress your clothes, keep them organized, and allow you to easily access your bag's contents without risking spilling all of them out on the airport or train-station floor.