Europe's Café Scene: Drink It In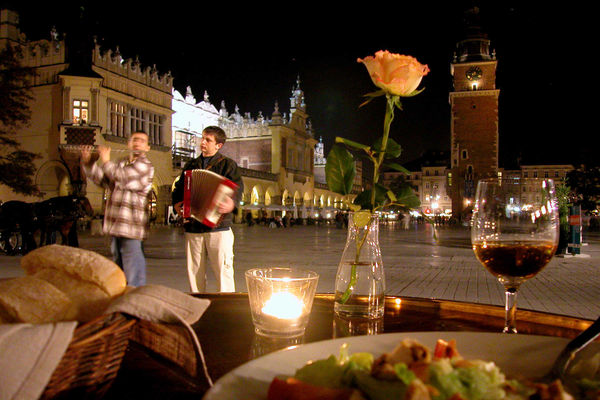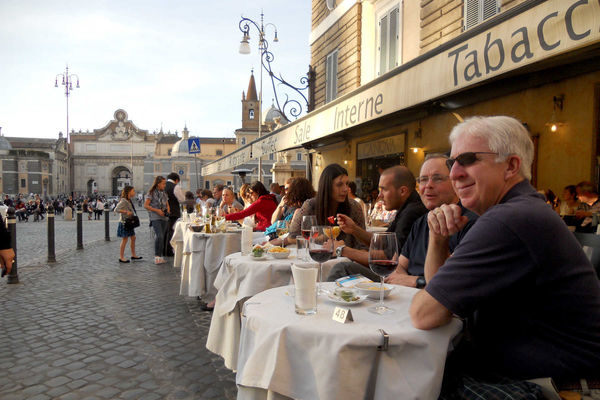 By Rick Steves
I'm not the cocktails-at-happy-hour type of traveler. But on a recent trip to Italy, I savored a peaceful moment in Siena's great square, Il Campo, sipping a glass of vin santo as the early evening light bathed the red-brick stone. My €5 drink gave me a front-row seat at the best café table on the square, and for a leisurely hour I soaked up the promenading action that nightly turns Il Campo into "Il Italian Fashion Show."
Public squares like Il Campo are the physical and cultural heart of Europe's cities and towns. For Europeans, these bustling squares proclaim "community." Defined by stately architecture and ringed by shops and cafés, squares are the perfect venue for café-sitting, coffee-sipping, and people-watching. Promenaders take center stage, strolling and being seen, while onlookers perch on the periphery. To play your part, tether yourself to one of the café tables parked around any square, order a drink, and feel the pulse of the passing scene. Don't be in a hurry — spending endless hours sitting in a café is the norm.
And don't worry about the price — I happily pay too much to enjoy a cup of coffee or a cocktail on the most expensive piece of real estate in a town and watch the scene go by. You're not paying for the drink. You're paying to be a part of the scene, and that is integral to a quality European experience.
Café Culture
The café (and coffee) scene is especially strong in Italy, France, Austria, Hungary, the Czech Republic, and Greece. Cafés provide a place for people to gather socially and spend hours catching up and discussing everything from politics to sports. (See my tips on ordering coffee in Europe.)
In Italy, cafés are commonly referred to as "bars." They serve coffee, wine, liquor, and light food such as minipizzas and sandwiches. Italians tend to stop by their favorite bar in the morning for a coffee and pastry, then throughout the day for more coffee and eventually drinks. In fact, one of my favorite bar traditions in Italy has nothing to do with coffee. Around happy hour, many bars lay out an aperitivo buffet, which usually includes an array of meats, cheeses, grilled vegetables, and other antipasti-type dishes. If you pay for a drink, you're welcome to nibble to your heart's content. While this spread is intended as an appetizer course before a full dinner, light eaters could discreetly turn this into a small meal (typically served around 6 p.m. or 7 p.m. until 9 p.m.).
Historically, French cafés served as a second home to the great artists, writers, and political figures of the time, like Trotsky, Stravinsky, Hemingway, and Gertrude Stein. Today, the French still flock to cafés for business meetings, encounter sessions, political discussions, and romantic interludes. But many cafés also serve a practical purpose: Unlike restaurants and bistros, which are only open at meal times, cafés serve light meals throughout most of the day. You're welcome to order just a salad, a sandwich, or a bowl of soup, even for dinner, making this a lighter and less formal option for dining out.
Viennese-style coffeehouses are another institution, found not only in Austria, but also in Prague, Budapest, Kraków, and other cities of the former Austro-Hungarian empire. Though coffee boomed as an aristocratic drink in the 18th century, later, during the Industrial Age, it became a hit with the working class, who were expected to put in 12-hour shifts. Neighborhood cafés allowed urbanites to escape their tiny flats and provided warmth for those who didn't want to pay to heat their homes during the day.
Today's Viennese coffeehouses still provide a living room down the street for locals, offering newspapers, pastries, sofas, quick and light lunches, elegant ambience, and "take all the time you want" charm for the price of a cup of coffee. Rather than read the news on your phone, relax with a cup of coffee and read the paper paper, Vienna-style, in a café.
Just like at home, many cafés provide free Wi-Fi for customers who do want to get online while they sip and relax. If you don't see a sign displaying the network and password, ask the server.
Sit Smart
Tourists are often stung by not understanding the rules at European cafés. In many countries, you'll pay more to sit at a table and less to stand at a bar. In general, if you're not planning to linger, it's cheaper to order and consume your drink at the bar. If you want to sit a while and absorb that last museum while doing some people-watching, grab a table with a view, and a server will take your order. This will cost you about double what it would at the bar.
If you're on a budget, always confirm the price for a sit-down drink. While it's never high profile, there's always a price list posted somewhere inside — usually by the bar or cash register — displaying either a two- or three-tiered pricing system (cheap at the bar, more at a table, possibly even more at an outside table).
If ordering from the bar, you may have to pay the cashier first, then take your receipt to the bar, where the barista will make your drink. Lingering with your bar-priced drink on a nearby public bench or across the street on the beach is usually OK — just ask first.
If you pay for a seat in a café with an expensive drink, that seat's yours for the afternoon if you like. Note that at a French café, if the table is not set, it's fine to seat yourself and just have a drink. However, if it's set with a placemat and cutlery, you should ask to be seated and plan to order a meal.
Picking a Perch
Siena's Il Campo is my favorite square for café-sitting in Italy, but it's not the only contender. Rome's Piazza Navona, sporting a Baroque Bernini fountain, is filled with people no matter what the weather or the time. It offers Rome's most interesting night scene, with street music, artists, fire-eaters, Casanovas, ice cream, and cafés worth the splurge to sit and enjoy Italy's human river. Venice's grand St. Mark's Square is owned by tourists by day, but at night, it is a romantic place to be, as lantern light transports you to another century. Among the elegant cafés lining the square is the long-revered Caffè Florian, little changed since it first helped introduce coffee to Europe in 1720.
Many great public squares began life in the Middle Ages as central markets, teeming with merchants and buyers. Market day, especially in France, is as important for its social connections as for its shopping — grab a seat at an outdoor table and you'll see neighbors freely exchanging the ritual three cheek-kisses reserved for good friends.
The ultimate Spanish square is Salamanca's handsome Plaza Mayor. Slow your pace, sit down, and nurse a cup of coffee in this atmospheric place (try the classic Café Novelty). People-watching peaks on Sundays right after Mass, when everyone turns out in their finest clothes. It's a multigenerational parade that to me is quintessentially European.
As a traveler, you naturally want to take in as many sights as you can every day. But make time in your itinerary to simply drop yourself into a café chair for a few hours. Enjoying life like the Europeans do — watching the world go by — is one of the best and most relaxing ways to go local.