European Hostels: The Cure for Expensive, Lonely Travel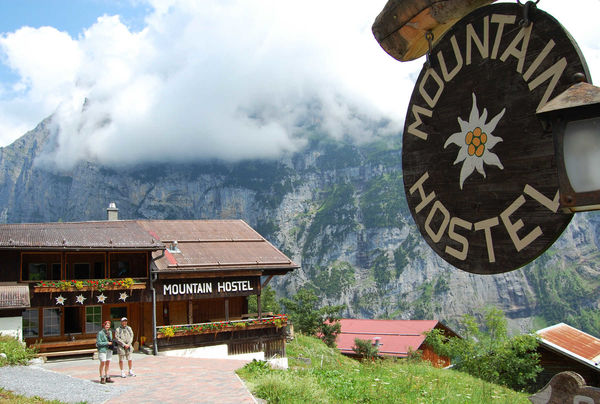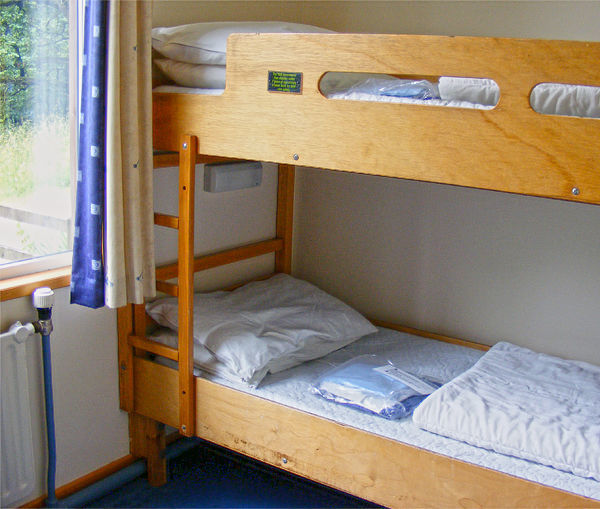 By Rick Steves
If you want to save money while traveling, consider hosteling. Several thousand hostels provide beds throughout Europe — in cities, towns, and the countryside — for $20–40 per night.
For this rock-bottom price, you get "no frills" accommodations in clean, stark dormitories. And many hostels have a few doubles and some family rooms (book ahead for these). It's a great way for couples and families to enjoy some privacy while saving money.
As Europe has grown more affluent, hostels have been remodeled to provide more plumbing and smaller rooms. Still, hostels are not hotels — not by a long shot. Many people hate hostels. Others love them and will be hostelers all their lives, regardless of their budgets. Hosteling is a philosophy. A hosteler trades service and privacy for a chance to live simply and communally with people from around the world.
For students, travelers on a budget, solo travelers, groups or families who can take a whole room, and those hoping to meet other travelers, hostels can be a great option.
Hosteling Tips and Pointers
A youth hostel is not limited to young people. You may assume hostels aren't for you because, by every standard, you're older than young. Well, many countries have dropped the word "youth" from their hostel organization's name, and for years Hostelling International has given "youths" over age 54 a discount on membership cards. Even the last holdout, the German state of Bavaria, has finally dropped its youths-only restriction. If you're alive, you're young enough to hostel anywhere in Europe (with the rare exception of some independent hostels that have age cutoffs of around 40).
The average hosteler is 18–26 years old, but every year there are more seniors and families hosteling. As a reader wrote on this site's Travel Forum: "My partner and I stayed in a 'youth' hostel for the first time by Lake Como and thought we'd be the oldest people there. Not so! At our table was a 60-ish couple from Sydney and a 79-year-old British woman who was backpacking alone through Europe. All three were a delight, but especially the backpacker, who said she stays in hostels for the evening company."
Expect differences between official and independent hostels. Official hostels belong to the same parent organization, Hostelling International, and share a booking site. They used to adhere to various rules (lockout during the day, curfew at night), but nowadays most are more flexible. Independent hostels tend to be more easygoing and colorful, but not as predictably clean or organized as official hostels. Independent hostels don't require a membership card or charge extra for nonmembers, and generally have fewer rules. Many popular European destinations have wild and cheap student-run hostels that are popular with wild and cheap student travelers, but some independent hostels are tame and mature.
Hostels provide "no frills" accommodations in clean dormitories. Hostels were originally for hikers and bikers, but that isn't the case these days — some newer hostels are downright plush. Still, expect humble conditions. At official hostels, the sexes are segregated, with 4 to 20 people packed in a room full of bunk beds. Many independent hostels have both segregated and mixed dorms. Hostels often have a few doubles for group leaders and couples, and rooms for families are increasingly common (and affordable). Strong, hot showers are the norm, but some very rustic, off-the-beaten-path hostels (or mountain huts) might have no showers at all.
Bedding is usually included. Pillows and blankets are provided. Sheets are typically included in the cost, but occasionally you'll be asked to pay about $5 extra to rent them. Hostelers who are used to bringing their own sleep sack should check ahead before packing it. Concerned about bedbugs, many hostels now require you to use their linens even if you have your own.
Get out of your social bubble. Solo travelers find a family in every hostel and can always find a new travel partner; those with partners do well to occasionally stay in a hostel to meet some new companions. A hostel's recreation and living rooms are my favorite hangouts. People gather, play games, tell stories, share information, read, write, and team up for future travels. Even if lights go out by 11 p.m., bunk-bed conversation can rage long after. You may well find yourself propped on your elbows staring intensely into the darkness, passing around travel tales like a bucket of popcorn.
Save money by eating in. A simple breakfast is often included in the price of your bed. Hearty, super-cheap meals are served at an extra cost, often in family-style settings. A typical dinner is fish sticks and mashed potatoes seasoned by conversation with new friends from Norway to New Zealand. The self-service kitchen, complete with utensils, pots, and pans, is a great budget aid that comes with most hostels. Larger hostels even have small grocery stores. International friendships rise with the bread in hostel kitchens.
Hostels can be like mini-tourist offices. Most hostel lobbies are littered with brochures and bulletin boards alerting you to local tours, events, and public transportation. There's almost always Wi-Fi as well as a public computer. Remember that your roommates breakfast companions can also be great sources of local advice.
Get to know your host. The people who live in and run some smaller hostels (sometimes called "wardens" in Britain) do their best to strictly enforce rules, quiet hours, and other regulations. Some are loose and laid-back, others are like Marine drill sergeants, but they all work toward the noble goal of enabling travelers to better appreciate and enjoy that town or region. While they can be overworked and harried at busy times, most hostel employees are fine people who enjoy a quiet cup of coffee with an American and are happy to give you some travel tips or recommend a special nearby hostel. Be sensitive to the many demands on their time, and never treat them like hotel servants.
Hostels have drawbacks. Some hostels — especially official ones — have strict rules. Some lock up during the day (usually from 10 a.m. to 5 p.m.), and a few may have a curfew at night, when the doors are locked. Keep in mind that a curfew can be a big advantage — hostels that don't have curfews, especially in big cities, are more likely to have hostelers (often drunk and rowdy) returning at ungodly hours. The sounds you'll hear in bigger dorm halls just after everyone's turned in remind me of summer camp — giggles, burps, jokes, and strange noises in many languages. Snoring is permitted and practiced openly.
Hostel rooms can be large and packed. School groups (especially German) can turn hostels upside down (typically weekends during the school year and weekdays in the summer). Try to be understanding (many groups are disadvantaged kids); we were all noisy kids at one time. Get to know the teacher and make it a "cultural experience."
Theft can be a problem in hostels, but try this simple safeguard: Wear your money belt (even while sleeping), and don't leave valuables lying around (but no one's going to steal your tennis shoes or journal). Use the storage lockers that are available in most hostels.
Hostel selectively. I've hosteled mostly in northern Europe, where hostels are more comfortable and the savings over hotels more exciting. (This is particularly true in Scandinavia, where you find lots of Volvos in hostel parking lots; locals know that hostels provide the best — and usually only — $30 beds in town.) I rarely hostel in the south, where hostels are less common and two or three people can sleep just as cheaply in a budget hotel.
Big-city hostels can be most overrun by young backpackers. Rural hostels, far from train lines and famous sights, are usually quiet and frequented by a more mature crowd. If you have a car, use that mobility to visit places without train service and enjoy some of Europe's overlooked hostels.
Be skeptical about hostel ratings. The ratings on hostel-booking websites can help you get a feel for a hostel, but shouldn't be the end-all in your decision making. What matters most to me are a hostel's ratings in the areas of safety, location, and character. Seek a hostel where you and your belongings will be secure, in a central location (or easily linked to the center by public transit), and with a good vibe (if other people enjoy their time there, you likely will too). I don't pay much attention to ratings for cleanliness or helpfulness of the staff (which can be negatively influenced by former five-star hotel guests who weren't ready for a hostel experience).
Getting a hostel bed in peak tourist season can be tricky. The most popular hostels fill up every day. Most hostels will take telephone or email reservations. I always call or email ahead to try to reserve and at least check on the availability of beds. But don't rely solely on advance reservations, because many hostels hold some beds for drop-ins. Try to arrive early. If the hostel has a lockout period during the day, show up before the office closes in the morning; otherwise, line up with the scruffy gang for the 5 p.m. reopening, when any remaining beds are doled out.
Hostelworld is the standard way backpackers search and book hostels these days, but also try Hostelz.com and Hostels.com.
If you're staying at a mix of both official and independent hostels — as most hostelers do — Let's Go guidebooks offer the best all-around listings.
Some hostels have a reservation system where, for a small fee, you can reserve and pay for your next hostel bed before you leave the last one. You can also book Hostelling International locations online ($3 nonrefundable booking fee plus 6 percent nonrefundable deposit per location booked, balance due at hostel on arrival, 10 percent discount for members at check-in); they accept Visa and MasterCard and also sell hostel membership cards. Book at least a day ahead.
Hostel bed availability is unpredictable. Some obscure hostels are booked out on certain days six months in advance. But I stumbled into Oberammergau one night during the jam-packed Passion Play festival and found beds for a group of eight.
Consider getting an HI membership. If you plan to spend at least six nights at official HI hostels, you'll save money if you buy a membership card before you go ($28/year for full benefits, free if you're under 18 and $18 if you're 55 or over, stripped-down $18 emembership does not include frills such as insurance and currency exchange; available at your local student-travel office, any HI hostel office, or through Hostelling International's site). If you think you may not spend six nights at HI hostels, don't buy the card in advance. Nonmembers who want to stay at HI hostels can sometimes get an "international guest card" at their first hostel and pay about $5 extra per night for a "welcome stamp." Once you have six welcome stamps on your card, you become a member. As independent hostels become a more popular option, this "pay-as-you-go" system for official hostels makes sense for many travelers (rather than buying your membership up front).
Look for unique hostel experiences. Hostels come in all shapes and sizes, and some are sightseeing destinations in themselves. There are castles (Bacharach, Germany), moored ships and a converted jumbo jet (Stockholm), alpine chalets (Gimmelwald, Switzerland), lakefront villas (Lugano, Switzerland), former prisons (Stockholm and Ljubljana, Slovenia), medieval manor houses (Wilderhope Manor, England), and former choirboys' dorms (St. Paul's, London). Survey other hostelers and hostel employees for suggestions.