Losing It All...and Bouncing Back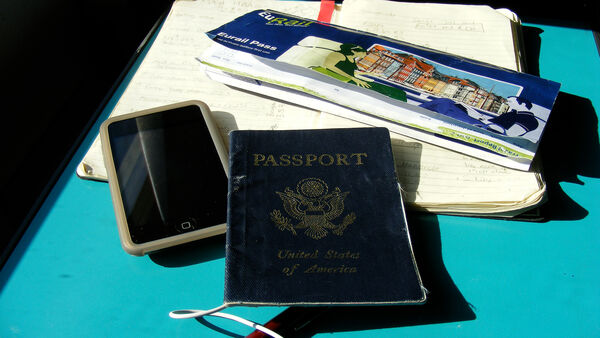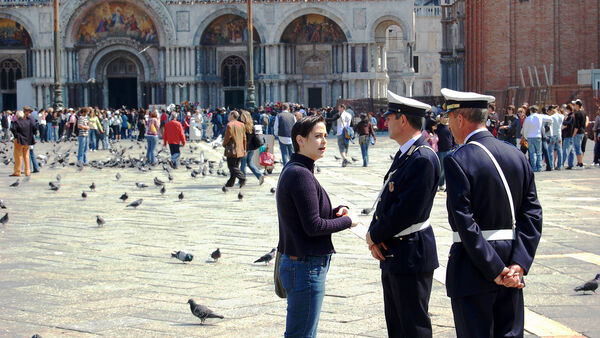 By Rick Steves
You're winging your way across Europe, having the time of your life, when you make a simple mistake. You set your bag down next to your café chair, and before you know it…your bag is gone. Unfortunately, today's the day you tucked your passport, credit cards, and extra cash in your bag instead of in your money belt. That sinking feeling is the realization that you've lost everything but the euro or two in your pocket.
Odds are, this won't ever happen to you. But a little bit of advance preparation can make even this worst-case scenario a minor bump in your European adventure.
What to Do If You Lose It All
Don't panic. First of all, take a breath. Panic clouds your judgment. And don't beat yourself up: No matter how careful, any traveler can get ripped off or lose a bag. I once met a family in Amsterdam who managed to lose all their bags between the airport and their first hotel, and they went on to have a very successful trip. A positive attitude can be a great asset.
Ask for help. If you're in a country where little English is spoken, enlist the help of a local English speaker to assist you in making phone calls or explaining the situation to officials. Try your hotelier or someone at the tourist office: Even in the smallest towns, someone is likely to know at least a little English. Fellow travelers you've met and even family or friends back home can also be sources of help.
For emergency help (for any reason — police, medical, and fire), dial 112 from any phone. This toll-free number is the European Union's version of 911. In many cases, operators are able to answer in English.
File a police report. Find a police officer and report the theft or loss. Having a police report may help with replacing your passport and credit cards, and is a must if you file an insurance claim for a lost rail pass or expensive travel gear. The police may be able to direct you to a local travelers' aid office or Red Cross–like organization. And if you're lucky, someone may actually turn in your bag. That happened to me one time. My stolen bag showed up at the police station — turned in by a Good Samaritan who found it discarded after the thief rifled through its contents. Thieves don't want your clothes or your bag. They want only what they can resell and they discard the rest.
Gather critical information. In the best situation, you've got photocopies of your important documents on you. If you don't have your bank or embassy's contact information, look it up online (if Internet access is a problem, explain the situation to your hotelier or a staffer at the tourist office, and ask if you can use their office computer). Your hotelier or a tourist-office staffer should also be able to help you place necessary collect or toll-free calls. Retrieve information you've stored online, or solicit help from folks back home. Be careful about emailing passport and credit-card numbers. If you need important documents, have them sent by fax to a trusted location.
Replace your passport. This is top priority. Without a passport, you can't leave the country, and you'll find it difficult to check into a new hotel or receive wired funds. You'll need to go in person to the closest embassy or consulate (in the capital and sometimes major cities, too).
You may be able to make an appointment at the embassy or consulate, or you may need to show up during open hours and wait your turn. If you can, save time by printing the required forms off their website and filling them out before you go. Having a photocopy of your passport can help; if you don't, embassy staff can look up your previous passport records, interview you and your travel partners, and even call contacts at home to verify your identity.
Americans can find embassy and consulate information at travel.state.gov. Every US consulate operates an American Citizen Services (ACS) office, which aids Americans traveling abroad in coping with natural disasters, receiving money, and replacing passports (if calling from Europe, dial 00-1-202/501-4444; in the US, call 888/407-4747). A replacement passport costs $140 and can generally be issued within a few days, or faster if you make a good case that you need it right away. If you don't have the funds, the embassy will help you contact someone at home who can wire money directly to the embassy. If no one can wire the money, the embassy staff may waive the fee or give you a "repatriation loan" — just enough funds to cover the new passport and get you back home.
If you're Canadian, you'll need to report the loss or theft to the local police, as well as your nearest embassy or consulate. Canadian authorities will conduct an investigation into the circumstances, which may delay the processing of your request. You must complete an application form and a statutory declaration concerning the lost/stolen passport, supply two passport photos and documentary proof of Canadian citizenship, and pay a $190 CAD fee (for more information, go to canada.ca).
Cancel debit and credit cards. Within two days, cancel your lost or stolen debit and credit cards (meeting this deadline limits your liability to $50) and order replacements. Visa, MasterCard, and American Express all have global customer-assistance centers, reachable by collect call from anywhere (see sidebar). You'll need to know the name of the bank that issued the card; the card type (classic, platinum, or whatever); the card number; the primary and secondary cardholders' names; the cardholder's name exactly as printed on the card; billing address; home phone number; circumstances of the loss or theft; and identification verification (your birth date, your mother's maiden name, or your Social Security number — memorize this; don't carry a copy). If you are the secondary cardholder, you'll also need to provide the primary cardholder's identification-verification details.
Your bank can generally deliver a new card to you in Europe within two to three business days. Some may even be able to wire cash to keep you going or pay for your hotel room directly. Ask about these extra services. It's also possible to transfer money from a bank in the US to a bank in Europe, but this may take several days to accomplish — you'll probably have the new cards faster.
Rearrange travel plans. Depending on how long it takes to get your passport replaced — and how far you have to travel to reach an embassy or consulate — you'll probably need to rearrange your travel plans. Call or email to cancel and reschedule hotels and flights as soon as possible to avoid losing deposits or paying change fees (explaining the situation may help). If you're stuck without cash or credit cards for a few days, see if your bank or a family member back home can pay for your hotel stay.
Replace travel gear. Once you've started the process of replacing your passport and credit and debit cards, you can think about replacing travel gear such as your camera, phone, or tablet. Depending on your insurance policy, you may be able to get reimbursed for part of the replacement cost when you get home. Decide which items are critical enough to your trip to replace immediately (flea markets, thrift shops, and cheap department stores are great for bargains). If you need to have something sent from home, try second-day US-Europe services (though figure on four days for delivery to a small town).
Refill prescriptions. Bring in a copy of your prescription to a pharmacy — if you don't have it, try contacting your doctor's office by phone or email. They can usually fax or email a copy to you in Europe. Your optometrist can do the same for your prescription eyewear.
Replace a rental-car key. If you lose the key to your rental car, call the car-hire company with your rental agreement number and your exact location. Be prepared for considerable expense and a delay: You will be charged $200 or more for a replacement key, and you may need to wait 24 to 48 hours for delivery of new keys or even a different vehicle.
Make the best of the situation. Getting everything straightened out can take a while. Be flexible and patient. It may not help at the time, but try to remember that your loss will make for a good story when you get home. Like a friend of mine says, "When it comes to travel, Tragedy + Time = Comedy."