Smart Strategies for European Sightseeing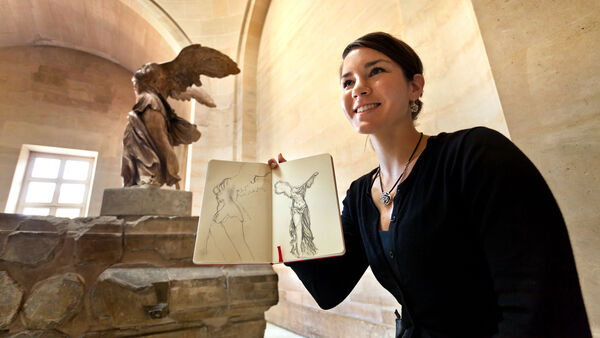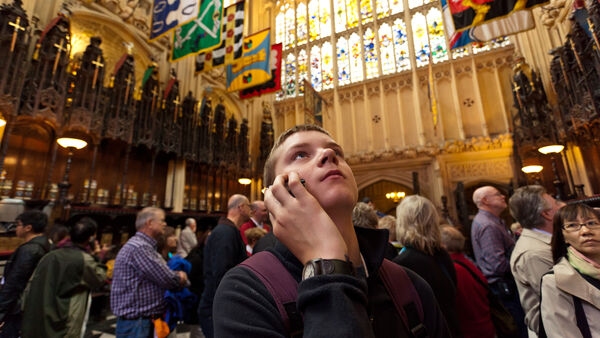 By Rick Steves
Some people walk into Europe's major museums, churches, and ancient sites, gawk for a few minutes, then walk out. But with a little preparation and know-how, your sightseeing will go much smoother — and take on more significance.
Museums
Europe is a treasure chest of great art and history. For some, visiting the world's greatest museums is the highlight of a European trip. For others, "museum" spells "dull." But you don't need to know how a Ferrari works to enjoy the ride. Paintings are like that. You can just stroll through a gallery and bask in the color scheme. That said, it doesn't hurt to keep in mind the following.
Learn about art and history. In my student days, I had to go to the great art galleries of Europe because my mom said it would be a crime not to. Touring places like the National Archaeological Museum in Athens, I was surrounded by people looking like they were having a good time — and I was convinced they were faking it. I thought, "How could anybody enjoy that stuff?" Two years later, after a class in classical art history, that same museum was a fascinating trip into the world of Pericles and Socrates, all because of some background knowledge. Pre-trip studying makes art and artifacts more fun. When you understand the context in which things were made, who paid for it and why, what the challenges of the day were, and so on, paintings and statues become the closest thing to a time machine Europe has to offer.
Don't miss the masterpieces. A common misconception is that a great museum has only great art. But only a fraction of a museum's pieces are masterpieces worthy of your time. You can't possibly cover everything — so don't try. With the help of a tour guide or guidebook, focus on just the museum's top attractions. Most of Europe's major museums provide brief pamphlets that recommend a greatest-hits plan. With this selective strategy, you'll appreciate the highlights while you're fresh. If you have any energy left afterward, you can explore other areas of specific interest to you. For me, museum going is the hardest work I do in Europe, and I'm rarely good for more than two or three hours at a time. If you're determined to cover a large museum thoroughly, try tackling it in separate visits over several days.
Don't miss your favorites. On arrival, look through the museum's collection handbook or the gift shop's postcards to make sure you won't miss anything of importance to you. For instance, I love Salvador Dalí's work. One time I thought I was finished with a museum, but as I browsed through the postcards…Hello, Dalí. A museum staffer was happy to show me where this Dalí painting was hiding. I saved myself the disappointment of discovering too late that I'd missed it.
Eavesdrop. If you're especially interested in a particular piece of art, spend a half hour studying it and listening to each passing tour guide tell his or her story about David or the Mona Lisa. They each do their own research and come up with a different angle to share. Much of it is true. There's nothing wrong with this sort of tour freeloading. Just don't stand in the front and ask a lot of questions.
Take advantage of my free audio tours. My Rick Steves Audio Europe app includes self-guided tours of the finest museums in many of Europe's greatest cities. These can make your museum going easier and more meaningful.
Churches, Synagogues, and Mosques
European houses of worship offer some amazing art and architecture — not to mention a welcome seat and a cool respite from the heat. You may be there just to see the Caravaggio over the side altar, but others are there as worshippers. Be a respectful visitor.
A modest dress code (no bare shoulders or shorts) is encouraged at most churches, but is enforced at some larger churches and most mosques. If you are caught by surprise, you can improvise, such as using maps to cover your shoulders and tying a jacket around your hips to cover your knees. (Throughout the Mediterranean world, I wear a super-lightweight pair of long pants rather than shorts for my hot and muggy big-city sightseeing.) At Turkish mosques, women must cover their heads and wear clothing that shields their legs and arms; everyone needs to remove their shoes.
At active places of worship, visitors may not be allowed inside for one or more time periods throughout the day. If you are already inside, you may be asked to leave so as not to disturb the congregation. Check your guidebook's listing to avoid showing up at a church or mosque when it's closed for worship. Some services are open to the public. One of my favorite experiences in Great Britain is to attend evensong — a daily choral service — at a grand cathedral.
Some churches have coin-operated audio boxes that describe the art and history; just set the dial to English, insert your coins, and listen. Coin boxes near a piece of art illuminate the work (and present a better photo opportunity). I pop in a coin whenever I can. It improves my experience, is a favor to other visitors trying to appreciate a great piece of art in the dark, and is a little contribution to that church. Whenever possible, let there be light.
Ancient Sites and Ruins
Climbing the Acropolis, communing with the druids at Stonehenge, strolling the Croatian shore in the shadow of Emperor Diocletian's palace in Split, tracing the intricate carvings on a Viking ship — the remnants of Europe's distant past bring a special thrill to those of us from the New World.
But the oldest sites are also the most likely to be initially underwhelming, especially if it's been a while since your last history class. On its own, the Roman Forum is just a cluster of crumbling columns and half-buried foundations. You've heard about it all your life, you've spent good money to get here, and your first thought upon entering is…"This is it?"
Ancient sites come to life with your imagination, aided by information. Bring a guidebook that's heavy on historical background, and consider hiring a local guide. Random guides tend to cluster outside major ancient sites like Delos in Greece and Pompeii and the Colosseum in Italy, but quality varies. I prefer to book a reputable guide in advance, but if you decide to choose a guide at a sight, first talk to him or her for a bit to make sure you connect.
For some well-known places you can get books that cleverly use overlays to visually mesh the present with the past. To fire up your imagination before your trip, watch a movie or read a book set in the time and place of any site you're excited to see. Once you're there, mentally reconstruct arches and repaint facades. Clad your fellow tourists in togas. Fill a ruined cathedral with the chants of cowled monks while inhaling imaginary incense.
Many major ancient sites (especially in Greece) have both an archaeological site and a nearby museum full of artifacts unearthed there. You can choose between visiting the museum first (to mentally reconstruct the ruins before seeing them) or the site first (to get the lay of the ancient land before seeing the items found there). In most cases, I prefer to see the site first, then the museum. However, crowds and weather can also help determine your plan. If it's a blistering hot afternoon, tour the air-conditioned museum first, then hit the ruins in the cool of the early evening. Or, if rain clouds are on the horizon, do the archaeological site first, then duck into the museum when the rain hits.