Budget Hotels: What to Expect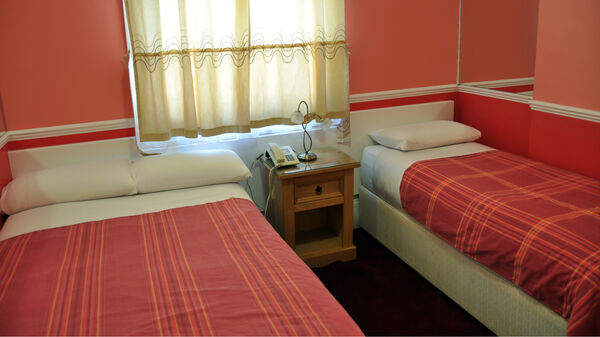 By Rick Steves
Europe has many inexpensive accommodations, ranging from traditional old hotels to unremarkable chains. Older places can be dingy and a bit run-down, but they're usually central, friendly, safe, and government-regulated, offering good-enough-for-the-European, good-enough-for-me beds. Chain hotels can make up for a lack of character with good prices and convenient locations. In a typical budget European hotel, a double room costs an average of $110 a night. You'll pay about $80 at a pension in Madrid, $100 at a simple guesthouse in rural Germany or a B&B on the Croatian coast, and $150 for a two-star hotel in Paris or a private room in a Bergen pension. This is hard-core Europe: fun, cheap, and easy to find, particularly in Italy, France, Spain, Portugal, and Greece.
A typical room in an old-fashioned, low-end hotel has a simple bed; a rickety, old, wooden (or new, plastic) chair and table; a freestanding closet; a small window; old wallpaper; a good sink under a fluorescent light; a mysterious bidet; a view of another similar room across a tall, thin interior courtyard; peeling plaster; and a tiled or wood floor. The light fixtures are very simple, often with a weak ceiling light. Naked fluorescent is common in the south. You might have a TV, but likely not a telephone. While more and more European hotels are squeezing boat-type prefab showers and toilets into their rooms, the cheapest places still offer only a toilet and shower or tub down the hall, which you share with a handful of other rooms.
You'll climb lots of stairs, as a hotel's lack of an elevator is often the only reason it can't raise its prices. You'll be given a front-door key because the desk is not staffed all night. If the hotel is located on the higher floors of a multipurpose building, press the button with your hotel's name by the main entrance to ring the bell, and you'll be buzzed in.
This type of cheap hotel usually has clean-enough but depressing shower rooms, with hot water normally free and constant (but, in very rare cases, available only through a coin-op meter or at certain hours). The WC has toilet paper, but might have a missing, cracked, or broken lid. At a few hotels, you might be charged $3–5 for a towel and a key to the shower room. The cheapest hotels are run by and filled with people from the Two-Thirds World.
I want to stress that there are places I find unacceptable. I don't mind dingy wallpaper, stairs, and a bathroom down the hall, but I won't compromise when it comes to safety and being able to get a decent night's sleep.
The hotel I'm describing may be appalling to many Americans; to others, it's charming, colorful, or funky. To me, "funky" means spirited and full of character(s): a caged bird in the TV room, grandchildren in the backyard, a dog sleeping in the hall, no uniforms, singing maids, a night-shift man tearing breakfast napkins in two so they'll go further, a handwritten neighborhood history lesson on the wall, different furniture in each room, and a willingness to buck the system when the tourist board starts requiring shoeshine machines in the hallways. An extra $40–50 per night will buy you into cheerier wallpaper and less funkiness.
Unfortunately, older, traditional hotels are becoming an endangered species. As Europe becomes more affluent, land in big cities is becoming so expensive that cheap hotels can't survive and are bought out, gutted, and turned into modern hotels. More and more Europeans are expecting what were once considered "American" standards of plumbing and comfort. A great value is often a hardworking family-run place that structurally can't fit showers in every room or an elevator up its spiral staircase. Prices are regulated, and regardless of how comfy and charming it is, with no elevator and a lousy shower-to-room ratio, it is — and will remain — a cheap hotel.