Europe's Long-Distance Buses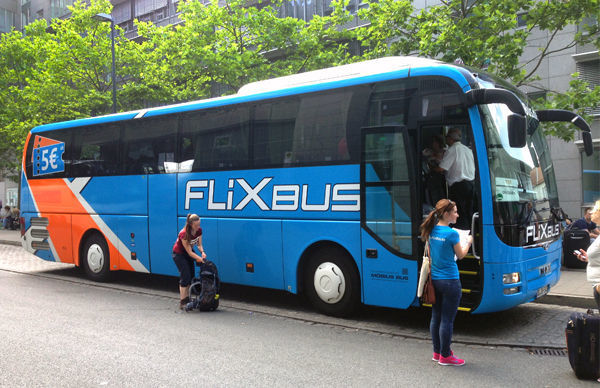 By Rick Steves
In most countries, trains are faster, more comfortable, and have more extensive schedules than long-distance buses. But in some countries — especially Greece, Turkey, and parts of Ireland, Croatia, the Czech Republic, Portugal, Spain, and Morocco — buses are often the better (or only) option. Bus trips are usually less expensive than trains — especially in the British Isles — and are occasionally included on your rail pass (where buses are operated by train companies, as many are in Germany, Switzerland, and Belgium). In Germany in particular, a flock of new, privately owned bus lines are giving the national rail system some tough competition — for example, a full-fare (second-class) train ticket between Munich and Nürnberg costs about €55, while a bus ticket for this route can cost €20 or less (as low as €5 if you're willing to buy a few days ahead and aren't picky about departure times). Note that in Great Britain and Ireland, a long-distance bus is called a "coach," while a "bus" provides only in-city transit.
Use buses mainly to pick up where Europe's great train system leaves off. Buses fan out from the smallest train stations to places trains can't get to. For towns with train stations far from the center (such as hill towns), buses are often scheduled to meet each arrival and shuttle passengers to the main square (often at no extra cost — show your train ticket to the bus driver and see what happens). Many bus connections to nearby towns not served by train are timed to depart just after the train arrives. Miss that connection in a remote place and you'll wait with the ghosts in an empty station until the next train arrives. Bus service can be less frequent on holidays, Saturdays, and especially Sundays.
Schedules
In most countries, bus routes are operated by multiple companies, each with its own timetables and fares. Finding a unified source for schedule and price information can be next to impossible. If you're lucky, the city you're traveling from will have one main bus station that can offer consolidated timetables online. But it's more likely that you'll have to check several websites, run by the various companies that serve the cities you're connecting. If you're going from a small town (with no online timetable) to a big city, try checking the "arrivals" schedules on the big city's website instead. Always confirm the schedule in person.
Learn the code words for deciphering local schedules. For example, in Spain, pista or autopista means the bus takes the freeway — the fastest option. Buses that are directa (direct) are faster than those labeled semidirecta or ruta (roundabout journeys with several stops en route). Posted schedules list many, but not all, stops on each route. If your intended destination isn't listed, ask at the ticket/information window.
If your trip involves a connection at an intermediate station, don't be surprised if it's difficult to get schedule details for your onward journey. Try calling the tourist information office or bus station in the transfer town (or at your final destination) for details.
Stations and Tickets
It's common for a big city to have a number of smaller bus stations serving different regions, rather than one terminal for all bus traffic. Sometimes a bus "station" can just be an open parking lot with lots of stalls and a tiny ticket kiosk. Your hotel or the local tourist information office can usually point you in the right direction. Larger bus stations have an information desk (and, often, a telephone number) with timetables. In smaller stations, check the destinations and schedules posted on the window of each company's office. Bus-station staffers are less likely to speak English than their train-station counterparts. Bus stations have WCs (often without toilet paper) and cafés that offer quick, forgettable, overpriced food.
For popular routes during peak season, ensure you'll get a seat by dropping by the station to buy your ticket a few hours in advance. If you're downtown, need a ticket, and the bus station isn't central, save time by asking at the tourist information office about travel agencies that sell bus tickets. If you arrive in a city by bus, and plan to leave by bus, it can be convenient to buy your outbound ticket when you arrive.
Riding the Bus
Before you get on a bus, ask the ticket seller and the conductor if you'll need to transfer. If so, pay attention (and maybe even follow the route on a map) to be sure you don't miss your change. When you transfer, look for a bus with the same name/logo as the company you bought the ticket from.
For long trips, your ticket might include an assigned seat. If your bag doesn't fit in the overhead storage space, you may be required to check it under the bus (sometimes for a small fee). Your ride likely will come with a soundtrack: recorded pop music, radio, sports games, or movies or TV shows. Earplugs and/or headphones can go a long way toward preserving your sanity. In most of Europe, smoking is no longer allowed on buses.
Drivers may not speak English. Buses generally lack toilets, but they stop every two hours or so for a short break. Drivers announce how long the stop will be, but if in doubt, ask the driver so you know if you have time to get out. Listen for the bus horn as a final call before departure.
Cheap long-haul buses, such as Eurolines, are a good option for the very budget-conscious. For example, Eurolines' priciest one-way bus fare from Amsterdam to Paris is $70 (compared to $175 second class by train); from Barcelona to Madrid, it's $45 (often as much as $165 by train). Megabus operates throughout Great Britain and has some service on the Continent, too. Hippie-type "magic bus" companies such as Busabout offer hop-on, hop-off connections all around Europe — something like a rail pass for buses.
Crossing the English Channel by bus and ferry takes more than twice as long as the Eurostar train, but costs a small fraction of the price (London to Paris by Eurolines bus: about $25–60 one-way for economy fares booked at least three days in advance).
Package Bus Excursions: These one-day bus tours from big cities into the countryside are designed for sightseeing, but can also serve as useful transportation. For example, rather than buy a train ticket from London to Bath (about $55), consider taking a one-day bus tour from London (about $130) that visits Salisbury, Stonehenge, and Bath. Bring your luggage and leave the tour in Bath before it returns to London, having enjoyed a day of transportation, unforgettable stops, and a live guide bubbling with information. It can be well worth the extra cost, and it's more efficient and faster than lacing together the stops on your own, using a combination of trains and public buses. If you do look into taking a bus tour as transportation, confirm the order of stops with the company (will they be stopping at your end destination last?) and let them know your plans.