Tips for Picking Up and Returning a Rental Car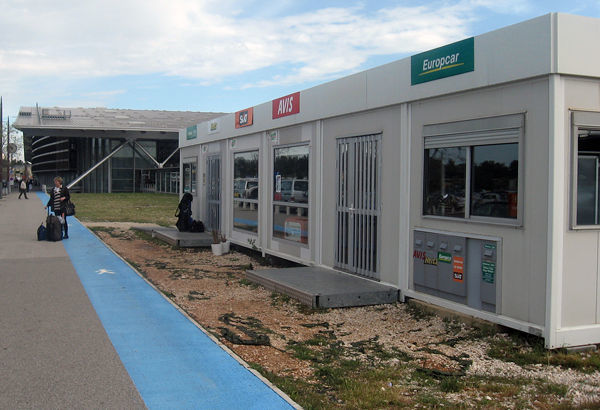 By Rick Steves
Renting a car in Europe isn't all that different from renting one in in the US — but given that you're more likely to be dealing with jet lag, a possible language barrier, and/or an unfamiliar car model, it pays to be on your toes when you pick up and drop off your car in Europe.
When Picking Up Your Car
When you arrive at the rental counter, ask for a copy of the contract in English if it's not provided as a matter of course. If you haven't already paid for the car, know roughly what your charge should be in the local currency. Be sure to decline any offer of "dynamic currency conversion."
If you can, avoid prepaying for your first tank of gas (although some offices won't let you out of this). Prepaying for fuel is virtually always a rip-off, since agencies charge far more per gallon than the going rate. The only upside is that you can return the car with a nearly empty tank.
Be sure to check the entire vehicle for scratches or dents. Photograph all dings and scratches, even the tiniest ones (be sure the date/time stamp is on). Note the fuel level and eyeball the tire pressure. If any damage is not noted on the rental agreement, return to the counter to make adjustments.
Before you drive off, get to know your car. This is tough when you're aching to get out on the road — but take a few minutes, while you're still in the rental agency's parking lot, to try out all the features and gadgets: Run the front and rear windshield wipers and sprayers, figure out whether the headlights come on automatically with the engine, switch the headlights to high-beam, get comfortable with the gearshift, turn on the radio, and so on.
This is also a good time to quiz the rental agent on a few things, including:
local laws you might not be aware of (for example, whether headlights must be on at all times, where and how kids ride, etc.)
length of the grace period for drop-off, if any
how to use anything you can't figure out, such as the wipers, alarm system, lights, radio, GPS, etc.
what type of fuel the car takes (diesel vs. unleaded), the local term for that fuel type, and how to release the gas cap
location of proof-of-insurance "green card" and other paperwork
whether your car has an unexpired toll-highway vignette (if needed)
info on making repairs and any included emergency roadside services
location of spare tire and directions for using it (if the car has no spare, ask for a different vehicle)
whether the car has a breath-testing kit for measuring alcohol levels (required in France, costs around $5)
Before leaving, get instructions for driving to your next stop (or at least to the expressway). Then drive around the parking lot for a few minutes to test rearview mirrors, the gearshift and clutch, and the lights and signals.
When Dropping Off Your Car
Be on time to drop off your car — you could be charged an extra day's rent if you show up a little late.
Unless you've already prepaid for a tank of gas, top up your car before returning it — otherwise you may be charged for a full tank, no matter how much gas is actually left. Not only that, but you'll likely be charged more than double what you would have paid at a nearby gas station...and they may pile on an additional "refueling fee" as well. There's no need to wait until you're almost at the rental office to fill up — fuel gauges are very forgiving, so I start watching for a convenient gas station miles before I reach the rental office. Save your final gas receipt as proof that you filled the tank, and don't toss it until you've seen your credit-card bill.
Once you're parked at the rental office, walk around the car with the attendant to be sure there are no new problems. Some drivers take pictures of the returned vehicle as proof of its condition (an especially good idea if you're returning the car at an unstaffed after-hours drop-off point). Ask for a copy of the final condition report and keep it until you've seen your credit-card statement. Unexpected charges that show up on your credit-card statement are easier to dispute if you have good documentation on hand.
If you're relying on your credit card's collision coverage and you have a balance to pay at the returns desk, remember to use that same card (or cash) — using a different card could invalidate your coverage.