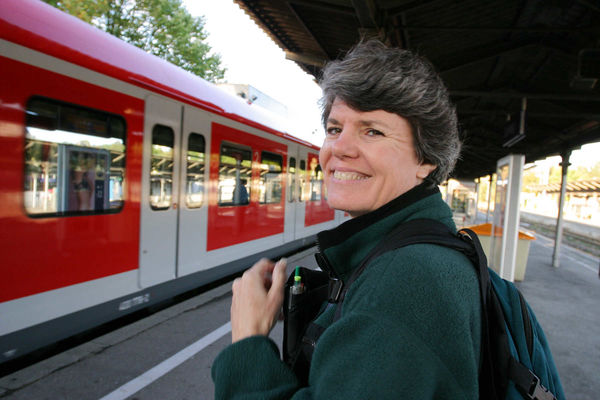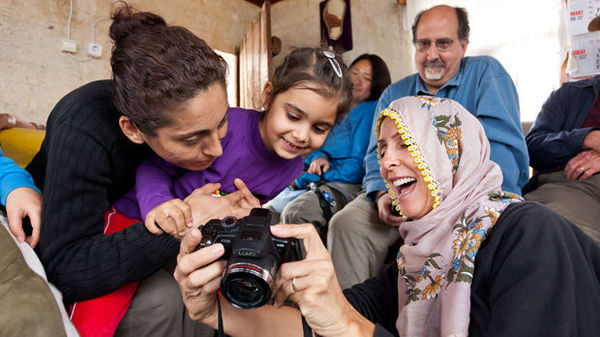 By Rick Steves
I've talked to too many people who put off their travel dreams because they don't want to do it by themselves. If you want to go to Europe but don't have a partner, consider gathering the courage to go it alone. There are plenty of people to meet as you travel, and single travelers often enjoy a montage of fun temporary partners throughout their trip.
Traveling solo has its pros and cons — and for me, the pros far outweigh the cons. When you're on your own, you're independent and in control. You can travel at your own pace, do the things that interest you, eat where and when you like, and splurge where you want to splurge. You don't have to wait for your partner to pack up, and you never need to negotiate where to eat or when to call it a day. You go where you want, when you want, and you can get the heck out of that stuffy museum when all the Monets start to blur together. If ad-libbing, it's easier for one to slip between the cracks than two.
Of course, there are downsides to traveling alone: When you're on your own, you don't have a built-in dining companion. You've got no one to send ahead while you wait in line, help you figure out the bus schedule, or commiserate with when things go awry. And traveling by yourself is usually more expensive. With a partner, accommodations cost less because they're shared. Rarely does a double room add up to as much as two singles. If a single room costs $80, a double room will generally be about $100 — a savings of $30 per night per person. Other things become cheaper too when you're splitting costs, such as groceries, guidebooks, taxis, storage lockers, and more.
But when you travel with someone else, it's natural to focus on your partner — how you're getting along, whether she meant it when she said she wasn't hungry — and tune out the symphony of sights, sounds, and smells all around you. Traveling on your own allows you to be more present, more open to your surroundings. You'll meet more people — you're seen as more approachable. You're more likely to experience the kindness of strangers.
Solo travel is intensely personal. You can discover more about yourself at the same time you're discovering more about Europe. Traveling on your own is fun, challenging, vivid, and exhilarating. Realizing that you have what it takes to be your own guide is a thrill known only to solo travelers. Your trip is a gift from you to you.
Traveling Alone Without Feeling Lonely
For many people contemplating their first solo trip, their biggest fear is that they'll be lonely. Big cities can be cold and ugly when the only person to talk to is yourself. And being sick and alone in a country where no one knows you is a sad and miserable experience.
Fortunately, combating loneliness in Europe is easy. The continent is full of travelers and natural meeting places, especially in peak season (the built-in camaraderie of other travelers is harder to come by in winter).
Meeting People
You'll run across vaga-buddies every day. If you stay in hostels, you'll have a built-in family (hostels are open to all ages). Or choose small pensions and B&Bs, where the owners have time to talk with you. At most tourist sites, you'll meet more people in an hour than you would at home in a day. If you're feeling shy, cameras are good icebreakers; offer to take someone's picture with his or her camera.
Take a walking tour of a city (ask at the tourist office). You'll learn about the town and meet other travelers, too. If you're staying in a hostel, check its message board — some hostels arrange group tours.
It's easy to meet people on buses and trains. When you meet locals who speak English, find out what they think — about anything. Take your laundry and a deck of cards to a launderette and turn solitaire into gin rummy. You'll end up with a stack of clean clothes and interesting conversations.
Play with kids. Thumb wrestle. Learn how to say "pretty baby" in the local language. If you play peek-a-boo with a baby or fold an origami bird for a kid, you'll make friends with the parents as well as the child.
Try meeting up with other solo travelers through social media. Like-minded individuals can find one another on Meetup, whose worldwide members welcome visitors to wide-ranging events such as photography walks, happy hours, and weekend skiing. Also consider joining a hospitality-exchange network, such as Servas, or CouchSurfing, its more low-key alternative.
Eating Out
I like the old-fashioned, face-to-face social media option of just saying to someone you meet, "Would you like to meet up for dinner?" Some countries have special meals that are more fun to experience with others. You could invite someone to join you for, say, a rijsttafel dinner in the Netherlands, a smörgåsbord in Scandinavia, a fondue in Switzerland, a paella feast in Spain, or a spaghetti feed in an Italian trattoria. Wondering whom to ask? People with Rick Steves guidebooks are like an extended family in Europe. My readers are on the trail of the same travel thrills, and happy to share in the adventure.
If you're going it alone, consider alternatives to formal dining. Try a self-service café, a local-style fast-food restaurant, or a small ethnic eatery. Visit a supermarket deli and get a picnic to eat in the square or a park. Get a slice of pizza from a take-out shop and munch it as you walk along, people watching and window-shopping. Eat in the members' kitchen of a hostel; you'll always have companions. Make it a potluck.
A restaurant feels cheerier at noon than at night, and a maître d' is more likely to seat a solo diner (especially a woman) at a favorable table for lunch than for dinner. If you like company, eat in places so crowded and popular that you have to share a table, or ask other single travelers if they'd like to join you. Assume that many couples would enjoy a third party at their dinner table to stoke the conversation.
If you eat alone, be busy. Use the time to learn more of the language. Practice your verbal skills with the waiter or waitress (when I asked a French waiter if he had kids, he proudly showed me a picture of his twin girls). Read a guidebook, a novel, or the International New York Times. Do trip planning, draw in your journal, or scrawl a few postcards to the folks back home.
An afternoon at a café is a great way to get some writing done; for the cost of a beverage and a snack, you'll be granted more peace and privacy than at a public fountain or other open space.
At Night
Experience the magic of European cities at night. Go for a walk along well-lit streets. With gelato in hand, enjoy the parade of people, busy shops, and illuminated monuments. You'll invariably feel a sense of companionship when lots of people are around. Take advantage of the wealth of evening entertainment: concerts, movies, puppet shows, and folk dancing. Some cities offer tours after dark. You can see Paris by night on a river cruise.
During the evening, visit any café with wireless and send travel news to your friends and family. You'll find friendly answers in your inbox the next time you have the opportunity to get online.
If you like to stay in at night, get a room with a balcony overlooking a square. You'll have a front-row seat to the best show in town. Call a friend or your family (rates are cheap with an international phone card). Read novels set in the country you're visiting. Learn to treasure solitude. Go early to bed, be early to rise. Shop at a lively morning market for fresh rolls and join the locals for coffee.