Tips for Traveling Solo
Solo travel has huge upsides — independence, introspection, cultural immersion — and is usually easier and more fun than many imagine.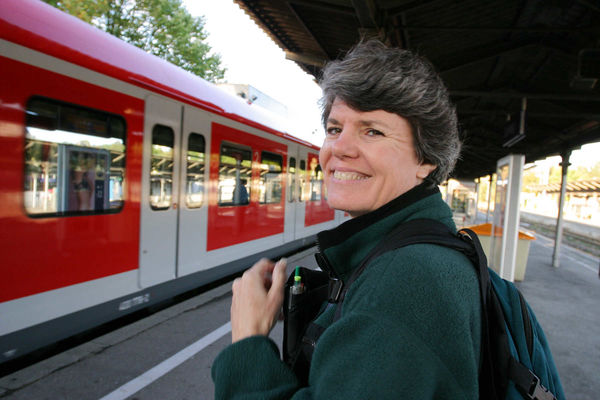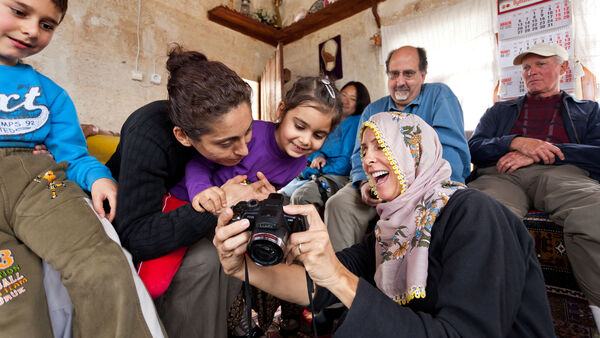 By Rick Steves
I've talked to too many people who put off their travel dreams because they don't want to do it by themselves: The prospect of going alone sounds either too daunting or just not all that fun. If you want to travel overseas but don't have a partner, consider gathering the courage to go it alone. You'll meet plenty of people as you travel: Think of them as a montage of fun, temporary travel partners.
Traveling solo has its pros and cons — and for me, the pros far outweigh the cons. When you're on your own, you're independent and in control. You can travel at your own pace, do the things that interest you, eat where and when you like, and splurge where you want to splurge. You don't have to wait for your partner to pack up, and you never need to negotiate where to eat or when to call it a day. You go where you want, when you want, and you can get the heck out of that stuffy museum when all the Monets start to blur together. If ad-libbing, it's easier for one person to slip between the cracks than two.
Of course, there are downsides to traveling alone: When you're on your own, you don't have a built-in dining companion. You've got no one to send ahead while you wait in line, help you figure out the bus schedule, or commiserate with when things go awry. And traveling by yourself is usually more expensive. With a partner, hotel accommodations cost less because they're shared. Other things become cheaper too when you're splitting costs, such as groceries, guidebooks, taxis, storage lockers, and more.
But when you travel with others, it's natural to focus on them — how you're getting along, whether they meant it when they said they weren't hungry — and tune out the symphony of sights, sounds, and smells all around you. Traveling on your own allows you to be more present and open to your surroundings. You'll meet more people — you're seen as more approachable. You're more likely to experience the kindness of strangers.
Solo travel can be intensely introspective. You may discover more about yourself at the same time you're discovering more about the places you traveled so far to visit. Traveling on your own is fun, challenging, vivid, and exhilarating. Realizing that you have what it takes to be your own guide is a thrill known only to solo travelers. Your trip is a gift from you to you.
Traveling Alone Without Feeling Lonely
For many people contemplating a solo trip, loneliness is their biggest fear. Big cities can be cold and ugly when the only person to talk to is yourself. And being sick and alone in a country where no one knows you can be a sad and miserable experience.
Fortunately, combating loneliness is easy in places popular with travelers. Europe, in particular, is full of travelers and natural meeting places, especially in peak season. And the internet offers connections with locals eager to welcome you to their home turf.
Meeting People
You'll run across vaga-buddies every day. If you stay in hostels, you'll have a built-in family (plenty of hostels are comfortable and welcoming to people of all ages). Or choose small pensions and B&Bs, where the owners and fellow guests sharing breakfast have time to talk. At most tourist sights, you'll meet more people in an hour than you would at home in a day. If you're feeling shy, cameras are good icebreakers, even in our selfie era — offer to take someone's picture with their device.
It's easy to meet people on buses and trains. When you meet locals who speak English, find out what they think — about anything. Take your laundry and a deck of cards to a launderette and turn solitaire into gin rummy. You'll end up with a stack of clean clothes and interesting conversations.
Learn how to say "pretty baby" in the local language. If you play peek-a-boo with a baby or fold an origami bird for a kid, you'll make friends with the parents as well as the child.
Take a group walking tour of a city (check your guidebook or ask at the tourist office). You'll learn about the town and meet other travelers, too. Food tours, cooking classes, sports events, and excursions can also be great social experiences; search online or ask at your hotel or hostel. Airbnb, ToursByLocals, and TravelLocal offer good options. Likeminded individuals can find one another on Meetup, which has worldwide members who welcome visitors to diverse events such as photography walks, happy hours, and weekend ski trips.
Use your social media connections to find out if anyone you know has friends or family in the destinations that you'll be visiting, then drop them a note about your upcoming trip. Consider joining a hospitality-exchange network, which can help you find events and free accommodations (more on this below). Facebook's events listings are as popular abroad as they are in the US.
If you're shy, you might also consider an organized tour, where you can relinquish trip-planning to a well-seasoned guide and enjoy a built-in circle of fun travel partners.
Eating Out
Dining solo is as common in Europe as it is in the US, and you'll rarely stand out as you sit down alone at a restaurant. But some countries have special meals that are more fun to experience with others. You could invite someone to join you for, say, a rijsttafel dinner in the Netherlands, a smorgasbord in Scandinavia, fondue in Switzerland, a paella feast in Spain, or a spaghetti feed in an Italian trattoria. Just say to someone whose company you might enjoy, "Would you like to meet up for dinner?" (Wondering whom to ask? In Europe, people with Rick Steves guidebooks are like an extended family. My readers are on the trail of the same travel thrills, and happy to share in a culinary adventure.)
If you're feeling sociable, eat in places so crowded and popular that all the tables are shared, or ask other single travelers if they'd like to join you. Eat in the members' kitchen of a hostel; you'll always have companions. Make it a potluck.
If you prefer to eat alone, stay busy. Use the time to learn more of the language. Practice your verbal skills with the waiter or waitress (when I asked a French waiter if he had kids, he proudly showed me a picture of his twin girls). Do trip planning, draw in your journal, update your social media feed, or text a few photos to the folks back home.
Spending an afternoon at a café is a great way to get some trip-journaling done; for the cost of a beverage and a snack, you'll be granted more peace and privacy than at a public fountain or other open space.
Evenings
Experience the magic of cities at night, at least in places like Europe, where city centers are largely safe and welcoming. Go for a walk along well-lit streets. With gelato in hand, enjoy the parade of people, busy shops, and illuminated monuments. You'll invariably feel a sense of companionship when lots of people are around. Take advantage of the wealth of evening entertainment: concerts, movies, and dance performances. Some cities offer tours after dark: You can see Paris by night on a river cruise or take a ghost walk in London.
If you like to stay in at night, get a room with a balcony overlooking a square. You'll have a front-row seat to the best show in town. Read novels set in the country you're visiting. Post travel news to your friends and family so you'll find friendly answers from another time zone in your notifications in the morning. Learn to treasure solitude. Go early to bed, be early to rise. Shop at a lively morning market for fresh rolls and join the locals for coffee.
Lodging for Solo Travelers
Solo travelers need to do some extra legwork to find hotel accommodations that offer a good value. Rarely is a single room just half the price of a double. If a double room costs $100, a single room will generally be about $80 — making your stay $30 more expensive each night than if you were sharing the room and the cost. True single rooms are also relatively rare, so you may find yourself paying for a double more often than you'd like.
You can use websites such as Booking.com and Hotels.com to find hotels that offer accommodations for solo travelers. Filter your results for true singles with one twin bed in your price range. Once you've zeroed in on the best options, book directly with the hotel of your choice.
Hostels welcome travelers of all ages and are in the business of renting out single bunks. Not only is this an affordable option, it's an excellent way to meet others. Hostels also sometimes have private rooms, which may be cheaper than a single in a budget hotel.
Other alternatives include home-sharing services such as Airbnb, Servas, and Couchsurfing. Here you can find affordable accommodations ranging from a young city-dweller's sofa to a guest bedroom in a farmhouse to a studio apartment all your own. Servas and Couchsurfing, in particular, are focused on bringing hosts and visitors together for cultural exchange and camaraderie.
Safety for Solo Travelers
All travelers should exercise common sense and caution when it comes to personal security abroad. For solo travelers, this means greater self-reliance and being particularly aware of your surroundings. (Of course, safety tends to be a bigger concern for women — see my extra tips for solo female travelers.)
Use street smarts. Be well prepared so that you don't need to depend on someone unless you want to — carry cash, a map, a guidebook, and a phrase book. Walk purposefully with your head up; look like you know where you're going, even when you don't. If you get lost in an unfriendly neighborhood, be savvy about whom you ask for help; seek out a police officer or a family, or go into a store or restaurant to ask for directions or to study your map.
Be proactive about public transportation. Use the same caution in taxis and on buses and subways that you would at home. Consider daytime departures and arrivals when you plan long-distance travel. You may want to visit the train or bus station the day before your departure, so you'll know where it is, how long it takes to reach it, if it feels safe, and what services it has. Reconfirm your departure time. If you're leaving late at night and the bus or train station is sketchy, hang out in your hotel's lounge or in a café until you need to head for the station.
Unless you're fluent in the local language, accept the fact that you won't always know what's going on. Though it might seem worrisome, there's a reason why the Greek bus driver drops you off in the middle of nowhere. It's a transfer point, and another bus will come along in a few minutes. Don't be afraid to ask for help or clarification — you'll often discover that the locals are looking out for you. However, a healthy dose of skepticism and an eagle eye in crowded and isolated places will help you stay safe.
Stay connected. Make it a habit to update family and friends back home about your itinerary. Talk over your plans with your hotelier before you head out, especially at night.
Trust your gut. If a situation or locale doesn't feel right, leave. It is better to be safe than sorry.