Alexander Nesky Cathedral in Sofia

Bulgarian Cultural Performance

Rila Monastery

Plovdiv Ampitheater

Nesebar on the Black Sea

Veliko Tarnovo
Tour Questions? See our FAQ | Call 425-608-4217
Best of Bulgaria in 12 Days Tour
Bulgaria is a land of fascinating contrasts, with a European identity that's rooted in a unique blend of Ottoman, Orthodox, and Soviet soil. You'll marvel at Roman outposts, mystical medieval monasteries, and a dazzling collection of prehistoric gold. All along the way, your Bulgarian Rick Steves guide will connect you with people who make their country's history, art, culture — and hospitality — come to life. You'll be warmly welcomed in neighborhood cafés, rustic mountain villages, and humble monasteries. Join us for the Best of Bulgaria in 12 Days!
Dates & Prices
What's Included
A small, friendly group of 24–28 people — half the size of most tour groups
Full-time services of a professional Rick Steves guide and local experts who will make the fascinating history, art, and culture of Bulgaria come alive for you
All tours and admissions — at no extra cost — covering at least 16 group sightseeing events • Alexander Nevsky Cathedral tour • Sofia walking tour • Meet with government official • Roma village visit • Rila Monastery tour • Winery visit and tasting • Plovdiv walking tour, including Roman Theater • Cultural performance • Kazanlak Thracian Tomb • Nesebar walking tour • Varna Archaeological Museum tour • Madara horseman visit • Arbanasi visit • Veliko Tarnovo walking tour • Tsarevets Citadel in Veliko Tarnovo • Traditional village visit...and more
All group transportation from Sofia to Sofia
11 nights accommodations in memorable, centrally located hotels
All breakfasts and half your dinners
All tips for guides and driver
$100 store credit for your household to use toward guidebooks and other gear for your trip
Guaranteed tour price, locked in the moment you make your deposit
Optional single supplements — this tour has a limited number of private rooms for solo travelers for an additional fee
Tour alum discount of $50 for each tour you've taken prior to 2016
50% discount on a consulting appointment with our in-house experts to assist with your pre- or post-tour travel plans
Flexibility should you need to transfer, or cancel/interrupt your tour
Fine print: You are responsible for the cost of your drinks and free-time sightseeing. See our Tour Conditions Agreement for important details regarding everything listed above.
Itinerary
Daily Activity Key
Light = 2–4 miles of mostly level walking throughout the day.
Moderate = 2–6 miles walking throughout the day with some hills and stairs.
Strenuous = 2–8 miles walking throughout the day with lots of hills, stairs, and uneven terrain.
Day 1: Welcome to Bulgaria
Join your guide and group at 4 p.m. today in our Sofia hotel for a "Welcome to Bulgaria" get-together. We'll take a neighborhood stroll, visit the Alexander Nevsky Memorial Cathedral, famous for its gilded domes and masterful mosaics, and then enjoy our first taste of Bulgaria's rich cuisine over dinner together. Sleep in Sofia (2 nights). No bus. Walking: light.
Day 2: Exploring Sofia
Today we'll take a walking tour to uncover Sofia's intriguing past and present. We'll visit the Parliament building, where we'll stop for the changing of the guard, as well as the Sofia Synagogue and the Banya Bashi Mosque. We'll wrap up our day by meeting with a government official, who will answer questions and tell us about issues facing Bulgaria today. Then you can "follow the yellow brick road" (Sofia has one) to explore the bustling market hall and more of the city's center on your own. No bus. Walking: moderate.
Day 3: Rila Monastery
We dive headfirst into Bulgarian culture today with a visit to a Roma (gypsy) village, where we'll be welcomed by these fascinating people, visit kids at a local school, and learn about their history and culture. Later, we'll drive through the scenic Rilska Valley, passing traditional villages en route to our destination high in the mountains: the remote and mystical Rila Monastery. We'll take a walking tour of this 14th-century architectural treasure and its fabulous frescoes when we arrive, and sleep as guests in the monastery tonight — with no expectation of hot water or plush beds (1 night). Bus: 4 hrs. Walking: moderate.
Day 4: Bessa Valley Wines
You'll have time to appreciate the tranquility of Rila Monastery (even attend an early prayer service) this morning. We'll leave mid-morning for the city of Plovdiv stopping where merchants from Troy journeyed 4,000 years ago: a Bessa Valley winery. We'll learn the history of some of Europe's oldest vineyards — from ancient times to the Communist "collective era" and the entrepreneurial present — and enjoy a tasting. Then we'll continue on to Plovdiv, one of Bulgaria's most delightful cities, where we'll enjoy dinner together. Sleep in Plovdiv (2 nights). Bus: 6 hrs. Walking: moderate.
Day 5: Renaissance Plovdiv
Once the capital city of ancient Thrace, Plovdiv is actually older than Athens and Rome, with archaeological relics dating back 4,000 years. We'll start our day with a walking tour of Plovdiv's old town, including Trajan's 2nd-century Roman amphitheater and its commanding view of the city. We'll also enjoy the structures that Plovdiv is proudest of: the old town's unique collection of elegant, pastel-pretty "Bulgarian Renaissance" homes from the 19th century. The remainder of the day is free for you to explore more of this cultural and cosmopolitan city. No bus. Walking: strenuous.
Day 6: Kazanlak and Nesebar
We'll drive to the Black Sea today, stopping in Kazanlak en route to visit one of the greatest examples of early Hellenistic art: a 4th-century B.C. Thracian tomb covered with magnificent murals and packed with beautifully preserved gold and bronze artifacts. We'll end our day with dinner together along the seaside in the lovely little island town of Nesebar — dotted with Byzantine churches and even a windmill — and connected to the rest of Bulgaria by only a narrow isthmus. Sleep in Nesebar (2 nights). Bus: 7 hrs. Walking: light.
Day 7: Nesebar and the Black Sea
This morning we'll take a time-tripping walk through Nesebar, learning about its important Greek, Roman, Byzantine, Turkish and Bulgarian past — a lot happened in this tiny place! The rest of the day is yours to relax on the beach, stroll around town, take a boat ride on the Black Sea or sample the local catch direct from the fishermen. No bus. Walking: moderate.
Day 8: Treasures of Varna
We'll drive along the Black Sea coast to the resort city of Varna where we'll stop to tour the Varna Archaeological Museum and marvel at the oldest gold jewelry ever discovered. We'll get oriented to the bustling town of Varna and settle into our hotel. The rest of the afternoon and evening are yours to explore this modern town and stroll the extensive, waterfront park and promenade. Sleep in Varna (1 night). Bus: 3 hrs. Walking: moderate.
Day 9: Over the Balkan Range
Today we'll drive up and over the green Balkan Range to one of Europe's most dramatically situated towns: Bulgaria's medieval capital of Veliko Tarnovo. En route we'll see the Madara Horseman, carved high into a rock cliff 13 centuries ago, and stop to tour the stuck-back-in-time village of Arbanasi. Tonight we'll enjoy a hearty dinner together, and admire the striking night view of Veliko Tarnovo's illuminated citadel across the valley. Sleep in Veliko Tarnovo (2 nights). Bus: 5 hrs. Walking: light.
Day 10: Veliko Tarnovo
We'll walk from one hill to the next, learning about Veliko Tarnovo's role in the medieval birth of the Bulgarian Kingdom, its 14th-century fall to the Ottoman Turks, and the 19th-century uprising that led to the end of Bulgaria's Ottoman occupation. As the story unfolds, we'll wind our way along narrow cobblestone streets, meeting local artisans along the way, then finally conquer the ruins of one of Europe's mightiest citadels. After our trek together you'll have free time to continue exploring this unique town or work your way back through the medieval streets to where we started. We'll meet up later this evening and drive to a nearby community center and enjoy a fabulous folk performance. Bus: 1 hr. Walking: strenuous.
Day 11: Village to City
This morning we'll visit the remote village of Glogovo — a community that converted to Islam under the Ottoman Turks, and has kept that faith ever since. We'll have lots of opportunities to interact with local school kids and adults. In fact, the villagers are preparing a traditional lunch for us today! This afternoon we'll return to Sofia and have a festive final dinner together, where we'll share travel memories and toast new friends. Sleep in Sofia (1 night). Bus: 5 hrs. Walking: light.
Day 12: Tour Over After Breakfast
Breakfast is provided, but there are no group activities today. Bulgaria's international airport is just outside of Sofia, or you can hop a nearby train to other European cities. Your guide will help get you pointed in the right direction. Radvayte se na pytuvaneto!
Itinerary specifics subject to change.
Physical Demands
Our tours are physically active! It's an essential part of the Rick Steves tour experience. On our Best of Bulgaria in 12 Days tour — among other things — you'll need to happily...
Carry/roll your luggage over uneven pavement (several blocks possible) and up stairways to reach your hotel; then up several flights of stairs to reach your room.
Be on your feet, walking and standing, for up to three hours, indoors and outdoors, in all weather conditions.
Sleep with street noise and no (or weak) air conditioning.
After orientation and transportation lessons, be able to navigate towns and cities on your own.
Walk up steep streets to the Tsarevets Citadel in Veliko Tarnovo.
Be content with rustic conditions during our one night stay at the Rila Monastery (possibility of sharing bathroom facilities and shortage of hot water).
Reviews
Diane
Alexandria, MN
Tour: 09/20/15
Overall rating:
Lyuba was able to relate the complex history of her country in a way that made it understandable and very interesting. Bulgaria is not one of the easy or "designer" countries to visit as it recovers from Communism and preserves its long history. I am really glad I did and an happy we had so many "backdoor" experiences. The opera in the Roman theater under an almost full moon, the Plovdiv basilica excavation of the mosaic floor and the ancient tombs to name a few.
Favorite "WOW" moment
"The Opera"
William
Ellensburg, WA
Tour: 09/20/15
Overall rating:
Loved visiting another eastern Europe country. It is a beautiful place, with nice people and very inexpensive. With the language based on the Greek alphabet it is harder to navigate around, but didn't present any problems.
Favorite "WOW" moment
"Probably the visit to the Roma community and the Muslim village."
Stephen
Alexandria, MN
Tour: 09/20/15
Overall rating:
Energetic leader and very interesting country. Well organized, nice hotels and wide variety of experiences.
Favorite "WOW" moment
"The nighttime opera in the Roman theatre in Plovdiv with the full moon in a clear sky."
Judy
Monroe, WA
Tour: 09/20/15
Overall rating:
Lyuba was the best guide we've ever had. She is so knowledgable about her country.
Favorite "WOW" moment
"Too many to try and pick just one or two."
Herman
Monroe, WA
Tour: 09/20/15
Overall rating:
A lot more in Bulgaria then we expected. Lots of history and artifacts, Lyuba was great and knew everything and explained it well. She knew how to get us into places that we couldn't have on our own.
Favorite "WOW" moment
"Standing on a mosaic floor that was being uncovered. Lyuba heard they were doing it and took us right over."
Kathleen
Elkhart, IN
Tour: 09/20/15
Overall rating:
We didn't know anything about Bulgaria before we looked at this tour. We had to cunsult a map to learn who its neighbors are! Hence, we were awestruck by its long, deep and rich history, and the resilience of the Bulgarian people. I loved the variety, cities, museums, and interactions with scholars as well as salt-of-the-earth people. I would not want to replace any of it.
Favorite "WOW" moment
"It's hard to prefer either experience: the children's program and lunch with the Roma people, or the wedding lunch in Glogova with the charming musicians. Loved the people and their generous spirit!"
Marstin
San Anselmo, CA
Tour: 09/20/15
Overall rating:
Bulgaria was the drawing card for our truly seasoned and diverse traveling companions. One could say there was almost instant bonding and a palpable enthusiasm to try every experience offered. Bulgaria exceeded my expectations. I was attracted to the country for its ancient to modern history, music, dance, people and the arts - old and new. I was not disappointed.
Favorite "WOW" moment
"Many "wow" moments. Arrived two days early-Sofia, greeted with welcome gift from our tour guide, Lyuba. Detailed booklet on history, language, maps, travel plans, geology, politics, UNESCO Heritage sites, history of the Roma. Staying in the Rila Monastery in the Rila Mts., hearing monks chants; visiting Roma children in their elem. sch.+ their dance/song; wedding meal with Roma. A pre-wedding celeb. with live music and song. Village - Veliko Turnova, Boyana church; folk dance; ancient villages."
Judith
Grand Marais, MN
Tour: 09/20/15
Overall rating:
Who would have believed that one could have so many memorable experiences in a country few of us can even place accurately in world geography. Bulgaria was a wonderful place and I am grateful to have been part of a great tour, with 23 other kindred spirits and 2 exceptional guides. The added-in experiences were inspired - opera in a Roman amphitheater, the huge Soviet monument, the beautiful church where we picnicked in Shipka, and not one but two birthday celebrations during our tour.
Favorite "WOW" moment
"There were so many, as there always are on these tours, but I think the opera was a magical night in Plovdiv. The Rila monastary was also so special and attending the early mass was a peak experience in such a beautiful church in such a gorgeous setting. I loved visiting the schools and learning about the Bulgarian system of early education and assimilation of Roma kids."
Anita
Ellensburg, WA
Tour: 09/20/15
Overall rating:
Bulgaria is a country rich in history. The diversity is from ancient tombs to the time when the country was under communist rule and the history created during that time. Today the cities look like many other cities with many modern shops and restaurants but in the small villages woman were wearing more native clothing and the men were being bused to a work location. I think Bulgaria is a hidden treasure worthy of exploration.
Favorite "WOW" moment
"My "wow" moment was learning about the country and people during communist times and the struggle for 10 years the country went through after the communists left them with vacant factories and apartment buildings."
Wendy
Lakewood, CO
Tour: 09/06/15
Overall rating:
I really enjoyed Bulgaria and thought the organization, pace, and execution of the tour was great. I appreciated the welcome packet with the booklet of helpful information for early arrivals, the history, the language information AND all of the daily schedules. The Q&A with the politician/economist was really interesting, as was the Q&A with the gracious Roma woman.
Favorite "WOW" moment
"Watching the artisans in Veliko Tarnovo create amazing things. Loved the tranquility of the Rila Monastery for our overnight stay."
Rosemary
Gold Bar, WA
Tour: 09/06/15
Overall rating:
Fascinating country, excellent guide, great accommodations
Favorite "WOW" moment
"Staying at the Rila Mpnastery"
Connie
Arroyo Grande, CA
Tour: 09/06/15
Overall rating:
I thoroughly enjoyed traveling through Bulgaria. It was great to get to Rila monastery when the crowds were leaving and stay overnight. What a great place - a photo opp at every turn. Fun to be at the Black Sea in two places. Enjoyed staying in the old town of Nesebar.
Favorite "WOW" moment
"The folk dancing performance was wonderful and it was fun to get on stage to dance afterwards. Stefan had taught us a simple line dance so we could participate. Loved the costumes."
Margaret
Rockford, IL
Tour: 09/06/15
Overall rating:
I L-O-V-E-D!!! Bulgaria!!! Our guide, Stefan, was outstanding! We have had other wonderful experiences/guides (that's why we keep coming back for more) but this was the first time we were greeted at our hotel with a welcome bag complete with our itinerary, 2 bottles of water, cookies, postcards with stamps and two mysterious red and white strings. I feel like I got a crash course on the history, people, food and culture of this most beautiful country.
Favorite "WOW" moment
"There were many...The Rila Monastery, Veliko Târnivo crafts, and the city of Ploviv but it was al good!"
Marcella
Corvallis, OR
Tour: 09/06/15
Overall rating:
We had a wonderfully organized tour that left us with a much deeper understanding of the history and diversity of the Bulgarian people and landscape. The Bulgarians were so warm and welcoming to us. We left with a much deeper appreciation of the ancient history and modern struggles off this beautiful country.
Favorite "WOW" moment
"The view standing on top of the Thracian ruins in the old town of Plovdiv."
Robert
Vancouver, BC
Tour: 09/06/15
Overall rating:
Stefan is the guide par excellence . He is knowledgeable , thoughtful, energetic and open with his political views. The tour was imaginative as well as carefully planned. Timing was always good . Selection of hotels good and Meals provided were excellent
Favorite "WOW" moment
"Visit to Roma village / meal with Roma lady"
Teresa
Seattle, WA
Tour: 09/06/15
Overall rating:
I had some preconceived notions about Bulgaria and its people that were, I'm pleased to say, shattered. Lovely country and good people. Maybe just one too many visits to archaeological museums; I wouldn't have minded one more ethnographic museum or house museum. Otherwise, I had a terrific time and enjoyed all of the places we stayed overnight or stopped to visit. This was my tenth RS tour and, as always, I felt it was good value for money. I would definitely recommend this tour.
Favorite "WOW" moment
"It's hard to choose! Staying at the Rila Monastery was a real treat: the night was so quiet and tranquil. Watching craftspeople in Veliko Tarnovo create lovely things. The oldest gold in the world. Dipping bread in spices, Shopska salads, and eating fish from the Black Sea."
Diana
Beaverton, OR
Tour: 09/06/15
Overall rating:
I LOVED this trip. We had never been to this part of Europe before and this put the Balkans on our radar. We learned so much and left inspired to learn even more. The country is beautiful and the people friendly and positive to us visitors. I loved the variety of experiences we were given- the big cities, the small villages, the ancient ruins, the Black Sea, the museums, the pedestrian promenades, the beautiful countryside-. Fellow travelers were wonderful!-Wish it had been a bit longer.
Favorite "WOW" moment
"Wading in the Black Sea, sunset on the Black Sea"
Alice
Charlotte, NC
Tour: 06/21/15
Overall rating:
This was a good tour. However, as a public classroom teacher, I am conflicted in my opinion on the two school portions of the program. While I enjoyed seeing the children, the facilities, and meeting the faculties, the visits bogged down with the extra time needed to hear everything in Bulgarian and then repeated in English. More attention to pacing and comfort (adults in kindergarten chairs) would have made it more enjoyable (and a lot less like my day job!)
Favorite "WOW" moment
"Rila monastery."
Darby
Salisbury, MD
Tour: 06/21/15
Overall rating:
This tour was an extraordinary experience. Bulgaria is a beautiful country with a wealth of history. It's also a place to see unique cultures and traditions preserved. We loved our visits to the Roma and Pomak villages. Spending the night at the Rila Monastery was unforgettable. Stefan, our guide, helped us to get the most out of every moment.
Favorite "WOW" moment
"My favorite "wow" experience would have to be waking up at Rila Monastery in the quiet early morning and walking around the monastery. We also waked a little ways in the peaceful woods outside, and found a rushing stream and a cemetery where some of the monks had been buried."
Craig
Wynnewood, PA
Tour: 06/21/15
Overall rating:
Our tour of Bulgaria was our first RS Tour but our 17th trip to Europe (all of which were organized via RS Travel Guides) and it really exceeded my expectations. Sight seeing, arts, history, culture, politics were all covered in the tour; Stefan was masterful in explaining his beloved country and people. RS Tours attracted wonderful and like-minded travelers; and, boy, did I enjoying 11 days with 23 new BFFs! Our tour felt like a mobile party - at breakfast, on the bus,walking about, etc.
Favorite "WOW" moment
"Rila Monastery. Meeting the Roma children and their teachers, and touring the school. Visiting the Muslim village, eating lunch and enjoying their singing. The folkmusic and danciing concert."
Teresa
Edmonds, WA
Tour: 06/21/15
Overall rating:
Stefan was very informative. The group members were very pleasant. Loved meeting all the school children, teachers, politicians.
Favorite "WOW" moment
"Veiliko Tarnovo"
Charles
Seattle, WA
Tour: 06/21/15
Overall rating:
Great tour as have been our other 12 RS tours. Great guide - one of our top three. Adequate free time.
Favorite "WOW" moment
"Meeting two young school groups and lunch at a families home with their entertainment. Also, we took a bus trip to see and hear a folk performance of singing and dancing at a theater. Q & A with economics professor - VERY educational."
Gerry
Stafford, TX
Tour: 06/21/15
Overall rating:
It was especially interesting to visit a country about which I knew so little, and is somewhat off the typical tourist route. Stefan was a perfect guide - friendly, knowledgeable and always willing to do a little extra for us.
Favorite "WOW" moment
"Nothing can top staying overnight at the Rila Monastery after the day crowds were gone and hearing the monks chanting the evening vespers. The museums we visited were excellent. The food was superb everywhere. The trip was also notable for the variety of places we visited, Sofia, the Besa Valley and vineyards, the Black Sea coast, the chance to visit a Roma town and have lunch there and at another private home. Too many wow moments - I can't really choose."
Stephanie
Edmonds, WA
Tour: 06/21/15
Overall rating:
Stephan was excellent!
Gail
Portland, OR
Tour: 06/21/15
Overall rating:
This was my fifth Rick Steves' tour, and it lived up to everything I have come to expect from Rick's tours! Incredible guide, super shared meals, convenient hotel locations, interesting and friendly tour mates, and lots of great "back door" experiences!
Favorite "WOW" moment
"Walking through the gate at the Rila Monastery was definitely the "wow" moment of the trip. What an amazing place! Be sure to get up early for the morning service so you can witness the call to service and the tranquility of the monastery without tourists."
Alice
Arlington, MA
Tour: 06/21/15
Overall rating:
Bulgaria is a fascinating country, especially for anyone who is interested in archaeology and seeing different cultures. I was delighted to have a chance to visit a country with so many layers of history, where local cultures are strong and people are friendly. Our tour also had an outstanding guide and a lively, fun group of travelers. The balance of guide led activities and free exploration or rest time was good, and we got to see a great sampling of cities and villages.
Favorite "WOW" moment
"Standing nearly alone among candles and dark, dramatic frescoes of saints in the Alexander Nevsky Cathedral, listening to the priest and choir chanting."
Donald
Puyallup, WA
Tour: 05/24/15
Overall rating:
Excellent tour that gave an in-depth view of Bulgaria. The tour had the right amount of large cities to country/small city experiences. The written background material given during the tour was a definite plus. This tour exceeded my expectations and was definitely a cut above the standard Rick Steves tour.
Favorite "WOW" moment
"The first was the stay at the Rila monastery and the second was the various "local" visits throughout the tour."
Kirk
Bellingham, WA
Tour: 05/24/15
Overall rating:
This is a true Back Door Europe experience with an incomparably outstanding guide, highly recommended especially for people who have seen at least some of the obligatory European cities and monuments. Seeing a beautiful country with a rich history still in the process of recovering from two generations under Communist rule, meeting local people, good food and drink at cheap prices all made for a wonderfully enjoyable experience. People who question why go to Bulgaria could just not understand.
Favorite "WOW" moment
"As always with a Rick Steves' tour, too many to count, but in this case even more than usual: discussing politics and economics with an influential Bulgarian politician/economist, the Rila Monastery, Roma children singing to us in their school, meeting a Roma family in their neighborhood, families playing in Sea Garden Park in Varna, more school children singing to us, meeting with a small town mayor, being entertained by a muslim family in their village, meeting artisans in Tarnovo. Wow!"
Kathleen
Bellingham, WA
Tour: 05/24/15
Overall rating:
This was my very first Rick Steves tour. I'd been told they were great but to find out for myself just how great was an astonishing experience. This was the most interesting and involved trip I have made in my life.
Favorite "WOW" moment
"The times we interacted with the people of Bulgaria which we could never, ever have been able to do on our own: The schools and the children, the Roma family, the professor/ government official., the mayor, the dancers, the families , the cooking demonstration,and especially Stefan and his many stories of life in Bulgaria. I know that's a lot of wows but these were the best moments."
Gary
Spearfish, SD
Tour: 05/24/15
Overall rating:
The tour was excellent. We enjoyed seeing and learning new things. Our guide was particularly helpful.
Favorite "WOW" moment
"The town Veliko Tarnovo was a surprise. I had never heard of the town, but there was so much history, scenery, and culture there. It was wonderful. The only problem was that I did a lot of walking on uneven stones - tiring, but it was worth it!"
Wanda
Spearfish, SD
Tour: 05/24/15
Overall rating:
We thoroughly enjoyed the tour, and would recommend it to all who want to visit a place that is somewhat less visited.
Michael
Milwaukee, WI
Tour: 05/24/15
Overall rating:
Very good overall[INVALID]-This was the first tour in 2 years, with a very new guide[INVALID]there were a few seemingly un-anticipated things that came up. This is an extremely under-rated country[INVALID]-so few people have heard of it but it has a lot to offer[INVALID]especially for Rick Steves people. The local dance and musical show was fantastic. These were real local people[INVALID]very proud to show us there culture. Very talented[INVALID]and such a large group of them. I really felt honored.
Favorite "WOW" moment
"The talk given by the economics professor was wonderful. This country has such an interesting and complicated history. I expected it to be much the same as other formerly communist countries of eastern Europe--but it has it' on unique identity. He talked for and hour and a half but no one was the least bit bored. What other tour gives you access to one of the important political advisors of the country?"
Marina
Washington, DC
Tour: 05/24/15
Overall rating:
I really enjoyed my tour and Bulgaria. There are lots of things to see and places to visit and I think the tour gave us a great comprehensive view on the country.
Favorite "WOW" moment
"The first view of the Rila Monastery, the view of the fortress of Tsarevets from Veliko Ternovo, the church of the Nativity covered with frescoes in Arbanasi, lunch by the Black Sea..."
Barbara
Oakland, CA
Tour: 05/24/15
Overall rating:
Bulgaria is AMAZING! The tour was SO excellent and clearly showed the beauty & resilience of Bulgarians. I loved seeing all the different landscapes & cultures of each--the capitol Sofia, Rila Monastery, Nessebar & Varna (Greeks, Romans), the Balkan range (small villages, rug weaving), the plains (wine, roses, sunflowers, potatoes), the medieval capitol Veliko Tarnovo with its fortress, walled ruins, enchanting hillside. I enjoyed the folk dance performances & meeting Roma, Pomaks, govt reps.
Favorite "WOW" moment
"My "wow" experience came on Day 1 when I walked into the Sofia Archeological Museum & saw all those artifacts that came from in the ground right here! I had NO idea of the centrality & importance of Bulgaria in the march of human history. The museum's excellent chronological displays of Stone Age, new Stone Age, Bronze Age (Thracian), Greek, Roman, 1st & 2nd Bulgarian Empires, & Turks was fascinating, so informative & provided a mental grid for me to hang all the forthcoming tour experiences."
Stephen
San Francisco, CA
Tour: 05/24/15
Overall rating:
I had a very fine tour of Bulgaria. In my opinion we went to a number of places and had a variety of experiences from typical tourist to really interacting with local Bulgarians. Also our group visited very historical sites mixed with modern now especially in Sofia as opposed to Thracian tombs in and around Kazanluk.
Favorite "WOW" moment
"Visiting the Roma school in Dupnitsa. At first I thought why are we here, but within a few minutes visiting with the kids something hit me whoa this is important."
Kathryn
Bellingham, WA
Tour: 05/24/15
Overall rating:
This was an extremely interesting tour led by a top notch guide.
Favorite "WOW" moment
"Visiting the Rila Monastery; the fields of roses in central Bulgaria; the folk dancers; the "Alphabet Day" parade in Sophia"
William
Bellingham, WA
Tour: 05/24/15
Overall rating:
This tour gave a very broad exposure to Bulgaria and its people. Every day was a new adventure! I is facinating to see how these former soviet satellite countries are slowly over coming the economic catastrophy that they were left with in the early 1990s. The beauty of so many Churches was also wonderful.
Favorite "WOW" moment
"I think the incredable iconographic paintings are just breath taking. They make me realize how little I know about my own religion."
Stephen
Hanover, PA
Tour: 05/24/15
Overall rating:
I had a little apprehension when I learned our original tour guide, Lyuba, had taken ill and we would have a substitute. I could not have been more pleased with the entire tour. Stefan was clearly up for the leadership role. He was wonderful and really opened our eyes to all that Bulgaria has to offer. He was able to provide so many personal observations, and his knowledge of all things Bulgarian was outstanding. History, art, culture - just everything came alive for all of us. A great tour!!
Favorite "WOW" moment
"So many "wow" moments. Arriving at Rila Monastery. Visiting the 4 and 5 year old school children and being entertained by them (and our group singing "Yellow Polka Dot Bikini" to them - at least trying!!). Walking around Nesebar, or Plovdiv, or Varna, or Sofia, or Veliko Tarnovo! Seeing all the high school graduates at Nevsky Cathedral celebrating was quite a sight!! Hard to tell it wasn't a scene from an American High School Prom event. Lots of "wow's" on this tour!!"
Weather

Bulgaria/Sofia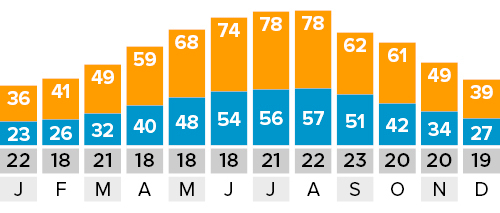 Planning Tips
We've put together some specific information on what you should know about this tour before you go. You'll also find more general information about "Getting Ready for Your Tour" on our Tour FAQ.
Trip Resources
Learn more about Bulgaria: Check out a collection of Rick's TV shows, radio interviews, and articles, plus recommended books and movies.
Transportation
Prior to your tour departure, you will receive detailed directions on how to get from the airport to your first tour hotel, as well as contact information for your first and last hotels in case you wish to book pre- or post-tour hotel accommodations.
Many tour members arrive a day or two before the tour begins — and those who don't, wish they had. This allows you ample time to get over jet lag and make the most of the first few days of the tour.
There is more than one way to get to and from your tour. Most tour members will fly in and out of Sofia, using another European airport (for example, London or Frankfurt) as their "hub" to connect with flights to and from the USA. Your travel agent can help you find what works best for you.
Sofia is becoming a key transportation point in the Balkans, making additional travel plans before or after your tour surprisingly easy.
For information about flying within Europe, ask your travel agent or check Rick's list of European budget airlines.
Read Rick's train travel and rail pass tips to decide if your travel plans merit a rail pass.
If you have additional European travel or tour questions, contact the Tour Department at 425-608-4217 or email tour@ricksteves.com.
Sightseeing on Your Own
If you arrive in Sofia before your tour begins, ride the public transportation, try out a few words of Bulgarian, and get over your jet lag with lots of fresh air and exercise.
Here are suggestions for sightseeing in Sofia that we will not be doing as a group: National Art Gallery; Ethnographical Museum; National Museum of Military History.
See the Lonely Planet Romania & Bulgaria guidebook for more pre- and post-tour sightseeing possibilities. Your tour guide will also be happy to help you with post-tour plans.
Packing
We will be visiting many Orthodox churches throughout the tour where women are expected to cover their heads with scarves. You may want to bring one along or purchase a scarf upon arrival in Sofia.
For more advice on what (and what not!) to pack, see Rick's packing tips.