Alexander Nesky Cathedral in Sofia

Bulgarian Folk Performance

Rila Monastery

Plovdiv Amphitheater

Nesebar on the Black Sea

Veliko Tarnovo
Tour Questions? See our FAQ | Call 425-608-4217
Best of Bulgaria in 12 Days Tour
from $2,695 per person + air
Optional Single Supplement $625
See Tour Dates
Bulgaria is a land of fascinating contrasts, with a European identity that's rooted in a unique blend of Ottoman, Orthodox, and Soviet soil. You'll marvel at Roman outposts, mystical medieval monasteries, and a dazzling collection of prehistoric gold. All along the way, your Bulgarian Rick Steves guide will connect you with people who make their country's history, art, culture — and hospitality — come to life. You'll be warmly welcomed in neighborhood cafés, rustic mountain villages, and humble monasteries. Join us for the Best of Bulgaria in 12 Days!
Dates & Prices
What's Included
A small, friendly group of 24–28 people — half the size of most tour groups
Full-time services of a professional Rick Steves guide and local experts who will make the fascinating history, art, and culture of Bulgaria come alive for you
All tours and admissions — at no extra cost — covering at least 17 group sightseeing events • Sofia walking tour • Alexander Nevsky Cathedral • Meet with government official • Dupnitsa Roma community • Rila Monastery • Winery and tasting • Plovdiv walking tour, including Roman Theater • Dzhumaya Mosque • Thracian Tomb of Kazanlak • Nesebar walking tour • Varna Archaeological Museum • Madara horseman • Arbanasi • Veliko Tarnovo walking tour • Tsarevets Citadel in Veliko Tarnovo • Folk performance • Meet with Glogovo villagers…and more
All group transportation from Sofia to Sofia
11 nights' accommodations in memorable, centrally located hotels
All breakfasts and half your dinners
All tips for guides and driver
Rick Steves Travel Store credit to use toward guidebooks for your trip
Guaranteed tour price, locked in the moment you make your deposit
Optional single supplements — this tour has a limited number of private rooms for solo travelers for an additional fee
Tour alum discount of $50 for each tour you've taken prior to 2018
50% discount on a consulting appointment with our in-house experts to assist with your pre- or post-tour travel plans
Flexibility should you need to transfer, or cancel/interrupt your tour
Fine print: You are responsible for the cost of your drinks and free-time sightseeing. See our Tour Conditions for important details regarding everything listed above.
Itinerary
Day 1: Welcome to Bulgaria
Join your guide and group at 4 p.m. today in our Sofia hotel for a "Welcome to Bulgaria" get-together. We'll take a neighborhood stroll, and then enjoy our first taste of Bulgaria's rich cuisine over dinner together. Sleep in Sofia (2 nights). No bus. Walking: light.
Day 2: Exploring Sofia
Today we'll take a walking tour to uncover Sofia's intriguing past and present. We'll visit the President's Building, where we'll stop for the changing of the guard, as well as the Sofia Synagogue. We'll also tour the Alexander Nevsky Cathedral, famous for its gilded domes and masterful mosaics. Then you can "follow the yellow brick road" (Sofia has one) to explore the bustling market hall and more of the city's center on your own. We'll wrap up our day by meeting with a high-profile politician and economist, who will answer questions and tell us about issues facing Bulgaria today. No bus. Walking: moderate.
Day 3: Rila Monastery
We dive headfirst into Bulgarian culture today with a visit to Dupnitsa and the town's Roma (gypsy) community, where we'll be welcomed by these fascinating people, visit kids at a local school, and learn about their history and culture. Later, we'll drive through the scenic Rilska Valley, passing traditional villages en route to our destination high in the mountains: the remote and mystical Rila Monastery. We'll sleep as guests in the monastery tonight (1 night) — with no expectation of hot water or plush beds. Bus: 4 hours. Walking: moderate.
Day 4: Bessa Valley Wines
You'll have time to appreciate the tranquility of Rila Monastery (even attend an early prayer service) this morning before we take a walking tour of this 14th-century architectural treasure and its fabulous frescoes. We'll leave at noon for the city of Plovdiv, stopping where merchants from Troy journeyed 4,000 years ago: a Bessa Valley winery. We'll learn the history of some of Europe's oldest vineyards — from ancient times to the Communist "collective era" and the entrepreneurial present — and enjoy a tasting. Then we'll continue on to Plovdiv, one of Bulgaria's most delightful cities, where we'll enjoy dinner together. Sleep in Plovdiv (2 nights). Bus: 6 hours. Walking: moderate.
Day 5: Renaissance Plovdiv
Once the capital city of ancient Thrace, Plovdiv is actually older than Athens and Rome, with archaeological relics dating back 7,000 years. We'll start our day with a walking tour of Plovdiv's old town, including Trajan's second-century Roman theater and its commanding view of the city. We'll also enjoy the structures that Plovdiv is proudest of: the old town's unique collection of elegant, pastel-pretty "Bulgarian Renaissance" homes from the 19th century, and we'll visit the Dzhumaya Mosque, the oldest in Bulgaria. The remainder of the day is free for you to explore more of this cultural and cosmopolitan city. No bus. Walking: strenuous.
Day 6: Kazanlak and Nesebar
We'll drive to the Black Sea today, stopping in Kazanlak en route to visit some of the greatest examples of early Hellenistic art: a fourth-century B.C. Thracian tomb covered with magnificent murals, and another packed with beautifully preserved gold and bronze artifacts. We'll end our day with dinner together along the seaside in the lovely little island town of Nesebar — dotted with Byzantine churches and even a windmill — and connected to the rest of Bulgaria by only a narrow isthmus. Sleep in Nesebar (2 nights). Bus: 7 hours. Walking: light.
Day 7: Nesebar and the Black Sea
This morning we'll take a time-tripping walk through Nesebar, learning about its important Greek, Roman, Byzantine, Bulgarian, and Turkish past — a lot happened in this tiny place! The rest of the day is yours to relax on the beach, stroll around town, take a boat ride on the Black Sea, or sample the local catch direct from the fishermen. No bus. Walking: moderate.
Day 8: Treasures of Varna
We'll drive along the Black Sea coast to the resort city of Varna, where we'll stop to tour the Varna Archaeological Museum and marvel at the oldest gold jewelry ever discovered. We'll get oriented to the bustling town of Varna and settle into our hotel. The rest of the afternoon and evening are yours to explore this modern town and stroll the extensive waterfront park and promenade. Sleep in Varna (1 night). Bus: 3 hours. Walking: moderate.
Day 9: Over the Balkan Range
Today we'll drive up and over the green Balkan Range to one of Europe's most dramatically situated towns: Bulgaria's medieval capital of Veliko Tarnovo. En route we'll see the Madara Horseman, carved high into a rock cliff 13 centuries ago, and stop to tour the stuck-back-in-time village of Arbanasi. Tonight we'll enjoy a hearty dinner together, and admire the striking night view of Veliko Tarnovo's illuminated citadel across the valley. Sleep in Veliko Tarnovo (2 nights). Bus: 5 hours. Walking: light.
Day 10: Veliko Tarnovo
We'll walk from one hill to the next, learning about Veliko Tarnovo's role in the medieval birth of the Bulgarian Kingdom, its 14th-century fall to the Ottoman Turks, and the 19th-century uprising that led to the end of Bulgaria's Ottoman occupation. As the story unfolds, we'll wind our way along narrow cobblestone streets, meeting local artisans along the way, then finally conquer the ruins of one of Europe's mightiest citadels. After our trek together you'll have free time to continue exploring this unique town, or to just work your way back through the medieval streets to where we started. We'll meet up later this evening and drive to a nearby community center and enjoy a fabulous folk performance. Bus: 1 hour. Walking: strenuous.
Day 11: Village to City
This morning we'll visit the remote village of Glogovo — a community that converted to Islam under the Ottoman Turks, and has kept that faith ever since. We'll have lots of opportunities to interact with local school kids and adults. In fact, the villagers are preparing a traditional lunch for us today! This afternoon we'll return to Sofia and have a festive final dinner together, where we'll share travel memories and toast new friends. Sleep in Sofia (1 night). Bus: 5 hours. Walking: light.
Day 12: Tour Over After Breakfast
Breakfast is provided, but there are no group activities today. Bulgaria's international airport is just outside of Sofia, or you can hop a train to other European cities. Your guide will help get you pointed in the right direction. Radvayte se na pytuvaneto!
Itinerary specifics subject to change.
Physical Demands
Our tours are physically active! It's an essential part of the Rick Steves tour experience. On our Best of Bulgaria in 12 Days tour — among other things — you'll need to happily...
Carry/roll your luggage over uneven pavement (possibly several blocks) and up stairways to reach your hotel, then up several flights of stairs to reach your room.
Be on your feet, walking and standing, for up to three hours, indoors and outdoors, in all weather conditions.
Sleep with street noise and no (or weak) air conditioning.
After orientation and transportation lessons, be able to navigate towns and cities on your own.
Walk up steep streets to the Tsarevets Citadel in Veliko Tarnovo.
Be content with rustic conditions during our one night stay at the Rila Monastery (possibility of sharing bathroom facilities and shortage of hot water).
Reviews
Kathleen
West Bloomfield, MI
Tour: 09/17/17
Overall rating:
This was a great way to visit Bulgaria. A nice circle tour with mountains, sea, and lots of history. Stefan was fabulous, so knowledgable and personable. A real pleasure to spend time with over 12 days.
Favorite "WOW" moment
"Group dinner in Plovdiv. That was a lot of fun and the food was excellent. Best dinner of the whole trip."
India
Eugene, OR
Tour: 09/17/17
Overall rating:
Overall we had an amazing time! We saw and experienced so much that we feel we have a real understanding of the country at the end of it. We appreciated the balance between guided and free time, and while it felt like there was a lot of standing around and listening more than walking and movement, we were able to make up for it later on our own, and were better equipped to explore because of the orientation. LOTS of churches and archeological museums... they started to blur together.
Favorite "WOW" moment
"Probably arriving in Veliko T?rnovo! What a stunning landscape! Jaw-dropping. Loved meeting the craftsman there. Loved the musical performance that night. I also loved the musicians on our last day in the small town whose name I can't remember. They were so great and gracious and good humored. That entire lunch in the freezing rain was such a beautiful experience and memory, I really loved it."
Linda
Torrance, CA
Tour: 09/17/17
Overall rating:
Favorite "WOW" moment
"Odd as it may seem, my was near the end of the tour that I realized that they do not use mayonnaise! Also, the peace and tranquility of our stay at the Rila Monastary."
Frederic
Fullerton, CA
Tour: 09/17/17
Overall rating:
Stefan was very knowledgeable, articulate and entertaining. My expectations were exceeded.
Favorite "WOW" moment
"The archaeological museum in Varna"
Jonis
Seattle, WA
Tour: 09/17/17
Overall rating:
Exceptionally interesting and enjoyable. Can't believe how much I learned on this trip. Very thoughtfully and carefully organized yet also possible to make last minute additions.
Favorite "WOW" moment
"Climbing up the cliff and seeing the Horseman. Learning that the main industries of Kazanlak are rose oil, Kremona stringed instruments and AK-47s. That says a lot about Bulgaria. Stepping out on the balcony of Hotel Gurko in Veliko Tarnovo and seeing the view across the city and down to the river. Truly wow!"
Betsy
Bainbridge Island, WA
Tour: 09/17/17
Overall rating:
I enjoyed it.
Favorite "WOW" moment
"The churches that were entirely covered with colorful frescoes at Arbanasi. I also enjoyed the Roma visit and visiting the traditional house at Arbanasi, and the visit to the traditional village near Sofia, and lunch with the musicians. Also the folkdance concert was excellent and a highlight. And staying overnight at Rila Monastery was great."
Mary Beth
Vernon Hills, IL
Tour: 09/17/17
Overall rating:
Stefan was a great guide and the tour group was a lot of fun. Nice selection of activities. I especially enjoyed the visits to the elementary school and the pre-school. Hotels were good. Very interesting stay at the Rila Monastery.
Favorite "WOW" moment
"Traveling up the mountains to the Rila Monastery."
Leah
Libertyville, IL
Tour: 09/17/17
Overall rating:
It was very good. RS took us to places that tourists wouldn't normally visit. I really appreciate that RS tells you exactly what you will do/get, how long you will be on the road, when you will arrive at your destination, when the bathroom stops will occur, and so on. There are surprises but only the good kind.
Favorite "WOW" moment
"At the Rila Monastery, we just happened to be there when the monk went by with the wooden thing calling people to prayer. I've never seen anything like it. I also loved the craftspeople in Veliko Tarnovo. We were able to see them demonstrate their trades and ask questions. I would have liked more time there."
Rose
Fairbanks, AK
Tour: 09/03/17
Overall rating:
This was my second RS tour; I'd do another. I am overall very pleased. I didn't have any real expectations of the tour or for that matter, ever really thought much about Bulgaria. It was a reasonably priced tour that I thought would be interesting, in a place I'd probably not travel alone, due mostly to the Cyrillic alphabet. I found it more interesting than I thought I would and it helped me make connections in my knowledge of history, culture and religion in that part of the world.
Favorite "WOW" moment
"I don't know that there was a wow moment but Rila was certainly a highlight."
Christine
Oklahoma City, OK
Tour: 09/03/17
Overall rating:
Bulgaria's got a lot to offer and, because of the way this tour is formulated, we dabbled in a smorgasbord of experiences. We had the good fortune to have a really great group to travel with and that only added to the experience. Stefan coordinated the people, the places, and the culture to create a unique trip. My overall experience was exceptional. It fulfilled the hopes I have for travel in general: meet new people, see new places, figure some things out, and enjoy the process. Done.
Favorite "WOW" moment
"The Rila Monastery is exquisite. This isn't time travel but, it's awfully close. Stefan interpreted the artwork on the exterior of the church, a sort of graphic depiction of what's up in the afterlife. Without his stories to accompany the art, I might have missed some of the best sins and the horrible punishments awaiting. I did enjoy this immensely. Thanks again, to Stefan!"
Randolph
Los Angeles, CA
Tour: 09/03/17
Overall rating:
Favorite "WOW" moment
"Monastery."
Terry
Lexington, KY
Tour: 09/03/17
Overall rating:
This tour surpassed my expectations. The friendliness of the Bulgarian people, the culture, history, music, and the unspoiled natural beauty all contributed to a unique travel experience. It's not crowded with other tour groups and the dollar goes a lot farther. Plus, the tour guide beams with pride for his country. Stefan added so much to this trip! Why Bulgaria? This was a question I was asked whenever I mentioned I was going on this tour. Now I say WHY NOT?
Favorite "WOW" moment
"When I opened the drapes in my room in Sofia and I could see the golden domes of the Alexander Nevski Cathedral sparkle in the sunlight. (pretty cool view at night also)"
Kendyll
Redwood City, CA
Tour: 09/03/17
Overall rating:
Much like other tours, I felt that I got a sense of Bulgaria. However, compared to other RS tours, we spent a lot more time with Bulgarians who were not local guides - an economist who advises the government gave us an overview of the economy, a Roma woman who has served as a liaison between the local government and her community hosted us for lunch and answered questions about Roma people, a mayor of a small village talked about the most important issues facing his community, artisans. Wow!
Favorite "WOW" moment
"There were many - seeing the Roma community and looking at the the family photo album of the multi-day wedding of their daughter, seeing the rock carving, talking with local artisans in Velika Tarnavo, Also the fellow travelers were the best group I traveled with - full of curiosity and asking interesting questions."
Jonel
Lexington, KY
Tour: 09/03/17
Overall rating:
I loved this tour! In so many small ways, our guide, Stefan, made this a truly extraordinary experience, from the "welcome bag" when we first arrived at the hotel to the sprig of geranium he gave each of us at the introductory meeting as the Bulgarian symbol of "good health and good wishes" to his keen wit and great story-telling and his attentiveness to the comfort of all the tour members. His passion for his work and his country are obvious and contagious.
Favorite "WOW" moment
"So many of them! These come to mind immediately: The first glimpse of Sofia's St. Alexander Nevski Cathedral; the Rila Monastery--its beautiful, serene setting, its architecture, being able to spend the night and see it in the early morning light; the excellent condition of so many of the ancient artifacts in several of the museums (far superior to most others I've seen); the crafts shops in Veliko Tarnovo; the musical talents of the young girls (and the rest of their family) in Glogovo..."
Mary
Brier, WA
Tour: 09/03/17
Overall rating:
Favorite "WOW" moment
"The history of the Rom population. I am doing more reading about their culture, conditions and future."
Harry
Poulsbo, WA
Tour: 09/03/17
Overall rating:
Stephan is exceptionally well organized. The two booklets he produced and provided to tour members were very helpful and informative.
Favorite "WOW" moment
"Rial Monastery"
Kay
Poulsbo, WA
Tour: 09/03/17
Overall rating:
We had a wide variety of experiences in Bulgaria. We explored history from 5000BC to Present. Bulgaria is freckled with Thracian tombs, Roman ruins, Byzantine churches, mosques and concentration camps. I swam in the black Sea and enjoy a concert in a Roman Theater. The crafts people in Veliko Tarnovo we extremely interesting. We Visited ethnic groups in two communities. A Great 'WOW' was learning how the Bulgarian president and people protected the Jews from transport in WWII.
Favorite "WOW" moment
"WE visited the Roma community. Our lunch hostess was a community leader. She told us about conditions in their town. That night I dreamed of ways to start a campaign to improve their conditions. When I woke in the morning I said a 'WOW' as I realized the impact her story had on me. In my dream I sorted through various scenarios but was never able to settle on one I was sure would make a positive impact for her efforts."
Ruth
Eugene, OR
Tour: 09/03/17
Overall rating:
Our overall tour experience was shaped by our outstanding tour guide, Stefan. We enjoyed the cities that we visited for their architecture and unique Bulgarian history. The pace of the tour made for comfortable travel. We enjoyed the easy balance between group time and independent time. The bus and our bus driver, Ilya, offered pleasant travel between cities (comfort & adequate rest stops). The school, civic, and cultural arts visits enhanced our impressions of Bulgaria.
Favorite "WOW" moment
"Rila Monastery and/or the nighttime light and music show in Veliko Tarnovo."
Marie
Portland, OR
Tour: 09/03/17
Overall rating:
MY experience was very positive. Tour was well organized, educational, easy to experience and fun. Stefan was an excellent guide.
Favorite "WOW" moment
"How can you not have many wow moments in a new place with new people??? One of my favorites was the museum in Varna - so many historical time periods with excellent artifacts. I felt as if I was in a time machine."
Betty
Libby, MT
Tour: 09/03/17
Overall rating:
I have had Bulgaria on my bucket list for several years and finally had the opportunity to go. The Orthodox church has fascinated me for many years. I was so charmed with the country and found the thousands of years of history to be fascinating.
Favorite "WOW" moment
"Stephan took us to see the light show over the medieval fortress in Veliko Tarnovo. It was so beautiful and unexpected."
David
Columbia, MD
Tour: 06/25/17
Overall rating:
I feel very positive about the tour. The group we traveled with was exceptionally compatible. All of us got along very well. Stefan was a very knowledgeable guide. He was very patient in responding to questions and I cannot recall any questions that he could not instantly answer in detail. I learned much about each place we visited in Bulgaria. Each day started at a decent time so there was an opportunity to sleep a reasonable amount. The amount of free time was just about right.
Favorite "WOW" moment
"The Rila monastery that we visited was the highlight. The paint job on the buildings was outstanding. The service that we attended was interesting. The interior of the buildings was also interesting. The monastery's museum was outstanding and provided an understanding of the monastery's history. The environment with its mountains and rivers was beautiful. The dinner at a local restaurant was very good."
Elizabeth
Stoke On Trent,
Tour: 06/25/17
Overall rating:
The accommodation and food was of a good standard. The tour has a range of places to visit, historical sties, museums and places on the black sea. I enjoyed the range of things to do and there was a good balance of organized activities and free time.
Favorite "WOW" moment
"We visited the Boyana Church which is in Sofia but not on the Rick Steve's Tour. It is a World Heritage site and well worth the visit. Should be on the tour."
Gerry
Santa Monica, CA
Tour: 06/25/17
Overall rating:
Another awesome Rick Steves tour. Very well organized and balanced. Great group of fellow tour members, led by a great guide. Bulgaria is not as glamorous, sophisticated, exotic, cute, or well-paved as some other places in Europe, yet we thoroughly enjoyed being there and learned a lot about a fascinating part of the world that was previously obscure to us. Other than the intentionally stoic night at the monastery, travel was comfortable and sometimes even luxurious.
Favorite "WOW" moment
"The Bulgarian countryside's expanse of bright yellow sunflower fields, contrasted with the vertical forest of the Rila mountains--as if we were traveling through the Land of Oz."
Nancy
Plain City, OH
Tour: 06/25/17
Overall rating:
The Best of Bulgaria was my first Rick Steves tour. On this trip, we were able to experience the diverse history and culture of Bulgaria up close and personal. We never waited in any lines and none of the sights were crowded. Many of the artifacts were not under glass, so we could get as close as possible to them without setting off the alarms. We experienced a true sense of Bulgaria in the food, adult beverages, music and diversity of villages. The trip was well planned and organized.
Favorite "WOW" moment
"Our over night stay in and touring of the Rila Monastery was a "wow" experience, in so many ways. The monastery was beautifully imposing and awe inspiring. The quiet, the cooler mountain air, enclosed us in cloister experience. our rooms were spare but charming. Attending an Orthodox evening mass was unforgettable."
Veronica
Macedonia, OH
Tour: 06/25/17
Overall rating:
Learning about the history, geography, culture and people of Bulgaria was a wonderful experience. Everything ran smoothly, despite the heat and storms. Thoroughly enjoyable. I especially like the very thoughtful welcoming package that Stefan prepared for us which included a wonderful booklet that had a map of our route and a page a day itinerary that was so helpful.
Favorite "WOW" moment
"The times we spent with people: the Q&A with the economist in Sofia, the visit to the Roma village, the meeting with the mayor and the lunch at home of residents of Glogovo. The beauty and serenity of the Rila monastery."
Sylvia
Edwardsville, IL
Tour: 06/25/17
Overall rating:
Enjoyed the variety of activities and meeting the tour guests. As a solo traveler I always felt included.
Favorite "WOW" moment
"ST. Stefan church in Nessebar. It seemed out of place amongst the mass of tourist."
Rodney
Cleveland, OH
Tour: 06/25/17
Overall rating:
This was for me the New Turkey Tour. Thank you Isis! Bulgaria also thanks you. I enjoyed every aspect of our trip except for the name game. Stefan quickly invited a variation of the game which proved to be less stressful. At my age it is hard enough just remembering my own name and the name of the last place that we just visited. This was a very joyous trip because we visited cities, villages, towns, schools, churches, a vintner, a mayor, a politician and we met Stefan's mom.
Favorite "WOW" moment
"This was my eighth Rick Steves' Tour. Each tour is a wow moment. I can count on Uncle Rick to include something or someone actually unforgettable in each tour package."
Kevin
Fort Lauderdale, FL
Tour: 06/25/17
Overall rating:
The country AND tour AND travel companions AND guide were exceptional! This is the only way to see Bulgaria given the challenges of the Cyrillic alphabet and lack of street signs in most cities. What we saw in 2 weeks would have taken 4 as independent travelers and we would not have been exposed to the Roma community, which was enlightening. Bus travel was typical Rick Steves: Very comfortable with a great driver. Enjoyed the location of all hotels and the included meals were very nice.
Favorite "WOW" moment
"In reality, Bulgaria is not the typical European destination. Instead of having WOW moments, I can best summarize the trip as being about the journey, not the destination. Each day was loaded with enjoyable activities, sights, food, culture and education. A major plus was the surprisingly uncrowded atmosphere which one would never experience in Western Europe during the summer."
Linda
Columbia, MD
Tour: 06/25/17
Overall rating:
I was not looking forward to this trip and I ended up having a wonderful time. Bulgaria had much more to offer then I expected. Our guide, Stefan, made the difference between having a so-so trip and having having an trip that offered education and fun leading to a very positive tour experience.
Favorite "WOW" moment
"I loved the days we spent on the Black Sea."
Dennis
Oakland Park, FL
Tour: 06/25/17
Overall rating:
Had a wonderful time exploring Bulgaria. Our guide, Stefan was the best I have ever experienced. The group mostly educators were very well traveled and easygoing
Favorite "WOW" moment
"Probably the tomb from around the 5th century"
Fabia
Bethesda, MD
Tour: 06/25/17
Overall rating:
The tour was excellently planned, down to the smallest detail, and had a very good balance of touring and free time. The materials prepared for us were well organized and very helpful. The hotels and food were excellent. The cities and towns we visited were carefully chosen to illustrate both the complex history of Bulgeria and its modern life. We learned so much about the country and the different ethnic groups who live there.
Favorite "WOW" moment
"I was very moved by our visit to a Roma school and community, especially by a six-year-old Roma girl who had lost her parents, but who was obviously loved and cared for by her teachers. I felt very privileged, as a Westerner, to be invited to their school to hear traditional stories and songs and to their village to learn about their culture and to share a meal."
David
Edmonds, WA
Tour: 05/21/17
Overall rating:
This was our first Rick Steves tour and we were very pleased. Bulgaria is a fascinating country, and the tour guide, Stephan, was excellent. He is as knowledgeable and enthusiastic as possible, and the two compliment each other. Our group was very compatible; the folklore experiences were real [INVALID] not touristy or cheesy. We appreciated the moratorium on shopping and not having to buy anything from anyone. Food was great [INVALID] better than we had anticipated.
Favorite "WOW" moment
"There were many highlights. I liked seeing Sofia, the capital, and being able to compare it to other capitals in the former Yugoslavia. Bulgarians are justifiably proud of their long history, and the visits to ethnographic and archeological museums were very unusual. I think some folks on the tour eventually tired of them, but they are a key part of Bulgaria's history. I particularly enjoyed learning about the rich history of the area and being able to put it into a perspective of the region."
Jim
Seattle, WA
Tour: 05/21/17
Overall rating:
Our guide, Stefan, made the tour for us, see below. Beautiful country, lively, fashionable, educated young people, long fascinating history... This was our first Rick Steves tour, our second guided tour, we have traveled extensively independently. I liked: no name tags, no shopping while touring with the group, no complaining, no smoking, be punctual or get left behind, free time, meals on our own, tipping was taken care of, the bus driver drove safely and was cheerful,
Favorite "WOW" moment
"Lots of wow moments: Our guide Stefan. How far back Bulgaria's history goes. Many of the sights including tombs that pre-date Egyptian tombs. How fashionable and up to date the young people are."
Kristy
Los Gatos, CA
Tour: 05/21/17
Overall rating:
Our tour guide was really wonderful! His knowledge of the places we visited was excellent - he explained things very well and had excellent English skills as well. He taught us a little Bulgarian. He managed our group well, making sure we got to know each other and followed the rules - though he did so with a good sense of humor. We were all friends by the end of the tour. He gave us good reason to recommend the Bulgaria trip to our friends!
Favorite "WOW" moment
"Only one? Perhaps the times we visited children at their schools in a Roma village and a Moslem village later in the trip. This was a heart-warming experience that we could not have had on our own. Both times families treated to lunches in their homes after visiting the schools. They were warm and so kind to us!"
Blaine
Tacoma, WA
Tour: 05/21/17
Overall rating:
This was our 6th RS tour and, in some ways, the best. Much of that credit goes to Stefan's skills and character. As with all guides, he was very informed and enthusiastic. But, he was also more devoted to conveying detailed information in booklet form, such as hour-specific daily schedule.
Favorite "WOW" moment
"This was the most interactive tour we have taken and the first day on the road was filled with such insights. The visit to the Roma village, school program, lunch and interview with Roma host and then on to the Rila Monastery for an overnight stay was a powerful day."
Diana
Poway, CA
Tour: 05/21/17
Overall rating:
An excellent tour led by a superb guide, Stefan, who really knows his business. As with other RS tours, we had a wonderful group of fellow travelers with which to share the journey through Bulgaria. Seeing the country from west to east, meeting Bulgarians along the way, and gaining an understanding of a country that has experienced so much history from pre-Greek times through to the present, and learning how these people survived and are moving on from foreign occupations made the trip special.
Favorite "WOW" moment
""Wow" moments for this tour are those where we met and interacted with locals: visit/lunch in a Roma home and open discussion with a Roma woman; meeting students, teachers at school visits; discussion with the mayor of a local Muslim village; Q&A with a Bulgarian economist/politician. Guide Stefan, has cultivated sources throughout the country giving us the opportunity to meet people from all walks of life adding an invaluable dimension to our travels in a land that few of us knew much about."
Avrum
Milwaukee, WI
Tour: 05/21/17
Overall rating:
Rave, rave, rave. This is the first of the 6 Rick Steve's tour I have taken that I wish had gone on longer. Bulgaria is an extremely fascinating place and Stefan provided an excellent window on it and a framework in which to start to understand it.
Favorite "WOW" moment
"The folk dancing and singing on Day 10. Absolutely world class. Those folks are amateurs in the same way as the Russian Hockey team was at Lake Placid. Other highlights were the singing fountain in Plovdiv (which we saw on our own) and the golden burial from about 5000 BC at the museum in Varna."
James
Milwaukee, WI
Tour: 05/21/17
Overall rating:
It was wonderful. Magical even. I never thought Bulgaria was so beautiful, the food was so delicious and the people so nice. I had such a great experience. I am afraid other trips I take will pale in comparison.
Favorite "WOW" moment
"There were several but the one that stands out was in Sofia. Seeing the Alexander Nevsky Orthodox Cathedral in person.....WOW! The icing on the cake was going back to see it at nighttime all lit up in layers of colors."
Patricia
Edmonds, WA
Tour: 05/21/17
Overall rating:
WE loved our first Rick Steves tour. We felt is was well organized and we like the concept that has been developed and followed by the Rick Steves brand. We enjoyed meeting new people and found folks both couples and singles that we enjoyed. Our guide was knowledgeable and fun. The accommodations were interesting, much better than staying in four star western style hotels.
Favorite "WOW" moment
"Visiting the village of Glogovo was a highlight for me. Not so much the school, although that was interesting, but the lunch we had at the home of locals. It was a pure delight feeling a part of the culture, listening to the family singing and enjoying the countryside. It was a warm and wonderful afternoon."
William
Los Gatos, CA
Tour: 05/21/17
Overall rating:
Fantastic experience for this first time Rick Steves Tourer. I enjoyed the companionship of an interesting and well-travelled group, and the enthusiasm and knowledge of our guide, Stefan. Exciting and active itinerary, packed with gems like meeting locals in a variety of settings. Especially enjoyed going deep into the rich history of the region, which is the main reason I signed up.
Favorite "WOW" moment
"Difficult to pick one single "wow" moment - it could be anything from the initial orientation walk in Sophia with a good preview of things to come, followed by a wonderful dinner where I could see that I would love the food. Or, experiencing the pride and joy from various performances we were treated to (Roma children and teachers, kindergarten graduation in Glogovo, folk musicians and dancers, etc.). Even just watching locals strolling and relaxing on a Sunday afternoon in Varna was special."
Joe
Orlando, FL
Tour: 05/21/17
Overall rating:
I would gladly recommend this tour to other people. It is an eye-opening experience particularly wrt learning about the vast history that the Bulgarian people have lived thru from the Ottomans, to the communists, to the present day free Bulgarians. Our group was very congenial which made for a very comfortable time for all.
Favorite "WOW" moment
"Seeing all of the incredible frescoes in the Orthodox churches. We have seen Christian frescoes during various RS tours of Europe; but the vastness of the ones in the churches that our tour visited was overwhelming. Frescoes went from the from floor to the ceiling."
Bev
Seattle, WA
Tour: 05/21/17
Overall rating:
Thoroughly enjoyed Bulgaria...the group was outstanding...well seasoned travelers with good comments and questions. Our guide, Stefan was terrific!
Favorite "WOW" moment
"For me personally, there was no one wow moment. There were many. I am 69 years old, and it was really enlightening to see that Bulgaria had progressed so much from communism. There seemed to be an overall optimistic attitude. Stefan told personal stories of life under communism as a young child. That was both touching and brave. We all appreciated his candor."
Adaire
Anahuac, TX
Tour: 05/21/17
Overall rating:
I got a very thorough introduction to a very beautiful country. The trip was well planned and very interesting. My fellow tour members were awesome and I couldn't have asked for a better itinerary.
Favorite "WOW" moment
"Seeing the centuries-old ruins interspersed among the modern buildings in so many places, especially Nesebar"
Francie
Orlando, FL
Tour: 05/21/17
Overall rating:
I loved learning about the history and culture of an area I previously knew little about.
Favorite "WOW" moment
"The visit to the school and the performance presented by Roma children. We fell in love with several of the children."
Melanie
Oshawa, ON
Tour: 09/18/16
Overall rating:
Excellent. Very well organized. Questions concerning what's next anticipated and planned for. e.g. when is the next bathroom break. Good balance of free time and guided time. Also appreciated the balance of quiet time ( while on the bus) and on the bus lectures.
Favorite "WOW" moment
"After many years of staring at frescos but not really seeing them, it was lovely to have the stories they told explained and pointed out. Stefan's commentary was enlightening and his enthusiasm contagious. I shall look at frescos with new appreciation."
Jacqueline
Keene, NH
Tour: 09/18/16
Overall rating:
The tour was very well organized hitting the highlights of Bulgaria. Stefan was superb in that he could easily impart his extensive knowledge of Bulgarian history through the ages as well as Bulgarian culture. He was superb guiding the tour group through a number of archeological museums where he concentrated on the important exhibits. I also enjoyed his explanations of various religious frescos in churches that would have been difficult to grasp if one was touring on one's own.
Favorite "WOW" moment
"Staying in the Rila Monastery overnight."
Susan
Vancouver, WA
Tour: 09/18/16
Overall rating:
This was my first Rick Steves tour. We have used RS books to travel in Europe for the last 8 years. It was a pleasure to travel with like minded people but the high light was having constant access to a knowledgeable guide. This really enhanced the experience in Bulgaria. I enjoyed having multiple experiences with local people and experiencing the local current culture as well as the historical culture.
Favorite "WOW" moment
"The wow was the extensive knowledge from our guide whether he was discussing history, religion, politics, economics or geography."
Ruth Ann
New Ulm, MN
Tour: 09/18/16
Overall rating:
This was a great group of people. I learned about the history of Bulgaria. I met several interesting local women and men. Our guide was terrific. The weather was perfect. I ate too much -- the food was too good and the wine was wonderful.
Favorite "WOW" moment
"The cat curling up to me at our breakfast table in Tarnovo."
Leilani
Birmingham, AL
Tour: 09/18/16
Overall rating:
When friends ask about the tour I tell them it was very interesting, unexpected, educational, and exhausting! It's not a place I had ever thought about visiting, but I'm glad I did.
Favorite "WOW" moment
"I guess the wow moments were meeting the locals up close and personal. We had meals in both a Roma home and a Muslim home. Had not had that kind of opportunity on other tours (not Rick Steves) I had done."
Ronald
Houston, TX
Tour: 09/18/16
Overall rating:
A classic RS tour overall. This was our 8th tour with RS and everything went without a hitch. Our expectations were high based on previous tours and this one met those expectations generally, with some exceptions as explained.
Favorite "WOW" moment
"None, really. Compared with other locations in Europe, Bulgaria simply does not have the "wow" places to offer. But it was still worth going and to experience this country."
Lilette
Houston, TX
Tour: 09/18/16
Overall rating:
Wanted to see an area of the world not so much traveled and I was not disappointed
Favorite "WOW" moment
"The Rila Monastery visit"
Robert
Le Roy, NY
Tour: 09/18/16
Overall rating:
We found Bulgaria to be a very beautiful country, very different from the other countries in Europe that we have visited. We found the people to be very friendly and kind.
Favorite "WOW" moment
"I really liked the Rila Monastery. Accommodations were primitive, but we knew that going into it. It didn't detract from the beauty of the monastery one bit."
Mary
Vancouver, WA
Tour: 09/18/16
Overall rating:
I enjoyed my first ever tour experience. Tour members were welcoming, interesting, and well-traveled. Stefan, our tour guide, was an amazing font of information. Elia, our bus driver, quickly became a member of the group.
Favorite "WOW" moment
"My favorite "wow moment was Elia's home-made rakia. He shared it so generously. It was fabulous!"
Stewart
Portland, OR
Tour: 09/04/16
Overall rating:
Thracian plains with ancient tombs, Hidden by sunflowers and budding vineyards. Frescoed and icon-filled monasteries, Faithful and protected in forested mountains. Modern cities and seaside attractions, Connected by ancient trade routes. Serdica and Philippopolis! Roman, Russian, and Ottoman flavors. Your people exude your history. Bulgaria! You are a hidden gem. Great group. Great guide. Incredible history. What a wonderful experience!
Favorite "WOW" moment
"The Rila Monastery during the peaceful early morning was amazing[INVALID] what a blessing to visit such a place! Folk dancing with the local performing troupe in Gorna Oryahovitsa was such fun! All of the connections with locals, from the Roma community to the school kids to the people and families of Glogovo, were special. Swimming in the Black Sea! And frankly, just the glimpse of the golden domes of Alexandar Nevsky Cathedral in Sofia from our airplane! A great combination of wow moments."
Gloria
Hurley, WI
Tour: 09/04/16
Overall rating:
This tour was wonderful! I loved the variety of experiences - museums, churches, city walking tours, village stops, winery, good food and a wonderful tour group. We had lovely hotels including a monastery. My interest in Bulgaria was enriched beyond my expectations by arranged visits with Bulgarians - a professor and politician in Sofia, a mayor of a small Muslim village, teachers in a Roma school, preschool children and their director, and lunches in a Roma home and a Muslim home.
Favorite "WOW" moment
"The 8th century Cathedral of the Nativity at Arbanasi with it's incredible frescos and circle of life. I've looked at frescos in several churches on this tour and in Italy and Greece. But these seemed special to me. It is also the spot when it finally registered for me that all these fresco paintings were to tell the stories of the religion because most people in the middle ages did not read. Ah hah moment."
Taeko
N Bethesda, MD
Tour: 09/04/16
Overall rating:
Thoughtfully put together trip, with excellent guide (Stefan) who showed us cities, museums, with background history. When I learned where Bulgaria situates in the Balkan world ethnically, culturally, politically and historically, and most importantly, emotionally that opened my mind to that part of difficult and complicated world with "wow" sense. That process really gave me fun. This is just the beginning, and I will continue to learn more with better understanding and I thank your company.
Favorite "WOW" moment
"when we were let go free and chose things to do: try new food, try new streets and subway, try talking to the village people on our own, all within what Stefan set up for us though. We were safe to roam and with given guidance, we felt so secure. It was great to use some brain in a new place. When we got to know each other, I admired them all with what they do, how they do, and learned how each person operates. They were all fun."
Joanne
Charlotte, NC
Tour: 09/04/16
Overall rating:
Once again the tour group were folks who really appreciate getting into the country. Folks who know how to travel: respect "new" ways and "new" cultures: no grumps for sure. Bulgaria is almost another world for me: an east coaster with "easy" living. In Bulgaria I was shown vibrant city life despite their challenging history of suppression - people who enjoy being just where they are. Racial divides and differences were handled sensitively with respect for others (i.e. the Roma village)
Favorite "WOW" moment
"The faces! the somber monks at Rila Monastery, the school children presenting a program for us, the ancient lady just outside the nursery school who reigned supreme when we had unexpected free minutes before the nursery school children were ready for us - she relished the photo taking."
Phyllis
Tulsa, OK
Tour: 09/04/16
Overall rating:
Bulgaria, oh Bulgaria My aching feet salute thee. Over cobblestones, by Roman walls Onward, onward much more to see. Icons look down from above, No empty space exists. Eyes of saints look upon you, Are you on or off the list? Stefan leads, with Rosie in tow. Another church OH NO, OH NO! But Thracian kings and Ottoman Turks They will not hide or rest. Bulgaria, Oh Bulgaria There is just so much to see Another rakia, please!
Favorite "WOW" moment
"WOW, the Rila Monastery was so mysterious at night. WOW, all the Roman sites being exposed in the middle of the cities. WOW, the oldest known gold found in the world. WOW, watching an opera sung in French with Bulgarian "subtitles" on big screens, will sitting in the seats of a Roman amphitheater. WOW, having lunch with a Bulgarian family and their teenage daughter beautifully singing "Hallelujah." A lot of WOW moments"
Larry
Carmel, CA
Tour: 09/04/16
Overall rating:
I started with almost no knowledge of Bulgaria or expectations for the tour. I thought of Bulgaria as probably the least developed country in Europe. My gosh, was I positively surprised. Bulgaria is a land of deep and diverse history, culture and architecture, and great natural beauty. The people are very friendly and helpful. Stefan was a wonderful guide, so knowledgeable and passIonate about his country, culture and religion. Interaction with everyday Bulgarians was a highlight of this tour.
Favorite "WOW" moment
"(1) a lengthy opportunity to interact with "everyday" Bulgarians not involved in tourism services, like people in the Roma and Muslim minorities, was a special highlight of the tour; (2) on the morning of the Sunday the tour began, I happened on the Sunday mass at the Alekander Nevski Cathdral, and with the priests chanting, the choir singing and the strong aroma of incense, it was a mesmerizing and very spiritual experience."
Kathy
Wyoming, MN
Tour: 09/04/16
Overall rating:
Our tour was fantastic. Our tour guide Stefan was great. He gave us so much information on the history of Bulgaria and the people it was great. I couldn't have been more pleased. I would recommend this tour to anybody who is interested in history and the people of Bulgaria. It is a great country.
Favorite "WOW" moment
"The whole tour was a wow moment."
Donna
Seattle, WA
Tour: 09/04/16
Overall rating:
This is my 5th RS tour. And this is the best one I've been on. Between Stefan being so absolutely enthusiastic about his country to the food being great to having hotels rooms with balconies. This was the best RS tour I've been on. And this was a great group of travelers as well, we really gelled.
Favorite "WOW" moment
"The whole tour was a "wow", even the weather cooperated and was fantastic."
Steven
Arlington, VA
Tour: 06/26/16
Overall rating:
Bulgaria is somewhat of a mystery to most North Americans. This tour was outstanding way of getting to know more about Bulgaria and its history, art, customs, politics, contemporary issues, etc. As a result of this tour, I feel I know more about not only Bulgaria but also Eastern Europe, the Orthodox religious tradition, and the ancient world outside the empires of Greece and Rome. It was the best of the five Rick Steves tours I have taken to date.
Favorite "WOW" moment
"There were many highlights but the Church of the Nativity of Christ in Arbanasi was my "wow" moment. Of all the churches and religious sites visited, this church was special."
Alistair
West Vancouver, BC
Tour: 06/26/16
Overall rating:
Stefan is incredibly well organized. Very much appreciated his welcome package at the hotel pre-tour and the prep he had done with each of the places we stayed in. Pleasantly surprised with Bulgaria and looking forward to going back to the Balkans to see more. People were friendly, food and wind outstanding. 5 hour orientation in Sofia w/o break was too long. Net free time not usable. Should be all day with a short coffee break and a lunch break.
Favorite "WOW" moment
"Being in ancient Thrace, the mound tombs and treasures."
Ray
Mentor, OH
Tour: 06/26/16
Overall rating:
Not sure if anyone could have done a better job of leading a tour of this country than Stefan based on his knowledge and experience of the history, the culture, the politics, religion and all other dynamics within Bulgaria. His energy, passion, enthusiasm and patience throughout the tour were commendable. All of the feedback among the 23 other participants was positive throughout the 12 day event.
Favorite "WOW" moment
"Time spent in Nessbar along the Black Sea coast including the beauty, the history, the various shops, the restaurants and the location of our hotel made this a wow moment for me. Other significant moments included the Bulgarian folk performance at a 500 seat theater near Velika Tarnova. Hard to believe that Stefan could arrange a show just for our tour group! And then there was the Bulgarian Symphony concert performing Hollywood movie themes in the 2nd Century Roman Theater in Plovdiv. Wow"
Howard
Providence, RI
Tour: 06/26/16
Overall rating:
well run and organized trip. super excellent background info by tour guide
Favorite "WOW" moment
"bulgaria isn't that type of trip"
Barbara
Berkeley, CA
Tour: 06/26/16
Overall rating:
Go to Bulgaria. It's a beautiful country with Thracian mounds, archaeological museums, Orthodox churches, mountainous monasteries, red wine and Black Sea Resorts. And our tour guide Stefan is a one-man show with tremendous knowledge of all things Bulgarian. I couldn't have asked for a better guide and group of veteran Rick Steves' travelers to enjoy this country.
Favorite "WOW" moment
"My favorite "wow" moment was in Plovdiv after a fabulous dinner at a neighborhood restaurant and then sitting outside the amphitheater listening to the Bulgarian symphony play Hollywood show tunes. A lovely, warm night in one of the oldest inhabited cities in the world--who could ask for more. My other "wow" moment was seeing the Alexander Nesky Cathedral in Sofia for the first time as we rounded a corner."
Michael
Irvine, CA
Tour: 06/26/16
Overall rating:
Our guide was the best, our group was filled with good people, Bulgarians we met were warm and interesting and accepting. This is one of the best tours I've been on, with many special moments.
Favorite "WOW" moment
"Plovdiv. There was a vibe in the air when our group walked out of our Plovdiv hotel on that warm summer weekday evening on our way to dinner, through the squares, gardens, and pedestrian areas of this friendly city. Children were playing, people were enjoying themselves, cafes were open, life was good. One of those undefinable moments that made me happy to be alive there and then."
Kathy
Irvine, CA
Tour: 06/26/16
Overall rating:
Favorite "WOW" moment
"This was definitely an all around "WOW" tour! The Rila Monastery, Plovdiv, and Glogovo were particular favorites. The school visits and lunches with local families were a real treat."
Mary
Poulsbo, WA
Tour: 06/26/16
Overall rating:
Bulgaria is a fascinating country with such a rich history. I thoroughly enjoyed our time here! Each day was full of surprises. The tour was well timed and well paced, full of variety, exploring the remains of ancient cultures as well as modern life.
Favorite "WOW" moment
"I especially enjoyed the Rila Monestary. Such a stark contrast with city life."
Kenneth
San Jose, CA
Tour: 06/26/16
Overall rating:
Very enjoyable and well organized. A great group of travelers.
Favorite "WOW" moment
"Experiencing an overnight in the Rila Monastery was unique with the 14th century architecture (although subsequently rebuilt)and the site's importance in preserving Bulgarian culture during the Ottoman era."
Linda
San Jose, CA
Tour: 06/26/16
Overall rating:
Bulgaria is a fascinating country and the tour included many great experiences, epitomizing the RS "Through the Back Door" philosophy. We had opportunities to meet individuals and engage communities that exemplified the many facets of a complex culture. Stefan, our guide was the perfect host.
Favorite "WOW" moment
"It is difficult to choose just one experience. Staying overnight in Rila Monastery was a privilege. Meeting the children and walking through the Roma village was engaging and heart-warming. The folk dancing performance was just lovely."
Weather

Bulgaria/Sofia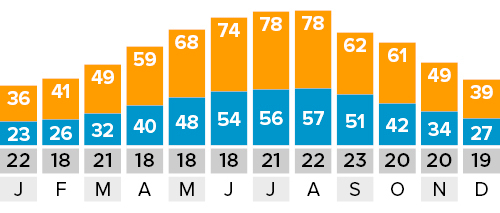 Pre-Tour Planning
We've put together some specific information on what you should know about this tour before you go. You'll also find more general information about "Getting Ready for Your Tour" on our Tour FAQ.
Trip Resources
Learn more about Bulgaria: Check out a collection of Rick's TV shows, radio interviews, and articles, plus recommended books and movies.
Tour Hotels
In case you wish to book pre- or post-tour hotel accommodations, the contact information for the tour's first and last hotels is included in your tour confirmation email. About one month prior to the tour departure, we'll email you directions on how to get from the airport to your first tour hotel, as well as the complete list of hotels where we'll be staying while on tour.
Transportation
Many tour members arrive a day or two before the tour begins — and those who don't, wish they had. This allows you ample time to get over jet lag and make the most of the first few days of the tour.
There is more than one way to get to and from your tour. Most tour members fly in and out of Sofia, using another European airport (such as London or Frankfurt) as their "hub" to connect with flights to and from the US. Your travel agent can help you find what works best for you.
Sofia is becoming a key transportation point in the Balkans, making additional travel plans before or after your tour surprisingly easy.
For information about flying within Europe, ask your travel agent or check Rick's list of European budget airlines.
Read Rick's train travel and rail pass tips to decide if your travel plans merit a rail pass.
If you have additional European travel or tour questions, contact the Tour Department at 425-608-4217 or email tour@ricksteves.com.
Sightseeing on Your Own
If you arrive in Sofia before your tour begins, ride the public transportation, try out a few words of Bulgarian, and get over your jet lag with lots of fresh air and exercise.
Here are suggestions for sightseeing in Sofia that we will not be doing as a group: National Art Gallery, Ethnographical Museum, National Museum of Military History, Sofia City Art Gallery.
See the Lonely Planet Romania & Bulgaria guidebook for more pre- and post-tour sightseeing possibilities. Your tour guide will also be happy to help you with post-tour plans.
Packing
We will be visiting many Orthodox churches throughout the tour where women are expected to cover their heads with scarves. You may want to bring one along or purchase a scarf upon arrival in Sofia.
For more advice on what (and what not!) to pack, see Rick's packing tips.
Special packing note: We use an audioguide system for many of our sightseeing and museum tours. If you wear a hearing aid, we strongly recommend bringing headphones that go over your ears to allow you to fully enjoy these tours.