Prague

Prague's Charles Bridge

Kraków

St. Mary's Church in Kraków

Hungarian School Visit

Hungarian Parliament in Budapest

Budapest's Castle Hill

Croatia's Plitvice Lakes

Rovinj, Croatia

Slovenia's Lake Bled
Tour Questions? See our FAQ | Call 425-608-4217
Best of Eastern Europe in 15 Days Tour
Starting in beautifully preserved Prague, for 15 days you'll experience the rich diversity of Eastern Europe, from the energetic cities of Kraków and Budapest to tradition-rich "back door" towns and villages across the Czech Republic, Poland, Hungary, Croatia, and Slovenia — including the waterfall wonderland of Plitvice and the picture-perfect alpine beauty of Lake Bled. Join us for the Best of Eastern Europe in 15 Days!
Dates & Prices
What's Included
You'll get at least 19 group sightseeing events — at no extra cost!
Here's what you'll see and do on our Eastern Europe tour:
Historic Prague walking tour
Prague Castle
St. Vitus Cathedral
St. George's Basilica (when available)
Auschwitz-Birkenau concentration camp (when available)
Kraków walking tour
Kraków's Wawel Cathedral
Kraków's St. Mary's Church
Eger orientation walk
Local school visit
Hungarian wine tasting
Pest walking tour
Walking tour of Buda's Castle Hill
Matthias Church
Danube River cruise
Plitvice Lakes National Park
Adriatic happy hour
Ljubljana walking tour
Lake Bled boat cruise (weather permitting)
Plus you'll get all this, too.
A small, friendly group of 24–28 people — half the size of most tour groups
Full-time services of a professional Rick Steves guide and local experts who will make the fascinating history, art, and culture of Eastern come alive for you
All group transportation from Prague to Lake Bled, Slovenia
14 nights' accommodations (4- and 3-night stays) in memorable, centrally located hotels
All breakfasts and half your dinners
All tips for guides and driver
A tour kit including a guidebook (when available) and a moneybelt
Guaranteed tour price, locked in the moment you make your deposit
Tour alum discount of $50 for each tour you've taken prior to 2022
50% discount on a consulting appointment with our in-house experts to assist with your pre- or post-tour travel plans
Flexibility should you need to transfer or cancel your tour
Fine print: You are responsible for the cost of your drinks and free-time sightseeing. See our Tour Conditions for important details regarding everything listed above.
Group sightseeing events subject to change.
Itinerary
Day 1: Welcome to Prague
We'll meet at our hotel at 3 p.m. to get acquainted and preview the adventures ahead. This afternoon we'll jump right in and enjoy a meandering walking tour from our neighborhood to Prague's colorful and historic Old Town Square. We'll end our evening over a hearty dinner together.
Moderate walking: 2–6 miles throughout the day with some hills and stairs. No bus. Sleep in Prague.
Day 2: Royal, Prestigious Prague
This morning we'll hop aboard a local tram to take us across the Vltava River and up the hill to the most massive castle complex in continental Europe: Prague Castle. We'll tour the impressive St. Vitus Cathedral, Old Royal Palace, St. George's Basilica (when available), and the Golden Lane. You'll then have free time for lunch and more sightseeing on your own. This evening is a great time to catch a classical concert or experience the quirky and uniquely Czech Black Light Theater.
Strenuous walking: 2-8 miles throughout the day with lots of hills, stairs, and uneven terrain. No bus. Sleep in Prague.
Day 3: Moravian Countryside and Kraków
Today we'll leave the city and drive east into mountainous Moravia, stopping along the way to enjoy some free time for lunch and exploration. Then we'll cross into Poland on our way to tonight's destination: the surprising city of Kraków, Poland's cultural crossroads and melting pot. We'll take an orientation walk to the lively, historic market square and enjoy a traditional Polish dinner together.
Light walking: 2–4 miles throughout the day on mostly level terrain. Bus: 7 hours. Sleep in Kraków.
Day 4: Historic Kraków
This morning we'll meet a local guide and wind our way through the story of Kraków. We'll marvel at Wawel Castle, the spiritual home of the Polish nation, and Wawel Cathedral, the resting place of Polish royalty and saints. We'll visit historic St. Mary's Church — the only tower in the world where a bugler has played every hour for the past 600 years (and boy is he tired). We'll also learn about the life and impact of local legend Pope John Paul II as we trace his footsteps on our walking tour through the heart of Kraków. Your afternoon is free to discover more of this pleasant city on your own. Visit a museum or two, or go rent a bike!
Moderate walking: 2–6 miles throughout the day with some hills and stairs. No bus. Sleep in Kraków.
Day 5: Lessons of the Past
This day takes on a very different tone, as we visit the concentration camp site of Auschwitz-Birkenau (when available), where at least 1.1 million innocent people were systematically murdered during World War II. Today, this is a powerful place for learning, reflection, and remembrance. After we return to Kraków, your evening is free.
Moderate walking: 2–6 miles throughout the day with some hills and stairs. Bus: 3 hours. Sleep in Kraków.
Day 6: Drive to Eger
We'll begin our morning with a drive through the scenic Tatras Mountains and the rolling hills of Hungary's famous "Bull's Blood" wine-growing region. Our destination is the town of Eger, where the townspeople (with some help) turned back an Ottoman invasion of central Europe in 1552. Our day will end with a Hungarian dinner near the town of Eger.
Moderate walking: 2–6 miles throughout the day with some hills and stairs. Bus: 8 hours. Sleep in Eger.
Day 7: Hungary, Great and Small
This morning, you'll have time to soak in Eger's Baroque beauty. Later we'll visit a local school, where we'll sit down and chat with a teacher and enjoy lunch together in the cafeteria. Then we'll learn about the region's deservedly famous wines with a tour and tasting at a local winery. Our destination this evening is Budapest, the mighty Magyar capital on the Danube, where after an orientation walk, we'll enjoy dinner together.
Light walking: 2–4 miles throughout the day on mostly level terrain. Bus: 4 hours. Sleep in Budapest.
Day 8: Bustling Budapest
The rich history of Pest has created a city that's a puzzle of neo-Baroque, neo-classical, and modern architecture. On our walking tour this morning, we'll crane our necks at Europe's largest parliament building and learn how Hungarians coped with half a century of fascist and communist tyranny. We'll break for lunch, giving you free time to wander through the Great Market Hall — an architectural gem and the city's largest indoor market — and treat your senses to a few paprika-infused delicacies. Later this evening, we'll end our day together with a relaxing cruise on the Danube.
Strenuous walking: 2–8 miles throughout the day with lots of hills, stairs, and uneven terrain. Boat: 1 hour. No bus. Sleep in Budapest.
Day 9: Old Budapest
Today we'll focus on the Buda side of the Danube, starting up on Castle Hill for a bird's-eye view of sprawling Pest, followed by a walking tour that takes us past the imposing Royal Palace and into Budapest's greatest church, the sumptuously gilded Matthias Church. When we've finished here, your guide will be happy to orient those interested to the ornate and traditional public thermal baths.
Moderate walking: 2–6 miles throughout the day with some hills and stairs. No bus. Sleep in Budapest.
Day 10: Natural Wonders of Croatia
After breakfast we'll drive out of Hungary and into Croatia. Just across the border, we'll be welcomed with a fresh, family-prepared lunch in a pleasant farm setting. Then we'll drive on to our destination, the deep greens and blues of Croatia's water wonderland and one of Europe's premier nature preserves: Plitvice Lakes National Park. After dinner together, you'll sleep soundly, surrounded by the quiet of nature.
Light walking: 2–4 miles throughout the day on mostly level terrain. Bus: 7 hours. Sleep in or near the national park.
Day 11: From the Forests to the Sea
This morning we'll hike along rustic boardwalk trails connecting the idyllic forests, travertine stone cliffs, clear blue lakes, and gushing waterfalls of Plitvice Lakes National Park. We'll learn how the park is creatively protecting its delicate environment, including the use of electric trams and boats. We'll take a lunch break to replenish ourselves, then give our legs a rest as we drive to the Istrian peninsula on the Adriatic Sea. Our destination is the enchanting seaside town of Rovinj, where we'll enjoy a sunset dinner.
Strenuous walking: 2–8 miles throughout the day with lots of hills, stairs, and uneven terrain. Bus: 4 hours. Sleep in Rovinj.
Day 12: Free Day in Rovinj
Take a "vacation from your vacation." The entire day is yours to enjoy the sun, gelato, seafood, and lazy ambience of Rovinj. Wander through the narrow streets, watch local fishermen bring in the day's catch, or head to the beach for sun and a swim. We'll compare notes at an informal happy hour early this evening.
Light to strenuous walking (your choice). No bus. Sleep in Rovinj.
Day 13: Slovenian Countryside and Ljubljana
Today we'll head to the azure jewel of Lake Bled, at the foot of Slovenia's Julian Alps. Along the way, we'll stop in Ljubljana for a tour highlighting some of the city's famous landmarks and free time to make your own discoveries. After exploring the capital, we'll continue through the verdant Slovenian countryside on our way to our final destination: a pristine lake ringed by forests and hiking paths.
Light to strenuous walking (guide's choice). Bus: 5 hours. Sleep in Bled.
Day 14: Delightful Lake Bled
Today we'll take a traditional pletna boat ride together to Lake Bled's chapel-topped island, where local tradition requires each would-be husband to carry his bride up the 99 steps from the boat dock to the church at the top (four in five are successful). Your afternoon is free to hike to the castle and its panoramic viewpoint, take a scenic walk around the lake (stopping for a kremšnita cream cake), or rent a bike to explore even more. Tonight we'll rendezvous for a special dinner together, sharing travel memories and toasting new friends. Na zdravje!
Moderate walking: 2–6 miles throughout the day with some hills and stairs. Boat: 1 hour. No bus. Sleep in Bled.
Day 15: Tour Over After Breakfast
Breakfast is provided, but there are no group activities today. Ljubljana's airport is just 30 minutes away, and there are nearby train connections to Munich, Vienna, and other European cities. Whatever your plans, your guide will help you get on the right track. Na svidenje!
Itinerary specifics subject to change.
Physical Demands
Our tours are physically active! It's an essential part of the Rick Steves tour experience. On our Best of Eastern Europe in 15 Days tour — among other things — you'll need to happily…
Carry/roll your luggage over uneven pavement (possibly several blocks) and up stairways to reach your hotel, then up several flights of stairs to reach your room.
Be on your feet, walking and standing, for up to four hours, indoors and outdoors, in all weather conditions.
Sleep with street noise and no (or weak) air conditioning.
After orientation and transportation lessons, be able to navigate towns and cities on your own.
Reviews
Jonnathan
Lafayette, CA
Tour: 10/04/19
Overall rating:
Super! Very educational and enjoyable at the same time. Had a great time interacting with fellow travellers who were all really easy-going and nice people.
Nicholas
Warren, MI
Tour: 10/04/19
Overall rating:
My wife and I had an absolutely amazing time on this trip. Peter was an amazing guide in addition to the amazing group of fellow travelers. We appreciated all the helpful tips we received at booking and prior to the trip from the Rick Steves' staff and Peter himself. We always knew the planned path forward and as "over planner" myself, I greatly appreciated always being in the know. It was wonderful to have someone else in charge of all the logistics for change.
Favorite "WOW" moment
"The day trip to Auschwitz and Birkenau was powerful and a day I will never forget. I will not say it was my favorite, but the drained feeling at the end of the day is arguably a "wow" factor in and of itself. We loved Plitvice Falls in Croatia, Vintgar Gorge near Bled, all of Krakow, and the nighttime cruise along the Danube was incredible."
Andrea
Stillwater, OK
Tour: 10/04/19
Overall rating:
From our first meeting to the last the leadership, Peter, was exceptional. He set the tone for the tour of openness, friendliness and cooperation. The tour group was exceptionally in its interaction with all participants. Sam, our bus driver, was incorporated into our group at the first meeting. Having a slightly smaller group was nice. I enjoyed every event during the tour.
Favorite "WOW" moment
"I've thought about this a lot. My first reaction was to name Peter as the wow moment - he is very good. However, in the midst of such varied activities I believe the visit to Wawal Castle and cathedral would be that event. The cathedral is truly beautiful and intriguing."
Karen
Lagrange, GA
Tour: 10/04/19
Overall rating:
As usual, the Rick Steves tour was amazing (my 5th). The planning put into the tour was excellent. All logistics were seamless. Peter was such a fantastic guide. He is really excited about the heart of Europe and willing to share his knowledge. Hotels were great. The food from that area of a Europe is not my favorite, but there were so many options. We were so busy taking in history and sights at the beginning that it was nice to slow down the last few days and see the scenery.
Favorite "WOW" moment
"So much WWII history and the horrors the people endured. The Schindler Museum gave a very thorough background. Krakow and Budapest are lovely cities. So many wows"
Marie
Kenmore, WA
Tour: 10/04/19
Overall rating:
Favorite "WOW" moment
"How can you confine it to just one? Maybe it was Rovinj, where we stayed in a 5-star hotel, beautifully situated between the town to one side and the nature preserve on the other. It made for a perfect day of exploration."
Jacqueline
Cody, WY
Tour: 10/04/19
Overall rating:
This was an amazing tour--the perfect mix of interesting and fun travel companions; five countries, five languages, five currencies; a mix of large cities, smaller cities, small towns, seaside, countryside, a national park, and Auschwitz in its own category; along with expert guidance with free time; all made possible by our exceptional guide, Peter, and our expert driver, Sam. I can't say enough about the planning and execution of every detail that made this Heart of Europe tour outstanding!
Favorite "WOW" moment
"There was really nothing on this Heart of Europe trip that didn't leave a lasting memory. The small town feel of wandering in old Prague, the National Museum in Krakow, the overwhelming feeling of loss of Auschwitz, the camera obscura in Eger, the bustle and ease of movement in Budapest along with a philharmonic concert at the art deco Liszt museum, the hike in Plitvice Park, the Roman ruins in Pula, delightful small town Ljubliana, and exquisite Lake Bled. And Guide Peter!! Wonderful trip!"
Richard
Littleton, CO
Tour: 09/29/19
Overall rating:
This was our first Rick Steve's tour. The question we get a lot is "would you do another one" and the answer is yes. Our tour guide Katerina was outstanding and our tour group was great. Overall the "Best of Eastern Europe in 15 Days Tour" exceeded our expectations. (Should be called The Best of CENTRAL Europe, but that is for another write-in.)
Favorite "WOW" moment
"Being this was our first Rick Steve's tour, I can't say that there was just one/favorite "wow" moment. Everyday there was a "wow" moment - each day when I woke up - it was "wow" look at all of the things I get to experience for the first time."
Darlene
Woodinville, WA
Tour: 09/29/19
Overall rating:
Katerina was an excellent guide to make the tour outstanding.
Favorite "WOW" moment
"Krakow was my "wow" moment. I have always wanted to see Poland!"
Behrooz
Huntington Beach, CA
Tour: 09/22/19
Overall rating:
We had a safe and exciting trip through Eastern Europe with background info to prepare us to enjoy our special interest
Favorite "WOW" moment
"visitingso many beautiful scenic places. Defiantly Cruise on the danube Plitvice Lakes and Lake Bled Gorge were some of my Wow moments"
Gary
Denver, CO
Tour: 09/20/19
Overall rating:
There was a lot to see in 15 days. Covering so much in that amount of time, I know that there was so much we couldn't see. This isn't a complaint. I truly enjoyed getting a good exposure to so much. Peter, our guide, was great. He was very knowledgeable about everywhere we went and the supplemental knowledge with the other guides in each city was excellent. Hearing of Peter's experience of his first 15 years living under Communism and the changes he saw afterwards was one of the highlights.
Favorite "WOW" moment
"I suppose visiting Auschwitz couldn't help but be a wow moment but all the other sights and information on the Nazi and Communist experience made my head go "WOW"."
Cheryl
Santa Barbara, CA
Tour: 09/13/19
Overall rating:
This was our first Rick Steves tour and we were not sure what to expect. We were pleasantly surprised with an amazing tour! We are already discussing which tour we want to go on next and how long it will to take to save for the next one.
Favorite "WOW" moment
"There were many amazing moments and sites on the tour, we saw so much and learned so much. I would have to say our guide, Katka, was a WOW moment the whole trip. She was a wealth of knowledge, told personal stories, was so well educated in the countries we visited, spoke all the languages, and taught us so much. I absolutely loved learning so much from her."
Edward
Atherton, CA
Tour: 09/08/19
Overall rating:
The experience was different than our last tour -- the Best of Italy. In addition to seeing a new part of the world (Eastern Europe), virtually all of our tour was in countries and cities that were victimized by oppressive regimes (i.e., the Nazi's and Soviets). And in Croatia, we visited an area where bullet holes from the Balkans war were plentiful in some buildings that our tour bus passed. Our guide, Samil was a survivor of the Bosnia holocost.
Favorite "WOW" moment
"Budapest, which surprised us in its grandeur."
Geoffrey
Kalamazoo, MI
Tour: 08/30/19
Overall rating:
The latest of our ETBD trips-Eastern Europe met all of our expectations as we expected a "RickTrip" would.
Favorite "WOW" moment
"Reuniting with Etalka (our guide for Tallin, Helsinki, St P in 2013) at the winery in Eger."
Paul
Roseville, CA
Tour: 08/18/19
Overall rating:
Our excellent made my trip spectacular. Whether it was discussing European politics, using public transportation., or finding an honest currency exchange, they were on top of it. The travel bus was surprisingly comfortable for me as I'm tall and generally can't sit long on bus. The air conditioning on the bus worked well and was definitely needed. I appreciated the snacks and cold beverages.
Favorite "WOW" moment
"I enjoyed several things. Budapest was a remarkable city, beautiful and interesting. Pletvice national park was a highlight, especially being able to hike through it. Prague is one of my favorite cities for wondering around in, especially being a pilsner beer enthusiast."
Carol Susan
Mount Angel, OR
Tour: 08/16/19
Overall rating:
Favorite "WOW" moment
"Croatia: 1000Falls Park. Amazing. Also the beautiful old hotels you arranged for we travelers to stay in. Made me feel so special."
Patricia
Vancouver, BC
Tour: 08/16/19
Overall rating:
This was my first Rick Steves tour and I attended with my husband. We had watched many Rick Steves travel episodes on television and then found out from an acquaintance about the tours. We have mostly done our own travel but had recently done three trips to Asia with a private tour for four. Looking at your website, we decided to try Eastern Europe for our first group tour and loved it! We were ready to give of the reigns of control and enjoy a pre-planned itinerary. Excellent decision!
Favorite "WOW" moment
"There were so many but the evening river tour in Budapest with the grand beauty of the city and its history was a big "wow" on this trip. I stopped my photography after a few minutes and soaked up the magic of the cruise. Here I was floating in a fairy tale scene."
Thomas
Vancouver, BC
Tour: 08/16/19
Overall rating:
This was my first package tour. It was more than I expected. Every aspect of the tour - from the accommodations, to the iinery, even the transportation days was well thoughtout.
Favorite "WOW" moment
"The night cruise on the Danube. Followed closely by the wine tasting."
Jane
Lake Forest, CA
Tour: 06/16/19
Overall rating:
This was our second Rick Steves Tour and it was wonderful! I had never been to these countries and I'm so pleased we visited.Prague and Budapest were beautiful and fascinating, as was so much of the trip. Oh, and Krakow, I loved. All the history was so interesting and Peter was so informative. The hotels were very nice and comfortable. The group was great, too. Besides being informative, Peter was organized, pleasant, funny and truly great as a guide; we can't say enough good things about him!
Favorite "WOW" moment
"Mine was the city of Budapest. I was overwhelmed by its beauty, charm, accessibility and history. My husband's favorite part was the Park in Poland and the waterfalls, and Prague."
Ronn
Plymouth, MN
Tour: 04/26/19
Overall rating:
Our 2nd RS tour, this one was just as exhilarating as our Best of Europe trip in 2018. George made us "2-for2" in guide excellence; he was extremely personable, well-prepared and knowledgeable. Being from Hungary, he added personal insight and a special stop due to his connections. Similarly, we found our 23 fellow travelers to be a diverse and delightful group. Everyone was flexible and adaptable, even though we dealt with a few more weather challenges than we had on our first trip.
Favorite "WOW" moment
"Many "wow" moments, but I'll go with one that some of us anticipated would be a possible disaster. Upon our evening arrival at our Plitvice Lakes lodging in Croatia, we were greeted by the latest snow flurries in 23 years, which continued through our tour the next day. Clad in multiple layers, virtually everyone seemed to thoroughly enjoy our truly idyllic 6-mile trek through the park, awed by the natural beauty of countless waterfalls and lakes, accentuated by the lightly falling snow."
When To Go & Weather
Any time between April and October is a good time to take a Best of Eastern Europe tour. However, the months of April, May, September, and October are best for combining the convenience of peak season with generally good weather and lighter crowds. Summer has its advantages, with the best weather and long days, but the biggest crowds, especially in larger cities.
Czech Republic / Prague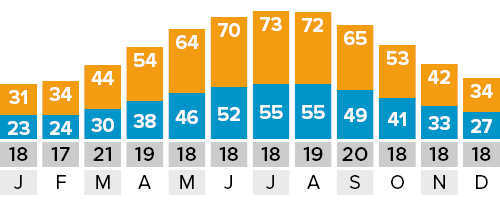 ---
Poland / Kraków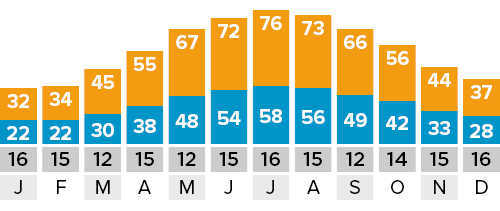 ---
Hungary / Budapest
---
Croatia / Split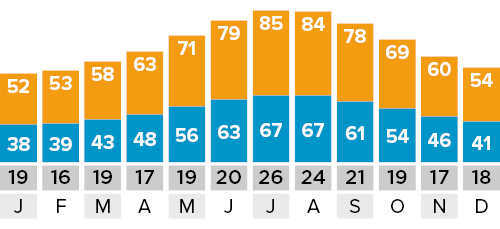 ---
Slovenia / Ljubljana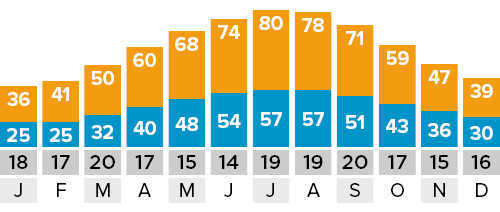 Hotels & Flights
Tour Hotels
In case you wish to book pre- or post-tour hotel accommodations, the contact information for the tour's first and last hotels is included in your tour confirmation email, as well as in the Itinerary section of your online customer account. One month prior to the tour departure, you'll find the directions to your first tour hotel and a complete list of hotels where we'll be staying in the Documents section of your customer account.
Flights
Our tours don't include airfare, so your flight arrangements are completely up to you.
Most tour members arrange to fly into Prague (PRJ) and out of Ljubljana (LJU) — choose "multicity" on flight-booking websites. Booking round-trip to one city will require a connecting flight, train trip, or additional overnight stay in Europe.
We suggest arriving a day or two before your tour begins to allow ample time to get over jet lag and be well-rested for the first few days of your tour. For more information about transportation options for getting to and from your tour, see your Rick Steves Eastern Europe guidebook.