Gdańsk

Malbork Castle

Toruń's Old Town

Polish Folk Museum

Warsaw's Zbawiciela Square

St. Mary's Church in Kraków

Kraków's Main Market Square
Tour Questions? See our FAQ | Email tour@ricksteves.com
Best of Poland in 10 Days Tour
Starting in the colorful port city of Gdańsk, you'll escape the crowds and embrace the understated elegance of ready-for-prime-time Poland on this 10-day tour. With an expert Rick Steves guide at your side, you'll experience mighty Malbork castle, the cobbly-cute village of Toruń, Poland's contemporary capital of Warsaw, the spiritual Jasna Góra Monastery, and charming Kraków — Poland's finest city. In this land of surprises — so trendy and hip, yet steeped in history — there's so much to discover. Join us for the Best of Poland in 10 Days!
Dates & Prices
May 9–May 18 (Tu–Th)
$2,795 + Air

May 23–Jun 1 (Tu–Th)
$2,795 + Air

Jun 13–Jun 22 (Tu–Th)
$2,795 + Air

Jun 20–Jun 29 (Tu–Th)
$2,795 + Air

Jul 4–Jul 13 (Tu–Th)
$2,795 + Air

Sep 5–Sep 14 (Tu–Th)
$2,995 + Air

Sep 12–Sep 21 (Tu–Th)
$2,995 + Air

Sep 26–Oct 5 (Tu–Th)
$2,795 + Air
What's Included
You'll get at least 18 group sightseeing events — at no extra cost!
Here's what you'll see and do on our Best of Poland tour:
Historic Gdańsk walking tour
Gdańsk Shipyard
European Solidarity Center
Vodka tasting
Malbork Castle
Toruń Gingerbread Museum
Polish open-air museum
Warsaw's Palace of Culture and Science
Chopin music concert
Historic Warsaw walking tour
Warsaw Ghetto walk
Museum of the History of Polish Jews
Jasna Góra Monastery
Historic Kraków walking tour
Wawel Castle and Cathedral
St. Mary's Church
Pierogi-making class
Nowa Huta
Plus you'll get all this, too.
A small, friendly group of 24–28 people — half the size of most tour groups
The services of a professional Rick Steves guide and local experts who will make the fascinating history, art, and culture of Poland come alive for you
All group transportation from Gdańsk to Kraków
9 nights' accommodations in memorable, centrally located hotels
All breakfasts and half your dinners
All tips for guides and driver
A tour kit including a guidebook (when available) and a moneybelt
Guaranteed tour price, locked in the moment you make your deposit
Tour alum discount of $50 for each tour you've taken with us
50% discount on a consulting appointment with our in-house experts to assist with your pre- or post-tour travel plans
Flexibility should you need to transfer or cancel your tour
Fine print: You are responsible for the cost of your drinks and free-time sightseeing. See our Tour Conditions for important details regarding everything listed above.
Group sightseeing events subject to change.
Itinerary
Day 1: Welcome to Poland
We'll meet at our hotel in delightful Gdańsk at 5 p.m. for a preview of our upcoming adventure. Then we'll take an orientation walk through our neighborhood and get acquainted over a "Welcome to Poland" dinner together.
Light walking: 2–4 miles throughout the day on mostly level terrain. No bus. Sleep in Gdańsk.
Day 2: Gdańsk's Golden Age and Solidarity
This morning we'll take a walking tour of the beautiful city once called "Danzig" — Poland's historic main port and gateway to the Baltic, still slathered in handsome Hanseatic architecture. We'll finish at the Gdańsk Shipyard, where Lech Wałęsa's Solidarity movement took hold in 1980, challenging the communist regime for the first time — a stirring story that we'll hear at the European Solidarity Center. Your afternoon is free to wander more of Gdańsk's charming back streets, dip into its many museums, or side-trip to the sandy beaches of Sopot before we enjoy a spirited vodka tasting together.
Moderate walking: 2–6 miles throughout the day with some hills and stairs. No bus. Sleep in Gdańsk.
Day 3: Red Brick and Gingerbread
Today we'll drive through Pomerania to tour the Teutonic Knights' Malbork Castle, one of Poland's Gothic jewels and the largest brick castle on Earth. After lunch we'll continue to Toruń, a town so cobbly-cute you'll think you've stepped into a storybook — right down to the heavenly scent of its gingerbread bakeries. This afternoon we'll roll up our sleeves at the Toruń Gingerbread Museum to experience this sweet souvenir up close. The evening is yours to wander the traffic-free old town and soak in the atmosphere that was, for a time, the center of Copernicus' universe.
Moderate walking: 2–6 miles throughout the day with some hills and stairs. Bus: 3 hours. Sleep in Toruń.
Day 4: Poland's Countryside and Capital
This morning we'll drive through the Polish countryside and stop at an open-air folk museum to learn about traditional life in rural Poland. After lunch, we'll leave the farm fields behind and head for the heart of contemporary Poland: Warsaw. On a walk around our neighborhood, we'll begin to explore Poland's sprawling capital, including the towering, communist-style Palace of Culture and Science (a "gift" from the USSR that Poland couldn't refuse). We'll end our evening with a traditional Polish dinner together, followed by a concert featuring the music of Warsaw native Frédéric Chopin, whose melodies stoke national pride in Poles of all ages.
Moderate walking: 2–6 miles throughout the day with some hills and stairs. Bus: 3 hours. Sleep in Warsaw.
Day 5: Historic and Contemporary Warsaw
Today we'll start with a walking tour through Warsaw's historic center and revisit the city's prewar grandeur and its risen-from-the-ashes postwar reconstruction. Together with our local guide, we'll explore grand boulevards, communist relics, and bustling squares, tracing the ebb and flow of a city that remembers a tragic past while looking ahead to an optimistic future. The rest of the afternoon and evening are yours to explore more of modern-day Warsaw, from its top-notch museums (art, science, history, Chopin) to its trendy food and nightlife scene.
Light walking: 2–4 miles throughout the day on mostly level terrain. No bus. Sleep in Warsaw.
Day 6: Polish Pride and Jewish Culture
This morning is dedicated to the resilient spirit of a city that was, by the end of World War II, destroyed to its foundations. Our local guide will start with a sobering look at Warsaw's Ghetto Uprising, a valiant Jewish resistance against the Nazis. Then we'll tour the world-class Museum of the History of Polish Jews, spanning the complex and fascinating Jewish experience from the Middle Ages through today. We'll set you free for an afternoon stroll through the idyllic Łazienki Park, sprinkled with elegant gardens, royal palaces, and proud peacocks. Tonight we'll gather for dinner at a nearby restaurant to bid farewell to Warsaw.
Moderate walking: 2–6 miles throughout the day with some hills and stairs. No bus. Sleep in Warsaw.
Day 7: Pilgrims' Path to Kraków
We'll leave Warsaw behind this morning and trace the path of pilgrims to the Jasna Góra Monastery in Częstochowa — home to the revered icon of the Black Madonna, the most important symbol of Polish Catholicism. Then we'll set our sights on colorful, charming Kraków — Poland's finest city — where we'll get our first look at the majestic main square (one of Europe's best). After an orientation, we'll set you free to explore more of the Old Town and find dinner on your own at one Kraków's great restaurants.
Moderate walking: 2–6 miles throughout the day with some hills and stairs. Bus: 5 hours. Sleep in Kraków.
Day 8: Historic Kraków
This morning we'll meet a local guide and wind our way through the story of Kraków, from its prestigious university to the landmark St. Mary's Church. We'll follow traffic-free streets to Wawel Hill, home of Poland's historic royal residence and national cathedral. Along the way, we'll learn about the life and legacy of Pope John Paul II, who began his career as a Kraków parish priest. After a break for lunch, we'll meet some locals for a trip to the farmer's market to gather ingredients for making pierogi. We'll put your cooking skills to the test, then sit down to enjoy our homemade Polish dumplings. Your evening is free to discover more of Kraków on your own.
Moderate walking: 2–6 miles throughout the day with some hills and stairs. No bus. Sleep in Kraków.
Day 9: A Taste of Communism
Today we'll visit Nowa Huta, a planned steelworkers' town that exemplifies the socialist aesthetic of the People's Republic of Poland (and is now a desirable suburb). The afternoon is yours to enjoy Kazimierz, the city's historic Jewish Quarter, with its historic sights, bohemian-chic restaurants, artsy boutiques, and student vitality — or to catch up on any sightseeing you missed in Kraków. Tonight, we'll share travel memories and toast to new friends over our farewell dinner together.
Moderate walking: 2–6 miles throughout the day with some hills and stairs. No bus. Sleep in Kraków.
Day 10: Tour Over After Breakfast
Breakfast is provided, but there are no group activities today. John Paul II Kraków-Balice airport and Kraków Główny ("main") train station can connect you to practically anywhere in Europe or to your return home. Whatever your plans, your guide will help you get on the right track. Na zdrowie!
This tour does not include Auschwitz-Birkenau. If you want to visit the memorial site and museum, we recommend extending your trip one night and booking a day trip in advance with one of the companies recommended in the Rick Steves guidebook.
Itinerary specifics subject to change.
Physical Demands
Our tours are physically active! It's an essential part of the Rick Steves tour experience. On our Best of Poland in 10 Days tour — among other things — you'll need to happily…
Carry/roll your luggage over uneven pavement (possibly several blocks) and up stairways to reach your hotel, then up several flights of stairs to reach your room.
Be on your feet, walking and standing, for up to four hours, indoors and outdoors, in all weather conditions.
Sleep with street noise and no (or weak) air conditioning.
After orientation and transportation lessons, be able to navigate towns and cities on your own.
Reviews
Eric
Tour: 07/05/22
Overall rating:
The schedule was great with 2 or 3 nights in every stop except one. This gave plenty of time for exploring each location and had a good balance between guided tour time and free time.
Favorite "WOW" moment
"Meeting up with a local guide, shopping an open air market for supplies and then going to her home in a small group to make Pierogi. This wonderful experience gave me a better perspective of what living in Poland is like."
Carolyn
Tour: 07/05/22
Overall rating:
Loved Poland! I enjoy history and enjoyed (sadly) hearing and seeing pictures of WW2 destruction. The people are grand, generous and thoughtful. Our tour guides Agnes and Monika were tops--knew their history and the cities/area. Both supported each other and coordinated/worked superbly together.
Favorite "WOW" moment
"Loved the Jewish-Polin Museum (and not to be missed) and would have enjoyed to have toured it on my own. Chopin connect at our Warsaw hotel plus meeting and hearing from him about Warsaw changes was a highlight."
Bonnie
Tour: 07/05/22
Overall rating:
Outstanding all around. Efficient, helpful, knew the answers to most of our questions (and when they didn't they went the extra to get back to us with the answer, timely, made an effort to get to know each member of our group, professional, and good listeners.
Favorite "WOW" moment
"The Chopin concert at our hotel in Warsaw!"
Carla
Tour: 07/05/22
Overall rating:
Overall, very good experience. Enjoyed the two guides very much and the local guide for Krakow was great. The sites were well done, as well as food and drink and fun experiences. The history of country was well done.
Favorite "WOW" moment
"Really enjoyed walking around Gdansk -- it's a charming town and seeing the sites of Solidarity. Also liked castle and old city of Krakow. Like the Warsaw getto tour and museum with Hubert -- he was very good."
Mary
Tour: 06/21/22
Overall rating:
From start to finish, well organized and well executed. Poland has an incredibly rich history and culture. Since all major European countries have had a presence there in some way, it was a lot to take in. The 20th century war stories were heartbreaking, but vital to a deeper understanding of the world today. Kudos to Tomasz and his local guides for making it all come alive.
Favorite "WOW" moment
"Touring the world class WWII Museum in Gdansk and seeing the childrens' learning area that shows how life changed for Poles by walking through the same room at 3 different stages of the war. This was not a part of the tour. It should be."
Richard
Tour: 06/21/22
Overall rating:
This was our 9th RSE tour and one of the best. It would be 5 stars if the Warsaw hotel had been air conditioned to provide night-time relief from the 95-degree summer heat. Our guide, Thomasz, was absolutely exceptional--never had a better guide! The itinerary was comprehensive, the multiple night hotel stays allowed us a better sense of each city, and the 9:00 AM daily starts gave us time to recharge. I left with more knowledge and a better appreciation of Polish history, culture, and people.
Favorite "WOW" moment
"Even though I had read up on the Teutonic Knights, nothing can prepare you for how awesome Malbork Castle is in all respects. As a bonus, lunch across the river provided a fantastic castle photo opportunity. Gdansk was a delightful surprise that we truly enjoyed and wish we had another day to explore it thoroughly. Although not on the tour, remaining for a day to experience Auschwitz-Birkenau was an absolute must, especially after all the WWII history provided on the tour."
Warren
Tour: 06/21/22
Overall rating:
This tour far exceed my expectations. I really didn't know much about Poland's history or culture before the tour, but after taking the tour I can appreciate the long history of the Polish people and all that they've endured over many centuries. Our guide, Tomasz, was a great ambassador for his home country. He expertly guided our group through the sites and cities we visited.
Favorite "WOW" moment
"Many "wow" moments , but the tour of Malbork Castle ,entering the Main Square in Krakow at night and our tour of Wawel Royal Castle stand out."
Valerie
Tour: 06/21/22
Overall rating:
Excellent guides. Wonderful itinerary. A tour I would highly recommend to others. It' was excessively hot for half of the tour and most hotels provided air-conditioning, but the hotel in Warsaw did not and this made it difficult to recharge at night.
Favorite "WOW" moment
"Walking around Gdansk and visiting the numerous historical and cultural sites it had to offer. Malbork Castle was fantastic. I've been in zillions of castles, but this one outdid them all. I appreciated all the history (past and present) of Poland. A lot of emphasis was placed on the World War II era. We stayed a couple of days after the tour and visited Auschwitz which I would recommend everyone do."
John
Tour: 06/21/22
Overall rating:
The tour was super overall. Tomasz is a rising star in the Rick Steves guide firmament. He was caring, thoughtful, knowledgeable, helpful, patient, and always in control of a very independent group. If he is willing to give more of these tours, the Poland tour dates should be expanded. The country of Poland has been beaten down over thousands of years but just keeps coming back. They clearly are part of western Europe and not Russia.
Favorite "WOW" moment
"Emigration Museum in Gdynia Rozbrat 20 Restaurant in Warsaw. World class dinner at a relatively cheap price. Service and food were superb. Amber Museum totally rocked. A good counterbalance to all of the world-class but hard-to-take other Polish museums about how badly the Poles and Jews were treated over the centuries."
Michael
Tour: 06/21/22
Overall rating:
This was our 20th RS tour and I must say our guide and the subject matter of the tour were truly outstanding. There was so much Polish history that was intertwined with the rest of Europe even to modern times including the world wars and it was presented clearly. Each city had a different character which the local guides made come alive.
Favorite "WOW" moment
"The World War II museum in Gdansk was really eye opening and set the tone for the whole rest of the tour. It showed the struggle for survival of the Polish people, especially Polish Jews in vivid terms. This struggle for survival theme was prominent throughout the tour as Poland was forever under the thumb of other rulers during its history."
Theresa
Tour: 06/21/22
Overall rating:
Poland is an often overlooked country. This tour brought its history, its intellectuals and its achievements to those of us who participated. Tomasz is an exceedingly proud Pole, justifiably so.
Favorite "WOW" moment
"The bugler's performance from the tower at St. Mary's Cathedral in Krakow, every hour, every day, all year long."
Brian
Tour: 06/21/22
Overall rating:
This is a special tour. I learned so much about the history of Poland and the spirit of the Polish people. Our guide Tomasz was outstanding. Assistant guide Laurel was excellent. The right amount of time for guided tours and free time with additional suggestions. Excellent food and music. A great group of fellow tour members. My first Rick Steves tour and it will be tough to beat.
Favorite "WOW" moment
"Everyday was a WOW moment. The incredible and well thought out Museums, seeing the site of the Solidarity Movement, Malbork Castle and shopping at the farmers market and then making Pierogies with a local. Each day was special in its own way."
Kenneth
Tour: 06/21/22
Overall rating:
Great tour overall. Very good guide and local guides. Lots of history
Favorite "WOW" moment
"Memorable items include Gdansk old town/waterfront & architecture; Warsaw old town square & museums; Krakow square; pierogy making with local host; impromptu Chopin concert"
David
Tour: 06/21/22
Overall rating:
Fantastic!
Favorite "WOW" moment
"Seeing Old Town Krakow for the first time at night."
Barbara
Tour: 06/21/22
Overall rating:
After years of watching all the Rick Steves DVDs & following his guidebooks as we planned our own tours, we finally signed up to travel with a Rick Steves tour. We are hooked!! From beginning to end, it was a fabulous experience & far surpassed our expectations.
Nancy
Tour: 06/07/22
Overall rating:
The Poland tour was filled with interesting history and historic sites, as well as great food and wonderful tour buddies. Our guide, Agnieszka, was fantastic.
Favorite "WOW" moment
"My "wow" moment was an evening where our group meal occurred on the patio of our hotel in Warsaw. The Ukrainian cooks prepared for us a traditional meal and a young Ukrainian woman sang and played a traditional Ukrainian instrument. The evening continued up on the rooftop garden with the city and setting sun as a backdrop as we toasted new friends and Poland."
Jim
Tour: 05/24/22
Overall rating:
I had an enjoyable time in Poland. The tour provides a lot of historical information for those more interested in history than I am.The lodgings and meals were outstanding as usual. I was impressed with how at each city we visited in Poland there were rallies,signs and flags supporting the Ukraine. The Polish people I had contact with were all friendly and helpful.
Favorite "WOW" moment
"An emotional violin recital in our hotel in Warsaw. The musician played the Ukraine national anthem and the kitchen help came out,sang and wiped away tears."
Mary
Tour: 05/24/22
Overall rating:
The tour left me wanting to see more of Poland! I don't know if that's good or bad, but it's how I felt. Our tour guide grew up in Poland and gave us plenty of background to further appreciate our experience. Modern Poland and historical Poland - my favorite combination!
Favorite "WOW" moment
"Learning about Polish history and how geography has played its role. Poland has been the prize in giant card games, shifted from one country to another and severely battered in the process. Omg."
John
Tour: 05/24/22
Overall rating:
This was my second Rick Steves' tour and I thought it was very well organized. Our main guide Bea did a great job of keeping us informed and moving at a reasonable pace. The city guides were also very knowledgable and provided excellent insights into the history and important facts about the cities and sites we toured.
Favorite "WOW" moment
"Poland's dramatic history over the centuries, and especially during and after WWII were far more than I realized or remembered from history classes of the news. The wow moment was seeing how they recovered the from all those years of oppression and occupation and are now a thriving country. I was amazed by all the new development in certain ares as well as the amount of agricultural lands as we drove through the countryside. Poland was a much more beautiful country than I expected."
When To Go & Weather
Any time between April and October is a good time to visit Poland. However, the months of April, May, September, and October are best for combining the convenience of peak season with mild weather. In general, Poland has lighter crowds than other parts of Europe, even during summer months.
---
Poland / Kraków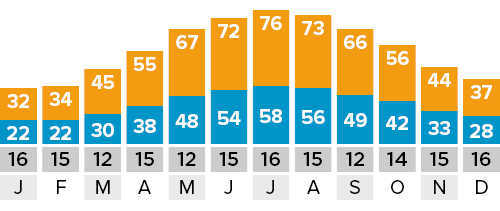 Hotels & Flights
Tour Hotels
In case you wish to book pre- or post-tour hotel accommodations, the contact information for the tour's first and last hotels is included in your tour confirmation email, as well as in the Itinerary section of your tour account. One month prior to the tour departure, you'll find the directions to your first tour hotel and a complete list of hotels where we'll be staying in the Documents section of your tour account.
Flights
Our tours don't include airfare, so your flight arrangements are completely up to you. Most tour members arrange to fly into Gdańsk (GDN) and out of Kraków (KRK) — choose "multicity" on flight-booking websites. Booking round-trip to one city will require a connecting flight, train trip, or additional overnight stay in Poland. We suggest arriving a day or two before your tour begins to allow ample time to get over jet lag and be well-rested for the first few days of your tour. For more information about transportation options for getting to and from your tour, see your Rick Steves Kraków, Warsaw & Gdańsk guidebook.