Prague's Charles Bridge

Prague's St. Vitus Cathedral

Chain Bridge in Budapest

Budapest's Great Market Hall

Széchenyi Thermal Baths in Budapest
Tour Questions? See our FAQ | Call 425-608-4217
Best of Prague & Budapest in 8 Days Tour
We've brought together Eastern Europe's must-see cities — Prague and Budapest — for an eye-opening eight-day adventure. You'll explore Prague's mighty castle, swirling Baroque churches, fascinating Jewish Quarter, and sample what may be Europe's most refreshing beers. Then it's on to cosmopolitan Budapest, with its unexpected elegance, hidden courtyards, remarkable markets, and tales of a tumultuous history — an experience that's spiced with surprising cuisine and a panoramic cruise along the Danube. Join us for the Best of Prague & Budapest in 8 Days!
Dates & Prices
What's Included
A small, friendly group of 24–28 people — half the size of most tour groups
Full-time services of a professional Rick Steves guide and local experts who will make the fascinating history, art and culture of Prague and Budapest come alive for you
All tours and admissions — at no extra cost — covering at least 22 group sightseeing events • Prague Castle Orchestra performance • Prague Castle tour • St. Vitus Cathedral • St. George's Basilica • Old Town orientation walk • Municipal House tour • Mucha Museum • Jewish Museum in Prague pass • Spanish Synagogue • Josefov Neighborhood Jewish Quarter walking tour • Velvet Revolution walking tour • 3-day Prague transportation pass • Cultural performance • Buda Castle district and Matthias Church tour • Pest walking tour • St. István's Basilica • Great Market Hall • Hungarian cooking class • Hungarian State Opera tour • Heroes Square walking tour • Danube cruise • 3-day Budapest transportation pass…and more
All group transportation from Prague to Budapest
7 nights accommodations (4- and 3-night stays) in memorable, centrally located hotels
All breakfasts and half your dinners
All tips for guides and driver
Rick Steves Travel Store credit to use toward guidebooks for your trip
Guaranteed tour price, locked in the moment you make your deposit
Optional single supplements — this tour has a limited number of private rooms for solo travelers for an additional fee
Tour alum discount of $50 for each tour you've taken prior to 2016
50% discount on a consulting appointment with our in-house experts to assist with your pre- or post-tour travel plans
Flexibility should you need to transfer, or cancel/interrupt your tour
Fine print: You are responsible for the cost of your drinks and free-time sightseeing. See our Tour Conditions Agreement for important details regarding everything listed above.
Itinerary
Daily Activity Key
Light = 2–4 miles of mostly level walking throughout the day.
Moderate = 2–6 miles walking throughout the day with some hills and stairs.
Strenuous = 2–8 miles walking throughout the day with lots of hills, stairs, and uneven terrain.
Day 1: Welcome to Prague
We'll meet in our hotel at 4 p.m. to get acquainted and go over the week's schedule. Then we'll take an orientation walk through our Old Town neighborhood and over the historic Charles Bridge — one of Europe's most entertaining promenades — followed by a hearty dinner together accompanied by the Prague Castle Orchestra. Sleep in Prague (4 nights). No bus. Walking: light.
Day 2: Prague of Kings and Nobles
This morning we'll hop on a local tram to take us across the Vltava River and up the hill to the most massive castle complex in continental Europe: Prague Castle. We'll tour the impressive St. Vitus Cathedral, Old Royal Palace, St. George's Basilica, and the Golden Lane. To see for ourselves whether Prague really is home to the best beers in Europe, we'll walk to the Strahov monastery's brewery for a refreshing mug and lunch together. Then you're on your own to wander back down to the Old Town, where you'll be free for the evening. No bus. Walking: strenuous.
Day 3: Jewish and Art Nouveau Prague
Today we'll take a walking tour through the Josefov neighborhood, once the site of Prague's Jewish Ghetto — and still one of the most evocative Jewish districts in all of Europe. For a thousand years one of the leading centers of Judaism, the neighborhood is studded with thought-provoking museums, fascinating synagogues, and a Kafkaesque, dream-like cemetery. After free time for lunch, we'll take a tour of the classy concert halls and salons of the city's Municipal House and continue our Art Nouveau education at a museum devoted to the local master: Alfons Mucha (whose stained glass you will have already admired inside St. Vitus Cathedral). Your evening will be free for dinner on your own. No bus. Walking: strenuous.
Day 4: Revolutionary Prague
We'll start our day with tales of Prague's past struggles with communist occupation, the significance of the Prague Spring and the emergence of Václav Havel. We'll then retrace the footsteps of Prague's celebrated Velvet Revolution, following the events of November 17, 1989, through the modern city to Wenceslas Square, where thousands of Czechs held up and rattled their keys, telling their communist leaders, "The time has come for you to go home." We'll return to the present in time to enjoy dinner together and catch a cultural performance, perhaps a classical concert or experience the quirky and uniquely Czech, Black Light Theater. No bus. Walking: strenuous.
Day 5: On to Budapest
This morning we'll board our coach for the drive to Budapest. En route we'll pass through the rolling hills of ancient Moravia and modern Slovakia, catching our first glimpse of the wide, blue Danube as we approach the capital city that straddles both banks of the river. Upon arrival this afternoon, we'll meet with a local guide for a tour of Pest, the larger, more sprawling half of the city. There we'll crane our necks beside Europe's largest, most ornate parliament building to learn how Hungarians coped with half a century of fascist and communist tyranny. And at St. István's elaborate basilica we'll learn why, once a year, locals parade the saint's millennium-old fist around the city. At the end of our walk, we'll treat ourselves to a paprika-infused feast together. Sleep in Budapest (3 nights). Bus: 7 hrs. Walking: moderate.
Day 6: Bustling Budapest
Our day begins atop Buda's proud Castle Hill with an introduction to Budapest's greatest church: the sumptuously gilded Matthias Church. The nearby Fisherman's Bastions provide a perfect bird's eye view of "twin city" Pest across the river and a glimpse of our next destination – a traditional Hungarian cooking class and lunch. This afternoon you're free to sample more of the city, including more delicacies in its Great Market Hall (Nagyvásárcsarnok). Later tonight we'll regroup and relax with a cruise along the Danube. Boat: 1 hr. No bus. Walking: strenuous.
Day 7: Elegance of Empire
This morning we'll tour the caked-in-splendor home of the Hungarian State Opera. Built in the 1880s, when Budapest was co-capital of the Austro-Hungarian Empire, the Hungarians took every opportunity to make their opera house more opulent than anything the Viennese could muster. You'll see they succeeded. Then we'll ride on the oldest metro in continental Europe, on our way to Heroes Square to see and learn about the bronze-cast, larger-than-life players in Hungary's national story. This afternoon your guide will be happy to arrange a chance to soak in the ornate public Thermal Baths (yes, you'll have plenty of time to soak it all in!). Tonight we'll rendezvous for a farewell dinner together, sharing travel memories and toasting new friends. Egészségedre! No bus. Walking: strenuous.
Day 8: Tour Over After Breakfast
Breakfast is provided, but there are no group activities today. Budapest's Ferihegy Airport and three busy train stations can connect you to practically anywhere in Europe, and your return home. Whatever your plans, your guide will help you get on the right track. Viszontlátásra!
Itinerary specifics subject to change.
Physical Demands
Our tours are physically active! It's an essential part of the Rick Steves tour experience. On our Best of Prague & Budapest in 8 Days tour — among other things — you'll need to happily…
Carry/roll your luggage over uneven pavement (several blocks possible) and up stairways to reach your hotel; then up several flights of stairs to reach your room.
Be on your feet, walking and standing, for up to four hours, indoors and outdoors, in all weather conditions.
Sleep with street noise and no (or weak) air conditioning.
After orientation and transportation lessons, be able to navigate towns and cities on your own.
Reviews
Tom
Huntington Beach, CA
Tour: 10/25/15
Overall rating:
Hopeful Prague and Budapest would impress me as advertised. The cities did not disappoint! A bit confusing finding our hotel from the train station. The language was an issue and the street signs did not seem to match the maps. Perhaps a more detailed map from the station to the hotel. Very walkable, did not need to take a taxi. Peter was fantastic, engaging, patient, and always with a smile. As usual, the local guides were truly wonderful! The pace of the trip just right
Favorite "WOW" moment
"The first night walk in Prague was AMAZING! Even in November, the squares were full of a vibrant populations. The lighted buildings were fantastico!!"
Ellen
Brewster, MA
Tour: 10/25/15
Overall rating:
The guides, the participants and the experience were great. This is a tour for people who love history, art and architecture.
Favorite "WOW" moment
"There were many wow moments but Budapest at night viewed from the Danube cruise was beautiful."
Carol
Boulder City, NV
Tour: 10/25/15
Overall rating:
The entire thing was wonderful! Our guide, Peter, was terrific, and was helpful beyond expectations! If you needed a cough drop, he had one. If you needed a band aid, he had one, and even more impressive, after one round of each of us saying our name, he was able to remember them all! And unlike some tours I've been on, there was not one member in the group that was irritating or demanding. We all seemed to enjoy everyone and everything we did.
Favorite "WOW" moment
"This one is difficult to answer, because every single thing that we did and everything we saw, was a WOW moment. The architecture, seeing an organ that my favorite musician, Mozart had actually played, hearing and seeing the music in the cathedrals, the Prague Castle Orchestra at the Baracnicka Rychta restaurant, I could easily go over the limit of 500 characters."
Susan
Alcoa, TN
Tour: 10/25/15
Overall rating:
We saw the best of both ciries and learned so much about Eastern Europe. We had never been to former Iron Curtain countries before, and this trip really made us appreciate what these people have been through. We also really enjoyed the amount if free time we had.
Favorite "WOW" moment
"The view of Tyne Church from our hotel window the first evening we arrived in Orague."
Peter
Chadds Ford, PA
Tour: 10/25/15
Overall rating:
Our reaction to the entire experience was that we could hardly imagine a way to improve it. I'm pretty sure you didn't plan the excellent weather, but the carefully planned days and well-woven historical perspective were fantastic. Appreciated that so much was provided without hassle - concert tickets, other admissions, public transit.
Favorite "WOW" moment
"Seeing both cities and the concert at the Spanish Synagogue."
Michael
Henrico, VA
Tour: 10/25/15
Overall rating:
Had great trip
Favorite "WOW" moment
"Prague"
Sallie
Longmeadow, MA
Tour: 10/25/15
Overall rating:
My Prague and Budapest formal tour was terrific. I always enhance my Rick Steves Tour with a pre-tour and post-tour which I do all alone with Rick Steves' Guidebook pages clutched in my hands. The tour/adventure I take "with Rick" is quite different from the safety of the formal tour. I flew into Frankfurt and did the Best of the Rhine from Bacharach Arrived alone in Moselkern and hiked into Burg Eltz. Met many locals as I went from 2 days on the Rhine to one night in Erfort to day trip to Witte
Favorite "WOW" moment
"Wow moments always involved meeting other travelers. WOW moment in Prague was searching out SLAV EPIC with other tour colleagues. WOW moment was eating racelette (with other single traveler gal) in Wenceslaus Square with two Puerto Rican gals we met. WOW moment was lights on the Danube at night. WOW moment was finding my own 13 year old German (named Martin!) who walked me to Luther's 95 theses spot.We practiced English and laughed.POWER moment was Sachsenhausen Concentration Camp and ..."
Richard
Waunakee, WI
Tour: 10/25/15
Overall rating:
Highlights The music performances in Prague both the concert and local musicians at our first dinner. The cooking class in Budapest. However it was very rushed, and we didn't feel like we had time to enjoy the food. Beautiful cities and people. Historical information.
Favorite "WOW" moment
"Marveling at the beautiful architecture especially the tall towers of the church and the Charles Bridge in Prague. The boat ride and beautiful sparkling lights and the baths at Szechenyl baths in Budapest."
Lynne
Huntington Beach, CA
Tour: 10/25/15
Overall rating:
Fabulous! Our tour group consisted of an experienced group of travelers who definitely met the criteria of "no grumps". Our guide, Peter, ultimate professional yet warm, funny, and ever insightful - he knew what we needed before we did.
Favorite "WOW" moment
"As a college student 50 years ago, I had visited Prague when its beauty was hidden by coal dust and disrepair, and its spirit constricted by hard-line control. Now stepping from the train station and into the mass of Sunday strollers with market stalls and shops offering everything one could want and more was a thrill. On our first evening stroll, our group gasped at the sighting of the Castle District across the Vltava River, illuminated in splendid glory - a magnificent "wow moment"."
Fred
Chelan, WA
Tour: 10/11/15
Overall rating:
I was so impressed with the quality and quantity of events and historical discussions on our trip to beautiful Prague and Budapest. Our guide, George, was fantastic. We learned so much and saw so much and yet we were given enough time on our own to nicely balance the group time with personal time. We truely got our money's worth on this trip, the accomodations, dining expericences and tours, including the Hungarian cooking class was simply outstanding.
Favorite "WOW" moment
"There were so many, but I think the walking tour of Prague with tour guide Sharka, in the rain, was truely remarkable. She shared her experiences growing up in the Communist regime and how that affected her and her family. It was riviting and helped us better understand the local culture. A close second was walking over the Charles Bridge in Prague at night, a truly awe inspiring moment. A close third was attending the Opera in the National Theater."
Irene
Newton, NJ
Tour: 10/11/15
Overall rating:
This was our first tour every and it more then exceeded our expectations. George was EXCELLENT and we enjoyed the other people in the tour group.
Favorite "WOW" moment
"Skarka's recounting of her pers experience under communist as we toured Prague George's ability to bring history of the sites and to life with in depth knowledge, exp in Budapest. Enjoyed the off-the-radar spots he told us about/brought us to see."
Thomas
Newton, NJ
Tour: 10/11/15
Overall rating:
Much rich storytelling ... revealing of the guide, their personal life and - often -- startling perspectives not otherwise available. The tour delivered delightful guidance on culture, architecture, food, art, history, etc. But we also learned about the mindset of the people in history, in the moment. How people think. How they lived then. How they live now.
Favorite "WOW" moment
"There is no substitute for the personal experience, knowledge and simple humanity of a local guide. It is as close to being family as you can get in a strange land."
Terri
Aurora, CO
Tour: 10/11/15
Overall rating:
I completely enjoyed this tour. I have been on many tours with other companies (this was my first Rick Steves tour)and chose this for the itinerary. I wanted something that stayed in one place for several days so I could feel more like I was traveling on my own instead of on a tour and this did just that. I liked the fact we used public transportation to get around instead of a tour bus. I also enjoyed being able to eat lunch/dinner with our guide.
Favorite "WOW" moment
"My favorite "wow" moment was realizing I could wander around the cities completely on my own. Our guide did an excellent job of orienting us to the cities and using public transportation. You see I have always traveled on a tour where there was not much free time or if I traveled with family we did things together."
Pamela
Woodbridge, CA
Tour: 10/11/15
Overall rating:
Hotels-Metamorphis quirky fun,KK room HOT even in cold weather, open windows let in LOUD noise/cigarette smoke until 4 am Tours-Leader George wealth of information/engaging, Sharka/Prague unforgettable, earbuds invaluable Food- Group food just okay. Closing dinner venue elbow-to-elbow/back to most of the group. Maybe have a "social hour" first? Activities- Cooking class fun! Itinerary-Need to add a day in Budapest. 9 hours on bus THEN walking tour of Budapest was overload
Favorite "WOW" moment
"No real "Wow" moment, but appreciated the personal perspectives on history, included transit passes and dinner drinks. Especially enjoyed the cooking class,Opera and Municipal House tours. Met some great people. We will return to both cities on our own. Tour should include more time in Budapest, and not count the travel day as "time" in this amazing city."
Ann
Boca Raton, FL
Tour: 10/04/15
Overall rating:
This trip was fabulous. I enjoyed everything and our tour guide George was phenominial. He was so knowledgeable and so kind. Loved all of the events especially the cooking class. What fun! This was my first Rick Steve's tour and I was so impressed! I can't wait for my next tour!
Favorite "WOW" moment
"Cooking class"
Agnes
Martinez, CA
Tour: 10/04/15
Overall rating:
Excellent balanced of programmed tours and independent time Staff guide, was superior along with local guides With local guides. Enjoyed wide range of tour sites and activities. Prague hotel shower hinged glass door was a safety hazard! Hotel staffs was courteous and helpful. My fellow travellers were wonderful companions I have many memorable visonary and auditory moments to remember along with many photos
Favorite "WOW" moment
"Danube River Cruise, Prague Castle."
Rebecca
Evanston, IL
Tour: 10/04/15
Overall rating:
Even with lousy weather it was a wonderful vacation! Not only was it beautiful...it was a history lesson I LOVED!
Favorite "WOW" moment
"In Prague...it was the Charles Bridge, Prague Castle, the concert (could have done that every night), St Vitus Cathedral and George In Budapest...it was seeing the Parliament House (I regret not touring it), we all loved the cooking class, the castle district and George"
Peter
Evergreen, CO
Tour: 10/04/15
Overall rating:
We loved George as the special tour guides who worked with us in both cities. We also loved the choices of hotels in both cities as we were rigth in the middle of the cities, had very good food, and felt very safe at all times.
Favorite "WOW" moment
"Seeing the very extensive repairs and renovations that have been made to the public buildings and private properties of Budapest, especially knowing (and seeing in the museums and local pictures) the tremendous, make it devastating pounding that Budapest took from WW1 through 1990."
Bonnie
San Francisco, CA
Tour: 10/04/15
Overall rating:
I was very impressed by the extensive detail and planning for the tour which made it so excellent and memorable. There was a very good variety of sightseeing, architecture, meals, history and activities, with sufficient free time in between. The cooking school was a delightful surprise. This is the best group and guide I have traveled with because everyone was so cheerful and helpful. We had a great time and a lot of fun together. What a fine way to experience my first Rick Steves tour.
Favorite "WOW" moment
"Mine was the concert at the Spanish Synagogue and the beauty and the lavish grandeur of the two opera houses. Unfortunately, the Czech Collegium DVD I purchased said "playback prohibited by area limitations". Why is this? I don't know how to get a replacement. Do you? The "low", if it may be called that, is the House of Terror and recognizing that man's inhumanity to man continues today in so many vicious forms."
Anne
Evergreen, CO
Tour: 10/04/15
Overall rating:
Our leader, George, is knowledgeable, enthusiastic, energetic and has a great sense of humor! We learned an enormous amount from him and the proud local guides but also found that reading Rick Steves' Prague and Budapest was invaluable. Both hotels were well located and our rooms were clean, quiet and comfortable, one spacious and one small. It was a fabulous experience!
Favorite "WOW" moment
"Walking across the Charles Bridge on the first night in Prague, I was wowed by the beauty and the enormity of the Castle above the city with the lights twinkling in the rain. I was finally there after months of anticipation!"
Marla
Lake Oswego, OR
Tour: 10/04/15
Overall rating:
RS trip #4. I enjoyed myself, but not as much as prior trips. Basically, the room at Hotel Metamorphis was awful, noisy, and hot (but it was clean and large, and breakfast was great). The air conditioning didn't work, they said they knew. If they aren't allowed to use AC in the fall, they should say so. We were so sleep deprived after several nights there, it was really hard to enjoy anything. Being two blocks away with a good nights sleep would've been better. George was great!
Favorite "WOW" moment
"I really enjoyed the concert in the Spanish Synagogue in Prague. Dinner at the rooftop restaurant on our own was awesome. Caterina's tour on the revolution was interesting. I was very impressed with the Budapest Opera house and wished we could have attended a show there. I enjoyed the 1 hr cruise on the Danube very much. The cooking class was a lot of fun. George was great to listen to about Hungary, and what communism was like and what it is like there now."
Amanda
Tulsa, OK
Tour: 10/04/15
Overall rating:
This tour was amazing! First off, our guide George was the best! He was always so helpful and very informative. We also had a great group of people on the tour! Everyone got along great and really enjoyed sharing this experience together. Our tour group consisted of friends, moms/daughters, sisters and couples. It was quite an easy, laid back group which helped make the tour great. I loved Prague and Budapest! These cities are amazing and I learned so much about the art, culture and history!
Favorite "WOW" moment
"My favorite "wow" moment is when we saw the Parliament Building in Budapest on our first night there! The building just glowed in the night and it looked so amazing! I also really enjoyed a concert we attended in Prague at a Spanish Synagogue. The music was wonderful! A once-in-a-lifetime experience!"
Frances
Springfield, MO
Tour: 10/04/15
Overall rating:
This was my 3rd R.S. Tour. George was so cute. I love having a knowledgeable guide willing to answer all questions, and interacting with a group of strangers. I enjoy the local guides, the structured tours, and not having to Think...time is managed very well, and yet, there is plenty of time for exploring on your own.I had NO expectations of this trip...and I was not disappointed. The different currencies was manageable, thanks to a phone app. I like that the tour goes on, rain or shine!?? Great
Favorite "WOW" moment
"The Budapest Baths, the cooking class in Budapest, the Concert at the Catholic Synagogue in Prague, the boat ride on the beautiful Danube, Everything was fabulous! My favorite? The cooking class...this would be great at the beginning of the trip, to get to know each other..."
Kate
Salisbury, NC
Tour: 10/04/15
Overall rating:
George kicked off our tour with his well organized "welcomes", including tips on culture differences we would encounter, brief language lesson, and a shot of the Czech aperitif. His printed daily itinerary with exchange rate info made it easy to plan our time & know what we would see & do each day. I found this especially helpful. Our group bonded quickly. When i returned from my trip to Istanbul, a RS tour that immediately followed Prague-Budapest, I already had 5 emails from members.
Favorite "WOW" moment
"Learning about the socialist / communist times from the perspective of the country, both in the Czech Republic and in Hungary."
Betty
Newport, NC
Tour: 09/27/15
Overall rating:
The tour was very educational, as always on a Rick Steve's tour, but this time it was even made more enjoyable because of our excellent tour guide, Jana, and because of the fact that ALL of the participants were so enjoyable. There were no negative people this time around.
Favorite "WOW" moment
"The Opera Concert at the Museum of Antonio Dvorak was really a "wow". A few of us also went to a concert at the Municipal House and loved hearing Vivaldi, Pachelbel, Brahms and Sarasate. Similarly the opera we went to on our own in Budapest was absolutely spectacular. I am not even an opera fan!!!"
William
Vancouver, WA
Tour: 09/27/15
Overall rating:
The tour was well organized. The tour guide rescheduled some aspects of the Prague visit due to holidays but it was seamless and worked out very well. The guides were very knowledgeable and wove their personal experience into the story of the cities and county. By the end of the trip, It felt like Jana was a friend pleased to share her county with us. It was great!
Favorite "WOW" moment
"Too many to list! I am a nut for baroque architecture and there was plenty to enjoy!"
Sonja
Vancouver, WA
Tour: 09/27/15
Overall rating:
We had a great time in both Prague and Budapest. Jana was a great tour guide, her people handling skills are exceptional. She is warm and welcoming and also able to manage the group when necessary. This was our first time on a group tour and we didn't know what to expect. It turned out to be great, all the people were friendly and interacted well. Rick Steve's traveling tips and packing list were right on for us, so the whole experience was wonderful.
Favorite "WOW" moment
"The favorite WOW moment was the wonderful cooking class in Budapest. I wish we could have had the whole 3 hour class instead of just the shortened version. The group interaction was great and the food was to die for."
Thomas
Garner, NC
Tour: 09/27/15
Overall rating:
I enjoyed the tour tremendously. We arrived one day early so had an additional day in Prague. I enjoyed the schedule that allowed a half day and sometimes and evening to visit other aspects of the cities. The guides were helpful in pointing out other things to do or visit. I wish there had been a scheduled day outside of each city to see the country side. The bus transfer from Prague to Budapest was comfortable and enjoyable. Jana narration as we traveled added depth as we traveled.
Favorite "WOW" moment
"There were a few that gave me the wow effect. In Prague, the concert on the last night in the city was exceptional. I am not normally a fan of opera but I gained an new appreciation for the talent involved. The Danube cruise was also a highlight showing a unique perspective of all the structures. Additionally, seeing the Prague castle musicians at dinner was very enjoyable."
Michael
Boston, MA
Tour: 09/27/15
Overall rating:
Superb. Wonderful selection of sites; nice balance of organized touring and time on our own; outstanding tour guides who were extremely knowledgeable, fun and immensely attentive to all of the tour members; and very comfortable accommodations. All well organized and implemented
Favorite "WOW" moment
"Hard to select: We loved the musical concerts we attended in Prague and the dining and cafe sitting we did in Budapest--and the baths! Visiting on our own the Lobkowicz Palace and sitting on the balcony overlooking Prague with our friends Sandra and Will was certainly a highlight."
Larry
Bedford, TX
Tour: 09/27/15
Overall rating:
The hotels were fine and well located I thought and the breakfasts were so classy - no throw away plastic and fresh and tasty food! My wife and I have generally planned our own trips so this was a real treat to have an orientation to the cities and it's history as well as the public transportation explained. We were quite pleased with the Prague portion of the tour which was enriched significantly by our two guides - the two Janas!! I especially liked our group members; we "jelled" easily.
Favorite "WOW" moment
"Frankly the history provided by the guides was a rich addition to our own information gathering. I was particularly interested in eastern European history through the first and second world wars and got just what I wanted! Your book was a nice addition by the way."
Verivada
Mercer Island, WA
Tour: 09/27/15
Overall rating:
Well paced. Very congenial and personable guides. Great to have them as guides.The whole experience of being in Prague and Budapest was very rewarding and a series of Wow moments because of the centuries old buildings, paved streets, amazing museums, palaces, opera theaters, the private concert in Prague was very special treat.Very well organized and [INVALID]d. We had a wonderful group from different parts of the country. Would do it again, may be the sixteen day Adriatic tour.
Favorite "WOW" moment
"please see above"
Cathy
Newport, NC
Tour: 09/27/15
Overall rating:
Tour was excellent. Guides were great. Very knowledgable and personable. We really didn't miss a thing. Next time would come in a day early to try to beat the jet lag a bit as the first day was a kicker. Sore feet were a drawback but self imposed and not a deal breaker. Loved the trip and would love to come again and bring my husband.
Favorite "WOW" moment
"Concert at Dvorak museum was really wonderful! Thank you so much!"
Joan
Auckland,
Tour: 09/20/15
Overall rating:
We chose Rick Steve's tour of Prague and Budapest, because the tour itinerary offered so much more than some other tours did. We were not disappointed as everything was forthcoming, according to schedule. The one big disappointment, was on Day 2: Entrance to St. Vitus Cathedral was not available. They were preparing for a large function, to be held later in the day.
Favorite "WOW" moment
"Walking into the Old Town Square, in Prague, for the first time, was a "Wow" moment for me. The Classical Concert at Smetana's Museum was another very special occasion."
Joe
Anchorage, AK
Tour: 09/20/15
Overall rating:
As always a great job done by the guides. Jana in Prague was outstanding, thoughtful, efficient, knowledgeable,and a joy to be with. Monika in Budapest needs to find a sheltered spot from the pouring rain to conduct lectures. Also we came away with not really being comfortable with the orientation of the city. Didn't really receive good instructions on using the transport or where other items of interest were located that were not located on the tour.
Favorite "WOW" moment
"Probably the best time was a side trip to Kutna Hora that was not included in the tour."
Charles
Sullivan's Island, SC
Tour: 09/20/15
Overall rating:
I really enjoyed the tour. I'm pretty type A on vacation about getting things done. There's obviously a trade off to traveling with 24 people v. arranging smaller site tours. In the end, I think the quality of the local guides made the trade off worthwhile.
Lisa
Dhahran,
Tour: 09/20/15
Overall rating:
We loved getting to know other travelers. Janah, our guide, was fantastic. The local guides were also great, telling us their own personal stories in with the tours of the sites.
Favorite "WOW" moment
"The personal stories from our guide, Andrea, on what it was like growing up in Communist Prague and then living through the change to Capitalism. The history of our tour of the Velvet Revolution was good, but the when we got the stories, it became alive."
David
Dhahran,
Tour: 09/20/15
Overall rating:
Great itinerary and tour guides. Very attentive and informative too about the sites we were about to visit. The organization and personal time to explore was also great. Highly recommend getting there at least two days ahead of the group so you can get your bearings and even do some exploring on your own. This was my first trip and one that I will cherish always. The friends that we made, made it that more special.
Favorite "WOW" moment
"The River Cruise on the Danube was fantastic at night....the emotional moments were seeing the sites of the Jewish Quarter and the shoes lined up along the river. Loved climbing all the towers too for a bird's eye view high above the crowds."
Kathy
St Petersburg, FL
Tour: 09/20/15
Overall rating:
The tour was fantastic. Jana and the additional guides were very personable and knowledgable. Their personal spins on events, history, and the countries, in general, spiced up the tour.
Favorite "WOW" moment
"My favorite "wow" moment was the Velvet Revolution tour of Prague. Jana and the additional guide, Monica, were fantastic in describing the events of the city. Their personal experiences added the firsthand touch."
Karen
Bellevue, WA
Tour: 09/20/15
Overall rating:
As ever, the guide, participants, places and all around experience was excellent. I especially appreciated the two city guides for Prague and Budapest. They, along with our wonderful leader were so complete in their understanding of the history, politics, and daily life of the people of The Czech Republic and Hungary. One comment I might make was that the dinner in Prague where a mushroom soup was served, was not what it was "advertised" to be. The Hungarian meals were excellent.
Favorite "WOW" moment
"Perhaps, the famous Prague musicians performing was a wow moment, along with the exceptional private concert by the opera singers. A special commendation on cooking in Budapest. a great time was had by all!"
David
Auckland,
Tour: 09/20/15
Overall rating:
Unfortunately I developed a very bad cold virus on the first day of the tour. Jana could not have been more helpful to the point of ringing me up in the early evening of that first day to see how I was and if there was anything she could do to assist me. A most delightful and wonderful person.
Favorite "WOW" moment
"It is very difficult if not impossible to pick one 'stand out' moment as the two cities had so much to offer and were quite different. Very impressive was the opera singing at the private function that Jana organised. Also the central square in Prague was breathtaking especially the when seen for the first time."
Mark
Ixonia, WI
Tour: 09/13/15
Overall rating:
The entire tour was excellently led by Eszter. She was so helpful and full of energy. The 1st day of the tour was my birthday and she got me a present and had a band play during our welcome dinner in Prague. She was so approachable and friendly and always had ideas for us to go out on our own after the daily tour with her. Her choice of places to eat as a group were outstanding and I noticed that she sat with different groups of people during the meals.
Favorite "WOW" moment
"It was the Budapest hot springs or baths. After all the walking we did it was a great reward to have an opportunity to relax and soak our cares away in the hot springs."
Barbara
Wheaton, IL
Tour: 09/13/15
Overall rating:
Enjoy the architecture and the history provided by Sharka and our male guide in Budapest. Very interesting. Eszter was quite nice but I felt that her accent coupled with the difficulty of the Czech and Hungarian languages made it impossible to remember the names of the sites and leaders. Great locations for hotels. Eszter needs to slow down her pace!
Favorite "WOW" moment
"The night time boat ride on the Danube in Budapest was it! The lights and the river were amazing!"
Joseph
Wheaton, IL
Tour: 09/13/15
Overall rating:
Favorite "WOW" moment
"Church at the castle in Prague"
Mary Ann
San Jose, CA
Tour: 09/13/15
Overall rating:
The tour exceeded our expectations.
Favorite "WOW" moment
"We enjoyed Castle Hill and the thermal baths."
Melinda
Lowell, MA
Tour: 09/13/15
Overall rating:
This was a unique experience. It was thoroughly enjoyable, as a vacation should be, with all the sights, sounds, and pleasures that come with experiencing a new country. But it was also enriching, and at the end of the tour, I came away with so much more, having learned about many important times in the history of these two countries. I especially appreciated hearing the first-hand perspectives of our guides who grew up under communist rule and who now experience freedom.
Favorite "WOW" moment
"So many to choose from! I will say that I was hesitant about joining a tour, so I was really pleasantly surprised on our first night together. We walked through Old Town, across the Charles Bridge on a beautiful, balmy evening, down some stairs to an island, past the Lennon Wall, and up a hill to our restaurant, with Eszter tossing us interesting factoids at every corner. We were treated to live accordion and fiddle music, our first taste of Becherovka,and great company with our new friends."
Charles
Midlothian, VA
Tour: 09/13/15
Overall rating:
Extremely well organized and led Rick Steves tour, supplemented by excellent local guides.
Favorite "WOW" moment
"Evening cruise on the Danube River in Budapest. Evening in Prague's Old Town Square."
Anne
Midlothian, VA
Tour: 09/13/15
Overall rating:
I thoroughly enjoyed this trip. We traveled to Salzburg and Vienna on our own before joining the tour. Lucky us! What pretty cities. We've traveled on river cruises the past several years. It felt wonderful to be "boots on the ground" again, both on our own and with Rick Steves.
Favorite "WOW" moment
"Perhaps Budapest from the river at night? Both cities were lovely!"
Ann
Appleton, WI
Tour: 09/13/15
Overall rating:
This was my first tour and I will definitely keep Rick Steves in mind for future tours. I was impressed with the knowledge of all the guides that toured us through the various sites.The gizmos were definitely an asset, they made it easier to hear Ezther and all the others. The guide that refused to use the gizmo should be encouraged to wear it,much easier to hear when you are close to the other groups. I was very impressed with Ezther's ability to make all our travels easier and organized.
Favorite "WOW" moment
"The Jewish community and seeing all of the names on the walls in the museum. I was also amazed by the cemetery. It gave me a new perspective in life. I now know what our freedom gives us."
John
Virginia Beach, VA
Tour: 09/06/15
Overall rating:
I wasn't sure what to expect from a part of the world I had never been to before, but my expectations were far exceeded, in large part due to our wonder guide, Jana, the superb local guides, and the dynamic beauty of both Prague and Budapest. The times we spent together as a group were informative, enjoyable and thought-provoking. And, we still had plenty of opportunities to go off on our own. This combination of organized activities and free time is what I find most attractive about RS tours
Favorite "WOW" moment
"My favorite moment was the most emotionally touching one -- when Jana and one of the local guides in Prague, Lanca, lit a candle at the memorial commemorating the Velvet Revolution."
Stuart
Birmingham, AL
Tour: 09/06/15
Overall rating:
This was well thought out tour. The hotel [INVALID]ions and plans for the days was very good. I particularly like having the local experts assisting our main guide Jana. Also Mama Jana was very compassionate about the tour and her country. She exhibited a true friendly touch that was appreciated.
Favorite "WOW" moment
"This could have been called "Behind the former iron curtain". I was not aware of the issues that these residents lived through for the last 60+ years. Both Prague and Budapest were in thought times before the communist rule and also during the extremely secretive times user Moscow control. I was aware that things were different during Iron Curtain days but all our guides had very personal stories that we appreciated them sharing about growing up in these oppressive times."
John
Maineville, OH
Tour: 09/06/15
Overall rating:
This was out first RS group tour, and we were interested how this larger-group tour would compare to other independent and smaller-group tours we've experienced. This tour was excellent in terms of excellent learning, fun and expereinces. The guides were all first rate - friendly, knowledgable and passionate with personal stories. The lodging was better than expected, and more meals were provided than expected. We'll probably consider another RS tour.
Favorite "WOW" moment
"The simple interior walls of the Pinkas Synagogue listing the names of the thousands of murdered Jews was a stunning memorial. Thnaks for including that as part of the tour."
Gail
Boulder, CO
Tour: 09/06/15
Overall rating:
This was our first Rick Steves' tour. We are long-term devotees of the books and DVD's and have used many of them as independent travelers. We found the fellow travelers to be interesting and fun and of course, the guides made the whole thing work. Jana was a great "hostess" and the other guides made the cities come alive with history ,culture and relevance.
Favorite "WOW" moment
"When George described the "changes" going from planned to market economy in Hungary and said that what we in the US experienced in 50 years, they had to experience in 5 years. It made me understand in real terms what it meant to live through such a traumatic change."
Diane
Santa Rosa, CA
Tour: 09/06/15
Overall rating:
This was a fabulous tour. Our guide Jana was the best. She was thorough, covered every aspect of fun, history and keeping the group together. There is not one thing I would change about how Jana conducted this tour. I loved it and heard that the group as a whole (many of whom had taken other tours) thought this was the best.
Favorite "WOW" moment
"Two wows. The opera and the Budapest baths"
Jeff
Boulder, CO
Tour: 09/06/15
Overall rating:
Being our first guided tour, I did not know fully what to expect of this structured format. The tour guides made the trip outstanding. They provided a grounding of the local area by creating an awareness of the public transportation, cultural background of the locals, a basis for key attractions to visit, and personal prospective of life in each city. I have never returned from an overseas trip with as high a level of understanding of the visited cities. It will change how i travel
Favorite "WOW" moment
"The most amazing event was the "opera night" in Prague. The venue was so intimate it was as if you were on stage with the performers. All 3 performers were absolutely excellent."
Jill
Kirkland, WA
Tour: 09/06/15
Overall rating:
Really enjoyed the history that Jana shared and the mix of structured and free time.
Favorite "WOW" moment
"In Budapest, the evening cruise on the Danube was spectacular. In Prague, the Velvet Revolution walk and Jana lighting a candle at the memorial plaque may have been the most moving moment."
Anne
Virginia Beach, VA
Tour: 09/06/15
Overall rating:
As with the three previous Rick Steves' tours we've done, this one met my expectations in spades! I have come to expect to be pleasantly surprised, enlightened, educated and to fall in love with our guides and their country. We are already planning our next RS tour for next year!
Favorite "WOW" moment
"I'm not sure my favorite "wow" was just a "moment" on this trip. It was more of a "wow" experience as each one of our guides brought to life the challenging, stressful and sometimes horrific years of outside empires' impact on their lives and the lives of their family, friends and countrymen. As Americans we read and heard about these years, but it is not the same as hearing about it from these youngish guides who grew up under some of it."
Terry
Arlington Heights, IL
Tour: 08/30/15
Overall rating:
This was our second Rick Steves tour and another excellent experience. Prague and Budapest were beautiful and rich with history. Our guide, Jana, (as well as Martin in Prague and Monica in Budapest) really helped make our visit memorable.
Favorite "WOW" moment
"The operatic performance in Prague was my particular "wow" moment among the many wonderful places visited and experienced."
Elder
St Simons Island, GA
Tour: 08/30/15
Overall rating:
Jana Hronkova is a terrific guide: knowledgeable, articulate, diligent, she narrates and explains clearly and thoroughly.
Favorite "WOW" moment
"Prague!"
Dale
Inverness, CA
Tour: 08/30/15
Overall rating:
The tour was great although exhausting because of the hot weather. It's difficult to do so much on public transportation and walking. The Day 2 was allot of territory to cover in one day on foot. Although in general the walking is good, standing and listening to a talk from a guide is hard on the body. The visit to the Jewish quarter and the cemetery was fascinating and excellent. I was frustrated at not having more time in Budapest what an incredible city and the cooking school was fun.
Favorite "WOW" moment
"I had two wow moments one in Prague and one in Budapest. In Prague it was the Slav Epic which was not included in the tour and should be, it was amazing and much more interesting and educational than the Alfons Mucha poster museum. I suggest that the Slav epic be included in the tour. Also the Municipal House was amazing. In Budapest it was the exterior of the Parliament building, and I was told by a passing tourist that the inside was definitely worth seeing."
Robert
Trabuco Canyon, CA
Tour: 08/30/15
Overall rating:
Too much time was spent on royalty. Most of the Americans with ancestry in the area came from peasant stock. On Steves tours in Ireland and Spain, much more focus was given to issues of how to search ancestry, the atmosphere in the early 20th century that drove immigration, the lifestyle of more typical people.
Favorite "WOW" moment
"we highlight the cooking class the most"
Sharron
St Simons Island, GA
Tour: 08/30/15
Overall rating:
Jana did a terrific job. She is very knowledgeable about background information, history, and all other aspects of Prague and Budapest. She was very kind, helpful and understanding to all members of the group. It was fun to be with her and learn about the history of the sites we visited. I would strongly recommend her as a tour guide to all of my friends visiting Prague and Budapest. Does she do any other tours in the areas?
Favorite "WOW" moment
"The Jewish center in Prague."
Douglas
Annandale, NJ
Tour: 08/30/15
Overall rating:
The tour was good but not up to the level of our previous 2 Rick Steves tours. Prague was good while the Budapest tour was barely adequate and needs much improvement. Quite frankly something was missing from this tour. It did not seem as "crisp" or exciting as the previous tours. I would strongly recommend that the initial hours of the tour be devoted to an overview of Prague and more specifically a brief sightseeing tour to become acquainted with the city . A brief bus or tram tour would do.
Favorite "WOW" moment
"The evening cruise down the Danube in Budapest."
Sheree
Buffalo Grove, IL
Tour: 08/30/15
Overall rating:
I felt the tour was great. The Prague tour guide Jana was better than the tour guide in Budapest.
Joyce
Glen Rock, NJ
Tour: 06/28/15
Overall rating:
The first Rick Steves tour was a leap of faith based on what we read and what we saw on PBS. After our experience, I can see becoming a total Rick Steves addict. The tour was a perfect combination of structured and free time. What we did was comprehensive enough to feel that we had "seen the city" but not exhausting or overwhelming. The overall experience exceeded our hopes.
Jhan
Columbus, OH
Tour: 06/28/15
Overall rating:
Our first Rick Steves tour and we loved it! The pacing was perfect, and we were pleased with the sites we visited, as well as the free time allotted to explore Prague and Budapest on our own. The headphones made it easy to absorb the guides' information and to stay together. The people on the tour were friendly, positive and interesting folks and opportunities to share a travel experience with them (dining together, cooking class, etc) were great fun.
Favorite "WOW" moment
"Oh my....I was "wowed" most of the time, from the picturesque and history laden old city in Prague to the bustling life in Budapest. I think the synagogues and churches perhaps made the strongest visual impact."
Philip
Grants Pass, OR
Tour: 06/28/15
Overall rating:
We started our tour on our own in Krakow. We had consulted with the Rick Steves Tour via phone to get hotels and guides lined up. All were excellent. We trained overnight to Prague to catch our Rick Steves Tour that afternoon. What a wonderful group we met that first day of the tour. We knew it was going to be a great trip from the lighthearted and amiable leader guide. This was our second Rick Steves Tour. We really appreciate the morning guided trips and tours and mostly open afternoons. Great
Favorite "WOW" moment
"Sightseeing in Prague, we saw over a thousand years of design, architecture, and history. Entering Budapest was completely different. Most everything built in the late 19th century. I did no expect this but the night river boat tour was a sure highlight: it was beautiful and showed the two sides of Buda and Pest splendidly. Wow!"
Jeanne
Irwin, PA
Tour: 06/28/15
Overall rating:
I can't say enough about our tour experience. Good weather was a blessing, but the tour was above and beyond what we expected. BUT, it is deceiving to tell readers that they can get on any train at any time. That is NOT the case. We could NOT get a ticket to Vienna, and fellow tour travelers had a ticket in advance and still could not get on the train! We luckily purchased tickets and all of us forced our way on, not pleasant. No seats, 2 had to stand.
Favorite "WOW" moment
"We (husband and I) were seated just outside our hotel in Prague, in the Ungelt courtyard. It was an Irish pub. I had a Belgian beer (Stella Artois) and a Caprese salad, while "American Pie" was playing in the background. I was struck at that moment how small the world is after all. Prague, Ireland, Belgium, Italy, America all in one moment."
Deborah
Matthews, NC
Tour: 06/28/15
Overall rating:
We thoroughly enjoyed the Prague & Budapest tour. After such a great experience on this tour, we look forward to more Rick Steves' tours. From the wonderful travel group to the excellent guides and all the architecture and history of Prague and Budapest, it couldn't have been better. We appreciated the attention to detail and how well organized the tour was. We also liked having a combination of organized guided trips and free time to explore. Overall, we loved the tour!
Favorite "WOW" moment
"Although there were many "wow" moments, we especially liked having the local guides. We loved hearing about their personal experiences, learning the culture and learning how "local" people live in Prague and Budapest. We could never have gained that insight if we had traveled on our own."
Jeanne
West Windsor, NJ
Tour: 06/28/15
Overall rating:
We always stayed away from tours in the past but this was great - more of a cultural immersion than the tourist drive-by most tours seem to be. Absolutely loved it. Hotels were nice and perfectly situated. Local restaurants and experiences were really good.
Favorite "WOW" moment
"In Prague, the Castle Tour was amazing. In Budapest, loved the cooking class, coffee house and Ruin Bar! Sorry - couldn't pick."
Patricia
Libertyville, IL
Tour: 06/28/15
Overall rating:
This was our sixth Rick Steves tour & we are (obviously) hooked. Our Prague & Budapest tour was as fabulous as the others have been, with a lively, interested & interesting group of travelers to share the experience with. The tour struck a good balance of structured activity & free time, the better to explore on our own with excellent preparation. The pairing of the two cities is great as each is unique in character & feel. As with anywhere we travel, the people are the best part!
Favorite "WOW" moment
"I was in a constant wow state for the duration, so it's hard to say. I loved the concert at the Spanish synagogue, the cruise on the Danube and the fun and yummy cooking class. I enjoyed moseying around and exploring churches & synagogues, and I love the cafe scene. Can't think of a non-wow moment!"
Gina
West Greenwich, RI
Tour: 06/28/15
Overall rating:
I was very impressed and excited about this tour. I loved everything about it- the guide especially but also the style of travel with taking advantage of less touristy things and getting a taste of the lifestyle. I was tired walking 10 miles overall on the cobblestones in Prague but it was well worth it. Hotels were better than I expected after reading the possible negatives from the book. Restaurants were excellent-esp the breakfasts. I need more than 500 words to fully compliment everyone!
Favorite "WOW" moment
"Hard to pin it down. Seeing Prague and the amazing mix of architecture in one place overwhelmed me (in a good way). I loved the Czech beer and I am not usually a drinker. Also the Szechenyi baths and pool in Budapest, Ruin Pubs, Hospital in the rocks. Our room at the Metamorphis in Prague was another "wow". Also the Szechenyi baths and pools, Ruin Pubs, Hospital in the rocks in Budapest. Nice group of like minded travelers."
Deanna
Marysville, WA
Tour: 06/28/15
Overall rating:
The tour was wonderful. We had 22 of the nicest people and best travelers on this trip so it was a great group. Everyone was interested in everything and we had our local guides tell us it was a pleasure to speak to a group that was so interested in everything they had to say. Super fun!
Favorite "WOW" moment
"I had two "wow" moments. The first was that I did not expect Budapest to be such a modern, fun, cosmopolitan city. I really enjoyed everything about it. The second was when a TM told me that HER "wow" moment was when she realized that everyone on the trip was like minded--interested in history, wanting to explore, ask questions and learn. She said that her friends at home wouldn't appreciate half of what we saw/did on this trip, and it opened up a new world for her. (New friends, hopefully!)"
Joanne
Walnut Creek, CA
Tour: 06/14/15
Overall rating:
I had so much fun, and when not with the group, felt very comfortable on my own traveling around as a single woman. I was very glad I had my own hotel room. It made a big difference. I really liked Prague. It seems to now be my favorite city of my European travels.
Favorite "WOW" moment
"The Széchenyi Baths in Budapest and the Hungarian cooking class."
Jed
Cresco, IA
Tour: 06/14/15
Overall rating:
Very enjoyable. I enjoyed learning about the Czech history, culture, food and architecture. The stories about life under communism and life after communism were especially interesting. Wandering the cobblestone streets and squares while taking in the street musicians is a fun and inexpensive way to spend some free time.
Favorite "WOW" moment
"The spa in Budapest and wandering the streets of Prague listening to the street musicians."
Jennifer
Saratoga, CA
Tour: 06/14/15
Overall rating:
The tour was interesting but not enough variety. We were in Prague for four days, three days in the old town and the last day was outside of the old town. I wish we could visit a near by village outside of the Prague or Budapest to see more about these two countries. Before I joined the tour, I thought we were giving options to do different activities, but the tour guide did not ask about our interests, and only give us the information about evening entertainment.
Favorite "WOW" moment
"The local tour guide talked about the Velvet revolutions, the history of Budapest. The cave church in Buda was very interesting, and I was glad I went by myself."
Stephen
Los Altos, CA
Tour: 06/14/15
Overall rating:
The sights and tour itinerary were outstanding, guides were fantastic, hotels were OK, and the food was terrible.
Favorite "WOW" moment
"Touring the Opera House in detail in Budapest. The opera house was stunning, and the ability to see so much of the building (including the individual boxes)."
Louise
Bradenton, FL
Tour: 06/14/15
Overall rating:
Well organized, well run & efficient. Good value. Right combo of planned time & free time. Our tour guide, Katka, was always well-prepared and knowledgeable. Especially appreciated her providing info on logistics and transportation.
Favorite "WOW" moment
"evening river cruise on the Danube in Budapest. View of the Parliament building is stunning."
Sally
Ceres, CA
Tour: 06/14/15
Overall rating:
Everything was great from the places visited to the hotels to the guides. I was very pleased.
Favorite "WOW" moment
"There were many special moments but I think crossing the Charles Bridge for the first time and looking at both sides of the beautiful city and the river was definitely a wow moment. Prague was more beautiful than I dreamed it to be. Pictures definitely don't do it justice."
Eleanor
Sarasota, FL
Tour: 06/14/15
Overall rating:
I thought the guides were all really excellent. Also, Katka has a process for learning everyone's names that I thought was really terrific and really brought the group together. The hotels were nice, the food was okay for the most part and there were so many little extra things we did - the cooking class, the Velvet Revolution tour, the boat ride on the Danube - that we might not have done on our own.
Favorite "WOW" moment
"The Jewish quarter tour was incredibly moving, but that wasn't really a "wow" moment, I guess. I think the baths in Budapest were really amazing."
Kevin
Sarasota, MI
Tour: 06/14/15
Overall rating:
The tour was excellent. Both Prague and Budapest were rich in history and had plenty of museums , cathedrals, and castles on display. I was pleased with the energetic pace of the tour, starting with our high energy guide Katka, and the fast paced mix of walking tours, group meals and events.
Favorite "WOW" moment
"The baths in Budapest were fabulous and unique."
Carolyn
Cypress, TX
Tour: 06/14/15
Overall rating:
This was so great!!! Met some new friends and really enjoyed every minute of my time. Our guide Katka was absolutely the best!!! The hotels were very good. Overall the trip was a great value for the money. I appreciate that they teach us how to get on the metro and be able to go by ourselves. Coming from a city that doesn't have a subway, it can be intimidating. It was such great fun!!
Favorite "WOW" moment
"Going with new friends to further explore things we have seen and places we did not visit on the tour. Prague & Budapest are now 2 of my favorite cities and plan to come back. I loved the Budapest bath. we had such great fun and we decided it was one of the best people watching places in the world. Loved the cooking class!"
Alex
Goodlettsville, TN
Tour: 06/14/15
Overall rating:
Wow, to start with. So much history, so much architecture, so much good information (personal background experiences, John Lennon wall as an icon for freedom and peace) Just hard to put it all in to words. My view of history, religion, poverty, war, and society was changed with this tour. So much you just cannot get from a book or a documentary. Thank you thank you Very well done
Favorite "WOW" moment
"Too many to list. Small stories behind the names of places, or what happened that was significant, or relationships, and the overall historical one amazing architectural amazing wow feature after another. The food experience in Hungary was really fun, amazing and much better experience than I thought it would be. I was expecting 'really good' but it was just fun to watch everyone jump in and start preparing food together like a big family. Great meal too, lots of fun."
Richard
Oklahoma City, OK
Tour: 05/24/15
Overall rating:
First Rick Steves tour and did not know what to expect. From the first meeting to the last we were informed when and where we should be. Etelka was wonderful as we're all the guides in both Prague and Budapest. We had a great time and enjoyed entire tour which was well done and prepared. We learned a lot more about both Prague and Budapest far exceeding what we expected.
Favorite "WOW" moment
"Don't know if I could pick one. It would be Budapest and the afternoons I took off by myself walking and relaxing with a beer at the local sidewalk restraint. Etelka was great the whole trip."
Renee
Wauconda, IL
Tour: 05/24/15
Overall rating:
I thought our Rick Steves tour was very well organized. I appreciated the email reminders, books and materials sent to us in advance. I thought our trip coordinator was excellent. Our city guides were knowledgeable, thorough and pleasant. I'm really glad we had the headphones as they were very helpful during our visits to crowded sites. I enjoyed the sites we toured/visited. The bus ride was pleasant as our bus was spacious. I enjoyed the restaurants and entertainment at the group meals.
Favorite "WOW" moment
"I loved the Hungarian cooking class we participated in as a group. We ate the various dishes our group had prepared. I am a very picky eater but I did try some dishes "out of the box" for me and I loved them. I appreciate that they gave us a cookbook to take home. I really loved the Hungarian bathhouse outing which we did in our free time (our escort led us). Both of these experiences gave me a feel of something authentic to Budapest/Hungary. They weren't "touristy" activities."
Tara
Greenwood Village, CO
Tour: 05/24/15
Overall rating:
Etelka is, as I expected, an excellent tour guide. This was my second Rick Steves tour and Etelka is top notch, like your other guides. The trip to these two beautiful cities was overall very nice. I found the walking tours to be way too long. I'm sure there were many history buffs in the group that loved them, but when you have a group with varied ages and personality types, certainly there is a way to meet in the middle? 3-4 hours each day was too much!
Favorite "WOW" moment
"The boat tour down the Danube was ethereal. Very beautiful!"
William
Webster Groves, MO
Tour: 05/24/15
Overall rating:
Very surprised at how beautiful and interesting Prague and Budapest are to visit. The big eye opener was Budapest-what a beautiful city especially at night from a Danube river cruise ship.
Favorite "WOW" moment
"Danube River cruise in Budapest."
Susan
Lucas, TX
Tour: 05/24/15
Overall rating:
This tour excelled at immersing us in each city while attending to the details which, overall, would detract from the experience. Highly educated guides and escorts and carefully curated tours are the reasons this was an exceptional vacation for us.
Favorite "WOW" moment
"Seeing democracy in action via a peaceful demonstration by hospital workers (including doctors), teachers and police officers in Budapest. Thousands happily walked down a main road while traffic was completely stopped."
Kaia
Portland, ME
Tour: 05/24/15
Overall rating:
The locations, the history, the culture, the personal stories from the tour guides were all amazing. It wasn't just dry history lessons - you really got to know about the places you were visiting and were able to appreciate them all the more.
Favorite "WOW" moment
"There were so many. But one of the things that stood out to me was when we visited the Jewish Quarter in Prague. Our tour guide Barbara was extremely knowledgeable and her insights and context made it even more powerful."
Sandy
Santa Fe, NM
Tour: 05/17/15
Overall rating:
Saw everything we wanted to see inspire of some bad weather. Great group and great guide
Favorite "WOW" moment
"view of Buda as seen from Pest at night"
Priscilla
San Francisco, CA
Tour: 05/17/15
Overall rating:
We had a wonderful group of 24 people and a great guide, Eszter. This was my second Rick Steves tour and it proved again that he has some of the best guides which helped elevate the tour experience. The trip was special and memorable (love the Hungarian cooking class); I will go on more Rick Steves tours and also recommend to others.
Favorite "WOW" moment
"St. Vitas Cathedral in Prague was grand and magnificent. The night boat cruise on the Danube in Budapest seeing the lit Parliament building and various villas was beautiful and magical. Last but not least, the gorgeous cafe (in the Paris Department Store) where we stopped for coffee and cake."
Rick
Glenwood Springs, CO
Tour: 05/17/15
Overall rating:
An excellent tour!
Favorite "WOW" moment
"Sorry, no "wows."
Laurence
Jacksonville, FL
Tour: 05/17/15
Overall rating:
I had an amazing time on this tour. Eszter really made everyone feel comfortable with getting around in each city as well as giving fascinating social and historical backgrounds on each location.
Favorite "WOW" moment
"Arriving in Budapest and crossing over from Buda into Pest for the first time, taking in the scope of Pest. The Danube cruise was awe-inspiring, and I gained more perspective about different locations and their history from Eszter!"
Dawn
Longwood, FL
Tour: 05/17/15
Overall rating:
This tour could NOT be any better. History plus the real-world (Eszter's lessons on public transportation); we did more on this tour than seems possible. We fell in love with Prague and Budapest through Eszter's eyes; her training will allow us to return on our own. Loved the cooking class; learned how to properly cook with paprika! Loved the night Danube cruise; shopping; the food; the beauty--loved every minute of this tour. So very glad we went.
Favorite "WOW" moment
"#1: Finding that Eszter was our guide! Then: Astronomical Clock; Old Town Square; Castle Quarter; Charles Bridge; Velvet Revolution tour; LOVED Strachov Monastery Brewery walk/lunch (but EVERY meal was WOW including breakfasts at both hotels); food stands, coffee, and shopping at Central Market Hall; Danube night cruise; discovering mint lemonade; seeing the hot springs; finding the perfect hat...hope to have many more future WOW moments in Prague and Budapest."
Michael
Longwood, FL
Tour: 05/17/15
Overall rating:
Wonderful tour; value-packed, action-packed, educational; the quality of the food, hotels, and attractions was outstanding; the knowledge of our guides (Eszter plus three local guides) was astonishing. The guides' knowledge and passion greatly enhanced and deepened my understanding of the places we visited. I enjoyed the ear bud / microphone system our guides used. It helped maintain continuity and kept the group together.
Favorite "WOW" moment
"Many: Astronomical Clock, Prague Castle, Municipal House, Wenceslas Square, Mucha Museum, our romantic night boat tour down the Danube, Golden Lane, Central Market Hall, Hungarian State Opera. And more."
Linda
Metairie, LA
Tour: 05/17/15
Overall rating:
Eszter did a great job. Loved the two cities.
Marilyn
Santa Fe, NM
Tour: 05/17/15
Overall rating:
I thought this was a very well planned and executed tour. We covered a lot of ground in a very short period of time.
Favorite "WOW" moment
"The Budapest Opera House"
Weather

Czech Republic / Prague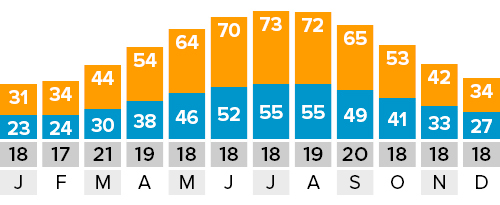 ---
Hungary / Budapest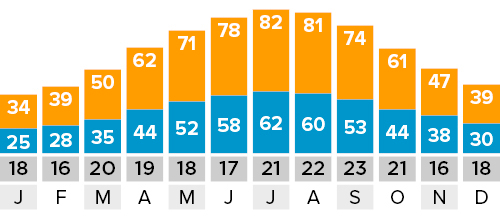 Planning Tips
We've put together some specific information on what you should know about this tour before you go. You'll also find more general information about "Getting Ready for Your Tour" on our Tour FAQ.
Travel Resources
Learn more about Prague and Budapest: Check out a collection of Rick's TV shows, radio interviews, and articles.
Transportation
Prior to your tour departure, you will receive detailed directions on how to get from the airport to your first tour hotel, as well as contact information for your first and last hotels in case you wish to book pre- or post-tour hotel accommodations.
Many tour members arrive a day or two before the tour begins — and those who don't, wish they had. This allows you ample time to get over jet lag and make the most of the first few days of the tour.
There is more than one way to get to and from your tour. Most tour members will arrange to fly into Prague and out of Budapest ("multi-city" on flight booking websites). Booking round-trip to one city will require a connecting flight, train trip, or additional overnight stay in Europe.
For information about flying within Europe, ask your travel agent or check Rick's list of European budget airlines.
Read Rick's train travel and rail pass tips to decide if your travel plans merit a rail pass.
If you have additional European travel or tour questions, contact the Tour Department at 425-608-4217 or email tour@ricksteves.com.
Sightseeing on Your Own
If you arrive in Prague before your tour begins, use the Rick Steves Prague guidebook to get oriented. Ride the public transportation, try out a few words of Czech (although many locals speak English well), and get over your jet lag with fresh air and exercise.
Here are suggestions for sightseeing in Prague that we will not be doing as a group (see the guidebook for details): Museum of Medieval Art, Havelská Market, National Museum, Toy and Barbie Museum, rowboat or paddleboat on the Vltava River.
Packing
While it is important to pack light, there is one thing you should consider including when packing for this tour. Budapest is known for its natural hot springs and spending time at one of the many baths around town is a great treat, so you may want to bring along a swimsuit.
For advice on what (and what not!) to pack, see Rick's packing tips.