Roman Baths in Bath

Glastonbury Abbey Ruins

Blenheim Palace

The Cotswolds

Conwy in Wales

Welsh Sheep Farm

Wales' Caernarfon Castle

Bodnant Garden

Lake District

Hadrian's Wall

York Minster

London
Tour Questions? See our FAQ | Call 425-608-4217
Best of England in 14 Days Tour
Our two-week tour of England offers a delightful mix of big-city thrills and thatch-happy village charm. Your Rick Steves guide will welcome you in the elegant Georgian town of Bath. From there you'll tally-ho to King Arthur's Glastonbury, flower-boxed Cotswold villages, opulent Blenheim Palace, Welsh Conwy, and Caernarfon Castle. You'll also be treated to the spectacular scenery of the Lake District, historic Hadrian's Wall, and medieval York — ending with the must-see sights of energetic London. Join us for the Best of England in 14 Days!
Dates & Prices
What's Included
You'll get at least 26 group sightseeing events — at no extra cost!
Here's what you'll see and do on our Best of England tour:
Bath walking tour
Roman Baths
Glastonbury Abbey
Wells Cathedral
English beer tasting
Avebury stone circles
Blenheim Palace
Cotswolds loop drive
Stanway House and grounds
Cotswolds country walk
Local folk music
Stokesay Castle
English cream tea
Welsh sheep farm
Caernarfon Castle
Snowdonia National Park scenic drive
Bodnant Garden
Lake District boat cruise
Castlerigg stone circle
Hadrian's Wall walk
Vindolanda
York walking tour
York Minster
Tower of London "Beefeater" tour
Thames River cruise
Westminster Abbey
Plus you'll get all this, too.
A small, friendly group of 24–28 people — half the size of most tour groups
Full-time services of a professional Rick Steves guide and local experts who will make the fascinating history, art, and culture of England come alive for you
All group transportation from Bath to London
13 nights' accommodations in memorable, centrally located hotels
All breakfasts and half your dinners
All tips for guides and driver
A tour kit including a guidebook (when available) and a moneybelt
Guaranteed tour price, locked in the moment you make your deposit
Tour alum discount of $50 for each tour you've taken prior to 2022
50% discount on a consulting appointment with our in-house experts to assist with your pre- or post-tour travel plans
Flexibility should you need to transfer or cancel your tour
Fine print: You are responsible for the cost of your drinks and free-time sightseeing. See our Tour Conditions for important details regarding everything listed above.
Group sightseeing events subject to change.
Itinerary
Day 1: Welcome to England
The beautiful Georgian city of Bath is a 90-minute train ride from central London. We'll meet at 4 p.m. at our hotel for a "Welcome to England" get-together. Then we'll take a short neighborhood orientation walk and get acquainted over a traditional roast dinner.
Light walking: 2–4 miles throughout the day on mostly level terrain. No bus. Sleep in Bath.
Day 2: Roman and Georgian Bath
Our day begins with a walking tour of Bath's charming streets, including its medieval abbey square and the imposing sweep of its Royal Crescent. Next we're off to tour the town's remarkably preserved, 2,000-year-old Roman Baths, where you'll have a chance to drink from these natural mineral springs in the Pump Room. The rest of the day is free to make your own discoveries in this historic town. You might visit the colorful Fashion Museum or — as Roman travelers did — bathe in a mineral spa.
Moderate walking: 2–6 miles throughout the day with some hills and stairs. No bus. Sleep in Bath.
Day 3: Glastonbury and Wells
Today we'll explore and learn about mystical Glastonbury, the legendary resting place of King Arthur, where we'll also enjoy a picnic in the shadow of the abbey ruins. Later we'll tour England's oldest completely Gothic structure — the graceful Wells Cathedral — before returning to Bath in the late afternoon.
Moderate walking: 2–6 miles throughout the day with some hills and stairs. Bus: 3 hours. Sleep in Bath.
Day 4: Stone Circles and the Cotswolds
This morning we'll take a walking tour through Avebury's mysterious prehistoric stone circles. Then we'll drive north to Blenheim Palace, touring this gilded mini-Versailles that was the birthplace of Winston Churchill. We'll end our day in the charming, flower-boxed Cotswolds market town of Stow-on-the-Wold.
Moderate walking: 2–6 miles throughout the day with some hills and stairs. Bus: 5 hours. Sleep in Stow-on-the-Wold.
Day 5: Cotswold Villages
Today we'll take a scenic Cotswolds drive, stopping to explore an ever-so-English village and to tour Stanway House, home to the local aristocracy. This afternoon you'll have free time to explore more picturesque market villages on your own — or join your guide for a leisurely country walk past cottages and sheep, through fields and kissing gates. Tonight we'll enjoy dinner together at a country pub with the sounds of local folk musicians, where you can try a sip of scrumpy, the local farmhouse "hard cider."
Moderate walking: 2–6 miles throughout the day with some hills and stairs. Bus: 2 hours. Sleep in Stow-on-the-Wold.
Day 6: Wonderful Wales
We'll begin our day visiting Stokesay Castle, a fortified manor house, where we'll learn about the feudal system and the perks of the well-born. After a lovely cream tea we'll bid cheerio to England and drive into wonderful neighboring North Wales toward the castle-topped harbor town of Conwy. You'll have time to wander through town and walk the city walls overlooking the Irish Sea before our dinner together.
Light walking: 2–4 miles throughout the day on mostly level terrain. Bus: 5 hours. Sleep in Conwy.
Day 7: Sheepdogs, Castles, and Highlands
This morning we'll head to the Carneddau Mountains, where we'll visit a working farm and get to know their talented sheepdogs. Then we're off to Caernarfon to tour the impressive Caernarfon Castle, part of the system of English garrison castles that Edward I built to enforce English rule over North Wales 700 years ago. After lunch, we'll head up into majestic Snowdonia National Park for a drive through some of the most gorgeous scenery North Wales has to offer. The rest of your day is free to roam along Conwy's multi-towered city wall, historic houses, and laid-back harbor.
Strenuous walking: 2–8 miles throughout the day with lots of hills, stairs, and uneven terrain. Bus: 3 hours. Sleep in Conwy.
Day 8: Gardens and Lakes
We'll begin our day by exploring the manicured lawns, terraced beds, and extensive botanical collection of Bodnant Garden. Then we'll cross back into England and wend our way through the spectacular peaks and valleys of the Lake District, a favorite haunt of poets and painters. After an orientation to the town of Keswick, we'll end the day feasting on fish and chips together at a traditional English chippy.
Light walking: 2–4 miles throughout the day on mostly level terrain. Bus: 5 hours. Sleep in Keswick.
Day 9: The Lake District
Today we'll explore the natural beauty of the Lake District. You can join your guide for a leisurely boat cruise on the island-studded Derwentwater — or strike out on a little expedition of your own 'twixt lakes and mountains, thanks to a wealth of hiking opportunities along well-marked trails. This afternoon, you'll have the chance to join your guide for a walk up to Castlerigg Stone Circle for sweeping views of the valley.
Light to strenuous walking (your choice). Boat: ½ hour. No bus. Sleep in Keswick.
Day 10: Hadrian's Wall
We'll travel back in time today with a walk along Hadrian's ancient Roman wall, once considered the boundary dividing civilization and barbarity (though the Scots might disagree), followed by a tour of the Roman auxiliary fort, Vindolanda. We'll have lunch before heading to the bustling cathedral city of York. Upon arrival, we'll take a walking tour beneath the leaning, half-timbered houses of The Shambles in the city's marvelous medieval center. Tonight we'll indulge in England's favorite ethnic food with a tasty Indian dinner together.
Strenuous walking: 2–8 miles throughout the day with lots of hills, stairs, and uneven terrain. Bus: 5 hours. Sleep in York.
Day 11: York Minster and the Medieval City
We'll begin our day marveling at York Minster's stained glass windows on our tour of the largest Gothic church north of the Alps. You'll have the rest of the day free to explore more of this enchanting city. It's a great night to enjoy an ethereal evensong choir performance in the Minster.
Moderate walking: 2–6 miles throughout the day with some hills and stairs. No bus. Sleep in York.
Day 12: Westminster Abbey and Regal London
Today we'll board a train and make a beeline past the Midlands for London. Upon arrival, we'll enjoy an entertaining guided bus tour, hearing tales about Big Ben, the river Thames, St. Paul's Cathedral, and more. Then, led by a local guide, we'll visit Westminster Abbey, where England's kings and queens have been crowned and buried since 1066. A thousand years of English history lie within its stained-glass splendor and under its stone slabs. Later this afternoon, we'll check into our hotel and get oriented to our neighborhood and London's Tube. Tonight is a perfect evening for the theater (book something in advance from the Colonies or pick up a ticket in London).
Moderate walking: 2–6 miles throughout the day with some hills and stairs. Train: 2 hrs. Bus: 2 hrs. Sleep in London.
Day 13: Tower of London and the River Thames
This morning we'll begin our day of sightseeing with the medieval Tower of London (the first "skyscraper" of its time), where you can join a tour with a witty Beefeater and get a close-up look at the UK's majestic collection of crown jewels. Then we'll take a panoramic cruise on the river Thames. We'll disembark at Westminster, where you'll be free to explore the Churchill War Rooms, tour the British Museum, or take a walk through one of the city's wonderful parks. Tonight we'll meet for a final group dinner together, where we'll share travel memories and toast new friends. Cheers!
Moderate walking: 2–6 miles throughout the day with some hills and stairs. Boat: ½ hr. No bus. Sleep in London.
Day 14: Tour Over After Breakfast
Breakfast is provided, but there are no group activities today. Heathrow and Gatwick airports can be easily reached by Tube, train, or taxi from our London neighborhood. For those not ready to return home yet, London is a great jumping off point to Paris, Dublin, Amsterdam, and many other exciting destinations. Cheerio!
Itinerary specifics subject to change.
Physical Demands
Our tours are physically active! It's an essential part of the Rick Steves tour experience. On our Best of England in 14 Days tour — among other things — you'll need to happily…
Carry/roll your luggage over uneven pavement (possibly several blocks) and up stairways to reach your hotel, then up several flights of stairs to reach your room.
Be on your feet, walking and standing, for up to three hours, indoors and outdoors, in all weather conditions.
Sleep with street noise and no (or weak) air conditioning.
After orientation and transportation lessons, be able to navigate towns and cities on your own.
Be able to climb many flights of stairs in and out of the London Underground system.
Reviews
Rebecca
Medford, OR
Tour: 09/29/19
Overall rating:
This is the longest of the four RS tours we've taken and I was happy with the pacing of bus vs. overnight stays vs. activities vs. downtime. Each day was different and full of surprises. I especially enjoyed the time in Wales, the Lake Country and Northumbria but it was all-in-all a great itinerary and nice balance between city and countryside.
Favorite "WOW" moment
"There were many WOWs for me on this trip. If I have to pick one, it would be standing on Hadrian's Wall and later exploring the excavations and museum at Vindolanda, imagining thousands of Roman troops braving the weather and terrain of Northumbria, so far from their homes and literally on the brink of what was then civilization. Perhaps it was the weather that day-intermittent rain, wild wind and a double rainbow--but the ghosts came up from the ground and told me their stories that day."
Melody
Grand Terrace, CA
Tour: 09/22/19
Overall rating:
This tour provides an excellent overview of some of the highlights of England. I enjoyed learning the history and seeing ancient sites, but particularly loved the scenery that we drove through each day. There is a lot of variety packed into this tour - castles & cathedrals; gardens & national parks; small towns & cities; bus, boat, & train travel; picnics, pubs, & personal food choices.
Favorite "WOW" moment
"Meeting an elderly man during my solo walk out of, and back to, Stow-on-the-Wold. I asked him for directions and we ended up sharing a very special visit for about 30 minutes as we strolled back to the village together."
Lisa
Greenwood Village, CO
Tour: 09/22/19
Overall rating:
The English countryside was amazing! I loved the smaller quaint villages. Each day was filled with unique experiences that I will remember for a lifetime. I also enjoyed the travelers in our tour group. Everyone was friendly and I enjoyed getting to know them better during our group meals and gatherings!
Favorite "WOW" moment
"It is difficult to pick just one "wow" moment! Perhaps my favorite town was York for its history. The Minster Cathedral was beautiful and the town was enjoyable to stroll and wander. I was very impressed with the fall Bodnant Gardens in Wales. Talk about getting "lost" in so much beauty. I was struck by the beauty of the Wells' Cathedral as well."
Michael
Lincoln, CA
Tour: 09/15/19
Overall rating:
The tour was everything we hoped for. It was our first Rick Steves tour and we are happy we chose it. Previously we have traveled much of Europe and some in England on our own, but wanted to try a longer comprehensive approach this time and that's what we got. Having all of the arrangements like hotels, transportation and venues all made and paid for in advance was terrific. The tour leader, Mark, made it so easy, all we had to do was manage our luggage and show up on time for activities.
Favorite "WOW" moment
"The best part of the trip, outside of all of the sites and places was the historical commentary of Mark, our tour leader. His extensive knowledge of all of the places and people connected to our journey made the tour so special and worthwhile. Thank you Mark!"
Jeffrey
Ellicott City, MD
Tour: 09/15/19
Overall rating:
The tour was extremely enjoyable educational experience. We enjoyed the balance of guide led and free time. This allowed us to get to interact with the locals. This was consistent with our past Rick Steve's tours.
Favorite "WOW" moment
"The realization that you can hike almost anywhere around the beautiful English countryside, and learning about Welch hill farming from Gareth Wynn-Jones. Rounding sheep up from 20k acres and the mountains seems very daunting."
When To Go & Weather
Any time between April and October is a good time to visit England. However, the months of April, May, September, and October are best for offering fewer crowds, mild weather, and the full range of tourist fun. Summer has its advantages, with long days and the best weather (though never guaranteed).

England / London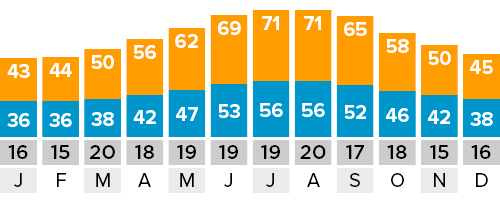 England / York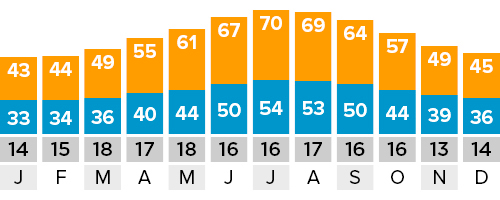 Hotels & Flights
Tour Hotels
In case you wish to book pre- or post-tour hotel accommodations, the contact information for the tour's first and last hotels is included in your tour confirmation email, as well as in the Itinerary section of your tour account. One month prior to the tour departure, you'll find the directions to your first tour hotel and a complete list of hotels where we'll be staying in the Documents section of your tour account.
Flights
Our tours don't include airfare, so your flight arrangements are completely up to you.
Most tour members arrange to fly in and out of London's Heathrow (LHR) or Gatwick (LGW) airports. To get to Bath, where the tour begins, there are direct trains available from London's Paddington Station, reachable from Heathrow via the Heathrow Express. Alternatively, you can travel from both Heathrow and Gatwick airports on a direct National Express coach (bus); schedules can be found at the National Express website.
We suggest arriving a day or two before your tour begins to allow ample time to get over jet lag and be well-rested for the first few days of your tour. For more information about transportation options for getting to and from your tour, see your Rick Steves Great Britain guidebook.