London

Tower of London

Eiffel Tower

Guédelon Castle in France

Männlichen in the Swiss Alps

Cinque Terre, Italy

Pisa's Leaning Tower

Michelangelo's "David" in Florence

Gelato Break in Italy
Tour Questions? See our FAQ | Email tour@ricksteves.com
Family Europe: London to Florence in 13 Days Tour
Rick Steves Family Europe: London to Florence in 13 Days delivers a colorful mix of must-see cities (London, Paris, Florence) and stroll-around charms (Burgundy, the Swiss Alps, Italy's Cinque Terre). Along the way, you and your kids will encounter some fascinating bits of art, history, and culture — as well as a couple of castles, a boat, a mountain cogwheel train, plenty of hiking, and even a swimming pool or two. And on this tour, kids ages 8–17 get a $200 discount! Join us for Family Europe: London to Florence in 13 Days!
Dates & Prices
May 26–Jun 7 (Su–Fr)
$4,995 + Air

May 28–Jun 9 (Tu–Su)
$4,995 + Air

Jun 2–Jun 14 (Su–Fr)
$4,995 + Air

Jun 4–Jun 16 (Tu–Su)
$4,995 + Air

Jun 9–Jun 21 (Su–Fr)
$4,995 + Air

Jun 11–Jun 23 (Tu–Su)
$4,995 + Air

Jun 16–Jun 28 (Su–Fr)
$4,995 + Air

Jun 18–Jun 30 (Tu–Su)
$4,995 + Air

Jun 23–Jul 5 (Su–Fr)
$4,995 + Air

Jun 25–Jul 7 (Tu–Su)
$4,995 + Air

Jun 30–Jul 12 (Su–Fr)
$4,995 + Air

Jul 2–Jul 14 (Tu–Su)
$4,995 + Air

Jul 7–Jul 19 (Su–Fr)
$4,995 + Air

Jul 9–Jul 21 (Tu–Su)
$4,995 + Air

Jul 14–Jul 26 (Su–Fr)
$4,995 + Air

Jul 16–Jul 28 (Tu–Su)
$4,995 + Air

Jul 21–Aug 2 (Su–Fr)
$4,995 + Air
What's Included
You'll get at least 17 group sightseeing events — at no extra cost!
Here's what you'll see and do on our Family Europe tour:
London panoramic bus tour
Thames River cruise
Tower of London
London–Paris Chunnel train
Seine River cruise
Paris walking tour
Louvre Museum
Guédelon Castle
Stone-cutting workshop
Medieval evening
Hiking orientation in the Swiss Alps
Orientation for "vacation" day in the Cinque Terre
Pisa
Art class
Renaissance Florence walking tour
Accademia Gallery including Michelangelo's David
Tuscan cooking class
Plus you'll get all this, too.
A small, friendly group of 24–28 people — half the size of most tour groups
Kids ages 8 through 17 are welcome — and save $200
A full-time Rick Steves guide, tour assistant, and local experts — who will make the history, art, culture — and fun! — of Europe come alive for you and your kids
All group transportation from London to Florence
12 nights' accommodations in memorable, family-friendly hotels
All breakfasts and 6 other meals
All tips for guides and driver
A tour kit including a guidebook (or books) and a moneybelt
Guaranteed tour price, locked in the moment you make your deposit
Tour alum discount of $50 for each tour you've taken with us
Flexibility should you need to transfer or cancel your tour
Fine print: You are responsible for the cost of your drinks and free-time sightseeing. See our Tour Conditions for important details regarding everything listed above.
Group sightseeing events subject to change.
Itinerary
Day 1: Welcome to London
Our adventure together begins in the great city of London. We'll meet at 3 p.m. for a brief "Welcome to Europe" meeting at our hotel. After a neighborhood orientation walk, we'll climb aboard a vintage double-decker bus for a panoramic tour into the heart of the city. This evening, we'll have fun getting to know one another over dinner together.
Light walking: 2–4 miles throughout the day on mostly level terrain. Bus: 1 hour. Sleep in London.
Day 2: The Thames and the Tower
This morning is dedicated to the Tower of London, where we'll learn all about England's historic and most notorious castle. After some free time to sneak a peek at the crown jewels and grab some lunch, we'll hop on board a boat and cruise the Thames to Westminster. It's the perfect spot for your guide to orient you for your free afternoon and evening. Explore the neighborhood, including the London Eye, Westminster Abbey, or Buckingham Palace. Or you can walk north past the Churchill War Rooms, 10 Downing Street, and the Horse Guards to Trafalgar Square. Cheerio!
Moderate walking: 2–6 miles throughout the day with some hills and stairs. Boat: ½ hour. No bus. Sleep in London.
Day 3: The Chunnel to Paris
Let's go to France! After breakfast it's all-aboard the sleek Eurostar train to Paris, zooming along at nearly 200 miles per hour beneath the English Channel. In Paris, we'll be met by a comfy sightseeing bus for a rolling introduction to this beautiful city. We'll arrive at our Paris hotel, where you'll have time to unpack and relax a bit before our big evening: learning to use the Métro (subway), dinner together on the Left Bank, and an open-air evening cruise along the Seine River — the perfect finish for your first day in the City of Light.
Light walking: 2–4 miles throughout the day on mostly level terrain. Train: 2½ hours. Boat: 1 hour. Bus: 1 hour. Sleep in Paris.
Day 4: The Historic Heart of Paris
Today we'll explore the birthplace of Paris, the Ile de la Cité. We'll take a walking tour tracing the evolution of Paris, from its Roman roots to its medieval splendor, culminating with the resilient and awe-inspiring Notre-Dame Cathedral. The rest of the day is free for exploring more of Paris on your own. You could visit a museum or two filled with amazing art (the Orsay, Orangerie, Rodin, or Pompidou), visit a kid-friendly park (the Tuileries or Luxembourg Gardens), take in the city views (from the Arc de Triomphe, Montmartre, or a department-store rooftop) — and maybe top off tonight with a trip up the Eiffel Tower (avoid lines by reserving in advance). Let the kids decide.
Moderate walking: 2–6 miles throughout the day with some hills and stairs. No bus. Sleep in Paris.
Day 5: Masterpieces and Rural France
Our morning begins with a visit to the magnificent Louvre Museum. With your smartphone in hand and the Rick Steves Audio Europe™ app, Rick's voice will guide you through the Louvre's timeless treasures, including Mona Lisa, Winged Victory, Venus de Milo, and other great works of art. After free time for lunch on your own in the Louvre's family-friendly food court, we'll meet our driver and bus for the rest of the tour. Then we'll leave city life behind as we head into the French countryside, passing pastures and châteaux en route to our country hotel in the heart of Burgundy. This stately manor home has a swimming pool and a huge lawn, perfect for kids to play outdoor games this evening. For dinner we'll share a buffet of French specialties.
Moderate walking: 2–6 miles throughout the day with some hills and stairs. Bus: 4 hours. Sleep in St. Fargeau, Burgundy.
Day 6: Building a Medieval Castle
We'll begin today at St. Fargeau's wonderfully French weekly market, a scavenger hunt of Burgundian freshness, perfect for piecing together your picnic lunch. Next is something you'll see nowhere else: the construction site of Guédelon, where a full-size 13th-century castle is being built today — by people in traditional costumes using historically accurate tools — exactly as it would have been 800 years ago. We'll have a guided tour through the site and take part in a hands-on workshop, learning how medieval stone cutters worked their magic. You'll have free time to visit the blacksmith, masons, and rope-makers and to explore more on your own. We'll return to our "country estate" in the afternoon with time to relax, swim, or play before we regroup for a medieval-themed dinner together.
Moderate walking: 2–6 miles throughout the day with some hills and stairs. Bus: 1 hour. Sleep in St. Fargeau, Burgundy.
Day 7: Scenic Drive to the Swiss Alps
This morning we'll board our bus and set a course for Switzerland. For lunch, we'll stop and fan out at a typical town's shopping mall (with several places to eat on your own) to get a taste of un-touristy French life. Today's scenic drive is the perfect time to catch up on your journal, play a game with your bus buddies, and learn a few things from your guide about Swiss chocolate. By late afternoon we'll find ourselves in the Berner Oberland's magnificent Lauterbrunnen Valley, flanked by towering, waterfall-laced cliffs. Tonight we'll share some fondue and a hearty dinner together at our creaky old chalet nestled in the Lauterbrunnen Valley.
Light walking: 2–4 miles throughout the day on mostly level terrain. Bus: 8 hours. Sleep in the Lauterbrunnen Valley.
Day 8: All Day in the Alps
Don't sleep in this morning — the Alps await! After a hearty breakfast you may want to take a mountain excursion that includes a gondola lift and a scenic 2½-mile walk along the 7,000-foot-high Männlichen ridge to the village of Kleine Scheidegg. It's a great spot for lunch, with spectacular views of Switzerland's most formidable peaks: the Eiger, Mönch, and Jungfrau. From there you can take a cowbell-serenaded hike back down to our hotel — or rest your feet aboard one of the cute local cog-trains that run between the villages. For tonight's dinner, shop at the local grocery store for an evening picnic in the great outdoors.
Light to strenuous walking (your choice). No bus. Sleep in the Lauterbrunnen Valley.
Day 9: Winding Our Way to Italy
This morning we'll have an encore performance of the Alps as we make our way across the mountains and dive into Italy. We'll wind our way down through hills, pristine lakes, and the farms of northern Italy en route to our Mediterranean getaway. This afternoon's destination is the seaside town of Levanto. During today's trip, you'll get a thorough orientation to tomorrow's fun free day possibilities. Tonight we'll share a tasty dinner together in this corner of Italy, where pesto was invented and the seafood was swimming this morning.
Light walking: 2–4 miles throughout the day on mostly level terrain. Bus: 7 hours. Sleep in Levanto.
Day 10: Free Day in the Cinque Terre
Today is entirely up to you, and each village along the Cinque Terre is just a few minutes away by train. Pick a village to explore, have a meal or two, and become temporary locals…or burn off some energy and enjoy breathtaking views by hiking along the cliffside paths…or get your views from the sea on a scenic boat ride along the coast, past the fishing-boat harbors and hill-hugging villages…or stay closer to home and promenade down Levanto's forgotten 19th Century seaside railway, now wonderfully restored, paved and perfect for biking or walking. Whatever you choose, remember to save time for hanging out on the beach for swimming and sun.
Light to strenuous walking (your choice). No bus. Sleep in Levanto.
Day 11: The Culture and Art of Florence
Rested and refreshed, today we're ready to take on the impressive art and history of Florence. But first, we'll stop in Pisa for lunch and see if its infamous tower is still leaning. We'll continue to Florence, where we'll say ciao to our bus and driver, drop our bags at our hotel, and walk through the San Lorenzo neighborhood's colorful food and craft markets, taking time for a tasting or two along the way. Then we'll drop into a local artisan's studio for a Flash Art class. After learning about this amazing technique, we'll turn the easel around and give the kids a chance to create their own masterpiece. Your evening is free for dinner on your own.
Moderate walking: 2–6 miles throughout the day with some hills and stairs. Bus: 3 hours. Sleep in Florence.
Day 12: Renaissance and Michelangelo's David
This morning we'll meet our local guide for a historical walking tour of Florence, introducing you to the highlights of the Renaissance. We'll learn about life in those world-changing times and gaze at Brunelleschi's magnificent cathedral dome and Ghiberti's amazingly 3-D Baptistery doors. Our walk ends with a bang at the Accademia Gallery, home to Michelangelo's rough-hewn Prisoners and his greatest masterpiece, David. Your afternoon is free to scramble to the top of Brunelleschi's big dome (reserve in advance) or tackle the Uffizi Gallery (reserve in advance) to see the Botticellis, Leonardos, and Raphaels in the greatest collection of Italian paintings anywhere. This evening we'll gather for a fun, hands-on cooking class. We'll enjoy what we prepared at our final dinner together, where we can share our favorite moments and celebrate our friendship.
Moderate walking: 2–6 miles throughout the day with some hills and stairs. No bus. Sleep in Florence.
Day 13: Tour Over After Breakfast
Breakfast is provided, but there are no group activities today. It's a breeze to reach Florence's airport by taxi or public transportation. Your guide will help you with any post-tour planning, leaving you well prepared for the road ahead. Grazie e ciao!
(This tour does not include the Eiffel Tower. To avoid its long lines, we recommend booking tickets several weeks in advance. For details, see our Eiffel Tower ticket tips for tour members.)
Itinerary specifics subject to change.
Physical Demands
Our tours are physically active! It's an essential part of the Rick Steves tour experience. On our Family Europe: London to Florence in 13 Days tour — among other things — you'll need to happily…
Carry/roll your luggage over uneven pavement (possibly several blocks) and up stairways to reach your hotel, then up several flights of stairs to reach your room.
Be on your feet, walking and standing, for up to three hours, indoors and outdoors, in all weather conditions.
Sleep with street noise and no (or weak) air conditioning.
After orientation and transportation lessons, be able to navigate towns and cities on your own.
Be able to get up and "at 'em" in the morning, often departing around 8 a.m.
Be content with the possibility of your family sharing bathroom facilities on this tour.
Reviews
Jim
Tour: 08/02/22
Overall rating:
It was our first trip to Europe and it did not disappoint. I really enjoyed the family experience and I know my daughters especially enjoyed meeting new friends.
Favorite "WOW" moment
"Walking as a group to the Eiffel Tower and seeing it for the first time in the evening. My wife had told the tours guides that it was my birthday and they broke out the champagne and everyone sang Happy Birthday with the Eiffel Tower in the background. It was a very special moment."
Sharon
Tour: 08/02/22
Overall rating:
Most places visited were outstanding & itinerary good when followed. Local guides were usually excellent. It was challenging, good experience to use th tubes in London and Metro in Paris. Our free time was useful. Main guide, Martin was good & bad, acted in goofy excentric manner at times. He gave our group wrong starting breakfast time on 3-4 days. In Pisa the tour bus left for 2 hours for what he said was a quick bathroom break. He was informative,witty; then sarcastic,cynical,jaded.
Favorite "WOW" moment
"Visiting Tower of London, cruising Seine at night with sparkling Eiffel Tower, Sound of Music sensations while hiking in the Swiss Alps. Enjoying fabulous Louvre art collections, being captivated by the colorful enchanting setting in the Cinque Terre, in Monterosso eating tasty gelato by moonlight over the Ligurian Sea. First sight of Pisa's Leaning Tower, Cathedral & Baptistry. Pitti Palace and Gardens on our own. Florence Walking tour provided by enthusiastic, articulate local guide."
Michelle
Tour: 08/02/22
Overall rating:
Day one, our guide let us know that he was "done". This set the tone for the rest of the tour. Having a child on the ASD spectrum who can be struggle with volume control or withholding enthusiasm for things, we thought this tour would be a good fit. We spent the entire time trying to contain our child from irritating others. The group of kids were patient and our son had the time of his life. We were stressed the entire time.
Lisa
Tour: 07/31/22
Overall rating:
We booked our trip fully familiar with the expectations of Rick Steve's tours in terms of luggage, accommodations, activity level, group interactions, etc. We were able to see far more on our tour, and accomplish far more in terms of experiences, than I'd have been able to compile on my own. The kids and I were all amazed.
Favorite "WOW" moment
"Our favorite activity was seeing the castle-build at Guedelon, and favorite sight-seeing was probably David, at the Accademia."
Shelley
Tour: 07/31/22
Overall rating:
The hotels and sights were wonderful. I liked the small hotels with staff who welcomed the tour - clearly the company has great relationships. Palazzo del Borgo was my favorite. The balance of programmed time versus free time was good. Sometimes there was too much repetitive instruction from the guide about subways, museum entrances, currency, schedules etc. I understand it needs to be clear to all but so much repetition became frustrating and time-wasting.
Favorite "WOW" moment
"Everything about the Swiss Alps."
Virginia
Tour: 07/31/22
Overall rating:
Favorite "WOW" moment
"Standing in the ocean at Cinque Terra"
Barb
Tour: 07/26/22
Overall rating:
The Family Tour was perfect for us. The meals and accommodations were great. Our tour leaders were awesome and really helped make our trip so memorable. The amount of free time was good and added flexibility to the schedule.
Favorite "WOW" moment
"The "wow" moment was staying in Wengen Switzerland. The gondola ride up the mountain and hike we're amazing. Our hotel was lovely and our meal together was fantastic."
Wyatt
Tour: 07/26/22
Overall rating:
We had an awesome vacation. The places we visited were wonderful, the food was excellent and the people (guides, guests and locals) were all quite charming.
Favorite "WOW" moment
"That's a tough one because this trip was one big wow after another. I must say that Wengen, Switzerland was the biggest surprise. The beauty of the Alps was an unexpected surprise."
Jackijean
Tour: 07/24/22
Overall rating:
I thought it was well paced so we could see lots of countries and places. I thought Bea and Andrea were really good leaders.
Favorite "WOW" moment
"I loved the pool in St Fargeau! And the beach at Cinque Terre."
Jeannie
Tour: 07/24/22
Overall rating:
Everything went so smoothly. Fantastic guides and individualized experiences.
Favorite "WOW" moment
"Comparing macarons from a French bakery to McDonalds. My daughter makes macarons, so this was such a treat for her."
Christine
Tour: 07/19/22
Overall rating:
Wonderful tour. Great guides. Hotels were in very good locations. Food was excellent. Only unhappiness with meals was the advertised fondue dinner in Switzerland that we were greatly looking forward to. It was actually only an appetizer With everyone getting one dip in the cheese. Just enough "kids" activities to keep teens engaged. We thought there was a good mix of tour time & on your own time. Would definitely do again & recommend to others.
Favorite "WOW" moment
"Lauterbrunnen valley was magnificent. Loved our time there"
Christy
Tour: 07/19/22
Overall rating:
Having my two granddaughters with me was magic. Being able to celebrate my 80th birthday in Paris with champagne and a sparkling Eiffel Tower, well, talk about magic! Being able to take a Rick Steves Tour at this stage of life is such a gift. The group we traveled with was certainly a Rick Steves group. They were friendly, attentive, adventurous and caring. This is my 6th Rick Steves Tour. Four were with grandchildren starting 12 years ago so I have a frame of reference.
Favorite "WOW" moment
"My birthday in Paris not planned asI was initially on waiting lists. Serendipity?"
Connie
Tour: 07/17/22
Overall rating:
I thought the cooking class we had in Florence for our last meal was the BEST way to end the tour and I think that's how all tours should end! I'm having a hard time talking about the "overall" experience because the weather was record breaking hot in London and Paris to the point it was intolerable. The rest of the trip it was just miserably hot! Except for London hotel all others didn't seem to be RS level. Disappointing! This was our 9th tour. Tina and Danai was wonderful!
Laurie
Tour: 07/17/22
Overall rating:
Taking our adult daughter and our 11-year old granddaughter on this family trip was totally wonderful! It was fast-paced as we had a lot of ground to cover from London all the way down to Florence. In true Rick Steve's' fashion, we had so many authentic experiences from medieval stone-carving, to painting and cooking with master artists. We loved our guides, Tina and Danae, and they kept us on track and informed and delighted.
Favorite "WOW" moment
"As dusk fell and we were walking back from a fabulous dinner in Monterosso in the Cinque Terre, a musician on the walkway above the Mediterranean was playing lovely music on his keyboard. The music, the warm sea air, the village lights reflecting on the water, and the good company made for a magical, nearly indescribable moment in time."
Jodi
Tour: 07/17/22
Overall rating:
We participated in the family tour from London to Florence. It was an arduous trip during Europe's unanticipated July heat wave, thus we spent a great deal of time inside. The guides were remarkably knowledgeable and quite good with the children.
Favorite "WOW" moment
"The tour had several hands on activities for the families. These were the highlights of the tour."
Joanna
Tour: 07/10/22
Overall rating:
My family and I had a great time. The tour was a good balance of seeing sites and museums and fun things that my kids really enjoyed. They also enjoyed that there were so many other kids around their age on the tour that they were able to spend time with.
Favorite "WOW" moment
"Hiking in the Swiss Alps was amazing! The views were incredible and our guide did a great job of taking us on easy trails. We also enjoyed taking the cog train and stopping at different villages on the way back to our hote."
Judith
Tour: 07/03/22
Overall rating:
We had a very good group on this tour plus two capable, informative, amusing and helpful guides.
Favorite "WOW" moment
"The color and variety of meadow wildflowers in the Lauterbrunnen Valley."
Allan
Tour: 06/28/22
Overall rating:
I had a wonderful time on the family tour. The itinerary allowed us to see many iconic European destinations and my children had an experience of a lifetime!
Favorite "WOW" moment
"My favorite moment of the entire tour was visiting Trommelbach Falls in Switzerland. The walk through the valley was incredible and the falls were truly awe inspiring."
Amanda
Tour: 06/28/22
Overall rating:
Our overall tour experience was fantastic. Very well organized, wonderful guides and bus driver, exciting itinerary, and a joy to share these European adventures with our 2 children and other members of our tour group.
Favorite "WOW" moment
"There were so many but our Italian cooking class and group meal on the last night was an experience we will always remember."
Patricia
Tour: 06/28/22
Overall rating:
I appreciate the fact Karin (and Ben for part of the trip) went out of their way to create opportunities that involved the kids on the tour as well as the adults. They made each stop, as well as the. Us rides, memorable.
Favorite "WOW" moment
"The free day in Switzerland was cloudy, so the mountains were barely visible to us on our hike. The next morning we awoke to gorgeous clear skies and breathtaking mountain vistas that had been there all along but were just now visible."
Lana
Tour: 06/28/22
Overall rating:
I am 12 years old and was one of the kids on the tour, I loved the activities, they were so much fun, but didn't love the city walking tours, except to talk to the other kids. The museums were very cool but it was hard to understand all of the information about them.
Favorite "WOW" moment
"I loved the cows in Switzerland! Wow! And swimming in the crystal-clear water in Monterosso, and how we got to go to so many famous monuments like Big Ben, the Thames River boat trip, the Eiffel Tower, Arc de Triomphe, Leaning Tower of Pisa, awesome! Really loved the art class and cooking class. Loved the Chateau in Burgundy and time with my new friends to play and run around."
Matthew
Tour: 06/28/22
Overall rating:
Ben and Karin were awesome guides. Our family of four, Mom, Dad, two kids 15 & 18 went to Euope together for the first time. Mom and Dad had been to Europe a few times together and separately before the kids were born. The tour experience exceeded our expectations.
Favorite "WOW" moment
"There were so many. I think the cooking class and family style meal with our tour group on the last night was fun and helped us celebrate our time together."
Lynn
Tour: 06/26/22
Overall rating:
All went very smoothly. Weather was beautiful. Fellow travelers were delightful. Guides were great. Sites were terrific.
Favorite "WOW" moment
"Switzerland. Amazing scenery. Lots to do. Very pleasant and relaxing."
Ava
Tour: 06/21/22
Overall rating:
The tour was a great "sampler" and included activities for all ages. The tour guide was knowledgeable and helpful in answering questions.
Favorite "WOW" moment
"Seeing the Swiss Alps was incredible. The hotel was located in a perfect spot to see the mountains everyday."
Suzanne
Tour: 06/21/22
Overall rating:
Our tour was everything I'd hoped for and more. The itinerary was great. Our guides were cheerful and helpful, and great at giving us the knowledge and confidence to venture out on our own. We enjoyed our travels without worrying about logistics. The tour was excellently balanced between time on our own to explore what we wanted to see at our own pace, and time with the group - getting to know our fellow tour members and share our impressions and experiences of what we were seeing and doing.
Favorite "WOW" moment
"The scenery in Lauterbrunnen and Wengen, Switzerland. Even in the clouds and rain, it was breathtaking."
Joseph
Tour: 06/21/22
Overall rating:
Favorite "WOW" moment
"Switzerland's Oberland region, Seeing the Eiger, Monch and Jungfrau peaks."
Katherin
Tour: 06/19/22
Overall rating:
My family normally travels independently so this was a different experience for us but it ended up working out. We really enjoyed getting to know the other people in our group and experiencing things with them.
Favorite "WOW" moment
"There were several moments that stand out but I loved hiking in the Swiss mountains. My oldest daughter's favorite moment was Medieval night in France and my other daughter loved swimming in Cinque Terre."
Michael
Tour: 06/19/22
Overall rating:
We had the bonus of two wonderful and attentive guides instead of one on our Family Tour. Despite Covid, the trip was well organized, and our family received an excellent sampling of contrasts between large cities and small towns. Very educational for the kids as well.
Favorite "WOW" moment
"I'd say our family was most impressed with the time we had in Switzerland. It is one thing to watch videos of the mountains, but from a Wisconsinite's perspective, BEING in the mountains and sleeping in a mountain town were highlights that can't be experienced in any other manner. The late evening alp horn concert capped off a beautiful evening."
Jerome
Tour: 06/19/22
Overall rating:
Took the family Europe Tour with our teenage granddaughter. Had a great time even with other kids around. Ragen was our Guide and kept everyone organized, safe, and in good spirits - kids and parents. The Tour exceeded our expectations in every way.
Favorite "WOW" moment
"The spectacular sights in Switzerland were most impressive and made us want to return."
Anne
Tour: 06/19/22
Overall rating:
The tour was a wonderful introduction to Europe for our kids. Our guides Ragen and Jesus are a great team and we appreciate how helpful they were in making sure our COVID-anxious son felt comfortable in group settings. I was hesitant about the 2 longer bus days but they turned out very manageable with plenty of diversions. We especially enjoyed the hotels in St. Fargeau and Wengen due to their kid-friendly outdoor spaces. We are already planning our next Rick Steves Tour!
Favorite "WOW" moment
"I can only narrow it down to two favorite "wow" moments. The hike between Monterosso and Vernazza in the Cinque Terre (an on-your-own hike). And waking to the sound of the birds and an amazing view from our room in the Alps."
Amy
Tour: 06/19/22
Overall rating:
My husband and I took our two teenage sons on the trip. Each one of us had an amazing experience. I enjoyed the opportunity to experience these beautiful places for myself but also watching my son's experience them as well.
Favorite "WOW" moment
"All of Switzerland is "wow!" Everywhere you look there is beauty. The hike in Switzerland was quite an amazing experience for us all."
Anna
Tour: 06/14/22
Overall rating:
We really enjoyed being with other families with children the same ages as ours. Our guides Ben and Andrea were excellent. They worked hard to ensure we had a fantastic vacation despite challenges with the heat, Covid, some tour tickets (and probably other things that I was never even aware of).
Favorite "WOW" moment
"The Lauterbrunnen Valley was breathtaking. I enjoyed all the unique hotels, especially our hotel in Florence. Our meal in Cinque Terre was fantastic as well."
Amanda
Tour: 06/14/22
Overall rating:
Really great! The RS tour guides were knowledgeable, kind, helpful and funny. The guides that we partnered w/ (Beefeaters at the Tower, medieval castle, and in Firenze) were informative and skilled at keeping the pace and information entertaining for all ages. The Louvre was a little too much time and to little guidance for younger kids. Required walking was easily done, and we all enjoyed the freedom to wall and explore more on "free" days.
Favorite "WOW" moment
"The Swiss Alps. They were the favorite of my whole family. I've never seen something so beautiful and awe-inspiring in person."
Chad
Tour: 06/14/22
Overall rating:
Mind blowing, I'm so ignorant.
Favorite "WOW" moment
"Seeing swiss alps"
Dania
Tour: 06/14/22
Overall rating:
Fantastic tour with a terrific guide and friendly families. The tour is well paced considering the variety of experiences you have across four countries in just 13 days. If another family tour itinerary returns some day, I hope to sign up!
Favorite "WOW" moment
"The unexpected parade in Florence was a treat. I really enjoyed watching the kids dance in the gorgeous Alps while the alphorn played."
Lynda
Tour: 06/14/22
Overall rating:
Guides, bus driver, local guides outstanding. Hotels were interesting and comfortable. Downtime was appreciated for a tour with families.
Favorite "WOW" moment
"Surprise parade of neighborhood rivalries in Florence."
Germain
Tour: 06/05/22
Overall rating:
We had such a great time! Saw 4 countries in 2 weeks, and we didn't have to worry about logistics
Favorite "WOW" moment
"Switzerland Alps!! Just as beautiful as the photos we had seen. Amazing!"
Mary
Tour: 06/05/22
Overall rating:
Despite COVID & masks, it was a delight to meet new temporary friends and experience group travel with other families. Our guides, Ragen & Bea, made it all look easy, and I know it wasn't. Skipping our way across Europe in 2 weeks is not for the feint of heart, and my grandson & I had an amazing time doing just that with our group. Watching him see Europe for the first time was awesome.
Favorite "WOW" moment
"Seeing the kids really come together as friends at St Fargeau stands out, after London & Paris. From then on they traveled as a friendly "pack". The other "wow" moments were watching my grandson experience Europe for the first time, which were numerous and priceless."
When To Go & Weather
Since family vacation time is generally during the summer months, we offer our Family Europe tours in June, July, and early August. June offers milder weather and fewer crowds. In July and August, temperatures can reach the 80s and 90s, but this is also the time that many Europeans go on vacation, leaving the major cities less crowded.

England / London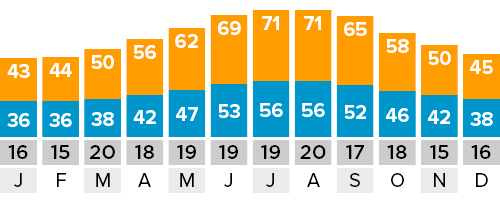 ---
France / Paris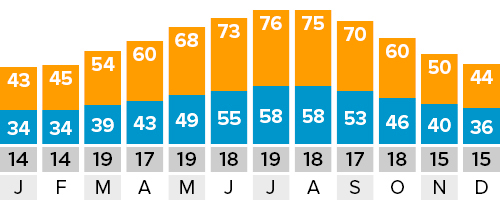 ---
Switzerland / Bern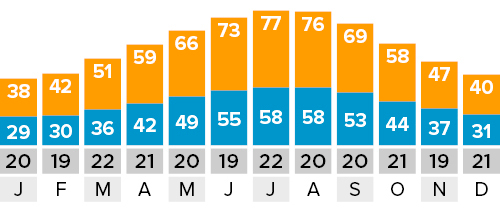 ---
Italy / Florence
Hotels & Flights
Tour Hotels
In case you wish to book pre- or post-tour hotel accommodations, the contact information for the tour's first and last hotels is included in your tour confirmation email, as well as in the Itinerary section in your tour account. One month prior to the tour departure, you'll find the directions to your first tour hotel and a complete list of hotels where we'll be staying in the Documents section of your tour account.
Flights
Our tours don't include airfare, so your flight arrangements are completely up to you.
Most tour members arrange to fly into London (LHR or LGW) and out of Florence (FLR) — choose "multicity" on flight-booking websites. Booking round-trip to one city will require a connecting flight, train trip, or additional overnight stay in Europe.
We strongly suggest arriving a day or two before your tour begins to allow ample time to get over jet lag and be well-rested for the first few days of your tour. For more information about transportation options for getting to and from your tour, see your Rick Steves Best of Europe guidebook.