London

Tower of London

Eiffel Tower

Guédelon Castle in France

Mannlichen in the Swiss Alps

Cinque Terre, Italy

Pisa's Leaning Tower

Michelangelo's David in Florence

Gelato Break in Italy
Tour Questions? See our FAQ | Call 425-608-4217
Family Europe: London to Florence in 13 Days Tour
from $4,295 per person + air
Optional Single Supplement $725
See Tour Dates
Rick Steves Family Europe: London to Florence in 13 Days delivers a colorful mix of must-see cities (London, Paris, Florence), and stroll-around charms (Burgundy, the Swiss Alps, Italy's Cinque Terre). Along the way, you and your kids will encounter some fascinating bits of art, history, and culture — along with a couple of castles, a boat, a train, a mountain gondola lift, plenty of hiking, and even a swimming pool or two. And on this tour, kids ages 8 through 17 get a $200 discount! Join us for Family Europe: London to Florence in 13 Days!
You may also want to consider our Family Europe: Amsterdam to Rome in 14 Days tour.
Dates & Prices
What's Included
A small, friendly group of 24–28 people — half the size of most tour groups
Kids ages 8 through 17 are welcome — and save $200
A full-time Rick Steves guide, tour assistant, and local experts — who will make the history, art, culture — and fun! — of Europe come alive for you and your kids
All tours and admissions — at no extra cost — covering at least 21 group sightseeing events • London walking tour • Thames River cruise • Tower of London • London–Paris Chunnel train • Seine River cruise • Paris walking tour • Notre-Dame Cathedral • pétanque lesson • Louvre Museum • Guédelon Castle • Stone-cutting workshop • Medieval evening • Orientation and Männlichen hike in the Swiss Alps (weather permitting) • Swiss fondue tasting • Swiss folk music • Orientation for "vacation" day in Cinque Terre • Pisa • Renaissance walking tour • Accademia Gallery including Michelangelo's David • Uffizi Gallery tour • Tuscan cooking class…and more
All group transportation from London to Florence
12 nights' accommodations in memorable, family-friendly hotels
All breakfasts and half your dinners
All tips for guides and driver
Rick Steves Travel Store credit to use toward guidebooks for your trip
Guaranteed tour price, locked in the moment you make your deposit
Optional single supplements — this tour has a limited number of private rooms for solo travelers for an additional fee
Tour alum discount of $50 for each tour you've taken prior to 2018
50% discount on a consulting appointment with our in-house experts to assist with your pre- or post-tour travel plans
Flexibility should you need to transfer, or cancel/interrupt your tour
Fine print: You are responsible for the cost of your drinks and free-time sightseeing. See our Tour Conditions for important details regarding everything listed above.
Itinerary
Daily Activity Key
Light = 2–4 miles of mostly level walking throughout the day.
Moderate = 2–6 miles walking throughout the day with some hills and stairs.
Strenuous = 2–8 miles of walking throughout the day with lots of hills, stairs, and uneven terrain.
Day 1: Welcome to London
Our adventure together begins in the great city of London. We'll meet at 3 p.m. for a brief "Welcome to Europe" meeting at our hotel. Your guide will give you a neighborhood orientation walk and practical London transport lesson on the way into the heart of the city. We'll have fun getting to know one another over dinner together, and then we'll join an entertaining local guide on a "ghost walk" through the most haunted city on Earth. Sleep in London (2 nights). No bus. Walking: moderate.
Day 2: The Thames and the Tower
This morning is dedicated to the Tower of London, where we'll learn all about England's oldest and most notorious castle. After some free time to sneak a peek at the Crown Jewels and grab some lunch, we'll hop on board a boat and cruise the Thames to Westminster. It's the perfect spot for your guide to orient you for your free afternoon and evening. Explore the neighborhood: the London Eye, Westminster Abbey or Buckingham Palace. Or you can walk north past the Churchill War Rooms, 10 Downing Street, and the Horse Guards to Trafalgar Square. Cheerio! Boat: ½ hour. No bus. Walking: moderate.
Day 3: The Chunnel to Paris
Let's go to France! After breakfast it's all-aboard the sleek Eurostar train to Paris, zooming along at nearly 200 miles per hour beneath the English Channel. In Paris we'll be met by a comfy sightseeing bus for a rolling introduction to this beautiful city. We'll arrive at our Paris hotel, where you'll have time to unpack and relax a bit before our big evening: learning to use the Métro (subway), dinner together on the Left Bank, and an open-air evening cruise along the Seine River — the perfect finish for your first day in the City of Light. Sleep in Paris (2 nights). Train: 2½ hours. Boat: 1 hour. Bus: 1 hour. Walking: light.
Day 4: The Historic Heart of Paris
Today we'll meet up with some locals to learn the perfect Parisian pastime of pétanque and play a few games. Then we'll explore the birthplace of Paris, the Ile de la Cité. We'll take a walking tour tracing the evolution of Paris, from its Roman roots to its medieval splendor, culminating with a visit to the awe-inspiring Notre-Dame Cathedral. Then the rest of the day is free for exploring more of Paris on your own. You could visit a gallery or two filled with amazing art (the Orsay, Orangerie, Rodin, or Pompidou), visit a kid-friendly park (the Tuileries or Luxembourg Gardens), take in the city views (from the Arc de Triomphe, Montmartre hill, or a department-store rooftop) — and maybe top off tonight with trip up the Eiffel Tower (avoid lines by reserving in advance). Let the kids decide. No bus. Walking: moderate.
Day 5: Masterpieces and Rural France
Our morning begins with a visit to the magnificent Louvre Museum. After an orientation we'll set you free to come face-to-face with timeless treasures that include Mona Lisa, Winged Victory, Venus de Milo, and other great works of art. After lunch on your own in the Louvre's family-friendly food court, we'll meet our driver and bus for the rest of the tour. Then we'll leave city life behind as we head into the French countryside, passing pastures and châteaux en route to our country hotel in the heart of Burgundy. This stately manor home has a swimming pool and a huge lawn, perfect for kids to play outdoor games this evening. For dinner we'll share a buffet of French specialties. Sleep in St. Fargeaux, Burgundy (2 nights). Bus: 4 hours. Walking: moderate.
Day 6: Building a Medieval Castle
We'll begin today at St. Fargeaux's wonderfully French weekly market, a scavenger hunt of Burgundian freshness, perfect for piecing together your picnic lunch. Next is something you'll see nowhere else: the construction site of Guédelon, where a full-size 13th-century castle is being built today — by people in traditional costumes using historically accurate tools — exactly as it would have been 800 years ago. We'll have a guided tour through the site and take part in a hands-on workshop learning how medieval stone cutters worked their magic. You'll have free time to visit the blacksmith, masons, rope-makers — and explore more on your own. We'll return to our "country estate" in the afternoon with time to relax, swim, or play before we regroup for a medieval-themed dinner together. Bus: 1 hour. Walking: moderate.
Day 7: Scenic Drive to the Swiss Alps
This morning we'll board our bus and set a course for Switzerland. For lunch, we'll stop and fan out at a typical town's shopping mall (with several places to eat on your own) to get a taste of un-touristy French life. Today's scenic drive is the perfect time to catch up on your journal, play a game with your bus buddies — and learn a few things from your guide about Swiss chocolate. By late afternoon we'll find ourselves in the Berner Oberland's magnificent Lauterbrunnen Valley, flanked by towering, waterfall-laced cliffs. Tonight we'll share a fondue-tasting and a hearty dinner together — followed by a performance of traditional Swiss music — all at our creaky old chalet nestled in the Lauterbrunnen Valley, where we'll sleep (2 nights). Bus: 8 hours. Walking: light.
Day 8: All Day in the Alps
Don't sleep in this morning — the Alps await! After a hearty breakfast our guide will take us up a gondola lift for a scenic 2½-mile hike along the 7,000-foot-high Männlichen ridge (weather permitting, of course). When we reach the nearby village of Kleine Scheidegg, you'll be set free for lunch, with spectacular views of Switzerland's most formidable peaks: the Eiger, Mönch, and Jungfrau. From there you can take a cowbell-serenaded hike back down to our hotel — or rest your feet aboard one of the cute local cog-trains that run between the villages. For tonight's dinner, shop at the local grocery store for an evening picnic in the great outdoors. No bus. Walking: moderate.
Day 9: Winding Our Way to Italy
This morning we'll have an encore performance of the Alps as we make our way across the mountains and dive into Italy. We'll wind our way down through the hills, past pristine lakes and the farms of northern Italy, en route to our Mediterranean getaway. This afternoon's destination is the seaside Cinque Terre town of Monterosso al Mare. During today's trip, you'll get a thorough orientation to tomorrow's fun, free day possibilities. Tonight we'll share a tasty dinner together in this corner of Italy where pesto was invented and the seafood was swimming this morning. Sleep in Monterosso al Mare (2 nights). Bus: 7 hours. Walking: light.
Day 10: Free Day in the Cinque Terre
Today is entirely up to you, and each village along the Cinque Terre is just a few minutes away by train. Pick a village to explore, have a meal or two, and become temporary locals…or burn off some energy and enjoy breathtaking views by hiking along the cliffside paths…or get your views from the sea on a scenic boat ride along the coast, past the fishing-boat harbors and hill-hugging villages…or stay closer to home, hanging out on the beach for swimming and sun. No bus. Walking: light to strenuous (your choice).
Day 11: Florence and Michelangelo's David
Rested and refreshed, today we're ready to take on the impressive art and history of Florence. But first, we'll stop in Pisa for lunch and see if its infamous tower is still leaning. We'll continue to Florence, where we'll say ciao to our bus and driver, drop our bags at our hotel…and hit the ground walking on a historical introduction to the highlights of the Renaissance. We'll learn about life in those amazing times, and gaze at Brunelleschi's magnificent cathedral dome and Ghiberti's eerily 3-D Baptistery doors. Our walk ends with a bang at the Accademia Gallery, home to Michelangelo's most famous sculptures: the rough-hewn Prisoners and his greatest masterpiece, David. Your evening is free for dinner on your own. Sleep in Florence (2 nights). Bus: 3 hours. Walking: moderate.
Day 12: Treasures of the Renaissance
Your morning is perfectly free. Sleep in if you like — or get an early start to scramble to the top of that big dome or browse through the colorful food and craft markets. After lunch on your own, we'll rendezvous for a guided tour at the Uffizi Gallery to see — and learn the stories behind — the Botticellis, Leonardos, and Raphaels in the greatest collection of Italian paintings anywhere. This evening, we'll gather for a fun, hands-on cooking class. We'll enjoy what we prepared at our final dinner together where we can share our favorite moments and celebrate our friendship. No bus. Walking: moderate.
Day 13: Tour Over After Breakfast
Breakfast is provided, but there are no group activities today. It's a breeze to reach Florence's airport by taxi or public transportation. Your guide will help you with any post-tour planning, leaving you well prepared for the road ahead. Grazie e ciao!
(This tour does not include the Eiffel Tower. To avoid its long lines, we recommend booking tickets several weeks in advance. For details, see our Eiffel Tower ticket tips for tour members.)
Itinerary specifics subject to change.
Physical Demands
Our tours are physically active! It's an essential part of the Rick Steves tour experience. On our Family Europe: London to Florence in 13 Days tour — among other things — you'll need to happily…
Carry/roll your luggage over uneven pavement (possibly several blocks) and up stairways to reach your hotel, then up several flights of stairs to reach your room.
Be on your feet, walking and standing, for up to three hours, indoors and outdoors, in all weather conditions.
Sleep with street noise and no (or weak) air conditioning.
After orientation and transportation lessons, be able to navigate towns and cities on your own.
Be able to get up and "at 'em" in the morning, often departing around 8 a.m.
Be content with the possibility of your family sharing bathroom facilities on this tour.
Reviews
Andrew
Bellevue, WA
Tour: 08/06/17
Overall rating:
The tour was a non-stop adventure with a new favorite destination at each stop. He provided context to many of the numerous sites and attractions we saw and went through. His stories and insights helped me and my two kids (ages 10 & 14) enjoy and appreciate the history and sites that make Europe fascinating.
Tomoe
Bellevue, WA
Tour: 08/06/17
Overall rating:
We enjoyed our vacation with our group and guides so much! I wish we could have spent one extra night in Switzerland for a couple of reasons. 1. There were so many hiking options and places to visit, but not enough time. 2. It would have been nice to stay in one place for 3 nights vs. 2 nights so we could have a break from packing/unpacking so often.
Favorite "WOW" moment
"Having been in France and Italy before, my wow moment was in Switzerland. THe scale and beauty of the mountains exceeded any of my expectations."
Charles
Honolulu, HI
Tour: 08/06/17
Overall rating:
This is the best tour yet. There was something for everyone,especially the kids who really made the tour special.
Favorite "WOW" moment
"For Me it was the building of a medieval castle at St. Largeaux and the stay at the B&B."
Katherine
Del Mar, CA
Tour: 08/06/17
Overall rating:
This trip was a long time in the making and it was at the top of my travel wish list[INVALID]for my husband and I to travel with our daughter and granddaughters to Europe. This was our third Rick Steves tour and we were so happy that we could experience so many wonderful places without worrying about the details. Martin and Graeme were the best! They added so much to the experience and set the tone for our group to quickly become a merry band of travelers.
Favorite "WOW" moment
"There were so many...but hiking in the Swiss Alps, hearing the serenade of cowbells and seeing not one but two avalanches in the distance was pretty amazing."
William
Pierre, SD
Tour: 08/06/17
Overall rating:
It was excellent. The places we visited were enjoyable, and quite informative. Our group was outstanding, and fun to be with. Our tour guides, Martin and Graeme, were extra ordinary, or as they would say in Briton, "stroidnary".
Favorite "WOW" moment
"As the tour progressed, our group was definitely a "wow", and for the geographical areas, it was the Swiss Alps."
Valerie
Phoenix, AZ
Tour: 07/30/17
Overall rating:
The overall tour experience was wonderful, so much packed in to a short amount of time, but it was all worth it. I did however enjoy my Rick Steves tour in 2015 more. This one was Amsterdam to Rome. With this most recent tour, I appreciated the many "talks" out front of several churches, but as a group, did not have the opportunity to go inside for a few minutes. We would have enjoyed seeing these, even just for a few moments as we did with the previous tour.
Favorite "WOW" moment
"I had two WOW moments. The hike from the second village in Cinque Terre back to the hotel and the last art museum tour in Florence. Our guide was phenomenal in the museum, her knowledge of the paintings and their history had me mesmerized."
Andrew
Phoenix, AZ
Tour: 07/30/17
Overall rating:
Overall, the tour went well. I thought that the guide did her best in giving us as much information as possible. However, I thought that much of this information was rather repetitive and uninteresting to say the least. The one thing that truly lessened my mood throughout the experience was our bus driver. This individual was incredibly unfriendly, and did not contribute to the positive attitude of the group whatsoever. He was very aggressive on the road, making poor decisions regularly.
Favorite "WOW" moment
"My favorite "wow" moment was when we got the chance to spend some time in the backyard of the inn we stayed at in our second stop in France. This place was a nice quiet town, where we were able to relax and enjoy time with our families without having to race around like dogs."
Georgeann
Vero Beach, FL
Tour: 07/16/17
Overall rating:
You stress over and over that we should all carry backpacks everywhere on our tour, but at the last minute, as we arrived at the Louvre we were told that we could not take our backpacks. I had to make an instant decision as to how to take what I needed with me. I would have preferred knowing this in advance. My particular backpack was awkward and time consuming to use. I recomnmend a small bag inside the backpack to carry necessities (glasses, camera,tissues, money-- I found it helpful to keep
Favorite "WOW" moment
"I found almost all of the tour very impressive. I especially enjoyed seeing the Alps in Switzerland. But all of the museums were extremely imopressive. The boat rides on the Thames and on the Seine were great."
Harley
Beaufort, SC
Tour: 07/16/17
Overall rating:
This was an outstanding tour. Anyone reading these reviews may have the same questions we did months ago: is this tour worth the money? We strongly believe the tour was worth every penny. From the hotels, to the sights, tours, and family fun events, to the precision planning and organization, to the great advice about free time - and most of all, the comraderie with the wonderful group - the value received was immense. Our kids were blown away.
Favorite "WOW" moment
"Ha, it was really a "wow" 2 weeks straight!"
Jeffrey
Vero Beach, FL
Tour: 07/16/17
Overall rating:
Worth every Pennie! The tour provided so much history and sightseeing. Just exhausted at the end of each day. Our tour guides, Trish and Hilbren, we amazing. So full of knowledge about every place we went. It was a honor and privilege to meet and get to know them. I truly feel like I have a sufficient knowledge to navigate these cities and countries when we return. Thank you Trish and Hilbren for that confidence.
Favorite "WOW" moment
"Swiss alps for sure. Took my breathe away. So happy my children got to experience that unforgettable place."
Caren
Columbus, OH
Tour: 07/16/17
Overall rating:
This was an amazing tour, and provided a great balance of having the structure and logistics provided, but also plenty of free time to do what we wanted.
Nancy
Centerville, KS
Tour: 07/09/17
Overall rating:
I FELT LIKE THIS TOUR WAS PERFECTLY SUITED FOR FAMILIES !! I ESPECIALLY LIKED THE LEARNING ACTIVITIES, IE THE BUTTRESSES AT THE NOTRE DAME CATHEDRAL, THE HISTORY GAME WHERE WE HAD TO PUT OURSELVES IN ORDER BY TIME ( NO PRESSURE IF YOU DIDN'T KNOW- GOOD SUPPORT FOR ALL) THE LEARN THE NAME GAME, THE COOKING CLASS ON THE LAST NIGHT IN FLORENCE, GENTLE PRESSURE ON YOUNG PEOPLE TO TRY NEW FOODS, IE SNAILS. SARAH ENCOURAGED YOUTH TO WRITE STORIES, AND SHARE. KIDS COULD SHARE MUSIC ON BUS.
Favorite "WOW" moment
"LOVED WATCHING THE CHANGING OF THE GUARDS IN LONDON, FAVORITE WAS CLIMBING THE DUOMO IN FLORENCE. LOVED OUR GUIDE IN UFFIZI GALLERY, LOVED HAVING A GUIDE FOR YOUTH AND ONE FOR ADULTS. LEARNED A LOT. WOW- FAVORITE SCENERY, SWITZERLAND HIKING."
Joyce
Oak Brook, IL
Tour: 07/09/17
Overall rating:
Our first Rick Steves tour; although we had used Rick's guide books. We went with our daughter, son-in-law and 4 granddaughters.(17-91/2) Except for our daughter, none of the rest had been to Europe. What a wonderful experience; sharing Europe with them! Our guide, Sarah kept our tour interesting and she was very organized in keeping the tour moving smoothly. Skyla, her assistant, was terrific with all the kids. We definitely would consider taking other grandchildren on another tour!
Favorite "WOW" moment
"Switzerland's beauty was definitely a "wow" moment; although as we moved to each country; our one granddaughter kept saying the country she was in was her favorite!"
Liz
Seattle, WA
Tour: 07/09/17
Overall rating:
We had a wonderful time with our two granddaughters and the other children and adults on this tour. Our girls really connect d to all the kids, but a few became great friends. The tour itenerary gave us all,a quick but exciting view of each of the places we stayed. I enjoyed seeing each place from a child's point of view and participating in activities we might not do as adults only. Sarah and Skyla were so fun to travel with and made each place so interesting.
Favorite "WOW" moment
"No wow moments, too many highlights to mention. Burgundy was a welcome stop after the busy cities. All of us enjoyed the lovely country house, pool, grassy yard, medieval dinner, costumes, dancing, lovely hosts, etc. We went on to Rome for three days after the trip ended and had a great time. We were well prepar d having learned to travel the Rick Steves way. Met many people using the familiar guidebooks everywhere we went."
Steve
Seattle, WA
Tour: 07/09/17
Overall rating:
Couldn't have asked for a better 'Family Tour', met all our expectations.
Favorite "WOW" moment
"When the clouds lifted away from the Eiger, Monch & Jungfrau."
Leo
Oak Brook, IL
Tour: 07/09/17
Overall rating:
Sarah & Skyla provided the leadership for the travelers to have a memorable experience. They related well to our diverse group; and they were very knowledgable and flexible. They provided a great context for all the sites & areas we visited. Their story telling ability enhanced our tour. Sarah is the best and Skyla had great enthusiasm and connection with the young travelers. We hope to travel with Sarah again, and if Skyla was part of the team that would be perfect.
Favorite "WOW" moment
"The physical beauty of Switzerland and the fun of Chinqua Terre."
Olivia
Naperville, IL
Tour: 07/09/17
Overall rating:
My overall tour experience was great. Being immersed into different cultures and learning more about landmarks that I have always wanted to see was a chance of a lifetime. And it couldn't have been better.
Favorite "WOW" moment
"My favorite "wow" moment of the tour was in Switzerland. The natural beauty of the Swiss Alps didn't compare to anything else I have ever seen and when I saw those mountains I felt inspired to do, well, anything."
Theo
Arlington, VA
Tour: 07/02/17
Overall rating:
I liked it a lot moved at a fast pace but that was good for me. Liked Paris and Switzerland the best
Favorite "WOW" moment
"When we walked in front of the Eiffel Tower the first time I couldn't believe it. Like wow I'm finally here"
Helen
Forest Grove, OR
Tour: 07/02/17
Overall rating:
The organization and the unique experiences they provided went above and beyond travel alone as a family. I enjoyed each place visited and wished a could've spent an extra night in almost all of them. Especially think another night in Paris would've been nice. Definitely a great way to get introduced to Europe and I know I'll be back for more after this fantastic tour.
Favorite "WOW" moment
"I went into the trip not really expecting to enjoy Paris, I'd heard that it was dirty and over a little over-hyped. But when I got there I was not only amazed my the architecture and history, but also by the culture and people. I loved doing the boat tower and seeing all the people on the river bank gathered picnicing and dancing. It was like no other place I've ever been. The effial tower was somehow more spectacular than I would've assumed from pictures. I also, loved Switzerland."
Kimberly
San Diego, CA
Tour: 07/02/17
Overall rating:
Our family had am amazing and life changing adventure. This tour and our guides made seeing Europe with our family unforgettable and would highly recommend this tour to other families looking for a fantastic adventure in Europe with children.
Favorite "WOW" moment
"Swiss Alps, the playing of the Swiss Elk horn with our private group. Magical"
Karen
Forest Grove, OR
Tour: 07/02/17
Overall rating:
Cary and Travis made our trip better than I could have anticipated. They were organized, accommodating, knowledgeable, and worked hard to make sure everyone was having a great experience. We enjoyed all the extra treats and experiences that were provided, such as the alphorn player, the cooking class, and the pétanque lesson. Cary and Travis frequently checked in with us to make sure we knew how to access activities and restaurants for our free time and made great suggestions, incl. post trip.
Favorite "WOW" moment
"Just one is too hard. During our two nights in Switzerland, I kept getting up during the night, just to look out the window. The view of Wengen and the Alps was so enticing! My other wow was climbing up to the monastery and crypts in Montarossa el Mare. My kids (17 & 20) and I hiked up after dark. We walked through the winding passages of tombs lit with rows of small bulbs, stopping to read about and admire the photographs of the people that were interned. It felt magical."
Lorelle
Grand Forks, BC
Tour: 07/02/17
Overall rating:
I really enjoyed the whole tour. The company was great and Cary and Travis were excellent guides. I did injury myself on the first day of the tour. I fell on the cobble stones in London during the haunted tour. Everyone was very good and with help from a first aide attendant, a restaurant for ice, Cary and my family I was able to continue on with the haunted tour. This was my first trip to Europe and it was such a treat to have the details taken care of eg tickets etc.
Favorite "WOW" moment
"The entire trip was a wow moment for me. I loved London and Paris particularly the cruise along the Seine river at sunset. I wanted to see art work and of course the trip included the Louvre, Accademia and Uffizi Gallery and plenty of time to see the National Gallery in London. Burgundy and Switzerland were just lovely. Italy we listened to your auto tours when we spent an additional time in Venus and Rome after the family tour. This helped focus on specific things as there was a lot to see."
Betty
Metairie, LA
Tour: 06/25/17
Overall rating:
Overall I had a great time with our enthusiastic tour guides who were very knowledgeable and engaged at all times. I appreciated the flexibility of the schedule and the improvisation when the weather didn't always cooperate. I felt there was more traveling than was optimal and prefer to have more time at each of the major cities rather than just 1.5 days in partis,swiss alps, chinqueterre and Florence. I felt we could have eliminated burgundy and change the Parisian restaurant.
Favorite "WOW" moment
"I enjoyed playing tennis in the Swiss alps with my daughter and I especially chinqueterre beaches! I wish we could have stayed there another day."
Randall
Millbrae, CA
Tour: 06/25/17
Overall rating:
The tour at least met, if not exceeded, our high expectations. We enjoyed the company of the other families, and the tour had the right balance of structured activity vs. free time. Everyone had a great attitude and nobody was a "grump". The bus was generally comfortable but some of us were over 6 feet -- and bus did not have much leg room. Would prefer a bus with less seats and more room between rows (like the one which picked us up at Paris train station).
Favorite "WOW" moment
"The Swiss Alps (waterfall and valley walk) and Cinque Terre (especially Manarola) were just as special and spectacular as I remembered from my last visit 25 years ago (using the book Europe Through the Back Door)."
Julie
Lake Forest Park, WA
Tour: 06/25/17
Overall rating:
The trip far surpassed our expectations. Sarah and Stefanie were great guides and very attentive to our needs and made the tour go seamlessly, and when we had a minor change in schedule, it never seemed like a big deal. WE could not have done this trip any other way. We saw and experienced so many great sites! The group was great and really easy going. I think the Rick Steves litmus test of screening for "no grumps" really works. It lent to a well-rounded easy going group. Thank you!
Favorite "WOW" moment
"So many, but I'd have to say Cinque Terre and meeting the mediterranean sea. The towns were quintessential postcard perfect and so beautiful. Swimming in the mediterranean sea was an added bonus and so refreshing."
Stacey
Celina, OH
Tour: 06/18/17
Overall rating:
I planned this tour as I wanted our family to see the highlights of Europe together. We heard from friends that Rick Steves was the best way to see and learn. I was a little apprehensive that our family would have the right balance of group sightseeing and free time. It was the perfect mix! I really felt safe and taken care of in our group setting, but also comfortable enough(with our guides leadership) to explore on our own. Absolutely fantastic!!
Favorite "WOW" moment
"My favorite wow moment was probably dancing beachfront until 12:30am in Cinque Terre with our kids, other families & guides! It was absolutely surreal!"
Jack
Celina, OH
Tour: 06/18/17
Overall rating:
Hi,my name is Jack McGohan,I am eleven years old, and I don't even know where to begin even telling you about this trip!They took us around to the most sight seeing places of all time, and I loved it.(Bucket list,checked.)I even met some friends on the way of this adventure, and had my birthday in London.The only two reasons that this trip was good because the tour guides,(Which were magnificent!)and the people.So,if you are reading this and are wondering if you should go on this tour,DO IT!!!
Favorite "WOW" moment
"My favorite moment was dancing with our tour guides in Cinque Terre.They were some good dancers!"
Nancy
Lakewood, WA
Tour: 06/18/17
Overall rating:
This was our second time enjoying an RS family tour in Europe and there were no disappointments with the itinerary or guides. We tell friends constantly traveling this way is very efficient, helps you gain the knowledge you need to go on your own some day, and provides for less stress when traveling with young adults in your family.
Robert
Enfield, CT
Tour: 06/18/17
Overall rating:
I enjoyed the tour. Our guide taught us to navigate the cities we visited, after two days in busy cities we had a nice break in rural France, there were interesting little surprises along the way. There was a good mix of educational experience and fun activities.
Favorite "WOW" moment
"I have more than one... Being in Paris and seeing Notre Dame in person for the first time was very moving. The mountains in Switzerland are spectacular. Truly majestic and awe-inspiring. The Leaning Tower of Pisa is REALLY leaning! Much more than you can tell from pictures."
Alissa
Enfield, CT
Tour: 06/18/17
Overall rating:
It was amazing. Just what I was hoping for. Cary was great, engaging and interesting. We felt empowered to do whatever we wanted by the time we had our own free time. There was a nice balance of group time and alone time. The people on the trip were great. The kids got along great. It was a great mixture of ages/boys/girls. We truly felt like a big family. It's amazing how much we saw and did in such a short time. I loved the little extras like learning petanque or trying regional foods.
Favorite "WOW" moment
"Switzerland. Words just can't describe how beautiful Switzerland is. Also the fact that everyone took the escargot challenge and tried it. And pretty much everyone liked it."
Articia
Perris, CA
Tour: 06/18/17
Overall rating:
Every moment of the tour was overwhelmingly amazing, adventurous, educational, and life changing but more than that partaking in a Rick Steve's family tour enabled me to have a carefree, stress free opportunity to make incredible memories alongside like-minded new friends and more importantly, my mother who was recently diagnosed with early-onset Alzheimer's. Cary and Andrew constantly went out of their way to help make our trip truly a once in a life-time, unforgettable experience. Thank you!
Favorite "WOW" moment
"Being surrounded by a blanket of clouds while gazing down from the Schilthorn summit of the Swiss Alps felt as if this was the closest my mother and I could physically get to heaven while still having our feet planted on the Earth. The majestic beauty of the Lauterbrunnen Valley is indescribable but truly takes your breath away as your eyes can't believe how truly picturesque every inch of this relatively small hidden treasure of the Earth is. Can't plan my return to Switzerland soon enough."
Joshua
Snoqualmie, WA
Tour: 06/18/17
Overall rating:
Our first trip to Europe and I can't imagine doing it any other way. This trip has made my entire family feel empowered to explore more of Europe in the future.
Favorite "WOW" moment
"Our entire stay in the Swiss Alps was the wow moment for us. Everyone loved the beauty...not to mention the fondue and chocolate!"
Matthew
Hudson, WI
Tour: 06/18/17
Overall rating:
I felt that the guides did an excellent job. The trip was well organized and very enjoyable. Thanks for a great experience!
Favorite "WOW" moment
"Visiting Switzerland was the highlight of the trip for me."
Kristina
Hudson, WI
Tour: 06/18/17
Overall rating:
Absolutely amazing. I went into this trip with high expectations, and this trip exceeded my expectations.
Favorite "WOW" moment
"There were so many amazing moments, but my most emotional, "holy cow!" Moment was driving through Paris for the first time and seeing iconic monuments like the arc de triumph and the tour effiel. To (finally) be in their presence was a life-goal fulfilling dream come true."
Todd
Celina, OH
Tour: 06/18/17
Overall rating:
I took this trip to make my wife happy. I was a little nervous about this trip with my family. Once we met Cary and she explained everything I felt like my wife made one of the best decisions in her life. Cary and Andrew were fantastic, everything was handled first class, Andrew also was great with the kids. As a father and being on several trips with my family I was very nervous about my kids and their safety . By day two , Cary, Andrew , and all of us became one big family.
Favorite "WOW" moment
"I don't really have a favorite moment , the whole trip was my wow moment. Traveling to places I thought I would never see, feeling safe, and watching my kids have the time of their lives!!!!"
Kim
Evansville, WI
Tour: 06/11/17
Overall rating:
This was an amazing experience for our entire family. We were able to experience Europe as travelers while having a vacation. The pace of our tour was the perfect mix of group time and self-directed time to explore our family's interests. The language and history lessons gave our family the confidence to explore different environments without stress.
Favorite "WOW" moment
"There were too many "wow" moments to count. From our drive to the Alps, and the view from our room in Wengen, to the views from Cinque Terre and seeing the Duomo in Florence for the first time... this was amazing."
Matt
Evansville, WI
Tour: 06/11/17
Overall rating:
It is hard to overstate how wonderful, how transformative, how utterly magical an experience this tour was for my family. We were excited about the itinerary before the trip, but I don't think I fully appreciated how thoughtfully structured it actually is. The shift from big city to country and then mountain, the way that long bus days adjoin heavy hiking days, the balance between free time and structured activity--I want to thank Rick and co. for putting together such a perfect 13 days.
Favorite "WOW" moment
"Wengen and the Lauterbrunnen Valley. No amount of pictures can prepare you for how truly breathtaking the vistas are."
Sharon
Alamo, CA
Tour: 06/11/17
Overall rating:
Loved it! I felt so fortunate to be in such memorable places with my two daughters and two of my grandchildren!!!
Favorite "WOW" moment
"Every city and small town were favorites---sorry I can't pick just one. This tour was perfect for a family tour---activities and guides were wonderfully selected with youngsters AND oldsters in mind..."
Alexandra
Cincinnati, OH
Tour: 06/04/17
Overall rating:
It was so nice to be able to go on a family vacation where my parents weren't stressed about everything that we were doing. For the first time, they were finally able to just relax and enjoy the vacation instead of worrying about getting tickets or directions. The schedule was the perfect mix of planned activities and free time. Our family likes to see a lot of extra sights when we go places so we were pretty busy during our down time, but we could relax if we needed a break.
Favorite "WOW" moment
"It was my 21st birthday while we were in Burgundy so Lisa and Travis got me a card and had everyone sign it. They brought out my dessert with candles on it and sang "Happy Birthday" to me. Years from now, it will be so nice to look back on this trip and remember that moment."
Carmen
Windsor, CO
Tour: 06/04/17
Overall rating:
We loved our family Europe trip from London to Florence! Our guide Lisa and assistant Travis were incredible. They were friendly, knowledgeable, relatable, humorous, and FUN. Each city brought forth new learning and experiences. Each unique and remarkable in it's own way. The tour balanced information overload with time to enjoy being abroad. We absolutely loved our tour group as well. Each family brought forth their own experiences and interests which made our tour even more lively.
Favorite "WOW" moment
"Hhhhmmmm...this is a hard one. There are so many "wow" moments all along the way. The Swiss Alps were breathtaking, so that is going to be my "wow" moment."
Christine
Port Angeles, WA
Tour: 06/04/17
Overall rating:
The trip was one of the most meaningful experiences of my life. The beautiful scenery, amazing historical sites, and delicious food combined to make every day memorable. I was able to share this with my mother and daughter. Three generations of women from our family trekking through Europe together. It was very special.
Favorite "WOW" moment
"There were many wonderful moments. Florence and Michelangelo's David were my "wow" moment. Of course, I had seen the statue in books many times. I had no idea it was 14 feet tall. It really took my breath away. I loved the art and the history that goes along with it."
Judy
Akron, OH
Tour: 06/04/17
Overall rating:
The Family Tour was my second RS tour. What memories with my son, daughter-in-law and granddaughter Natalie Kate. The tour sights, activities, hotels and meals were planned with thoughtful attention to a group of people representing three generations. There was sufficient time to learn and experience the locations as a group, while leaving enough time for independent exploration at every stop. We would never have seen so much on our own in thirteen days.
Favorite "WOW" moment
"My favorite "wow" moment was seeing the Swiss Alps. The grandeur and beauty was unforgettable. Hiking the trails on a beautiful, sunny day with fellow travelers was something special. It was the perfect respite from Paris and London; a lovely bonding time. Guedelon Castle was my second "wow" moment. It is so interesting and unexpected. The children loved that entire day."
Elizabeth
Port Angeles, WA
Tour: 06/04/17
Overall rating:
We had a good group. Of travelers and Lisa and Travis were pleasant and accessible.
Favorite "WOW" moment
"When we walked past the Duomo in Florence after the cooking class , there was a huge religious procession exiting the church and marching with music around the piazza. The participants were carrying lights or torches and many were dressed in clothing of ancient style representing their group. You had the feeling it could be in the 1600s. It was an unexpected encounter but very moving."
Audrey
Loveland, CO
Tour: 06/04/17
Overall rating:
This tour will be remembered as a highlight of our family's lives together. It provided a great historical and cultural learning experience while be so much fun and delicious. Incredible! Thank you.
Favorite "WOW" moment
"Everyday was a "wow"! I think the best was the Alpine hike, oh no, it was the French Manor house, oh no, it was the Italian cooking class or maybe just setting in the alley café in Monterossa. Loved every minute."
George
Loveland, CO
Tour: 06/04/17
Overall rating:
Fantastic, could not have been better.
Favorite "WOW" moment
"Everyday was a "Whow"! Guedelon was such a great surprise."
Marc
Keller, TX
Tour: 06/04/17
Overall rating:
I am not a "tour group" person - I don't do well with group-dynamics; I can be a bit impatient; and I don't dawdle when visiting "sites". I signed our family up for this Rick Steve's tour because of my mother's previous positive experience plus it removed the need for me to coordinate and execute all travel plans. After our 13-Day Rick Steve's Family Tour London-Florence, I can tell you that I whole-hardheartedly recommend this for everyone.
Favorite "WOW" moment
"The parts I enjoyed the most were: 1) Wengen and the Lauterbrunnen Valley. I had never been to this area of Switzerland and the sites were unlike any other I've seen around the world. We had a family in our tour group that lives in Colorado and THEY were impressed! Many thanks to our tour guides for arranging such fabulous weather! 2) Guedelon castle was great fun for kids and dads alike. This was a perfect break from the churches and museums that typically make up a European tour."
Michael
Cincinnati, OH
Tour: 06/04/17
Overall rating:
AWESOME!! Tour guides Lisa and Travis were very knowledgeable and the tour combined the right amount of "tour" with the right amount of free time. Loved the itinerary -- also Lisa got us up early when needed to see everything and really loved her knowledge and professionalism. Special thanks to Travis, also, for hiking with my son and I in Switzerland. Special special kudos for the Rick Steves books and apps which made the whole experience more educational and worthwhile.
Favorite "WOW" moment
"Seeing the statue of David; the sunset on the Seine cruise in Paris; and drinking champagne with my daughter and family at the top of the Eifel tower to celebrate her 21st birthday."
Ron
Fishers, IN
Tour: 06/04/17
Overall rating:
This is only our second RS tour. The tour exceeded my expectations. There were only 25 participants and 2 guides: Lisa and Travis. The mix of big cities to start and people and subwways to navigate kept us on our toes. Then we eased into a laid back burgundian pace and kept it chilled through Wengen Switzerland and the Cinque Terre. It ended with a bang in Pisa and Florence with climing Giotto's Bell Tower and the Duomo. Good balance!
Favorite "WOW" moment
"1. The history of Westminster Abbey and the C.S. Lewis plaque in Poet's Corner. 2. The Seine River cruise at sunset. 3. Snails in Paris 4. Gourmet food at a rest stop cafe. 5. The Glory of the Swiss Alps. 6. Fondue 7. The painted glory of the Cinque Terre 8. Cooking class and final meal in Florence"
Edwin
Springfield, OH
Tour: 08/01/16
Overall rating:
It was a fantastic tour. We are still wrapping our heads around the fact that we saw and did so many wonderful things. While there were some early mornings, each was well worth it. We were introduced to events and sights that we didn't even knew existed, e.g. the keys ceremony in the Tower of London. As a "family friendly" tour I did question being at the base of the Eiffel Tower at 11:00 p.m. after the river cruise. The kids were pretty tired. But that was one thing out of many great memories.
Favorite "WOW" moment
"Switzerland was a very pleasant surprise. When I saw the tour went there I thought it would be a nice stamp in my passport so I could say I was there. But it was beautiful. We had a much better time there than we thought we would."
Frederick
Swampscott, MA
Tour: 08/01/16
Overall rating:
Wonderful, well organized, very friendly, and a learning experience for us all.
Favorite "WOW" moment
"Our visit to Cinque Terra. I could have spent another night(s) there enjoying it's beauty and visit the towns outside of Monterosso and Vernazzi more leisurely."
Kristin
Bainbridge Island, WA
Tour: 08/01/16
Overall rating:
The Rick Steves Family Europe tour was the perfect balance of time with the group and time on our own. Our guides, Tina and Ana, were such a pleasure. They were a wealth of knowledge and we learned so much from them. It was nice having the logistics of the trip in order so we could just focus on the experience. We enjoyed all the wonderful cities, the sights, the group of people on the tour and our guides. Everything ran smoothly. I highly recommend this tour.
Favorite "WOW" moment
"There were so many wonderful moments on this tour. The awesome beauty of Switzerland, Paris at night, spending time on the beach in the Cinque Terre...it was all amazing."
David
Wynnewood, PA
Tour: 08/01/16
Overall rating:
I am a long time fan of the show, but this was my first time to Europe and my boys so want. Our experience far outweighed my expectations. Tina was fabulous and a very pleasant as was Anna.
Favorite "WOW" moment
"I had a wow moment every day!"
Rhea
Wichita, KS
Tour: 07/25/16
Overall rating:
Overall, we had a really good time. We really appreciated the guidebook tours of the Louvre and the Rome attractions (we did Rome separately after the tour).
Favorite "WOW" moment
"At the Uffizi museum in Florence, we had a fantastic tour guide (Elizabeth), who showed us the nuances of early examples of Christian art that made me see the beginnings of the Renaissance in a whole new way."
Laura
Bentonville, AR
Tour: 07/25/16
Overall rating:
There is not enough space to write about how great the trip was...This was my second Rick Steves Tour and it did not disappoint! Decided to do a family trip this time, and it was perfect because we had teens who were not interested in the museum experience. They had just enough for a little taste! I can't think of anything negative, just all positive life long experiences!
Favorite "WOW" moment
"Opening the doors onto a small terrace overlooking the Swiss Alps and breathing that air, the feather comfortor and the nice cool crisp air..... then traveling to Cinque Terre and just swimming in the Ligourian Sea! I felt like I was part of the "rich and famous" jet setters for a minute."
Matthew
Wichita, KS
Tour: 07/25/16
Overall rating:
We had a wonderful time on our trip. The itinerary allowed a good combination of autonomy and guided activites. We enjoyed the camaraderie of our relatively small (20 people) group. We found the Rick Steves audioguide app very handy for non-guided activities.
Favorite "WOW" moment
"Riding on the mountain trains and gondolas in Switzerland."
Sharon
Strongsville, OH
Tour: 07/25/16
Overall rating:
This was my second Rick Stevens tour and I would not do it any other way. They take care of everything. We went on the family Europe trip. We started in London, Paris, Burgandy France, Switzerland, cinque terre and Florence. Switzerland was my ultimate favorite spot with cinque terre in a close second. We were in so many climates it was surreal. We were on tour with a wonderful group of people. Our tour guides yorick and Emma were awesome
Favorite "WOW" moment
"SWITZERLAND Seeing those alps were breath taking!!!!!! Cinque terre a close send. The sea side was gorgeous"
Matthew
Mars, PA
Tour: 07/18/16
Overall rating:
Overall, we had a terrific time. The reasons we sought out the tour -- organization, planning, hitting the "highlights" in each stop as well as other attractions off the beaten path -- were all fulfilled extremely well.
Favorite "WOW" moment
"I particularly enjoyed many of the surprises -- Pisa, the Alpine Horns, petanque, etc. These experiences made the trip very enjoyable, especially when travelling with our kids."
Kristina
Lebanon, PA
Tour: 07/18/16
Overall rating:
Wonderful family tour!!
Favorite "WOW" moment
"The way that all of our children and families all got along together. It made the experience that much better!"
Scott
Ionia, MI
Tour: 07/18/16
Overall rating:
Pace was very aggressive but we recognize that fitting so much in over such a short period requires this. All the "biggies" were available to us. Having kids who happen to lean more toward educational pursuits meant that we would have appreciated the focus being more toward history, culture and the humanities, but we recognize that a tour of this sort must find a middle ground. We very much enjoyed our tour of the uffizi with elizabetta--highlight of the tour for us personally.
Favorite "WOW" moment
"The Swiss mountains and hiking"
Jay
Bremerton, WA
Tour: 07/18/16
Overall rating:
My family and I had a blast. Cary was excellent.
Favorite "WOW" moment
"Mesmerizing sunset cruise on the Seine."
Lauren
Graham, WA
Tour: 07/18/16
Overall rating:
I could not have asked for a better experience; everything (except the quality of food at a handful of the restaurants) was above expectation.
Favorite "WOW" moment
"The Lourve was amazing. Cinque Terre was unbelievably gorgeous. Really, each location contained a gem."
Cheryl
Renton, WA
Tour: 07/11/16
Overall rating:
This was my first experience on a Rick Steves Tour. I was impressed with the organization of the tour, and also the ability of our guides to ensure our experience as travellers did not seem rigid. In other words, the perfect amount of organization/planning on the back end, so that we could enjoy it unfold as it did! Also, whether by luck or by the kind of person Rick Steves Tours appeals to, our group was tremendous. I felt a connection to every member of our group, and hope to stay in touch!
Favorite "WOW" moment
"There were several - but mostly, seeing the kids and families connect in a way that suggested we were "in this together", to help one another have a wonderful experience. Specifically, travelling up the mountain to our temporary home in Wengen, Switzerland was breathtaking. As was our time hiking (and replenishing calories!) in Cinque Terre!"
Mary
San Jose, CA
Tour: 07/11/16
Overall rating:
The trip was more than I could have dreamed being my 1st trip to Europe. Our tour guide Tina was the best. She made us feel like we were her best tour ever. Emma was great too. I really enjoyed getting to know her as her buddy. If I changed anything, it would be to do maybe 1 less country and not move around so fast, but I can'tell imagine which country I would leave out.
Favorite "WOW" moment
"Every country had wow moments but if I had to pick it was the night in the Swiss Alps with the alphorn player and the yodealer with the snow covered mountains in the background and every day walking through Florence."
Rochelle
San Jose, CA
Tour: 07/11/16
Overall rating:
The entire tour was wonderful. We had a great group. It was really fun to see the kids have such a good time. Tina was an exceptionally perfect guide. I can't imagine the tour without her. I don't care where she is going next. I just want to be on that tour!
Favorite "WOW" moment
"I loved everything about Italy, but everyday was a "wow" moment. I really recommend this tour. You don't have to be a family because the group becomes your family. Just go!"
Robert
Carrollton, TX
Tour: 07/11/16
Overall rating:
Overall, very happy with the tour, especially with Tina as our guide.
Favorite "WOW" moment
"So many great wow moments. Switzerland and the swiss Alps was probably my favorite if I have to pick one. The hotel and the hiking in the alps exceeded my expectations. Having lunch and drinks on the mountain was awesome!"
Erin
Carrollton, TX
Tour: 07/11/16
Overall rating:
The trip was great! Tina Hiti was an excellent tour guide. She made us feel so comfortable in each new location by giving us historical and current information about that city. The orientation walks in each city were super helpful, too. The accommodations in each location were clean, accessible to the sites or close to transportation to get to the sites. The other families on our tour were great! Everyone bonded - no grumps!
Favorite "WOW" moment
"Each location had it's own "wow" moment. Crown Jewels in London, River Cruise in Paris, David in Florence. But I think my favorite was the hike in the Swiss Alps. I got to channel my inner Maria Von Trapp. Gorgeous, breathtaking, hearing the wind chime like cow bells. Simply amazing."
Brad
Covington, WA
Tour: 07/11/16
Overall rating:
My family really enjoyed our family tour. We made terrific friends. The tour guide Tina and assistant Emma, were outstanding. Tina really was an expetrt about the cultures of the 4 countries. Her sharing of that was a bonus. Never expected the value of a guided tour and how it would enrich our vacation to that extent. Family tour is best for us. Rick Steves must rconsider adding more than 2 itineraries for family tours.
Favorite "WOW" moment
"Our wow moments were too numerous to select one. Alps In Wengen Eiffle tour Estate in Saint Fargeau And more"
Susan
Kent, WA
Tour: 07/11/16
Overall rating:
So much to see...So little time. Our whole purpose for taking this specific tour was to introduce our daughter and our granddaughter to Europe, and I think it was a big hit! Our granddaughter discovered mango gelato, and one hot day I think she had 5 large dishes of it! All six of our family members on this tour seemed to enjoy different things, but all had a really good time.
Favorite "WOW" moment
"Watching our granddaughter make two really good friends. The Bastille Day fireworks in Paris were amazing. Just when I thought they were over they went on again. They lasted nearly an hour, and were truly spectacular. So many colors, and so many individual displays."
Brian
Green Lake, WI
Tour: 07/11/16
Overall rating:
We hit the major sights as promised and enjoyed the little surprises along the way. A fantastic tour with an incredible guide, Tina is a keeper! Loving, caring and compassionate about her field. Thoroughly enjoyed the organized transportation. I loved the combination of the organized activities and then the free time to go explore on our own. Hitting the big cities, then slowing down in Burgundy and Switzerland before hitting more big cities was perfectly planned! Awesome!
Favorite "WOW" moment
"The outdoor guy in me loved the waterfalls and majestic mountains of Switzerland, my romantic side was wowed by the Eiffel Tower at night from the river cruise, my artistic side couldn't believe how perfect 'David' is! Can't just name one. :)"
D'Lene
Green Lake, WI
Tour: 07/11/16
Overall rating:
Our overall tour experience was a perfect 10! From the fantastic itinerary, the Rick Steves travel style, our wonderful tour guide, tour assistant and bus driver, and the little extras such as the surprise bus stops for photo ops, treats provided by our tour guide, and the lunch stop at Pisa, we could not have been more pleased. And we loved meeting other families and seeing the kids share this once in a lifetime experience. We did not want to come home, and our kids want to move to Switzerland!
Favorite "WOW" moment
"My favorite wow moment was being in Paris on Bastille Day, experiencing the excitement of the holiday. During our Paris walking tour, our tour guide made sure we were on a bridge with an unobstructed view at the exact time the flyovers were to take place. Sitting on the lawn in front of the Eiffel Tower with tens of thousands of mostly French folks, eating our picnic dinner while waiting for the best fireworks show imaginable to begin was a once in a lifetime experience."
Jennifer
Ames, IA
Tour: 07/04/16
Overall rating:
It was worth every penny! Our family had an amazing time. The guides were great with the kids. We learned about the language and the history of the region, and had private local guides in some key locations. We were given the skills to confidently navigate a region on our own during our time off. The food was a marvelous sampling of each region's cuisine.
Favorite "WOW" moment
"When Rick Steves himself actually got on our bus. I about fell out of my seat. (Okay- that was not on the itinerary- they surprised us with that when his tour intersected with ours). Really, seeing my son's reaction to the Swiss Alps was cool. He said, "Wow, mom,I've never even heard much about Switzerland, and this place is AWESOME! I just want to stay here.""
David
Altanta, GA
Tour: 07/04/16
Overall rating:
The entire trip exceeded our expectations. We were expecting an amazing first-time trip to Europe with our our five kids. It was spectacular. Our tour guides, Steven and Cary, were the perfect combination of seasoned-traveler, cultural guide, foodie, interpretor, and event planner. We saw more in our 12 days than we could have imagined. We would book another tour in a heartbeat.
Favorite "WOW" moment
"Swiss Alps. Hands down."
Hong
San Francisco, CA
Tour: 06/27/16
Overall rating:
It was a wonderful tour with a good mix of busy and relaxed days. This was my son's first visit to Europe and my first visit to some of the countries. The tour gave us a good introduction to London, Paris, the French countryside, and Florence. Sarah's knowledge of Europe is invaluable and Elena was always there to help. I learned quite a bit about these cities and Europe. In addition to having lots of fun, I really appreciated the educational value of the trip.
Favorite "WOW" moment
"Hiking in the Swiss Alps."
Pat
Lafayette, OR
Tour: 06/20/16
Overall rating:
Fast-paced and exposed us to a taste of Europe. A nice non-tourist breather after London and Paris with the St. Fargeau stop and Wengen,Switzerland. I've been to Cinque Terre before, so that was a great stop to re-aquaint myself on a deeper level. I've also been to Florence in the past, but didn't see nearly what your trip offered. All the hotel accommodations were were very good, and the meals the tour arranged were outstanding. The guides were very knowledgeable.
Favorite "WOW" moment
"Wengen, Switzerland was so beautiful. Sitting at the hotel in the evening listening to a "real" yodeler and fantastic alpen horn player was amazing. Everyone in our group tried to play the horn. It was a step back in time and brought us all together in the present. Lovely."
Peter
San Marino, CA
Tour: 06/20/16
Overall rating:
Excellent itinerary and well organized. Our tour leader Martin is very knowledgeable. Bus was comfortable. We saw, experienced, and learned a lot!
Favorite "WOW" moment
"No one moment as I have been to all of the places on the tour at least once before. Lauterbrunnen Valley still takes my breath away."
Jane
Winnsboro, TX
Tour: 06/13/16
Overall rating:
This was our fifth Rick Steves tour so we have a lot to compare this trip to. In terms of what it aimed to accomplish for the families involved it certainly did that. It also added to the experiences we've had in the past: we learned new things we never knew before about cities we had already visited.
Favorite "WOW" moment
"After all these trips I've had the standard "wow" moments...(turning the corner to see the David for the first time, etc.) My new one was seeing the mountain where Carrera marble comes from. I never would have known it without Sarah pointing it out to us. I never dreamed there was so much of it. I always thought it was rare. A whole mountain of it! The castle in Guidelon was pretty awesome!! I'd love to go back."
Beaven
Winnsboro, TX
Tour: 06/13/16
Overall rating:
This was my 5th Rick Steves tour and it was the best ever. Sarah and Elena did an outstanding job leading this tour.
Favorite "WOW" moment
"I had many wow moments.............the best was watching my granddaughters discover travel."
Mary
Acushnet, MA
Tour: 06/13/16
Overall rating:
This was my first tour and I enjoyed the ease and comfort of traveling with a group. Having all the transportation, meals, plans made was very nice.
Favorite "WOW" moment
"Switzerland was my favorite WOW moment. Driving through the countryside into the Alps was breathtaking. Passing through the lakes of Interlaken, with the alps off on the horizon was just unreal. Once we arrived at our hotel, and the views became even more spectacular, we were just in awe. We had a great, warm, sunny day, which only enhanced our experience. As we hiked the trails, there were cows(with bells on) grazing on the mountains, waterfalls, and we were just awestruck at the beauty."
Tracy
Marrero, LA
Tour: 06/06/16
Overall rating:
Then tour was wonderful. It was filled with activities but still relaxing. This was our first trip to Europe and I was very please with the entire experience. My biggest concern was having to wash out clothing since we traveled in carry-on bags. It was easier than I thought it would be to pack in such a small bag. I did wish we could have found a laundry a few days sooner but it all worked out.
Favorite "WOW" moment
"Too many to count. I loved the scenery and history of all the the places we visited. I think the biggest WOW moment was in Wengen, Switzerland. We had an alphorn player and yodaler come to the hotel for our evening entertainment. The Alps behind them at sunset was just too beautiful and magical. It almost didn't feel real."
Thomas
Fairbanks, AK
Tour: 05/30/16
Overall rating:
Great tour. Miles and Martin were professional yet casual. They made our trip memorable and enjoyable.
Favorite "WOW" moment
"Blue bird day in Lauterbrunnen Valley. The hotel in Wengen was amazing."
Will
Pacific Grove, CA
Tour: 05/30/16
Overall rating:
It was really amazing - the guides were fantastic, the locations were great. If you could have fixed the weather in London and Paris it would have been perfect! The tour of Guedelon castle was amazing, and the opportunity to visit Toucy (an addition, but a great one!) for the weekly market on Saturday was fantastic. The family really came back feeling like we had a good intro to europe, and that going back we'd know where to go!
Favorite "WOW" moment
"Almost impossible to pick one. I've been to europe a LOT and this is the first time I've even seen Guedelon - for me that was just amazing. If I could pick another it would be our time in Switzerland. Just amazing to hike the alps (again!)"
Sean
Tulsa, OK
Tour: 05/30/16
Overall rating:
The tour from start to finish was perfect. Unfortunately for our group we happened to be in Paris at a time when they were having the worst rain in 30 plus years. Due to flooding issues, a few things were cancelled but our guides made sure that we had other activities to do.
Favorite "WOW" moment
"With a doubt it was Switzerland. We were lucky to have perfect weather for the first time during the trip. The hike through the mountains and the views were incredible."
Weather

England / London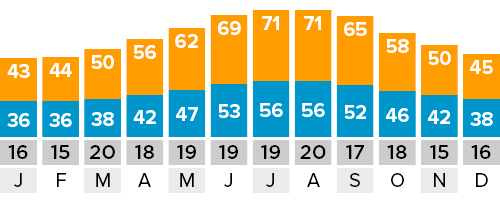 ---
France / Paris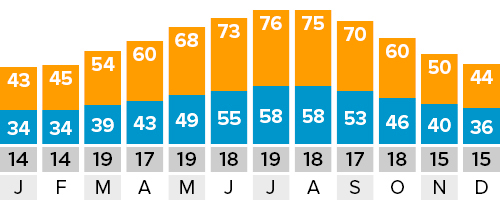 ---
Switzerland / Bern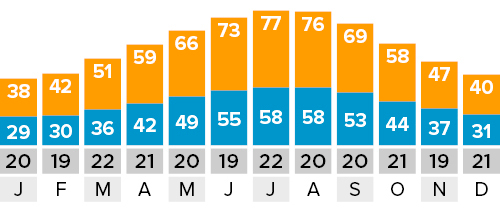 ---
Italy / Florence
Pre-Tour Planning
We've put together some specific information on what you should know about this tour before you go. You'll also find more general information about our Family Europe Tours on our Tour FAQ.
Trip Resources
Learn more about England, France, Switzerland, and Italy: Check out a collection of Rick's TV shows, radio interviews, and articles, plus recommended books and movies.
Tour Hotels
In case you wish to book pre- or post-tour hotel accommodations, the contact information for the tour's first and last hotels is included in your tour confirmation email. About one month prior to the tour departure, we'll email you directions on how to get from the airport to your first tour hotel, as well as the complete list of hotels where we'll be staying while on tour.
Transportation
Many tour members arrive a day or two before the tour begins — and those who don't, wish they had. This allows you ample time to get over jet lag and make the most of the first few days of the tour.
There is more than one way to get to and from your tour. Most tour members arrange to fly into London and out of Florence ("multicity" on flight-booking websites). Booking round-trip to one city will require a connecting flight or additional overnight stay in Europe. London is a major transportation hub, and frequent departures from Florence make travel before or after your tour quite easy.
For information about flying within Europe, ask your travel agent or check Rick's list of European budget airlines.
Read Rick's train travel and rail pass tips to decide if your travel plans merit a rail pass.
If you have additional European travel or tour questions, contact the Tour Department at 425-608-4217 or email tour@ricksteves.com.
Sightseeing on Your Own
If you arrive in London before your tour begins, use the Rick Steves Best of Europe guidebook to get oriented. Ride the public transportation, and get over your jet lag with lots of fresh air and exercise.
Here are a few suggestions for sightseeing in London that we do not do as a group: open-top sightseeing bus tour, London Eye (great views), Museum of London (fun history), Natural History Museum (dinosaurs!), Hyde Park's Diana Playground. London's musical theater scene is also a hit with kids (The Lion King, Billy Elliot the Musical, Wicked, Mamma Mia!).
With extra time in Florence after the tour, your family may enjoy the kid-friendly Boboli and Bardini gardens, Galileo Science Museum, Leonardo Museum, or views from the top of Giotto's Tower and the Duomo.
This tour does not include a visit to the Eiffel Tower. However it is often a highlight for any traveler and one we highly recommend. Avoid its long lines by booking tickets several weeks in advance. For more details, see our Eiffel Tower ticket tips for tour members.
Packing
This tour has a few long bus rides, so card games and small travel games can keep kids from just plugging in and tuning out. There are some great opportunities for hiking and swimming on this tour. While hiking boots are not necessary, we recommend you and your kids bring along shoes that offer good traction. Also, pack swimsuits and a couple of lightweight microfiber towels.
For more advice on what (and what not!) to pack, see Rick's packing tips.
Special packing note: We use an audioguide system for many of our sightseeing and museum tours. If you wear a hearing aid, we strongly recommend bringing headphones that go over your ears to allow you to fully enjoy these tours.