London

Tower of London

Latin Quarter in Paris

Paris' Eiffel Tower

Guédelon Castle in France

Mannlichen in the Swiss Alps

Cinque Terre, Italy

Michelangelo's David in Florence

Gelato Break in Italy
Tour Questions? See our FAQ | Call 425-608-4217
Family Europe: London to Florence in 13 Days Tour
Rick Steves Family Europe: London to Florence in 13 Days delivers a colorful mix of must-see cities (London, Paris, Florence), and stroll-around charms (Burgundy, the Swiss Alps, Italy's Cinque Terre). Along the way, you and your kids will encounter some fascinating bits of art, history, and culture — along with a couple of castles, a boat, a train, a mountain gondola lift, plenty of hiking, and even a swimming pool or two.
Our small-group style of travel will open doors to places that are off-limits to large "mainstream" tour groups. As you ride across Europe you'll have plenty of extra room to stretch out and relax in our big, comfortable bus (the kids will be sure to take over the back half!). To help keep you all well-rested from start to finish, every stop is for two consecutive nights.
So bring the family! And (since our two Family Europe itineraries don't overlap) you're welcome to come back for seconds.
Dates & Prices
What's Included
A small, friendly group of 24–28 people — half the size of most tour groups
Kids ages 8 through 17 are welcome — and save $200
A full-time Rick Steves guide, tour assistant, and local experts — who will make the history, art, culture — and fun! — of Europe come alive for you and your kids
All tours and admissions — at no extra cost — covering at least 22 group sightseeing events • London walking tour • London Ghost Walk • Thames River cruise • Tower of London tour • London-Paris Chunnel train • Bus tour of Paris • Seine River cruise • Paris walking tour • Notre-Dame Cathedral • Louvre Museum • Guédelon Castle tour • Stone cutting workshop • Burgundian music evening • Orientation and Männlichen hike in the Swiss Alps (weather permitting) • Swiss fondue tasting • Swiss folk music • Orientation for "vacation" day in Cinque Terre • Florence gelato tasting • Renaissance walking tour • Accademia Gallery including Michelangelo's David • Uffizi Gallery tour • Tuscan cooking demonstration...and more
All group transportation from London to Florence
12 nights accommodations in memorable, family-friendly hotels
All breakfasts and half your dinners
All tips for guides and driver
Rick Steves Travel Store credit to use toward guidebooks for your trip
Guaranteed tour price, locked in the moment you make your deposit
Optional single supplements — this tour has a limited number of private rooms for solo travelers for an additional fee
Tour alum discount of $50 for each tour you've taken prior to 2016
50% discount on a consulting appointment with our in-house experts to assist with your pre- or post-tour travel plans
Flexibility should you need to transfer, or cancel/interrupt your tour
Fine print: You are responsible for the cost of your drinks and free-time sightseeing. See our Tour Conditions Agreement for important details regarding everything listed above.
Itinerary
Daily Activity Key
Light = 2–4 miles of mostly level walking throughout the day.
Moderate = 2–6 miles walking throughout the day with some hills and stairs.
Strenuous = 2–8 miles walking throughout the day with lots of hills, stairs and uneven terrain.
Day 1: Welcome to London
Our adventure together begins in the great city of London. We'll meet at 2 p.m. for a brief "Welcome to Europe" meeting at our hotel. Your guide will give you a neighborhood orientation walk and practical London transport lesson on the way into the heart of the city. We'll have fun getting to know one another over dinner together, and then we'll join an entertaining local guide on a Ghost Walk through the most haunted city on earth. Sleep in London (2 nights). No bus. Walking: moderate.
Day 2: The Thames and the Tower
This morning is dedicated to the Tower of London, where we'll learn all about England's oldest and most notorious castle. After some free time to sneak a peek at the Crown Jewels and grab some lunch, we'll hop on board a boat and cruise the Thames to Westminster. It's the perfect spot for your guide to orient you for your free afternoon and evening. Explore the neighborhood: The London Eye, Westminster Abbey or Buckingham Palace. Or you can walk north past the Churchill War Rooms, 10 Downing Street and the Horse Guards to Trafalgar Square. Cheerio! Boat: ½ hr. No bus. Walking: strenuous.
Day 3: The Chunnel to Paris
Let's go to France! After breakfast it's all-aboard the sleek Eurostar train to Paris, zooming along at nearly 200 miles per hour beneath the English Channel (with sandwich lunch en route). In Paris we'll be met by a comfy sightseeing bus for a rolling introduction to this beautiful city. We'll arrive at our Paris hotel, where you'll have time to unpack and relax a bit before our big evening: learning to use the Métro (subway), dinner together on the Left Bank, and an open-air evening cruise along the Seine River — the perfect finish for your first day in the City of Light. Sleep in Paris (2 nights). Train: 2½ hrs. Boat 1 hr. Bus: 1 hr. Walking: light.
Day 4: The Historic Heart of Paris
Today we'll begin where Paris began, on the Ile de la Cité. We'll take a walking tour tracing the evolution of Paris, from its Roman roots to its medieval splendor, culminating with a visit to the awe-inspiring Notre-Dame Cathedral. Just across the river, in the famous Latin Quarter, you'll get oriented and set free for the rest of the day to explore Paris on your own. You could visit a gallery or two filled with amazing art (the Orsay, Orangerie, Rodin or Pompidou), visit a kid-friendly park (the Tuileries or Luxembourg Gardens), take in the city views (from the Arc du Triomphe, Montmartre hill or a department store rooftop) — and maybe top-off tonight with trip up the Eiffel Tower (avoid lines by reserving in advance). Let the kids decide. No bus. Walking: moderate.
Day 5: Masterpieces and Rural France
Our morning begins with a visit to the magnificent Louvre Museum. After an orientation we'll set you free to come face-to-face with timeless treasures that include Mona Lisa, Winged Victory, Venus de Milo, and other great works of art. After lunch on your own in the Louvre's family-friendly food court, we'll meet our driver and bus for the rest of the tour. Then we'll leave city life behind as we head into the French countryside, passing pastures and châteaux en route to our country hotel in the heart of Burgundy. This stately manor home has a huge lawn, perfect for kids to play outdoor games this evening. For dinner we'll share a buffet of French specialties. Sleep in St. Fargeaux, Burgundy (2 nights). Bus: 4 hrs. Walking: moderate.
Day 6: Building a Medieval Castle
We'll begin today with something you'll see nowhere else: the construction site of Guédelon, where a full-size 13th-century castle is being built today — by people in traditional costumes using historically accurate tools — exactly as it would have been 800 years ago. We'll have a guided tour through the site and take part in a hands-on workshop learning how medieval stone cutters worked their magic. After lunch together, you'll have free time to visit the blacksmith, masons, rope-makers — and explore more on your own. We'll return to our "country estate" in the afternoon with time to relax (and maybe go for a swim) before we regroup for a music-filled evening and dinner together. Bus: 1 hr. Walking: moderate.
Day 7: Scenic Drive to the Swiss Alps
This morning we'll board our bus and set a course for Switzerland. For lunch, we'll stop and fan out at a typical town's shopping mall (with several places to eat on your own) to get a taste of un-touristy French life. Today's scenic drive is the perfect time to catch up on your journal, play a game with your bus buddies — and learn a few things from your guide about Swiss chocolate. By late afternoon we'll find ourselves in the Swiss Berner Oberland's magnificent Lauterbrunnen Valley, flanked by towering, waterfall-laced cliffs. Tonight we'll share a fondue-tasting and a hearty dinner together — followed by a performance of traditional Swiss music — all at our creaky old chalet nestled in the Lauterbrunnen Valley, where we'll sleep (2 nights). Bus: 8 hrs. Walking: light.
Day 8: All Day in the Alps
Don't sleep in this morning — the Alps await! After a hearty breakfast our guide will take us up a gondola lift for an easy, scenic, 2½-mile hike along the 7,000-foot-high Männlichen ridge (weather permitting, of course). When we reach nearby village of Kleine Scheidegg, you'll be set free for lunch, with spectacular views of Switzerland's most formidable peaks: the Eiger, Mönch, and Jungfrau. From there you can take a cowbell-serenaded hike back down to our hotel — or rest your feet aboard one of the cute local cog-trains that run between the villages. For tonight's dinner, shop at the local grocery store for an evening picnic in the great outdoors. No bus. Walking: strenuous
Day 9: Winding Our Way to Italy
This morning we'll have an encore performance of the Alps as we make our way across the mountains and dive into Italy. We'll wind our way down through the hills, past pristine lakes and the farms of northern Italy, en route to our Mediterranean getaway. This afternoon's destination is the seaside Cinque Terre town of Monterosso al Mare. During today's trip, you'll get a thorough orientation to tomorrow's fun, free day possibilities. Tonight we'll share a tasty dinner together in this corner of Italy where pesto was invented and the seafood was swimming this morning. Sleep in Monterosso al Mare (2 nights). Bus: 7 hrs. Walking: light.
Day 10: Free Day in the Cinque Terre
Today is entirely up to you, and each village along the Cinque Terre is just a few minutes away by train. Pick a village to explore, have a meal or two, and become temporary locals…or burn off some energy and enjoy breathtaking views by hiking along the cliff-side paths…or get your views from the sea on a scenic boat ride along the coast, past the fishing-boat harbors and hill-hugging villages…or stay closer to home, hanging out on the beach for swimming and sun. No bus. Walking: light to strenuous (your choice).
Day 11: Florence and Michelangelo's David
Rested and refreshed, today we're ready to take on the impressive art and history of Florence. We'll say ciao to our bus and driver, drop our bags at our hotel…and take time to learn about and taste (of course!) some icy cold gelato. Then we'll hit the ground walking with a historical introduction to the highlights of the Renaissance. We'll learn about life in those amazing times, and gaze at Brunelleschi's magnificent cathedral dome and Ghiberti's eerily 3-D Baptistery doors. Our walk ends with a bang at the Accademia Gallery, home to Michelangelo's most famous sculptures: the rough-hewn Prisoners and his greatest masterpiece, David. Your evening is free for dinner on your own. Sleep in Florence (2 nights). Bus: 3 hrs. Walking: moderate.
Day 12: Treasures of the Renaissance
Your morning is perfectly free. Sleep in if you like — or get an early start to scramble to the top of that big dome or browse through the colorful food and craft markets. After lunch on your own, we'll rendezvous at the Uffizi Gallery to see — and learn the stories behind — the Botticellis, Leonardos, and Raphaels in the greatest collection of Italian paintings anywhere. This evening, we'll gather for a fun, hands-on cooking demonstration. We'll enjoy what we prepared at our final dinner together where we can share our favorite moments and celebrate our friendship. No bus. Walking: moderate.
Day 13: Tour Over After Breakfast
Breakfast is provided, but there are no group activities today. It's a breeze to reach Florence's airport by taxi or public transportation. Your guide will help you with any post-tour planning, leaving you well prepared for the road ahead. Grazie e ciao!
Itinerary specifics subject to change.
Physical Demands
Our tours are physically active! It's an essential part of the Rick Steves tour experience. On our Family Europe: London to Florence in 13 Days tour — among other things — you'll need to happily…
Carry/roll your luggage over uneven pavement (several blocks possible) and up stairways to reach your hotel; then up several flights of stairs to reach your room.
Be on your feet, walking and standing, for up to three hours, indoors and outdoors, in all weather conditions.
Sleep with street noise and no (or weak) air conditioning.
After orientation and transportation lessons, be able to navigate towns and cities on your own.
Be able to get up and "at 'em" in the morning, often departing around 8 a.m.
Be content with the possibility of your family sharing bathroom facilities on this tour.
Reviews
Benjamin
Celebration, FL
Tour: 08/02/15
Overall rating:
We saw a lot on the tour. I liked how it was a mix of cites and some country and natural locations. The tour guide was very good. his commentary was very interesting and humorous. I liked how we toured the city for half a day and then had an opportunity to do whatever we wanted in the evening.
Favorite "WOW" moment
"When we first drove into the swiss alps."
Aileen
Celebration, FL
Tour: 08/02/15
Overall rating:
This was the perfect opportunity for my sons (ages 14 and 21) and I to see some of the most popular and enjoyable sights in Europe while enjoying the freedom and knowledge provided by a Rick Steve's tour.
Favorite "WOW" moment
"Switzerland has long been one of my most favorite destinations in Europe. The views we saw on our way to Wengen, Switzerland were just phenomenal! And, our room in our historical hotel and its breathtaking mountain views were absolutely heavenly. Our mountain hike in Switzerland was the most memorable experience during our trip. We also immensely enjoyed the historical and local commentary provided by our guide, Yorick.. The information he provided brought Europe to life for us!"
Marsha
Springfield, IL
Tour: 07/19/15
Overall rating:
The hotels, tours, and tour guides exceeded my expectation. It was a good introduction to European travel for my family. I would not have been able to replicate this experience on my own. It was a nice to have other families along as travel companions, esp. for my daughter. The mix of group and individual time was just right.
Favorite "WOW" moment
"I really enjoyed a few things I didn't especially look forward to when the trip began. The evening guided tour of the Eiffel Tower was (surprisingly) nice and relaxing. I loved everything about our stay in St. Fargeau, at The Hotel Les Grans Chenes. I found our time in Wengen, Switzerland very charming. Loved the train, and the hike (all down hill!), and the Alps. Cinque Terre was beautiful, I would have liked to spend more time there."
Allen
Springfield, IL
Tour: 07/19/15
Overall rating:
A tremendous opportunity to see so many sights and whet the appetite for future travel and exploration.
Favorite "WOW" moment
"Multiple: seeing cultural icons of London, Paris and Florence for the first time."
Holly
Caledonia, IL
Tour: 07/19/15
Overall rating:
We had a wonderful trip and thought everything was great! We thought both of our tour guides were great. Yorick had exceptional knowledge and Miles helped to keep all of the details straight. We thought a couple of the bus days were long (but not sure how that can be avoided and still see the sights we saw), and we thought a couple of the stops could have been changed along the bus route (for lunch, etc). Hotels were nice, and meals were great. We enjoyed all of the planned activities!
Favorite "WOW" moment
"I think Seeing the Eiffel Tower at night was the best "wow" moment. We also thoroughly enjoyed Cinque Terre, and the kids loved playing kick the can at the bed and breakfast in Burgundy!"
Tom
Kentfield, CA
Tour: 07/19/15
Overall rating:
Great itenerary Mix of high intensity and resting spots along the way.
Favorite "WOW" moment
"Cinque Terre (in general) and Trummelbach Falls in Switzerland."
Ken
Seattle, WA
Tour: 07/19/15
Overall rating:
Overall, the tour was a lot of fun. Our guides highlighted the experiences we should try in each city and gave us a lot of insight into each location. The balance of free time and group activities was excellent.
Favorite "WOW" moment
"The guided tour of the Eiffel Tower at sunset was incredible! It was great to experience that with a fun tour guide and to have time at the top for ourselves when the tour was over. We enjoyed walking back through the crowds of Parisians who were picnicking on the military field between the military academy and the tower."
Jo
Albuquerque, NM
Tour: 07/19/15
Overall rating:
My 12 year old grandson and I were on the London/Florence Family Tour. We had a blast. There were 24 of us including 6 boys that hung around together. They even made a Fantasy Football League. As with all Rick Steves Tours, the group was welcoming to all and there were no grumps. There was a LOT of walking. particularly the first London day. My grandson and I did the London Eye which was a thrill for him.
Favorite "WOW" moment
"My favorite WOW! moment was Saint Chappelle (not included) in Paris. My grandson's favorite was the Eiffel Tour, at which we had the best tour guide I've ever met. Kids had a great time in Burgundy, They played on the back lawn until dark."
Paresh
Dayton, NJ
Tour: 07/12/15
Overall rating:
We had a fantastic time on the tour, this being our first one. Martin & Daria were outstanding as guides & made us feel very comfortable. The travels, stay were very well planned & [INVALID]d smoothly, liked the coaching on local subway, bus travel. The hotels we stayed in were comfortable & located centrally. Dinners were well thought & introduced the local flavors. The walking tours were the best part, well planned & not very strenuous. Would recommend this first time Europe tour for families.
Favorite "WOW" moment
"Too many to list, Seine river cruise, the Alps trek, Florence walk."
Robert
Austin, TX
Tour: 07/12/15
Overall rating:
Martin, Paul (our bus driver), und Darija war vortrefflich! The tour was better than I expected, then again, I really didn't know what to expect. We were SO grateful to have people with experience show us where to go, where to sleep, where to eat, etc. This alleviated much of the stress of travelling, increased efficiency, and maximized our intake of new environs.
Favorite "WOW" moment
"The glaciers, waterfalls, and mountainous cliffs of the Swiss Alps were my favorite part of the tour. Although the bus ride through the alps and into Italy was awesome, as was CT. Martin's excellent commentary throughout was illuminating. Better than anticipated."
Cathie
Santa Barbara, CA
Tour: 07/12/15
Overall rating:
Overall experience was good.........but I will never travel to Europe in the summer again.......too many people and way too hot. 102 degrees in Florence! But tour was very well planned.....I loved the quiet peacefulness of the Burgundy house after the hectic, crowds in London and Paris. All in all, it was a perfect family tour. The kids loved playing on the lawn in Burgundy and swimming in the lake. The last night's dinner at the cooking school was a winner. Kids loved making their own pizza!
Favorite "WOW" moment
"Watching fireworks in front of the Eiffel Tower with wonderful music playing. I will remember that forever. Also loved the art in the Louvre and Uffizi......."
Lizdabel
Westfield, NJ
Tour: 07/12/15
Overall rating:
My daughter and I just returned from the London to Florence Family Tour. We had a great time and we enjoyed our trip very much. This was her first time in Europe and the trip was just what I wanted for her...she visited Europe's most popular places at a nice pace, with other people her age and with great guides!
Favorite "WOW" moment
"We enjoyed Bastille Day in Paris, the beauty of the Swiss Alps and the beaches at Cinque Terre. All of these moments were unique in their own way."
Vicki
Seattle, WA
Tour: 06/28/15
Overall rating:
Sarah and Miles added tremendously to the trip's success. My family was able to relax and enjoy the cities we visited plus enjoy the other tour members. The trip was devised to be a positive experience for our children (and parents who spent 24hrs with them) and it succeeded. Busy cities interspersed with quiet country, everyone seemed to appreciate that the trip's purpose was to introduce the young people and older to the delights of learning history. I liked Sara's history lessons
Favorite "WOW" moment
"Walking down streets that have been walked for hundreds of years. The history just washed through me."
Nichole
Berwick, ME
Tour: 06/28/15
Overall rating:
The overall experience on the Family Tour was exceptional. Having never travelled to Europe before, it allowed me to gain a sense of the areas without the stress of figuring it out. Traveling as a single mom with two kids was much easier. Our amazing tour guides gave us experiences that we never would have had if we travelled on our own. It was the little touches (champagne toast on the Eurostar as we entered France, surprise Carousel ride in Florence) that stood out to me.
Favorite "WOW" moment
"I have to choose just ONE??? The Swiss Alps hiking was probably the favorite wow moment. The view was outrageous, inexplicable."
Oanh
Seabeck, WA
Tour: 06/21/15
Overall rating:
This is our first tour with Rick Steves' tour and we love it. We love our experience and our tour guide are wonderful.
Favorite "WOW" moment
"There were many "wow" movements although we had been to Europe a few times before and has been to most of the destinations; we enjoyed lessoning to Travis singing and play the piano. Travis will be a great tour guide on his own and he has a full potential; Ben is cool and calm and knowlegeable."
Judy
Portland, OR
Tour: 06/21/15
Overall rating:
Favorite "WOW" moment
"The magic of Cinque Terre. I loved the colorful restaurant that Ben took our group to there."
Madilyn
Gilbert, AZ
Tour: 06/14/15
Overall rating:
Our tour guide Lisa, was so great and did a fabulous job educating us about the wonderful places in Europe. The sights were incredible, and seeing architecture and hearing languages were even more amazing. I miss my group dearly after spending so much time with wonderful people. Rick Steves is an absolutley incredivle company for letting your dreams come true and making it the best time of your life.
Favorite "WOW" moment
"Probably the feeling of actually being on top of the Eiffel Tower. Also seeing the mountains of Switzerland. When you get there, you have this moment of amazement that your "actually here! this isn't a dream!" The tour made sure to take you amazing places to make sure you never forget them, and that was very special."
Olivia
Fayetteville, AR
Tour: 06/14/15
Overall rating:
In the beginning of tour, I was skeptical.I am quite shy around people I've never met,and I was not sure how to approach being surrounded by these people for two weeks.But,I have done a lot of changing through the course of two weeks.I made what I think will be lifelong friends.Rick Steves tour definitely pushed me out of my comfort zone,which I will forever appreciate.Of course the experiences were once in a lifetime,but I have never met a group more fun loving,caring group.thank you so much.
Favorite "WOW" moment
"I loved Burgundy, because it was very laid back. The kids got to bond and we got to really get to know each other as we played soccer until ten or eleven. It had a very home like vibe. The food was amazing, and I loved our room."
Jennie
Gilbert, AZ
Tour: 06/14/15
Overall rating:
It was amazing!! Lisa & Miles were THE BEST! The families that went were the best, as well. The whole thing was perfect! We got so lucky with everyone getting along. All the kids were around the same age too & we all bonded!! I couldn't have asked for a more put-together, perfect Tour group!! BEST TOUR EVER!! We were kept busy but also had time to explore & relax on our own. We got to see everything & learn a bunch of history I wouldn't have taken the time for if I were not on the tour.
Favorite "WOW" moment
"The Eiffel Tower and being in Cinque Terre along the beach! The scenery & the architect of the cities."
Ken
Seattle, WA
Tour: 06/14/15
Overall rating:
Amazing. Better than expected, and hopes were pretty high going in. GREAT balance of structured help/time, and unstructured time to explore as a family. Very empowering format. Covered twice as much ground with the tour than if we has braved it on our own I believe.
Favorite "WOW" moment
"There we many "wow" moments. Most of the iconic moments (visiting Louvre, Eiffel Tower, Venice, etc) was as much of a relief to experience them in person, but my cherished "wow" moments were really the unscripted little moments like going to mass in the small church in Westminster Abbey, sitting downstairs in the Mercado Centrale watching the pace of life in the market, and many other non-touristy experiences."
Frank
Seattle, WA
Tour: 06/14/15
Overall rating:
Favorite "WOW" moment
"The hike in Switzerland and lunch after was amazing."
Katy
Fayetteville, AR
Tour: 06/14/15
Overall rating:
Truly, this tour was the trip of a lifetime. I loved every single adventure. The tour guides, families, locations, learning, perfect amount of free time, everything was divine. I cannot imagine having spent my first and my daughter's first tour of Europe in any other way. It was all we dreamed it could be-and so much more. It was a perfect adventure!
Favorite "WOW" moment
"There are so many amazing moments-from seeing fireworks over the Swiss alps, to the St. John the Baptist festival, to meeting a war hero in the Paris Deportation memorial, to watching the Eiffel Tower light up at night-honestly the entire trip was a constant wow moment. Truly, the connection I made with my 15 year old daughter as we held hands and discovered the world was the most memorial experience of my life."
Denise
Seattle, WA
Tour: 06/14/15
Overall rating:
Amazing. Fantastic. Memorable (in a good way). Cherished.
Favorite "WOW" moment
"The views from Wengen, our home base in the the Llauterbrunnen Valley, were spectacular. Snowy mountain peaks in the distance, lush green forests and the orchestra of bells from the grazing sheep. Spectacular! And then when we thought it couldn't get any better, a fireworks display started from a small village on the opposite end of the valley. Surreal."
Joan
Southborough, MA
Tour: 06/07/15
Overall rating:
This was our first Rick Steves tour and the experience was outstanding. From the guide, to the itinerary, to the fellow tour members, we enjoyed it all.
Matthew
Kettering, OH
Tour: 06/07/15
Overall rating:
Favorite "WOW" moment
"The age and beauty of the churches take your breath away"
Robert
Kettering, OH
Tour: 06/07/15
Overall rating:
The trip was fun for both adults and children. However, we would have skipped Florence and spent the time in Rome sightseeing. We took our grandson to Rome and he really like seeing the colosseum and St Peters. That was more impressive to a child that all the art in Florence. Our tour guide Martin was great in that he tried to put the various stops into perspective.
Favorite "WOW" moment
"Wow moments were as follows. The castle under construction in Burgundy, the Eurostar ride from London to Paris, the eiffel Tower, the medieval dinner in Burgundy, the mountains in Switzerland and Rome. This latter stop was one that we arranged and was worth the extra two days at the end of the trip."
Linda
Kettering, OH
Tour: 06/07/15
Overall rating:
I love Europe and it was wonderful being able to share this with our son and grandson.
Favorite "WOW" moment
"Watching the expressions on my son's and grandson's face as they experienced all of the places we visited. It was their first trip to Europe! This was our second trip to these places."
Ellen
St George, UT
Tour: 05/31/15
Overall rating:
We had a number of kids, all aged 13-16. Tough age to entertain, so the beginning was a bit shaky. Carrie really came through to make the tour fun for the kids and thus fun for the parents. The tour itself exceeded my expectations with just the right balance of "together with the tour" time and independent time.
Favorite "WOW" moment
"The Schilthorn was far and above all else. Expensive, but worth every penny. I also adored the tour at the Uffizi Gallery. The private guide Elizabeth was wonderful. In about 2 hours, she was able to teach us so much about not only the art itself, but how it reflected the social norm, politics and beliefs of the time."
Mario
South San Francisco, CA
Tour: 05/31/15
Overall rating:
The Family Tour is a great option to travel with teenage children. My 2 sons, ages 15 and 13, had a great time discovering the best of Europe, while making friendships with the kids in our tour group. The tour had plenty of activities to keep their interest, and most of the credit for making this a fabulous experience for my family is due to the wonderful tour assistant, Cary Walker. Cary was instrumental in planning activities for the kids which helped bring them together as a group.
Favorite "WOW" moment
"Our guides' knowledge of the visited places, and their ability to improvise when needed was extraordinary. I also appreciated the special guides for the Louvre and the Uffizi Gallery. They made our visit to those musuems trully enjoyable and educational."
Jay
Ottawa, ON
Tour: 05/31/15
Overall rating:
I must be honest and say that I was hesitant to join a tour. I have previously travelled quite comfortably on my own and I wondered whether a tour was right for me. It far exceeded my expectations! The guides were fabulous with their knowledge and brought all aspects of the trip to life. From architecture to music and from sculptures to languages/customs we were immersed and educated. The tour left me realizing that I learnt and saw way more than what would have been possible on my own.
Favorite "WOW" moment
"Although every day had its own "wow" moment I would have to say that my love for the outdoors makes my selection easy; the Lauterbrunnen valley. The beautiful alps and breathtaking views while hiking along a trail half way up the hillside forced me to say that exact word, "wow"! My walk in the valley and gazing up at the cascading waterfalls also filled me with awe. Entering the Trummelbach falls...... Wow!"
Linda
South San Francisco, CA
Tour: 05/31/15
Overall rating:
The Rick Steves Family Europe: London to Florence was an unforgettable adventure leaving me wanting more! Having Rick Steve's do the reservations and itinerary help to make this vacation stress free. No lines, no messed up reservations..everything top notch. And the activities for the kids were fantastic. The tour far exceeded my expectations. The wealth of historical knowledge of our quides was wonderful and so informative. I truly appreciate their remarkable passion for the places we visited
Favorite "WOW" moment
"It is very difficult to pick a wow moment from this tour. From seeing a Castle being built in 1290 fashion, to bike riding in little town of Lucca, to singing in the alps! I would have to say my favorite was the mid-evil dinner night where a Lady and Lord were [INVALID]ed for the evening (the kids) and we were all encouraged to dress up in midevil fashion. We had a wonderful fare of dinner where we ate with our hands. AND to top it off, entertainment was also included. Truly spectacular!"
Karl
St George, UT
Tour: 05/31/15
Overall rating:
Very good trip. Will probably do the Family trip from Amsterdam to Rome next summer. Would have been better if one of the two guides had been European.
Favorite "WOW" moment
"Favorite moment was the Schilthorn in Switzerland. Our guides did a good job encouraging us to do this, especially since the weather was nice. It was a real highlight."
Janice
Winnetka, IL
Tour: 05/31/15
Overall rating:
This was a well planned, intimate tour with free time to explore on our own. We were taught and encourage to use public transportation and gave us the freedom and confidence to do so. I loved the itinerary. We had so many wonderful different experiences. Our tour guides were well versed with the historical significance of each location and brought more meaning to the experience.
Favorite "WOW" moment
"Switzerland, hiking the mountain trails and seeing the Eiger and the Jungfrau is memorable. Walking through the Trummelbach falls is an experience I will never forget. The mountains scenery leaves you speechless. The charm o quaint mountain towns and mountains is noteworthy."
Weather

England / London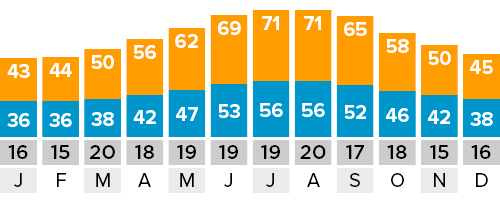 ---
France / Paris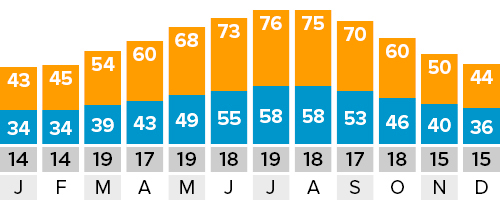 ---
Switzerland / Bern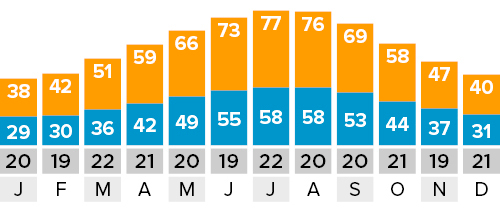 ---
Italy / Florence
Planning Tips
We've put together some specific information on what you should know about this tour before you go. You'll also find more general information about our Family Europe Tours on our Tour FAQ.
Trip Resources
Learn more about England, France, Switzerland and Italy: Check out a collection of Rick's TV shows, radio interviews, and articles plus recommended books and movies in the "Plan" section.
Transportation
Important arrival note: To make the most of our time in London, this tour begins at 2 p.m. If you are checking in the day the tour begins, your room will not be available before the tour starts (the hotel will store your luggage until your room is ready).
Many tour members arrive a day or two before the tour begins — and those who don't, wish they had. This allows you ample time to get over jet lag and make the most of the first few days of the tour.
Prior to your tour departure, you will receive detailed directions on how to get from the airport to your first tour hotel, as well as contact information for your first and last hotels in case you wish to book pre- or post-tour hotel accommodations.
There is more than one way to get to and from your tour. Most tour members will arrange to fly into London and out of Florence ("multi-city" on flight booking websites). Booking round-trip to one city will require a connecting flight, train trip, or additional overnight stay in Europe. London is a major transportation hub, and frequent departures from Florence make travel before or after your tour quite easy.
For information about flying within Europe, ask your travel agent or check Rick's list of European budget airlines.
Read Rick's train travel and rail pass tips to decide if your travel plans merit a rail pass.
If you have additional European travel or tour questions, contact the Tour Department at 425-608-4217 or email tour@ricksteves.com.
Sightseeing on Your Own
If you arrive in London before your tour begins, use the Rick Steves Best of Europe guidebook to get oriented. Ride the public transportation, and get over your jet lag with lots of fresh air and exercise.
Here are a few suggestions for sightseeing in London that we do not do as a group: open-top sightseeing bus tour, London Eye (great views), Museum of London (fun history), Natural History Museum (dinosaurs!), Hyde Park's Diana Playground. London's musical theatre scene is also a hit with kids (The Lion King, Billy Elliot the Musical, Wicked, Mamma Mia!).
With extra time in Florence after the tour, your family may enjoy the kid-friendly Boboli and Bardini gardens, Galileo Science Museum, Leonardo Museum, or views from the top of Giotto's Tower and the Duomo.
This tour does not include a visit to the Eiffel Tower. However it is often a highlight for any traveler and one we highly recommend. Avoid the lines by booking tickets several weeks in advance. For more details, visit our Eiffel Tower information page.
Packing
This tour has a few long bus rides, so card games and small travel games can keep kids from just plugging in and tuning out. There are some great opportunities for hiking and swimming on this tour. While hiking boots are not necessary, we recommend you and your kids bring along shoes that offer good traction. Also, pack swimsuits and a couple of lightweight microfiber towels.
For more advice on what (and what not!) to pack, see Rick's packing tips.