London

Tower of London

Eiffel Tower

Guédelon Castle in France

Männlichen in the Swiss Alps

Cinque Terre, Italy

Pisa's Leaning Tower

Michelangelo's "David" in Florence

Gelato Break in Italy
Tour Questions? See our FAQ | Call 425-608-4217
Family Europe: London to Florence in 13 Days Tour
Rick Steves Family Europe: London to Florence in 13 Days delivers a colorful mix of must-see cities (London, Paris, Florence) and stroll-around charms (Burgundy, the Swiss Alps, Italy's Cinque Terre). Along the way, you and your kids will encounter some fascinating bits of art, history, and culture — as well as a couple of castles, a boat, a mountain cogwheel train, plenty of hiking, and even a swimming pool or two. And on this tour, kids ages 8–17 get a $200 discount! Join us for Family Europe: London to Florence in 13 Days!
Dates & Prices
What's Included
You'll get at least 20 group sightseeing events — at no extra cost!
Here's what you'll see and do on our Family Europe tour:
London panoramic bus tour
Thames River cruise
Tower of London
London–Paris Chunnel train
Seine River cruise
Paris walking tour
Pétanque lesson
Louvre Museum
Guédelon Castle
Stone-cutting workshop
Medieval evening
Hiking orientation in the Swiss Alps
Swiss fondue tasting
Swiss folk music
Orientation for "vacation" day in the Cinque Terre
Pisa
Art class
Renaissance walking tour
Accademia Gallery including Michelangelo's David
Tuscan cooking class
Plus you'll get all this, too.
A small, friendly group of 24–28 people — half the size of most tour groups
Kids ages 8 through 17 are welcome — and save $200
A full-time Rick Steves guide, tour assistant, and local experts — who will make the history, art, culture — and fun! — of Europe come alive for you and your kids
All group transportation from London to Florence
12 nights' accommodations in memorable, family-friendly hotels
All breakfasts and half your dinners
All tips for guides and driver
A tour kit including a guidebook (when available) and a moneybelt
Guaranteed tour price, locked in the moment you make your deposit
Tour alum discount of $50 for each tour you've taken prior to 2022
50% discount on a consulting appointment with our in-house experts to assist with your pre- or post-tour travel plans
Flexibility should you need to transfer or cancel your tour
Fine print: You are responsible for the cost of your drinks and free-time sightseeing. See our Tour Conditions for important details regarding everything listed above.
Group sightseeing events subject to change.
Itinerary
Day 1: Welcome to London
Our adventure together begins in the great city of London. We'll meet at 3 p.m. for a brief "Welcome to Europe" meeting at our hotel. After a neighborhood orientation walk, we'll climb aboard a vintage double-decker bus for a panoramic tour into the heart of the city. This evening, we'll have fun getting to know one another over dinner together.
Light walking: 2–4 miles throughout the day on mostly level terrain. Bus: 1 hour. Sleep in London.
Day 2: The Thames and the Tower
This morning is dedicated to the Tower of London, where we'll learn all about England's historic and most notorious castle. After some free time to sneak a peek at the crown jewels and grab some lunch, we'll hop on board a boat and cruise the Thames to Westminster. It's the perfect spot for your guide to orient you for your free afternoon and evening. Explore the neighborhood, including the London Eye, Westminster Abbey, or Buckingham Palace. Or you can walk north past the Churchill War Rooms, 10 Downing Street, and the Horse Guards to Trafalgar Square. Cheerio!
Moderate walking: 2–6 miles throughout the day with some hills and stairs. Boat: ½ hour. No bus. Sleep in London.
Day 3: The Chunnel to Paris
Let's go to France! After breakfast it's all-aboard the sleek Eurostar train to Paris, zooming along at nearly 200 miles per hour beneath the English Channel. In Paris, we'll be met by a comfy sightseeing bus for a rolling introduction to this beautiful city. We'll arrive at our Paris hotel, where you'll have time to unpack and relax a bit before our big evening: learning to use the Métro (subway), dinner together on the Left Bank, and an open-air evening cruise along the Seine River — the perfect finish for your first day in the City of Light.
Light walking: 2–4 miles throughout the day on mostly level terrain. Train: 2½ hours. Boat: 1 hour. Bus: 1 hour. Sleep in Paris.
Day 4: The Historic Heart of Paris
Today we'll meet up with some locals to learn the perfect Parisian pastime of pétanque — and play a few games, ourselves. Then we'll explore the birthplace of Paris, the Ile de la Cité. We'll take a walking tour tracing the evolution of Paris, from its Roman roots to its medieval splendor, culminating with the resilient and awe-inspiring Notre-Dame Cathedral. The rest of the day is free for exploring more of Paris on your own. You could visit a museum or two filled with amazing art (the Orsay, Orangerie, Rodin, or Pompidou), visit a kid-friendly park (the Tuileries or Luxembourg Gardens), take in the city views (from the Arc de Triomphe, Montmartre, or a department-store rooftop) — and maybe top off tonight with trip up the Eiffel Tower (avoid lines by reserving in advance). Let the kids decide.
Moderate walking: 2–6 miles throughout the day with some hills and stairs. No bus. Sleep in Paris.
Day 5: Masterpieces and Rural France
Our morning begins with a visit to the magnificent Louvre Museum. With your smartphone in hand and the Rick Steves Audio Europe™ app, Rick's voice will guide you through the Louvre's timeless treasures, including Mona Lisa, Winged Victory, Venus de Milo, and other great works of art. After free time for lunch on your own in the Louvre's family-friendly food court, we'll meet our driver and bus for the rest of the tour. Then we'll leave city life behind as we head into the French countryside, passing pastures and châteaux en route to our country hotel in the heart of Burgundy. This stately manor home has a swimming pool and a huge lawn, perfect for kids to play outdoor games this evening. For dinner we'll share a buffet of French specialties.
Moderate walking: 2–6 miles throughout the day with some hills and stairs. Bus: 4 hours. Sleep in St. Fargeau, Burgundy.
Day 6: Building a Medieval Castle
We'll begin today at St. Fargeau's wonderfully French weekly market, a scavenger hunt of Burgundian freshness, perfect for piecing together your picnic lunch. Next is something you'll see nowhere else: the construction site of Guédelon, where a full-size 13th-century castle is being built today — by people in traditional costumes using historically accurate tools — exactly as it would have been 800 years ago. We'll have a guided tour through the site and take part in a hands-on workshop, learning how medieval stone cutters worked their magic. You'll have free time to visit the blacksmith, masons, and rope-makers and to explore more on your own. We'll return to our "country estate" in the afternoon with time to relax, swim, or play before we regroup for a medieval-themed dinner together.
Moderate walking: 2–6 miles throughout the day with some hills and stairs. Bus: 1 hour. Sleep in St. Fargeau, Burgundy.
Day 7: Scenic Drive to the Swiss Alps
This morning we'll board our bus and set a course for Switzerland. For lunch, we'll stop and fan out at a typical town's shopping mall (with several places to eat on your own) to get a taste of un-touristy French life. Today's scenic drive is the perfect time to catch up on your journal, play a game with your bus buddies, and learn a few things from your guide about Swiss chocolate. By late afternoon we'll find ourselves in the Berner Oberland's magnificent Lauterbrunnen Valley, flanked by towering, waterfall-laced cliffs. Tonight we'll share a fondue-tasting and a hearty dinner together, followed by a performance of traditional Swiss music — all at our creaky old chalet nestled in the Lauterbrunnen Valley.
Light walking: 2–4 miles throughout the day on mostly level terrain. Bus: 8 hours. Sleep in the Lauterbrunnen Valley.
Day 8: All Day in the Alps
Don't sleep in this morning — the Alps await! After a hearty breakfast you may want to join your guide for an optional mountain excursion that may include a gondola lift and a scenic 2½-mile hike along the 7,000-foot-high Männlichen ridge. From the nearby village of Kleine Scheidegg, you'll be set free for lunch, with spectacular views of Switzerland's most formidable peaks: the Eiger, Mönch, and Jungfrau. From there you can take a cowbell-serenaded hike back down to our hotel — or rest your feet aboard one of the cute local cog-trains that run between the villages. For tonight's dinner, shop at the local grocery store for an evening picnic in the great outdoors.
Light to strenuous walking (your choice). No bus. Sleep in the Lauterbrunnen Valley.
Day 9: Winding Our Way to Italy
This morning we'll have an encore performance of the Alps as we make our way across the mountains and dive into Italy. We'll wind our way down through hills, pristine lakes, and the farms of northern Italy en route to our Mediterranean getaway. This afternoon's destination is the seaside Cinque Terre town of Monterosso al Mare. During today's trip, you'll get a thorough orientation to tomorrow's fun free day possibilities. Tonight we'll share a tasty dinner together in this corner of Italy, where pesto was invented and the seafood was swimming this morning.
Light walking: 2–4 miles throughout the day on mostly level terrain. Bus: 7 hours. Sleep in Monterosso al Mare.
Day 10: Free Day in the Cinque Terre
Today is entirely up to you, and each village along the Cinque Terre is just a few minutes away by train. Pick a village to explore, have a meal or two, and become temporary locals…or burn off some energy and enjoy breathtaking views by hiking along the cliffside paths…or get your views from the sea on a scenic boat ride along the coast, past the fishing-boat harbors and hill-hugging villages…or stay closer to home, hanging out on the beach for swimming and sun.
Light to strenuous walking (your choice). No bus. Sleep in Monterosso al Mare.
Day 11: The Culture and Art of Florence
Rested and refreshed, today we're ready to take on the impressive art and history of Florence. But first, we'll stop in Pisa for lunch and see if its infamous tower is still leaning. We'll continue to Florence, where we'll say ciao to our bus and driver, drop our bags at our hotel, and walk through the San Lorenzo neighborhood's colorful food and craft markets, taking time for a tasting or two along the way. Then we'll drop into a local artisan's studio for a Flash Art class. After learning about this amazing technique, we'll turn the easel around and give the kids a chance to create their own masterpiece. Your evening is free for dinner on your own.
Moderate walking: 2–6 miles throughout the day with some hills and stairs. Bus: 3 hours. Sleep in Florence.
Day 12: Renaissance and Michelangelo's David
This morning we'll meet our local guide for a historical walking tour of Florence, introducing you to the highlights of the Renaissance. We'll learn about life in those world-changing times and gaze at Brunelleschi's magnificent cathedral dome and Ghiberti's amazingly 3-D Baptistery doors. Our walk ends with a bang at the Accademia Gallery, home to Michelangelo's rough-hewn Prisoners and his greatest masterpiece, David. Your afternoon is free to scramble to the top of Brunelleschi's big dome (reserve in advance) or tackle the Uffizi Gallery (reserve in advance) to see the Botticellis, Leonardos, and Raphaels in the greatest collection of Italian paintings anywhere. This evening we'll gather for a fun, hands-on cooking class. We'll enjoy what we prepared at our final dinner together, where we can share our favorite moments and celebrate our friendship.
Moderate walking: 2–6 miles throughout the day with some hills and stairs. No bus. Sleep in Florence.
Day 13: Tour Over After Breakfast
Breakfast is provided, but there are no group activities today. It's a breeze to reach Florence's airport by taxi or public transportation. Your guide will help you with any post-tour planning, leaving you well prepared for the road ahead. Grazie e ciao!
(This tour does not include the Eiffel Tower. To avoid its long lines, we recommend booking tickets several weeks in advance. For details, see our Eiffel Tower ticket tips for tour members.)
Itinerary specifics subject to change.
Physical Demands
Our tours are physically active! It's an essential part of the Rick Steves tour experience. On our Family Europe: London to Florence in 13 Days tour — among other things — you'll need to happily…
Carry/roll your luggage over uneven pavement (possibly several blocks) and up stairways to reach your hotel, then up several flights of stairs to reach your room.
Be on your feet, walking and standing, for up to three hours, indoors and outdoors, in all weather conditions.
Sleep with street noise and no (or weak) air conditioning.
After orientation and transportation lessons, be able to navigate towns and cities on your own.
Be able to get up and "at 'em" in the morning, often departing around 8 a.m.
Be content with the possibility of your family sharing bathroom facilities on this tour.
When To Go & Weather
Since family vacation time is generally during the summer months, we offer our Family Europe tours in June, July, and early August. June offers milder weather and fewer crowds. In July and August, temperatures can reach the 80s and 90s, but this is also the time that many Europeans go on vacation, leaving the major cities less crowded.

England / London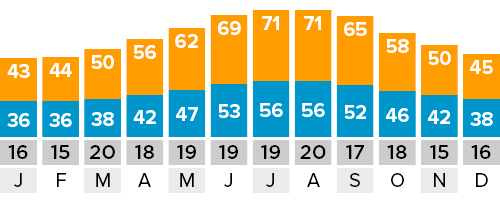 ---
France / Paris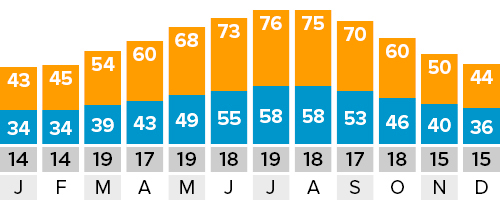 ---
Switzerland / Bern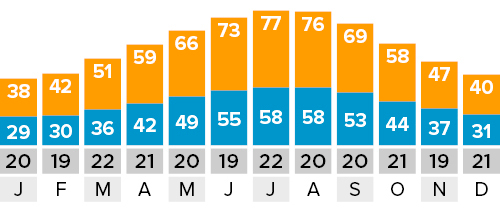 ---
Italy / Florence
Hotels & Flights
Tour Hotels
In case you wish to book pre- or post-tour hotel accommodations, the contact information for the tour's first and last hotels is included in your tour confirmation email, as well as in the Itinerary section in your tour account. One month prior to the tour departure, you'll find the directions to your first tour hotel and a complete list of hotels where we'll be staying in the Documents section of your tour account.
Flights
Our tours don't include airfare, so your flight arrangements are completely up to you.
Most tour members arrange to fly into London (LHR or LGW) and out of Florence (FLR) — choose "multicity" on flight-booking websites. Booking round-trip to one city will require a connecting flight, train trip, or additional overnight stay in Europe.
We strongly suggest arriving a day or two before your tour begins to allow ample time to get over jet lag and be well-rested for the first few days of your tour. For more information about transportation options for getting to and from your tour, see your Rick Steves Best of Europe guidebook.