London

Tower of London

Eiffel Tower

Guédelon Castle in France

Männlichen in the Swiss Alps

Cinque Terre, Italy

Pisa's Leaning Tower

Michelangelo's "David" in Florence

Gelato Break in Italy
Tour Questions? See our FAQ | Email tour@ricksteves.com
Family Europe: London to Florence in 13 Days Tour
Rick Steves Family Europe: London to Florence in 13 Days delivers a colorful mix of must-see cities (London, Paris, Florence) and stroll-around charms (Burgundy, the Swiss Alps, Italy's Cinque Terre). Along the way, you and your kids will encounter some fascinating bits of art, history, and culture — as well as a couple of castles, a boat, a mountain cogwheel train, plenty of hiking, and even a swimming pool or two. And on this tour, kids ages 8–17 get a $200 discount! Join us for Family Europe: London to Florence in 13 Days!
Dates & Prices
Jul 31–Aug 12 (Su–Fr)
$4,595 + Air

Aug 2–Aug 14 (Tu–Su)
$4,595 + Air

Jun 26–Jul 8 (Su–Fr)
$4,595 + Air

Jun 28–Jul 10 (Tu–Su)
$4,595 + Air

Jul 3–Jul 15 (Su–Fr)
$4,595 + Air

Jul 10–Jul 22 (Su–Fr)
$4,595 + Air

Opportunity to experience Bastille Day in France!

Jul 17–Jul 29 (Su–Fr)
$4,395 + Air

Jul 19–Jul 31 (Tu–Su)
$4,395 + Air

Jul 24–Aug 5 (Su–Fr)
$4,395 + Air

Jul 26–Aug 7 (Tu–Su)
$4,395 + Air
What's Included
You'll get at least 20 group sightseeing events — at no extra cost!
Here's what you'll see and do on our Family Europe tour:
London panoramic bus tour
Thames River cruise
Tower of London
London–Paris Chunnel train
Seine River cruise
Paris walking tour
Pétanque lesson
Louvre Museum
Guédelon Castle
Stone-cutting workshop
Medieval evening
Hiking orientation in the Swiss Alps
Swiss fondue tasting
Orientation for "vacation" day in the Cinque Terre
Pisa
Art class
Renaissance walking tour
Accademia Gallery including Michelangelo's David
Tuscan cooking class
Plus you'll get all this, too.
A small, friendly group of 24–28 people — half the size of most tour groups
Kids ages 8 through 17 are welcome — and save $200
A full-time Rick Steves guide, tour assistant, and local experts — who will make the history, art, culture — and fun! — of Europe come alive for you and your kids
All group transportation from London to Florence
12 nights' accommodations in memorable, family-friendly hotels
All breakfasts and half your dinners
All tips for guides and driver
A tour kit including a guidebook (when available) and a moneybelt
Guaranteed tour price, locked in the moment you make your deposit
Tour alum discount of $50 for each tour you've taken prior to 2022
50% discount on a consulting appointment with our in-house experts to assist with your pre- or post-tour travel plans
Flexibility should you need to transfer or cancel your tour
Fine print: You are responsible for the cost of your drinks and free-time sightseeing. See our Tour Conditions for important details regarding everything listed above.
Group sightseeing events subject to change.
Itinerary
Day 1: Welcome to London
Our adventure together begins in the great city of London. We'll meet at 3 p.m. for a brief "Welcome to Europe" meeting at our hotel. After a neighborhood orientation walk, we'll climb aboard a vintage double-decker bus for a panoramic tour into the heart of the city. This evening, we'll have fun getting to know one another over dinner together.
Light walking: 2–4 miles throughout the day on mostly level terrain. Bus: 1 hour. Sleep in London.
Day 2: The Thames and the Tower
This morning is dedicated to the Tower of London, where we'll learn all about England's historic and most notorious castle. After some free time to sneak a peek at the crown jewels and grab some lunch, we'll hop on board a boat and cruise the Thames to Westminster. It's the perfect spot for your guide to orient you for your free afternoon and evening. Explore the neighborhood, including the London Eye, Westminster Abbey, or Buckingham Palace. Or you can walk north past the Churchill War Rooms, 10 Downing Street, and the Horse Guards to Trafalgar Square. Cheerio!
Moderate walking: 2–6 miles throughout the day with some hills and stairs. Boat: ½ hour. No bus. Sleep in London.
Day 3: The Chunnel to Paris
Let's go to France! After breakfast it's all-aboard the sleek Eurostar train to Paris, zooming along at nearly 200 miles per hour beneath the English Channel. In Paris, we'll be met by a comfy sightseeing bus for a rolling introduction to this beautiful city. We'll arrive at our Paris hotel, where you'll have time to unpack and relax a bit before our big evening: learning to use the Métro (subway), dinner together on the Left Bank, and an open-air evening cruise along the Seine River — the perfect finish for your first day in the City of Light.
Light walking: 2–4 miles throughout the day on mostly level terrain. Train: 2½ hours. Boat: 1 hour. Bus: 1 hour. Sleep in Paris.
Day 4: The Historic Heart of Paris
Today we'll meet up with some locals to learn the perfect Parisian pastime of pétanque — and play a few games, ourselves. Then we'll explore the birthplace of Paris, the Ile de la Cité. We'll take a walking tour tracing the evolution of Paris, from its Roman roots to its medieval splendor, culminating with the resilient and awe-inspiring Notre-Dame Cathedral. The rest of the day is free for exploring more of Paris on your own. You could visit a museum or two filled with amazing art (the Orsay, Orangerie, Rodin, or Pompidou), visit a kid-friendly park (the Tuileries or Luxembourg Gardens), take in the city views (from the Arc de Triomphe, Montmartre, or a department-store rooftop) — and maybe top off tonight with trip up the Eiffel Tower (avoid lines by reserving in advance). Let the kids decide.
Moderate walking: 2–6 miles throughout the day with some hills and stairs. No bus. Sleep in Paris.
Day 5: Masterpieces and Rural France
Our morning begins with a visit to the magnificent Louvre Museum. With your smartphone in hand and the Rick Steves Audio Europe™ app, Rick's voice will guide you through the Louvre's timeless treasures, including Mona Lisa, Winged Victory, Venus de Milo, and other great works of art. After free time for lunch on your own in the Louvre's family-friendly food court, we'll meet our driver and bus for the rest of the tour. Then we'll leave city life behind as we head into the French countryside, passing pastures and châteaux en route to our country hotel in the heart of Burgundy. This stately manor home has a swimming pool and a huge lawn, perfect for kids to play outdoor games this evening. For dinner we'll share a buffet of French specialties.
Moderate walking: 2–6 miles throughout the day with some hills and stairs. Bus: 4 hours. Sleep in St. Fargeau, Burgundy.
Day 6: Building a Medieval Castle
We'll begin today at St. Fargeau's wonderfully French weekly market, a scavenger hunt of Burgundian freshness, perfect for piecing together your picnic lunch. Next is something you'll see nowhere else: the construction site of Guédelon, where a full-size 13th-century castle is being built today — by people in traditional costumes using historically accurate tools — exactly as it would have been 800 years ago. We'll have a guided tour through the site and take part in a hands-on workshop, learning how medieval stone cutters worked their magic. You'll have free time to visit the blacksmith, masons, and rope-makers and to explore more on your own. We'll return to our "country estate" in the afternoon with time to relax, swim, or play before we regroup for a medieval-themed dinner together.
Moderate walking: 2–6 miles throughout the day with some hills and stairs. Bus: 1 hour. Sleep in St. Fargeau, Burgundy.
Day 7: Scenic Drive to the Swiss Alps
This morning we'll board our bus and set a course for Switzerland. For lunch, we'll stop and fan out at a typical town's shopping mall (with several places to eat on your own) to get a taste of un-touristy French life. Today's scenic drive is the perfect time to catch up on your journal, play a game with your bus buddies, and learn a few things from your guide about Swiss chocolate. By late afternoon we'll find ourselves in the Berner Oberland's magnificent Lauterbrunnen Valley, flanked by towering, waterfall-laced cliffs. Tonight we'll share a fondue-tasting and a hearty dinner together at our creaky old chalet nestled in the Lauterbrunnen Valley.
Light walking: 2–4 miles throughout the day on mostly level terrain. Bus: 8 hours. Sleep in the Lauterbrunnen Valley.
Day 8: All Day in the Alps
Don't sleep in this morning — the Alps await! After a hearty breakfast you may want to join your guide for an optional mountain excursion that may include a gondola lift and a scenic 2½-mile hike along the 7,000-foot-high Männlichen ridge. From the nearby village of Kleine Scheidegg, you'll be set free for lunch, with spectacular views of Switzerland's most formidable peaks: the Eiger, Mönch, and Jungfrau. From there you can take a cowbell-serenaded hike back down to our hotel — or rest your feet aboard one of the cute local cog-trains that run between the villages. For tonight's dinner, shop at the local grocery store for an evening picnic in the great outdoors.
Light to strenuous walking (your choice). No bus. Sleep in the Lauterbrunnen Valley.
Day 9: Winding Our Way to Italy
This morning we'll have an encore performance of the Alps as we make our way across the mountains and dive into Italy. We'll wind our way down through hills, pristine lakes, and the farms of northern Italy en route to our Mediterranean getaway. This afternoon's destination is the seaside Cinque Terre town of Monterosso al Mare. During today's trip, you'll get a thorough orientation to tomorrow's fun free day possibilities. Tonight we'll share a tasty dinner together in this corner of Italy, where pesto was invented and the seafood was swimming this morning.
Light walking: 2–4 miles throughout the day on mostly level terrain. Bus: 7 hours. Sleep in Monterosso al Mare.
Day 10: Free Day in the Cinque Terre
Today is entirely up to you, and each village along the Cinque Terre is just a few minutes away by train. Pick a village to explore, have a meal or two, and become temporary locals…or burn off some energy and enjoy breathtaking views by hiking along the cliffside paths…or get your views from the sea on a scenic boat ride along the coast, past the fishing-boat harbors and hill-hugging villages…or stay closer to home, hanging out on the beach for swimming and sun.
Light to strenuous walking (your choice). No bus. Sleep in Monterosso al Mare.
Day 11: The Culture and Art of Florence
Rested and refreshed, today we're ready to take on the impressive art and history of Florence. But first, we'll stop in Pisa for lunch and see if its infamous tower is still leaning. We'll continue to Florence, where we'll say ciao to our bus and driver, drop our bags at our hotel, and walk through the San Lorenzo neighborhood's colorful food and craft markets, taking time for a tasting or two along the way. Then we'll drop into a local artisan's studio for a Flash Art class. After learning about this amazing technique, we'll turn the easel around and give the kids a chance to create their own masterpiece. Your evening is free for dinner on your own.
Moderate walking: 2–6 miles throughout the day with some hills and stairs. Bus: 3 hours. Sleep in Florence.
Day 12: Renaissance and Michelangelo's David
This morning we'll meet our local guide for a historical walking tour of Florence, introducing you to the highlights of the Renaissance. We'll learn about life in those world-changing times and gaze at Brunelleschi's magnificent cathedral dome and Ghiberti's amazingly 3-D Baptistery doors. Our walk ends with a bang at the Accademia Gallery, home to Michelangelo's rough-hewn Prisoners and his greatest masterpiece, David. Your afternoon is free to scramble to the top of Brunelleschi's big dome (reserve in advance) or tackle the Uffizi Gallery (reserve in advance) to see the Botticellis, Leonardos, and Raphaels in the greatest collection of Italian paintings anywhere. This evening we'll gather for a fun, hands-on cooking class. We'll enjoy what we prepared at our final dinner together, where we can share our favorite moments and celebrate our friendship.
Moderate walking: 2–6 miles throughout the day with some hills and stairs. No bus. Sleep in Florence.
Day 13: Tour Over After Breakfast
Breakfast is provided, but there are no group activities today. It's a breeze to reach Florence's airport by taxi or public transportation. Your guide will help you with any post-tour planning, leaving you well prepared for the road ahead. Grazie e ciao!
(This tour does not include the Eiffel Tower. To avoid its long lines, we recommend booking tickets several weeks in advance. For details, see our Eiffel Tower ticket tips for tour members.)
Itinerary specifics subject to change.
Physical Demands
Our tours are physically active! It's an essential part of the Rick Steves tour experience. On our Family Europe: London to Florence in 13 Days tour — among other things — you'll need to happily…
Carry/roll your luggage over uneven pavement (possibly several blocks) and up stairways to reach your hotel, then up several flights of stairs to reach your room.
Be on your feet, walking and standing, for up to three hours, indoors and outdoors, in all weather conditions.
Sleep with street noise and no (or weak) air conditioning.
After orientation and transportation lessons, be able to navigate towns and cities on your own.
Be able to get up and "at 'em" in the morning, often departing around 8 a.m.
Be content with the possibility of your family sharing bathroom facilities on this tour.
Reviews
Amber
Bellevue, WA
Tour: 08/04/19
Overall rating:
I really loved the tour. Our guides seemed really experienced and prepared, and the whole tour was planned out very nicely. Overall, we thought everything was really enjoyable, but we do wish we had a few more days at each location.
Favorite "WOW" moment
"I really liked seeing the Crown Jewels. The whole Tower of London part was great."
Andrei
Bellevue, WA
Tour: 08/04/19
Overall rating:
I have already enjoyed the Venice-Florence-Rome tour a few years ago, but this tour introduced me to 3 more countries I've never visited (Englend, France, Switzerland) -- and all those introductions were spectacular!
Favorite "WOW" moment
"This is a hard one to pick: Elisabetha(sp?)'s Uffizzi tour was definitely spectacular, so was Sarah's Guedelon tour, but so many other places on & off the program were great (the Tower of London, , the underground castle in the Louvre, the spectacular view [complete with cowbells] hiking from Mannlichen to Kleine Scheidegg, the Capuchin convent in Monterosso, the Bargello & Musei del Opera, ant many other (even small but significant things like the view of Carrarra from the bus)"
Mike
Mount Vernon, WA
Tour: 08/04/19
Overall rating:
Great guides, tour group, locations, meals and lessons.
Favorite "WOW" moment
"Locations and guide explanations."
Jennifer
Camas, WA
Tour: 08/04/19
Overall rating:
Great tour overall! We would have liked a little more touring in Florence but the balance of tour to free time was good overall. We were challenged by our daughter's celiac disease, however. She was exposed to gluten at two of the group dinners and was unable to participate in activites in the following days. I would not recommend this tour to anyone else who has gluten sensitivities.
Favorite "WOW" moment
"Darreld - seeing and hiking the Alps. Also playing the alpenhorn Jennifer - Tower of London"
Patricia
Riva Del Garda, TN
Tour: 07/28/19
Overall rating:
We loved everything London and the great location, Paris was fun learning to play Pétanque the there was the building The medieval castle hiking in Switzerland and even the Cinque Terre a day on the beach. The kids loved the art class organized by Tina in Florence this really was the holiday of a lifetime.
Favorite "WOW" moment
"Hiking in the Swiss mountains."
Eric
Gig Harbor, WA
Tour: 07/28/19
Overall rating:
We decided on the family tour because it offered us exactly what we wanted in a tour. Then when I saw the Guédelon Castle was on the tour, I was sold!
Favorite "WOW" moment
"To pick one, impossible. My wow moment was learning so many new things. The fact I thought the leaning Tower of Pisa was out in a field someplace by itself, surprise its not! To Cirque de Terre and Florence, waking at 5:30 and walking along watching the cities come alive. Just hearing cow bells in the Swiss Alps when you wake, and learning Petanque & how to cook pasta was a bonus. Most of all our guides and especially our fellow travelers made the trip wonderful."
Peter
Riva Del Garda, TN
Tour: 07/28/19
Overall rating:
It was awesome.
Favorite "WOW" moment
"I loved the London boat,"
Melinda
Portola Valley, CA
Tour: 07/28/19
Overall rating:
Best vacation that we have ever done as a family (four kids ranging from 8 to 13 years of age). Such amazing variety of experiences and places (cities, mountains, beaches and the countryside). So well paced for a family with kids of all ages and still great for the adults. My kids learned so much about the different cultures, foods, and history. We did city tours, metro rides, hikes in the Alps, swims in the Mediterranean, art school, cooking class, museum tours and more!
Favorite "WOW" moment
"Hearing the cow bells in the Alps while looking at the most beautiful vista ever!"
Anthony
Portola Valley, CA
Tour: 07/28/19
Overall rating:
I loved the itinerary. While it was rushed, I felt that our family got a good introduction to each of the cities and countires. The itinerary and Tina's excellent leadership kept the kids engaged, which is exactly what we were hoping for in the family tour. All 4 of our kids, aged 8-13, have become more interested in history, and since we've come home, have spent some of their limited electronics time watching history lessons, from Medieval times to WWII.
Favorite "WOW" moment
"Although it's a small moment, I just loved the musical cow bells in the hills above Wengen. The other WOW was the inside of the cathedral and baptistery in Pisa. I really wish we had more time in the cathedral."
Debra
Gig Harbor, WA
Tour: 07/28/19
Overall rating:
Loved it, was a very friendly group of people, our guides were great, and so helpful!!
Favorite "WOW" moment
"I had never been to Switzerland and Wengen was breathtaking, the Cinque Terre just loved it, and Pisa, was horribly hot but it was summer, the cooking class was lots of fun. A great time!!"
Casey
Los Angeles, CA
Tour: 07/21/19
Overall rating:
I went in with an open mind to experience Europe for myself as well as to introduce it to our children. With that I enjoyed all the different cities and their charm. Having a guide to explain the history of the City, culture, art, sculpture or even how to use the metro is what makes it more meaningful. By walking their streets, I felt more connected to the history and stories of people I've only read about. The kids say their favorite is all of Italy!
Favorite "WOW" moment
"The Duomo's Cathedral of Santa Maria del Fiore is just majestic! It's my favorite piece of architecture with it's intricate details, the pink, green and white marble along with the statues, it's engrained in my memory forever! Imagine the skills it took to create it, just WOW!"
Edward
West Hollywood, CA
Tour: 07/21/19
Overall rating:
My family really enjoyed our European vacation thanks to a well organized tour by Rick Steves and of course to Trish and Zen who were amazing guides who provided the necessary insight into the various countries we visited including; England,France,Switzerland and Italy. One aspect of the tour I thought was extremely valuable was the "free day" we had to explore on our own each of the cities we visited.
Favorite "WOW" moment
"Although it was extremely hot and crowded in Europe at the time of our tour I would have to say our families "wow" moment was when we reached the Cinque Terra. The outstanding beauty of each of the coastal towns was truly something wonderful to experience as was the delicious food we ate and the cool water of the Mediterranean provided a welcome relief to the high temperatures."
James
Renton, WA
Tour: 07/21/19
Overall rating:
The tour was was well planned,with a nice balance of free time with tour events!
Favorite "WOW" moment
"The river cruise on the Seine river at sunset!!"
Amy
Chicago, IL
Tour: 07/14/19
Overall rating:
This tour was a wonderful introduction to Europe for my children. My husband and I have traveled to Europe, using Rick Steve's tips and guide book as a reference but this was our first formal tour. Our expectations were exceeded! The mix of group activities and "on-your-own" was a perfect blend. The tour guide was informative and fun to travel alongside. The locations were varied and all nice in their own unique ways. My children really enjoyed having other teens with them .
Favorite "WOW" moment
"There were many "wow" moments - my favorite was piecing together the history of commissioned art with the wealth, politics, and religion of each area. I had never stopped to consider the influence of the church over art and govern/sovereign leadership."
Maria
Camas, WA
Tour: 07/14/19
Overall rating:
I really like the structure of the tour, we had some free time to explore on our own with recommendations of our tour guide, the suggestions always advise of how to save money and adjust to our own budget. My teen ager met some other teens in the tour and the enjoyed hanging out on their own without parents but close enough to know where they were.
Favorite "WOW" moment
"Our tour guide always had the right comment to make us remember the history behind the places we visited. The most interesting thing for me was visiting the building of the medieval castell under construction, we were "transported in time" to Lear how they built castles and where they found everything they need on their own land."
Paul
Cameron Park, CA
Tour: 07/09/19
Overall rating:
This tour crams a whole lot into a very short time, but it was a perfect introduction to Europe for our 16 year old granddaughter. We were very fortunate in that there were children her age that she bonded with that made this a real fun trip for her and for us. Sarah did an absolutely fabulous job of balancing the activities and engaging the kids and us. We loved her talks on the places we visited. I am not sure how you could find such a capable and knowledgeable guide.
Favorite "WOW" moment
"#1 - Switzerland - Hard to beat that. The bonding of the girls on this tour. The last cook our own dinner in Florence, where all participated and it turned out great."
Maureen
Spokane, WA
Tour: 07/07/19
Overall rating:
My 3rd family trip with a granddaughter and it was priceless. The guides, hotels, history, food and experiences were all exceptional. The trip really brought my granddaughter and me closer together and gave us memories to last a lifetime.
Favorite "WOW" moment
"Since I have been on the trip before, the biggest wow moment was not seeing the landmarks or famous sites but seeing the history through my granddaughter's eyes. The highpoint for me was watching her perform in the piano bar at the Swiss hotel after being asked to sing by the "Italian Piano Man." It made her whole trip and mine!"
Susan
Seattle, WA
Tour: 07/07/19
Overall rating:
Beyond my expectations: extremely knowledgeable and bright guides, organized itinerary, many activities for the children, Trish and Stefan were incredibly smart, kind and organized. Kept us informed, prepared us for upcoming activities, explained why they were doing what. We felt so well-cared for and secure, knowing they would not fail us. Trish created a game to help us memorize each member's name and created a buddy system so that none of us got forgotten at any place. Incredible!!
Favorite "WOW" moment
"On our last eve together, Trish asked the same thing, and almost everyone stated it was the togetherness and friendship of fellow tour members, experiencing new things together, sharing and caring for each other that were the highlight of the tour. I would agree. Trish and Stefan created a container that was secure and friendly in which we felt free to be expressive, outgoing and sharing."
Maximilian
Palo Alto, CA
Tour: 07/07/19
Overall rating:
The tour guides, Trish and Stefan, were very kind and helpful and the tour group got along pretty well. Hilde, the bus driver, was outstanding and very nice. All in all a great trip
Favorite "WOW" moment
"seeing the David was very cool and was much nicer than I expected"
Sarah
Edmonds, WA
Tour: 07/07/19
Overall rating:
The family tour was a great way to explore European cultures and cities with our kids. We have been to Europe before, but having a knowledgeable guide and assistant guide (Trish and Stefan) share history and cultural norms with us on our way to our destinations made us feel better prepared for each stop. Unexpected joy came from the spontaneous experiences including getting the last tickets for the London eye after dinner ended early and riding the carousel in Florence after our last dinner.
Favorite "WOW" moment
"Too many to list! Watching my kids identify Greek gods in the Louvre and Uffizi was a mom "wow" moment and our family hike in the Alps was spectacular!"
Janice
Waseca, MN
Tour: 06/30/19
Overall rating:
It was a great tour, full of interesting sites of three great cities of the world(London, Paris, and Florence) and the awesome Swiss Alps and Cinque Terre. It was particularly special as we traveled with our daughter(Trisha) and her family.The tour experience was relaxing, the tour guide,Martin was available for any questions regarding where to eat, activities to do, and he was a great source of knowledge regarding the art and history. Great tour! Kids(8 and 9 y/o) loved it!
Favorite "WOW" moment
"It was all a "WOW" moment, especially liked Florence and the duomo, just breath taking! And of course the Swiss Alps, who could not be in awe of such a natural wonder!"
Stephan
Portland, OR
Tour: 06/30/19
Overall rating:
The tour was fantastic. Martin, our guide, was knowledgeable and entertaining. He was a clear leader and had experience and yet fun with each day. We are a family of 5 (myself, wife, and 3 children (15,12,10)). The children had fun with the other children on the tour and where engaged when Martin was leading activities. Each of the sights from London to Florence were well set up and executed to enjoy the best of each culture as efficiently as possible. I would definitely do again.
Favorite "WOW" moment
"Paris. Relaxing with in a cafe with crepes & coffee... picnic in the shadow of the Eiffel tower with fresh cheese, bread, and wine. Wengen. hiking in the midst of towering cliffs and glaciers."
Lynn
Alameda, CA
Tour: 06/30/19
Overall rating:
What made this trip worthwhile for me was to experience Europe with my family members, including pétanque, Louvre, Swiss Alps, the beach at Monterosso, and wine! Sad we didn't get to the Eiffel Tower because, by the time we received tour info that included a warning to make our own reservations "a few weeks ahead," there were no reservations available! The Eiffel should either be included in the tour or reservations made available to participants at the time of the tour info mailing.
Favorite "WOW" moment
"We were staying in a small town along the Cinque Terre and it was HOT - another heat wave in Europe. My family decided to bypass ambitious plans to hike or go boating and instead enjoyed slowly wandering among the shops. After lunch, laying in a lounge chair on the beach, watching my family playing in the Mediterranean waters, I quietly said "wow." The view could not have been found on the US east or west coast, it was uniquely Cinque Terran."
Richard
Bothell, WA
Tour: 06/25/19
Overall rating:
It was a great adventure. We hit Paris and Italy during record breaking temperature, but it didn't hold us back since many of the tour activities were indoors or at least in the shade.
Favorite "WOW" moment
"Walking along a path in the Alps toward the North Face of Eiger is like a dream."
Katie
Seattle, WA
Tour: 06/25/19
Overall rating:
We had a great time. The format of the tour allowed us to see and do a lot. My daughter especially enjoyed many of the activities including the swimming pool in St. Fargeau and the cooking class in Florence.
Favorite "WOW" moment
"When we arrive in our hotel room in Wengen our room had two balconies and an amazing view of the mountains. The next day we had a long hike and soaked up the amazing scenery. The playground at the top of Mannlichen was an amazing surprise."
Tom
San Jose, CA
Tour: 06/16/19
Overall rating:
Awesome!!! We had heard great things about Rick Steves Tours but we were not prepared for the tour to exceed our expectations. Everything from our tour guides to the organization of the tour. The itinerary gave us a nice tasting of the places we visited but also allowed us the free time to explore. We saw things that we're certain we would not have had we done the trip on our own.
Favorite "WOW" moment
"Switzerland. We took a tram from Lauterbrunnen up to Grutschalp, then walked to Murren, on to Gimmelwald, down to the valley floor, then back to Lauterbrunnen. A 10-1/2 mile hike that day! But what a great experience hiking in the Swiss Alps!"
Alice
San Jose, CA
Tour: 06/16/19
Overall rating:
So amazing! Great balance between being guided and scheduled and free time. Great variety of activites offered in the tou. Tour guides were exceptional-knowledgeable, capable, fun, helpful, . . . Loved the cities we traveled to, with a great balance of city vs countryside vs beach. And finally great group of people on the tour. Many friendships were forged during this tour!
Favorite "WOW" moment
"Lauterbrunnen Valley. Such breathtaking scenery. Heaven on earth. Loved our hikes. Mountains all around us, rolling green hills, wildflowers everywhere, waterfalls everywhere you look. Unforgettable!"
Kathryn
Richmond, VA
Tour: 06/16/19
Overall rating:
My husband and I brought our 14-year old grandson on this trip. Martin and Skyla were a perfect duo - Martin often talked over the heads of the kids (8 - 17 years of age), but adored them and was very patient. Skyla was perfect for the kids and was extremely compatible with Martin and very conversant with the adults. Martin was well-regarded by local guides and business owners. It is mind-boggling that we the great cities of Europe and the staggering Switzerland, & Cinque Terre!
Favorite "WOW" moment
"Looking out the window of our bedroom in Wengen, Switzerland upon waking the first morning there, and being wowed by the spectacular beauty of the majestic snow-capped Alps in full sunshine. They had been obscured by fog the evening before. Our hike in the Lauterbrunnen, which Martin helped arrange for all of us on his day off, was unforgettable. We all felt like we were walking through the pages of a National Geographic story on the Alps."
Angela
Twin Falls, ID
Tour: 06/16/19
Overall rating:
We had an excellent European "sampler" tour. Martin and Skyla were thoughtful, insightful and flexible. They even had a few surprises for the group. Skyla especially connected with our daughter. We had some truly amazing experiences and are so pleased we chose a Rick Steves Family Tour.
Favorite "WOW" moment
"We fell in love with Switzerland. Getting to hear Amazing Grace and Edelweiss on the Alpenhorn, with the mountains as a backdrop, will always be a very sweet memory."
Richard
Richmond, VA
Tour: 06/16/19
Overall rating:
Wonderful.
Favorite "WOW" moment
"The entire trip was a Wow experience but hiking through the Swiss Alps with our grandson was very special."
Linda
Belmont, CA
Tour: 06/11/19
Overall rating:
Lisa and Katie were personable, knowledgeable and fun to be with. The activities on the Family Tour were unique and perfect for kids: Tower of London, Castle building in Burgundy, cooking lesson in Florence. This may be impossible for such a jam packed tour, but we all got exhausted only staying two nights per location. Many people said they would have loved to have stayed another night at the Country Inn in Burgundy.
Favorite "WOW" moment
"Staying at the Country Inn in Burgundy. We also enjoyed the cooking lesson in Florence."
Becca
Amarillo, TX
Tour: 06/11/19
Overall rating:
I had an amazing experience on my rick steves tour! I got to see all the major highlights of each city we visited. I got a good balance of time with my family and with the tour group. I enjoyed every location we visited and always felt safe and comfortable. I would definitely recommend this tour to my friends because its a great way to see major highlights of europe and make new friends along the way. I genuinely had a great time on this trip.
Favorite "WOW" moment
"My favorite wow moment was probably when we were hiking in the swiss alps. The view was incredible and the mountains were just breathtaking. Riding the little train up to Wengen was just great. The view from our hotel was crazy!"
Faith
Amarillo, TX
Tour: 06/11/19
Overall rating:
it was so much fun and really enjoyable i liked every group activity and could have been happy with more time together because of this experience i can't wait till the next time i get to go to europe.
Favorite "WOW" moment
"my favorite wow moment was one of two it was either seeing the swiss alps and getting to hike around or being able to chill in th french countryside and just run around."
Kira
Kirkland, WA
Tour: 06/11/19
Overall rating:
My experience with Rick Steves was very good. This was my first time with Rick Steve and i was very impressed. We had two wonderful, smart tour guides who made the trip so much fun. I also found the tour group itself to be very fun, especially the other kids there. The places we saw were incredible and ever place had something new to offer. Besides a few bumps in the road this trip for me was absolutely amazing.
Favorite "WOW" moment
"I had a big wow moment in Switzerland. At the top of the mountain we went to I was in awe of what I saw. I am naturally afraid of heights so I was originally not super excited for this summit. But once I got to the top and looked out it was one of the most beautiful things I had ever seen. I loved this hike/excursion and I hope other groups get to do it in the future."
Annette
Kirkland, WA
Tour: 06/11/19
Overall rating:
So many fantastic memories.
Favorite "WOW" moment
"So many wow moments. Big one for me was arriving in Bourgogne. The service and accommodations were stunning and perfectly timed after 4 days in big cities (London and Paris). This is really where the kids bonded too."
Jennifer
Amarillo, TX
Tour: 06/11/19
Overall rating:
I traveled with my father and two teenage daughters and we had a wonderful trip! The tour hit so many highlights of the countries we visited! We loved the balance of time with the group becoming oriented to the location and seeing major attractions together with our guide and then having lots of free time to explore on our own. Our guides were excellent: they took care of all the logistics, were very informative and personable, and created a great tour group environment!
Favorite "WOW" moment
"So hard to pick! I loved each country we visited and each had its own special charm. I will say it is very hard to beat the pristine views of the Swiss Alps! I couldn't get enough of the green meadows, rushing streams, and snowy peaks!"
Ben
Amarillo, TX
Tour: 06/11/19
Overall rating:
This was my 11th RS tour starting in 2006. I had been to all these places before but wanted to share them with my daughter and two granddaughters. A family tour is a good way for me to do that. It was a great cross-sectional introduction to Europe. The granddaughters definitely enjoyed having other kids to interact with.
Favorite "WOW" moment
"Walking around Wengen in late evening admiring the beautiful homes and gardens with rain showers filling the valley ...and then suddenly the sun pops out highlighting the snow covered peaks. WOW!"
Francis
Carlisle, PA
Tour: 06/11/19
Overall rating:
It was a great trip, however, as feedback it would have been more fun to have ice breaker activities with the kids from day 1 until when we arrived at the French countryside.
Favorite "WOW" moment
"Enjoyed Switzerland. Wish we had more time there but I understand it is just a few days everywhere."
Madison
Boulder City, NV
Tour: 06/09/19
Overall rating:
It was great
Favorite "WOW" moment
"Switzerland, it was beautiful"
Suk
Rancho Cucamonga, CA
Tour: 06/09/19
Overall rating:
Reid was a fantastic tour guide. Angie was also great as a tour assistant. HIldie was quite the adept tour bus driver (weaving through narrow roads near the Alps and Cinque Terre). The sightseeing events were well planned and timely. There was a good balance of touring as well as free time. As this is a family tour, we had many children, and Reid knew how to connect with children and adults. This was our 4th Rick Steves tour, so we were satisfied with our hotels.
Favorite "WOW" moment
"Taking a leisurely hike in the Swiss Alps while listening to the cow bells. My family went to the top of the Jungfraujoch and the views were amazing."
Cindy
Boulder City, NV
Tour: 06/09/19
Overall rating:
The London to Florence tour was the perfect mix of sightseeing, "team" activities and free time. In each location we visited the famous places one would hope to see. For example in Paris we went to the Louvre. We also had a lesson in Petanque, and had free time to go up into the Eiffel Tower. Every stop was a great mix of highlights and exploration. I also appreciated the historic information our tour guide shared. Travelling together created a sense of comradery and lifelong friendships.
Favorite "WOW" moment
"There were so many moment that left a wonderful impression. But the one that seemed most unusual and that I found the most fascinating was our stop at Guedelon. It was amazing to watch a castle being build with no modern equipment, and so much fun to carve our own building block."
Ed
Auburn, CA
Tour: 06/09/19
Overall rating:
It was wonderful, perhaps two days too short. Not enough of Paris or London. I could do without Cinque Terre in the heat of the Tourist season, liked what we did but the young crowds were a bit much. Would be a lovely location when all the children are back in Classes (we had two boys with us, a 14 year old and an 18 year old, they were no problem to mom and myself) Same might be said about Pisa. Loved Florence, but could use a few more plaza dinners on our own.
Favorite "WOW" moment
"the Alps, even though I shouldn't have decide to hike back down the mountain via a shortcut"
Owen
Billings, MT
Tour: 06/02/19
Overall rating:
Well organized. I liked the locations and blend of scheduled and unscheduled time.
Favorite "WOW" moment
"Eiffel Tower with my son."
Ryan
Colorado Springs, CO
Tour: 06/02/19
Overall rating:
Loved it. Great mix of big city tourist sites and off the beaten path local culture experience. Loved not having to wait in lines for the major attractions. Trish and Maia were great getting us ready and culturally aware as we entered new countries and cities. Amazing food. Nothing bad to say. Overall an excellent experience and I look forward to going on another tour soon.
Favorite "WOW" moment
"Getting to experience God's wonders and his amazing and diverse people with my daughter. Every experience was a wow moment in some way. Experiencing with and through the eyes of my daughter was the wow moment for me."
Deborah
Fairbanks, AK
Tour: 06/02/19
Overall rating:
We were with a great group of people and everyone got along quite well. Our bus driver, Richard was outstanding and helped to make the trip memorable. Our guide, Trish was very knowledgable and as this was a family tour, we appreciated her ability to work smoothly with both adults and children. Her energy was inspiring and despite some weather hiccups, we soldiered on! As with any tour, we always wish we could have stayed in each place a couple of days longer!
Favorite "WOW" moment
"My 10 year old granddaughters comment upon seeing the Eiffel Tower, " I'm speechless, I just don't have the words to explain how I feel". Also, every aspect of Switzerland was a Wow! Especially enjoyed the waterfall hike."
When To Go & Weather
Since family vacation time is generally during the summer months, we offer our Family Europe tours in June, July, and early August. June offers milder weather and fewer crowds. In July and August, temperatures can reach the 80s and 90s, but this is also the time that many Europeans go on vacation, leaving the major cities less crowded.

England / London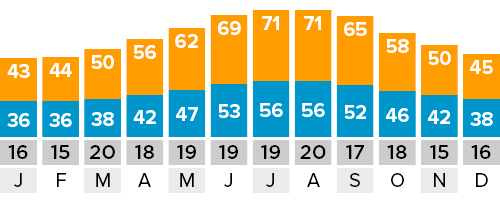 ---
France / Paris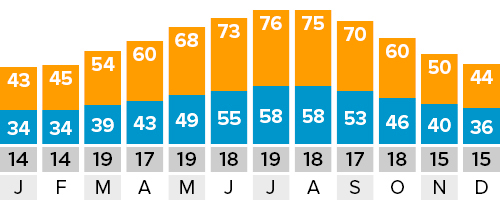 ---
Switzerland / Bern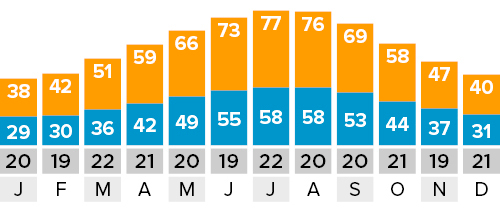 ---
Italy / Florence
Hotels & Flights
Tour Hotels
In case you wish to book pre- or post-tour hotel accommodations, the contact information for the tour's first and last hotels is included in your tour confirmation email, as well as in the Itinerary section in your tour account. One month prior to the tour departure, you'll find the directions to your first tour hotel and a complete list of hotels where we'll be staying in the Documents section of your tour account.
Flights
Our tours don't include airfare, so your flight arrangements are completely up to you.
Most tour members arrange to fly into London (LHR or LGW) and out of Florence (FLR) — choose "multicity" on flight-booking websites. Booking round-trip to one city will require a connecting flight, train trip, or additional overnight stay in Europe.
We strongly suggest arriving a day or two before your tour begins to allow ample time to get over jet lag and be well-rested for the first few days of your tour. For more information about transportation options for getting to and from your tour, see your Rick Steves Best of Europe guidebook.