Colmar

Reims Cathedral

Wine Tasting

Beaune

Burgundy Vineyards

Chamonix

Annecy

Aix-en-Provence
Tour Questions? See our FAQ | Call 425-608-4217
Best of Eastern France in 14 Days Tour
The bountiful vineyards, classic villages, and hearty cuisine of eastern France are legendary. Starting in the effervescent Champagne capital of Reims, you'll spend 14 fascinating days with your Rick Steves guide, exploring Colmar's cobbled lanes, Alsace's meandering Route du Vin, Verdun's historic battlefields, Burgundy's fabled Côte d'Or, Chamonix's majestic mountains, and Provence's scenic Côtes du Rhône, ending with a farewell toast in exquisite Aix-en-Provence. Join us for the Best of Eastern France in 14 Days!
Dates & Prices
What's Included
You'll get at least 19 group sightseeing events — at no extra cost!
Here's what you'll see and do on our Eastern France tour:
Reims walking tour
Reims Cathedral
Champagne tasting
Verdun WWI battlefields
Colmar walking tour
Unterlinden Museum
Château du Haut-Koenigsbourg
Alsatian wine region excursion
Alsatian wine tasting
Beaune walking tour
Hôtel Dieu
Market day in Beaune
Beaune wine tasting
Lake Annecy boat cruise (weather permitting)
Hiking orientation in French Alps
Vaison-la-Romaine Roman ruins
Orange Roman Theater
Rhône Valley wine tasting
Aix-en-Provence walking tour
Plus you'll get all this, too.
A small, friendly group of 24–28 people — half the size of most tour groups
Full-time services of a professional Rick Steves guide and local experts who will make the fascinating history, art, and culture of France come alive for you
All group transportation from Reims to Aix-en-Provence
13 nights' accommodations in memorable, centrally located hotels
All breakfasts and half your dinners
All tips for guides and driver
A tour kit including a guidebook (when available) and a moneybelt
Guaranteed tour price, locked in the moment you make your deposit
Tour alum discount of $50 for each tour you've taken prior to 2022
50% discount on a consulting appointment with our in-house experts to assist with your pre- or post-tour travel plans
Flexibility should you need to transfer or cancel your tour
Fine print: You are responsible for the cost of your drinks and free-time sightseeing. See our Tour Conditions for important details regarding everything listed above.
Group sightseeing events subject to change.
Itinerary
Day 1: Welcome to France's Champagne Region
Just 45 minutes from central Paris by frequent TGV (bullet) train, the effervescent city of Reims is famous for its royal history, its towering cathedral…and Champagne. We'll meet at our hotel at 5 p.m. for a short "bienvenue à Reims" meeting. Then we'll take an orientation walk through the heart of Reims, followed by time to get acquainted over dinner together.
Light walking: 2–4 miles throughout the day on mostly level terrain. No bus. Sleep in Reims.
Day 2: All Day in Reims
We'll spend our morning on a walking tour through Reims' historic city center, where we'll learn about the design and history of its glorious Gothic cathedral (more than two dozen kings and queens of France were crowned here over the course of six centuries). The cathedral and its surrounding neighborhood were virtually destroyed during World War I, then rebuilt during the Art Deco age, which is delightfully reflected in the design and décor of Reims' downtown buildings. This afternoon we'll learn about this region's most famous product — Champagne — with a tasting courtesy of a local producer. Dinner will be on your own this evening.
Moderate walking: 2–6 miles throughout the day with some hills and stairs. No bus. Sleep in Reims.
Day 3: Battlefields and Lessons of Verdun
We'll meet our bus and driver today and take a short drive to the historic WWI battlefields at Verdun. We'll visit the ruins and monuments of one of Europe's costliest battles of attrition, where hundreds of thousands of French and German soldiers perished. Our day will end in France's Alsace region, the ultimate Franco-Germanic blend. Tonight we'll share a dinner of Alsatian specialties in the town of Colmar.
Moderate walking: 2–6 miles throughout the day with some hills and stairs. Bus: 6 hours. Sleep in Colmar.
Day 4: All Day in Colmar
Today is devoted to exploring the enchanting town of Colmar. We'll start the day with a walking tour, wandering over cobbled lanes lined with leaning, half-timbered buildings and learning about the historic importance of the community's canals. We'll wrap things up at one of Rick's favorite museums in Europe — the Unterlinden, home to the Isenheim Altarpiece by Matthias Grünewald. You'll have this afternoon and evening free to explore more of the city's sights and pedestrian-friendly lanes, and to enjoy more Alsatian specialties on your own.
Moderate walking: 2–6 miles throughout the day with some hills and stairs. No bus. Sleep in Colmar.
Day 5: The Route du Vin
Let's take off and explore the region's scenic Route du Vin, where colorful villages and vineyards carpet the foothills of the Vosges Mountains — birthplace of the region's very dry Rieslings and aromatic Gewürztraminers. Our first stop is the imposing Château du Haut-Koenigsbourg, perched sky-high in the Vosges Mountains. After lunch in a small Alsatian village, we'll wander through the vineyards and find the perfect winery to sample some local varieties. Then we'll return to Colmar, where you'll have the late afternoon and evening free.
Light walking: 2–4 miles throughout the day on mostly level terrain. Bus: 2 hours. Sleep in Colmar.
Day 6: A Hearty Taste of Burgundy
This morning we'll drive from the Teutonic tidiness of Alsace to the red-tiled villages of Burgundy and its bustling wine capital of Beaune. After some free time for lunch, we'll hit the ground walking with a tour of the town and its eye-opening medieval charity hospital, the Hôtel Dieu. Tonight we'll have a Burgundian dinner together.
Light walking: 2–4 miles throughout the day on mostly level terrain. Bus: 3 hours. Sleep in Beaune.
Day 7: Market Day and Vineyards
It's outdoor market day in Beaune! Your morning will be free for rubbing elbows with locals sampling smelly cheeses, creamy pâtés, and fresh produce while doing their weekly shopping. This afternoon we set off for Burgundy's legendary and beautiful Côte d'Or wine country, where we'll have a picnic lunch together at a local domaine, along with a tasting of its celebrated harvest. We'll return to Beaune later this afternoon, where you'll be free for discoveries and dinner on your own. Escargots, anyone?
Light walking: 2–4 miles throughout the day on mostly level terrain. Bus: 2 hours. Sleep in Beaune.
Day 8: To the Alpine Peaks of Chamonix
This morning we'll make a bee-line for Europe's highest point, Mont Blanc, arriving in the picturesque resort town of Chamonix in time to get acquainted with all the alpine thrills this charming city offers. This evening we'll enjoy a traditional dinner of raclette or fondue together.
Light walking: 2–4 miles throughout the day on mostly level terrain. Bus: 4 hours. Sleep in Chamonix.
Day 9: Free Day in the French Alps
Today is all yours to enjoy the wonders of the French Alps. You can choose among several great hiking trails with stunning views of Mont Blanc and a supporting cast of Alps that seem to stretch forever. For one of Europe's great alpine thrills (weather permitting), take Europe's longest vertical gondola rides up to the 12,600-foot Aiguille du Midi viewpoint. From there, mini-gondolas take travelers over the snowfields and on to Italy (and back)!
Light to strenuous walking (your choice). No bus. Sleep in Chamonix.
Day 10: From Peaks to Provence
Sit back and rest those hiking muscles as we spend our day driving south to sunny Provence, enjoying the countryside along the way. We'll stop for lunch and a boat ride in exquisite Annecy — hands down France's most beautiful lakefront town. We'll arrive at our history-rich, Provençal destination of Vaison-la-Romaine in time to get oriented and enjoy dinner together.
Moderate walking: 2–6 miles throughout the day with some hills and stairs. Bus: 5 hours. Sleep in Vaison-la-Romaine.
Day 11: Roman Provence
We'll spend our morning sifting through the 2,000-year-old site of ancient Vaison-la-Romaine. There we'll tour the ruins of a sprawling Roman mansion and the 6,000-seat Roman theater that's still used for performances today. Consider this a warm-up act for the most impressive of all Roman theaters — the Theater of Orange — which we'll drive to and experience this afternoon.
Moderate walking: 2–6 miles throughout the day with some hills and stairs. Bus: 1 hour. Sleep in Vaison-la-Romaine.
Day 12: Vineyards of the Côtes du Rhône
This morning, we'll drive through some of Europe's most picturesque villages and vineyards as we make our way to one of our favorite wineries. We'll stop there for a refreshing lunch and the chance to sample some formidable Côtes du Rhône wines at their source. Then we'll return to Vaison for free time this afternoon.
Light walking: 2–4 miles throughout the day on mosty level terrain. Bus: 2 hours. Sleep in Vaison-la-Romaine.
Day 13: Exquisite Aix-en-Provence
Today we'll continue south through Provence's intoxicating countryside, making our way to the affluent, artsy town of Aix-en-Provence, where we'll tour its pedestrian-friendly center with our local guide. This afternoon you'll have more time to explore the colorful lanes, shops, and galleries of Aix-en-Provence before we gather this evening to share travel memories and toast new friends at our farewell dinner together.
Moderate walking: 2–6 miles throughout the day with some hills and stairs. Bus: 3 hours. Sleep in Aix-en-Provence.
Day 14: Tour Over After Breakfast
Breakfast is provided, but there are no group activities today. It's an easy 30-minute bus, shuttle, or taxi ride to the Marseille airport. For those staying longer, your guide will be happy to send you off in the right direction and help with any trip-planning needs. Au revoir et merci!
Itinerary specifics subject to change.
Physical Demands
Our tours are physically active! It's an essential part of the Rick Steves tour experience. On our Best of Eastern France in 14 Days tour — among other things — you'll need to happily…
Carry/roll your luggage over uneven pavement (possibly several blocks) and up stairways to reach your hotel, then up several flights of stairs to reach your room.
Be on your feet, walking and standing, for up to three hours, indoors and outdoors, in all weather conditions.
Sleep with street noise and no (or weak) air conditioning.
After orientation and transportation lessons, be able to navigate towns and cities on your own.
Reviews
Mary
Boise, ID
Tour: 10/06/19
Overall rating:
Loved the variety of locations and opportunities for viewing art, architecture, scenery, historical sites etc. A wonderful balance. Good ratio of free and structured time. All accommodations were well located to allow free time exploration. We've taken several RS tours and this is one of the best.
Favorite "WOW" moment
"Visiting the top viewing platform on Mont Blanc on a perfect sunny day. What a thrill!"
Constance
Detroit, MI
Tour: 10/06/19
Overall rating:
I had a really nice time, fun, professional guide and bus driver. Nice variety of things to see. Lots of interesting facts about history, the people of France, their language, education, habits, money, etc. we saw beautiful little towns with flowers & lovely buildings as well as sad WWI stuff and ancient Roman ruins. Those Romans were everywhere. Really nice, smart people on the tour. They could all become friends if we lived near one another. ??
Favorite "WOW" moment
"We had a beautiful sunny day to ride the gondola up the mountain Aiguille Du Midi. We had a wonderful time exploring all the levels, taking in all the views and snapping pictures. There were people rock climbing, hiking in the snow, gliding with the kite like things, riding on helicopters and just enjoying the day. We went in the glass box for pictures, saw the movie and all the displays. There was no wait to go up or down because it was October and not as busy. This was my wow moment."
Gerald
Houston, TX
Tour: 10/06/19
Overall rating:
Wine, more wine, food, & beautiful scenery.
Favorite "WOW" moment
"View of Mt. Blanc and the French Alps from the 12,600-foot Aiguille du Midi viewpoint on a clear day, with the clouds below us. Magnificent."
Amy Jo
Arvada, CO
Tour: 10/06/19
Overall rating:
Lovely tour group. 6 hours on bus a bit too long. Often a bit rushed for town walking tour after we had checked in to hotel ( some had not even reached their rooms and people were gathering outside for the walking tour). Loved the towns visited. When possible, great getting room numbers on bus eased stress (small lobbies) The local guides add so much more to the experience than using the self guided audio boxes as in Orange and Hostel-Dieu.
Favorite "WOW" moment
"Blessed with AMAZING SUNSHINE in Chamomix and our visit to Mont Blanc! It was truly heavenly as it rained almost every other day of the trip. Verdun! The FONDUE!!"
Hope
King, WI
Tour: 10/06/19
Overall rating:
My husband and I have been on several Rick Steves' tours and this was one of the best groups we've been with. All got along with interesting and enjoyable conversation.
Favorite "WOW" moment
"Slicing a cork off a bottle of wine with a sword."
Frank
Detroit, MI
Tour: 10/06/19
Overall rating:
It was a nice tour. I don't think we realized how much of the tour would be wine related.
Favorite "WOW" moment
"Ascending Mt Blanc."
Ann
Boise, ID
Tour: 10/06/19
Overall rating:
This was a great tour in terms of its breadth of experiences: from Roman amphitheaters in Orange and Vaison-la-Romaine to medieval town centers and castles in the Alsace to WWI battlefields pock-marked by bombs. And not to forget the wine! I am from California wine country and have to say that I tasted some of the best wine in my life at the winery we visited in Provence! The tour reinforced my desire to spend some additional time in Aix-en-Provence and just soak up the life and language!
Favorite "WOW" moment
"Being on top of the Aiguille Du Midi on a crystal clear day look up at Mont Blanc and down at Chamonix. We even saw the Matterhorn in the very far distance. We realized our good fortune when we got up the next day, ready to move on and the mountains were clouded. I did not care if our boat ride on Annecy was rainy when we had that amazing time in Chamonix!"
Robert
Orlando, FL
Tour: 10/06/19
Overall rating:
First time in France and I loved all the cities that we visited. With a great group of fellow travelers I enjoyed experiencing the many different wines and food of the area. Our guide, Chris, was very informative and helpful. Overall a great two weeks in Eastern France.
Favorite "WOW" moment
"No one true "wow" moment. Just a combination of interesting and beautiful sights to see."
Susan
Branford, CT
Tour: 09/29/19
Overall rating:
I liked this itinerary very much, a good combination of small towns, wineries, a little history, lots of mid evil which I enjoy. I was not thrilled with Aix-en-Provence after so many beautiful small towns, it just felt too big.
Favorite "WOW" moment
"I love castles so the castle in Colmar was great and the château in Beaune was terrific too."
Laura
Modesto, CA
Tour: 09/29/19
Overall rating:
This tour featured such a variety of regions, with distinct food, traditions, culture and history. It felt like we visited several countries, all within the boundary of France. The pace was relaxed but efficient, we had a great balance of group vs. free time, and our travel partners were so much fun.
Favorite "WOW" moment
"Each day felt like a "wow" moment, but if I had to pick one it would have to be the experience of taking the gondola up to Aiguille du Midi in Chamonix. The breathtaking view from the top was nothing less than awe-inspiring. It was good to be reminded of the absolute beauty of our Earth."
Steven
San Dimas, CA
Tour: 09/29/19
Overall rating:
This was my 11th RS tour. The diversity experienced on this tour is unmatched! Each region and city feels like traveling to a different country, with different histories, cultures, foods and wines. Our guide Julie, an American transplant, was fantastic and offered background and history explanations to assist us in our emersion into the varied French regions. This tour exceeded my expectations!!
Favorite "WOW" moment
"As usual many 'wow' moments! Notre Dame Cathedral in Reims. Hotel Dieu and Rogier van der Weydem's "Last Judgment and an evening concert in Hotel Dieu in Beaune.Visit to and views around Castle du Rully near Beaune. Tramway to Aiguille du Midi, stop at Plan de l'Aguille, and views of Mt. Blanc, valley below and Alps above Chamonix. The eminence Roman Theatre in L'Orange."
Mark
Modesto, CA
Tour: 09/29/19
Overall rating:
The group was great. Julie was the greatest! Tour group activities and free time to explore on our own was balanced brilliantly.
Favorite "WOW" moment
"The gondola ride to Plan de l'Aiguille. It was breathtaking, in every conceivable sense of the word."
Lea Ann
Tomball, TX
Tour: 09/29/19
Overall rating:
My husband and I thoroughly enjoyed the tour: the beauty of France, the delicious food and wine, a diverse itinerary, an excellent guide, and a truly congenial and interesting tour group. The tour met all of our expectations and definitely affirmed our love of France and its people.
Favorite "WOW" moment
"My favorite "wow" moment was having lunch at the winery outside of Vaison-la-Romaine. The weather was perfect, the food and wine were perfect, and the gracious owners and staff were perfectly hospitable. I could not have had a better day in beautiful Provence!"
Carol
Beaverton, OR
Tour: 09/22/19
Overall rating:
I loved the small villages! Each was so picturesque and charming in different ways! I enjoyed the variety of wine tasting experiences from champagne tasting in Reims, to walking the fields during harvest in the Alsace region, to tasting in the Count's Château followed by a picnic lunch, and finishing with all of the above in the Côtes du Rhône region with a delicious lunch in the garden.
Favorite "WOW" moment
"My "wow" moment was going to the top of the Aiguille du Midi in Chamonix. The view was spectacular and we were fortunate to have a clear day. When back in the village it was easy to explore, walk along the river, and enjoy the delicious cheese fondue dinner with the group!"
John
Sahuarita, AZ
Tour: 09/01/19
Overall rating:
Virginie More was excellent and made the travel experience exceptional. She is so knowlegeable, and very personable. She interacted with our group smoothly and anticipated problems, and made allowances for the individual personalities. The tour was well planned and thought out. Overall, the hotels/hostels and meals were good.
Cindi
Bellevue, WA
Tour: 06/09/19
Overall rating:
Patrick our guide did a wonderful job leading this tour. We enjoyed our tour mates, the local guides and the actual tour itself.
Favorite "WOW" moment
"Our two day stay in Chamonix was spectacular--the ride up the Aiguille du Midi was amazing--of course, beautiful clear weather was an added bonus. The town, the river walk, the food--all superb!!"
When To Go & Weather
Any time between May and October is a good time to take a Best of Eastern France tour. However, the months of May, September, and October are best for offering generally good weather, lighter crowds, and the full range of tourist fun.

France / Paris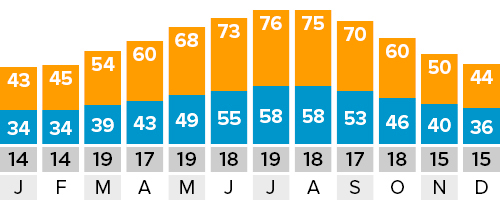 ---
France / Nice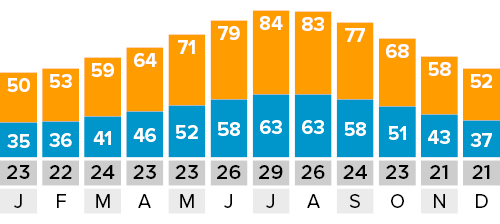 Hotels & Flights
Tour Hotels
In case you wish to book pre- or post-tour hotel accommodations, the contact information for the tour's first and last hotels is included in your tour confirmation email, as well as in the Itinerary section of your tour account. One month prior to the tour departure, you'll find the directions to your first tour hotel and a complete list of hotels where we'll be staying in the Documents section of your tour account.
Flights
Our tours don't include airfare, so your flight arrangements are completely up to you.
Most tour members arrange to fly into Paris (CDG or ORY) and out of Marseille (MRS) — choose "multicity" on flight-booking websites. Paris is a 45-minute train ride from Reims (where the tour begins), and the Marseille airport is a 30-minute bus ride from Aix-en-Provence (where the tour ends). Booking round-trip to one city will require a connecting flight, train trip, or additional overnight stay in France. There are direct TGV (fast) trains from Aix-en-Provence to Paris and Paris' Charles de Gaulle airport.
We suggest arriving a day or two before your tour begins to allow ample time to get over jet lag and be well-rested for the first few days of your tour. For more information about transportation options for getting to and from your tour, see your Rick Steves France guidebook.