Hamburg's Speicherstadt

Cologne Cathedral

Bacharach on the Rhine

Rothenburg

Neuschwanstein Castle

Munich's Hofbräuhaus

Erfurt

Dresden

Berlin
Tour Questions? See our FAQ | Call 425-608-4217
Best of Germany in 13 Days Tour
from $3,595 per person + air
Optional Single Supplement $675
See Tour Dates
The Best of Germany begins with the sound of seagulls in Hamburg, a city that tickles tourists with its people-friendly harbor and a nearly Nordic vibe. From there you'll daydream through fairy-tale forests, meander the mighty Rhine, have fun storming the castle, and clink frothy mugs of beer in Bavaria. You'll also time-trip through the medieval charms of Rothenburg, walk in the revolutionary footsteps of Luther, reflect on the tumultuous events of World War II, and marvel at the modernity of 21st-century Berlin. Join us for the Best of Germany in 13 Days!
Dates & Prices
What's Included
A small, friendly group of 24–28 people — half the size of most tour groups
Full-time services of a professional Rick Steves guide and local experts who will make the fascinating history, art, and culture of Germany come alive for you
All tours and admissions — at no extra cost — covering at least 21 group sightseeing events • Hamburg walking tour • St. Nicholas Church • Hamburg's Elbphilharmonie • Hamburg Harbor boat cruise • Bergen-Belsen Concentration Camp Memorial • Fairy-Tale Highway drive • Cologne Cathedral • Bacharach walking tour • Rheinfels Castle • Rhine cruise • Speyer • Rothenburg Night Watchman's walking tour • Neuschwanstein Castle • Munich walking tour • Hofbräuhaus • Nürnberg Zeppelin Field and Nazi Documentation Center • Erfurt walking tour • Luther's Augustinian Monastery • Dresden walking tour • Dresden's Frauenkirche (when available) • Historic Berlin walking tour…and more
All group transportation from Hamburg to Berlin
12 nights' accommodations in memorable, centrally located hotels
All breakfasts and half your dinners
All tips for guides and driver
Rick Steves Travel Store credit for your household to use toward guidebooks for your trip
Guaranteed tour price, locked in the moment you make your deposit
Optional single supplements — this tour has a limited number of private rooms for solo travelers for an additional fee
Tour alum discount of $50 for each tour you've taken prior to 2018
50% discount on a consulting appointment with our in-house experts to assist with your pre- or post-tour travel plans
Flexibility should you need to transfer, or cancel/interrupt your tour
Fine print: You are responsible for the cost of your drinks and free-time sightseeing. See our Tour Conditions for important details regarding everything listed above.
Itinerary
Daily Activity Key
Light = 2–4 miles of mostly level walking throughout the day.
Moderate = 2–6 miles walking throughout the day with some hills and stairs.
Strenuous = 2–8 miles of walking throughout the day with lots of hills, stairs, and uneven terrain.
Day 1: Welcome to Germany
We'll meet at 5 p.m. at our hotel in Hamburg for a "Welcome to Germany" meeting. Then we'll take a neighborhood walk to get a feel for this prosperous, progressive city, and get acquainted over dinner together. Sleep in Hamburg (2 nights). No bus. Walking: light.
Day 2: Hamburg's Old Town and Harbor
Today we'll begin with a walking tour of the historic core of Hamburg, including the resilient St. Nicholas church, where we'll learn about "Operation Gomorrah" — the allied firebombing campaign that devastated the city in 1943. Then we'll stroll through historic Speicherstadt to the stunning new Elbphilharmonie concert hall. After free time for lunch, we'll hop aboard a boat to see the city's massive modern harbor. We'll return shore-side for a free evening to explore more of this pedestrian-friendly town. Boat: 1 hour. Walking: moderate.
Day 3: Germany's Fairy-Tale Highway
Today we'll take off for the countryside that inspired a thousand legends and visit the real-life settings where the Brothers Grimm did much of their fairy-tale research in the 1830s. We'll also stop to pay our respects at the site of the all-too-real WWII Bergen-Belsen memorial. Sleep in Lower Saxony (1 night). Bus: 3 hours. Walking: moderate.
Day 4: Cologne and the Romantic Rhine
This morning we'll head straight for the single most-visited site in all of Germany: the Cologne Cathedral. You'll appreciate why as our local guide takes us exploring through northern Europe's most massive Gothic church. Then we'll continue on to the Rhine Valley and our charming riverside village where we'll have dinner together and sleep (2 nights). Bus: 6 hours. Walking: light.
Day 5: Rhine Castles and River Cruise
This morning we'll drive to nearby St. Goar, where we'll hike up the hill to tour the mighty medieval Rheinfels Castle, and enjoy its commanding view of the Rhine Valley. Then we'll board a boat for a relaxing Rhine River cruise, passing picturesque villages, vineyards, and feudal castles. After returning to Bacharach, we'll take a walking tour of the village with an entertaining local guide, followed by free time for dinner on your own. Boat: 1 hour. Bus: ½ hour. Walking: strenuous.
Day 6: Medieval Rothenburg
Our day begins with a scenic drive to the Roman town of Speyer, where you'll have free time to explore the delightful architecture and ambience of this once-imperial city, including the oldest Romanesque cathedral in Europe. This afternoon we'll continue our journey to Rothenburg ob der Tauber, Germany's best-preserved medieval town. After an orientation to town, the afternoon is yours to see the best woodcarving in Germany (Riemenschneider's altarpiece), walk the medieval wall, tour the Medieval Crime and Punishment Museum, or hunt down the best apple strudel in town. This evening we'll tag along on the legendary Night Watchman's tour. Sleep in Rothenburg (1 night) Bus: 3 hours. Walking: moderate.
Day 7: Scenic Drive into Bavaria
Today we'll journey along the romantic heart of Germany all the way to the country's most beloved fairy-tale fantasy: "Mad" King Ludwig's Neuschwanstein Castle. In addition to touring the castle, you'll have time to soak in its spectacular setting. We'll cap off our day with a scenic drive to Munich, an orientation walk through the city's historic center, and a "Welcome to Bavaria" dinner together. Sleep in Munich (2 nights). Bus: 4 hours. Walking: moderate.
Day 8: Marvelous Munich
We'll spend our morning getting a behind-the-scenes look at Munich with a walking tour through its historic Old Town and learn about the "checkered" history and traditions of Bavaria at the Hofbräuhaus beer hall. The rest of the day is yours to stroll around Germany's most livable city, appreciate its world-class museums, or rent a bike to pedal the car-free paths along the English Garden and Isar River. No bus. Walking: moderate.
Day 9: Roads to Fascism and Reformation
This morning we'll drive north to Nürnberg, where we'll visit the city's Hitler-era rally grounds, including the Zeppelin Field and Documentation Center. Then we'll leave World War II behind, transporting ourselves back to the 16th century in the heart of Germany's "Luther Country." After checking into our hotel in Erfurt, we'll take an orientation walk through this historic town and share the day's insights over a hearty dinner together. Sleep in Erfurt (2 nights). Bus: 6 hours. Walking: strenuous.
Day 10: In the Footsteps of Luther
Erfurt's half-timbered old town is the perfect place for a walking tour. We'll follow the footsteps of Martin Luther as he became a priest in Erfurt's cathedral and later a monk in its monastery. We'll also learn about the town's historic Jewish population at the Old Synagogue. Your afternoon is free for wandering through the picturesque pedestrian zone and market square, or to visit even more Luther sights in nearby Weimar. No bus. Walking: light.
Day 11: Baroque Dresden and Dynamic Berlin
Our final driving day begins with a stop in the city of Dresden, where a local guide will take us on a walking tour of this delightfully Baroque city, reborn from the ashes of World War II. Its star is the inspiring Frauenkirche, destroyed in the firestorms of 1945 and rebuilt with donations from around the world. Arriving in Berlin this afternoon, we'll learn how to master the city's public transportation system, and get oriented to our neighborhood before free time and dinner on your own. Sleep in Berlin (2 nights). Bus: 4 hours. Walking: moderate.
Day 12: Berlin's Historic Heart
We'll begin our day with a fascinating walking tour through the historic heart of Berlin, including Unter den Linden, the Brandenburg Gate, the Reichstag, Checkpoint Charlie, and memorials to the earth-shaking events and sacrifices of the past century. This evening we'll have our last dinner together, sharing travel memories and toasting new friends. Prost! No bus. Walking: moderate.
Day 13: Tour Over After Breakfast
Breakfast is provided, but there are no group activities today. It's a breeze to reach Berlin's airports by shuttle, S-bahn train, bus, or taxi. You'll have easy connections to home, or on to other points in Europe. Auf Wiedersehen!
Itinerary specifics subject to change.
Physical Demands
Our tours are physically active! It's an essential part of the Rick Steves tour experience. On our Best of Germany in 13 Days tour — among other things — you'll need to happily…
Carry/roll your luggage over uneven pavement (possibly several blocks) and up stairways to reach your hotel, then up several flights of stairs to reach your room.
Be on your feet, walking and standing for up to three hours, indoors and outdoors, in all weather conditions.
Sleep with street noise and no (or weak) air conditioning.
After orientation and transportation lessons, be able to navigate towns and cities on your own.
Reviews
Kathy
Lake Forest, CA
Tour: 09/16/17
Overall rating:
We did the 13 day Best of Germany Tour. Our tour guide Fabian, could not have been better. He was so knowledgeable about Germany's history and culture that it was a pleasure listening to him speak.
Favorite "WOW" moment
"I loved the Neuschwanstein castle as much for the beautiful mountain setting as for the castle itself. I also really enjoyed the Rothenburg Night Watchman tour."
Philip
Lawrence, KS
Tour: 09/16/17
Overall rating:
First part of tour was slow. Picked up when we got to the Rhine valley. Fabien was the most knowledgeable guide we have had on a Rick Steve's tour. We organized, great presenter and knew everything you could want to know about Germany and the EU
Favorite "WOW" moment
"Sitting in a tent and drinking a big beer at Oktoberfest"
Jane
Stevensville, MI
Tour: 09/16/17
Overall rating:
Great tour. Since my ancestors (and DNA) are all German, I really looked forward to this trip. There was a ton of information. It certainly enhanced, as well as changed, my perceptions of Germany. I want to go back!
Favorite "WOW" moment
"The Zwinger Palace/Museums in Dresden. I was totally unprepared for it. Dresden was a charming town. I would have Iiked more time there. The Munich Octoberfest was a real eye-opener, so much bigger than I had imagined!"
Ed
Stevensville, MI
Tour: 09/16/17
Overall rating:
This was a very enjoyable experience. The tour was well organized and the guide was excellent. We traveled with a very nice group of like-minded people. The overall result was pretty much what we expected from a Rick Steves tour.
Favorite "WOW" moment
"My "wow" moment was observing the throngs of people headed in to Oktoberfest, not to mention the crowds that were already in attendance when we arrived at noon."
Victor
Lake Forest, CA
Tour: 09/16/17
Overall rating:
Fabian was outstanding and made the tour special with his knowledge and insight of German history and personal familiarity with social aspects of the German people. I thought the time spent on the bus was a bit much and some of the places we visited could be eliminated. I got the impression that some of these places were selected as a way to provide a break for the participants rather than a stop of historical or social importance. Very timely tour - Oktoberfest, elections, Reformation
Favorite "WOW" moment
"We were dropped off in Dresden next to a lake. When we walked about a block, we came upon the Zwinger Palace and the bridge to the entrance, highlighted by what looked like a crown atop the archway. We then walked into a large quad, equally impressive."
Angela
Laguna Niguel, CA
Tour: 09/16/17
Overall rating:
In a nutshell - A+++
Favorite "WOW" moment
"Actually, my first wow moment occurred the first night of the tour. My friend and i were the only ones in the room that hadn't taken a Rick Steves' tour. Several people were on their 12th, 13th and 14th trip. Guess we have a lot of catching up to do ! I really can't pick just one wow moment, as they happened daily. So much to discover in each and every place we visited. Simply amazing."
John
Saint Cloud, MN
Tour: 09/16/17
Overall rating:
This tour does a very good job of allowing one to experience a number of the different pieces that make up Germany. I signed up for this trip because it does cover a number of parts of Germany. I didn't realize at the time that is is a new tour.
Favorite "WOW" moment
"To me, Germany doesn't have the "wow" places that other countries like France, Italy, or Greece have. But there was a "wow" feature of this trip. Our guide, Fabian, shared so much of his own background, knowledge of his country including the government (we were there at the time of the elections) and thorough knowledge of Germany history to make this trip very special."
Sherry
Saint Cloud, MN
Tour: 09/16/17
Overall rating:
Fabian was an outstanding guide. He was personable, friendly, considerate, patient, honest, and extremely interesting as he shared his experiences and knowledge of his country. His personal and dual perspectives of Germany gave us so much insight into the cultural strengths and weaknesses. He shared his life and love of Germany. Above all he gathered all of us in and became a part of our group, instead of being just our guide. I'll never forget his friendship and genuine kindness.
Favorite "WOW" moment
"I don't know that there is one. The entire trip was just great all bundled together to make one single "wow" experience."
Steve
Peterborough, ON
Tour: 09/02/17
Overall rating:
Excellent tour. Well organized and orchestrated.
Favorite "WOW" moment
"Loved the look, feel and history of Berlin."
Ted
Milton, GA
Tour: 09/02/17
Overall rating:
This tour was truly outstanding. What a great way to experience an overview of the best Germany has to offer. The tour guide was outstanding and facilitated an unparalleled experience through his knowledge of German history and the current political and economic environment. The longer travel days were broken into shorter segments with visits to Cologne, Speyer, Nuremberg, Wartburg, and Dresden - - bonus stops!
Favorite "WOW" moment
"I was truly wowed by some one-on-one time spent with Fabian when I asked him to describe the "fall of the Berlin Wall" on Nov. 9, 1989. He was a west Berlin resident at the time and he provided a detailed summary of his involvement that night. He also had many stories about individual West and East Berliners and the Soviet guards. He painted a very vivid picture with details I had never heard before."
Kenneth
Painesville, OH
Tour: 09/02/17
Overall rating:
I very much enjoyed the Germany tour. The group was cordial and considerate of the rules of travel. I saw some amazing views and enriched my knowledge of Germany's role in European history. Hotels on this tour were consistent with past RS tours I've taken. The tour was aggressive in terms of the area covered. I'm not sure what I would do to change it. For me, a castle or two and a cathedral or two is plenty. That being said, the Cologn Cathedral was awe inspiring as was Neuschwanstein Castle.
Favorite "WOW" moment
"I didn't really have one wow moment this time. The Cathedrals are always breathtaking although I say I've seen too many. I will contemplate my trip for a long time as several ancestors immigrated from this beautiful country. I will take advantage of the list of books and films supplied by our guides. I looked forward to the onboard talks by Fabian and Caroline."
Larry
Harrisburg, PA
Tour: 09/02/17
Overall rating:
Our tour guides and bus driver were excellent. The guides were knowledgeable and user friendly. The pacing and the amount of "free" time were welcomed.
Favorite "WOW" moment
"The final meal was outstanding! I really enjoyed the smaller cities and the Rhine River excursion. The "Night Watchman" was outstanding."
Lisa
Bunn, NC
Tour: 09/02/17
Overall rating:
A wonderful overview of Germany. Hotels were top-notch, and the breakfast buffets were wonderful. I am already looking to see what my next tour with Rick Steves should be!
Favorite "WOW" moment
"My wow moment was when Fabian told us the history of his family and WWII. I realized, that just about every family in Germany probably has some kind of "History" with that time period. The Great-Uncle Hans story was great!"
Carolyn
Winchester, OR
Tour: 09/02/17
Overall rating:
I really liked the progression of stops on this itinerary. It would have been nice to spend more hours in Rothenburg. Fabian's knowledge and presentation of the information were outstanding. There were some long days with a lot of information, but the guides made it smooth and interesting every day! Each stop was unique, and it was an enjoyable history lesson all the way. Thank you for creating this trip for us all to enjoy!
Favorite "WOW" moment
"The entire trip was "wow." History came alive, thanks to our guides!!!!"
Larry
Winchester, OR
Tour: 09/02/17
Overall rating:
I have visited some of the cities before. With the help of your guides'knowledge, I was able to learn more about each city. Fabian and Caroline were great explaining the history of each place we visited. Walking tour guides were able to add a vast amount of knowledge to enhance our city walk arounds. Some of our fellow travelers felt the bus time was too long, but I think our guides did a good job explaining about each area we traveled through.Thank You for providing this tour for us to enjoy.
Favorite "WOW" moment
"To visit Germany was a WOW moment. There ls so much history that the guides were able to impart on us and make it interesting at the same time."
Neil
Natick, MA
Tour: 09/02/17
Overall rating:
I really wanted an educational experience, and I got it. During this 13 days, we learned about everything German: history (lots of this), culture, politics, architecture, music. There were many wonderful sites, well chosen, but I most appreciated the serious attention Germans are giving (and the tour gave) to discussing the Nazi period. As a Jew, I have long been reluctant to visit Germany, but I leave with tremendous respect for how the country in courageously facing its dark past.
Favorite "WOW" moment
"I probably enjoyed most the village of Bacharach and the Rhine boat ride."
Raylene
Santa Barbara, CA
Tour: 09/02/17
Overall rating:
The small towns, Bacharach, Rothenburg and Erfurt, were delightful with great places to sample beer, kraut & sausage! The Rhine trip was lovely and it was very interesting to see wind generators and solar panels throughout the countryside of Germany.
Favorite "WOW" moment
"The Jewish Holocaust Memorial in Berlin was overpowering and thought provoking. Also in Berlin, seeing the Brandenburg Gate alive and well without Russian soldiers guarding it was a big wow!"
Raeford
Lexington, KY
Tour: 09/02/17
Overall rating:
Had a wonderful time and learned a lot.
Favorite "WOW" moment
"Visiting the Concentration Camps"
Judith
Columbus, OH
Tour: 09/02/17
Overall rating:
I thoroughly enjoyed the tour. It was rigorous with a lot of travel, moving, walking, but so worth it. I especially appreciated all of the knowledge and information we received from our tour guides. They are both excellent. I also enjoyed the hotels and restaurants. I felt the tour was very well organized and well thought out.
Favorite "WOW" moment
"Seeing Berlin in its present state of recovering and rebuilding from the impact of WWII. Quite an eye opener to see such a vibrant city now."
Connie
Knoxville, TN
Tour: 08/05/17
Overall rating:
This was my first trip to Europe. Even though I was excited and had read a lot, I was still somewhat skittish about the trip. I just decided that I was going to do it and experience everything I could. I came in two days early and explored by myself. Everyone in the tour seemed to get along very well right from the start. I liked the fact that we did things as a group and were encouraged to do things on our own.
Favorite "WOW" moment
"There were so many "wow" moments. I guess my favorite moment was seeing Bacharach. It was beautiful and how I pictured Germany."
Doris
Broomfield, CO
Tour: 08/05/17
Overall rating:
Beautiful country with a rich history, clearly articulated by well-educated guides, nice and very clean hotels, lots of geography, good food and wine, and a friendly group of travelers ... it was a good time!
Favorite "WOW" moment
"Okay, we saw prettier things, but honestly, the thing that astonished me was those gigantic container ships, the size of the cranes, and the speed of sorting the cargo in Hamburg Harbor."
Jeff
Fort Worth, TX
Tour: 08/05/17
Overall rating:
This second trip with RS was as good as the first. From sign up through end of trip, all was well done. It was a nice group, as before, and as before you gravitate to certain people but had good conversation with all. This was a very nice see, taste, and feel of Germany giving me a better understanding of the country my ancestors immigrated from. All of the stops were interesting and seem well chosen for the tour. WWII history was very good as I grew up in the generation after the war.
Favorite "WOW" moment
"Good question, impossible to choose as different places had wow. Bacharach and the Rhine/castle cruise probably was the most memorable. I liked Hamburg and Munich more than Berlin but all were good. You have to see Neuschwanstein and the Hofbrau, the Documentation Center at Nurnberg and Zeppelin field. Erfurt was a highlight as I grew up Lutheran, and was able to meet distant cousins there that had grown up behind the Iron Curtain. It was all wow to this Texas kid."
Jane
Fort Worth, TX
Tour: 08/05/17
Overall rating:
Our tour was all I had hoped for, and more. The group members were friendly, courteous, & amiable, and we became a cohesive group quickly. The itinerary was well-planned and included "essential" things to see. I felt safe during our travel abroad; I am totally sold on Rick Steves' Tours.
Favorite "WOW" moment
"Walking in Luther's footsteps was my favorite experience as we explored Erfurt and Wartburg. But I must include the Rhine Valley River Cruise as a spectacular activity! Bergen-Belsen memorial, the Zeppelin Field and Nazi Documentation Center, and Nazi sights in Berlin were sobering yet highly educational-a must-see. I was very impressed with the unusual Elbphilharmonie concert hall."
Kathy
Chatham, ON
Tour: 08/05/17
Overall rating:
This was a terrific tour! I loved it! I learned so much!
Favorite "WOW" moment
"Woo I loved the city of Erfurt. It was such a lovely place."
Paul
Orland Park, IL
Tour: 08/05/17
Overall rating:
This was my fourth Rick Steves tour and it was consistent with each of the others. Our guide Torben is extremely well versed in German history and culture. He is both well spoken and articulate. He took the time to learn about the personalities and interests of each tour member and did his best to meet each's individual needs. As advertised, it is a very active tour and the travel from location to location was enhanced by Torben's talks about history, culture, and his own life in Germany.
Favorite "WOW" moment
"My "wow" moment is not a single location like seeing a Roman road in Cologne (or its cathedral), the walls of Rothenberg, medieval and quaint Erfurt, revitalized Berlin, World War II sites, or the castles along the Rhine, but rather the conglomeration of the entire tour. The sights and experiences are so many and varied it is hard to believe we saw so much and learned so much on a 13 day tour, that the entire trip is my wow moment."
John
San Rafael, CA
Tour: 08/05/17
Overall rating:
This was a wonderful tour of Germany. A lot of territory was covered, giving a sense of the breadth and diversity of the country.
Favorite "WOW" moment
"The beauty of the countryside and the charm of the cities and villages."
Paul
Manhattan Beach, CA
Tour: 08/05/17
Overall rating:
I could not have been happier with the cities, sights, hotels, and tour guide you included. This was my dream vacation and first time traveling outside the states. I've always wanted to see Germany and your all Germany trip, combined with the 500th anniversary of the Reformation just made it a must do trip. Our group dynamic was exceptional and we had fun! Our guide, Torben, was outstanding; always informing,teaching, & surprising us with local treats.
Favorite "WOW" moment
"Probably Bacharach and St Goar on the Rhine. It had it all! The Rhine, the castles and going into Rheinfels Castle, the vinyards and wine tasting, the boat cruise, and our meals those two nights were just as good as it gets. And I purchased a Cuckoo Clock! The other Wow moment was seeing the Wartburg Castle and walking into the room where Martin Luther translated the Bible from Latin into German. Goosebumps."
April
Manhattan Beach, CA
Tour: 08/05/17
Overall rating:
This tour was so much more than I expected. I loved getting to travel w/my dad (his 1st time to Europe) & to be able to see parts of the country his family came from was very special. Our guide & tour assistant were essential to the quality of this tour. Our group was lovely, we all got along. The mix of towns & cities, places I might never have visited on my own are what make RS tours awesome. This may be the wettest/humid summer in German history but I wouldn't trade my memories for anything.
Favorite "WOW" moment
"I'm so happy to be in Europe that everything is "wow" to me. The opportunity to be somewhere new & different, maybe a little familiar but still different is exciting! The food, music, architecture, landscapes, history, art, customs, conversations, mishaps/mistakes, etc. are all WOW if you choose to experience them as such. I didn't realize I'd had any, but I was "wowed" by how my preconceived notions of Germany (past & present) were replaced w/thought provoking experiences & wonderful memories."
Kristin
Dublin, OH
Tour: 07/15/17
Overall rating:
it was an amazing trip. I love World War II history so having two history experts as guides was a real plus. Both Carlos and maisie shared their stories. Long bus rides seemed shorter due to awesome scenery and history lessons. Both were generous in answering our questions.
Favorite "WOW" moment
"Several wow moments. I loved the night watchman tour in rotenburg, even though I'd done it previously. The hofbrau haus was fun as we were encouraged to make new friends and maybe buy them a drink. We did this and it was fun. We felt like real rick steves travelers. We took a wrong bus turn so we missed our break stop exit. Driver found a charming place that I think we ended up liking more. We felt like we were on an adventure and we are rick steves travelers so we don't grump!"
James
Pittsburg, CA
Tour: 07/15/17
Overall rating:
Excellent guides, wonderful bus driver, they worked together flawlessly, they adjusted to many scheduling changes, which they managed to enhance the tour. This is new tour that has some timing and scheduling issues. My previous tours (16) use early morning with an intensive schedule then most afternoon "on your own" to enhance the tour. This tour has several "full" days, which I found exhausting.
Favorite "WOW" moment
"There where several. For me just looking back on the whole tour experience it was too find and experience how effective and throughly the German people are confronting their "horrific" Nazi past. The Documentation Center in Nuremberg was moving and overwhelming detailed in effectively organizing,, showing, and documenting through movies, pictures, and actual documents the very evil nature and atrocities of that 1930s to 1945 period of German life and what was inflected on the entire world."
Sherry
Arlington Heights, IL
Tour: 07/15/17
Overall rating:
Enjoyed the stories from our tour guide, informative. Trip logistics were smooth. The bus driver seemed to know the best routes and places to drop off. Good choice of sites. Loved that we did not have a group of 50 people. 20-25 is a good size for getting around on the public transportation, city walks, etc. It also may encourage more mingling between people.
Favorite "WOW" moment
"The view from my hotel in Rothenberg was so spectacular as was the whole walled city and countryside."
Michael
Piscataway, NJ
Tour: 07/15/17
Overall rating:
Overall my experience went well. There was enough time to do your own exploring and enough structure from the tour. Our lead guide made a superb effort in tailoring to the needs of my tour experience and the experience of others. His knowledge of history, culture and David Hasselhoff was in depth and easy to understand. When I wanted to branch out on my own our guides gave me advice on transportation and hurdles I might expect. The pacing of the tour was also a plus of the tour.
Favorite "WOW" moment
"Visiting the Olympic Park and Allianz Arena in Munich on my own and finishing the day ont the observation deck of the Olympic tower overlooking the city landscape with a rock concert below and fireworks in the distance. With the group it would have to be listening to German pop/rock songs on the bus and walking through the Brothers Grimm fairytale forest followed by our group name game and shots of German liquor in the woods."
Allison
Hawthorn Woods, IL
Tour: 07/15/17
Overall rating:
The best of Germany tour was an amazing experience. It was the perfect balance of structured activities and free time. The hotels were great, small "mom and pop" type places with friendly staff and great breakfasts! Carlos and Maisie were such joyful professionals! They were knowledgable and fun. They were able to navigate us through some tough times in German history with grace and sensitivity. They also created many fun experiences for the group as we dove into German culture.
Favorite "WOW" moment
"The sights, sounds and tastes of Bacharach - WOW!"
Eileen
Mill Creek, WA
Tour: 07/15/17
Overall rating:
Between Carlos and Maisie, I learned many facts about the background and history of the Country that I wasn't aware of. Carlos presented the issues and background regarding Nazi Germany in a sensitive and informative manner with true respect to the tour group as an audience. Maisie gave her perspective as a Great Briton transplant and the issues she faces in Modern Day Germany - both positive and negative. Both guides were very helpful in all ways possible.
Favorite "WOW" moment
"My favorite "wow" moment was doing the Name Game in the Black Forest while doing shots of "gold" liquor."
Joel
Mill Creek, WA
Tour: 07/15/17
Overall rating:
Had a great time. Accomplished goal of learning quite a bit of German history, particularly the perspective of the tour guides on life in East Germany. Tour provided excellent sampling of cities, towns in Rhine valley etc. Guides were very helpful. Tremendous effort and assistance to a tour member who broke her leg, and needed to return home. Loved the small medieval towns. Wish we had more time there.
Favorite "WOW" moment
"Gathering in a group, and the walk thru the forest."
Larry
Louisville, KY
Tour: 07/15/17
Overall rating:
Carlos and Maisie, with help from local guides, gave us a tour that was "best". They were thoughtful, informative, and helpful. We learned much from their backgrounds and experiences, and introduced to many interesting and moving sites.
Favorite "WOW" moment
"We had many "wow" moments. Visiting former East German sites and their personalizing of the sites by Carlos and Maisie. The Pergamon and Zoo in Berlin. Riemenschneider's wood carvings."
Amy
Lynchburg, VA
Tour: 07/15/17
Overall rating:
Good group. Good guides. Fun with Dominic the photographer (really added to our great experience!)
Favorite "WOW" moment
"Should have been visit to Reichstag in Berlin but it poured rain! Still, thanks to Carlos for arranging it!"
Trudy
Lincoln, NE
Tour: 07/15/17
Overall rating:
This was a great tour. My grandfather's family can to US in 1893 from Hamburg. Before the tour started we took a train to Krempe to see his hometown. Was so grateful that tour started in Hamburg. We are Lutheran so we also enjoyed all of the Luther sites that we visited. We also went to Wittenberg from Berlin. It was interesting see the difference in West and East Germany today. Just a super great tour and thankful we were able to be a part of this tour. Thanks
Favorite "WOW" moment
"Just arriving in Hamburg and knowing this is where my grandpa came from was a WOW moment even before the tour started. Seeing the Neuschwantstein Castle was my WOW moment. It is beautiful and enjoyed the picnic lunch by the lake. I enjoyed the walk up the hill and the view from St. Mary's bridge."
Bernard
Fremont, CA
Tour: 06/24/17
Overall rating:
Very nice trip with lots of history and interesting sights. A little long on the bus at times, but that should be expected with the heavy agenda of the trip.
Favorite "WOW" moment
"The guide in Bacharach. Wonderful history and significant personal touch to Nazi period and life in a small town."
John
Granger, IN
Tour: 06/24/17
Overall rating:
This tour exceeded my expectations and I am excited that we went. In addition to the famous structures (Cologne Cathedral, Neuschwanstein, Brandenburg Gate, etc), I most wanted to experience the 20th century history of Germany. This tour was an excellent vehicle for this. As in other RS tours, the tour members were friendly, the guide knowledgeable and the local experiences memorable
Favorite "WOW" moment
"Visually, the view of Neuschwanstein from Mary's Bridge, Frauenkirche in Dresden, and the charm of Rothenburg and Erfurt. I think I was most 'wowed' by the spirit and determination of the German people. It is truly amazing that they were able to rebuild their country twice (WW ll and post communism) in the 20th century."
Cynthia
Katy, TX
Tour: 06/24/17
Overall rating:
I had a great time - I was initially a little wary about going on a tour, but chose a Rick Steves' tour because of the small group size. However, socializing with my fellow tour members was one of the most enjoyable aspects of the trip and really enhanced my travel experience. I thought that the group activities were well-planned and all of the local guides were excellent. I appreciated our tour guide, Holger, giving us suggestions for activities and restaurants for our free time.
Favorite "WOW" moment
"My favorite "wow" moment was walking through East Berlin and thinking about the fact that 28 years ago, it would have been a vastly different experience. It was surreal seeing Checkpoint Charlie turned into a tourist attraction. All of the trip through the former East Germany was full of moments like that - Holger did an awesome job putting the events surrounding reunification into context. He brought up several excellent points that really changed the way that I thought about the event."
James
Williamsburg, VA
Tour: 06/24/17
Overall rating:
We were very pleased with the overall tour experience. We appreciated the materials that we received before we left the U.S., which were very helpful in preparing for the trip. The tour was well planned and well organized, with so many details having been thought through carefully. We came away from the tour with a better appreciation for and understanding of Germany, both today and historically. The audio devices worked well.
Favorite "WOW" moment
"There were many special experiences. We were very interested to have time in the former East Germany. We enjoyed both Erfurt and Dresden and were fascinated to learn more about life behind the Iron Curtain, and about the challenges and successes of reunification. Thanks for the 4th of July celebration!"
Ray
Rantoul, KS
Tour: 06/24/17
Overall rating:
I was impressed with Hamburg, Germany. Arrive a day earlier and seen several sites on our own. Koln is great I wish we had spent the night their we was little rush. Munich was great as long with cites in Bavaria. I thought Nurnberg was ok but some of what we was going to see was closed. Erfurt is a beautiful small town easy to get around in, and learn quite a bit more about Martin Luther. Dresden outstanding also Berlin seen several sites the wall caught my attention and spent the afternoon
Favorite "WOW" moment
"I believe I like Hamburg and Erfurt the best . Hamburg didn't know it was in East Germany but the town it self was great. Erfurt learning more about Martin Luther was great we had been to Wittenberg. where Martin Luther done lot of writing. I didn't know that Martin Luther had six children and married twice"
Robin
Eugene, OR
Tour: 06/24/17
Overall rating:
The tour was amazing, we got to see so much and do so much in a short period of time. It was very well put together. Our guide Hogar had a great enthusiasm and passion for his country and what it had to offer. I really liked the variety of activities on this tour: from a walking tour of Hamburg to a walking tour of East Berlin, from medieval cities to modern cities, exploring very old buildings, to the brand new Elbphilharmonie in Hamburg, to a rebuilt Dresden cathedral!
Favorite "WOW" moment
"I really liked the view from Queen Mary's Bridge near Neuschwanstein Castle. The wow of the tour was the beauty and diversity of Germany."
Gunnar
Emeryville, CA
Tour: 06/24/17
Overall rating:
This tour, our seventh, was outstanding! It was a new itinerary but we could tell that a lot of thought had been put into it. Overall the accommodations and included breakfasts were excellent The local guides were very good. The tour with the Night Watchman in Rothenburg was not to be missed. Rick's mantra "small groups, great guides, no grumps" describes our tour perfectly.
Favorite "WOW" moment
"We were on our own for an hour or two in Dresden. When we returned we found that there was a party going on! It was the Fourth of July! Holger and Robyn had decorated our meeting place by the lake with red, white and blue balloons and streamers. There was cake with candles. We lit sparklers and listened to Fourth of July music."
John
Portland, OR
Tour: 06/10/17
Overall rating:
Having never been to Germany before, I felt that it was a good introduction. It felt rushed at times, but that was necessary to provide complete coverage. Based on the tour, I would definitely visit Germany again in the future.
Favorite "WOW" moment
"The walled city of Rothenburg was my favorite moment of the trip. In fact, I wished that we would have spent a couple of nights there instead of just one night."
Lawlee
Portland, OR
Tour: 06/10/17
Overall rating:
Our guides are very knowledgeable and helpful. All hotels were at great locations, comfortable and had very good breakfasts. This tour is a good overview of Germany with big cities and medieval towns. We visited many beautiful churches and castles, and had a cruise on the Rhine. We also visited sobering sites like the war memorial, concentration camp, Nazi sites...etc. I learned a great deal about the history of Germany. My only complain is sometimes I feel a bit rushed.
Favorite "WOW" moment
"I don't have a favorite wow moment. The most scenic part was the Neuschwanstein Castle area, but since I have seen many pics of it so it was expected."
James
Woodbury, CT
Tour: 06/10/17
Overall rating:
It fully met my expectations. I was able to see and do just what I had intended. The tour group was very congenial. I don't believe that I learned enough about how life for an ordinary German family differs from American life. Somehow I really can't say that I "know" Germany though I "saw" Germany.
Favorite "WOW" moment
"Seeing Neuschwanstein castle[INVALID]-from a distance. (I was not so impressed at the interior as we were in a large group and were rushed through the rooms)."
Kathy
San Jose, CA
Tour: 06/10/17
Overall rating:
Favorite "WOW" moment
"Baroque church @ a rest stop."
Jean
Cupertino, CA
Tour: 06/10/17
Overall rating:
This was my first visit to Germany and I am so glad we had a tour dedicated to just Germany. It has a complicated history, some of which we all know, but our guide, Torben, along with his "apprentice," Fabian, were very skilled at relaying, many more interesting and important details of historical and contemporary Germany. We loved them both. Making a circuit of the various distinct areas of Germany was fascinating. I was especially interested in visiting cities in the former East Germany.
Favorite "WOW" moment
"I was very impressed with the way Germany has put money and effort into restoring much of the architectural beauty and historical detail of cities like Erfurt, Dresden and Berlin since the fall of the Berlin wall. I expected to see many more remnants of soviet occupation drabness, but it was not so. It was a sobering "wow," but the stops at Bergen Belsen and the Nuremberg Documentation Center including a stop at Hindenburg field, made a lasting impression."
Mary Jo
Federal Way, WA
Tour: 06/10/17
Overall rating:
This tour had a relentless pace...not unexpected. It was just what it was written to be. However, we had very little free time anywhere. We spent a lot of time on the bus and traveled long distances so it was frustrating when we got to most of the small towns, we rarely had much time to enjoy them. We always had walking tours which were informative but the one in Bacharach was difficult because it was at the end of a long day, it was hot, and we had so little time to enjoy that cute town.
Favorite "WOW" moment
"The people were the best. Our two guides, the tour members, the German people were my favorite part. It was lovely to spend time with friendly, respectful people from many different places."
Gretchen
Houston, TX
Tour: 06/10/17
Overall rating:
This was our first Rick Steves tour and our first time in Germany. I cannot say how much I enjoyed every minute of it. We covered so much of Germany and our guides were wonderful. They made sure we had ample time to visit each site and took care of any issues before they even came up! It was wonderful to share our adventure with our fellow travelers and we made some new friends. It was such a treat to have everything taken care of and our enjoyment was paramount to our guides.
Favorite "WOW" moment
"Hard to pick just one, but Neuschwanstein was just amazing. Wurtburg Castle was stunning and the Luther exhibit was probably my favorite part of the tour. I was especially impressed with they way the bus rides were broken up with stops. Instead of wasting time at rest stops, we visited important sites such as Cologne and Dresden,places that we did not need a whole day to see. It made the trip so much more pleasant and the bus times more bearable."
Christopher
Cupertino, CA
Tour: 06/10/17
Overall rating:
Torben, with the assistance of Fabian, did a fabulous job of leading this tour. The extent of his knowledge of Germany, its history, and associated subjects is truly impressive, as is his ability to convey that knowledge.
Favorite "WOW" moment
"Many"
Ann
Woodbury, CT
Tour: 06/10/17
Overall rating:
True to Rick Steves' standards, it was a wonderful tour! It was well orchestrated, seeing as much at each location as could reasonably be handled, clean comfortable bus with a very skilled driver, knowledgeable and always-accessible tour guides, well-situated hotels, congenial and interesting travel companions, and with just the right balance of group activities and independent exploring.
Favorite "WOW" moment
"Although there were many many beautiful sights to dazzle the eye, the one that sticks out the most in my memory is the Elizabeth Chamber at the Wartburg Castle. The room, dedicated to Saint Elizabeth of Hungary, who had lived in the castle, was made of vaulted ceilings and walls completely covered in tiny glass tiles. In spite of castle dimness, the mosaics glowed and sparkled as I looked at each panel beautifully depicting scenes from her life."
Teri
Crozet, VA
Tour: 05/20/17
Overall rating:
Loved the richness of the sites we visited. There was so much variety -- cities, both modern and medieval, churches, memorials, historical exhibits. The local guides, as always, were excellent especially when they told personal stories. Carlos and Torben gave us so much historical and current context that I felt we had a mini-course on Germany which enriched our experience. Fellow tour members made the trip lots of fun.
Favorite "WOW" moment
"Hard to pin down one moment. I think the visit to Bacharach was my favorite from the "quirky/charming" hotel to the Rhine boat trip and the castle ruins it was a great day."
Daniel
Mcdonough, GA
Tour: 05/20/17
Overall rating:
I learned a great deal about the history, culture, and uniqueness of the German people. Our tour guides Carlos and Torbin were great. They organized everything well, keep us informed and educated us on the culture of the German people. I also loved the diversity of seeing big cities like Berlin, Munich and Hamburg and then smaller cities like Bacharach, Erfurt and Rottenberg. I really enjoyed spending time in Erfurt where Martin Luther studied and became a monk.
Favorite "WOW" moment
"I would say the sight of the uniquely designed Elbphilharmonie in Hamburg."
Michael
Plano, TX
Tour: 05/20/17
Overall rating:
Favorite "WOW" moment
"The surprise stop at the Soviet War Memorial was emotionally very moving. i just wish we could've done something similar for the allies, particularly since we were there on Memorial Day (which passed we nary a mention)."
Kathleen
West Covina, CA
Tour: 05/20/17
Overall rating:
It was fabulous!!! I can't say enough about Carlos and Torben. Fantastic guides--interesting personal touches with their family stories. Great surprise visit to the Soviet war memorial in the old East Germany. They were of great help when I left my phone in Rothenburg. I felt they took excellent care of us. I only wish the tour was a little longer--17 days perhaps??? It was even better than I had anticipated. Highly recommend.
Favorite "WOW" moment
"Anything and everything that had to do with WWII. I am very interested in that war and they and the local guides covered a LOT of information. I'm sorry I can't pick just one thing."
Joyce
Plano, TX
Tour: 05/20/17
Overall rating:
Great tour w/excellent and knowledgeable guides (nice benefit to have 2 experienced guides!). Enjoyed a wide range of history and culture from Roman through Medieval/Royals to Reformation to WWI / WWII and Soviet East Germany / Berlin Wall. Lots of cathedrals, churches and castles including lots of uphill and stairs. Nice mix of planned events and meals with free time to do what we wanted. Enjoyed diversity of large cities to smaller towns. Some challenges w/unexpected Autobahn traffic.
Favorite "WOW" moment
"Hard to have a single moment, but probably would have been beautiful scenery in Bavaria and Neuschwanstein Castle. Enjoyed "Sleeping Beauty" castle and our nature walk where we sampled local goodies to celebrate a tour member birthday. Another fun event was watching soccer match on television where our guides were supporting opposing teams. Lots of fun and friendly banter throughout the game and during the trip. Had as much fun watching Carlos(Dortmund) & Torben (Frankfurt) as the game."
Steven
Issaquah, WA
Tour: 05/20/17
Overall rating:
We were pleased and impressed with the quality and quantity of interesting and memorable sites that we visited. Most of the time the group seemed to move at a fairly rapid and deliberate pace (we typically walked 7+ miles per day); but we were not surprised at this, as it was clearly advertised as a physically active trip. All hotels and restaurants that we visited with the group were very good.
Favorite "WOW" moment
"During the tour, the visit to Neuschwanstein castle and the Soviet war memorial in Treptower park. But the two most impressive and memorable sites were ones that we saw on our own; the Residence in Munich and Potsdam."
Charles
Yorkville, IL
Tour: 05/20/17
Overall rating:
I was impressed by the series of sites we visited and the value-added info that our two guides provided. We kept moving to see Germany in two weeks and a wide variety of different types of places. I would recommend this tour and especially our two guides. They prepared us to be independent and explore on our own. It was fun to hear what others learned and saw.
Debra
Yorkville, IL
Tour: 05/20/17
Overall rating:
T Germany tour was a fun learning adventure! This new itinerary included a broad variety of experiences which helped to understand Germany's history and current culture! Visits to Wartburg Castle and Erfurt during the 500th anniversary of the Reformation, gave perspectives on the influence to the German language and everyday life besides the changes in religious practices.
Favorite "WOW" moment
"Strolling through the historic lanes in Bacharach, Rothenburg, and Erfurt."
Deborah
Lutherville Timonium, MD
Tour: 05/06/17
Overall rating:
The heart and soul of Germany! It is what I wanted to experience. I did,in spades, on this tour!
Favorite "WOW" moment
"My first view of Bacharach!"
Julie
Vancouver, WA
Tour: 05/06/17
Overall rating:
This was our first tour ever. We have friends who told us how much they enjoyed Rick Steves' tours so we tried it. I had little expectation for what we would experience and boy was I surprised by what was offered to us. Every aspect of the tour exceeded my expectations, and more. Even though this was the first tour of the Germany tour, it ran smoothly and was enjoyable all the way. The Tour Guides, Holger and Carlos, were such a good team, they gave history, humor and caring.
Favorite "WOW" moment
"I just loved the two days in Erfort. It felt like we were in an "old country" city. We had a good amount of free time and explored and tried out our German language with the local people. We had dinner in a restaurant that spoke no English so we really were emersed. Loved it! Also loved the Harbor Festival and boat tour in Hamburg. Beautiful weather and got to see how people celebrate in Hamburg."
Karen
Elkhorn, WI
Tour: 05/06/17
Overall rating:
Fantastic, start to finish. The trip met - and even exceeded! - our high hopes and expectations:) Just 1 comment - I understand the financial rationale for having increased tour size up to 25. But if we had not had a 2nd guide (Carlos Meissner, who is excellent btw, more on him below!) - well, at full tour size, and with the mix of people on this trip, it would have been hard to have time for more than a passing occasional question to a single guide, no matter how great the person.
Favorite "WOW" moment
"Two WOW moments - 1. Hamburg city tour including the new symphony hall & the harbor boat ride, with special luck timing to be there on the weekend of the annual port anniversary celebration 2. Berlin, at the Holocaust Memorial AND at the Berlin Wall Memorial. The 1st we visited during our city tour; the 2nd we visited on our own."
Donna
Cuyahoga Falls, OH
Tour: 05/06/17
Overall rating:
I learned a lot of Germany's history, culture, etc. Enjoyed the tour very much.
Favorite "WOW" moment
"Learning about the region of Germany my family is from."
Elizabeth
Stoughton, WI
Tour: 05/06/17
Overall rating:
We found the tour very enjoyable and enlightening, especially for anyone with an interest in European history. The choice of locations and narrative given by the guides really made me come to a new appreciation of what the German people have come through and are continuing to deal with. The guides' instruction and encouragement to explore on our own was great. As a result we attended a "Turmcafe" at St. Jacobi church in Hamburg, which was an unforgettable experience.
Favorite "WOW" moment
"I was particularly struck by the grandeur of the Frauenkirche in Dresden, and the story of its reconstruction with help from across the world."
Leonard
Calgary, AB
Tour: 05/06/17
Overall rating:
I enjoyed most of the places that we visited on the tour, except the Sleeping Beauty castle. Carlos was a fountain of historical knowledge about Germany, while both Holger and Carlos gave us an insight into how Germany works today and would always answer all of the many questions that were asked of them. I learned so much about Germany, then and now.
Favorite "WOW" moment
"The boat tour of the Hamburg harbour during the Tall Ships Event on May 7. The harbour itself is interesting to see, but with the tall ships in port the tour was exceptional."
Adeline
Barrie, ON
Tour: 05/06/17
Overall rating:
A wonderful, informative, scenic tour around Germany from Hamburg in the Northwest to the Alps in the Southeast!. I love the history-from celebrating the 828th anniversary of the "New Harbour" in Hamburg to the neighbourhood of the Grimm Brothers, "mad" King Ludwig's Castles to the darker history of the first half of the 20th century. To visit Germany is to see juxtaposed the brilliance of musical, literary, and intellectual giants with the potential for evil inherent in humans.
Favorite "WOW" moment
"Perhaps less "wow" than profound - visiting Bergen-Belsen and the Nürnberg documentation centre. In the first gaining and understanding of what "DP"s were -displaced persons removed from their homes, families,j obs and sent to concentration camps, often to die. In the second, understanding a bit more about the social and economic conditions that gave rise to Hitler and chilling seeing a parallel to the emergence of far right movements in the world today."
Weather

Germany / Berlin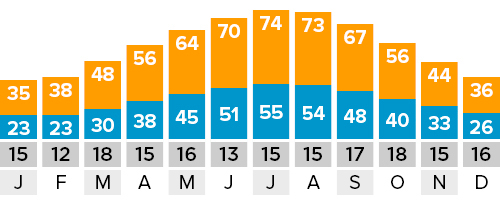 ---
Germany / Munich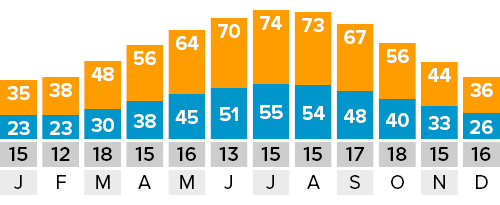 Pre-Tour Planning
We've put together some specific information on what you should know about this tour before you go. You'll also find more general information about "Getting Ready for Your Tour" on our Tour FAQ.
Trip Resources
Learn more about Germany: Check out a collection of Rick's TV shows, radio interviews, and articles, plus recommended books and movies.
Tour Hotels
In case you wish to book pre- or post-tour hotel accommodations, the contact information for the tour's first and last hotels is included in your tour confirmation email. About one month prior to the tour departure, we'll email you directions on how to get from the airport to your first tour hotel, as well as the complete list of hotels where we'll be staying while on tour.
Transportation
Many tour members arrive a day or two before the tour begins — and those who don't, wish they had. This allows you ample time to get over jet lag and make the most of the first few days of the tour.
There is more than one way to get to and from your tour. Most tour members arrange to fly into Hamburg and out of Berlin ("multicity" on flight-booking websites). Booking round-trip to one city will require a connecting flight, train trip, or additional overnight stay.
For information about flying within Europe, ask your travel agent or check Rick's list of European budget airlines.
Read Rick's train travel and rail pass tips to decide if your travel plans merit a rail pass.
If you have additional European travel or tour questions, contact the Tour Department at 425-608-4217 or email tour@ricksteves.com.
Sightseeing on Your Own
If you arrive in Hamburg before your tour begins, use the Rick Steves Germany guidebook to get oriented, try out a few words of German, and get over your jet lag with lots of fresh air and exercise.
Here are some suggestions for sightseeing in Hamburg that we will not be doing as a group (see the guidebook for details): Reeperbahn and Shoulderblade neighborhoods, Miniatur Wunderland, Kunsthalle art gallery, Planten un Blomen, BallinStadt Emigration Museum.
Packing
For advice on what (and what not!) to pack, see Rick's packing tips.
Special packing note: We use an audioguide system for many of our sightseeing and museum tours. If you wear a hearing aid, we strongly recommend bringing headphones that go over your ears to allow you to fully enjoy these tours.