Hamburg's Speicherstadt

Cologne Cathedral

Bacharach on the Rhine

Rothenburg

Munich's Hofbräuhaus

Erfurt

Dresden

Berlin
Tour Questions? See our FAQ | Call 425-608-4217
Best of Germany in 13 Days Tour
The Best of Germany tour begins with the sound of seagulls in Hamburg, a city that tickles tourists with its people-friendly harbor and a nearly Nordic vibe. From there you'll daydream through fairy-tale forests, meander the mighty Rhine, have fun storming the castle, and clink frothy mugs of beer in Bavaria. You'll also time-trip through the medieval charms of Rothenburg, walk in the revolutionary footsteps of Luther, reflect on the tumultuous events of World War II, and marvel at the modernity of 21st-century Berlin. Join us for the Best of Germany in 13 Days!
Dates & Prices
What's Included
You'll get at least 20 group sightseeing events — at no extra cost!
Here's what you'll see and do on our Best of Germany tour:
Hamburg walking tour
St. Nicholas Church Memorial
Hamburg's Elbphilharmonie
Hamburg harbor boat cruise
Bergen-Belsen Concentration Camp Memorial
Fairy Tale Highway drive
Cologne Cathedral
Bacharach walking tour
Germany Q&A
Rheinfels Castle
Rhine River cruise
Rothenburg Night Watchman's walking tour
Munich walking tour
Hofbräuhaus
Orientation for free day in Munich
Wartburg Castle
Erfurt walking tour including its Augustinian Monastery
Dresden walking tour
Dresden's Frauenkirche (when available)
Historic Berlin walking tour
Plus you'll get all this, too.
A small, friendly group of 24–28 people — half the size of most tour groups
Full-time services of a professional Rick Steves guide and local experts who will make the fascinating history, art, and culture of Germany come alive for you
All group transportation from Hamburg to Berlin
12 nights' accommodations in memorable, centrally located hotels
All breakfasts and half your dinners
All tips for guides and driver
A tour kit including a guidebook (when available) and a moneybelt
Guaranteed tour price, locked in the moment you make your deposit
Tour alum discount of $50 for each tour you've taken prior to 2022
50% discount on a consulting appointment with our in-house experts to assist with your pre- or post-tour travel plans
Flexibility should you need to transfer or cancel your tour
Fine print: You are responsible for the cost of your drinks and free-time sightseeing. See our Tour Conditions for important details regarding everything listed above.
Group sightseeing events subject to change.
Itinerary
Day 1: Welcome to Germany
We'll meet at 4 p.m. at our hotel in Hamburg for a "Welcome to Germany" meeting. Then we'll take a neighborhood walk to get a feel for this prosperous, progressive city and get acquainted over dinner together.
Light walking: 2–4 miles throughout the day on mostly level terrain. No bus. Sleep in Hamburg.
Day 2: Hamburg's Old Town and Harbor
Today we'll begin with a walking tour of the historic core of Hamburg, including the resilient St. Nicholas Church Memorial, where we'll learn about "Operation Gomorrah" — the allied firebombing campaign that devastated the city in 1943. Then we'll stroll through historic Speicherstadt to the stunning new Elbphilharmonie concert hall and hop aboard a boat to see the city's massive modern harbor. When we return shore-side we'll set you free for the afternoon to explore more of this impressive port city.
Moderate walking: 2–6 miles throughout the day with some hills and stairs. Boat: 1 hour. No bus. Sleep in Hamburg.
Day 3: Germany's Fairy Tale Highway
Today we'll take off for the countryside that inspired a thousand legends and visit the real-life settings where the Brothers Grimm did much of their fairy-tale research in the 1830s. We'll also stop to pay our respects at the site of the all-too-real WWII Bergen-Belsen memorial.
Moderate walking: 2–6 miles throughout the day with some hills and stairs. Bus: 3 hours. Sleep in Lower Saxony.
Day 4: Cologne and the Romantic Rhine
This morning we'll head straight for the single most-visited site in all of Germany: Cologne Cathedral. You'll appreciate why as our local guide takes us exploring through northern Europe's most massive Gothic church. Then we'll continue on to the Rhine Valley and our charming riverside village, where we'll have dinner together.
Light walking: 2–4 miles throughout the day on mostly level terrain. Bus: 6 hours. Sleep in the Rhine Valley.
Day 5: Rhine Castles and River Cruise
We'll begin our day in St. Goar, where we'll hike up the hill to tour the mighty medieval Rheinfels Castle and enjoy its commanding view of the Rhine Valley. Then we'll board a boat for a relaxing Rhine River cruise, passing picturesque villages, vineyards, and feudal castles. After disembarking in Bacharach, we'll take a walking tour of the village with an entertaining local guide, followed by free time. Tonight you'll be free for dinner to feast like a feudal lord.
Strenuous walking: 2–8 miles throughout the day with lots of hills, stairs, and uneven terrain. Boat: 1 hour. Bus: ½ hour. Sleep in the Rhine Valley.
Day 6: Medieval Rothenburg
This morning we'll continue our journey to Rothenburg ob der Tauber, Germany's best-preserved medieval town. After an orientation to town, the afternoon is yours to see the best woodcarving in Germany (Riemenschneider's altarpiece), walk the medieval wall, tour the Medieval Crime and Punishment Museum, or hunt down the best apple strudel in town. This evening we'll tag along on the legendary Night Watchman's tour.
Moderate walking: 2–6 miles throughout the day with some hills and stairs. Bus: 3 hours. Sleep in Rothenburg.
Day 7: Historic Bavaria
Today we'll journey further into the romantic heart of Germany to Bavaria's largest city, Munich. We'll get a behind-the-scenes look at Munich on a walking tour through its historic Old Town, then learn about the "checkered" history and traditions of Bavaria at the famous Hofbräuhaus beer hall. This evening, we'll cap the day with a hearty "Welcome to Bavaria" dinner together.
Moderate walking: 2–6 miles throughout the day with some hills and stairs. Bus: 4 hours. Sleep in Munich.
Day 8: Free Day in Munich
The day is all yours to stroll around Germany's most livable city. Your guide will provide an orientation for the many fun adventures you can choose. Immerse yourself in the city's art from Baroque Theater to Wittelsbach palaces to several world-class museums, rent a bike to pedal the car-free paths along the English Garden and Isar River, or simply enjoy the lively Bavarian atmosphere, a frothy mug, and a big pretzel at one of the city's many beer halls or outdoor biergartens.
Light to strenuous walking (your choice). No bus. Sleep in Munich.
Day 9: Road to Reformation
Today we'll say "Auf Wiedersehen" to Munich and transport ourselves back to the 16th century in the heart of Germany's "Luther Country." Just west of our final destination, we'll visit the captivating Wartburg Castle, where Martin Luther hid away in a small room and translated the New Testament into modern German. After checking into our hotel in Erfurt, we'll take an orientation walk through this historic town and share the day's insights over a hearty dinner together.
Moderate walking: 2–6 miles throughout the day with some hills and stairs. Bus: 6 hours. Sleep in Erfurt.
Day 10: In the Footsteps of Luther
Erfurt's half-timbered old town is the perfect place for a walking tour. We'll follow the footsteps of Martin Luther as he became a priest in Erfurt's cathedral and later a monk in its monastery. We'll also learn about the town's historic Jewish population. Your afternoon is free for wandering through the picturesque pedestrian zone and market square.
Moderate walking: 2–6 miles throughout the day with some hills and stairs. No bus. Sleep in Erfurt.
Day 11: Baroque Dresden and Dynamic Berlin
Our final driving day begins with a stop in the city of Dresden, where a local guide will take us on a walking tour of this delightfully Baroque city, reborn from the ashes of World War II. Its star is the inspiring Frauenkirche, destroyed in the firestorms of 1945 and rebuilt with donations from around the world. Arriving in Berlin this afternoon, we'll get oriented to our neighborhood and the city's public transportation system before free time and dinner on your own.
Moderate walking: 2–6 miles throughout the day with some hills and stairs. Bus: 4 hours. Sleep in Berlin.
Day 12: Berlin's Historic Heart
We'll begin our day with a fascinating walking tour through the historic heart of Berlin, including Unter den Linden, the Brandenburg Gate, the Reichstag, Checkpoint Charlie, and memorials to the earth-shaking events and sacrifices of the past century. This evening we'll have our last dinner together, sharing travel memories and toasting new friends. Prost!
Strenuous walking: 2–8 miles throughout the day with lots of hills, stairs, and uneven terrain. No bus. Sleep in Berlin.
Day 13: Tour Over After Breakfast
Breakfast is provided, but there are no group activities today. It's a breeze to reach Berlin's airport by shuttle, S-bahn train, bus, or taxi. You'll have easy connections to home, or on to other points in Europe. Auf Wiedersehen!
Itinerary specifics subject to change.
Physical Demands
Our tours are physically active! It's an essential part of the Rick Steves tour experience. On our Best of Germany in 13 Days tour — among other things — you'll need to happily…
Carry/roll your luggage over uneven pavement (possibly several blocks) and up stairways to reach your hotel, then up several flights of stairs to reach your room.
Be on your feet, walking and standing for up to three hours, indoors and outdoors, in all weather conditions.
Sleep with street noise and no (or weak) air conditioning.
After orientation and transportation lessons, be able to navigate towns and cities on your own.
Reviews
Carissa
Savoy, IL
Tour: 10/01/19
Overall rating:
I feel like it's not an overstatement to say that it was life-altering, in the best way. I started the tour mostly hoping to visit historic places, eat some good food and drink some good beer. But I felt immersed in history and engaged in learning and new experiences to an extent that I never expected, which made this more than just a tour for me. I returned home wanting to study everything, and wanting to recreate this feeling every day. And wanting to visit Germany again!
Favorite "WOW" moment
"The one I've been telling people about, just to isolate a single exemplar, is the day we went to Rheinfels Castle in St. Goar, and Alvin the guide sang to us in this ancient cavernous "refrigerator" to demonstrate the acoustics. It was haunting, and beautiful, and just a perfect moment. 2nd: standing on the platform at the Nuremburg zeppelin field, and contrasting what I saw that day with the films I've seen from 80 years ago. 3rd: touring Schloss Weissenstein and the rooms full of paintings."
Jean
Naperville, IL
Tour: 10/01/19
Overall rating:
We enjoyed this trip very much. This was our second RS tour and we had high expectations. We were not disappointed. The itinerary was fast paced, but we saw so much of the country. The hotels were very satisfactory. The tours provided were very educational. All the included meals were excellent. Torben was an exceptional guide. All in all, we had a fantastic experience and look forward to another one.
Favorite "WOW" moment
"I don't think we had any one wow moment. I do enjoy history, so learning about this country's was special to me. Going to cities like Munich and Berlin and listening about their 20th century history that I had read about in books made it more real to me. Hearing about East and West Germany and when they joined again brought back memories of when it really happened."
Linda
Crown Point, IN
Tour: 10/01/19
Overall rating:
I loved this tour. It moved along quickly. Long bus rides were broken up by short tours, castles etc. We saw so much. It was a good mix of city and quaint old towns. My husband is a historian of World War II. This tour was made for him. But I found I really enjoyed it too. I found the Jewish history, cemetery, synagogue very interesting. I would not have gone there on my own.
Favorite "WOW" moment
"There were so many "wow" moments, it was hard to choose. I remember walking into the monastery church where Martin Luther became a monk. The stain glass windows were beautiful. I looked up and said "wow". The colors were so vibrant and it was not even sunny out. I also loved the ocean room in the Weissenstein castle. I do mosaics and that room was fabulous and different. I know the work that went into that. That castle was completely built in seven years. Wow."
Mary Lou
Stockbridge, GA
Tour: 10/01/19
Overall rating:
Loved the places we visited including the extras that Torben chose. The group size was perfect as was ways used to keep us together and on time especially the "buddy" system. The mix of history, sightseeing, and culture was excellent. Torben was very knowledgeable and taught us how to negotiate the various cities' transportation, and gave great get-acquainted tours. Would not take a more-than-two/three city tour again because there was just too little free time to explore.
James
Savoy, IL
Tour: 10/01/19
Overall rating:
Germany had been at the top of our bucket list for some time. I'm glad we waited for Rick Steves to add it as a destination.
Favorite "WOW" moment
"Seeing an actual operating paternoster (continuous elevator) during the walking tour of Hamburg. Completely unexpected."
Carl
Naperville, IL
Tour: 10/01/19
Overall rating:
Tour was wonderful. We visited so many interesting place. The food was excellent and the hotels were so comfortable and welcoming! And our guide.....outstanding!!!!
Favorite "WOW" moment
"The informative 4 hour walking tour of Berlin."
Robert
Dallas, TX
Tour: 09/24/19
Overall rating:
The itinerary, guide, and travel group were great! Many travel friendships were developed. Very rewarding from a cultural standpoint.
Favorite "WOW" moment
"Caroline surprised us with a tour of Castle Wartburg!! I thought Castle Wartburg was so much better than Castle Neuschwanstein. Castle Neuschwanstein is overrated and consumed too much of our time. I would suggest a quick stop and drive by of Castle Neuschwanstein."
Heidi
Walnut Creek, CA
Tour: 09/24/19
Overall rating:
We absolutely loved our tour of Germany! This trip was different in that we felt we not only had a wonderful vacation, but also an enriching and educational experience.
Favorite "WOW" moment
"There was one wow moment after another, thanks in part to our wonderful tour guide Caroline! I cannot give her enough kudos and compliments."
Doreen
Seattle, WA
Tour: 09/10/19
Overall rating:
Germany was fantastic! We visited many interesting and historical sites; learned about German history, politics, and culture. Our guide Maisie is the best! Most of the local guides were excellent. Our fellow travelers were very nice, a great group. The hotels on the tour were very comfortable, clean, with good breakfasts, and helpful staff. We had some very good meals on this tour. We loved it.
Favorite "WOW" moment
"We really enjoyed both the Berlin and Hamburg walking tours. They were great! The Elbphilharmonie concert hall and the harbor cruise in addition to the walking tour may give Hamburg a slight edge. Although in Berlin, Aria took us to Rausch for a short refreshment break so we could energize ourselves before continuing on. She was knowledgeable, interesting, AND funny."
Jeffrey
Longmeadow, MA
Tour: 09/03/19
Overall rating:
A very enjoyable tour with great fellow traveling companions. A beautiful country with a dramatic history right up to the current day. Great sights with friendly people.
Favorite "WOW" moment
"It wasn't the beautiful scenery or buildings, it was the Stumble Stones. Each brass sidewalk [INVALID] commemorates a Jewish person who was removed from the adjacent dwelling and murdered in a concentration camp. Our Berlin hotel was a former apartment. Could our beautiful room have been part of the residence of the couple taken from this building and sent to Auschwitz and exterminated? Very, very chilling ! The memorial in Berlin to the murdered Jews was also powerful in its simplicity."
Joan
Ankeny, IA
Tour: 08/27/19
Overall rating:
The whole tour was unforgettable! I enjoyed each and every minute of it! We had never been on a tour before and this tour exceeded all of my expectations! The hotel accommodations were amazing and all the breakfasts and dinners were exceptionally delicious! Each day brought us new and exciting adventures! I enjoyed the continuous activity and although it was a little scary navigating the larger cities of Hamburg, Munich and Berlin, we surprised ourselves and did do! Thank you for all of it!
Favorite "WOW" moment
"I really cannot say I had a "wow" moment, but experienced multiple "wow's"! Those included the grandiose Cologne Cathedral, the heartbreaking Bergen-Belson Concentration Camp, all the beautiful cathedrals and castles, the trip on the Rhine River, the Wine Festival, all the information Torben gave us, the monastery Martin Luther studied at in Erfurt and the prayer service, the Night Watchman, Munich and Berlin. I was "wowed" daily!"
When To Go & Weather
Any time between May and October is a good time to visit Germany. However, the months of May, June, September, and October are best for offering generally good weather, lighter crowds, and the full range of tourist fun. Summer, while the most crowded, has the best weather.

Germany / Berlin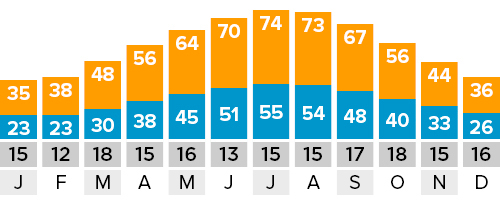 ---
Germany / Munich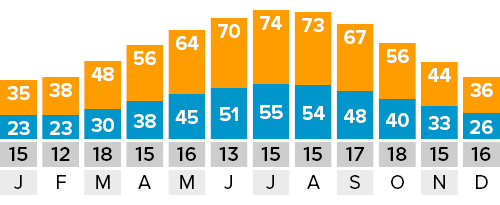 Hotels & Flights
Tour Hotels
In case you wish to book pre- or post-tour hotel accommodations, the contact information for the tour's first and last hotels is included in your tour confirmation email, as well as in the Itinerary section of your tour account. One month prior to the tour departure, you'll find the directions to your first tour hotel and a complete list of hotels where we'll be staying in the Documents section of your tour account.
Flights
Our tours don't include airfare, so your flight arrangements are completely up to you.
Most tour members arrange to fly into Hamburg (HAM) and out of Berlin (BER) — choose "multicity" on flight-booking websites. Booking round-trip to one city will require a connecting flight, train trip, or additional overnight stay in Germany.
We suggest arriving a day or two before your tour begins to allow ample time to get over jet lag and be well-rested for the first few days of your tour. For more information about transportation options for getting to and from your tour, see your Rick Steves Germany guidebook.