Burg Eltz in the Mosel Valley, Germany

Baden-Baden, Germany

Lauterbrunnen Valley, Switzerland

Hiking in the Swiss Alps

Neuschwanstein, Germany

Munich Beer Hall

Salzburg, Austria

Hallstatt, Austria

Vienna
Tour Questions? See our FAQ | Call 425-608-4217
Best of Germany, Austria & Switzerland in 14 Days Tour
On this two-week tour, mountains, Mozart, and mugs of beer all clink together to create a totally yodel-y adventure. Starting in Trier, along Germany's scenic Mosel River, your Rick Steves guide will make this region's history and culture come alive in royal Munich, fairy-tale Neuschwanstein, Baroque Salzburg, stately Vienna, relaxing Baden-Baden, the cut-glass Alps of the Swiss Berner Oberland, and beautiful Lake Hallstatt — with plenty of breathtaking scenery along the way. Join us for the Best of Germany, Austria & Switzerland in 14 Days!
Dates & Prices
What's Included
You'll get at least 19 group sightseeing events — at no extra cost!
Here's what you'll see and do on our Germany, Austria & Switzerland tour:
Trier walking tour
Mosel wine tasting
Beilstein
Burg Eltz castle
Black Forest Open-Air Museum
Schilthorn mountain excursion
Trümmelbach Falls
Orientation for hiking in the Swiss Alps
Munich walking tour
Neuschwanstein Castle
Mountain luge ride (weather permitting)
Salzburg walking tour
Salzburg Cathedral
Lake Hallstatt boat cruise
Mauthausen concentration camp memorial
Vienna transportation pass
Historic Vienna walking tour
Vienna Opera House (when available)
Third Man Museum
Plus you'll get all this, too.
A small, friendly group of 24–28 people — half the size of most tour groups
Full-time services of a professional Rick Steves guide and local experts who will make the fascinating history, art, and culture of Germany, Austria, and Switzerland come alive for you
All group transportation from Trier, Germany, to Vienna, Austria
13 nights' accommodations in memorable, centrally located hotels
All breakfasts and half your dinners
All tips for guides and driver
A tour kit including a guidebook (or books) and a moneybelt
Guaranteed tour price, locked in the moment you make your deposit
Tour alum discount of $50 for each tour you've taken prior to 2022
50% discount on a consulting appointment with our in-house experts to assist with your pre- or post-tour travel plans
Flexibility should you need to transfer or cancel your tour
Fine print: You are responsible for the cost of your drinks and free-time sightseeing. See our Tour Conditions for important details regarding everything listed above.
Group sightseeing events subject to change.
Itinerary
Day 1: Welcome to Germany
We'll meet at 4 p.m. at our hotel in Trier for a "Welcome to Germany" meeting. Then we'll take an evening walk through Deutschland's oldest city and get acquainted over dinner together.
Light walking: 2–4 miles throughout the day on mostly level terrain. No bus. Sleep in Trier.
Day 2: Roman Ruins and Mosel Wine
We'll begin our day with a walking tour of the historic Roman and medieval heart of Trier, marveling at its Porta Nigra gate, the most impressive Roman fortification in Germany. Afterwards we'll visit a local winery, learning how the steep slopes along the Mosel River produce some of the finest white wines in the world and tasting some of the region's famous bounty. We'll set you free for the rest of the day to explore more of Trier's pedestrian-friendly city center.
Moderate walking: 2–6 miles throughout the day with some hills and stairs. Bus: 1 hour. Sleep in Trier.
Day 3: Burg Eltz Castle and Baden-Baden
This morning's drive takes us along the Mosel River to the mighty Burg Eltz — Europe's oldest castle still in use as a residence — where we'll tour the complex and experience firsthand how lords and ladies lived 500 years ago. Before leaving the valley behind, we'll stop in the über-quaint village of Beilstein for lunch together along the riverbank. Our final destination is the old resort town of Baden-Baden, famous for its mineral baths and games of chance. Upon arrival, we'll take an orientation stroll through town. Then you'll have the rest of the evening free to "do the spa" (with or without your swimsuit), wander along the shaded riverside promenade, or try your luck in the ornate casino.
Strenuous walking: 2–8 miles throughout the day with lots of hills, stairs, and uneven terrain. Bus: 4 ½ hours. Sleep in Baden-Baden.
Day 4: Black Forest and Beyond
We'll start our day with a scenic drive to a nearby luge course for a ride on a tiny sled with wheels (weather permitting) before our arrival at the Black Forest Open-Air Museum. Here we'll have a local guide walk us through the preserved farmhouses and mills, leaving some free time to linger in the past and order up some lunch (prepare for the wurst!). Then we'll drive up into Switzerland's snow-peaked Berner Oberland country. At the end of the deep Lauterbrunnen Valley, we'll take a thrilling gondola lift up to our hotel in clifftop Mürren, where we'll enjoy amazing views and have dinner together.
Moderate walking: 2–6 miles throughout the day with some hills and stairs. Bus: 6 hours. Sleep in Mürren.
Day 5: The Schilthorn and Hiking in the Swiss Alps
Let's begin the day with a thrilling ride up the gondola lift to the top of the Schilthorn at 10,000 feet. The rest of the day is all yours to loiter in the thin air or find your way back down to Mürren. You may want to join your guide for an optional mountain walk…or take a narrow-gauge railway up the other side of the valley to Kleine Scheidegg, near the majestic Eiger and Jungfrau peaks.
Light to strenuous walking (your choice). No bus. Sleep in Mürren.
Day 6: More of the Berner Oberland
This morning we'll witness the roaring, thundering, crashing, splashing display of nature's awesome power in Trümmelbach Falls — a series of subterranean waterfalls that plunge hundreds of feet into darkness behind the valley's cliffs. You'll have the afternoon free to take a brisk mountain walk or explore more of the Berner Oberland on your own before we regroup for dinner.
Moderate walking: 2–6 miles throughout the day with some hills and stairs. Bus: ½ hour. Sleep in Mürren.
Day 7: Scenic Drive into Bavaria
Today's drive is a good time to catch up on your trip journal, listen to music, curl up with a good book, or just sit back and enjoy views of pristine mountains and sparkling lakes. We'll stop for lunch on our way to the heart of Bavaria — home of fairy-tale castles, well-worn lederhosen, sing-along beer gardens, and oompah-hospitality. Tonight, we'll enjoy dinner together in Munich.
Light walking: 2–4 miles throughout the day on mostly level terrain. Bus: 7 hours. Sleep in Munich.
Day 8: All Day to Explore Munich
We'll spend our morning getting a behind-the-scenes look at Munich with a walking tour through its historic Old Town, learning about the "checkered" history and traditions of Bavaria. The rest of the day is yours to stroll around Germany's most livable city, soak up some culture at its world-class museums, or rent a bike to pedal the car-free paths of the English Garden and Isar River.
Moderate walking: 2–6 miles throughout the day with some hills and stairs. No bus. Sleep in Munich.
Day 9: Neuschwanstein and Salzburg
This morning we'll drive through farming country, then take an uphill hike to tour the fairy-tale fantasy of "Mad" King Ludwig: Neuschwanstein Castle. We'll hike back down to share lunch together before leaving Germany behind. Later this afternoon we'll arrive in Salzburg and settle into our quaint hotel. We'll end our day with an orientation walk through the historic center, and share a "Welcome to Austria" dinner together.
Strenuous walking: 2–8 miles throughout the day with lots of hills, stairs, and uneven terrain. Bus: 4 hours. Sleep in Salzburg.
Day 10: All Day to Soak Up Salzburg
Salzburg is a perfect town for a walking tour, and that's how we'll spend our morning: strolling under the wrought-iron signs of the Getreidegasse, going Baroque at the Salzburg Cathedral, and exploring the Mirabell Gardens. The rest of your day is free for wandering through Salzburg's magnificent gardens, hiking up the fortress hill for a panoramic view, or pedaling a rented bike into the countryside, singing "do, re, mi." Your guide will give you a run-down of local concerts you could enjoy this evening.
Moderate walking: 2–6 miles throughout the day with some hills and stairs. No bus. Sleep in Salzburg.
Day 11: Austria's Lovely Lake District
This morning we'll make our way to postcard-pretty Lake Hallstatt. It's far too cute for our bus, so after settling in to our lakeside lodging we'll enjoy a boat cruise past breathtaking villages and craggy mountain vistas. Spend a free afternoon communing with Mother Nature on foot or by boat — or hike up to one of the world's oldest salt mines before tonight's dinner together.
Light walking: 2–4 miles throughout the day on mostly level terrain. Boat: 1 hour. Bus: 2 hours. Sleep on Lake Hallstatt.
Day 12: Lessons of History
Today we'll drive toward Vienna, stopping en route to visit the thought-provoking Mauthausen concentration camp memorial, where we'll learn about the Holocaust and lessons of 1933–1945. Then we'll follow the Danube Valley to the grand finale of our tour — Vienna, once the capital of Europe's wealthiest empire. We'll cap off our day with an evening walking tour through historic Vienna before setting you free for dinner on your own.
Strenuous walking: 2–8 miles throughout the day with lots of hills, stairs, and uneven terrain. Bus: 5 hours. Sleep in Vienna.
Day 13: All Day in Classy Vienna
We'll begin our day in sophisticated Vienna with a trip to the Third Man Museum for a fascinating look at the city's post-WWII history. Then we'll explore the city's rich Habsburg heritage, including its elegant Opera House (when available). Your afternoon is free to explore another world-class museum or two, or to slow down and enjoy sipping a coffee in the city where Europe's café scene was born. Tonight we'll meet for our last dinner together, where we'll share travel memories and toast new friends. Prost!
Strenuous walking: 2–8 miles throughout the day with lots of hills, stairs, and uneven terrain. No bus. Sleep in Vienna.
Day 14: Tour Over After Breakfast
Breakfast is provided, but there are no group activities today. It's a breeze to reach Vienna's airport by train, bus or taxi. You'll have easy connections to home, or on to other points in Europe. Auf Wiedersehen!
Itinerary specifics subject to change.
Physical Demands
Our tours are physically active! It's an essential part of the Rick Steves tour experience. On our Best of Germany, Austria & Switzerland in 14 Days tour — among other things — you'll need to happily…
Carry/roll your luggage over uneven pavement (possibly several blocks) and up stairways to reach your hotel, then up several flights of stairs to reach your room.
Be on your feet, walking and standing for up to three hours, indoors and outdoors, in all weather conditions.
Sleep with street noise and no (or weak) air conditioning.
After orientation and transportation lessons, be able to navigate towns and cities on your own.
Adjust to constant Alpine weather changes that can interfere with sightseeing.
Handle steep walks and long castle stair climbs at Burg Eltz, Neuschwanstein, and Trümmelbach Falls.
Reviews
Ann
Palatine, IL
Tour: 10/01/19
Overall rating:
Wonderful! The tour had a wonderful balance of cities, country & nature- not too much of any one thing ( ie churches, museums, castles and palaces.). Long bus rides mostly had enjoyable stops at castles, open-air museum, or cute towns.
Favorite "WOW" moment
"Loved so much - hard to say - The opera-singer waitress after strudel-making in Salzburg? The dinner-opera evening performance on our own in Salzburg? Chocolate making in Interlochen? Eating there and watching the para-gliders land? Hiking Northface in Murren? Too hard to decide!"
Michael
Palatine, IL
Tour: 10/01/19
Overall rating:
Favorite "WOW" moment
"The struedel making was fun and delicious, only to be topped by the thoroughly unexpected and spectacular Aria performance by " the assistant cook/ table maid"."
Bob
Puyallup, WA
Tour: 10/01/19
Overall rating:
Our Germany, Austria, and Switzerland tour was simply wonderful. Our guide Andrea weaved the culture, history, and sights of this area into very meaningful narratives. The scenery was storybook and the residents were ready to engage in relevant conversations about their countries. We thoroughly enjoyed the journey.
Favorite "WOW" moment
"There were so many, but perhaps the gondola lift up to the Schilthorn early on a Saturday morning. We were the first group up to the top. It was quiet, peaceful, and clear. The view was like none we'd ever seen before. It actually brought tears to our eyes to view such beauty."
Karen
Canton, OH
Tour: 10/01/19
Overall rating:
This was our first Rick Steves tour and we loved it. I was a little hesitant as I usually do not enjoy group tours. We have used the RS guidebooks and really enjoy the travel philosophy. We were considering this tour because it was supposed to be active. Then my brother and his wife took a RS tour to Italy last year and loved it so much they signed up for the Germany tour this year. That convinced me. We were not disappointed.
Favorite "WOW" moment
"This is a tough decision. I think it was sitting on the balcony of our hotel in Murren sipping wine, surrounded by the alps and listening to cow bells."
Joan
Puyallup, WA
Tour: 10/01/19
Overall rating:
This tour of Germany/Austria/ Switzerland far and away exceeded our expectations! Along with our group of enthusiastic travelers, we joined our exceptional guide, Andrea on a tour that encompassed gorgeous scenery, historical places, great food and art. From the peaceful green valleys scattered with bell-laden cattle to the high snow-covered peaks of the Swiss Alps to the musical center of Saltsburg and then Munich where the events of Nazi Germany were brought to our attention, we felt blessed.
Favorite "WOW" moment
"The ride up the gondola to the Schilthorn and the stunning views all around on a freezing, sunny morning had to be among many wow moments. Our boat ride at Lake Hallstatt held more beautiful scenery. Another very worthwhile tour, was the visit to the Third Man Museum in Vienna. This passionate collector has put together an amazing museum with first-hand accounts from people he has interviewed."
Therese
Long Beach, CA
Tour: 10/01/19
Overall rating:
Our guide, Andrea, is so full of enthusiasm, energy and knowledge. She was able to make adjustments as needed in our schedule due to weather...made everything seem effortless. The whole tour group got along so well and were so friendly. Having previously toured with another company, I really enjoyed the smaller number of people on the tour. Each hotel we stayed at was in a central location of the old part of the city.
Favorite "WOW" moment
"We had a great time in Salzburg at a cooking school inside a cave where we were taught how to make apple strudel. While our creations were baking, we had lunch and then were treated to an opera performance by the young woman who was assisting the chef. You never would have guessed that she's an opera student! It was amazing! Okay, there is another as well (actually, it's hard to pick!)...being in the Alps was wonderful! Murren is beautiful. LOVED taking the gondola to the top of Schilthorn."
Rhonda
Melbourne, FL
Tour: 09/28/19
Overall rating:
I had a wonderful time!
Favorite "WOW" moment
"I loved Baden, Baden Germany!"
Deborah
Fallbrook, CA
Tour: 09/28/19
Overall rating:
This was the first tour I have taken. Having a special tour guide makes all the difference in the world. The tour was a dream like fast pace event with great locations and special touches that we would not have seen and on our typical trips which is air B and B's, trains, buses and selected tours. It was nice to take a break and let someone else figure out the details.
Favorite "WOW" moment
"My favorite wow moment from the tour was Switzerland and the sheer beauty of the Alps. Staying in the charming town of Mürren and hiking the alps on a PICTURE PERFECT day! I loved the cows with the bells and the locals were friendly."
Judee
Marysville, WA
Tour: 09/28/19
Overall rating:
My first tour was a 10, second tour 7.5, this tour 5. There were things that we had to pay for that I felt should have been included. The tour guide said we can take our time but then it was rush rush rush. There were 3 people who fell on this trip. He was checked out and not very engaged with us as a group. Didn't speak loud enough and then would mumble. It so happened that a couple both fell at different times, Hans commented that it must run in the family when the second one tripped and fell.
Favorite "WOW" moment
"Swiss Alps breath taking"
Steve
Fallbrook, CA
Tour: 09/28/19
Overall rating:
It was great!
Favorite "WOW" moment
"The scenery in Switzerland."
Jill
Napa, CA
Tour: 09/28/19
Overall rating:
The tour was excellent. Hans was very knowledgeable and experienced. He handled some challenging situations and personalities with grace and charm. Part of the reason for selecting the tour was the opportunity to travel with my friends. That was an important and enjoyable aspect of the tour for me.
Favorite "WOW" moment
"Switzerland was incredibly beautiful and I've been to Switzerland many times.We were extremely lucky to have beautiful weather. The one negative was that we took the wrong route on the "short" hike down the mountain. I wish I would have had a map or more instruction on which trail to take. The hike down the road was dangerous and more difficult than it should have been."
Emily
North Bend, OR
Tour: 09/24/19
Overall rating:
I loved the tour overall but couldn't help but feel that reality is being ignored in the designing of some aspects of our experience. Some hotels didn't have room for Rick's idea of a "small group" in the lobby or breakfast areas, and tours in places like the Black Forest Open Air Museum and the rooms of the Vienna Treasury were crowded enough (with us) that it was difficult to see and I felt bad for other visitors we crowded out. Baden Baden was 'eh' and Halsatt is no longer nice to visit.
Favorite "WOW" moment
"We had exceptional weather in the Swiss Alps and I can't imagine more scenic views than we saw on the North Face Trail!"
Matthew
Bainbridge Island, WA
Tour: 09/24/19
Overall rating:
Being that this was our honeymoon, we wanted to do something special that we'd look back upon and cherish. Neither of us had ever traveled to Europe, so this trip was meant to be an adventure into the unknown. Mission accomplished! Seeing as much as we did in the two weeks we had was the perfect balance of organization and independence. The weather was even better than forecasted too!
Favorite "WOW" moment
"So many moments to choose from, but I'd have to say anytime I realized I was doing something special that people had done for hundred (if not thousands) of years before me. Whether drinking a beer at Hofbräuhaus in München or Stegl in Salzburg or listening to the cow bells ringing in the distance from Mürren or doing a spa in Baden-Baden or climbing through the salt mines of Hallstatt... one has to appreciate the tradition of these places. So much to experience!"
Weldon
Childress, TX
Tour: 09/21/19
Overall rating:
Favorite "WOW" moment
"Switzerland"
Mark
Hermiston, OR
Tour: 09/17/19
Overall rating:
All very interesting and enjoyable. All details were covered. Accommodations and transportation were top notch. Enjoyed the many opportunities to do your own thing outside of the group.
Favorite "WOW" moment
"The Swiss Alps were by far my most memorable thing."
James
Rapid City, SD
Tour: 09/10/19
Overall rating:
Our guide, Daniela and our driver, gave us the cultural and scenic tour of Alps promised by Rick Steve's Travel. By the end of the tour we were immersed the beauty of three countries and their way of life. Without the Rick Steves Travel organization we could have had the variety of experiences that our tour gave us.
Favorite "WOW" moment
"The biggest surprise and most fun for me was the luge ride. I would like to have taken a second, even a third ride down the mountain."
Beverley
Pittsburg, TX
Tour: 09/07/19
Overall rating:
I am very impressed with all Rick Steve's tours. This one was so wonderful because of the bonding with the group and the tour guide was terrific. I picked this tour for the extra day in Switzerland and I'm so glad we did because we had perfect weather and was able to do all the outdoor hiking and go up to top of Schlitrhorn which was a WOW experience. Every hotel wonderful, food great. Itinerary perfect.
Favorite "WOW" moment
"It is impossible to have a favorite for there were "wow"s" daily, From the Alps in Switzerland up the Schlitrhorn, Breathtaking churches, castles. Being inside the Frauline Maria's convent and the nuns were singing on The Sound of Music bicycle tour. Th bike riding in Munich through the park and picnic in the bergarten. The beauty of Lake Hallstatt and the resort we stayed at. The city walking tours were all excellent. Our final meal that was a part of The Melk cellars was just terrific."
Richard
Pittsburg, TX
Tour: 09/07/19
Overall rating:
This is my first Rick Steve's tour and I have been on quite a few with other tour groups and on our own. I really appreciated the professionalism of all involved. The itinerary was perfect and we had super great tour members and tour director. Everyone got along and not a grump in the bunch!
Favorite "WOW" moment
"Trummelback Falls was spectacular as well as the hiking we did in the Alps. In Munich the bicycle trip through Munich and the bicycle "Sound of Music tour" in Salzburg."
Caroline
Seattle, WA
Tour: 08/24/19
Overall rating:
This tour was far more than I expected w/ the level of detail, beautiful sites, excellent local tour guides & fabulous local entertainers on our last nights. Rolinka is such a good leader & kept everyone on time & brought out the best in the sites. I am a single woman joining mostly couples but never felt out of place. I am so thrilled to have been in these beautiful countries w/ friendly, courteous locals & to have finally visited my maternal ancestors' countries, Austria and Germany.
Favorite "WOW" moment
"Taking the train from Frankfurt to Trier w/ 3 generations of bike riders from Israel & viewing the beautiful Moselle River w/ its winding path past quaint villages. The Disney castle & walking back down to have a "special" lunch Rolinka purchased for us, sandwiches & pastries, to eat by the serene lake. Being in Salzburg & having the apple strudel and coffee where Mozart ate w/ his father, & attending the opera performance in the beautiful room w/ chandeliers & chatting w/ group members."
When To Go & Weather
Any time between May and October is a good time to take a Best of Germany, Austria & Switzerland tour. However, the months of May, June, September, and October are best for combining the convenience of peak season with generally good weather and lighter crowds. Summer, while the most crowded, has the best weather.

Germany / Munich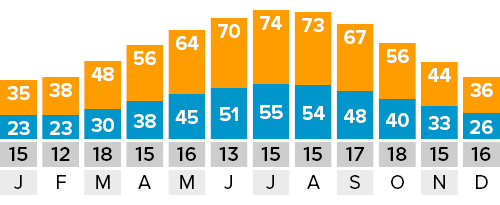 ---
Switzerland / Bern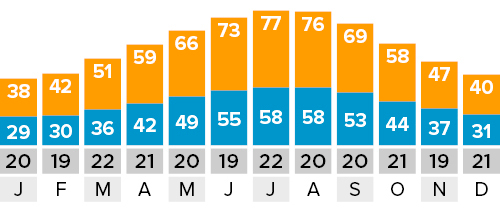 ---
Austria / Vienna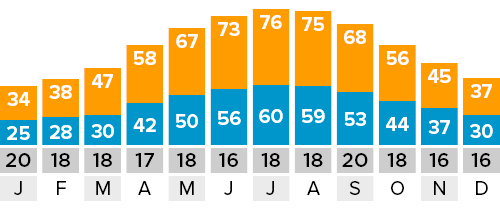 Hotels & Flights
Tour Hotels
In case you wish to book pre- or post-tour hotel accommodations, the contact information for the tour's first and last hotels is included in your tour confirmation email, as well as in the Itinerary section of your tour account. One month prior to the tour departure, you'll find the directions to your first tour hotel and a complete list of hotels where we'll be staying in the Documents section of your tour account.
Flights
Our tours don't include airfare, so your flight arrangements are completely up to you.
Most tour members arrange to fly into Frankfurt am Main (FRA) and out of Vienna (VIE) — choose "multicity" on flight-booking websites. The Frankfurt airport will have the most direct flights and requires a three to four-hour train ride to Trier, where the tour begins. Alternatively, you can fly into the Luxembourg Airport (LUX); a train from Luxembourg's central station to Trier is about one hour. Booking round-trip to one city will require a connecting flight, train trip, or additional overnight stay in Europe.
We suggest arriving a day or two before your tour begins to allow ample time to get over jet lag and be well-rested for the first few days of your tour. For more information about transportation options for getting to and from your tour, see your Rick Steves tour guidebook.