Ghent

Belgian Chocolate Tasting

Bruges Canals

Delft

Spring Flowers in Holland

Amsterdam's Gabled Houses

Rijksmuseum in Amsterdam

Pickled Herring!
Tour Questions? See our FAQ | Call 425-608-4217
Heart of Belgium & Holland in 11 Days Tour
The cities of the Low Countries are a delight to experience. Beginning in the medieval masterpiece of Ghent, your Rick Steves guide will take you on story-filled walks through the hearts of Bruges, Delft, and Amsterdam. You'll also visit a traditional Belgian brewery, thought-provoking Flanders Fields, a high-tech sea barrier project, and the world's largest flower auction — ending in Amsterdam with the spectacular Rijksmuseum. Join us for the Heart of Belgium & Holland in 11 Days!
Dates & Prices
What's Included
You'll get at least 18 group sightseeing events — at no extra cost!
Here's what you'll see and do on our Belgium & Holland tour:
Ghent canal cruise
Ghent walking tour
St. Bavo's Cathedral
Ghent Museum of Industry
Flanders Fields WWI sites
Bruges walking tour
Bruges Memling Museum
Chocolate demonstration and tasting
Bruges Museum Pass
Belgian brewery tour and tasting
Deltaworks and Maeslant sea barrier
Delft walking tour
Delft Old and New Churches
Delftware demonstration
Aalsmeer Flower Auction
Historic Amsterdam tour
Anne Frank House
Rijksmuseum
Plus you'll get all this, too.
A small, friendly group of 24–28 people — half the size of most tour groups
Full-time services of a professional Rick Steves guide and local experts who will make the fascinating history, art, and culture of Belgium and Holland come alive for you
All group transportation from Ghent to Amsterdam
10 nights' accommodations in memorable, centrally located hotels
All breakfasts and half your dinners
All tips for guides and driver
A tour kit including a guidebook (when available) and a moneybelt
Guaranteed tour price, locked in the moment you make your deposit
Tour alum discount of $50 for each tour you've taken prior to 2022
50% discount on a consulting appointment with our in-house experts to assist with your pre- or post-tour travel plans
Flexibility should you need to transfer or cancel your tour
Fine print: You are responsible for the cost of your drinks and free-time sightseeing. See our Tour Conditions for important details regarding everything listed above.
Group sightseeing events subject to change.
Itinerary
Day 1: Welcome to Belgium
Our adventure begins in medieval Ghent. We'll gather at our hotel at 4 p.m. for an introduction meeting, then hop aboard a fun and informative canal cruise through the city. Our evening ends with a traditional Belgian dinner together.
Light walking: 2–4 miles throughout the day on mostly level terrain. Boat: 1 hour. No bus. Sleep in Ghent.
Day 2: The Medieval Masterpiece of Ghent
This morning we'll meet with a local expert for a walking tour of the historic center of Ghent. Together we'll visit soaring St. Bavo's Cathedral, home to Van Eyck's sublime altarpiece The Adoration of the Mystic Lamb, which was stolen and hidden by the Nazis during World War II. We'll also visit the city's newly restored Museum of Industry. Housed in an old cotton mill, this interactive museum weaves through Ghent's history as an international powerhouse in the textile industry. Your afternoon and evening are free for more exploring at your leisure.
Strenuous walking: 2–8 miles throughout the day with lots of hills, stairs, and uneven terrain. No bus. Sleep in Ghent.
Day 3: Flanders Fields and Beautiful Bruges
Today we'll meet our driver and board our bus for a drive to the WWI battlefields around Ypres. Half a million soldiers were killed here, making it one of the deadliest — and today the most hallowed — stretches of land along the Western Front. With the aid of a local expert, we'll tour the American Cemetery, visit a thought-provoking museum, and see "the fields where poppies grow." After lunch together, we're off to Bruges and our lovely canal-laced and ivy-draped hotel. After check-in and some time to relax, we'll regroup for an orientation walk and dinner together.
Moderate walking: 2–6 miles throughout the day with some hills and stairs. Bus: 5 hours. Sleep in Bruges.
Day 4: Gothic Bruges
We'll meet our savvy local guide who will introduce us to the pedestrian-friendly streets and alleyways of Gothic Bruges, including a tour of the Memling Museum — showcasing several of Hans Memling's masterpieces, all housed within one of Europe's oldest medieval hospitals. Our afternoon continues with a visit to a Bruges chocolatier, where we'll learn about the artistry and traditions of Belgium's most mouth-watering export. After a free afternoon, we'll regroup for a brewery tour to learn about what makes Belgian beer famous around the globe — and enjoy a taste ourselves. The remainder of the evening is free to find the perfect Belgian dinner.
Strenuous walking: 2–8 miles throughout the day with lots of hills, stairs, and uneven terrain. No bus. Sleep in Bruges.
Day 5: Free Day in Bruges
Today is yours to explore Bruges. Armed with your Bruges Museum Pass, you'll have free entry to any four museums — including the masterpiece-packed Groeninge Museum. You may decide to go on a culinary scavenger hunt, tasting your way through a myriad of Belgian specialties, or you can hop on a bike and take a wonderful hour-long ride along a tree-lined canal to the nearby small town of Damme. The choices today are endless.
Light to strenuous walking (your choice). No bus. Sleep in Bruges.
Day 6: Challenging the Sea
Today we'll discover how a country stays dry when nearly half of its land is below sea level. Over centuries, the Dutch created an immense system of dams, barriers, and dikes for protection from the North Sea — the Deltaworks. We'll explore these feats of modern engineering, culminating with a tour of one of earth's largest moving structures — the Maeslant storm surge barrier — and a better appreciation of the fragility of the Low Countries. We'll continue on to the traditional Dutch town of Delft for an orientation walk and dinner together.
Light walking: 2–4 miles throughout the day on mostly level terrain. Bus: 5 hours. Sleep in Delft.
Day 7: Delectable Delft
This morning an in-depth walking tour with a local will give us a personal introduction to Vermeer's hometown, including the massive, Gothic New Church, where generations of the ruling House of Orange are buried and revered. We'll also visit a workshop to discover the qualities that make Delftware so dear. The rest of your day is free to explore the many other charms of Delft or to take a short tram ride to The Hague — where you can view paintings by Rembrandt, Vermeer, and Rubens at the Mauritshuis — or travel back to an 1880 seaside at the Panorama Mesdag.
Light walking: 2–4 miles throughout the day on mostly level terrain. No bus. Sleep in Delft.
Day 8: Tulips, Countryside, and Bustling Amsterdam
We'll begin our day in Europe's biggest building — filled with acres of flowers — learning about the worldwide distribution of beauty that begins each day at the Aalsmeer Flower Auction. Then we'll stop for lunch on our way into Amsterdam. Upon arrival, we'll dodge bicycles and hipsters on our neighborhood orientation walk, as we adjust to the pace of this progressive world capital. We'll end our day with a traditional rijsttafel dinner together.
Strenuous walking: 2–8 miles throughout the day with lots of hills, stairs, and uneven terrain. Bus: 3 hours. Sleep in Amsterdam.
Day 9: Vibrant and Historic Amsterdam
This morning, we'll get chummy with Amsterdam's gabled houses, bridges, and canals while learning why the Golden Age glimmered so brightly here. We'll take a historic tour through the heart of the city, stopping to visit the Anne Frank House for a thought-provoking look at the hideaway of Anne and her family during the Nazi occupation of the Netherlands. The rest of the day is yours to tackle any number of Amsterdam's wonderful museums.
Moderate walking: 2–6 miles throughout the day with some hills and stairs. No bus. Sleep in Amsterdam.
Day 10: Amsterdam's Art
We'll start the day with a thrill: getting up-close and personal with the Dutch masters on our tour of Amsterdam's remarkable Rijksmuseum. You can continue your encounter with artistic genius at the nearby Van Gogh Museum* — home to 200 of Vincent's works — or enjoy the nearby charm of Vondelpark. This evening we'll meet for our farewell dinner, where we'll share memories and toast new friends. Proost!
Moderate walking: 2–6 miles throughout the day with some hills and stairs. No bus. Sleep in Amsterdam.
Day 11: Tour Over After Breakfast
Breakfast is provided, but there are no group activities today. Amsterdam's Schiphol Airport is an easy bus ride away. Your guide will help you with any post-tour planning, leaving you well prepared for the road ahead. Tot ziens!
*Reserve a time before you leave the US
Itinerary specifics subject to change.
Physical Demands
Our tours are physically active! It's an essential part of the Rick Steves tour experience. On our Heart of Belgium & Holland in 11 Days tour — among other things — you'll need to happily…
Carry/roll your luggage over uneven pavement (possibly several blocks), on and off public transportation, and up stairways to reach your hotel.
Sleep comfortably in historic canal houses with several flights of steep, narrow staircases to reach your room, with street noise and no (or weak) air conditioning.
Be on your feet, walking and standing for up to three hours, indoors and outdoors, in all weather conditions.
After orientation and transportation lessons, be able to navigate towns and cities on your own.
Reviews
Robyn
Sacramento, CA
Tour: 09/18/19
Overall rating:
Negative comments: Did not like Delft hotel: terrible beds, elevator too small, got 8 insects bites in the 2 night stay. Large bites, not mosquito bites. Yes I showed hotel staff two of the large bites on my knee. The rooms at the Amsterdam hotel are just bleak inside. The audio for tour did not work for the first few days. Positive comments: Nikko our 1st guide that replaced Ellen was fabulous. He is very good!!! He noticed people in need.
Favorite "WOW" moment
"Tours with local guides"
William
Grand Haven, MI
Tour: 09/18/19
Overall rating:
Overall, my wife & I had a fun time, met a lot of nice people, ate some delicious food & chocolate, drank some fabulous beer (Belgian) & saw some incredible sights/architecture. The canal rides, museums, churches were all great. We did have weak audio devices for the first few days. Only the front 6-8 people (of 25) could hear unless the speaker held their audio box above his/her shoulder or walked backwards. That was fixed on Fri/Sat with new devices.
Favorite "WOW" moment
"No real "wow" moment. Many great experiences though!"
Cynthia
Lewisville, TX
Tour: 09/18/19
Overall rating:
This was my second RS tour and by far the best. The guides were wonderful (more on that later). The sites chosen to see were great. The people in the tour group were a joy to be with. Rick Steves tours seem to attract very gregarious type of people who generally manage to get along which is important to me as a single woman traveling. I liked not spending so much time on the bus and the combination of guided tours and free time. Also the locals themselves helped to make this an enjoyable trip.
Favorite "WOW" moment
"I love art work so seeing so many museums and churches. Van Gogh, Van Eyek, Rembrandt, Vermeer and even a Micheal Angelo Sculpture was a wonderful experience and one of the main reasons I choose this tour. But actually the big Wow moment surprised me and came with viewing the Maeslant storm surge barrier. An incredible feat of ingenuity. That's what I like about RS tours, the diverse opportunities to learn about the people and culture of a country."
Gregory
Milwaukee, WI
Tour: 09/18/19
Overall rating:
I loved it all and learned so much! Rich culture, history, food and beer! The four cities that we stayed in were all charming and full of character.
Favorite "WOW" moment
"Touring the storm surge barrier in Zeeland."
Elizabeth
Milwaukee, WI
Tour: 09/18/19
Overall rating:
As always, a perfect balance of history, art, architecture, culture, and beauty. I love the variety of sites visited and the local guides are phenomenal. I also liked when Nico would talk on the bus and give us a personal perspective of his country and politics and modern culture. Good food but not quite as good as food on the Italy or France tours (hard to compete with those!)
Favorite "WOW" moment
"Visiting the storm surge barrier. It was completely unique and different from anything I've ever seen in Europe or in the US. It's absolutely a modern marvel and we were able to get so close to it! I'm still in awe of the engineering."
Becky
Molalla, OR
Tour: 09/18/19
Overall rating:
Our tour was wonderful, we so enjoyed our travels and sites we saw. We felt cared for, our hotels comfortable and close to the areas we visited and the "on your own" visits. We treasured our guides, so helpful and concerned for our safety. I especially want to thank Johnny from Ypres, he led us thru the difficult Flanders Field cemeteries and trench area with such compassion and tenderness.
Favorite "WOW" moment
"My WOW moments, The Rijksmuseum, The Adoration of the Mystic Lamb @ St. Bavo's in Ghent. The Maeslant Storm Surge Barrier and the sobering visit to Flanders Field. To walk a few steps in the WW1 trenches was something to ponder, to give honor to those who lost their lives, or limbs on behalf of their country was sobering. Of course the same can be said about the Anne Frank house, I was her age when I first read her diary, she was about my Mom's age during WW2, so I could really identify."
Carlotta
Greenwood, IN
Tour: 09/04/19
Overall rating:
Very good
Favorite "WOW" moment
"The church of the Holy Blood and Flanders Battlefield"
Jack
Fair Oaks, CA
Tour: 09/04/19
Overall rating:
Excellent tour. We covered a lot of territory and saw things we would never see on our own. History runs deep in this area. I was especially interested in the architecture with many of the buildings dating to the late 1500's and 1600's. Some of the history was dark such as WW I and I but important history nevertheless. The places we visited included charming small towns as well as the hustle and bustle of Amsterdam (the home of 600,00 bicycles- look before crossing bike lanes).
Favorite "WOW" moment
"The Anne Frank museum in Amsterdam we very moving. It brought the atrocities of the holocaust down to a personal level. The "wow" for me was the overview of Hitler's moves leading up to the war and deportation because they were much like what is happening now in America."
Robin
Pine Knoll Shores, NC
Tour: 09/04/19
Overall rating:
It was a wonderful trip with interesting sites, beautiful cities and towns, and a great chance to learn more about the history and culture of Belgium and The Netherlands. The people we met in each town were friendly and helpful, and most spoke English and were happy to share information about their towns. I enjoyed meeting the people on the tour, and our guide was helpful, smart, and knowledgeable. The cooler weather was delightful, the food was good, and the hotels were comfortable.
Favorite "WOW" moment
"There were many, but I think the Anne Frank House was definitely a "wow" moment. Our visit to the Rijks Museum was also amazing, especially because we had a wonderful guide who made the works really come alive. Seeing all the WWI cemeteries and the battlefields was sobering and left an indelible impression on me."
Laura
Quincy, MA
Tour: 09/04/19
Overall rating:
Tim was a wonderful guide, filled with knowledge, humor and kindness. When our energy was low, Tim always gave us a sugary treat; always delicious! Ghent, Bruges and Delft were quaint and beautiful. The cemeteries visited were so interesting.
Favorite "WOW" moment
"When I took a bike ride from Bruges to Damme by myself. Rode along the canal, passing horses, cows, pretty homes and a windmill. Stopped to see Damme and spoke to locals. So beautiful and interesting."
Joan
Olympia, WA
Tour: 09/04/19
Overall rating:
The tour was well organized, Tim was great! We saw all the main sights as a group with good orientation to the cities so we were able to explore comfortably in our own.
Favorite "WOW" moment
"Alsmeer flower market was unbelievable! So busy, like a give of bees, yet everyone knew where they were going."
Jean
Baltimore, MD
Tour: 09/04/19
Overall rating:
The tour was making. All the spots that we visited were great. Dodging bicycles added to the fun. Brugge was amazing. I am definitely going back there again.
Favorite "WOW" moment
"Anne Frank's Museum."
Betsy
Albuquerque, NM
Tour: 09/04/19
Overall rating:
The tour was great! I thought it was well organized, with a nice balance between group activity and time on our own. I was well aware that we were seeing things I would not have pursued on my own, like the cemeteries in Belgium and the water safety presentation in Holland, both so interesting and enriching. The cities included on the tour were all interesting and left me wanting more. We were also lucky to have a really good group and were happy to get to know folks from all over the U.S.
Favorite "WOW" moment
"I cannot pick one moment. I experienced many wow moments at the various museums, seeing paintings I knew of but had never seen in person. It was an unexpected pleasure to spot "The Goldfinch" the Mauritshuis Museum The Hague, having read and loved the book. Also, the Anne Frank museum tour was incredibly impactful."
Charles
Albuquerque, NM
Tour: 09/04/19
Overall rating:
I truly enjoyed this tour. My wife and I arrived in Brussels two days before the tour began and enjoyed time there as well as with the tour in Ghent, Bruges, Delft and Amsterdam. All cities were different, with unique and interesting history, architecture, museums, and food. Almost every day we viewed fabulous great paintings from many periods in history. I was especially impressed with how the Dutch have developed progressive solutions to address economic and social needs.
Favorite "WOW" moment
"There were many "wow" moments but one in particular was the Mauritshuis museum in The Hague during a free afternoon in Delft. The museum had many beautiful and famous paintings. Some of my favorites were Vermeer's "The Girl with the Pearl Earring" & "View of Delft", Rembrandt's "The Anatomy Lesson of Dr. Nicolaes Tulp" & "Self Portrait", Rubens' "Old Woman and Boy with Candles", Fabritius' "The Goldfinch and Van Ruysdael's sweeping Dutch landscapes. The museum was compact but not crowded."
Terry
Pine Knoll Shores, NC
Tour: 09/04/19
Overall rating:
Rick Steves and company know how to design a tour. The smaller towns that anchored this tour made all the difference to me. From the start in Ghent to Brugge and then to Delft cemented the uniqueness of this tour. Amsterdam is a tour unto itself. This was our 6th guided tour and we have built 3 others using Rick Steves guidebooks.
Favorite "WOW" moment
"I really hate this question because there never is just one. The sober experience of the Anne Frank house to be followed by the Dutch Resistance museum. We cannot allow this to happen again."
Ronald
Corvallis, OR
Tour: 09/04/19
Overall rating:
The tour was another excellent experience in travel with a great guide, hotels, sights, bus driver and food. We have always enjoyed our RS tours and look forward to meeting the interesting tour members to interact with as we learn about the history, culture, transportation systems and architecture of the countries. We also were able to add pre-tour experiences. in Brussels and Antwerp
Favorite "WOW" moment
"There were a number of Wow moments including the Bell Towers in Ghent and Bruges, the Ann Frank House, Rijksmuseum, and Aalsmeer flower market. It was very impressive to learn about the water control systems and technology the Netherlands has invested in to deal with keeping their land protected and managed."
Lynn
Fresno, CA
Tour: 09/04/19
Overall rating:
Wonderful trip!! I think the variety of places we visited was special, and characteristic of a RS tour. From big cities to beautiful country sides, world class art museums to the amazing storm surge barrier as well as the trip to Flanders Field, all gave a special experience of Belgium and Holland.
Favorite "WOW" moment
"Can't do just one! Flanders Field, Maeslant storm surge barrier, Mauritshuis Museum."
Soozi
Corvallis, OR
Tour: 09/04/19
Overall rating:
I tour in chocolate country could not have been more fun. Each city had unique skylines and warm welcoming people. In the solemnness of Flanders field and cemeteries it was interesting to see special art dedicated to keeping memories. I had traveled to this area 49 years ago and it was interesting to observe the changes and new memories with the fantastic flower market, cannel rides and special food.
Favorite "WOW" moment
"The tour of the water control area to protect the lowlands from the floods helped me have hope in this time of changing climate. Visiting with the young college students who were local guides brought cleaver perspective to our tour. The unique newer stained glass was encouraging to see the are continuing reverence for the houses of worship in these changing times along with all the local guide information made the tour memorable."
Charles
Louisville, KY
Tour: 09/04/19
Overall rating:
Really enjoyed it as always. Very well organized and good mix of free time. Good guides also and good hotels.
Favorite "WOW" moment
"Probably the Flanders Field day trips to cemeteries and museum."
David
West Henrietta, NY
Tour: 08/28/19
Overall rating:
This tour was different from our other two tours (Paris in 7 and VFR) in that it included more than just history and art. It provided insights into these two very special countries through their industries, challenges of their geography and their innovative technology. Quite unique.
Favorite "WOW" moment
"It's very difficult to pick one on this tour. Depending on the category that you would rate them, there is a lot to choose from: Emotional: Anne Frank House Technology: Maeslant Barrier History: Castle of the Counts Art: So Much! However, in our free time we pre-purchased tickets to the Van Gogh Museum. It was so unique to have a museum dedicated to one artist and his struggle to achieve his own powerful artistic insight into his world."
Jack
Evanston, IL
Tour: 08/28/19
Overall rating:
The places we visited, the experiences we had, and the leadership (tour leader and individual daily guides) were outstanding.The variety of modes for mobility were easily accessible and worked quite will. (Look out for bikes in Amsterdam!)The amount of free time was perfect.
Favorite "WOW" moment
"Hard to say because there were so many. Probably the whole explanation of how the Netherlands keeps back the North Sea-the Deltaworks and the Maeslant storm barrier."
Kathy
Green Valley, AZ
Tour: 08/28/19
Overall rating:
A Wonderfully well-planned trip. Ellen, our guide, couldn't have been better. All of the planned activities were well done. We really liked that on many days we had the entire afternoon and evening to explore on our own. And Ellen made sure first that we knew how to get around the city. The tour was well-paced; not too much, but plenty of quality things planned. We enjoyed learning about Belgium and the Netherlands, neither of which we had been to before.
Favorite "WOW" moment
"The two best moments were 1)the giant flower exporting market--the Aalsmeer Flower Auction. It was incredible to learn that so much of the world's exporting of flowers happens there, in the gargantuan warehouse. and 2) learning about and seeing the Maeslant storm surge Barrier."
Anne
Bellingham, WA
Tour: 08/28/19
Overall rating:
Great trip !! Variety of sights and activities.. enough free time to explore on our own Tour guides were friendly and knowledgeable. Hotels were in good locations.. easy to walk to sights.
Favorite "WOW" moment
"Seeing the town of Ghent with its different architecture and canals for the first time"
Carolyn
Halesite, NY
Tour: 08/28/19
Overall rating:
Overall experience was very good. The choices of cities that were selected were excellent.
Favorite "WOW" moment
"Wow moment was the beautiful towns of Ghent and Bruge. The Anne Frank House was special, too."
Gary
Rumney, NH
Tour: 08/28/19
Overall rating:
This was our 2nd RS tour and its was awesome. Our tour guide, Ellen, was excellent and was well prepared for all of our adventures. I liked the fact that we had time in each city to explore at our own pace. Also the little side stops for lunch, like the town of Zierikzee, as we headed to our new cities were very cool. It was hard to chose between Ghent, Bruges, Delft, and Amsterdam, which was our favorite. They all had their own interesting characteristics.
Favorite "WOW" moment
"I would have to say the Maeslant storm surge barrier and our guide, Jeroen. This is a remarkable feat of engineering that protects the city of Rotterdam and the low areas of the Netherlands from flooding due to storm surges in the North Sea. Besides and excellent video on the barrier and an indoor presentation from Jeroen, we were able to go out and get an up close look at the enormous barrier. Also, the Ghent Altarpiece is fantastic, as well as the restoration efforts at the fine arts museum."
Catherine
Hernando, MS
Tour: 08/28/19
Overall rating:
A great trip with a marvelous guide and fun traveling companions. I'm picky with "Outstanding" because not every tour is but that is not a reflection of our guide, Ellen. Some tours have magic[INVALID]when the planets align and everything is special. And some tours are very good and I'm so happy I went. The Belgium/Holland tour falls into the latter category.
Favorite "WOW" moment
"Ghent was my "wow" place. The town itself was just the right size and not too crowded. The canals were stunning during the day and especially at night. I wasn't prepared for how beautiful the canals are with the lights and moonlight in the evening. I will go back to Ghent. I was also surprised how moving the Flanders Fields day was. A beautiful but tragic place that is so respectfully preserved."
Catherine
Sevierville, TN
Tour: 08/21/19
Overall rating:
The guides were excellent. Loved having the whisper available throughout the days. Dinners were excellent. Rooms very satisfactory - appreciated the AC on the hot nights. ONLY NEGATIVE The advertised bus trip to the airport the kiosk for ticket at the bus stop not working. Hotel worker told me against the law for the bus to take cash. I ended up taking a taxi to the airport by myself. The sheet for ride sharing was put up too late in the evening and without room numbers to connect with people.
Favorite "WOW" moment
"Several The flower auction, Anne Frank house, Ghent altarpiece, Bruges Madonna, Flanders Field, the trench remains, Delft harbor barrier"
Karen
Piney Flats, TN
Tour: 08/21/19
Overall rating:
Really enjoyed the towns and the scenery. but our guide left much to be desired. He talked like he was from the 19th century. We had to ignite and extinguish our devices. I just turn mine on and off. and we had to ingress and egress? really?? He was very condescending and felt like he was trying to prove something. He went on and on with history but most importantly he NEVER kept us abreast of how long we would be on the bus, to our next break? If we needed a jacket etc. everything was a suprise
Favorite "WOW" moment
"loved Ghent and the Industrial Museum for textiles!!!"
Elka
Portland, OR
Tour: 07/10/19
Overall rating:
Another great experience on a RS tour. Learned a lot, saw a lot, ate a lot. Nina was a well-organized, cheerful, humorous, and informative tour guide. We especially like cities, so it was a good fit with our interests. And we had a good group of travel companions.
Favorite "WOW" moment
"The day at WWI sites with our guide Kristin, the deltaworks (not just a "guy" day!), Ghent Museum of Industry with guide Mieke, and the Rijksmuseum Amsterdam. Some other "wow" moments were on our own. The Tropical Museum in Amsterdam provided an excellently-curated history of Holland's colonial period in a beautiful building, and Escher in the Palace in Hague was a knockout."
James
Bellevue, WA
Tour: 07/10/19
Overall rating:
It was my first RSE tour and it was OUTSTANDING!!!! It felt very personal and that I mattered as an individual even though we were a group of 27. SO MUCH FUN and it removed the stress from my first trip in Europe.
Favorite "WOW" moment
"SO MANY to choose from...if I have to pick one: simple being in three Medieval towns! Ghent's first commercial peak was in the 1100s!! I would have never planned a trip to Europe that included Ghent, Bruges, or Delft and I am SO THANKFUL that they were my first exposure. So inspiring and thought provoking."
Jeffery
Seattle, WA
Tour: 07/10/19
Overall rating:
The Belgium and Holland tour is highly recommended. It is a perfect trip for travelers that want to experience several smaller cities in a country and then get a taste of a larger urban area like Amsterdam. Nina was a fantastic tour guide, our travel group evolved into a collection of new friends that truly enjoyed each others company. The local food, history, and world class art make for a fantastic experience.
Favorite "WOW" moment
"There were a lot of "wow" moments! Walking around the corner in the Mauritshuis museum and there is Vermeer's The Girl With The Pearl Earring. Standing in front of Rembrant's The Anatomy Lesson of Dr. Tulp (during the tour I was reading The Anatomy Lesson by Nina Siegal). The Flanders Fields too!"
When To Go & Weather
Any time between April and September is a good time to take a Heart of Belgium & Holland tour. However, the months of April, May, and September are best for offering generally good weather, lighter crowds, and the full range of tourist fun. April and early May are also the best time to catch flowers in bloom.

Belgium / Brussels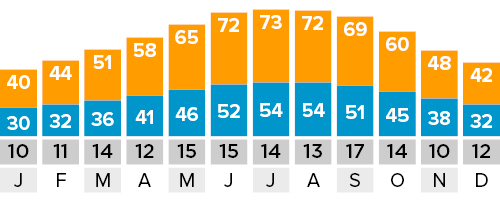 ---
Holland / Amsterdam
Hotels & Flights
Tour Hotels
In case you wish to book pre- or post-tour hotel accommodations, the contact information for the tour's first and last hotels is included in your tour confirmation email, as well as in the Itinerary section of your tour account. One month prior to the tour departure, you'll find the directions to your first tour hotel and a complete list of hotels where we'll be staying in the Documents section of your tour account.
Flights
Our tours don't include airfare, so your flight arrangements are completely up to you.
Most tour members arrange to fly into Brussels (BRU) and out of Amsterdam (AMS) — choose "multicity" on flight-booking websites. It's a 1 to 1½ -hour train ride from the Brussels airport to Ghent (where the tour begins). Booking round-trip to one city will require a connecting flight, train trip, or additional overnight stay in Europe.
We suggest arriving a day or two before your tour begins to allow ample time to get over jet lag and be well-rested for the first few days of your tour. For more information about transportation options for getting to and from your tour, see your Rick Steves guidebook.