The Colosseum

Roman Forum

Pantheon

Trastevere

Vatican Museums

St. Peter's Basilica
Tour Questions? See our FAQ | Call 425-608-4217
Best of Rome in 7 Days Tour
Our Rome tour serves up Europe's most intoxicating brew of dazzling art, earth-shaking history, and city life with style. On this Rome vacation, your tour guide will resurrect the grandeur of ancient Rome's Colosseum, Forum, Pantheon, and nearby Ostia Antica. From the Renaissance and Baroque eras, you'll marvel at St. Peter's Basilica, the Vatican Museums, the Sistine Chapel, and the Borghese Gallery. You'll also enjoy today's Rome, with neighborhood walking tours, memorable restaurants, and time to explore on your own. Join us for the Best of Rome in 7 Days!
Dates & Prices
What's Included
You'll get at least 16 group sightseeing events — at no extra cost!
Here's what you'll see and do on our Best of Rome tour:
Pantheon
Evening walk through Rome including Trevi Fountain
Rome panoramic bus tour
Catacombs of San Sebastiano
7-day Metro Pass
Ancient Rome walking tour
Roman Forum
Colosseum
San Clemente Church
Rome neighborhood walking tour
Trastevere food tour
Day trip to Ostia Antica
Vatican Museums
Sistine Chapel
St. Peter's Basilica
Borghese Gallery…and more
Plus you'll get all this, too.
A small, friendly group of 24–28 people — half the size of most tour groups
Full-time services of a professional Rick Steves guide and local experts who will make the fascinating history, art, and culture of Rome come alive for you
All group transportation during the week in and around Rome
6 nights' accommodations in a memorable, centrally located hotel
All breakfasts and half your dinners
All tips for guides and driver
A tour kit including a guidebook (when available) and a moneybelt
Guaranteed tour price, locked in the moment you make your deposit
Tour alum discount of $50 for each tour you've taken prior to 2022
50% discount on a consulting appointment with our in-house experts to assist with your pre- or post-tour travel plans
Flexibility should you need to transfer or cancel your tour
Fine print: You are responsible for the cost of your drinks and free-time sightseeing. See our Tour Conditions for important details regarding everything listed above.
Group sightseeing events subject to change.
Itinerary
Day 1: Welcome to Rome
We'll meet at our hotel at 3 p.m. this afternoon. After a short meeting and an orientation walk through our neighborhood, we'll get introduced to Rome's efficient metro system and then enjoy an "Am-I-really-here?" dolce vita stroll through the heart of Rome, soaking up the city's evening ambience at the classy Piazza Navona and the remarkably preserved, 2,000-year-old Pantheon. Our day will end with a chance to get acquainted during a "Welcome to Rome" dinner together.
Moderate walking: 2–6 miles throughout the day with some hills and stairs. No bus. Sleep in Rome.
Day 2: Ancient Rome
After breakfast, we'll ride the metro back in time to ancient Rome. We'll arrive at multilayered San Clemente — a 12th-century church sitting atop a fourth-century basilica and an even older Roman temple. Then we'll tour and hear vivid tales of the larger-than-life Colosseum. After a break for lunch, we'll tour ancient Rome's birthplace: the Forum. You'll have the rest of the afternoon and evening free to wander through the nearby Palatine ruins, see Michelangelo's Moses at St. Peter-in-Chains Church, or climb to the top of the Victor Emmanuel Monument to enjoy the city view (don't forget to savor a foamy cappuccino in between).
Strenuous walking: 2–8 miles throughout the day with lots of hills, stairs, and uneven terrain. No bus. Sleep in Rome.
Day 3: Neighborhood Rome
This morning we'll take a more intimate look at Rome, with a Vespa-dodging walking tour through our guide's favorite neighborhood. Then we'll eat our way through Rome's Trastevere neighborhood, learning about the tradition of Italian cuisine from the generations of families producing these tasty Roman specialties, including (but not limited to) porchetta, pizza, and parmigiano. Afterward, you'll have a free evening to make your own neighborhood discoveries.
Moderate walking: 2–6 miles throughout the day with some hills and stairs. No bus. Sleep in Rome.
Day 4: St. Peter's and the Vatican Museums
Today we'll focus on Renaissance Rome. We'll meet our local expert on the other side of the Tiber River and take a guided tour of the sprawling Vatican Museums, where we'll see an endless collection of treasures as we make our way to one of the world's most famous works of art: Michelangelo's Sistine Chapel. We'll continue on to the awe-inspiring St. Peter's Basilica, the greatest church in Christendom. The rest of your day is free to wander through this immense church and explore more of the Eternal City on your own.
Strenuous walking: 2–8 miles throughout the day with lots of hills, stairs, and uneven terrain. No bus. Sleep in Rome.
Day 5: Day Trip to Ostia Antica
Today we'll venture outside the city, touring the ruins of Rome's first colony, Ostia Antica, the ancient seaport which connected Rome to its ever-expanding Mediterranean empire. Unlike Rome's politically oriented Forum, our walk through Ostia gives us a chance to envision the daily lives of merchants and craftsmen and appreciate beautifully preserved mosaics. As we head back to Rome, we'll take a panoramic bus tour as we continue to peel away the jumbled layers of this fascinating city, learning about Rome as Italy's political capital, the capital of Catholicism, and the center of the ancient world. On the way, we'll continue down the ancient "Queen of Roads," the Appian Way, stopping to tour the eerie Catacombs of San Sebastiano. Arriving back in our Rome neighborhood, you'll be free for dinner on your own.
Moderate walking: 2–6 miles throughout the day with some hills and stairs. Bus: 3 hours. Sleep in Rome.
Day 6: Rome's Baroque Treasures
We'll begin with a guided tour of sheer beauty in the Borghese Gallery. Bernini's most graceful and lifelike sculptures reside here — his athletic David and delicate Apollo and Daphne — as well as masterpieces by Canova, Caravaggio, Titian, and Raphael. Your afternoon is free to relax in the surrounding park, ramble through more of Rome, or do some last-minute shopping. Tonight, we'll have one last dinner together to share travel memories and toast new friends. Salute!
Moderate walking: 2–6 miles throughout the day with some hills and stairs. No bus. Sleep in Rome.
Day 7: Tour Over After Breakfast
Breakfast is provided, but there are no group activities today. It's a breeze to reach Rome's airports by taxi or train. Your guide will help you with any post-tour planning, leaving you well prepared for the road ahead. Arrivederci, Roma!
Itinerary specifics subject to change.
Physical Demands
Our tours are physically active! It's an essential part of the Rick Steves tour experience. On our Best of Rome in 7 Days tour — among other things — you'll need to happily…
Carry/roll your luggage over uneven pavement (possibly several blocks) and up stairways to reach your hotel, then up several flights of stairs to reach your room.
Be on your feet, walking and standing, for up to three hours, indoors and outdoors, in all weather conditions.
Sleep with street noise and no (or weak) air conditioning.
After orientation and transportation lessons, be able to navigate through the city on your own.
Reviews
Lizzie
Edmonds, WA
Tour: 02/16/20
Overall rating:
It was great! Rome is an interesting city. NEVERTHELESS, I STILL LOVE PARIS AND FRANCE THE BEST- ABOVE & BEYOND ALL THE OTHER PLACES THAT I HAVE BEEN TO IN EUROPE- ABSOLUTELY NOTHING- NOTHING!- BEATS PARIS AND/OR FRANCE, NO MATTER HOW MUCH I LIKE THE OTHER PLACES IN EUROPE THAT I HAVE BEEN TO IN EUROPE WITH RICK STEVE'S- NO MATTER WHAT!!!
Favorite "WOW" moment
"I love how peaceful Ostia Antica is- both the ruins we visited and the modern-day town where we stopped for gelato and I saw the indoor natatorium with the green roof. "
Angela
Redmond, WA
Tour: 02/16/20
Overall rating:
I have arranged my own traveling for years, many times using the Rick Steves books as reference; however, this 25 person group was led by an amazing woman who was the "responsible adult" in that she had arranged the tour times for the Coliseum (or whatever), got the tickets (for whatever), and was able give us the historical background and current context of what we were looking at. This trip was great value for the money and created built-in socialization with each other for the evenings,
Favorite "WOW" moment
"Michelangelo's The Pieta in St. Peter's Basilica and all Bernini scuptures, but especially the "Saviour of the World" at St. Sebastian's Catacombs."
Diana
Bountiful, UT
Tour: 02/16/20
Overall rating:
This was my first visit to Rome and it gave me a good overview and working knowledge of the city, its sites, customs and procedures (ie how to cross streets without being rude or being struck.) It was an excellent balance of ancient sites, museums, and churches, but also a delightful food tour and visit to the Mediterranean. It was fast paced but allowed time for personal exploration as well.Our guide was friendly but firm and (blessedly) easy to understand. The group was congenial.
Favorite "WOW" moment
"After our visit to Ostia Antica (where I sat, hidden in the ruins and picnicked alone in the sunshine) we got gelato and walked out on the jetty to view the Mediterranean. A breeze was blowing, the sun was shining and a guitarist was plying his trade. A delight for all five senses."
Bryan
Orlando, FL
Tour: 02/16/20
Overall rating:
I thoroughly enjoyed the whole experience. The other travelers were fun and interesting and everybody was accommodating. A testament to your trip descriptions and expectations. I enjoyed learning about the history and culture of this great city and finally getting to experience it first hand. I liked the wide variety of experiences we were able to enjoy such as visiting a 1st century church one day and then walking the local food market and tasting some of the local delicacies the next day.
Favorite "WOW" moment
"It has to be the church we visited on our first full day. Actually 3 churches in one. An 8th century Christian church built on top of a 4th century Christian church built on top of a 1st century Pagan place of worship utilizing much of the previous buildings construction materials. I felt like a kid again as we walked back in time going down 30 feet revealing pieces each building. Our guide had me on pins and needles with excitement and anticipation as she told the story of these people."
Linda
Redmond, WA
Tour: 02/16/20
Overall rating:
It was an absolutely wonderful experience! Thank you so much!! Seeing the ruins that are 2000 years old, walking in the same ancient footsteps and hearing the stories that accompany the site bring the full picture to mind. The hotel amenities were clean, the bedroom quiet with fresh laundered sheets for a great night sleep, the attention to cleanliness and small details was remarkable, and the morning breakfast was plentiful with a great variety of fruit. A thoroughly enjoyable hotel.
Favorite "WOW" moment
"The first "wow" factor was the Sistine Chapel with Michelangelo's drawings along with seeing the Pope on screen. The best highlight of the visit was the Borghese Museum with all the beautiful marble statues. Bernini made exquisite sculptures with attention to many small, intricate details, filled with body action and animated faces projecting the look of being alive. Iliana, our tour guide, filled in the art details with her passionate love of Italian history. Excellent guide!"
Bill
Torrington, CT
Tour: 02/16/20
Overall rating:
My Rick Steves tour in Rome was a highpoint of my life. It brought years of schooling and study to vibrant life and was simply a wonderful time.
Favorite "WOW" moment
"Seeing the Coliseum from the little restaurant just around the corner from my hotel and realizing that I was staying right in the heart of 2700years of history."
Calvin
Atlanta, GA
Tour: 02/16/20
Overall rating:
Overall great experience. I feel there was a great balance of things that we did during the tour. I especially liked the way Susanna and the local guides wove the thread of humanity and time through our stops. They showed us how the city of Rome has grown and reinvented itself over the millennia. It was a very effective way to structure daily activities by having the 'lessons' double back on themselves.
Favorite "WOW" moment
"I'm a history and architecture nut, so the first full day at the Forum, San Clemente and the Colosseum was my favorite day. A day full of impact seeing the sites up close."
Julie
Fort Collins, CO
Tour: 02/16/20
Overall rating:
Good trip. Only negative are the unethical cab drivers in Rome. Several could not make change, could not find hotel. Cab from airport charged extra for luggage.
Favorite "WOW" moment
"Sistine chapel."
Hugh
Duluth, MN
Tour: 12/26/19
Overall rating:
We had an outstanding week in Rome. Our tour guide Stephanie was outstanding. We were fortunate to have Stephanie as our tour guide on a previous tour of Italy in 2016 and were pleased to have her again. She made us feel like family as we toured through the city. She is clearly one of Rick Steve's best tour guides. Our local guides were fantastic as well. We loved the whole trip.
Favorite "WOW" moment
"For me the wow was touring the Vatican with an expert guide. We had been through the Vatican on our own many years ago but didn't know the significance of what we were experiencing. Our guide was fantastic and we really experienced the Vatican in a whole new light."
Michael
Geneva, FL
Tour: 12/26/19
Overall rating:
Our second tour with RS in Italy. This time we asked my parents to join us so they could experience the things we raved about after returning from our honeymoon on the Venice, Florence, Rome tour in march of 2018. Couldn't have asked for a better introduction to Europe and the RS way of traveling for my parents. The time we spent wandering through Rome for a week with my parents is something I will always remember.
Favorite "WOW" moment
"Getting to experience the fantastic history of such an awe inspiring city with my wife again and being able to see my parents reaction to this amazing city. Being able to witness my parents see the Colosseum, and the majesty of the Sistine Chapel and St Peters was special and made the whole trip and the year of planning completely worth every second."
Autumn
Puyallup, WA
Tour: 12/26/19
Overall rating:
It was very special to be in Rome for Christmas and New Years. Every site and activity, both those we did on the tour or on our free time, either met or exceeded my expectations. The food was great, thanks to our guide or the guidebook for the great suggestions, the hotel was wonderful and we couldn't have asked for better weather. Both Stephanie and our fabulous local guides told the story of Rome, both past and present, in a very accessible way. We had a great trip!
Favorite "WOW" moment
"I am the type of person that would look at something like the Colosseum or the Forum and seen nothing but a pile of old rocks. However, our local guide Francesca painted a tangible, vibrant, emotionally charged picture of what life was like for the real people who lived, worked and died in these ancient places. Stepping through the Gate of Death and onto the Colosseum floor, hearing the echos of 60,000 people screaming, was something so special thanks to Francesca's evocative story telling."
John
Rio Rancho, NM
Tour: 12/26/19
Overall rating:
A wonderful experience made even better by our guide Stephanie. She had an excellent sense for the city as a whole and knew where to take us at the right time. She was also very dialed into the needs and requests of the group as a whole as well as individuals with special requests. We would definitely tour with Stephanie again.
Favorite "WOW" moment
"The museum tours and Coliseum tour led by local guide Francesca. She was a wonderful story teller and set the stage for an excellent visit to the Vatican Museum, the Borghese Museum and the Coliseum."
Trisha
Cincinnati, OH
Tour: 12/26/19
Overall rating:
Spending part of the holiday season in Rome was an amazing experience. Our tour guide was wonderful, our fellow travelers were delightful, the itinerary was the right mix of busy and relaxing and getting to see the holidays through the lense of another culture was priceless. Even the weather cooperated. I really cannot say that I would wish any part of the trip had gone differently.
Favorite "WOW" moment
"It is really hard to pick one. The first was in the cab from the airport to the hotel when all of the sudden we turned a corner and found ourselves riding along ancient ruins. For me, walking into the room at the Vatican and seeing the real full-sized School of Athens for real in context was like a dream I never even expected to come true. And finally, standing on the rooftop patio of the hotel at midnight on New Year's Eve and seeing fireworks all over the city was magical and priceless."
Michael
Cincinnati, OH
Tour: 12/26/19
Overall rating:
The best tour I have ever taken. Stephanie was excellent and the local guides were brilliang, especially Francesca.
Favorite "WOW" moment
"There were so many! But walking into the Colisseo literally took my breath away."
Michael
Mckinney, TX
Tour: 12/26/19
Overall rating:
Favorite "WOW" moment
"I am very Art ignorant. But the Borghese was the highlight of my trip. We had plenty of time and Francesca made it come to life."
Lynn
Geneva, FL
Tour: 12/26/19
Overall rating:
This was my first trip abroad and with a tour group. The overall experience was wonderful!! Stephanie did an outstanding job as our tour guide. I will definitely plan to use Rick Steve's tours again. There were multiple people in our group who have been on tours with your group
Favorite "WOW" moment
"Going to Vatican City was my favorite if I had to choose just one event. I honestly enjoyed everything with the tour!!!"
Carolyn
San Antonio, TX
Tour: 12/26/19
Overall rating:
Organized, professional, friendly! My first time to do travel with a group! I followed Rick Steve's for years, used his books, and now finally experienced one of his tours! I will do it again!!!!
Favorite "WOW" moment
"I have been asked this question by so many and the answer is difficult to narrow down! My WOW moment was walking the amazing city of Rome. And, along the way, every walk included a church, a ruin, a museum, great food, and always a moment of amazing reflection!!!!! And, with a group so many thoughts to share and reflect with!!!!!"
Erin
Duluth, MN
Tour: 12/26/19
Overall rating:
Our trip to Rome was phenomenal! Traveling during the Christmas season made for a truly unique trip. Our guide Stephanie treated us like family and went out of her way to show us not only the sites but the cultural nuances of this historic city. This trip really made history come alive as we saw layers of different civilizations built one on top of the next. We so enjoyed our Rick Steve's adventure!
Favorite "WOW" moment
"My favorite experience was visiting St Clementi church with our tour guide Franchesa. This church has such a unique view of how the city of Rome has stood the test of time--one layer built on the next. Franchesa taught us to "read the stones" which helped to paint a picture and envision the splendor of ancient Rome as we toured all the sites of Rome throughout the week."
Rene
Elk Grove Village, IL
Tour: 12/15/19
Overall rating:
Expert and friendly guides and a great group of traveling companions - definitely time well spent, as I saw and learned an great deal. The guides (both RS and local) did everything they could to make the trip time-efficient and packed with the most edifying experiences. I appreciated having the experts choose the location of the hotel and the sites most worth seeing. Some changes could make the trip more solo-traveler friendly, as I suggest below.
Favorite "WOW" moment
"It's a toss up between 1)entering the Colosseum on the "floor" level through the "gladiator's tunnel" and 2) suddenly finding myself face-to-face with a first century fresco of Jesus in the midst of the San Callisto catacombs."
Lori
Bellville, TX
Tour: 12/15/19
Overall rating:
The tour was phenomenal. Stacey and Anna were wonderful tour guides and the sights shared with the group were amazing. I really enjoyed the visit to the Jewish Quarter and the synagogues along with the "foodie" tour of Tresevere. Seeing the Colosseum from the ground floor was a treat too.
Favorite "WOW" moment
"I had 2 wow moments - one was in the Borgheshe Gallery - being present when the "David with head of Goliath" by Caravaggio was rehung and the other was walking into the St. Maria Majorie Church."
Sally
Flagstaff, AZ
Tour: 12/15/19
Overall rating:
This was a return to visit to Rome--and the able guides Stacy and Anna helped us to make the most of it!They were fabulous, and took into account our interests and needs. ANOTHER fabulous RS experience--Thanks!
Favorite "WOW" moment
"It is always hard to pick one---but because we were in Rome for the pre-holiday rush, we were able to enjoy many popular sights without the usual throngs. Especially surprising was to find ourselves in the Sistine Chapel with just a few other visitors!"
Kelly
Lake Forest, IL
Tour: 12/15/19
Overall rating:
Wonderful experience, as the tour covered all aspects of Rome and the most remarkable sights, group and independent tine were nicely sequenced and guides were knowledgeable, engaging and attentive
Favorite "WOW" moment
"The magnificent view of ancient and modern Rome from the top of Palatine Hill; the view of Spagna while enjoying Prosecco on a rooftop bar at the top of the Spanish steps; Claudio's Extravaganza - accompanied by fabulous wine - at Ristorante il Gabriello, per Rick Steve's' recommendation"
Charlene
Tinley Park, IL
Tour: 12/15/19
Overall rating:
Favorite "WOW" moment
"It was outside the tour but the Pamphilj gallery was amazing. No crowds and great audioguide by the prince."
Kathryn
Long Beach, CA
Tour: 12/15/19
Overall rating:
It was beyond fantastic! I've been back home a week and can't stop thinking about Rome! Going to Rome prior to Christmas was great as it wasn't crowded and the holiday lights are gorgeous.
Favorite "WOW" moment
"The best part was seeing Pope Francis as part of the Papal Audience inside the auditorium! My friends and family can't believe how close we were to the Pope. This was a wonderful surprise for all of us on the tour as it was not listed in the itinerary! After that, we had a tour of the Vatican Museum, Sistine Chapel and concluded with St. Peter's Basilica. The timing was perfect as I was able to attend mass at 5:00 pm in the Basilica. Truly my favorite day of the tour."
Yadira
Gainesville, FL
Tour: 11/24/19
Overall rating:
I was very excited to do a tour in such a historic location and it did not disappoint! I learned so much that I would have otherwise completely missed and/or would have been unaware of. The friendliness and information that came from our tour guide, Nina, as well as the three local guides we had was awesome! I also really enjoyed the variety of activities offered, the free time that was allotted each day to explore on our own, the amazing location of our hotel, and the group dinners. So fun!
Favorite "WOW" moment
"Many! One of my favorite aspects of our tour was our hotel's close proximity to the Colosseum. I also loved the city of Rome and how the everyday life is lived within and around such unbelievably ancient, striking and significant monuments. Such a seamless mix of the past and present!"
Christina
Clarksboro, NJ
Tour: 11/24/19
Overall rating:
The trip was a wonderful, amazing experience!
Favorite "WOW" moment
"I believe seeing the underground formations under San Clemente Church and the Pope at the Vatican were awesome. All extensions were great with the exception of viewing the graffiti run neighborhood."
Tamela
Saint Joseph, MI
Tour: 11/24/19
Overall rating:
Nina was very professional and full of energy. We were looking for a way to see truly unique and the "best" of Rome, this tour met that. Surprisingly, the things we did that were not on the top ten to see, where above average! Everyday was full of surprises and great experiences. I believe the fact that we were in Rome in November was a huge benefit. And I personally was hoping for a small group, this group of 12 was almost too small, especially with 5 being from one family.
Favorite "WOW" moment
"I have two WOW moments... Seeing Pope Francis at the Wed Audience was more than a WOW! If we had not had that opportunity my WOW was seeing and hearing about Bernini's Sculptures."
Patricia
Green Bay, WI
Tour: 10/27/19
Overall rating:
This was my first trip to Italy. I can't think of a better way to see Rome than with your tour. I would have been overwhelmed trying to plan even half of what we did on this tour.
Elizabeth
Miami Springs, FL
Tour: 10/27/19
Overall rating:
I don't think anything could have been improved upon. Unfortunately, I was astounded by the number of tourists, which seemed to be a human river in the Vatican Museums and the Borghese Gallery. I won't be returning to Rome again, and value my previous two trips there as there were far fewer tourists.
Favorite "WOW" moment
"The Borghese Gallery never ceases to amaze me."
Mark
North Oaks, MN
Tour: 10/27/19
Overall rating:
The tour of Rome was great. We enjoyed the mix of structured and free time. We felt that the trip had a nice balance of Ancient Rome, Italian Art, Italian Art and religious Rome.
Favorite "WOW" moment
"The visit to the multilayered San Clemente has to be my WOW moment. It was fascinating to see how a 12 century church was built on a fourth century basilica. In turn the fourth century basilica was built on a Roman temple."
Diane
Green Bay, WI
Tour: 10/27/19
Overall rating:
This was my 2ed RS tour and it was fantastic! The location, staff and quality of our hotel, Hotel Lancelot, was great...I would stay here again and recommend it to friends. Our RS guide, Rainer, was a wonderful teacher and really made the trip fun all the while keeping us safe. The local guides were fantastic; their knowledge and passion for Rome was evident. There was plenty of free time built in the week so I didn't feel I couldn't keep up or become exhausted and not enjoy the trip.
Favorite "WOW" moment
"I had been to Rome before so I had seen the Colosseum and Vatican, so although I learned so much on the tour about the biggies I didn't get the same Wow that I did the 1st time. So it was the side trip to Ostia Antica that really impressed me. I am so glad that was part of the tour. I also took a side trip to Pompeii (not a RS tour) so it was great to compare."
Kevin
Moneta, VA
Tour: 10/27/19
Overall rating:
Perfect balance between guided sites, local eateries, and free time. Incredible local guides knew their stuff, how to communicate it and how to maneuver their group around the busy venues to maximize your time. The provided weekly transit pass and training on how to get around on the Metro and bus system made it easy and cheap to explore on your own. Feel like we saw and learned a lot about Ancient Rome, the religious sites, Renaissance & today's Rome. Loved hotel and service.
Favorite "WOW" moment
"Difficult to say as it was a series of wow moments. Loved the Colosseum, St Peters, Pantheon, Borghese and the food tour was special."
Leticia
Stillwater, OK
Tour: 10/27/19
Overall rating:
It was my first trip to Europe and it was more enjoyable than I ever expected. I'm so happy it was on a Rick Steves tour. Our guide seemed so experienced with a group our size, twenty-four of us. He made it easy for me to feel comfortable exploring the city on our own. Saw more beautiful things and places than I ever had.
Favorite "WOW" moment
"Realizing how ancient Rome is and being able to still see and touch it."
Shelby
Millsboro, DE
Tour: 10/27/19
Overall rating:
Another amazing Rick Steves tour! Well planned and thought out. I love that the tours are designed for one to see the most sought after places within the region of the tour and also offering lots a free time to explore on your own. The hotel was lovely and the staff were amazing. Even throwing us a Halloween Dinner Party!
Favorite "WOW" moment
"The ruins at Ostia Antica were incredible. Such history to be walking among these ruins."
Sylvia
Greenbrae, CA
Tour: 10/20/19
Overall rating:
This was my first RSE tour; I did not know what to expect. I was surprised that about half the guests were first-timers also. I thought there would be more repeaters. I was glad to find another woman solo-traveler and we buddied up, eating all non-included dinners together. If I were the only solo-traveler, it would have been a very lonely experience. In October, it was dark by 6:30 and I was happy to not have to walk to restaurants for dinner by myself.
Favorite "WOW" moment
"Seeing the Pope in his Wednesday AM 'audience'. Not an included part of the tour, but we had the AM to ourselves and this was available to us."
Robert
Hartwell, GA
Tour: 10/20/19
Overall rating:
Rainer was a fantastic guide. Great command of Italy's history and has a great sense of humor. The guest guides were passionate knowledgeable and patient. Overall a great experience I highly recommend.
Favorite "WOW" moment
"We took the subway from the train station and popping out of the underground to the view of the Colosseum was our first vision of Rome. Walking into the Colosseum from the tunnel the gladiators used was awe inspiring. The tour of the Basilica di St. Clemente really set the tone for the week in Rome in terms of understanding the ancient history of the city. Getting within 20 feet of the Pope was also worth the chilly early morning taxi ride to the Vatican."
Susan
Evergreen, CO
Tour: 10/20/19
Overall rating:
I booked this tour with Rick Steves because it would cover all we wanted to see in Rome. It proved to be the right move. Rainer was very well versed on the history of Rome and gave us information on ways of local living and how to get around the city. He was an excellent guide. As well, Francesca and Paulo were excellent guides.
Dennis
Dallas, TX
Tour: 10/20/19
Overall rating:
We covered a lot of ground and learned a lot about Rome. Can't see it being presented any better.
Favorite "WOW" moment
"I can't actually pick out any favorite "wow" moment. We were sponges absorbing new and amazing experiences every day."
Majid
San Mateo, CA
Tour: 10/20/19
Overall rating:
I enjoyed it
Favorite "WOW" moment
"Visiting Mithra temple"
Marian
Hartwell, GA
Tour: 10/20/19
Overall rating:
Very organized. I was pleased with the quality and knowledge of the guides. So much fun! I can't wait to plan the next one!
Favorite "WOW" moment
"I loved the church of St Clements. We built so much of the things that we learned there into the rest of our experience. Loved the passion of Francesca!"
Kathleen
Dallas, TX
Tour: 10/20/19
Overall rating:
Favorite "WOW" moment
"San Clemente was the best because of the layered history Borghese Gallery was the second. but really, the whole experience was a wow because we really were part of Rome."
Audrey
Arlington, VA
Tour: 10/13/19
Overall rating:
We have been to Europe before, but not for a while and never on a tour. What a fabulous choice to go with a Rick Steves group! Lovely hotel in a great neighborhood, excellent pacing, good mix of group/independent time. The guides informed and deepened our experience in ways we could never have achieved on our own.
Favorite "WOW" moment
"How to pick? There were so many! The ancient Rome tour, guided by Francesa, would have to be it. She brought ancient Rome alive, opened my eyes to details, and made our visit to the ancient sites so meaningful. What a rich experience to be guided through the past by such a sensitive and knowledgeable Roman. Also loved the night-time stroll the first evening!"
Mikael
Pawtucket, RI
Tour: 10/13/19
Overall rating:
The Rome tour was phenomenal from start to finish! We walked all over town and I feel that I know the layout of Rome as well as my home town. We had free time to explore. If I could do one thing differently, it would be to have a picnic in the Borghese gardens after the tour of the museum and spend the afternoon riding bikes through the park.
Favorite "WOW" moment
"My "wow" moment about he Eternal City was when I saw a Renaissance painting of Rome and the Colosseum was a ruin like it is now. I really got a sense of how ancient the times were when it was intact. The Pantheon is remarkable for being over 1800 years old!"
Mark
Saint Louis, MO
Tour: 10/13/19
Overall rating:
We really enjoyed the tour and the immersion in Rome. What a fabulous city! We particularly liked the pacing of the tour, i.e., museums one day with the nxt day being more experiential. We really enjoyed the other people on our tour, who became fun and interesting tour companions. Everyone had an open, friendly attitude which really enhanced the tour for us.
Favorite "WOW" moment
"There were only highlights so it's hard to pick just one. Seeing the Colosseum lit up at night was spectacular! What a welcome to an amazing city. I really loved the Ancient Rome Day of the tour."
Donna
N Fort Myers, FL
Tour: 10/06/19
Overall rating:
First of all, Ben was a great tour guide, easy going, spending his free time taking us places, advice on restaurants, etc. The most enjoyable trip I've taken in a while.
Favorite "WOW" moment
"might have been the Borghese gallery; again tour guide was very good"
Richard
Novato, CA
Tour: 10/06/19
Overall rating:
Although my wife and I have been to Europe before to visit relatives, we don't consider ourselves "experienced" travelers and this was our first Rick Steves tour. It exceeded our expectations, the perfect balance (for us) between "hand-holding" and free time. It gave us the confidence to venture out on our own to Orvieto (which was beautiful) after the tour ended. I would definitely recommend your tours to others.
Favorite "WOW" moment
"Hard to pick just one but seeing the Bernini sculptures at the Borghese gallery was stunning. I have long admired these in books and on-line, but to see the delicacy and detail in person was amazing. I also had a very emotional reaction to the Pieta in St. Peters."
Molly
Oro Valley, AZ
Tour: 09/22/19
Overall rating:
Wonderful guides. Well balanced itinerary. Enriching experiences with great people. Our hotel was in a great location.
Favorite "WOW" moment
"Borghese Gallery. Followed closely by our first night group dinner."
When To Go & Weather
Rome is a vibrant city to visit nearly year-round. However, the months of April, May, September, October, and early November are the best for combining the convenience of peak season with the most pleasant weather. Visiting between late November and March offers the benefit of missing out on the sweat, stress, and crowds of the tourist season, along with cool and crisp weather.
Italy / Rome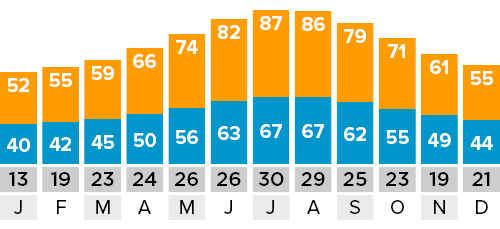 Hotels & Flights
Tour Hotels
In case you wish to book pre- or post-tour hotel accommodations, the contact information for the tour's hotel is included in your tour confirmation email as well as in the Itinerary section of your tour account. One month prior to the tour departure, you'll find the directions to your tour hotel in the Documents section of your tour account.
Flights
Our tours don't include airfare, so your flight arrangements and transfers are completely up to you.
Most tour members arrange to fly in and out of Rome's Leonardo da Vinci Fiumicino Airport (FCO).
We suggest arriving a day or two before your tour begins to allow ample time to get over jet lag and be well-rested for the first few days of your tour. For more information about transportation options for getting to and from your tour, see your Rick Steves Rome guidebook.